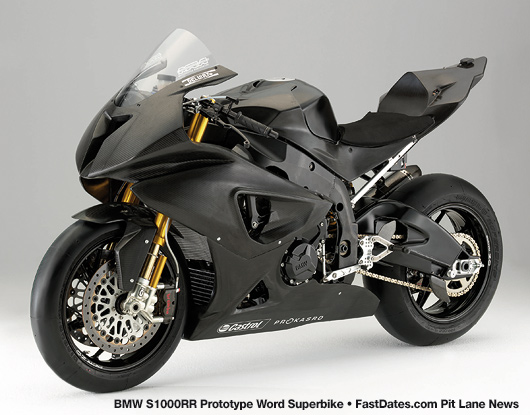 The first sportbike with real aerodynamic downforce? We'd like to see just how much downforce the front fairing and rear seat fairing with side wings generate in a windtunnel at high speed.

Click for large BMW S 1000 RR Screensaver
Almost Ready for Production and Entry into 2009 World Superbike!
BMW Introduces its all new S1000RR 4-cylinder Superbike
Munich, Germay, April 16th, 2008 - BMW Motorcycles today confirmed in press releases their upcoming new 4-cylinder watercooled 1000c Superbike model the S 1000 RR confirmed for production in 2009. And that the release of the bike will coincide with a full factory BMW race team in SBK World Superbike beginnig immediately with the next 2009 race season. The first year's production will be 1,000 bikes to assue homologation for world superbike, with the cost of the high end sportbike costing in the rance of $20,000.
The production prototype is shown here, and it already looks like a race preapred factory superbike with its high-end race-spec piggy back Ohlins front forks and rear shock. The right side view of the bike shows it has the front and real wheel sensing units of BMW's trademark anti-lock braking system which coud also serve as wheel monitors for a traction control system.
The overall design of the bike is very conventional and similar to the current Japanese 1-litre superbikes, in particular to the Yamaha R1, with an aluminum perimeter frame hanging an inline watercoold doube overhead cam engine below it. The fuel tank looks to have a false cover over the front to make space for a pressurized high volume airbox. The bodywork of the prototype is all carbon fibre, which will probably be included on the production bike to support its up market positioning over its Japanese counterparts.
World Superbike is going to be a real treat for race fans next year as BMW, which has proven it has the money, the resources and desire to win in the other upper echelons of motorsports racing from Formula One to World Sports Car Racing, is now setting its sights on motorcycle roadracing in World Superbike. We are guessing, with the right riders, BMW could be on top of the podium in its first race season, just as Ducati did its first yesr in MotoGP.
This early concept sketch of the BMW Superbike dated April 2006, shows just how quickly they were able to evolve the bike from concept to reality. The pre-production prototype ( shown below) when seen enlarged, shows the engine's cases and sidecovers to be all finished production parts.

Press Statement from Hendrik von Kunheim, General Dirctor, BMW Motorad
"We are expanding our product portfolio also with a view to worldwide growth. Today sales in the 1,000-cc class amount to some 100,000 units worldwide. The vast majority of these motorcycles goes to the USA and Europe. And the four large Japanese manufacturers account for about 85 per cent of the market.

BMW Motorrad is looking at a long-term involvement in this segment. Clearly, that means we must speak the language of the segment and follow the usual market standards. And indeed – we are confident that we will set new benchmarks in this scene, winning over an appropriate market share.

It is our objective to offer the customer a high-performance motorcycle with absolutely outstanding qualities and features on both the road and race track in terms of rideability, performance, and ergonomics. Since we are still in the middle of the development process, it would be too soon to mention any specific technical data. But you naturally know the usual level of performance our competitors have to offer. So with this in mind, I leave it to you today to speculate on what the specifications might be.

Our Supersports is based on a highly proven fundamental concept. Before choosing this concept, we naturally analysed the market and the appropriate technologies with utmost care and precision. And we will use the technical parameters required to develop our own solutions.

In the early project phase we checked out various engine concepts. And as you know, we then decided in favour of a four-cylinder, with the straight-four offering the best qualities to meet the power, performance, weight, and package requirements to be fulfilled. In typical BMW style, the engine will of course offer a number of special features, especially on the cylinder head. |

For package reasons we have decided against the BMW Duo-Lever on the suspension. Taking up more space, this kind of front-wheel geometry would have presented disadvantages with the very compact structure of BMW's new Superbike.

But you can be sure that the innovations we are introducing are absolutely convincing. One example is the special traction control you will find on the new machine. Again, however, we cannot give you any further information today.

As you may expect of BMW Motorrad, the design of our BMW Supersports will be absolutely unique and very different. While it will of course reflect the usual design language in the segment, it will at the same time offer a strong and powerful message from the BMW brand. "

Click for large BMW S 1000 RR Screensaver

You'll see in the above enlarged closeup photo that the engine is built with smooth finished production molds, as opposed to rough prototype sand casting, so the bike is effectively past its prototype stage and ready for production. Any production delay now is esentially just to order and wait for outside suppliers to manufacturer and deliver all the necessary components like the Ohlins suspension, Brembo brakes, controls, electronics, wheels, etc., before manufacturting and assembly can begin at BMW.
Now let me briefly give you the status of our entry into the Superbike World Championship:
"Today I can confirm that our preparations are proceeding according to plan in every respect: In compliance with the rules of the Series, the new motorcycle will be available to customers in 2009 and we will build 1,000 production models by the end of next year.

We are implementing our racing activities in close cooperation with our partner Alpha-Racing, a specialist very experienced in motorsport. Located near Munich, Alpha-Racing have already started work in a special production hall specifically for this purpose. The process of building up the team is proceeding at full swing and we have already filled the key positions. The team is a combination of specialists from BMW and members of the Alpha-Technik racing crew, as well as further specialists from professional Superbike racing.

Choosing the development and test riders for our racing machine, we are currently operating in a revolving system to gain as much experience as possible. The selection of test riders ranges from experienced riders still active today all the way to young "top guns".

In the upcoming weeks and months we will systematically start production of the racing machine in its individual power and performance stages, testing the new model as we go along.

We naturally realise that the established teams have many years of experience. But we wish to take up this challenge in particular and have put together a highly motivated team precisely for this purpose, a team which will prove the performance of our new motorcycle in professional racing.

Naturally, we will have to go through a certain process of learning – which is precisely why we have set ourselves realistic targets for the time being: In our first year in the Superbike World Championship we seek to bring home several places in the Top 10 and to consistently close the gap to the top teams. In year 2 we plan to catch up with the top teams and to win our first places on the podium. And our medium-term objective, obviously, is to win the World Championship!

So much on this project, the current status of the project and our preparations for entering the World Superbike Championship next year. You have been speculating a lot on the designation of our new model. So let us put an end to this speculation today.BMW Motorrad's first Supersports will be the "S 1000 RR".

In choosing the name and designation of BMW's new Supersports, we are consistently following our nomenclature at BMW Motorrad. In this name, the "S" stands for Supersports, marking a new class of motorcycles from BMW. The "1000" designates the size of the engine, and the "RR" naturally stands for the model itself.
Dear Motorcycle Friends, Many motorcycle magazines have published photos of a racing prototype which we have tested on several racing tracks. Today we would like to show you this racing prototype, offering you an initial impression of the package and the technology. But when you see the motorcycle, please note that neither the design nor the impression of quality are the same as on the production model following at a later point."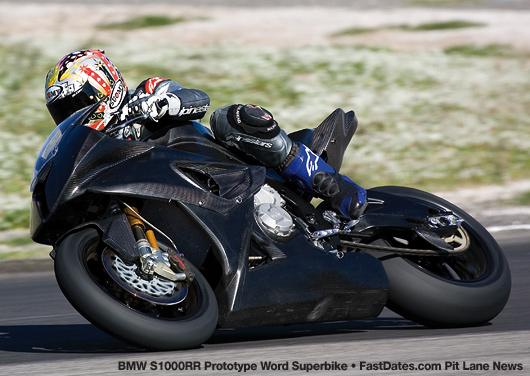 ---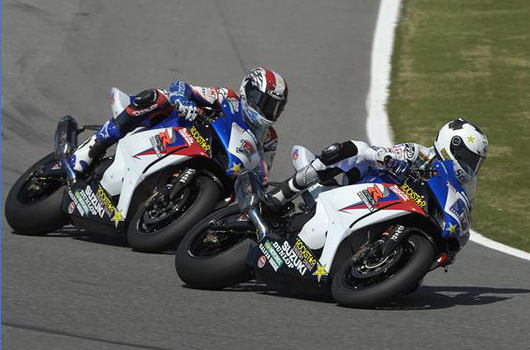 Ben Spies (6) backs it in ahead of temmate Mladin (1) in Saturday's Race, just before dropping it.
AMA Superbike National Championship, Barber Motorsports Round 2 of 11
Mladin Recordes 65 and 66th Career Win at Barber AMA Superbike
With a 2-Day Yoshimura Suzuki Sweep
Saturday April 20th - Rockstar Makita Suzuki's Mat Mladin picked up his 65th career AMA Superbike victory after leading every lap and winning Saturday's race at Barber Motorsports Park in Birmingham, Alabama. This race is the first of two in the double-header AMA Superbike weekend and also saw the second victory of the season for six-time AMA Superbike Champion Mladin, as well as his sixth win at Barber. All of this comes on top of Mladin picking up his 54th career AMA Superbike pole position on Saturday morning.
Yamaha's Jason Disaloveo took the runner-up spot ahead of Mladin's Suzuki team mate Tommy Hayden for the top three spots on the podium . This result marks Hayden's second AMA Superbike podium with Suzuki.
Defending AMA Superbike Champion Ben Spies crashed on lap two, but rejoined the race and worked his way up into 11th place to salvage as many championship points as possible.
Mat Mladin: "It was a pretty good race for us, though the guy I like to race with the most wasn't in it. We got a good start and I had my head down, so I didn't realise Ben had crashed. But he'll be back tomorrow and we'll put on a great show and hopefully we'll win another one. I'd like to keep it going as long as we can. I have to thank my guys for giving me a Rockstar Makita Suzuki GSX-R1000 that will hopefully give us another win tomorrow."
Tommy Hayden: "It's really good to get the weekend started with a podium finish, even though my start wasn't too good; I got a bit boxed in going in to Turn Two. But hats off to my Rockstar Makita Suzuki team for giving me a bike that was able to help me pick off the guys as the race went on. Thanks also to Dunlop tyres - I had really good grip and was able to make some good passes. I actually had more grip as the race went on and was able to get some good runs and get past some guys. I've got a few corners I'm struggling with, but that's me, not the bike. In the end, I tried to make a charge, but overall I'm happy to bring it home in third place and get on the podium. Hopefully, we can come back tomorrow and do a little bit better."
Ben Spies: "I got a pretty good start and I was right there with Mat. Then, I just rushed it because I got a little bit impatient. We have the speed and I'm satisfied with the Suzuki's performance, so we're looking good for tomorrow. I just need to be a little more patient."
AMA Superbike Saturday Race 1


1. Mat Mladin (Rockstar Makita Suzuki)
2. Jason Disalvo (Yamaha)
3. Tommy Hayden (Rockstar Makita Suzuki)
4. Jamie Hacking (Kawasaki)
5. Neil Hodgson (Honda)
6. Miguel Duhamel (Honda)
7. Eric Bostrom (Yamaha)
8. Geoff May, (Jordan Suzuki)
9. Chris Peris (Suzuki)
10. Jordan Szoke (Kawasaki)

AMA Superbike Sunday Race 2
1. Mat Mladin (Rockstar Makita Suzuki)
2. Ben Spies (Rockstar Makita Suzuki)
3. Tommy Hayden (Rockstar Makita Suzuki)
4. Jason DiSalvo (Yamaha)
5. Neil Hodgson (Honda)
6. Eric Bostrom (Yamaha)
7. Aaron Yates (Jordan Suzuki)
8. Miguel Duhamel (Honda
9. Matt Lynn (Honda)
10. Geoff May (Jordan Suzuki)
Mladin Leads a Suzuki 1-2-3 Sweep on Sunday
Sunday Race Two, April 20th - Rockstar Makita Suzuki Factory Racing swept the AMA Superbike podium in the second of two AMA Superbike races at Barber Motorsports Park in Birmingham, Alabama on Sunday afternoon. A large crowd turned out to see the six-time AMA Superbike Champion follow up Saturday's win with a victory on Sunday. This win is Mladin's third win of the season, his seventh win at Barber and his 66th career AMA Superbike victory.
Defending AMA Superbike Champion Ben Spies charged hard on his Suzuki GSX-R1000 but was unable to catch his team mate and Tommy Hayden also put in an impressive ride and picked up his second podium of the year and of the weekend by finishing behind Spies.
Mat Mladin: "Today was a great day for me and my guys and it was a great day for the Rockstar Makita Suzuki team. For me, it was a pretty good race. I just tried to put in a good, solid ride and be consistent. Our goal all along was to come out and win as many races as possible. We've gone three for three; we've gotten both pole positions and led the most laps so I reckon that's not too bad. Hopefully, we can do it again next weekend at Fontana."
Ben Spies: "We got a not-so-good start and then I made my way into second place but I just couldn't keep Mat's pace. But we're going to some tracks that I like and we're going to keep giving it all we've got. He's riding really good right now and we're chasing him so we've got to step it up. I have to thank my guys for building me a new Rockstar Makita Suzuki GSX-R1000 last night after I crashed yesterday. Now we're focusing on Fontana next weekend and we know what we need to do. We just need to go faster."
Tommy Hayden: "Rockstar Makita Suzuki - one, two, three - that's the way it should be and I'm just glad to do my part to make that happen. It feels good to be up on the podium twice this weekend and thanks to my team for everything. We did a lot of work this winter and we've come a long way. I'm definitely happy with today's race, even happier than yesterday. I felt like I got a bit of a gift yesterday with Ben crashing. Today, I really had to earn this one. I just tried to keep my head down. It was a hard race but it feels good to start off the season with two podiums. My goal was to get more podiums right out of the gate and hopefully I'll keep on seeing these guys a little more often."
---

Lorenzo and Rossi don't spare the champaign on the Estorial podium.

2008 MotoGP World World Championship / Estoril Round 3 of 18
Lorenzo Takes Maiden MotoGP Victory in Estoril
bwin.com Grande Premio de Portugal April 11-13th, 2008, Estorial, Portugal - Jorge Lorenzo topped off an incredible opening month in MotoGP with his maiden premier class victory today, his first ever career win at Estoril. After three pole positions and two podiums, the Fiat Yamaha Team rookie went one step further to win the Portuguese Grand Prix in fine style, taking joint first in the championship standings in the process. It was also the second double podium of the season for the team, with Valentino Rossi finishing third.
Complete Coverage HERE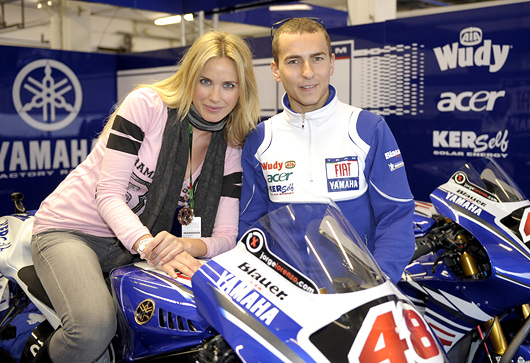 Jorge glams for the camera with Spanish actress Vanessa Romero. And of course, only FastDates.com goes behind the scenes to show you the real action in MotoGP and World Superbike - See Below!
---
2-Day Calendar Girl Music Festival to Rock the
LA Calendar Motorcycle Show Weekend July 12-13th 2008
I'ts the biggest showcase of talented female singers since Sarah McLaughlin produced the Lilithfair tour back in the summer of 1998. Join us for the incredible performance lineup at the 2-Day Calendar Girl Music Festival July 12-13th 2008 at the Queen Mary Event Park on the shore of the beautiful Pacific Ocean in Long Beach Harbor, CA, featuring some of the world's most beautiful and talented female singers and girl bands. The Music Festival is part of, and included with admission to the 17th annual LA Calendar Motorcycle Show Weekend, America's premier custom, performace, cruiser and sportbike event.
The all female Calendar Girl Muisc Festival headlines with contemporary pop rock singer sonwriter and recording artists Kari Kimmel on Sunday and actress Elizabeth Nicole on Saturday, two of the most talented and skilled singer songwriters we've ever come across. Comparisons to legends like Carol King, Joni Mitchel, and Carly Simon, to more current artists like Avril Lavigne and Natasha Bedingfield almost fall short when describing the vocal and songwringing skills of both Kari and Elizabeth, who also happen to be drop dead georgeous to fit perfectly the theme of the Calendar Girl Music Festival and the world premier of the new 2009 FastDates.com Motorcycle PinUp Calendars
Kari Kimmel has written and recorded songs for numerous Hollwood movies including Disney's Ella Enchanted and the Wayan Brother's White Chicks, and TV shows Gimore Girls, Laguna Beach, the Bold and the Beautiful. She was originally signed with Virgin records a few years ago and they helped produce her first album A Day in the Life, but just before its release the music market took a down turn and Kari has since made the album available on her own on her website Kari Kimmel.com and her MySpace page. Kari also plays keyboards and guitar, has a style reminisant of her mentor Carol King, and another singer songwriter we like Vonda Shepard. Listen in at MySpace.com/KariKimmel
Elizabeth Nicole, just turned 20, got her start as a 10 year old child actor on TV soaps like Port Charles and 7th Heaven. Later In high school she turned her attention to music writing, singing and playing on keyboards some very sexy pop rock ballads in a style uniquely her own. We first came across Elizabeth and her incredible musical talent on her MySpace.com page about a year ago, hooked up with her as she performed at a couple of small venues around Los Angeles where she totally blew us away in person with her multi musical talents. We just had to have her a our Show before she became to famous. You can buy and download her full album of original songs on her MySpace page - MySpace.com/ElizabethNicole

Ironically since graduating high school, Elizabeth has been leading a double life and has also been adding Hollywood movie actress to her resume. She currently appears as a backup singer in the current hit comedy Walk Hard - The Dewey Cox Story. Has just completed co-staring and singing in the feature musical scene teen drama - All Ages Night, and in the drama thriller Cornered! with Steve Guttenberg.
This is a once in a lifetime opportunity to see and meet Kari and Elizabeth in person as they headline and perform exclusively for the Music Festival their longest extended full band sets ever. These two highly talented and attractive singer songwriters on the verge of breaking out, big time!
Included with the weekend's bill on the main stage are pop rockers Taxi Driver with lead singer Dhana. While Classic rock fans will have more than their fix of heavy metal as the all-girl tribute bands Whole Lotta Rosies - AC/DC, and Moby Chick - Lead Zeplin, will leave blue collar baby boomers weak in the knees. And if that's not enough sexy girls to rock your world, The Purrfect Angelz musical dance troupe, a favorite of our U.S. Military Troops in the Middel East and at Bike Events across America, will be shaking, kicking and dancing their scantly clad bodies both days.
Tickets for the Show Weekend are available on Tickemaster, with Walk-Up Salesalso available at the Main Gate on the Show Weekend. For additional LA Calendar Motorcycle Show & Calendar Girl Music Festival weekend details including the show schedules, hotels and parking information visit Bike Show
---
Spring Time in World Superbike....
This month's April page in the 2008 Fast Dates Calendar has us dreaming of springtime and sportbike riding as beautiful World Superbike Fast Dates Calendar Kitten Katie hikes up her skirt alongside Chris " The Stalker" Walker's bright green PSG-1 Kawasaki factory superbike shot at Brands Hatch World Superbike in August. Are you ready to go for a ride? Quite a different weather change from the British Superbike Championship opening round this weekend April 6th 2008 at Brands which was snowed out!
Buy the 2008 Fast Dates Calendar • Download Big Screensaver Photos in Members Corner
---
Ducati 1098R 08 Adjustable Steering Head Update
Update 4/18/08 - Ducati Corse has confirmed exclusively to FastDates.com, that the steering head assembly on the 1098R 08 production Superbike is to designed be use adjustable steering head components. This will correct our only complaint of the base 1098/S model Superbikes which have a fixed 24.5 degree steering head angle, making it difficult to turn into corners.
The 1098R 08 stock Rotating Steering Assembly Bearing Cage is actually designed to turned 180 degrees, and then put back into the frame to change the "as delivered" steering head angle from 24.5 to 23.5 degrees. The only problem being, the factory only drilled the Rotating Steering Assembly Bearing Cage to be indexed in one posting with the frame steering head's Locating/ Lock Pin - and that's in the 24.5 degree setting as delivered.
Available only with the 1098R model's frame (and not the 1098, 1098S, 848), an adjustable steering head angle was offered on all previous generation 916-999 Ducati Superbike models. However it now requires much more more disassembly and work than the previous externally adjusted toothed cam adjuster, and a lot more money if you are serious about setting this bike up for the track or tight canyon roads,
The BIG problem with the adjustable 24.5 / 23.5 degree steering head assembly on the new 1098R08, which we discovered when we tried to make this change on our bike, is that the factory intentionally tried to fix it at 24.5 degrees by drilling the Rotating Steering Assembly Bearing Cage with just (1) Locating/Lock Pin -in the 24.5 degree position. When you remove the Locating/Lock Pin and rotate the angled Steering Assembly Bearing Cage 180-degrees around from the 24.5 to the 23.5 degree setting, there is no positioning hole at the 23.5 degree setting to insert the frame's Lock/ Locating Pin into.
The top triple clamp, the steering damper needs to be removed, the front end of the bike elevated off the ground, and possibly the front forks removed. But the advantage of this new design for a racebike is it allows for use of many other steering angles and offset from center for a plethora of handling adjustments. But at a price of around $713 - $1693 for each different steering head spacer or a complete assembly with bearings, no one but Team Ducati is going to be playing with these for different track and rider setups. (See all the optional part numbers, below).
Which leaves us with 2 choices
to change to change the steering head angle on the 1098R:
1. You remove the Rotating Steering Assembly Bearing Cage and drill it yourself for a locating pin hole, exactly 180-degrees on the other side of the assembly. It's best to have a qualified machine shop do it as it does need to be spot on at 180-degrees on the other side of the round Steering Assembly Bearing Cage, otherwise the steering angle could be slightly different if you turn Left vs, Right. Or
2). You can order the correctly drilled part from Ducati Corse for just $1683!
This price is for the Complete Assembly including bearings shown below, Part No. 3431091A
The other Part Numbers listed below for other Steering Assembly Bearing Cages,are a mere$713 each, we assume without bearings. And not all the part numbers are currently available.
Just for your own information the Ducati Corse parts catalog for the 1098RS Superbikes as raced by Max Biaggi and Ruben Xaus show the bike to be delivered with a 24.0 degree set-up, Steering Assembly Bearing Cage Part No. 34310151A
The Ducati Corse factory Superbike team usually run their bikes at the 23.5 degrees steering head angle, as this is the best setting for quick handling, maneuverability, safety and lap times.And that all the Japanese production superbikes GSXR, CBR, R1, ZX all come fixed at 23.5 degrees to confirm this as the ideal best setting for a superbike. As well as do most MotoGP bikes including the World Championship winning Ducati GP07.
So despite all the glowing press launch reports that the 1098R was an incredibly handling bike, in a controlled press launch environment with no other bikes to compare it to, it might have seemed that way. Plus, there is the kiss-ass factor as you might suspect, and no journalist wants to give a poor review at a new bike launch that will piss off the manufacturer, have their adverting pulled pulled from the magazine, and get them blacklisted from future new bike launches as this does happen.
But as a long time Ducati Superbike owner, racer, suspension engineer and moto journalist, I can tell you that all the Ducati Superbike models do not handle very responsively at the stock setting of 24.5 degrees.
We assume Ducati Superbikes are delivered this was for the safety of inexperienced riders on the track. But even then, all other Ducati production street bikes have their steering head angles fixed midway at a quicker 24.0 degrees.
Cycle News Update 4/15/08 Issue # 13 - In a 5-way Liter Bike Shootout at Button Willow Raceway (bylined intentionally to outside contributing editor Steve Atlas so the manufacturers can't get too pissed at Cycle News) the paper compares the four major Japanese 1000cc Superbikes which all have 23.5 degree steering head angles, against the base 1098 Ducati (same as the 1098S model) which has a fixed 24.5 degree angle steering head.
They credit the 1098 with: "The Ducati has an awesome engine - good bottom end, great torque, the best of the bunch." They go on to say, "The chassis of the Ducati is awesome- it's a pure racer all the way through," says test rider/racer Chuck Sorensen. "This isn't to say the Ducati was perfect on the racetrack: it still struggles in tight corners, as turn-in and side-to-side flick ability take more effort than some of the Japanese machines. Once in the turn, however, it makes up for the added effect. It takes more effort than some to get on its side or change direction in a hurry."
And while the editors never figured out why, we'd suggest it was, in part, the base model Ducat's 1098's fixed ultra slow 24.5 degree steering angle, that made the 1098 average 2 seconds slower around Button Willow with a 1:43.1 sec lap time, compared to the quickest Jap bike, the Kawasaki ZX-10R at 1:40.80, or the slowest, the Honda CBR1000RR at 1:42.1 sec.
But if the test launch 1098R bikes could have had their steering head angles reset to the ideal 23.5 degree angle, it would have handled even better. Below, direct from our inside sources at the Ducati Corse Racing Department are the available stock and optional steering head parts for changing the production 1098R's steering angle. - Jim Gianatsis, Editor and Owner Owner: Ducati 916, 996R, 999R, 1098R
Ducati Corse Optional / Adjustable 1098R Steering Head Components
Part No.

Description

Notes

34310151A

STEERING ANGLE 24° CENTERED

Spacer Only

34310161A

STEERING ANGLE 23,5 OFFSET +5 or 24,5° OFFSET -5

Spacer Only

34310171A

STEERING ANGLE 24° CENTERED OFFSET ±5

Spacer Only

34310191A

STEERING ANGLE 24,5° OFFSET +5 or 23,5° OFFSET -5

Complete Assembly
w/ Bearings

34310201A

STEERING ANGLE 23° CENTERED or 25°

Spacer Only

34310221A

STEERING ANGLE 25° OFFSET -2.5 or 23° OFFSET +2.5

Spacer Only
As we pointed out in our FastDates.com Test of the Ducati 1098S Tri Colore a year ago, the stock steering angle of 24.5 degrees, just does not work well on the 1098 Generation Ducati Superbike: "To my shock and dismay the famous Ducati adjustable steering head was gone! Deleted, I guess, by the bean counters in an effort to lower the bike's cost. So, did the 1098's designers set the fixed steering head at 23.5 degrees like the World Superbike winning Ducati factory bikes, and Suzuki's GSXR1000? No. Did they set it at 24.0 degrees like all of Ducati's slower steering streetbikes the Monster, Multistrada, the ST3 Tourer? No. They kicked it out to the full 24.5 degrees of rake to make this supposed responsive handling Superbike the slowest turning bike in the entire Ducati product line." - FastDates.com New Bikes 5/07.
---
There's more! Go to Pit Lane News NEXT PAGE

Hot Calendar Girl and Bike News! Go to: Fast Dates • Calendar Girls • Iron & Lace

Calendar Kittens, The Paddock Garage, Screensavers, Iron & Lace Garage




Many of our Calendar Kittens can also be seen at Playboy's website...


BikerKiss.com - the largest biker personals site!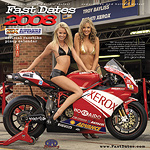 Almost Sold Out!
16-month Calendar starts Sept
2008 Fast Dates &
Garage Girls Calendars

---
Members Only Preview!
2009 Fast Dates Calendar
2009 Iron & Lace Calendar
2009 Garage Girls Calendar
Join our Members Corner today at get an exclusive look at the upcoming 2009 Fast Dates calendar now, before its public release at our big LA Calendar Motorcycle Show July 12-13th!
Featured are full-size 15 inch calendar screensaver pages for your monitor with the top bikes of the 2007 SBK World Superbike and MotoGP World Championship with our beautiful Calendar Kittens. Also includes all our current 2008 and past years Calendars !
---
Erin Racing Appeal Denied by AMA for Daytona 200 Win Disqualification
April 14th, 2008 - Pickering, Ohio - The American Motorcyclist Association (AMA) has announced that the appeal by Erion Racing to overturn the disqualification of Josh Hayes for their Daytona 200 win, has been denied per the 2008 AMA Superbike Series Rulebook, Section A5.
"The AMA rulebook states that a Category 1 equipment offense is defined as 'an equipment violation that could potentially or effectively enhance the performance of a motorcycle used in competition,'" said Bryan Cohn, Senior Director of AMA Racing. "After a complete review of the appeal information provided by Erion Racing and a thorough investigation of the process applied to the crankshaft in question, it was our judgment that the process applied to the crankshaft of the #1 machine of Josh Hayes resulted in the enhancement of performance found in the form of increased lubricity, reduced friction and enhanced durability."
Erion Racing was informed of the AMA's decision 1- days earlier on Friday, April 4, 2008. Suprisingly, it took the AMA another 10 days to release the news to the media.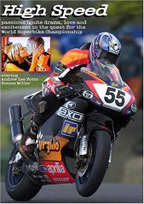 Just Released!
High Speed - the Movie
The best motorcyce racing movie ever made! Filmed on location at World Superbike, this an exciting romantic drama staring beautiful actress Sienna Miller.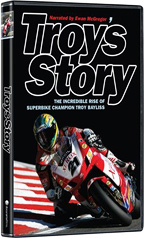 Troy's Story
The story of 2-Time World Superbike Champion Troy Bayliss narrated by Ewan McGreggor
Suzuki Takes 1-2-3 at LeMans 24hr World Endurance Championship
LeMans, France April 20th - Suzuki Endurance Racing Team's number two squad led a SERT GSX-R1000 one-two at the opening round of the World Endurance Championship at Le Mans in France today.
Riders William Costes, Guillaume Dietrich and Barry Veneman took the lead from World Champions Vincent Philippe, Matthieu Lagrive and Julien Da Costa when the number one machine crashed during the night session of the 24-hour race, to win by 11 laps
SERT 2 led for the first hour from Yamaha GMT94 and SERT 1. Yamaha took over temporarily at the second hour and then SERT 1 made a charge to the front - a lead they kept for almost half the race until a crash in the dark, thought to be due to a rabbit running onto the track.
From 16 laps down, the defending champions gradually moved back through the field, climbing into second place behind SERT 2 with five hours to go - a position they held until the flag.
Provisional results: 1 SERT 2 (Suzuki GSX-R1000) 770 laps, 2 SERT 1 (Suzuki GSX-R1000) 759, 3 Acropolis Moto Expert (Yamaha) 756, 4 Infini Team/ Yohann Moto sp (Suzuki) 755, 5 Junior Team Suzuki - LMS (Suzuki) 753.
James Toseland ReSigns with Tech 3 Yamaha for 2009
Yamaha Motor Co. Ltd and Yamaha Motor Racing Srl are delighted to announce that they have signed a two-year extension to their contract with the Tech 3 Team in MotoGP. Yamaha, which has supplied bikes and factory support to the French team since 1999, will continue to do so throughout the 2009 and 2010 seasons. Simultaneously the Tech 3 team and MotoGP debutant James Toseland have already agreed to exercise an option for the 2009 season after the 27-year-old made an instant impact in MotoGP.

The Tech 3 Yamaha Team, which is headed by Team Principal Hervé Poncharal, is currently enjoying a very successful start to the MotoGP season, with American Colin Edwards and Briton James Toseland who has scored top six finishes in his first two races, and claimed a front row start on his debut in Qatar.
James said: ""I am extremely grateful to Tech 3 and Yamaha for giving me this fantastic opportunity," said Toseland. "For them to show confidence and trust in my ability after just two races is very flattering. Signing for 2009 gives me the time to really develop with the team, Yamaha and Michelin.
"When I first tested for Tech 3 last November in Sepang, I knew instantly I'd made the right decision. I knew I could accomplish what I wanted to achieve in MotoGP and that was to prove that I could be competitive. Thanks to Tech 3, Yamaha and Michelin, I have done that after two races.
"The team and Yamaha welcomed me right from the start and gave me 100 per cent backing. The belief shown in me from Tech 3, and in particular Herve Poncharal, has been incredible. Before this season I had never worked with Yamaha, so for me to gain confidence from the factory in such a short space of time is great."
Hot New Book!
---
---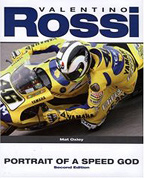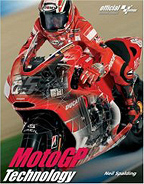 ---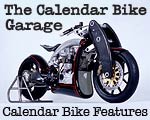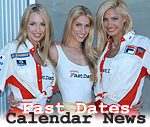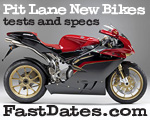 ---
---
Sands vs. Rooke
Calendar Bike Build Off
See the world's two hottest custom sportbikes featured in the 2008 Fast Dates and Iron & Lace Calendars being built and raced by Roland Sands and Jesse Rooke for Discovery Channel's Biker Build Off
Roland Sands builds the
KR Tracker Calendar Show Bike
New Blood DVD
features Roland Sands building and riding the extraordinary Roland Sands Design / Kenny Roberts KR 990cc 5-cylinder MotoGP powered Retro Board Track Racer. The bike is also featured in the 2008 Fast Dates race bike and Iron & Lace custom bike Calendars with beautiful Playboy Playmate and Calendar Kitten Tamara Witmer in one of our best calendar shots ever and ,featured in the LA Calendar Motorcycle Show advertsing campaigns
and T-Shirt.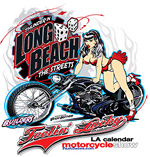 Order the Official
LA Calendar Bike Show
T-Shirts!


Yamaha Begins Construction on New
Cycle Factory in Philippines
April 15, 2008 - Yamaha Motor Co. started construction on its motorcycle factory in the Philippines where manufacturing operations are scheduled to begin in January 2009, according to a company press release.
Investing more than $91 million for construction, Yamaha is expecting the facility to produce 150,000 motorcycle units annually and have an initial workforce of about 270.
The Philippines domestic market currently has an increasing demand for motorcycles, which is backed by a stable economy. In 2007, the demand grew 13 percent over the prior year period to 700,000 units. Currently the motorcycle ownership rate is one unit for every 40 people, and that number is expected to grow to 1 million units by 2010.
The new factory in the Philippines is a part of Yamaha's new three-year management plan covering the period from 2008-2010. This one goal is a "further growth in sales and profitability in the ASEAN region."

Ducati Superbike
Concorso 2998
Ducati North America has announced changes to their the 2008 round of the Superbike Concorso which is a bike contest for Ducati bikes taking place at major motorcycle events across America, which include both wider entry criteria as well as more prizes and, most exciting of all, a Grand Prize VIP trip to Italy awarded at each round (including one for the winner of the online round!).
A key change from last year, entry criteria now include Ducati 900SS (all) in addition to the previously allowed motorcycles - 1972 GTs to 2008 Desmosedici RRs. This includes Supermonos and all 900 and 750 Supersports; if the model was ever raced or reviewed by a magazine as a Superbike, they are a legal entry. Please feel free to contact me if you have questions about this.

2008 also features more chances to win and no final round. Each round produces an overall Grand Prize winner of a trip for two to the Milan Motorcycle show and the Ducati factory to be awarded on the spot at the conclusion of the round. Furthermore, there are more classes; 6 in total plus the people's choice winner. They include categories for best competition bike, best vintage (pre-1988), best modern (1098/DesRR/848), most external beauty, best 1988 - 2007, and the Ducati passion award (miles considered, this is usually an interesting bike with an unusual owner).

Right now, the online round is open and accepting entries. (If you have submitted an entry to any round, online or regional already please contact me to make sure we have your entry, there was a server problem and we got multiples of some and none of others, sorry for this extra trouble). This round is especially attractive to those of you who enjoy a natural advantage because your Ducati's have made an in person impression on the judges and are not relying on the 6 to 8 entry photos only. Many of you already have photos as well so seven minutes might earn you seven days in Italy. If you have already earned a prize in the 2008 Daytona round, your bike is still eligible to enter, it is only ineligible to win the same prize twice (except of course people's choice).

Deadline for entries is April 28th. The round opens for voting on May 1st. Please visit the web site to vote for your favorite after May 1st.

The link to enter the online
round is:
superbikeconcorso.ducatiusa.com
If you have questions about this or any of the other regional rounds feel free to contact Vicky Smith directly at Veloce916@aol.com or 954-673-0877.
For those planning to enter the Laguna Seca MotoGP, Mid Ohio AMA or Indy MotoGP rounds, entry for those is now open and entries are accepted using a formula that includes date of entry - earliest first.