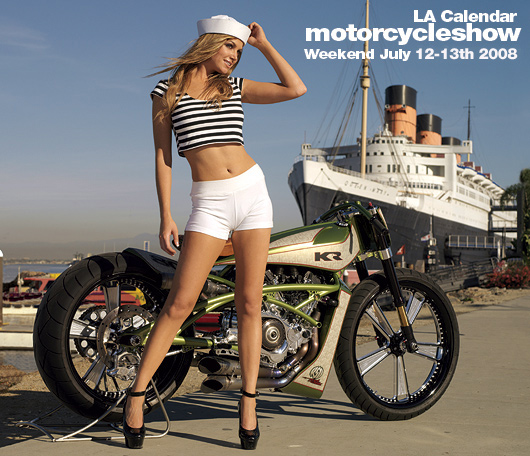 $86,000 in Cash and Awards in the Calendar Bike Building Championship
for Custom & High Performance Street & Sportbikes
Performance Machine presents the
17th Annual 2008 LA Calendar Motorcycle Show Weekend featuring Calendar Bike Building Championship, Dyno Shootout, & Music Festival

July 12-13th 2008, Queen Mary Event Park, Long Beach - It's all about beauiful bikes and beautiful girls!
The 17th annual Los Angeles Calendar Motorcycle Show Weekend presented by Performance Machine, America's premier custom, cruiser, performance and sportbike weekend returns to the Queen Mary Event Park in Long Beach on July 12-13th, 2008. Join 20,000 streetbike motorcycle and music enthusiasts for the world's most exciting 2-day motorcycle event weekend in the beautiful Queen Mary Event Park on the grass alongside the Pacific Ocean! This is the world's premier motorcycle show weekend featuring 200 major motorcycle and parts manufacturers, selected product and apparel venders.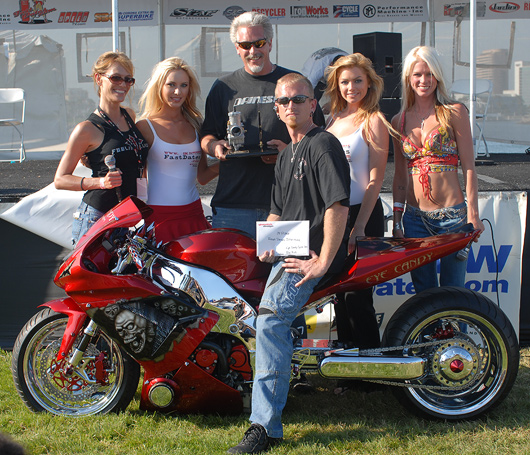 The Calendar Bike Building Championship includes America's premier sportbike contest, the Fast Dates Sportbike Class! Where else can you win Thousands of Dollars in Prizes, a cool retro Mikuni Carburetor Trophy, and have your picture taken with a Penthouse Pet, 2 Playboy Playmates, and Miss Texas / Miss Hawaiian Tropic International / Miss Hooters!

The weekend features many of the world's top Pro and Amateur street bike builders in attendance to compete in the Performance Machine Calendar Show Bike Building Championship with a bulging purse of $86,000 in cash and awards*. There are 10 individual classes for American V-Twin and Metric Street Custom, Performance, Classic, Bobber, Chopper and Sportbike motorcycles.

The coveted Performance Machine Best of Show Trophy is awarded for the top overall bike at the Show and includes a $3,000 cash prize, an additional $7,000 in product awards bringing the total awards to $10,000 overall, plus the winning bike and builder receives an editorial bike feature in Iron Works magazine and the Iron & Lace Calendar photographed by Show producer Jim Gianatsis.
Performance Machine also offers is own trophy for the Best Performance Machine Equipped Bike with a $5,000 product award from Performance Machine products, Other favorite classes include the Iron Works magazine sponsored Radical Pro Builder, the Mikuni American HR Carburetor sponsored American V-Twin Performance, and the Fast Dates Calendar sponsored Sportbike Class.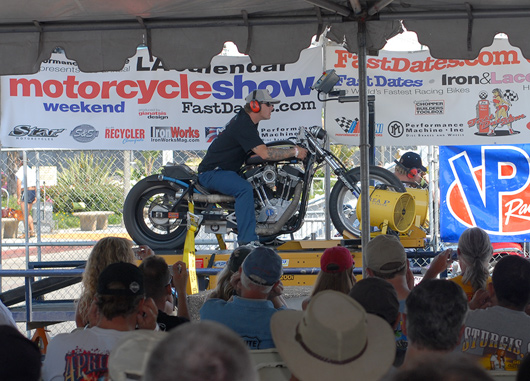 A high performance Drag and Land Speed Record bike tackles the S&S Cycle World Record Dyno.
Join in the excitement of the Calendar Show's exclusive S&S Cycle World Championship Horsepower Dyno Shoot Out hosted by Kerry Bryant of Area P Exhaust Systems. World Record runs are open up to anyone, including the change to see just how strong your streetbike really is. Classes & Awards for all stock and modified American V-Twin and Metric Sportbikes.
Date and Time: July 12th Saturday 10am - 7pm, July 13th Sunday 10am - 6pm
Admission: $25 1-Day $35 2-Days, Children $10.
Location: The Queen Mary Event park, 1126 Queens Highway, Long Beach, CA 90802
Queen Mary Information & Reservations: Ph 562.435.3511
Event Website: http://www.FastDates.com/BIKESHOW.HTM
---

Casey Stonner and the Ducati GP08 are back on top!

MotoGP World Championship bwin.com British GP Donnington, GB, , Round 9 of 19
Tightening the MotoGP Championship with Front Runners-Up Rossi & Pedrosa
Casey Stoner Returns to His Winning Ways a Donnington
Nurburgring, Germany, June 13-15th, 2008 - Casey Stoner took his second victory of the season and the 40th podium of his career today with a dominant display at Donington Park, England. As a result the reigning MotoGP World Champion moved up a place to third in the championship, closing the gap by five points to series leader Valentino Rossi and by nine to Dani Pedrosa, who finished in second and third place respectively. Yesterday's rain gave way to high winds today but the dry conditions suited Stoner perfectly and the youngster produced a faultless display from the first lap.
CASEY STONER (Ducati Marlboro Team) 1st - "This has been a great weekend for us and it's brilliant to know that we're in a position to fight that little bit harder. The last three races have gone quite well for us in general but we've taken a big step forward with the new electronic system, which worked so well at the Catalunya test and then here. After a disappointing start to the season since the opening round at Qatar it's nice to feel as though we're back on track and this weekend went well from the start. We kicked off in free practice with some good lap times and it's just got better and better since then, in wet and dry conditions. Today the bike was perfect, even at the end of the race we had really good traction and I want to thank all my team - Filippo, Vitto and all the people at Ducati - for the hard work they are doing. Now we just hope that this new electronic system will work as well at the rest of the tracks as it has done at Catalunya and Donington Park."
The MotoGP Champinship points leaders on top at Donnington: Rossie, Stoner and Pedrosa.
Stoner stands out with fastest Donington Friday times
Friday Practice, June 20th - With the fastest times in both MotoGP sessions on Friday in Donington Park, Casey Stoner was undoubtedly the day´s standout performer in preparation for the bwin.com British Grand Prix. The Ducati Marlboro rider completed a successful day of practice with a 1´28.253 lap that blitzed Colin Edwards´ 2007 pole position time, giving him a comfortable advantage of half a second over Repsol Honda´s Nicky Hayden. Stoner was the winner of last year´s race at the British circuit, and the chances of a repeat victory look promising for the rider currently fourth in the overall standings.
Hayden repaid Honda´s faith in letting him use the pneumatic valve engine for the RC212V, showing a swift pace and making him the fastest rider of the day for the Japanese factory. The 2006 World Champion had tested the engine last week in Catalunya, and has long championed the use of the motor to kickstart his 2008 campaign. During the afternoon session he also engaged in some light on-track conversation with rival Valentino Rossi, third fastest onboard the Fiat Yamaha M1.
2007 Donington poleman and podium finisher Edwards was fourth quickest with the satellite Yamaha machine, clocking a 1´28.969 lap whilst his young son slept peacefully in the Tech3 Yamaha garage. Donington Park is one of the Texan´s better tracks, a fact reflected in his race pace during the sessions.
Alex de Angelis was the highest placing satellite Honda rider in fifth, ahead of factory man Dani Pedrosa. The latter was using the standard spring valve version of the RC212V engine, having not had sufficient testing time in Catalunya owing to a crash. He also took a tumble on Friday afternoon, although with no obvious ill effects to his injured back. Pedrosa returned to the track later in the session.
Shinya Nakano, James Toseland, Chris Vermeulen and Randy de Puniet completed the fastest ten riders in the combined standings, With Toseland getting to grips with his home track onboard the second Tech 3 Yamaha machine.
Wet or dry, it was Stoner's weekend.
Stoner takes second consecutive pole with Donington masterclass
Pole Qualifying, Saturday June 21st - As the rain continued to fall on Donington Park, Casey Stoner performed the MotoGP equivalent of walking on water in the Saturday afternoon qualifying session. The Ducati Marlboro rider was unstoppable in an amazing hour-long demonstration of 800cc riding en route to his second consecutive pole position of the year, continually lowering his times right up to the final moment.
Stoner eventually settled on a 1´38.232 lap as his ultimate offer, some six tenths of a second ahead of nearest rival Valentino Rossi. After dominating in the dry on Friday, the reigning World Champion has proved that he is ready for any eventuality when the lights go out on Sunday. Rossi, however, is the current series leader, and a rider who has also proved his worth at Donington Park in previous years.
Rizla Suzuki´s Chris Vermeulen makes his maiden appearance of the season on the front row at the bwin.com British Grand Prix, aiming for a repeat of his 2007 podium, his presence on the front line also marks the first time this year that Bridgestone have taken all three top spots for a MotoGP race.
Leading the Michelin charge –and making it four different manufacturers in the top four grid spots- Nicky Hayden continued his upturn in fortunes since receiving the pneumatic valve engine from Honda. The factory rider had been told that he could only use the motor on the condition of a top four placing, and the 2006 World Champion once again upheld his part of the bargain, albeit a full second slower than Stoner.
Last year´s poleman Colin Edwards was the fastest satellite rider onboard the Tech3 Yamaha M1, whilst JiR Team Scot´s Andrea Dovizioso joins him on row two. The third line features Anthony West –so impressive on his 800cc debut at Donington last year and riding for his future- and Rizla Suzuki replacement rider Ben Spies ahead of Dani Pedrosa, currently second in the World Championship.
Whilst West came close to a falling when tussling with Dovizioso, home rider James Toseland was the only rider to take a tumble when pushing for an improvement for his Donington race return. Toseland´s rock group `Crash!´ may have wowed the crowds at yesterday´s Riders for Health event, but on Saturday afternoon the ensemble´s moniker was anything but welcome; two falls at the end of the session frustrating the Englishman and leaving him sixteenth on the grid.
Rossi does his prerace ritual on the grid. Click to go BIG.
Stoner proves unstoppable at Donington Park
Race Day, Sunday June 22nd - Casey Stoner proved uncatchable for his MotoGP rivals as he cruised to a second Donington Park victory in as many years. The 2007 World Champion was the fastest off the line from pole position, taking the kind of runaway win typical of his title winning year at the bwin.com British Grand Prix.
With his second triumph of the season, Stoner moved his way up to third in the overall classification. The two riders ahead of him in the standings, Valentino Rossi and Dani Pedrosa, were involved in an entertaining battle some seven seconds back, trading places repeatedly at the midway point of the race. Riding in his 200th Grand Prix, Fiat Yamaha rider Rossi eventually won out, continuing a seven race run of podium finishes in 2008.
Repsol Honda´s Pedrosa also has seven rostrum appearances to his name this year, and came in third at the scene of his 2006 victory. His consistency keeps up the pressure on series leader Rossi, who he trails by just eleven points.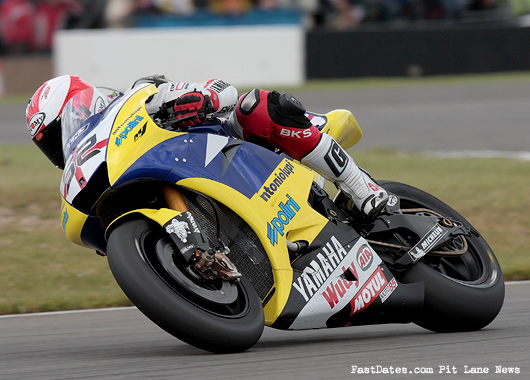 Reigning World Superbike Champion James Toseland was pipped to do well at his home MotoGP round, but he highsided in Turn One off the start, remunted and finished off pace a distant last place.

Colin Edwards was the highest placing satellite rider, finishing fourth onboard the Tech 3 Yamaha M1. Whilst his was a positive result, teammate and home rider James Toseland had a miserable time of things in the race, crashing on the first corner and finishing last after picking the bike back up.
Last year´s 250cc racewinner, Andrea Dovizioso had another creditable showing on his first MotoGP appearance at Donington Park. The JiR Team Scot rookie was fearless even when surrounded by experienced campaigners, concluding the race in fifth ahead of fellow debutant and long-time rival Jorge Lorenzo.
Nicky Hayden, Chris Vermeulen, Shinya Nakano and Anthony West completed the top ten, whilst Rizla Suzuki´s stand-in rider Ben Spies earned his first MotoGP points on his maiden appearance. The American will now wait to find out if his services are required for the upcoming A-Style TT Assen, or if Loris Capirossi –injured but watching on in Donington- will be fit for a return to action in the Netherlands. Spies is also confirmed for upcoming Wild Card rides at the Laguna Seca and Indianapolis US MotoGP races. The only rider unable to finish the race was John Hopkins, the Kawasaki rider retiring with a mechanical problem.
Ben Spies (11) qualified in the rain on Saturday for an excelelnt 8th place start, then here on Sunday ran mid pack throughout the Sunday's race for a very creditable start to his potential future MotoGP career.

Casey Stoner, Race Winner - "It´s better for us here to win here because we know that now we can run better for the future again. The first races after Qatar were a disaster for us. We started fast right from the first session and have been competitive in both the wet and the dry. I have to thank the mechanics; they´ve been working hard to solve problems that we´ve been having, and I hope that this is something for future races, not just the two where we´ve tested."
Valentino Rossi - Position: 2nd - "I am quite happy about this result, although of course I would have preferred to have been fighting with Stoner for the win! I got a good start today and I tried to stay with Casey, but in some corners he was faster than me and it was impossible to keep up with his pace as the race went on. I knew that second place was important because of the points so I had to win my fight with Pedrosa in the middle of the race! Luckily we took second and now I have extended my lead by four points, which is very important for our championship. Unfortunately this weekend we made some mistakes when it was dry on Friday, and then because of the wet yesterday we weren't able to work on them until today, when it was too late to make things perfect. Anyway we did the best we could so thanks to all my guys. We are leading the championship but Stoner showed his potential today so I think that this hard battle between us all is going to continue race by race. I am glad we only have a few days to Assen and I am looking forward to doing better there."
Dani Pedrosa, Repsol Honda: 3rd - "This has been a difficult weekend with the weather changing all the time and only one day of dry practice. So, considering that and the effects of my crash during the tests at Barcelona I think that finishing on the podium is a good result for us. I pushed hard today and I really wanted to get second. Unfortunately, starting from the third row at a tight track with a short run to the first corner was never going to be easy. I got a good start, but I got a bit boxed in through the first corner and I lost some time while I was behind Dovizioso. Once I got up with Valentino we had a good battle, made a few passes but I made a couple of mistakes so I lost the possibility to finish second. My Michelin tyres worked well today but I struggled a bit through the direction changes. Anyway, we got some good points for the championship and we can look forward to getting a better result at Assen next weekend."
2-time AMA Superbike Champion Ben Spies got to run Double 1's for his first MotoGP race.
Race Classification MotoGP: (30 laps = 120.69 km)
Pos/ Rider / Nat / Team / Motorcycle / Time/ KM/H / Gap
1 / Casey STONER / AUS / Ducati Marlboro Team / DUCATI / 44'44.982 / 161.820 /
2 / Valentino ROSSI / ITA / Fiat Yamaha Team / YAMAHA / 44'50.771 / 161.471 / 5.789
3 / Dani PEDROSA / SPA / Repsol Honda Team / HONDA / 44'53.329 / 161.318 / 8.347
4 / Colin EDWARDS / USA / Tech 3 Yamaha / YAMAHA / 44'57.660 / 161.059 / 12.678
5 / Andrea DOVIZIOSO / ITA / JiR Team Scot MotoGP / HONDA / 44'59.783 / 160.932 / 14.801
6 / Jorge LORENZO / SPA / Fiat Yamaha Team / YAMAHA / 45'00.672 / 160.879 / 15.690
7 / Nicky HAYDEN / USA / Repsol Honda Team / HONDA / 45'03.178 / 160.730 / 18.196
8 / Chris VERMEULEN / AUS / Rizla Suzuki MotoGP / SUZUKI / 45'06.648 / 160.524 / 21.666
9 / Shinya NAKANO / JPN / San Carlo Honda Gresini / HONDA / 45'14.336 / 160.070 / 29.354
10 / Anthony WEST / AUS / Kawasaki Racing Team / KAWASAKI / 45'26.012 / 159.384 / 41.030
11 / Toni ELIAS / SPA / Alice Team / DUCATI / 45'29.408 / 159.186 / 44.426
12 / Randy DE PUNIET / FRA / LCR Honda MotoGP / HONDA / 45'31.181 / 159.082 / 46.199
13 / Sylvain GUINTOLI / FRA / Alice Team / DUCATI / 45'33.713 / 158.935 / 48.731
14 / Ben SPIES / USA / Rizla Suzuki MotoGP / SUZUKI / 45'34.573 / 158.885 / 49.591
15 / Alex DE ANGELIS / RSM / San Carlo Honda Gresini / HONDA / 46'07.168 / 157.013 / 1'22.186
Pole Position: Casey STONER 1'38.232 147.434 Km/h
Fastest Lap: Casey STONER 1'28.773 163.144 Km/h Lap 5
Circuit Record Lap: Dani PEDROSA 1'28.714 163.252 Km/h 2006
Circuit Best Lap: Dani PEDROSA 1'27.676 165.185 Km/h 2006
World Championship Positions:
1 ROSSI 162, 2 PEDROSA 151, 3 STONER 117. 4 LORENZO 104, 5 EDWARDS 82,
6 DOVIZIOSO 68, 7 HAYDEN 57, 8 TOSELAND 53, 9 CAPIROSSI 51, 10 NAKANO 49,
11 VERMEULEN 48, 12 HOPKINS 32, 13 MELANDRI 29, 14 ELIAS 29, 15 DE ANGELIS 25.
Kallio Tops 250cc GP
Mika Kallio emerged victorious from a three-rider tussle for victory at Donington Park, maintaining the lead of the World Championship in the most unlikely of circumstances.Kallio had worked his way up from fourteenth on the grid to third with just over a quarter of the race gone, and put himself in a prime viewing position to observe the leading duo of Alvaro Bautista and Marco Simoncelli. His first opportunity to make a move came with just two laps remaining, and he grabbed it with glee when the two ran wide together and left the door open for the Red Bull KTM rider.
There then followed a nervous final lap, in which Kallio slid all over but took advantage of his ice racing skills to maintain his balance and take the chequered flag. As in Jerez, a battle between the Italian and the Spaniard had ended with a Finnish victory.
Simoncelli salvaged second place from the hard pass on Bautista, extending his run of podium finishes to four in a row, whilst his Mapfre Aspar rival had to make do with third. The Metis Gilera man keeps up the pressure on Kallio in the title hunt, holding second place in the standings.
Starting from the front row, Team Toth´s Hector Barbera was unable to stick with the breakaway trio, coming home fourth, whilst Thomas Luthi and Hiroshi Aoyama also featured in the top six. The first ten across the line was rounded off by Alex Debon, Julian Simon, Yuki Takahashi and Aleix Espargaro.
Race Classification 250cc: (27 laps = 108.621 km)
Pos / Rider / Nat / Team / Motorcycle / Time / KM/H / Gap
1 / Mika KALLIO / FIN / Red Bull KTM 250 / KTM / 42'14.410 / 154.290 /
2 / Marco SIMONCELLI / ITA / Metis Gilera / GILERA / 42'14.763 / 154.269 / 0.353
3 / Alvaro BAUTISTA / SPA / Mapfre Aspar Team / APRILIA / 42'15.647 / 154.215 / 1.237
4 / Hector BARBERA / SPA / Team Toth Aprilia / APRILIA / 42'23.285 / 153.752 / 8.875
5 / Thomas LUTHI / SWI / Emmi - Caffe Latte / APRILIA / 42'25.769 / 153.602 / 11.359
6 / Hiroshi AOYAMA / JPN / Red Bull KTM 250 / KTM / 42'30.534 / 153.315 / 16.124
7 / Alex DEBON / SPA / Lotus Aprilia / APRILIA / 42'30.546 / 153.314 / 16.136
8 / Julian SIMON / SPA / Repsol KTM 250cc / KTM / 42'32.417 / 153.202 / 18.007
9 / Yuki TAKAHASHI / JPN / JiR Team Scot 250 / HONDA / 42'47.681 / 152.291 / 33.271
10 / Aleix ESPARGARO / SPA / Lotus Aprilia / APRILIA / 43'04.091 / 151.324 / 49.681
11 / Roberto LOCATELLI / ITA / Metis Gilera / GILERA / 43'06.944 / 151.157 / 52.534
12 / Karel ABRAHAM / CZE / Cardion AB Motoracing / APRILIA / 43'09.721 / 150.995 / 55.311
13 / Lukas PESEK / CZE / Auto Kelly - CP / APRILIA / 43'11.809 / 150.873 / 57.399
14 / Manuel POGGIALI / RSM / Campetella Racing / GILERA / 43'12.051 / 150.859 / 57.641
15 / Hector FAUBEL / SPA / Mapfre Aspar Team / APRILIA / 43'18.739 / 150.471 / 1'04.329
Pole Position: Alvaro BAUTISTA 1'31.834 157.706 Km/h
Fastest Lap (New record): Marco SIMONCELLI 1'32.474 156.614 Km/h Lap 27
Circuit Record Lap: Andrea DOVIZIOSO 1'33.029 155.680 Km/h 2006
Circuit Best Lap: Jorge LORENZO 1'31.659 158.007 Km/h 2006
World Championship Positions:
1 KALLIO 131, 2 SIMONCELLI 123, 3 DEBON 101, 4 PASINI 98, 5 BARBERA 82,
6 AOYAMA 80, 7 BAUTISTA 77, 8 TAKAHASHI 70, 9 LUTHI 57, 10 SIMON 51,
11 ESPARGARO 46, 12 LOCATELLI 39, 13 FAUBEL 34, 14 WILAIROT 30, 15 ABRAHAM 25.
---
Our 2010 Fast Dates Calendar Kittens were, from left to right, Pirelli girls Lauren Brooke and Jamie Jungers, Hannspree girls Shona Kay and Kami Wilson, here with World Champion Troy Bayliss's Ducati 1098F08 Superbike.
CLICK to GO BIG
2010 Fast Dates Calendar Shoot at America's
SBK World Superbike Round at Miller Motorsports, Utah
May 30-June 1st 2008, Toole, Utah, USA - The return of World Superbike Championship to America at Miller Motorsports Raceway in Utah, after a 3 year absence stateside, gave us an exciting new venue to shoot the next edition of the SBK World Superbike endorsed Fast Dates Calendar. Once again calendar photographer and producer Jim Gianatsis was able to photograph all the top factory World Superbike on pit lane with some very beautiful Calendar Kittens for the world's premier sportbike calendar, now celebrating it's 18 year!
The newly constructed Larry H Miller owned Miller Motorsports Raceway, in Toole, Utah, some 30 miles west of Salt Lake City, first got to play host to a AMA Superbike round last year, in a warm up to this year's dual SBK Superbike / AMA Superbike Weekend. The 2 different series used2 different track configurations on the weekend so comparisons between different spec bikes and tires couldn't be directly made. However, the World Superbikes this year did use last year's AMA course and the lap times were effectively quicker despite the World Superbikes being on spec tires. Last year Yoshimura Suzuki's Mat Mladin established the AMA Superbike track record on the 4.907 Kilometer course with a 1:49.585 lap in practice. This year in SBK Superpole that lap recorded was shattered in the 1:48's by the front half of the SBK grid with pole sitter Carlos Checa establishing a new lap record of 1:48.193.
Everything you have heard about the Miller Motorsports facility is true. It has been built as as a World class roadracing facility with no expense spared, and along with Laguna Se ca and Indianapolis is one of only 3 FIM approved racetracks in America. Everything is exceptional from the road course layout and and construction, to the Spectator Grandstands and Pit Garages, to the Administration and Press Facilities. The track was amost overstaffed, all with with very courteous personnel, making a visit there a wonderful experience. It was incredible to see every team bike even had their own personal Fire Marshal with hand carried fire extinguisher.
Complete Fast Dates Calendar Shoot Story & Photos Continues Here...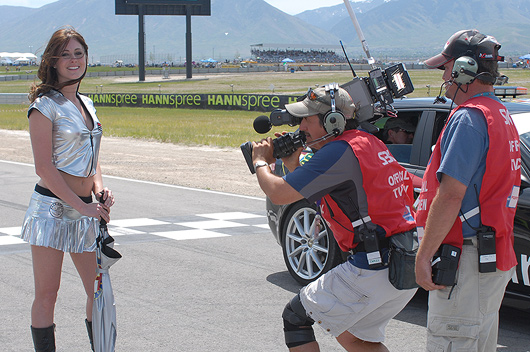 ---
Casey Stoner on the new Ducati GP09, now without a frame! The carbon fibre airbox, under the tank, now extends forward to support the front forks. The engine hangs below the airbox, and the rear swingarm pivots of the rear of the engine, Sheer genious!

MotoGP Catalunya Testing Session
Ducati Unveils with Casey Stoner Its Raducal New
Carbon Fibre Frameless MotoGP Bike for 2009
Monday Jun 9 2008 - The day following the Grand Prix of Catalunya gave the MotoGP riders the chance to start a two-day test, with the Ducati Marlboro Team bringing forward a first outing for the Desmosedici GP9 - which was originally scheduled for Casey Stoner tomorrow. With uncertain weather forecasts for tomorrow, Stoner and test riders Vittoriano Guareschi and Niccol Canepa put the machine through its paces, whilst Marco Melandri spent the day focusing on his GP8 and will test it tomorrow.
Ducati is not sitting on its laurels like other manufacturers, while holding the current MotoGP World Championship. The GP09 is the first ever factory bike to feature a full carbon fibre chassis, the first real inovation in motorcycle racing in 25 years, replacing the traditional Ducati steel tube frame. It was a positive debut for the machine in the hands of the World Champion, so much so that the Australian set the best time of the day with a 1'41.533 on qualifying tyres.
Rather than take a conventional aluminum beam perimeter chassis like used by the other manufacturers, and rereate it in carbon fibre, Ducati has started with a clean piece of paper. Their now proven carbon fibre airbox which sits in the engine's V above the cylinders and is already being uses as a stressed member between the upper frame tubes, the carbon airbox has just bene enlarged and the steel frame tubes eliminated altogether.
This in itseld gives the airbox about 4 more litres of pressurized air. And the long intake runners to the nose of the bike have been combined into one to also contain the steering head of the bike, and the runners in turn, are constructed nto one piece with the airbox. The fuel tank and the seat assembly bolt to the top on this airbox assembly, and the engine hangs below with the swingarmom pivoting off the back of the engine.
Its a very radiacal design never seen before in racing, but it is so simple it could easily be incorporated into future Ducati production bikes. It is though that Formaula 1 race car designer Alan Jenkins may have been involved inthe design of the bike. The only way to really distinguish the new GP09 is to note the carbon fibre intake runner which the front fork steering head is mounted through. An if you look into the fairing side exhaust vents there is no longer an upper steel tube frame bolted to the front sides of the engne.
Casey Stoner (Ducati Marlboro Team) Best lap on race tyres - 1'42.632; on qualifiers - 1'41.533
"I'm happy with the way today has gone. The objective was to understand whether this new chassis concept has potential and I'd say that for now it looks to be the case. We were quickly into some decent times using the same set-up as the GP8. We barely changed anything to adapt it to the characteristics of the GP9 and I immediately felt an improvement so that is positive. I'm sure that with more time to work on it we can go much faster, although that is not the current brief. We'll have time to test it in the winter. Tomorrow we'll get back on my GP8 because we have some important tyre testing to do. There is still a lot of the 2008 season left and we want to be competitive."
Here you see the adjustable steelig head assembly / steering stem running through the large front ram air duct section of the carbon fibre upper chassis / airbox assembly.

---
There's more! Go to Pit Lane News NEXT PAGE

Hot Calendar Girl and Bike News! Go to: Fast Dates • Calendar Girls • Iron & Lace



Calendar Kittens, The Paddock Garage, Screensavers, Iron & Lace Garage


Many of our Calendar Kittens can also be seen at Playboy's website...


BikerKiss.com - the largest biker personals site!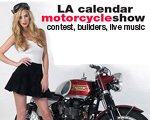 You're Invited to
America's Premier
Custom & Sportbike
Event Weekend!
$86,000 Bike Building Championship
World Record Dyno Shootout!
Calendar Girl Music Festival




The Calendar Motorcycle Show and Calendar Girl Muisc Festival are hosted by beautiful singer songwriter Kari Kimmel
---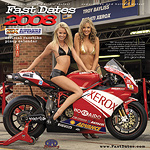 Almost Sold Out!
16-month Calendar starts Sept
2008 Fast Dates &
Garage Girls Calendars

---
Members Only Preview!
2009 Fast Dates, Iron & Lace, Garage Girls Calendars
Join our Members Corner today at get an exclusive look at the upcoming 2009 FastDates.com calendar now, before its public release at our big LA Calendar Motorcycle Show July 12-13th!
Featured are full-size 15 inch calendar screensaver pages for your monitor with the top bikes of the 2007 SBK World Superbike and MotoGP World Championship with our beautiful Calendar Kittens. Also includes all our current 2008 and past years Calendars !
---
Injured Jorge Lorenzo Retrns to Donnington to Finish 6th, Holding 4th overall inthe title Chase
June 22nd - Fiat Yamaha rider Jorge Lorenzo wrote another impressive chapter in his rollercoaster rookie story today with an outstanding ride to sixth from 17th on the grid in the British Grand Prix. After suffering a string of crashes and injuries over the last seven weeks and missing the last round in Catalunya, his aim today was simply to come home in one piece but the determined 21-year-old did considerably better, passing a host of riders to make up 11 places from his grid position.
In dry but windy conditions, Lorenzo lived up to his nickname 'Por Fuera' at turn one by overtaking around the outside of several riders and coming out of the first corner melee in 13th position. He continued with more of the same throughout the lap and crossed the line for the first time in tenth. As his confidence grew he found the rhythm he had been lacking during the rest of the weekend and passed Anthony West to take ninth on lap 13. A consistent pace throughout the middle part of the race, matching that of the leading riders, brought him to Shinya Nakano on lap 20 and, once past him he succeeded in closing a three second gap to Chris Vermeulen and Nicky Hayden in just four laps. He dispensed with these two in turn and then set off after Andrea Dovozioso, however with only five laps remaining time ran out for the Mallorcan and he crossed the line just under a second adrift of the Italian, despite setting a personal best time on the final lap of the race.
Lorenzo now sits 13 points adrift of Stoner in fourth place, whilst Rossi extends his lead over Dani Pedrosa to 11 points as they approach the half way point in the championship, which comes at Assen in just six days time.
Jorge Lorenzo - Position: 6thTime: +15.690 "I'm very happy with this result, because this was a very hard weekend for me and for my crew. I don't want to think about the past, or think about what might have been if I'd started in the front rows, I only want to think about the present and my ride today. The number one aim was to finish the race without crashing or hurting myself, because at the end of the day your health is the most important thing! After the start however I started to feel more and more confident and found I was able to ride better and better, then I realised that I actually had the chance to do a very good race. I had fast pace throughout and my bike and my Michelin tyres worked very well, so thank you to all my team. Sometimes lately it has been hard to stay optimistic, motivated and happy, even though I have always tried to go out smiling and with a good attitude, but this race today was great and I am very happy tonight."
Daniele Romagnoli, Team Manager - "We have achieved the goal for this race; it was very important that Jorge found a good feeling with the bike and started to enjoy riding his M1 again and today this happened. He was able to ride a beautiful race and come back from a difficult grid position to take a brilliant sixth. Today he impressed us once again and it was also a great feeling for everyone to see him making eleven overtakes! The team did a fantastic job because they were able to put him in a position to be this fast. We are very confident now that in Assen Jorge will be back to his best."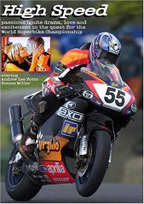 High Speed - the Movie
The best motorcyce racing movie ever made! Filmed on location at World Superbike, this an exciting romantic drama staring beautiful actress Sienna Miller.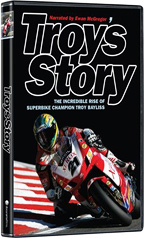 Troy's Story
The story of 2-Time World Superbike Champion Troy Bayliss narrated by Ewan McGreggor
Hot New Book!
---
Vermeulen eighth as Spies scores first GP points at a windy Donington
June 22nd - Rizla Suzuki MotoGP racer Chris Vermeulen battled to eighth place at today's British Grand Prix at Donington Park, with replacement rider Ben Spies finishing in 14th to score his first-ever MotoGP points.
Vermeulen was looking comfortable in sixth place, but as grip reduced he was unable to fight off the attacks from riders around him, and even though he fought right to the chequered flag he just couldn't find that extra bit he needed to hold on to a higher position.
Spies acquitted himself very well at his first-ever MotoGP event. The 23-year-old American continued with his steep learning curve to bring his Rizla Suzuki GSV-R home safely in 14th .He had a tough start to the race, but settled into a smooth rhythm by half distance and then produced his fastest time on the 21st lap of the race.
Today's race was held in dry, but very windy, conditions which kept temperatures down. Over 88,000 fans at trackside saw reigning World Champion Casey Stoner lead the race from start to finish, taking the win from current championship leader Valentino Rossi in second.
Rizla Suzuki MotoGP now makes the short trip across the North Sea to The Netherlands for the Dutch TT next Saturday, where it looks ever increasingly likely that Loris Capirossi will make a return to track action following his crash at Catalunya earlier this month which sidelined him for today's race with a broken hand.
Chris Vermeulen - "It was a difficult race today as we hadn't had a lot of track time in the dry to prepare for it. For me though we have taken a big step with the bike compared to here last year in the dry - that had a lot to do with the Barcelona test and what we learnt there. I've got to say a big thanks to my team because they worked so hard this weekend and gave me a bike that worked really well considering the little amount of set-up time we had. Unfortunately we didn't have the pace of the front guys, and although I rode as hard as I could for the whole race it just didn't quite happen. Towards the end we didn't have much grip left in the rear tyre, which was unfortunate because I felt like I had the pace to fight with other riders around me. Let's now move on to Assen next week and see how things go there."
Ben Spies - "It was a tough race as I was still trying to learn the tyres, the bike and the track in the first few laps. The first half of the race felt like garbage to me, but the second half was really good! I was running times towards the end that would have put us in the top-10 so I'm quite pleased with that. I was catching the guys in front and reeling them in lap-by-lap, but I just didn't have enough laps to get up and past them. I was definitely getting more comfortable on the bike and even though the result wasn't what I wanted the times at the end were really fast and I'm happy with that!"
Paul Denning, Team Manager - "Unfortunately we weren't able to turn the front row start into the result we were looking for today - it certainly wasn't through lack of effort on Chris's part. He got a good start and looked like he could get up there with the front guys, but he just didn't have that bit of extra pace that was needed to make a challenge. Chris is very motivated and if points were rewarded for hard work, he and his crew would be at the top of the board!
"Ben did a good job here this weekend and he looked comfortable and quick on the bike towards the end of the race. He turned in lap times that were good enough for the top-10 - and that is a credit to him. He hasn't made a mistake all weekend and has improved consistently no matter what has been thrown at him. He has done very well indeed. It's not yet clear whether Ben will race at Assen to continue his learning curve, but he will be there ready to step in if Loris is not able to ride."
---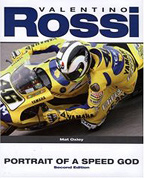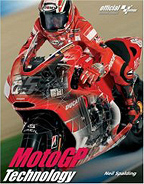 ---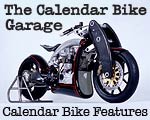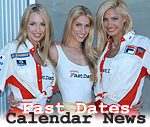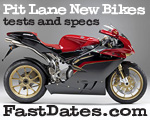 ---
---
Sands vs. Rooke
Calendar Bike Build Off
See the world's two hottest custom sportbikes featured in the 2008 Fast Dates and Iron & Lace Calendars being built and raced by Roland Sands and Jesse Rooke for Discovery Channel's Biker Build Off
Roland Sands builds the
KR Tracker Calendar Show Bike
New Blood DVD
features Roland Sands building and riding the extraordinary Roland Sands Design / Kenny Roberts KR 990cc 5-cylinder MotoGP powered Retro Board Track Racer. The bike is also featured in the 2008 Fast Dates race bike and Iron & Lace custom bike Calendars with beautiful Playboy Playmate and Calendar Kitten Tamara Witmer in one of our best calendar shots ever and ,featured in the LA Calendar Motorcycle Show advertsing campaigns
and T-Shirt.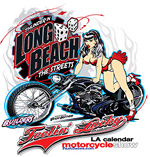 Order the Official
LA Calendar Bike Show
T-Shirts!


A We Thought Motorcycle racing was Dangerous?
Drag Race Legend Scott Kalitta Dies in Funny Car Race Crash
June 22nd - American veteran drag racer Scott Kalitta died Saturday after apparently winning a qualifying race in the Lucas Oil NHRA SuperNationals taking place in Old Bridge, New Jersey. Kalitta had a great start and was about to win the race, but his Toyota Solara Funny Car burst into flames.
It appears that the car was traveling at almost 300 miles per hour at the time, and his engine exploded. Subsequently, the body flew off as the car was engulfed by flames. The parachutes, launched from the burning car, did not manage to slow down Kalitta before he hit the end wall, pulverizing his car in a gigantic fireball.
Scott Kalitta was still alive immediately after the crash, but died shortly after he was pulled out of the car. The legendary drag racer, the son of veteran NHRA driver and crew chief Connie Kalitta and cousin to teammate Doug Kalitta, is survived by his father, his wife, Kathy, and sons Corey, 14, and Colin, 8.
This is the second Funny Car death we've seen this year, as it appears that National Hot Rod Association (NHRA) is behind in safety measures which have already been implemented by other racing organizations such as NASCAR and the Indy Racing League.
His back-to-back Top Fuel title years in 1994 and 1995 have established Scott Kalitta as one of the best drag race drivers in recent history. He retired in 1997, but came back to Top Fuel in 2003. Last year, he had a weak season on Funny Car, as his best finish was a semi-finals appearance at Denver in July.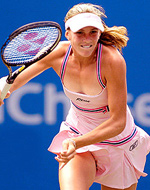 Tennis Star Ashley
Poses for Playboy
Passes on Olympics
June 10th - U.S. tennis star Ashley Harkleroad was crushed by Serena Williams in the first round of this year's French Open, but she upstaged that loss with a provocative announcement: she will bare it all in the August edition of Playboy, On Newstands July . Harkleroad is apparently the first tennis player to ever appear in Playboy:
The 23-year-old Harkleroad found herself kicking her heels earlier this year when she was recovering from surgery to remove a cyst from her ovaries.
While others would choose to convalesce on a relaxing vacation or just lounge in front of the television, Harkleroad chose to accept the offer of posing nude for the world's most famous glamour magazine.
"I was just laying there for three weeks, and, you know, an offer came to me," the woman from smalltown Georgia told goggle-eyed reporters.
"I thought, well, I'm not really doing anything right now so I thought about it and it was something that I did. I'm proud of my body. I was representing a female athlete's body."
Harkleroad also turn down a berth on the U.S. Olympic tennis team this past month to focus on improving her ranking during the summer hard-court season.
Ranked No. 61, Harkleroad was in line to make the team when slots are filled based on next week's rankings.
"Some people just grow up dying to play the Olympics, and that's their goal. It has never been my goal really," Harkleroad said Tuesday at the French Open after losing a doubles match.
Harkleroad, once a top-40 player, said she wants to improve her ranking by focusing on tournaments on hard courts -- her favorite surface -- rather than make the trip to Beijing in August.
"If I thought I could go and win a medal, then I would go," Harkleroad said. "But at the moment, I don't think that's possible. So I'm not going to go just because I want to be in the Olympics. Maybe later on, down the road. I'm only 23 years old."