Our 2010 Fast Dates Calendar Kittens were, from left to right, Pirelli girls Lauren Brooke and Jamie Jungers, Hannspree girls Shona Kay and Kami Wilson, here with World Champion Troy Bayliss's Ducati 1098F08 Superbike.
CLICK to GO BIG
The Mormons try to sabotage our sexy
2010 Fast Dates Calendar Shoot at America's
SBK World Superbike Round at Miller Motorsports, Utah
May 30-June 1st 2008, Toole, Utah, USA - The return of World Superbike Championship to America at Miller Motorsports Raceway in Utah, after a 3 year absence stateside, gave us an exciting new venue to shoot the next edition of the SBK World Superbike endorsed Fast Dates Calendar. Once again calendar photographer and producer Jim Gianatsis was able to photograph all the top factory World Superbike on pit lane with some very beautiful Calendar Kittens for the world's premier sportbike calendar, now celebrating it's 18 year!
The newly constructed Larry H Miller owned Miller Motorsports Raceway, in Toole, Utah, some 30 miles west of Salt Lake City, first got to play host to a AMA Superbike round last year, in a warm up to this year's dual SBK Superbike / AMA Superbike Weekend. The 2 different series used2 different track configurations on the weekend so comparisons between different spec bikes and tires couldn't be directly made. However, the World Superbikes this year did use last year's AMA course and the lap times were effectively quicker despite the World Superbikes being on spec tires. Last year Yoshimura Suzuki's Mat Mladin established the AMA Superbike track record on the 4.907 Kilometer course with a 1:49.585 lap in practice. This year in SBK Superpole that lap recorded was shattered in the 1:48's by the front half of the SBK grid with pole sitter Carlos Checa establishing a new lap record of 1:48.193.
Everything you have heard about the Miller Motorsports facility is true. It has been built as as a World class roadracing facility with no expense spared, and along with Laguna Se ca and Indianapolis is one of only 3 FIM approved racetracks in America. Everything is exceptional from the road course layout and and construction, to the Spectator Grandstands and Pit Garages, to the Administration and Press Facilities. The track was amost overstaffed, all with with very courteous personnel, making a visit there a wonderful experience. It was incredible to see every team bike even had their own personal Fire Marshal with hand carried fire extinguisher.
Complete Fast Dates Calendar Shoot Story & Photos Continues Here...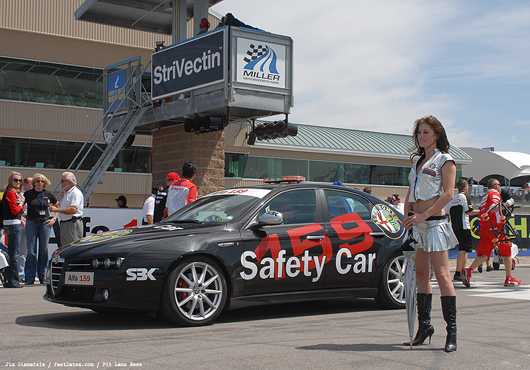 Alfa's imported talent, the 159 Sports sedan and accompanying grid girl.

Troy Bayliss mugs for us on the grid at Miller. In the background the feamale Ducati Corse team technician dials in the software setup for the 1098F08 on the lap top computer, and SBK's Paolo Ciabatti pats Alstare Suzuki's Francis Batta on the shoulder to help mend fences.
---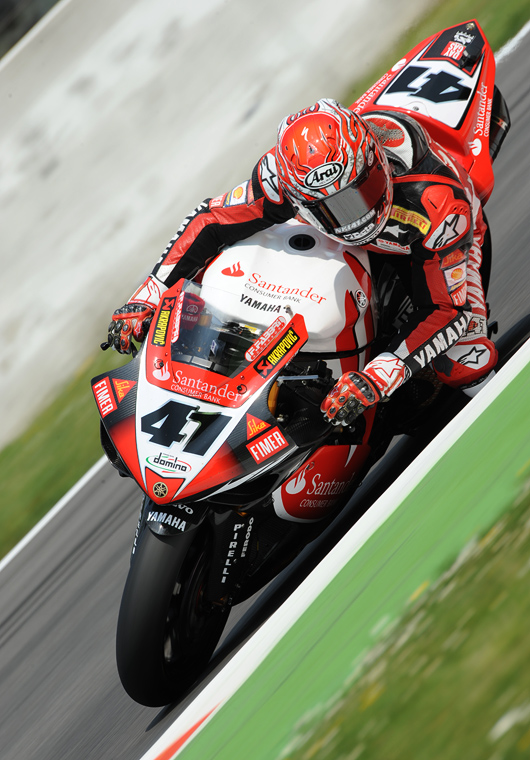 Noriyuki "The Iron Man" literally and figurativey at Nurburgring.

SBK Hannspree World Superbike Championship, Nurburgring, DM, Round 7 of 14
Noriyuki and teammate Troy Corser Quickest on Improved Yamahas
Iron Man Haga Doubles at Nurburgring with broken Collarbone
Nurburgring, Germany, June 13-15th, 2008 - Noriyuki Haga (Yamaha Motor Italia WSB) scored a fantastic double win at the Nurburgring on World Superbike's return to the German track for the first time in ten years. Just two weeks after breaking his collarbone in the USA, Haga fought off Troy Bayliss (Ducati Xerox) to win Race 1, and then got the better of his team-mate Troy Corser in a rain-shortened second encounter to take the double.
Corser was actually leading his team mate in Race 2 when they signaled for the raceto stop n the account of rain, with their positions reverting back to the previous lap when haga was leading at 3/4 distance, giving Nori his 2nd win of the day. Both the Yamaha Italia Santander team mates were extreamly fast this weekend with the team trying new cam and tuning specs for their engines which noticeably increase their R-1 bikes' power and top speed from previous races. Max Neukirchner (Alstare Suzuki) took two thirds in front of his home crowd. Despite unfavourable weather conditions, the German Round of the HANNspree FIM Superbike World Championship, reached a satisfactory overall attendance of 41,000 over the 3 days.
Iron Man and poppa on Father's Day, Haga.
Neukirchner powers to Superpole in home round at the Nurburgring
Saturday 14 June - Max Neukirchner (Alstare Suzuki) powered to a second Superpole win of the season in his home round of the HANNspree FIM Superbike World Championship at the Nurburgring. The 25-year-old from Stollberg in the former East Germany, set an incredible time of 1 minute 55.471 seconds around the 5.137 km circuit on his Suzuki GSX-R1000. The remainder of the front row was made up of riders from three different manufacturers; Troy Bayliss (Ducati Xerox) was three-tenths of a second down in second place, followed by Carlos Checa (Hannspree Ten Kate Honda) and Noriyuki Haga (Yamaha Motor Italia WSB), who ten days ago was undergoing surgery on a broken collarbone.
Max Neukirchner: "It was an unbelievable lap, I was really fast. I'm so happy for my team, they did a great job this weekend for my home race and to help me get my second pole position of the season. I hope the weather will be fine tomorrow and a lot of fans come here with the German flag and say 'go go go, Max!"
Troy Bayliss: "All the practices have been going quite well for us, when I saw Carlos's time I was pretty surprised and I thought that's around where my limit is going to be. I didn't expect Max to do such a good job, that was incredible the lap he pulled out. We're hoping that it's going to be a nice day tomorrow because the conditions have been quite mixed already. Although we're looking good in those situations, we'd love it to be a dry track because I think there's going to be a really good turn-out here. The Nurburgring is a lovely place with a great atmosphere so I'm looking forward to it."
Carlos Checa: "Here we didn't find the grip we had in America but we've been working on the bike to find more mechanical feeling with these tyres and finally it worked a bit better. I was confident with that feeling even with the qualifying tyres and on my Superpole lap the time came very good, then of course Troy and especially Max did a great lap time. We are on the first row and it's very positive, I think we'll catch up the pace and we'll be looking good for tomorrow."
Superpole: 1. Neukirchner M. (GER) Suzuki GSX-R1000 1'55.471; 2. Bayliss T. (AUS) Ducati 1098 F08 1'55.791; 3. Checa C. (ESP) Honda CBR1000RR 1'55.888; 4. Haga N. (JPN) Yamaha YZF-R1 1'56.401; 5. Fabrizio M. (ITA) Ducati 1098 F08 1'56.436; 6. Corser T. (AUS) Yamaha YZF-R1 1'56.522; 7. Lanzi L. (ITA) Ducati 1098 RS 08 1'56.574; 8. Biaggi M. (ITA) Ducati 1098 RS 08 1'56.918; 9. Muggeridge K. (AUS) Honda CBR1000RR 1'56.980; 10. Xaus R. (ESP) Ducati 1098 RS 08 1'57.053; 11. Smrz J. (CZE) Ducati 1098 RS 08 1'57.112; 12. Kiyonari R. (JPN) Honda CBR1000RR 1'57.143; 13. Laconi R. (FRA) Kawasaki ZX-10R 1'57.301; 14. Nieto F. (ESP) Suzuki GSX-R1000 1'57.491; 15. Gimbert S. (FRA) Yamaha YZF-R1 1'57.514; 16. Kagayama Y. (JPN) Suzuki GSX-R1000.
Race 1 - Haga Comes Out on Top of a 6-Way Slug Fest
Sunday 15 June 2008 - Noriyuki Haga was in terrific form on the Yamaha and with a perfect race strategy the Japanese rider got the best of a determined Troy Bayliss (Ducati), who tested him until a couple of laps from the flag before making a mistake. Third place went to local hero Neukirchner, who held off Corser. Carlos Checa (Hannspree Ten Kate Honda) got a bad start but made a good recovery to pass Ruben Xaus (Sterilgarda Go Eleven Ducati) for fifth place on the final lap. Seventh went to Michel Fabrizio (Ducati Xerox), who faded in the final stages after running with the leading group for much of the race. Behind the Italian were Fonsi Nieto (Suzuki Alstare) and Makoto Tamada (PSG-1 Corse) on the first Kawasaki to finish. Max Biaggi (Sterilgarda Go Eleven Ducati) concluded in a disappointing 14th place.
Like coyotes after the rabbit, Bayliss (21), Neukirchner and Corser chase after Haga (41).
Noriyuki Haga: "Ten days ago I was a disaster and I am very happy for this win, just fourteen days after breaking my collarbone. Everyone has helped me and I felt very comfortable in the riding. I want to say 'thank you' to the Clinica Mobile and my team and all the fans. Congratulations for Troy and Max and I hope Yukio comes back very soon!"
Troy Bayliss: "I saw after the warm-up that Nori was looking really consistent, and Max was going to do a good job and maybe Carlos, but Nori proved to be the strongest in the race. At about two-thirds distance I was doing everything I could to stay with Nori but thought that second place was good and I would increase my lead. Nori won fair and square, congratulations to him."
Max Neukirchner: "I'm happy with third place, it was a really hard race for me to catch Troy, and Noriyuki was a little bit too fast for me. I lost a bit in the first split, my tyres and my chassis were really good, but I think we need a bit more handling in the second race.
SUPERBIKE Race 1: (Laps 20 = 102,740 Km
Pos / Rider / Nat. / Team / Gap
1 / N.HAGA / JPN / Yamaha YZF-R1 / Yamaha Motor Italia WSB / 39'19.427
2 / T. BAYLISS / AUS / Ducati 1098 F08 / Ducati Xerox Team / 2.025
3 / M.NEUKIRCHNER / GER / Suzuki GSX-R1000 / Team Alstare Suzuki / 2.792
4 / T. CORSER / AUS / Yamaha YZF-R1 / Yamaha Motor Italia WSB / 5.458
5 / C. CHECA / ESP / Honda CBR1000RR / Hannspree Ten Kate Honda / 10.225
6 / R. XAUS / ESP / Ducati 1098 RS 08 / Sterilgarda Go Eleven / 10.462
7 / M.FABRIZIO / ITA / Ducati 1098 F08 / Ducati Xerox Team / 17.018
8 / F. NIETO / ESP / Suzuki GSX-R1000 / Team Suzuki Alstare / 20.520
9 / M.TAMADA / JPN / Kawasaki ZX-10R / Kawasaki PSG-1 Corse / 21.162
10 / K. MUGGERIDGE / AUS / Honda CBR1000RR / D.F. Racing / 22.650
11 / J. SMRZ / CZE / Ducati 1098 RS 08 / Guandalini Racing by Grifo's / 22.845
12 / R. KIYONARI / JPN / Honda CBR1000RR / Hannspree Ten Kate Honda / 25.555
13 / M.BIAGGI / ITA / Ducati 1098 RS 08 / Sterilgarda Go Eleven / 25.879
14 / R. LACONI / FRA / Kawasaki ZX-10R / Kawasaki PSG-1 Corse / 26.288
15 / S. GIMBERT / FRA / 94 Yamaha YZF-R1 / Yamaha France Ipone GMT / 32.824
Fastest Lap 11° Troy Bayliss 1'57.276 157,690 Km/h
The crocodile Man Troy Corser won Race 2, almost.

Race 2 - Corser Calls a Rain Stop While Leading, Forfeiting the Win to Haga
Troy Bayliss aboard the Xerox Ducati again grabbed the start of Race Two as Bayless' reflexes and the massive torque of the V-twin are prooving to be the best accelerating combo off the line this season. Right behind him again were the Sandlander Bank Yamaha team mates of Haga and Coser, along with MaxNeukirchner on the Alstare Suzuki. The four front runners immediately set to battling for the lead, each taking the lead from Bayliss and then loosing it again a few corners later on the twisty but wide Nurburing track which offered many different lines for passing. By the 3rd lap as their tires heated up, they each took turns shattering the track's lap record, lap after lap, as they tried to best the others.
By lap 5 Haga was able to pass and pull a gap on Bayliss, with Corser quickly following his team mate. For the next 10 laps the two Yamaha riders would pull away in a breathtaking side-by-side battle, trading the lead repeatededly, that would continue for the next 10 laps. Then on lap 15 on the back part of the circuit, with Corser just having retaken the lead again from Haga, the duo encountered rain. As the race leader, Corser had the option to stop the race (being run on slick race tires) after 2/3rds distance being completed, and raised his hand and slowed to signal such. Unfortunately if Troy had waited another half lap to get back to the Start/Finish (where it was still dry) to complete his 2nd lead lap before stopping the race, Troy would have won his first race of the year. As it was the positions reverted back to the previous lap when Haga was leading, giving the Japanese rider his 2nd win of the day.
The 20-lap race was stopped with five laps remaining while Corser was in the lead but the previous lap's classification stands and so the win went to Haga, who completed a triumphant day for Yamaha, which was really competitive on the German track. Third place again went to Neukirchner, ahead of Bayliss, who actually managed to increase his points lead in the table. Checa scored another fifth place, after holding off the three Ducatis of Michel Fabrizio, Max Biaggi and Ruben Xaus. Both Kawasakis were in the points, Regis Laconi in 10th and Makoto Tamada in 13th.
Noriyuki Haga: "During the race my collarbone gave me no problem, it was just muscle pain. I was actually a bit disappointed about the bike's setting because I changed something from the first race that gave a little bit less traction, but we had a big battle with Troy and it was very exciting. I forgot to say after the first race a big thank you to Dr Ting, who made a great operation on my collarbone. Thanks to everyone once again!"
Troy Corser: "It was completely dry at the top part of the circuit but raining down the bottom for the last two laps before I actually put my hand up and it was getting wetter and wetter all the time. Although I wanted to win the race I just wanted to stay on the bike as well. A big thanks to the boys in the team and Nori as well because I actually copied a bit of his engine mapping and it worked fantastic for me. Hopefully we can get some more results like these in the rest of the season."
Max Neukirchner: "It was not possible to win here today, Troy Corser and Noriyuki Haga were a little bit faster but I'm happy with two third places. We changed something from the first to the second race but it was a little bit worse, but I'm satisfied with two good results at my home race."
SUPERBIKE Race 2: (Laps 14 = 71,918 Km)
Pos / Rider / Nat. / Team / Gap
1 / N.HAGA / JPN / Yamaha YZF-R1 / Yamaha Motor Italia WSB / 27'26.594
2 / T. CORSER / AUS / Yamaha YZF-R1 / Yamaha Motor Italia WSB / 0.150
3 / M.NEUKIRCHNER / GER / Suzuki GSX-R1000 / Team Alstare Suzuki / 5.316
4 / T. BAYLISS / AUS / Ducati 1098 F08 / Ducati Xerox Team / 7.651
5 / C. CHECA / ESP / Honda CBR1000RR / Hannspree Ten Kate Honda / 7.951
6 / M.FABRIZIO / ITA / Ducati 1098 F08 / Ducati Xerox Team / 9.027
7 / M.BIAGGI / ITA / Ducati 1098 RS 08 / Sterilgarda Go Eleven / 9.420
8 / R. XAUS / ESP / Ducati 1098 RS 08 / Sterilgarda Go Eleven / 9.916
9 / F. NIETO / ESP / Suzuki GSX-R1000 / Team Suzuki Alstare / 12.862
10 / R. LACONI / FRA / Kawasaki ZX-10R / Kawasaki PSG-1 Corse / 13.559
11 / R. KIYONARI / JPN / Honda CBR1000RR / Hannspree Ten Kate Honda / 13.960
12 / K. MUGGERIDGE / AUS / Honda CBR1000RR / D.F. Racing / 16.172
13 / M.TAMADA / JPN / Kawasaki ZX-10R / Kawasaki PSG-1 Corse / 17.946
14 / G.LAVILLA / ESP / Honda CBR1000RR / Ventaxia VK Honda / 22.815
15 / D. CHECA / ESP / 94 Yamaha YZF-R1 / Yamaha France Ipone GMT / 23.758
Fastest Lap 11° Noriyuki Haga 1'56.892 158,208 Km/h
Lap record (New record) : 2008 T.Bayliss 1'57.276 157,690 Km/h
Best Lap: 2008 M.Neukirchner 1'55.471 160,150 Km/h
Riders Championship Standings:
1 BAYLISS 227, 2 CHECA 188, 3 NEUKIRCHNER 176, 4 HAGA 172, 5 CORSER 154,
6 NIETO 141, 7 XAUS 110, 8 FABRIZIO 106, 9 BIAGGI 97, 10 KIYONARI 89,
11 KAGAYAMA 73, 12 LAVILLA 65, 13 LANZI 60, 14 MUGGERIDGE 59, 15 SMRZ 56.
World Supersport 600cc - Pitt From Brookes As Honda Takes A German 1-2
A twice delayed World Supersport race eventually went to new championship leader Andrew Pitt (Hannspree Ten Kate Honda CBR600RR) who managed to hold off another Honda rider, Josh Brookes (Hannspree Stiggy Motorsports Honda CBR600RR) by a mere 0.387 seconds after 19 laps of the Nürburgring.
The long time leader had been Yamaha rider Broc Parkes, but as his challenge faded in the final few laps Pitt put in a pass on lap 17 to take the lead, and then had to use every millimetre of track to keep the rapidly advancing Brookes behind him on the final corners. Parkes was third, completing the podium places.
The 5.137km German circuit remained dry for the race itself, but the delayed start to the first Superbike race caused a delay to the WSS race, and put extra pressure on all the riders. The first WS race start lasted for one corner only, when five riders fell when one competitor left his braking too late. Through no fault of his own, comeback rider Tommy Hill (Hannspree Althea Honda CBR600RR) was one of the fallers and he had the terrible bad luck of re-breaking the same right femur bone he broke in a testing crash last November. Hill had made a spectacular showing in practice, being eighth fastest in his first ever rides on Honda Supersport machinery, but now the British rider faces another long period of recovery.
Craig Jones (Parkalgar Honda CBR600RR) was another innocent victim of the first corner fall, but restarted on his spare machine to finish fifth. Pitt's team-mate Jonathan Rea (Hannspree Ten Kate Honda CBR600RR) was only 11th on lap one, having qualified 13th, and got through a pack of riders to secure a sixth place finish. Jones had qualified second, ahead of Brookes and Pitt, with Broc Parkes the pole man. Robbin Harms (Hannspree Stiggy Motorsports Honda CBR600RR) fell in the race, after tangling with another rider, and Gianluca Nannelli (Hannspree Althea Honda CBR600RR) entered the pits to retire.
In the championship points, Pitt is on 88, Fabien Foret has 84, Brookes is third on 83, Joan Lascorz is on 81, the same points as Parkes. Jones is sixth on 60, Rea has 51 and Harms 39.
SUPERSPORT 600cc
Race : (Laps 19 = 97,603 Km)
Pos / Rider / Nat. / Team / Time / Gap
1 / A. PITT / AUS / Honda CBR600RR / Hannspree Ten Kate Honda / 38'26.584
2 / J. BROOKES / AUS / Honda Honda CBR600RR / Hannspree Stiggy Motors. / 0.387
3 / B. PARKES / AUS / Yamaha YZF-R6 / Yamaha World Supersport / 1.379
4 / F. FORET / FRA / Yamaha YZF-R6 / Yamaha World Supersport / 10.279
5 / C. JONES / GBR / Honda CBR600RR / Parkalgar Racing Team / 11.624
6 / J. REA / GBR / Honda CBR600RR / Hannspree Ten Kate Honda / 19.211
7 / D. VAN KEYMEULEN / BEL / Suzuki GSX-R600 / RES Software Hoegee Suzuki / 28.775
8 / A. TODE / GER / Triumph 675 / G-LAB Racing Sport Evolution / 28.890
9 / C.WALKER / GBR / Kawasaki ZX-6R / Kawasaki Gil Motor Sport / 28.990
10 / V. KALLIO / FIN / Honda CBR600RR / Benjan Racing Team / 37.853
11 / K. FUJIWARA / JPN / Kawasaki ZX-6R / Kawasaki Gil Motor Sport / 43.101
12 / J. LASCORZ / ESP / Honda CBR600RR / Glaner Motocard.com / 51.843
13 / M.PRAIA / POR / Honda CBR600RR / Parkalgar Racing Team / 54.459
14 / G.VIZZIELLO / ITA / Honda CBR600RR / Berry Racing / 54.653
15 / J. CROWE / AUS / Yamaha YZF-R6 / Yamaha Spain / 54.705
Fastest Lap 2° Broc Parkes 2'00.452 153,532 Km/h
Lap record: New circuit
Best Lap: 2008 B.Parkes 2'00.015 154,090 Km/h
Riders Championship Standings:
1 PITT 88, 2 FORET 84, 3 BROOKES 83, 4 LASCORZ 81, 5 PARKES 81, 6 JONES 60,
7 REA 51, 8 HARMS 39, 9 LAGRIVE 28, 10 VIZZIELLO 28, 11 WALKER 27, 12 ROCCOLI 25,
13 NANNELLI 20, 14 AITCHISON 20, 15 VENEMAN 19.
---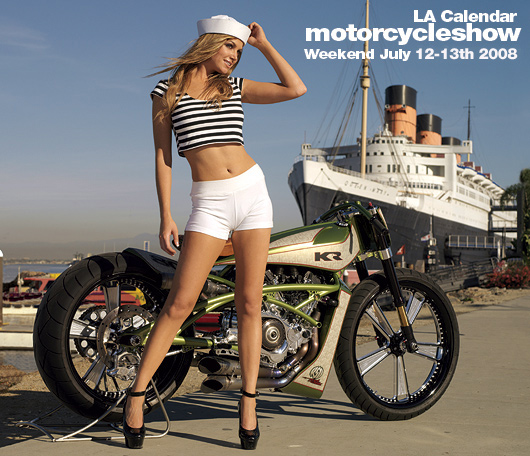 $86,000 in Cash and Awards in the Calendar Bike Building Championship
for Custom & High Performance Street & Sportbikes
Performance Machine presents the
17th Annual 2008 LA Calendar Motorcycle Show Weekend featuring Calendar Bike Building Championship, Dyno Shootout, & Music Festival

July 12-13th 2008, Queen Mary Event Park, Long Beach - The 17th annual Los Angeles Calendar Motorcycle Show Weekend presented by Performance Machine, America's premier custom, cruiser, performance and sportbike weekend returns to the Queen Mary Event Park in Long Beach on July 12-13th, 2008. Join 20,000 streetbike motorcycle and music enthusiasts for the world's most exciting 2-day motorcycle event weekend in the beautiful Queen Mary Event Park on the grass alongside the Pacific Ocean! This is the world's premier motorcycle show weekend featuring 200 major motorcycle and parts manufacturers, selected product and apparel venders.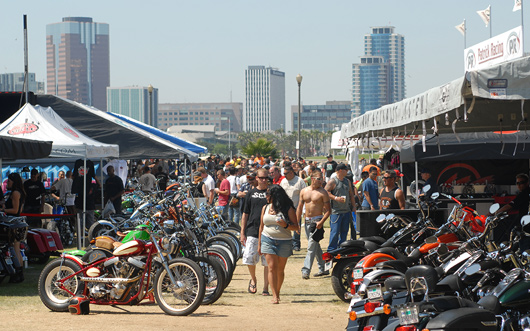 The weekend features many of the world's top Pro and Amateur street bike builders in attendance to compete in the Performance Machine Calendar Show Bike Building Championship with a bulging purse of $86,000 in cash and awards*. There are 10 individual classes for American V-Twin and Metric Street Custom, Performance, Classic, Bobber, Chopper and Sportbike motorcycles.

The coveted Performance Machine Best of Show Trophy is awarded for the top overall bike at the Show and includes a $3,000 cash prize, an additional $7,000 in product awards bringing the total awards to $10,000 overall, plus the winning bike and builder receives an editorial bike feature in Iron Works magazine and the Iron & Lace Calendar photographed by Show producer Jim Gianatsis.
Performance Machine also offers is own trophy for the Best Performance Machine Equipped Bike with a $5,000 product award from Performance Machine products, Other favorite classes include the Iron Works magazine sponsored Radical Pro Builder, the Mikuni American HR Carburetor sponsored American V-Twin Performance, and the Fast Dates Calendar sponsored Sportbike Class.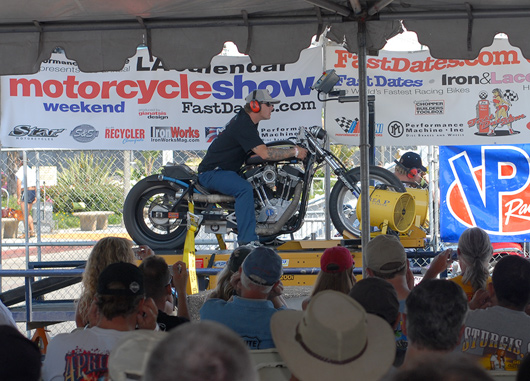 A high performance drag bike tackles the S&S Cycle World Record Dyno.
Join in the excitement of the Calendar Show's exclusive S&S Cycle World Championship Horsepower Dyno Shoot Out hosted by Kerry Bryant of Area P Exhaust Systems. World Record runs are open up to anyone, including the change to see just how strong your streetbike really is. Classes & Awards for all stock and modified American V-Twin and Metric Sportbikes.
Date and Time: July 12th Saturday 10am - 7pm, July 13th Sunday 10am - 6pm
Admission: $25 1-Day $35 2-Days, Children $10.
Location: The Queen Mary Event park, 1126 Queens Highway, Long Beach, CA 90802
Queen Mary Information & Reservations: Ph 562.435.3511
Event Website: http://www.FastDates.com/BIKESHOW.HTM
---
There's more! Go to Pit Lane News NEXT PAGE

Hot Calendar Girl and Bike News! Go to: Fast Dates • Calendar Girls • Iron & Lace



Calendar Kittens, The Paddock Garage, Screensavers, Iron & Lace Garage


Many of our Calendar Kittens can also be seen at Playboy's website...


BikerKiss.com - the largest biker personals site!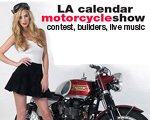 You're Invited to
America's Premier
Custom & Sportbike
Event Weekend!
$86,000 Bike Building Championship
World Record Dyno Shootout!
Calendar Girl Music Festival




The Calendar Motorcycle Show and Calendar Girl Muisc Festival are hosted by beautiful singer songwriter Kari Kimmel
---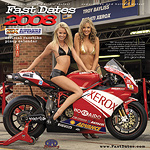 Almost Sold Out!
16-month Calendar starts Sept
2008 Fast Dates &
Garage Girls Calendars

---
Members Only Preview!
2009 Fast Dates, Iron & Lace, Garage Girls Calendars
Join our Members Corner today at get an exclusive look at the upcoming 2009 FastDates.com calendar now, before its public release at our big LA Calendar Motorcycle Show July 12-13th!
Featured are full-size 15 inch calendar screensaver pages for your monitor with the top bikes of the 2007 SBK World Superbike and MotoGP World Championship with our beautiful Calendar Kittens. Also includes all our current 2008 and past years Calendars !
---
Lorenzo Undergoes injury Check-up in Barcelona
Barcelona, Spain 13/06/2008 - Fiat Yamaha MotoGP rider Jorge Lorenzo returned to the Dexeus Institute in Barcelona this lunchtime for a check-up on the skin graft to the fourth finger of his right hand, which was carried out on Tuesday.
Dr Xavier Mir confirmed that the graft had bonded well and that the injury was healing in a satisfactory manner, as the 21-year-old battles to be fit in time for the British Grand Prix at Donington Park next week. Lorenzo will undergo a further check-up on Monday before hopefully traveling to his home in London and beginning preparations for the eighth round of the MotoGP World Championship.
Iron Man Noriyuki Undergoes Collarbone Operation in America
Three days after beaking his collarbone in Saturday morning practice at the USA Miller Motorsports World Superbike round and still finishing 6th in Sunday's June 1st race, Noriyuki Haga visited famed motorsports surgen Dr Athur Ting in San Franciso and had his broken collarbone repaired by Ting in an operation with 2 plates and 6 screws installed. 10 days later Noriyuki would go on to win both races of the June 15th World Superbike round at the Nurburing.
Troy Corser Visits BMW for Possible Superbike Ride in 2009?
Former AMA Superbike and SBK World Superbike Champion Troy Bayliss at age 38, is just 1 year younger that fellow Aussie Troy Bayliss who is retiting from motorcyce racing at the end of this season. Corser, however, is not ready to retire and may be shopping for options for next year as his current contract with Yamaha Italia is up for renewal at the end of this season.
Troy was seen in Munich earlier this week prior to the Nurbergring WSB round,paying a vist to the BMW factory.
BMW is set to enter the World Superbike Championship beginning in 2009 with its all-new S1000 RR World Superbike
and Corser with his experience, and still being a top contender, would be the perfect development and veteran lead rider for the new BMW team.
Who Will Ducati Hire for 2009 to Replace Bayliss?
The most important seat up for grabs in the next few months is Troy Bayliss' Number One spot at the factory Ducati Xerox team.
Current #2 team rider Michelle fabrizio would like to have that spot, as would Stelegarda Ducati support team rider Max Biaggi.
But we suspect neither of those guys will get tipped for the Number One spot at Ducati, as team manager Davide Tardozzi has always reserved that spot for a proven current race winner.
The short list could include AMA Superbike Champion Ben Spies, all dependant of course, on how well Ben's wild card rides for the Suzuki MotoGP team goes this year. If they go well, Ben will definetly want to stay with Suzuki and move to MotoGP. Should the ride go bad, Ben will definetly consider moving to World Superbike.
Other rags have suggest that Nicky Hayden, now onhisspiral down in MotoGP, might be a good choice for Ducati who's biggest market is in the USA. But Nicky has never really impressed us, and we don't thnk any 4-cylinder rider can make a successful switch to the radically different Bologna V-Twin.
Our sugestion to Ducati would be to bring back Troy Corser or James Tosleland, both of whom have won previous World Champinships for Ducati, just as Troy Bayliss made his successful return to Ducati 2 years ago.
Historically, Ducati normally waits until late in the year, towards the end of the seasn in September, before making its team selections for the new year.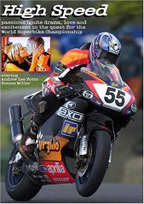 High Speed - the Movie
The best motorcyce racing movie ever made! Filmed on location at World Superbike, this an exciting romantic drama staring beautiful actress Sienna Miller.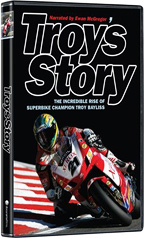 Troy's Story
The story of 2-Time World Superbike Champion Troy Bayliss narrated by Ewan McGreggor
Hot New Book!
---
James Toseland's Band to perform at Yamaha sponsored US MotoGP Laguna Seca
James Toseland will have another chance to put his musical skills to use next month, when he performs a set as part of Yamaha´s Laguna Seca activities schedule. Tech 3 Yamaha´s James Toseland showing off his piano skills
Sat astride his piano stool almost as often as the Tech 3 Yamaha M1 at recent rounds of the MotoGP World Championship, James Toseland will be tickling the ivories once more at the Red Bull U.S. Grand Prix next month.
The MotoGP rookie –backed by his band, Crash!- will be taking to the stage to provide musical accompaniment on the evening of Saturday, July 19th as part of Yamaha´s annual Laguna Seca events programme.
Yamaha always have a strong presence at the American round of the MotoGP World Championship, with the `Yamaha Weekend of Champions´ a regular fixture for fans keen to add to their autograph collections. This year MotoGP Legends Wayne Rainey and Eddie Lawson will be amongst the former stars meeting fans on the Friday, Saturday and Sunday.
`Racing remains the lifeblood of our company,´ says Bob Starr, Yamaha´s General Manager of National Communications, `and this event each year allows us to focus on our racing heritage and its importance to each and every one of us at Yamaha.´
So important is the event to the factory that they are the Proud Motorcycle Sponsor of the Red Bull U.S. Grand Prix, and three years ago helped fund the track improvements necessary to enable the World Championship´s return to Laguna Seca.
Capirossi Out, Ben Spies In at British MotoGP, as Vermeulen Progressess
Rizla Suzuki 12/06/08 - Rizla Suzuki MotoGP will give reigning American Superbike Champion Ben Spies his MotoGP debut at next weekend's June 22nd British Grand Prix, following confirmation that Loris Capirossi will be unfit for the Donington race due to injuries.
The 23-year-old American from Longview in Texas was due to make his Rizla Suzuki MotoGP debut as a wildcard rider at next month's USGP in California, but he has been drafted in early to replace Capirossi who suffered a broken right hand at Catalunya last weekend. Capirossi is now targeting a return at the following weekend's race at Assen in The Netherlands and will continue to work on his fitness to try and achieve this goal.
Chris Vermeulen will be returning to the scene of one of his podium successes in 2007 when he takes to the track at the 4,023m long Donington Park circuit. Suzuki's Australian star finished third in wet weather conditions at the British venue last year and will be looking to continue with the improvement in form that both he and the Suzuki GSV-R have shown in recent races.
---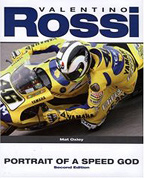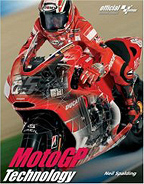 ---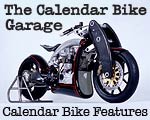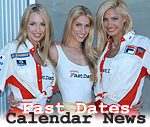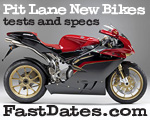 ---
---
Sands vs. Rooke
Calendar Bike Build Off
See the world's two hottest custom sportbikes featured in the 2008 Fast Dates and Iron & Lace Calendars being built and raced by Roland Sands and Jesse Rooke for Discovery Channel's Biker Build Off
Roland Sands builds the
KR Tracker Calendar Show Bike
New Blood DVD
features Roland Sands building and riding the extraordinary Roland Sands Design / Kenny Roberts KR 990cc 5-cylinder MotoGP powered Retro Board Track Racer. The bike is also featured in the 2008 Fast Dates race bike and Iron & Lace custom bike Calendars with beautiful Playboy Playmate and Calendar Kitten Tamara Witmer in one of our best calendar shots ever and ,featured in the LA Calendar Motorcycle Show advertsing campaigns
and T-Shirt.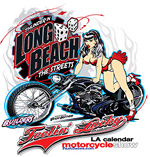 Order the Official
LA Calendar Bike Show
T-Shirts!


DMG Closer to Formulating New Rules for AMA Superbike
June 2nd - Daytona Motorsports Group, the new owners of AMA professional roadracing, are close to finalizing and announcing their new classes and equipment rules for the American roadracing championships 2009.
The word is all the classes including 1000cc Superbike will be restricted to stock production bikes, with the ony available modifications being bolt-on parts like an Exhaust System which a class Sponsor will have to pay a licensing fee, similar to the spec tire rule in World Superbike with Pirelli signing a 3-year contract and licensing fee to get an excluvise for the Championship.
As we pointed out in our recent Pit Board Editorial, we do not think the dumbing down of the bike specifications in AMA Superbike, in particualr, will turn around the class and spectator interest. Instead it will kill it altogether if DMG does not follow the World Superbike rules and classes.
Blowback begins - AMA Superbike and the Daytona Motorsports Group (DMG)
Written by North Denver News
Wednesday, 28 May 2008
The blowback from the effort to transform the AMA Superbike series has begun in earnest.
In a nutshell, two of the AMA series' stalwart riders have made their opinions known-- Honda rider Josh Hayes (who actually doesn't have a Superbike ride) in his hometown newspaper and Suzuki's Mat Mladin from the podium at Infineon a weekend ago. Both strongly condemned the Daytona Motorsports Group(DMG) approach in apocalyptic terms.
Here's the harshest assessment: Bozos from NASCAR, who have already dumbed down sports car racing with weird Harold GrandAm cars, now seek to emasculate Superbike racing. They also want to take manufacturers out their dominant role, and level the playing field. Now the that DMG owns the promotional rights to the AMA roadracing series, we'll get less than the best in machines, reigned in by black boxes and displacement rules, with less than cutting edge rubber. It's a hard pill to swallow for traditionalists, especially those with some passing knowledge of just what it means to ride a superbike at a ragged edge— i.e., outside the performance envelope of 99.995% of the human race.
The economic base of motorcycle racing are the manufacturers. Outside sponsors play a minor role in the sport relative to other motorsports. Part of this is due the image of motorcycles amongst the public, part of due to historical incompetence on the part of the AMA. Outside sponsors also are uncomfortable with the fact people get really hurt, occasionally even killed racing motorcycles. Serious injuries are very rare in AMA racing, but most of the series top stars have seen a surgeon's knife. Can't say that about NASCAR these days. But this reality is true internationally as well. With the exception of Ducati, at the MotoGP level, none of the manufacturers could go racing on sponsorship dollars alone. Both the Suzuki and Kawasaki teams have title sponsors that don't come with title cash. And that's despite killer TV ratings worldwide.
Even though the demographics of racing fans are great, sponsorship is tough, tough sale. Even when the fit is good with branding-- energy drinks being the flavor of the moment-- sponsor dollars are far from a slam dunk.
AMA Superbike racing is perhaps the most Darwinistic form of motorsports in America at the moment. Ostensibly production-based, the evolution of bikes in the past decade and a half have taken them to performance levels that are transcendent. A GSXR-1000 or 1098R (which would have eligble in the previously agreed upon 2009 Superbike rules package), off the showroom floor, perform at a higher level, with current tires, than GP bikes twenty years ago. Imagine if you could buy a car at the local dealer today that would outperform an IndyCar or Formula 1 car from 1988. That's essentially where motorcycles are at today. Production bikes are an apex development, and tweaked into racebikes, they are far more developed than anything but pure prototypes. And at a core level, it is this engineering excellence that DMG wants to kill.
And, ultimately, that's why DMG's disfiguration of AMA Superbike racing will eventually fail, if it is not critically retooled. The hard corps of motorcycle racing fans know that they can go out a buy a bike not far removed from what Mladin races. It will lack his tires and his traction control (although the showroom GSXR has a nifty traction control switch on it), but the basic bike-- frame, motor, is there.
And there is a reason why Superbike racing, in its technical form (as opposed to commercial form), is here today. The evolutionary pathway is a product of the engineering pathway, and the two are so intertwined as to make separating the causal relationships impossible. There has been one moment in recent times that was pivotal— the decision to have fours move to a full liter to regain parity with twins. That was almost certainly a mistake on the race track— electronics and traction control, plus tire development— rapidly eroded the advantage that twins had natively in tire wear. But it did follow the showroom-- customers were buying liter bikes as an aspirational model, first with the Honda CBR900RR, and then with certainly with the 2001 GSX-R. Honda's history with homogolation special 750's also added to demise of the three-quarter liter class. The public just couldn't buy an RC-45, but they could buy an RC-51. What mitigates for the DMG position?
First, Roger Edmondson. Edmondson is a very bright guy, certainly among the sharpest minds associated with motorcycle racing at an executive level in America. Shaped by some hard knocks, Edmondson is also a survivor. It would be hard to bet against Edmondson in a straight fight against the manufacturers, in part because the manufacturers have diffuse interests, and in part because the sponsorship dollars Edmondson might be able to attract are so damn attractive, particularly in a confusing and softening economy. Let's face it, the Japanese manufacturers aren't the most savvy players in the public relations realm. They would have to stand shoulder to shoulder in a protracted battle they might not have the heart or the head for.
Secondly, DMG can see the obvious. When my family was driving home to Colorado from the Miller round last summer, our Nissan Pathfinder was having mechanical difficulties. As a result, we were passed by an astonishing number of NASCAR haulers coming home from Sears Point and AMA teams heading east. The NASCAR haulers were all about drivers and sponsors, we could see from the breakdown lane. The AMA haulers — manufacturers. You had to strain to see the riders names on some trucks. NASCAR's formula for success-- create, nurture, even manufacture star drivers. AMA Superbike doesn't have a formula for success.
Now, I can root for Rob Muzzy's gear-driven cammed ZXR750, even identify such a thing by sound alone at 1000 paces, half a generation on. But I also listen to Rage Against the Machine while reading Alan Greenspan when doing cardio. I understand that I am a statistical outlier that could never be part of the core fan base for a sporting enterprise in America. The AMA has to move beyond gearheads with garage-fulls of trackday bikes to fuel the growth or even the status quo of the sport.
But in the end, NASCAR's coattails are only so long, and motorcycles are not slab-sided billboards, so carefully measured and fettled, undertired with medieval tech. No motorcycle manufacturer, save Harley, can sell backwards-looking technology, and want to be branded as racing such. Even retro-models like the Ducati Sport line, have EFI and wicked suspension. Motorcycles and their riders have always been square pegs, ill-suited to roundy-round NASCAR holes.
As such, Edmondson and DMG will at best have to evolve their current formula to find sustainable success. The fundamental and visceral forces that drive motorcycle racing won't be contained for long.