Ducati's Casey Stoner and Nicky Hayden are possibly the most formidable 2-rider team this year in MotoGP.
Wroom 2009 Ducati Press Introduction, The Dolomites, Italy

Ducati Kickstarts WROOOM 2009 with MotoGP Team Presentation
Madonna Di Campiglio,Trento, Italy - Tuesday Jan 13th 2009 - The Wrooom - MotoGP Press Ski Meeting 2009 got underway in the best manner possible on Monday 12th January with a welcome cocktail party for the world's media at the Hotel Spinale, before the focus turned to both work and play in the opening Wrooom press conference at Madonna di Campiglio this morning. Both Casey Stoner and his new team-mate Nicky Hayden, making his official debut in Ducati Marlboro Team colours, were under the spotlight before spending a relaxing afternoon on the stunning slopes of the Italian Dolomites.
There were plenty of talking points for the media, who have flocked from all corners of the globe, not least in seeing an American rider in the Italian factory's Grand Prix uniform for the very first time.
"On Sunday I tried on my Ducati leathers for the first time in an official photo session and I felt very proud," said the former World Champion from Owensboro, Kentucky. "I know what a huge opportunity I've been given and I'm very grateful to Ducati, Marlboro and everybody who has shown faith in me in this new chapter of my career. I was immediately struck by the dedication and passion that the team is famous for and by how hard everybody is trying to make me feel comfortable in these new surroundings, as they have done helping me adapt to the bike and get the most out of it. So far everything has gone really well. Obviously I need to get faster in order to be truly competitive but I already love the bike.
I can't say it's easy to ride, it gets pretty loose on corner exit sometimes but the engine is powerful and that is important, especially in a race situation. The chassis is nice and stiff so you get plenty of feedback and I like the feeling with the front, which is really stable in the fast corners. So far we have only had two test sessions at Valencia and Jerez, which are tight and twisty tracks, and I think that at places like Malaysia and Qatar it will be even better.
I'm happy to be working with Casey – we've known each other for a few years now, you could say we've got similar backgrounds having not come up through European competition and having started out racing in dirt-track. We're both competitive and we're going to want to beat one another but we'll also work together to make a strong team. As far as my expectations for the season are concerned, I still have a lot of faith in myself and in what I'm capable of. The first objective is to get back to the same level I was at in 2006, challenging consistently for the podium and trying to start winning races again."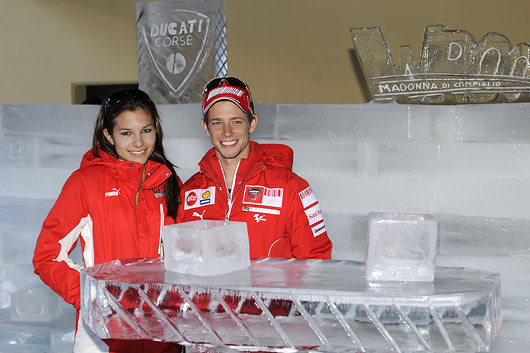 Andrea and Casey Stone at the ice stage and podium at Vroom.
"I'm reasonably happy", answered Stoner when questioned about the recovery of his left wrist, which was operated on late last year. "I would like to have a little more movement but the check-up went well yesterday, the bone graft has healed well and that is very positive. It means I can start to work my hand and arm a little harder now and start to recover some muscle mass and get in the best possible shape for the next test. So far I've only ridden the GP9 twice, at Barcelona during the season and for a day at Valencia in November. It wasn't much but it was enough to understand that we're not a long way off and that the new chassis is an improvement. We need to work on improving the set-up and refining a couple of areas on the bike.
Last year we were perhaps a little too confident and overlooked some of the work we needed to do, leading to a few highs and lows at the start of the season that end up costing us dear. In any case, despite a breakdown and two crashes we still won six races and finished second in the championship, which means we can look forward to next year really positively.
I'm really happy with the addition of Nicky to the team. He has always been kind to me, even when I was racing in the smaller classes, and I think we can work well together. The communication between us is great and I think we can work together on fixing certain situations and getting the most out of the GP9 so that we can both be competitive. From my side I also plan to be a little more aggressive this season and maybe be a bit more decisive in races where nobody seems to want to take the initiative."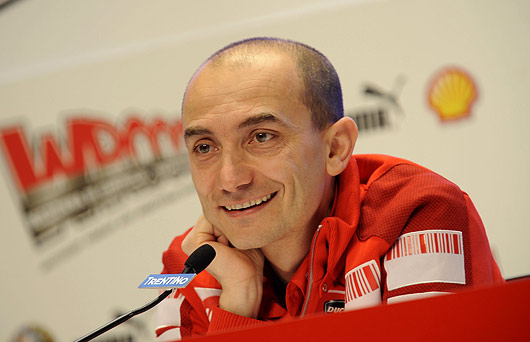 Claudio Domenicali

The first MotoGP Bike without a Frame!
Claudio Domenicali Reveals the Desmosedici GP09's Secrets
Wednesday Jan 14 - Madonna di Campiglio, Trento. The second day of the Wrooom - MotoGP Press Ski Meeting 2009 took place under light but constant snowfall today, forcing the presentation of the new Ducati Desmosedici GP9 to be put back until tomorrow, Thursday 15th January, when it will be unveiled against the spectacular backdrop of the Dolomite mountain range in Madonna di Campiglio. Today's programme was still a packed one, however, with Claudio Domenicali, CEO of Ducati Corse and General Director of Ducati Products, taking the chair in this morning's press conference.

Domenicali answered questions from the international press about the technical updates on the GP9, commenting also on the major talking points of the coming season and last year's campaign.
"As always it's a pleasure to be here at Madonna di Campiglio for Wrooom 2009", said Domenicali, before briefly assessing the 2008 season for Ducati Marlboro Team. "Last season was certainly exciting, with some great moments for us and others that were obviously difficult. When you look at the numbers we won six races, set pole position on nine occasions and set the fastest lap in eight races. If it wasn't for probably the best Valentino ever, coming back from two difficult seasons and rediscovering the strength to have an exceptional season, those numbers would have surely added up to a successful defence of the world title. When you consider these excellent results and the fact that Casey (Stoner) is still only 23 years old, with plenty of potential to improve even more, once the disappointment is out of the way we can't be anything but satisfied with 2008 and confident about the season to come.
For 2009 we have many new things, starting with the bike: the GP9 is characterised by a major change in the chassis, with the switch from the traditional Ducati steel trellis chassis with a carbon fibre frame that brings the upper part of the engine up to the level of the steering column. It is a change we have thought about and tested for a long time, firstly with Vittoriano (Guareschi), who is always our first point of reference. He gave his approval to the new system and then the official riders tested it at Barcelona. We won the MotoGP World Championship with the trellis frame so it clearly a very effective design but we have been looking to take another step forward that can help us overcome some of the problems we've had, specifically with the MotoGP bike.
Amongst the other updates on the GP9 one of the most relevant is an evolution of the engine management system, with a new combination of airbox and mapping that should provide a flatter power curve and improve rideability, as well as improving outright power, which currently remains more or less the same as last year. Another new thing for 2009 is the arrival of Nicky (Hayden) to the team. He has been very amenable from the start and he is a rider who perfectly fits in with our motto of never giving up. We think he's the ideal team-mate for Casey and I'm sure they can develop a positive team spirit. He has started out with the right attitude because he had a tough first day at Valencia, more difficult than we had imagined, but he ended the December test just a couple of hundredths of a second off the third fastest lap time and that is very satisfying."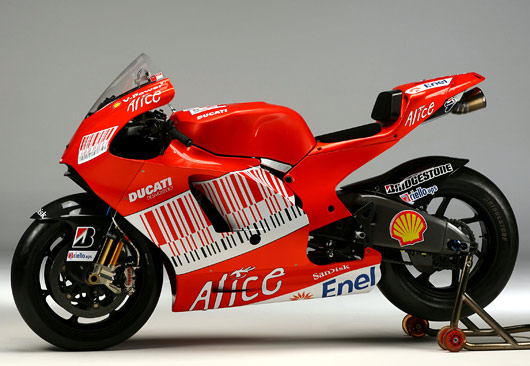 Ducati once again steps to the forefront in technology - The new Desmosedici GP09 does not have a frame, with all suspension and chassis components attaching to the engine. A carbon fiber airbox assembly which bolts to the top of the engine, has a ram-air intake front through which the front fork assembly is mounted.
See larger GP09 high resolution screen saver images in Iron & Lace Garage

Domenicali then discussed the global financial crisis, which is also hitting MotoGP, answering a host of questions from the floor.
"It is definitely a situation we have to face up to right now but I would like to take a slightly different view of it, because whilst it is true that companies are having to face up to changes, with reducing sales of cars or bikes, on the other hand motorcycle racing, like so many other sports, is well loved, it has so many fans all over the world and it will find a way to move forward. We are considering a variety of proposals, together with the other constructors, the organizers and the Federation with this objective in mind; for example modifying the rules on the durability of the engines, which produce one of the biggest costs in MotoGP.
The objective of extending engine durability is a matter for 2010 because it involves modifications that include the redesigning of internal components and that takes a certain amount of time. For this season we are looking at taking a step towards it by reducing the length of each practice session.
Ducati also has to face up to this difficult situation but we have the support of solid partners: starting with our multi-year agreement with our title sponsor Marlboro, as well as Shell and Telecom. We have also renewed important contracts with Enel and Riello. There are also lots of other companies who promote their products through motorcycle racing with the Ducati Marlboro Team such as Alfa Romeo, Gatorade and Puma. Of course these are tough times but there are still plenty of ways to make sure that the MotoGP World Championship remains a leading promotional vehicle."
Wrooom, which also features events dedicated to Scuderia Ferrari, concludes on Friday 16th January.
---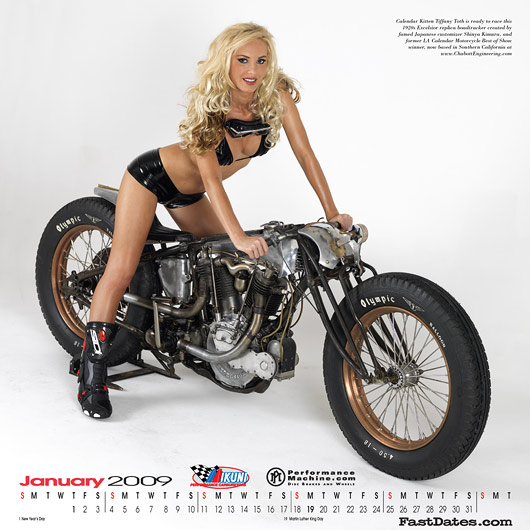 In the 2009 Iron & Lace and Fast Dates Calendars ....
This is really Hot! FastDates.com Calendar Kitten Tiffany Toth gets ready to ready to race this 1920s Excelsior V-Twin replica board track racer created by famed Japanese customizer and LA Calendar Motorcycle Best of Show winner Shinya Kimura / ChabottEngineering.com. The above picture is featured in Iron & Lace for January 2009, with a similar shot of the bike with Tiffany in the 2009 Fast Dates Calendar for October 2009.
Oh, and did we forget to mention that Tiffany was recently photographed by Playboy to be a new upcoming Playboy Playmate centerfold! You'll find large size screen savers of all our past and present Calendar pages and lots of very revealing pictures of our Calendar Kittens including Tiffany in Members Corner.
Buy the 2009 Fast Dates Calendar • Download Big Screen saver Photos in Members Corner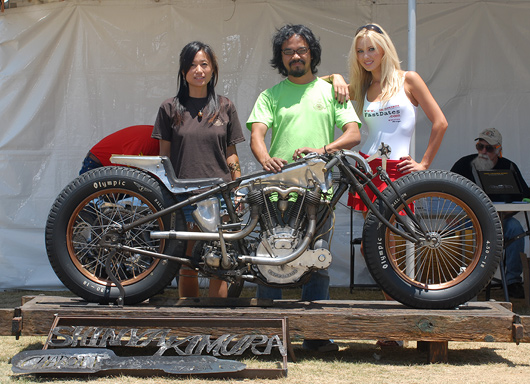 Shinya Kimura and wife Ayu and Calendar Kitten Tiffany with the Excelsior at the LA Calendar Motorcycle Show.
Bill Clinton Presidential Library Center Hosts "Art of the Chopper"
with Shinya Kimura's Iron & Lace Calendar Bike
Through Feb. 8, the Clinton Presidential Center in Little Rock, Ark hosts "Art of the Chopper" an exhibit of 30 gleaming handcrafted motorcycles from around the country, including Shinya Kimura's Excelsior Board Track racer (shown above) featured in the 2009 Iron & Lace and Fast Dates Calendars.
Clinton center director Terri Garner says "Just as Bill Clinton defines the end of the 20th century, so does the chopper". These custom motorcycles (with portraits of the builders) are already featured in Tom Zimberoff' 2 hard cover books "Art Of The Chopper I & II'. The exhibit is included in the museum's regular admission price. Tickets: $7, adults; $5, seniors (62 and older).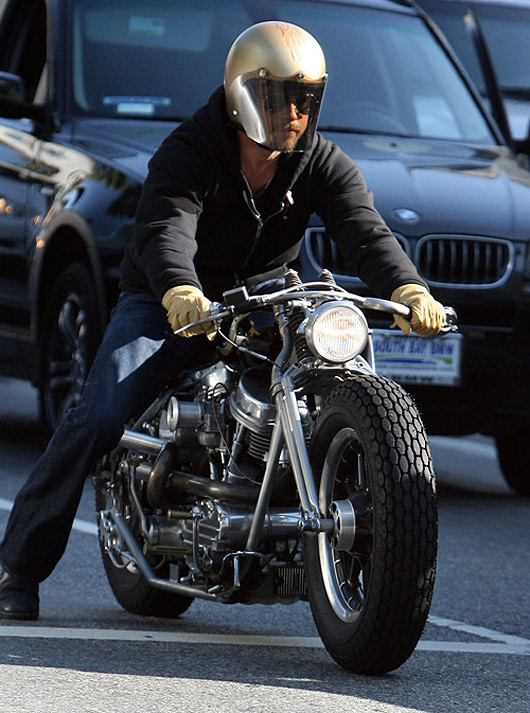 Brad on the Best of Show winning Calendar bike.

Brad Pitt Buys Shinya Kimura's LA Calendar Motorcycle Best of Show
Winner, Ad Campaign and Iron & Lace Calendar Featured Bike
Los Angeles, CA, Jan 9th - The paparazzi in Hollywood snapped actor Brad Pitt riding one of his cool motorcycles from his home in Beverly Hills, down to the studios for work. The bike just happens to be the unique retro V-Twin custom sportbike built by famed Japanese builder Shinya Kimura, formerly with Zero Engineering and now ChabottEngineering.com
This bike along with builder Shinya made their first ever appearance in America at the July 2004 LA Calendar Motorcycle Show where they clinched Best of Show in the Calendar Bike Building Championship. A few months later this winning bike was photographed by FastDates.com Calendar photographer Jim Gianatsis with beautiful Calendar Kitten, former Miss Harley-Davidson and Miss Texas, Robin Cunningham. Pictures from that shoot were used both in the ad campaign for the 2005 LA Calendar Motorcycle Show Weekend (seen below) and in the 2006 Iron & Lace Calendar.
Like many of the top male actors in Hollywood,including Tom Cruise and George Clooney,Brad owns a huge collection of exotic custom and sportbikes, including the Ducati Desmosedicci RR. And when they work together on film's like Oceans 11, they hold a competition each day to see who can ride the coolest bike to the studio where they ballpark together in one spot. With Brad's purchase of Shinya Kimura's LA Calendar Motorcycle Best of Show winner, you get a good idea of where a lot of celebrity buyers look to find their next ride. Currenty Brad has 2 more new bikes under construction with Shinya and hopefully we'll get to photograph them for you before Brad picks them up.
Buy the 2009 Iron & Calendar • Download Big Screen saver Photos in Members Corner
---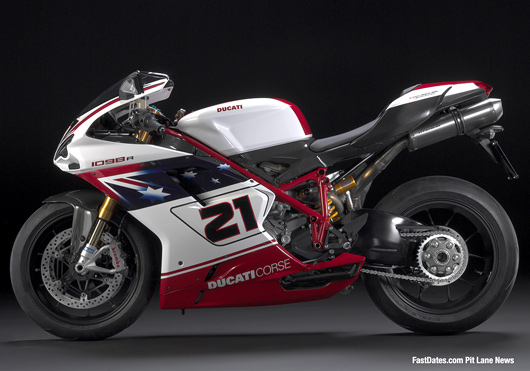 $3,000 Price Hike for 2009 Troy Bayliss Replica Ducati Superbike 1098R 09
Jan 15th - While Desmosedicci RR owners can't give away their bikes away on ebay.com because of the bad economy, and despite the drop in value of the Euro against the U.S. Dollar, Ducati North America has just announced a $3,000 price increase to $43,995 on Ducati's 1198cc homologation Superbike the 1098R 09 for this year. The bike is mechanically unchanged from the 2008 model, with the exception of the special commerative Troy Bayliss 2008 World Superbike Championship winning paint scheme which was premiered at the final 2008 World Superbike race at Portiamo in Spain. Once again the production run will be limited to 450 examples for the 1098R 09 model, but with many Ducati dealers still sitting on unsold 1098R 08 models which listed at $39,995, you just might want to do a little bargaining on a dusty 2008 model before they're all gone.
Our buddy Bran Caterson, Editor at Motorcyclist magazine, just tested the 2008 model R in the February 2009 issue and proclaimed it better than the Desmosedicci. But then, we told you the 1098R 08 was the best sportbike on the planet some 6 months ago in our Pit Lane News New Bike Test.
Can't afford a 1098R? Don't worry, the new 1198S 09 at just $21.995 and now with Ducati Traction Control is a hal-price bargain, particularly once you fix the slow 24.5 degree steering head angle as we show you in the Paddock Garage.
Above: Troy Bayliss winning the final World Superbike race of the 2008 season at Portiamo wth the 3-Times World Superbike Championship commerative Ducati Superbike and Sumy Helmet. The limited edition 1098 helmet is now available for a lot less money than the bike, but still almost as rare.
---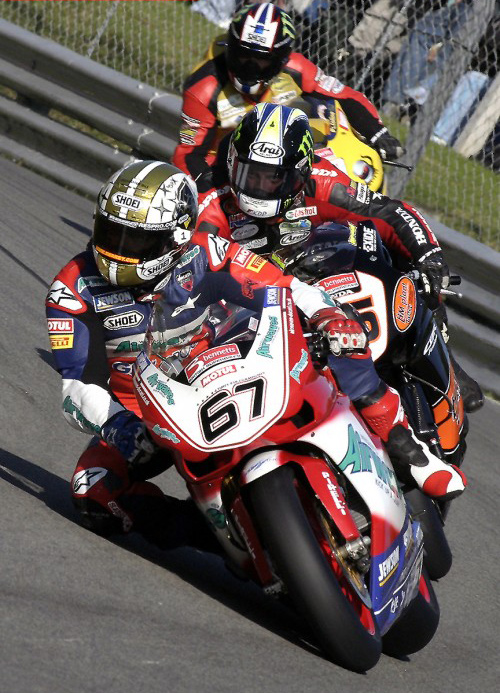 Above: Byrne (67) in action on the Airwaves Ducati 1098RS in last year's British Superbike Championship
SBK World Superbike Official Tests, Portimao, Portugal Jan 23, 24, 25th
Private Team Sterilgarda's Byrne Supremacy Remains Untouchable Over 3-days of SBK PreSeason Tests, Ben Spies in 2nd!
Portimao, Sunday 25th January 2009 - The last day of World Superbike Championship official testing at Portimao was once again affected by adverse weather conditions, and thus the absolute best times of the entire test were largely set on the second day, leaving Shane Byrne as the new track best pace setter on his private Sterilgarda Ducati.
"I didn't expect to be fastest in the test to be honest but I'm not surprised" declared 'Shakey'. "The bike's working really well and the relationship and feedback with the team and my engineer is great. This Superpole formula is not new for me, we tried something similar in the last few BSB races. It's really exciting and spectacular and I'm sure it'll look good on TV as well".
Young American three-time AMA Superbike star Ben Spies was consistently on the pace, and finished the test second fastest with an overall time of 1'43.484, less than two tenths of a second off fastest rider Shane Bryne. Spies team mate, Young rising British star Tom Sykes, took advantage of the test to catch up on time missed due illness at the previous test in South Africa and flew up the times, ending the test an impressive fourth, less than a tenth of a second from his team mate with a time of 1'43.546.
This was only the third outing for the riders on the M1 derived 2009 Yamaha WSB YZF-R1. The advantage of the revolutionary cross plane crankshaft and uneven firing interval resulted in more grip and smoother torque delivery for Spies and Sykes, enabling both riders to achieve faster times in the dry and in the wet. With more fine-tuning to come the team are looking to be serious contenders in the 2009 WSB Championship. From the South Africa test to Portimao, the Yamaha team achieved a big power output, clearly demonstrated when the R1 claimed the maximum top speed of all teams at the Portugese test.
Ben Spies was 2nd quickets this week in Superbike testing at Portimao.
Ben Spies - "For sure it was good to be here and get more time on the bike and work with the team, the rain was a bit dodgy so it's been frustrating to get some decent track time. In the first of the new format Superpole test sessions on the last day we were quickest, unfortunately for the second session it rained and I didn't want to do anything silly so didn't push too hard. We worked on some settings over the test and got down to some pretty quick times. We got to try a few things with the bike and made a big step up, taking half a second a lap off, but the weather didn't allow us to get more. The bikes got good straight line speed now and we're continually improving. I'm very confident we've got what it takes to win. The team have been great, we're working really well together. I'm looking forward to getting to Australia and getting stuck in again!"
Only two top riders improved their weekend times today, Troy Corser, who was finally ranked an impressive 11th on the all-new BMW four-cylinder, and Max Biaggi on the vee four Aprilia, who went 18th.
With new rules in place for both Superpole qualifying and flag-to-flag races each was given a trial run today.
In Superpole there will now be 20 riders in the qualifying group, which then drops to 16, then eight in the final 12-minute session, which determines the pole setter. The top 20 riders from this weekend's sessions went forward to practice this discipline today, with great success, and the new format of final grid qualifying is anticipated with relish by all.
The flag-to-flag practice was included in the very last practice session of all three days, with riders coming in to change to their spare bikes when the signal was given, without any interruption of the simulated race session.
Many of the top teams now leave Portimao to get to Phillip Island well in advance of the race, to undergo their own private test sessions before the start of the season, in just over one month's time.

Neukirshner on the the new Suzuki GSX-R1000 K9
Superbike - Overall Best Times
1. Byrne S. ( GBR ) Ducati 1098R 1'43.294;
2. Spies B. (USA) Yamaha YZF R1 1'43.484;
3. Haga N. (JPN) Ducati 1098R 1'43.487;
4. Sykes T. ( GBR ) Yamaha YZF R1 1'43.546;
5. Checa C. (ESP) Honda CBR1000RR 1'43.657;
6. Neukirchner M. (GER) Suzuki GSX-R 1000 K9 1'43.674;
7. Smrz J. (CZE) Ducati 1098R 1'43.767;
8. Fabrizio M. (ITA) Ducati 1098R 1'43.951;
9. Rea J. ( GBR ) Honda CBR1000RR 1'44.115;
10. Haslam L. ( GBR ) Honda CBR1000RR 1'44.170;
11. Corser T. (AUS) BMW S1000 RR 1'44.261;
12. Kagayama Y. (JPN) Suzuki GSX-R 1000 K9 1'44.425;
13. Laconi R. (FRA) Ducati 1098R 1'44.546;
14. Kiyonari R. (JPN) Honda CBR1000RR 1'44.610;
15. Parkes B. (AUS) Kawasaki ZX 10R 1'44.704;
16. Polita A. (ITA) Ducati 1098R 1'45.108;
17. Nakano S. (JPN) Aprilia RSV4 1'45.179;
18. Biaggi M. (ITA) Aprilia RSV4 1'45.199;
19. Roberts B. (AUS) Ducati 1098R 1'45.278;
20. Salom D. (ESP) Kawasaki ZX 10R 1'45.393;
21. Tamada M. (JPN) Kawasaki ZX 10R 1'45.446;
22. Lavilla G. (ESP) Honda CBR1000RR 1'45.672;
23. Hill T. ( GBR ) Honda CBR1000RR 1'45.679;
24. Scassa L. (ITA) Kawasaki ZX 10R 1'45.820;
25. Xaus R. (ESP) BMW S1000 RR 1'46.128;
26. Rolfo R. (ITA) Honda CBR1000RR 1'46.916;
27. Iannuzzo V. (ITA) Honda CBR1000RR 1'46.971
Spain's Joan Lascoraz on Kawasaki Tops Supersport
After less than ideal weather conditions intervened on the final day of Supersport testing the best times for all 29 riders were set on the second day, leaving Spaniard Joan Lascorz (Provec Motocard Kawasaki) the fastest rider of all. The all-new Kawasaki ZX-6R was followed home by the Yamaha R6 of class rookie Cal Crutchlow (Yamaha World Supersport Team), then 2007 World Champion Kenan Sofuoglu (Hannspree Ten Kate Honda) who was fastest today, but third quickest overall. Miguel Praia (Parkalgar Honda) was half a second from the quickest testing time in fourth, while 2008 champion Andrew Pitt (Hannspree Ten Kate Honda) rounded out the top five.
The first ranked Suzuki was the Pioneer Hoegee GSX-R600 of Barry Veneman, seventh, while the top Triumph 675 was Gianluca Nannelli's BE1 triple, ninth but third in today's changeable sessions. High winds were also a feature, with riders having to allow for their changes of direction and intensity, which also held down lap times today. The highest lap count, over all three weather affected days, was 114 for Patrick Vostarek's Czech Intermoto Honda.
Supersport – Overall Best Times
1. Lascorz J. (ESP) Kawasaki ZX-6R 1'45.214; 2. Crutchlow C. ( GBR ) Yamaha YZF R6 1'45.264; 3. Sofuoglu K. (TUR) Honda CBR600RR 1'45.397; 4. Praia M. (POR) Honda CBR600RR 1'45.757; 5. Pitt A. (AUS) Honda CBR600RR 1'45.817; 6. Laverty E. (IRL) Honda CBR600RR 1'45.960; 7. Veneman B. (NED) Suzuki GSX-R600 1'45.971; 8. Pirro M. (ITA) Yamaha YZF R6 1'46.018; 9. Nannelli G. (ITA) Triumph Daytona 675 1'46.024; 10. Foret F. (FRA) Yamaha YZF R6 1'46.036; 11. McCoy G. (AUS) Triumph Daytona 675 1'46.220; 12. Lagrive M. (FRA) Honda CBR600RR 1'46.561; 13. Vizziello G. (ITA) Honda CBR600RR 1'46.633; 14. Roccoli M. (ITA) Honda CBR600RR 1'46.712; 15. Aitchison M. (AUS) Honda CBR600RR 1'46.911; 16. Harms R. (DEN) Honda CBR600RR 1'47.041; 17. Fujiwara K. (JPN) Kawasaki ZX-6R 1'47.095; 18. West A. (AUS) Honda CBR600RR 1'47.270; 19. Günther J. (GER) Honda CBR600RR 1'47.508; 20. Vostárek P. (CZE) Honda CBR600RR 1'48.131; 21. Holland R. (AUS) Honda CBR600RR 1'48.311; 22. Szkopek P. (POL) Triumph Daytona 675 1'48.331; 23. Smrz M. (CZE) Triumph Daytona 675 1'48.364; 24. Vos A. (NED) Honda CBR600RR 1'48.459; 25. Dell'Omo D. (ITA) Honda CBR600RR 1'48.849; 26. Lai F. (ITA) Honda CBR600RR 1'49.149; 27. Pradita Doni T. (INA) Yamaha YZF R6 1'51.338; 28. Guerra Y. (ESP) Yamaha YZF R6 1'51.480; 29. Morillas Cuenca J. (ESP) Yamaha YZF R6 1'53.407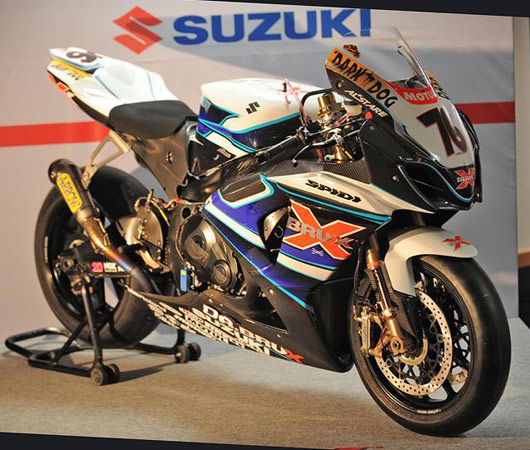 Neukirshner's new Alstare Suzuki GSX-R1000 K9
Record numbers of entries in World Superbike and Supersport
Infront SBK, Rome Italy, Jan 15th -The FIM (Fédération Internationale de Motocyclisme) has today published the entry lists for the 2009 Superbike and Supersport World Championships. Both championships, organized by Infront Motor Sports, are continuing their successful trend, with the Superbike category in particular going against the recent unhealthy global economic downturn by posting a record number of permanent entries and manufacturer representatives.

The 2009 HANNspree FIM Superbike World Championship entry list shows 32 inscriptions from 10 countries, and 7 different manufacturer bikes from Aprilia, BMW, Ducati, Honda, Kawasaki, Suzuki and Yamaha, an unprecedented level of factory participation in a world championship.
The lion's share of the entries goes to Italy, with 8 riders, while Britain, Japan, and Spain are all well to the forefront with 5 riders each. Australia has a healthy quota of 4, with the USA, Germany, Czech Republic, France and Austria one apiece. New arrivals in this year's championship include three-time AMA champion Ben Spies, three of the top four from the 2008 British Superbike Championship (Shane Byrne, Leon Haslam and Tom Sykes), plus 2008 Italian Superbike champion Luca Scassa and 2008 Superstock 1000 FIM Cup winner Brendan Roberts.

On the manufacturer front, Honda have the largest representation with eight CBR1000RR machines split between six teams, followed by Ducati with seven 1098R (four teams), Kawasaki with six ZX10R (three teams), Suzuki with four GSX-R 1000 K9 (three teams), three Yamaha YZF-R1 (two teams) and Aprilia and BMW with two RSV4 and S1000RR each in the factory team.

Paolo Flammini, CEO of Infront Motor Sports, declared: "I am delighted with the success of the entry list for the 2009 SBK championship, which is the best ever. It is a true demonstration of the success of a formula that allows teams to compete in a high-level series with relatively low costs, and which also gives the possibility to private teams to go well. The validity and the stability of the technical regulations have also helped to bring about the entry of two important new manufacturers, Aprilia and BMW, which takes the number of manufacturers present to an all-time record for Superbike. The rider quality will also be very high, with the arrival amongst others of the reigning AMA and BSB champions, as well as a number of talented new riders. In a moment of global economic difficulty Superbike can look to the future with serenity and optimism."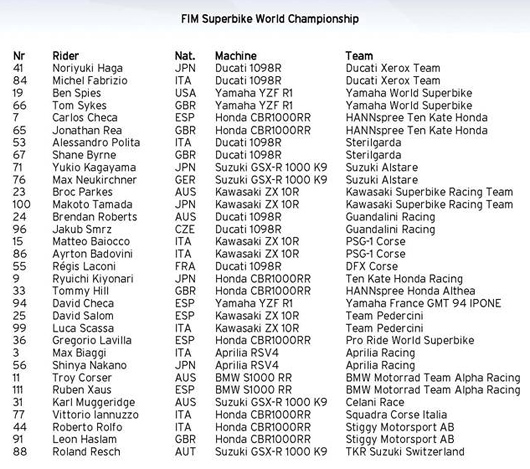 The Supersport World Championship sees 30 permanent entries, with Italy (6 riders) and Australia (5) making up over a third of the grid. The other nations represented are Spain, France, Netherlands, Czech Republic, Turkey, Great Britain, Ireland, Portugal, Japan, Denmark, Poland, Germany and Indonesia. Honda provide the most CBR600RR machinery on the grid, as befits the most successful ever Supersport winner, with 16 bikes out of 30. 6 Yamaha, 2 Suzuki and 2 Kawasaki complete the Japanese manufacturer assault, with the only interloper being British factory Triumph, with four 675 triples coming from two different teams. New entries to watch in Supersport this year are Cal Crutchlow from BSB, Australian MotoGP refugee Anthony West, Irishman Eugene Laverty and Doni Tata Pradita from Indonesia, while 2007 champion Kenan Sofuoglu will be up against his successor Andrew Pitt in the Hannspree Ten Kate Honda team's stellar line-up.
---
---
There's more! Go to Pit Lane News Previous Page
Also Visit: Fast Dates Calendar News • Iron & Lace Calendar News
Calendar Girl News • Meet the Models
Calendar Kittens, The Paddock Garage, Screensavers, Iron & Lace Garage

Many of our Calendar Kittens can also be seen at Playboy's website...


BikerKiss.com - the largest biker personals site!


World Premier!
2009 FastDates.com Calendars
American Suzuki conceeds to Race 2009 AMA/DMG Superbike Series
Jan 26th - American Suzuki Motor Corporation announced today that the Rockstar Makita Suzuki Racing team will compete in the AMA Pro Racing Superbike series for 2009.
After extensive discussions with AMA Pro Racing, American Suzuki has received clarification of the AMA rules that will see the Suzuki GSX-R1000 on the racing grid beginning with the opening round in Daytona, Florida in March.
Road racing is an important activity at the professional and amateur levels and Suzuki uses it as much for testing and development as for sales and marketing. Its championship winning heritage and class-leading sales prove that this competitive activity is beneficial for Suzuki as well.
Mat Mladin, six-time AMA Superbike Champion, will race his No. 7 Suzuki GSX-R1000 in the premier AMA Pro American Superbike class for Team Rockstar Makita Suzuki. Tommy Hayden will race his No. 22 Rockstar Makita Suzuki GSX-R1000 in the same class. New team member Blake Young will round out the three-man Rockstar Makita Suzuki team in the AMA Pro American 600cc Superbike class.
2009 AMA Superbike Season Kicks off
Under the Lights March 6th
The 2009 AMA Pro Road Racing season will begin at Daytona the first weekend in March. The weekend will be highlighted by the first Daytona 200 by Honda under the lights, Friday, March 6, for the AMA Pro Daytona SportBike division. The Daytona kick-off will also feature AMA Pro American Superbike competition and races for additional AMA Pro Road Racing championships.
AMA Pro Racing is the premier professional motorcycle racing organization in North America, operating a full schedule of events and championships for a variety of motorcycle disciplines. From its Daytona Beach headquarters, the organization operates and manages AMA Pro Road Racing, which includes AMA Pro American Superbike, AMA Pro Daytona SportBike, AMA Pro SuperSport, AMA Pro SunTrust Moto-GT and the Red Bull AMA U.S. Rookies Cup in addition to the AMA Pro Flat Track Championship. Learn more about AMA Pro Racing at www.amaproracing.com.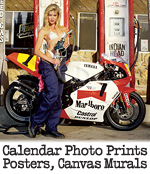 More 2009 Pin Up Model
& Motorcycle Calendars...

---
Bridgestone looks forward to Official MotoGP Tyre Supplier Status from 2009
Jan 26th -Bridgestone is pleased to confirm that it has signed the final contract with Dorna to be the Official Tyre Supplier for the MotoGP class to the FIM MotoGP World Championship for a three-year period commencing with the 2009 season. This follows a tender process which took place in 2008.
The agreement covers the 2009, 2010 and 2011 seasons where all MotoGP competitors will exclusively use Bridgestone tyres. Riders using Bridgestone tyres have won the past two seasons' MotoGP. In 2007 Ducati rider Casey Stoner was the first competitor to win the title using Bridgestone tyres, whilst Yamaha rider Valentino Rossi won last season's title.
The opening round of the 2009 FIM MotoGP World Championship will take place at the Losail circuit in Doha, Qatar on the evening of April 12th.

Carmelo Ezpeleta, Chief Executive Officer of Dorna, said:
"We're delighted to have secured Bridgestone as sole tyre supplier for all teams in the MotoGP class of the FIM World Championship for the next three years. Bridgestone is a company with a fantastic reputation and they make an outstanding contribution to motorsport. We strongly believe that this new agreement is very positive as it will simultaneously reduce costs and increase competition in MotoGP."

Hiroshi Yasukawa - Director of Bridgestone Motorsport, said:
"Becoming the 'Official Tyre Supplier to the MotoGP World Championship' is a prestigious honour for Bridgestone and we await the start of the 2009 season with great anticipation.
"In these turbulent times of economic crisis, Bridgestone is delighted to be working positively with Dorna to make an exciting contribution to MotoGP. We are dedicated to our support of MotoGP and being chosen as the official tyre supplier shows the high regard in which we are held by the sport in which we have been involved since 2002. Our participation in MotoGP is an important element of our position as the foremost tyre supplier in motorsport.
"In supplying all MotoGP competitors we will treat manufacturers, teams and riders with fairness and to do this we can drawn on our experience of supplying all of the teams in Formula One with our tyres for the past two seasons. We hope that having all riders using our tyres will mean exciting races in MotoGP for the next three seasons."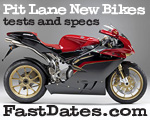 Talking with the
World Champions!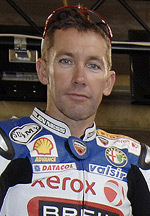 Troy Bayliss Interview
10 Questions for the 3-Time World Supebike Champion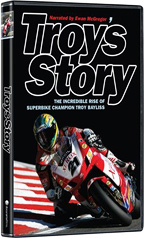 Troy's Story
The story of now 3-Time World Superbike Champion Troy Bayliss narrated by Ewan McGreggor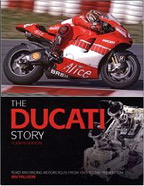 SBK Official Pre Season Test Portiamo Portugal
January 23-25th
2009 season gets underway with Superbike and Supersport tests at Portimao
Rome , Wednesday 21st Jan - The 22nd edition of the Superbike World Championship kicks off in just over one month's time at Phillip Island in Australia , but the bikes will be air-freighted across the globe at the start of February so as to be ready for several teams to test there one week before the opening round. This weekend's test at the Portuguese circuit of Portimao, from Friday 23rd to Sunday 25th January, therefore represents the last remaining opportunity for major testing and development work, but above all it will be the first direct clash between all the WSBK contenders before the start of the new season. The test in Portugal will also see the official launch of the championship, which sees a record participation of 32 riders, with a press conference in the circuit.

MAGNIFICENT SEVEN RIDE – Portimao will see the participation of Paul Bird Motor sport's Kawasaki Superbike Racing Team, absent from the South African test in December, therefore all seven manufacturer teams, a record in bike racing, will be present. Aprilia Racing (Max Biaggi and Shinya Nakano), BMW Motor rad Alpha Racing (Troy Corser and Ruben Xaus), Ducati Xerox (Noriyuki Haga and Michel Fabrizio), Hannspree Ten Kate Honda (Carlos Checa, Jonathan Rea and Ryuichi Kiyonari), Kawasaki Superbike Racing Team (Makoto Tamada and Broc Parkes), Suzuki Alstare (Max Neukirchner and Yukio Kagayama) and Yamaha World Superbike (Ben Spies and Tom Sykes) are the 15 riders on the factory machines.
NEW ENTRIES – The Kyalami test in December demonstrated that the battle will be exceptionally close this year, as the top riders were all separated by just over one second. Expectations are high for these tests at Portimao, with the two new entries Aprilia and BMW expected to be much closer to the leading pace.
FULL GRID – But it's not just the factory teams that make up the starting-grid. The 2009 edition of the WSBK championship also includes several other top class satellite and private teams who will be aiming to carve out a role for themselves amongst the leaders. All eyes will be on Ducati Sterilgarda with Shane Byrne, the 2008 BSB champion, Stiggy Motor sport Honda with Leon Haslam and Roberto Rolfo and also Ducati Guandalini, with Jakub Smrz and 2008 Superstock 1000 FIM Cup winner Brendan Roberts.
MADE IN ITALY – Italy has never been able to win a Superbike title but this year the prospects are promising, with two top riders, Max Biaggi and Michel Fabrizio, on the grid. Biaggi has opted to debut the new Aprilia RSV4 and if development goes well, he can also be considered amongst the favourites. Fabrizio, in his second season with the factory Ducati team, has already slipped into the role of front-runner and is aiming for the top. Six Italian riders will be on the grid, all with different ambitions: Roberto Rolfo (Honda), Alessandro Polita (Ducati), Italian Superbike champion Luca Scassa ( Kawasaki ), Vittorio Iannuzzo (Honda) and the two Kawasaki PSG-1 youngsters, Ayrton Badovini and Matteo Baiocco, who however will not be present at Portimao.
NEW FOR 2009 – The Portimao test will also be a first chance to try out the two new regulation changes this year, in particular the Superpole 'knock-out' format. After the Friday, Saturday and Sunday morning sessions, the top 20 will go on to try out the new format in the final afternoon, an innovation that is guaranteed to add even more excitement to this year's championship.
SUPERSPORT – Supersport will also have three days of testing in Portugal , with all teams present except for the second Suzuki Hoegee rider. It will be interesting to see the battle between the Ten Kate Honda duo of Andrew Piitt and Kenan Sofuoglu, Supersport champions respectively in 2008 and 2007, but they will be up against a number of tough adversaries including Cal Crutchlow, Yamaha World Supersport's new signing, team-mate Fabien Foret, Anthony West with the Stiggy Motor sport Honda, and youngsters Joan Lascorz (Kawasaki Provec) and Mark Aitchison (Honda Althea). Six Italians are present in this year's championship: Gianluca Vizziello (Honda), Gianluca Nannelli (Triumph), Massimo Roccoli (Honda), Michele Pirro (Yamaha), Fabrizio Lai (Honda) and Danilo Dell'Omo (Honda).
Engine Technology Comes To The Fore In 2009 World Superbike
Jan 15th - The lasting memories of the December Pirelli development tests at Kyalami in South Africa are many and varied, but arguably the most impressive aspect of the multi-team show was the sheer variety of machinery and engine configurations on display.
Different engine designs and technical approaches will be an integral part of what is already shaping up to be a magnificent 2009, and arguably the most radical departure from the recent norm will be the Aprilia RSV4. A 65° vee-four engine will power the compact and high-tech new Aprilia, making it a radical departure from the Italian company's previous four-stroke heritage of booming vee-twins.
Ducati will be, of course, fielding their trademark vee-twin once more, while BMW have chosen to make their own interpretation of the in-line four-cylinder four stroke, the S1000RR, but make it seemingly much narrower than most. Why? For greater aerodynamic performance and tighter mass centralisation.
Suzuki brings a new and smaller GSX-R engine architecture to the otherwise conventional in-line four table for 2009, while Kawasaki and Honda are the only two manufacturers in WSB this year with basically the same in-line four model to work on as 2008.
Yamaha, with its new R1, have designed an offset crankshaft engine, a first in production terms, which sees the engine firing order altered to provide torque in a more traction friendly way. Conventional on the outside, but for a traditional in-line four manufacturer from Japan, this can only be thought of as a real attempt at causing a revolution in evolution.
So, not only seven manufacturers will be fighting out the title in 2009, there will be several competing design philosophies to analyze round-by-round.
Next stop, Portimao for the official tests, on 23-25 January - first points up for grabs at the end of February.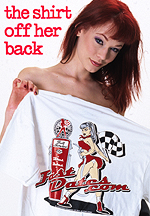 Order the Official
FastDates.com &
LA Calendar Bike Show
T-Shirts!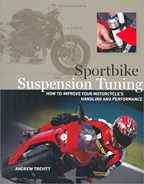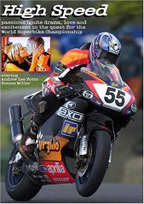 High Speed - the Movie
The best motorcyce racing movie ever made! Filmed on location at World Superbike, this an exciting romantic drama staring beautiful actress Sienna Miller.
---
FastDates.com Calendars Co-Star with sexy actress
Gabrielle Anwar on
TV Series "Burn Notice"
Thusday January 22nd
on the USA Channel.
January 1st - - Here's the update on the fast paced detective drama
TV show "Burn Notice" using our FastDates.com Calendars as a prop in one of their new eposides - "Hot Spot". The show's new 2009 program series wil premier Thusday January 22nd
on the USA Channel.
HI Jim, I ordered the calendars from your site and received them on Friday. Thanks so much! I had them on my desk and all the guys at the office kept stopping by, trying to slyly walk away with them.The episode is titled "Hot Spot" and will air in either January or February 2009. "Burn Notice" is on the USA Network and airs Thursday nights at 10pm. Our website is www.usanetwork/series/burnnotice
I gave the calendars to the director, along with some others. The will either be used as a "prop" in which Gabrielle Anwar's character, who poses as a publisher from a calendar company, shows them to a potential client. OR they will be displayed on the walls of a billiards club or a cigar bar. It is up to the director. I wish you all the luck and everyone loves the calendars!
- Best Wishes, Sarah Ananties
Production Assistant, Burn Notice
Actress Gabrielle Anwar is the sexy smart co-star on Burn Notice which is crime drama simialr to Miami Vice and filmed in Miami Her past credits include many TV shows and movies including : The Three Musketeers, For Love or Money, Scent of a Woman, and HBO's The Tudors.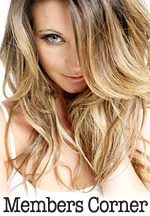 Members Corner
Hot Bikes, Sexy Kittens
Get Your Exclusive Grid Pass
aslo includes....
---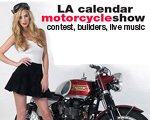 Complete Coverage!
2008 LA Calendar Motorcycle Show & Calendar Girl Music
Festival Weekend!
$86,000 Bike Building Championship
World Record Dyno Shootout!
Calendar Girl Music Festival
---
Corser Positive on New BMW Desite 3 Difficult days of testing
Test Portimao (Portugal), 23-25 - The first official WSBK test of 2009 took place at the superb 4.592 kilometre Autodromo Internacional Algarve in Portugal with difficult conditions throughout the three days. Dry track time was very limited but, despite the tricky conditions, Troy and the team gained a lot of useful info and are now looking forward to the next test and hopefully better weather.
The three-day tests also witnessed a try-out of the new Superpole procedure, in which three separate sessions are used to determine the grid positions. Troy finished eleventh fastest in the overall standings and sixth in Superpole. Briton Shane Byrne (Ducati) ended quickest overall, with a lap of 1:43.294, with Ben Spies (Yamaha) second and Noriyuki Haga (Ducati) third.

Troy (overall best lap - 1:44.261)
The weather didn't help any of us during these three days and I'm guessing that we only got about two and a bit hours or so dry track time. Considering that, I think the tests weren't too bad for us and although there is still a lot of work to do, we are continuing to make good progress and learn more every time we go out. We did managed to test some stuff we didn't have time for in the last tests, specifically different links and different geometry settings.

Considering I'm not completely comfortable on the bike, I'm pretty surprised how good my lap times are. If I can do these times, whilst not being completely comfortable, just think what I might be able to do when I am! I'm happy now with the clutch and now we need to work on smoothening out the throttle response. I feel that the bike is powerful and that's a good feeling to have at this stage. Once we harness that power and smooth out a few things, we can exploit the bike's potential. I don't know how soon or how long that's going to be, but everybody is working hard and we should have an indication of our rate of progress in our next tests. Hopefully the weather will be good and we will get a lot more dry track time. - See ya!.Troy Corser
Ducati Xerox Team Concludes Portimao Test with Haga 3rd Quickest
Portimao (Portugal): Sunday 25th January 2009: Noriyuki Haga and Michel Fabrizio (Ducati Xerox) have today concluded the Pirelli tyre development tests taking place at the Autodromo Internacional do Algarve.
The morning session was red-flagged early on and subsequently cancelled due to oil on the track. In the afternoon, and on a drier surface, Superbike teams took part in a mock-up of what will be the Saturday afternoon track schedule on race weekends, completing a half-hour free practice session before trying out the new-look Superpole. Superpole will now consist of three 12-minute sessions, with the fastest 20 riders competing in Superpole 1, the fastest 16 at the end of Superpole 1 progressing to Superpole 2 and the fastest 8 at the end of Superpole 2 continuing on to Superpole 3, thus establishing the race grid. This was followed by a simulation of the "flag-to-flag" scenario that would be implemented during in a race in case of rain.
Both Noriyuki Haga and Michel Fabrizio have found the three-day test of benefit and both look forward to travelling to Phillip Island for the opening round of the 2009 championship.
Michel Fabrizio - "The new-look Superpole seems great, it was just a shame that today's weather was as it was but this test of the new format was definitely useful. It's clear that the riders now have to work well with the team, it's more about strategy with this new Superpole but it's good that changes are made to the regulations. Overall this has been a strange weekend, I feel like I only found feeling with the bike this afternoon. Of course the weather hasn't helped us but I finally found a good tyre today and worked a lot on the race setting, running the tyres for a lot of laps and choosing not to take riskes just to record the fastest time. Now I am looking forward to Phillip Island, a track that I love and where the weather will surely be better!"
Noriyuki Haga - "Unfortunately we have not had good weather over these three days. I am however very happy with the work we've done, we've found the direction to take with the settings and I've enjoyed every exit I've made. The new Superpole is strange, and when the weather is like it was today, with rain coming on during the three Superpoles, it complicates things. We can have a plan but we cannot plan the weather! Now I'm looking forward to Phillip Island, and feel nearly ready to race. The Phillip Island tests, just a week before the race, will be useful too of course."

Carlos Checa leads the Ten Kate Honda Team with 5th Quickest
The Ten Kate Honda World Superbike team today completed a three-day pre-season test at Portimao in Portugal. In spite of mixed weather conditions over the weekend, all three riders were able to gain valuable track time in preparation for the 14-round championship which kicks off at Phillip Island on 1st March.
Running in Hannspree colours once again, Carlos Checa and WSBK rookie, Jonathan Rea, were not able to test as many new components and tyres as the team had planned. However, both riders were on the pace with their 2009 rivals during the only fully dry day of the test on Saturday.
Ryuichi Kiyonari sported new colours for the season replicating the paint scheme of Honda's Suzuka-8 hour CBR1000RR Fireblade, which he took to victory with team-mate Carlos Checa last season.
Carlos Checa – best time 1m43.657s
We can't do anything about the conditions but we always look for a way forward to find something positive from the testing time available. We got a good feeling for the wet conditions but, of course, we had more things to try if it had stayed dry. Then we also lost the morning session on Sunday because another team put oil all round the circuit. Luckily, Phillip Island is a good place to start the season and we have a test there the week before the race , so we hope for some more positive developments then.
Jonathan Rea – best time 1m44.115s
It was really good to get back on the bike again with so many other teams here as well. Unfortunately, the base setting we found at the Kyalami test before Christmas didn't work so well here, but we're happy with the direction we've found in the time available. The weather's been bad but we found something in the dry on Saturday that wasn't too far off. We'll finish our winter testing in Phillip Island in three weeks and then start racing there, so I can't wait.
Ryuichi Kiyonari – best time 1m44.610s
Friday was wet, so not so good. On Saturday we checked some settings and changed the riding position slightly and tried some new things. But the weather was really not very helpful for us and we couldn't do as much as we wanted to. I think the feeling from our base setting is definitely getting better after the Kyalami test, so I am looking forward to the season.
Ronald ten Kate – team manager
The bad weather has clearly affected this test a lot and, to be really honest, it has minimised the usefulness of any information we have found. Although we didn't have such a long list of new things we wanted to try, we could still have benefited from some better conditions. So, we still have some more work to carry out at the Phillip Island test, but I'm already quite positive for a strong start to the season there.
Neukirchner Quickest for Alstare Suzuki
Team Suzuki Alstare's Max Neukirchner blasted the new 2009-model Suzuki GSX-R1000K9 to the second fastest time in the mock Superpole trials on day 3 under heavy weather conditions at the first official World Superbike test at Portimao in Portugal.
Neukirchner lapped the 4.5 kilometre Autodromo Internacional Algarve circuit - which also tested the new Superpole procedure where three separate sessions are used to determine the grid positions - just a tenth-of-a-second behind fastest rider Shane Byrne (Ducati).
Yukio Kagayama kept the Suzuki Alstare flag flying by posting the seventh quickest lap of the new procedure to end up on what would have been the second row of the grid.
Max Neukirchner (best lap - 1:43.965 in 'Superpole', 1:43.674 overall in tests):
"Over the three days we've tried a lot of different things to do with chassis, traction control, wheelie control and engine and have learnt a lot about the new bike. For me, like all of us, the biggest problem has been the rain and the fact that we have not been able to do as many laps in the dry as we would have liked, but our understanding of the bike is a lot better. The lap times are very close, so this year's championship is going to be really hard and it's going to be important to be consistent. I think the 2009 bike handles better and I have a better feeling for it in the corners, but it's not really easier to ride yet because we are going much faster! Overall I am happy because our knowledge is improving and I think we are in pretty good shape for the year ahead."
Yukio Kagayama (best lap - 1:44.586 in 'Superpole', 1:44.425 overall in tests):
"Generally I feel that the conditions have been difficult and I wanted more dry track time. The conditions changed many times and each time we made a change to the bike, the conditions would alter and we would have to change the bike again! The track's grip level in the wet was not so bad, but this year I can push a bit harder in the wet because the 2009 bike is less hard work in the rain. This bike has good potential and all we need is more time to understand it better and then we will improve a lot. I am not happy about my lap times and the weather, but I am happy because of all the good work we've done and the progress we are making."