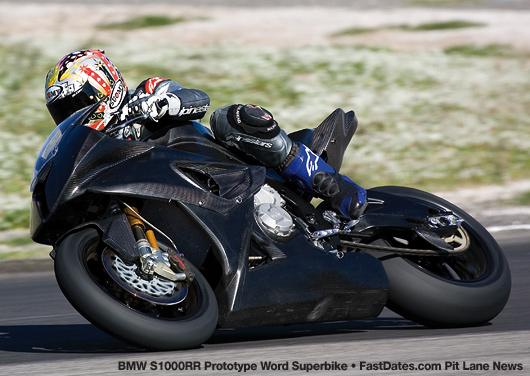 2009 SBK World Superbike Team & Rider Lineups

BMW MOTORRAD'S WSBK DREAM TEAM
Champion Troy Corser to Race BMW World Superbike in 2009/2010

Munich, 25th September 2008 - BMW are happy to announce that Australian Troy Corser has signed to ride the all new BMW S1000RR in next year's Superbike World Championship. The former double World Superbike and 1-time American Champion has agreed terms for two years and ends months of speculation as to who will join Spaniard Ruben Xaus in BMW's debut in the Superbike World Championship next season.

Troy won the Superbike World Championship in 1996, becoming the youngest rider ever to do so in the process, and then again in 2005. He has been runner-up in the WSBK championship once and third place on three occasions. To date he has taken part in over 300 races, been on the podium 126 times, and his 42 pole positions have earned him the nickname of "Mr Superpole".

Troy is married to Sam and they have two children, Kalani Gray (5) and Kelissa Illiana-Rose (3). Troy was born in Wollongong, Australia but he and the family are now Monaco residents. Sam is also a former FastDates.com Calendar Kitten having modeled in the 1999 Fast Dates Calednar with her then boyfriend's factory Ducati 998RF World Chapionship winning Superbike.
Peter Mueller (Executive Vice President Development and Model Lines)
With Troy and Ruben, I feel confident we will have the best riders possible for our start in the Superbike World Championship. Troy has unrivalled experience in the series and that, together with Ruben's exuberance, is our 'dream team' and the combination we wanted, right from the start of this project. I feel sure that their knowledge of the series will definitely help us become competitive very quickly.
Berti Hauser (Director of BMW Motorrad Motorsport)
I am delighted that Troy is joining our team and that our jigsaw is now complete. He was in our minds from the start and I am very happy because I believe he and Ruben are the best combination of riders for our new challenge. Troy has told me that is excited about helping us develop the bike and be part of the project from the start. He also said that he would like to be the first rider in WSBK history to win the title with three different manufacturers and that he is physically and mentally ready make that his target.
The 2009 World Superbike Team / Rider LineUps are shaping up as follows:
Look for an exciting jammed packed 40 Rider grid for the first time ever!
BMW Factory: Troy Corser, Ruben Xaus
Ducati Xerox Corse: Noriyuki Haga, Michel Fabrizio
Boulder Ducati: Jake Zemke?
RG Ducati: Regis Laconi, Fonsi Nieto?
Ten Kate Hannspree Honda: Carlos Checa and Jonthan Rea in Hannspree colors, and Ryuichi Kiyonari - possible in Honda factory colors
Althea Hannspree Honda: Tommy Hill
Sterilgarda Alex Polita Ducati: Brenden Roberts, Shane Burneor Leon Haslam
Guandalini Team: Jakub Smrz,
Stiggy Motorsports Honda: Josh Brtookes, leon Haslam
DFX HOnda: Karl Muggeridge, Regis laconi or Luca Scassa
Paul Bird Motorsdports (Honda or Kawasaki): Riders unconfirmed
PSG-1 Kawasaki Factory: Makoto Tomada, and ?
Aprilia RS4 Factory Team: Bax, Biaggi, Alex Hoffman
Suzuki Alstare: Max Neukircher, Yukio Kagayama
Yamaha Motor Italia: Tom Sykes, possibly Sylcvain Guintoli or Ben Spies
Yamaha Team YZF: Unnamed Japanese rider, Regis Laconi?
GMT 94 Team: David Checa, Regis Laconi?
2008 Hannspree FIM Superbike World Championship, Vallelinga, Italy Round 12 0f 14
Bayliss Crashes Out of a Title Clinching 2nd Place on the Last Lap!
Haga Takes Sensational Double Win at Vallelunga

Vallelunga, Sunday Sept 21th - Noriyuki Haga (Yamaha Motor Italia WSB) scored a sensational double win in the twelfth round of the HANNspree FIM Superbike World Championship at the Vallelunga circuit near Rome in front of 82,000 spectators. The Japanese rider, who hadn't won a race since Nurburgring, took the maximum points, while championship leader Troy Bayliss (Ducati Xerox) wasted an opportunity to clinch his third title when he crashed out on the final lap of race 2, postponing the race for the title until Magny-Cours.

Max Biaggi (3) on the privateer Sterilgada Ducati pressured Haga (41) for the lead all of Race One. Then in Race Two as they charged into the first corner at about 140 mph, Haga's bike contacted Biaggi's front brake lever, sending poor Max out of control and nearly taking out the entire field in waht was a horrific crash. The race did continue with out Max, and luckily he wasn't seriously hurt, though the bike was destroyed.

Race One -
Haga powered to his fifth win of the season, battling throughout the 24-lap race with an on-form Max Biaggi (Sterilgarda Go Eleven Ducati). The Italian tried everything to pass Haga but in the end had to settle for the runner-up slot. Third place went to Troy Corser (Yamaha Motor Italia WSB), while Max Neukirchner (Alstare Suzuki) recovered from a poor start to grab fourth place from Carlos Checa (Hannspree Ten Kate Honda) and Bayliss, who struggled after making a wrong choice of tyre. Seventh went to Michel Fabrizio (Ducati Xerox), who ruined a good result in front of his home crowd with a poor start. Roberto Rolfo (Hannspree Honda Althea) stalled at the start but then was able to recover to finish eighth.

Noriyuki Haga (Yamaha Motor Italia WSB): "I'm really very happy because this weekend my feeling with the bike was very good even though on Friday I had a big crash, but no problem. Also my body is feeling much better now. It was quite a tough race, 24 laps here is very long and I had pressure from Max but my bike was good and thanks also to my team for the win."

Max Biaggi (Sterilgarda Go Eleven Ducati): "It was a nice race and a nice start and I tried to keep up with Haga in front and then when Corser arrived he was really trying hard. Then I got back to Nori, but he was riding very good and it was tough for me, I was always behind him, I couldn't attack because I lost too much time going out of the curve."

Troy Bayliss (21) struggled in Race One, droping back from his opening lap lead to 6th at the finsih behind Checa (7) and Corser (11).

Troy Corser (Yamaha Motor Italia WSB): "We made a change from the morning warm-up and the bike felt pretty good even though it was a bit of a gamble. In the infield section just before the last corner it jumped out of gear into neutral and I lost a bit of time. In the end I pushed as hard as I could to the two guys up front but it was too much to make up. I'm happy enough to get third because it's more points in the championship."

SUPERBIKE Race 1: (Laps 24 = 98,640 Km)
Pos / Rider / Nat. / Team / Gap
1 / N.HAGA / JPN / Yamaha YZF-R1 / Yamaha Motor Italia WSB / 39'25.030
2 / M.BIAGGI / ITA / Ducati 1098 RS 08 / Sterilgarda Go Eleven / 0.129
3 / T. CORSER / AUS / Yamaha YZF-R1 / Yamaha Motor Italia WSB / 0.535
4 / M.NEUKIRCHNER / GER / Suzuki GSX-R1000 / Team Alstare Suzuki / 5.188
5 / C. CHECA / ESP / Honda CBR1000RR / Hannspree Ten Kate Honda / 6.693
6 / T. BAYLISS / AUS / Ducati 1098 F08 / Ducati Xerox Team / 7.993
7 / M.FABRIZIO / ITA / Ducati 1098 F08 / Ducati Xerox Team / 16.976
8 / R. ROLFO / ITA / Honda CBR1000RR / Hannspree Honda Althea / 18.359
9 / Y. KAGAYAMA / JPN / Suzuki GSX-R1000 / Team Suzuki Alstare / 19.214
10 / S. NAKATOMI / JPN / Yamaha YZF-R1 / YZF Yamaha / 19.386
11 / L. LANZI / ITA / Ducati 1098 RS 08 / R.G. Team / 21.230
12 / F. NIETO / ESP / Suzuki GSX-R1000 / Team Suzuki Alstare / 24.956
13 / J. SMRZ / CZE / Ducati 1098 RS 08 / Guandalini Racing / 25.186
14 / G.LAVILLA / ESP / Honda CBR1000RR / Ventaxia VK Honda / 31.799
15 / A. BADOVINI / ITA / Kawasaki ZX-10R / Team Pedercini / 33.949
Fastest Lap 4° Carlos Checa 1'37.537 151,696 Km/h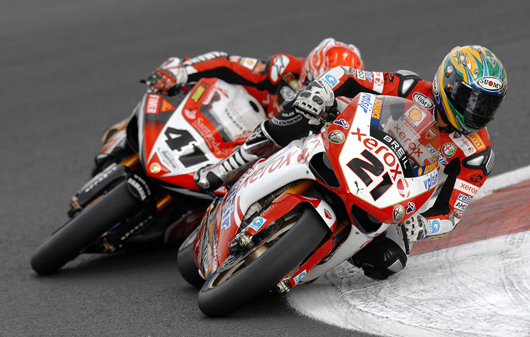 In Race Two, Troy Bayliss (21) and Haga (41) ran wheel to wheel all race long and tangled a couple of times.

Race Two -
After winning Race One, Haga then took the honours in the second encounter, but he had to work much harder this time around as Bayliss never let up for one instant, highlight by the photo shown here were Troy and Nori bounced off each other a couple of times as they traded the race lead back and forth. But coming sown to the final laps, Troy was relegated to 2nd placebehnd Haga and was looking to be 1-point shy of clinching the title this weekend over Troy Corser, 2nd in point who was running back in 3rd position
But in the closing laps of the race, Bayliss' Ducati team mate Micehel Fabrizio put on an incrdible charge to the front of the pack and caught and passed 3rd place Troy Corser, relegating Corser to 4th position and giving Bayliss the 1-extra finihing point he need to clich the Championship this weekend.
But it wasn't to be. Bayliss din't know that Corser had lost a position, so Bayliss contined to push on Haga going int the hairpin on the final lap, when Troy crashed out at low speed. The Australian thus misses out on a chance to clinch the title with two rounds remaining, although now he needs just 21 points from the last four races to become champion for the third time.

Fabrizio replaced his team mate to score a superb 2nd place after just having snatched 3rd from Corser on the final lap. Behind the top 3 Neukirchner and Checa again finished fourth and fifth, while Shinichi Nakatomi (YZF Yamaha) and Regis Laconi (Kawasaki PSG-1 Corse) finished eighth and ninth. Biaggi and Kenan Sofuoglu (Hannspree Ten Kate Honda) tangled in a nasty-looking crash in the fast section just after the start of the race, the Italian coming away without any serious injury with the Turkish rider suffered bruising in the pelvic area.

Noriyuki Haga (Yamaha Motor Italia WSB): "Troy and I had a really big fight and I am sorry for Troy's crash, but I really enjoyed battling with him. It was a great day for me and the team, a big thanks to everyone. Now I have to think about the next round and I will try and push hard again."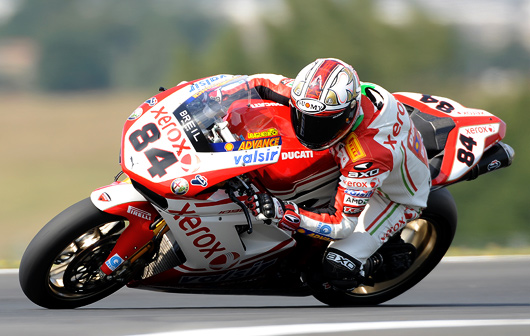 Fabrizio inherited 2nd from Bayliss who crashed out.

Michel Fabrizio (Ducati Xerox): "Thank you Rome and Vallelunga for all the support they have shown me this weekend, this result is really good for me and also for my Ducati team. I had a fantastic battle with Corser, it was difficult to catch him but I was gaining one-tenth of a second on him every lap and in the end I got him."

Troy Corser (Yamaha Motor Italia WSB): "I'm a bit disappointed with another third place to be honest. We changed the bike between the races and the rear tyre seemed to work better at the beginning but towards the end though the last Esses I was losing too much time. The result is good for the championship, it's a shame that Troy crashed, but congratulations to Michel, he was riding really hard."

Race 2: (Laps 24 = 98,640 Km)
Pos / Rider / Nat. / Team / Gap
1 / N.HAGA / JPN / Yamaha YZF-R1 / Yamaha Motor Italia WSB / 39'10.265
2 / M.FABRIZIO / ITA / Ducati 1098 F08 / Ducati Xerox Team / 1.507
3 / T. CORSER / AUS / Yamaha YZF-R1 / Yamaha Motor Italia WSB / 2.268
4 / M.NEUKIRCHNER / GER / Suzuki GSX-R1000 / Team Alstare Suzuki / 11.813
5 / C. CHECA / ESP / Honda CBR1000RR / Hannspree Ten Kate Honda / 17.922
6 / F. NIETO / ESP / Suzuki GSX-R1000 / Team Suzuki Alstare / 18.281
7 / Y. KAGAYAMA / JPN / Suzuki GSX-R1000 / Team Suzuki Alstare / 19.368
8 / S. NAKATOMI / JPN / Yamaha YZF-R1 / YZF Yamaha / 19.717
9 / R. LACONI / FRA / Kawasaki ZX-10R / Kawasaki PSG-1 Corse / 23.868
10 / R. ROLFO / ITA / Honda CBR1000RR / Hannspree Honda Althea / 24.198
11 / J. SMRZ / CZE / Ducati 1098 RS 08 / Guandalini Racing / 25.426
12 / R. XAUS / ESP / Ducati 1098 RS 08 / Sterilgarda Go Eleven / 28.384
13 / R. KIYONARI / JPN / Honda CBR1000RR / Hannspree Ten Kate Honda / 30.436
14 / S. GIMBERT / FRA / 94 Yamaha YZF-R1 / Yamaha France Ipone GMT / 36.490
15 / C.WALKER / GBR / Honda CBR1000RR / Ventaxia VK Honda / 42.903
Fastest Lap 4° Troy Corser 1'37.072 152,423 Km/h
Lap record : 2007 Noriyuki Haga 1'37.419 151,880 Km/h
Best Lap: 2007 Troy Bayliss 1'35.890 154,300 Km/h
Riders Championship Standings (After 12 0f 14 Rounds) :
1 BAYLISS 369, 2 CORSER 290, 3 HAGA 280, 4 NEUKIRCHNER 280, 5 CHECA 262,
6 BIAGGI 212, 7 NIETO 206, 8 FABRIZIO 201, 9 KIYONARI 193, 10 XAUS 160 ,
11 KAGAYAMA 136, 12 SMRZ 113, 13 LAVILLA 107, 14 LANZI 104, 15 MUGGERIDGE 71.

FIM Supersport World Championship
Jonathan Rea (Hannspree Ten Kate Honda) scored his third win of the season at Vallelunga, dominating the Supersport race from start to finish. With this result Rea has reduced to 11 points the gap to points leader, team-mate Andrew Pitt, who crashed out from fourth place four laps from the end, while trying to pass Eugene Laverty (Yamaha World Supersport) for third. The runner-up slot went to Broc Parkes (Yamaha World Supersport), who still has a chance of the title despite being 30 points behind. Joan Lascorz (Glaner Motocard.com Honda) scored a positive fifth place, his best result for some time, the Spaniard finishing ahead of Barry Veneman (RES Software Suzuki) and Robbin Harms (Hannspree Stiggy Motorsport Honda). Donington winner Joshua Brookes (Hannspree Stiggy Motorsport Honda) had a disappointing race, the Australian finishing twelfth after receiving a ride-through penalty for cutting the chicane.

Results: 1. Rea J. (GBR) Honda CBR600RR 36'48.656 (147,38 kph); 2. Parkes B. (AUS) Yamaha YZF-R6 2.971; 3. Laverty E. (IRL) Yamaha YZF-R6 6.461; 4. Lascorz J. (ESP) Honda CBR600RR 7.135; 5. Veneman B. (NED) Suzuki GSX-R600 10.945; 6. Harms R. (DEN) Honda CBR600RR 14.412; 7. Nannelli G. (ITA) Honda CBR600RR 14.557; 8. Van Keymeulen D. (BEL) Suzuki GSX-R600 19.286.

Points (after 11 of 13 rounds): 1. Pitt (Honda) 169; 2. Rea (Honda) 158; 3. Brookes (Honda) 141; 4. Parkes (Yamaha) 139; 5. Lascorz (Honda) 105; 6. Jones (Honda) 100; 7. Foret (Yamaha) 97; 8. Veneman (Suzuki) 72; etc.
---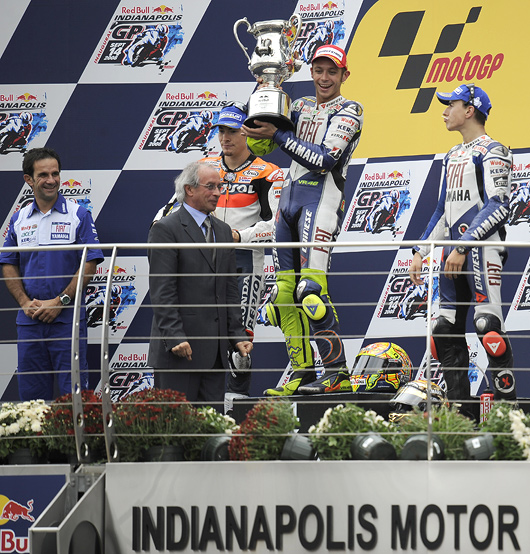 Rossi celebrates atop the podium at Indianapolis with Hayden and Lorenzo.

FIM 2008 MotoGP World Championship, Indianapolis, USA Round 14 of 18
Rossi sweeps thru like a Hurricane to make history at Indianapolis
Indianapolis Motor Speedway,In, Sept 12-14th - Valentino Rossi wrote another chapter in his ever-expanding history book, today at Indianapolis claiming his 69th premier-class win and becoming the most successful rider in premier-class history in the process. His hat trick of pole position, fastest lap and race victory made for a perfect first Indianapolis Grand Prix for the Italian, with the runner up spot going to American Nicky Hayden, and third place for Jorge Lorenzo rounded off an exceptional weekend for motorccyle racing in America.
Rossi's 69th win takes him ahead of his fellow countryman Giacomo Agostini to the top of the all-time premier class winners list, a record which has stood for more than 30 years. Agostini claimed the 1975 500cc title with Yamaha and won six of his 68 victories with the Japanese factory.Rossi is now 87 points clear of Stoner, who finished fourth today, which means he is able to win the championship at the next round in Motegi by finishing fourth or above. Complete Race Coverage HERE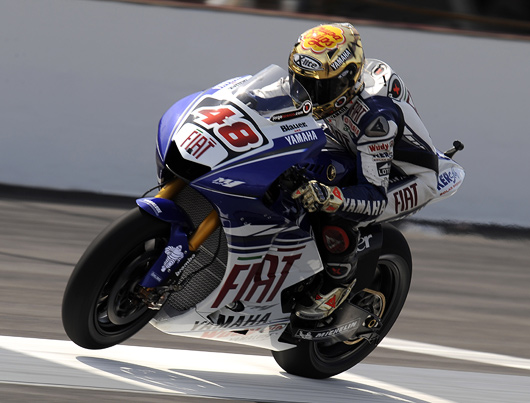 ---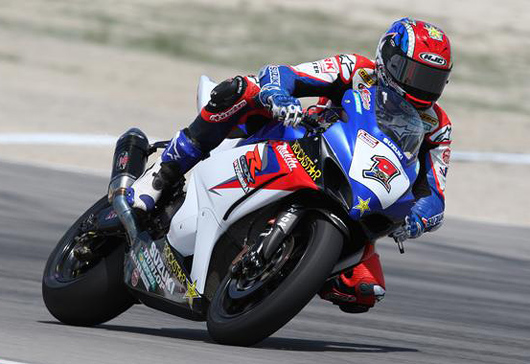 Spies Repeats his 3rd Title in the Last AMA Superbike Championship
Sept 5th - Ben Spies was unceremoniously handed his 3rd consecutive crown for the 2008 AMA Superbike Crown this past week with one round yet to be run in the last ever AMA Superbike Class, with the AMA upholding its ruling to disqualify his Yoshimura Suzuki team mate Matt Mladin's double race win at Virginia International Race on August 17th for running an illegal crankshaft. Spies's 2nd place team bike probably had the same illegal crankshaft as Mladin, but only the race winner's bike was checked.
---
If you live near London, join our British distributor Crossbow-Calendars.com for their annual Calendar Premier Party on Saturday October 25th and pick up the new 2009 Crossbow and FastDates.com Calendars!
---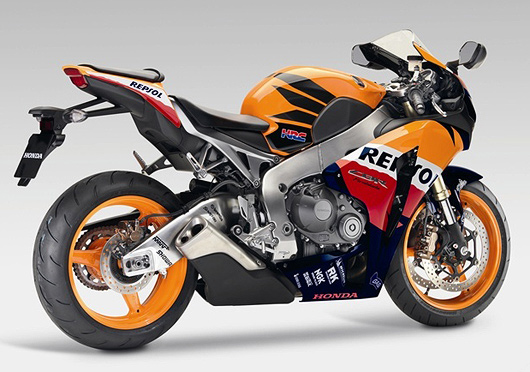 Honda Updates 2009 CBRs with Anti Lock Brakes, Repsol MotoGP Graphics
Sept 8th - Honda has just released information on its new 2009 CBR sportbike line. The CBR600RR and CBR100RR both got a complete redesign in 2008, so this year's updates mainly see just the addition of an ABS (antilock Braking system) on both model bikes. The CBR1000RR also will come in an optional Repsol MotoGP replica paint scheme. While the CBR600RR gets minor tuning tweeks to the engine to make the powerband a little torquier and more rideable.
Honda's Electronically-Controlled Combined ABS
Anti-lock brakes on motorcyles are nothing new, having first been offered by BMW on its prodeuction bikes about 10 years ago. Honda says however, demands of a braking system for a Super Sport machine are different and more exacting than those of a more conventional road-going motorcycle.
Brakes on a road-going machine will most often be used only to a moderate level of intensity, with maximum braking reserved for emergency situations or perhaps very occasional fast rides. In these circumstances a Combined ABS system can be designed to deal with extreme braking as an emergency, rather than as a regular occurrence. The upshot of this is that Combined ABS on a road-based machine can be relatively intrusive to the rider - because in theory they will only use it in an emergency situation and will not mind.

The requirements are very different for a Super Sports machine, where extreme braking can be considered as one of the bike's regular performance requirements. A system that was insensitive or became invasive whenever a rider neared the upper limits of braking performance would be unsatisfactory. In short, for a Super Sports machine, a Combined ABS system must allow the rider to brake very close to the limit before activating, and when it does, the reduction in braking force must be very smooth in order not to unsettle the machine, or rider.
It is for this reason, along with the possibility of adding weight, that Combined ABS has not been fitted to sports machines. Until now, that is.

In addition, the extreme pitching forward of weight under braking provided by non locking brakes, actually enhances the braking ability of the front wheel as weighted is transfered forward onto it, while reducing traction from the rear. This calls for a very subtle and advanced ABS system in order to provide an acceptable level of performance from a Super Sport braking system.

"Honda's new electronically-controlled Combined ABS provides just this level of performance. In exhaustive testing, both on the road and racetrack, development riders have found that the system exceeds their demands and out-performs the rider's ability to brake on most occasions. An average ('non-expert') rider using a conventional braking system needs several braking attempts to attain braking performance approaching that of the Combined ABS. An expert rider using a conventional system will need fewer attempts to reach a similar level. However, only in an example such as a racetrack situation, where an expert rider repeatedly brakes into the same corner was it found that the tester could outperform the Combined ABS. The confidence benefits are tremendous for riders of all skill levels, especially on public roads, where riding circumstances differ vastly."

So effectively, Honda is saying this is still a street system and a skilled rider on the track can still do better without it.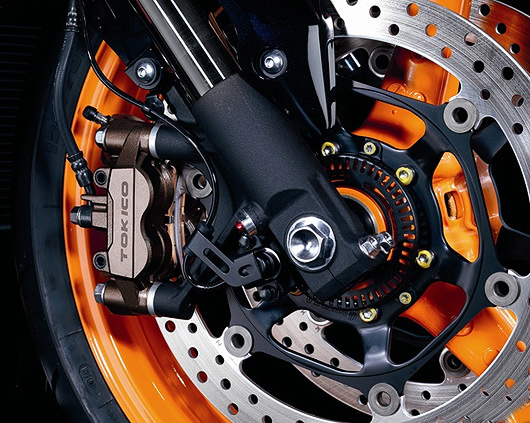 ---
Beautiful Tamara Wasson on location at the classic Texaco service station in Hollywood, California, with Kevin Schwantz's 1994 GP World Championship Suzuki RG500 in the photo featured on the cover of the 1996 Fast Dates Calendar.
First Time Ever! FastDates.com Calendar Images Available for Sale!
Photo Prints, Posters, Canvas Wall Murals
Now, for the first time ever thanks to our partnership with one of America's premier online photo labs, you can have my favorite, most memorable FastDates.com Calendar photos reproduced to museum qualty standards for your home, garage, office or store. Choose from photo prints on quality photo paper, to huge poster and mural size Giclee' photo prints on archival rag paper or canvas mounted to wooden frames or display boxes.
Now you can enjoy my best photos of the the world's finest motorcycles with beautiful models! - Jim Gianatsis
---
There's more! Go to Pit Lane News Previous Page

Hot Calendar Girl and Bike News! Go to: Fast Dates • Calendar Girls • Iron & Lace

Calendar Kittens, The Paddock Garage, Screensavers, Iron & Lace Garage


Many of our Calendar Kittens can also be seen at Playboy's website...


BikerKiss.com - the largest biker personals site!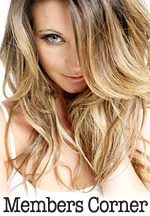 Members Corner
Hot Bikes, Sexy Kittens
Get Your Exclusive Grid Pass
aslo includes....
---
---


World Premier!
2009 FastDates.com Calendars
More 2009 Pin Up Model
& Motorcycle Calendars...

---
New World Superbike Rider Line Ups for 2009
Haga to Ducati Corse...
Sewpt 20th - There's no offical press releases yet, but it is disclosed that Italian Yamaha rider Noriyuki will be moving to team Ducati Corse next season to replace the retiring Troy Bayliss. While improving youngster Michael Fabrizo will remain with the Corse team for another year.
The rider who was lobbying to get the vacant spot at Ducati being left by Bayliss - Max Biaxi, is now confired to be moving to the new Aprilia Word Superbike team where he will race the new V-4 Superbike.
And Yamaha Italia will also loose its other team rider, Troy Baylis, who is expected to move to the new BMW World Superbike team alongside the already signed Ruben Xaus.
With all the new teams and riders entering World Superbike next year, the already exciti ng 30-bike grid should be packed to capacity with close to 40 riders, not including local wild card entries. It is going to be a really excting in World Superbike beginning in 2009 with the 2 new manufactuers's, as well as a few more private support teams expected to join the fray.
Rossi May Clinch
MotoGP Title at Motegi
An easy guide as to how Valentino Rossi can clinch a sixth MotoGP World Championship at Motegi – and what it means for his place in history.
Sept 19th - Valentino Rossi is on the brink of taking his sixth MotoGP World Championship, with his first chance of confirming the crown coming next weekend at Twin Ring Motegi. The Fiat Yamaha rider is in a powerful position in at the head of the standings, with an 87 point lead over 2007 titlist Casey Stoner and a further seven point lead over third-placed Dani Pedrosa. Rossi has the situation in his hands, with a podium finish assuring him of the title - even if Stoner records a first Japanese win.

A rostrum for Stoner could effectively be a stay of execution for the Ducati rider, who at best could reduce the gap to 62 points with 75 still up for grabs, if Rossi fails to score a point. A runner-up finish for the Australian would mean that Rossi could afford to finish as low as eighth, whilst rounding off the podium would require Rossi to finish twelfth or better. Stoner taking fourth place would mean that just a point would give the Italian his sixth title.
Pedrosa will only become involved should he win or finish runner up; a Pedrosa win obliges Rossi to finish in the top ten, whilst second place leaves the Yamaha rider in need of a solitary point.

The rider who at Indianapolis beat Giacomo Agostini´s record of victories with his 69th triumph, Rossi will echo his Italian idol this year if he regains the title. Agostini is the only rider to date to have reclaimed the crown after a two year gap.
And the bragging rights that will come with a sixth title? Rossi will have exceeded the total number of premier class titles taken by Mick Doohan, and become the only rider ever to win the World Championship on 500cc, 990cc and 800cc machines.
GSE Racing Signs Manufacturer Partnership with Yamaha for British Superbike
Sept 17th - GSE Racing has today 17th September announced that it will enter into a relationship with Yamaha Motor UK to compete in the British Superbike Championship over the next 3 years.
The partnership will see GSE Racing run the all new YZF-R1 with a direct relationship with the Yamaha Motor Italia World Superbike Team in a bid to see the manufacturer return to the days when it dominated British Superbikes with 3 consecutive British Superbike titles in 1996, 1997 and 1998
Team Manager Colin Wright commented: 'We are very excited about the new association with Yamaha, this represents a new challenge for the team but as ever we intend to be competing for the British Superbike Championship from the start'.
Team Principal Darrell Healey added: "We have had an excellent relationship with Ducati over the years, winning 3 British Superbike Championships and achieving numerous successes in the World Superbike arena. I'd like to thank them on behalf of the entire team for their support. We are, however, extremely pleased to be entering into this new agreement with Yamaha, and to be involved in directly developing the new YZF R1. This arrangement will see the start of a new era in superbike racing for GSE."
Yamaha Managing Director, Andrew Smith, added: "We are delighted to be partnering GSE Racing, the UK's most successful race team, and together I am confident we can successfully build a long term relationship both on and off the race track."
Further details with regards to the partnership, sponsors and riders will be announced in due course.
Nicky Hayden to Join Casey Stoner at Team Marlboro Ducati
Monday Sep 15th
Bologna, Italy - Ducati Corse hereby announces that Nicky Hayden will join its factory MotoGP team for 2009. The 27-year-old from Owensboro, Kentucky, will line up alongside Casey Stoner and will make his debut on the Desmosedici GP9 on the 27th October in a test immediately following the Valencia Grand Prix.
Hayden arrives at Ducati after six years in MotoGP with Honda, the highlight coming in 2006 when he was crowned World Champion. His aggressive riding style and amenable character have made him an extremely popular rider - both on the track and off it.
"We are really happy to have Nicky join us," declared Claudio Domenicali, Ducati Corse CEO and Ducati Motor Holding Product Director. "We are certain that his never-say-die attitude, riding style and character will be great additions to our team in 2009. I would like to thank HRC for allowing Nicky to start testing our bike immediately after the Valencia Grand Prix.

I would also like to thank Marco Melandri for his professionalism during a difficult year, which was below all our expectations. Unfortunately his feeling with the Desmosedici was never good enough to allow him to ride as well as he can. We wish him all the best for the future."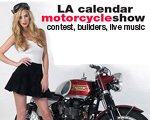 Complete Coverage!
2008 LA Calendar Motorcycle Show & Calendar Girl Music
Festival Weekend!
$86,000 Bike Building Championship
World Record Dyno Shootout!
Calendar Girl Music Festival


Corser to BMW?
Tom Sykes steps up to World Superbikes with Yamaha for 2009
Amid rumors that 2-time World Superbike Champion Troy Corser May be moving to BMW next year, and with British Superbike rider Tom Sykess spectactular performce as a wild card entry at at the Donnington World Superbike race last weekend....

The Yamaha Motor Italia World Superbike Team has signed promising young British rider Tom Sykes for the 2009 season with the option to extend for 2010. The 23yr old from Huddersfield in England will ride the all new 2009 Yamaha YZF R1 in next year's World Superbike Championship.
Sykes has proved to be a competitive and talented rider in the 2008 British Superbike Championship, showing an intelligent and mature riding style beyond his years. Two wildcard rides in WSB this year have seen him qualify an impressive sixth at Brands Hatch and seventh on the grid at Donington. At Brands he went on to score a sixth place in race two, whilst at Donington he had a storming race one, finishing up in second place after some close racing with Championship leader Troy Bayliss.
Sykes raced in British Supersport for four years from 2003 to 2006, ending second in the championship in the final year. In 2007, his first year in British Superbike, Sykes finished the season a respectable sixth in the standings, and was named Rookie of The Year. He is currently second in the 2008 championship and the first rider on a four-cylinder machine.
Massimo Meregalli – "Tom Sykes is an excellent signing for the team, he is the most interesting young rider in circulation in the racing world this year. I've had time to appreciate his riding qualities during the season and Brands Hatch was the confirmation of his talent for me. His brilliant result at Donington strengthened our conviction. We know that there will be much work next season because the new YZF-R1 arrives and it will have to learn the tracks. We have a lot of faith in being able to obtain good results quickly and the presence of a young person with a lot of ambition will give new motivation to the team."
"We are delighted to be able to offer Tom the next step in his racing career with Yamaha's World Superbike Team" said Yamaha Motor Europe Racing Division Manager Laurens Klein Koerkamp. "We are sure he has the qualities needed to be a star rider of the future on the world stage. With the launch of the new R1 just three days ago, we are very excited about the potential for next year. We are looking forward to developing both the rider and the bike for championship success in 2009 and beyond."
At this point we belive the current Yamaha ItalianTeam riders, Troy Corser and Noriyuki Haga remain unsigned for 2009, but with Corser's current 2nd place position in the 2008 World Championship he would be the logical rider to stay at Yamaha, but for the fact most Japanese teams like to keep one Japanese rider on their team.
Rumors are that Troy is taking with signing with BMW and their new Superbike team for 2009, where the experienced veteran would be very valuable in helping to develop the race potential of the new BMW bike. Andf BMW certainly has the money to allow the 37-yer old veteran to finish off his racing career with a lucrative contract and nest egg for retirement.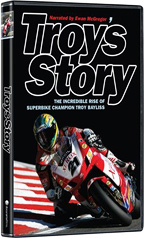 Troy's Story
The story of 2-Time World Superbike Champion Troy Bayliss narrated by Ewan McGreggor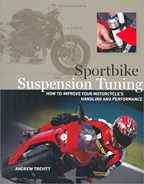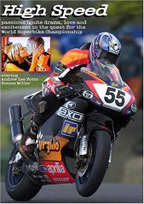 High Speed - the Movie
The best motorcyce racing movie ever made! Filmed on location at World Superbike, this an exciting romantic drama staring beautiful actress Sienna Miller.
---