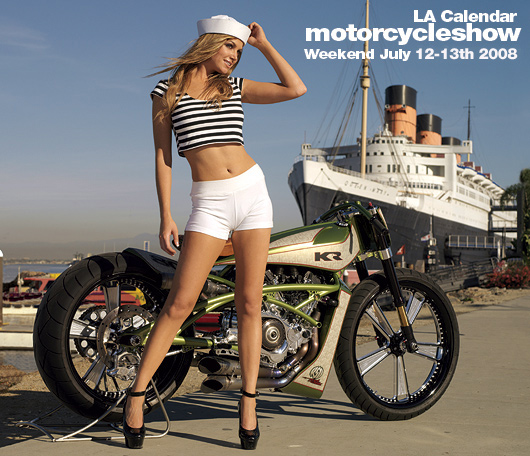 $86,000 in Cash and Awards in the Calendar Bike Building Championship
for Custom & High Performance Street & Sportbikes
Performance Machine presents the
17th Annual 2008 LA Calendar Motorcycle Show Weekend featuring Calendar Bike Building Championship, Dyno Shootout, & Music Festival

July 12-13th 2008, Queen Mary Event Park, Long Beach - It's all about beauiful bikes and beautiful girls!
The 17th annual Los Angeles Calendar Motorcycle Show Weekend presented by Performance Machine, America's premier custom, cruiser, performance and sportbike weekend returns to the Queen Mary Event Park in Long Beach on July 12-13th, 2008. Join 20,000 streetbike motorcycle and music enthusiasts for the world's most exciting 2-day motorcycle event weekend in the beautiful Queen Mary Event Park on the grass alongside the Pacific Ocean! This is the world's premier motorcycle show weekend featuring 200 major motorcycle and parts manufacturers, selected product and apparel venders.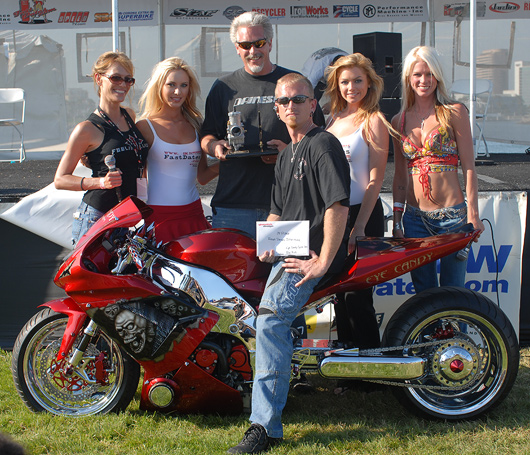 The Calendar Bike Building Championship includes America's premier sportbike contest, the Fast Dates Sportbike Class! Where else can you win Thousands of Dollars in Prizes, a cool retro Mikuni Carburetor Trophy, and have your picture taken with a Penthouse Pet, 2 Playboy Playmates, and Miss Texas / Miss Hawaiian Tropic International / Miss Hooters!

The weekend features many of the world's top Pro and Amateur street bike builders in attendance to compete in the Performance Machine Calendar Show Bike Building Championship with a bulging purse of $86,000 in cash and awards*. There are 10 individual classes for American V-Twin and Metric Street Custom, Performance, Classic, Bobber, Chopper and Sportbike motorcycles.

The coveted Performance Machine Best of Show Trophy is awarded for the top overall bike at the Show and includes a $3,000 cash prize, an additional $7,000 in product awards bringing the total awards to $10,000 overall, plus the winning bike and builder receives an editorial bike feature in Iron Works magazine and the Iron & Lace Calendar photographed by Show producer Jim Gianatsis.
Performance Machine also offers is own trophy for the Best Performance Machine Equipped Bike with a $5,000 product award from Performance Machine products, Other favorite classes include the Iron Works magazine sponsored Radical Pro Builder, the Mikuni American HR Carburetor sponsored American V-Twin Performance, and the Fast Dates Calendar sponsored Sportbike Class.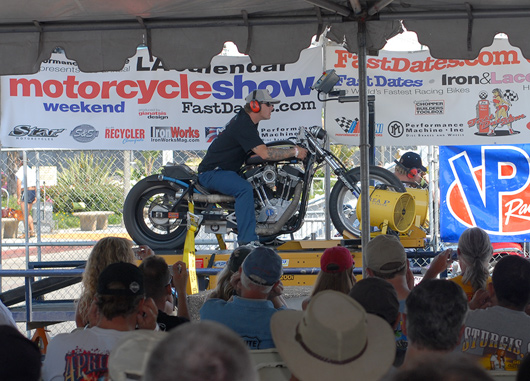 A high performance Drag and Land Speed Record bike tackles the S&S Cycle World Record Dyno.
Join in the excitement of the Calendar Show's exclusive S&S Cycle World Championship Horsepower Dyno Shoot Out hosted by Kerry Bryant of Area P Exhaust Systems. World Record runs are open up to anyone, including the change to see just how strong your streetbike really is. Classes & Awards for all stock and modified American V-Twin and Metric Sportbikes.
Date and Time: July 12th Saturday 10am - 7pm, July 13th Sunday 10am - 6pm
Admission: $25 1-Day $35 2-Days, Children $10.
Location: The Queen Mary Event park, 1126 Queens Highway, Long Beach, CA 90802
Queen Mary Information & Reservations: Ph 562.435.3511
Event Website: http://www.FastDates.com/BIKESHOW.HTM
---

Casey Stonner and the Ducati GP08 continue to dominate this weekend at Assen with another runaway win after Donnington last week..

MotoGP World Championship Assen A-Style Dutch TT, Round 8 of 19
Casey Stoner Contines his Domination at Assen TT
Assen, Netherlans, June 26-28th - Casey Stoner took his second consecutive victory and his third of the season at Assen, to complete a clean sweep after taking pole position and setting the fastest lap of the race. The Australian dominated the race from start to finish, closing the gap to new series leader Dani Pedrosa to 29 points and bringing himself to within 25 of Valentino Rossi in second place.
On a day of typically changeable weather in Holland, Stoner started out well with the fastest time in a wet warm-up before carrying his dominance into the race. After briefly conceding the lead to Dani Pedrosa on the first lap he quickly reasserted himself and opened out an advantage that eventually stretched to 11.310 seconds over the Spaniard.
Marco Melandri, who was himself impressive during the warm-up when he set the seventh fastest time, was unable to reproduce that form in the dry and eventually crossed the line in thirteenth place.
CASEY STONER (Ducati Marlboro Team) 1st - "We knew we had the pace to win today but sometimes coming into race day that can make you even more nervous because you know the only thing that can go wrong is yourself! I was also worried about the weather and after watching the 125 race I thought it would be typical to start raining whilst I was in the lead. Thankfully that wasn't the case and I was able to get out front, put my head down and concentrate on doing the times we've been doing all weekend in dry conditions. I'm sorry Valentino crashed because this isn't necessarily the way I wanted to recover points on him, but at the end of the day we've had our fair share of bad luck this year too and racing is an unpredictable game. Now it seems fortune is favouring us but more than that I've really got to take my hat off to Ducati and to my team. They've been doing such a good job over the past few races to get us back on the pace again and make us consistently competitive, so I want to say 'thank you' to all of them."
casey Tops Thursday Practice
ThuPractice, Thursday June 26th - Casey Stoner continued his awesome form of the past week on the opening day of practice for the A-Style TT Assen. The reigning World Champion put on an absolute masterclass in both Thursday MotoGP sessions, in particular the afternoon run at the historic Dutch track.
A 1´36.087 lap, three tenths of a second faster than John Hopkins´ pole position record from 2006, was the latest demonstration of Stoner and Ducati´s potential to fight for victory at this crucial phase of the season. Even a brief wobble seemed not to faze the 22 year-old. At the `Cathedral of Motorcycle Racing´, thus far the Australian has been almost godlike.
Doing his best to keep up with his rival, Fiat Yamaha´s Valentino Rossi came closest to matching Stoner´s marker. The winner of last year´s Assen showdown in a breathtaking battle between himself and Stoner, current World Championship leader Rossi was seven-tenths of a second down on the fastest lap of the day. `Curious´ to see how his new Bridgestone tyres would fare in Assen, Rossi will be pulling out all the stops to get the best out of his 2008 package in tomorrow´s qualifying session.
Colin Edwards also managed to keep within a second of Stoner´s time, onboard the Tech3 Yamaha version of the M1 at a track where he has maybe his best chance of victory this season. The rider who prevailed in their 2006 duel, Repsol Honda´s Nicky Hayden, was just behind him in fourth place.
Alex de Angelis and Shinya Nakano trailed Hayden as the next fastest Honda riders, competing for the San Carlo Honda Gresini satellite outfit. LCR Honda man Randy de Puniet and Kawasaki´s John Hopkins also separated Hayden from teammate and title contender Dani Pedrosa in the combined practice classification.
Tenth placed Chris Vermeulen had a small run-off during the afternoon session, but his was a minor setback in comparison to that of Rizla Suzuki teammate Loris Capirossi. The returning veteran -absent from Donington with a hand injury- suffered a brutal highside that ended with the Italian nursing a cut forearm in the Clinica Mobile. He played no further part in the session, and his replacement in Britain Ben Spies is on-hand in the Netherlands should his services be required.
Casey Continues Pole Position Roll with Assen Top Spot
Qualifying Friday June 27th - The fastest lap ever recorded by a motorcycle at Assen gave Casey Stoner a third consecutive pole position in preparation for round nine of the MotoGP World Championship, continuing his outstanding performances of the past seven days. The Australian was in a class of his own in the first practice sessions for the A-Style TT Assen, but qualifying saw him having to dig even deeper as his two biggest rivals upped their game and lowered their times. A 1´35.520 lap nearly a second quicker than the existing pole position record eventually won out for the reigning World Champion, gunning for his second victory in seven days.
A final lap from Repsol Honda´s Dani Pedrosa very nearly spoiled the party for the Ducati rider, but the Spaniard fell short by just 0.032 as he marked his spot on the front row. The top three in the World Championship and the winners of the last five races look set to do battle once more at the historic Dutch circuit. Pedrosa now leads Stoner by three points in the BMW M Award for combined qualifying results.
The final piece of the front row puzzle was current series leader Valentino Rossi, the first to trouble Stoner during the session. At a loss as to how to beat the previously peerless Australian at Assen after watching the Thursday practice domination, Rossi put it all on the line for some fearless attempts at pole. His final shot, with a new set of Bridgestone qualifiers, was not quite enough, and in the end only 0.139 separated the front row trio.
2006 racewinner Nicky Hayden will head the second line at tomorrow´s race, ahead of LCR Honda´s Randy de Puniet and Tech 3 Yamaha rider Colin Edwards. The front two rows all rode round under the previous 1´36.411 pole record. Second Fiat Yamaha man Jorge Lorenzo is accompanied by 2007 poleman Chris Vermeulen and 2006 race runner-up Shinya Nakano on the third row.
Second Straight Runaway Win for Stoner on Sunday
Race Day, Saturday June 28th - Casey Stoner gave himself, Ducati and Bridgestone a first premier class Assen victory with a superb breakaway from pole. It would have taken a brave man to bet against him achieving a second consecutive victory after his phenomenal form in practice, qualifying and the Saturday warmup, and the Australian set out his stall early in Assen. The circuit record was passed over to the Ducati Marlboro rider after just two laps, and he improved gradually as the race went on to take the win.
Stoner´s task was made slightly easier by the absence of Valentino Rossi from the battle for supremacy, the Fiat Yamaha rider crashing on the opening lap after losing the back end of his bike and careering into Randy de Puniet. Rossi returned to action, at times bettering the pace of the frontrunners with the exception of Stoner, but even if he had stayed on track the 2007 World Champion would almost undoubtedly have proved too fast to catch.
Dani Pedrosa was also unable to prevent a second Stoner breakaway in as many races, the Repsol Honda rider going round in isolation after being passed for the lead by his rival. Second place –combined with Rossi´s misfortunes- puts the Spaniard into the lead in the World Championship.
As at last year´s race in the Netherlands, the A-Style TT Assen was set to be Nicky Hayden´s return to the podium in 2008. Untroubled by other riders whilst unable to keep up with the man immediately in front, it had looked to be a cruise to the line for the former World Champion and Assen racewinner. However, in an almost tragicomic turn of events, the pneumatic valve engine-shod RC212V used by the Honda factory rider gave up on him at the last moment, and he could only limp over the line in fourth as Colin Edwards took a second podium of the year.
Having started from the second row, dropped down the field and then made a comeback demonstrating his skills at Assen, Tech3 Yamaha satellite rider Edwards went some way to putting his Assen demons to rest. Having lost out in a 2006 to Hayden on the last lap, passing his rival on the home straight was a sweet reward for the `Texas Tornado´.
Andrea Dovizioso benefitted the most from some hard overtaking moves from Jorge Lorenzo, which broke up a tussle for fifth place. The JiR Team Scot rider eventually took the spot ahead of his Spanish rival, with Chris Vermeulen and Shinya Nakano losing ground.
There were crashes for Kawasaki´s Anthony West and San Carlo Honda Gresini rider Alex de Angelis in the race, whilst early faller Rossi managed to pass both Marco Melandri and subsequently Toni Elias for eleventh place.
Casey Stoner, Race Winner - "This afternoon was a lot windier than yesterday and the rain this morning meant that the track conditions weren't at their optimum: the front was pushing in a lot of corners where you really have to rely on it, so that made life ten times more difficult than it should be! Before we put the qualifiers in we had that problem with the lap time transmitter and I didn't know how fast I was going. Luckily Dorna managed to fix it before we put the qualifying tyres in and I was feeling confident, but the extra grip offered by the softer rear put even more pressure on the front and I almost lost it on several occasions during the last three laps.
To have qualified on pole despite all those things is fantastic! The rain this morning also meant that we didn't get many laps in on slick race tyres today but that is the same situation for everybody and we did enough yesterday to be confident about tomorrow's race. This is my third pole position in a row so it shows the great job being done by everybody at Ducati and especially at Bridgestone, who have made great steps forward with their qualifying rubber this season so congratulations to them."
Bautista Tops 250cc GP
Alvaro Bautista won out in a two rider battle for victory in the 250cc A-Style TT Assen, imposing his will on Thomas Luthi and winning from pole position. The Spaniard didn´t have the best of starts in the Netherlands, and on the opening lap he had dropped down to eighth place, the superior drive of his Mapfre Aspar Aprilia machinery later bringing him back into contention. He reeled in Thomas Luthi after the Swiss rider had broken free from the pack, with the definitive pass coming on the nineteenth lap.
Bautista then extended his advantage over the Emmi-Caffe Latte man to 4.5 seconds before taking the chequered flag and his second win of 2008. Luthi could not be too disappointed, having achieved his best ever 250cc result.
Marco Simoncelli was again on the podium, for the fifth race in succession. He came out worst from a first corner lack of space, running onto the rumble strip and dropping down places, but fought his way back to the rostrum and cut the World Championship gap between himself and leader Mika Kallio to a solitary point.
Alex Debon and Hector Barbera also featured in the top six, having both run off at the De Bult asphalted section of the track. Barbera´s rejoining the action nearly took out Kallio, who was later overtaken by the pair and the Finn´s Red Bull KTM teammate Hiroshi Aoyama.
Yuki Takahashi, Roberto Locatelli and Julian Simon completed the top ten, whilst the only title contender to crash out was Mattia Pasini on lap eleven.
---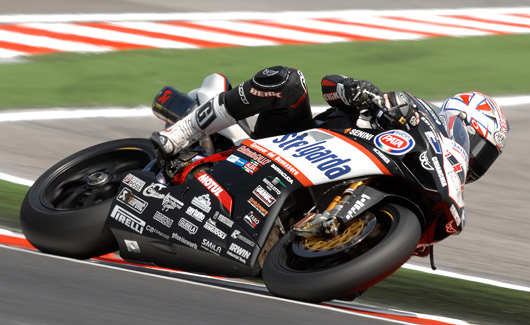 Ruben Xuas on the private Strelgarda Dairy Ducati 1098RS gave the team its first ever World Superbike win.


SBK Hannspree World Superbike Championship, Misano Italy Round 8 of 15
Neukirchner and Xaus Trade Wins at Misano!
Misano, (Republic of San Marino) Italy June 27-29th - Germany's Max Neukirchner (Alstare Suzuki) and Spain's Ruben Xaus (Sterilgarda Go Eleven Ducati) picked up the two wins in today's eighth round of the HANNspree FIM Superbike World Championship at the Misano World Circuit in front of 68,000 spectators. With two third places, Troy Bayliss (Ducati Xerox) increases his lead in the championship to 49 points.
Championship points leader Troy Bayliss (21) took both starts into Turn One each race, but quickly found himself engulfed in heat battles for the lead with Xaus, Biaggi, Corser, Neukirchner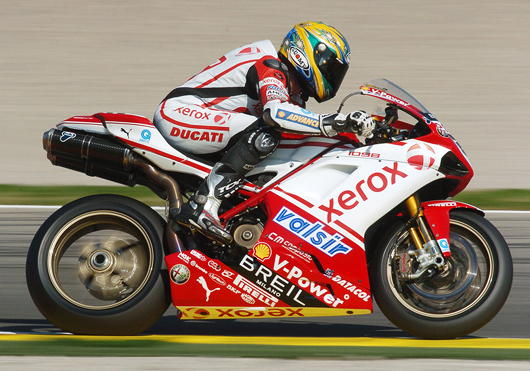 Bayliss Tops the SBK Timesheets in Missano Practice
MisanoFriday 27th June: With scorching track temperatures that rose as high as 53°C, Ducati Xerox rider Troy Bayliss and the rest of the SBK World Superbike circus faced a very physical challenge during today's sessions at Misano. Already off to a flying start in this morning's free practice session, Troy Bayliss continued to make storming progress in first qualifying this afternoon, to conclude the session at the top of the time sheets with a fastest lap time of 1m36.8s. The only rider on track to lap in under 1m37s today, Bayliss set a new best lap at this "new" circuit (the track configuration having been recently modified). As the Australian rider has a history of victories at the Santamonica track, he hopes to repeat those performances once again come race day.
Michel Fabrizio finished the free practice session in third place but then struggled a little during the afternoon's qualifying to conclude today with the fourteenth fastest time, with just over one second separating his time from Troy's.
Troy Bayliss 1m36.8s - "I was reasonably happy with today. This track is like a home track to us so we feel under a bit of pressure to do well, and also because I've done well here in the past. I'd say we're satisfied with the changes we've made through the day and I reckon we've done a good job. It's hard due to the heat of course so I'm trying to look after myself and keep as cool as possible."
TIMES: 1. Bayliss (Ducati Xerox) 1m36.8s; 2. Smrz (Ducati) 1m37.1s; 3. Corser (Yamaha) 1m37.2s; Biaggi (Ducati) 1m37.4s; 5. Haga (Yamaha) 1m37.5s; 6. Laconi (Kawasaki) 1m37.5s..... 14. Fabrizio (Ducati Xerox) 1m38.0s
Brilliant 42nd Career Superpole for Corser
Saturday June 28 - Troy Corser (Yamaha Motor Italia WSB Team) was the fastest rider going into the Superpole contest at Misano and despite being down in the first two splits he rallied on the final section of the 4.226km circuit to record an outstanding 1'35.993 second lap. That new track best time delivered Corser his 42nd career Superpole win, extending his record to exactly twice as many as the next best riders in the all-time rankings.
Noriyuki Haga (Yamaha Motor Italia WSB Team) continued to try and find an ideal set-up for his machine in practice today and qualified 14th in Superpole, making for a fourth row start for Sunday's 24 lap races. Haga's team will now make final adjustments to the machine in morning warm-up tomorrow, but all who know Haga understand that he can fight for podiums almost irrespective of his qualifying position.
The Misano circuit has proved to be bumpier than last year, but its altered layout proved no challenge to Corser, who was simply peerless in getting the most out of the available grip from the track surface in the two days of qualifying and practice. He is looking for his first win of the 2008 season, despite some tremendous front-running rides and five podium finishes so far.
Such was the intensity of the practice sessions that Corser and Haga were the only Yamaha riders inside the top 16 places after regulation qualifying, and thus David Checa (Yamaha GMT94) in 18th place was not in Superpole, despite setting a time only 1.462 seconds from Corser's pre Superpole best. Shinichi Nakatomi (Team YZF Yamaha) earned a 20th spot on the grid, with Sebastien Gimbert (Yamaha GMT94) 21st fastest.
Troy Corser (1st - 1'35.993 - Yamaha Motor Italia WSB Team)
"Practice has been going well and we've found a good setting for the race tomorrow. We made some changes for Superpole, and it helped the bike. I feel I can push the bike as hard as I want to and it feels just like it did in Germany. It's always good to beat Ducati here in qualifying or Superpole or a race. It is going to be two long races tomorrow in the heat, so we'll see how we go then."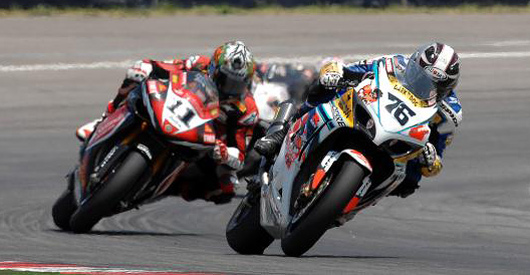 Troy Coser (11) emerged from a race long battle to look like the winner in Raco One, only to have Neukirchner (76) come out of nowhere in the closing laps and blow by at take the checkered.

Neukircher Comes from Nowhere to Steal the Win in a Heated Race One
Alstare Suzuki's Max Neukirchner grabbed the win in the first race to take his second victory of the year. After playing a waiting game in the early laps, the German stepped up the pace in the second part of the race to catch and pass a heated battle between frontrunners Toy Bayliss, Xaus and Troy Corser (Yamaha Motor Italia WSB), who went on to finish fourth and second respectively. Third place on the podium after an inconsistent run went to points leader Bayliss. Following a disappointing qualifying session, Carlos Checa (Hannspree Ten Kate Honda) managed to hold off the competitive privateer Ducatis of Lorenzo Lanzi (RG) and Jakub Smrz (Guandalini). Nurburgring winner Noriyuki Haga (Yamaha Motor Italia WSB) had a difficult race, finishing tenth after starting from row 4, while Max Biaggi (Sterilgarda Go Eleven Ducati) was taken out by Michel Fabrizio (Ducati Xerox) in a collision on lap 12.
Max Neukirchner, 1st: "Unbelievable! My team did a really good job this weekend, in the practice we changed a lot, up and down with the bike, and couldn't find the right settings, but in the race it was unbelievable. In the beginning it was not possible to get close to Bayliss and I had to push very hard, but then it was easier to find a good line. The other guys were a little bit slower than me, the two Troys, and I'm just so happy."
Troy Corser, 2nd: "I didn't make it easy for myself from the start of the race because I didn't get into the first corner too well, then I touched a few riders and was about sixth or seventh on the first lap. I pushed really hard, and maybe used my tyre up a little bit because by the end of the race I had nothing left. I could see that I was a little bit faster than Bayliss and once I got past him, I pushed to catch Max, but just couldn't get him and once the tyres are greasy it's easy to throw it away so I settled for second."
Troy Bayliss 3rd: "It was really hot like every year here. I was feeling pretty confident before the race and we ended up choosing the hardest tyre in the rear. But I sort of struggled with it the whole race and then did my best laps towards the end, when it was too late, but can't take anything away from Troy and Max, they were riding really well."
SUPERBIKE Race 1: (Laps 24 = 101,424 Km
Pos / Rider / Nat. / Team / Gap
1/M.NEUKIRCHNER/GER/Suzuki GSX-R1000/Team Alstare Suzuki/39'27.918
2/T. CORSER/AUS/Yamaha YZF-R1/Yamaha Motor Italia WSB/0.542
3/T. BAYLISS/AUS/Ducati 1098 F08/Ducati Xerox Team/2.249
4/R. XAUS/ESP/Ducati 1098 RS 08/Sterilgarda Go Eleven/3.028
5/C. CHECA/ESP/Honda CBR1000RR/Hannspree Ten Kate Honda/5.408
6/L. LANZI/ITA/Ducati 1098 RS 08/R.G. Team/5.518
7/J. SMRZ/CZE/Ducati 1098 RS 08/Guandalini Racing by Grifo's/6.202
8/G.LAVILLA/ESP/Honda CBR1000RR/Ventaxia VK Honda/18.279
9/S. NAKATOMI/JPN/Yamaha YZF-R1/YZF Yamaha/19.072
10/N.HAGA/JPN/Yamaha YZF-R1/Yamaha Motor Italia WSB/19.132
11/Y. KAGAYAMA/JPN/Suzuki GSX-R1000/Team Suzuki Alstare/28.098
12/F. NIETO/ESP/Suzuki GSX-R1000/Team Suzuki Alstare/34.385
13/S. AOYAMA/JPN/Honda CBR1000RR/Alto Evolution Honda Superbike/34.572
14/R. KIYONARI/JPN/Honda CBR1000RR/Hannspree Ten Kate Honda/34.902
15/D. CHECA/ESP/94 Yamaha YZF-R1/Yamaha France Ipone GMT/39.979
Fastest Lap 13° Jakub Smrz 1'37.694 155,727 Km/h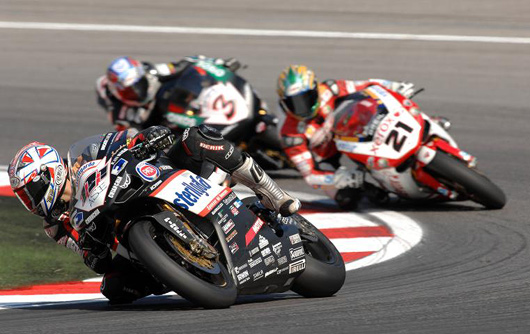 Ruben Xaus (11), Troy Bayliss (21) and Max Biaggi (3) had a heated discusion for the win in Race Two.
Team Sterilgarda's Xaus and Biaggi Devistate Race Two
The second race of the day saw a sensational and unexpected 1-2 win for the private Sterilgarda Go Eleven Ducati team. The 25 points went to Ruben Xaus, who took his first win of the year, ahead of Max Biaggi, who capitalized on a mistake by Bayliss to grab the second podium slot. Fourth and fifth went to the two Yamahas of Noriyuki Haga and Troy Corser, with Nitro-Nori making amends for his disappointing race 1. Lorenzo Lanzi again went well to finish sixth, while Neukirchner was unable to repeat his brilliant race 1 win. With his eighth place finish Carlos Checa has now been overtaken by Neukirchner in the points standings.
Ruben Xaus: "It was a nice win but at the beginning it was hard. We had three starts today and the last one was the worst! I think the clutch slipped a bit and I lost a little time. I wanted to recover because I knew that Corser and Bayliss would pull away. For the first 10 laps I had a lot of movement at the rear. Then my team-mate attacked me twice, I closed the door and with ten laps to go I started to do 37s, 37s, 37s. Today my mechanics did an incredible set-up and an incredible job, a big thanks to Team Sterilgarda Go Eleven!"
Max Biaggi: "I think it was a pretty good race. I was so fed up after race 1 when Fabrizio hit me at the back and took me out. Too bad, I didn't expect that. I think this year is the most difficult or unlucky of my career, but I have to say that in Superbike we always have a second opportunity with race 2. I made a good start from row 2 and was in the top 2 or 3 all the time. In some parts I was losing and in others I was gaining, then at the end of the race my tyre went completely off and although my team-mate slowed, it wasn't enough for me."
Troy Bayliss: "Honestly I think this has been one of the hardest days of my career. I felt pretty good all weekend, but we thought the hard tyre in the first race could have been the problem. We changed that for race 2 and it was a bit better, but towards the end I was struggling and the back was coming round. Hats off to the guys, they rode brilliantly but I improved my points lead. I suppose that's what it's all about but I would have loved two wins today.
SUPERBIKE Race 2: (Laps 24 = 101,424 Km)
Pos / Rider / Nat. / Team / Gap
1/R. XAUS/ESP/Ducati 1098 RS 08/Sterilgarda Go Eleven/39'19.710
2/M.BIAGGI/ITA/Ducati 1098 RS 08/Sterilgarda Go Eleven/1.035
3/T. BAYLISS/AUS/Ducati 1098 F08/Ducati Xerox Team/4.158
4/N.HAGA/JPN/Yamaha YZF-R1/Yamaha Motor Italia WSB/5.466
5/T. CORSER/AUS/Yamaha YZF-R1/Yamaha Motor Italia WSB/6.759
6/L. LANZI/ITA/Ducati 1098 RS 08/R.G. Team/13.468
7/M.NEUKIRCHNER/GER/Suzuki GSX-R1000/Team Alstare Suzuki/15.221
8/C. CHECA/ESP/Honda CBR1000RR/Hannspree Ten Kate Honda/16.687
9/J. SMRZ/CZE/Ducati 1098 RS 08/Guandalini Racing by Grifo's/17.030
10/F. NIETO/ESP/Suzuki GSX-R1000/Team Suzuki Alstare/17.681
11/M.FABRIZIO/ITA/Ducati 1098 F08/Ducati Xerox Team/21.356
12/Y. KAGAYAMA/JPN/Suzuki GSX-R1000/Team Suzuki Alstare/28.676
13/R. KIYONARI/JPN/Honda CBR1000RR/Hannspree Ten Kate Honda/31.304
14/G.LAVILLA/ESP/Honda CBR1000RR/Ventaxia VK Honda/32.339
15/S. NAKATOMI/JPN/Yamaha YZF-R1/YZF Yamaha/33.716
Fastest Lap 2° Troy Corser 1'37.580 155,909 Km/h
Lap record (New record) : 2008 J.Smrz 1'37.694 155,730
Best Lap: 2008 T. Corser 1'35.993 158,490
Riders Championship Standings:
1 BAYLISS 259, 2 NEUKIRCHNER 210, 3 CHECA 207, 4 HAGA 191, 5 CORSER 185,
6 NIETO 151, 7 XAUS 148, 8 BIAGGI 117, 9 FABRIZIO 111, 10 KIYONARI 94,
11 KAGAYAMA 82, 12 LANZI 80, 13 LAVILLA 75, 14 SMRZ 72, 15 MUGGERIDGE 59.
600cc Supersport to Andrew Pitt
Andrew Pitt (Hannspree Ten Kate Honda) scored his third win in four races, the Australian comfortably taking the chequered flag after his rival Broc Parkes (Yamaha World Supersport) crashed out on lap 9. The top three podium places all went to Hondas, with Craig Jones (Parkalgar Racing) finishing ahead of Jonathan Rea (Hannspree Ten Kate). Fourth place went to Frenchman Fabien Foret (Yamaha World Supersport), who missed out on a chance of fighting for the podium after going wide at the first corner and returning to the track in 16th place. Mark Aitchison put in another good performance with the BE1 Racing Triumph 675, the Australian finishing ahead of seventh-placed Italian Massimo Roccoli (Yamaha Lorenzini by Leoni), while title contender Joan Lascorz (Glaner Motocard.com Honda) also crashed out of contention on lap 17.
600cc Results: 1. Pitt A. (AUS) Honda CBR600RR 37'08.387 (150,198 kph); 2. Jones C. (GBR) Honda CBR600RR 5.347; 3. Rea J. (GBR) Honda CBR600RR 9.183; 4. Foret F. (FRA) Yamaha YZF-R6 13.784; 5. Harms R. (DEN) Honda CBR600RR 15.863; 6. Aitchison M. (AUS) Triumph 675 15.967; 7. Roccoli M. (ITA) Yamaha YZF-R6 21.689; 8. Veneman B. (NED) Suzuki GSX-R600 24.070.
Points (after 5 of 10 rounds) : 1. Simeon (Suzuki) 84; 2. Roberts (Ducati) 76; 3. Polita (Ducati) 67; 4. Pirro (Yamaha) 63; 5. Berger (Honda) 59; 6. Giugliano (Suzuki) 48; etc.
Our 2010 Fast Dates Calendar Kittens were, from left to right, Pirelli girls Lauren Brooke and Jamie Jungers, Hannspree girls Shona Kay and Kami Wilson, here with World Champion Troy Bayliss's Ducati 1098F08 Superbike.
CLICK to GO BIG
2010 Fast Dates Calendar Shoot at America's
SBK World Superbike Round at Miller Motorsports, Utah
May 30-June 1st 2008, Toole, Utah, USA - The return of World Superbike Championship to America at Miller Motorsports Raceway in Utah, after a 3 year absence stateside, gave us an exciting new venue to shoot the next edition of the SBK World Superbike endorsed Fast Dates Calendar. Once again calendar photographer and producer Jim Gianatsis was able to photograph all the top factory World Superbike on pit lane with some very beautiful Calendar Kittens for the world's premier sportbike calendar, now celebrating it's 18 year!
Complete Fast Dates Calendar Shoot Story & Photos Continues Here...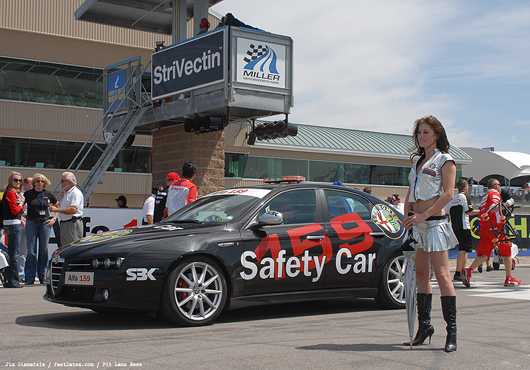 ---
Casey Stoner on the new Ducati GP09, now without a frame! The carbon fibre airbox, under the tank, now extends forward to support the front forks. The engine hangs below the airbox, and the rear swingarm pivots of the rear of the engine, Sheer genious!

MotoGP Catalunya Testing Session
Ducati Unveils with Casey Stoner Its Raducal New
Carbon Fibre Frameless MotoGP Bike for 2009
Monday Jun 9 2008 - The day following the Grand Prix of Catalunya gave the MotoGP riders the chance to start a two-day test, with the Ducati Marlboro Team bringing forward a first outing for the Desmosedici GP9 - which was originally scheduled for Casey Stoner tomorrow. With uncertain weather forecasts for tomorrow, Stoner and test riders Vittoriano Guareschi and Niccol Canepa put the machine through its paces, whilst Marco Melandri spent the day focusing on his GP8 and will test it tomorrow.
Ducati is not sitting on its laurels like other manufacturers, while holding the current MotoGP World Championship. The GP09 is the first ever factory bike to feature a full carbon fibre chassis, the first real inovation in motorcycle racing in 25 years, replacing the traditional Ducati steel tube frame. It was a positive debut for the machine in the hands of the World Champion, so much so that the Australian set the best time of the day with a 1'41.533 on qualifying tyres.
Rather than take a conventional aluminum beam perimeter chassis like used by the other manufacturers, and rereate it in carbon fibre, Ducati has started with a clean piece of paper. Their now proven carbon fibre airbox which sits in the engine's V above the cylinders and is already being uses as a stressed member between the upper frame tubes, the carbon airbox has just bene enlarged and the steel frame tubes eliminated altogether.
This in itseld gives the airbox about 4 more litres of pressurized air. And the long intake runners to the nose of the bike have been combined into one to also contain the steering head of the bike, and the runners in turn, are constructed nto one piece with the airbox. The fuel tank and the seat assembly bolt to the top on this airbox assembly, and the engine hangs below with the swingarmom pivoting off the back of the engine.
Its a very radiacal design never seen before in racing, but it is so simple it could easily be incorporated into future Ducati production bikes. It is though that Formaula 1 race car designer Alan Jenkins may have been involved inthe design of the bike. The only way to really distinguish the new GP09 is to note the carbon fibre intake runner which the front fork steering head is mounted through. An if you look into the fairing side exhaust vents there is no longer an upper steel tube frame bolted to the front sides of the engne.
Casey Stoner (Ducati Marlboro Team) Best lap on race tyres - 1'42.632; on qualifiers - 1'41.533
"I'm happy with the way today has gone. The objective was to understand whether this new chassis concept has potential and I'd say that for now it looks to be the case. We were quickly into some decent times using the same set-up as the GP8. We barely changed anything to adapt it to the characteristics of the GP9 and I immediately felt an improvement so that is positive. I'm sure that with more time to work on it we can go much faster, although that is not the current brief. We'll have time to test it in the winter. Tomorrow we'll get back on my GP8 because we have some important tyre testing to do. There is still a lot of the 2008 season left and we want to be competitive."
Here you see the adjustable steelig head assembly / steering stem running through the large front ram air duct section of the carbon fibre upper chassis / airbox assembly.

---
There's more! Go to Pit Lane News NEXT PAGE

Hot Calendar Girl and Bike News! Go to: Fast Dates • Calendar Girls • Iron & Lace



Calendar Kittens, The Paddock Garage, Screensavers, Iron & Lace Garage


Many of our Calendar Kittens can also be seen at Playboy's website...


BikerKiss.com - the largest biker personals site!