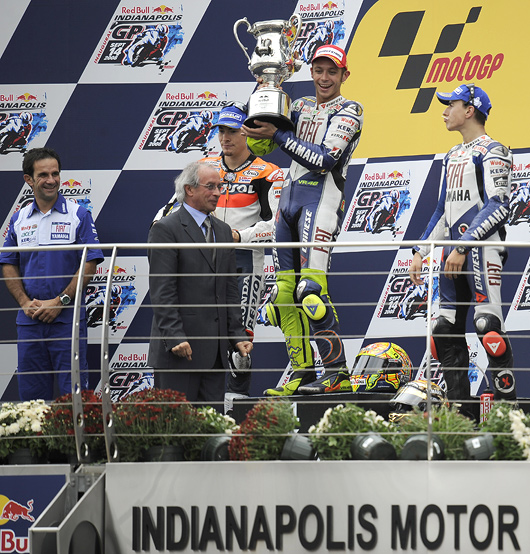 Rossi celebrates atop the podium at Indianapolis with Hayden and Lorenzo.

FIM 2008 MotoGP World Championship, Indianapolis, USA Round 14 of 18
Rossi sweeps thru like a Hurricane to make history at Indianapolis
Indianapolis Motor Speedway,In, Sept 12-14th - Valentino Rossi wrote another chapter in his ever-expanding history book, today at Indianapolis claiming his 69th premier-class win and becoming the most successful rider in premier-class history in the process. His hat trick of pole position, fastest lap and race victory made for a perfect first Indianapolis Grand Prix for the Italian, with the runner up spot going to American Nicky Hayden, and third place for Jorge Lorenzo rounded off an exceptional weekend for motorccyle racing in America.
Despite the remnants of Hurricane Ike engulfing the legendary Indianapolis Motor Speedway in a huge downpour of rain for 2 days of the 4-day festival weekend, as fans turned out nearly 100,000 strong for the first return of motorcycle racing to the facility in 100 years, making it possiby the higgest attend motorcyclerace ever in America. The innagual MotoGP at legendary Indy drew more than twice number the fans of at the inital MotoGP held across the county at Laguna Seca, 3 years earlier, despite the terrible weather and there now being two MotoGPs held in Ameica just 8 weeks apart.
More bad weather in the early afternoon led to the 250cc race being abandoned and the early part of the MotoGP race was run on a very wet track. Rossi dropped to fourth at the start and then surrendered another place to Lorenzo on the next lap, but he soon found his rhythm and made his way back past Casey Stoner, Lorenzo and Andrea Dovizioso into second behind Nicky Hayden by lap six. Passing Hayden was no mean feat and it took the seven-time world champion another eight laps to finally get by the American, at which point he quickly began to pull away. Hurricane Ike was not finished with Indianapolis however and on lap 16 of 28 it started to rain heavily once again, accompanied by strong gusts of wind which became very dangerous. The race was eventually red-flagged after 20 laps and, after a few minutes confusion as to whether there would be a restart, Rossi was confirmed as the first ever MotoGP winner at the Brickyard.
Rossi's 69th win takes him ahead of his fellow countryman Giacomo Agostini to the top of the all-time premier class winners list, a record which has stood for more than 30 years. Agostini claimed the 1975 500cc title with Yamaha and won six of his 68 victories with the Japanese factory.
Rossi is now 87 points clear of Stoner, who finished fourth today, which means he is able to win the championship at the next round in Motegi by finishing fourth or above.
Motorcycles make their first return to Indianapolis in 100 Years with the Red Bull U.S. MotoGP September 14th Weekend
PREVIEW, Indianapolis, IN, September 12-14th 2009 - The first motorized race at the new Indianapolis Motor Speedway backon Aug 14th 1909 was was a motorcycle race, on Aug. 14, 1909. A.G. Chapple won the first race, a 5-mile event with seven competitors, on an Indian motorcycle. The race distance was two laps on the 2.5-mile IMS oval.
This September when te world's top riders in the MotoGO World Championship mark th first return of motorccyles to the legendary Speedwayy in 100 years. Nineteen MotoGP riders will race 28 laps on the 2.621-mile road course at IMS during the Red Bull Indianapolis GP on Sept. 14, 2008.
There will be approximately four hours of action on Race Day at the Red Bull Indianapolis GP on Sunday, Sept. 14, more on-track Race Day activity than either of the other two events this year at IMS? Four classes - MotoGP, 250cc, 125cc and Red Bull Riders Cup - will race Sunday, with warm-up sessions for MotoGP, 250cc and 125cc. It will be a full day of two-wheel racing action from 8:40 a.m.-4 p.m. at the Brickyard!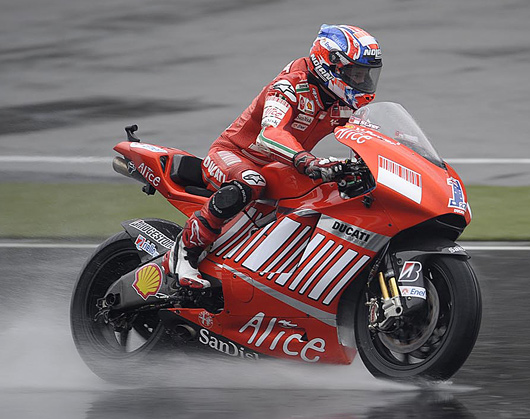 Rain dampened Indy MotoGP Practice on Friday as Casey Stoner takes his Duck to water.
Thursday Report
Thursday 11th September - On the eve of the first Red Bull Indianapolis Grand Prix the famous Indianapolis Motor Speedway circuit was bathed in sunshine on Thursday morning, though the weather forecast for the coming days suggests storms and rain could feature in this historic event.
Whatever lies ahead in terms of weather did not dampen the spirits on Thursday, however, with all this weekend´s 19 premier class competitors all playing a part in the preliminary activities. Each and every MotoGP rider made a 15-minute appearance on the IMS ?Plaza? stage for a Q & A session with the fans, as the ambience grew in this exciting new chapter of Grand Prix history.
Shortly before the customary afternoon press conference the entire MotoGP field gathered together for an iconic group photograph, at the IMS? famous Yard of Bricks finish line - the first time they have grouped together collectively in such a fashion since the opening round of the season in Qatar. In the pre-event press meeting, World Championship front runners Valentino Rossi, Casey Stoner and Dani Pedrosa were joined by American stars Nicky Hayden and Colin Edwards in previewing what promises to be an enthralling weekend.
World Championship leader Valentino Rossi commented: ?Of course everyone is used to seeing cars racing here so we are very curious to see what it will be like on our MotoGP bikes. It is a very historic place so it is great to bring MotoGP here. I have been in the U.S. for a few days enjoying Las Vegas and New York and it is always a good experience to be here.?
Home hero and 2006 World Champion Nicky Hayden, meanwhile, added, ?It was strange for me yesterday to be driving from home to ride in a Grand Prix. This is the closest I have ever road-raced to home in my entire career and the build-up has been great, so I hope I can put on a good show for the fans despite my foot injury.?
At the end of a busy day Yamaha Tech 3?s James Toseland rounded off proceedings with one of his virtuoso musical performances on the ?Plaza? stage.
Anthony West
Indy MotoGP Wet Friday Practice
Friday 12th - As promised by local weather forecasts, the effects of Hurricane Ike were felt as far away as Indiana today, making for a dreary debut for MotoGP at the legendary Indianapolis Motor Speedway. The opening free practice session, extended by half an hour to give the riders time to learn the track, took place under grey skies and was hampered by constant drizzle.
Stoner set the third fastest time of the session before crashing on his final lap, escaping without injury. The fall came on one of the recently laid sections of asphalt, where grip levels appear to be lower than other areas of the circuit - a problem exacerbated by the rain.
Friday Free Practice (Rain/Wet Track Conditions)
Pos. Rider Manu. Nat. Total Time
1 Anthony West Kawasaki AUS 1'54.274
2 Chris Vermeulen Suzuki AUS 1'55.032
3 Alex De Angelis Honda SMR 1'55.067
4 Valentino Rossi Yamaha ITA 1'55.425
5 Ben Spies Suzuki USA 1'55.869
6 Andrea Dovizioso Honda ITA 1'56.225
7 Jorge Lorenzo Yamaha ESP 1'56.313

8 Casey Stoner Ducati AUS 1'56.458
9 Daniel Pedrosa Honda ESP 1'56.782
10 Marco Melandri Ducati ITA 1'57.534
11 John Hopkins Kawasaki USA 1'58.335
12 Randy De Puniet Honda FRA 1'58.382
13 Sylvain Guintoli Ducati FRA 1'58.399
14 Nicky Hayden Honda USA 1'58.546
15 Colin Edwards Yamaha USA 1'58.600
18 James Toseland Yamaha GBR 1'59.478
Anthony West #13, Team Kawasaki ,1st - 1'53.034 - "This is a great way to start the weekend, especially after the results we've had recently. There's a lot of water out on the circuit, and it's a bit strange as there are quite a few changes of surface, but I've found my way around here quite easily, so I'm feeling happy. In some ways this track is a bit like those I used to ride on back home in Australia, because many of the circuits there have inconsistent surfaces, and I've found it relatively easy to adapt my riding style to suit the changes throughout a lap here. The bike is working well, and although we've had a few scary moments, I'm feeling pretty confident for tomorrow. It's promising that we can come to a new track, learn the lines quickly, and be able to put in good lap times quite comfortably."
Casey Stoner, Ducati MotoGP Team, 3rd: 1'53.190" - The track conditions vary drastically between the old surface and the new. Grip is good on the old stuff but there isn't even minimum grip on the recently laid asphalt and the rain makes it much worse because it isn't draining off. As far as security is concerned there are only a couple of critical areas - in particular turn five, where the run-off is very short. There's not much we can do about that right now though - the best thing would be to stick an air-fence in. At the end of the session I crashed on the section where the grip is poorest and that's obviously not good for the wrist but thankfully it didn't create any major problems. I tried to get back on but it wasn't possible, otherwise I would have come back on the bike. In general I'm quite satisfied with how we've started."
Valentino Rossi, Fiat Yamaha Team, - Position: 11thTime: 1'54.795Laps: 59 - "So, after some worries yesterday it seems that the track is not so bad and in fact it's a lot more fun to ride than I expected; it's like Rio in places. There are some parts that have a few problems and we can definitely improve them for the future, especially turn five and turn one, but for now I think it is okay. The biggest problem is the difference in the asphalt, which changes too much, and the new asphalt doesn't drain so well; if this weather becomes worse things will be very difficult. I am really sad about the rain because it's fantastic to be here and I felt quite a strong emotion leaving the garage for the first time this morning, at such a historic place. I really hope that the weather improves so that we can have some crowds here on Sunday! I think we have good potential here and I feel like if it was dry then I could be quite fast as well, but it looks like this won't be the case at the moment. Anyway, the situation is okay, my bike and tyres are working well so far so we will try to improve again tomorrow."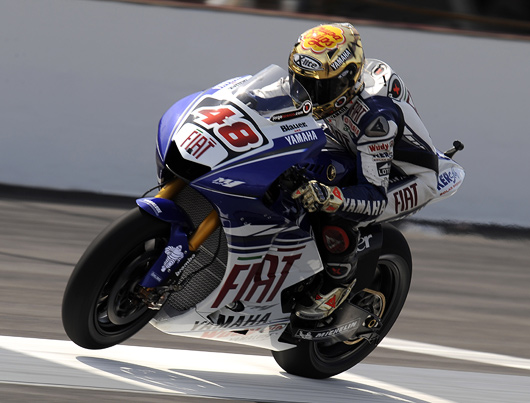 Saturday Final Qualifying, Rossi Beats Stoner for Pole
Saturday Sept 13th - After a Friday deluge, today?s qualifying was held in sunshine and it was Valentino Rossi
(Yamaha) who qualified fastest denying second quickest Casey Stoner (Ducati) an eighth pole in a row. Jorge Lorenzo (Yamaha) joins them on the front row for tomorrow's inaugural Indianapolis Grand Prix.

Yesterday's atrocious conditions effectively rendered Friday a track learning exercise at best. Today was when the real business began and it was Stoner who topped the sheets as the hour-long MotoGP qualifying session got underway. His early 1m 44.998s time would have more than four seconds shaved from it when the stint ended.

Randy de Puniet (LCR Honda RC212V) demonstrated his abilities as a fast learner when he went third fastest within the first ten minutes as class rookie and class act Andrea Dovizioso (JiR Scot Honda RC212V) sped into the top three with a 1m 44.130s time.
Pole sitter Valentino Rossi (left) and 3rd place qualifying teammate Jorge Lorenzo (right) will have Casey Stoner /Ducati in a Yamaha sandwich on the front row for the running of the inaugural Indianapolis MotoGP on Sunday.

Nicky Hayden (Repsol Honda RC212V) then posted a 1m 43.568s lap time to top the standings on his home soil. Things didn?t go so well however for Shinya Nakano (San Carlo Honda Gresini RC212V) who fell just after ten minutes of the hour had passed.

The recent 'form' riders soon showed they had lost none of their impetus as Toni Elias, fresh from rostrum finishes, went top with 1m 43.380s lap with De Puniet hanging onto second and Lorenzo and Hayden holding fast, third and fourth fastest.

Just before the halfway stage Rossi made his presence felt with a 1m 42.967s time. He then improved this to 1m 42.945s as Nicky moved to second quickest ahead of Stoner, Elias and the resilient De Puniet. These were the riders who adapted quickest to the singular demands of this virgin track.

But with the destructive Hurricane Ike in full effect in the locale there is a question mark hanging over whether this race will take place at all with torrential rain or perhaps worse forecast for tomorrow. Hayden, however, was in no mood to be swayed by these serious doubts about the weather. He went top with 22 minutes to go with a 1m 42.206s lap, rear tyre smokin' all the way around an anti-clockwise track that not only suits his dirt-track oval derived riding style but also favours his "good" left foot over the right heel he broke on 1 August riding in the LA X Games.

Neither was De Puniet finished here yet. The flying Frenchman put a 1m 42.027s lap on the board within the final 20 minutes as Toni Elias tried perhaps a bit too hard to stay in the hunt, parting company with his Ducati without injury to return to the pits and emerge on his number two machine. De Puniet again made the running with a 1m 41.570s lap to go top as Suzuki rider Chris Vermeulen bit the dust with 14 minutes of the hour remaining. Then it was Lorenzo?s turn to hit the front with a 1m 41.488s time. But the final ten minutes was where the pattern would be set.

Nicky looked good with seven minutes left before Rossi put in a 1m 41.031s time. Rossi then set a 1m 40.776s time that could not be bettered despite Hayden electrifying the crowd with tyre smoking efforts on the ragged edge of effort and adhesion. Less spectacular but no less impressive was Dani Pedrosa (Repsol Honda RC212V) riding the pneumatic-valve engine and on Bridgestone tyres for the first time in qualifying. He notched eighth place on the grid.

Nicky, fourth fastest, and just under half a second off the pole time, said: "That was nearly the front row but outside on the second row ain?t a bad spot. I feel this is the best race pace I?ve had in a while. I had a lot more fun today, the bike was working a lot better, we made some geometry tweaks to make it feel better and I was
more consistent. The bike certainly felt good and the Michelin tyres too. For the race it?s surely looking wet. It would be awesome to catch a break and get in a dry race, because I feel this is the best race package I?ve had in a while. We?ll see what happens tomorrow, try to have a bit of fun, see how it goes."
Rizla Suzuki MotoGP wildcard rider Ben Spies recorded the fifth fastest time during this afternoon's qualifying practice for tomorrow's Indianapolis Grand Prix, to give him a second row start in only his third MotoGP race.Spies (1'41.464, 25 laps) worked closely with the same team that attended this year's earlier test at Indianapolis, to continually improve on his lap-times throughout both the dry practice session this morning and this afternoon's qualifying. Spies's time was only 0.287 seconds from a front row start and gives the AMA Superbike Champion a great chance to capitalise during tomorrow's 28-lap race.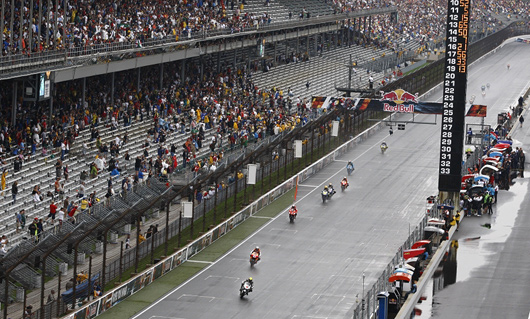 Rossi takes leads the 15th lap acrss the finsih line ahead of Hayden, Stoner, Lorenzo and the rest of the field.
Rossi Claims the Inaugural Red Bull Indianapolis MotoGP
Race Day, Sept 14th - Valentino Rossi (Fiat Yamaha Team) extended his lead in the MotoGP World Championship with victory at the first ever Red Bull Indianapolis Grand Prix, cut short with just 8 laps remaining owing to safety concerns caused by high winds, excessive and a flooded track.
The race started at 3pm local time in day-long rain soaked conditions, and ran for 20 laps bfore being red flaged for safetly concerns. The riders waited in their garages to see if the race would be restated again, but the FIM decided that track conditions would not improve over the remainder of the afternoon and decide the race as "Completed".
Rossi was targeting 69 in two different forms in the early stages of the race, looking to claim the new record for premier class wins by chasing down the rider assigned to that same number. Local hero Nicky Hayden, the man who had inaugurated the Indianapolis circuit back in April and who debuted the other American track on the calendar ?Laguna Seca- with a victory back in 2005, was giving no quarter as he set a fearsome pace at the front.
The Repsol Honda rider took the lead on the second lap, and set the fastest laps of the race in a continuous attempt at breaking free from Rossi. The race started in drizzling rain with a strong wind, and Hayden was on Michelin"Full Wet" tires which gave him an advantage from the start if the rain continued. It was believed that Rossi started on a harder Bridgestone "Intermediate" rain tires, forcing Val to begin the race more cautiously and hold his 6th place exit through Turn One until the rain diminished and the track began to dry around lap 10.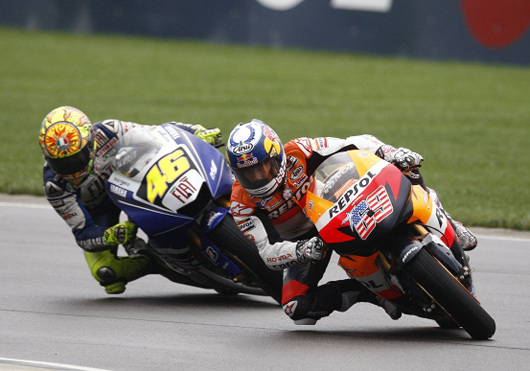 Rossi reelled in on Hayden as the track dried.

As the track dried, MotoGP series leader Rossi was able to catch the 2006 World Champion Hayden, and made the inevitable overtaking maneuver for the lead on lap 14. Then rain began to fall hard again, and the blustery storm force winds left over from Hurricane Ike were making its effect known on both the fans and riders. Hayden had destroyed his soft rain tires, meanwhile, during the brief dry period and had no water expelling tread left as the rain resumed. From then on it was a case of holding on until the race was haulted a few laps later. Rossi took his fourth consecutive victory, the premier class milestone, the first Indianapolis MotoGP win and, most importantly, an almost insurmountable 87 point lead at the head of the standings.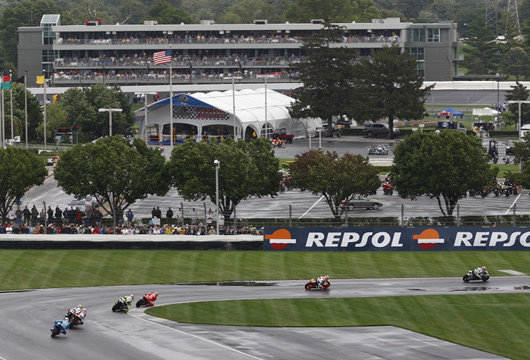 Hayden returned to the podium on his comeback race after missing two Grands Prix with a foot injury. He held his nerve in spite of some wobbly moments to come home second and make his rostrum comeback ?a first of the year for the `Kentucky Kid´. The American had lost almost all of a five second advantage to second Fiat Yamaha rider Jorge Lorenzo on the twentieth lap of the race, in which the decision was made to bring the Red Bull Indianapolis Grand Prix to an early conclusion.
Lorenzo took a podium for the second consecutive race, having been untroubled by the chasing pack during the middle stages. Almost nineteen seconds behind, reigning titlist Casey Stoner came home in fourth place, albeit now with only the smallest of chances to retain his crown in 2008.
After leading a MotoGP race for the first time in his career, Andrea Dovizioso brought his JiR Team Scot Honda home less than a second behind Stoner, with home rider and AMA Superbike champion Ben Spies rounding off the top six. Sylvain Guintoli, Dani Pedrosa, Chris Vermeulen and Alex de Angelis were the final riders in the top ten.
Rossi's team victory photo on the Indy finish line later Sunday evening.
Valentino Ross, Race Winner - "This is fantastic because it's been a long time since I won in the rain and even longer since I won four in a row! To win the first race here at Indianapolis is a great emotion and to beat Agostini's record is also incredible, now I hope my record will stand for 30 years like his! It was an amazing race and, once I was able to pass Stoner, I knew I had the chance to win so I pushed very hard. I had a great race with Nicky; he was really hard to pass so congratulations to him.
When the wind and rain came it became very hard, I think I could have kept going for another eight laps okay but there were things flying through the air - beer cans, plastic glasses - so really I think it was the right decision to stop the race! Sincerely I don't think I've ever ridden in conditions like these and I was lucky because I was far in front and therefore didn't have to take any big risks. It's been a perfect weekend for us despite the weather because we made the pole position, the fastest lap and we won, so I want to congratulate my team once again for a fantastic job, today and all year. Also thanks to Bridgestone because my tyres were very good today. I've really enjoyed racing here in Indy and I am looking forward to coming back next year. Now we have a big advantage and it would be great to win the championship in Motegi, but it's not over yet so we will keep our concentration and keep working! Finally I want to dedicate this victory to my Grandfather Dario, who sadly died today aged 82."
Nicky Hayden, Repsol Honda: 2nd. - "Man, it felt really good to be in the lead and I felt quite comfortable. It's been a long time. I was thinking 'this only happens in the movies': your home race, missing the last two and coming back to win. I was able to stay focused but Valentino came past and he had a little more speed, especially in section three. Then when he touched the line onto the back straightaway I was able to make up a little more ground and I thought maybe I was okay. But when it started raining heavy I was in trouble because when it had dried I'd used up a lot of the left side of the tyre, so it got pretty gnarly with all the water.

"Sure, you dream about winning your home race, but honestly I shouldn't be too greedy with how things have been. I'll take this second and enjoy it. I'd just like to say a big thanks to my team, all my guys, my friends, my family, everyone who's stuck with me through tough times. Also, thanks to Indy and everyone for making this race happen. It's a great feeling to be able to race so close to home, I enjoyed it.

"I gave the maximum today, I can't say I left much on the table and that's how it's supposed to be. When they stopped the race it was pretty treacherous. It was the right thing to do. Conditions were really tough, especially with the winds because you'd be on a dry line and all of a sudden it'd blow you onto the wet. When they said we were going to do another eight laps, part of me thought 'hey, let's line back up and try again'. But I'm not leading the championship, so I've got nothing to worry about. A big thanks to the fans too, we only had to be out in the wet for an hour, they've been out there since Thursday."
Results MotoGP
Race Classification MotoGP : (20 laps = 84.32 km)
Pos/ Rider / Nat / Team / Motorcycle / Time/ KM/H / Gap
1 / Valentino ROSSI / ITA / Fiat Yamaha Team / YAMAHA / 37'20.095 / 135.508 /
2 / Nicky HAYDEN / USA / Repsol Honda Team / HONDA / 37'26.067 / 135.148 / 5.972
3 / Jorge LORENZO / SPA / Fiat Yamaha Team / YAMAHA / 37'27.953 / 135.034 / 7.858
4 / Casey STONER / AUS / Ducati Team / DUCATI / 37'48.257 / 133.826 / 28.162
5 / Andrea DOVIZIOSO / ITA / JiR Team Scot MotoGP / HONDA / 37'48.919 / 133.787 / 28.824
6 / Ben SPIES / USA / Rizla Suzuki MotoGP / SUZUKI / 37'49.740 / 133.738 / 29.645
7 / Sylvain GUINTOLI / FRA / Alice Team / DUCATI / 37'56.318 / 133.352 / 36.223
8 / Dani PEDROSA / SPA / Repsol Honda Team / HONDA / 37'57.353 / 133.291 / 37.258
9 / Chris VERMEULEN / AUS / Rizla Suzuki MotoGP / SUZUKI / 37'58.537 / 133.222 / 38.442
10 / Alex DE ANGELIS / RSM / San Carlo Honda Gresini / HONDA / 38'02.532 / 132.989 / 42.437
11 / Anthony WEST / AUS / Kawasaki Racing Team / KAWASAKI / 38'07.274 / 132.713 / 47.179
12 / Toni ELIAS / SPA / Alice Team / DUCATI / 38'16.057 / 132.205 / 55.962
13 / Randy DE PUNIET / FRA / LCR Honda MotoGP / HONDA / 38'17.461 / 132.124 / 57.366
14 / John HOPKINS / USA / Kawasaki Racing Team / KAWASAKI / 38'18.448 / 132.068 / 58.353
15 / Colin EDWARDS / USA / Tech 3 Yamaha / YAMAHA / 38'20.708 / 131.938 / 1'00.613
Pole Position: Valentino ROSSI 1'40.776 150.607 Km/h
Fastest Lap (New record): Valentino ROSSI 1'49.668 138.395 Km/h Lap 15
Circuit Record Lap: New Circuit
Circuit Best Lap: Valentino ROSSI 1'40.776 150.607 Km/h 2008
World Championship Positions:
1 ROSSI 287, 2 STONER 200, 3 PEDROSA 193, 4 LORENZO 156, 5 DOVIZIOSO 129,
6 VERMEULEN 117, 7 EDWARDS 109, 8 HAYDEN 104, 9 NAKANO 87, 10 ELIAS 86,
11 CAPIROSSI 86, 12 TOSELAND 85, 13 GUINTOLI 56, 14 DE ANGELIS 55, 15 MELANDRI 48.
250cc GP
Race Cancelled due to bad weather
---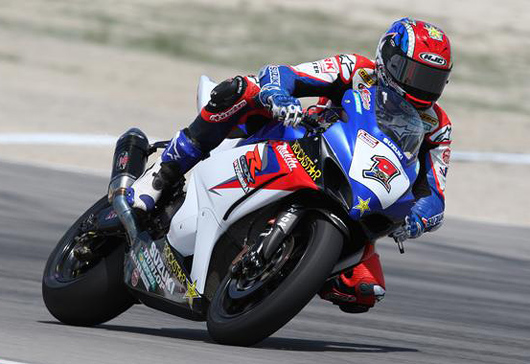 Spies Repeats his 3rd Title in the Last AMA Superbike Championship
Sept 5th - Ben Spies was unceremoniously handed his 3rd consecutive crown for the 2008 AMA Superbike Crown this past week with one round yet to be run in the last ever AMA Superbike Class, with the AMA upholding its ruling to disqualify his Yoshimura Suzuki team mate Matt Mladin's double race win at Virginia International Race on August 17th for running an illegal crankshaft. Spies's 2nd place team bike probably had the same illegal crankshaft as Mladin, but only the race winner's bike was checked.
A New Professional National Roadrace Series for Factory Teams and Riders
Motocycle Industry Council to Launch the
United States Superbike Championship
IRVINE, Calif., Sep. 10, 2008 - The Motorcycle Industry Council, the national trade association representing top motorcycle manufacturers and 300-plus other members, will launch a new professional road racing series next year in the United States.
The MIC has formally established USSB, Inc., and already is at work creating a national championship for 2009 that will take place at major racing facilities, feature factory superbike teams and rules similar to those now in place - rules encouraging technological development that advances motorcycle engineering.
The USSBSM Championship is being designed to carry on America's tradition, spanning more than two decades, of world-class superbike racing that showcases the nation's best riders on the best motorcycles in the country. The premier class, U.S. Super Bike, will invite teams running the highly developed, factory-backed, fan-favorite racing motorcycles (1,000cc fours and larger-displacement twins) that have long been the basis for superbike racing. The inaugural USSB series will include U.S. Sport Bike, a 600cc category similar to the World Supersport Championship and others.
"We initiated USSB because next year it will offer the only racing series in America for unrestrained factory superbikes and their teams, as well as those who aspire to join their ranks and compete with them," said MIC President Tim Buche. "We recognize the strong support for this level of racing, among enthusiasts, among manufacturers and among riders. With the other series set to abandon superbikes as we've come to know them, USSB will fill that void."
Buche said the MIC engaged in a development process for USSB that takes into consideration the various needs of industry members, manufacturers, track owners, sponsors, racing fans and riders, as well as the desire to grow the sport of road racing. In particular, there is a need to allow manufacturers to use road racing to advance research and development and improve future production motorcycles available to consumers. Buche said that the MIC possesses the resources, the capabilities, the access to talent, and the ability to contract with various groups and firms, to meet all of those needs and wishes.
"This is America, a big country with a big motorcycle market that deserves a world-class championship with full-on factory bikes raced by star riders," said Ty van Hooydonk, USSB managing director. "The USSB Championship is our answer. We want to steer away from engine restrictors, away from mandated power-to-weight ratios, spec tires and spec ECUs. We want to set the stage for racing teams to compete, on the track, in the R&D shops, in the way they develop their bikes and help develop production bikes, in how they develop their engineering staffs and crews, and their riders, too. Let them do what they do best and go racing."
Organization
The not-for-profit MIC has established USSB, Inc., a wholly owned subsidiary, to be the owner-operator of the series. As the sole shareholder for the subsidiary, the MIC board will appoint the USSB Board of Directors that will then function independently and guide the series.
To maintain the integrity of the competition, USSB, Inc. also will establish an affiliated, but independent sanctioning body, USSB Sanctioning, Inc., which will employ the series commissioner, a racing CEO who will have ultimate responsibility for all competition-related aspects of the series. USSB, Inc. will serve as the series promoter responsible for developing series sponsors, managing series communications and partnering with stakeholders and others to present the series.
Four stakeholder groups will each have a voice and participate in series governance: riders, manufacturers, sanctioning and promoters.
USSB will help establish a riders association that will then operate independently as it represents all of the on-track competitors in the series. Participating manufacturers will form their own committee through the MIC and represent factories. Sanctioning will oversee tech inspection, rules and regulations and will manage race organization and administration. Promoters will include individual promoters and a racetrack association in collaboration with USSB, Inc.
Marketing and Communication
"We're going to have a compelling story to share," van Hooydonk said. "The USSB Championship will feature the nation's top level of motorcycle racing, with phenomenal riders capable of competing in any league, and high-tech superbikes that are among the fastest on Earth. We have a great deal of experience with marketing the story of motorcycling, and we will apply all of it to road racing." USSB news and updates will be available 24/7 at USSBCHAMPIONSHIP.COM. The site will be live Friday September 12, 2008.
USSB, Inc. will establish a communications campaign to improve visibility and interest in road racing, include all types of media, and bring in new fans while maintaining its enthusiast base. For 20 years, the MIC has generated major mainstream media coverage through Discover Today's Motorcycling. DTM promotes responsible riding by generating positive print, broadcast and online coverage, and through a responsive news bureau that annually fields thousands of inquiries from journalists nationwide.
DTM staff regularly work with national media, based in New York and other key markets, on dozens of motorcycle stories every year. Recent DTM placements include coverage with "Good Morning America," the New York Times, USA Today, Popular Mechanics, Maxim, Playboy, and even La Opinion, the nation's largest Hispanic newspaper. DTM generated major media for the landmark "Art of the Motorcycle" exhibit at the Guggenheim Museum in New York City, and hosted its own "Rockefeller Center Motorcycle Shows," seen by tens of thousands of visitors in Midtown Manhattan.
The USSB Championship Series
"The USSB Championship Series" will be the premier professional road racing series in the United States. Racers will include both world-class riders and upcoming stars. USSB is a factory supported pro-level series. It is designed to feature many brands, to attract the best riders, to develop and employ the most advanced technology the industry has to offer, with the nation's fastest bikes, all at traditional racing venues. In addition to providing the highest level of road racing in the country, which hard-core enthusiasts will appreciate, USSB will attract new fans through marketing efforts that will generate mainstream media coverage and also directly reach out to consumers.

Classes & Rules In The USSB Championship Series
The premier class, U.S. Super Bike, will invite teams running the highly developed, factory-backed, fan-favorite racing motorcycles (1,000cc fours and larger-displacement twins) that have long been the basis for superbike racing. The inaugural USSB series will also include U.S. Sport Bike, a 600cc category similar to the World Supersport Championship, among others.
What are the 2009 Rules?
When finalized, the rules will be substantially similar to the rules used for the 2008 AMA season. In future years, the intention is to develop rules compatible with World Superbike and other national superbike series around the globe, which will encourage innovation and technological development, yet reduce manufacturing and testing costs involved in creating different-spec bikes for different series.

The Reason for Creating The USSB Championship Series
The AMA road racing series was sold to the Daytona Motorsports Group (DMG). When initial reports of DMG's plans for the series became known, many of those with years or even decades of racing experience voiced concerns that the series failed to meet the needs of riders, road racing enthusiasts, motorcycle manufacturers as well as gear, performance parts and other aftermarket suppliers. Rather, the plans seemed primarily focused on a radical alteration in motorcycle racing limited to severely restrictive motorcycles in place of the branded racing that stakeholders prefer. Numerous industry participants were concerned that unless key needs and expectations were addressed and improvements made, the AMA series as outlined would not serve the best interests of the sport and would severely limit their ability to participate. The USSB Championship Series is committed to addressing these key industry concerns.
USSB was developed by a team of industry veterans committed to carrying on the true tradition of U.S. superbike racing and producing a championship series that is exciting beyond great racing, which is a given. Manufacturer participation in the series will promote innovation and new technology that will ultimately find their way to production motorcycles. USSB will not restrict motorcycles to highly specified configurations and it will be the only series for unrestrained superbikes and their teams. USSB will focus on racing that best promotes rider safety, competition and innovation, racetrack attendance, television coverage, electronic viewership and ridership.
The Operating Structure of The USSB Championship Series
The operating structure is based on several other successful series operations and best practices within professional racing. USSB, Inc. will be governed by executive management and a Board of Directors and will be responsible for promotions and communications, ensuring that the series remains responsive to the changing demands of technology and consumer preference. USSB, Inc. also will create an affiliated, but independent sanctioning body
* USSB Sanctioning, Inc., which will govern the competition and employ the Series Commissioner who will be responsible for all competition-related decisions.
* In addition, four stakeholder groups will have a voice and participate in governance, similar to other series such as MotoGP:
1. Riders Association representing the interests of all the on-track competitors.
2. Manufacturers Committee representing factory interests and consisting of representatives from manufacturers fielding factory teams in the series.
3. Sanctioning responsible to oversee tech inspection, rules and regulations and will manage race organization and administration.
4. Promoters including individual promoters and a group representing them in collaboration with the USSB, Inc.
A Race Direction Commission and a Rules Commission, consisting of representatives of each stakeholder group, will be formed to contribute to series direction.
With Manufacturer, Sanctioning Body, Promoter and
Rider Input into USSB, won't it just be run by Committee?
Input from all stakeholders is vitally important in order to produce world-class events. It is critical that riders, manufacturers, sanctioning body and promoters are working together towards the same goal - producing the premier U.S. road racing series. But the Series Commissioner, who is in essence the series CEO, will have the ultimate authority and final say on all competition-related issues in The USSB Championship Series.
Will This Hurt 2-Wheel Racing
LIke the split between the Champ Car World Series and Indy Racing?
While initially the situations may appear to be similar, actually it's really like comparing apples and oranges.
With the auto racing series, team owners were having difficulty making money and thought a breakaway series controlled by the owners would rectify the situation. Motorcycling's top teams are in the sport to market their brands, and to do so, manufacturers want to continue to spend money on racing. That's a major difference.
On the auto racing side, the ownership of the most important racetrack and the biggest race in the series, Indianapolis, wished to purchase the entire series and change its direction. In the case of superbikes, the industry, the manufacturers, the riders and the fans all want to maintain the level of unrestricted racing currently enjoyed and build on it.
There has been no call for heavily restricted superbike racing, other than from the AMA series new ownership. The teams of the manufacturers and their supporters want to go racing. They don't want to manufacture the racing. We may see no split among the major teams between the various series because USSB is the only series designed to meet the needs of major teams. However, teams always have the option to participate in USSB and other series.
At USSB races, superbike racing fans can expect to see factory rider stars on the factory bikes on many of the familiar tracks, watch them on TV and read about them in their favorite enthusiast publications and Web sites.
What is the 2009 schedule and what tracks will host the races? USSB will seek dates on many of the same tracks AMA has raced on in the last few years. We expect the 2009 series to run from April through September. Updates and news about the series can be found 24/7 at the USSB Championship official website www.USSBCHAMPIONSHIP.com.
The Managing Organization for USSB
The USSB Championship Series or USSB is owned and operated by USSB, Inc., a subsidiary of the Motorcycle Industry Council. The MIC is a not-for-profit, national trade association created to promote, protect and preserve motorcycling and the U.S. motorcycle industry.
As an industry association, the MIC is uniquely qualified to leverage its more than four decades of industry experience to help create, operate and produce USSB. MIC staff and a team of experienced industry veterans conducted the initial work on USSB. USSB, Inc. will retain additional professional staff to handle race operations, sanctioning functions and promotion services as needed.
Why did the MIC get involved in this?
The MIC was not looking for any direct involvement in racing. However, MIC has been associated with racing for many, many years since great racing events in this country serve as an impressive venue for industry business activities. They can be a draw for the major mainstream media that motorcycling needs to progress, and also for the celebrities who can help promote the sport and are now "media" in their own right.
But since the AMA series is headed away from decades of American Superbike tradition with a radically changed series formula it is time for the MIC to become more involved.
Many years of effort by factory teams, from mechanics to crew chiefs, to engineers and designers in faraway R&D shops are at risk of being simply wasted. America's best riders, and the competitors who came here to race against our best, all of whom had developed powerful working partnerships with these teams, faced an uncertain future. Several of the country's most respected professional riders spoke out loudly against these sudden changes. Some talked about leaving to race overseas.
Even teams who had not recently won the Superbike championship, or even a race over the past few years, expressed the view that they did not want to lose the current racing formula. They wanted an opportunity to rise up and beat the defending champions with the existing rules left in place. They wanted to show that they had the ability to build stronger teams and develop faster riders. They wanted to continue to race, under the current rules, for the challenge and for the sake of pride. The desire to compete is part of their corporate DNA and the top superbike riders and teams could be ranked among the best in the world. They are that skilled, that accomplished.
There are a good number of factory, manufacturer-supported teams in today's Superbike series. There are four full-factory teams now racing and not long ago there were five. The manufacturers spent millions upon millions of dollars supporting these teams, and additional money sponsoring individual races across the country. By the manufacturers' own words, the new AMA series was not going to meet their companies' needs.
And reaction among most fans, as judged by letters to enthusiast publications and Web sites, was almost universally negative. They said they wanted to see the best riders on the fastest bikes. Many of them stated that they did not want to see, either in person, or on TV, highly restricted bikes, or what they feared would be glorified club racing.
The AMA Superbike Championship, as we have known it through 2008, may not be ideal. But there was no MIC interest in developing another road racing championship until it was clear the AMA series would no longer exist as it has been known.
Are the U.S. Motorcycle Distributors Creating Their Own Series?
No. This is a common misperception. The Motorcycle Industry Council is initiating USSB on behalf of its members. This is the industry starting its own racing series, which will be independently operated.
The MIC will start and nurture an entirely new and independent enterprise, USSB, Inc., with the sole mission of owning and operating the nation's premier road racing series. USSB, Inc. employees, board members and business partners will be selected for the expertise they can bring in promoting and operating this racing series.
We believe there is no better entity to start a proper motorcycle racing series than the industry itself. No one can know motorcycle racing better than motorcyclists. No group has more at stake or will care more about achieving success. The MIC has but one motive: Improving the industry. Accomplished by promoting, protecting, preserving.
Note that the industry has strived toward nearly 15 years of rapid growth. Motorcycle sales in the early 1990s were a quarter of what they are today. The industry worked extensively to turn around the generally bad image of motorcycling that existed 20 years ago. Media coverage two decades ago was almost universally negative. Today, motorcycle industry representatives are welcomed inside the offices of the biggest media outlets in the country. The motorcycle industry can count among its friends more CEOs, celebrities and Capitol Hill officials than ever before.
Meanwhile, American road racing has not enjoyed similar levels of growth and increased awareness.
The MIC's Mission
MIC is initiating the series for the teams, for the manufacturers, for the riders, for the fans, all to better promote the business of motorcycling in America. It is the function of the MIC to preserve, protect and promote motorcycling. A world-class road racing series in the United States, done right, will help promote motorcycling here.
The 300-plus MIC members and their thousands of employees and all of motorcycling in America stand to gain much from a successful national championship road racing series. The MIC is a not-for-profit association that works on their behalf. A great deal of business is accomplished at world-class racing venues, which can serve as the backdrop that attracts major media, corporate and celebrity involvement in motorcycling, not necessarily just racing. And the showcases that great racing venues provide also help generate a lot of consumer sales and can inspire new riders. Win on Sunday; sell on Tuesday when the bike shop opens. USSB, Inc. was established specifically to create a sustainable, popular superbike championship that will benefit many across the industry.
---
If you live near London, join our British distributor Crossbow-Calendars.com for their annual Calendar Premier Party on Saturday October 25th and pick up the new 2009 Crossbow and FastDates.com Calendars!
---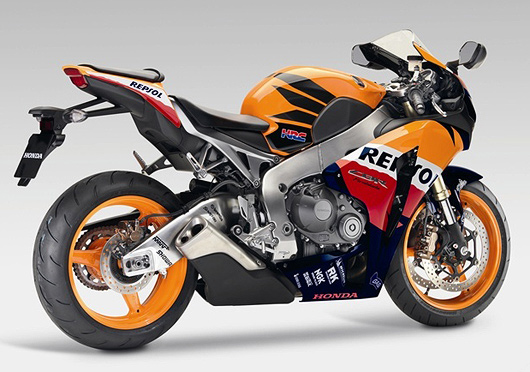 Honda Updates 2009 CBRs with Anti Lock Brakes, Repsol MotoGP Graphics
Sept 8th - Honda has just released information on its new 2009 CBR sportbike line. The CBR600RR and CBR100RR both got a complete redesign in 2008, so this year's updates mainly see just the addition of an ABS (antilock Braking system) on both model bikes. The CBR1000RR also will come in an optional Repsol MotoGP replica paint scheme. While the CBR600RR gets minor tuning tweeks to the engine to make the powerband a little torquier and more rideable.
Honda's Electronically-Controlled Combined ABS
Anti-lock brakes on motorcyles are nothing new, having first been offered by BMW on its prodeuction bikes about 10 years ago. Honda says however, demands of a braking system for a Super Sport machine are different and more exacting than those of a more conventional road-going motorcycle.
Brakes on a road-going machine will most often be used only to a moderate level of intensity, with maximum braking reserved for emergency situations or perhaps very occasional fast rides. In these circumstances a Combined ABS system can be designed to deal with extreme braking as an emergency, rather than as a regular occurrence. The upshot of this is that Combined ABS on a road-based machine can be relatively intrusive to the rider - because in theory they will only use it in an emergency situation and will not mind.

The requirements are very different for a Super Sports machine, where extreme braking can be considered as one of the bike's regular performance requirements. A system that was insensitive or became invasive whenever a rider neared the upper limits of braking performance would be unsatisfactory. In short, for a Super Sports machine, a Combined ABS system must allow the rider to brake very close to the limit before activating, and when it does, the reduction in braking force must be very smooth in order not to unsettle the machine, or rider.
It is for this reason, along with the possibility of adding weight, that Combined ABS has not been fitted to sports machines. Until now, that is.

In addition, the extreme pitching forward of weight under braking provided by non locking brakes, actually enhances the braking ability of the front wheel as weighted is transfered forward onto it, while reducing traction from the rear. This calls for a very subtle and advanced ABS system in order to provide an acceptable level of performance from a Super Sport braking system.

"Honda's new electronically-controlled Combined ABS provides just this level of performance. In exhaustive testing, both on the road and racetrack, development riders have found that the system exceeds their demands and out-performs the rider's ability to brake on most occasions. An average ('non-expert') rider using a conventional braking system needs several braking attempts to attain braking performance approaching that of the Combined ABS. An expert rider using a conventional system will need fewer attempts to reach a similar level. However, only in an example such as a racetrack situation, where an expert rider repeatedly brakes into the same corner was it found that the tester could outperform the Combined ABS. The confidence benefits are tremendous for riders of all skill levels, especially on public roads, where riding circumstances differ vastly."

So effectively, Honda is saying this is still a street system and a skilled rider on the track can still do better without it.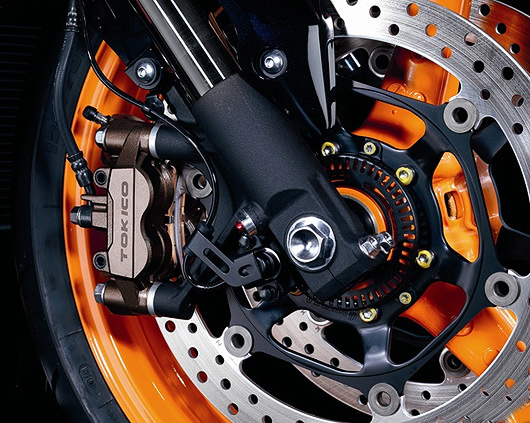 ---
There's more! Go to Pit Lane News Previous Page

Hot Calendar Girl and Bike News! Go to: Fast Dates • Calendar Girls • Iron & Lace

Calendar Kittens, The Paddock Garage, Screensavers, Iron & Lace Garage


Many of our Calendar Kittens can also be seen at Playboy's website...


BikerKiss.com - the largest biker personals site!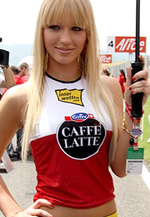 Members Corner
Hot Bikes, Sexy Kittens
Get Your Exclusive Grid Pass
---
Hayden and Honda
Say Farewell
Monday Sept 15th - Nicky Hayden will ride his final race for the Repsol Honda Team at Valencia, Spain, on October 26. The American star and Honda have enjoyed a decade of racing action together, climbing motorcycling's highest peak when they conquered the MotoGP World Championship in 2006.
Hayden has ridden Honda's since he was a teenager, first as a privateer, when at the age of 18 he won the 1999 US Supersport title aboard a CBR600. The following year he joined forces with American Honda and in 2002 won the US Superbike crown on an RC51. That success propelled The Kentucky Kid onto the world scene with the Repsol Honda Team in 2003.
In his first year with the marque's factory MotoGP squad Hayden won the MotoGP Rookie of the Year award, then built towards that 2006 title triumph, when he snatched motorcycling's most prestigious title aboard his RC211V during an epic season finale at Valencia.
Hayden has won three MotoGP races for Honda, his all-action style a perfect match for the factory's super-powerful 990cc RCV. Of course, Hayden, like so many of the USA's greatest roadrace stars, grew up racing dirt track, and he has also scored success for Honda on the dirt oval, winning four Grand Nationals on a CRF450 flat tracker.
HRC, Honda and Repsol would like to say a big thank you for the success and the style that Hayden has brought to the team.
HRC president Masumi Hamane says: "We wish to thank Nicky for all he has achieved for Honda both as a rider and a man. Nicky and Honda have shared much success and a few disappointing days but in each case Nicky has always behaved cheerfully and has led the team in a positive way. His warm-hearted character has been much loved by all who have worked with him. Together we have won two AMA titles and the most important title of all, the MotoGP World Championship. Nicky raced the 990cc RC211V with great success but since the technical regulations reduced MotoGP engine capacity to 800cc, both Nicky and HRC have tried our best but we have been unable to find the best balance between rider and machine necessary for Nicky to show his full potential, so we have decided to part company at the end of the season. We want to thank Nicky who always tried positively under tough conditions. We respect him for his brave challenging spirit. We wish Nicky good luck for the future with his new challenge. Nicky is a good guy loved by all, but also he is a tough competitor and I am sure he will be tough to beat next season."
Repsol director general Jaume Giró says: "I wish Nicky all the best, in both his sporting life and his personal life, as he begins this new adventure outside Repsol Honda. Repsol will never forget his magnificent 2006 season when the won the MotoGP World Championship at Valencia, in front of a Spanish crowd, clearly showing the attributes he has brought to the team throughout the six years he has been with us: determination, conviction and a will to overcome any setbacks. And he is always a warm and friendly character, for which everyone at Repsol thanks him.
"Finally, I would like to emphasise the fact that Nicky Hayden has made a special contribution in helping Repsol move into the United States of America and to be recognised in such a large and complicated market. Without a doubt his image that has been associated with our company has helped the marketing of our products in America. For all these reasons, Nicky will always occupy a special place in the history of Repsol Sports Sponsorship."
Nicky Hayden says: "I've been with Honda a long time. I owe a big thanks to everybody who's ever worked with me at Honda, from my AMA days to my rookie year in MotoGP, right up to now. I've worked with a lot of great people at HRC, Honda and Repsol too. It was always my big dream as a kid to race for this team. It's something I've enjoyed a lot. I want to thank everybody there, all the guys from tyre technicians to crew chiefs and all the way up. Sure, it hasn't just been one big holiday, along the way there's been some tough days but a lot of good days too. Winning the World Championship was by far the highlight of my career so far, plus I won a couple championships in America with Honda, the Supersport championship, the Superbike title and the Daytona 200. And I won some dirt track with Honda too: I won Springfield short track twice, the Peoria TT, in all four Grand National dirt tracks. Winning MotoGP rookie of the year in 2003 was quite an achievement against Bayliss, Edwards and Melandri, that was something I was pretty proud of. And of course my two MotoGP wins at Laguna were awesome experiences. I'd just like to thank everyone, and the best way to thank them is to put up some results these last few races. That's the plan."
Nicky Hayden to Join Casey Stoner at Team Marlboro Ducati
Monday Sep 15th
Bologna, Italy - Ducati Corse hereby announces that Nicky Hayden will join its factory MotoGP team for 2009. The 27-year-old from Owensboro, Kentucky, will line up alongside Casey Stoner and will make his debut on the Desmosedici GP9 on the 27th October in a test immediately following the Valencia Grand Prix.
Hayden arrives at Ducati after six years in MotoGP with Honda, the highlight coming in 2006 when he was crowned World Champion. His aggressive riding style and amenable character have made him an extremely popular rider - both on the track and off it.
"We are really happy to have Nicky join us," declared Claudio Domenicali, Ducati Corse CEO and Ducati Motor Holding Product Director. "We are certain that his never-say-die attitude, riding style and character will be great additions to our team in 2009. I would like to thank HRC for allowing Nicky to start testing our bike immediately after the Valencia Grand Prix.

I would also like to thank Marco Melandri for his professionalism during a difficult year, which was below all our expectations. Unfortunately his feeling with the Desmosedici was never good enough to allow him to ride as well as he can. We wish him all the best for the future."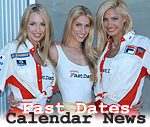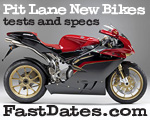 ---


World Premier!
2009 FastDates.com Calendars
More 2009 Pin Up Model
& Motorcycle Calendars...

Suzuki Wildcard Spies shines in the Indy gloom
14/09/08 - Rizla Suzuki MotoGP wildcard racer Ben Spies rode to a superb sixth place in atrocious conditions during the inaugural Indianapolis Grand Prix today.
Spies pushed hard all race as he was involved in a battle for fourth place with reigning World Champion Casey Stoner and Andrea Dovizioso. The new AMA Superbike Champion looked set to make an attack on both riders towards the end of the race, but conditions deteriorated so dramatically after 20 laps the race was stopped, and the result was declared as it stood at that time.
Chris Vermeulen looked like he was again going to show his skill in the rain – after being baulked from the start - as he made his way from 16th up to 10th during the first three laps, but even Suzuki's rain-master couldn't overcome the extreme conditions and although he made it up to ninth by the time the race was stopped, he couldn't make any further impact on the riders in front of him.
Loris Capirossi had a weekend that he will want to forget as he never got to grips with the set-up of his Suzuki GSV-R around the Indianapolis circuit. He got a good start, but was pushed wide on the first corner and was relegated to last position. Capirossi did try to fight back, but was never in a strong enough position to challenge further up the field. He did manage to pass three riders, but finished just outside the points in 16th place.
The first motorcycle race to be held at Indianapolis since 1909 was attended by a large and enthusiastic crowd, who had to endure the remnants of Hurricane Ike that swept over the circuit before and during the race, eventually causing the race to be brought to an early end due to safety issues. Valentino Rossi won his fourth race in succession and now looks certain to be crowned World Champion.
Rizla Suzuki now makes the trip to the home of Suzuki for the next round of the championship at Motegi in Japan on Sunday 28th September, when regulars Vermeulen and Capirossi will again have the support of a wildcard rider, this time in the shape of Test Team Rider Kousuke Akiyoshi.
Ben Spies: - "It was a good race today for me because my goal was to better my result at Laguna and I did that. I know that I had a fourth place bike today though because the crew had got it working great, but after 10 laps I couldn't see anything through my visor and that was why I never made an attack because I had to follow the other guys around me to see where I was going – I think if I had lost them I would have got caught by everybody! I rode as hard as I could and ended the race with a good sixth place. I wish we could have done a bit better, but every time I'm getting on a GP bike I'm getting better results so who knows what's to come!"
Chris Vermeulen- "It was very difficult out there today and starting from 15th didn't help. There was a lot of spray and a quicker line soon formed so it was very tricky when you moved off that to try and pass. I got through into the top-10 and felt like I had a bit more, but when I tried to push there was no more lap-time to come. I was then kind of stagnant with the guys from fourth place on and just couldn't catch them. At the end the conditions got really bad and the wind was so strong things were blowing all over the place and it was getting a bit dangerous, so it was a good idea to stop the race even though it was a pity we didn't go the full distance. So here's to coming back here next year and doing a lot better!"
Loris Capirossi - "The whole weekend has been hard for me as I never found the best solution on the bike. During this morning's warm-up the bike felt a bit better in the dry and we hoped the conditions would stay like that for the race - unfortunately the conditions were not only worse they were the worst I have ever ridden in! In the first corner someone pushed me wide and I was last and although I tried to fight back it was so difficult out there that I couldn't really make any difference. I want to forget about this weekend, the race has now gone and I want to concentrate on the next event and make a good result for Suzuki and the team in Japan!"
---
AMA (DMG) leaves U.S. Roadracing in a
Shambles for 2009 -
the Superbike Class is Eliminated!

American Honda and American Suzuki will withdraw from AMA Roadracing.
Ducati plans to return to AMA Superbike
are dashed!
August 15th - Daytona Motorsports Group's Roger Edmondson has stated the deadline he imposed on the factories to commit to the 2009 Factory Superbike class passed today with no commitments from the factories. Hence his compromise Factory Superbike class (traditional AMA or SBK Superbike) will not be a part of the 2009 AMA Superbike series, according to Edmondson.
Edmondson said the DMG/AMA Superbike will only have 2 classes nexxt year, the Daytona Superbike (modified 600cc 4-cylinders, currently called Formula Xtreame), and American Superbike (1000cc Superstock) races at each round of the series in 2009 and a $200,000.00 purse will be split among the four races.
Edmondson left for a trip to Infineon Raceway in Sonoma where the Grand AM was holding a race, and where he will meet with the new AMA Superbike promoter group.
August 23 th, Sanoma CA - DMG's Roger Edmondson met with many of the current AMA roadrace promoters at Infinion Raceway on Friday to present his vision of what the 2009 series will look like. Based on the meeting, nothing has been resolved and the he conflict between the Daytona Motorsports Group, the current AMA Superbike promoters (those promoters not associatrd with Daytona Speedway which is a partner in DMG) and the motorcycle manufacturers continues.
The race promoters were, and still remain extreamely concerned the factory (U.S. Distributor) teams will not race with DMG.
Later the promoter group met with the Motorcycle Industry Council's Tim Buche and asked Buche to obtain from the manufacturers what exactly it would take for them to race in the 2009 DMG/AMA series. Once they get that answer, then the promoters say they wiil will again approach Edmondson with that data and hopefully work out a compromise.
Essentially, now that the AMA's Rob Dingmann and the AMA board have signed off on the sale of AMA Pro Racing to Daytona Motorsports Group, the only entity left to plead the case for the manufacturers is the promoters.
Edmondson claims his team has tried to come up with different scenarios which would keep the factory teams in racing but as yet have not told the manufacturers what they want to hear.
The American race promoters desperately need the US factory teams to be a featured part of any professional motorcycle race held at theirtracks. The reason being the facoory distributor teams spend around sixty-million dollars in US roadracing per season, with a big portion of that that money paid to the promotors in sponsoring the races bringing their big rig displays to the tracks.
Edmondson's frustration in trying to both include the factory teams and also follow-though on his vision was clear at Mid-Ohio. It is sure to have grown since then as many of the manufacturers and promoters are pushing him to adopt no changes for the 2009 season, meaning the series rules and format would remain static until 2010.
Edmondson says he is still working on a 2009 AMA race schedule and will release it soon. But without factory involvement in the 2009m Championship, very few promoters, if any, can afford the sanctioning fees and purses the DMG will want from them.
Meanwhile, American Suzuki has alrady made it clear they will withdraw from AMA roadracing next year if there is not a traditional Superbike class. And th DMG's recent disqualification of Suzuki's Matt Mladin from his double race win last weekend at Road Atlant is certainly adding fuel to the fire.
Pit Lane News has also heard, unofficially, that American Honda is also withdrawing from AMA racing next year, both because of the AMA / DMG fiasco, and because American Honda is disheartened in not having been able to build a competive Superbike racer the past 4 years ( A seemingly easy task for the winning Ten Kate dealer team in Wold Superbike).
We also spoke to Ducati North America's Michael Lock this past weekend, where he told us he was trying to bring Ducati Corse back to America with factory efforts in 2 or 3 classes,and that he had 2 major sponsors in line to support the cost. But the spons looked at the curent state of AMA / DMG racing and with al the problems, reduced fan support and media coverage, the series in America no longer has any marketing value.
As we have stated many times previousy in Pit Nane News, the simple solution to everything is for the DMG to dump its ridiculous class structures which were conceived to support the dangerous track conditions at Daytona Speedway - with Daytona Speedway Corporation being the partner in DMG and the cause of all these problems.

If the AMA or DG had half a brain they would adopt full FIM roadracing class structures for 2009 including those of SBK Superbike, and only race at FIM safe tracks. But that is not in Daytona Speedways short term interest, and they are too short sighted to look at the bigger picture of producing what could otherwise be a successful and profitabe series.
The other problem is the stupidity of the U.S. motorcycle distributors - American Honda in particular which has the most clout - not being able to get together, put aside their petty special interests to have 4 different classes they each can win and advertsie, and demand that DMG adopt the world FIM class structures, which works perfect in Europe, particularly for Honda which with Ten Kate racing has won the SBK World Superbike Champion the last 2 years. Idiots.
Both the AMA and the U.S. Motorccyle Distributors have caused the death of the National Roadracing Championship in America.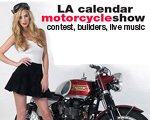 Complete Coverage!
2008 LA Calendar Motorcycle Show & Calendar Girl Music
Festival Weekend!
$86,000 Bike Building Championship
World Record Dyno Shootout!
Calendar Girl Music Festival


Corser to BMW?
Tom Sykes steps up to World Superbikes with Yamaha for 2009
Amid rumors that 2-time World Superbike Champion Troy Corser May be moving to BMW next year, and with British Superbike rider Tom Sykess spectactular performce as a wild card entry at at the Donnington World Superbike race last weekend....

The Yamaha Motor Italia World Superbike Team has signed promising young British rider Tom Sykes for the 2009 season with the option to extend for 2010. The 23yr old from Huddersfield in England will ride the all new 2009 Yamaha YZF R1 in next year's World Superbike Championship.
Sykes has proved to be a competitive and talented rider in the 2008 British Superbike Championship, showing an intelligent and mature riding style beyond his years. Two wildcard rides in WSB this year have seen him qualify an impressive sixth at Brands Hatch and seventh on the grid at Donington. At Brands he went on to score a sixth place in race two, whilst at Donington he had a storming race one, finishing up in second place after some close racing with Championship leader Troy Bayliss.
Sykes raced in British Supersport for four years from 2003 to 2006, ending second in the championship in the final year. In 2007, his first year in British Superbike, Sykes finished the season a respectable sixth in the standings, and was named Rookie of The Year. He is currently second in the 2008 championship and the first rider on a four-cylinder machine.
Massimo Meregalli – "Tom Sykes is an excellent signing for the team, he is the most interesting young rider in circulation in the racing world this year. I've had time to appreciate his riding qualities during the season and Brands Hatch was the confirmation of his talent for me. His brilliant result at Donington strengthened our conviction. We know that there will be much work next season because the new YZF-R1 arrives and it will have to learn the tracks. We have a lot of faith in being able to obtain good results quickly and the presence of a young person with a lot of ambition will give new motivation to the team."
"We are delighted to be able to offer Tom the next step in his racing career with Yamaha's World Superbike Team" said Yamaha Motor Europe Racing Division Manager Laurens Klein Koerkamp. "We are sure he has the qualities needed to be a star rider of the future on the world stage. With the launch of the new R1 just three days ago, we are very excited about the potential for next year. We are looking forward to developing both the rider and the bike for championship success in 2009 and beyond."
At this point we belive the current Yamaha ItalianTeam riders, Troy Corser and Noriyuki Haga remain unsigned for 2009, but with Corser's current 2nd place position in the 2008 World Championship he would be the logical rider to stay at Yamaha, but for the fact most Japanese teams like to keep one Japanese rider on their team.
Rumors are that Troy is taking with signing with BMW and their new Superbike team for 2009, where the experienced veteran would be very valuable in helping to develop the race potential of the new BMW bike. Andf BMW certainly has the money to allow the 37-yer old veteran to finish off his racing career with a lucrative contract and nest egg for retirement.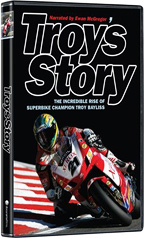 Troy's Story
The story of 2-Time World Superbike Champion Troy Bayliss narrated by Ewan McGreggor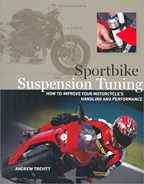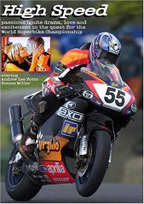 High Speed - the Movie
The best motorcyce racing movie ever made! Filmed on location at World Superbike, this an exciting romantic drama staring beautiful actress Sienna Miller.
---