Newest Calendar Kitten Paris Hilton Runs for President!
Because She's Hot! - Between running for President, Paris Hilton has also been helping FastDates.com with our Ducati 1198R project bike for the Paddock Garage bike setup feature article and the next Fast Dates Calendar.
Now in Paddock Garage - Preping the Ducati 848 /1098 S, R Superbikes!
Just Added! Complete Handling Set Up and Tuning Instructions from Ducati Corse and editor Jim Gianatsis for the latest Ducati 848 / 1098 S, R Superbikes. This will make your stock bike much easier to ride and is guaranteed shave 1-2 full seconds off your track lap times! Paddock Garage Sportbike Tuning
---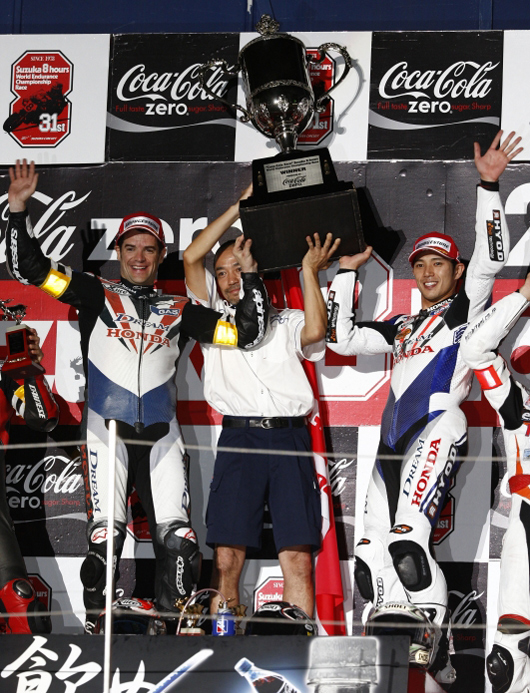 Miller SBK double winner Carlos Checa and Brands Hatch SBK double winner Ryuichi Kiyonari on the podium at the Suzuki 8 Hour.

Suzuka 8 Hours of Endurance 2008
Ten Kate World Superbike Stars Kiyonari and Checa
win Suzuka 8 Hours for Dream Honda Racing Team
The Suzuka 8 Hours. Japan, July 27, 2008 - The DREAM Honda Racing Team duo of Ryuichi Kiyonari and Carlos Checa raced their CBR1000RR Honda to a superbly judged victory in the 31st running of the Suzuka 8 Hours held today at the classic Japanese circuit of the same name. The race win restored damaged pride following defeat at the hands of the Yoshimura #34 in the race last year that ended Honda 10 year winning streak. The 2008 race saw the two teams start the grueling 8 hour race as joint favourites along with the TSR FCC CBR1000RR of Shinichi Ito and Takeshi Tsujimura.
Ryuichi Kiyonari was the lead off rider for #11 and, as he promised, the reigning British Superbike Champion made a good start from third on the grid his CBR1000RR glued to the rear wheel of Kagayama on the #34 Yoshimura machine. The two swapped place twice on the opening lap but Kiyo surged into the lead along the start finish straight at the end of the lap. Daisaku Sakai held third place aboard the #12 Yoshimura he was sharing with Atsushi Watanabe.
From that point on Kiyo raced to the first rider change over unchallenged handing team mate Carlos Checa a clear lead. The Spaniard kept the pressure on his rivals with a fast consistent pace leading by 30 seconds from the TSR FCC CBR1000RR #2 machine of pole sitters Ito and Tsujimura, at the second refueling stop. The #2 team had fought their way into contention after a bad start left them down in sixth place at the end of lap one. Akiyoshi on the #34 held third place a further 30 seconds adrift. The #33 in the hands of Johnny Rae went down at the Degner Curve on lap 21 when Rae clipped the rear end of a back-marker. He remounted to limp back to the pits for repairs and team mate Yuki Takahashi took to the track and quickly settled into a fast rhythm the #33 regaining much of the ground lost.
Ito crashed the #2 in the third hour but managed to get back to the pits but the machine was too badly damaged to continue. His demise leaving Kiyonari well clear of the two Yoshimura machines and the #33 Dream Honda of Rae and Yuki Takahashi. Kameya crashed the Sakurai Honda and limped back to the pits for repairs.
The fourth hour provided real drama as a heavy rain shower soaked a part of the circuit making conditions very difficult to judge for 20 long minutes. Kagayama put in a big charge and caught and passed Checa but two laps later crashed the #34 at the first turn. He remounted still holding second place and completed his stint. The DREAM team pit crew signaled Checa and Takahashi to come into the pits for rain tyres but both riders stayed out on track as conditions improved. The #11 pairing was now almost one lap ahead of the two Yoshimura machines with the #33 DREAM Honda fourth having inherited the place following Ito's crash.
While Kiyo and Carlos steamed away at the front in the fifth hour Akiyoshi crashed the #34 trying to close the ever increasing gap to the race leaders. The race ended for the #33 DREAM Honda when Rae crashed at the Spoon Curve demolishing the CBR1000RR. The accidents promoted the hard charging Harc Pro Honda pairing of Yoshiteru Konishi and Takumi Takahashi up to third place where they would remain until the finish.
Ryuichi Kiyonari does a little motocrossing on the factory HRC Honda CBR1000RR at Suzuka.
American Honda would love to get their hands on one of these bikes (or a Ten Kate WSB bike) that makes more power than their backyard specials, and can last longer than 15 minutes into an AMA Superbike race. But AH is too cheap to spend the money and do it right, letting Yoshimura Suzuki win the last 70 AMA Nationals.

Kiyonari and Checa continued to build on their one lap lead as the raced to victory despite Checa being handed a stop and go penalty for speeding in the pit lane that cost them 30 seconds. The last hour gave the team cause for concern when Kiyo suffered a front brake problem which gave Checa a few anxious moments on his way to securing a superb victory for the DREAM Honda CBR1000RR. The team had hoped to run 217 laps but the rain put that beyond them finishing with 214 laps in 8 hours 20.726 seconds.
The #12 Yoshimura machine of Sakai and Watanabe finished second one minute 20 seconds behind the Honda with Konishi and Takuma Takahashi third for Harc Pro Honda four laps adrift of the victorious #11.
The victory was sweet revenge for both Checa and Kiyonari as both men had previously suffered the pain of defeat in the grueling race, Checa finished second last year with Kiyonari the victim of cruel circumstances while front running on two previous attempts.
Akiyoshi and Kagayama battled home in fourth place five laps down just ahead of the Yamaha of Sato, Nakasuga and Takeda. The Moriwaki CBR1000RRof Yamaguchi, Crutchlow and O'Halloran finished sixth. Chojun Kameya and Leon Haslam staged a rapid comeback from Kameya's crash and were rewarded with a fine ninth place for Sakurai Honda one lap ahead of team mates Kazuma Tsuda and Josh Brookes in tenth.
Carlos Checa takes over at a pit stop.

Ryuichi Kiyonari, DREAM Honda: Race winner. - "I was really nervous during the last hour watching Carlos riding. Already front brake problem was there during my last stint. I was scared to watch sparks when Carlos braked. I am so happy that I won today. From last year's lesson, I was in the lead when back markers appeared. I was so happy because my machine was so fast. When I passed Yoshimura at the main straight, I was saying "Sorry!". When it started to rain, Carlos was cautious so I was not worried at all."
Carlos Checa, DREAM Honda: Race winner. - " Usually, when you have a big margin like today, you can relax more. But today, I had no front brake during my last stint. I only had engine brake and rear brake so I was really nervous. When it started to rain, the team showed me "Pit In" signal, but I decided not to come in. When Kagayama passed me, I thought "He is going too fast". I decided to ride with my own rhythm. One of the reasons for our win was this and also Kiyo did a good job during his first stint. I am now thirty five years old so I don't know whether I have another chance or not, but if I can race again next year, I want to win again."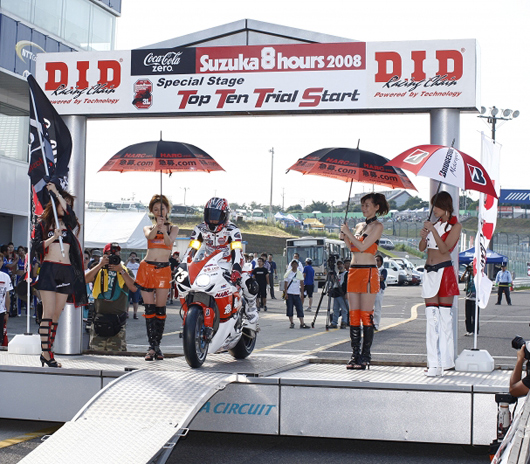 Suzuka Results:
Pos. / Team / Type / Laps / Total Time / Delay / Best / Riders
1.DREAM Honda Racing Team 11 / H-CBR1000RR / 214 / 8:00'20.726 / 155.60km / h / 2'08.428 / R.KIYONARI / C.CHECA /
2. YOSHIMURA SUZUKI with DENSO IRIDIUM POWER / S-GSX-R1000 / 214 / 8:01'39.626 / 1'18.900 / 2'08.416 / D.SAKAI / A.WATANABE /
3. Kyubo.com team HARC-PRO. / H-CBR1000RR / 210 / 8:02'16.360 / 4Laps / 2'11.265 / Y.KONISHI / T.TAKAHASHI /
4. YOSHIMURA SUZUKI with JOMO / S-GSX-R1000 / 209 / 8:00'26.157 / 5Laps / 2'08.417 / K.AKIYOSHI / Y.KAGAYAMA /
5. YAMAHA RACING / Y-YZF-R1 / 209 / 8:00'56.222 / 5Laps / 2'10.937 / Y.SATO / K.NAKASUGA / Y.TAKEDA
6. MORIWAKI MOTUL RACING / H-CBR1000RR / 208 / 8:00'21.168 / 6Laps / 2'11.523 / T.YAMAGUCHI / C.CRUTCHLOW / J.OHALLORAN
7. PLOT FARO PANTHERA / S-GSX-R1000 / 207 / 8:01'54.467 / 7Laps / 2'12.652 / Y.KONNO / K.TERAMOTO /
8. MotoMap SUPPLY / S-GSX-R1000 / 205 / 8:02'19.802 / 9Laps / 2'12.816 / Y.HATANO / H.OGATA / T.NAMEKATA
9. Team SAKURAI HONDA 10 / H-CBR1000RR / 205 / 8:02'30.445 / 9Laps / 2'11.670 / C.KAMEYA / L.HASLAM /
10. Team SAKURAI HONDA 71 / H-CBR1000RR / 204 / 8:00'36.960 / 10Laps / 2'12.778 / K.TSUDA / J.BROOKES /
11. YAMAHA AUSTRIA RACING TEAM #7 / Y-YZF-R1 / 204 / 8:00'51.676 / 10Laps / 2'14.630 / I.JERMAN / S.MARTIN / S.PLATER
12. YMES FOLCH ENDURANCE / Y-YZF-R1 / 204 / 8:01'53.811 / 10Laps / 2'14.914 / D.RIBALTA / P.LUIS VALLCANERAS /
13. PHASE ONE ENDURANCE / Y-YZF-R1 / 204 / 8:02'04.025 / 10Laps / 2'14.676 / R.PENZKOFER / S.PAUL SMART / D.CUDLIN
14. SUZUKI ENDURANCE RACING TEAM / S-GSX-R1000 / 202 / 8:00'30.962 / 12Laps / 2'12.117 / ? / J.DA COSTA / M.LAGRIVE
15. TRICK STAR RACING / K-ZX-10R / 202 / 8:01'01.932 / 12Laps / 2'13.546 / S.TAKEISHI / R.TSURUTA / K.EGUCHI
---
Final DMG Class Structure Revealed for 2009 AMA Superbike
Saturday July 18th, Laguna Seca, CA - The Daytona Motorsports Group (DMG), which has completed its purchase of AMA Professional Racing and still doesn't have a media department, used the occasion of the AMA Superbike and MotoGP weekend at Laguna Seca Raceway to announce its fairly finalized classes for the 2009 race season and beyond. With major distributor teams like American Suzuki threatening to pull out of American racing if their showcase 1000cc Superbike Class was deleted as originally proposed, and organizations like the Motorcyle Industry Counci (MIC) making an announcement they want to find another series promoter for professional roadracing in America, the DMG has now relented and is saying (almost half-heartedly) they are keeping the AMA 1000cc Superbike class going into 2009 and beyond.
Now here comes the confusing part, as DMG has yet to learn from the mistake of the AMA in giving their new class structure similar and confusing names. For 2009 and beyond there will be 3 different "Superbike Classes".
First, there's Factory Superbike - essentially the 2009-20010 rules previously agreed to by the now-defunct roadrace committee of AMA Pro Racing about a year ago: no spec tires, no spec fuel, no minimum production numbers, unlimited testing, Superpole qualifying for the top 10, and just one race for the weekend (which the factories still disagree with). And factory Superbike will be the final race of the day. DMG says they have been talking to FG Sport's chairman Maurizo Flammini and the bike technical specs will evolve to World Superbike specs by 2011.
Next is American Superbike - which is fairly similar to the FIM European Superstock 1000cc Class which is basically and aftermarket exhaust and shocks, spec tires and fuel. This is the best class for privateers as a stock Japanese superbike is fast and cheap.
And finally there's Daytona Superbike - embraced by the DMG with smaller 600cc sportbikes as the only ones that can race safely at lower speeds on the banked oval tracks like Daytona which the Group owns. However, the current AMA 600cc Formula Extreme Class rules will become highly restricted under DMG in an attempt to slow down their "premier class" to make it safer (with limited mods and horsepower dyno limits), have a larger entry field (more privateers) and closer racing (read boring).
There will also be the Red Bull AMA U.S. Rookies Cup and Sun Trust Moto-ST run at select events, which we won't cover and most fans won't care about, but DMG needs the sponsor and entrant money.
"I'm not really excited about the Daytona Superbike," said Suzuki's Mel Harris. "With all the restrictions put there. One of the reason we race, besides to sell product, is to develop technology. If we are going to be limited on horsepower and the the rules limit everything else, our engineers can't develop new and better products. The industry becomes stagnant. The thing that makes this industry go is new and exciting product."
Keith McCarty at Yamaha and Me Blank at Honda have the same view. "Our feelings that with the limitations on the 600class, it was a club racing feel to it," said Blank."I don't know if there is a desire in DMG's part to have factory participation there."
So as it stands right now, we have 3 confusingly named Superbike Classes for 2009, DMG still wants to promote the unpopular Daytona Superbike 600cc bikes as their premier class, while the most popular class with fans, Factory Superbike gets relegated to one short race at the end of the day. With the addition of Factory Superbike back into the program, things are better than previously proposed, but it still looks like it's doomed to failure in the downward spiral of professional sportbike racing in America.
I'd like to suggest they, the DMG, adopt the existing FIM World Superbike Championship classes right away in 2009 with World Superbike 1000cc, European Superstock 1000cc, and 600cc World Supersport. And let the current AMA class bikes run with, and morph into these World Classes until 2011, when they would all then need to comply with FIM class rules.
As for a DMG race weekend, the Red Bull AMA U.S. Rookies Cup and Sun Trust Moto-ST can be the filler races between Saturday practice and qualifying, but left off the schedule on Sunday. Then on Sunday the Factory Class definitely needs to get 2 separate heat races like World Superbike, with one race each for American Superbike and Daytona Superbike.
We saw at Miller Motorsports World Superbike this year, that the current AMA and SBK World Superbikes are very much on par with each other as is. And what you'd get right away is all the American factory based teams competing in all 3 classes with their current bikes right off the bat. While European manufacturers like Ducati would definitely be back in America with a factory Superbike in 2009, as might be Harley/MV Agusta, BMW and Aprilia. It's the only sensible thing to do, but as we've seen, just like the AMA before them, the DMG is not very sensible. - Jim Gianatsis
---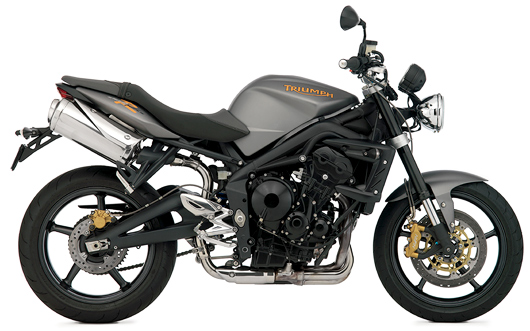 First Look! 2009 Triumph 675cc Street Triple
Triumph fans can look forward to an exciting 2009 range. New for the coming season is the high-specification Street Triple R, aimed at discerning riders looking for a naked bike that provides a sporty riding experience normally associated with fully-faired supersport machines. Based on the phenomenally successful standard Street Triple, the 675cc triple features race-track derived suspension and brakes and will be launched with a new Matt Graphite colour scheme, complete with striking orange graphics. A Matt Blazing Orange (with Graphite graphics) option will also be available from January 2009.
Triumph is also introducing a heavily revised Daytona 675 for 2009. Producing 3PS more than its predecessor and weighing 3kg less, the highly acclaimed supersport machine handles even better than before thanks to the latest race-developed suspension, featuring high and low speed damping at both the front and rear, while new Nissin monobloc brakes give improved feel and stopping power. The bike has also been restyled, with a new cockpit, headlight and screen complementing the Jet Black and Tornado Red colour options. As a 3-cylinder machine this sportbike is eligible to rsce in the 600cc Supersport class with 4-cylinder Japanese bikes and Ducati'3 2-cylinder 848.
Triumph's Bonneville range has also been given a serious makeover. The iconic model celebrates its 50th anniversary in 2009, and Triumph is marking the occasion with a limited edition model. Just 650 Bonneville T100 50th Anniversary models will be produced in a unique orange and blue colour scheme that echoes the 1959 original. Based on the standard T100, the Anniversary model features a host of detail changes and comes with a numbered handlebar-mounted plaque and a certificate of authenticity signed by John Bloor, the owner of Triumph Motorcycles Ltd.
Meanwhile, the standard Bonneville gets Seventies-look cast wheels and revised ergonomics. With its lower seat height, the 2009 Bonneville is more manoeuvrable than ever before. Also on sale is a higher specification Bonneville SE, which takes the standard Bonneville and adds a two-tone colour scheme, brushed alloy engine casings and additional instrumentation. The Sixties-influenced Bonneville T100 remains in the line-up for 2009, with minor detail changes and a new blue and white colour option.
---
The days of summer in World Superbike....
Our August page in the 2008 Fast Dates Calendar has us riding with beautiful World Superbike Fast Dates Calendar Kitten Katie and Troy Bayliss'd 's Ducati 999F07 superbike shot at Brands Hatch World Superbike last August. Are you ready to go for a ride?
All the 2008 and 2009 and earlier FastDates.com Calendar Pages / Screensavers are available in full size 15x15-inch size for downloading now in the Calendar Index in Members Corner
Buy the FastDates.com Calendars • Download Big Screensaver Photos in Members Corner
Screensaver: Valentino Rossi wheelies to victory at the 2008 Laguna Seca MotoGP!
Screensavers are in big full screen 24 x 17 and 36 x 26 sizes
that you compter will downsize to fit your monitor screen
New FastDates.com Calendar Monthly Screensavers!
Millions of you have been writing in and asking us why we haven't done this sooner....
Well, to be honest, we were just too friggin' cheap and wanted you to buy our great calendars instead. This means some of you cheapskates have been left clueless as to what day it is or what a really hot chick looks like.
So now, you can download from FastDates.com the world's hottest, sexiest swimsuit Calendar Kittens, Supermodels and Playboy Playmates posing with the world's top factory MotoGP and World Superbikes and custom V-Twins. Are we the good guys now, or what?
The only catch is you'll need to join our Members Corner to help us pay for these incredible shots were giving you each month. And with your Members Corner membership you'll also receive access to The Paddock Garage Sportbike Tuning, Iron & Lace Garage Custom Bike Pictorials, Works Bikes Screensavers, plus the very sexy and very revealing Members Corner with pictorials of our FastDates.com Calendar Kittens, all of our Calendar Galleries and complimentary Hegre-Archives Nude Galleries.
Go to SCREENSAVERS
---
There's more! Go to Pit Lane News NEXT PAGE

Hot Calendar Girl and Bike News! Go to: Fast Dates • Calendar Girls • Iron & Lace



Calendar Kittens, The Paddock Garage, Screensavers, Iron & Lace Garage


Many of our Calendar Kittens can also be seen at Playboy's website...