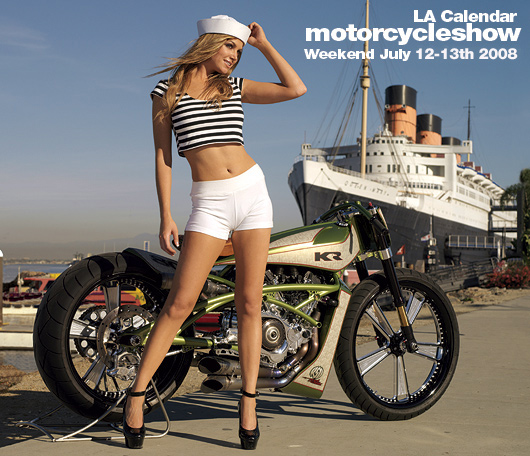 $86,000 in Cash and Awards in the Calendar Bike Building Championship
for Custom & High Performance Street & Sportbikes
Complete Coverage!
17th Annual 2008 LA Calendar Motorcycle Show Weekend
Calendar Bike Building Championship, S&S World Record Dyno Shootout,
2-Day Calendar Girl Music Festival featuring kari Kimmel, Elizabeth Nicole

July 12-13th 2008, Queen Mary Event Park, Long Beach - It's was all about incredible custom bikes, untamed horsepower and beautiful girls! The 17th annual Los Angeles Calendar Motorcycle Show Weekend presented by Performance Machine, America's premier custom, cruiser, performance and sportbike weekend returned to the Queen Mary Event Park in Long Beach on July 12-13th for the world's most exciting 2-day motorcycle event weekend in the beautiful Queen Mary Event Park on the grass alongside the Pacific Ocean! This is the world's premier motorcycle show weekend featuring 200 major motorcycle and parts manufacturers, selected product and apparel venders, top name builders and beautiful girl music performances. Complete Coverage HERE....
---

Casey Stoner and the Ducati GP08 continue to close up the MotoGP Championhip fight with their 3rd consecutive win this week at Sachenring.

MotoGP World Championship, Alice Motorrad Grand Prix Deutschland, Round 9 of 19
Casey Stoner Continues his Victory Run with
a Masterclass in the Rain at Sachsenring
Sachsenring, Germany, July 11-13th - MotoGP World Champion Casey Stoner continued his spectacular return to form with victory at the Alice Motorrad Grand Prix Deutschland, his third win in as many races. The Ducati Marlboro rider braved the wet conditions of the Sachsenring circuit and appeared equally adept to the task as he had been in the dry practice sessions, a sign that will have his title rivals preoccupied for the second half of the season.
The race had looked set to be a wet weather repeat of Dani Pedrosa´s comprehensive 2007 victory, after the Repsol Honda rider once again used his finely-honed launch control to take the holeshot. He stormed out of the blocks and immediately created a 2 second gap. The advantage increased to 7.5 seconds by the time the Spaniard crossed the line for a sixth time, but just moments later disaster struck as he lost control of the RC212V and picked up his first DNF of 2008.
Dani Pedrosa (Repsol Honda RC212V) was leading this soaking wet race by more than seven seconds after just four laps when he fell braking for turn one. Casey Stoner (Ducati) eventually won from Valentino Rossi (Yamaha) with Chris Vermeulen (Suzuki) just hanging onto third from a flying Alex de Angelis (San Carlo Honda Gresini RC212V).
Stoner receives congradulations on his Pole victory from team tchnician Babarrini.

Stoner Puts Ducati on Pole
Saturday 12th - Casey Stoner completed his dominance of the practice timesheets at Sachsenring with his fourth consecutive pole position, setting a new record along the way. The reigning MotoGP World Champion –chasing his third victory in a row- set the fastest time ever recorded at the track with a 1´21.067 lap of the German circuit. Stoner had previously gone round lower than the existing record using race tyres on Friday.
Stoner had done enough to confirm his place at the head of the grid with over fifteen minutes remaining in the qualifying session, but further left his mark with an audacious final hot lap that lowered his time by nearly three-tenths of a second. Last year he suffered from a tyre problem that ruled him out of the running for victory, but it appears that it will take something special to defeat the Australian on Sunday afternoon.
Many riders looked to be in a position to push the Ducati Marlboro rider when the qualifying rubber was fitted, although none were able to match his pace on the final section of the tight Sachsenring circuit. The closest to doing so was World Championship leader and 2007 racewinner Dani Pedrosa, some 0.353 down on Stoner´s time. The Repsol Honda rider had experienced problems with his first selection of qualifying tyres, and several late laps saw Pedrosa falling short with his attempts at a second pole position of the season.
Back on the front row after four races away, Tech 3 Yamaha´s Colin Edwards emerged from the hour-long session as the third quickest rider. The `Texan Tornado´ was just under a tenth of a second from Pedrosa, and was the fastest Yamaha rider once again with the satellite M1.
Andrea Dovizioso and Jorge Lorenzo will start from the same row on the grid for the first time since their arrival in the premier class, having battled at Sachsenring in the 250cc category in the past. The final spot on the second line went to LCR Honda´s Randy de Puniet.
Fiat Yamaha rider and World Championship challenger Valentino Rossi heads the third row, unable to find the second necessary to join up with the frontliners. Nicky Hayden and Shinya Nakano line up alongside the Italian.
Casey Stoner (Ducati Marlboro Team) 1st: 1'21.067 - "Qualifying never used to be a strong point of ours but now we seem to be turning it into one and that is a credit to the team, but also to Bridgestone, who have worked relentlessly on this aspect. We have to be thankful to them for that and to have enjoyed four consecutive pole positions together is fantastic for everybody. It has been a good weekend so far but not perfect because of the crash yesterday, which dented my confidence a little bit. The feeling with the front through that corner was good today though, which means I could get on the attack again today. I was struggling a little bit with the rear spinning up in T4 and I didn't expect my final lap to be enough for pole but we made up enough time in T3 to pull it off and I'm delighted. We have a decision to make on the race tyre depending on the weather because track temperature today was about 15 degrees less than yesterday so the hard compounds we were using just struggled a little bit today. We couldn't do quite the same lap times although I wasn't pushing as hard either, so it would make the decision easier if the sun comes back out tomorrow! We're trying our best to chase down this championship and we'll see if it will be possible."
Dani Pedrosa (2) chargs into the lead off the start, running 2 seconds a lap faster in the rain than his more cautious rivals.

Stoner Knows his Limits in the Rain
As rain sheeted down the Starting Lights went out, and Dani Pedrosa immediately hit the front from second on the grid. Andrea Dovizioso (JiR Scot Honda RC212V) snatched second from row two, Colin Edwards (Yamaha) was an early front-runner too and Stoner lay fourth having started from pole.
At the end of lap one Dani had pulled out a staggering two second lead over Dovi. With a clear track in front of him Pedrosa was simply pulverising the rest of the grid. On a sodden track he set an early fastest lap of 1m 36.65s and the Spanish star was riding two seconds a lap faster than anyone. It would prove to be a pace that was impossible to keep up in these wet conditions.
As he crossed the line for the start of lap six in this 30-lap encounter he enjoyed a seven second advantage over Stoner who had mover up to second past Dovizioso. Braking for the tricky right-hand turn one, Dani fell, his bike smashed beyond resumption of the race and Dani, fortunately, walking away, albeit carrying injuries.
Pedrosa´s crash allowed Stoner to return to the script written in practice sessions for the German race, and the Australian needed no further invitation. He assumed the reins in the same style with which he had taken the win at the past two races, breaking free and riding solo for 23 laps right up until the chequered flag was waved.
Now it was Stoner's turn to enjoy a spray-less run at the front and the Aussie employed the same remorseless measures, hauling away from Dovi by more than two seconds in two laps. As the rain eased off slightly Rossi passed Dovi for second at turn one and Edwards moved past him for third shortly after. The order after one third race distance was Stoner by 2.9 seconds from Rossi with another 1.3 seconds back to Edwards, then Dovi, Vermeulen, De Angelis and Marco Melandri (Ducati) who would set a fastest lap before crashing out on lap 11.
By mid-race distance the track was marginally less wet but still drenched in water and the order was Stoner by 4.4 seconds from Rossi, then a similar gap back to Vermeulen and De Angelis. Stoner by now had set a fastest lap of 1m 33.452s. De Angelis was working hard on Vermeulen, but try as he might the San Marinese rookie on his customer RCV couldn't find a way past the acknowledged wet-weather expert Vermeulen on the factory Suzuki. It made for the most exciting duel of the race though. Edwards was to crash at two thirds race distance leaving Dovi in a safe fifth place.
Stoner eased up in the final laps, Rossi taking a safe second then Vermeulen and De Angelis breasting the line just feet apart having lapped Toni Elias (Ducati) as they finished this cold, wet race. Dovi finished fifth, Randy de Puniet (LCR Honda RC212V) eighth.
Nicky Hayden (Repsol Honda RC212V) pitted early on with electrical difficulties and grip problems. He rejoined the race to finish 13th while Shinya Nakano (San Carlo Honda Gresini RC212V) finished ninth to continue his record of having scored points at all ten races so far this season.
Dani, now nursing fracture to the index finger of his left hand and a suspected fracture to his right ankle, said: "It was a little strange. I had only just touched the brake and I crashed. It was a real pity because I'd got a great start and was going well. I had a good feeling. The front felt perfect, the rear was sliding just a little, but the general feeling was good considering the track conditions. It is a real pity."
Second place from the third row of the grid was a more-than-respectable result for Valentino Rossi, and the runner-up spot allowed the Fiat Yamaha rider to reassume the leadership of the MotoGP World Championship. Heading to the Red Bull U.S. Grand Prix in just a week´s time, the five-time title holder now holds a 16-point advantage over Pedrosa, whose broken finger picked up in the crash may affect his form in the Laguna Seca race.
Rizla Suzuki´s Chris Vermeulen forced his way through the pack for a first podium of 2008, in doing so denying MotoGP rookie Alex de Angelis his maiden rostrum placing. Both had great rides in the wet, with the San Carlo Honda Gresini rider equalling his best premier class result to date and becoming the highest-finishing Honda man.
Andrea Dovizioso finished in the top five for the fourth successive race, after getting a fantastic start onboard his JiR Team Scot Honda. Dovizioso came in ahead of Sylvain Guintoli, Loris Capirossi, Randy de Puniet, Shinya Nakano and Anthony West, with all riders outside the top ten lapped on the second shortest MotoGP circuit. Besides Pedrosa´s tumble, there were also crashes for Jorge Lorenzo, Colin Edwards and Marco Melandri as they fell foul of the tricky conditions.
Casey Stoner, Race Winner - "I saw Dani (Pedrosa) riding off into the distance and thought `fair play´, there was no way I would have been able to go so fast at that time. We used a harder compound on the tyres and they were taking time to warm up. Then I saw Dani tumbling and rolling in the gravel. Given his past record in the wet, he was riding very well up until then. From then on it was just a matter of making sure of increasing a small advantage with every lap. We ran the harder compound on the left side, with just some small `loses´ during the race which worried me a bit. Thanks to the team for everything, and it´s nice to close the championship up a bit more."
Today's result sees Rossi back at the top of the standings, 16 points clear of Pedrosa and 20 ahead of Stoner, whilst Lorenzo holds on to fourth despite taking no points today. The MotoGP paddock now packs up and makes the transatlantic trip to California for the US Grand Prix at Laguna Seca in a week's time.
Valentino Rossi, 2nd +3.708 - "I'm really happy with this result, even if racing in the rain today wasn't quite as much fun as I've had in some of my past races here! For the championship this is very, very important; I made a mistake last week in Assen and today Dani did the same. It's unlucky but this is racing and now we are back in front and this is a very good feeling. Dani is tough and we know he will be back fighting at the front, but sincerely at the moment we need to think about how to catch Casey because he has been very fast now for a few races. Once again here we lost some time during the practice trying to find the right setting and we can't afford to keep doing this. Today we started from the third row and this meant that I had to deal with some confusion at the start and lost some time on the front riders. By the time I got behind Casey my M1 was working very well and I had very good grip with my Bridgestone rain tyres; I felt very confident and I tried hard to push but there was no way to catch him at that stage, so our aim must be to start at the front from now on. Thanks to all my team and engineers; now we have to try to extend this lead in Laguna.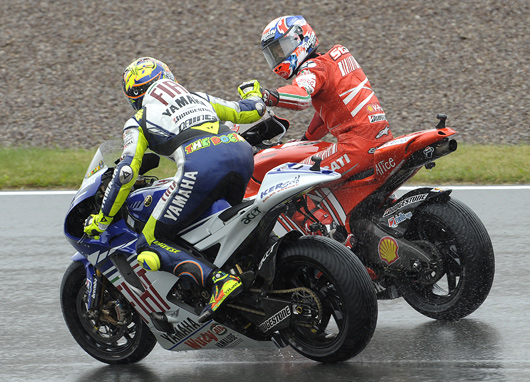 New Championship points leader Valentino Rossi congradulates Stoner on his race win.

Race Classification MotoGP: (30 laps = 110.13 km)
Pos/ Rider / Nat / Team / Motorcycle / Time/ KM/H / Gap
1 / Casey STONER / AUS / Ducati Marlboro Team / DUCATI / 47'30.057 / 139.108 /
2 / Valentino ROSSI / ITA / Fiat Yamaha Team / YAMAHA / 47'33.765 / 138.928 / 3.708
3 / Chris VERMEULEN / AUS / Rizla Suzuki MotoGP / SUZUKI / 47'44.059 / 138.428 / 14.002
4 / Alex DE ANGELIS / RSM / San Carlo Honda Gresini / HONDA / 47'44.181 / 138.422 / 14.124
5 / Andrea DOVIZIOSO / ITA / JiR Team Scot MotoGP / HONDA / 48'12.079 / 137.087 / 42.022
6 / Sylvain GUINTOLI / FRA / Alice Team / DUCATI / 48'16.705 / 136.868 / 46.648
7 / Loris CAPIROSSI / ITA / Rizla Suzuki MotoGP / SUZUKI / 48'34.540 / 136.031 / 1'04.483
8 / Randy DE PUNIET / FRA / LCR Honda MotoGP / HONDA / 48'34.645 / 136.026 / 1'04.588
9 / Shinya NAKANO / JPN / San Carlo Honda Gresini / HONDA / 48'46.830 / 135.459 / 1'16.773
10 / Anthony WEST / AUS / Kawasaki Racing Team / KAWASAKI / 48'59.332 / 134.883 / 1'29.275
11 / James TOSELAND / GBR / Tech 3 Yamaha / YAMAHA / 47'41.757 / 133.922 / 1 lap
12 / Toni ELIAS / SPA / Alice Team / DUCATI / 47'43.954 / 133.819 / 1 lap
13 / Nicky HAYDEN / USA / Repsol Honda Team / HONDA / 48'13.749 / 127.874 / 2 laps
Pole Position: Casey STONER 1'21.067 163.020 Km/h
Fastest Lap: Casey STONER 1'32.749 142.487 Km/h Lap 23
Circuit Record Lap: Dani PEDROSA 1'23.082 159.066 Km/h 2007
Circuit Best Lap: Casey STONER 1'21.067 163.020 Km/h 2008
World Championship Positions:
1 ROSSI 187, 2 PEDROSA 171, 3 STONER 167, 4 LORENZO 114, 5 EDWARDS 98,
6 DOVIZIOSO 90, 7 VERMEULEN 73, 8 HAYDEN 73, 9 TOSELAND 65, 10 NAKANO 64,
11 CAPIROSSI 60, 12 DE ANGELIS 38, 13 ELIAS 37, 14 GUINTOLI 34, 15 HOPKINS 32.
Simoncelli Takes Third 250cc Season Victory
Amidst difficult rainy conditions in Sachsenring, Marco Simoncelli stormed to his third victory of the season at the Alice Motorrad Grand Prix Deutschland. Riding with a new Gilera RSA, the Italian dominated proceedings in the 250cc race to win the race and take the leadership of the World Championship heading into the summer break. Over seven seconds separated Simoncelli from the chasing pack with just a third of the race completed, and those behind him could do nothing to stop the Metis Gilera rider from breaking free.
Simoncelli´s great escape to victory did not signal an end to the action, however, as a five-rider battle raged on for second place. Hector Barbera led the charge onboard his Team Toth Aprilia, taking his third rostrum finish of the year. He held off the challenge of Alvaro Bautista despite some tough competition from his fellow Spaniard.
Bautista had experienced a terrible start to his race, and had to work hard to rejoin the podium fight. Mapfre Aspar´s former 125cc World Champion made a spectacular comeback on the slippery track, recording some of the fastest laps of the race and salvaging a fourth consecutive podium.
Mika Kallio performed an exercise of damage limitation as he conceded the lead of the overall classification, ensuring that the advantage held by Simoncelli could be easily closed when the series returns in mid-August. The Red Bull KTM rider came in ahead of Repsol KTM´s Julian Simon, who took his best result of 2008 to date.
Mattia Pasini and Thomas Luthi both picked up valuable points in sixth and seventh place, respectively, whilst Kallio´s teammate Hiroshi Aoyama completed the race in eighth despite breaking his fairing in a late crash. Yuki Takahashi and Roberto Locatelli were the remaining two riders in the first ten across the line.

Race Classification 250cc: (29 laps = 106.459 km)
Pos / Rider / Nat / Team / Motorcycle / Time / KM/H / Gap
1 / Marco SIMONCELLI / ITA / Metis Gilera / GILERA / 45'36.703 / 140.041 /
2 / Hector BARBERA / SPA / Team Toth Aprilia / APRILIA / 45'38.960 / 139.926 / 2.257
3 / Alvaro BAUTISTA / SPA / Mapfre Aspar Team / APRILIA / 45'39.126 / 139.917 / 2.423
4 / Mika KALLIO / FIN / Red Bull KTM 250 / KTM / 45'40.853 / 139.829 / 4.150
5 / Julian SIMON / SPA / Repsol KTM 250cc / KTM / 45'41.549 / 139.794 / 4.846
6 / Mattia PASINI / ITA / Polaris World / APRILIA / 45'44.835 / 139.626 / 8.132
7 / Thomas LUTHI / SWI / Emmi - Caffe Latte / APRILIA / 46'15.005 / 138.108 / 38.302
8 / Hiroshi AOYAMA / JPN / Red Bull KTM 250 / KTM / 46'25.629 / 137.581 / 48.926
9 / Yuki TAKAHASHI / JPN / JiR Team Scot 250 / HONDA / 46'26.765 / 137.525 / 50.062
10 / Roberto LOCATELLI / ITA / Metis Gilera / GILERA / 46'28.373 / 137.446 / 51.670
11 / Alex BALDOLINI / ITA / Matteoni Racing / APRILIA / 46'45.499 / 136.607 / 1'08.796
12 / Fabrizio LAI / ITA / Campetella Racing / GILERA / 46'45.665 / 136.599 / 1'08.962
13 / Aleix ESPARGARO / SPA / Lotus Aprilia / APRILIA / 46'48.054 / 136.483 / 1'11.351
14 / Hector FAUBEL / SPA / Mapfre Aspar Team / APRILIA / 46'48.357 / 136.468 / 1'11.654
15 / Eugene LAVERTY / IRL / Blusens Aprilia / APRILIA / 46'50.559 / 136.361 / 1'13.856
Pole Position: Marco SIMONCELLI 1'23.399 158.462 Km/h
Fastest Lap: Hector BARBERA 1'32.551 142.792 Km/h Lap 29
Circuit Record Lap: Mika KALLIO 1'24.762 155.914 Km/h 2007
Circuit Best Lap: Marco SIMONCELLI 1'23.399 158.462 Km/h 2008
World Championship Positions: 1 SIMONCELLI 164, 2 KALLIO 153, 3 BAUTISTA 118, 4 DEBON 114, 5 BARBERA 113, 6 PASINI 108, 7 AOYAMA 98, 8 LUTHI Thomas 86, 9 TAKAHASHI 85, 10 SIMON 68,
11 LOCATELLI 52, 12 ESPARGARO 49, 13 FAUBEL 41, 14 WILAIROT 34, 15 ABRAHAM 25.
---

Carrie with Casey Stoner's 2007 MotoGP World Championship winning Ducati GP07.

World Premier! 2009 Fast Dates Racebike Pinup Calendar
July 1st 2008 - The SBK World Superbike endorsed 2009 Fast Dates Race Bike Swimsuit Pinup Calendar sponsored by Performance Machine and photographed by Jim Gianatsis offers a special treat this year with the cover bike being Casey Stoner's 2007 MotoGP World Championship winning Ducati GP07 bike photographed with sexy swimsuit and Calenar vover model Carrie Ann Stroup. We've got Carrie washing down the world's winningest MotoGP bike in a secret back alley location that's guaranteed to steam up any sportbike fan!
Of course, there's all all the top factory race bikes of the SBK World Superbike Championship photographed on location last year at Brands Hatch World Superbike in Great Britain with beautiful SBK Fast Dates World Superbike girls Rhian Sugden and Gemma Louise Henry. Featured are all the top factory Superbikes from Yamaha, Honda, Suzuki, Kawasaki, and Ducati including double World Champs James Toseland's Ten Kate Hannespre Honda CBR1000, Troy Bayliss' Xerox Ducati 999F07, Max Biaggi's Suzuki GSXR1000, and Regis Laconi's Kawasaki ZX10.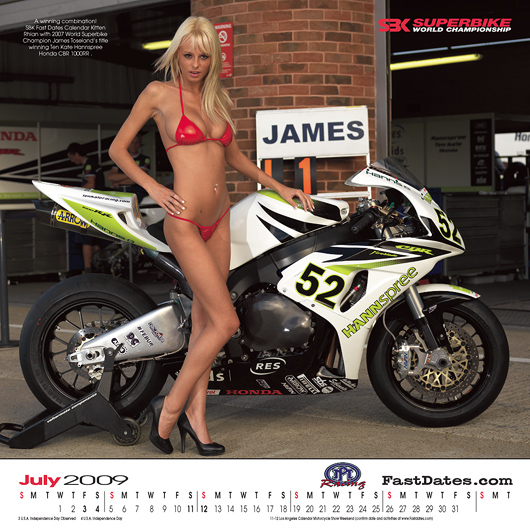 Rhian with James Toseland's 2007 World Superbike Championship winning Ten Kate Honda CBR1000RR

We also did some smokin' hot sportbike studio shots back in Los Angeles with Playboy model and Calendar Kitten Tiffany Toth with our own limited edition Fast Dates project bikes, a Ducati 1098S Tri Colore and Hypermoto R, plus a wild Shinya Kimura retro V-Twin sport custom that was just selected to appear in Legend of the Motorcycle at the President Clinton Library in Atkansas this fall! These ARE the world's top racing bikes in MotoGP and World Superbike, together with beautiful swimsuit models, that are that are guaranteed to have you bouncin' off the rev limiter and blowin' a head gasket.
Buy the 2009 Fast Dates Calendar • Download Big Screensaver Photos in Members Corner
---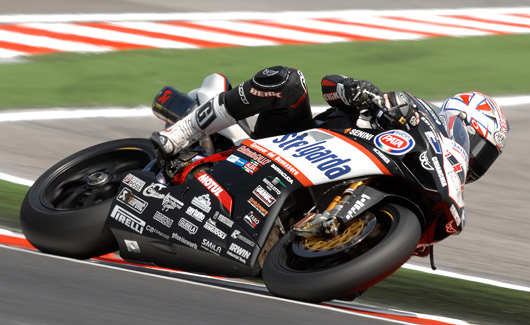 Ruben Xuas on the private Strelgarda Dairy Ducati 1098RS gave the team its first ever World Superbike win last month at Miller Motorsprts USA.

SBK Hannspree World Superbike Championship, Bruno Round 9 of 15

PREVIEW: WSBK reaches #500 mark with Czech Republic Round at BrnoBrno, Czech Republic, Tuesday 15th July 2008 - The Superbike World Championship notches up an important benchmark this coming weekend at the Automotodrom Brno circuit in the Czech Republic as the production-based racing series reaches the #500 mark with Sunday's race 2. The championship got underway at Donington Park on April 3, 1988 and this weekend's round at Brno will see races #499 and #500. Even though the Czech Republic Round is the 252nd in the championship's history, on four occasions (1988 Le Mans, 2001 Phillip Island, 2005 Imola, 2007 Silverstone), only race 1 was held due to inclement weather conditions.
The 2008 championship meanwhile reaches the ninth round on Sunday, with the situation more wide-open than ever. Championship leader Troy Bayliss (Ducati Xerox) scored two third places at Misano to increase his points lead by ten to 259, but the 39 year-old Aussie has not won a race since Assen and is determined to put things right at Brno, even though the Czech circuit has never been particularly kind to the Italian twin-cylinder machines. With his second win of the season at Misano, Troy's closest pursuer on 210 points has now become Max Neukirchner (Alstare Suzuki), who took over that position from Carlos Checa (Hannspree Ten Kate Honda). The 25 year-old German is now a regular contender for the leading positions, and seven times on the podium this year is testament to the growth of a potential champion.
The 35 year-old Spaniard, third on 207 points, has suffered since his double win at Miller, a result that had been expected to be a turning-point in the Ten Kate rider's season. On a circuit he knows well from his MotoGP days, Checa will be aiming to improve on his mid-season slump of three fifth places and a seventh in the last four races. Another enigma surrounds Noriyuki Haga (Yamaha Motor Italia WSB), currently placed fourth on 191 points. Prior to the last round Haga had notched up a dominant double win, but conditions at Misano were not conducive to a repeat performance and although the 33 year-old from Japan is having one of his best seasons ever, he is still lacking consistency in his results.
Yamaha Motor Italia WSB team-mate Troy Corser's recent resurgence of form has continued, the 36 year-old showing a notable turn of speed in particular at Misano and a maiden win for the experienced veteran on his YZF-R1 machine is surely not far away. Sixth-placed Fonsi Nieto (Suzuki Alstare) is notching up the points on his GSX-R1000 machine but has not shown anything like his early-season form, while Ruben Xaus (Sterilgarda Go Eleven Ducati) is hovering just three points behind on 148 and is poised to take over that slot.
The 30 year-old from Barcelona scored a well-deserved and popular win for the private Marco Borciani-run Ducati team at Misano and followed that up with quickest time in the recent SBK test at Vallelunga, so Xaus is on a roll and will surely be a factor from now until the end of the season. His team-mate in the Sterilgarda Ducati squad, Max Biaggi had a lot to smile about at Misano as well, notching up a second place that hopefully has put his season back on the rails after a string of below-par performances. The 37 year-old from Rome is in eighth place on 117 points.
Rounding out the top 10 are the young Italian Michel Fabrizio (Ducati Xerox) with 111 points in ninth place and Ryuichi Kiyonari (Hannspree Ten Kate Honda) on 94 points. Jakub Smrz (Guandalini Ducati) has also been going well recently and his current 14th place is no true reflection on how the 25 year-old Czech has been performing, something that he aims to put right this weekend. Following a disastrous home race at Misano, the Kawasaki PSG-1 Corse team's season needs to be put back into line and recent testing at Mugello will surely help both Régis Laconi and Makoto Tamada to move up from positions way outside the top 10.
Points (after 8 of 14 rounds): Riders – 1. Bayliss (Ducati) 259; 2. Neukirchner (Suzuki) 210; 3. Checa (Honda) 207; 4. Haga (Yamaha) 191; 5. Corser (Yamaha) 185; 6. Nieto (Suzuki) 151; 7. Xaus (Ducati) 148; 8. Biaggi (Ducati) 117; 9. Fabrizio (Ducati) 111; 10. Kiyonari (Honda) 94; etc. Manufacturers – 1. Ducati 323; 2. Yamaha 284; 3. Suzuki 257; 4. Honda 226; 5. Kawasaki 64.
FIM Supersport World Championship
With his fourth win of the year at Misano which took him to 113 points, Andrew Pitt has now firmly got the bit between his teeth and it will be a tough job indeed for anyone to stop the 32 year-old Australian from taking his second World Supersport title. Fabien Foret (Yamaha World Supersport) currently lies in second place on 97 points but it is his team-mate Broc Parkes who is offering the most competition. Four poles in the last four races have propelled Parkes to the front of qualifying, but so far he has been unable to transform that sort of form into valid race results and is ten points down on 87. Confirming Honda's domination of the cadet category, five CBR riders are next up, separated by 35 points. Josh Brookes (Hannspree Stiggy Motorsport) leads Joan Lascorz (Glaner Motocard.com), the early season pace-setter but who has slipped down in recent races, while Craig Jones (Parkalgar) and Jonathan Rea (Hannspree Ten Kate) are offering the sternest challenge at the front. Denmark's Robbin Harms (Hannspree Stiggy Motorsport) and Italy's Massimo Roccoli (Yamaha Lorenzini by Leoni) lead the rest of the field.
Points (after 7 of 13 rounds): 1. Pitt (Honda) 113; 2. Foret (Yamaha) 97; 3. Parkes (Yamaha) 87; 4. Brookes (Honda) 85; 5. Lascorz (Honda) 81; 6. Jones (Honda) 80; 7. Rea (Honda) 67; 8. Harms (Honda) 50; etc.
---
Casey Stoner on the new Ducati GP09, now without a frame! The carbon fibre airbox, under the tank, now extends forward to support the front forks. The engine hangs below the airbox, and the rear swingarm pivots of the rear of the engine, Sheer genious!

MotoGP Catalunya Testing Session
Ducati Unveils with Casey Stoner Its Raducal New
Carbon Fibre Frameless MotoGP Bike for 2009
Monday Jun 9 2008 - The day following the Grand Prix of Catalunya gave the MotoGP riders the chance to start a two-day test, with the Ducati Marlboro Team bringing forward a first outing for the Desmosedici GP9 - which was originally scheduled for Casey Stoner tomorrow. With uncertain weather forecasts for tomorrow, Stoner and test riders Vittoriano Guareschi and Niccol Canepa put the machine through its paces, whilst Marco Melandri spent the day focusing on his GP8 and will test it tomorrow.
Ducati is not sitting on its laurels like other manufacturers, while holding the current MotoGP World Championship. The GP09 is the first ever factory bike to feature a full carbon fibre chassis, the first real inovation in motorcycle racing in 25 years, replacing the traditional Ducati steel tube frame. It was a positive debut for the machine in the hands of the World Champion, so much so that the Australian set the best time of the day with a 1'41.533 on qualifying tyres.
Rather than take a conventional aluminum beam perimeter chassis like used by the other manufacturers, and rereate it in carbon fibre, Ducati has started with a clean piece of paper. Their now proven carbon fibre airbox which sits in the engine's V above the cylinders and is already being uses as a stressed member between the upper frame tubes, the carbon airbox has just bene enlarged and the steel frame tubes eliminated altogether.
This in itseld gives the airbox about 4 more litres of pressurized air. And the long intake runners to the nose of the bike have been combined into one to also contain the steering head of the bike, and the runners in turn, are constructed nto one piece with the airbox. The fuel tank and the seat assembly bolt to the top on this airbox assembly, and the engine hangs below with the swingarmom pivoting off the back of the engine.
Its a very radiacal design never seen before in racing, but it is so simple it could easily be incorporated into future Ducati production bikes. It is though that Formaula 1 race car designer Alan Jenkins may have been involved inthe design of the bike. The only way to really distinguish the new GP09 is to note the carbon fibre intake runner which the front fork steering head is mounted through. An if you look into the fairing side exhaust vents there is no longer an upper steel tube frame bolted to the front sides of the engne.
Casey Stoner (Ducati Marlboro Team) Best lap on race tyres - 1'42.632; on qualifiers - 1'41.533
"I'm happy with the way today has gone. The objective was to understand whether this new chassis concept has potential and I'd say that for now it looks to be the case. We were quickly into some decent times using the same set-up as the GP8. We barely changed anything to adapt it to the characteristics of the GP9 and I immediately felt an improvement so that is positive. I'm sure that with more time to work on it we can go much faster, although that is not the current brief. We'll have time to test it in the winter. Tomorrow we'll get back on my GP8 because we have some important tyre testing to do. There is still a lot of the 2008 season left and we want to be competitive."
Here you see the adjustable steelig head assembly / steering stem running through the large front ram air duct section of the carbon fibre upper chassis / airbox assembly.

---
There's more! Go to Pit Lane News NEXT PAGE

Hot Calendar Girl and Bike News! Go to: Fast Dates • Calendar Girls • Iron & Lace



Calendar Kittens, The Paddock Garage, Screensavers, Iron & Lace Garage


Many of our Calendar Kittens can also be seen at Playboy's website...


BikerKiss.com - the largest biker personals site!




World Premier!
2009 FastDates.com Calendars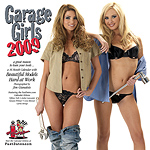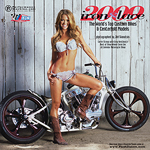 Members Only Preview!
2009 Fast Dates, Iron & Lace, Garage Girls Calendars
Join our Members Corner and get an exclusive look at all three 2009 FastDates.com Calendars.
Featured are full-size 15 inch calendar screensaver pages for your monitor with the top bikes of the 2007 SBK World Superbike and MotoGP World Championship with our beautiful Calendar Kittens. Also includes all our current 2008 and past years Calendars !
---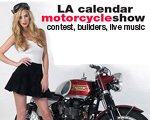 Complete Coverage!
2008 LA Calendar Motorcycle Show & Calendar Girl Music
Festival Weekend!

$86,000 Bike Building Championship
World Record Dyno Shootout!
Calendar Girl Music Festival


DUCATI LOOK TO CONTINUE GREAT FORM AT LAGUNA SECA
PREVIEW: Tuesday Jul 15 2008
Round 11 - USA GP
The Ducati MotoGP Team tackle the final race before the summer break this weekend just days after Casey Stoner's most recent success at Sachsenring, where the Australian's third consecutive victory and his fourteenth overall for Ducati took his win rate to 50% from 28 races contested so far in the Borgo Panigale factory's colours.
Marco Melandri also produced a good performance in Germany, where he returned to competitive form with an exciting battle through the field, only to be halted in his tracks with an unfortunate crash just moments after he set the fastest lap of the race.
The USGP, which only features the MotoGP class, brings to an end an intensive period of races that has brought the top three riders in the championship even closer together, with just 20 points now covering Valentino Rossi, Daniel Pedrosa and Casey Stoner. The reigning World Champion, currently in third place, is hoping to close that gap down even further this weekend whilst the target for Melandri is to convert his progress at Sachsenring into a positive result.
Stoner scored one of the most memorable victories of his short MotoGP career at Laguna last year, when he dominated in practice and blasted his way to victory from pole position, smashing the lap record in the process. Melandri also produced an incredible performance in 2007, when he charged to the podium from the fourth row of the grid despite injuring himself in a practice crash.
LIVIO SUPPO, MotoGP Project Director - "This is really a magical period for Casey and we head to Laguna full of confidence. It's a track he likes and he was incredible there all weekend last year. We all want to do well again but every race is always different and the 2008 championship is at a very high level. I think Marco can also do well at a circuit he likes a lot and following a weekend where he showed signs of improvement compared to previous races. We have a huge fan base in America so we hope we can reward their support with another great performance! "
CASEY STONER, Ducati MotoGP Team - "The race at Laguna last year really was fantastic and it would be amazing to be able to repeat that but we know this will be very difficult. We have to believe in it though and keep pushing as hard as we can to close this championship down. It's a nice place and in general I like racing in America because the public and the fans you meet in the paddock are great - always really pleasant, polite and supportive of all the riders. The track is really nice too, it's great fun but also very demanding with so many elevation changes and tough corners. I like it because it feels 'natural' - it follows the lay of the land and isn't one of those circuits that was designed on a computer. Hopefully we can start out well and get a good set-up again from Friday."
MARCO MELANDRI, Ducati MotoGP Team - "I really like Laguna Seca. It is a short track that barely gives you chance to catch your breath and it is very technical, with some really fast corners mixed with some slower ones. The Corkscrew is probably one of the most famous corners in the world although in reality it is not so crucial to the lap time. It is unusual though and very beautiful: there is no other corner as exciting as that in the world. I think the circuit as a whole is one of the most fun on the calendar and the atmosphere is great, it's really special. I have always been fascinated with America and I always look forward to going there. I go there this time in better spirits because I know that the progress we made in Germany can carry through to here."
THE TRACK
Laguna Seca played host to the US Grand Prix on six occasions between 1988 and 1994 before being removed from the calendar. A series of major structural improvements to the facility saw the World Championship return in 2005, although only for the MotoGP class. The track, which flows around the undulating hills on the outskirts of Monterey, is most famous for the Corkscrew, a tight and spectacular left-right downhill chicane. In fact, the entire circuit is a rollercoaster ride, with a few short straights and a series of fast corners and elevation changes that often leave the front wheel pawing at the air. The 3.610km track is the perfect amphitheatre for the fans and is surprisingly straightforward in terms of machine set-up, with little opportunity to maximise full throttle. Frequent downhill braking zones put extra stress on the front end and make tyre wear a crucial factor.
TRACK FACTS
Circuit Record: Casey Stoner (Ducati - 2007), 1'22.542 - 157.447km/h
Best Pole: Casey Stoner (Ducati - 2007), 1'22.292 - 157.925 km/h
Circuit Length: 3.610km
MotoGP Race 2008: 32 laps (115.520 km)
600cc 4-Strokes to Replace 250cc GP 2-strokes in 2011
The FIM today made the following announcement:
A-Style TT Assen, Friday 27th June - The Grand Prix Commission, composed of Messrs. Carmelo Ezpeleta (Dorna, Chairman), Claude Danis (FIM), Hervé Poncharal (IRTA) and Takanao Tsubouchi (MSMA), in the presence of Mr. Paul Butler (Secretary of the meeting), in a meeting held today at the circuit of Assen, unanimously decided to introduce the following change to the FIM Road Racing World Championship Grand Prix Regulations.
Replacement of the 250cc class
For application from 1.1.2011, the Grand Prix Commission accepted the following proposal, taken by the majority of members of MSMA: 4-stroke engines of 600cc maximum and 4 cylinders maximum. A request will be sent to all manufacturers. The candidatures of the manufacturers interested in taking part in the new class must be sent to the FIM and Dorna by July 31, 2008 at the latest. More precise technical specifications will then be discussed and established.
FGSport, the sanctioning boy of SBK World Superbike and Supersport has been adamant that they hold the exclusive rights to a 4-stroke production based world championship. So it will be interesting to see if this future 600cc 4-stroke class will be only for prototype engines, or if production based engines will be allowed. Either way, it will certainly require a GP style race chassis as to not conflict with the SBK's 600cc World Supersport and European Superstock classes.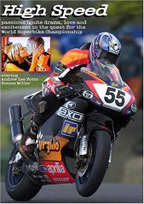 High Speed - the Movie
The best motorcyce racing movie ever made! Filmed on location at World Superbike, this an exciting romantic drama staring beautiful actress Sienna Miller.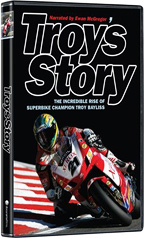 Troy's Story
The story of 2-Time World Superbike Champion Troy Bayliss narrated by Ewan McGreggor
Hot New Book!
---
MIC evaluates issuance of request for proposal for U.S. road racing series

Friday June 27, 2008 - The Motorcycle Industry Council (MIC) is evaluating whether to issue a request for a proposal seeking a series promoter and sanctioning body for a premier professional road racing series in the United States, according to a MIC press release.
The MIC believes it necessary to look into the matter for the benefit of its members, says Tim Buche, MIC president.
"Our members are better served by having alternatives to the changes for the AMA Superbike Championship that the Daytona Motorsports Group (DMG) has so far described," said Buche in the release. "We fully appreciate the expertise, hard work and connections the DMG may bring to motorcycling.
"However, the independent interests of the manufacturers call for a racing series that helps promote specific motorcycle brands. Historically, motorcycle makers have boosted bike sales based on their success in racing. It makes little sense for bike manufacturers to heavily invest in any competition that highlights sponsors and teams and downplays the machines themselves, as well as their technological development. So we are obliged to investigate alternatives that could do a better job of meeting our members' respective marketing needs. This is especially true given that it's now late June and there is still uncertainty over the DMG's 2009 rules."
The MIC plans to hear input from industry officials, including racetrack owners, riders, interested sponsors and enthusiast and trade media.
---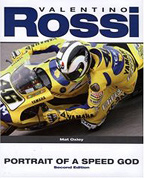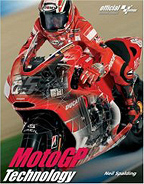 ---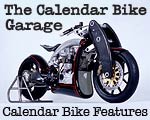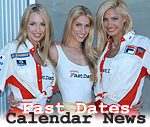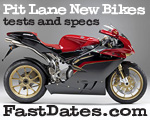 ---
---
Sands vs. Rooke
Calendar Bike Build Off
See the world's two hottest custom sportbikes featured in the 2008 Fast Dates and Iron & Lace Calendars being built and raced by Roland Sands and Jesse Rooke for Discovery Channel's Biker Build Off
Roland Sands builds the
KR Tracker Calendar Show Bike
New Blood DVD
features Roland Sands building and riding the extraordinary Roland Sands Design / Kenny Roberts KR 990cc 5-cylinder MotoGP powered Retro Board Track Racer. The bike is also featured in the 2008 Fast Dates race bike and Iron & Lace custom bike Calendars with beautiful Playboy Playmate and Calendar Kitten Tamara Witmer in one of our best calendar shots ever and ,featured in the LA Calendar Motorcycle Show advertsing campaigns
and T-Shirt.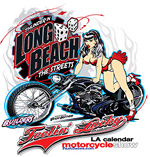 Order the Official
LA Calendar Bike Show
T-Shirts!


Harley-Davidson
buys MV Agusta!
ON 12th July, Harley-Davidson signed a deal to acquire Italian motorcycle manufacturer MV Agusta for 70 million Euro ($109 million), which includes the payment of existing bank debt of approximately 45 million Euro ($70 million).
The deal provides for a contingent payment to current MV Agusta owner and Chairman Claudio Castiglioni in 2016, if certain financial targets are met, according to the U.S. group. MV Agusta Group is privately held, with the Castiglioni family owning 95 percent of MVAG share capital.
Harley, which is acquiring 100 percent of the Italian company, says the acquisition is expected to close in several weeks, pending the satisfaction of contingencies and receipt of regulatory approvals. It intends to fund the transaction primarily through Euro-denominated debt.
MV Agusta has two families of motorcycles: a line of high-performance sportbikes sold under the MV Agusta brand, and a line of lightweight bikes sold under the Cagiva brand. The company sells its products through about 500 dealers worldwide, the majority of them in Europe. In 2007, the Italian company shipped 5,819 motorcycles, according to Harley, but in 2008 significantly slowed production due to financial difficulties.
"Motorcycles are the heart, soul and passion of Harley-Davidson, Buell and MV Agusta," said Harley CEO Jim Ziemer. "Both have great products and close connections with incredibly devoted customers. The MV Agusta and Cagiva brands are well-known and highly regarded in Europe. They are synonymous with beautiful, premium Italian performance motorcycles."
According to Ziemer, the acquisition is intended primarily to expand Harley's presence in Europe, c! omplemen ting the Harley-Davidson and Buell motorcycle families. Retail sales of Harley bikes have grown at a double-digit rate in Europe in each of the last three years, as the company has increased its strategic focus on global markets.
Harley-Davidson plans to continue to operate MV Agusta from its headquarters in Varese, near Milan in Northern Italy. The first priority will be to appoint a leadership team that will include a new Managing Director and to continue the production of current models.
Claudio Castiglioni will continue in a leadership role in future product development, while Massimo Tamburini will remain as head of the Italian company's renowned design studio