Valentino celebrates his first Laguna Seca victory.

MotoGP World Championship, Laguna Seca USA, Round 11 of 19
Valentino Rossi puts an end to Casey Stoner´s victory run
in an exciting wheel to wheel fight at the Red Bull U.S. Grand Prix.
Laguna Seca, USA , July 18- 20th - Fiat Yamaha Team rider Valentino Rossi took his first career win on American soil today, emerging victorious after an epic duel with Casey Stoner at Laguna Seca. The Italian, who signed a new two-year deal with Yamaha this week, has now won four races this season and is 25 points clear at the top of the championship.
Rossi started from second and was able to pass Stoner on the brakes during the first lap to take the lead. From then on it was clear that the pair were in a class of their own today as they gradually pulled out a gap from the chasing pack, trading passes with one another but with no one else able to stay with them. Stoner was often faster than Rossi on the straight but the seven-time world champion had the advantage in the twisty parts of the track and he was able to gain the lead back on the brakes each time the Australian passed him. With only 100ths of a second between them most of the time it looked like being a nail-biting race to the end, but on lap 24 of 32 Stoner made a mistake and ran off the track and into the gravel. This allowed Rossi some breathing space for the final eight laps and he eventually crossed the line 13 seconds clear of Stoner, who had been able to remount and still finish second, such was the gap the pair had pulled out from third-placed Chris Vermeulen.
It was a black day for the other side of the garage however as Jorge Lorenzo, Rossi's team-mate, took a huge tumble on the first lap and broke the third and fifth metatarsal bones in his left foot. He now faces a battle to be fit for the next race in Brno, in a month's time. With Dani Pedrosa missing the race this weekend, Stoner has now moved into second in the championship behind Rossi with seven rounds remaining.
Valentino Rossi - Position: 1Time: 44'04.311 "What a race today! We made some modifications to our bike after warm-up and these gave us the last few tenths that enabled me to fight with Casey today; the result was just fantastic. I got a good start and I was able to pass him in the first lap, but I knew I had to try and stay in front of him and it was impossible to relax even for one second. My M1 was brilliant and so were my Bridgestone tyres;

I really only made one mistake, at the corkscrew when I went a bit wide but in fact the dirt had quite good grip also! Casey was a bit faster on the straight than me but I was stronger on the brakes so I had to make all my passes there. I don't know how many times we changed the lead but it was a lot and it was great, great racing for me and I think also for the fans, because it's been a while since we've been like this. To stay in front I had to do high 21s at least on every lap and I want to thank my team and engineers for giving me a bike that could do this.

I had a great rhythm and I am really so happy to win for the first time in America. About the passes, I am sorry that Casey thinks some of them were a bit strong but I really don't agree; I passed only on the brakes, I braked in the same places every time and we never touched. Of course this was an aggressive race, but it was definitely a fair one. Now we have the summer break and I am looking forward to relaxing a bit, but not too much because it's going to be a hard fight for the final seven races and we must keep the concentration!"
Casey and Adriana get a visit in their Laguna Ducati Pit Box from a fellow Desmosedici owners TomCat. The 1,499 other Desmosedici owners should be receiving their invitations shortly.
Friday Practice - Rossi Remains Confident
Friday 18th - Valentino Rossi feels that there is still much potential for improvement as he aims to catch early pacesetter Casey Stoner. Left behind by a storming Casey Stoner on the opening day of practice at Laguna Seca, Valentino Rossi is nonetheless confident about his chances of accessing the untapped potential of the Fiat Yamaha M1 in his pursuit of his title rival. Teammate Jorge Lorenzo, meanwhile, has set about the task of learning the unique circuit on his first on-track appearance in America.
`We started quite well this morning and we were quite fast from the start. We used our standard base setting and it seemed to work quite well here, and I think that in fact I could have gone faster this morning but in my last run my grip wasn´t perfect so I slowed down. This morning I was quite happy but this afternoon we tried to modify something in the set-up of the bike, because we´re still looking for the ideal configuration for this track, and it wasn´t as good as we had hoped. Now we must put the best things of each session together and then I believe we will be able to be some tenths faster tomorrow. We have a good potential here and I know we haven´t reached it yet; we need to do some work on the suspension but the Bridgestones are good which is encouraging. I am looking forward to making more progress tomorrow and closing the gap to Stoner´
Jorge Lorenzo, 13th -`The first laps here in Laguna Seca this morning were incredible for me and I had great fun learning the track. On my first lap I was very lucky at the Corkscrew because Nicky Hayden was in front and he knows this track very well, so I followed him and I came out alive! It´s very different to anywhere else we go and very complicated, so I am trying to take it gently until I am sure of my lines. For me the hardest part is the first corner, but I felt better about it this afternoon. I had some problems with my rear tyre, we don´t have enough grip, and I also need more confidence in the front of the bike. I think I need to do some more laps here in order to have more feeling and knowledge about the track and the right lines. I´ve been looking at the Superbike times and they're doing almost the same times as me, so I know I have some work to do. We have some issues but we´re working hard towards being faster tomorrow. I´ve enjoyed my first day here.´
Saturday Qualifying "To stop Stoner, you´d have to shoot him" - Rossi
Saturday 19th - Valentino Rossi´s best efforts in Laguna Seca were not enough to deny Casey Stoner a fifth consecutive pole position, although the Italian will start the Red Bull U.S. Grand Prix from the front row.
Valentino Rossi in the Fiat Yamaha garage (MotoGP)
At times the performances of MotoGP World Champion Casey Stoner have left his rivals with little option but to laugh so as not to cry, with a recent run of three victories and five pole positions on the bounce showing the Australian´s quality for all to see. A rider more used to dishing out the punishment than receiving it, Valentino Rossi was tasked with seeing the funny side of his nemesis´ dominance in qualifying for the Red Bull U.S. Grand Prix.
`To stop Stoner, you´d have to shoot him,´ said Rossi when asked by Spanish television channel TVE as to how he could beat the Ducati Marlboro man in Sunday´s race.
Rossi did, however place on the front row for the Laguna Seca showdown, having identified a top grid position as a must in the run-up to this weekend´s race. His pace may have been consistent mid-1´22 laps rather than the daunting mid-1´21´s recorded by Stoner, but he remained confident of at the very least a positive result to take him into the summer break as the World Championship leader.
`Second is a good position to start from tomorrow. We have had one or two small problems that perhaps it will be possible to fix when we do a few small modifications. Our race pace isn´t so bad,´ noted the Fiat Yamaha rider.
Whilst Rossi would probably not be permitted by the FIM to take weaponry onto the grid, he did have another tongue-in-cheek scheme up his sleeve in order to be the quickest on the draw on Sunday; when questioned in the immediate live international press feed as to whether he had a plan for victory over Stoner, the five-time MotoGP World Champion quickly replied: `Yes. Start 30 seconds earlier than him.´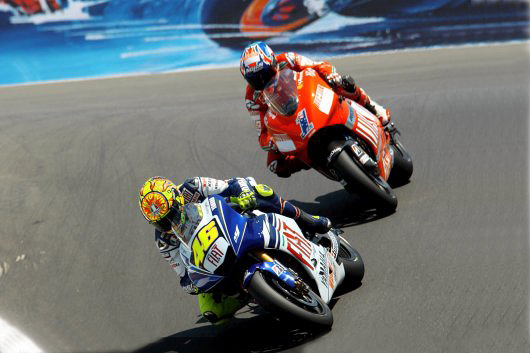 Through the Corkscrew: Thee battle between Rossi and Stoner was this close and closer, going side by side and back and forth many times each lap everywhere around the track

Rossi Stops Stoner for first Laguna Seca Victory
Valentino Rossi finally added Laguna Seca to his list of conquered tracks on the MotoGP calendar after an exciting side-by-side battle between the two for the first 2/3rds Red Bull U.S. Grand Prix. Rosssi's victory ending Casey Stoner´s run of wins and garnering an important addition to his points tally heading into the summer break.
In contrast to his comments after Saturday´s qualifying session, Rossi needed neither a gun nor a 30-second headstart to stop the man so dominant in practice. Instead he relied on a storming start and his best pace of the weekend to stifle Stoner´s breakaway attempt, presenting himself as the only object between the Australian and a fourth consecutive victory.
Right off the line it turned into an incredible, nearly race long battle for the between the 2 championship leaders as they banged fairings side by side through many of Laguna Seca's serpentine corners, many tmes where it seemed passing was impossible and they might both be tossed into the gravel trap. The lead sometines changed as often as 3 times a lap! Rossi looked the smoothest and most in control on the Yamaha M1, as Stoner had the Ducati GP7 sliding and jerking everywhere as the bike's traction control faught to keep him on 2 wheels!
At one point mid race, Stoner out braked Rossi from the inside as they dove down into the Corkscrew, Rossi overshot the left turn and ran off fuly into the dirt, then rejoined the pavement again as the c Corkscrew cut right again at the bottom, the M1 kicking sideways nearly center punhcing Stoner in the process as they came out at the bottom side-by-side and then into Rainey Curve. This had to be the best MotoGP battle ever, between 2 MotoGP title holders for the current years point's lead and title.
Top 2 Rows: It was this close between Rossi and Stoner lap after lap for 21 laps. Around lap 10 going into the Corkscrew, Stoner trried to outbrake Rossi on the inside, Rossi runs wide and out across the dirt on the downhill, rejoining the track again at the bottom. As Rossi rejoins the pavement, his Yamaha's rear wheel kicks out and almost takes out Stoner's front wheel and the front wheel tucks under as he tries to steer back on track.
Bottom Row: On lap 21 Stoner goes into turn 11 too hot trying to outbrake Rossi again, runs the ducati wide off into the soft dirt at the corner's exit. In th enext picture Casey is down, the bike still running, and he graps the clutch handle to keep the egine from stalling as he picks the bike up, still holding onto 2nd pace ahead of Chris Vermuelen.
The deciding moment of the race came on lap 21, as Stoner and Rossi prepared to enter the home straight brraking into turn 11. Having battled back-and-forth amongst themselves at every corner, Stoner ran wide n the outside trying to outbrake Rossi who was leading at that point and ran off the outside of the onto the gravel. Cassey tried to turn the bike back towards the track, the front wheel tucked under on the soft gravel and went down. casey jumped up, the bike was still running, the 120 lb rider picked up the 330lb GP bike like it was a lightweight bicycle, climbed aboard and took off before 3rd place man Chris Vermuelen could come 'round the corner. Once back up to speed, Casey was down on Rossi by about 8-10 seconds and he did all he could do to try and catchy back up by continuing to break the track recrd, but Rossi's lead was insurmountable in the 5 laps that remained and Stoner had to settle for 2nd place and the end to his run of 3 race wins.
A speedy start, some shaky moments and two top caliber riders separated from the rest of the field made for a thrilling race, and the end result of a 33rd victory for Rossi for the factory Yamaha team –equaling his total for previous manufacturer Honda.
It should be noted that both Rossi and Stoner ran off the track during their heated side-by-side 21 lap battle.
Rossi was fortunate to do so in the Corkscrew where he shot straight across the dirt to rejoin track where it turned back. Stoner unfortunately, ran off on the outside of Turn 11 and the soft dirt there caused him to crash when he tried to turn back towards the track. It was an equal battle among champions, they both made the same mistake, and Rossi got the luck of the draw. To be continued....
Former World Superbike Champ Chris Vermeulin likes Laguna, it was his 2nd podium in 2 years here. If he had gotten a better start he might have challenged leaders Rossi and Stoner.

2007 Laguna Seca runner-up Chris Vermeulen (Rizla Suzuki) rounded off the podium, using the same kind of pace that he had demonstrated in practice. Having started from eighth on the grid, a better result in qualifying could have seen the Rizla Suzuki rider at the very least take advantage of Stoner´s late fall. As it was he easily passed Dovizioso and Hayden who were fighting for 3rd until Chris blew by at a pace about a second a lap quicker than last year's Laguna winner, Hayden. Chris took his second rostrum in succession in a positive race for the Australian. All 3 front runners were on Bridgestone tires.
Some 34 seconds down on Rossi as they crossed the line for the final time, Andrea Dovizioso and Nicky Hayden were tussling for the honour of fourth place and the highest position for Honda and Michelin. The JiR Team Scot rookie eventually did enough to deny twice Laguna Seca MotoGP racewinner Hayden in the Repsol Honda rider´s home race, concluding a great maiden appearance at the track.
Randy de Puniet repeated his sixth position from 2007, this time onboard the LCR Honda RC212V, whilst Toni Elias, Ben Spies, James Toseland and Shinya Nakano wrapped up the top ten. Wildcard Spies –on pole for the AMA Superbike race running concurrently with the Red Bull U.S. Grand Prix, had believed that he still had one lap remaining as he fought with the established premier class riders.
A first visit to Laguna Seca did not end well for second Fiat Yamaha rider Jorge Lorenzo, who highsided his M1 on the opening lap. He picked up a fractured third metatarsal in his left big toe, an injury that will not endanger his participation in Brno when the World Championship returns in August.
Crew Chief Jeremy Burgess to Rossi after the race: "Damn it Val, what are all those red paint marks all over your bike!"

Valentino Rossi, Race Winner - `For me it has been fantastic. It´s the first time that I´ve been able to win here, and it was an unbelievable race. The crew made some modifications and I was able to take a much better pace. I had a good start, then a great battle with Casey, which was a lot of fun. It´s an important victory –very emotional- and now in the summer break we will relax, because the championship is so long.´
Casey Stoner, Second Placed - `The mistake I made past halfway was mine; I ran a little wide and lost the front on the turn as I tried to get back on track. It was race over after that. I enjoyed a lot of the race, but I felt that some of the passes a bit too much for me. I´ve been racing for a lot of years and have come through a lot of different ranks, and for me just a couple of passes were a little too much. I would have liked to have had a little bit of a cleaner battle, but anyway we are happy with the result. We´re still at the front of the championship and not too far off.´
Chris Vermeulen,Third Placed - `It was difficult starting from the third row, and these guys got away early. I had a bit of a battle with Hayden and Dovizioso for a few laps, and once we got past them then we had more pace than everyone else. These two were too quick for us today. To be back on the podium in the dry proves that Suzuki are improving, and I´m looking forward to Brno now.´
Rossi now leads the standings by 25 points, whilst Stoner´s latest podium finish moves him up to second. Laguna Seca absentee Dani Pedrosa drops down to third place.
Race Results MotoGP: (32 laps = 115.52 km)
Pos/ Rider / Nat / Team / Motorcycle / Time/ KM/H / Gap
1 / Valentino ROSSI / ITA / Fiat Yamaha Team / YAMAHA / 44'04.311 / 157.270 /
2 / Casey STONER / AUS / Ducati Team / DUCATI / 44'17.312 / 156.501 / 13.001
3 / Chris VERMEULEN / AUS / Rizla Suzuki MotoGP / SUZUKI / 44'30.920 / 155.703 / 26.609
4 / Andrea DOVIZIOSO / ITA / JiR Team Scot MotoGP / HONDA / 44'39.212 / 155.221 / 34.901
5 / Nicky HAYDEN / USA / Repsol Honda Team / HONDA / 44'39.974 / 155.177 / 35.663
6 / Randy DE PUNIET / FRA / LCR Honda MotoGP / HONDA / 44'41.979 / 155.061 / 37.668
7 / Toni ELIAS / SPA / Alice Team / DUCATI / 44'45.940 / 154.832 / 41.629
8 / Ben SPIES / USA / Rizla Suzuki MotoGP / SUZUKI / 44'46.238 / 154.815 / 41.927
9 / James TOSELAND / GBR / Tech 3 Yamaha / YAMAHA / 44'47.330 / 154.752 / 43.019
10 / Shinya NAKANO / JPN / San Carlo Honda Gresini / HONDA / 44'48.702 / 154.673 / 44.391
11 / Jamie HACKING / USA / Kawasaki Racing Team / KAWASAKI / 44'50.569 / 154.566 / 46.258
12 / Sylvain GUINTOLI / FRA / Alice Team / DUCATI / 44'59.584 / 154.050 / 55.273
13 / Alex DE ANGELIS / RSM / San Carlo Honda Gresini / HONDA / 44'59.832 / 154.036 / 55.521
14 / Colin EDWARDS / USA / Tech 3 Yamaha / YAMAHA / 45'06.691 / 153.645 / 1'02.380
15 / Loris CAPIROSSI / ITA / Rizla Suzuki MotoGP / SUZUKI / 45'12.518 / 153.315 / 1'08.207

Pole Position: Casey STONER 1'20.700 161.040 Km/h
Fastest Lap (New record): Casey STONER 1'21.488 159.483 Km/h Lap 15
Circuit Record Lap: Casey STONER 1'22.542 157.447 Km/h 2007
Circuit Best Lap: Casey STONER 1'20.700 161.040 Km/h 2008
World Championship Positions:
1 ROSSI 212, 2 STONER 187, 3 PEDROSA 171, 4 LORENZO 114, 5 DOVIZIOSO 103,
6 EDWARDS 100, 7 VERMEULEN 89, 8 HAYDEN 84, 9 TOSELAND 72, 10 NAKANO 70,
11 CAPIROSSI 61, 12 ELIAS 46, 13 DE ANGELIS 41, 14 DE PUNIET 40, 15 GUINTOLI 38.
---
2008 HANNSPREE FIM SUPERBIKE WORLD CHAMPIONSHIP, Bruno, CZ, Round 9 of 15
Double Wins almost assure the retiring Champ a 3rd World Title
Bayliss is Flawless at Bruno World Superbike
Bruno, Chech Republic, July 18-20th - A thrilling race day for the Ducati Xerox Team as Troy Bayliss stormed to victory, to take his maiden win at this particular track in Race 1 before following it up with another win in Race 2. Team-mate Michel Fabrizio meanwhile enjoyed a battle against fellow Italian Max Biaggi in both of today's races, triumphing in both cases to take extremely well deserved third and second places on the podium. Fabrizio also achieved a new fastest lap during race 2. Niccolo' Canepa, competing in his first ever Superbike races today, had a difficult day, having suffered all weekend from set-up issues. In Race 1 tyre wear meant that he finished in thirteenth position and the same problem unfortunately resulted in a DNF for the young rookie in race 2.
Troy Bayliss' achievements here at Brno have rewarded him with 50 additional championship championship points, and so he now leads with 309, now 79 points ahead of Suzuki rider Max Neukirchner. Fabrizio's boost in points leaves him in eighth position, holding 147 points.

With Ducati Xerox riders stepping up to the podium after both races 1 and 2 today, Ducati has further increased it's lead in the manufacturers championship, now with 373 points ahead of second-placed Yamaha at 317 pts.

The World Superbike Championship celebrated its 500th individual race at Brno in Race 2, but only championship leader Troy Bayliss took comfort from this landmark, as he scored two wins and extended his championship lead to 79 points over Max Neukirchner. The first race ever to take place in World Superbike was 20 years ago and won by Bayliss' Ducati Corse Team Manager Davide Tardozi racing a Ducati powered Bimota, making it amomentous weekend for Bayliss, Tardozzi, Ducati and SBK World Superbike.
WSBK reaches #500 mark with Czech Republic Round at BrnoThe Superbike World Championship notches up an important benchmark this coming weekend at the Automotodrom Brno circuit in the Czech Republic as the production-based racing series reaches the #500 mark with Sunday's race 2. The championship got underway at Donington Park on April 3, 1988 and this weekend's round at Brno will see races #499 and #500. Even though the Czech Republic Round is the 252nd in the championship's history, on four occasions (1988 Le Mans, 2001 Phillip Island, 2005 Imola, 2007 Silverstone), only race 1 was held due to inclement weather conditions.
The 2008 championship meanwhile reaches the ninth round on Sunday, with the situation more wide-open than ever. Championship leader Troy Bayliss (Ducati Xerox) scored two third places at Misano to increase his points lead by ten to 259, but the 39 year-old Aussie has not won a race since Assen and is determined to put things right at Brno, even though the Czech circuit has never been particularly kind to the Italian twin-cylinder machines. With his second win of the season at Misano, Troy's closest pursuer on 210 points has now become Max Neukirchner (Alstare Suzuki), who took over that position from Carlos Checa (Hannspree Ten Kate Honda). The 25 year-old German is now a regular contender for the leading positions, and seven times on the podium this year is testament to the growth of a potential champion.
Troy to Troy - "I feel like a midget next to these girls! Next time we gotta wear high heels to these awards presentations!" Fabrizio (on the right) placed third in both Superpole and the Race, looking more likely he can and will fill Bayliss' boots at Ducati next year.

Bayliss Grabs Superpole with Record Lap at Brno
Brno, Saturday 19th - Troy Bayliss (Ducati Xerox) grabbed Superpole for round 9 of the WSBK championship with a blistering record lap of 1 minute 58.345 seconds at the newly-resurfaced Automotodrom Brno circuit. Today's pole was the 22nd of the points leader's career, and his fourth this season, a result that takes him past Carl Fogarty in the all-time pole classification into second behind Troy Corser on 42.
Bayliss's chief rival today in Superpole was in fact Corser (Yamaha Motor Italia WSB), who was just one tenth of a second down. Third quickest was Bayliss's Ducati Xerox team-mate Michel Fabrizio, while fourth went to another Italian Max Biaggi (Sterilgarda Go Eleven Ducati), quickest overall in qualifying.
Troy Bayliss: "It hasn't always looked good on this track for us, especially last year, and it's been a bit of a bogey track for me as well. I've never really had great results here in the past and I'd love to turn that around. When I saw Corser's lap I knew I had to do a good one to beat that and when Max was out, I would have given him a real pat on the back if he had gone faster than that."
Troy Corser: "There's always a risk when you go out before the end of the Superpole and set the quickest time, especially when Bayliss is around because I know he's going to grit his teeth and try and get there. But we've got a really good set-up for race tyres tomorrow, we've done a pretty good race distance and it's all looking really good."
Michel Fabrizio: "I really like this circuit and I've always gone well here. We've done a great job during the weekend and my race pace is pretty good. I wanted to go even better in Superpole but unfortunately there's a 'granddad' alongside me who always pulls out something special. But third is a good result and I'm really satisfied."
Max Biaggi: "I really like the Brno track and love racing here. I think we've learnt a lot this weekend and for today fourth place is OK. I wanted to go faster a little bit but it didn't happen. My team and I have done a good job to get on the front row of the grid, which is good because we're going to have to start well and be up at the front tomorrow."
The biggest mover today was Ryuichi Kiyonari (Hannspree Ten Kate Honda), who powered to fifth place and a row 2 start in Superpole after qualifying for the one-lap dash in sixteenth. The Japanese rider will be accompanied by WSBK rookie Niccolò Canepa (Ducati Xerox), Spain's Fonsi Nieto (Suzuki Alstare) and Czech star Jakub Smrz (Guandalini Ducati).
Bayliss's chief rivals in the championship failed to emerge, Max Neukirchner (Alstare Suzuki) and Noriyuki Haga (Yamaha Motor Italia WSB) both qualifying on the third row, while Carlos Checa (Hannspree Ten Kate Honda) is even further behind on row 4.
SUPERPOLE Times: 1. Bayliss T. (AUS) Ducati 1098 F08 1'58.345; 2. Corser T. (AUS) Yamaha YZF-R1 1'58.451; 3. Fabrizio M. (ITA) Ducati 1098 F08 1'58.853; 4. Biaggi M. (ITA) Ducati 1098 RS 08 1'59.069; 5. Kiyonari R. (JPN) Honda CBR1000RR 1'59.318; 6. Canepa N. (ITA) Ducati 1098 F08 1'59.324; 7. Nieto F. (ESP) Suzuki GSX-R1000 1'59.360; 8. Smrz J. (CZE) Ducati 1098 RS 08 1'59.451; 9. Neukirchner M. (GER) Suzuki GSX-R1000 1'59.497; 10. Kagayama Y. (JPN) Suzuki GSX-R1000 1'59.537; 11. Xaus R. (ESP) Ducati 1098 RS 08 1'59.545; 12. Haga N. (JPN) Yamaha YZF-R1 1'59.571; 13. Checa C. (ESP) Honda CBR1000RR 1'59.587; 14. Lanzi L. (ITA) Ducati 1098 RS 08 1'59.639; 15. Muggeridge K. (AUS) Honda CBR1000RR 2'00.306; 16. Badovini A. (ITA) Kawasaki ZX-10R 2'01.161.
Bayliss held off Corser and Biaggi both races

Double Firsts for Bayliss on Sunday
Troy Bayliss demonstrated his resolve to clinch the 2008 HANNspree Superbike World Championship with a dominant double victory at Brno today for the ninth round of the series. The Australian took his seventh and eighth wins of the season in spectacular style, leaving his Superbike rivals in no doubt that he is back to his winning ways.
Polesitter Bayliss had a poor start from the line in the first race, but regained the lead on lap 12 and maintained his position until the chequered flag. Second place went to fellow Australian Troy Corser while the final position on the podium went to Michel Fabrizio.
Race two was a similar story, with Bayliss again taking the top spot on the podium. Fabrizio finished in second place while Max Biaggi brought his Ducati home in third. Bayliss now leads the championship standings by 79 points over second placed Max Neukirchner.
Meanwhile, Ryuichi Kiyonari had a positive day at the Czech Republic event - he was the top finishing HANNspree-supported rider in both races with fifth and sixth places. His HANNspree Ten Kate Honda team-mate Carlos Checa had a less positive day, finishing eighth in race one and retiring from race two with technical problems.
Third HANNspree Ten Kate Honda rider Kenan Sofuoglu also did well to finish tenth in both races, while HANNspree Honda Althea's Roberto Rolfo scored 12th place in race two.
Troy Bayliss (Race 1 - 1st, Race 2 - 1st) - "I am very happy and of course it's increased my championship lead which is great. I rode two really good races. I struggled a little at the start of Race 1 but once I started to pull away in the closing stages I began to relax a bit. My Ducati has worked perfectly and was a pleasure to ride so a big thank you to my team as we just got everything right today. The tyres did the job too and we didn't seem to suffer from the tyre wear that affected some of the other front-runners. In race 2 the other guys were coming fast towards the end, and I didn't have much left to give, but I held on and am extremely happy with the result. Well done to Michel too who rode two great races here today."
Michel Fabrizio (Race 1 - 3rd, Race 2 - 2nd) - "These were two great but difficult races today! During the second half of both races 1 and 2 I was able to increase my pace and in both cases this meant that I caught up to Max (Biaggi) before having to battle it out with him in the final stages for the podium places. Before the start of Race I I thought it would be the front tyre I would need to worry about but that turned out to be fine and it was actually the rear that was pretty worn out by the end. In the second outing it seems that I fell asleep mid-race before waking up again, in the sense that I continued to get faster during the latter stages, making my fastest lap just three laps from the finish. I predicted that I'd be caught up with the two Troys and Biaggi and that turned out to be the case. I am very happy with the results."
SUPERBIKE Race 1: (Laps 20 = 108,060 Km)
Pos / Rider / Nat. / Team / Gap
1 / T. BAYLISS / AUS / Ducati 1098 F08 / Ducati Xerox Team / 40'22.724
2 / T. CORSER / AUS / Yamaha YZF-R1 / Yamaha Motor Italia WSB / 1.468
3 / M.FABRIZIO / ITA / Ducati 1098 F08 / Ducati Xerox Team / 3.272
4 / M.BIAGGI / ITA / Ducati 1098 RS 08 / Sterilgarda Go Eleven / 3.475
5 / R. KIYONARI / JPN / Honda CBR1000RR / Hannspree Ten Kate Honda / 3.791
6 / N.HAGA / JPN / Yamaha YZF-R1 / Yamaha Motor Italia WSB / 9.120
7 / M.NEUKIRCHNER / GER / Suzuki GSX-R1000 / Team Alstare Suzuki / 9.358
8 / C. CHECA / ESP / Honda CBR1000RR / Hannspree Ten Kate Honda / 11.787
9 / Y. KAGAYAMA / JPN / Suzuki GSX-R1000 / Team Suzuki Alstare / 17.228
10 / K. SOFUOGLU / TUR / Jr. Honda CBR1000RR / Hannspree Ten Kate Honda / 17.705
11 / K. MUGGERIDGE / AUS / Honda CBR1000RR / D.F. Racing / 22.347
12 / S. NAKATOMI / JPN / Yamaha YZF-R1 / YZF Yamaha / 25.563
13 / N. CANEPA / ITA / Ducati 1098 F08 / Ducati Xerox Team / 25.699
14 / F. NIETO / ESP / Suzuki GSX-R1000 / Team Suzuki Alstare / 34.064
15 / G.LAVILLA / ESP / Honda CBR1000RR / Ventaxia VK Honda / 36.545
Fastest Lap 17° Troy Bayliss 2'00.298 161,688 Km/h
SUPERBIKE Race 2: (Laps 20 = 108,060 Km)
Pos / Rider / Nat. / Team / Gap
1 / T. BAYLISS / AUS / Ducati 1098 F08 / Ducati Xerox Team / 40'16.436
2 / M.FABRIZIO / ITA / Ducati 1098 F08 / Ducati Xerox Team / 0.928
3 / M.BIAGGI / ITA / Ducati 1098 RS 08 / Sterilgarda Go Eleven / 1.259
4 / T. CORSER / AUS / Yamaha YZF-R1 / Yamaha Motor Italia WSB / 1.785
5 / M.NEUKIRCHNER / GER / Suzuki GSX-R1000 / Team Alstare Suzuki / 3.942
6 / R. KIYONARI / JPN / Honda CBR1000RR / Hannspree Ten Kate Honda / 7.910
7 / N.HAGA / JPN / Yamaha YZF-R1 / Yamaha Motor Italia WSB / 11.297
8 / F. NIETO / ESP / Suzuki GSX-R1000 / Team Suzuki Alstare / 11.375
9 / Y. KAGAYAMA / JPN / Suzuki GSX-R1000 / Team Suzuki Alstare / 13.103
10 / K. SOFUOGLU / TUR / Jr. Honda CBR1000RR / Hannspree Ten Kate Honda / 18.978
11 / J. SMRZ / CZE / Ducati 1098 RS 08 / Guandalini Racing / 19.106
12 / R. ROLFO / ITA / Honda CBR1000RR / Hannspree Honda Althea / 20.556
13 / L. LANZI / ITA / Ducati 1098 RS 08 / R.G. Team / 21.775
14 / G.LAVILLA / ESP / Honda CBR1000RR / Ventaxia VK Honda / 26.372
15 / S. NAKATOMI / JPN / Yamaha YZF-R1 / YZF Yamaha / 26.922
Fastest Lap 18° Michel Fabrizio 1'59.979 162,118 Km/h

Lap record : 2008 Troy Bayliss 2'00.298 161,690 Km/h
Best Lap: 2008 Troy Bayliss 1'58.345 164,360
Riders Championship Standings:
1 BAYLISS 309, 2 NEUKIRCHNER 230, 3 CORSER 218, 4 CHECA 215, 5 HAGA 210,
6 NIETO 161, 7 XAUS 148, 8 FABRIZIO 147, 9 BIAGGI 146, 10 KIYONARI 115,
11 KAGAYAMA 96, 12 LANZI 83, 13 LAVILLA 78, 14 SMRZ 77, 15 MUGGERIDGE 64.
Rea Secures First 600 Supersport Win On All Honda Podium
Jonathan Rea (Hannspree Ten Kate Honda CBR600RR) beat his team-mate Andrew Pitt (Hannspree Ten Kate Honda CBR600RR) by only 0.020 seconds at Brno to record his first ever World Supersport race win, after Rea had qualified sixth and Pitt fourth on the grid.
Pitt also secured the new lap record at this resurfaced circuit, with a new best of 2'04.062 coming on the 18th and very last lap, as he tried to overhaul Rea on the run to the finishing line. The competitiveness of this year's Brno race was underlined by the fact that Pitt's new lap record is over two seconds faster than the previous best, set last year by Kenan Sofuoglu.
The final podium slot on offer at Brno was taken by Josh Brookes (Hannspree Stiggy Motorsports Honda CBR600RR) who was a fixture in the leading group from his third place slot on the grid. He was 1.4 seconds from the win.
Any one of five Honda riders could have won this particular race, with a leading group of ten riders disputing the podium places for half race distance, before the leading contenders started to pull clear. Robbin Harms (Hannspree Stiggy Motorsports Honda CBR600RR) was another potential podium finisher until he was forced out with technical problems, on the penultimate lap, while third in the running order.
SUPERSPORT Race: (Laps 18 = 97,254 Km)
Pos / Rider / Nat. / Team / Time / Gap
1 / J. REA / GBR / Honda CBR600RR / Hannspree Ten Kate Honda / 37'35.093
2 / A. PITT / AUS / Honda CBR600RR / Hannspree Ten Kate Honda / 0.020
3 / J. BROOKES / AUS / Honda CBR600RR / Hannspree Stiggy Motors. / 1.433
4 / B. PARKES / AUS / Yamaha YZF-R6 / Yamaha World Supersport / 1.853
5 / B. VENEMAN / NED / Suzuki GSX-R600 / RES Software Hoegee Suzuki / 2.237
6 / G.NANNELLI / ITA / Honda CBR600RR / Hannspree Honda Althea / 12.032
7 / R. HOLLAND / AUS / Honda CBR600RR / Hannspree Honda Althea / 12.221
8 / M.LAGRIVE / FRA / Honda CBR600RR / Intermoto Czech / 12.787
9 / V. KALLIO / FIN / Honda CBR600RR / Benjan Racing Team / 15.334
10 / M.ROCCOLI / ITA / Yamaha YZF-R6 / Yamaha Lorenzini by Leoni / 15.780
11 / C.WALKER / GBR / Kawasaki ZX-6R / Kawasaki Gil Motor Sport / 23.645
12 / G.VIZZIELLO / ITA / Honda CBR600RR / Berry Racing / 23.758
13 / I. CLEMENTI / ITA / Triumph 675 / Triumph Italia BE1 Racing / 24.074
14 / D. VAN KEYMEULEN / BEL / Suzuki GSX-R600 / RES Software Hoegee Suzuki / 24.621
15 / D.SALOM / ESP / Yamaha YZF-R6 / Yamaha Spain / 26.866
Fastest Lap 18° Andrew Pitt 2'04.062 156,783 Km/h
Lap record: 2007 Kenan Sofuoglu 2'06.089 154,260 Km/h
Best Lap: 2008 Broc Parkes 2'03.203 157,880 Km/h
Riders Championship Standings:
1 PITT 133, 2 BROOKES 101, 3 PARKES 100, 4 FORET 97, 5 REA 92, 6 LASCORZ 81,
7 JONES 80, 8 HARMS 50, 9 ROCCOLI 40, 10 VENEMAN 38, 11 VIZZIELLO 37,
12 LAGRIVE 36, 13 WALKER 36, 14 NANNELLI 33, 15 AITCHISON 30.
---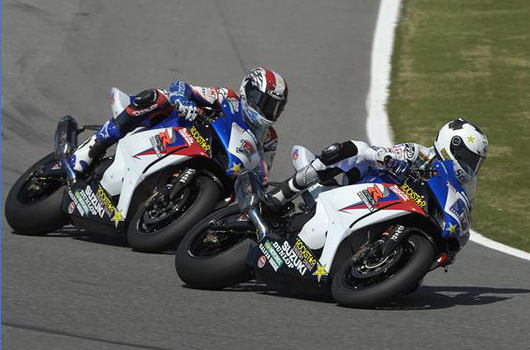 AMA Superbike National, Laguna Seca Round 7 of 11
Matt Mladin leads Suzuki 1-2-3 Sweep at Laguna Seca
Laguna Seca, July 21st - Rockstar Makita Suzuki Factory Racing's Mat Mladin celebrated his fifth AMA Superbike win of the year and his 68th such career victory at Monterey, California's Mazda Raceway Laguna Seca on Sunday afternoon. The six-time AMA Superbike Champion put in an impressive ride on his Rockstar
Makita Suzuki GSX-R1000, finishing 10 seconds in front of his team mate Ben Spies.
Defending, two-time AMA Superbike Champion Spies started from pole position - his fifth of the year and 21st of his career - and got the holeshot in the 28-lap race, bsut - having just finished a remarkable eighth place in the day's earlier MotoGP race - was passed by his team mate and finished in second place.
Jordan Suzuki's Aaron Yates, meanwhile, put in a great ride, moving through the pack to capture the final spot on the podium and Rockstar Makita Suzuki's Tommy Hayden returned to racing after having been out due to injury for more than two months: The former AMA Supersport Champion raced his GSX-R1000 to a more-than-respectable fifth-place finish.
Mat Mladin - "It was a good race for us. We felt pretty comfortable with the limited time we've had on the race track. We felt like we had a good bike in the Rockstar Makita Suzuki GSX-1000 and this morning we just needed to sort out exactly what tyre we wanted to use. I think everybody went with something pretty similar. I think we
had a good pace and then just got in front of Ben and put my head down and tried to make a break, and that's what happened."
Ben Spies - "It was a good race. We got a decent start, but Mat came by and we tried to get behind him and get into a rhythm. But he kept stretching and stretching the gap and we just didn't have the pace today - we didn't have the speed at all. Once we got a good gap on third place, we just hit the cruise control and brought home second place. There was no way we could run with Mat today; there was no need to do anything silly, and so it was a pretty uneventful race, really."
Aaron Yates - "The race was pretty good. We didn't have the best starting position but we got off the line pretty well on the Jordan Suzuki GSX-R1000 and got past a few guys. I just tried to pick people off with every lap, tried to keep chopping away, and take it up to a podium position."

Tommy Hayden - "It felt good to get out there racing again. It was all right for my first race back. I guess I have to accept that I'm a little bit rusty on my racing. I wasn't quite aggressive enough with making the passes when I needed to. But overall, it's good to be back and come back with a solid result."
Superbike Results:
1. Mat Mladin (Rockstar Makita Suzuki)
2. Ben Spies (Rockstar Makita Suzuki)
3. Aaron Yates (Jordan Suzuki)
4. Jamie Hacking (Kawasaki)
5. Tommy Hayden (Rockstar Makita Suzuki)
6. Roger Lee Hayden (Kawasaki)
7. Neil Hodgson (Honda)
8. Jason DiSalvo (Yamaha)
9. Eric Bostrom (Yamaha)
10. Miguel Duhamel (Honda)
---

Carrie with Casey Stoner's 2007 MotoGP World Championship winning Ducati GP07.

World Premier! 2009 Fast Dates Racebike Pinup Calendar
July 1st 2008 - The SBK World Superbike endorsed 2009 Fast Dates Race Bike Swimsuit Pinup Calendar sponsored by Performance Machine and photographed by Jim Gianatsis offers a special treat this year with the cover bike being Casey Stoner's 2007 MotoGP World Championship winning Ducati GP07 bike photographed with sexy swimsuit and Calenar vover model Carrie Ann Stroup. We've got Carrie washing down the world's winningest MotoGP bike in a secret back alley location that's guaranteed to steam up any sportbike fan!
Of course, there's all all the top factory race bikes of the SBK World Superbike Championship photographed on location last year at Brands Hatch World Superbike in Great Britain with beautiful SBK Fast Dates World Superbike girls Rhian Sugden and Gemma Louise Henry. Featured are all the top factory Superbikes from Yamaha, Honda, Suzuki, Kawasaki, and Ducati including double World Champs James Toseland's Ten Kate Hannespre Honda CBR1000, Troy Bayliss' Xerox Ducati 999F07, Max Biaggi's Suzuki GSXR1000, and Regis Laconi's Kawasaki ZX10.
Buy the 2009 Fast Dates Calendar • Download Big Screensaver Photos in Members Corner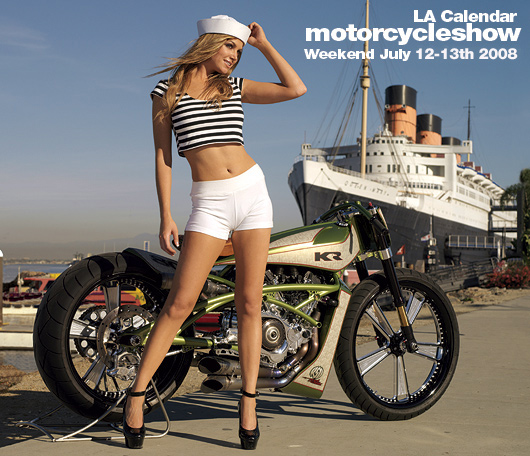 $86,000 in Cash and Awards in the Calendar Bike Building Championship
for Custom & High Performance Street & Sportbikes
Complete Coverage!
17th Annual 2008 LA Calendar Motorcycle Show Weekend
Calendar Bike Building Championship, S&S World Record Dyno Shootout,
2-Day Calendar Girl Music Festival featuring kari Kimmel, Elizabeth Nicole

July 12-13th 2008, Queen Mary Event Park, Long Beach - It's was all about incredible custom bikes, untamed horsepower and beautiful girls! The 17th annual Los Angeles Calendar Motorcycle Show Weekend presented by Performance Machine, America's premier custom, cruiser, performance and sportbike weekend returned to the Queen Mary Event Park in Long Beach on July 12-13th for the world's most exciting 2-day motorcycle event weekend in the beautiful Queen Mary Event Park on the grass alongside the Pacific Ocean! This is the world's premier motorcycle show weekend featuring 200 major motorcycle and parts manufacturers, selected product and apparel venders, top name builders and beautiful girl music performances. Complete Coverage HERE....
---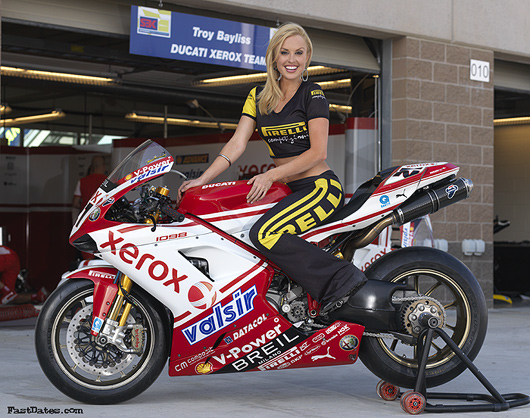 Now in Paddock Garage - the Ducati 848 /1098 S, R Superbikes!
Just Added! Complete Handling Set Up and Tuning Instructions from Ducati Corse for the latest Dycati 848 / 1098 S, R Superbikes This will make your stock bike much easier to ride and is guaranteed shave 1-2 full seconds off your track lap times! Paddock Garage Sportbike Tuning
---
There's more! Go to Pit Lane News NEXT PAGE

Hot Calendar Girl and Bike News! Go to: Fast Dates • Calendar Girls • Iron & Lace



Calendar Kittens, The Paddock Garage, Screensavers, Iron & Lace Garage


Many of our Calendar Kittens can also be seen at Playboy's website...


BikerKiss.com - the largest biker personals site!




World Premier!
2009 FastDates.com Calendars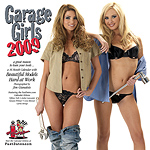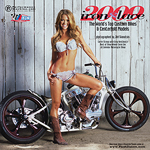 Members Only Preview!
2009 Fast Dates, Iron & Lace, Garage Girls Calendars
Join our Members Corner and get an exclusive look at all three 2009 FastDates.com Calendars.
Featured are full-size 15 inch calendar screensaver pages for your monitor with the top bikes of the 2007 SBK World Superbike and MotoGP World Championship with our beautiful Calendar Kittens. Also includes all our current 2008 and past years Calendars !
---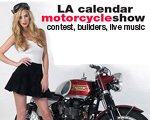 Complete Coverage!
2008 LA Calendar Motorcycle Show & Calendar Girl Music
Festival Weekend!
$86,000 Bike Building Championship
World Record Dyno Shootout!
Calendar Girl Music Festival


The Glamour is Gone?
Laguna MotoGP Spectator Count Continues to Decline
Since it's first year in 2005 sellout capacity crowd of around 35,000 spectators, the US MotoGP round at Laguna Seca has dropped in attendance about 5,000 people a year due to the heat, parking problems, high local hotel prices, poor trackside spectator accommodations, and now the poor economy. If you watched Sunday's live CBS TV coverage of the MotoGP, they had some great ariel views of the entire Laguna Seca Raceway facility. And other than the 3 small grandstands (by European track standards) being full and accounting for maybe 5,000 spectators, the rest of the track including the Corkscrew, the Hill above Turn 2, and the infield Venders Midway were very sparsely populated. We'd guesstimate between 12-15,000 spectators maximum were at the track.
One of our sportbike buddies who usually goes to the MotoGP but didn't go this year because the hotel prices at the downtown Portola Hotel and the Carmel Valley Inn had increased to over $300 per night and had always sold out, he gave the Valley Inn a phone call on Friday to check on room availability and they said they had lots of vacancies and that prices had dropped back down to $200 per night.
As we mentioned earlier in this column, we also don't have great hopes for a big spectator attendance at the Indianapolis MotoGP in September. As far as we can see the race is only being marketed to the sportbike fans as a sportbike race, and not marketed as a motorcycle "happening" to the huge Harley crowd which is predominate in the midwest.
All you have to do s look at Daytona Speedweek to see how many "motorcyclists" that are in town for Bike Week, and then the nummber of fans who actually show up at the Speedway for the road races. Imagine what we predict will be about 30,000 sportbike fans at Indianapolis MotoGP for their first race will look like in those huge grandstands built for 500,000 spectators at the Indy 500.
Yamaha and Valentino Rossi continue together for two more years
We don't know if it was the huge multi-million Italian tax bill he had to pay off a few month ago that may have depleated his bank account, or the fact he is back on pace to reclaim his 6th World Championship this year, but Valentino Rossi's previous plans to quit motorcycle racing at the end of this year and possibly turn to car racing, have now gone out the window, and we're glad of it! Here's this weekend's press release from Yahaha:
July 19th - Yamaha Motor Co., Ltd is delighted to announce that it has signed a new two-year agreement with Valentino Rossi. The seven-time world champion will continue to race with the Yamaha Factory Racing Team for the 2009 and 2010 MotoGP World Championships.
The 29-year-old Italian joined Yamaha in 2004 and since then he has won two world championships, 32 races and taken 20 pole positions for the Japanese factory. He is currently leading the 2008 rider championship, having taken three wins and a further five podiums in the first ten races this year. Rossi will continue to race alongside Spanish youngster Jorge Lorenzo in 2009.
Rossi and Masao Furusawa, Executive Officer, Engineering Operations of Yamaha Motor Co., Ltd, signed the contract today at the Laguna Seca circuit and made the public announcement at Yamaha US's traditional Laguna Seca party at the Monterey Bay Aquarium this evening.
Yamaha Motor Racing Managing Director Lin Jarvis commented, "We are obviously delighted to have secured Valentino for a further two years. I think this news will be very welcome for MotoGP fans and for Yamaha fans around the world. Valentino is an icon in this sport and he is on top form right now as he challenges to win his eighth world championship and his third title together with Yamaha. This signing confirms Yamaha's four-rider line-up for 2009 so now we can concentrate our full efforts on bike development and team organization to make sure that we are in the best possible shape for next year.
"In the meantime we have many races to go this season and I hope that Valentino can win in Laguna Seca for the first time this Sunday to extend his championship lead before the well-deserved summer break – Forza Vale!"
Valentino Rossi added, "After so many years spent in racing, fortunately with so many victories, I needed a special motivation to take the decision to sign for two more years. The best place to find this motivation is Yamaha, since I have a great relationship with Yamaha's directors, which comes from a mutual trust and loyalty. In our team there is a special atmosphere and with this new deal I can continue to work with my crew, where I am part of the project and part of the development of my M1. I had other opportunities but due to Yamaha's efforts to give me the best bike in the best environment, I have decided to stay with Yamaha for two more years. This contract means that Yamaha is the manufacturer I will have spent most of my career with. This means more than a thousand words"
Yamaha Tech 3 and
Colin Edwards go one more year
And Colin Edwards got the one year reprieve in MotoGP he's been looking for and won't be returning home to club race in America next year with Nicky Hayden...
July 19th - Yamaha Motor Co. Ltd is delighted to announce that it has signed a new one-year deal with current Tech 3 Yamaha team rider Colin Edwards. Edwards will continue to race with the Tech 3 Team alongside Briton James Toseland in 2009.
The Texan has agreed the new one-year contract for the 2009 MotoGP World Championship after enjoying the best spell of his premier class career with Herve Poncharal's Tech 3 Yamaha squad. The 34-year-old has already scored two podium finishes, four top five finishes and one pole position in 2008. He has been on the front row a further four times and is currently challenging for a top four position in the overall world championship standings.
Next year will be Edwards' fifth season with Yamaha in MotoGP, during which time he has been one of the most consistent performers in the championship, scoring points in all but ten of his 94 MotoGP races. Eight out of ten of Edwards' MotoGP career podium finishes have been with Yamaha.
Lin Jarvis, Managing Director of Yamaha Motor Racing commented "We are very happy to have been able to secure Colin as a Yamaha rider for 2009. We have been working to improve the quality of the total Yamaha package in the MotoGP class and in 2008 we have achieved the best combined results to date for many years. This comes down to the fact that in the Yamaha Factory Team and the Tech 3 Yamaha Team we currently have two excellent squads, with first-class technical partners, a great bike and four top class riders. Colin's contribution to the improvement of results in the Tech 3 Team has been very important for the team and for the overall factory results. Colin has also played a very important role in the pre-season bike development for 2008 and we are very happy to have retained his skills and experience for the 2009 campaign. I hope Colin can celebrate this new contract this weekend with a top result here in front of his home fans at Laguna Seca!"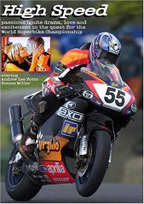 High Speed - the Movie
The best motorcyce racing movie ever made! Filmed on location at World Superbike, this an exciting romantic drama staring beautiful actress Sienna Miller.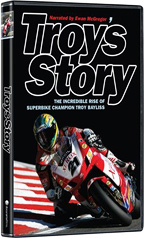 Troy's Story
The story of 2-Time World Superbike Champion Troy Bayliss narrated by Ewan McGreggor
Hot New Book!
---
Lorenzo's Laguna Debut
Ends in Gravel Trap Crash on First Lap
Jorge Lorenzo suffered a dramatic high-side on the very first lap of the US Grand Prix at Laguna Seca today, his debut American race ending in the gravel at turn five. The Spaniard broke the third and fifth metatarsal bones in his left foot and will now face a race to be fit for the next race in Brno, in a month's time.
Lorenzo made a good start and was looking promising in fourth place when the crash happened. It was immediately clear that he had injured himself, a depressing realisation for a rider who has already had to cope with two broken ankles and a concussion this season. With the summer break coming before the next race however the outlook is good for the 21-year-old, who has flown home tonight for further assessment in Barcelona this week.
There was cause for celebration on the other side of the garage as Valentino Rossi won his first ever US Grand Prix, following a scintillating battle with Casey Stoner. Rossi now leads Stoner by 25 points whilst Lorenzo remains in fourth.
"I'm very sad today because I had a lot of confidence for the race after the qualifying session yesterday and, above all, after the very start of the race when I was fourth and feeling good. Then I crashed; my tyre was not up to temperature, I lost the rear and the next thing I knew I was in the gravel, with pain in my foot. It is one more crash, one more injury and it's another moment that I have to forget as soon as possible. I need to look forward. I am so sad but now I must concentrate on the fact that I have a whole month before Brno in order to be fit and to be able to race in good shape. This is my aim. I would like to congratulate to Valentino for his great victory and race today, he did a fantastic job."
---
More Rider quotes. GP USA July 20, 2008 MotoGP:
Andrea Dovizioso, JiR Scot Honda: 4th - "I am pleased to have achieved this result to be the first Honda rider on Michelin tyres, which shows how good they are! Valentino and Casey were riding unbelievably fast. I made a good start, and on the first lap when I saw Lorenzo fall, I knew that the first two were away and that I could not follow them. I was behind Hayden who was quick, even though Vermeulen was able to catch us. When I realized that Hayden was running slower, I wanted to pass him, but Laguna is difficult to pass on and I spent four laps trying. Then I pushed to the maximum to pass Hayden and De Puniet, who are strong 'brakers' and who were difficult to pass."
Nicky Hayden, Repsol Honda: 5th. - "Obviously at my home race I'd hoped to be able to put up a better fight than that. It was certainly a tough weekend, we struggled a bit with the tyres we had available. We really had only two race tyres, the one I used in practice I kept using again and again, I used it Friday, Saturday and again this morning, by the end it had 35 laps on it. I think I learned a good lesson, we set up the bike on quite old tyres. In the race when we put in a grippy new race tyre the balance of the bike changed a lot, so it was pushing the front in a lot of places. I would've liked to have been closer to the front but I think we learned a good lesson. Now we've got a few weeks off, so we'll regroup and try to finish the year strong."

Randy De Puniet, LCR Honda: 6th. - "After our worst Friday since the beginning of the season we finally gained a very positive result. We struggled a bit with rear grip in the last two days but at the end the bike set-up was good and I could race as I like. My start was not perfect but I knew I had the potential to race up there. I was behind Toseland for many laps and tried to pass him three times without success. On lap twelve I passed him pushing to close the gap with Dovizioso and Hayden. I was not able to pass them so decided to keep my position to get this positive result for me and the Team."
Jorge Lorenzo - Position: DNF
I'm very sad today because I had a lot of confidence for the race after the qualifying session yesterday and, above all, after the very start of the race when I was fourth and feeling good. Then I crashed; my tyre was not up to temperature, I lost the rear and the next thing I knew I was in the gravel, with pain in my foot. It is one more crash, one more injury and it's another moment that I have to forget as soon as possible. I need to look forward. I am so sad but now I must concentrate on the fact that I have a whole month before Brno in order to be fit and to be able to race in good shape. This is my aim. I would like to congratulate to Valentino for his great victory and race today, he did a fantastic job."
Ben Spies, 8th - "It was good out there today and I've got to be pleased with the result. I couldn't get going right off the bat as I haven't quite got used to the tyres yet. I started to reel a few riders in and I could see Nakano and Toseland coming back to me. I got past them and on the last couple of laps I could see Hayden and Dovizioso up there but they were a bit too far away. Everything was getting better and better and then Elias came past me and I thought I had one more lap, but the chequered flag was out and that was the end of the race. It was a good race and I will now be even more prepared for when we get to Indianapolis later in the year."
James Toseland - Position: 9th Time: +0'43.019
"I'm pretty disappointed with that because I feel have put in a lot of effort and done my best to finish only ninth. I got a fantastic start and was fourth but unfortunately it was a tough race after that and I had to ride more defensive than I wanted to. With the harder compound tyres I knew I'd have to wait to get some temperature into them and that cost me a few places early on. Once I got into my pace in the 23s I was pretty happy because I'd hoped that would be good enough for a top six finish looking at the times from earlier in the weekend. I had a good long battle with de Puniet but our lap times were almost identical and I tried everything I could to close him down. At the end I was just trying to block people from passing me but Spies and Elias got me late on and that is a bit frustrating. On paper ninth doesn't look like a great result, and it doesn't feel like much of a reward for the effort that I have put in with my team this weekend. But I really couldn't have done anything else and I feel I got the best out of the package I had today. We'll hopefully be able to come back much stronger after the summer break and be fighting to be back in the top six again where we belong."
Colin Edwards - Position: 14th Time: +1'02.380
"I don't think I need to say that this race was well below what I expected. I've had a lot of great support from Yamaha US, the American fans and my family this weekend and they haven't got the result I wanted to give them. My guys at Tech 3 have worked tirelessly all weekend too but nothing really went for us. To be honest I was struggling from the start with the harder compound front tyre I had. I'd have some moment on the brakes while I was trying pass someone and I'd lose a load of time and a bunch of places. I'd gradually work my way back through only for it to happen again and it was frustrating. I just didn't have any confidence in the front and everybody knows I am a front-end guy. It has been a difficult week with the crash in Germany too, so I'm looking forward to the summer break and being able to return stronger in Brno. I'm still fighting for fourth in the championship and Tech 3 is still fourth in the team standings, so we have got a lot to fight for in the last seven races."
Loris Capirossi, 15th - "It was a really hard day today. We had a good setting and although I didn't start so well I managed to make up a few positions early on, but after a couple of laps I started to have a lot of pain and struggled to change direction - and this is a track that demands a lot of that. I just tried as hard as I could to keep going to the finish. It's not good to end with one point but I always try to fight for the best I can and for the team – this is the most important thing I can do. I know one point is nothing but I did fight till the end! I hope now to get three weeks of good rest and get my condition 100% right for Brno, because today it was impossible to ride fast."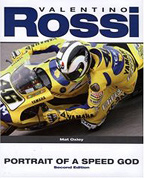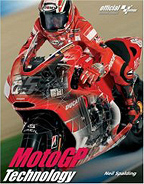 ---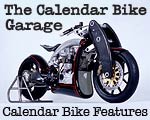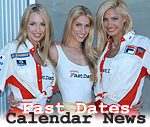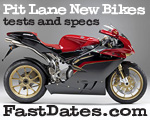 ---
---
Sands vs. Rooke
Calendar Bike Build Off
See the world's two hottest custom sportbikes featured in the 2008 Fast Dates and Iron & Lace Calendars being built and raced by Roland Sands and Jesse Rooke for Discovery Channel's Biker Build Off
Roland Sands builds the
KR Tracker Calendar Show Bike
New Blood DVD
features Roland Sands building and riding the extraordinary Roland Sands Design / Kenny Roberts KR 990cc 5-cylinder MotoGP powered Retro Board Track Racer. The bike is also featured in the 2008 Fast Dates race bike and Iron & Lace custom bike Calendars with beautiful Playboy Playmate and Calendar Kitten Tamara Witmer in one of our best calendar shots ever and ,featured in the LA Calendar Motorcycle Show advertsing campaigns
and T-Shirt.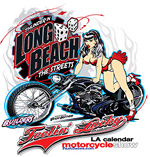 Order the Official
LA Calendar Bike Show
T-Shirts!


Harley-Davidson Buys MV Agusta
Harley, which is acquiring 100 percent of the Italian company, says the acquisition is expected to close in several weeks, pending the satisfaction of contingencies and receipt of regulatory approvals. It intends to fund the transaction primarily through Euro-denominated debt.
MV Agusta has two families of motorcycles: a line of high-performance sportbikes sold under the MV Agusta brand, and a line of lightweight bikes sold under the Cagiva brand. The company sells its products through about 500 dealers worldwide, the majority of them in Europe. In 2007, the Italian company shipped 5,819 motorcycles, according to Harley, but in 2008 significantly slowed production due to financial difficulties.
"Motorcycles are the heart, soul and passion of Harley-Davidson, Buell and MV Agusta," said Harley CEO Jim Ziemer. "Both have great products and close connections with incredibly devoted customers. The MV Agusta and Cagiva brands are well-known and highly regarded in Europe. They are synonymous with beautiful, premium Italian performance motorcycles."
According to Ziemer, the acquisition is intended primarily to expand Harley's presence in Europe, c! omplemen ting the Harley-Davidson and Buell motorcycle families. Retail sales of Harley bikes have grown at a double-digit rate in Europe in each of the last three years, as the company has increased its strategic focus on global markets.
Harley-Davidson plans to continue to operate MV Agusta from its headquarters in Varese, near Milan in Northern Italy. The first priority will be to appoint a leadership team that will include a new Managing Director and to continue the production of current models.
Claudio Castiglioni will continue in a leadership role in future product development, while Massimo Tamburini will remain as head of the Italian company's renowned design studio