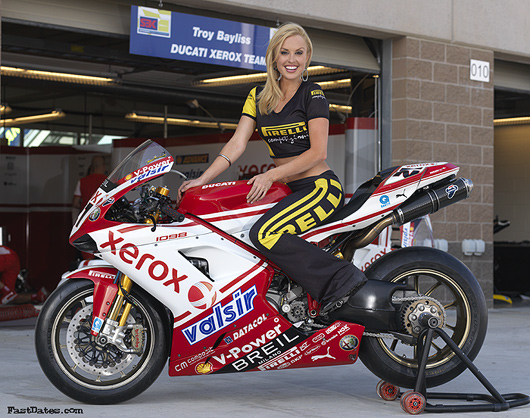 Now in Paddock Garage - Preping the Ducati 848 /1098 S, R Superbikes!
Just Added! Complete Handling Set Up and Tuning Instructions from Ducati Corse and editor Jim Gianatsis for the latest Ducati 848 / 1098 S, R Superbikes. This will make your stock bike much easier to ride and is guaranteed shave 1-2 full seconds off your track lap times! Paddock Garage Sportbike Tuning
Paris Hilton look alike and newest FastDates.com Calendar Kitten, Rachel Berstein shot with Jim and our Ducati 1198R project bike for the Paddock Garage bike setup feature article and the next Fast Dates Calendar.
---
Final DMG Class Structure Revealed for 2009 AMA Superbike
Saturday July 18th, Laguna Seca, CA - The Daytona Motorsports Group (DMG), which has completed its purchase of AMA Professional Racing and still doesn't have a media department, used the occasion of the AMA Superbike and MotoGP weekend at Laguna Seca Raceway to announce its fairly finalized classes for the 2009 race season and beyond. With major distributor teams like American Suzuki threatening to pull out of American racing if their showcase 1000cc Superbike Class was deleted as originally proposed, and organizations like the Motorcyle Industry Counci (MIC) making an announcement they want to find another series promoter for professional roadracing in America, the DMG has now relented and is saying (almost half-heartedly) they are keeping the AMA 100cc Superbike class going into 2009 and beyond.
Now here comes the confusing part, as DMG has yet to learn from the mistake of the AMA in giving their new class structure similar and confusing names. For 2009 and beyond there will be 3 different "Superbike Classes".
First, there's Factory Superbike - essentially the 2009-20010 rules previously agreed to by the now-defunct roadrace committee of AMA Pro Racing about a year ago: no spec tires, no spec fuel, no minimum production numbers, unlimited testing, Superpole qualifying for the top 10, and just one race for the weekend (which the factories still disagree with). And factory Superbike will be the final race of the day. DMG says they have been talking to FG Sport's chairman Maurizo Flammini and the bike technical specs will evolve to World Superbike specs by 2011.
Next is American Superbike - which is fairly similar to the FIM European Superstock 1000cc Class which is basically and aftermarket exhaust and shocks, spec tires and fuel. This is the best class for privateers as a stock Japanese superbike is fast and cheap.
And finally there's Daytona Superbike - embraced by the DMG with smaller 600cc sportbikes as the only ones that can race safely at lower speeds on the banked oval tracks like Daytona which the Group owns. However, the current AMA 600cc Formula Extreme Class rules will become highly restricted under DMG in an attempt to slow down their "premier class" to make it safer (with limited mods and horsepower dyno limits), have a larger entry field (more privateers) and closer racing (read boring).
There will also be the Red Bull AMA U.S. Rookies Cup and Sun Trust Moto-ST run at select events, which we won't cover and most fans won't care about, but DMG needs the sponsor and entrant money.
"I'm not really excited about the Daytona Superbike," said Suzuki's Mel Harris. "With all the restrictions put there. One of the reason we race, besides to sell product, is to develop technology. If we are going to be limited on horsepower and the the rules limit everything else, our engineers can't develop new and better products. The industry becomes stagnant. The thing that makes this industry go is new and exciting product."
Keith McCarty at Yamaha and Me Blank at Honda have the same view. "Our feelings that with the limitations on the 600class, it was a club racing feel to it," said Blank."I don't know if there is a desire in DMG's part to have factory participation there."
So as it stands right now, we have 3 confusingly named Superbike Classes for 2009, DMG still wants to promote the unpopular Daytona Superbike 600cc bikes as their premier class, while the most popular class with fans, Factory Superbike gets relegated to one short race at the end of the day. With the addition of Factory Superbike back into the program, things are better than previously proposed, but it still looks like it's doomed to failure in the downward spiral of professional sportbike racing in America.
I'd like to suggest they, the DMG, adopt the existing FIM World Superbike Championship classes right away in 2009 with World Superbike 1000cc, European Superstock 1000cc, and 600cc World Supersport. And let the current AMA class bikes run with, and morph into these World Classes until 2011, when they would all then need to comply with FIM class rules.
As for a DMG race weekend, the Red Bull AMA U.S. Rookies Cup and Sun Trust Moto-ST can be the filler races between Saturday practice and qualifying, but left off the schedule on Sunday. Then on Sunday the Factory Class definitely needs to get 2 separate heat races like World Superbike, with one race each for American Superbike and Daytona Superbike.
We saw at Miller Motorsports World Superbike this year, that the current AMA and SBK World Superbikes are very much on par with each other as is. And what you'd get right away is all the American factory based teams competing in all 3 classes with their current bikes right off the bat. While European manufacturers like Ducati would definitely be back in America with a factory Superbike in 2009, as might be Harley/MV Agusta, BMW and Aprilia. It's the only sensible thing to do, but as we've seen, just like the AMA before them, the DMG is not very sensible. - Jim Gianatsis
---

Valentino celebrates his first Laguna Seca victory.

MotoGP World Championship, Laguna Seca USA, Round 11 of 19
Valentino Rossi puts an end to Casey Stoner´s victory run
in an exciting wheel to wheel fight at the Red Bull U.S. Grand Prix.
Laguna Seca, USA , July 18- 20th - Fiat Yamaha Team rider Valentino Rossi took his first career win on American soil today, emerging victorious after an epic duel with Casey Stoner at Laguna Seca. The Italian, who signed a new two-year deal with Yamaha this week, has now won four races this season and is 25 points clear at the top of the championship.
Rossi started from second and was able to pass Stoner on the brakes during the first lap to take the lead. From then on it was clear that the pair were in a class of their own today as they gradually pulled out a gap from the chasing pack, trading passes with one another but with no one else able to stay with them. Stoner was often faster than Rossi on the straight but the seven-time world champion had the advantage in the twisty parts of the track and he was able to gain the lead back on the brakes each time the Australian passed him. With only 100ths of a second between them most of the time it looked like being a nail-biting race to the end, but on lap 24 of 32 Stoner made a mistake and ran off the track and into the gravel. This allowed Rossi some breathing space for the final eight laps and he eventually crossed the line 13 seconds clear of Stoner, who had been able to remount and still finish second, such was the gap the pair had pulled out from third-placed Chris Vermeulen.
It was a black day for the other side of the garage however as Jorge Lorenzo, Rossi's team-mate, took a huge tumble on the first lap and broke the third and fifth metatarsal bones in his left foot. He now faces a battle to be fit for the next race in Brno, in a month's time. With Dani Pedrosa missing the race this weekend, Stoner has now moved into second in the championship behind Rossi with seven rounds remaining.
Complete Laguna Seca MotoGP Coverage Here
Above: Casey does a little plowing in the Turn 11 Gravl Trap. Below: Casey and Adriana get a visit in their Laguna Ducati Pit Box from a fellow Desmosedici owners TomKat. The 1,499 other Desmosedici owners should be receiving their invitations shortly.
---

Carrie with Casey Stoner's 2007 MotoGP World Championship winning Ducati GP07.

World Premier! 2009 Fast Dates Racebike Pinup Calendar
July 1st 2008 - The SBK World Superbike endorsed 2009 Fast Dates Race Bike Swimsuit Pinup Calendar sponsored by Performance Machine and photographed by Jim Gianatsis offers a special treat this year with the cover bike being Casey Stoner's 2007 MotoGP World Championship winning Ducati GP07 bike photographed with sexy swimsuit and Calenar vover model Carrie Ann Stroup. We've got Carrie washing down the world's winningest MotoGP bike in a secret back alley location that's guaranteed to steam up any sportbike fan!
Of course, there's all all the top factory race bikes of the SBK World Superbike Championship photographed on location last year at Brands Hatch World Superbike in Great Britain with beautiful SBK Fast Dates World Superbike girls Rhian Sugden and Gemma Louise Henry. Featured are all the top factory Superbikes from Yamaha, Honda, Suzuki, Kawasaki, and Ducati including double World Champs James Toseland's Ten Kate Hannespre Honda CBR1000, Troy Bayliss' Xerox Ducati 999F07, Max Biaggi's Suzuki GSXR1000, and Regis Laconi's Kawasaki ZX10.
Buy the 2009 Fast Dates Calendar • Download Big Screensaver Photos in Members Corner
---
Pikes Peak Hill Climb, Colorado, July 23rd - Greg Trachy won the 1200cc motorcycle class and took fourth overall on a stock Ducati Hypermotard 1100 S . The win was significant as this year marked the return of stiff manufacturer competition. Against the 119 motorcycles attempting to tackle the Peak, Greg rode the stock Hypermotard to victory over Andrea Padovani and Christian Lancellotti of the factory Aprilia team from Italy. Story at right.
---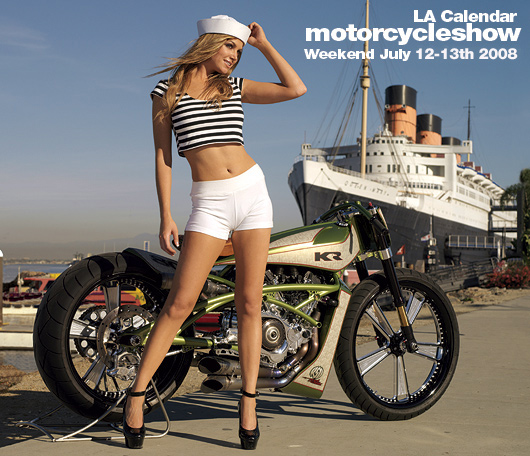 $86,000 in Cash and Awards in the Calendar Bike Building Championship
for Custom & High Performance Street & Sportbikes
Complete Coverage!
17th Annual 2008 LA Calendar Motorcycle Show Weekend
Calendar Bike Building Championship, S&S World Record Dyno Shootout,
2-Day Calendar Girl Music Festival featuring Kari Kimmel, Elizabeth Nicole

July 12-13th 2008, Queen Mary Event Park, Long Beach - It's was all about incredible custom bikes, untamed horsepower and beautiful girls! The 17th annual Los Angeles Calendar Motorcycle Show Weekend presented by Performance Machine, America's premier custom, cruiser, performance and sportbike weekend returned to the Queen Mary Event Park in Long Beach on July 12-13th for the world's most exciting 2-day motorcycle event weekend in the beautiful Queen Mary Event Park on the grass alongside the Pacific Ocean! This is the world's premier motorcycle show weekend featuring 200 major motorcycle and parts manufacturers, selected product and apparel venders, top name builders and beautiful girl music performances.
More Complete Coverage HERE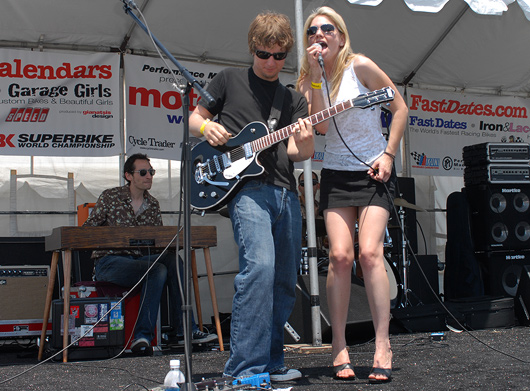 Beautiful Calendar Bike Show hosterr and signer / songwriter Kari Kimmel (above) rocked the Show out on Sunday, as did Motorcyclsit maazine editor Brian Catterson's favorite band, Lead Zepplin tribute band Moby Chick (below).
Above: Spectators and Calendar Bike Building Championship Contest Bikes, manufacturers and venders cramp one of 7 Midway areas at the Show.
Above, Fast Dates Sportbike Class Will Song / WSD Moto with his beautiful 2007 Yamaha R6 picks up his Mikuni Carburetor Pen Desck Set Award and some $2,000 in prizes from hostess kari Kimmel, Performance machine;s Ted Sands, and the FastDates.com Calendar Kittens.
The S&S Cycle sponsored Calednar Bike Show World Record Dybo Shootout was cram backed with spectators and bikes all weekend!

S&S Cycle Dyno Master Kerry Bryant gives a big thumbs at trophy presentation next to (right) Andrew Demotte, son Kerry Bryant, American Tubro's Harry Gunusen and John Cabral, Jamie from Patrick Racing,Tod Silicato, plus Tom and John Olson from S&S and the Calendar Kittens with Kari Kimmel.
John Cabral's dramatic Turbo Power 500hp+ Engine Blow Up
on the S&S World Record Calendar Show Area-P Dyno!

2008 S&S World Record
LA Calendar Show Dyno Horsepower Shootout
LA Calendar Motorcycle Show Weekend, July 12-13th 2008, Queen Mary Event Park, Long Beach, CA -America's premier motorcycle engine builders and and land speed record holders made their annual pilgrimage to the LA Calendar Motorcycle Show Weekend to prove just how strong their machines are at the S&S Cycle sponsored LA Calendar Motorcycle Show World Record Dyno Shootout produced each year by renoun exhaust system designer Kerry Bryant and his wife Jenny of Area-P / No Limits (AreaPnolimits.com). Records were flirted with all weekend in some 12 classes for Normally Aspirated stock and modified Metric Sportbikes and American V-Twins, as well as the ear shattering Turbo & Supercharged Gas & Fuel feed Metric and V-Twin Classes.
The most exciting and literally show stopping dyno run of thru weekend was John Cabrai's "Big Boy" Busa, a unique entry into the Open Turbo/Nitrous Class. We don't see many big bore, heavy engine mod, turbos entered. Prior Calendar Show Dyno champion and event record holder John Noonan at 545 hp runs a completely different set-up more along the lines of stock bore and larger turbo. He has many proprietary secrets he uses to "boost" his numbers where he needs.
John Cabral's "Big Boy" was also a little tired and had many years of use. But he wanted to defeat Noonan and was willing to pull the trigger to the max. The first "tune-up" run was in the 460 hp range. After some adjustments and discussions, the next run produced a mind boggling run of 484.77 hp before complete termination and spectacular detonation. Connecting rods were ejected out the front and bottom of the engine cases. All oil, coolant, along with aluminum, steel, and titanium components exited the engine cases and onto the dyno. Nobody was injured, although Show vender and participant Harry Gunusen from American Turbo Power (ATP-HD.com) did get sprayed with oil and coolant. We take great care with safety precautions, more so on the Turbo bikes, in securing the area prior to a run.
Safety areas are controlled, along with fire extinguishers at the ready, and action plan in place. These are serious machines, making numbers that are far beyond normal. Further analyzing the data logger from their machine, and the graph mapped from the run on our computer, the termination took place at 8500 rpm and power was still climbing. Since their max power is set at a rev-limiter of 9500 rpm, it is easy to assume that the run would easily exceeded the record of 545 hp. Possibly in the 560 hp range. They also did not have the boost setting maxed out. Another indication of the potential power this engine had to exceed the record.

Exhaust System designer Kerry Bryant from Area P / No Limits interviews a bike owner as his Harley gets ready to run on the Dyno.

It took about 30 minutes to clear and clean the metal debris, coolant and oil, on and around the dyno area. Some of the exploded material made it's way to one of the Dyno drum speed sensor circuit boards, causing a malfunction. With the help of Eric & Bob Bennett (Bennett's Performance Products) and Dyno operator (Kerry Bryant's son Kenny), they were able to diagnose and trace the problem. When Kenny removed the circuit board, a hair-line crack was noted on the backside of one of the diodes. Very, very difficult to see. Eric Bennett graciously offered to loan us their circuit board sensor from their dyno located at their Long Beach facility. Kenny and Eric rushed over to the Bennett's Performance facility. The dyno was down approximately about 1 hour. It actually ended up being a good time to entertain the crowd with interviews from the engine staff of S&S Cycle, along with a question/answer trivia contest where we gave out free apparel to the crowd. They may have enjoyed this just as much as the Dyno runs. Kerry and his guest competitors actually do this through-out the weekend. This included Harry from American Turbo Power who donated a dozen T-shirts for the contestants, as did product engineers Tom and John from S&S Cycle.
Although there are many back-up systems in place (computers, printers,cables, fans, etc.), It was simply amazing that metal from the exploded engine could make it's way to the drum sensor. We never would have thought that was possible. But as we found out when we returned to our facility on Monday and completely disassembled the Dyno for detailing, there was still a lot of metal, coolant and oil through-out the unit. It took the better part of a day to completely detail it. Suffice to say, we will now be bringing along a spare sensor at future events. Even with the down time, Kerry Bryant was able to ran every single entry, and even stayed to run a few more only minutes prior to the Awards Presentation at 5pm Sunday afternoon. Kerry actually, lost his lead in the Sportster/Buell category to a last minute entry from Bennett's Performance! Maybe he should have closed the S&S dyno a few minutes earlier? Join them again next year at the S&S Cycle World Record LA Calendar Show Dyno Shootut July 18-19th 2009.
2008 S&S presents the World Record
LA Calendar Motorcycle Show Dyno Horsepower Shootout
Class Winners:
600cc Sportbike: Kelly Bryant - '07 Yamaha R6 - 113.3 hp
750cc Sportbike: Art Haserjian - '05 Suzuki GSXR750 - 121.87 hp
1000cc Sportbike: Kerry Bryant - '04 Kawasaki ZX10 - 161.4 hp
Open Sportbike: Thad Wiltz - '04 Kawasaki Hayabusa - 227.52 hp
Sportbike/Turbo: John Noonan - '03 Hayabusa - 490.63 hp
Sportster/Buell: Bennett's Performance '00 Special Const. S&S - 125.29 hp
V-Twin - 74 - 80": Mark Mignella - '04 Harley-Davidson V-Rod - 101.27 hp
V-Twin - 81 - 88": John Cabral - '08 Harley-Davidson V-Rod - 153.82 hp
V-Twin - 89 - 95": Andrew Demotte - '06 Harley-Davidson FLHX - 103.69 hp
V-Twin - 96 - 113": Patrick Racing - Harley-Davidson Twin Cam - 118.59 hp
V-Twin - 114" Plus: Bennett's Performance '96 Bonneville Bike - 223.00 hp
V-Twin/Turbo: John Cabral - '99 Harley-Davidson FLH Bagger - 233.78 hp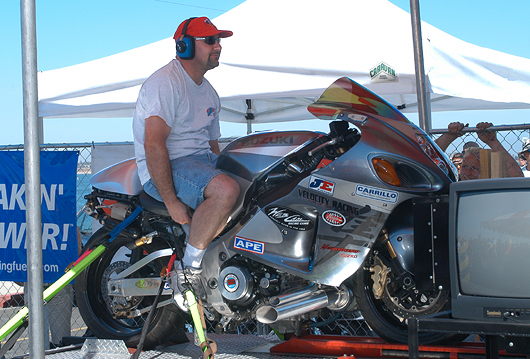 Reigning World Record Holder at 545hp back in 2005, John Noonan could only must 490hp this year with his big turbo Hayabuysa.
---
There's more! Go to Pit Lane News NEXT PAGE

Hot Calendar Girl and Bike News! Go to: Fast Dates • Calendar Girls • Iron & Lace



Calendar Kittens, The Paddock Garage, Screensavers, Iron & Lace Garage


Many of our Calendar Kittens can also be seen at Playboy's website...


BikerKiss.com - the largest biker personals site!




World Premier!
2009 FastDates.com Calendars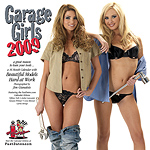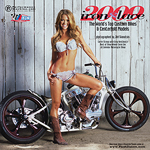 Members Only Preview!
2009 Fast Dates, Iron & Lace, Garage Girls Calendars
Join our Members Corner and get an exclusive look at all three 2009 FastDates.com Calendars.
Featured are full-size 15 inch calendar screensaver pages for your monitor with the top bikes of the 2007 SBK World Superbike and MotoGP World Championship with our beautiful Calendar Kittens. Also includes all our current 2008 and past years Calendars !
---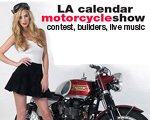 Complete Coverage!
2008 LA Calendar Motorcycle Show & Calendar Girl Music
Festival Weekend!
$86,000 Bike Building Championship
World Record Dyno Shootout!
Calendar Girl Music Festival


FIM announce provisional 2009 MotoGP Calendar
Friday, 25 July 2008 - The provisional calendar for next year´s MotoGP World Championship has been released by the FIM. The 2009 provisional calendar of the FIM Road Racing World Championship Grand Prix season is as follows:
Dates Grand Prix Circuit:
12th April Qatar Doha/Losail*
26th April Japan Motegi
3rd May Spain Jerez de la Frontera
17th May France Le Mans
31st May Italy Mugello
14th June Catalunya Catalunya
27th June Netherlands Assen**
5th July USA Laguna Seca***
19th July Germany Sachsenring
26th July Great Britain Donington Park
16th August Czech Rep.Brno
30th August USA Indianapolis
13th Sept San Marino Misano
20th Sept Hungary Lake Balaton
4th October Portugal Estoril
18th October Australia Phillip Island
25th October Malaysia Sepang
8th November Valencia Ricardo Tormo Valencia
* Evening race
** Saturday
*** Only MotoGP class


Harley Knows How
to Sell Motorcycles
Tired of all those gay sportbike ads showing riders in full leathers zipping around a race track? Harley really knows how to sell bikes.....
Is the Glamour Gone, is it the econmy or both?
Laguna MotoGP Spectator Count Continues to Decline
Since it's first year in 2005 with a sellout capacity crowd of around 35,000 spectators, the US MotoGP round at Laguna Seca has dropped in attendance about 5,000 people a year due to the heat, parking problems, high local hotel prices, poor trackside spectator accommodations, and now the poor economy. If you watched Sunday's live CBS TV coverage of the MotoGP, they had some great ariel views of the entire Laguna Seca Raceway facility. And other than the 3 small grandstands (by European track standards) being somewhat full and accounting for maybe 5,000 spectators, the rest of the track including the Corkscrew, the Hill above Turn 2, and the infield Venders Midway were very sparsely populated. We'd guesstimate between 12-15,000 spectators maximum were at the track.
One of our sportbike buddies who usually goes to the MotoGP but didn't go this year because the hotel prices at the downtown Portola Hotel and the Carmel Valley Inn had increased to over $300 per night and had always sold out, he gave the Valley Inn a phone call on Friday to check on room availability and they said they had lots of vacancies and that prices had dropped back down to $200 per night.
As we mentioned earlier in this column, we also don't have great hopes for a big spectator attendance at the Indianapolis MotoGP in September. As far as we can see the race is only being marketed to the sportbike fans as a sportbike race, and not marketed as a motorcycle "happening" to the huge Harley crowd which is predominate in the midwest.

All you have to do s look at Daytona Speedweek to see how many "motorcyclists" that are in town for Bike Week, and then look at the number of fans who actually show up at the Speedway for the road races. Imagine, what with our prediction will be about 30,000 sportbike fans showing up at Indianapolis Motor Speedway for their first MotoGP race, what it will look like with just 30,000 fans in those huge grandstands built for 500,000 spectators at the Indy 500.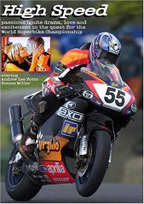 High Speed - the Movie
The best motorcyce racing movie ever made! Filmed on location at World Superbike, this an exciting romantic drama staring beautiful actress Sienna Miller.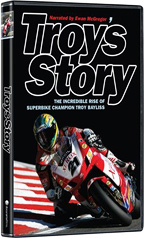 Troy's Story
The story of 2-Time World Superbike Champion Troy Bayliss narrated by Ewan McGreggor
Hot New Book!
---
---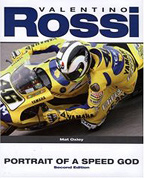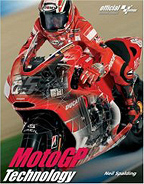 ---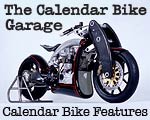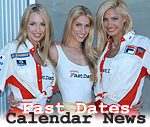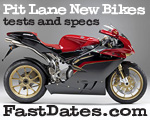 ---
---
Sands vs. Rooke
Calendar Bike Build Off
See the world's two hottest custom sportbikes featured in the 2008 Fast Dates and Iron & Lace Calendars being built and raced by Roland Sands and Jesse Rooke for Discovery Channel's Biker Build Off
Roland Sands builds the
KR Tracker Calendar Show Bike
New Blood DVD
features Roland Sands building and riding the extraordinary Roland Sands Design / Kenny Roberts KR 990cc 5-cylinder MotoGP powered Retro Board Track Racer. The bike is also featured in the 2008 Fast Dates race bike and Iron & Lace custom bike Calendars with beautiful Playboy Playmate and Calendar Kitten Tamara Witmer in one of our best calendar shots ever and ,featured in the LA Calendar Motorcycle Show advertsing campaigns
and T-Shirt.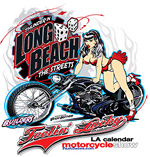 Order the Official
LA Calendar Bike Show
T-Shirts!


Ride a Ducati!
Ducati Demo Ride Truck Schedule Across America for August
July- August 2008 - The Duc Truck demo fleet has begun its yearly tour of North America—traveling all summer to Ducati dealerships across the nation. The Duc Truck demo fleet is your chance to get in the saddle and experience Ducati's 2008 model lineup first hand.
Come ride the new Middleweight Superpower 848 and experience the intensity of the Hypermotard as well as most of Ducati's other 2008 bikes!
The August Duc Truck demo schedule can be found below:
August 1-3 at the Mid-Ohio round of the AMA Superbike
August 8-9: Carolina Euro - Greensboro, NC
August 16-17: Great Lakes Ducati Rally and Trackfest - South Haven, MI
August 22-23: Kissell Motorsports - State College, PA
DUCATI RULES THE DIRT AT PIKES PEAK
Privateer effort wins 1200cc class on stock Hypermotard
Cupertino CA (23 July 2008) – Ducati North America is proud to officially announce its victory at the 86th annual Pikes Peak International Hill Climb; on a customer spec Hypermotard.
Greg Trachy won the 1200cc motorcycle class and took fourth overall on the Ducati Hypermotard 1100 S owned by Becca and Paul Livingston, a motorcycle in stock trim with Ducati Performance accessories. The win was significant as this year marked the return of stiff manufacturer competition. Against the 119 motorcycles attempting to tackle the Peak, Greg rode the stock Hypermotard to victory over Andrea Padovani and Christian Lancellotti of the factory Aprilia team from Italy. Greg also overcame stiff competition from noteworthy riders like KTM mounted Marco Belli, the BMW of Douglas Morrison and Greg's own teammate Alexander Smith - the son of the legendary Malcolm Smith - who had a brilliant ride to fourth in his first ever race aboard a street based motorcycle.
The idea to race the Hypermotard started innocently enough almost a year ago at Pike's Peak. While attending the July event, Becca Livingston visited the local Ducati dealer where she first saw the Hypermotard in person; by October the bike she was dreaming about was hers. Becca, with her husband Paul at the controls, were adding to their thousands of miles riding two-up when they came to the realization that this motorcycle could be a contender on the mountain. Over the next few months and repeated verification from some very qualified friends, the decision was made to officially enter the Ducati in the Pike's Peak event.
For the full story of Ducati's victory at Pikes Peak; please visit www.ducatiusa.com.
Greg Trachy; 1st Place (12:06.60) "The course conditions today were the worst I've seen in 12 years, and that affected our times, but with the Hypermotard I never felt that I was in danger of losing the bike. When I got to campgrounds I looked back and saw nobody back there, going into the dirt it swapped back and forth a couple of times so I figured it would be better to secure the class win than to risk it going for the record run. I want to thank Paul Livingston and Ducati for putting this together at the last minute and gaving me such a great bike to ride!"
Alexander Malcolm Smith; 4th Place (13:04.29) "The Hypermotard was the first street bike I had ever ridden. I was amazed how quickly I could adapt to the characteristics of the bike. It says a lot about the motorcycle when you can buy the bike and parts from your local dealer and have a bike that is ready to conquer Pikes Peak Hill Climb. The proof is in the results, with the seasoned veteran Greg Tracy dominating the class and myself finishing 4th having never ridden this type motorcycle."
Paul Livingston- Team Manager: "It was a real honor to bring the Hypermotard to Pikes Peak and give the bike its first win in international competition. Throughout the week the Hypermotard's performance was flawless. We started with stock bikes ( in fact we started with my wife's streeet bike!) and with the addition of readily available Ducati Performance upgrades, a Race Tech suspension and Scott's Performance steering dampers we came up with a winning combination in only a matter of weeks. Credit for this has to go to the effort put together by FL Racing- to get us to this point so quickly was simply amazing. Greg Tracy is a seasoned veteran of the mountain and knows what it takes to get up the hill quickly, and in the most treacherous of conditions. His experience and development skills allowed us to develop the winning package. Alexander Smith is a natural talent. Having never ridden a street bike until two weeks before the race, crossing the line in fourth place under trying course conditions was a testament to his abilities. Both riders came away from this year's race eager to start next year's effort right away. We look forward to returning to Pikes Peak in 2009 to continue the Hypermotard's winning ways on the mountain.
Results: 1200cc Class 1.Trachy (Ducati); 2. Anderson (Buell); 3: Kopp (Buell); 4. Smith (Ducati)
Preview 2008 Suzuka 8 Hours. July 23 - 27, 2008Team HRC DREAM Honda Racing Team ready to regain Suzuka 8 Hours honours
Honda teams and riders go into the 31st running of the Suzuka 8 Hours race on Sunday, July 27, totally focused on nothing less than outright victory at the classic Japanese circuit that is synonymous with the fastest race on the World Endurance Championship calendar.
Honda teams have contested every Suzuka 8 Hours and have recorded unrivalled success in the race winning no less than 21 times from 30 appearances in Japan's most prestigious motorcycle event.
However, in 2007 Hondas 10 year winning streak came to an end when the HRC #11 Honda CBR1000RR factory machine of multi-eight hours winner Tady Okada and race debutant Carlos Checa were forced to accept second place at the end. Finishing second to the Yoshimura team of Yuki Kagayama and Kosuki Akiyoshi after their thrilling fight back in the latter stages of the race was difficult to accept.
Checa returns to contest his second 8 hours this time partnered by his Ten Kate World Superbike team mate Ryuichi Kiyonari, race winner in 2005 when partnered with the now retired Tohru Ukawa. The two men were partnered for the Suzuka 300km race on June 8 last when, despite another late charge by the #33 factory Honda machine, the partnership finished a very close second to the same Yoshimura duo, this time by an agonizing 2.5 seconds.
These setbacks have served to instill the Honda men with a steely determination to reverse these results. Under the leadership of team manager Teruaki Matsubara every member of the HRC team is totally motivated and will give 100% as they bid to regain 8 hours bragging rights.
The second DREAM Honda CBR1000RR will be raced by the Anglo – Japanese pairing of Jonathan Rae and Yukio Takahashi. The Japanese rider has 8 hours experience having raced for HRC in the 2004 edition of the event. Takahashi crashed that day during the free practice and could not take part in the race but took the checkered flag at the 2006 running of the Suzuka 300Km race. The 250cc GP rider returned to Japan after the German GP and spent two days testing the machine earmarked for him and Rae and pronounced himself ready to race.
Rae, who won the Czech Republic round of the World Supersport Championship, at Brno, last Sunday, was reserve rider to the DREAM Honda teams in 2007.The Northern Irishman raced the 2008 CBR1000RR to fifth place at the Suzuka 300km in June and goes into the 8 hours full of confidence following extensive testing with the machine at Suzuka.
All four riders are in top form and the CBR1000RR has been improved since the 300km race in June giving added impetus to the teams' efforts. Both factory machines will be in identical technical specifications but will run with different race tyres.
The #11 DREAM Honda will race with Bridgestone's' #33 equipped with Dunlop rubber. They will face proven adversaries on Sunday. Apart from the Yoshimura duo of Kagayama and Akiyoshi and team mates Daisuku Sakai and Atsuki Watanabe, the Honda factory riders have to contend with stiff opposition from well equipped Honda teams capable of victory on Sunday.
Chief among them will be the TSS FCC CBR1000RR in the hands of near veteran riders Shinichi Ito and Takeshi Tsujimura, race winners in 2006 before finishing third last year. For three-times race winner Ito the race has a special significance - victory on Sunday will see the likeable former GP rider equal the record of four victories recorded by Tohru Ukawa and Wayne Gardner.
Team Sakurai Honda can never be discounted at Suzuka, in any form of racing the 8 hours in particular. The team has scored consistently good results in the race and field the strong line up Chojun Kameya and Leon Haslam on the #34 machine.
The partnership went to the line for the recent 300km race but a first lap crash ruled out eight riders from the restart, Kameya among them. Consequently Haslam has had no more than a few laps practice on the CBR1000RR the pair will race but is happy with the compromises he has had to make on machine set up to give both men a relatively untroubled ride.
Moriwaki Engineering is another top runner at Suzuka and will enter the three man team of Tetsuya Yamaguchi, Cal Crutchlow and Steve Plater aboard their CBR1000RR. Yamaguchi and Crutchlow finished eighth at the 300km.
The reigning World Champions, Suzuki Endurance Racing Team (SERT) run with their tried and trusted team of Vincent Philippe, Matthieu Legrieve and Julien Da Costa.
Yamaha will field two teams from the World Endurance Championship. Phase One will have Damien Cudlin, Scott Smart and Glen Richards running in their colours while the #7 Yamaha will be raced by the formidable trio of Igor Jerman, Steve Martin and Steve Plater.
Kawasaki will look to the vastly experienced Ryuji Tsuruta, Ken Eguchi and Shinya Takeshi to run in the top group and outlast the top teams
Honda Tops Qualifying for for Suzuki 6hrs Race
- World Superbike Stars Checa and Kagayama on Front Row
Suzuka Japanm July 26th -Team Yoshimura Suzuki with Jomo 34 riders Yukio Kagayama and Kousuke Akiyoshi put their GSX-R1000 into second place in today's 'Special Stage' at the Suzuka 8-Hour World Endurance race in Japan.
The two Japanese riders put in a lap time of 2'07.10 seconds, a fraction of a second behind FCC TSR Honda on 2'07.014.
Dream Honda Racing 11, will start from third place with Carlos Checa and Riyuichi Kiyonari, who did a 2'07''687 lap. The official Yamaha Racing 218 with Yuji Sato and Katsuyuki Nakasuga finished in fourth place ahead of Suzuki Yoshimura with Denso 12's Atsushi Watanabe and Daisaku Sakai.
The "Special Stage" is unique in Endurance to the Suzuka round. It's the only race of the Qtel FIM Endurance World Championship where an individual best lap determines the position of a team on the starting grid and is open to the top 10 qualifying teams.
World Champions and current series leaders SERT did not compete in the event as they had qualified outside the top-10 yesterday. The race takes place on Sunday July 27th
Special Stage results:
1. F.C.C.TSR Honda (CBR1000RR) T.TSUJIMURA / S.ITO - 2'07.014
2. Yoshimura Suzuki with Jomo (GSX-R1000) Y.KAGAYAMA / K.AKIYOSHI - 2'07.310
3. Dream Honda Racing Team 11 (CBR1000RR) R.KIYONARI / C.CHECA - 2'07.687
4. Yamaha Racing (YZF-R1) Y.SATO / K.NAKASUGA - 2'07.936
5. Yoshimura Suzuki with Denso (GSX-R1000) D.SAKAI / A.WATANABE - 2'08.03