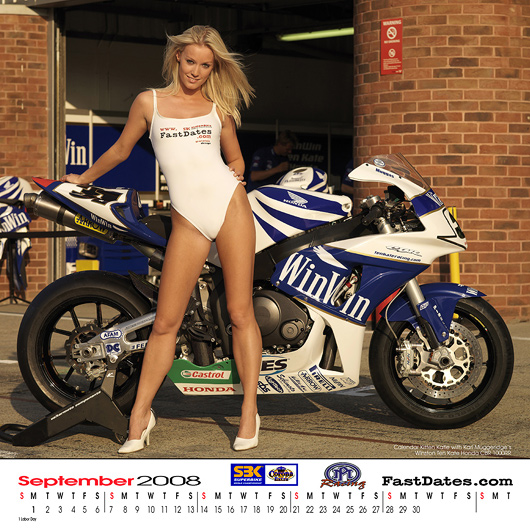 The Last Days of Summer ....
Above in the 2008 Fast Dates Calendar beautiful British lass and official Ducati Corse grid girl for Troy Bayliss at Brands Hatch in 2006, Katie Pugh lends support this month to Karl Muggeridge's Ten Kate Honda CBR1000RR World Superbike.
While below, our kick-off page in the new 16-month 2009 Fast Dates Calendar has us getting wet with beautiful Fast Dates Calendar Carrie AnnStroup as she hoses down Casey Stoner's 2007 MotoGP Word Championship winning DucatiGP07. Did anyone remember the soap?
All the 2009 and earlier FastDates.com Calendar Photos / Screensavers are available in full size 15x15-inch size for downloading now in the Calendar Index in Members Corner
Buy the FastDates.com Calendars • Calendar Screensavers in Members Corner
---

Troy was quicket in the wet during Friday Practice / Provisional Pole.

FIM 2008 SBK Hannspree World Superbike Championship, Donnington GB Round 11 of 13
Bayliss and Kiyonari Share the Wins at Wet Donnington
Donnington Park, Great Britain, Sept 5-7th 2008 - Troy Bayliss (Ducati Xerox) and Ryuichi Kiyonari (Hannspree Ten Kate Honda) powered to the two wins in the elventh round of the HANNspree FIM Superbike World Championship, which was held in front of 45,000 spectators at Donington Park. In difficult track and weather conditions, the Australian won the first race, but then crashed out in the second, leaving his Japanese rival to take his third win of the year.
The Superbike stars took a visit to the on site Donnington Grand Prix Museum.
Preview
This weekend at Donington, the HANNspree Superbike World Championship takes up again where it left off exactly one month ago with a round on British soil, the eleventh appointment in this year's exciting championship and the first of the final four that will lead to the crowning of the 2008 champion. The first weekend in September is a new date for the East Midlands circuit, which will host a World Superbike round for the seventeenth time in its history, having been the venue for the first event of the production-based championship way back in April 1988.
Ah yes, the days when men were men and woman we thankful for it.
The question on everyone's minds as they line up for the final part of the season is whether or not anyone can prevent Troy Bayliss (Ducati Xerox) from taking a third world title. There are four rounds and eight races left, with 200 points on the board, but an 82-point lead for the Australian, currently on 334 points, is now starting to look increasingly unassailable. Not even the memories of a nasty crash at Donington twelve months ago, which cost him the loss of a piece of finger, should prevent the incredibly tough Australian from administering his lead in the best possible way. And just to underline the current situation in the table, while Bayliss hammered home his advantage with a dominant double victory at Brno, his closest pursuers, Max Neukirchner, Troy Corser, Carlos Checa and Noriyuki Haga have only been able to put together one win between them in the last three races.
Neukirchner (Alstare Suzuki) is in second place but the German's position is coming under fire from Troy Corser (Yamaha Motor Italia WSB), who has looked more and more competitive in this mid-part of the season, the Australian scoring eight top-5 finishes since the Miller event to move up the points table. His form has been inversely proportional to that of Spain's Carlos Checa (Hannspree Ten Kate Honda), who has failed to go any higher than fifth in the races since his double win at Miller. Checa, fourth on 233 points, has raced numerous times at Donington in MotoGP so the Nottinghamshire track will be no mystery for him, unlike many of the circuits this year.
Haga (Yamaha Motor Italia WSB) is in fifth place just three points behind, but he was almost back to his best at Brands Hatch, challenging his fellow Japanese rider Kiyonari for the win, and is a three-times previous winner at Donington, including last year, so he could spring another surprise this time around. Fonsi Nieto (Suzuki Alstare) scored two fifth places at Brands Hatch, his best results for several races, but will now certainly have to watch out for the hard-charging trio of Max Biaggi (Sterilgarda Go Eleven Ducati), Ryuichi Kiyonari (Hannspree Ten Kate Honda) and Michel Fabrizio (Ducati Xerox), separated by five points in seventh, eighth and ninth respectively, and all on a roll of positive results. Four podiums in the last five races for Biaggi have helped to boost confidence for the Italian as he looks to finish off the season in the best possible way, with one eye on his future.
Kiyonari scored a brilliant double win on British soil one month ago, so expect more of the same from the Japanese star on another circuit he knows well from his BSB days, while Ruben Xaus (Sterilgarda Go Eleven Ducati), surprisingly scoreless since his Misano win, makes up the top 10 in the points table.
The Kawasaki PSG-1 Corse pairing of Makoto Tamada and Régis Laconi have both been out of the points for far longer, since Nurburgring to be exact, but new suspension geometry developments at Donington should help the team obtain more respectable results in this latter part of the season.
Boosting the strong WSBK permanent entry list will be a powerful contingent of successful BSB regulars, headed by Tom Sykes (Rizla Suzuki), who returns for another bite of the cherry after his excellent performance at Brands Hatch, while the official UK Honda team, champions HM Plant, will bring BSB race winners Leon Haslam and Cal Crutchlow to the world stage. For team manager Neil Tuxworth, it will also be a return to World Superbikes for the first time since the epic Edwards-Bayliss encounter at Imola in 2002, when he was in charge of the winning Castrol Honda squad.
Points (after 10 of 14 rounds): Riders – 1. Bayliss (Ducati) 334; 2. Neukirchner (Suzuki) 252; 3. Corser (Yamaha) 242; 4. Checa (Honda) 233; 5. Haga (Yamaha) 230; 6. Nieto (Suzuki) 183; 7. Biaggi (Ducati) 166; 8. Kiyonari (Honda) 165; 9. Fabrizio (Ducati) 161; 10. Xaus (Ducati) 148. Manufacturers – 1. Ducati 403; 2. Yamaha 345; 3. Suzuki 303; 4. Honda 297; 5. Kawasaki 64.
FIM Supersport World Championship
The Supersport regulars face up to their tenth event just a month after the loss of one of the championship's main protagonists and most popular figures, Craig Jones, who tragically lost his life following injuries received at Brands Hatch. With four rounds remaining, the championship increasingly looks to be turning into a battle between the Hannspree Ten Kate Honda pairing of Andrew Pitt and Jonathan Rea, who have won the last four rounds between them. The youngster from Northern Ireland has now leapt up into second place and is fully confirming the expectations placed in him in his debut season, while Broc Parkes (Yamaha World Supersport) and Joshua Brookes (Hannspree Stiggy Motorsport Honda) are always in the leading group but have been unable to challenge for the wins. With Fabien Foret (Yamaha World Supersport) out of action due to injury until the final races, the next man up in the standings is the early-season surprise runner Joan Lascorz (Glanermotocard.com Honda), but he has failed to figure in the top positions for the past five rounds.
Points (after 9 of 13 rounds): 1. Pitt (Honda) 149; 2. Rea (Honda) 117; 3. Parkes (Yamaha) 113; 4. Brookes (Honda) 112; 5. Jones (Honda) 100; 6. Foret (Yamaha) 97; 7. Lascorz (Honda) 83; 8. Harms (Honda) 50; etc.
Bayliss Dominates a Wet Donington on Friday as BSB riders make their mark
Donington Park, Friday 5th - Troy Bayliss (Ducati Xerox) led the way in qualifying at a cold and wet Donington Park circuit as a group of British Superbike wild-card riders made a good impression on the first day of action. The 39 year-old Australian, who has never actually won at the Leicestershire track, clocked a time of 1 minute 44.377 seconds to hold the overnight pole from Brands Hatch winner Ryuichi Kiyonari (Hannspree Ten Kate Honda).
The Japanese rider, British champion for the last two years, was one-tenth behind Bayliss in second but a fraction ahead of a trio of current BSB riders headed by Cal Crutchlow (HM Plant Honda), Tom Sykes (Rizla Suzuki) and Leon Haslam (HM Plant Honda).
The Sterilgarda Go Eleven Ducati pairing of Italian Max Biaggi and Ruben Xaus were next up in sixth and seventh, with two more Spanish riders Carlos Checa (Hannspree Ten Kate Honda) and Gregorio Lavilla (VentAxia Honda) filling the next two places, while another Brit James Ellison (Hydrex Bike Animal Honda) completed the top 10.
So far failing to make their mark are the Yamaha Motor Italia pairing of Troy Corser, who crashed twice in the morning free practice session and is in 12th, and Noriyuki Haga, down in 24th position, while the other championship contender Max Neukirchner (Alstare Suzuki) could only manage 23rd. Today's appalling weather conditions produced a total of 19 crashes involving 13 riders.
Times: 1. Bayliss T. (AUS) Ducati 1098 F08 1'44.377; 2. Kiyonari R. (JPN) Honda CBR1000RR 1'44.528; 3. Crutchlow C. (GBR) Honda CBR1000RR 1'44.627; 4. Sykes T. (GBR) Suzuki GSX-R1000 k 1'44.682; 5. Haslam L. (GBR) Honda CBR1000RR 1'44.813; 6. Biaggi M. (ITA) Ducati 1098 RS 08 1'45.384; 7. Xaus R. (ESP) Ducati 1098 RS 08 1'45.725; 8. Checa C. (ESP) Honda CBR1000RR 1'45.936; 9. Lavilla G. (ESP) Honda CBR1000RR 1'46.044; 10. Ellison J. (GBR) Honda CBR1000RR 1'46.392; 11. Walker C. (GBR) Honda CBR1000RR 1'46.553; 12. Corser T. (AUS) Yamaha YZF-R1 1'46.803; 13. Sofuoglu K. (TUR) Honda CBR1000RR 1'46.912; 14. Smrz J. (CZE) Ducati 1098 RS 08 1'46.924; 15. Fabrizio M. (ITA) Ducati 1098 F08 1'47.114; 16. Nieto F. (ESP) Suzuki GSX-R1000 1'47.344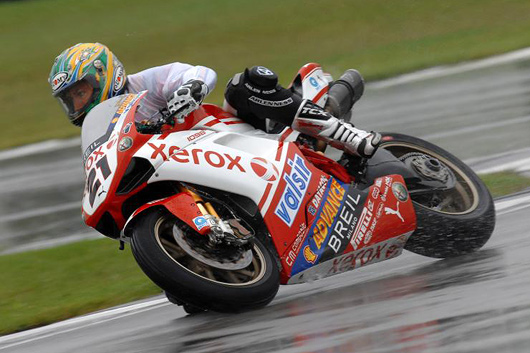 Troy took a cunning overall win in Race One.

Race 1: Bayliss Beats Local Hero Tom Sykes on Aggregate Time after Red Flag Restart
Troy Bayliss's chief rivals for the title were all eliminated in crahses on a wet and oily track as the Australian went on to break his10 year no win jinx at the Leicestershire track. Troy used his Pole position to take the start of race one, but was quickly reeled in by widcard British Superbike title contender Tom Sykes (Rizla Suzuki) who paced Bayliss for a number of laps as they pulled awayfrom the rest of the field. A number of SBK front runners through the race away as they crashed out on the rain dampend track including Kiyonari, who had qualified second behind Troy Bayliss, fell while leading on lap two of the first race, at the same spot his team-mate Kenan Sofuoglu (Hannspree Ten Kate Honda CBR1000RR Jr) would fall at seconds later. Also crashing out were Troy Corser, Michel Fabrizio and others. Another BSB wild card rider, James Ellison (HM Plant Honda) was running up in 3rd at one place, only to be taken out by a wild inside pass from Rolfo that took them both out.

The race was then interrupted with a Red Flag when Noriyuki Haga (Yamaha Motor Italia) blew his engine and deposited oil on the track, while Max Neukirchner (Alstare Suzuki), Carlos Checa (Hannspree Ten Kate Honda) and Kiyonari crashed out. At the Red Flag, Tom Sykes had a nearly 4-second lead over Bayllis and Troy would nned towin this time back, and more, after the restart if he was to take the overall win from Sykes. W
When the restart took off it was Sykes taking the better start from Bayliss, but within 2 laps Bayliss had caught and passed the Bristish rider and began pulling away in an attempt to post a larger race win margin in the 2nd part. With only 2 laps to go Bayliss did indeed pull out the needed margin for the overall win, but it then started raining hard enough that Bayliss back off the gas to not chance falling, while Sykes kept up his pace and reeled back Bayliss lead to just 2 seconds. It was then that race leader Bayliss signaled to stop the race because of the rain ( and all the bikes being on slicks). And with the Race being stopped by Bayliss on the last lap with just a 2 secnd lead, the actual finishing results reverted back to the previous lap where Bayliss still held the lead of the two race parts on aggregate time, awarding the overall race win to Bayliss.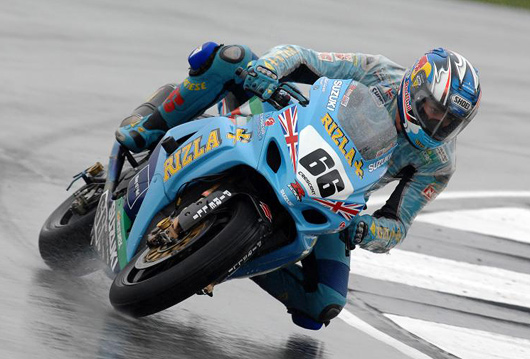 British Superbike wildcard rider Tom Sykes won the fist part of race one, and almost ook the overall from Bayliss. Rizla Suzuki is interested in racing World Superbike next year.
Tom Sykes (Rizla Suzuki) found himself having to settle for 2nd des[ite actually leading on aggregate time when the race was stopped, finishing ahead of Max Biaggi (Sterilgarda Go Eleven Ducati), who moved onto the podium after team-mate Ruben Xaus had crashed after the red flags had been brought out for rain. Gregorio Lavilla (VentAxia Honda) had a good run to finish fourth ahead of Yukio Kagayama (Suzuki Alstare) and Jakub Smrz (Guandalini Ducati), while Roberto Rolfo (Althea Honda) missed a chance for a good result when he crashed out of fourth overall and Corser notched up his sixth crash of the weekend.
Troy Bayliss (Ducati Xerox): "I've been coming to Donington since 1988 and so am pretty happy with that race win. All weekend everything has been going great, we've had mixed conditions but we've been strong in both dry and wet. I was basically racing my lapboard the whole time because of the aggregate time and could have settled for second but I haven't won here before and so really wanted the win."
Tom Sykes (Rizla Suzuki): "I was a bit disappointed they stopped the first part because I felt my pace was a bit stronger than Troy's. In the second part the bike got off the line well, but then I made a mistake and misread one of the flags and also had a moment. But Troy was too quick today, he broke me with his fast laps so congratulations to him."
Max Biaggi (Sterilgarda Go Eleven Ducati): "I was already in the pit taking off my leathers and someone from the organization called me onto the podium so it was a bit of a surprise for me to take third place. My team made a very good change between the two parts and actually everything was very good, we made a good job."
SUPERBIKE Race 1: (Laps 19 = 76,437 Km)
Pos / Rider / Nat. / Team / Gap
1 / T. BAYLISS / AUS / Ducati 1098 F08 / Ducati Xerox Team / 29'55.384
2 / T. SYKES / GBR / Suzuki GSX-R1000 k / Rizla Suzuki / 1.266
3 / M.BIAGGI / ITA / Ducati 1098 RS 08 / Sterilgarda Go Eleven / 28.636
4 / G.LAVILLA / ESP / Honda CBR1000RR / Ventaxia VK Honda / 33.566
5 / Y. KAGAYAMA / JPN / Suzuki GSX-R1000 / Team Suzuki Alstare / 35.966
6 / J. SMRZ / CZE / Ducati 1098 RS 08 / Guandalini Racing / 36.034
7 / F. NIETO / ESP / Suzuki GSX-R1000 / Team Suzuki Alstare / 36.442
8 / L. HASLAM / GBR / Honda CBR1000RR / HM Plant Honda / 41.633
9 / K. MUGGERIDGE / AUS / Honda CBR1000RR / D.F. Racing / 42.075
10 / J. ELLISON / GBR / Honda CBR1000RR / Hydrex Bike Animal Honda / 43.476
11 / D. CHECA / ESP / Yamaha YZF-R1 / Yamaha France Ipone GMT / 1'12.578
12 / A. BADOVINI / ITA / Kawasaki ZX-10R / Team Pedercini / 1'13.147
13 / S. NAKATOMI / JPN / Yamaha YZF-R1 / YZF Yamaha / 1'34.664
14 / S. AOYAMA / JPN / Honda CBR1000RR / Alto Evolution Honda Superbike / 1'56.726
Fastest Lap 18° Troy Bayliss 1'31.814 157,741 Km/h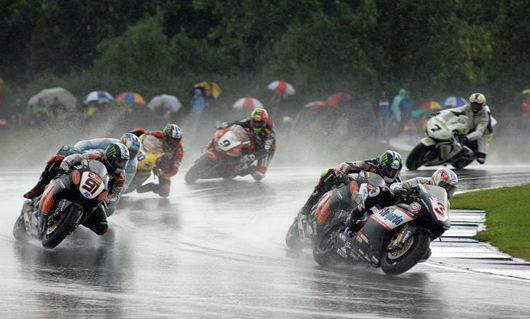 Race 2: Reigning British Superbike Champ Kiyonari Wins for Ten Kate Honda
Ryuichi Kiyonari (Hannspree Ten Kate Honda CBR1000RR) put on a dazzling display of controlled wet weather riding to lead the entire second race of the Donington Park WSB weekend and cancel out the memory of a first race crash. In a weekend which had featured wet sessions in every single outing until the first WSB race itself, Kiyonari's brilliant recovery after a delayed second race, which was started in sudden monsoon conditions and on full wet tyres for all, puts him eighth in the championship on 190 points.
Race 2 was declared wet just minutes from the start, with heavy rain falling in the opening laps that then eased off as the race progressed. Bayliss was once more up front from the start, this time up against Kiyo and wild-card Crutchlow, but in thinking he could push harder, the Australian legend lost the rear and came off in lap 11, unable to continue the race due to damage to his F08. Troy still leaves Donnington with a nearly unsurmuntable 101 point lead equilivant to 4 races wins, with just 6 races remaining.
Carlos Checa (Hannspree Ten Kate Honda CBR1000RR) is still the top scoring Honda rider in the championship standings, fourth overall despite crashing out on a suspected oil spill in race one, and then posting a ninth place finish in race two. He had been a strong third after the wet Superpole session, but could not quite match his practice pace in the second race.
In Race Two, local Honda wild card rider Cal Crutchlow took second after chasing 'Kiyo' for much of the race, with Troy Corser third. James Ellison, another local Honda rider, was fourth in race two.
In the championship itself, Bayliss has 359 points, Corser 258, Neukirchner 254 and Checa, 240.
Roberto Rolfo (Hannspree Althea Honda CBR1000RR) was on for a great raceday at Donington, despite finishing only 25th in qualifying, until he fell and brought down wildcard Honda rider Leon Haslam at the Foggy Esses. He took points for 13th in the second race and now sits 20th in the championship.
Fifteenth-place qualifier Gregorio Lavilla (Vent-Axia VK Honda CBR1000RR) rode hard to a season-best fourth in race one, and took a measured seventh in race two. Karl Muggeridge (DFX Corse Honda CBR1000RR) missed out on Superpole but went ninth in the opener, posting a DNF in race two after falling at the final corner.
Chris Walker (Vent-Axia VK Honda CBR1000RR) retired from each race after qualifying 13th, while Shuhei Aoyama (Alto Evolution Honda CBR1000RR) was 14th in race one, 17th in race two. Matt Lynn (Alto Evolution Honda CBR1000RR) replaced Jason Pridmore at Donington in a last minute rider switch, but had a torrid time in the changeable weather conditions, failing to meet the qualifying time but being allowed to race anyway, before posting two DNFs.
Still reigning BSB Champ Ryuichi Kiyonari remembers a wet Donnington from his British Superbike days. His bike was constantly breaking loose everywhere on the wet track, but the traction control helped keep him up on 2 wheels!
Kiyonari said: "I was so disappointed to crash in race one. I got an incredible start, which is unusual for me and maybe I was a little too excited. I was so sorry for my team who worked so hard to give me a good bike for dry conditions, even though we had no dry practice. For the second race, I was actually quite pleased it rained, because we knew the bike was good in the wet. But the conditions were unbelievable in the early part of the race. I had very little control and, by the time the track started to improve, my tyres were finished. It was a little scary at times, but I'm very happy to repay the team with another win."
Troy Bayliss (Race 1 - 1st, Race 2 - DNF)
"I'm really happy to have finally taken a win at Donington today (in Race 1) after all the years that I've been coming here! Then in Race 2 I was feeling equally good at the start, even though the rain was so heavy I almost thought they might cancel it a couple of laps in. But conditions improved and I felt comfortable so at a certain point, when it looked like Kiyo might have been starting to have a bit of trouble, I thought I could push bit harder and try to catch him. Unfortunately though I lost the back at a certain point and came off at a pretty fast speed, though luckily I haven't hurt myself. We've improved on our points lead overall and we leave here with an advantage of 101 points over Corser and 105 over Neukirchner which was our aim for this round so we're all very happy with that.'
British Superbike wildcard rider Cal Crutchlow took a close 2nd in Race 2. HM Plant is another British team interested in racing World Superbike next year. The HM Plant Hondas use HRC Kit parts were as quick as the Ten Kate Hondas.
SUPERBIKE Race 2: (Laps 23 = 92,529 Km)
Pos / Rider / Nat. / Team / Gap
1 / R. KIYONARI / JPN / Honda CBR1000RR / Hannspree Ten Kate Honda / 40'26.508
2 / C.CRUTCHLOW / GBR / Honda CBR1000RR / HM Plant Honda / 2.261
3 / T. CORSER / AUS / Yamaha YZF-R1 / Yamaha Motor Italia WSB / 9.727
4 / J. ELLISON / GBR / Honda CBR1000RR / Hydrex Bike Animal Honda / 20.227
5 / M.FABRIZIO / ITA / Ducati 1098 F08 / Ducati Xerox Team / 27.475
6 / M.BIAGGI / ITA / Ducati 1098 RS 08 / Sterilgarda Go Eleven / 28.051
7 / G.LAVILLA / ESP / Honda CBR1000RR / Ventaxia VK Honda / 30.922
8 / R. XAUS / ESP / Ducati 1098 RS 08 / Sterilgarda Go Eleven / 38.353
9 / C. CHECA / ESP / Honda CBR1000RR / Hannspree Ten Kate Honda / 50.196
10 / T. SYKES / GBR / Suzuki GSX-R1000 k / Rizla Suzuki / 57.346
11 / L. LANZI / ITA / Ducati 1098 RS 08 / R.G. Team / 1'03.093
12 / J. SMRZ / CZE / Ducati 1098 RS 08 / Guandalini Racing / 1'06.697
13 / R. ROLFO / ITA / Honda CBR1000RR / Hannspree Honda Althea / 1'08.057
14 / M.NEUKIRCHNER / GER / Suzuki GSX-R1000 / Team Alstare Suzuki / 1'15.276
15 / R. LACONI / FRA / Kawasaki ZX-10R / Kawasaki PSG-1 Corse / 1'38.848
Fastest Lap 18° James Ellison 1'43.405 140,059 Km/h
Lap record : 2007 Troy Bayliss 1'31.575 Km/h
Best Lap: 2007 Troy Bayliss 1'30.370 160,260
Riders Championship Standings:
1 BAYLISS 359, 2 CORSER 258, 3 NEUKIRCHNER 254, 4 CHECA 240, 5 HAGA 230,
6 NIETO 192, 7 BIAGGI 192, 8 KIYONARI 190, 9 FABRIZIO 172, 10 XAUS 156,
11 KAGAYAMA 120, 12 LAVILLA 105, 13 SMRZ 105, 14 LANZI 99, 15 MUGGERIDGE 71.
World 600cc Supersport Championship - Special Tribute to deceased rider Craig Jones
Brookes Wins As Honda Riders Go 1-2-3 In the Championship Standings
After a thrilling 22-lap Supersport race at Donington Josh Brookes (Hannspree Stiggy Motorsports Honda CBR600RR) gave his team their first win, as he himself took his second career win in this class. Having qualified fourth, Brookes was in a race-long contest with fellow Honda riders Andrew Pitt (Hannspree Ten Kate Honda CBR600RR) and Jonathan Rea (Hannspree Ten Kate Honda CBR600RR) with Barry Veneman's Suzuki falling off the leading pace towards the final few laps.
All three top Honda riders took their turn to lead, but at the end Brookes had the final game plan that put him 0.872 seconds ahead of 15th place qualifier Pitt, and 4.846 seconds up on fellow front row rider Rea. Matthieu Lagrive was on pole on Saturday, in the wet conditions that affected every single session before the largely dry race itself, but the Frenchman slipped back in the race to ninth.
In the championship the three Donington podium finishers hold the top positions also, with Pitt on 169 points, Brookes now second on 137, and Rea third on 133.
Robbin Harms (Hannspree Stiggy Motorsports Honda CBR600RR) qualified 12th in the wet and raced to sixth in the dry, while 16th place qualifier Gianluca Nannelli (Hannspree Althea Honda CBR600RR) equalled that performance in the race, just missing out on points. Russell Holland (Hannspree Althea Honda CBR600RR) got tangled with another rider on lap two and failed to finish.
A tribute to the late Craig Jones, who lost his life after a crash at Brands Hatch, was held before the first Superbike race of the day. His great friend and regular Hannspree Althea Honda rider Tommy Hill did a slow lap on the number 18 Parkalgar Honda ridden by Jones this year, to the applause of the British crowd.
Brookes said: "Today was great, I had a great bike to race with and I rode my best to finish on the top. I got a good start and felt really comfortable. The guys in front were not as fast as I was expecting so I was quite surprised. I put my head down and I felt really secure that I was able to fight for the win. I had a few moments but as I got comfortable again I focused on riding perfect laps and before I knew it I was right behind Pitt. I stayed behind and two laps before the finish I passed and brought home the victory. I'm really happy, especially since we didn't have any dry practice this weekend. I was really thankful that we found such a good dry race set-up. I want to thank the team for hard work and for giving me the right tools to win today. I also would like to dedicate this win to the memory of Craig Jones."
SUPERSPORT Results
Race : (Laps 22 = 88,506 Km)
Pos / Rider / Nat. / Team / Time / Gap
1 / J. BROOKES / AUS / Honda CBR600RR / Hannspree Stiggy Motors. / 34'53.607
2 / A. PITT / AUS / Honda CBR600RR / Hannspree Ten Kate Honda / 0.872
3 / J. REA / GBR / Honda CBR600RR / Hannspree Ten Kate Honda / 4.846
4 / B. VENEMAN / NED / Suzuki GSX-R600 / RES Software Hoegee Suzuki / 5.066
5 / H.KENNAUGH / RSA / Yamaha YZF-R6 / Raceways Yamaha / 8.604
6 / R.HARMS / DEN / Honda CBR600RR / Hannspree Stiggy Motors. / 8.990
7 / J. LASCORZ / ESP / Honda CBR600RR / Glaner Motocard.com / 15.660
8 / D. VAN KEYMEULEN / BEL / Suzuki GSX-R600 / RES Software Hoegee Suzuki / 16.674
9 / M.LAGRIVE / FRA / Honda CBR600RR / Intermoto Czech / 17.081
10 / B. PARKES / AUS / Yamaha YZF-R6 / Yamaha World Supersport / 20.474
11 / G.VIZZIELLO / ITA / Honda CBR600RR / Berry Racing / 21.110
12 / E. LAVERTY / IRL / Yamaha YZF-R6 / Yamaha World Supersport / 26.338
13 / M.AITCHISON / AUS / Triumph 675 / Triumph Italia BE1 Racing / 26.597
14 / K. FUJIWARA / JPN / Kawasaki ZX-6R / Kawasaki Gil Motor Sport / 29.104
15 / C. MARTIN / GBR / Kawasaki ZX-6R / Kawasaki Gil Motor Sport / 30.603
Fastest Lap 18° Joshua Brookes 1'34.079 153,943 Km/h
Lap record: K. Fujiwara 1'33.848 154,320 Km/h
Best Lap: 2007 K. Fujiwara 1'33.848 154,320
Riders Championship Standings:
1 PITT 169, 2 BROOKES 137, 3 REA 133, 4 PARKES 119, 5 JONES 100, 6 FORET 97,
7 LASCORZ 92, 8 VENEMAN 61, 9 HARMS 60, 10 ROCCOLI 48, 11 VIZZIELLO 46,
12 LAGRIVE 43, 13 NANNELLI 42, 14 WALKER 36, 15 AITCHISON 33.
---
Because She's Hot! - Between running for President, Paris Hilton has also been helping FastDates.com with our Ducati 1198R project bike for the Paddock Garage bike setup feature article and the next Fast Dates Calendar.
Now in Paddock Garage - Preping the Ducati 848 /1098 S, R Superbikes!
Just Added! Complete Handling Set Up and Tuning Instructions from Ducati Corse and editor Jim Gianatsis for the latest Ducati 848 / 1098 S, R Superbikes. This will make your stock bike much easier to ride and is guaranteed shave 1-2 full seconds off your track lap times! Paddock Garage Sportbike Tuning
---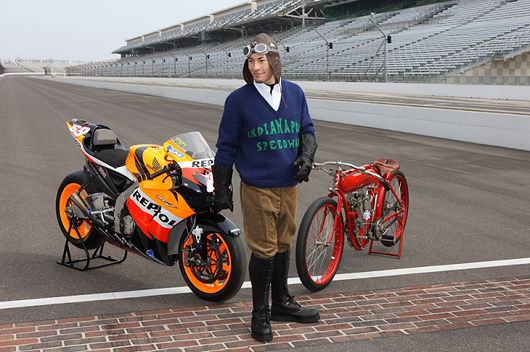 Nickey Hayden at Indy, now and then, straddles the brick finish line.

Motorcycles make their first return to Indianapolis in 100 Years with the Red Bull U.S. MotoGP September 14th Weekend

PREVIEW, Indianapolis, IN, September 12-14th 2009 - The first motorized race at the new Indianapolis Motor Speedway backon Aug 14th 1909 was was a motorcycle race, on Aug. 14, 1909. A.G. Chapple won the first race, a 5-mile event with seven competitors, on an Indian motorcycle. The race distance was two laps on the 2.5-mile IMS oval.
This September when te world's top riders in the MotoGO World Championship mark th first return of motorccyles to the legendary Speedwayy in 100 years. Nineteen MotoGP riders will race 28 laps on the 2.621-mile road course at IMS during the Red Bull Indianapolis GP on Sept. 14, 2008.
There will be approximately four hours of action on Race Day at the Red Bull Indianapolis GP on Sunday, Sept. 14, more on-track Race Day activity than either of the other two events this year at IMS? Four classes - MotoGP, 250cc, 125cc and Red Bull Riders Cup - will race Sunday, with warm-up sessions for MotoGP, 250cc and 125cc. It will be a full day of two-wheel racing action from 8:40 a.m.-4 p.m. at the Brickyard!
Thursday Preview Activities Schedued
The Red Bull Indianapolis GPreview on Thursday, Sept. 11 will help fans gear up for the inaugural weekend of MotoGP racing at the Indianapolis Motor Speedway. A variety of fan-friendly activities are scheduled during the free Red Bull Indianapolis GPreview, which will take place from 9 a.m.-6 p.m. Events will include:
• Question-and-answer sessions with riders and industry officials on the Pagoda Plaza stage. Noted motorcycle racing television personalities Ralph Sheheen and Greg White and Indianapolis radio personality Michael Young will serve as hosts of the stage show.
• MotoGP riders scheduled to appear (subject to change): Alex de Angelis, Loris Capirossi, Toni Elias, Sylvain Guintoli, John Hopkins, Marco Melandri, Shinya Nakano, Valentino Rossi, Casey Stoner, Chris Vermeulen and Anthony West. More riders will be added to the lineup soon.
• The pit walk from 2-5 p.m. - open to race ticket holders - during which fans can stand adjacent to the open garages, providing a clear view of the exotic, 800cc prototype motorcycles that will compete in the MotoGP class during the Red Bull Indianapolis GP. Skilled team personnel also will be on hand, working on the bikes that will propel American stars 2006 World Champion Nicky Hayden, Colin Edwards, Hopkins and Ben Spies, along with World Champions Rossi and Stoner, to speeds of 200 mph on the front straightaway of the IMS road course.
• A concert with Tech 3 Yamaha MotoGP rider James Toseland, also a classically trained pianist, and members of the Indianapolis Symphony Orchestra at approximately 5 p.m. in the Pagoda Plaza.
•The Vendor Marketplace. Vendors, including Alpinestars, Arai, Arlen Ness, Dainese, Joe Rocket, Nolan, Oakley, Scorpion, Shoei and Tour Master/Cortech, will be among the leading brands that fill 48 IMS garages with the latest in motorcycle equipment and accessories.
• Appearances and photo opportunities with Red Bull Indianapolis GP Grid Girls, free temporary tattoos, a DJ spinning music and more.
• Indianapolis Motor Speedway Official Trackside Gift Shops and IMS concession stands adjacent to the Pagoda Plaza and Hall of Fame Museum, and the MotoGP team/rider official merchandise areas will be open all day.
Tickets are on sale for the inaugural Red Bull Indianapolis GP on Sept. 14, 2008. Tickets can be purchased either online at www.indianapolismotorspeedway.com at any time; on the phone by calling (800) 822-INDY outside the Indianapolis area or (317) 492-6700 locally between 8 a.m.-5 p.m. Monday through Friday; or visiting the Indianapolis Motor Speedway Ticket Office on the first floor of the IMS Administration Building at 4790 W. 16th St. in Indianapolis from 8 a.m.-5 p.m. Monday through Friday.
---
If you live near London, join our British distributor Crossbow-Calendars.com for their annual Calendar Premier Party on Saturday October 25th and pick up the new 2009 Crossbow and FastDates.com Calendars!
FastDates.com Calendars Co-Star with sexy actress Gabrielle Anwar
on TV Show "Burn Notice"

Sept 1st 2008 - Over the years, the FastDates.com Calendars have served as props in television shows and movies where they support the story line or set background. Our calendars are ideal for filming purposes as they are big, large format calendar pages with great photography printed on high quality, non reflective art board. Past TV shows and movies our calendars have appeared on include Melrose Place (staring a previous Calendar Kitten Josie Bisset) and Gone In 60- Seconds with Nicholas Cage and Angelina Jolie.

The producers of any commercial film production have to contact the owners of a trademarked product ( be it a bottle of beer or a car) to get a signed usage release before it can be used in the film, which is why we know of it months in advance. Here's the update on the TV show "Burn Notice" using our calendars:

HI Jim, Yes, I ordered the calendars from your site and received them on Friday. Thanks so much! I had them on my desk and all the guys at the office kept stopping by, trying to slyly walk away with them.The episode is titled "Hot Spot" and will air in either January or February 2009. "Burn Notice" is on the USA Network and airs Thursday nights at 10pm. Our website is www.usanetwork/series/burnnotice

I gave the calendars to the director, along with some others. The will either be used as a "prop" in which Gabrielle Anwar's character, who poses as a publisher from a calendar company, shows them to a potential client. OR they will be displayed on the walls of a billiards club or a cigar bar. It is up to the director. I wish you all the luck and everyone loves the calendars!

Best Wishes, Sarah Ananties
Production Assistant, Burn Notice

Actress Gabrielle Anwar is the sexy smart co-star on Burn Notice which is crime drama simialr to Miami Vice and filmed in Miami Her past credits include many TV shows and movies including : The Three Musketeers, For Love or Money, Scent of a Woman, and HBO's The Tudors.
---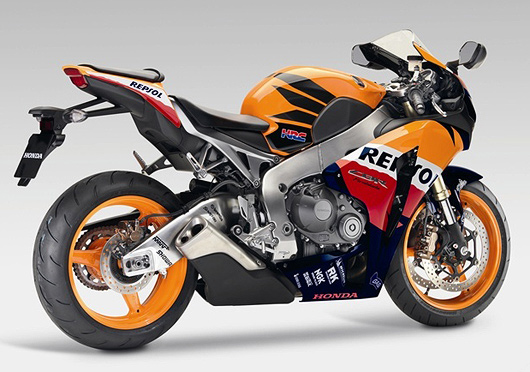 Honda Updates 2009 CBRs with Anti Lock Brakes, Repsol MotoGP Graphics
Sept 8th - Honda has just released information on its new 2009 CBR sportbike line. The CBR600RR and CBR100RR both got a complete redesign in 2008, so this year's updates mainly see just the addition of an ABS (antilock Braking system) on both model bikes. The CBR1000RR also will come in an optional Repsol MotoGP replica paint scheme. While the CBR600RR gets minor tuning tweeks to the engine to make the powerband a little torquier and more rideable.
Honda's Electronically-Controlled Combined ABS
Anti-lock brakes on motorcyles are nothing new, having first been offered by BMW on its prodeuction bikes about 10 years ago. Honda says however, demands of a braking system for a Super Sport machine are different and more exacting than those of a more conventional road-going motorcycle.
Brakes on a road-going machine will most often be used only to a moderate level of intensity, with maximum braking reserved for emergency situations or perhaps very occasional fast rides. In these circumstances a Combined ABS system can be designed to deal with extreme braking as an emergency, rather than as a regular occurrence. The upshot of this is that Combined ABS on a road-based machine can be relatively intrusive to the rider - because in theory they will only use it in an emergency situation and will not mind.

The requirements are very different for a Super Sports machine, where extreme braking can be considered as one of the bike's regular performance requirements. A system that was insensitive or became invasive whenever a rider neared the upper limits of braking performance would be unsatisfactory. In short, for a Super Sports machine, a Combined ABS system must allow the rider to brake very close to the limit before activating, and when it does, the reduction in braking force must be very smooth in order not to unsettle the machine, or rider.
It is for this reason, along with the possibility of adding weight, that Combined ABS has not been fitted to sports machines. Until now, that is.

In addition, the extreme pitching forward of weight under braking provided by non locking brakes, actually enhances the braking ability of the front wheel as weighted is transfered forward onto it, while reducing traction from the rear. This calls for a very subtle and advanced ABS system in order to provide an acceptable level of performance from a Super Sport braking system.

"Honda's new electronically-controlled Combined ABS provides just this level of performance. In exhaustive testing, both on the road and racetrack, development riders have found that the system exceeds their demands and out-performs the rider's ability to brake on most occasions. An average ('non-expert') rider using a conventional braking system needs several braking attempts to attain braking performance approaching that of the Combined ABS. An expert rider using a conventional system will need fewer attempts to reach a similar level. However, only in an example such as a racetrack situation, where an expert rider repeatedly brakes into the same corner was it found that the tester could outperform the Combined ABS. The confidence benefits are tremendous for riders of all skill levels, especially on public roads, where riding circumstances differ vastly."

So effectively, Honda is saying this is still a street system and a skilled rider on the track can still do better without it.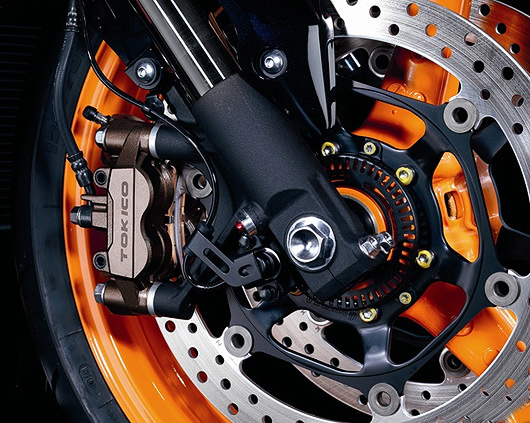 ---
There's more! Go to Pit Lane News Previous Page

Hot Calendar Girl and Bike News! Go to: Fast Dates • Calendar Girls • Iron & Lace


Calendar Kittens, The Paddock Garage, Screensavers, Iron & Lace Garage


Many of our Calendar Kittens can also be seen at Playboy's website...


BikerKiss.com - the largest biker personals site!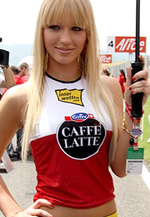 Members Corner
Hot Bikes, Sexy Kittens
Get Your Exclusive Grid Pass

Calendar Screensavers!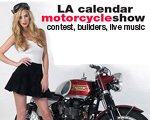 Complete Coverage!
2008 LA Calendar Motorcycle Show & Calendar Girl Music
Festival Weekend!
$86,000 Bike Building Championship
World Record Dyno Shootout!
Calendar Girl Music Festival


---


World Premier!
2009 FastDates.com Calendars
More 2009 Pin Up Model
& Motorcycle Calendars...

---
Shocker!
Ben Spies Not to Race for Suzuki in MotoGP?
Capirossi and Vermeulen to both continue with
Suzuki in 2009
05/09/08 10:58 - Suzuki Motor Corporation are pleased to announce that Loris Capirossi and Chris Vermeulen have both agreed terms to continue riding for the Japanese company's MotoGP squad for a further season.
Capirossi joined Suzuki at the end of 2007 and has shown throughout the 2008 season that his energy and enthusiasm for racing are still as high as ever. Indeed, his desire to compete for Suzuki at the highest level of motorcycle racing has seen him race this season with serious injuries that would have side-lined many other riders. Capirossi's wealth of knowledge and experience has been invaluable to the development of the Suzuki GSV-R during this year, both in a racing and developmental role, and he is determined to turn Suzuki's 800cc prototype machine into a race-winning bike during the remainder of 2008 and through 2009.
Capirossi comes from Bologna in Italy and began Grand Prix racing in 1990. He has won World Championship titles in both the 125cc class (twice) and the 250cc categories. He still holds the record for becoming the youngest ever World Champion and also the record for the longest winning career in Grand Prix racing, a time-span of over 17 years from his first victory (125cc – Great Britain, 1990) to his most recent (MotoGP – Japan, 2007). He has also just broken the record for the most starts at Grand Prix events, an amazing 277 races. Capirossi has achieved 99 podiums and 41 pole positions in all categories throughout his career – totals he is determined to add to whilst riding with Suzuki.
Vermeulen joined Suzuki at the Valencia test in 2005 – having finished as runner-up in the World Superbike Championship that year – and made his racing debut at Jerez in 2006. He achieved his first pole-position in Turkey that year and followed up with his debut podium in Suzuki colours at his home Grand Prix in Australia later that same season. Vermeulen then created history for Suzuki by becoming the first winner for the famous Japanese marque in the four-stroke era, when he raced to a stunning wet-weather victory at Le Mans in France in 2007 – a season that also saw him take three further podiums, one pole-position and two front-row starts. So far in 2008 Vermeulen has had back-to-back podiums in Germany and America and currently sits in sixth place in the riders' championship.
Vermeulen hails from the Sunshine Coast in Queensland, Australia. The 26-year-old Australian races with the crossed number seven on his bike, a number made famous by the late Suzuki great Barry Sheene. Vermeulen began road-racing in 1998 – after winning a number of Dirt Track championships – where he was soon spotted by Sheene who persuaded Vermeulen to leave his home and race in the UK in 2000. Vermeulen spent two years racing Superstock and Supersport classes in Britain before moving to the World Supersport Championship, a title that he won in 2003. Since making the switch to MotoGP, Vermeulen has become a very popular member of the Suzuki team and a highly respected rider amongst his peers and fans alike.
Mat Mladin Disqualification Appeal from VIR Superbike Races Denied
The 2008 Superbike Title Effectively Handed to Team Mate Ben Spies
Daytona Beach, Fla, Sept 5th - AMA Pro Racing announced today that the appeal of the disqualification of Mat Mladin on the #6 Suzuki from the Superbike races at Virginia International Raceway on August 16-17, 2008 has been deemed without merit and has been denied. The original penalty remains as previously announced and becomes final with this decision.
Although Mladin had a good chance of caching teammate ben Spies by this month;s fianl AMA round atLaguna Seca, now this loss of Madin's 1-2 finish at VIR will potentially cost Mladin the 2008 AMA Superbike Championship even if he does win at Laguna and theoretically win more points thanSpies . You can bet, however, that American Suzuki will still be liable to pay both riders their multi-milion dollar bonuses for winning, and potentially win the Championship, since American Suzuki (aka Yoshimur) built the illegal bike that casused Madin disqualification.
Inside the Cheater Yoshimura Suzuki
Road Atlanta, Sunday July 31st - Bill Syfan of the Daytona Motorsports Group updated evryone n the specifics of the Matt Madin's disqualified factory Yoshimura Superbike. Here is what has taken place over the last two weeks with Suzuki crankshafts.

"It's all in the interest of transparency, explaided Syfan, "There's a lot of rumors out there that this is politically motivated. It's not true. It's certainly easy to connect the dots, but it's just not true. So what I'm going to read is a timeline on the Suzuki crankshaft situation. I'll take some questions at the end, but more than likely I won't be able to answer them, if they get into too much detail. But this should help clear things up.
Following the Superbike race on Sunday, August 17, (at Virginai Inyternational Raceway) as you know, the three Yosh Suzukis of No. 6, No. 1 and No. 22 were impounded for routine post-race inspections. Chief tech inspector Jim Rashid asked for intake and exhaust valves from all three machines. He also requested to inspect the crankshaft from one of the bikes, and chose the No. 6 Suzuki bike since it was the winner of the race. On initial comparison of the No. 6 Suzuki crankshaft to the homologated control unit crankshaft, removed from a complete 2007 Suzuki GSX-R 1000 provided by American Suzuki - that's the homologated motorcycle, the crankshaft was removed from it - Jim noticed several differences, including the date of manufacture marking system; the difference in how the journal bearing codes were engraved; the crankshaft journal oil holes; and the surface texture and the darkness of the No. 6 crankshaft. The two parts were shown to Yoshimura team manager Don Sakakura at the track. He was informed that the No. 6 Suzuki crankshaft would be transported to the current AMA Pro Racing tech department in Pickerington, Ohio, for further detailed inspections and measurements. To provide for maximum fairness during the additional inspections, AMA Pro Racing requested six additional crankshafts - two from each of American Suzuki's three parts warehouses - be shipped to Pickerington. The No. 6 Suzuki crankshaft and the homologated control crankshaft were packaged securely at the track, and arrived safely in Pickerington offices on Tuesday, August 19.
On Wednesday, August 20, two GSX-R 1000 crankshafts were received at the Pickerington offices from the American Suzuki parts warehouse in Brea, California. When Don Sakakura was called to find out the timing of the other crankshafts being shipped, Don said that he misunderstood the quantity needed. The two crankshafts from the Brea warehouse were unpacked and placed alongside the control crankshaft and the No. 6 Suzuki crankshaft. Visually, the two Brea crankshafts matched the control crankshaft in every way except dates of manufacture etched into the far right counterweight - the Brea crankshafts being 2008 models, compared to the 2007 control part. After his initial inspection in Pickerington, Jim called Don to tell him that no additional crankshafts would be needed.
During the afternoon of Wednesday, August 20, inspections of all four crankshafts were made by seven different AMA officials, including myself. I was there for some transition meetings for the Pickerington- to-Daytona thing. Jim took measurements and weights of all four crankshafts. Based on these thorough inspections, the following differences were noted between the No. 6 Suzuki crankshaft and the homologated part:
No. 1: The No. 6 Suzuki crankshaft has no manufacture date etched into the far right-hand No. 4 connecting rod counterweight, as evident on the other three control parts. It contains only "No. 242" stamped in ink on the counterweight in the same basic location. The bearing codes are laser-etched on a different weight than the three control parts, which are mechanically etched on the three control parts.
No. 2: While the control part and two additional sample parts all had consistent, significant chamfering at the oil delivery holes, the No. 6 Suzuki crankshaft had no chamfering on any of the crank bearing or rod bearing oil delivery holes.
No. 3: The crankshaft from the No. 6 Suzuki is much darker in color than the three control parts, with a smoothness and texture not found on the other three. The consistent sharp edges found on the three control crankshafts are smooth on the No. 6 Suzuki crankshaft.
Based on the various findings above, it was a unanimous decision that the No. 6 Suzuki crankshaft differs significantly from the homologated control crankshaft and the two additional production crankshafts provided by American Suzuki. The No. 6 Suzuki crankshaft is out of specification as compared to the homologated part, and is deemed out of compliance. Therefore, the decision was made to disqualify Mat Mladin, the rider of No. 6 Suzuki, from both the Saturday and Sunday Superbike races. Now, that's something that's in the current rulebook. It says that if you have any mechanical infractions, it will apply to all events during that meet. So this is like 1937 dirt-track, but it's - that's the way the rulebook reads, and we're trying to follow the rulebook to a T. "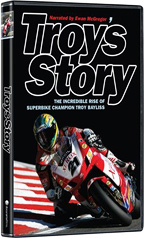 Troy's Story
The story of 2-Time World Superbike Champion Troy Bayliss narrated by Ewan McGreggor
AMA (DMG) leaves U.S. Roadracing in a
Shambles for 2009 -
the Superbike Class is Eliminated!

American Honda and American Suzuki will withdraw from AMA Roadracing.
Ducati plans to return to AMA Superbike
are dashed!
August 15th - Daytona Motorsports Group's Roger Edmondson has stated the deadline he imposed on the factories to commit to the 2009 Factory Superbike class passed today with no commitments from the factories. Hence his compromise Factory Superbike class (traditional AMA or SBK Superbike) will not be a part of the 2009 AMA Superbike series, according to Edmondson.
Edmondson said the DMG/AMA Superbike will only have 2 classes nexxt year, the Daytona Superbike (modified 600cc 4-cylinders, currently called Formula Xtreame), and American Superbike (1000cc Superstock) races at each round of the series in 2009 and a $200,000.00 purse will be split among the four races.
Edmondson left for a trip to Infineon Raceway in Sonoma where the Grand AM was holding a race, and where he will meet with the new AMA Superbike promoter group.
August 23 th, Sanoma CA - DMG's Roger Edmondson met with many of the current AMA roadrace promoters at Infinion Raceway on Friday to present his vision of what the 2009 series will look like. Based on the meeting, nothing has been resolved and the he conflict between the Daytona Motorsports Group, the current AMA Superbike promoters (those promoters not associatrd with Daytona Speedway which is a partner in DMG) and the motorcycle manufacturers continues.
The race promoters were, and still remain extreamely concerned the factory (U.S. Distributor) teams will not race with DMG.
Later the promoter group met with the Motorcycle Industry Council's Tim Buche and asked Buche to obtain from the manufacturers what exactly it would take for them to race in the 2009 DMG/AMA series. Once they get that answer, then the promoters say they wiil will again approach Edmondson with that data and hopefully work out a compromise.
Essentially, now that the AMA's Rob Dingmann and the AMA board have signed off on the sale of AMA Pro Racing to Daytona Motorsports Group, the only entity left to plead the case for the manufacturers is the promoters.
Edmondson claims his team has tried to come up with different scenarios which would keep the factory teams in racing but as yet have not told the manufacturers what they want to hear.
The American race promoters desperately need the US factory teams to be a featured part of any professional motorcycle race held at theirtracks. The reason being the facoory distributor teams spend around sixty-million dollars in US roadracing per season, with a big portion of that that money paid to the promotors in sponsoring the races bringing their big rig displays to the tracks.
Edmondson's frustration in trying to both include the factory teams and also follow-though on his vision was clear at Mid-Ohio. It is sure to have grown since then as many of the manufacturers and promoters are pushing him to adopt no changes for the 2009 season, meaning the series rules and format would remain static until 2010.
Edmondson says he is still working on a 2009 AMA race schedule and will release it soon. But without factory involvement in the 2009m Championship, very few promoters, if any, can afford the sanctioning fees and purses the DMG will want from them.
Meanwhile, American Suzuki has alrady made it cler they will withdraw from AMA roadracing next year if there is not a traditional Superbike class. And th DMG's recent disqualification of Suzuki's Matt Mladin from his double race win last weekend at Road Atlant is certainly adding fuel to the fire.
Pit Lane News has also heard, unofficially, that American Honda is also withdrawing from AMA racing next year, both because of the AMA / DMG fiasco, and because American Honda is disheartened in not having been able to build a competive Superbike racer the past 4 years ( A seemingly easy task for the winning Ten Kate dealer team in Wold Superbike).
We also spoke to Ducati North America's Michael Lock this past weekend, where he told us he was trying to bring Ducati Corse back to America with factory efforts in 2 or 3 classes,and that he had 2 major sponsors in line to support the cost. But the spons looked at the curent state of AMA / DMG racing and with al the problems, reduced fan support and media coverage, the series in America no longer has any marketing value.
As we have stated many times previousy in Pit Nane News, the simple solution to everything is for the DMG to dump its ridiculous class structures which were conceived to support the dangerous track conditions at Daytona Speedway - with Daytona Speedway Corporation being the partner in DMG and the cause of all these problems.

If the AMA or DG had half a brain they would adopt full FIM roadracing class structures for 2009 including those of SBK Superbike, and only race at FIM safe tracks. But that is not in Daytona Speedways short term interest, and they are too short sighted to look at the bigger picture of owning waht could otherwise be a successful and profitabe series.
The other problem is the stupidity of the U.S. motorcycle distributors - American Honda in particular which has the most clout - not being able to get together, put aside their petty special interests to have 4 different classes they each can win and advertsie, and demand that DMG adopt the world FIM class structures, which works perfect in Europe, particularly for Honda which with Ten Kate racing has won the SBK World Superbike Champion the last 2 years. Idiots.
Both the AMA and the U.S. Motorccyle Distributors have caused the death of the National Roadracing Championship in America.
---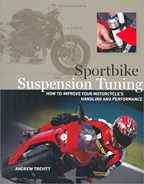 Pedrosa tests Bridgestone tyres and new Pneumatic Valve Honda at Misano.
MotoGP test Misano Adriatico September 1, 2008 -
Spaniard Dani Pedrosa, Repsol Honda RC212V, today made his debut on Bridgestone tyres at the MotoGP test held at the Misano circuit, Italy, venue for the GP of San Marino held yesterday. Pedrosa ran a total of 81 laps testing both the spring valve engine and the latest version of the RC212V with pneumatic valves. Pedrosa's best time with the spring valve engine was1m 35.555s, which he lowered to 1m 34.652s riding the RCV with pneumatic valves.
The San Carlo Gresini Honda team were also in action and spent the day testing a variety of Bridgestone tyres. Japanese star Shinya Nakano, who experienced vibration problems in yesterdays GP, was pleased with the results of the test and goes into the Indianapolis GP on September 14 in buoyant mood.
Nakano's team mate, Alex De Angelis, had dedicated the entire day testing qualifying tyres and, despite being unable to better his qualifying time for the race, was confident that he and Bridgestone will have a much better package to work with in coming races.
LCR Honda rider Randy de Puniet concentrated on checking a range of Ohlins suspension units and new Brembo brake calipers in preparation for the forthcoming flyaway races in Indianapolis USA, Japan, Australia and Malaysia. De Puniet crashed in yesterdays GP of San Marino injuring his right hand which hampered brake testing but the Frenchman was content with the progress made with suspension and the Michelin tyres with a new construction.
Dani Pedrosa, Repsol Honda: 1m 34.652s – on lap 76 of 81.
"I'm happy starting this new challenge and I would like to thank Bridgestone. Today we also made an important step forward in developing the 2009 bike, but now my first priority is to be fully competitive again. Of course, there is a lot of work to do but I am determined to win again this year. Today we worked hard on bike set-up. The feeling with the new tyres on my RC212V is different, both for settings and for riding style, but I just tried to follow my feelings and adjust the set-up accordingly.

"Today was only my first day riding on Bridgestone tyres but I am happy. I also tested the pneumatic-valve engine. The engine character is different, the power delivery is a bit more aggressive, but the engine has some good points. I have no experience on this latest bike, so I had to test many new things today. This has been an important test. Now we will analyse all the data and we look forward to the next race at Indianapolis."
Nicky Hayden to Ducati
MotoGP in 2009!
Please say it ain't so...
Aug 20th - America's lackluster MotoGP star who hasn't been able to get near a podium this year on his factory Honda, and is curenty not racing because of a broken foot, seems slated to join Ducati's MotoGP team next year to replace the struggling Marco Melandri. According to Nicky's management team the deal is all but completed.
His place in the Repsol Honda factory team along side Dani Pedrosa is expected to go to Andrea Dovizioso. If Nicky has been unable to develop and ride the factory Hondas and is being dumped frm the Honda team for 2 years of lackluster performance, we don't know how in the world Ducati expects him to ride the factory Ducati that only Casey Stoner can set up and ride.
This is certtainly a matter of marketing politics since the former 2006 World Champion (who was handed his title in a weakly contested season that included Rossi changing to the undelevopled Yamaha) is still perceived by some to be the most popular American rider in MotoGP racing. And with America is Ducati's biggest growing market, with a current 24% sales growth in new bikes past year. But then, if Ducati's new model bikes are selling that well without Nicky, why should Ducati waste a multi millin dollar contract on Hayden? They don't nned him. What the need t do is sign a new young gun like Stoner was was for them last year.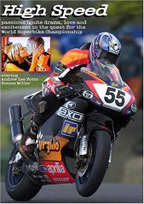 High Speed - the Movie
The best motorcyce racing movie ever made! Filmed on location at World Superbike, this an exciting romantic drama staring beautiful actress Sienna Miller.
---