The Days of Summer ....
Our kick-off page in the new 2009 Fast Dates Calendar has us getting wet with beautiful World Superbike Fast Dates Calendar Carrie AnnStroup as she hoses down Casey Stoner's 2007 MotoGP Word Championship winning DucatiGP07. Did anyone remember the soap?
Buy the FastDates.com Calendars
All the 2009 and earlier FastDates.com Calendar Photos / Screensavers are available in full size 15x15-inch size for downloading now in the Calendar Index in Members Corner
Download Big Screensaver Photos in Members Corner
---

Rossi and Lorenzo celebrate for the TV camera with their Misano fans.

FIM 2008 MotoGP World Championship, Misano Italy
Casey Stoner tosses it into the gravel for the 3rd race in a row!
Rossi matches Agostini's record with win #68 at home in Misano

San Marino, Italy , Aug 29-31th 2008 -Valentino Rossi reached another milestone in his outstanding career today by matching the all-time premier-class win record. His 68th premier-class victory brings him level with his great countryman Giacomo Agostini and the fact that he was able to do it at his home track of Misano made it all the more special for the flamboyant Italian. His Fiat Yamaha team-mate Jorge Lorenzo put the icing on the cake for Yamaha with an impressive return to the podium to make it the second one-two finish for the team this season.
Rossi had a good start but Dani Pedrosa had an even better one and the seven-time world champion was forced to ride at his maximum to pass the Spaniard back, which he did on the second lap. Casey Stoner was by then some three seconds clear but Rossi's M1 was working well and he was gradually able to start making up some ground, setting the fastest lap of the race on lap six. One lap eight of 28 Stoner sensationally slid out into the gravel in a carbon copy of the last race in Brno and Rossi was left in the lead. There was no opportunity to rest however as the twisty nature of the circuit was a very different task to face alone than the flowing curves of Brno and Lorenzo, another three seconds behind, was giving Rossi no chance of a let-up. The local hero was able to bring his M1 home safely however to the rapturous cheers of his home fans, who flooded onto the track in typical Italian fashion.
The sixth win of the season for Rossi and another non-finish for Stoner means he is now 75 points clear at the top of the championship, with a maximum of 125 points remaining from five races. Lorenzo stays in fourth and Yamaha remain on course for a treble of Teams' and Manufacturers' championships as well.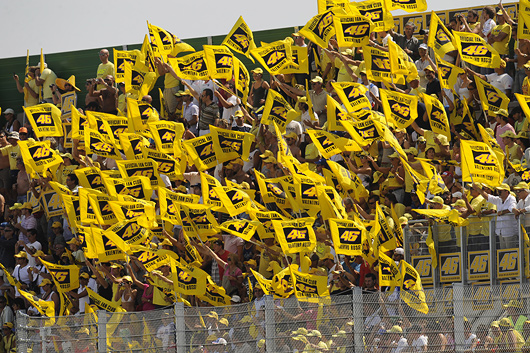 The Rossi fans were out in force at his home track
Valentino Rossi - Position: 1Time: 44'41.884
"Today is a truly fantastic day and I can't believe that I have matched Agostini's record! He was one of my heroes so it's quite incredible to have made it to 68 wins. This was quite a difficult weekend for us from the start and there has been the added pressure of a home race, which makes it harder to concentrate because there is so much distraction! Mugello has always been 'my' track, even though it's further away from Tavullia, but here, after the bad time last year, we haven't found it so easy. Once again today however my team gave me a very competitive bike and I felt very confident.
I got a good start but then Dani came past me very fast and I then lost a lot of time getting past him and had to take some big risks - I had a big slide! Once I was past him I could see Casey, although I have to admit that today I wasn't as confident as I was in Brno that I could win. Anyway I kept pushing because it's not in my nature to ride for second place and I think it still could have been a battle; I was very fast once I found my rhythm. Then I saw Casey slide out. I'm sorry for him once again but this is very good for our championship so I am happy for our team.
We have 75 points, which is a lot, but there are still five races and I will ride to win at every one, as I always have done throughout my career. Thanks to my fantastic Yamaha team, to Bridgestone and of course congratulations to Jorge as well, he kept pushing me today and I wasn't able to relax even for one minute! It is a great day for us all."

Stoner is ready.
Stoner Tops Practice at Misano
Day 1, Friday August 29th - Casey Stoner was the fastest rider on track on Friday at Misano, making his opening preparations for the Gran Premio Cinzano di San Marino e della Riviera di Rimini. The 2007 poleman, racewinner and, lest we forget, MotoGP World Champion clocked a 1´34.806 lap to continue his almost immaculate record of practice session success from the last six races. Casey Stoner , the only rider to breach the 1'35 barrier, topped the time sheets in both of the opening free practice sessions for the San Marino GP, lapping just outside the previous circuit record despite the track being slightly lengthened at the Variante del Parco corner and a bizarre hand injury.
The Australian went to visit Doctor Costa at the Clinica Mobile at the end of the afternoon session, with x-rays showing that the scaphiod break he suffered in 2003 appears to have re-opened. The injury will make it extremely painful and awkward for Stoner to ride tomorrow, although the Australian will undergo physio and wear a special support in order to give it his best shot.
CASEY STONER (Ducati Marlboro Team) 1st: 1'34.806 "The scaphoid is a really strange one because there has been no impact on it. I was just adjusting my back protector before going out for one of my runs this afternoon and I felt some pain. It got worse as the session went on so we decided to check it out with the Clinica Mobile and I couldn't believe it when they showed me the x-ray - it seems the bone I broke in 2003 has re-opened. It's not going to be easy and I'll have to take care not to cause any further damage but my plan is to compete tomorrow. It's a shame because other than that everything else went really well today. It's nice to get off to a good start at this circuit, we went well here last year and the bike and tyres seem to be working well already. I'm not a big fan of the changes to the track. Last year turn two and turn three were a lot of fun but this year it's too tight. You can't flow so well, the grip isn't so good it's a bit of a shame. Even so there are some points of the track that are still a lot of fun and in general I enjoy riding here. Hopefully we can continue like this tomorrow."
Just over four-tenths of a second down on Stoner´s marker was local favourite and current World Championship leader Valentino Rossi, making his first on-track appearance at Misano since his ill-fated race last year. With the series´ top two riders of the moment looking to be in fine form, early indications point to another gripping battle for supremacy between Stoner and Rossi on Sunday.
Someone who will also want to have a say in matters is Loris Capirossi, third in practice on Friday and himself just over half a second down on Stoner. The soon-to-be holder of the record for most Grand Prix appearances was riding the 2007 Misano podium-taking Rizla Suzuki GSV-R for the first time at his second `home´ circuit in the initial sessions.
Another veteran, Colin Edwards gave tyre fabricant Michelin their highest position of the day in fourth, although the Tech 3 Yamaha rider was unable to improve on his morning time in Free Practice 2.
LCR Honda´s Randy de Puniet was the fastest rider for the Japanese factory over the course of the day, in fifth ahead of second Suzuki man Chris Vermeulen and Fiat Yamaha´s Jorge Lorenzo. All of the top seven were within a second of Stoner´s time.
Home rider Alex de Angelis also featured in the top ten, ahead of San Carlo Honda Gresini teammate Shinya Nakano and Tech 3 Yamaha´s James Toseland. John Hopkins played no part in the day´s events, still sore from a minor but awkwardly placed rib injury.
Nicky Hayden came to Misano to try and race with his foot, broken racing Supermoto at the X-Games in Los Angees 3 weeks earlier, but found he was in too much pain and had to puul out. Repsol team mate Dani Pedrosa (seated right) will switch to the more competive Bridgestone tires starting mony, letting Nicky finsih out his contract at Honda with what may bea disappointing showing at the U.S. Indianapolis MotoGP in 2 weeks.
Injured Stoner Extends Record With Seven Straight Poles
Qualifying Practice, Saturday Aug 30 2008 - Casey Stoner needed just two qualifying tyres to put the seal on his pre-race dominance at Misano this afternoon, the Australian setting his seventh consecutive pole position to extend a record run in MotoGP. The all-time record in the premier-class dates back to 1997, when Mick Doohan started from the front of the 500cc grid on twelve successive occasions.
The current World Champion performed today under the effects of anti-inflammatory and painkilling medication, with Doctor Costa having also fitted him with a special support designed at limiting the effects of a re-opened fracture to the scaphoid.
Stoner had to dig deep for the honour of leading off the Gran Premio Cinzano di San Marino e della Riviera di Rimini, fighting back against some tough rivals on his final lap of the Saturday afternoon qualifying session. The Australian got back into his stride in the final two splits of the Misano circuit, with his 1´33.378 too much for even his most persistent challengers to match.
Half a second separated Stoner and World Championship leader Valentino Rossi´s fastest times on qualifying rubber, although the latter had been poised for a popular home pole until the last minutes of the run. Rossi will start from second on the grid for the third race in a row, an important placing if he is to catch his rival.
Stoner also extends his lead in the BMW M Award, having picked up his latest Tissot watch as a pole position prize. He will not, however, be placing the timepiece on his wrist anytime soon, with his wrist heavily bandaged and braced to protect a scaphoid fracture.
Jorge Lorenzo returns to the front row for the first time since the Portuguese round in Estoril back in April, third on the grid alongside Fiat Yamaha teammate Rossi. The Spaniard had laid down some fierce lap times during the qualifying session, something that will please not just himself and his team but also tyre manufacturer Michelin.
Randy de Puniet just missed out on the front row with his LCR Honda RC212V, the fastest rider for the Japanese factory. He is joined by Alice Team´s resurgent Spaniard Toni Elias and Repsol Honda´s Dani Pedrosa on the second line. Chris Vermeulen, Shinya Nakano and James Toseland will be just behind the trio when the lights go out at Misano on Sunday afternoon.
CASEY STONER (Ducati Marlboro Team) Pole position: 1'33.378 - "The hand wasn't too much of a problem today although I didn't want to risk working it too hard. There is a bit of bone floating around in there and when my wrist gets into a certain position in some of the corners the nerves get trapped and I get a shooting pain up my arm. I can deal with that though and we have an important job to do this weekend. We found a good setting for the bike this morning but it didn't work as well in the higher temperatures this afternoon, so we had to switch back to something else and it worked much better. We worked so hard on the race setting that we only had time to use two qualifiers at the end instead of the usual three. With the first one I used a new front, which needed a couple of laps to get scrubbed in, so I came in to change the rear and whilst it was good, it wasn't as good as the first one. So, the lap time could have been better but all in all I'm delighted to be on pole again. It's going to be a long, tough race tomorrow but I'm looking forward to it."
GP Cinzano di San Marino e Riviera di Rimini Qualifying Practice Classification:
1. Casey Stoner (Ducati) 1'33.378: 2. Valentino Rossi (Yamaha) +0.510: 3. Jorge Lorenzo (Yamaha) +0.586: 4. Randy de Puniet (Honda) +0.858: 5. Toni Elias (Ducati) +0.944: 7. CHRIS VERMEULEN (RIZLA SUZUKI MOTOGP) +1.083: 11. LORIS CAPIROSSI (RIZLA SUZUKI MOTOGP) +1.548: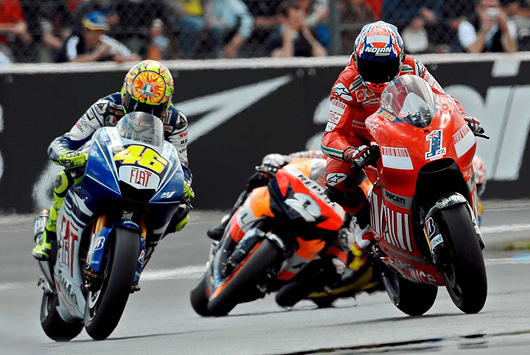 Rossi takes home Victory and 75-point near Championship clinching advantage
Racedaym Sunday 31st -In stifling heat on the Adriatic coast of Italy Casey Stoner (Ducati) threw away his last fading hopes of winning the MotoGP title again when he crashed while leading on lap eight of this 28-lap race. Valentino Rossi (Yamaha) won from his team-mate Jorge Lorenzo with Toni Elias (Ducati) third.A home victory and the retirement of rival Casey Stoner at Misano left Valentino Rossi one step closer to a sixth MotoGP World Championship, and his fans in celebratory mood amidst the yellow grandstands. The Fiat Yamaha rider was able to avenge his 2007 Misano disappointment and add the circuit to his list of successful tracks, with only the next circuit on the calendar, Indianapolis, missing from his impressive resume.
Rossi was, for the third race in succession, starting from second on the grid for the Gran Premio Cinzano di San Marino e della Riviera di Rimini. He could do nothing to stop title rival Stoner from taking the holeshot early, however, as the reigning World Champion established a large gap even before the first time that the riders crossed the start/finish line. Rossi was making up ground by the seventh lap, but the fans were denied a fascinating direct battle between the two when Stoner lost control of his Ducati Desmosedici GP8 and, as he did at Brno two weeks ago, saw his race come to an early conclusion.
Dani Pedrosa (Repsol Honda RC212V) finished a gallant fourth after leaving the line in superb style to lie second into turn one behind Stoner. But the Spanish star could not maintain the pace of the eventual podium men, and despite a gutsy bid for third in the closing stages, he finished 17 seconds behind the winner. His team-mate Nicky Hayden (Repsol Honda RC212V) did not ride today after struggling throughout qualifying with the injury to his right foot. He should be fit enough, however, to appear at Indianapolis in the USA in two weeks time.
Stoner is already long gone as Rossi (46) leads th rest of the field through the first lap.
Stoner flew in the early laps building a 3.3 second lead after only three tours of the 4.226km circuit and looked untouchable. Randy de Puniet (LCR Honda RC212V) made a good launch too and lay fourth on lap one – until he fell, not even completing the opening lap. He crashed here on lap one in 2007 too.
Rossi had been pressuring Stoner as best he could but the reigning world champion was maintaining the three secondcushion he'd established. Until, that is, he slid off his machine on lap eight at the hairpin leading onto the short 565m straight. He did not restart and his 2008 title ambitions are now surely in ruins.
Lorenzo was now the man chasing Rossi, but the Italian rider now worked on keeping his Spanish team-mate at bay and this he did, working his lead up to three seconds in the three laps from a 2.7 second base. Lorenzo made a late effort to close this but Rossi's job was now done.
From then on, Rossi completed the race in relatively untroubled fashion, bringing his Yamaha M1 home safely and taking his 68th premier class victory, in doing so equalling the record of MotoGP Legend Giacomo Agostini. Four consecutive race victories, a 75 point advantage in the standings and just five events remaining in 2008 mean that `The Doctor´ can now breathe a little easier after this latest triumph.
Teammate Jorge Lorenzo made his podium return at Misano with the runner-up spot, his first rostrum finish since the visit to Le Mans back in May. The MotoGP rookie was unable to catch up with his fellow Fiat Yamaha rider, but nonetheless had a comfortable advantage of his own over third place finisher Toni Elias.
Alice Team rider Elias followed his second place at Brno with another rostrum, the first time that he has taken consecutive podiums in the premier class. He held off another Spaniard in Repsol Honda´s Dani Pedrosa, whose teammate Nicky Hayden decided to miss both the warmup and race due to his persistent foot injury. Pedrosa closed the gap between himself and second placed Stoner to just two points.
Dani Padrosa was hanging on gamely however and it looked as if the Honda man was back to form after his German crash and the disappointment of missing out on riding at Laguna Seca. But Dani couldn't quite hang in there and as Rossi passed him early on, then Lorenzo and Elias on lap five, he had to make do with holding onto fourth.
Things were not going the way of the Honda men here. After De Puniet's early departure, San Marino lost it's main man when Alex de Angelis (San Carlo Honda Gresini RC212V) crashed on lap two. This left Dani, Andrea Dovizioso (JiR Scot Honda RC212V) and Shinya Nakano (San Carlo Honda Gresini RC212V) as the only men left in the running.
Action downfield consisted of a spirited fight for fifth place between the Suzuki riders Chris Vermeulen and Loris Capirossi, Yamaha man James Toseland, and the stalwart Dovizioso, who never stints in fighting for every inch of track with any rival.

British rider James Toseland saw him claim his fifth top six finish of the season at red-hot Misano this afternoon. The Tech3 Yamaha rider was always in contention for his first top six finish since the Catalunya GP after a solid start from ninth on the grid. At one stage though he looked on course for his best ever MotoGP finish as he held a terrific fifth having got the better of a tough battle with Andrea Dovizoso and Shinya Nakano.
Toseland slipped to sixth place on lap 22 but then produced a heroic display to hold off intense pressure from Loris Capirossi and Dovizioso in an enthralling finale to the 28-lap encounter, which was run in punishing 35-degree heat. Today's result moved Toseland back into the top ten in the world championship standings.
American team-mate Colin Edwards had a difficult afternoon, as any hopes he had of mounting an assault on the top six were dashed in the early stages. He struggled with rear grip, but was able to run a consistent pace in the second half of the race to fight his way back into a hard fought tenth.
San Marino´s MotoGP representative Alex de Angelis lasted just over a lap of his home race, and his disappointment was shared by LCR Honda´s Randy de Puniet, who also hit the ground early on.
Fiat Yamaha's 1-2 punch this weekend.

Rossi now has 262 points, Stoner 187, Pedrosa 185 and Lorenzo 140. Rossi's 75 point lead with five races to run is to all intents and purposes almost unassailable, but so long as mathematical chances remain, his four rivals will ride as fiercely as ever.
Valentino Rossi, Winner - "I´m very excited and tired. I felt some pressure before the race, with a lot of family and friends here; it´s only my dog that didn´t come here. I felt nervous, and struggled in practice with the setting. We fixed the bike for the race, and the race pace was a little slower because of the high heat. I rode round in 1´34 early, which was the target, but I lost some time with Dani (Pedrosa). Casey (Stoner) pushed a lot but didn´t get too far away from me. It´s a long race, so I don´t know if it is possible to have caught him. When he slid away I thought that it was very good for my championship chances. I still had to push, because Lorenzo doesn't give up. I won at my home race, so it feels like Mugello!´"
Casey Stoner, DNF - "It is very disappointing for the weekend to end like this after showing such a high level of performance in practice. Basically we took the decision to put one lap on the race tyre in warm-up this morning to get it scrubbed in: we've done it before and not had a problem but today I could feel from the first lap that the grip wasn't right. After a few laps it started to feel better and I was gaining confidence but it let go. It's a real shame but, anyway, we tried hard here and once again I think we've shown we are very fast, we have a great bike and tyres that work fantastically. This gives me confidence for next year and I'm looking forward to it already. As for the injury, it's huge disappointment this problem came out but I'll have to wait until the end of the season for an operation."
Lucky guy Jorge Lorenzo gets help from the team's umbrela girls as he autograph T-shirts.

Results MotoGP
Race Classification MotoGP : (28 laps = 118.328 km)
Pos/ Rider / Nat / Team / Motorcycle / Time/ KM/H / Gap
1 / Valentino ROSSI / ITA / Fiat Yamaha Team / YAMAHA / 44'41.884 / 158.836 /
2 / Jorge LORENZO / SPA / Fiat Yamaha Team / YAMAHA / 44'45.047 / 158.649 / 3.163
3 / Toni ELIAS / SPA / Alice Team / DUCATI / 44'53.589 / 158.146 / 11.705
4 / Dani PEDROSA / SPA / Repsol Honda Team / HONDA / 44'59.354 / 157.808 / 17.470
5 / Chris VERMEULEN / AUS / Rizla Suzuki MotoGP / SUZUKI / 45'05.293 / 157.461 / 23.409
6 / James TOSELAND / GBR / Tech 3 Yamaha / YAMAHA / 45'08.092 / 157.299 / 26.208
7 / Loris CAPIROSSI / ITA / Rizla Suzuki MotoGP / SUZUKI / 45'08.708 / 157.263 / 26.824
8 / Andrea DOVIZIOSO / ITA / JiR Team Scot MotoGP / HONDA / 45'09.475 / 157.218 / 27.591
9 / Marco MELANDRI / ITA / Ducati Marlboro Team / DUCATI / 45'15.053 / 156.895 / 33.169
10 / Colin EDWARDS / USA / Tech 3 Yamaha / YAMAHA / 45'18.413 / 156.702 / 36.529
11 / Sylvain GUINTOLI / FRA / Alice Team / DUCATI / 45'23.965 / 156.382 / 42.081
12 / Shinya NAKANO / JPN / San Carlo Honda Gresini / HONDA / 45'25.692 / 156.283 / 43.808
13 / Anthony WEST / AUS / Kawasaki Racing Team / KAWASAKI / 45'36.758 / 155.651 / 54.874
14 / John HOPKINS / USA / Kawasaki Racing Team / KAWASAKI / 45'37.038 / 155.635 / 55.154
Pole Position: Casey STONER 1'33.378 162.924 Km/h
Fastest Lap (New record): Valentino ROSSI 1'34.904 160.305 Km/h Lap 6
Circuit Record Lap: New Circuit
Circuit Best Lap: Casey STONER 1'33.378 162.924 Km/h 2008
World Championship Positions:
1 ROSSI 262, 2 STONER 187, 3 PEDROSA 185, 4 LORENZO 140, 5 DOVIZIOSO 118,
6 VERMEULEN 110, 7 EDWARDS 108, 8 NAKANO 87, 9 CAPIROSSI 86,
10 TOSELAND 85, 11 HAYDEN 84, 12 ELIAS 82, 13 DE ANGELIS 49,
14 MELANDRI 48, 15 GUINTOLI 47.

250cc GP to Bautista
Alvaro Bautista picked up a third victory of 2008 and 25 points for his 250cc title fightback in an edge-of-seat showdown in Misano. The Spaniard had a dream race, winning from the third row of the grid and seeing some of the big names in the category fall by the wayside.
Despite having to fight past some tough riders, Bautista perhaps had the most reserved race of those in the leading pack. The Mapfre Aspar rider somehow managed to avoid some big crashes and hard overtaking moves that caught out some of the expected challengers for the win, moving himself up to third in the overall classification and just a point behind Mika Kallio.
Yuki Takahashi was another rider who managed to steer clear of trouble, and got off to a fantastic start from the front row. JiR Team Scot´s Japanese star took his best result of the year with the runner-up spot behind Bautista.
One man never far away from the action in Misano was final podium finisher Hector Barbera, who was involved in some of the key incidents of the race. He twice ran wide with rival Marco Simoncelli as they engaged in a 250cc game of `chicken´, and also did little to endear himself to the San Marino faithful as his fight with Mattia Pasini ended with the home rider taking a huge crash on turn twelve of lap eleven. The Italian escaped unhurt, but obviously upset with Barbera.
Roberto Locatelli was the highest placing Italian rider in an impressive showing for the Metis Gilera man, coming home fourth ahead of Repsol KTM´s Julian Simon. Series leader Simoncelli emerged unscathed from his battle with Barbera, but crashed of his own accord on lap 21 to rule himself out of the podium fight. He eventually came home in sixth.
Thomas Luthi, Ratthapark Wilairot, Lukas Pesek and Karel Abraham were the other four riders in the top ten, which did not include Red Bull KTM riders Kallio and Hiroshi Aoyama. They collided on the second lap, leading to some heated discussion in the garage in the aftermath of a race without points for either rider.
Results 250cc GP
Race Classification 250cc: (26 laps = 109.876 km)
Pos / Rider / Nat / Team / Motorcycle / Time / KM/H / Gap
1 / Alvaro BAUTISTA / SPA / Mapfre Aspar Team / APRILIA / 43'15.831 / 152.380 /
2 / Yuki TAKAHASHI / JPN / JiR Team Scot 250 / HONDA / 43'17.919 / 152.257 / 2.088
3 / Hector BARBERA / SPA / Team Toth Aprilia / APRILIA / 43'19.583 / 152.160 / 3.752
4 / Roberto LOCATELLI / ITA / Metis Gilera / GILERA / 43'23.303 / 151.942 / 7.472
5 / Julian SIMON / SPA / Repsol KTM 250cc / KTM / 43'26.693 / 151.745 / 10.862
6 / Marco SIMONCELLI / ITA / Metis Gilera / GILERA / 43'37.011 / 151.147 / 21.180
7 / Thomas LUTHI / SWI / Emmi - Caffe Latte / APRILIA / 43'45.271 / 150.671 / 29.440
8 / Ratthapark WILAIROT / THA / Thai Honda PTT SAG / HONDA / 43'49.713 / 150.417 / 33.882
9 / Lukas PESEK / CZE / Auto Kelly - CP / APRILIA / 43'50.882 / 150.350 / 35.051
10 / Karel ABRAHAM / CZE / Cardion AB Motoracing / APRILIA / 44'01.236 / 149.760 / 45.405
11 / Fabrizio LAI / ITA / Campetella Racing / GILERA / 44'03.091 / 149.655 / 47.260
12 / Federico SANDI / ITA / Matteoni Racing / APRILIA / 44'26.495 / 148.342 / 1'10.664
13 / Manuel HERNANDEZ / SPA / Blusens Aprilia / APRILIA / 44'26.713 / 148.330 / 1'10.882
14 / Toni WIRSING / GER / Racing Team Germany / HONDA / 44'49.163 / 147.091 / 1'33.332
15 / Simone GROTZKYJ / ITA / Campetella Racing / GILERA / 43'29.476 / 145.753 / 1 lap
Pole Position: Hector BARBERA 1'38.047 155.166 Km/h
Fastest Lap (New Record): Marco SIMONCELLI 1'38.993 153.683 Km/h Lap 5
Circuit Record Lap: New Circuit
Circuit Best Lap: Hector BARBERA 1'38.047 155.166 Km/h 2008
World Championship Positions:
1 SIMONCELLI 190, 2 KALLIO 164, 3 BAUTISTA 163, 4 BARBERA 142, 5 DEBON 139,
6 PASINI 117, 7 TAKAHASHI 115, 8 AOYAMA 101, 9 LUTHI 95, 10 SIMON 83,
11 LOCATELLI 72, 12 ESPARGARO 55, 13 FAUBEL 49, 14 WILAIROT 47, 15 ABRAHAM 31.
---
Because She's Hot! - Between running for President, Paris Hilton has also been helping FastDates.com with our Ducati 1198R project bike for the Paddock Garage bike setup feature article and the next Fast Dates Calendar.
Now in Paddock Garage - Preping the Ducati 848 /1098 S, R Superbikes!
Just Added! Complete Handling Set Up and Tuning Instructions from Ducati Corse and editor Jim Gianatsis for the latest Ducati 848 / 1098 S, R Superbikes. This will make your stock bike much easier to ride and is guaranteed shave 1-2 full seconds off your track lap times! Paddock Garage Sportbike Tuning
---

Yawn, snooozzzzz.......... didn't we use this picture 2 weeks ago and the every race before this year?
Hopefully for the Laguna Sega final, Suzuki Media will send us some decent shots of the Rockstar Girls instead.
AMA Superbike Championship, Round 10 0f 11

Mladin and Trade Wins at Road Atlanta AMA Superbike
Road Atlanta, GA, , August 30-31st
Saturday to Mladin
Team Rockstar Makita Suzuki's Mat Mladin led a one-two-three at today's first leg of the AMA double-header at the Suzuki Superbike Showdown at Road Atlanta in Braselton in America. It was the Australian's seventh win but following his controversial disqualification from last weekend's Virginia round - a decision Suzuki is contesting - where he won both races, the series is still open as it is not known whether team mate Ben Spies has captured his third title with two races to go.
Spies finished second after recovering from a stop-go penalty and third team rider Tommy Hayden finished third, almost catching team mate Mladin bythe end of the race.
Mat Mladin: "I'd like to thank my Rockstar Makita Suzuki crew for working so hard and giving me a good bike in the GSXR1000. Today, it was a good race for us, though it was fairly uneventful. Ben got the meatball flag - because of the AMA penalty - and I just put it on cruise control and brought it home. Hopefully, we'll have a better race for the fans tomorrow."
Ben Spies: "That's the hardest I've ever had to ride to get second place. I did everything I could do. We just had a little problem at the start, and I couldn't get it together. Then, I knew I had to come through the field because I knew I needed to get on the podium. I'd like to thank my Rockstar Makita Suzuki crew for putting a great bike together for me."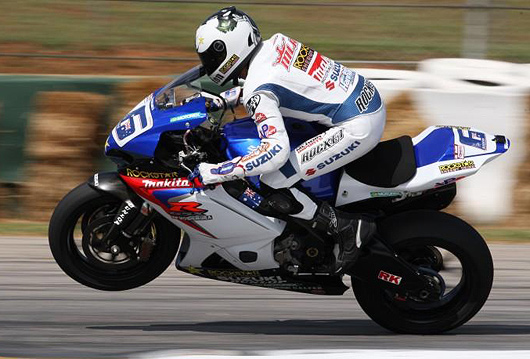 Matt Madin (above) after being disqualified from his double race win 2 weeks ago, now has no hope of catching team mate Ben Spis for this year's Superbike title.

Sunday to Spies
Rockstar Makita Suzuki Factory Racing completely dominated the AMA Superbike Championship weekend at Road Atlanta, following up Saturday's Suzuki clean-sweep with another such victory on Sunday afternoon in Braselton, Georgia. The all-Rockstar Makita Suzuki podium saw two-time and defending AMA Superbike Champion Ben Spies in the top spot with six-time AMA Superbike Champion Mat Mladin in second position and team mate Tommy Hayden in third.
Spies started the 25-lap race from pole position and ran in second to Mladin for much of the race before taking over the lead and capturing his first RoadAtlanta Superbike win. This is Spies' 28th career AMA Superbike win and his 10th victory of the year.
Mladin led most of the laps before being overtaken by Spies and this is his 14th AMA Superbike podium of the season, eight of which were wins. For Hayden, who led the first lap before settling into third place, this is his eighth Superbike podium of the year.
Currently, Spies leads the AMA Superbike title chase, Mladin is in second place and Hayden is in ninth.
Mat Mladin: "It was all we could do today to get second. We changed the Rockstar Makita Suzuki GSX-R1000 quite a bit from yesterday and it felt quite good… but with a few laps to go I just couldn't hang on anymore and I wound up settling for second."
Ben Spies: "The race was good; I got a little better start than yesterday and was able to get past Tommy. Then Mat came by and he was in a good rhythm right off the bat… Around lap 13 or 14, I started making a lot of mistakes and I wasn't as comfortable as I'd been the day before, so I realised I needed to ride as hard as I could and what happened, happened. I saw Mat get balked by a few lappers and I put my head down and made the pass, and tried to stay pretty clean and bring it back. Luckily, with the Rockstar Makita Suzuki GSX-R1000, we had the speed to run a really good race."
Tommy Hayden: "I went a little better today on the Rockstar Makita Suzuki GSX-R1000. At the start, I held the guys off a little longer and I was able to pull away from everyone else. Ben looked like he was making more of a push and got away from me. Then I got a big gap and was able to get through the lappers and bring it home."
Saturday AMA Superbike
1. Mat Mladin (Rockstar Makita Suzuki)
2. Ben Spies (Rockstar Makita Suzuki)
3. Tommy Hayden (Rockstar Makita Suzuki)
4. Eric Bostrom (Yamaha)
5. Aaron Yates (Suzuki)
6. Jason DiSalvo (Yamaha)
7. Miguel Duhamel (Honda)
8. Matt Lynn (Honda)
9. Geoff May (Suzuki)
10. Ben Thompson (Suzuki)

Sunday AMA Superbike
1. Ben Spies (Rockstar Makita Suzuki)
2. Mat Mladin (Rockstar Makita Suzuki)
3. Tommy Hayden (Rockstar Makita Suzuki)
4. Miguel Duhamel (Honda)
5. Jason Disalvo (Yamaha)
6. Eric Bostrom (Yamaha)
7. Neil Hodgson (Honda)
8. Aaron Yates (Jordan Suzuki)
9. Matt Lynn (Honda)
10. Geoff May (Jordan Suzuki)
---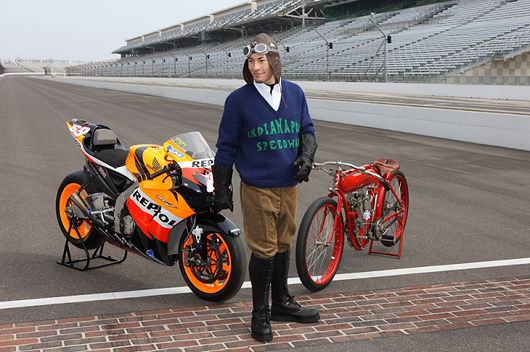 Nickey Hayden at Indy, now and then, straddles the brick finish line.

Motorcycles make their first return to Indianapolis in 100 Years with the Red Bull U.S. MotoGP September 14th Weekend

PREVIEW, Indianapolis, IN, September 12-14th 2009 - The first motorized race at the new Indianapolis Motor Speedway backon Aug 14th 1909 was was a motorcycle race, on Aug. 14, 1909. A.G. Chapple won the first race, a 5-mile event with seven competitors, on an Indian motorcycle. The race distance was two laps on the 2.5-mile IMS oval.
This September when te world's top riders in the MotoGO World Championship mark th first return of motorccyles to the legendary Speedwayy in 100 years. Nineteen MotoGP riders will race 28 laps on the 2.621-mile road course at IMS during the Red Bull Indianapolis GP on Sept. 14, 2008.
There will be approximately four hours of action on Race Day at the Red Bull Indianapolis GP on Sunday, Sept. 14, more on-track Race Day activity than either of the other two events this year at IMS? Four classes - MotoGP, 250cc, 125cc and Red Bull Riders Cup - will race Sunday, with warm-up sessions for MotoGP, 250cc and 125cc. It will be a full day of two-wheel racing action from 8:40 a.m.-4 p.m. at the Brickyard!
Thursday Preview Activities Schedued
The Red Bull Indianapolis GPreview on Thursday, Sept. 11 will help fans gear up for the inaugural weekend of MotoGP racing at the Indianapolis Motor Speedway. A variety of fan-friendly activities are scheduled during the free Red Bull Indianapolis GPreview, which will take place from 9 a.m.-6 p.m. Events will include:
• Question-and-answer sessions with riders and industry officials on the Pagoda Plaza stage. Noted motorcycle racing television personalities Ralph Sheheen and Greg White and Indianapolis radio personality Michael Young will serve as hosts of the stage show.
• MotoGP riders scheduled to appear (subject to change): Alex de Angelis, Loris Capirossi, Toni Elias, Sylvain Guintoli, John Hopkins, Marco Melandri, Shinya Nakano, Valentino Rossi, Casey Stoner, Chris Vermeulen and Anthony West. More riders will be added to the lineup soon.
• The pit walk from 2-5 p.m. - open to race ticket holders - during which fans can stand adjacent to the open garages, providing a clear view of the exotic, 800cc prototype motorcycles that will compete in the MotoGP class during the Red Bull Indianapolis GP. Skilled team personnel also will be on hand, working on the bikes that will propel American stars 2006 World Champion Nicky Hayden, Colin Edwards, Hopkins and Ben Spies, along with World Champions Rossi and Stoner, to speeds of 200 mph on the front straightaway of the IMS road course.
• A concert with Tech 3 Yamaha MotoGP rider James Toseland, also a classically trained pianist, and members of the Indianapolis Symphony Orchestra at approximately 5 p.m. in the Pagoda Plaza.
•The Vendor Marketplace. Vendors, including Alpinestars, Arai, Arlen Ness, Dainese, Joe Rocket, Nolan, Oakley, Scorpion, Shoei and Tour Master/Cortech, will be among the leading brands that fill 48 IMS garages with the latest in motorcycle equipment and accessories.
• Appearances and photo opportunities with Red Bull Indianapolis GP Grid Girls, free temporary tattoos, a DJ spinning music and more.
• Indianapolis Motor Speedway Official Trackside Gift Shops and IMS concession stands adjacent to the Pagoda Plaza and Hall of Fame Museum, and the MotoGP team/rider official merchandise areas will be open all day.
Tickets are on sale for the inaugural Red Bull Indianapolis GP on Sept. 14, 2008. Tickets can be purchased either online at www.indianapolismotorspeedway.com at any time; on the phone by calling (800) 822-INDY outside the Indianapolis area or (317) 492-6700 locally between 8 a.m.-5 p.m. Monday through Friday; or visiting the Indianapolis Motor Speedway Ticket Office on the first floor of the IMS Administration Building at 4790 W. 16th St. in Indianapolis from 8 a.m.-5 p.m. Monday through Friday.
Cora Skinner heats up August in the 2008 Iron & Lace Calendar
If you live near London, join our British distributor Crossbow-Calendars.com for their annual Calendar Premier Party on Saturday October 25th and pick up the new 2009 Crossbow and FastDates.com Calendars!
---
There's more! Go to Pit Lane News NEXT PAGE

Hot Calendar Girl and Bike News! Go to: Fast Dates • Calendar Girls • Iron & Lace


Calendar Kittens, The Paddock Garage, Screensavers, Iron & Lace Garage


Many of our Calendar Kittens can also be seen at Playboy's website...