The days of summer in World Superbike....
Our August page in the 2008 Fast Dates Calendar has us riding with beautiful World Superbike Fast Dates Calendar Kitten Katie and Troy Bayliss'd 's Ducati 999F07 superbike shot at Brands Hatch World Superbike last August. Are you ready to go for a ride?
All the 2008 and 2009 and earlier FastDates.com Calendar Pages / Screensavers are available in full size 15x15-inch size for downloading now in the Calendar Index in Members Corner
Buy the FastDates.com Calendars • Download Big Screensaver Photos in Members Corner
Screensaver: Valentino Rossi wheelies to victory at the 2008 Laguna Seca MotoGP!
Screensavers are in big full screen 24 x 17 and 36 x 26 sizes
that you compter will downsize to fit your monitor screen
New FastDates.com Calendar Monthly Screensavers!


Millions of you have been writing in and asking us why we haven't done this sooner....

Well, to be honest, we were just too friggin' cheap and wanted you to buy our great calendars instead. This means many of you have been left clueless as to what day it is, or what a really hot chick looks like, or to have a cool action shot of your favorite racer.
Go to Screen Savers
So now you can download from FastDates.com the world's hottest, sexiest swimsuit Calendar Kittens, Supermodels and Playboy Playmates posing with the world's top factory MotoGP and World Superbikes and custom V-Twins. Are we the good guys now, or what?
All you need to do is join our Members Corner to access these incredible new shots each month. And with your Members Corner membership you'll also receive access to The Paddock Garage Sportbike Tuning, Iron & Lace Garage Custom and Race Bike Pictorials, Works Bikes Screensavers, plus the very sexy and very revealing Members Corner pictorials of our FastDates.com Calendar Kittens.
---

Valentini Rossi looks set to regain the MotoGP title

FIM 2008 MotoGP World Championship, Cardion ab Grand Prix Ceske Republiky
Bridgestone Riders take top 8 positions as Michelins prove useless
Stoner Stumbles, Rossi Wins Again to Secure Title lead at Bruno
Bruno, Czech Republic, Aug 15-17th 2008 - Valentino Rossi (Yamaha) put one hand on the 2008 World Championship here at Brno today when he won from Toni Elias (Ducati) with seasoned campaigner Loris Capirossi (Suzuki) third.
With Casey Stoner (Ducati) falling on lap seven and failing to score, and with Dani Pedrosa (Repsol Honda RC212V) collecting just one point for a gutsy 15th place riding with little grip and even less confidence from poorly performing tyres, Rossi has all but secured the title. With six rounds left and holding a 50-point lead, it is effectively now his to lose.
Valentino Rossi once again benefitted from Casey Stoner´s misfortune for a second consecutive MotoGP victory, crossing the finish line first at the Cardion ab Grand Prix Ceske republiky. The Fiat Yamaha rider´s win –coupled with an early crash from his title rival- increased his lead to 50 points in the standings and gave a crucial boost to his World Championship chances.
Stoner was caught by surprise on the sixth lap when out in front. He had over a second´s worth of advantage over Rossi after taking the holeshot, but slipped his front wheel out on the new Brno asphalt and was lowsided into the gravel. It was Stoner´s first DNF since his joining the Ducati Marlboro team for the 2007 season.
The top eight finshers at Bruno were all Michelin shod bikes, as the once prominate Michelin brand had no tires which worked in the race. Making a No-Show this weekend was Repsol Honda's former World Champion Nicky Hayden who broke his foot 2 weeks beforehand, racing Supermoto at the X-Games in Los Angeles.
Suffering Stoner sends the doctor away for Brno pole
Qualifying Saturday Aug 16th - Despite feeling less than 100% with a fever from food poisoning the day before, there was no stopping Casey Stoner from taking a sixth successive pole position for the Cardion ab Grand Prix Ceske republiky, as the Australian imposed his will on his rivals in a wet qualifying session.
Stoner recorded a fastest time of 2´11.657 in the soaking session, giving him the longest pole streak since fellow countryman Mick Doohan´s twelve-in-a-row from 1997. In doing so, he relegated MotoGP´s self-styled `Doctor´ -World Championship leader Valentino Rossi- down to second on the grid. Rossi was suffering his own ailment on Saturday, with an ear and sinus infection posing him problems. Even with their respective medical woes, both Stoner and Rossi can be expected to battle against each other once more in Brno when the red light goes out on Sunday.
The front row will be completed by last year´s runner-up at Brno, Kawasaki´s John Hopkins, as the Anglo-American lines up for his first MotoGP race since the June visit to Donington Park. A first front row for `Team Green´ marked an ideal return for Hopkins, who will be out for a maiden podium to salvage something from his 2008 campaign.
Out to stop him is former teammate Chris Vermeulen, the Rizla Suzuki rider who heads the second row. Vermeulen has been on the rostrum at the last two races, and conditions were favourable for the wet weather specialist to classify himself ahead of Alex de Angelis and Anthony West – the remaining duo on the second line as both had their best qualifying sessions of the year.
Randy De Puniet ran off track after recording his fastest time of the qualifying period, and elected against another attempt at bettering his marker. His LCR Honda bike fell in the gravel as it came to the end of its trajectory, with some minor repairs made as the Frenchman returned to the garage. De Puniet was the highest placing Michelin rider in seventh, and the only non-Bridgestone representative in the top ten.
San Carlo Honda Gresini´s Shinya Nakano was getting used to the factory spec RC212V that he will race for the first time, a task made more difficult by the drenched track. He starts from row three, a line concluded by Loris Capirossi, who ran off in the early going.
Crashing at the midway point of the session was Tech 3 Yamaha´s James Toseland, who avoided lowsiding his M1 but was unable to avoid a tumble.
Stoner stumbles in the Race, handing the win and possibly the title to Rossi
Stoner romped into the lead from pole as extinguished lights signalled the start of a 22-lap race around the majestic dips and curves of this 5.403km woodland circuit. Hopkins and Rossi chased him from the front row with Rossi eventually getting the better of the unyielding Hopkins for second.
Dani had powered from 12th on the grid to sixth from the start, his trademark rapid launch serving him well after qualifying so low. But as the pace hotted up it was abundantly clear his rubber was not up to the demands of this newly resurfaced track and he dropped back lap by lap.
Anthony West (Kawasaki) moved up to fourth from sixth on the grid as Stoner established a 0.6 second lead by the halfway point of lap one. By the end of that opening lap it was a 1.1 second lead and Rossi was giving it everything to stay in touch with the flying Aussie.
Dani was hanging onto sixth but by lap two he'd slipped back to eighth. There was nothing he could do about abject lack of grip, from his front tyre in particular. All the Michelin riders were suffering here to a degree not seen before in MotoGP.
By lap four Rossi had stabilised Stoner's lead. Having pushed his advantage to 1.3 seconds Stoner now had to find more to put distance between his Ducati and the chasing Rossi. He found it with a fastest lap on lap five, but then Stoner was caught by surprise on lap six. He had over a second´s worth of advantage over Rossi after taking the holeshot, but wahd out his front wheel turning into a downhill corner and was lowsided into the gravel. It was Stoner´s first DNF since his joining the Ducati Marlboro team for the 2007 season.
He lost the front end of his machine, tumbled into the gravel, and despite frantic efforts to restart and rejoin the race he parked his bike and trudged back to the pits. Randy de Puniet (LCR Honda RC212V) also crashed on this lap but managed to get back on track to finish the race in 16th place.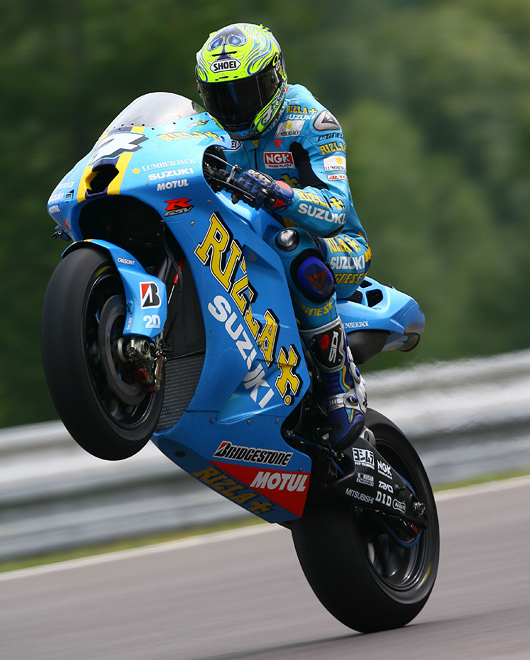 Former Superbike champ Chirs Vermuelen. .

Rossi now led the Suzukis of Chris Vermeulen and Loris Capirossi by 12 seconds. There was no way he was going to be caught and, with no pressure from title rivals, unlikely he would make an error. Sure enough he kept his composure to win by 15 seconds from Elias.
Ducati were, however, represented on the podium in the Czech Republic, courtesy of Alice Team rider Toni Elias. The Spaniard had experienced problems on the sighting lap –a sign that did not bode well for his race- but burst through the 800cc stars ahead of him from thirteenth on the grid. His second place marks the first podium for both he and his satellite team in 2008, and he became only the second satellite rider to step onto the rostrum this year.
Another podium first came from Loris Capirossi, as the veteran made his maiden appearance on the rostrum for Rizla Suzuki. The Italian had taken off from the end of the third row, but showed that there was still life in his MotoGP career by making Suzuki the fourth manufacturer with which he had taken a top three finish in the premier class.
There was action aplenty downfield. Andrea Dovizioso (JiR Scot Honda RC212V) had hoisted himself to seventh, Shinya Nakano (San Carlo Honda Gresini RC212V) lay ninth and Alex de Angelis (San Carlo Honda Gresini RC212V) tenth, while a four-rider fight for fourth ensued.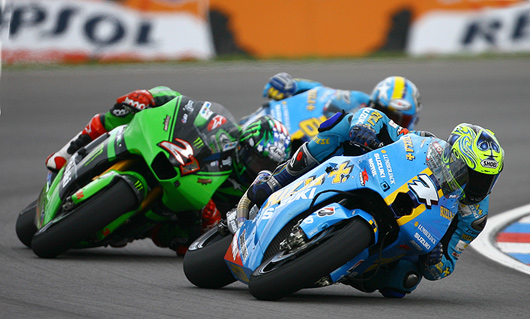 Suzuki's Vermuelen (7) and Capirossi (65) battle with Kawasaki 's John Hopkins (21).

Capirossi, Vermeulen, Hopkins and the rapid Elias were battling it out before it became clear that Elias had the measure of them all. He eased away to secure second while a hard-charging Nakano hauled himself up from seventh mid-race to fourth at the flag, and highest Honda finisher.
Dovizioso was the highest-placed Michelin-shod Honda rider in ninth place, one place behind De Angelis. Nicky Hayden (Repsol Honda RC212V) did not ride this weekend after injuring his foot at the Los Angeles X Games earlier this month.
Valentino Rossi , Race Winner - "I knew today would be very difficult with Casey (Stoner) so strong, and his first lap was impressive. I lost a bit of time with John (Hopkins) in the first corner, because he overtook me. This time we had the pace with Stoner, and I was catching up with him. I knew my setting and tyres were working well. I think I could possibly have beaten him in a battle. Unfortunately he crashed, and then I was ahead with a 11 second lead. If he hadn´t have crashed then things would have been tougher, for sure"
Casey Stoner (Ducati Marlboro Team) DNF - "Obviously we are all disappointed with this result because our pace in practice was good, everything went very well this morning and we felt we could push out in front. Things were going according to plan until the crash. I was doing the same lap time over and over and I was quite happy with the pace I was running. The crash came out of the blue, that corner was an easy one but I lost the front and it happened very quickly, very suddenly and I didn't manage to save it. It's a hard one to explain and we will look at the data but sometimes this kind of crash happens at this level of racing and it was my mistake! We knew that we needed to win this race - and more - in order to close down Valentino's advantage so this makes the championship very difficult for us. Anything can happen in racing but fifty points is a big gap against such a strong and consistent competitor. Anyway I never throw in the towel, nor does anybody at Ducati, and we will keep fighting until the end. Misano is a home race for the factory and there will be lots of Ducatisti there, so my main thought now is to stay positive and bounce back with a good show for them in two weeks' time"
Fourth-placed Nakano said: "We took another step forward with the new bike today although I have to say that it has not been easy to get this result. We came to Brno without any test data but the team did a great job with the set-up. I'm just disappointed I lost positions at the start because I made contact with another rider, but at the same time satisfied to have recovered and finished the race in fourth – a result I can be pleased with."
His team-mate De Angelis, eighth, said: "Even if I finished the race as the best of the RC212V satellite riders today's result isn't too satisfying because we were expecting to finish in the top six. We weren't too far off that target but this wasn't the race we'd imagined. Unfortunately after the first lap, when I lost several positions, I made several passes but lost position to other riders who were faster down the straights. Tomorrow we'll make the most of the test here at Brno to continue to improve ahead of the San Marino Grand Prix, which is of special importance to me."
Dovi, ninth, said: "My goal for the race was to be the first Michelin rider home, which is what I have achieved, but things were too difficult to do better. I started fully motivated and wanting to give the maximum and exploit fully the material at our disposal, but today I cannot be satisfied with the result. I had difficulty with the front tyre and was forced to change my style of riding, which meant not being able to exploit my speed in the corners."
Dani, 15th, said: "This weekend has been a complete disaster – probably the worst of my career. In fact I couldn't even race today, all I could do was ride; I couldn't control the bike, I didn't feel safe. I was riding so slow I felt ashamed. I considered stopping but I stayed out there to get some points. We really need a drastic improvement from the tyres. I had no grip at the front and no grip at the rear, from the first lap to the last. It was therefore impossible for me to push any harder. I almost crashed twice, so I just tried to finish the race. At the end the tyre performance was even worse than during the early laps."
Results MotoGP: (22 laps = 118.866 km)
Pos/ Rider / Nat / Team / Motorcycle / Time/ KM/H / Gap
1 / Valentino ROSSI / ITA / Fiat Yamaha Team / YAMAHA / 43'28.841 / 164.025 /
2 / Toni ELIAS / SPA / Alice Team / DUCATI / 43'43.845 / 163.087 / 15.004
3 / Loris CAPIROSSI / ITA / Rizla Suzuki MotoGP / SUZUKI / 43'50.530 / 162.673 / 21.689
4 / Shinya NAKANO / JPN / San Carlo Honda Gresini / HONDA / 43'54.700 / 162.416 / 25.859
5 / Anthony WEST / AUS / Kawasaki Racing Team / KAWASAKI / 43'58.306 / 162.194 / 29.465
6 / Chris VERMEULEN / AUS / Rizla Suzuki MotoGP / SUZUKI / 43'59.449 / 162.123 / 30.608
7 / Marco MELANDRI / ITA / Ducati Marlboro Team / DUCATI / 44'05.294 / 161.765 / 36.453
8 / Alex DE ANGELIS / RSM / San Carlo Honda Gresini / HONDA / 44'05.591 / 161.747 / 36.750
9 / Andrea DOVIZIOSO / ITA / JiR Team Scot MotoGP / HONDA / 44'07.663 / 161.620 / 38.822
10 / Jorge LORENZO / SPA / Fiat Yamaha Team / YAMAHA / 44'08.414 / 161.575 / 39.573
11 / John HOPKINS / USA / Kawasaki Racing Team / KAWASAKI / 44'08.451 / 161.572 / 39.610
12 / Sylvain GUINTOLI / FRA / Alice Team / DUCATI / 44'09.733 / 161.494 / 40.892
13 / James TOSELAND / GBR / Tech 3 Yamaha / YAMAHA / 44'40.331 / 159.651 / 1'11.490
14 / Colin EDWARDS / USA / Tech 3 Yamaha / YAMAHA / 44'49.974 / 159.078 / 1'21.133
15 / Dani PEDROSA / SPA / Repsol Honda Team / HONDA / 45'05.879 / 158.143 / 1'37.038
Pole Position: Casey STONER 2'11.657 147.738 Km/h
Fastest Lap (New record): Casey STONER 1'57.199 165.963 Km/h Lap 5
Circuit Record Lap: Loris CAPIROSSI 1'58.157 164.618 Km/h 2006
Circuit Best Lap: Valentino ROSSI 1'56.191 167.403 Km/h 2006
World Championship Positions:
1 ROSSI 237, 2 STONER 187, 3 PEDROSA 172, 4 LORENZO 120, 5 DOVIZIOSO 110,
6 EDWARDS 102, 7 VERMEULEN 99, 8 HAYDEN 84, 9 NAKANO 83, 10 CAPIROSSI 77,
11 TOSELAND 75, 12 ELIAS 66, 13 DE ANGELIS 49, 14 GUINTOLI 42, 15 MELANDRI 41.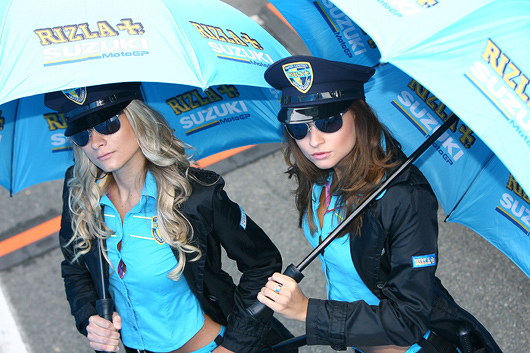 250cc Grand Prix to Alex Debon / Aprilia
Alex Debon put on a late, late show to take the second victory of his 250cc career, using every ounce of his experience to slip past Marco Simoncelli on the final lap in Brno. The Lotus Aprilia rider´s chance of victory looked to have fallen by the wayside with two laps to go, as poleman Simoncelli ducked inside him and established what seemed to be an unassailable gap. However, Debon was not in the mood to settle for second, and pinned his hopes on a final lap fightback that paid dividends for the Spaniard.
Fellow Spaniard Alvaro Bautista also took advantage of a Simoncelli slip-up, taking a hard-fought second place from tenth on the grid. The Bancaja Aspar rider had less than a tenth of a second ahead of his Italian rival as the twosome crossed the finish line, continuing his attempt to salvage something from a 2008 season blighted by misfortune.
Metis Gilera rider Simoncelli completed the podium at the track where he had first tested the RSA machine, and extended his advantage in the World Championship classification. The man with the points total closest to him – Red Bull KTM man Mika Kallio- came in fifth, behind Hector Barbera. Yuki Takahashi, Mattia Pasini, Hector Faubel, Roberto Locatelli and Aleix Espargaro were the final riders in the top ten, whilst the only crashes of the race came from home rider Karel Abraham and Swiss star Thomas Luthi.
250cc Race: (20 laps = 108.06 km)
Pos / Rider / Nat / Team / Motorcycle / Time / KM/H / Gap
1 / Alex DEBON / SPA / Lotus Aprilia / APRILIA / 41'08.168 / 157.613 /
2 / Alvaro BAUTISTA / SPA / Mapfre Aspar Team / APRILIA / 41'08.448 / 157.595 / 0.280
3 / Marco SIMONCELLI / ITA / Metis Gilera / GILERA / 41'08.493 / 157.592 / 0.325
4 / Hector BARBERA / SPA / Team Toth Aprilia / APRILIA / 41'08.995 / 157.560 / 0.827
5 / Mika KALLIO / FIN / Red Bull KTM 250 / KTM / 41'09.417 / 157.533 / 1.249
6 / Yuki TAKAHASHI / JPN / JiR Team Scot 250 / HONDA / 41'21.881 / 156.742 / 13.713
7 / Mattia PASINI / ITA / Polaris World / APRILIA / 41'21.994 / 156.735 / 13.826
8 / Hector FAUBEL / SPA / Mapfre Aspar Team / APRILIA / 41'24.194 / 156.596 / 16.026
9 / Roberto LOCATELLI / ITA / Metis Gilera / GILERA / 41'27.252 / 156.403 / 19.084
10 / Aleix ESPARGARO / SPA / Lotus Aprilia / APRILIA / 41'28.860 / 156.302 / 20.692
11 / Ratthapark WILAIROT / THA / Thai Honda PTT SAG / HONDA / 41'37.663 / 155.751 / 29.495
12 / Julian SIMON / SPA / Repsol KTM 250cc / KTM / 41'37.940 / 155.734 / 29.772
13 / Hiroshi AOYAMA / JPN / Red Bull KTM 250 / KTM / 41'40.112 / 155.599 / 31.944
14 / Lukas PESEK / CZE / Auto Kelly - CP / APRILIA / 41'44.482 / 155.327 / 36.314
15 / Alex BALDOLINI / ITA / Matteoni Racing / APRILIA / 41'51.919 / 154.868 / 43.751
Pole Position: Marco SIMONCELLI 2'10.723 148.794 Km/h
Fastest Lap: Alex DEBON 2'02.354 158.971 Km/h Lap 20
Circuit Record Lap: Jorge LORENZO 2'02.299 159.043 Km/h 2007
Circuit Best Lap: Jorge LORENZO 2'01.368 160.263 Km/h 2007
World Championship Positions:
1 SIMONCELLI 180, 2 KALLIO 164, 3 DEBON 139, 4 BAUTISTA 138, 5 BARBERA 126,
6 PASINI 117, 7 AOYAMA 101, 8 TAKAHASHI 95, 9 LUTHI 86, 10 SIMON 72,
11 LOCATELLI 59, 12 ESPARGARO 55, 13 FAUBEL 49, 14 WILAIROT 39, 15 ABRAHAM 25.
---
FastDates.com endorses Calendar Kitten Paris Hilton for President!
Because She's Hot! - Between running for President, Paris Hilton has also been helping FastDates.com with our Ducati 1198R project bike for the Paddock Garage bike setup feature article and the next Fast Dates Calendar.
Now in Paddock Garage - Preping the Ducati 848 /1098 S, R Superbikes!
Just Added! Complete Handling Set Up and Tuning Instructions from Ducati Corse and editor Jim Gianatsis for the latest Ducati 848 / 1098 S, R Superbikes. This will make your stock bike much easier to ride and is guaranteed shave 1-2 full seconds off your track lap times! Paddock Garage Sportbike Tuning
---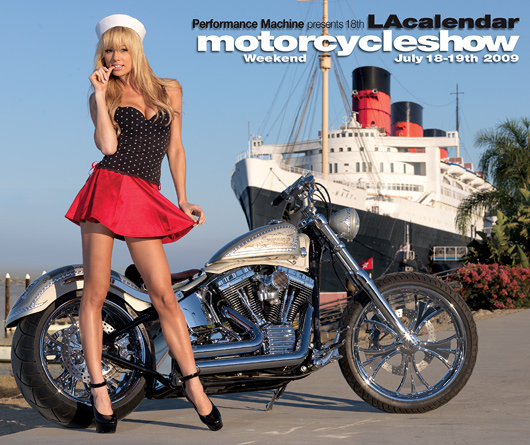 Next LA Calendar Motorcycle Show Weekend set for July 18-19th 2009
Sept 1st - The 2009 LA Calendar Motorcycle Show Weekend will move back to the 3rd weekend of July for 2009. The Show is traditionally held in the middle of July on weekends not to conflict with other major events including the MotoGP at Laguna Seca and Sturgis Bike Week. The Calendar Bike Show has been on the 2nd July weekend these past 4 years, but this year 2008, Holister which had typically been held on the 4th of July weekend, moved onto our 2nd weekend, significantly limiting spectator and vender attendance at both events. For 2009 the U.S. MotoGP at Laguna Seca has moved from its 3rd weekend of July to the July 3-5th weekend, allowing the LA Calendar Motorcycle Show moving back to the 3rd weekend of July date where the Show had had been from 1995 - 2004. Holister will stay on the 2nd July weekend, now allowing spectators and venders can attend all 3 major west coast events, and manufacturers from back east can schedule a July 2009 west coast swing to hit consecutively all 3 major street motorcycle event weekends. Details HERE
More than just a pretty face, C.W. Morris' 1st Place Mikuni Performance V-Twin Calendar Bike Building Champinship class winner also tackled the S&S Cycle World Record Dyno at this year's Calendar Bike Show. Photo by Jack Lawford, Editor / BikerHotLine.com
---
Yawn, snooozzzzz..........
AMA Superbike Championship, Round 9 0f 11

Mladin and Team Suzuki Double 1-2-3 at Alton AMA Superbike
Alton, VA, August 16-17th - Rockstar Makita Suzuki Factory Racing followed up yesterday's AMA Superbike podium sweep at Virginia International Raceway in Alton, Virginia, with another one just like it on Sunday, marking the fifth such sweep for the Rockstar Makita Suzuki team of Mat Mladin, Ben Spies and Tommy Hayden.
Saturday;s 28-lap race started with an all-Suzuki front row of the grid and ended with a Rockstar Makita Suzuki podium sweep. Six-time AMA Superbike Champion Mat Mladin won the race while his team mates Ben Spies and Tommy Hayden finished second and third respectively. This victory is Mladin's eighth AMA Superbike win of the season and his 71st such career win.
Two-time and defending AMA Superbike Champion Spies took the pole position this weekend - his seventh of the season - and led the first few laps before bringing home his 14th podium finish of the year. Meanwhile, Hayden rode an impressive race and was excited to return to the podium after missing six races due to injuries sustained earlier in the year.
On Sunday, the second Superbike race of the double-header weekend again started with an all- Suzuki front row of the grid and ended with six-time AMA Superbike Champion Mladin notching his ninth Virginia win; his ninth win of the season; and his 72nd career Superbike win overall.
Two-time and defending AMA Superbike Champion Spies started from pole position and brought home second place, successfully taking his 15th podium finish of the year. Rounding out the Rockstar Makita Suzuki podium in third place was again Hayden, who led the first lap of this 28-lap race. This finish is Hayden's second podium in a row after being injured, and his sixth podium of the year.
Currently, Spies leads the AMA Superbike title chase, Mladin is in second place and Hayden is in 10th.
Mat Mladin: "It was a good race for us. It was a little bit cooler today and my Rockstar Makita Suzuki crew made a few changes to the GSX-R1000 that let me know that I could run a consistent pace. I tried to set a fast pace and pull away, and I was able to do that. VIR is a place that I've been able to win reasonably comfortably. It's a traditional road course and it's got a little bit of everything. I enjoy riding here. Right now, winning races is my priority and my goal, and if I can win a couple more races in Atlanta that would be fantastic."
Ben Spies: "We're doing everything we can out there and we're riding as hard as possible on the Rockstar Makita Suzuki GSX-R1000. Thanks to my team for giving me a completely different motorcycle to race today though we just didn't quite have enough for Mat today. But we'll keep on riding as hard as we can every weekend. Even though we didn't get the win, hats off to my team mates for a great race and going one-two-three for Rockstar Makita Suzuki."
Tommy Hayden: "I've really gotten my starts figured out in the last few weeks and that's made a big difference for me. It was a less exciting race for the fans but I enjoyed being up there with my Rockstar Makita Suzuki team mates in first, second and third. My team mates are the best riders by far out here in my opinion and we are on the best bikes as well. It's nice to have some momentum to finish off the season with and my goal is to be back up on the podium and keep the momentum going."
Saturday Superbike Results
1. Mat Mladin (Rockstar Makita Suzuki)
2. Ben Spies (Rockstar Makita Suzuki)
3. Tommy Hayden (Rockstar Makita Suzuki)
4. Eric Bostrom (Yamaha)
5. Jason Disalvo (Yamaha)
6. Miguel Duhamel (Honda)
7. Geoff May (Jordan Suzuki)
8. Roger Hayden (Kawasaki)
9. Chris Peris (Suzuki)
10. Kenny Noyes (Suzuki)

Sunday Superbike Results:
1. Mat Mladin (Rockstar Makita Suzuki)
2. Ben Spies (Rockstar Makita Suzuki)
3. Tommy Hayden (Rockstar Makita Suzuki)
4. Eric Bostrom (Yamaha)
5. Miguel Duhamel (Honda)
6. Jamie Hacking (Kawasaki)
7. Neil Hodgson (Honda)
8. Geoff May (Suzuki)
9. Jason DiSalvo (Yamaha)
10. Matt Lynn (Honda)
---
There's more! Go to Pit Lane News NEXT PAGE

Hot Calendar Girl and Bike News! Go to: Fast Dates • Calendar Girls • Iron & Lace



Calendar Kittens, The Paddock Garage, Screensavers, Iron & Lace Garage


Many of our Calendar Kittens can also be seen at Playboy's website...



World Premier!
2009 FastDates.com Calendars
---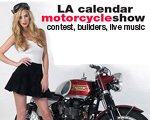 Complete Coverage!
2008 LA Calendar Motorcycle Show & Calendar Girl Music
Festival Weekend!
$86,000 Bike Building Championship
World Record Dyno Shootout!
Calendar Girl Music Festival


Ducati North America announces grand opening of new showroom at Southern California Ducati
Southern California Ducati to host Special VIP Preview Evening August 29 and a Public Grand Openning on August 30 showcasing its new Ducati Retail Design showroom
Cupertino, CA (Aug. 27, 2008) – Ducati North America announced today the grand opening celebration of its largest, most dynamic Ducati-exclusive showroom in North America will take place on Saturday, August 30 from 9am to 5pm. Southern California Ducati will also host a VIP preview of the new Ducati "destination dealership" showroom on Friday, August 29 from 8–11pm.
The special VIP evening will include a Ducati Performance runway fashion show and the kickoff of the Puma Ducati Monster 696 sweepstakes. Models will take to the runway for a fashion show beginning at 9 pm inside the newly designed retail space. Along with the fashion show will be some of Ducati's most beautiful Italian bikes including a Pike's Peak Hypermotard accompanied by Spider Grips Ducati Performance Riders Greg Tracy and Alexander Malcolm Smith, the Roland Sands 696 monster and a Ducati Performance outfitted Desmosedici.
"Our dealership isn't just for selling motorcycles anymore," said Southern California Ducati owner Tom Hicks. "It's about forming relationships with our Ducatisti and providing them a premier experience. We hope to use our design story as a benchmark for future destination dealerships." The re-design of the Ducati showroom not only exudes the Italian flair for style, but also represents a passion for the sport and the product."
In conjunction with Stripe Design Group designer, Suna Lock, the Ducati brand married the previously dated space with the vision of a 'destination dealership' – a place for local enthusiasts to not only eye the new models of motorcycles and apparel, but also a chance to embrace the Italian motorcycle culture and become part of the Ducati family. The re-design of Southern California Ducati continues to spark additional Ducati Retail Design projects among the Ducati dealer network.
The public Grand Opening on Saturday, August 30, will feature the entire line of Ducati apparel, the latest 2008 Ducati motorcycles and demo rides.
Southern California Ducati
515 West Lambert Road
Brea CA, 92821
714-256-6700
www.socalducati.com
Nicky Hayden to Ducati
MotoGP in 2009!
Please say it ain't so...
Aug 20th - America's lackluster MotoGP star who hasn't been able to get near a podium this year on his factory Honda, and is curenty not racing because of a broken foot, seems slated to join Ducati's MotoGP team next year to replace the struggling Marco Melandri. According to Nicky's management team the deal is all but completed.
His place in the Repsol Honda factory team along side Dani Pedrosa is expected to go to Andrea Dovizioso. If Nicky has been unable to develop and ride the factory Hondas and is being dumped frm the Honda team for 2 years of lackluster performance, we don't know how in the world Ducati expects him to ride the factory Ducati that only Casey Stoner can set up and ride.
This is certtainly a matter of marketing politics since the former 2006 World Champion (who was handed his title in a weakly contested season that included Rossi changing to the undelevopled Yamaha) is still perceived by some to be the most popular American rider in MotoGP racing. And with America is Ducati's biggest growing market, with a current 24% sales growth in new bikes past year. But then, if Ducati's new model bikes are selling that well without Nicky, why should Ducati waste a multi millin dollar contract on Hayden? They don't nned him. What the need t do is sign a new young gun like Stoner was was for them last year.
Ducati and Stoner end Bruno Tests on Top
Tues Aug 19th- 2-Day Test after Czech GP - Day 2 - End The Ducati Marlboro Team completed a two-day test at the Brno circuit in the Czech Republic in impressive style today, with Casey Stoner setting a sensational pace and declaring himself happy with development of the GP8 and the Bridgestone tyres.

On another hot and sunny day, with track and ambient temperatures reaching 29 and 54 degrees respectively, Stoner lapped until 16:00h and completed 40 laps in the low 1'56s - eventually clocking a 1'55.9 on a new race tyre. The Australian also tested a new qualifying tyre, posting the best time of the day with a 1'55.855, more than a second inside his own pole position record.

Marco Melandri lapped until lunchtime and was also satisfied with the set-up work completed, especially with the solutions found by his crew on the first day.
The next appointment for the Ducati Marlboro Team is the San Marino Grand Prix on 31st August.

Casey Stoner (Ducati Marlboro Team): 1'55.904 (race tyres) 1'55.855 (qualifying tyre) - "I'm really happy with how these two days have gone. The changes we made to the setting yesterday have proven to be very positive today too. They allowed me to repeat my time from yesterday on a new experimental tyre and on the same tyre I used on Sunday, and then take another couple of tenths off on a new tyre again. Bridgestone are doing a great job but more than anything I'm pleased with this new set-up, which has improved all areas of bike performance and will be useful for the next race. I tried two new qualifiers as well but to be honest I wasn't pushing them that hard because at the moment I'm not concerned by our qualifying performances - I just want to concentrate on how to improve in the races and try to do the best possible job from now to the end of the championship. "


Harley Knows How
to Sell Motorcycles
Tired of all those gay sportbike ads showing riders in full leathers zipping around a race track? Harley really knows how to sell bikes.....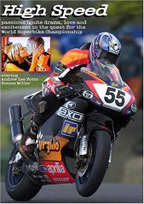 High Speed - the Movie
The best motorcyce racing movie ever made! Filmed on location at World Superbike, this an exciting romantic drama staring beautiful actress Sienna Miller.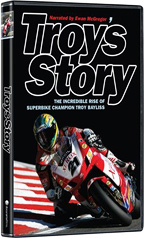 Troy's Story
The story of 2-Time World Superbike Champion Troy Bayliss narrated by Ewan McGreggor
Hot New Book!
---
FIM announce provisional 2009 MotoGP Calendar
Friday, 25 July 2008 - The provisional calendar for next year´s MotoGP World Championship has been released by the FIM. The 2009 provisional calendar of the FIM Road Racing World Championship Grand Prix season is as follows:
Dates Grand Prix Circuit:
12th April Qatar Doha/Losail*
26th April Japan Motegi
3rd May Spain Jerez de la Frontera
17th May France Le Mans
31st May Italy Mugello
14th June Catalunya Catalunya
27th June Netherlands Assen**
5th July USA Laguna Seca***
19th July Germany Sachsenring
26th July Great Britain Donington Park
16th August Czech Rep.Brno
30th August USA Indianapolis
13th Sept San Marino Misano
20th Sept Hungary Lake Balaton
4th October Portugal Estoril
18th October Australia Phillip Island
25th October Malaysia Sepang
8th November Valencia Ricardo Tormo Valencia
* Evening race
** Saturday
*** Only MotoGP class
---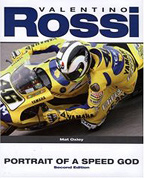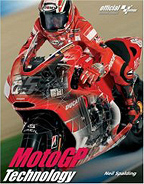 American Motorcyclist Association announces partnership for Road Race Grand Championships

PICKERINGTON, OHIO, Aug 15th --The American Motorcyclist Association (AMA) is partnering with the Championship Cup Series (CCS) to help run and operate the 2008 AMA Sports Road Race Grand Championships, set for September 19-21 at the Mid-Ohio Sports Car Course in Lexington, Ohio.

"AMA Sports is committed to the best interests of the racers, first and foremost, and working with a strong partner on this championship is the right answer. The opportunity to work with CCS allows us to take the Road Race Grand Championships to the next level," said AMA Senior Director of Racing Bryan Cohn. "We are excited to be working with the entire CCS team, and the future is brighter than ever for amateur road racing with their cooperation."

The 2008 AMA Sports Road Race Grand Championships will be run and operated by CCS. CCS classes, including youth classes, will be fielded. CCS rules and regulations will be utilized, and CCS officials will handle officiating duties. AMA Sports No. 1 plates will be awarded to class winners.

"We as an organization are excited about the opportunity to help with the operational aspect of this event," said CCS Director of Operations Kevin Elliott. "The AMA Sports Road Race Grand Championships have started a history of top-level competition across all club levels, and we're proud to be part of it, not just this year but in the future as well."
A revised schedule and supplemental regulations is currently available in the Racing section of www.AmericanMotorcyclist.com and will soon be available on the CCS website at www.ccsracing.us.

The AMA Sports Road Race Grand Championships are the premier amateur road-racing event, awarding AMA amateur national road-racing championships in a number of classes.

Not only do riders get ample track time and an opportunity to race against the country's fastest amateur racers, but the best compete for the AMA Road Racing Horizon Award, which goes to the rider showing the most promise for success in the professional ranks. Past winners of the AMA Road Racing Horizon Award have included Jason DiSalvo, Ben Spies and Blake Young
---
---
Fifth win of the season takes Valentino Rossi to secure fifty points lead
Valentino Rossi moved two races clear at the top of the championship with his fifth win of the season today, enjoying an easy ride home after his closest rival Casey Stoner crashed out on lap seven.
Rossi, starting from second, lost some time at the first corner getting past John Hopkins and for the first couple of laps Stoner looked in danger of clearing off, but the Italian soon found his rhythm and was gradually making up time on the Australian when he saw him slide off into the gravel. The pair had already opened out an impressive gap from the chasing pack and Rossi was left to race the remaining 15 laps alone and unchallenged, eventually coming home 15 seconds clear of Toni Elias. The seven-time world champion's 67th premier-class victory takes him within one race of the all-time premier-class record, held by his compatriot Giacomo Agostini.
Rossi is now 50 points clear of Stoner with Pedrosa 15 points off in third, whilst Lorenzo's six points see him remain fourth in the standings, ten points ahead of Andrea Dovizioso.
Valentino Rossi - Position: 1Time: 43'28.841
"I was confident today because my bike was fast from Friday practice, and with Jeremy we made a small modification to the front after warm-up to allow me to be a bit faster in some sections, and it worked very well. I lost about half a second getting past Hopkins at the start and Casey was incredibly fast at that stage, like he'd already done ten laps! For a short time I was worried but then, after two laps, I understood that my bike was working very well and that I was fast enough to try to catch him. I had closed a little bit already and gradually the red bike was becoming a bit bigger in front of me, and I think this is when he started to push harder and made his mistake.
I was anticipating a very hard battle if I did catch him, so when I saw the red bike slide out I could hardly believe it - this made things a lot easier for me! After that I just enjoyed riding my bike; my Bridgestone tyres worked very well until the end and my M1 felt very good. Of course I can't count this as a complete victory because Casey fell, and I am sorry for him, but this is racing and I have to be happy with this result. We are 50 points clear which is a lot and I am very excited to be going to Misano in this situation. However we know that 50 points is still not always enough when you have someone as strong as Casey and so we won't relax. Now we have two days of testing and we will try some new electronics in order to help me open the throttle earlier and also, of course, test some Bridgestone tyres."
Davide Brivio - Team Manager
"Of course this is a very important victory for us and we're very happy today. It's clear that Valentino did a very good job at the start not to let Stoner get too far ahead, and he was starting to make up ground and put some pressure on him when he unfortunately crashed. Of course this made our job a lot easier! We need to keep going like this and not lose our concentration, but we've had two very good races and we are confident that we are in good shape. We have two days of testing now which will be very important for the final six races, and then we go to another home race at Misano and try to make up for last year!"
Fantastic first Rizla Suzuki podium for Capirossi
Loris Capirossi raced his Rizla Suzuki GSV-R to his maiden podium for the team - and 99th overall of his career - at the Czech Grand Prix in Brno today.
Starting from ninth on the grid Capirossi lost a couple of places early on, but he fought back to regain them by the end of the first lap. He then set about hunting down the riders in front of him and was involved in numerous battles before making his way up to a podium position on lap seven. He then became involved in a fight with team-mate Chris Vermeulen until the experienced Italian finally got the better of his colleague on lap nine, after the two had overtaken each other a number of times. Capirossi held on to second place briefly before being passed by Toni Elias, but from then on a podium position never looked in doubt and Capirossi crossed the line in third place to the delight of his team.
Vermeulen had a strong start to the race and was up into third on the fifth lap, and was then promoted to second when early race-leader Casey Stoner crashed out. Unfortunately, Vermeulen couldn't hold on to a podium position as he started to suffer with some front grip issues and was relegated down to seventh. He battled on for the rest of the race and fought his way back to sixth at the end to leave him in seventh place overall in the World Championship.
Today's race was held in dry, but very overcast conditions with track temperatures reaching 29ºC. A record crowd of 146,133 packed the circuit to see Valentino Rossi race to his fifth win of the season and strengthen his lead at the top of the championship table.
Rizla Suzuki MotoGP now remains in Brno for a two-day test where it will evaluate many new parts for the ever-improving Rizla Suzuki GSV-R. The team will then travel to Misano for the San Marino Grand Prix which will be held on Sunday 31st August.
Loris Capirossi: 3rd - "I want to say what a fantastic day this is for me today! After the injury in Barcelona I have not had the opportunity to go quick due to my condition, but all the people around me - including the whole team and Suzuki - stayed really close to me and gave me great support so I am really happy to pay them back with this podium - it actually feels more like a win for me because it means so much! After the break following Laguna, I was able to get some rest and start training again to get myself back in the best condition, and although I am still not 100% I am nearly there and I was able to challenge all weekend. My dream this weekend was to fight for a podium, after Friday I felt I could do that and today I started with a good focus to do my best. This result is for all the team and everybody working with me, because when we make a great result I am really happy, and today I am certainly really happy!"
Chris Vermeulen, 7th - "I got a good start and was scrapping with the Kawasakis – which seemed like they were surprisingly fast today – and got held up by them a bit. I managed to get past Ant West and then started to catch John Hopkins, but I started to have some issues with front grip and had to change the way I was riding the bike. Once I got past John it felt like I had nothing left and the situation was getting worse – which was awful as the race was only about seven laps old! I kept my head down and worked out the best way to ride and how to try to preserve the tyre. At one stage I thought about coming in, but I worked it out and managed to get home in sixth place to get some points. I'd like to congratulate Loris on his podium today. It was good to see him come back like that after his injury and I'm very happy for him!
Lorenzo finishes tenth with gutsy ride in Brno
Fiat Yamaha Team rookie Jorge Lorenzo finished a creditable tenth in Brno today, making up seven places after starting last on the grid. The Spaniard made the most of the tools he had available to pass several riders, including two on the last lap, and hangs onto his fourth place in the championship as a result. His team-mate Valentino Rossi won his fifth race of the season and was saved another tense battle with Casey Stoner after the Australian crashed out of the lead on the seventh lap.
Lorenzo was able to pass Colin Edwards early on and he then gradually settled into a rhythm and passed both James Toseland and Dani Pedrosa to take 12th. During the middle part of the race his lap times gradually improved and brought him closer to the next group and he was rewarded with an exciting final lap, which saw him pass first Sylvain Guintoli and then John Hopkins on the line to take tenth.
Six points for Lorenzo see him stay ten points ahead of Andrea Dovizioso in fourth place in the championship, whilst Rossi is now 50 points clear of Stoner. The Fiat Yamaha Team now have two days of testing before they head to the next round at Misano in Italy in two week's time.
Jorge Lorenzo - Position: 10thTime: +39.573
"This race is a bit sad for me because we have the potential to do a lot better. However considering what has happened this weekend and, above all, the problems with the front tyre, I think we have done almost as much as we could. At the start I didn't want to take too many risks and I could feel that the front tyre was getting worse on each lap, but on the other hand the rear tyre was getting better each lap! I know that we have had had problems this weekend but I know that Michelin are working very hard, so now we will try to use the test to make some improvements. I want to say thank you to all of my team for their hard work, congratulate Valentino for his victory and finally also Toni Elias for his podium."
Daniele Romagnoli - Team Manager
"Today we couldn't have done any better than this, but we can't be satisfied to finish tenth. But overall Jorge did a great job and a good race, and he was able to find a good rhythm in the middle part of the race, continue until to the end and pass many riders, plus he was able to score some valuable points. Motivation in our team is still high because we have many more races to do and tomorrow at the test we will start again to work very hard with Michelin, look at the problems we have had here and try to find a way to improve things for the remaining races."
James Toseland 13th - 75 points - "It was a difficult race and the result is clearly not where we want to be. I don't want to be fighting at the back of the top 15, and neither does my team or Yamaha and it is disappointing. All I can do is go out there with whatever I have got underneath me and give it my maximum and I did that. But this team and Yamaha deserve to be higher up and today wasn't good enough. It would be easy to let my head drop but I have never been that type of rider and I am not going to start now. I was reasonably happy with my start but I had a few moments with the front tyre on the first couple of laps and I soon realised that I was at my maximum and that I wasn't going to be able to do much more. It is disappointing because I have slipped out of the top ten in the standings and that was one of my big goals before the start of the season. We have got to keep working hard as a team and hope that Michelin can quickly turn it around for the rest of the season so we can try and get back into that top ten and keep the morale up of the team. Colin had even more problems than me so it must have been tough for him, but this is the situation we are in. We will all keep pushing hard and see what we can do."
Colin Edwards 14th - 102 points - "I could see straightaway behind James that he was having some issues with the front tyre, which we expected. I still thought I could put a good pace together but it never happened. I just didn't have the confidence I needed to push harder with the tyres and the more I pushed I didn't seem to go much faster. James was able to leave me pretty easily as my issues started to get worse but I wanted to stay out there and try my best for my guys at Tech 3 and Yamaha, who as always have been working like crazy to help me this weekend. I thank them for that, but there was nothing else I could do. Towards the end I just decided to take a few more risks and I went a bit quicker, but there was no way I was going to catch anybody. I've had a bad run lately but I'm still in contention for fourth in the championship, and I'll keep fighting. But we need big improvements from Michelin. The good start we had to the season seems like a long way away now, and we have to work with Michelin to try and solve some of the issues because I didn't enjoy today at all."