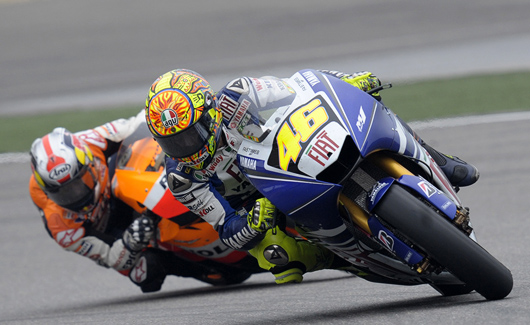 Rossi (46) pressured Pedrosa from behind for 2/3rds the race, then easily passed the faster Honda and pulled away with a big advantage by the finsh.
2009 MotoGP World Championship, Polini Malaysian Motorcycle Grand Prix Round 17 of 18

Rossi Romps to Victory in Malaysian Heat
Sepang, Malayasiam Oct 18th - Valentino Rossi took victory number nine of his 2008 season in the Polini Malaysian Motorcycle Grand Prix, escaping from the clutches of Dani Pedrosa in the final third of an exciting race at the Sepang circuit.
The 2008 MotoGP World Champion had started from second on the grid, but held onto the tail of Pedrosa´s Repsol Honda RC212V as his rival attempted to make an early breakaway. After taking the lead from the Spaniard on lap ten Rossi set about creating an advantage of his own, and as the race entered the final third the biggest problem for the Italian was the threat of rain.
With the option open to come in and change bikes, the Fiat Yamaha man –and all the other riders so used to the changeable nature of the Sepang weather- elected to stick out the light rainfall, a decision vindicated when the rain passed and the high temperatures quickly dried up any residual wetness.
With his latest podium finish Rossi extends his run of rostrum placings to eight consecutive Grands Prix, with a chance of win number ten in Valencia at next weekend´s season finale.
Pedrosa placed inside the top three in Sepang for the third time in as many premier class visits to the Malaysian track, although it was not enough to keep the battle for the runner-up spot in the 2008 World Championship standings alive. Nonetheless, the Spaniard recorded his best race result on Bridgestone tyres, after taking his first pole for the Japanese manufacturer on Saturday afternoon.
With just one race left in his maiden MotoGP season, Andrea Dovizioso finally achieved a first premier class podium after a tooth-and-nail battle with Nicky Hayden. The JiR Team Scot rider also moved further into contention for the Rookie of the Year honour as his result combined with a crash from rival Jorge Lorenzo.
San Carlo Honda Gresini´s Shinya Nakano showed that he was also up for a battle, eventually keeping the fifth spot despite the best attempts of 2007 Sepang racewinner Casey Stoner. Sixth place was enough for Stoner to confirm second in the season´s overall classification.
Loris Capirossi, Colin Edwards, Chris Vermeulen and Randy de Puniet rounded off the first ten past the chequered flag in the 21-lap race.
Valentino Rossi - Race Winner - "The conditions were unbelievable because the temperatures were incredible out there. We worked hard to get the M1 strong during the winter here, and we knew that the bike was suitable for the type of corners that we have here. We worked very well with the team this year and started off with a great setting. I had a great battle early in the race with Dani, but I had ten laps alone which, although the track is fun, were hard work. I´m happy because it´s my ninth victory of the year; I like this number and will try for ten in Valencia!"
Dani Pedrosa, Repsol Honda: 2nd. - "It has been a busy weekend. On Friday morning we were only 17th, I think, then we started moving forward and yesterday we were able to get pole and today I finished second, so finally it has been a good weekend for me and my team. We have made another important step forward after Phillip Island where I crashed out of the race and hurt my left knee. At the end of today's race Valentino was faster than me, he always puts on some extra pressure towards the end, so it was difficult to follow him, but we were closer this time than we were at Motegi [where Pedrosa finished third], so I am happy that we are making progress with our new bike and tyres.
It has been a little bit difficult for me and my team to get used this package so late in the season, but we are getting faster every race and this is important. If we can get closer at the next race then we know we are working in a good direction. I am looking forward to Valencia next week. The Spanish crowd wants a Spanish winner, so I will do my best."
Andrea Dovizioso, JiR Scot Honda: 3rd. - "Today I am happy! The first podium in MotoGP, after so much work in a season full of satisfaction: this is important for me and for my team. I wanted to give other podiums to the team but I hope that this will repay them for all the work done this year, but it is also a thanks for the seven years that we have competed together. With the Scot Team I won the world 125cc championship and we wanted to achieve something spectacular, given that next year I will be in the works HRC Repsol Honda team.
The race was hard and after a good start, Valentino and Dani gained ground, while Nicky I were left behind. I led alone, focusing on myself, because I had no references in front and felt the approach of Nicky's Honda going into every turn! When I saw the group behind, I realised my situation and realized that I could not afford to make the slightest mistake. I made the most of the tyres, which in these conditions slid a lot, and I had to drive hard by picking the bike up out of the corners early. Over the last few laps I was passed by Nicky but I managed to finish ahead and finally realise my podium finish. Thanks again to everyone on my team as every one of them has always been close to me and supportive."
Results MotoGP: (21 laps = 116.508 km)
Pos/ Rider / Nat / Team / Motorcycle / Time/ KM/H / Gap
1 / Valentino ROSSI / ITA / Fiat Yamaha Team / YAMAHA / 43'06.007 / 162.191 /
2 / Dani PEDROSA / SPA / Repsol Honda Team / HONDA / 43'10.015 / 161.940 / 4.008
3 / Andrea DOVIZIOSO / ITA / JiR Team Scot MotoGP / HONDA / 43'14.543 / 161.658 / 8.536
4 / Nicky HAYDEN / USA / Repsol Honda Team / HONDA / 43'14.865 / 161.638 / 8.858
5 / Shinya NAKANO / JPN / San Carlo Honda Gresini / HONDA / 43'16.590 / 161.530 / 10.583
6 / Casey STONER / AUS / Ducati Marlboro Team / DUCATI / 43'19.647 / 161.340 / 13.640
7 / Loris CAPIROSSI / ITA / Rizla Suzuki MotoGP / SUZUKI / 43'21.943 / 161.198 / 15.936
8 / Colin EDWARDS / USA / Tech 3 Yamaha / YAMAHA / 43'24.809 / 161.020 / 18.802
9 / Chris VERMEULEN / AUS / Rizla Suzuki MotoGP / SUZUKI / 43'29.181 / 160.751 / 23.174
10 / Randy DE PUNIET / FRA / LCR Honda MotoGP / HONDA / 43'31.523 / 160.606 / 25.516
11 / John HOPKINS / USA / Kawasaki Racing Team / KAWASAKI / 43'33.616 / 160.478 / 27.609
12 / Anthony WEST / AUS / Kawasaki Racing Team / KAWASAKI / 43'47.406 / 159.636 / 41.399
13 / Sylvain GUINTOLI / FRA / Alice Team / DUCATI / 43'51.624 / 159.380 / 45.617
14 / Alex DE ANGELIS / RSM / San Carlo Honda Gresini / HONDA / 43'55.010 / 159.175 / 49.003
15 / Toni ELIAS / SPA / Alice Team / DUCATI / 44'05.146 / 158.565 / 59.139
Pole Position: Dani PEDROSA 2'01.548 164.320 Km/h
Fastest Lap: Valentino ROSSI 2'02.249 163.378 Km/h Lap 2
Circuit Record Lap: 2007 Casey STONER 2'02.108 163.566 Km/h
Circuit Best Lap: Valentino ROSSI 2'00.605 165.605 Km/h 2006
World Championship Positions:
1 ROSSI 357, 2 STONER 255, 3 PEDROSA 229, 4 LORENZO 182, 5 DOVIZIOSO 161,
6 HAYDEN 144, 7 EDWARDS 134, 8 VERMEULEN 125, 9 NAKANO 117, 10 CAPIROSSI 111,
11 TOSELAND 100, 12 ELIAS 92, 13 GUINTOLI 63, 14 DE PUNIET 60, 15 DE ANGELIS 57.
250cc Grand Prix
Alvaro Bautista won the 250cc battle in Sepang, but third place for Marco Simoncelli meant that it was the latter who was victorious in the season-long war for the quarter-litre title. With just one round to go, Simoncelli now has an insurmountable advantage over the Spaniard in the World Championship standings, taking a first Grand Prix title to complete his breakthrough 2008 season.
Bautista knew upon arrival in Malaysia that simply winning would not be enough, and slowed up the pace when he took the lead in order to put bikes between himself and his Italian rival. With the frontrunners just too hot for the rest of the field to handle, the Mapfre Aspar rider eventually pulled away, taking victory number four of the season and confirming the runner-up spot in this year´s campaign.
Starting from pole position, Hiroshi Aoyama stepped onto the podium for the second time this season with second place, selling himself to interested parties after finding out this weekend that he is now a free agent for 2009. The Red Bull KTM rider was unable to repeat his 2007 Sepang victory as Bautista pulled away with a new circuit record, but came home in second place after a series of stints at the head of the race.
Simoncelli took his third rostrum finish in succession, greeted by his pit board announcing `You have won the World Championship´ The Italian celebrated with a burnout and a lap of the Sepang circuit, and was joined in parc ferme by MotoGP titlist and friend Valentino Rossi.
JiR Team Scot´s Yuki Takahashi came home in fourth, ahead of Lotus Aprilia riders Aleix Espargaro and Alex Debon. Espargaro had taken the holeshot and led the first two laps of the Polini Malaysian Motorcycle Grand Prix, his first time at the front of a 250cc race.
Roberto Locatelli, Ratthapark Wilairot, Thomas Luthi and Lukas Pesek completed the top ten in the quarter-litre race.
250cc Results (20 laps = 110.96 km)
1 / Alvaro BAUTISTA / SPA / Mapfre Aspar Team / APRILIA / 42'56.428 / 155.042 /
2 / Hiroshi AOYAMA / JPN / Red Bull KTM 250 / KTM / 42'59.014 / 154.887 / 2.586
3 / Marco SIMONCELLI / ITA / Metis Gilera / GILERA / 43'04.771 / 154.542 / 8.343
4 / Yuki TAKAHASHI / JPN / JiR Team Scot 250 / HONDA / 43'07.460 / 154.381 / 11.032
5 / Aleix ESPARGARO / SPA / Lotus Aprilia / APRILIA / 43'10.274 / 154.213 / 13.846
6 / Alex DEBON / SPA / Lotus Aprilia / APRILIA / 43'10.702 / 154.188 / 14.274
7 / Roberto LOCATELLI / ITA / Metis Gilera / GILERA / 43'11.529 / 154.139 / 15.101
8 / Ratthapark WILAIROT / THA / Thai Honda PTT SAG / HONDA / 43'13.415 / 154.027 / 16.987
9 / Thomas LUTHI / SWI / Emmi - Caffe Latte / APRILIA / 43'21.784 / 153.531 / 25.356
10 / Lukas PESEK / CZE / Auto Kelly - CP / APRILIA / 43'23.274 / 153.443 / 26.846
11 / Fabrizio LAI / ITA / Campetella Racing / GILERA / 43'46.335 / 152.096 / 49.907
12 / Karel ABRAHAM / CZE / Cardion AB Motoracing / APRILIA / 43'46.516 / 152.085 / 50.088
13 / Alex BALDOLINI / ITA / Matteoni Racing / APRILIA / 44'02.244 / 151.180 / 1'05.816
14 / Simone GROTZKYJ / ITA / Campetella Racing / GILERA / 44'11.972 / 150.626 / 1'15.544
15 / Imre TOTH / HUN / Team Toth Aprilia / APRILIA / 44'16.333 / 150.378 / 1'19.905
Pole Position: Hiroshi AOYAMA 2'06.893 157.398 Km/h
Fastest Lap (New record): Alvaro BAUTISTA 2'08.012 156.022 Km/h Lap 19
Circuit Record Lap: Dani PEDROSA 2'08.015 156.019 Km/h 2004
Circuit Best Lap: Hiroshi AOYAMA 2'06.893 157.398 Km/h 2008
World Championship Positions:
1 SIMONCELLI 256, 2 BAUTISTA 228, 3 KALLIO 191, 4 DEBON 176, 5 TAKAHASHI 147,
6 BARBERA 142, 7 AOYAMA 128, 8 PASINI 125, 9 SIMON 109, 10 LUTHI 102,
11 LOCATELLI 97, 12 ESPARGARO 83, 13 WILAIROT 65, 14 FAUBEL 54, 15 PESEK 43
---
New 2009 Aprilia RSV4 Production and World Superbikes Revealed
October 6th, Milan Italy - Aprilia used the occasion of the annual Intermot '08. Motorcycle Show in Italy to unveil their all new 2009 RSV4 Factory production Superbike, along with the modified Race Team version that Max Biaggi will be racing in the 2009 World Superbike Championship as Aprila makes its return to that Series.
The RSV4 features an all new 65° V-4 double overhead cam watercooled fuel injected engine with a 78mm Bore x 52.3mm Stroke displacing 998.9cc and running a 128:1 compression ratio. Peak crank horsepower is 180CV @ 12,500rpm with Torque of 115Nm @ 10,000rpm. The production bike is catalytic converter equipped to Euro 3 Specs.
The chassis on the top-end RSV-4 Factory model receives full Ohlins suspension front and rear, Brembo mono bloc brakes, and forged Marchesini alloy wheels / tires 3.50x17 / 120/70 ZR 17 Front, and Rear 6.0x17" / 190/55 ZR 17. Specifications very much like the Ducati 1098S model, and we can certainly expect as always a lower priced lower suspension spec 'ed base model RSV4. Wheelbase is 1,424mm / 56.0ins with a dry weight of 179kg / 393.8lbs (which seems somewhat heavy).
The works Aprilia RSV4 World Superbike (above and below in Black) gets full GP spec Ohlins Suspension, full electronic sensors with traction control, carbon fiber bodywork, and surprisingly, different wheels and swingarm.
More photos and complete details of the Aprilia RSV4 Superbike HERE
---
Rachel and Paris and Sabella Shoot for Fast Dates
After shooting the principal photography for the 2010 Fast Dates Calendar with all the World Superbike team bikes at Miller Motorsports SBK back in May/June, we return to my studio this past August to shoot a sexy 2-girl cover shot that would blow the socks of anything we had ever done before. And if one Calendar Kitten is hot, why not burn up the cover with two girls! Meet beautiful brunette Sabella Shake and blond Paris Hilton look-a-like Rachel Bernstein. The bike is my awesome new Ducati 1098R which is the best Ducati superbike yet, the homologation base for Troy Bayliss' and Ducati's 2008 World Superbike Championship Rider's & Manufacturer's Titles. It just doesn't get any better than this! Enjoy this preview glimpse of the 2010 Fast Dates Calendar cover. - Jim Gianatsis
Above, Our newest Calendar Kitten Rachel Bernstein hooks up with her look-a-like, Paris Hilton at the Playboy Mansion's Mid-Summer Nights Fanatasies Party. Rachel goes eco-friendly, check out Paris' serious diamond bling!
---
The hard hitting moto journalism that Roadracing World, Superbike Planet and Cycle News can't deliver - FastDates.com Calendar publisher Jim Gianatsis at the Leather Meets Lace Party at the Playboy Mansion. All four girls on the right and the 2 behind are fully nude with just body paint and fur trim.

FastDates.com does the Motorcycle Charity Association's annual
Hollywood Charity Ride & Leather Meets Playboy Mansion Lace Party
By Jim Gianatsis
Saturday October 4th - FastDates.com is a sponsor of the Motorcycle Charity Association, providing the organization adverting exposure on the FastDates.com Calendar Website and exhibitor and sponsor presence at the LA Calendar Motorcycle Show Weekend. The organization's premier annual event is the Leather Meets Lace Charity Event, held this year on Saturday October 4th. Calendar photographer and publisher Jim Gianatsis was joined for the day by Calendar sponsor Mikuni American's Lee Chapin, V.P. of Carburetor Sales as we felt theneed to give you a first had report of the industry's most exciting charity event.
Participants onthe Saturday morning Charity Ride line their bes up on Hollywod Bouevard in front of the Kodak Theatre, home of the American Idol Finale. Check outthe retro LAPD police escort!

The day kicked off with the 2nd annual Hollywood Charity Ride starting at the Kodak Theatre next to famed Grumman's Chinese Theatre on the Hollywood Walk of Fame in Hollywood, California. Motorcycle enthusiasts from around the world and celebrities came together for a ride down Hollywood Boulevard and through Beverly Hills, to the Pacific Ocean and up to Malibu for Lunch.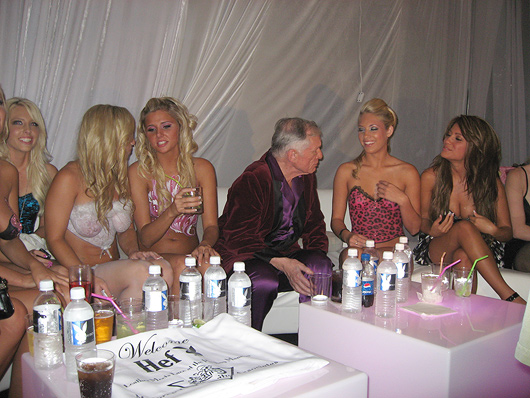 After we were done with our photos, we let Hef take his best shot at entertaining the body paint girls.

Later that evening we arrived at the Playboy Mansion for a night of partying at Leather Meets Lace with 5-star dining and an open bar on the Mansion's expansive back yard next to the famed Playboy Swimming Pool and Grotto. Charity Tickets for the night ranged in price from $1,000 for General Admission, to $5,000 for your own private table staffed with Playmates. Holding court at the party of course, was Playboy founder and house resident Hugh Heffner with his live-in "The Girls Next Door". also joining us were assorted Playboy Playmates and Bunnies, about a dozen nude body painted girls, the Perfect Angeles from our LA Calendar Motorcycle Show performing their sexy dance show, and celebrities including Carmen Electra, Jean Simmons, and top custom bike builders.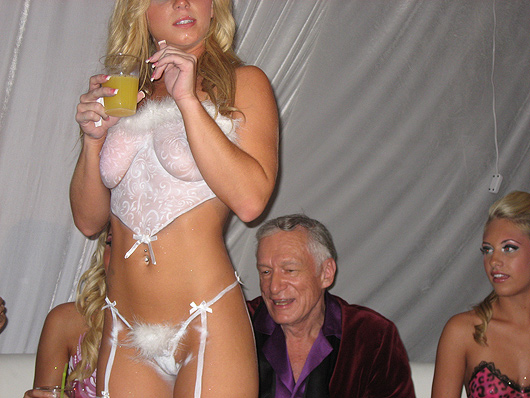 The most amazing thing of the night were the nude body painted girls who actually look, from a distance, like they were clothed in swimsuits and lingerie. It was until you got right next to them and saw their private areas up close, that you realized they were fully naked with just glued on ribbons and fur to add a 3-D effect to the painted-on clothes. It was amazing they could walk around all night among hundreds of people, feeling perfectly comfortable being naked.
All in all, it was an incredible once-in-a-lifetime experience to party at the Playboy Mansion, hang with Hef, get drunk with lots of beautiful naked girls, Playmates, and your motorcycle buddies. I think we'll have to look at doing a FastDates.com Calendar Charity event real soon.
More Leather Meets Lace Photos

---
Beautiful Tamara Wasson on location at the classic Texaco service station in Hollywood, California, with Kevin Schwantz's 1994 GP World Championship Suzuki RG500 in the photo featured on the cover of the 1996 Fast Dates Calendar.
First Time Ever! FastDates.com Calendar Images Available for Sale!
Photo Prints, Posters, Canvas Wall Murals
Now, for the first time you can have my favorite, most memorable FastDates.com Calendar photos reproduced to museum qualty standards for your home, garage, office or store, thanks to our new partnership with one of America's premier online photo labs. Choose from photo prints on quality photo paper, to huge poster and mural size Giclee' photo prints on archival rag paper or canvas mounted to wooden frames or display boxes.
Now you can enjoy my best photos of the the world's finest motorcycles with beautiful models! - Jim Gianatsis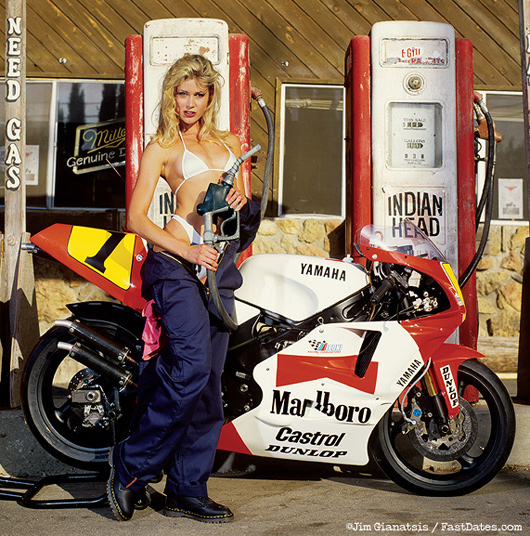 Ginger Schweizer gasses up Wayne Rainey's 1993 GP World Championship winning
Yamaha YZR500 at the Rock Store, the photo featured on the cover of the 1994 Fast Dates Calendar.
---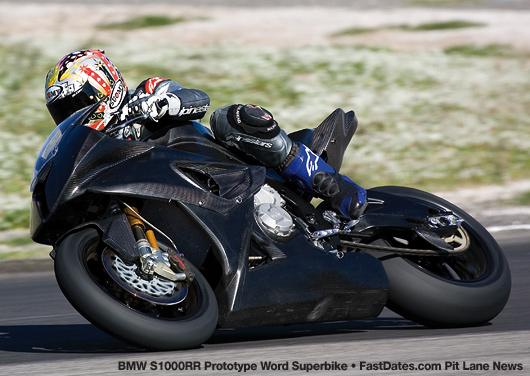 2009 SBK World Superbike Team & Rider LineUps
The 2009 World Superbike Team / Rider LineUps are shaping up as follows:
Look for an exciting jammed packed 40 Rider grid for the first time ever!
BMW Factory: Troy Corser, Ruben Xaus
Ducati Xerox Corse: Noriyuki Haga, Michel Fabrizio
Boulder Ducati: Jake Zemke?
RG Ducati: Regis Laconi, Fonsi Nieto, Luca Scassa, Ben Bostrom?
Ten Kate Hannspree Honda: Carlos Checa, Ryuichi Kiyonari, Jonathan Rea - World Superbike
Andrew Pitt and Kenan Sofuoglu - World 600cc Supersport
Althea Hannspree Honda: Tommy Hill
Alto Evoution Honda: ?
Sterilgarda Alex Polita Ducati: Brenden Roberts, Shane Burne or Leon Haslam
Guandalini Team: Jakub Smrz,
Stiggy Motorsports Honda: Josh Brookes, Leon Haslam, Robbie Rolfo?
DFX HOnda: Karl Muggeridge, Regis laconi or Luca Scassa
Paul Bird Motorsdports (Honda or Kawasaki): Riders unconfirmed
PSG-1 Kawasaki Factory: Makoto Tomada, and ?
Aprilia RS4 Factory Team: Max Biaggi, Alex Hoffman or Alex deBon
Suzuki Alstare: Max Neukircher, Yukio Kagayama
Yamaha Motor Italia: Tom Sykes, Ben Spies
Yamaha Team France YZF: Unnamed Japanese rider, Regis Laconi, Ben Bostrom?
GMT 94 Team: David Checa, Regis Laconi?
---
Valentino Rossi Talks About His 8th World Title
Motegi, Japan 28/09/2008 - "I think it's difficult to say, but maybe this is even better than the first championship with Yamaha in 2004. In 2004 I arrived after three championships in a row; the change was very big and no one expected me to win then, not even us to be honest! But this year is great too because I didn't start as the number one favourite after losing for two years. The taste of this is something special.
Interview Contines HERE
---
If you live near London, join our British distributor Crossbow-Calendars.com for their annual Calendar Premier Party on Saturday October 25th and pick up the new 2009 Crossbow and FastDates.com Calendars!
\
---
FastDates.com Exclusive
Testing the World's Best Beer - Baltika
You've never heard of it, but it's the possibly best tasting brand of beers in the worldand just 15 years after its introduction it's already the #2 best selling beer in Europe. It's alsoone of the two most popular exports from Russia and its called Baltika Beer. - Click for a FastDates.com Feature Exclusive!
---
This Month in Fast Dates 2009
Beautiful Carrie Stroup gets us all wet with Casey Stoner's 2007 MotoGP World Championship winning Ducati GP07 racebike!
Buy the 2009 Fast Dates Calendar • Download Big Screensaver Photos in Members Corner
---
There's more! Go to Pit Lane News Previous Page

Hot Calendar Girl and Bike News! Go to: Fast Dates • Calendar Girls • Iron & Lace

Calendar Kittens, The Paddock Garage, Screensavers, Iron & Lace Garage

Many of our Calendar Kittens can also be seen at Playboy's website...


BikerKiss.com - the largest biker personals site!
---


World Premier!
2009 FastDates.com Calendars
More 2009 Pin Up Model
& Motorcycle Calendars...

---
New Ducati
1098 Street Figher to Preimer Next Month!
Oct 9th - Ducati will present an all-new naked model featuring the engine in the current 1098 Superbike at the EICMA show this November.
The 2009 Ducati Street Fighter has already been presented last week to authorized dealers under a strict confidentiality regime and despite all previous controversy, it is now a fact that its price will hire it just between next year's Monster 1100 and the current Ducati 1098 Superbike models.
A future fierce competitor for the MV Agusta Brutale, Aprilia Tuono and the Benelli TNT, the Ducati Fighter is yet another great way of exploiting the mighty 1099cc water cooled V-Twin powering the Ducati 1098 though it is expected that the engine will be retuned for low-and-mid rpm fun. Also, the gearbox is expected to undergo the same treatment.
Apart from the engine, the Ducati 1098 will also donate the frame and rear end to this future naked cousin, but no more as the Ducati Fighter drifts away from the super sports bike by featuring a shotgun-style exhaust.
If the 160hp Testrastetta Engine in the 1098 Street Fighter looks anthing like the Hypermoto, and is priced less than the $1595 base Superbike, Ducati is sure to have a hit on its hands. Our only concern is that we shreaded the180 rear tire on our 95hp Hypermoto S in just 1,500 miles, so imagine what another 70 some horsepower with a DucatiPerformance Exhaust and ECU exhaust will do!
Look for complete details and photos from the EICMA show on the 3rd or 4th of November.
2009 Ducati Superbike gets gets bigger 1198cc engine, more power
As was inevitable,FastDates.com have also learned that Ducati will be upping the 1098's Superbike's capacity to 1198cc for 2009. In keeping with the 1200cc World Superbike V-twin capacity limit. The curent Ducati 1098R08 already displaces 1198cc, so we expect to see a version of its engine used in the 2009 Ducati 1198, but in a lower state of tune without the exotic Titanium rods and valves. An educated guess would put the 1198's power output halfway between the 1098's 160bhp and the 1098R's 180bhp.
Update: More information on power, weight and pricing follows the jump.
Our source has just confirmed that the 1198 will have 170bhp. While the base 1198 receives a $500 price bump (to $16,495 in the US), the 1198S will remain the same at $20,995 (US). We've also learned that 1198 will be lighter than the outgoing 1098 and may receive a facelift.
There's no word on the 1098R's performance-oriented traction control trickling down to lesser models. But that's not all Ducati has in store for 2009.
It looks like that $500 price increase will be carried over to most bikes in Ducati's range, including the 848, which receives no other significant changes.
Ducati Super Hypermoto?
The same source also says to expect two versions of the 2009 Ducati Monster 1100, the regular 1100 and an S with Öhlins suspension. There's also an all-new model that, "is a cross between a Tuono, Brutale and fits between Monster and Hypermotard." It will be powered by the outgoing water-cooled 1099cc engine from the 1098, but with a smaller airbox that means less power and shotgun-style dual exhausts mounted on one side.
Let's see, assuming a 2009 Ducati 1198S will join the non-lettered 1198, that checks five off the list of the 10 new models Ducati says it will unveil by 2010. The capacity increase and name change is in keeping with Ducati's long history of gradual engine updates based on Superbike developments. Think 916, 996, 996R, 998 etc.
United States Superbike Championship UpDate -
Stalled or Stillborn?
Oct 1st- The Motorcycle Industry Council's (MIC) announcement last month to move ahead with a distributor supported professional Superbike Championship (USSB) as an alternative to the amateur class focused Daytona Motorsports Group / AMA Series, seems stalled at the moment. We put in a phone cal to the MIC this week and were told that nothing had yet taken place, anyone sending in resumes for a position with the USSB were having them stacked in a folder, and there was no time schedule to move forward with producing the series and hiring a team leader or staff for 2009.
At closer look this may be a bigger project than MIC President Tim Buche realized in trying to produce the USSB Championship in time for the 2009 season for a number of reasons:
Without a strong central figure - a so called "Racing Czar" to set up and manage the Series, with that person having a motiation (piece of the action) for success including ownership of the Series and earning himself a profit from it, it just might be dead in the water. Would MIC President Buche, who is certainly on a fixed income with no growth or profit potential, be willing to hire under contract a Racing Czar to produce the series and make it a success. What is that "Racing Czar" or possible "Marketing Director" of the Series brings in a major title sponsor, like say Coca-Cola for $5 million dollars, would they be able to pocket a 20% / $1 million dollar sales commission? Probably not, particularly if the MIC President who proposed and plans to set up the Series is drawing a regular pay check....
Another problem is the U.S. Motorcycle Importers remain strongly aligned to the AMA as the largest enthusiast based motorcycle organization in America, as well as for working united in facing the US government in Washington. And not to forget the AMA (and now its selected professional roadracing organization the DMG) are the official U.S. endorsed body of the Federation International de Motorcycle (FIM).
Having a competing organization, the USSB, running under FIM rules as are need for future success and to be more closely ties to SBK World Superbike, could be a political nightmare. How can wild card riders and teams in USSB compete in World Superbike events in the USA which would be sanctioned by the AMA/DMG?
And now, with the competing USSB Championship on the table and a possible reality, the DMG may be closer to capitulating and adopting the FIM Superbike and Supersport classes which the USSB and distributor race teams want. The distributors would rather their race teams stay with the AMA if possible, than start afresh with a new series. And that might be why progress seems to be stalled at present in forming the USSB.
For the moment the USSB remains a pie-in-the-sky fantasy with not much hope for success. It looks to be muddled in a quagmire - much like the AMA Championship before it - with no true direction, no strong leader with a piece of the pie to motivate him, and too much distributor involvement in its organization and politics to be a commercial success. Much like the AMA which allowed professional racing in America to fail.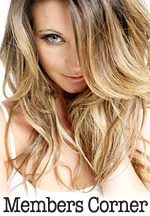 Members Corner
Hot Bikes, Sexy Kittens
Get Your Exclusive Grid Pass
aslo includes....
---
FGSport Bans Electronic Suspension for 2009
Confirmed last week at Magny-Cours, FGS Sport has announced that electonic suspension will be banned iin Word Superbike beginning in 2009. Ohins has been running electronic suspension on Noriuki Haga's factory Yamaha R1 and it is working very well. Electronic suspension might even be found on future production bikes. But at this point in time the prototype Ohlins race systems are very expensive and not available to everyone. The regualr piggyback resevoir Ohlins Superbike forks seen on many of the factory superbikes sell for $11,000 each.
It should notd that electronic suspension and traction control were outlawed in Formula One car racing starting this year 2008 to return more of the driving skill back to the drivers themselves, and not the cars' computer. Now the drivers getto lock up their brakescoming into corners again, and get sideways co ingout, makingthe racing much more exciting to watch.
Remember when MotoGP and World Superbikes use to get sideways, particularly in incredible high speed corner's like the Parabolica at Monza?
MotoGP Moves to Single Tire Brand Rule for 2009
FIM Road Racing World Championship Grand Prix
Change to the Regulations
For safety and cost reasons, the Grand Prix Commission, composed of Messrs. Carmelo Ezpeleta (Dorna, Chairman), Claude Danis (FIM), HervÈ Poncharal (IRTA) and Takanao Tsubouchi (MSMA), in the presence of M. Paul Butler (Secretary of the meeting), in a meeting held today at the circuit of Motegi, unanimously decided to introduce the following change to the FIM Road Racing World Championship Grand Prix Regulations.
MotoGP Class
The Grand Prix Commission has decided unanimously that there will be a single tyre supplier for the MotoGP class as from 2009. Proposals to supply the tyres must be handed to the FIM and Dorna by October 3rd at the latest. The final decision will be announced by the GP Commission by October 18th at the latest.
Michelin Release 9/28- The decision to move to a single tire supplier for the 2009 MotoGP World Championship is a major change to the regulations of a series that was created in 1949.
Michelin notes with interest the reasons given by the governors of this sport to which Michelin remains very committed after many years of involvement.
Michelin is examining the opportunities offered by these new regulations and will make an announcement in the next few days as to whether or not the company will tender to supply tires to the premier-class championship that Michelin has won on 26 occasions since 1973.
Michelin Will Not Bid
For MotoGP Tire Contract
Michelin Press Release, Paris - Oct 4th - Michelin has decided not to submit a bid to the governing body of the MotoGP World Championship. At the same time, Michelin regrets not being able to contribute to the organizers' important discussions to improve rider safety and reduce costs.
The spirit of competition has always been central to Michelin. Motor sports at the highest level are useful because competition among several tire manufacturers is a valuable stimulus for developing increasingly high-performance tires that will one day equip customer vehicles. Tires play a key role in a vehicle's performance and can make a considerable difference. This competition among manufacturers helps to make racing exciting.
The radial tire, which was invented by Michelin, has been improved through racing, and the improvements have since been passed on to consumers. Michelin's dual compound technology for motorcycle tires was first tested in MotoGP racing and is today integrated into premium products for the brand's customers. The MotoGP Championship organizers have decided to use a single tire supplier for the coming seasons, which effectively eliminates the competitive environment that has led to so much progress.
The R&D resources allocated for MotoGP racing will be redeployed to support innovation, which is at the heart of Michelin's customer-focused strategy.
Ben Spies signs with Yamaha World Superbike for 2009
01/10/2008 - American racing sensation Ben Spies has signed up to the Yamaha factory World Superbike Team to partner 23 yr old British rider Tom Sykes for the 2009 season. The 24yr old American rider from Dallas is fresh from a record third championship win in a row, taking the AMA Superbike Championship crown again for 2008. Spies is only the fourth rider in the history of AMA Superbike to win three consecutive titles and 3rd on the all-time AMA Superbike wins list with a total of 28 AMA Superbike wins. This now completes the Yamaha World Superbike team for 2009.
Spies has been racing and winning in the AMA Superbike Championship since 2005, and has an unrivalled 90% podium finish rate for racing, the highest for any AMA rider in the history of the championship. He took second place in his rookie year followed by the three successive championship wins. Prior to this he had a three year stint in the AMA Supersport Championship,. Spies turned pro in 2000, racing in the AMA Superstock Championship for two years before joining AMA Supersport in 2002.
Spies has also ridden in MotoGP in 2008, starting in place of injured Loris Capirossi at the British GP, finishing 14th place scoring his first MotoGP points. He had a further 2 wildcard outings, achieving 8th at Laguna Seca and an even more impressive 6th at Indianapolis.
"I'm very excited about joining Yamaha in World Superbike," Spies said. "This is a positive step for the direction of my career. I'll have a great opportunity to race on many of the top road racing circuits in the world. Riding with a company as passionate about racing as Yamaha is going to put me in a good position to contest for a world championship right from the start."
"Superbike racing originated in America, but it's been a while since we've had an American world champion. There's a great tradition of American riders in World Superbike and I hope to put my name alongside great champions like Fred Merkel, Doug Polen, Scott Russell, John Kocinski and Colin Edwards. "
"After considering my offers it became obvious to me that Yamaha would be a great home. Yamaha was excited about the possibility of me joining them and they just made me feel like I was coming into a great family. You look at how Yamaha treats its riders and how, even after their careers are over, they're always part of the Yamaha family. That was really important to me. I'm looking forward to the challenge at hand and to work with Yamaha to produce a winning team and ultimately a World Superbike Championship."
Massimo Meregalli (Yamaha's factory Superbike Team Manager) – "We're really enthusiastic to have signed Ben Spies for the 2009 team. He's proved to be a very skilful and successful rider in AMA Superbike, he has been one of the riders we have followed closely this year. We are sure he will be a great combination with Tom Sykes, the team are looking forward to starting with them both next year. There will be a lot to learn with new circuits and new bikes but we also have new motivation as a fresh team and will give 200% to help the riders win in 2009. "
"We're very excited to have Ben join the team" said Yamaha Motor Europe Racing Division Manager Laurens Klein Koerkamp. "He's proved to be a top rider with his AMA titles and recent rides in MotoGP, we believe he's got a long future ahead of him at the highest levels in motorcycle racing.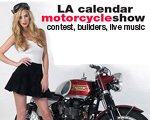 Complete Coverage!
2008 LA Calendar Motorcycle Show & Calendar Girl Music
Festival Weekend!
$86,000 Bike Building Championship
World Record Dyno Shootout!
Calendar Girl Music Festival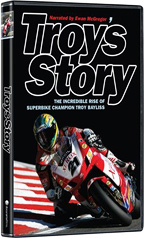 Troy's Story
The story of 2-Time World Superbike Champion Troy Bayliss narrated by Ewan McGreggor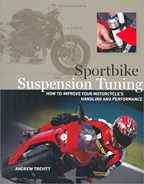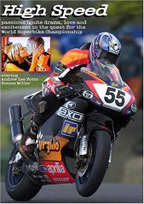 High Speed - the Movie
The best motorcyce racing movie ever made! Filmed on location at World Superbike, this an exciting romantic drama staring beautiful actress Sienna Miller.
---
Mike di Meglio- 2008 125cc World Champion
Australian Grand Prix - Sunday 5th Oct.r 2008 - After coming to the attention of the French Motorcycle Federation in the 2002 Prix de l'Avenir, Mike di Meglio was invited to take a trial with the Liegois team in Carole, with whom he took part in a Spanish Championship race.
He made the most of his opportunity, finishing third in the race and looking at a move up to the international stage. The French youngster turned 15 on the eve of the first test of the 2003 season and made his 125cc World Championship debut that year on an Aprilia. He found the going tough in his first season, crashing several times and not achieving results of any note.
In 2004 he was recruited by Gino Borsoi to represent Globet.com Racing but had an inconsistent campaign, before stepping up a notch with the same team the following year, onboard a Honda, to win his first ever Grand Prix in Turkey in the penultimate race of the season. Di Meglio would have to wait four years to add to his win tally.
After a disappointing year for the French Motorcycle Federation team in 2005- in which he finished in 25th position after picking up just eight points all year- Di Meglio moved to the Team Scot Honda outfit for 2007, with the highlight of his year a fourth place in Japan.
On board a factory Derbi machine in 2008, for the Ajo Motorsport team, Di Meglio has enjoyed the fruits of his labours on competitive machinery. Three race victories and the most consistent results in the class have made the Frenchman one of the stars of the series this year, and have elevated him above his rivals in the hotly-contested category.
Injured Stoner to see out the Season in order to test new Ducati GP9
Monday, 06 October 2008
The need to test the Ducati Desmosedici GP9 at Valencia is Casey Stoner´s main motivation for not undergoing immediate surgery on his left wrist.
The winner of his home race in Australia for the second consecutive year, despite a scaphoid injury in need of urgent surgery, 2007 World Champion Casey Stoner admits that the only reason for his continuation of the current season is the necessity of testing the Ducati Desmosedici GP9 at the post-race test in Valencia.
Currently ahead in the battle for second place in the 2008 campaign, Stoner has been riding through the pain barrier and at less than peak fitness. With the title already awarded to Valentino Rossi and the long recuperation period required post-operation, the option to miss the final races of the season was considered by the rider and his team, but the need to shape the direction of the 2009 bike´s development is motivating Stoner´s decision to ride out the year.
`(the Valencia test) is the only reason that we are continuing with the season´ says Stoner, who previously rode the GP9 at a post-race test held in Catalunya.
`We need to test that bike again, because there is going to be a three month period in which I can´t test, and the technicians will need as much information as they can get. If I´m going to ride after the race at Valencia then I may as well take part in these last two races. If it gets impossible to ride then we´ll stop and get the operation, but right now it looks like we can finish the season.´
Stoner is wary of the demands of the next track on the calendar, Sepang in Malaysia, with its intense heat creating added difficulty for those unable to compete at 100%. Whilst training has been difficult for the reigning titlist, he will be trying all that he can to reach race form, as he did to get around the pain involved in braking at Phillip Island.

The prospect of a spell on the sidelines has also left the Ducati rider in reflective mood, although no less competitive-minded.
`We´ve got two races to go, and things need to go right for us to confirm second place in the World Championship. I´ve been thinking a lot lately, and to have second place by your name in this championship is something to look back and be proud of when you´ve retired. We´re making the best of my career, and I think that we can be back fighting for the title next year,´ philosophised Stoner.
Watanabe parts from Crescent Suzuki in BSB
07/10/08 - CRESCENT, the organisation behind the official Suzuki British Superbike team, has confirmed that 2008 Superbike racer Atsushi Watanabe will not be retained for the 2009 season.
Atsu joined the Crescent operated Rizla Suzuki squad for the 2008 BSB season and has enjoyed a fruitful season learning the British circuits under the guidance of one of the best teams. He has enjoyed varying degrees of success with a best result of 7th in the second race at Cadwell Park in August. On top of this, he finished runner-up in the prestigious Suzuka 8-hour event in Japan.
Atsu will move to the Relentless by TAS Suzuki squad for 2009, spearheading its challenge in the British Superbike Championship.
Atsu said: "I am very grateful to Crescent for bringing me to the British Superbike series. I have learnt much this year that I hope I will be able to use to get good results next season. I am very happy to be staying with Suzuki and in BSB in 2009."
Crescent Team Manager Jack Valentine said: "Atsu is one of the nicest people I have ever met but unfortunately he will not be racing for our team in 2009. I am pleased to say that he will remain within the Suzuki family however and in British Superbikes. The whole team thanks him for his efforts and wishes him the very best for the future."
Atsu will race alongside Tom Sykes in the Rizla Suzuki team at the final round of the 2008 British Superbike season at Brands Hatch Indy circuit in Kent this weekend.
For more information on the Crescent operated official Suzuki BSB team, visit www.rizla-suzuki.co.uk.
Suzuki committed to BSB success in 2009 with signing of MotoGP Rider Sylvain Guintoli
11/10/08 - MotoGP star Sylvain Guintoli will be going for Championship glory with Suzuki's official team, run by Crescent, in British Superbikes in 2009 – and the team is confident its new signing will be able to challenge at the front right from the start.
Frenchman Guintoli, from Romans in France, now living with his wife Caroline and daughters Alicia (3-years) and Layla (6-months) near Market Bosworth in England, has been one of the most promising new stars in MotoGP racing over the last two seasons, scoring a best result of fourth at the 2007 Motegi GP. Now the 26-year-old is turning his considerable talent to winning the BSB Championship.
Suzuki BSB Team Manager Jack Valentine is delighted to have secured the services of one of the world's top riders. He said: "Sylvain brings MotoGP class to Suzuki and British Superbikes and I think he will be a race and Championship contender. He has real pedigree as his efforts in MotoGP have proved over the last two years, the sort of determination to succeed that matches the team's ambitions and one of the best Superbikes in the world at his disposal in the Crescent developed Suzuki GSX-R1000.
"This signing means Suzuki will be fighting for top honours in BSB 2009. We will be putting a full test and development programme in place for Sylvan and no stone will be left unturned in our efforts to win.
"Sylvain will make his debut appearance for the team at the Suzuki stand at the NEC Show in late November and he is already excited to meet the public and fans. He is a breath of fresh air to the team and one that we have utmost confidence in for success in 2009."
Suzuki GB Marketing Manager George Cheeseman said: "It is fantastic news that Sylvan has chosen to ride for Suzuki's official British Superbike team – it is credit to the team and the BSB series that it can attract such an international talent.
"Suzuki is absolutely committed to success on the race track and this signing proves how serious we are at getting back the BSB title we won in 2004. Sylvan will have the all new GSX-R1000 at his disposal and together I think they will make a fantastic partnership and one that will lead from the front.