Beautiful Tamara Wasson on location at the classic Texaco service station in Hollywood, California, with Kevin Schwantz's 1994 GP World Championship Suzuki RG500 in the photo featured on the cover of the 1996 Fast Dates Calendar.
First Time Ever! FastDates.com Calendar Images Available for Sale!
Photo Prints, Posters, Canvas Wall Murals
Now, for the first time you can have my favorite, most memorable FastDates.com Calendar photos reproduced to museum qualty standards for your home, garage, office or store, thanks to our new partnership with one of America's premier online photo labs. Choose from photo prints on quality photo paper, to huge poster and mural size Giclee' photo prints on archival rag paper or canvas mounted to wooden frames or display boxes.
Now you can enjoy my best photos of the the world's finest motorcycles with beautiful models! - Jim Gianatsis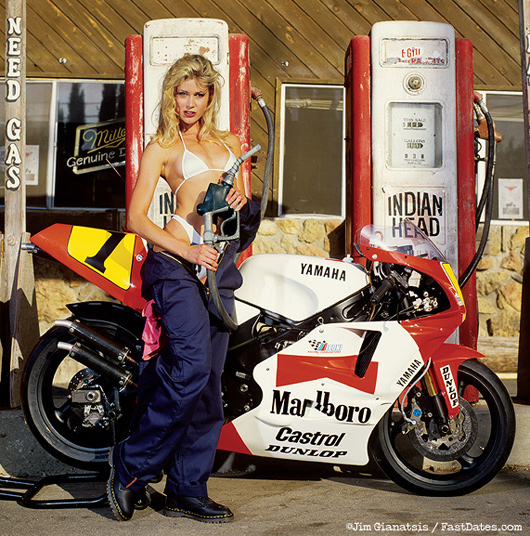 Ginger Schweizer gasses up Wayne Rainey's 1993 GP World Championship winning
Yamaha YZR500 at the Rock Store, the photo featured on the cover of the 1994 Fast Dates Calendar.
---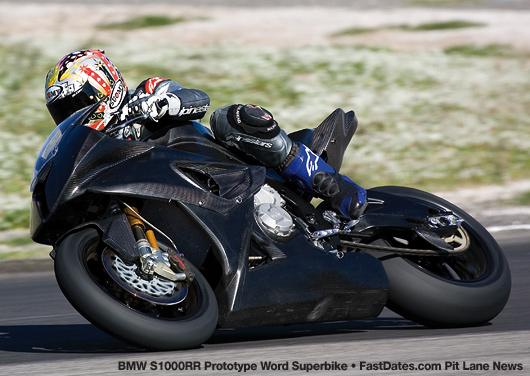 ---
2009 SBK World Superbike Team & Rider Lineups

BMW MOTORRAD'S WSBK DREAM TEAM IS COMPLETE
Champion Troy Corser to Race BMW World Superbike in 2009/2010

Munich, 25th September 2008 - BMW are happy to announce that Australian Troy Corser has signed to ride the all new BMW S1000RR in next year's Superbike World Championship. The former double World Superbike and 1-time American Champion has agreed terms for two years and ends months of speculation as to who will join Spaniard Ruben Xaus in BMW's debut in the Superbike World Championship next season.

Troy won the Superbike World Championship in 1996, becoming the youngest rider ever to do so in the process, and then again in 2005. He has been runner-up in the WSBK championship once and third place on three occasions. To date he has taken part in over 300 races, been on the podium 126 times, and his 42 pole positions have earned him the nickname of "Mr Superpole".

Troy is married to Sam and they have two children, Kalani Gray (5) and Kelissa Illiana-Rose (3). Troy was born in Wollongong, Australia but he and the family are now Monaco residents. Sam is also a former FastDates.com Calendar Kitten having modeled in the 1999 Fast Dates Calednar with her then boyfriend's factory Ducati 998RF World Chapionship winning Superbike.
Peter Mueller (Executive Vice President Development and Model Lines)
With Troy and Ruben, I feel confident we will have the best riders possible for our start in the Superbike World Championship. Troy has unrivalled experience in the series and that, together with Ruben's exuberance, is our 'dream team' and the combination we wanted, right from the start of this project. I feel sure that their knowledge of the series will definitely help us become competitive very quickly.
Berti Hauser (Director of BMW Motorrad Motorsport)
I am delighted that Troy is joining our team and that our jigsaw is now complete. He was in our minds from the start and I am very happy because I believe he and Ruben are the best combination of riders for our new challenge. Troy has told me that is excited about helping us develop the bike and be part of the project from the start. He also said that he would like to be the first rider in WSBK history to win the title with three different manufacturers and that he is physically and mentally ready make that his target.
The 2009 World Superbike Team / Rider LineUps are shaping up as follows:
Look for an exciting jammed packed 40 Rider grid for the first time ever!
BMW Factory: Troy Corser, Ruben Xaus
Ducati Xerox Corse: Noriyuki Haga, Michel Fabrizio
Boulder Ducati: Jake Zemke?
RG Ducati: Regis Laconi, Fonsi Nieto?
Ten Kate Hannspree Honda: Carlos Checa, Ryuichi Kiyonari, Jonathan Rea - World Superbike
Andrew Pitt and Kenan Sofuoglu - Wrold 600cc Supersport
Althea Hannspree Honda: Tommy Hill
Sterilgarda Alex Polita Ducati: Brenden Roberts, Shane Burne or Leon Haslam
Guandalini Team: Jakub Smrz,
Stiggy Motorsports Honda: Josh Brookes, Leon Haslam
DFX HOnda: Karl Muggeridge, Regis laconi or Luca Scassa
Paul Bird Motorsdports (Honda or Kawasaki): Riders unconfirmed
PSG-1 Kawasaki Factory: Makoto Tomada, and ?
Aprilia RS4 Factory Team: Max Biaggi, Alex Hoffman
Suzuki Alstare: Max Neukircher, Yukio Kagayama
Yamaha Motor Italia: Tom Sykes, Ben Spies
Yamaha Team France YZF: Unnamed Japanese rider, Regis Laconi?
GMT 94 Team: David Checa, Regis Laconi?
---
Rossi celebrateshis 8th World Championship on the victory podium at Motegi with outgoing World Champion Casy Stoner. The personal rivalry that emerged after their fierce track battle at Laguna Seca back in July was now over, and Cassy stopped to congradulate Valentino on his race and Championship win after they crossed the finich line at Motegi.

2008 MotoGP World Championship, A-Style Grand Prix of Japan Round 15 0f 18
Stoner Settles for 2nd in the Race & Championship
Valentino Rossi takes 2009 MotoGP title with Motegi victory

Motegi, Japa , Saturday Sept 28th - With his eighth victory of the 2008 season, Valentino Rossi sealed his sixth MotoGP World Championship title , and eighth in all classes at the A-Style Grand Prix of Japan. The Fiat Yamaha rider proved unstoppable at Twin Ring Motegi as he relegated outgoing champion Casey Stoner to second place in the 24-lap race.
Rossi had started from the second row of the grid, and looked to be on the back foot when Stoner took the holeshot and attempted to break away. The top three in the standings, Rossi, Stoner and Pedrosa became embroiled in an early battle for supremacy, narrowed down to a duel on lap five courtesy of a hard overtaking move by Stoner on his Spanish rival. The Ducati rider apologised for the pass, which took place on the run-up to the bridge section of the circuit, but still upped the pace in the ensuing laps –with Rossi hot on his tail.
Rossi passed Stoner for ther lead on lap 14 and pulled away to win.
The definitive pass for Rossi came on lap fourteen, and the Italian was able to do what he had done in 2001, 2002, 2003, 2004 and 2005: clinch the MotoGP World Championship with a race victory.
Stoner, a valiant foe for his successor over the course of the year, returned to the podium after three races off the rostrum. Whilst it was not enough to prevent Rossi from confirming the title, it still marked his first top three finish in Japan in the premier class.
The battle for the final podium place came down to two Spanish stars, with Pedrosa chased down by poleman Jorge Lorenzo. The Repsol Honda rider was put under pressure by the Fiat Yamaha rookie, and the two rivals clipped wheels on the final lap. Neither hit the asphalt, but Lorenzo was left without the chance of maintaining his run of top three finishes.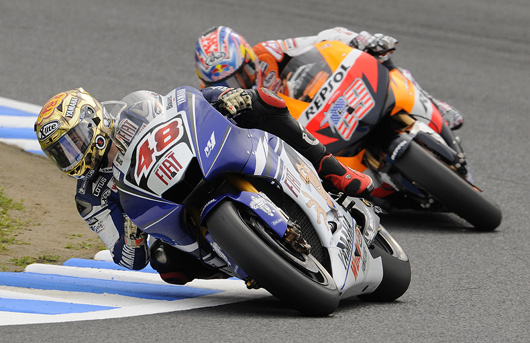 Jorge Lortenzo passes Nicky Hayden for 4th.

Nicky Hayden and Loris Capirossi rounded off the top six, with the experienced Italian unable to repeat his winning ways of the past three years at Motegi. Colin Edwards, Shinya Nakano, Andrea Dovizioso and John Hopkins also featured in the top ten, with the only crash of the race coming from Rizla Suzuki wildcard Kousuke Akiyoshi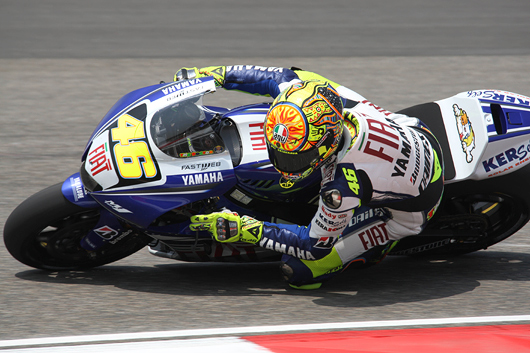 Valentino Rossi - Race Winner and New MotoGP World Champion
"It´s difficult to compare titles, but this one definitely feels great. I feel very good, because the battle was very tough this year, especially with Stoner and Pedrosa. It has been a long season with a lot of hard races. In my career I have been lucky and have won some hard championships –like the first with Yamaha in 2004-, but this one I maybe tried to put more effort in outside of the races to try and win. I have to thank everyone at Yamaha for their efforts this year, the M1 has been very fast and we have worked very hard every weekend. Today was a great battle and a great race, and to win the championship with a race win is fantastic."
Casey Stoner (Ducati Marlboro Team) 2nd - "At the beginning of the race everything felt good although I made a couple of mistakes on a cold tyre. We were running quite a hard compound today so we needed a few laps to get it warmed up. Once we did that the lap times were good and I felt happy with my pace. Unfortunately in the second half of the race I started to get tired in the changes of direction and I was having to close the gap coming out of the corners to get into the next one - simply because I didn't have the strength to flick the bike over with the throttle open. The lap times dropped off and when Valentino came past I couldn't keep up.
He's had an amazing season - he only made one mistake at Assen and the rest of the time he's been on the podium, winning races. He's a worthy champion - eight world titles show that - and I want to congratulate him for that. I'm just disappointed that we made two mistakes in the mid-point of the season that allowed him to open up such a big advantage. Anyway, after the recent misfortune we've had it was important to come back here with a strong performance and some solid points. Now we can go to Australia with confidence and look to finish the season strongly."
Dani Pedrosa, Repsol Honda: 3rd.
"Third place was not so bad today, though of course I tried to be faster. I have had some difficult races recently and some injuries, so it was a good feeling to be competitive again. I wasn't so fast at the beginning of the race, I expected to be faster. Later on I was able to improve my pace, my times got better lap by lap, so I am happy about that. My pitboard told me that Lorenzo was coming, I got 'plus zero', 'plus zero', 'plus zero'. I expected him to get faster because he was chasing me. On the last lap he touched me but I was able to stay on the bike. My thanks to Honda and to Bridgestone. Also congratulations to Valentino [Rossi, who won today's race to seal his sixth premier-class crown], he rode a great race."
Results MotegiMotoGP
Race Classification MotoGP : (24 laps = 115.224 km)
Pos/ Rider / Nat / Team / Motorcycle / Time/ KM/H / Gap
1 / Valentino ROSSI / ITA / Fiat Yamaha Team / YAMAHA / 43'09.599 / 160.181 /
2 / Casey STONER / AUS / Ducati Marlboro Team / DUCATI / 43'11.542 / 160.061 / 1.943
3 / Dani PEDROSA / SPA / Repsol Honda Team / HONDA / 43'14.465 / 159.881 / 4.866
4 / Jorge LORENZO / SPA / Fiat Yamaha Team / YAMAHA / 43'15.764 / 159.801 / 6.165
5 / Nicky HAYDEN / USA / Repsol Honda Team / HONDA / 43'34.192 / 158.674 / 24.593
6 / Loris CAPIROSSI / ITA / Rizla Suzuki MotoGP / SUZUKI / 43'35.284 / 158.608 / 25.685
7 / Colin EDWARDS / USA / Tech 3 Yamaha / YAMAHA / 43'35.517 / 158.594 / 25.918
8 / Shinya NAKANO / JPN / San Carlo Honda Gresini / HONDA / 43'35.602 / 158.589 / 26.003
9 / Andrea DOVIZIOSO / ITA / JiR Team Scot MotoGP / HONDA / 43'35.818 / 158.576 / 26.219
10 / John HOPKINS / USA / Kawasaki Racing Team / KAWASAKI / 43'46.730 / 157.917 / 37.131
11 / James TOSELAND / GBR / Tech 3 Yamaha / YAMAHA / 43'47.173 / 157.890 / 37.574
12 / Randy DE PUNIET / FRA / LCR Honda MotoGP / HONDA / 43'47.619 / 157.863 / 38.020
13 / Marco MELANDRI / ITA / Ducati Marlboro Team / DUCATI / 43'49.367 / 157.759 / 39.768
14 / Sylvain GUINTOLI / FRA / Alice Team / DUCATI / 43'55.445 / 157.395 / 45.846
15 / Anthony WEST / AUS / Kawasaki Racing Team / KAWASAKI / 44'05.347 / 156.806 / 55.748
Pole Position: Jorge LORENZO 1'45.543 163.758 Km/h
Fastest Lap (New record): Casey STONER 1'47.091 161.391 Km/h Lap 9
Circuit Record Lap: 2006 Valentino ROSSI 1'47.288 161.095 Km/h
Circuit Best Lap: Jorge LORENZO 1'45.543 163.758 Km/h 2008
World Championship Positions:
1 ROSSI 312, 2 STONER 220, 3 PEDROSA 209, 4 LORENZO 169, 5 DOVIZIOSO 136,
6 EDWARDS 118, 7 VERMEULEN 117, 8 HAYDEN 115, 9 CAPIROSSI 96, 10 NAKANO 95,
11 TOSELAND 90, 12 ELIAS 86, 13 GUINTOLI 58, 14 DE ANGELIS 55, 15 MELANDRI 51.
250cc GP Class to Simoncelli
Marco Simoncelli took victory number four of his 2008 season, his second from pole position, to extend his lead in the 250cc World Championship and draw one step closer to his first quarter-litre title. He did so ahead of Spanish rival Alvaro Bautista.
Simoncelli had attempted to break free from the pack, but was chased down by first Julian Simon and subsequently Bautista, who laid down some blistering times en route to catching the Metis Gilera rider. With less than ten laps to go, Bautista had already broken Shinya Nakano´s circuit record from 2000 on multiple occasions, and set about putting on the pressure with the victory at stake.
Unfortunately for Bautista, his push coincided with the frontrunners encountering the backmarkers, and trying to get past 250cc debutant Daniel Arcas and wildcard Takumi Endoh the leading duo were broken up. Amidst the confusion Simoncelli was able to put the required distance between himself and his Spanish rival, and brought his Gilera RSA home first in Japan.
Bautista had signaled to Alex Debon that he should hang on his tail as he passed his fellow countryman on lap ten, and the experienced Lotus Aprilia rider made the most of the draft to catch up with Repsol KTM man Simon. He took his fourth podium of the year, denying Simon his first quarter-litre rostrum.
Title challenger Mika Kallio and home rider Yuki Takahashi completed the top six, ahead of Aleix Espargaro, Mattia Pasini, Hiroshi Aoyama and Roberto Locatelli.
250cc Race Classification (23 laps = 110.423 km)
1 / Marco SIMONCELLI / ITA / Metis Gilera / GILERA / 43'09.385 / 153.520 /
2 / Alvaro BAUTISTA / SPA / Mapfre Aspar Team / APRILIA / 43'09.733 / 153.499 / 0.348
3 / Alex DEBON / SPA / Lotus Aprilia / APRILIA / 43'17.799 / 153.022 / 8.414
4 / Julian SIMON / SPA / Repsol KTM 250cc / KTM / 43'18.536 / 152.979 / 9.151
5 / Mika KALLIO / FIN / Red Bull KTM 250 / KTM / 43'26.426 / 152.516 / 17.041
6 / Yuki TAKAHASHI / JPN / JiR Team Scot 250 / HONDA / 43'29.017 / 152.364 / 19.632
7 / Aleix ESPARGARO / SPA / Lotus Aprilia / APRILIA / 43'29.277 / 152.349 / 19.892
8 / Mattia PASINI / ITA / Polaris World / APRILIA / 43'29.827 / 152.317 / 20.442
9 / Hiroshi AOYAMA / JPN / Red Bull KTM 250 / KTM / 43'31.688 / 152.209 / 22.303
10 / Roberto LOCATELLI / ITA / Metis Gilera / GILERA / 43'31.772 / 152.204 / 22.387
11 / Hector FAUBEL / SPA / Mapfre Aspar Team / APRILIA / 43'42.236 / 151.596 / 32.851
12 / Lukas PESEK / CZE / Auto Kelly - CP / APRILIA / 43'58.006 / 150.690 / 48.621
13 / Ratthapark WILAIROT / THA / Thai Honda PTT SAG / HONDA / 43'58.188 / 150.680 / 48.803
14 / Shoya TOMIZAWA / JPN / Project U FRS / HONDA / 43'58.957 / 150.636 / 49.572
15 / Fabrizio LAI / ITA / Campetella Racing / GILERA / 44'07.430 / 150.154 / 58.045
Pole Position: Marco SIMONCELLI 1'51.473 155.047 Km/h
Fastest Lap (New record): Alvaro BAUTISTA 1'51.412 155.132 Km/h Lap 23
Circuit Record Lap: Shinya NAKANO 1'52.253 153.970 Km/h 2000
Circuit Best Lap: Shuhei AOYAMA 1'51.327 155.250 Km/h 2007
World Championship Positions:
1 SIMONCELLI 215, 2 BAUTISTA 183, 3 KALLIO 175, 4 DEBON 155, 5 BARBERA 142,
6 PASINI 125, 7 TAKAHASHI 125, 8 AOYAMA 108, 9 SIMON 96, 10 LUTHI 95,
11 LOCATELLI 78, 12 ESPARGARO 64, 13 FAUBEL 54, 14 WILAIROT 50, 15 PESEK 35
---
Valentino Rossi Talks About His 8th World Title
Motegi, Japan 28/09/2008 - "I think it's difficult to say, but maybe this is even better than the first championship with Yamaha in 2004. In 2004 I arrived after three championships in a row; the change was very big and no one expected me to win then, not even us to be honest! But this year is great too because I didn't start as the number one favourite after losing for two years. The taste of this is something special.
"In 2006 I lost because of bad luck; I still won the most races and was the fastest on track for most of the time, but in 2007 Stoner was a lot faster than us and so we got to the end with a big of disadvantage. Winning this championship was very difficult but also very, very important.
"The decision to change to Bridgestone tyres, which I took together with Jeremy, my team and all the Yamaha crew, was very important, as were the changes to the bike because the first 800cc M1 last year was not competitive enough. We spoke a lot during last season and I remember a strange meeting in Valencia last year, me with a broken hand, speaking with Furusawa about 2008. From then we started to work on the improvements for this season. It's also been important to have the right people in the right place and this year everything has been correct. It's been step-by-step.
"I think I have made a lot of good decisions this year and we have been competitive from the start. Qatar was the worst race of the season but I knew our potential was good so, although we were a bit worried at that point, we weren't desperate because we knew if we fixed a few problems we could try to win.
Always the showman, Valentino brought his own Notary Public from Italy to Motegi to certify on his helment, after the race, that Valentino had won his 8th World Title.
"I grew up a lot in the last two years, because at the end of 2005 I had a great career and I had won all the important targets so far. 125, 250 and then five titles in a row in MotoGP with two different bikes – I felt unbeatable. But in 2006 and 2007 I learnt to lose and this has been very important. I came out much stronger and my level of concentration and effort to win this championship has been higher than ever before.
"This season has had some different periods. At the beginning of the year we had some important results when Bridgestone wasn't the strongest: Jerez, Portugal and others, and in that period we took a big advantage from Stoner. After Barcelona Casey started to ride like a demon and dominated three races in a row, and then we went to Laguna which was the turning point of the season. Laguna was a real battle and from then on we have flown.
"The show after the race was one of my friends pretending to be a 'notary', signing and certificating the eighth championship 'deed'. It was very exciting to be planning the championship t-shirt and celebration once again with my friends and fan club and the one we came up with is funny I think, it says 'I'm sorry for the delay!'
"I am very content at Yamaha and this is why I signed for two more years. I had some good offers at other factories, but I already changed bike once and proved everything I wanted to and so there is no need to do that again. Also I am no longer 20 years old and I need a good atmosphere in my team in order to keep me focused and happy, and I have this at Yamaha. The atmosphere in our team, from the Japanese all the way down to the garage is fantastic and this is what makes me want to stay.
"I think 2009 will be even more difficult than this year. Now I am the world champion again and I have demonstrated that I am still very fast; I think I rode the best of my career this year apart from the mistake in Assen, but next year is another story, it depends on how the winter is and how Stoner, Pedrosa and also Lorenzo are next year, as well as the other riders because there are many fast people in this championship. I think it will be a great championship and I'm looking forward to it, but first I want to finish this year and try to win the final three races!
"As I said, there are many strong riders but of course I hope that in the future nobody will win like Valentino Rossi! Maybe my brother Luca will be as strong as me…I wanted to take him on my bike on the celebration lap, but they did not allow it. Maybe I will wait for him to be a MotoGP rider before quitting, then I will beat him in the first year, and then I will stop riding!
"When you are 20 or 22 yrs old, you live everything in a different way. It's different… In 2000, maybe, I could have won on my debut, but I underestimated myself! In 2001 it was the last chance for me to win in 500, so I gave it my best and did that. In 2001 it was the year of the battle with Biaggi, in 2002 it was the year when everybody said that I won because of my bike, then 2003 was the year of Gibernau, it was hard until the end. They were fantastic years but with Yamaha it is different. I enjoy it more.
"During 2003 I started thinking about Yamaha. Of course I was scared about the new challenge, it was a big question mark. This year, when I tested the new bike and the new tyres, I understood that I could win. In 2004, however, when I tested the new bike I understood we had to work a lot. Sincerely, the feeling of winning in Welkom in 2004 was the strongest emotion of my career; more so than in Laguna Seca this year. The 2005 the M1 was very fast and that one and the 2008 one are the best Yamaha bikes ever.
"I think Stoner next year will be back stronger again, so maybe he is the hardest rival I have ever had, more than Gibernau and all the others I fought against in the past. Last year I was sorry that after so many successful years, some people thought Valentino was finished and Casey was the new Valentino. As I said, until I stop riding a bike, my objective will always be to win. I like this life and I always try to do my best in it."
An Officially Certified World Record: Valentino Rossi 8-Times World Champion.

Statistiscs on Valentino Rossi's career
In becoming only the second rider ever to win the MotoGP World Championship following a two-year gap, Valentino Rossi has cemented his place amongst the legends of motorcycle racing. A return to the form that won him five consecutive premier-class titles between 2001 and 2005 has seen the Italian reinstated at the very pinnacle of the sport, with a host of career milestones reached along the way. Here is a full list of Rossi's historic MotoGP achievements in 2008:
• Rossi has joined Giacomo Agostini as one of only two riders to have taken six or more premier-class World Championships.
• Rossi is only the second rider to regain the premier-class title after a two year gap – the other rider to do this was also Agostini.
• This is Rossi's eighth world title across all classes. Only Agostini with 15, Angel Nieto, with 13, Mike Hailwood and Carlos Ubbiali, with nine each, have won more.
• Rossi is the first rider to win the premier-class title on four different types of motorcycle: 500cc 4-cylinder two-stroke, 990cc 5-cylinder four-stroke, Yamaha 990cc 4-cylinder four-stroke and a Yamaha 800cc 4-cylinder four-stroke.
• It is eleven years since Rossi's first World Championship success in the 125cc class in 1997. The only rider with a longer period between his first and last titles is Angel Nieto, who won the 50cc crown in 1969 and the 125cc equivalent in 1984.
• With his 69th career MotoGP win at Indianapolis, Rossi broke Giacomo Agostini's record for the most premier-class victories; a record that has stood since the legendary Italian's final victory at the West German Grand Prix in 1976.
• With 37 wins, Rossi has had more success with Yamaha than any other factory in his career
• Rossi is also Yamaha's most successful rider, having scored 13 more premier-class wins for the factory than Kenny Roberts.
• With three races to go he is the only rider to have scored points in every round of the 2008 season.
• Rossi's sequence of five straight race wins since Laguna Seca is his longest run of wins since 2005, when he also scored five successive victories.
Other facts about Rossi's career.
• In 1997 Rossi became the second youngest ever 125cc World Champion after scoring 321 points and eleven wins.
• Two years later, he became the youngest ever 250cc World Champion with nine wins.
• In 2001 Rossi joined Phil Read as one of only two riders ever to win the 125cc, 250cc and 500cc titles.
• Rossi's debut victory for Yamaha at the opening race of 2004 in South Africa made him the first rider in history to take back-to-back wins for different manufacturers.
• After winning the MotoGP World Championship three times with Honda, Rossi took his fourth premier-class title with Yamaha in 2004 and became the only rider other than Eddie Lawson to win consecutive premier-class titles for different manufacturers.
Valentino Rossi - Career Milestones
Nationality: Italian
Born: 16th February 1979 in Urbino, Italy
World Championships: 8 (6 x MotoGP/500cc, 1 x 250cc, 1 x 125cc)
GP victories: 96 (70 x MotoGP/500cc, 14 x 250cc, 12 x 125cc)
GP podiums: 148 (112 x MotoGP/500cc, 21 x 250cc, 15 x 125cc)
GP Pole Positions: 51 (41 x MotoGP/500cc, 5 x 250cc, 5 x 125cc)
First GP: Malaysia, 1996 (125cc)
First GP win: Czech Republic, 1996 (125cc)
GP starts: 207 (146 x MotoGP/50cc, 30 x 250cc, 30 x 125cc)
---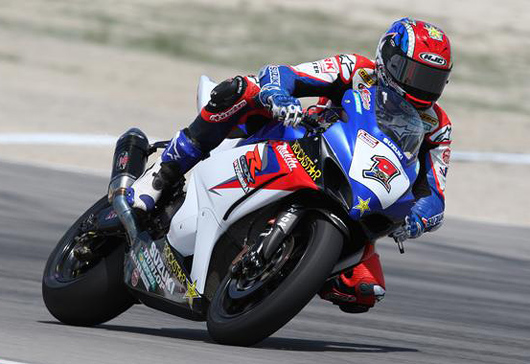 Spies Repeats his 3rd Title in the Last AMA Superbike Championship
Sept 5th - Ben Spies was unceremoniously handed his 3rd consecutive crown for the 2008 AMA Superbike Crown this past week with one round yet to be run in the last ever AMA Superbike Class, with the AMA upholding its ruling to disqualify his Yoshimura Suzuki team mate Matt Mladin's double race win at Virginia International Race on August 17th for running an illegal crankshaft. Spies's 2nd place team bike probably had the same illegal crankshaft as Mladin, but only the race winner's bike was checked.
Suzuki Dominates the Final 2008 Title and Race
of of AMA Superbike, and Supersport at Laguna Seca
Laguna-Seca Raceway, CA, Sept 29th - .Rockstar Makita Suzuki Factory Racing celebrated the end of the 2008 AMA Superbike season in true championship-winning style by sweeping the AMA Superbike podium one-two-three at the final round at Mazda Raceway Laguna Seca in Monterey, California, on Sunday afternoon.
Six-time AMA Superbike Champion Mat Mladin won the 28-lap race, which means his career wins number 72 and this is his third win at Laguna Seca. Additionally, Mladin picked up his 55th career pole position this weekend.
Newly-crowned AMA Superbike Champion Ben Spies finished second in the Laguna Seca race. Overall, three-time AMA Superbike Champion Spies has 10 wins for the year and eight additional podium finishes.
Rounding out the all-Rockstar Makita Suzuki podium was Tommy Hayden in third place. This result marks Hayden's ninth AMA Superbike podium of the year, in spite of missing six races because of injury. In the overall championship points standings, Spies finished first, Mladin finished second and Hayden finished eighth.
Mat Mladin: "It was a good race for us overall and it was nice to get a win at this track, in particular. I got a good start on the Rockstar Makita Suzuki GSX-R1000 and I just put my head down and ran some good laps. I'm excited to get another win at Laguna Seca - I guess I've finally got this place figured out after 13 years. It's fantastic for Suzuki to get up here one-two-three and I'm looking forward to next year and hopefully a fair series."
Ben Spies: "I didn't get off the start like I wanted to, but that sort of made it a fun race because I had to make a lot of passes to get up front. By the time I got into second place, I could see the pace Mat was running and I could see the gap and I knew I wasn't super-human so I just decided to have some fun out there. It was a good race; I just didn't have enough for the win today. Congratulations to my Rockstar Makita Suzuki team mates for a good race today and it's a great way for Suzuki to finish the season. It says a lot about
Suzuki and it says a little about the three of us too."
Tommy Hayden: "It was a pretty good race. I got another great start on the Rockstar Makita Suzuki GSX-R1000 and I just tried to settle into a rhythm. Then Mat came by and I tried to latch on to him and stay with him for as long as I could, which wasn't very long. A little bit later Ben came by and then Jordan Suzuki's Aaron Yates. Aaron and I had a battle for a while, then I got by him and just tried put in some good laps and bring home another podium finish for Rockstar Makita Suzuki."

AMA Superke race Results
1. Mat Mladin (Rockstar Makita Suzuki)
2. Ben Spies (Rockstar Makita Suzuki)
3. Tommy Hayden (Rockstar Makita Suzuki)
4. Aaron Yates (Jordan Suzuki)
5. Neil Hodgson (Honda)
6. Eric Bostrom (Yamaha)
7. Miguel Duhamel (Honda)
8. Jason DiSalvo (Yamaha)
9. Jordan Szoke (Kawasaki)
10. Chris Peris (Yamaha)
Yates Contines to Dominate in 1000cc Superstock
The final round of AMA Superstock at Mazda Raceway Laguna Seca saw newly-crowned 2008 AMA Superstock Champion Aaron Yates take the win after a red flag caused a lengthy race delay on Sunday afternoon in Monterey, California. This season-ending event saw Yates collect his fifth pole position of the year, his fifth win of the year and 10 podium finishes.
Team M4 EMGO Suzuki's Blake Young followed Yates home in second place. For Young, this AMA Superstock season saw him capture one win and five additional podium finishes which were good enough for him to finish up the season in fourth place overall.
Rounding out the all-Suzuki podium was Yates' Jordan Suzuki team mate Geoff May in third position. This was May's fifth AMA Superstock podium of the season - two of which were wins - and he ended up in second place overall behind Yates in the championship tally.
Aaron Yates: "The race was good. In the first part, I kind of felt uncomfortable and I was running around in fourth, sort of struggling a bit with grip. And then we had the red flag. In the re-start, I knew Blake's bike would be a missile on the straights and there aren't many places to pass so I didn't want to mess with that. So I just put the hammer down and put my head down and tried to go as hard as I
could. There was no pressure on me because we already won the championship so I really was able to relax and enjoy the race."
Blake Young: "The first part of the race was pretty good. I got a decent start on the M4 EMGO Suzuki GSX-R1000 and I led some. But then we had a red flag and spent part of the day sitting around, which gave me some time to think about the race and what I wanted to do. In the re-start Aaron got a good start and just put the hammer down right away. I just tried to ride as hard as I could and that helped me bring home second for the M4 EMGO Suzuki guys."
Geoff May: "I just tried to have fun with the race today and ride my best on my Jordan Suzuki GSX-R1000. I rode as hard as I could but I just didn't have it today. Aaron took off like a rocket and I rode as hard as I could and I'm just happy to bring home third for the Jordan Suzuki team. I've had some bad luck here at Laguna Seca in the past and it's good to get a podium here."
---
If you live near London, join our British distributor Crossbow-Calendars.com for their annual Calendar Premier Party on Saturday October 25th and pick up the new 2009 Crossbow and FastDates.com Calendars!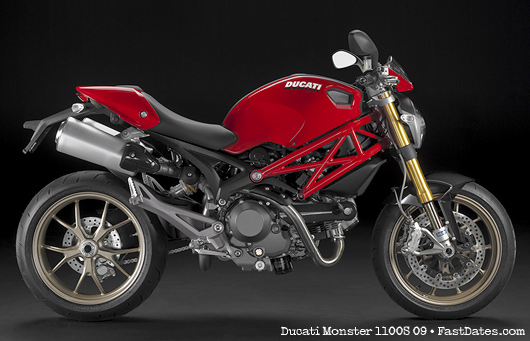 Monster 1100S with Ohlins Suspension Go Big

Ducati's 2009 ABSOLUTE MONSTER 1100
The arrival of the new 1100 and 1100 S now increases the size of the Monster family, a family that redefines the naked motorcycle and stakes its claim as the new icon of Italian excellence.
The 'less-is-more' philosophy behind all Monsters underlines Ducati's never-ending pursuit of genuinely compact, high performance motorcycles, but these new models have succeeded in being even more 'pared down' than their predecessors. The Monster 1100 weighs 169kg (168kg for the S version), making it by far the lightest bike in its category.
The new Monster 1100 design perfectly balances sports performance, riding pleasure and stunning looks. With its new single-sided aluminium swingarm, high level of componentry, race-oriented chassis and 15 years of evolution, the Monster 1100 now takes its place at the head of the Monster family.
The Monster 1100 S is a pure concentrate of lightness, power, design and exclusivity. The 'S' features fully adjustable 43mm titanium nitride coated Öhlins forks and progressive Öhlins rear shock absorber with adjustable pre-load and return damping. Carbon fibre cam belt covers, silencer guards and front fender reduce weight by a further 1kg (2.2lb). The distinctive racing gold coloured 5-spoke wheels of the Monster 1100 S give it an elegant style and the same sporting look as historical Ducati racing models.
Both versions of the new Monster 1100, already come factory-personalised with removable single seat covers and neat micro-bikini fairings, are powered by the charismatic two-valve 1100cc Desmodromic twin-cylinder engine that boasts a 98mm bore and a 71.5mm stroke, delivering 95hp at 7500rpm and an impressive torque of 10.5kgm (79.5lb-ft) at 6000rpm.
---
There's more! Go to Pit Lane News Previous Page

Hot Calendar Girl and Bike News! Go to: Fast Dates • Calendar Girls • Iron & Lace

Calendar Kittens, The Paddock Garage, Screensavers, Iron & Lace Garage


Many of our Calendar Kittens can also be seen at Playboy's website...


BikerKiss.com - the largest biker personals site!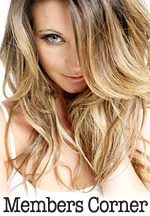 Members Corner
Hot Bikes, Sexy Kittens
Get Your Exclusive Grid Pass
aslo includes....
---
---


World Premier!
2009 FastDates.com Calendars
More 2009 Pin Up Model
& Motorcycle Calendars...

---
United States Superbike Championship Up Date -
Stalled or Stillborn?
Oct 1st- The Motorcycle Industry Council's (MIC) announcement last month to move ahead with a distributor supported professional Superbike Championship (USSB) as an alternative to the amateur class focused Daytona Motorsports Group / AMA Series, seems stalled at the moment. We put in a phone cal to the MIC this week and were told that nothing had yet taken place, anyone sending in resumes for a position with the USSB were having them stacked in a folder, and there was no time schedule to move forward with producing the series and hiring a team leader or staff for 2009.
At closer look this may be a bigger project than MIC President Tim Buche realized in trying to produce the USSB Championship in time for the 2009 season for a number of reasons:
Without a strong central figure - a so called "Racing Czar" to set up and manage the Series, with that person having a motiation (piece of the action) for success including ownership of the Series and earning himself a profit from it, it just might be dead in the water. Would MIC President Buche, who is certainly on a fixed income with no growth or profit potential, be willing to hire under contract a Racing Czar to produce the series and make it a success. What is that "Racing Czar" or possible "Marketing Director" of the Series brings in a major title sponsor, like say Coca-Cola for $5 million dollars, would they be able to pocket a 20% / $1 million dollar sales commission? Probably not, particularly if the MIC President who proposed and plans to set up the Series is drawing a regular pay check....
Another problem is the U.S. Motorcycle Importers remain strongly aligned to the AMA as the largest enthusiast based motorcycle organization in America, as well as for working united in facing the US government in Washington. And not to forget the AMA (and now its selected professional roadracing organization the DMG) are the official U.S. endorsed body of the Federation International de Motorcycle (FIM).
Having a competing organization, the USSB, running under FIM rules as are need for future success and to be more closely ties to SBK World Superbike, could be a political nightmare. How can wild card riders and teams in USSB compete in World Superbike events in the USA which would be sanctioned by the AMA/DMG?
And now, with the competing USSB Championship on the table and a possible reality, the DMG may be closer to capitulating and adopting the FIM Superbike and Supersport classes which the USSB and distributor race teams want. The distributors would rather their race teams stay with the AMA if possible, than start afresh with a new series. And that might be why progress seems to be stalled at present in forming the USSB.
For the moment the USSB remains a pie-in-the-sky fantasy with not much hope for success. It looks to be muddled in a quagmire - much like the AMA Championship before it - with no true direction, no strong leader with a piece of the pie to motivate him, and too much distributor involvement in its organization and politics to be a commercial success. Much like the AMA which allowed professional racing in America to fail.
MotoGP Moves to Single Tire Brand Rule for 2009
FIM Road Racing World Championship Grand Prix
Change to the Regulations
For safety and cost reasons, the Grand Prix Commission, composed of Messrs. Carmelo Ezpeleta (Dorna, Chairman), Claude Danis (FIM), HervÈ Poncharal (IRTA) and Takanao Tsubouchi (MSMA), in the presence of M. Paul Butler (Secretary of the meeting), in a meeting held today at the circuit of Motegi, unanimously decided to introduce the following change to the FIM Road Racing World Championship Grand Prix Regulations.
MotoGP Class
The Grand Prix Commission has decided unanimously that there will be a single tyre supplier for the MotoGP class as from 2009. Proposals to supply the tyres must be handed to the FIM and Dorna by October 3rd at the latest. The final decision will be announced by the GP Commission by October 18th at the latest.
Michelin Release 9/28- The decision to move to a single tire supplier for the 2009 MotoGP World Championship is a major change to the regulations of a series that was created in 1949.
Michelin notes with interest the reasons given by the governors of this sport to which Michelin remains very committed after many years of involvement.
Michelin is examining the opportunities offered by these new regulations and will make an announcement in the next few days as to whether or not the company will tender to supply tires to the premier-class championship that Michelin has won on 26 occasions since 1973.
Michelin Will Not Bid
For MotoGP Tire Contract
Michelin Press Release, Paris - Oct 4th - Michelin has decided not to submit a bid to the governing body of the MotoGP World Championship. At the same time, Michelin regrets not being able to contribute to the organizers' important discussions to improve rider safety and reduce costs.
The spirit of competition has always been central to Michelin. Motor sports at the highest level are useful because competition among several tire manufacturers is a valuable stimulus for developing increasingly high-performance tires that will one day equip customer vehicles. Tires play a key role in a vehicle's performance and can make a considerable difference. This competition among manufacturers helps to make racing exciting.
The radial tire, which was invented by Michelin, has been improved through racing, and the improvements have since been passed on to consumers. Michelin's dual compound technology for motorcycle tires was first tested in MotoGP racing and is today integrated into premium products for the brand's customers. The MotoGP Championship organizers have decided to use a single tire supplier for the coming seasons, which effectively eliminates the competitive environment that has led to so much progress.
The R&D resources allocated for MotoGP racing will be redeployed to support innovation, which is at the heart of Michelin's customer-focused strategy.
Martin Bauer to replace injured Kiyonari at
Ten Kate Honda
9/30- -Current German Superbike champion, Martin Bauer, will replace Ryuichi Kiyonari on the HANNspree Ten Kate Honda CBR1000RR at this weekend's 13th round of the World Superbike championship in Magny-Cours, France (3-5 October).
Kiyonari broke his collarbone in a testing crash at the French circuit last week and has flown home to Japan for surgery and to recuperate for the final round of the championship at Portimao, Portugal on 2 November.
Bauer, 32 and from Eggendorf in Austria, has ridden a Honda CBR1000RR Fireblade to victory in the last two IDM Superbike championships and is relishing the prospect of a ride with the biggest team in the World Superbike paddock.
Dovizioso to switch to Repsol Honda for 2009
Friday, 26 September 2008
HRC have announced Andrea Dovizioso as their second factory team rider for next season.
Andrea Dovizioso has been unveiled as a Repsol Honda rider for the coming season in a special press conference at Motegi, cementing his move from the satellite JiR Team Scot outfit. The MotoGP rookie has impressed with his results onboard the satellite RC212V in 2008, and HRC have rewarded this and his long association with the company in the lower cylinder classes by giving the Italian a factory ride for his sophomore campaign.

`I´m really happy, because one of my dreams is coming true. I worked for seven years with Honda because I wanted to be here,´ said Dovizioso after the announcement.

`I want to get to work as soon as possible with the new bike and team, because right now the work in a satellite team is very limited –I can´t improve anything.´

The 22 year-old will replace outgoing Repsol Honda rider Nicky Hayden, who leaves the team for Ducati at the end of the year, and will accompany former 250cc rival Dani Pedrosa in the factory team garage. Both will be developing the bike for HRC, a first for Dovizioso.
`It will be different; I never developed any bike before. However, with my results this year I think that just having a better bike will help me to fight for the podium.´
The decision to promote Dovizioso was an easy one to make for HRC President Masumi Hamane, who paid tribute to the Italian star´s performances for the Japanese company over the years.

`His talent is unquestioned and we admire his attitude towards racing. His dedication to the task at hand has impressed everyone at HRC. Andrea came into the MotoGP championship this year with an open mind and his debut season has shown all of us that he possesses the character and qualities so necessary to succeed,´ declared Hamane.
`The MotoGP class is the most difficult of all classes for a rider but Andrea´s skill and determination to learn has been rewarded. His current fifth place in the championship speaks for itself. HRC will provide Andrea with the best possible technical support to help him reach his full potential and we look forward to enjoying a happy and successful relationship.´
New World Superbike Rider Line Ups for 2009
Haga to Ducati Corse...
Sewpt 20th - There's no offical press releases yet, but it is disclosed that Italian Yamaha rider Noriyuki will be moving to team Ducati Corse next season to replace the retiring Troy Bayliss. While improving youngster Michael Fabrizo will remain with the Corse team for another year.
The rider who was lobbying to get the vacant spot at Ducati being left by Bayliss - Max Biaxi, is now confired to be moving to the new Aprilia Word Superbike team where he will race the new V-4 Superbike.
And Yamaha Italia will also loose its other team rider, Troy Baylis, who is expected to move to the new BMW World Superbike team alongside the already signed Ruben Xaus.
With all the new teams and riders entering World Superbike next year, the already exciti ng 30-bike grid should be packed to capacity with close to 40 riders, not including local wild card entries. It is going to be a really excting in World Superbike beginning in 2009 with the 2 new manufactuers's, as well as a few more private support teams expected to join the fray.
Ben Spies signs with Yamaha World Superbike for 2009
01/10/2008 - American racing sensation Ben Spies has signed up to the Yamaha factory World Superbike Team to partner 23 yr old British rider Tom Sykes for the 2009 season. The 24yr old American rider from Dallas is fresh from a record third championship win in a row, taking the AMA Superbike Championship crown again for 2008. Spies is only the fourth rider in the history of AMA Superbike to win three consecutive titles and 3rd on the all-time AMA Superbike wins list with a total of 28 AMA Superbike wins. This now completes the Yamaha World Superbike team for 2009.
Spies has been racing and winning in the AMA Superbike Championship since 2005, and has an unrivalled 90% podium finish rate for racing, the highest for any AMA rider in the history of the championship. He took second place in his rookie year followed by the three successive championship wins. Prior to this he had a three year stint in the AMA Supersport Championship,. Spies turned pro in 2000, racing in the AMA Superstock Championship for two years before joining AMA Supersport in 2002.
Spies has also ridden in MotoGP in 2008, starting in place of injured Loris Capirossi at the British GP, finishing 14th place scoring his first MotoGP points. He had a further 2 wildcard outings, achieving 8th at Laguna Seca and an even more impressive 6th at Indianapolis.
"I'm very excited about joining Yamaha in World Superbike," Spies said. "This is a positive step for the direction of my career. I'll have a great opportunity to race on many of the top road racing circuits in the world. Riding with a company as passionate about racing as Yamaha is going to put me in a good position to contest for a world championship right from the start."
"Superbike racing originated in America, but it's been a while since we've had an American world champion. There's a great tradition of American riders in World Superbike and I hope to put my name alongside great champions like Fred Merkel, Doug Polen, Scott Russell, John Kocinski and Colin Edwards. "
"After considering my offers it became obvious to me that Yamaha would be a great home. Yamaha was excited about the possibility of me joining them and they just made me feel like I was coming into a great family. You look at how Yamaha treats its riders and how, even after their careers are over, they're always part of the Yamaha family. That was really important to me. I'm looking forward to the challenge at hand and to work with Yamaha to produce a winning team and ultimately a World Superbike Championship."
Massimo Meregalli (Yamaha's factory Superbike Team Manager) – "We're really enthusiastic to have signed Ben Spies for the 2009 team. He's proved to be a very skilful and successful rider in AMA Superbike, he has been one of the riders we have followed closely this year. We are sure he will be a great combination with Tom Sykes, the team are looking forward to starting with them both next year. There will be a lot to learn with new circuits and new bikes but we also have new motivation as a fresh team and will give 200% to help the riders win in 2009. "
"We're very excited to have Ben join the team" said Yamaha Motor Europe Racing Division Manager Laurens Klein Koerkamp. "He's proved to be a top rider with his AMA titles and recent rides in MotoGP, we believe he's got a long future ahead of him at the highest levels in motorcycle racing.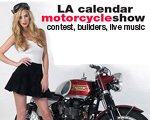 Complete Coverage!
2008 LA Calendar Motorcycle Show & Calendar Girl Music
Festival Weekend!
$86,000 Bike Building Championship
World Record Dyno Shootout!
Calendar Girl Music Festival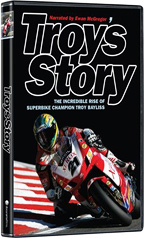 Troy's Story
The story of 2-Time World Superbike Champion Troy Bayliss narrated by Ewan McGreggor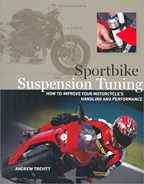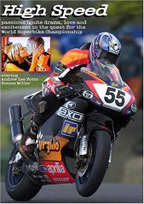 High Speed - the Movie
The best motorcyce racing movie ever made! Filmed on location at World Superbike, this an exciting romantic drama staring beautiful actress Sienna Miller.
---
Alan Wilson Steps Down as CEO/General Manager
of Miller Motorsports Park
TOOELE VALLEY, UTAH (September 30, 2008) – Alan Wilson, the man who designed Miller Motorsports Park and stayed on to become its first CEO and General Manager, has announced that he is stepping down from his post, effective immediately.
Wilson, 62, who is widely regarded as one of the world's premier racetrack designers and a very respected individual in national and international motorsports, will now devote his time and attention to a new racetrack-building company, Wilson Sahara Motorsports, established between himself and Sahara Inc., the builders of Miller Motorsports Park.
"My initial understanding with Larry Miller was that I would be here for three years and I intended to leave at the end of 2007," Wilson said, "but I stayed an additional year to help get the HANNspree Superbike World Championship event established. I've really enjoyed my time at Miller Motorsports Park, but I'm very excited about some of the projects that I have on the horizon and the prospects for Wilson Sahara Motorsports."
In addition to creating and managing Miller Motorsports Park, Wilson was busy behind the scenes in the motorsports industry over the past four years. In addition to continuing to design racing facilities, he hosted the first-ever track operators workshop for road racing circuits at MMP in February of this year. He was one of the driving forces behind the Ford Racing Mustang Challenge for the Miller Cup, which marked the first time in American racing that a racetrack created a professional racing series. He also was instrumental in the creation of the Road Racing Industry Council, which was formed to give track operators a united voice in their dealings with sanctioning bodies. In addition, Wilson has quietly worked to promote dialogue between the Daytona Motorsports Group, the new owners of AMA Pro Racing, and the motorcycle manufacturers to ensure a stable, united series in the future.
To date, 29 tracks of Wilson's design have been constructed, but he considers Miller Motorsports Park his crowning achievement.
"I am very proud of this facility," he said, "but I am equally proud of the team that we have assembled here and the knowledge that Miller Motorsports Park enjoys a reputation as a warm, welcoming and user-friendly place for fans, racers, media and sponsors.
"I very much appreciate the opportunity provided to me by Larry Miller to create such a wonderful facility, and I look forward to watching Miller Motorsports Park continue to grow and prosper in the years to come."
Greg Miller, CEO of the Larry H. Miller Group, said that Wilson's contribution to Miller Motorsports Park was immeasurable.
"On behalf of our family and organization, I would like to express our appreciation to Alan Wilson for all that he has done at Miller Motorsports Park. To recall when this was a barren piece of farmland and to see what the facility looks like today, and the reputation it enjoys in the industry, is a testament to Alan Wilson's vision and leadership. He will continue to work with us on specific projects in the future, and we wish him well in his other pursuits."
Dan Davis Named President/COO
of Miller Motorsports Park
TOOELE VALLEY, UTAH (September 30, 2008) – Dan Davis, the former Director of Motorsports for Ford Motor Company, has been named the President and Chief Operations Officer of Miller Motorsports Park, effective immediately.
He will replace Alan Wilson, the track's designer and original CEO/General Manager, who left the company to pursue his interest in a new racetrack-building company, Wilson Sahara Motorsports, established between himself and Sahara Inc., the builders of Miller Motorsports Park.
Davis, 59, comes to Miller Motorsports Park after a 32-year career at Ford Motor Company, the last 12 of which were spent as the Director of Motorsports. He has extensive experience in virtually every area of motorsports around the world, including Formula One, NASCAR, Indy Cars, sports cars and drag racing.
"I am thrilled to have been asked to become a part of the team at America's finest motorsports facility," said Davis. "I appreciate the confidence shown in me by the Miller family, and I look forward to helping Miller Motorsports Park achieve its vast potential in the years to come."
Greg Miller, CEO of the Larry H. Miller Group, said that Davis will be an invaluable asset to Miller Motorsports Park.
"We are very fortunate to be able to attract a person of Dan Davis' caliber to take the helm at Miller Motorsports Park," he said. "He is one of the most respected executives in the automotive and motorsports industries, and the perfect choice to take us into the future. We are very pleased that he has agreed to join our team, and we look forward to working with him to craft a prosperous future for this facility."
Indian manufacturer acquires larger share of KTM
October 3rd - An Indian manufacturer now holds a larger share of Austrian manufacturer KTM. Bajaj Auto recently acquired 59,500 shares of KTM Power Sports AG, KTM announced on its Web site. As a result, Bajaj Auto holds voting rights and capital stock of more than 25 percent but not more than 30 percent, KTM said.
The two companies started partnering on projects in late November 2007. At the time of the partnership announcement, KTM said it would provide the technology behind its water-cooled, four-stroke engines and in return Bajaj would sell KTM products in India and elsewhere in south and eastern Asia.