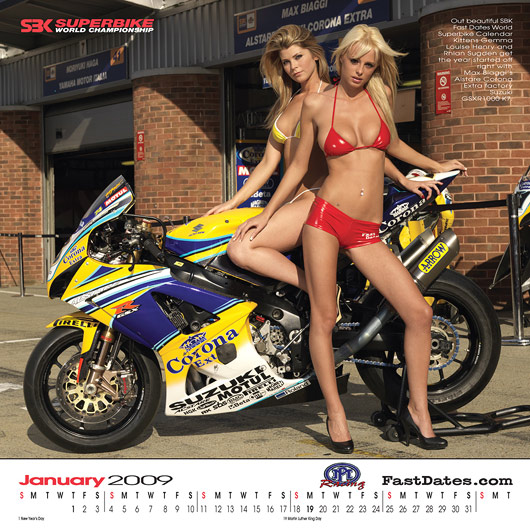 This Month in Fast Dates 2009
This is Hot! Our beautiful British Fast Dates World Superbike Calendar Kittens Gemma Louise Henry and Rhian Snugden get the year started off right with Max Biaggi's Alstare Corona Extra factory Suzuki GSXR 1000K7 racebike at Brands Hatch.
Buy the 2009 Fast Dates Calendar • Download Big Screensaver Photos in Members Corner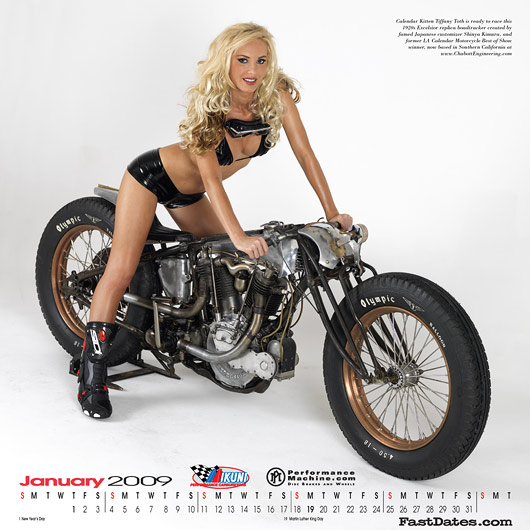 And in both the Iron & Lace and Fast Dates Calendars ....
This is really Hot! FastDates.com Calendar Kitten Tiffany Toth gets ready to ready to race this 1920s Excelsior V-Twin replica board track racer created by famed Japanese customizer and LA Calendar Motorcycle Best of Show winner Shinya Kimura / ChabottEngineering.com. The above picture is featured in Iron & Lace for Januray, with a similar shot of thebike with Tiffany in the 2009 Fast Dates Calendar for October 2009.
Bill Clinton Presidential Library Center Hosts "Art of the Chopper"
with Shinya Kimura's Iron & Lace Calendar Bike
Through Feb. 8, the Clinton Presidential Center in Little Rock, Ark hosts "Art of the Chopper" an exhibit of 30 gleaming handcrafted motorcycles from around the country, including Shinya Kimura's Henderson Board Track racer featured in the 2009 Iron & Lace and Fast Dates Calendars.
Clinton center director Terri Garner says "Just as Bill Clinton defines the end of the 20th century, so does the chopper". These custom motorcycles (with portraits of the builders) are already featured in Tom Zimberoff' 2 hard cover books "Art Of The Chopper I & II'. The exhibit is included in the museum's regular admission price. Tickets: $7, adults; $5, seniors (62 and older)
Oh, and did we forget to mention that Tiffany was recently photographed by Playboy to be a new upcoming Playboy Playamte centerfold! You'll find large size screensavers of all our past and present Calendar pages and lots of very revealing pictures of our Calendar Kittens including Tiffany in Members Corner.
Buy the 2009 Iron & Calendar • Download Big Screensaver Photos in Members Corner
---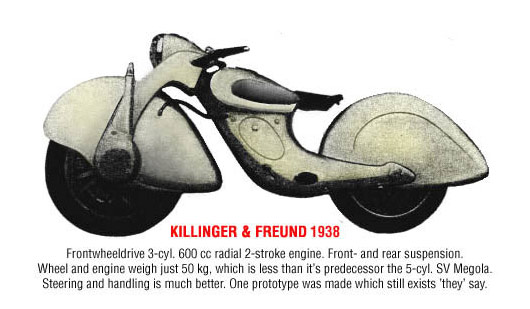 Killinger & Freund - Ahead of its Time
In 1935 a group of five German engineers including Killinger and Freund from Munich started to design a more streamlined and modified version of the German Megola front-wheel drive motorcycle that had won many motorcycle races in the 1920s. The work took three years to complete but the result was impressive. The engine displacement stayed the same as the Megola at 600cc but was much lighter and more simplified than a standard 100cc motorcycle of the time.

The Design
The motorcycle featured a three cylinder two-stroke engine built right into the front wheel, including the transmission and clutch, with more comfortable front and rear suspension. Streamlining was important with aerodynamics being the first priority of the team who also wanted all the moving parts covered, for dirt and mud protection, and an elegant style. Other priorities were that the motorcycle was to be multi-cylinder and possess front-wheel-drive. Their design met with success.

Aerodynamics and Steering
The first impressions of the new motorcycle was of a streamlined racing machine with rounded covers for the front and rear wheels, aerodynamically improved fork, frame, and fuel tank all built on a tubular framework covered in sheet metal. The rear suspension was linked to the lower end of the tubular frame and featured flexible rubber and metal elements that did not require servicing. Steering was much like an ordinary motorcycle but with more vertical telescopic elements than usual, which translated into a wheelbase that wouldn't change much whenever the front fork dived.
Front Wheel Drive, Carburetor, Ignition
The new front-wheel-drive was a vast improvement over the old Megola design. The weight of the engine was lower. The front wheel with integrated engine had a combined weight of 50 kg (110 lbs). Additionally, a custom carburetor without a float needle didn't have the problems caused by vibration. And finally, the light-weight battery ignition allowed trouble-free engine starts and helped to keep the engine weight low. The distributor and the points were located in the hub. The technicians originally intended to build a dynastarter. These improvements would have been impossible to add to the old Megola design.

The Engine, Timing, Clutch, and Transmission
The three cylinder two-stroke engine used a Drehschieber ( turning disk, with intake holes for exact timing of the fuel-air mixture intake). The fuel-air mixture was sucked in by the vacuum in the three crankshaft housings as usual. The Drehschieber does the intake timing for all three cylinders. The engine was not a radial engine associated with aircraft and there is no need for a flywheel. All three cranks worked on one common gear. This arrangement and the recoil of the pistons in the turning direction secured a perfect balance of the moving parts. The cylinders were made of KS (Kolbenschmidt) iron cylinder walls and were embedded in the Silumin alloy engine housing. The only things that could be visibly identified as engine parts were the alloy cylinder heads with multiple cooling fins and the exhaust pipes located between the spokes of the cast alloy front wheel. These flat spokes were designed to serve as a functional cooling fan. The two-speed transmission was built as a differential transmission and used slope-meshed gears. The clutch was made of conventional clutch disks. The clutch (with the springs at the outer circle) was located in front of the transmission. The transmission was actuated by foot-operated steel cables. All parts of the engine allowed easy access for service work. After the removal of the engine – only two bolts and some wiring had to be removed – all important parts were within reach.

Tires, Shock Absorbers, Fuel, and Seat Adjustment
The tire could also be removed easily. You had to unlock a safety mechanism and then remove the tire completely with the split rim (very similar to the split rim developed by BMW). The front brake was installed in the hub. The rear suspension also had telescopic oil-filled shock absorbers. The gasoline flowed down through flexible hoses. A panel in the frame allowed easy access to the seat springs to adjust the hardness of the seat's suspension.
Operational History
The Killinger and Freund Motorrad (motorcycle) was test-driven after the engine was tested on a test stand. Its total weight was 135 kg (297 lb). This design was intended for civilian production but the start of World War II cancelled those plans. One motorcycle was discovered by the US Army in the spring of 1945 at a German military installation but it is not known if this was the original prototype or another Killinger und Freund Motorrad. The disposition of that captured vehicle (shwnbelow with an American GI) is not known.
---
Naked Supermodels hang out with elephants in the 2009 Pirelli Calendar.

2009 Pirelli Calendar
Hanging Out with Naked Models & Packaderms in Botswana
The 2009 edition of the Pirelli Calendar, cult object for more than forty years among connoisseurs of photography, beauty and cultural evolution, was unveiled in a world premiere in Berlin ths past November.
The setting for the 36th "Cal" is the landscape of Botswana, where famed photographer Peter Beard spent ten days immortalizing seven internationally renowned models. Beard, who lived in Kenya for thirty years, is one of the world's greatest interpreters of the mystery and charm of Africa.
The final result is a calendar/diary that Peter Beard describes as "a living sculpture". The 56 plates of the new Cal are a rich collage of images, quotations, observations by the artist on the environment, climate change and global warming, overpopulation and the depletion of natural resources. "My real concern", says the photographer "is the destruction of nature on a global scale. We've totally lost track of what evolution is based on, and how important diversity is in nature. This concept is the very foundation of survival".
The seven models are: Daria Werbowy of Canada, Emanuela de Paula and Isabeli Fontana (who debuted in Demarchelier's 2005 Calendar) from Brazil, Lara Stone and Rianne Ten Haken from Holland, Malgosia Bela of Poland and Italy's own Mariacarla Boscono (who first appeared in the 2003 edition by Bruce Weber and again in Nick Knight's 2004 Calendar).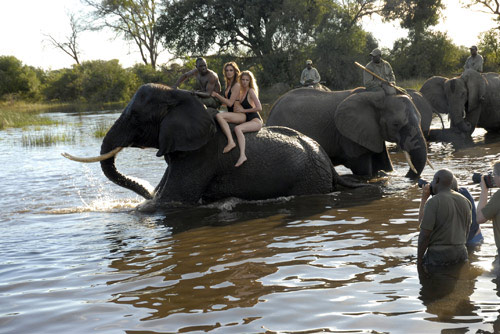 The The elephant trainers ride with the models, and get retouched out in the final calendar photos.

Throughout the shooting and production of the Calendar, a number of measures were taken to minimize its environmental impact. In keeping with Peter Beard's message, the Pirelli Calendar and the gala presentation of the 2009 edition will be Zero Impact®.
Pirelli, in cooperation with a LifeGate initiative, will contribute to the creation and protection of a forested area in Costa Rica capable of absorbing the same quantity of CO2 emissions generated by the production and printing of the Calendar and by the presentation gala. Additionally, the Calendar will be printed on natural, lead-free paper.
The Theme
Peter Beard has chosen an authentic and ancestral land that is born of the interpenetration of two different worlds: the aquatic oasis of the Okavango River delta and the arid expanse of the Kalahari Desert. A place that has been spared both the exploitation of the land and the impoverishment of its resources, the ideal setting for the photographer's representation of nature as a metaphysical entity, always in motion, source of infinite creativity, within whose rhythms and laws everything must begin and end.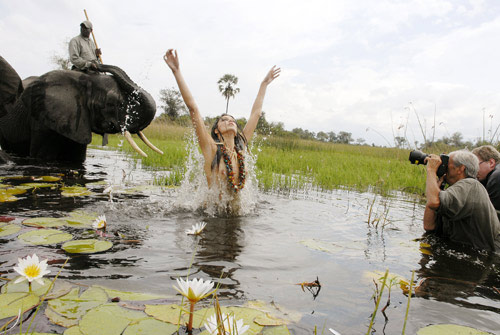 The Reality
We are impressed each year by Pirelli's milion dollar budget to photograph and produce a promotional calendar with the world's top supermodels, which no one can buy. And utterly amazed that the calendar has no relevance, whatsoever, to the motorsports tire products which Pirelli manufacturers and are used by the top teams in international sports car, rally car, and motorcycle superbike racing. Wouldn't you love to buy a Pirelli
Calendar with supermodel Kate Moss or Adriana Lima spread naked across the hood of Valentino Rossi's World Rally car or a LeMans Porsche racer?
This year's 2009 Pirelli Calendar should have been photographed at the Ringling Brother's Barnum & Bailey circus if they wanted to use trained elepahnts. And you can see from the photos above and below, the trained elephants' human handlers (the wilds of Africa?) had to be cropped or retouched from the finsihed calendar images. As for creating awareness for the enviroment which Pirelli says they are protecting, the Calendar's publicity may just increse tourism, and hence more envilomental damage to Botswana and Africa. - The Editor
---
Here kitty, kitty...

2009 Vogue Calendar
Damn the elephants! When it comes to Supermodel Calendars we think this sexy and fun cat themed calendar from Paris Vogue, the woman's fashion magazine is the hands-down winner! And they keep fashion as the theme, both in the models' apparel/styling and in the days being celebrated.
You will find this Calendar free in The December/January issue of French Vogue. Inside the issue is the most brilliant insert of a 2009 pin-up calender shot by Terry Richardson and styled by Carine Roitfeld. It will be on the news stands for the next 2 months, but do not procrastinate, especially if you are in the US because distribution is limited here. Jourdan Dunn is a sexy nurse, Ali Michael a sexy cheerleader, Eniko Mihalik graces the cover as sexy kitten — Carine even included a spread for the solar months, with patrons saints Alber Elbaz, Gareth Pugh, Lara Stone from the Pirelli Calendar, Erin Hetherton and their ilk celebrated. More HERE.
We like Erin's cute furry pussy!

---
V-Twin Sportbike Exotica
Here's some more cool exotic V-Twins we'd love to fnd next to the the tree on Christmas morning! Hopefully Calendar Kitten Rachel knows we've been good?
Above, the Ecosse Titanium Limited Edition features a turbo charged American V-twin in a hand made titanium frame with Ohlins race spec Superbike suspenion and ISR 6-piston brakes and controls. Get 9 more for your best friends frm Ecosse's exclusive 10-bike production run at just $275,000 each. And we though Ducati Desmosedicci RRs were a little pricey.
Below, the Bimota DB7 finally gets the new generation Ducati 1098cc Testastretta V-twin Superbike motor with 160hp. Unfortunatley Bimots is always stuck with outdated powerplants, Ducati is now fitting their new 2009 Superbike models with abigger 1198cc 170hp engine.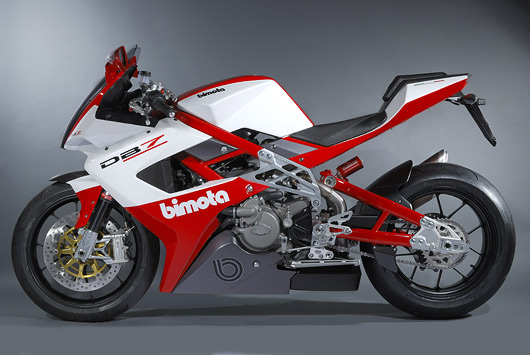 Roehr Turbo Harley V-Rod Superbike HERE
Visit Pit Lane News New Bike Index
---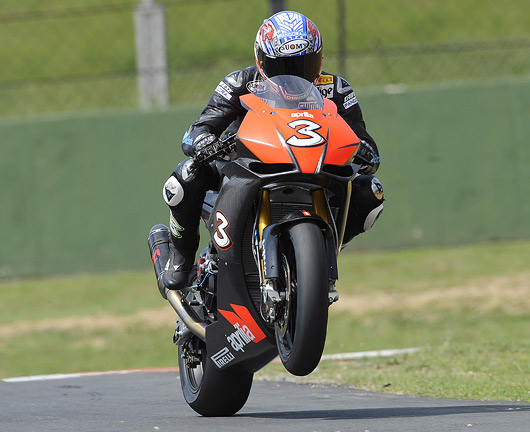 Max Biaggi dialing-in the new Aprilia V-4 Superbike during the SBK team tests at Kyalami this week.
2009 World Superbike Team / Rider LineUps:
Look for an exciting jammed packed 40 Rider grid for the first time ever!
BMW Factory: Troy Corser, Ruben Xaus
Ducati Xerox Corse: Noriyuki Haga, Michel Fabrizio
Boulder Ducati: Jake Zemke?
RG Ducati: Regis Laconi and - Fonsi Nieto, Luca Scassa, Ben Bostrom.Lorenzo Lanzi?
Ten Kate Hannspree Honda: Carlos Checa, Ryuichi Kiyonari, Jonathan Rea - World Superbike
Andrew Pitt and Kenan Sofuoglu - World 600cc Supersport
Althea Hannspree Honda: Tommy Hill
Alto Evoution Honda: Gregorio Lavilla
HM Plant Honda: Cal Crutchlow and ?
Pro-Bike Honda: Gregorio Lavilla
Sterilgarda Alex Polita Ducati: Shane Byrne (2008 British Superbike Champ), Alessadro Polita
Guandalini Team: Jakub Smrz,
Stiggy Motorsports Honda: Leon Haslam, Robbie Rolfo
DFX Honda: Karl Muggeridge, Regis laconi or Luca Scassa
Kawasaki Europe Factory / Paul Bird Motorsports: Makoto Tamada, Broc Parcs
PSG-1 Racing: ?
Aprilia RS4 Factory Team: Max Biaggi, Shinya Nakano
Alstare Team Suzuki : Max Neukircher, Yukio Kagayama
Celani Team Suzuki Alstare - Karl Muggeridge
Yamaha Motor Italia: Tom Sykes, Ben Spies (2008 American Superbike Champion)
Yamaha Team France YZF: Unnamed Japanese rider, Regis Laconi
GMT 94 Team: David Checa
2009 MotoGP Team / Rider LineUps:
Dec 16th FIM Announcement - 2009 MotoGP: 19 or 17*Rider Provisional Entry List
3. DANI PEDROSA, SPA, REPSOL HONDA TEAM
4. ANDREA DOVIZIOSO, ITA, REPSOL HONDA TEAM
5. COLIN EDWARDS, USA, TECH 3 YAMAHA
7. CHRIS VERMEULEN, AUS, RIZLA SUZUKI MotoGP
14. RANDY DE PUNIET, FRA, LCR HONDA MotoGP
15. ALEX DE ANGELIS, RSM, SAN CARLO HONDA GRESINI
21. JOHN HOPKINS, USA, KAWASAKI RACING TEAM - *Kawasaki may withdraw ofr budget reasons
24. TONI ELIAS, SPA, SAN CARLO HONDA GRESINI
27. CASEY STONER, AUS, DUCATI MARLBORO TEAM
33. MARCO MELANDRI, ITA, KAWASAKI RACING TEAM - *Kawasaki may withdraw ofr budget reasons
36. MIKA KALLIO, FIN, PRAMAC RACING
46. VALENTINO ROSSI, ITA, FIAT YAMAHA TEAM
52. JAMES TOSELAND, GBR, TECH 3 YAMAHA
59. SETE GIBERNAU, SPA, GRUPO FRANCISCO HERNANDO
65. LORIS CAPIROSSI, ITA, RIZLA SUZUKI MotoGP
69. NICKY HAYDEN, USA, DUCATI MARLBORO TEAM
72. YUKI TAKAHASHI, JPN, SCOT RACING TEAM MotoGP
88. NICCOLO CANEPA, ITA, PRAMAC RACING
99. JORGE LORENZO, SPA, FIAT YAMAHA TEAM
The State of World Roadracing and the Economy
MotoGP like Formula One car racing, has always been one of the biggest fan based sports in Europe since WWII. Unfortuately like Formula One, because it is very expensive to compete and difficult to be competitive, 1-2 teams/riders can dominate the racing and it can be very boring at times to watch.
Kawasaki is the smallest of the Big Four Japanese manufacturers and has never really competitive in MotoGP, and as such, when new bike sales are as bad as they are now in the World economy, MotoGP is the first place they need to slash costs.
On the other hand, World Superbike, the Championship series based on production street bikes is extremely competitive and very exciting to watch with 7 major manufacturers involved in the 2009 Championship including Kawasaki, and now BMW, with a full 40-bike/rider grid. And the old addage "Race on Sunday, Sell on Monday" still applies. Ducati won the 2008 World Superbike Championship, and was the only motorcycle manufacturer to show an increase in World and USA motorcycle sales in 2008 (also thanks in part to their introduction of some exciting new bike models).
Unfotunately in America, motorcycle roading just has never had a big fan or market base. I'd guess it to be around 100,000 fans based on American sportbike sales, low race attendance and the poor quality of the tracks here, low sportbike magazine readership and SpeedTV viewer numbers. The biggest attended roadrace venue in America has been Lagna Seca which has never pulled more than 35,000 spectators for a MotoGP and in 2008 only pulled about 15,000.
The 2009 Indianapolis MotoGP should do better than this thanks to its great track facility and race weekend show.
As for American Honda with drawing from AMA Superbike roadracing, there are a number of factors here besides just the economy and the drop off of new bike sales. The takeover of AMA Pro Racing by the Daytona Motorsports Group has been another factor (also affecting American Suzuki) . But the major factor is American Honda Motorcycles and Hnnda of Japan do not share a good relationship. American Honda will not budget to buy competitive race Superbikes and parts from HRC of Japan, instead choosing to build their own AMA Superbikes in house, which has proven to be a disaster over the last 5 years with no race wins. Rather than step up and spend the necessary money to buy a competitive AMA Superbike team, American Honda has chosen to quit and run to save further embarassment and wasted money in the current economy . Just as Kawasaki did in MotoGP. - Jim Gianatsis
---
---
There's more! Go to Pit Lane News Previous Page
Also Visit: Fast Dates Calendar News • Iron & Lace Calendar News
Calendar Girl News • Meet the Models
Calendar Kittens, The Paddock Garage, Screensavers, Iron & Lace Garage

Many of our Calendar Kittens can also be seen at Playboy's website...


BikerKiss.com - the largest biker personals site!


World Premier!
2009 FastDates.com Calendars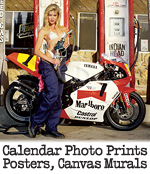 More 2009 Pin Up Model
& Motorcycle Calendars...

---
Kawasaki to Withdraw
from MotoGP
Jan 4th - It used to be that manufacturers justified their big dollar investments in sponsoring and races by the sales that competition was generating. But in one month 2 major manufacturers have pulled their factory teams from the 2009 racing season. This week, Kawasaki is scheduled to make an announcement confirming its withdrawal from Moto GP. Early December, Honda was quitting both AMA Superbike and Formula One. Sport investments have become unnecessary operating costs. If the economy doesn't improve, it's probably just a question of time before other manufacturers cancel what is now considered by them non-essential programs.
KAWASAKI PRESS RELEASE
Tokyo, January 9, 2009 -- Kawasaki Heavy Industries, Ltd. announced today that it has decided to suspend its factory MotoGP racing activities from 2009 season.
Amid quickly changing business environment, Kawasaki has been promptly taking countermeasures to cope with the situation. As the world economy is not likely to recover in a short period due to the major impact of the financial crisis, Kawasaki decided to suspend its MotoGP racing activities from 2009 season onward and reallocate management resources more efficiently.
Kawasaki will continue racing activities using mass-produced motorcycles as well as supporting general race-oriented customers.
Kawasaki would like to thank all the fans and all those who have forwarded us great help.
Mr.Yoshio Kawamura, the Managing Director of Kawasaki Motors Racing B.V. deeply appreciates the contribution and the dedication brought by staff members of the MotoGP team.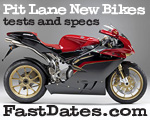 Talking with the
World Champions!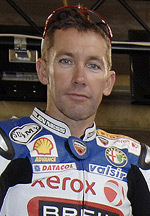 Troy Bayliss Interview
10 Questions for the 3-Time World Supebike Champion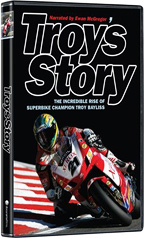 Troy's Story
The story of now 3-Time World Superbike Champion Troy Bayliss narrated by Ewan McGreggor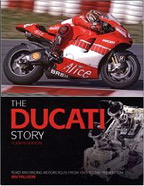 ---
AMA Hires
Director of Racing
January 9, 2009 - The American Motorcyclist Association (AMA) hired Joe Bromley as its director of racing. He will oversee the day-to-day operations of AMA racing, according to the company.
Racing is a significant part of AMA's history, says AMA President and CEO Rob Dingman.
"As the largest motorsports sanctioning body in the world, the AMA has a responsibility to maintain a world-class amateur racing program," he said in the release. "Joe Bromley will provide hands-on leadership and help the Association achieve that goal."
Bromley was president of AMA District 6 for 12 years and also served as president of the Road Winders Motorcycle Club, which was founded in 1953 and ran one of the first motocross events in the Northeast.
AMA Pro Racing Hires Experienced Motorcycle Racing Industry Veterans
Group Brings More Than a Century of Experience to AMA Pro's Racing Operations
DAYTONA BEACH, FL, Dec.31st 2008 - An experienced group of motorcycle racing competition and operations professionals have been hired by AMA Pro Racing President Roger Edmondson to join the organization's new headquarters operation in Daytona Beach.
The veteran group brings more than a century of combined motorcycle competition and operations experience to AMA Pro and includes several professionals that have already taken their positions on the management team and day-to-day operations staff headquartered in Daytona Beach.
The group includes AMA Pro Vice President of Competition Roy Janson, AMA Pro Technical Director Al Ludington, AMA Pro Road Racing Director of Competition Colin Fraser and AMA Pro Road Racing Series Manager Bill Syfan.
Janson, a native of Rochester, N.Y., will mark his 45th year as a career motorcycle professional in 2009 and began racing and working at a Triumph motorcycle shop back in the 1960s. After completing a tour of duty in the United States Marine Corps in 1970, Janson resumed his racing activity in enduro, trials, dirt track and motocross events and was involved in the early organization of the AMA's District No. 4 in Western New York State.
Janson's first professional experience with the AMA came in 1980 when he joined the organization to work in the government relations side of the industry, specializing in public lands policy. Janson created the American All-Terrain Vehicle Association as a subsidiary of the AMA in 1983 and later became AMA's Director of Professional Racing. In 1994 he left the AMA to take the position of Vice President of Operations with the promotional companies that organized and produced the AMA-sanctioned Supercross and Arenacross programs, which most recently included the popular Monster Energy AMA Supercross Series, an FIM World Championship.
As AMA Pro's Vice President of Competition, Janson will oversee all of the competition related aspects of the organization's racing properties, including AMA Pro Road Racing, AMA Pro Motocross, AMA Pro Flat Track and the various other racing series that fall under the AMA Pro umbrella.
As AMA Pro Technical Director, Ludington, who is originally from Rye, N.H., will oversee all technical operations for AMA Pro Road Racing, AMA Pro Motocross, AMA Pro Flat Track and other competition disciplines within the AMA Pro family. Although his appointment marks the first time he has worked for a motorsports sanctioning body, Ludington brings more than 20 years of motorcycle racing experience to AMA Pro, primarily as a championship and race-winning Crew Chief and Lead Mechanic. He has been part of nine national championship efforts and achieved the majority of his success as a Lead Mechanic and later Crew Chief for Team Honda. Ludington also did a two-year stint as Crew Chief for Team Kawasaki from 2000 to 2001 and began his career as a mechanic for Yamaha in the late 1980s. His first foray into motorcycle competition came as an amateur rider in 1981.
Fraser, a native of Toronto, Ontario, Canada, joins AMA Pro Road Racing as Director of Competition in a continuation of the role he assumed last March. He is responsible for the running of each weekend's competition events for all of AMA Pro Road Racing and brings over 25 years of experience in race operations to the organization. Fraser attended his very first AMA Pro Road Racing event in 1979 and a year later founded RACE, the Canadian national motorcycle road racing sanctioning body. A former professional rider, he served as both a racing instructor and Director of Competition for several racing series and organizations prior to co-founding PMP (Professional Motorsports Productions) in 1994, the operating organization of the Canadian Superbike Championship. Fraser became sole owner of PMP and Canadian Superbike in 1998 and next season will mark the 10th year of the title-sponsored Parts Canada Superbike Championship.
Fraser first became professionally involved with the new Daytona Beach-based ownership of AMA Pro in 2006 when he co-founded and served as Director of Competition for what is now the AMA Pro SunTrust Moto-GT series. He also has a strong background in the media side of the sport and, in addition to owning the television rights to the Canadian Superbike Championship, has extensive print journalism experience, currently serving as the Senior Editor of Inside Motorcycles.
Like his fellow new hires at AMA Pro, Syfan, who is originally from Houston, Texas, began his motorcycle career as a competitive rider and remains a racing instructor today. After a successful career in the civil, mechanical and petroleum engineering industries, Syfan accepted his first professional motorcycle position in 1992 with American Suzuki where his responsibilities included managing the Team Suzuki Sport road race program. He later worked for Dunlop Tire as a Motorsports Technician before joining Clear Channel Entertainment in 1999. While at Clear Channel, Syfan gained valuable experience in sanctioning body operations, supervising over 70 events annually while managing the Formula USA and CCS road racing series. He most recently worked in the motorcycle racing industry through his company Proforma Services and, like Fraser, first worked with AMA Pro's new ownership in what is now the AMA Pro SunTrust Moto-GT series. He joined Fraser in stepping in to operate AMA Pro Road Racing earlier this year and will fill a similar capacity in his continuing role as AMA Pro Road Racing Series Manager.
AMA Pro Racing is the premier professional motorcycle racing organization in North America, operating a full schedule of events and championships for a variety of motorcycle disciplines. From its Daytona Beach headquarters, the organization operates and manages AMA Pro Road Racing, which includes AMA Pro American Superbike, AMA Pro Daytona SportBike, AMA Pro SuperSport, AMA Pro SunTrust Moto-GT and the Red Bull AMA U.S. Rookies Cup in addition to the AMA Pro Flat Track Championship. Learn more about AMA Pro Racing at www.amaproracing.com.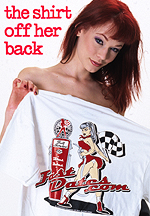 Order the Official
FastDates.com &
LA Calendar Bike Show
T-Shirts!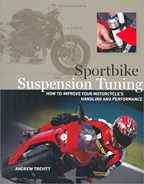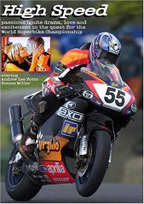 High Speed - the Movie
The best motorcyce racing movie ever made! Filmed on location at World Superbike, this an exciting romantic drama staring beautiful actress Sienna Miller.
---
FastDates.com Calendars Co-Star with sexy actress
Gabrielle Anwar on
TV Series "Burn Notice"
Thusday January 22nd
on the USA Channel.
January 1st - - Here's the update on the fast paced detective drama
TV show "Burn Notice" using our FastDates.com Calendars as a prop in one of their new eposides - "Hot Spot". The show's new 2009 program series wil premier Thusday January 22nd
on the USA Channel.
HI Jim, I ordered the calendars from your site and received them on Friday. Thanks so much! I had them on my desk and all the guys at the office kept stopping by, trying to slyly walk away with them.The episode is titled "Hot Spot" and will air in either January or February 2009. "Burn Notice" is on the USA Network and airs Thursday nights at 10pm. Our website is www.usanetwork/series/burnnotice
I gave the calendars to the director, along with some others. The will either be used as a "prop" in which Gabrielle Anwar's character, who poses as a publisher from a calendar company, shows them to a potential client. OR they will be displayed on the walls of a billiards club or a cigar bar. It is up to the director. I wish you all the luck and everyone loves the calendars!
- Best Wishes, Sarah Ananties
Production Assistant, Burn Notice
Actress Gabrielle Anwar is the sexy smart co-star on Burn Notice which is crime drama simialr to Miami Vice and filmed in Miami Her past credits include many TV shows and movies including : The Three Musketeers, For Love or Money, Scent of a Woman, and HBO's The Tudors.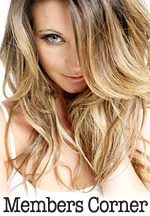 Members Corner
Hot Bikes, Sexy Kittens
Get Your Exclusive Grid Pass
aslo includes....
---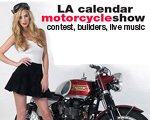 Complete Coverage!
2008 LA Calendar Motorcycle Show & Calendar Girl Music
Festival Weekend!
$86,000 Bike Building Championship
World Record Dyno Shootout!
Calendar Girl Music Festival
---
Sparky Edmonston Dies 1951-2008
Dec 23rd - William "Sparky" Edmondston died on December 23 at age 57 after a battle with melanoma skin cancer.
While Sparky Edmonston's name may not be one familiar to the casual motorcycle racing fan, he had an enormous part in the 1970s and '80s racing scene. His father, Red, started the Lectron carburetor company in the 1970s and it was about that time that the two Edmonston's hooked up with racer Kenny Roberts. Roberts helped develop Lectron carbs in the '70s and Sparky remained one of King Kenny's best friends until the present day.
I remember testing Lecton Carb equipped motocross bikes with father "Red" Edmonston during the mid 1970's. The carbs were unique at the time in that they had a flat throtte slide (all other carbsd at the time used round slides) for more precise air flow, and used an angled cut flat sided needle to control fuel mixture. I ran an Electron on my KTM motocross bike where it was a major improvement over the stock Bing carburetor. The Japanese copied the Lectron's better flat-slide design in the early 198o's at that effectively killed the Lectron's afterrmarket business.
"We were together from the first day we met," Roberts said by phone from his ranch in Hickman, California the day after Christmas. "Just one of them rare individuals. Just one of them rare individuals that just fit. You just fit."
Sparky also worked with future three-time world champion Wayne Rainey, first when the Norwalk resident was a rookie Kawaskai Superbike rider. Some motorcyce media are stating that Sparky was was Rainey's mechanic in 1982, but I worked with the team in 1982 as the Fox Shox suspension engineer for the team and remember and have photographs of Steve Johnshon and Mark Johnson being the principal mechanics for Eddie Lawson and Wayne Rainey, respectively, on the team's bikes under chief mechanic Ron Muzzy.
It was said that Sparky was either driving or riding in the Team Kawasaki box van that season when it crashed and burned on the way to Loudon. Edmonston left Kawasaki but never the Rainey fold--he later worked with Rainey at Team Honda in the mid-1980s. He had his fingers in racing in the modern day as well--Edmonston helped run Kurtis Roberts's Euro 250 team in 1997.
When not driving his own Sprint car or helping KR out with one of his teams, Edmonston worked as a stunt man in Hollywood films. His films included "Lethal Weapon" 2 and 3 and ""Die Hard 2." - Jim Gianatsis