Hayden's first Ducati ride on the new GP09

MotoGP Valencia Testing Session
Casey and Nicky Take Ducati GP09 to the track at Valencia
Monday Oct 27 2008,Day 1 - The first session of a two-day test got underway in hot and sunny conditions in Valencia today, a day full of new things for the Ducati Marlboro Team. At close to 11.00 in the morning, when the garage doors were opened, the spotlights were all focused on Nicky Hayden and on his 'Stars and Stripes' liveried Ducati, which had its first run at the Ricardo Tormo circuit.
Hayden, like new team-mate Casey Stoner, carried out his first run of the day with the GP8 before turning his attention firmly on the GP9. The American continually improved his rhythm throughout the course of the day, stopping the clock with a best lap of 1'33.960.
Stoner, immediately at ease aboard the GP9, as he was during his first and only test of the machine in the post-race test in Catalunya, set the fastest time of the day, dipping under the circuit best lap record that he himself set in Sunday's Valencia GP.
Casey Stoner - best lap 1'32.464 (54 laps) - "The feelings from this first day of testing in Valencia with the GP9 have been definitely good. We tried many things, some worked well, others less so, but this is normal because the bike is quite different in its characteristics and in its reactions compared to the GP8. We still have other things to try but the feeling is already excellent and in fact we were able to lap consistently quickly. I am very happy with the behavior of the engine that seems to me to be more progressive and predictable. The bike is more stable in braking which is really saying something because the GP8 was already very efficient from this point of view. We have to work more on the rear set-up but the potential is good, it is just a question of finding the right set-up. Also as far as the tyres are concerned I am satisfied, above all the specification that we used this morning, with which we were able to maintain an excellent rhythm for thirty laps. A good start from this point of view. I think that Nicky is content with his first day at Ducati, he continued to improve during the day and I am sure that with a few more days with the bike he will find himself in good shape."
Nicky Hayden - best lap 1'33.960 (79 laps) - "It has been a very intense day and full of many things to test and to understand, but it was exactly as I expected it to be. I did just one run with the GP8 and then I switched completely to the GP9. Obviously there is a lot of work to do but I am happy, it was a good day that has allowed me to understand that the bike has good potential and, more than anything, I can say that I really enjoyed myself. This first day has given me an appreciation of the bike and the team. One of the things that really impressed me the most was the acceleration. I found myself pretty comfortable on the bike, and I really didn't make a lot of changes to levers and handlebars. We have not even changed a lot the settings, we have just made some small changes, some mapping settings, a couple of tyres, in order to try and understand the direction of the bike and to feel comfortable on it".
Nickey Fast in the Wet On Tuesdayas Stoner Sits it Out
Tuesday Oct 28th Day 2 - After enjoying perfect conditions yesterday, the second and final day of testing at Valencia was badly affected by adverse weather, with intermittent showers leaving the track in a constantly damp state. The riders decided to wait for the majority of the day to see if it relented but at around 15:30, with the asphalt still cold and wet, several of them finally took to the track.

Casey Stoner who had set the pace on his GP9 yesterday, opted out and watched from pit-lane as his new team-mate Nicky Hayden made constant progress with the wet setting of the new bike, clocking a fastest lap of 1.48.287.
Official record: Casey Stoner (Ducati - 2008) 1'32.582
Pole position: Valentino Rossi (Yamaha - 2006), 1'31.002
October 27th lap times
1. Stoner (Ducati) 1.32.464 (54 laps)
2. Pedrosa (Honda) 1.32.672 (60)
3. Rossi (Yamaha) 1.32.921 (34)
4. Vermeulen (Suzuki) 1.33.142 (67)
5. Capirossi (Suzuki) 1.33.325 (75)
6. De Angelis (Honda) 1.33.375 (77)
7. Lorenzo (Yamaha) 1.33.550 (44)
8. Dovizioso (Honda) 1.33.675 (57)
9. Hopkins (Kawasaki) 1.33.760 (74)
10. Melandri (Kawasaki) 1.33.782 (75)
11. De Puniet (Honda) 1.33.832 (80)
12. Hayden (Ducati) 1.33.960 (79)
13. Elias (Honda) 1.34.129 (81)
14. Gibernau (Ducati) 1.34.451 (52)
15. Kallio (Ducati) 1.34.793 (60)
16. Jacque (Kawasaki) 1.34.925 (71)
17. Canepa (Ducati) 1.34.995 (62)
18. Takahashi (Honda) 1.35.203 (73)
---


Click to Order Now!

MotoGP 08 Goes On Sale!
The latest in Capcom´s MotoGP video game series MotoGP 08, goes on sale at the end of this month on four different platforms, set to keep World Championship fans occupied during the winter break.

Featuring all the riders, circuits and teams from the 2008 season, the game gives the chance for fans to try the new night race setting for Qatar in just one of the updates from previous versions. Create-a-rider, championship mode and the opportunity to race against up to 11 other MotoGP fans are just some of the ways to play MotoGP 08.

MotoGP 08 will be the first in the series for the Sony Playstation 3 format.
The game is being simultaneously launched for the Playstation 2 & Xbox 360 consoles, as well as for the PC.
---
Superbike to Remain as Premier Class
AMA Pro Racing announces final class structure
for 2009 Professional Roadracing Series
Daytona Beach, FL, Oct 24th - AMA Pro Racing announced today its class structure and weekend event package for the 2009 motorcycle road racing season. There was no mention of the series promotor Daytona Motorsports Group (DMG) in the press release, but the press release was issued from the DMG office at Daytona International Speedway by Roy Jansen, and not from the AMA headquarters in Ohio. It also appears the proposed and competing Motorcycle Industry Council's U.S. Superbike Championship is now stillborn and not moving forward. The AMA Press Release is as follows:
American Superbike will be the new premier class for AMA Pro Racing, and will showcase the traditional 1,000cc machines that competed in the former AMA Superbike class in the past. The new rules for the class are based on rules that were adopted by a committee comprised of the AMA staff, representatives of the various manufacturers, as well as experienced personnel from the American road racing infrastructure. Much of the new class structure has been architected with the participation and counsel of the major motorcycle manufacturers.

The class will adopt a spec tire and spec fuel and features changes that were made as a means to promote parity and to address the ever-escalating costs of competing in professional motorsports programs. American Superbike will compete in two feature races of 50 miles each at most events.

Also featured at all AMA Pro Racing weekends will be a new middleweight class to be known as Daytona SportBike. This class has been designed to include a broad range of competition equipment that formerly competed in AMA Supersport and AMA Formula Xtreme, as well as two- and three-cylinder machines not normally featured in AMA Professional events. This class will make its competition debut in the 2009 Daytona 200 By Honda, America's most prestigious motorcycle event. The green flag will drop on the field for the first time under the lights at Daytona International Speedway on Friday, March 6.

AMA Pro Racing will include a third class, newly created for 2009, known as SuperSport. This category is designed as an entry-level class for professionally licensed riders aged 16-21, competing on 600cc production motorcycles with minimal modifications. Riders will be limited to three years of competition in the new class. SuperSport competition will provide young riders an affordable opportunity to hone their skills at AMA National events and create a clear path to advance to the higher levels of professional road racing.

Many 2009 race weekends will also include the popular Red Bull AMA U.S. Rookies Cup. This class showcases future road racing stars aged 14-16 that have been selected for the Series through Red Bull's national competition program.

In addition, the SunTrust MOTO-ST Series is being revamped to include 600cc four-cylinder machines. The structure will go from three classes to two (GT1 and GT2) and will compete at select events, concluding with the 8 Hours At Daytona during Biketoberfest. The revamped program will be renamed SunTrust MOTO-GT.

AMA Pro Racing will review the specific lineup for each event weekend with the event promoters, who will announce their own weekend event schedules.

"The class structure we are announcing today bears little resemblance to that which we proposed several months ago, however I believe it will accomplish our goals of increased safety, parity and cost containment," said Roger Edmondson, President of AMA Pro Racing. "The program we have worked out with input from the industry will provide for participation by a wide variety of brands, and should provide a showcase for the best riders in American racing, with the added benefit of running at the best venues in the United States. We were fortunate to have the assistance of many stakeholders in the creation of the program, including the Motorcycle Industry Council (MIC)."

AMA Pro Racing has already released a 12-event schedule for 2009. In addition to its traditional events, pending safety committee input, American Superbikes and the AMA Pro Racing Program will return July 31-August 2 to Heartland Park in Topeka, Kansas, for the first time in several years, and make their first visit to New Jersey Motorsports Park in Millville, N.J., September 4-6.

The class rules are posted on the internet at www.amasuperbike.com.
---
Casey Stoner was untouchable at Valendacia in winning his 6th MotoGP of the season.
2009 MotoGP World Championship, Comunitat Valenciana Grand Prix Round 18 of 18
Stoner's 9th Pole, 6th Race Win of the of the Season!
Stoner Dominates the Final MotoGP Round of the Year at Valencia
Valencia Oct 24-26th - Casey Stoner took a dominant victory in the final round of the 2008 MotoGP season to secure second place in the Constructors' World Championship for Ducati. Today's win, at the circuit where he celebrated his debut success in the 125cc class back in 2003, was also the 150th for Australian riders in all Grand Prix classes.Not only that, but Stoner's sixth victory of the season means that the Italian factory have taken 17 wins from 36 races since the start of the 800cc era - an average of almost 50%.
Marco Melandri enjoyed a positive but ultimately unfortunate final race with Ducati, the Italian rider coming through from the very back of the grid to lap in tenth place, only to run off track two laps from the end - returning to finish the race in sixteenth. Tomorrow the Ducati Marlboro Team will be back on track to begin preparations for next season, with Casey Stoner joined for the first time by his new team-mate Nicky Hayden.
CASEY STONER (Ducati Marlboro Team) 1st - "We couldn't really have asked for much more today. To end a difficult season in this way is a fantastic feeling and it's a nice way to thank everybody at Ducati for their hard work. Once again my crew got it right, finding a good setting for the bike despite limited dry track time. To be honest I was quite worried during qualifying yesterday because I didn't have a good feeling at all but by the time we put the softer tyres on the bike was already feeling better and then the guys did a fantastic job overnight and in the warm-up this morning to iron out a few more of the problems. This was the first time we've ridden in these conditions all weekend so there were still a few question marks before the race, so to go out and set the pace like that was a nice feeling. Now I'm really excited about testing the new bike tomorrow. It felt good the last time I rode it and I'm sure they've made it better, so hopefully we can have a good first session and go home for the winter full of optimism about next season."
Casey signs for fans.
Valencia Final Round Preview
The city of Valencia plays host to the final Grand Prix of the 2008 MotoGP season this Sunday, with the World Championship 'podium' already decided with Valentino Rossi's win 3 rounds earlier at Motegi in Japan. After seventeen rounds of eighteen around the globe, Valentino Rossi, Casey Stoner and Dani Pedrosa are already assured of the top three positions in this year's edition of motorcycle racing's elite series.
However, the visit to the Ricardo Tormo circuit promises the usual levels of excitement and intrigue, with one of the largest and most passionate race-day crowds roaring on their favourite riders from the grandstands that surround the entire circuit. Not only that, but the two days following the race have become a traditional first outing for the new team line-ups that will form the grid in the upcoming season.
The first target for the Ducati Marlboro Team, though, is preparing to defend second place in the constructors' championship, which they currently occupy but with only a single-point advantage over Honda.
Both Casey Stoner and Marco Melandri know what it is like to celebrate on top of the podium at Valencia, the Australian having clinched his first win there in the 125cc race in 2003 and the Italian claiming first place in the 250 race in 2002 and in MotoGP in 2005.
Casey sampled in practice the GP09 which he will return to test on Monday and Tuesday with new team mate Nicky Haydeon.
Stoner' devistates Lap Record with 9th Pole of the Season
Saturday 25th, Qualifying - Casey Stoner had the last word in MotoGP qualifying for the 2008 season with his ninth pole position of the year, setting a 1´31.502 lap of the Valencia circuit that proved too hot to handle for his premier class rivals.
The session saw what could be the last appearance for Bridgestone´s special qualifying rubber, put to expert use by the Ducati rider for his nineteenth MotoGP top spot. Riding on dry asphalt for the first time this weekend, Stoner upped his pace before putting down his fastest lap with time to spare.
2007 Valencia poleman and racewinner Dani Pedrosa was just 0.053 short of his rival´s marker, at the track where he and Stoner did battle throughout their time in various classes and championships. The Gran Premio Parts Europe de la Comunitat Valenciana will be the second consecutive race in which Pedrosa will start from the front row, the ninth time this season.
Top of every previous session this weekend, Nicky Hayden was unable to take the pole position that has eluded him over the course of the season. The Repsol Honda rider was just over a tenth of a second slower than current teammate Pedrosa, with future garage counterpart Stoner the first to knock him off the top spot. Hayden completes the front row for his last race with Honda before moving to Ducati on Monday, and put it all on the line as he slipped and skidded around the Valencia track in qualifying.
Tech 3 Yamaha had a positive session that almost ascended to the heights of their season-opener in Qatar, with both of their riders on the second line. Colin Edwards heads the row, with James Toseland alongside him in fifth. The latter had one of his attempts at pole halted by Marco Melandri, whose apologies for baulking the Briton fell on deaf ears.
Randy de Puniet completes row two, coming back from a crash in the session, whilst the third row consists of home rider Jorge Lorenzo, Suzuki man Loris Capirossi and Andrea Dovizioso. 2008 MotoGP World Champion Valentino Rossi could only place tenth onboard the Fiat Yamaha M1, his worst qualifying result this year when fully fit.
CASEY STONER (Ducati Marlboro Team) Pole Position in 1'31.502 - "That was a really strange session because of the weather but the team did a good job to judge the conditions well and adjust the setting of the bike during the limited dry track time available. It seems this track isn't as demanding on my wrist as Sepang was because there aren't as many hard braking areas, although I went out without strapping today and that didn't turn out to be the best decision. We'll strap it up tomorrow but I don't think it will be a problem. It's important to be on the front row because it is so hard to pass at this circuit and it's also nice to take the final pole position of the season. Hopefully the weather stays dry - for us and for the incredible fans here."
Dani Pedrosa (2) with a commerative paint scheme on his factory Repsol Honda, was able to beat Stoner into Turn One, but here in Turn Two Casey stuffed the Ducati inside to take the lead and was never challenged for the remainder of the race.
Stoner Strolls to his Sixth Season Win in Spanish Sunshine
Sunday 26th, Race - Casey Stoner ended the 2008 season as he began, victorious onboard the Ducati Desmosedici GP8. The Australian took the win at the Gran Premio Parts Europe de la Comunitat Valenciana in emphatic fashion, breaking away from pole for triumph number six of the year.
Runner-up in the overall standings, Stoner was riding for pride in the final race of the campaign, once again competing through the discomfort of a scaphoid injury that will be treated almost immediately following Monday and Tuesday´s post-race test. Setting circuit records along the way, Stoner eventually crossed the line some 3.390 seconds clear of any challenge to his superiority.
2007 racewinner at Valencia, Dani Pedrosa was unable to repeat the feat in 2008 –despite his best attempts. The Repsol Honda rider had taken the holeshot after his trademark speedy start off the line, but was left taking a back seat to Stoner as the pace quickened. Nonetheless, the Spaniard treated the home fans to another podium finish, his eleventh of the year.
Valentino Rossi had claimed on Saturday that he was not fast on race or qualifying tyres in the dry at Valencia, but proved himself wrong with his own mercurial performance with the Yamaha M1. Starting from 12th position on the grid, the new 2008 World Champion quickly worked his way up to 3rd place in the first 8 laps but then could not reel in on leader Stoner or pedrosa,and added a further notch to his podium tally with third place, his ninth in succession and sixteenth of the campaign.
One week on from his first MotoGP podium, Andrea Dovizioso earned fourth place in a similarly closely-fought battle to that of Sepang with Nicky Hayden. The JiR Team Scot rider got a chance to further inspect the factory bike with which he will test on Monday and Tuesday, edging out his American rival but unable to take the Rookie of the Year prize. He handed his satellite machine to his replacement, Yuki Takahashi, on returning to the garage.
Moving from Repsol Honda to Ducati for 2009, Hayden fell short in his quest to end his stay on Japanese machinery to a final victory. Starting from the front row –like Pedrosa running a special white retro livery & leathers combination for the race- `The Kentucky Kid´ dropped to fifth as he once again lost out to Dovizioso.
Tech 3 Yamaha´s Colin Edwards came home sixth, ahead of Shinya Nakano, Jorge Lorenzo, Loris Capirossi and Alex de Angelis. All eighteen of the MotoGP riders completed the 30 lap race, held in front of 119,788 spectators.
Casey Stoner- Race Winner - "I couldn´t ask for much more! It was a very difficult season with lots of ups and lots of downs. I´m looking forward to testing the new bike –it´s the reason that we´ve kept on riding- but another two good results is great. Yesterday we couldn´t find a good setup, but working after doing the qualifying laps and in the warmup got us ready for the race.
Dani Pedrosa, 2nd - + 3.49 - riding his RC212V along with Nicky in one-off retro Repsol livery, said: "I'm happy with second place today. I pushed Casey as hard as I could but he had something a little extra and he managed the gap very well. We worked hard all weekend, so my thanks to my team and also to Repsol, the bike I rode today was one of the best-looking bikes I've ridden. The crowd was great, it was fantastic to see so many fans here, packing the grandstands and obviously really enjoying the spectacle and pushing us along. Overall, I'm also happy with the last few races, because we were able to come back from a difficult period during the middle of the season. I hope to have a good off-season and stay healthy."
Valentino Rossi - Position: 3rd Time: +12.194 - "I don't think that was so bad today! Unfortunately we had some problems yesterday and that meant we had to start from the fourth row, which left us with a very difficult task. As always though we found a way and my team gave me a good bike, which meant I was able to get a great start and then have some fun passing people. Once I got to third there was no way to catch Dani and so it wasn't such an exciting race from then on.
This has been an amazing season for us and to finish with another podium, the 16th, is great and we cannot complain. I am so happy with what we have done this year, as I said it's definitely one of my greatest championships and I want to thank everyone once again - Yamaha, my team, the engineers, Bridgestone and everyone who helped us to get this result. Tomorrow we will try the new bike which means we can't have as big a party as we would like, but it is important to try to find a base for it so I am looking forward to it."
The new 2008 World Champion

Race Classification MotoGP: (30 laps = 120.15 km)
Pos/ Rider / Nat / Team / Motorcycle / Time/ KM/H / Gap
1 / Casey STONER / AUS / Ducati Marlboro Team / DUCATI / 46'46.114 / 154.141 /
2 / Dani PEDROSA / SPA / Repsol Honda Team / HONDA / 46'49.504 / 153.956 / 3.390
3 / Valentino ROSSI / ITA / Fiat Yamaha Team / YAMAHA / 46'58.308 / 153.475 / 12.194
4 / Andrea DOVIZIOSO / ITA / JiR Team Scot MotoGP / HONDA / 47'10.273 / 152.826 / 24.159
5 / Nicky HAYDEN / USA / Repsol Honda Team / HONDA / 47'12.346 / 152.714 / 26.232
6 / Colin EDWARDS / USA / Tech 3 Yamaha / YAMAHA / 47'18.323 / 152.392 / 32.209
7 / Shinya NAKANO / JPN / San Carlo Honda Gresini / HONDA / 47'20.685 / 152.266 / 34.571
8 / Jorge LORENZO / SPA / Fiat Yamaha Team / YAMAHA / 47'21.775 / 152.207 / 35.661
9 / Loris CAPIROSSI / ITA / Rizla Suzuki MotoGP / SUZUKI / 47'24.342 / 152.070 / 38.228
10 / Alex DE ANGELIS / RSM / San Carlo Honda Gresini / HONDA / 47'33.697 / 151.571 / 47.583
11 / James TOSELAND / GBR / Tech 3 Yamaha / YAMAHA / 47'38.221 / 151.331 / 52.107
12 / Sylvain GUINTOLI / FRA / Alice Team / DUCATI / 47'38.464 / 151.319 / 52.350
13 / Chris VERMEULEN / AUS / Rizla Suzuki MotoGP / SUZUKI / 47'38.947 / 151.293 / 52.833
14 / John HOPKINS / USA / Kawasaki Racing Team / KAWASAKI / 47'39.341 / 151.272 / 53.227
15 / Randy DE PUNIET / FRA / LCR Honda MotoGP / HONDA / 47'39.525 / 151.262 / 53.411
Pole Position: Casey STONER 1'31.502 157.570 Km/h
Fastest Lap (New record): Casey STONER 1'32.582 155.732 Km/h Lap 5
Circuit Record Lap: 2007 Dani PEDROSA 1'32.748 155.453 Km/h
Circuit Best Lap: Valentino ROSSI 1'31.002 158.436 Km/h 2006
2008 Final World Championship Positions:
1 ROSSI 373, 2 STONER 280, 3 PEDROSA 249, 4 LORENZO 190, 5 DOVIZIOSO 174,
6 HAYDEN 155, 7 EDWARDS 144, 8 VERMEULEN 128, 9 NAKANO 126, 10 CAPIROSSI 118,
11 TOSELAND 105, 12 ELIAS 92, 13 GUINTOLI 67, 14 DE ANGELIS 63, 15 DE PUNIET 61.
250cc Grand Prix - New Champ Marco Simnoncelli Repeats
Reigning World Champion Marco Simoncelli (Gilera) won this frantic 27-lap race, but the star of the show was the flying Yuki Takahashi (JiR Scot Honda RS250RW) who finished second. Spanish interest lay with Alvaro Bautista (Aprilia) who was third.
Mika Kallio, who crashed out of second place on the final lap, got the holeshot and led Julian Simon (both KTM) into turn one. When the early race order settled, a six-rider lead group headed by Kallio, with Takahashi in sixth, had established itself.
By the halfway point Simoncelli, Kallio and Takahashi had opened a two second gap to Simon in fourth. He then retired with mechanical trouble as Bautista chased this lead trio. In the final laps Takahashi dropped away before Kallio fell and the Japanese star earned a well-deserved second place.
Takahashi, scoring his third podium of the season to finish fifth overall in the points standings, said: "I'm very happy. I said we could earn the team some champagne here and sure enough we can have some now. The last race had to be a good race for us and my lap times were good. My start was good, I pushed hard, but I had a few slides from mid-race and couldn't stay with Simoncelli. Thanks to everyone for their support this season."
Race Classification 250cc (27 laps = 108.135 km)
1 / Marco SIMONCELLI / ITA / Metis Gilera / GILERA / 43'29.003 / 149.208 /
2 / Yuki TAKAHASHI / JPN / JiR Team Scot 250 / HONDA / 43'34.167 / 148.913 / 5.164
3 / Alvaro BAUTISTA / SPA / Mapfre Aspar Team / APRILIA / 43'37.651 / 148.715 / 8.648
4 / Roberto LOCATELLI / ITA / Metis Gilera / GILERA / 43'44.608 / 148.321 / 15.605
5 / Hiroshi AOYAMA / JPN / Red Bull KTM 250 / KTM / 43'49.994 / 148.017 / 20.991
6 / Hector FAUBEL / SPA / Mapfre Aspar Team / APRILIA / 43'51.215 / 147.949 / 22.212
7 / Aleix ESPARGARO / SPA / Lotus Aprilia / APRILIA / 43'52.202 / 147.893 / 23.199
8 / Ratthapark WILAIROT / THA / Thai Honda PTT SAG / HONDA / 43'52.324 / 147.886 / 23.321
9 / Mattia PASINI / ITA / Polaris World / APRILIA / 44'06.427 / 147.098 / 37.424
10 / Thomas LUTHI / SWI / Emmi - Caffe Latte / APRILIA / 44'07.890 / 147.017 / 38.887
11 / Mika KALLIO / FIN / Red Bull KTM 250 / KTM / 44'13.068 / 146.730 / 44.065
12 / Alex BALDOLINI / ITA / Matteoni Racing / APRILIA / 44'40.002 / 145.255 / 1'10.999
13 / Imre TOTH / HUN / Team Toth Aprilia / APRILIA / 45'00.953 / 144.129 / 1'31.950
14 / Daniel ARCAS / SPA / Blusens Aprilia / APRILIA / 45'08.113 / 143.748 / 1'39.110
15 / Simone GROTZKYJ / ITA / Campetella Racing / GILERA / 45'10.212 / 143.636 / 1'41.209
Pole Position: Marco SIMONCELLI 1'35.408 151.119 Km/h
Fastest Lap: Mika KALLIO 1'35.890 150.359 Km/h Lap 24
Circuit Record Lap: Mika KALLIO 1'35.659 150.722 Km/h 2004
Circuit Best Lap: Hiroshi AOYAMA 1'35.109 151.594 Km/h 2006
2008 Final World Championship Positions:
1 SIMONCELLI 281, 2 BAUTISTA 244, 3 KALLIO 196, 4 DEBON 176, 5 TAKAHASHI 167,
6 BARBERA 142, 7 AOYAMA 139, 8 PASINI 132, 9 LOCATELLI 110, 10 SIMON 109,
11 LUTHI 108, 12 ESPARGARO 92, 13 WILAIROT 73, 14 FAUBEL 64, 15 PESEK 43.
125cc Grand Prix - Simone Cori Clinches Race & Tite for Aprilia
Simone Corsi took his fourth win of the season ahead of his Aprilia team-mate Nico Terol with 2008 World Champion Mike Di Meglio (Derbi) third. Corsi had to work hard for this win, enmeshed in a five-rider group from mid-race distance the Italian stole across the line just one tenth of a second ahead of Spaniard Terol.
The win moves Corsi to second overall in the final points standings as 2007 World Champion Gabor Talmacsi (Aprilia) who led him by six points going into this race, crashed out. It was the Hungarian's last 125cc Grand Prix. British rider Bradley Smith (Aprilia) finished a strong fourth.
Louis Rossi (FFM Racing Honda RS125R) finished in 23rd place. He said: I stalled on the starting grid and started from way back. We didn't have the right settings today as grip levels changed throughout the weekend, making it extremely difficult to dial in the precise set-up for my Honda. But I really feel that I could have a much more satisfying result with a better start. But I had fun out on the racetrack and really feel I made some improvements."
Race Classification 125cc (24 laps = 96.12 km)
Pos / Rider / Nat / Team / Motorcycle / Time / KM/H / Gap
1 / Simone CORSI / ITA / Jack & Jones WRB / APRILIA / 40'45.715 / 141.485 /
2 / Nicolas TEROL / SPA / Jack & Jones WRB / APRILIA / 40'45.821 / 141.478 / 0.106
3 / Mike DI MEGLIO / FRA / Ajo Motorsport / DERBI / 40'45.938 / 141.472 / 0.223
4 / Bradley SMITH / GBR / Polaris World / APRILIA / 40'46.491 / 141.440 / 0.776
5 / Sandro CORTESE / GER / Emmi - Caffe Latte / APRILIA / 40'47.048 / 141.407 / 1.333
6 / Andrea IANNONE / ITA / I.C. Team / APRILIA / 41'07.293 / 140.247 / 21.578
7 / Tomoyoshi KOYAMA / JPN / Red Bull KTM 125 / KTM / 41'15.102 / 139.805 / 29.387
8 / Scott REDDING / GBR / Blusens Aprilia Junior / APRILIA / 41'15.134 / 139.803 / 29.419
9 / Pablo NIETO / SPA / Onde 2000 KTM / KTM / 41'23.774 / 139.317 / 38.059
10 / Esteve RABAT / SPA / Repsol KTM 125cc / KTM / 41'24.196 / 139.293 / 38.481
11 / Lorenzo ZANETTI / ITA / ISPA KTM Aran / KTM / 41'24.656 / 139.267 / 38.941
12 / Efren VAZQUEZ / SPA / Blusens Aprilia Junior / APRILIA / 41'34.181 / 138.735 / 48.466
13 / Lorenzo SAVADORI / ITA / I.C. Team / APRILIA / 41'34.517 / 138.717 / 48.802
14 / Alexis MASBOU / FRA / Loncin Racing / LONCIN / 41'36.055 / 138.631 / 50.340
15 / Enrique JEREZ / SPA / ISPA KTM Aran / KTM / 41'36.290 / 138.618 / 50.575
Pole Position: Gabor TALMACSI 1'41.451 142.117 Km/h
Fastest Lap : Mike DI MEGLIO 1'40.901 142.892 Km/h Lap 4
Circuit Record Lap: Hector FAUBEL 1'39.380 145.079 Km/h 2007
Circuit Best Lap: Gabor TALMACSI 1'39.029 145.593 Km/h 2007
2008 Final World Championship Positions:
1 DI MEGLIO 264, 2 CORSI 225, 3 TALMACSI 206, 4 BRADL 187, 5 TEROL 176, 6 SMITH 150,
7 OLIVE 142, 8 CORTESE 141, 9 ESPARGARO 124, 10 IANNONE 106, 11 REDDING 105,
12 GADEA 83, 13 MARQUEZ 63, 14 RABAT 49, 15 BONSEY 46.
---
2008/2009 International Motorcycle Show Schedule
Here's your once-a-year chance to see and sadde test all the new 2009 production bikes from their American distributors in one place at one time. The 28th Annual Cycle World International Motorcycle Show tour for 2008/2009 will be hitting a majot city near your starting this month. Check it out! For more informationj go to www.MotorcycleShows.com
Phoenix, AZ
Oct. 31 - Nov. 2, 2008

Dallas, TX
Nov. 14-16, 2008

Houston, TX
Nov. 21-23, 2008

Long Beach, CA
Dec. 5-7, 2008

Seattle, WA
Dec. 12-14, 2008

San Mateo, CA
Dec. 19-21, 2008

Novi, MI
Jan. 2-4, 2009

Washington, DC
Jan. 9-11, 2009

New York, NY
Jan. 16-18, 2009

Cleveland, OH
Jan. 30 - Feb. 1, 2009

Chicago, IL
Feb. 6-8, 2009

Minneapolis, MN
Feb. 13-15, 2009

Greenville, SC
Feb. 20-22, 2009
---
New 2009 Aprilia RSV4 Production and World Superbikes Revealed
October 6th, Milan Italy - Aprilia used the occasion of the annual Intermot '08. Motorcycle Show in Italy to unveil their all new 2009 RSV4 Factory production Superbike, along with the modified Race Team version that Max Biaggi will be racing in the 2009 World Superbike Championship as Aprila makes its return to that Series.
The RSV4 features an all new 65° V-4 double overhead cam watercooled fuel injected engine with a 78mm Bore x 52.3mm Stroke displacing 998.9cc and running a 128:1 compression ratio. Peak crank horsepower is 180CV @ 12,500rpm with Torque of 115Nm @ 10,000rpm. The production bike is catalytic converter equipped to Euro 3 Specs.
The works Aprilia RSV4 World Superbike (abovein Black) gets full GP spec Ohlins Suspension, full electronic sensors with traction control, carbon fiber bodywork, and surprisingly, different wheels and swingarm.
More photos and complete details of the Aprilia RSV4 Superbike HERE
---
Beautiful Tamara Wasson on location at the classic Texaco service station in Hollywood, California, with Kevin Schwantz's 1994 GP World Championship Suzuki RG500 in the photo featured on the cover of the 1996 Fast Dates Calendar.
First Time Ever! FastDates.com Calendar Images Available for Sale!
Photo Prints, Posters, Canvas Wall Murals
Now, for the first time you can have my favorite, most memorable FastDates.com Calendar photos reproduced to museum qualty standards for your home, garage, office or store, thanks to our new partnership with one of America's premier online photo labs. Choose from photo prints on quality photo paper, to huge poster and mural size Giclee' photo prints on archival rag paper or canvas mounted to wooden frames or display boxes.
Now you can enjoy my best photos of the the world's finest motorcycles with beautiful models! - Jim Gianatsis
---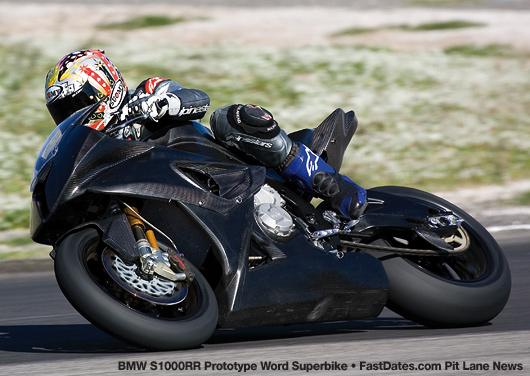 2009 SBK World Superbike Team & Rider LineUps
The 2009 World Superbike Team / Rider LineUps are shaping up as follows:
Look for an exciting jammed packed 40 Rider grid for the first time ever!
BMW Factory: Troy Corser, Ruben Xaus
Ducati Xerox Corse: Noriyuki Haga, Michel Fabrizio
Boulder Ducati: Jake Zemke?
RG Ducati: Regis Laconi, Fonsi Nieto, Luca Scassa, Ben Bostrom?
Ten Kate Hannspree Honda: Carlos Checa, Ryuichi Kiyonari, Jonathan Rea - World Superbike
Andrew Pitt and Kenan Sofuoglu - World 600cc Supersport
Althea Hannspree Honda: Tommy Hill
Alto Evoution Honda: ?
Sterilgarda Alex Polita Ducati: Shane Byrne, Alex Polita
Guandalini Team: Jakub Smrz,
Stiggy Motorsports Honda: Josh Brookes, Leon Haslam, Robbie Rolfo?
DFX HOnda: Karl Muggeridge, Regis laconi or Luca Scassa
Paul Bird Motorsdports (Honda or Kawasaki): Riders unconfirmed
PSG-1 Kawasaki Factory: Makoto Tomada, and Shinya Nakano?
Aprilia RS4 Factory Team: Max Biaggi, Shinya Nakano
Suzuki Alstare: Max Neukircher, Yukio Kagayama
Yamaha Motor Italia: Tom Sykes, Ben Spies
Yamaha Team France YZF: Unnamed Japanese rider, Regis Laconi, Ben Bostrom?
GMT 94 Team: David Checa, Regis Laconi?
---
This Month in Fast Dates 2008
Calendar Kittens Camilla and Katie get frisky on Pit Lane at Brands Hatch World Superbike with Ruben Xaus' Sterilgarda Betrik Ducati99F05.
Buy the 2009 Fast Dates Calendar • Download Big Screensaver Photos in Members Corner
---
There's more! Go to Pit Lane News Previous Page
Also Visit: Fast Dates Calendar News • Iron & Lace Calendar News
Calendar Girl News • Meet the Models
Calendar Kittens, The Paddock Garage, Screensavers, Iron & Lace Garage

Many of our Calendar Kittens can also be seen at Playboy's website...


BikerKiss.com - the largest biker personals site!
---


World Premier!
2009 FastDates.com Calendars
More 2009 Pin Up Model
& Motorcycle Calendars...

---
AMA Pro Racing names Dunlop official tire and Sunoco official fuel of AMA Road Racing
DAYTONA BEACH, Fla.Oct 20th -- AMA Pro Racing today announced that Dunlop has been chosen as the sole tire supplier of AMA Road Racing.

Use of Dunlop tires will be required in all of the series' road racing classes, including American Superbike, Daytona SportBike, SunTrust MOTO-GT and SuperSport, beginning in 2009.

"This is a very exciting announcement," said Roger Edmondson, President of AMA Pro Racing. "Dunlop is a logical selection, and the continuation of a long partnership Dunlop has fostered with many of the AMA Road Racing teams. We are confident they will continue to supply an outstanding product for AMA Road Racing. Having all of our competitors on the same tires will help us in our drive for parity, safety, and cost containment."

"We're pleased and excited about the opportunity to continue our long standing relationship with the teams and riders that make up the AMA paddock," said Mike Buckley, Vice President Motorcycle, Dunlop Tire N.A. "Professional road racing always has and will continue to be an integral part of the Dunlop marketing efforts and of course the venue for development of the next generation of sport radial products enjoyed by all our customers today and in the future. We'd like to thank everyone involved at AMA Pro Racing for selecting us. We're looking forward to getting the 2009 season underway at the upcoming tests."

Dunlop, a long-time supporter of AMA Road Racing, has supported teams that have captured the last 22 Superbike championships - including the last 18 in a row - and have won 21 consecutive titles in the former Supersport division. In addition, Dunlop was undefeated in AMA Superstock and won all but one of the 11 titles in Formula Xtreme.

Dunlop will be supporting the series in both a marketing and technical role, and will contribute to the AMA Road Racing contingency program.
AMA Pro Racing also today announced that Sunoco has been chosen as the fuel of AMA Road Racing.

Sunoco 260 GTX unleaded racing fuel, which contains no oxygenates and no metallic additives, will be used in all of the series' classes, including American Superbike, Daytona SportBike, SunTrust MOTO-GT and SuperSport.

"We are extremely honored to have been selected as the Official Fuel of AMA Road Racing," said Rob Marro, Sunoco General Manager of Performance Products and Automotive Events, in announcing the three year agreement. "We look forward to playing an integral role as AMA Pro Racing executes its vision for professional motorcycle racing in the U.S."

Sunoco will be supporting the series in both commercial and technical areas. AMA Pro Racing also announced a contribution of $10,000 on behalf of Sunoco for a special award, which will be presented at the season-ending road racing awards banquet.

"I am thrilled to welcome Sunoco to the AMA Pro Racing family," said Roger Edmondson, President of AMA Pro Racing. "In addition to supplying quality, world-class fuels, they will be very aggressive in their marketing of AMA Road Racing. Consistent, affordable, high quality fuel used by every competitor will help us in our drive for parity and cost containment."

In addition to AMA Pro Racing, Sunoco racing gasoline is the fuel of choice for a prestigious lineup of American motorsports organizations, including NASCAR, Grand-Am Road Racing and ARCA. In addition, Sunoco has been a consistent and valued supplier to grassroots motorsports. Currently, more than 400 race tracks throughout the United States offer Sunoco racing gasoline at their facilities.
The 2009 AMA Pro Racing schedule will kick off on Friday, March 6 with the running of the Daytona 200 By Honda, marking the first time that America's premier motorcycle race will be run under the lights at Daytona International Speedway.
Casey Stoner to race new frameless Carbon Fibre Ducati GP09 at Valencia this weekend before having surgery on his broken hand
Oct 21st - "The last race tends to make you reflect on the whole season and I think we can be proud of ourselves, even though there have been highs and lows. We didn't win the championship but we fought hard for it, making up and then losing a lot of ground, staying together through all of it and always giving our best.
We'll try to keep that going at Valencia, a track I have always liked because even though it is tight and twisty it does flow well, with some long corners where you can keep the speed of the bike up. Valencia is also the place where I took my first victory and where I rode the Ducati for the very first time back in 2006.
This year we'll ride the GP9 on the day after the race and I really can't wait for that. I hope the wrist doesn't give me the same problems I had at Sepang so that I can be in shape for a good race on Sunday and two solid days of testing on Monday and Tuesday."
The race will also serve as a test session for the new GP09 Ducati race bike which is the first MotoGP bike to be developed without a frame. All the bike's components including the front and rear suspension are attached directly to mounting points on the engine, or the carbon fibre sub frames mounted directly to the engine. This is similar in concept to the Britton V-Twin Superbike developed in the early 1990s, and modern Formula One race cars. The Ducati GP09 will probably be the forerunner of all MotoGP bikes, and later possibly Superbikes, moving in this direction of no longer using frames for the obviously simplicity and weight saving advantage.
After the Valencia race season ending race, Casey Stoner will have the previously broken bone in his hand which never healed properly from a crash 3 years ago, and he has been riding with for the past 4 races, it repaired by survey, His hand will be in a cast for at least 6-8 weeks which will coincide with the MotoGP testing ban after Valencia through to January 1st.
FGSport Drops Brands Hatch - one of its its most popuar rounds from the World Superbike Calednar for 2009
Rome, October 23rd 2008 - Following a period of analysis and negotiation, FGSport and MSV have decided not to stage the 2009 Superbike World Championship UK Round at Brands Hatch.
Paolo Flammini, CEO of FGSport, declared: "The cooperation with MSV has always been perfect but for several reasons we came to a joint conclusion that there are not the conditions to confirm the inclusion of the Brands Hatch Circuit in the 2009 Calendar".
Jonathan Palmer, President and CEO of MSV, added: "Unfortunately in the current economic climate we are unable to accept the much increased sanction fee that it appears FGSport can obtain from other circuits. However we have an excellent relationship with FGSport and Brands Hatch has provided some of the biggest crowds for the World Superbike championship, which is an outstanding series. We will therefore not finalise our alternative plans until the SBK calendar is confirmed in case there is any change to the commercial situation from market conditions."
The FIM has announced the 2009 World Superbike & Supersport, 100cc Superstock Schedule - With the Brands Hatch round dropped, and Kayalami, South Africa added, the total number of race meets reamins at 14.
We find it interesting that the most well attended race on past years schedule, Brands Hatch which draws 90,000 - 120,000 actual spectators each year, can't afford to host a profitable round and pay the sanctioning fees, while lesser attended rounds like Miller USA which only drew some 5,000 spectators this year are back in 2009.
And with Brands Hatch being a European based round where all the teams are based as well, it seems SBK could have reduced the sanctiong fee for Brands if needed, since therearereduced traveing fees to Brands compared to races on other continents. Disappointing.
2009 SBK Superbike
and 600cc Supersport

Mar 1 Phillip Island AUS
Mar 14 Qatar Dohar/Losail
April 5 Valencia ESP •
April 26 Assen, NL •
May 10 Monza IT •
May 17 Kyalami, South Africia
May 31 Miller, UT, USA
Jun 21 Misano San Marino *
Jun 28 Donnington GB *
July 26 Bruno Czech Rep *
Sep 6 Nuremburg, DM *
Sep 27 Vallelunga, IT
Oct 5 Magny-Cours, FR *
Oct 25 Portimao, Portugal *
• Includes 1000cc Superstock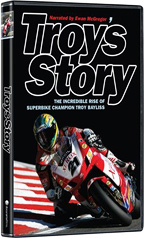 Troy's Story
The story of 2-Time World Superbike Champion Troy Bayliss narrated by Ewan McGreggor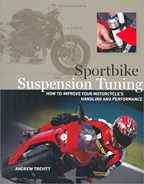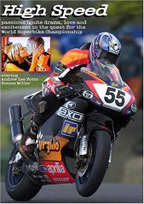 High Speed - the Movie
The best motorcyce racing movie ever made! Filmed on location at World Superbike, this an exciting romantic drama staring beautiful actress Sienna Miller.
---
SBK 2009 testing to get underway after Portimao round October 22nd - Testing for the 2009 season is set to get underway the week after the final round of the season at Portimao. On November 4 and 5 the brand-new Portugese track will be the venue for a test involving several top Superbike teams.
Two factory squads Aprilia and Yamaha will be present; this will be the first opportunity to see the Yamaha team's new line-up of Ben Spies and Tom Sykes on their four-cylinder machines, while it will also be the second outing for Max Biaggi on Aprilia's new Superbike challenger. The Noale team's second rider, who will be announced shortly, will also be present.
Stiggy Motorsport Honda will be taking part in the test with new signing Leon Haslam, as well as the Sterilgarda Ducati team, who will present its two new riders Shane Byrne and Alex Polita.
For the moment the official Ducati, Honda, Suzuki and Kawasaki teams are not scheduled to take part, while BMW have opted to test on their own and will be on track on the same days at Valencia with Troy Corser and Ruben Xaus.
New Ducati
1098 Street Figher to Preimer Next Month!
Oct 9th - Ducati will present an all-new naked model featuring the engine in the current 1098 Superbike at the EICMA show this November.
The 2009 Ducati Street Fighter has already been presented last week to authorized dealers under a strict confidentiality regime and despite all previous controversy, it is now a fact that its price will hire it just between next year's Monster 1100 and the current Ducati 1098 Superbike models.
A future fierce competitor for the MV Agusta Brutale, Aprilia Tuono and the Benelli TNT, the Ducati Fighter is yet another great way of exploiting the mighty 1099cc water cooled V-Twin powering the Ducati 1098 though it is expected that the engine will be retuned for low-and-mid rpm fun. Also, the gearbox is expected to undergo the same treatment.
Apart from the engine, the Ducati 1098 will also donate the frame and rear end to this future naked cousin, but no more as the Ducati Fighter drifts away from the super sports bike by featuring a shotgun-style exhaust.
If the 160hp Testrastetta Engine in the 1098 Street Fighter looks anthing like the Hypermoto, and is priced less than the $1595 base Superbike, Ducati is sure to have a hit on its hands. Our only concern is that we shreaded the180 rear tire on our 95hp Hypermoto S in just 1,500 miles, so imagine what another 70 some horsepower with a DucatiPerformance Exhaust and ECU exhaust will do!
Look for complete details and photos from the EICMA show on the 3rd or 4th of November.
2009 Ducati Superbike gets gets bigger 1198cc engine, more power
As was inevitable,FastDates.com have also learned that Ducati will be upping the 1098's Superbike's capacity to 1198cc for 2009. In keeping with the 1200cc World Superbike V-twin capacity limit. The curent Ducati 1098R08 already displaces 1198cc, so we expect to see a version of its engine used in the 2009 Ducati 1198, but in a lower state of tune without the exotic Titanium rods and valves. An educated guess would put the 1198's power output halfway between the 1098's 160bhp and the 1098R's 180bhp.
Update: More information on power, weight and pricing follows the jump.
Our source has just confirmed that the 1198 will have 170bhp. While the base 1198 receives a $500 price bump (to $16,495 in the US), the 1198S will remain the same at $20,995 (US). We've also learned that 1198 will be lighter than the outgoing 1098 and may receive a facelift.
There's no word on the 1098R's performance-oriented traction control trickling down to lesser models. But that's not all Ducati has in store for 2009.
It looks like that $500 price increase will be carried over to most bikes in Ducati's range, including the 848, which receives no other significant changes.
Ducati Super Hypermoto?
The same source also says to expect two versions of the 2009 Ducati Monster 1100, the regular 1100 and an S with Öhlins suspension. There's also an all-new model that, "is a cross between a Tuono, Brutale and fits between Monster and Hypermotard." It will be powered by the outgoing water-cooled 1099cc engine from the 1098, but with a smaller airbox that means less power and shotgun-style dual exhausts mounted on one side.
Let's see, assuming a 2009 Ducati 1198S will join the non-lettered 1198, that checks five off the list of the 10 new models Ducati says it will unveil by 2010. The capacity increase and name change is in keeping with Ducati's long history of gradual engine updates based on Superbike developments. Think 916, 996, 996R, 998 etc.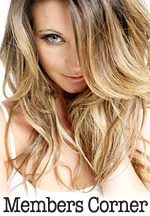 Members Corner
Hot Bikes, Sexy Kittens
Get Your Exclusive Grid Pass
aslo includes....
---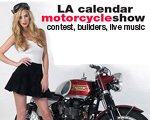 Complete Coverage!
2008 LA Calendar Motorcycle Show & Calendar Girl Music
Festival Weekend!
$86,000 Bike Building Championship
World Record Dyno Shootout!
Calendar Girl Music Festival
---
Mike di Meglio- 2008 125cc World Champion
Australian Grand Prix - Sunday 5th Oct.r 2008 - After coming to the attention of the French Motorcycle Federation in the 2002 Prix de l'Avenir, Mike di Meglio was invited to take a trial with the Liegois team in Carole, with whom he took part in a Spanish Championship race.
He made the most of his opportunity, finishing third in the race and looking at a move up to the international stage. The French youngster turned 15 on the eve of the first test of the 2003 season and made his 125cc World Championship debut that year on an Aprilia. He found the going tough in his first season, crashing several times and not achieving results of any note.
In 2004 he was recruited by Gino Borsoi to represent Globet.com Racing but had an inconsistent campaign, before stepping up a notch with the same team the following year, onboard a Honda, to win his first ever Grand Prix in Turkey in the penultimate race of the season. Di Meglio would have to wait four years to add to his win tally.
After a disappointing year for the French Motorcycle Federation team in 2005- in which he finished in 25th position after picking up just eight points all year- Di Meglio moved to the Team Scot Honda outfit for 2007, with the highlight of his year a fourth place in Japan.
On board a factory Derbi machine in 2008, for the Ajo Motorsport team, Di Meglio has enjoyed the fruits of his labours on competitive machinery. Three race victories and the most consistent results in the class have made the Frenchman one of the stars of the series this year, and have elevated him above his rivals in the hotly-contested category.
Injured Stoner to see out the Season in order to test new Ducati GP9
Monday, 06 October 2008
The need to test the Ducati Desmosedici GP9 at Valencia is Casey Stoner´s main motivation for not undergoing immediate surgery on his left wrist.
The winner of his home race in Australia for the second consecutive year, despite a scaphoid injury in need of urgent surgery, 2007 World Champion Casey Stoner admits that the only reason for his continuation of the current season is the necessity of testing the Ducati Desmosedici GP9 at the post-race test in Valencia.
Currently ahead in the battle for second place in the 2008 campaign, Stoner has been riding through the pain barrier and at less than peak fitness. With the title already awarded to Valentino Rossi and the long recuperation period required post-operation, the option to miss the final races of the season was considered by the rider and his team, but the need to shape the direction of the 2009 bike´s development is motivating Stoner´s decision to ride out the year.
`(the Valencia test) is the only reason that we are continuing with the season´ says Stoner, who previously rode the GP9 at a post-race test held in Catalunya.
`We need to test that bike again, because there is going to be a three month period in which I can´t test, and the technicians will need as much information as they can get. If I´m going to ride after the race at Valencia then I may as well take part in these last two races. If it gets impossible to ride then we´ll stop and get the operation, but right now it looks like we can finish the season.´
Stoner is wary of the demands of the next track on the calendar, Sepang in Malaysia, with its intense heat creating added difficulty for those unable to compete at 100%. Whilst training has been difficult for the reigning titlist, he will be trying all that he can to reach race form, as he did to get around the pain involved in braking at Phillip Island.

The prospect of a spell on the sidelines has also left the Ducati rider in reflective mood, although no less competitive-minded.
`We´ve got two races to go, and things need to go right for us to confirm second place in the World Championship. I´ve been thinking a lot lately, and to have second place by your name in this championship is something to look back and be proud of when you´ve retired. We´re making the best of my career, and I think that we can be back fighting for the title next year,´ philosophised Stoner.
Watanabe parts from Crescent Suzuki in BSB
07/10/08 - CRESCENT, the organisation behind the official Suzuki British Superbike team, has confirmed that 2008 Superbike racer Atsushi Watanabe will not be retained for the 2009 season.
Atsu joined the Crescent operated Rizla Suzuki squad for the 2008 BSB season and has enjoyed a fruitful season learning the British circuits under the guidance of one of the best teams. He has enjoyed varying degrees of success with a best result of 7th in the second race at Cadwell Park in August. On top of this, he finished runner-up in the prestigious Suzuka 8-hour event in Japan.
Atsu will move to the Relentless by TAS Suzuki squad for 2009, spearheading its challenge in the British Superbike Championship.
Atsu said: "I am very grateful to Crescent for bringing me to the British Superbike series. I have learnt much this year that I hope I will be able to use to get good results next season. I am very happy to be staying with Suzuki and in BSB in 2009."
Crescent Team Manager Jack Valentine said: "Atsu is one of the nicest people I have ever met but unfortunately he will not be racing for our team in 2009. I am pleased to say that he will remain within the Suzuki family however and in British Superbikes. The whole team thanks him for his efforts and wishes him the very best for the future."
Atsu will race alongside Tom Sykes in the Rizla Suzuki team at the final round of the 2008 British Superbike season at Brands Hatch Indy circuit in Kent this weekend.
For more information on the Crescent operated official Suzuki BSB team, visit www.rizla-suzuki.co.uk.
Shinya Nakano Joins
Max at Aprilia WSB
Shinya Nakano will be on the saddle for the Aprilia RSV4, side by side with Max Biaggi and completing the Aprilia team that in year 2009 will race in the Superbike World Championship.
The Japanese rider, after he visited the Racing Department of Noale, signed the contract that ties him to Aprilia for the whole of the next season with an option for the 2010.
Shinya Nakano, born in Chiba on October 10th 1977, is a pilot of great experience that boasts ten seasons in the World Championship: like two in 250 cc - category in which he was vice champion of the world in 2000 - one in 500 cc and well seven in MotoGP. With the GP of Valencia, raced last Sunday, Nakano has closed the season 2008 with 126 points, occupying the ninth position in the final classification of the Moto GP, with Honda, Team Gresini Racing.
After the signature Shinya Nakano declared: "I am happy indeed, for me it is a joy to belong to the great family of Aprilia. Here I have found a big tradition and extraordinary competence in the races that Aprilia faces with high professionalism, the 33 world titles won up to today are the confirmation of it. The Superbike is a new challenge that fills me with new challenges, I want to risk all of my experience to grow for the new project of Aprilia RSV4. It will be a honor to be able to race beside Max Biaggi, he is a hero of mine and he was an inspiration to me in the first phases of my career, I am sure that together we will succeed in developing the best motorbike and to already get good results in the season 2009".
"With the arrival of Nakano - Leo Francesco Mercanti who is responsible of the development for the products and racing activities of the Piaggio Group has commented - we have settled another box for a important and ambitious project like that of the development of the superbike RSV4 and of his twin destined to the races. We provide a team of pilots of high-level we set high ambitious goals to reach. I believe that Nakano can find with Aprilia the correct encouragement to reach for the top. We have trust regarding his talent in this competition, and his experience in the development of a motorbikes he wants to show all the technological advantages and the sophistication that's the attitude for the project RSV4"
Suzuki committed to BSB success in 2009 with signing of MotoGP Rider Sylvain Guintoli
11/10/08 - MotoGP star Sylvain Guintoli will be going for Championship glory with Suzuki's official team, run by Crescent, in British Superbikes in 2009 – and the team is confident its new signing will be able to challenge at the front right from the start.
Frenchman Guintoli, from Romans in France, now living with his wife Caroline and daughters Alicia (3-years) and Layla (6-months) near Market Bosworth in England, has been one of the most promising new stars in MotoGP racing over the last two seasons, scoring a best result of fourth at the 2007 Motegi GP. Now the 26-year-old is turning his considerable talent to winning the BSB Championship.
Suzuki BSB Team Manager Jack Valentine is delighted to have secured the services of one of the world's top riders. He said: "Sylvain brings MotoGP class to Suzuki and British Superbikes and I think he will be a race and Championship contender. He has real pedigree as his efforts in MotoGP have proved over the last two years, the sort of determination to succeed that matches the team's ambitions and one of the best Superbikes in the world at his disposal in the Crescent developed Suzuki GSX-R1000.
"This signing means Suzuki will be fighting for top honours in BSB 2009. We will be putting a full test and development programme in place for Sylvan and no stone will be left unturned in our efforts to win.
"Sylvain will make his debut appearance for the team at the Suzuki stand at the NEC Show in late November and he is already excited to meet the public and fans. He is a breath of fresh air to the team and one that we have utmost confidence in for success in 2009."
Suzuki GB Marketing Manager George Cheeseman said: "It is fantastic news that Sylvan has chosen to ride for Suzuki's official British Superbike team – it is credit to the team and the BSB series that it can attract such an international talent.
"Suzuki is absolutely committed to success on the race track and this signing proves how serious we are at getting back the BSB title we won in 2004. Sylvan will have the all new GSX-R1000 at his disposal and together I think they will make a fantastic partnership and one that will lead from the front.