With It's Own Barely Legal Medical Attention Standing by...
The Heart Attack Grill, Phoenix, Arizona

Chandler, AZ, Dec 1st - There's nothing closer to a biker's heart than the three Bs - Bikes, Burgers and Babes, with a guy's order of preference depending on what's sandwiched between his legs, lips or hands at the time. If you happen to be riding your bike through Phoenix, Arizona you've now got the three Bs in just one stop!
The Heart Attack Grill® is a hospital themed restaurant in the Phoenix suburb Chandler, which has become internationally famous for embracing and promoting an unhealthy diet of incredibly large hamburgers. Customers are referred to as "patients," orders as "prescriptions," and the waitresses as "nurses."
The menu includes the Single Bypass Burger®, Double Bypass Burger®, Triple Bypass Burger®, and the Quadruple Bypass Burger®, ranging from half a pound to two pounds of beef. Also on the menu are "Flatliner Fries" (cooked in pure lard), no filter cigarettes, hard liquor, beer, and full sugar coke.
The menu names imply coronary artery bypass surgery, and refer to the danger of developing atherosclerosis from the food's high proportion of saturated fat and excessive caloric content. The Quadruple Bypass Burger has been quoted at around 8,000 calories!
One the restaurants most celebrated (and widely publicized) gimmicks is the free wheelchair service provided to those "patients" who successfully finish the Triple or Quadruple Bypass Burger. Amidst a flurry of photography from tourist bystanders the "patients" are pushed in a wheelchair out to their cars by the nurse of their choice.
Founded in December of 2005 by Dr. Jon, a non AMA recognized physician. He has been glorified as the freedom fighting arch enemy of political correctness by some, and demonized as a charlatan "nutritional pornographer" by others, Dr. Jon can be found each day, at the griddle, actually flipping hamburgers in his white doctor's lab coat and stethoscope.
The restaurant has found itself in a continual state of self defense against various activist groups and branches of state government. Most notable was a very public threat closure from the Arizona Attorney General's in late 2006. The controversy hit a crescendo when Dr. Jon was arrested after having attempted to open a live fire hose on a group of picketing nurses. Rush Limbaugh, Geraldo Rivera, and major networks from over sixty countries went live with the story, in a non-stop media frenzy that lasted for months on end.
A compromise was finally reached when Dr. Jon put a disclaimer on his website stating, "The use of the word 'nurse' above is only intended as a parody. None of the women pictured on our website actually have any medical training, nor do they attempt to provide any real medical services. It should be made clear that the Heart Attack Grill and all its employees do not offer any therapeutic treatments".
Despite the obvious animosity between the Heart Attack Grill, and various Nursing Associations, Dr. Jon has always taken time in each and every television interview to point out that we are absolutely in the midst of a severe global nurse shortage. "It's a real crisis!" says Dr. Jon, "Each one of us has a duty to help. I view my part is to draw attention to the problem by playing the role of the villain".
One may question whether Dr. Jon's kind words are sincere, considering the underlying motive that everyone can plainly see... money! No matter which side of the debate the general public finds itself, one thing is certain, upon visiting Arizona they all seem to make the pilgrimage for a burger and fries at what is perhaps the worlds most politically incorrect restaurant!
The future of the restaurant, according to Dr. Jon, lies in its ability to successfully transition into a diet center. With sights set firmly upon competing head to head with established weight loss giants such as Jenny Craig, Nutri-System, and Weight Watchers, he pays little attention to nay saying critics.
According to Dr. Jon, "The new Heart Attack Grill Diet Centers will offer the American public something that no other program has ever been able to do... a diet program that you actually enjoy and can stick with for a lifetime!" He did though conveniently fail to mention just how long the "lifetime" of the clients might be.
Dr. Jon's most recent fitness book, the Heart Attack Grill Diet, which teaches readers how to "Eat, Drink, and Smoke their way to Better Health", has not been well received due to its actual advocating of cigarettes, hard liquor, and fornication with girls of a barely legal age.
The Heart Attack Grill, located in the Phoenix Metro area at 6185 W Chandler Blvd. in Chandler, Arizona.
http://www.heartattackgrill.com
---
Randy Mamola discusses Ducati's awesome 5-rider MotoGP lineup for 2009
Nov 21st - MotoGP 2009 looks like it could be an exciting season, with plenty of expectations about riders, a new world champion and some new challengers looking for their moment of glory, too. Former World Championship rider Randy Mamola has discussed his point of view regarding Nicky Hayden,and the return of Sete Gibernauwith Ducati.
Randy is sure that Nicky has still got a long way to go in making a smooth transition to the Ducati Desmosedici 09. He said: "Basically the Desmosedici works by getting it to full throttle as soon as possible and letting the electronics do the rest. [Everybody has] enjoyed seeing Nicky light the Honda up around that long left-hander but you only had to see him through there on the Monday to see that the Ducati doesn't allow him to do it, because it has a much more narrow power band."
Mamola also believes that Ducati needs to make their bikes easier to ride otherwise they will have all four riders struggling. The position from Sete Gibernau in giving feedback could be crucial in getting the bike to fit the different rider styles. It will be interesting to see how Ducati's fortunes develop next year. In the short post-season Valencia test Hayden showed good initial signs with some decent lap times, in both the wet and dry onboard his new bike, but Mamola is sure that there is a long road ahead as his compatriot get used to the new machinery.

`A lot of people said his riding style would suit the Ducati because he likes a bike to be loose underneath him,´ stated Mamola is his regular Alpinestars column. `It seems people thought he could jump on the bike and go fast but personally I think he is going to have to change a few things. In fact, Nicky´s first comment when he got off the bike was: `Whatever they pay Casey (Stoner), it´s not enough.´ He knows it´s not easy and he has a lot of work to do.´

A paddock regular, Mamola knows a thing or two about the Italian factory himself, being the man who takes VIP guests around Grand Prix circuits across the globe on the (two-seater) Ducati MotoGP2, which laps within seconds of the pace of the regular 800cc MotoGP race prototypes.

`Basically the Desmosedici works by getting it to full throttle as soon as possible and letting the electronics do the rest,´ Mamola commented. `That´s easier said than done and so far only Casey has been able to do it consistently. The final turn at Valencia was the clearest example. Over the course of the weekend everybody had enjoyed seeing Nicky light the Honda up around that long left-hander but you only had to see him through there on the Monday to see that the Ducati doesn´t allow him to do it, because it has a much more narrow power band.´

The former World Championship rider, who finished runner-up in the 500cc category on four occasions, believes teamwork will be the key for Ducati in 2009 as they attempt to get four new riders lapping at similar speeds to 2007 World Champion Stoner.

49 year-old Mamola reckons the experience of returning hero Sete Gibernau may be crucial to the factory in striving for competitiveness across the board, adding, `Ducati do have a responsibility to make all their bikes easier to ride otherwise they´ll have four riders struggling next season instead of three. Niccolo Canepa is new to almost every circuit and Mika Kallio is also a MotoGP rookie, so I think Sete Gibernau´s feedback in particular will be crucial in getting the bike to fit different styles.´

Ending on a positive note, Mamola thinks harmony in Hayden´s new pit-box could also be a springboard to success, concluding, `The good thing for Nicky is that he seems to be getting on very well with his new team-mate. Casey and Nicky are both good guys with similar backgrounds and, crucially, they speak the same language. Literally and in their approach to racing.´
Sete Gibernau to ride in 2009 MotoGP for Onde 2000 Ducati team.
Nov 2008 - Sete Gibernau has confirmed he will step out of retirement in 2009 to return to MotoGP action in the new Onde 2000 Ducati team in Valencia tonight. The 35-year-old, who quit the world championship at the end of 2006, will ride a fifth Ducati GP9 in a team co-managed by Pablo and Gelete Nieto. Nine-times MotoGP winner Gibernau stated his interest at returning to action earlier this year when he began testing for Ducati in Mugello.

The former Gresini Honda rider, who had one year in Ducati's factory team in 2006, will test a GP8 machine next week at Valencia. He is expected to get his first ride on Ducati GP9 in Jerez at the end of November.
The Onde 2000 team has had only one season in the 125GP series before moving to the MotoGP ranks.
Gibernau said: "I am really happy to be back in MotoGP and I'm looking forward to being competitive again. I believe I will comeback and be able to fight at the front again. It is going to be a tough challenge, but one I am really looking forward to. It is exciting to be part of this new project and I'm sure we will be capable of getting positive results in 2009."
Pramac Ducati announce 2009 MotoGP team of Kallio and Canepa
Pramac Racing is pleased to be able to announce its new riders for the 2009 MotoGP season - Mika Kallio (Finland) and Niccolo Canepa (Italy).

Mika Kallio, who is now third in the 250 World Championship and first of the KTM riders, has ridden in the in the quarter litre class for the last two seasons. In his debut year of 2007 he claimed two victories and seventh position in the championship, whilst in 2008 he has taken three victories and is currently third in the championship. Before stepping on a 250cc bike, the Finnish rider rode a KTM 125cc bike from 2003 to 2006 and claimed 27 podiums, including 7 victories, finishing second in the championship in 2005 and 2006.

Niccolo Canepa is a new entry into the MotoGP World Championship and is the first rider to step into this category thanks to the experience gained as test rider. Niccolo began his career at a very young age riding a Ducati in the FIM Superstock 600 Cup, finishing second in 2006 despite missing the last two races due to injury. In 2007 he won the FIM Superstock 1000 World Cup on the new Ducati 1098. He demonstrated his riding qualities and sensitivity to the Ducati Corse technicians in 2007 by also developing the 1098R Superbike version, having convinced also Ducati Corse to let him become the test rider for the Ducati Bridgestone test squad on the Desmosedici GP8. The experience gained in this position and his good performances have opened the 2009 MotoGP World Championship doors to him.

The two young Pramac Racing riders will have the Ducati Desmosedici GP9 Sat with carbon chassis at their disposal for 2009.
Paolo Campinoti - Pramac Racing Team Principal: "We are very happy to have two very promising riders in Kallio and Canepa. Mika is doing really well in 250 and we are confident that he will be able to continue his positive trend in the top class. Niccolo has shown his abilities on the Ducati Desmosedici during this seasons tests and this has convinced Ducati and us to let him step up into MotoGP. Together with Ducati we have agreed to create a sort of "Junior Team". A part of me is sad that we are not able to continue with our current riders, Toni Elias and Sylvain Guintoli, because they have done a lot for the Alice Team during this season. I want to publically thank them for their work and for bringing us to date, two unforgettable podiums. I wish them a future rich in success and happiness.

MotoGP Winter Testing Jerez
MotoGP Teams Kick Off Final Test of 2009 at Jerez
Jerez de la Frontera, (Spain) Nov 26-27th 2008 - Wednesday:The Ducati Marlboro Team began their final MotoGP test session of the year today, ahead of the testing ban that gets underway on 1st December 2008 and runs until 20th January 2009. Recent Ducati signing Nicky Hayden lapped alongside factory test rider Vittoriano Guareschi, with team-mate Casey Stoner watching from pit wall.
The Australian, who has stayed in Europe for the first phase of his recovery from an operation on his left wrist on the 30th October, was keen to link up with the team at the test, albeit as a spectator. An x-ray on the joint carried out in Modena yesterday was positive and Stoner will be able to start light training in around two weeks' time.
Despite bright sunshine in the south of Spain, low track temperatures prevented the riders from taking to the track until lunchtime today. Hayden was still able to rack up 69 laps, improving his feeling with the bike on each outing and ending the day as the 10th fastest rider on track.

Nicky Hayden - 10th fastest - 1'42.098 (69 laps) - "It has been nice to get back on the bike and get on with the job in decent conditions. The new surface is perfect, the bumps have disappeared and the grip improved with every lap. They've done a great job here at Jerez. I'm quite happy with my feeling with the bike. The lap times came down with virtually every outing and that's positive, even though I'm still clearly a good way off the pace. We've got a lot of work ahead but the team is really close and we know that bike has the potential, so all we can do is keep working. Both tyre specs that we tried today worked well, although the softer one was obviously the preferable option in these temperatures. They've got no problem in terms of durability and I'm slowly starting to get used to the feeling the Bridgestones give back. Hopefully the good weather continues tomorrow."
Casey Stoner - "Yesterday the doctors told me that everything is going okay with my wrist, now I must wait and see. With the new cast they did yesterday I will be able to start some training on a pushbike so that is positive. In a few days I'll be heading back to Australia and it will be nice to be home for a while. It was a very strange feeling to be watching today instead of riding. This is probably the longest period I've gone without riding a bike at all since I was three years old! I'll definitely have a lot of motivation to get back on track in February. It is good to watch the bikes on track together with my engineers and then speak about it with Filippo (Preziosi) and Nicky, to share our feelings and see what we can do to improve our machine for next season."

Rossi concludes official test in as Quickest
Nov 27th 2008 - Thursday: After a late start for the MotoGP riders present in Jerez, the second and final (half) day of the Official Test kicked into gear after 2pm local time. One-by-one the participants took to the drying track, left damp by overnight rain and cold temperatures, in the attempt to make the most of their last hours of testing for 2008.

2008 World Champion Valentino Rossi ended his title-winning year with the timesheet top spot on day two, snatching the placing from Dani Pedrosa in the final hour of the session. One of the last riders to emerge from the garage, Rossi joined Pedrosa as the only two men to record a time under the 1´40 mark, a 1´39.429 lap that was the fastest of the test. The Fiat Yamaha rider has been using both the 2008 and 2009 versions of the Yamaha M1, in order for the Japanese factory to be able to assemble the complete prototype for the coming year in January.
Valentino Rossi - Position: 1st Time: 1'39.429 Laps: 54 - "The track was a bit drier today and so we were able to improve even more and do a great job. We worked a lot on the new bike and tried some different parts to yesterday, including for the engine and we were quite fast. It seems we're going in the right direction with this new bike and I am happy about this. I hope that the information we have gathered here will help the engineers to improve the bike and I look forward to the next evolution in Sepang. I think these first tests with the one-tyre rule have been quite positive and Bridgestone have done a good job so far, although for sure they will have a difficult job to decide which tyre for which track. Anyway, I hope that we will have some exciting battles next year with everyone at the same level with their tyres. Now I am looking forward to some holidays and next week I will go to Wales for the rally, which I hope will be a lot of fun. It's been a fantastic year and I am really happy I have finished at the top today, it's not a big thing but it gives a good feeling to me and all the team and means we can enjoy our holidays confident that we are in good shape!"
Davide Brivio - Rossi Team Manager - "This has been a positive test for us, and we have finished the year very well. Despite the cold weather allowing us just a few hours to test over these two days, we have been able to go through more or less our entire programme and check everything on the agenda. This means that we have given a lot of valuable information to our Japanese engineers, and this will help them in their development work over the winter. Valentino finished fastest today, which is a great conclusion to the year, and shows that we're on the right track with the 2009-prototype M1. Now we have some time for rest and so I would like to thank all of the team once again for their hard work and wish them happy holidays!"

Repsol Honda rider Pedrosa was once again faster than his best race lap (a circuit record) from the 2008 Spanish round, and even managed to better his time from the opening day to place second on the chart. The Spaniard continued to work on the engine configuration of the RC212V, putting down a 1´39.447 lap in the process to end the day just 0.018 slower than Rossi.

Rossi´s teammate Jorge Lorenzo was again third on the timesheet, behind the Pedrosa-Rossi combination. He knocked over a second off his Wednesday time upon his afternoon arrival on track. Also taking a sizeable chunk out of his previous best was Nicky Hayden, continuing his adaptation to the Ducati Desmosedici GP9. `The Kentucky Kid´ recorded the test´s sixth quickest lap on one of his typical marathon run-outs, although late charges from San Carlo Honda Gresini´s Toni Elias and Alex de Angelis moved them above the American.
Probably most impressive though was returing MotoGP star Sete Giberneau who finished the test as 9th quickest on the ONDE Ducati, in his first official appearance on a MotoGP bike in 2 years.

All thirteen regular MotoGP riders were able to improve over the course of the Thursday run, their last opportunity to ride their 800cc machinery until February of next year. A testing ban comes into place on December 1st.
Jerez Circuit Record: Dani Pedrosa (Honda - 2008) 1'40.116
Jerez Pole Record: Jorge Lorenzo (Yamaha - 2008), 1'38.189
MotoGP Official Test at Jerez, Spain - Combined TimesCombined Times
Pos Rider Team Session 1 Session 2 Prev. Gap Lead. Gap
1 Valentino Rossi Fiat Yamaha Team 1:40.135 1:39.429 - -
2 Dani Pedrosa Repsol Honda 1:39.525 1:39.447 +0.018 +0.018
3 Jorge Lorenzo Fiat Yamaha Team 1:41.163 1:40.426 +0.979 +0.997
4 Toni Elias San Carlo Honda Gresini 1:41.679 1:40.448 +0.022 +1.019
5 Alex De Angelis San Carlo Honda Gresini 1:41.468 1:40.486 +0.038 +1.057
6 Nicky Hayden Ducati Marlboro Team 1:42.098 1:40.486 - +1.057
7 Mika Kallio Alice Team 1:42.837 1:40.564 +0.078 +1.135
8 Colin Edwards Tech3 Yamaha 1:41.390 1:40.604 +0.040 +1.175
9 Sete Gibernau ONDE 2000 Ducati 1:42.943 1:40.856 +0.252 +1.427
10 Andrea Dovizioso Repsol Honda 1:41.655 1:40.966 +0.110 +1.537
11 Niccolo Canepa Alice Team 1:42.074 1:41.077 +0.111 +1.648
12 James Toseland Tech3 Yamaha 1:41.539 1:41.740 +0.462 +2.110
13 Vitto Guareschi Ducati Marlboro Team 1:43.642 1:42.906 +1.367 +3.477
14 Yuki Takahashi Scot Racing Team 1:44.360 1:42.918 +0.012 +3.489
---
Ben Spies and Tom Sykes, Team Yamaha Italia wil campain the all-new R1 Superbike.
2009 SBK World Superbike Team & Rider LineUps
2009 World Superbike Team / Rider LineUps:
Look for an exciting jammed packed 40 Rider grid for the first time ever!
BMW Factory: Troy Corser, Ruben Xaus
Ducati Xerox Corse: Noriyuki Haga, Michel Fabrizio
Boulder Ducati: Jake Zemke?
RG Ducati: Regis Laconi and - Fonsi Nieto, Luca Scassa, Ben Bostrom.Lorenzo Lanzi?
Ten Kate Hannspree Honda: Carlos Checa, Ryuichi Kiyonari, Jonathan Rea - World Superbike
Andrew Pitt and Kenan Sofuoglu - World 600cc Supersport
Althea Hannspree Honda: Tommy Hill
Alto Evoution Honda: Gregorio Lavilla
HM Plant Honda: Cal Crutchlow and ?
Pro-Bike Honda: Gregorio Lavilla
Sterilgarda Alex Polita Ducati: Shane Byrne (2008 British Superbike Champion), Alessadro Polita
Guandalini Team: Jakub Smrz,
Stiggy Motorsports Honda: Leon Haslam, Robbie Rolfo
DFX Honda: Karl Muggeridge, Regis laconi or Luca Scassa
Paul Bird Motorsports / Kawasaki Europe Factory: Makoto Tamada, Broc Parcs
PSG-1 Racing: ?
Aprilia RS4 Factory Team: Max Biaggi, Shinya Nakano
Alstare Team Suzuki : Max Neukircher, Yukio Kagayama
Celani Team Suzuki Alstare - Karl Muggeridge
Yamaha Motor Italia: Tom Sykes, Ben Spies (2008 American Superbike Champion)
Yamaha Team France YZF: Unnamed Japanese rider, Regis Laconi
GMT 94 Team: David Checa, Regis Laconi?
Click on any Photo to go BIGGER and download a screensaver
Inside Yamaha's Exciting New World Superbike Team and R1 Superbike
November 2009 - Yamaha WSB riders Ben Spies and Tom Sykes enjoyed a successful two day test at Portimao with their new team on oct 26-27th after the final 2008 World Superbike race of the year. The riders used the time to develop both their relationships with their new team and also to make a start on the development of the all-new 2009 Yamaha YZF-R1 race bike.
Day one of testing was spent mostly riding the 2008 WSB machines, giving both riders the opportunity to learn the highly technical Portimao circuit which opened for the first time last weekend for the last round of the 2008 World Superbike Championship.
Day two saw the riders lapping on the all-new for 2009 Yamaha WSB R1. The new 998cc bike, featuring a high tech powerplant closely linked to the M1 MOTOGP bike, is currently at the very beginning of its development for the 2009 WSB season and is still relatively close to production specifications. However with the 2009 production R1 crossplane crankshaft engine and a unique uneven firing order giving linear torque and greater traction rider Ben Spies was able to come within two tenths of the race lap record set by Troy Bayliss during the inaugural race weekend two days previously. In a validation of the team's belief in the potential of the new bike both riders put in fast lap times, Ben Spies lapping consistently in the low 1.44s on the second day.
For the Complete Story of the new Yamaha R1 go to: Pit Lane News New Bikes / Yamaha / 2009
BMW Superbike launches S1000RR.comm
Nov 25th - As BMW prepares to race the new S 1000 RR in the World Superbike circuits in 2009, they have launched www.S1000RR.com to provide enthusiasts with a wealth of information about this exciting new chapter in the brand's history. Over the coming months, expect to see exclusive pictures, videos and interviews with key project leaders, racers and riders.
Please bookmark this site, because as the 2009 World Superbike Championship approaches, it will be the first place to read about pre-season testing and reaction, as well as news about the eagerly awaited production series S 1000 RR, which is rumored to be lighter and more powerful than its Japanese rivals. Fans of four-cylinder BMW motorcycles will be delighted to know that this machine can be ordered starting next March and if rumors of its power to weight ratio are true, it will be well worth waiting for. To visit this new Superbike site please go to www.S1000RR.com
BMW Custom Concept to Debut in USA at Long Beach Dec 5-7th
Headed for production? BMW wants to know what we think of the new BCC (BMW Custom Concept)

BMW Motorrad introduced the BCC, a new custom design study at the EICMA motorcycle show in Milan on November 4th, 2008. This concept developed by BMW Motorrad design team lead by David Robb is a marriage of naked and muscle and is homage to the incredible 85-year history of BMW Motorcycles and a nod to the purest form of two-wheel design.
The BCC design study is conceived as a fully customizable ride. The rider can choose the exhaust system such as shotgun-low or scrambler; the type of seat such as aluminum perch seat, minimal modern saddle or simple 2-man seat. Even the headlight can be customized, whether it's projector lighting or classic circular headlamp. Add to that four fuel tank paint colors and three engine paint finishes as well as a range of other details. This design dream study is unlike any other concept bike. The BMW Custom Concept allows the rider to directly participate in shaping his or her custom motorcycle. With dozens of unique variations, no two BCCs will be the same.
The BCC design study is currently powered by a flat twin "Boxer" engine with 105 hp, yet weighing at a very light 418 lbs. This concept features a trellis frame, 17-inch wheels, 6-piston brake calipers and corner carving upside down forks.
We'd love to know what you think of the new BCC. Please fill out the short questionnaire below and share your thoughts on this new design study from BMW. Also, don't forget to select your favorite BCC from the 12 customized options shown. Are you a scrambler type, or do you prefer the exhaust down below? How about the seat, will you go for a single, double or café style? And don't forget the headlight; do you prefer it classic or modern?
Tell BMW what you think, now online at: http://www.bmwxplor.com/bcc
The BCC will début at the Long Beach, CA, IMS show on December 5-7, 2008.
---



Marisa Miller 2009 Calendar Click to Order!

Sex Sells! Sports Illustrated Supermodel Marissa Miller shoots Pinup poster for Harley-Davidson


America's hottest swimsuit model, Califonrnia girl Marissa Miller who has been featured in recent years in the famed Sports Illustated Swimsuit Calendars and Videos, as wel as the Victoria's Secret Lingerie Catalog, recently did a shoot with Harley-Davidson to promote their newly revised V-Rod. Using a known. Using a model endorsement is a big turnaround for Harley who discontinued using a Miss Harley-Davidson spokesmodel to promote their bikes at consumer events back in 2002, their last spokesmodel being our own FastDates.com Calendar Kitten Rockin' Robin Cunningham.
Click on the cover at left to order Marisa's 2009 Calendar
CLICK ABOVE & BELOW TO GO BIGGER!
Turning a Sow's Ear into a Silk Purse? You can get a copy of Marissa's V-Rod Poster at your local Harley-Davidson dealer. It's sure way for Harley to increase dealer floor traffic during these tough economic times as they resort to sex to help sell the V-Rod. We found running as a 2-page ad spread in the December issue of Road & Track magazine as H-D looks for more buyers outside the motorcycle industry. See more at H-D/MUSCLE
We'd like to see a little more of Malissa, though. And ordering her sexy new 2009 Malissa Miller Calendar (above) featuring many almost nude photos is the best way to do that!
---
Beautiful Tamara Wasson on location at the classic Texaco service station in Hollywood, California, with Kevin Schwantz's 1994 GP World Championship Suzuki RG500 in the photo featured on the cover of the 1996 Fast Dates Calendar.
First Time Ever! FastDates.com Calendar Images Available for Sale!
Photo Prints, Posters, Canvas Wall Murals
Now, for the first time you can have my favorite, most memorable FastDates.com Calendar photos reproduced to museum qualty standards for your home, garage, office or store, thanks to our new partnership with one of America's premier online photo labs. Choose from photo prints on quality photo paper, to huge poster and mural size Giclee' photo prints on archival rag paper or canvas mounted to wooden frames or display boxes.
Now you can enjoy my best photos of the the world's finest motorcycles with beautiful models! - Jim Gianatsis
Historical! This incredible career ending photo above of Troy Bayliss in his special commerative Ducati 2008 World Championship winning livery in action blazing titanium sparks off his boot slider at the final 2008 Algarve, Portugal World Superbike round is available as a Photo Print, huge Wall Poster or Canvas Mural in
FastDates.com Calendar Photos.
---
---
There's more! Go to Pit Lane News Previous Page
Also Visit: Fast Dates Calendar News • Iron & Lace Calendar News
Calendar Girl News • Meet the Models
Calendar Kittens, The Paddock Garage, Screensavers, Iron & Lace Garage

Many of our Calendar Kittens can also be seen at Playboy's website...


BikerKiss.com - the largest biker personals site!
Talking with the
World Champions!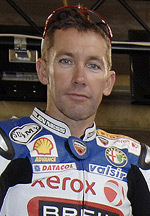 Troy Bayliss Interview
10 Questions for the 3-Time World Supebike Champion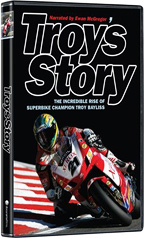 Troy's Story
The story of now 3-Time World Superbike Champion Troy Bayliss narrated by Ewan McGreggor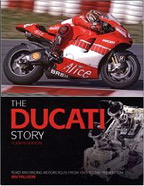 ---


World Premier!
2009 FastDates.com Calendars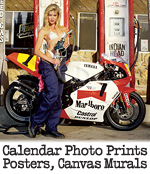 More 2009 Pin Up Model
& Motorcycle Calendars...

Kawasaki MotoGP Team Has Successful Test at Phillip Island
Phillip Island, Date: 28/11/2008 - The Kawasaki Racing Team today concluded a successful three-day test at the Phillip Island circuit in Australia, with the three riders clocking up more than 150 laps of the 4.445km track, despite less than ideal weather conditions.
Overnight rain had left the track damp in the morning, and while the infamous Phillip Island wind was quick to dry the track out, it also lowered the track temperature significantly, which caught out test and development rider Olivier Jacque.
The former 250cc world champion had a big crash late on in the afternoon, after highsiding himself on a cold rear tyre at the right-hand Hayshed turn. Jacque was uninjured in the crash, but admitted on his return to the pit box that it was a bit of a 'scary moment'.
Marco Melandri continued to work with his new crew on the set-up of his Ninja ZX-RR today, as well as doing some long runs around the 4.455km Phillip Island circuit in support of Bridgestone's test and development programme.
The 26-year-old Italian, who completed 79 laps, made changes to the chassis and suspension settings on his Ninja ZX-RR, and declared himself happy with the results, after setting a best time of 1'31.8 at the end of the third and final day of testing.
John Hopkins also declared himself happy with the test, after lapping the Phillip Island circuit consistently during his long runs for Bridgestone today, despite having to adapt his riding style to compensate for the injuries that are still causing him some discomfort on the bike.
Hopkins will fly straight back to the United States, where he'll undergo surgery on Wednesday to remove the metal plates from his left foot, ankle and hand that have caused him so many problems this season. The 25-year-old Anglo-American will then spend four weeks recuperating from the operation, before starting a punishing fitness regime to ensure he is fighting fit ahead of Kawasaki's pre-season test programme.
The annual six-week winter test ban comes into force from 1st December, with the result that the Kawasaki Racing Team will not be able to continue their development testing programme until they return to the Phillip Island circuit in January 2009. However, the data collected during these three days at the Australian circuit will allow Kawasaki's engineers in Japan to continue the development of the 2009 Ninja ZX-RR throughout the test ban period
AMA Pro Racing Now Accepting Parts and Equipment Approval Applications for All Road Racing Classes
Homologation Process Underway For 2009 AMA Pro Road Racing Series

DAYTONA BEACH, Fla. (November 19, 2008) - Following the announcement of its new road racing class structure last month, AMA Pro Racing confirmed today that it is now accepting applications for the approval of all key parts and components for the 2009 Eligible Equipment List in each of the four major divisions of AMA Pro Road Racing.

Aftermarket parts and equipment in up to 12 different primary categories are eligible for submission in each of AMA Pro Racing's road racing championships which includes American Superbike, Daytona SportBike, SuperSport and MOTO-GT. Applications for air filters, bodywork, controls, crash protection, drive systems, electronics, exhaust, frame and suspension components are being accepted in all four divisions. Brake system parts are available for submission in all but the SuperSport division, specific engine components are being accepted in American Superbike and Daytona SportBike and wheels are a category in American Superbike. A complete list of the parts and equipment eligible for submission within each category, in addition to the required applications and guidelines, are now available HERE

"After the announcement of the class structure in the new AMA Pro Road Racing Series, the process of approving parts and equipment for each division is the next important piece of business that needs to be completed in order to go racing next year," said AMA Pro Racing President Roger Edmondson. "The opportunity now exists for the top aftermarket parts and equipment manufacturers and suppliers in the motorcycle industry to become part of the AMA Pro Road Racing Series and we welcome and encourage all of them to join us."

All manufacturers and suppliers that have parts and components approved for the Eligible Equipment Lists are required to post cash Contingency Awards for those products. For a one-time registration fee of $500, manufacturers and suppliers can post as many Contingency Awards as they would like. Each product in each separate category within the four AMA Pro Road Racing championships will have its own Contingency Awards postings.

Manufacturers and suppliers with specific questions or requiring additional information about the 2009 Eligible Equipment Lists after downloading the main guidelines and applications can email: homologation@amaproracing.com.
AMA Pro Racing is the premier professional motorcycle racing organization in North America, operating a full schedule of events and championships for a variety of motorcycle disciplines. From its Daytona Beach headquarters, the organization operates and manages AMA Pro Road Racing, which includes American Superbike, Daytona SportBike, SuperSport, SunTrust MOTO-GT and the Red Bull AMA U.S. Rookies Cup in addition to the AMA Flat Track Championship. Learn more about AMA Pro Racing at www.amaproracing.com.
Ten Kate Honda start pre season in South Africa
November 18, 2008- Jonathan Rea and the rest of the Ten Kate Honda team will commence testing for the 2009 HANNspree World Superbike Championship in Kyalami, SA on the 10th of December .
The test will be part of the 3 day official Pirelli test in which all the manufacturer teams will be present. Kyalami has been reinstated on the 2009 calendar and somewhere that Rea has not riden yet.
Jonathan Rea - '' I am really looking forward to riding the Superbike again. I got a bit of a teaser in Portimao but under race circumstances. I will be nice to come to a base setting without the stress of a race weekend. I am already comfortable on the bike but I have found some setting problems already. Both the team and I know that it will be hard work but I am looking forward to this new challenge and also I have fresh motivation arriving at a new track.. We have a lot of data now from Portimao so I'm confident we can build on this.''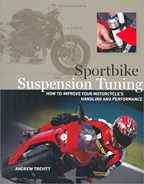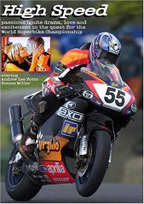 High Speed - the Movie
The best motorcyce racing movie ever made! Filmed on location at World Superbike, this an exciting romantic drama staring beautiful actress Sienna Miller.
---
AMA Pro Racing Now Open For Business at New Corporate Headquarters Facility in Daytona Beach
New Headquarters Houses Racing, Business, Commercial Operations and More

DAYTONA BEACH, Fla. (November 14, 2008) - AMA Pro Racing recently established a new corporate headquarters operation in a 4,800 square foot facility in Daytona Beach which now houses all the organization's competition, business, administrative and commercial operations.

Located at 735 Fentress Blvd., not far from Daytona International Speedway and the corporate campus that is home to NASCAR, International Speedway Corporation (ISC) and Grand-Am, AMA Pro Racing's new headquarters is now open for business. The main office telephone number is (386) 492-1014 and the complete address follows at the end of this news release.

"Daytona International Speedway and this area are known as the 'World Center of Racing' and considering that and the close association with some of our corporate cousins that are located nearby, it made perfect sense to set up AMA Pro Racing's new headquarters in Daytona Beach," said AMA Pro Racing President Roger Edmondson.

Edmondson and his executive management team will all have offices at the new headquarters which will also be home to the competition, logistics, marketing, communications and licensing and registration departments and their related staff. The Fentress property will also house all of AMA Pro Racing's support trucks and the various equipment required to keep the organization on the road and in operation at racing events.

The complete address, telephone and FAX numbers and primary email address follow:

AMA Pro Racing
735 Fentress Blvd.
Daytona Beach, FL 32117
P: (386) 492-1014
F: (386) 274-2335
AMA Pro Racing is the premier professional motorcycle racing organization in North America, operating a full schedule of events and championships for a variety of motorcycle disciplines. From its Daytona Beach headquarters, the organization operates and manages AMA Pro Road Racing, which includes American SuperBike, Daytona SportBike, SuperSport, SunTrust MOTO-GT and the Red Bull AMA U.S. Rookies Cup in addition to the AMA Flat Track Championship. Learn more about AMA Pro Racing at www.amaproracing.com.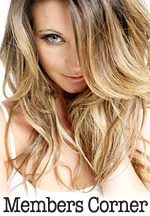 Members Corner
Hot Bikes, Sexy Kittens
Get Your Exclusive Grid Pass
aslo includes....
---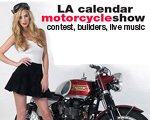 Complete Coverage!
2008 LA Calendar Motorcycle Show & Calendar Girl Music
Festival Weekend!
$86,000 Bike Building Championship
World Record Dyno Shootout!
Calendar Girl Music Festival
---
Rossi´s Latest Ferrari F1 test `more exciting than difficult´
2008 MotoGP World Champion ponders what might have been after posting competitive times in opening day of testing with Formula 1 car.
Nov. 21-22nd - Valentino Rossi began the first of two days of testing with the Ferrari F2008 on Thursday, his first drive with the Formula 1 machine in nearly three years. The Italian may not have been familiar with the latest model of the car, but the location was one that he knows like the back of his hand; the Mugello circuit in Italy where he has been unbeatable in the premier class since 2002.

The 2008 MotoGP World Champion clocked a fastest time of 1´22.550, around 1.5 seconds down on the time recorded by ex-Formula 1 king and regular Ferrari driver Kimi Raikkonen in a September test at the same circuit. Rossi undertook a total of 64 laps with the F2008, adorned with his trademark 46 racing number.
Rossi found the limits of the car with a few early spins, but was left pleased with the results of his opening day behind the wheel.
`I´d done some special neck training beforehand, but the day was more exciting than difficult;´ the Fiat Yamaha rider told press agency ANSA. `I think that I had the potential to have been a good driver, based on the tests that we did before in Fiorano and later Valencia. What I don´t know is whether I could have been a winning driver or not.´

Valentino Rozzi Interview
Rossi finishes runner-up in Monza Rally
Italian places second in both overall classification and Master Stage of weekend event.
Monday, 17 November 2008 - 2008 MotoGP World Champion Valentino Rossi was for once a runner-up this past weekend, taking second place in the annual Monza Rally event. Behind the wheel of a Ford Focus and ably assisted by regular navigator Carlo Cassina, the Italian lost out to the combination of Rinaldo Capello and Luigi Pirollo in the star-studded car contest.

Rossi and Cassina also took the second spot in the `Master Show´ special stage, losing to Piero Longhi and Luca Cassol in the head-to-head final.

The MotoGP titlist was by far the most successful two-wheel competitor to take part in the event, with 250cc World Champion Marco Simoncelli the second highest placing in 27th. Taking to the track after a season in the Fiat Yamaha garage, Roberto and Davide Brivio were just behind Simoncelli.

Rossi´s regular teammate Jorge Lorenzo made his rally debut alongside his own Team Manager, Daniele Romagnoli. Contrary to his expectations of a low placing, Lorenzo came home a respectable 38th, using a Fiat Punto adorned with his soon-to-be-retired number 48.

Alex de Angelis rounded off the list of MotoGP riders making an appearance, finishing 41st.
Besides being an entertaining diversion for Rossi, the Monza Rally also served as preparation for his participation in the Rally GB stage of the World Rally Championship, which takes place on the 4th-7th of December. Before that, the six-time MotoGP World Champion has tests with Ferrari and a return to his day job at the end of the month.
HM Plant Honda confirm Glen Richards and Josh Brookes for
British Superbikes
Nov 1st- HM Plant Honda confirm Glen Richards and Josh Brookes to ride in the factory Honda team for 2009 in BSB. Both emerged as favourites to sign in the last two weeks after the departures of both Cal Crutchlow and Leon Haslam to the World Championship.
Richards will bring with him a wealth of experience after a British Supersport crown in 2008 and a Superstock 1000 title the year prior.
He said: "I'm looking forward to the opportunity and want to give it 110%.
"I'm well up for this challenge and I intend to give it my all!
"I've won two championships in a row with Superstock and now Supersport, so to make it three-in-a-row is the aim and to add a Superbike title would be awesome.
"I've never had a 'factory' ride as such in the BSB series, so I do feel I have unfinished business in the championship and something to prove.
"Modern Superbikes are smaller now, much like the 600-class machines I've been riding.
"I've also been used to big power before, I know the tracks and I'm used to the control tyre, so I'm looking forward to 2009!"
Richard's will gain Brookes as a team-mate for 2009 – a rider with a strong background with Honda after campaigns in both World Superbike and World Supersport with the Japanese manufacture.
And Brookes said it was the draw of working with a professional outfit that attracted him to the ride.
"I've joined HM Plant Honda as I wanted to find a team which is a happy place to work and one with a good family, but also professional, atmosphere," said Brookes.
"When I did the one-off ride at Brands, it showed me how well the team worked together and although I was only with them for a few days, it felt like I'd been with them all season.
"That was important.
"They've got a straight-forward and effective way of working and I like that.
"The HM Plant Honda CBR1000RR Fireblades have shown this season they can challenge for the title, so I think I can get the bike working well regardless of having not been to most of the tracks.
"The tracks themselves are quite similar to some of the ones I raced on in Australia, the only difference is the weather, but I'm good in the wet so that's no bother either!"
Steve Plater will head the team's Supersport campaign after doing a deal to represent HM Plant on the roads, while Steve Brogan will be back to defend his Superstock title with Honda UK in '09