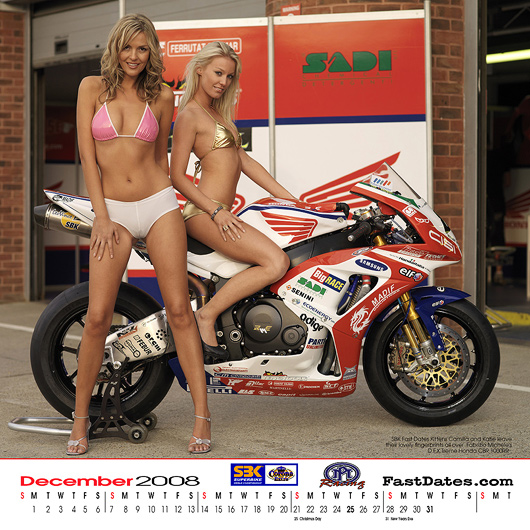 This Month in the 2008 Fast Dates World Superbike Calendar...
Our British FastDates.com Calendar Kittens Camilla Tranter and Katie Pugh heat up the pits at Brands Hatch World Superbike with rider Michelle Fabrizio's team DF Xtreme Honda CBR1000RR. The team is managed by former World Superbike hero Pier Francisco "Frankie" Chili.
You can view and download as large 1080 wide screensavers al the pages of the 2008 and 2009 FastDates.com Calendars from the Calendar Gallery in Members Corner.
FIM ANNOUNCEMENT - Changes to the Regulations

New FIM 600cc 4-Stoke Class Regulations
Replacement for 250cc Class (Moto2) as from 2011
Thursday 11th December - The Grand Prix Commission, composed of Messrs. Carmelo Ezpeleta (Dorna, Chairman), Claude Danis (FIM), Hervé Poncharal (IRTA) and Takanao Tsubouchi (MSMA), in the presence of M. Paul Butler (Secretary of the meeting), in a meeting held yesterday in Barcelona, unanimously decided to introduce the following amendments (see attached pdf file) to the Road Racing World Championship Grand Prix Regulations – application as from 2011.
The new rules for the Moto2 Class at MotoGP rounds beginning in 2 years with 2011, will allow for the use of a production or prototype 600cc 4-stroke engine in a prototype chassis. A production sportbike chassis can not be used, as to not compete with the SBK World Superbike Championship's production based classes. In the new Moto2 class which will run on race weekends with the premier Moto1 800cc MotoGP Class, there is an opportunity to use 2, 3 or 4-cylinder engines with different weight, RPM and Throttle Body restrictions for each type of engine for equality. But for some reason the RPM advantage is given to 4-cylinder engines which could certainly handicap any new or exhisting 2 and 3-cylinder engine design entries from Ducati and Triumph.
We really like this new 600cc Moto2 class which replace the current 250cc 2-stroke bikes which no longer have any relevance to real world motorcycles, broad manufacturer support, or protecting the environment. With the ability to drop a low cost 600cc supersport production motor from any manufacturer into a kit chassis, the Moto2 class has the easy potential to be a more competitive and hotly contested, yet lower cost, and possibly provide more entires and closer racing than the premier Moto1 Class. It could totally steal the spotlight from MotoGP.
Check out the New Moto2 Regulations: http://images.motogp.com/images/info/2008/FIMannouncement/RulesGB250_2011.pdf
---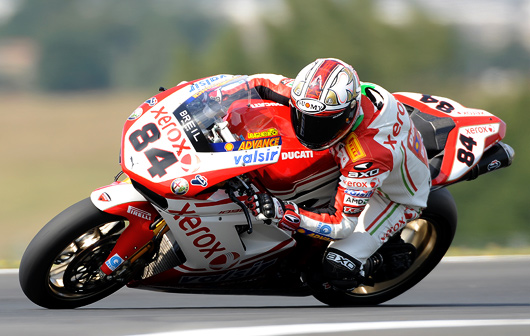 Michel Fabrizio

SBK World Superbike Test, Kyalami, South Africa

Fabrizio quickest on Ducati all 3 days of Superbike testing at Kyalami
Ben Spies 2nd Quicket, New Aprilia RSV4 AND BMW S1000RR turn Competitive Times
Kyalami, South Africa, December 10, 2008 - Michel Fabrizio notched up the quickest time with his factory Ducati 1098F09 on the opening day of Pirelli tyre development testing at Kyalami (South Africa). The winter tests are being used by almost all the top manufacturer teams in preparation for the 2009 FIM Superbike World Championship, which gets underway in Australia at the start of March.
The Italian powered to a superb time of 1 minute 41.204 seconds, a tenth of a second under the unofficial circuit record set by Colin Edwards (Castrol Honda) in 2002 during the last edition of the South African round, which returns to the calendar next year on May 17th.
"I'm really pleased because it's the first time I've lapped on this track", declared 23 year-old Fabrizio, who is about to embark on his second season with the Italian factory team. "I feel sure can go even quicker, I'll try and do so in the remaining two days."
Another major surprise was second place for Yamaha Motor Italia's American rookie signing Ben Spies, who ended up just a fraction behind. "I like this track; it's almost like some AMA tracks and it's not too technical, not that difficult to learn, but I was having a lot of fun riding on it. We were most interested in trying out the bike in hotter track conditions than in Portimao. The handling is good; the engine comes in really smooth exiting corners and it lays the power down well. Top end makes no difference in that situation and the engine really drives well from low down", commented the 24 year-old Texan, a new face on the Superbike scene in 2009.
It wasn't a particularly good start on the factory Ducati for Noriyuki Haga, ex-Yamaha, who crashed three times on his debut with the 2009-spec Italian machine: the first after colliding with Jonathan Rea, the others due to a couple of mistakes, but the Japanese rider did manage to set fourth quickest time.
Max Biaggi arrived in the circuit late at lunchtime, after the other riders had already had four hours of track time, due to a series of never-ending problems with his flight, which began on Monday evening and which lasted 36 hours instead of the scheduled 12. Despite this Aprilia's new signing however did manage to get up to seventh place, 1.2 seconds off the pace, and just behind his equally impressive team-mate Shinya Nakano. "I really like the RSV4, today we just got warmed up, we'll see where we can arrive in the remaining sessions", declared Biaggi.
Both Troy Corser and Ruben Xaus were not far off the pace either on their first day of testing with the new BMW S1000RR machines, the Australian in a respectable ninth place and the Spaniard in tenth.
Day 1 times: 1. Fabrizio (Ita-Ducati) 1'41"204 (66 laps); 2. Spies (Usa-Yamaha) 1'41"599 (46); 3. Neukirchner (Ger-Suzuki) 1'41"713 (69); 4. Haga (Jpn-Ducati) 1'41"730 (31); 5. Kagayama (Jpn-Suzuki) 1'41"755 (39); 6. Nakano (Jpn-Aprilia) 1'41"846 (51); 7. Biaggi (Ita-Aprilia) 1'42"446 (29); 8. Kiyonari (Jpn-Honda) 1'42"744 (62); 9. Corser (Aus-Bmw) 1'42"975 (33); 10. Xaus (Spa-Bmw) 1'43"274 (41); 11. Checa (Spa-Honda) 1'43"418 (10); 12. Rea (GB-Honda) 1'44"496 (16); 13. Sykes (GB-Yamaha) 1'46"780 (16).
Shinya Nakano on the new Aprilia V-4 Superbike.
Fabrizio Keeps Ducati Quickest on Thursday
Kyalami (South Africa): Thursday 11th DAY 2 - The factory SBK teams concluded day two of the three-day Pirelli tyre tests taking place at the Kyalami Grand Prix Circuit in South Africa, a track the makes a return to the World Superbike calendar in May 2009 after an absence of six years.
Michel Fabrizio, at the end of his first season with the Ducati Xerox squad and already looking forward to the beginning of the 2009 season, was the fastest rider on track yesterday, registering a best lap time of 1m41.2s, and has today improved on that time by a whole second while clocking up 70 laps. Experiencing no real problems with his Ducati F09, Michel's best time of today, 1m40.2s, is the fastest lap registered yet by any rider at this track.
New recruit Noriyuki Haga was on board the Ducati 1098 F09 for the first time yesterday and so far he and the team are very satisfied with the positive results achieved. The 33-year old Japanese rider has spent time working with the team to set the bike up according to his riding position and style. After the first day during which Nori fell three times, without causing injury to himself, Nori and his squad have today made good progress, the team working mainly on the front of the bike and Nori able to test a few different tyres. Fourth fastest yesterday, Nori's improved on his time with a fastest lap today of 1m40.7s.
All of the factory teams are present at the test, with the exception of Kawasaki Paul Bird Motorsport. Conditions are hot and dry, with air temperatures of around 32°C and track temperatures of over 50°C.
Michel Fabrizio - "I have enjoyed being back on the bike after some weeks off and the test has gone really well so far, I'm very happy. I hadn't seen this track before of course and I really like it, it's fun to ride. We haven't yet tried any qualifiers and I think I may be able to go a touch faster with those tyres but we'll see tomorrow, with this heat it's hard to go extremely fast. I'd like to improve even further tomorrow, I'll see what I can do."
Davide Tardozzi – Ducati Xerox Team Manager – "We are satisfied with the progress Nori is making, after a difficult day like yesterday. I have been very impressed with Nori's attitude and results so far this week. Today we tried many different settings and in the last hour we found a route that we will follow tomorrow and in the next tests. Third place today is a valuable result, changing manufacturer and being immediately competitive makes things easier, his winning mentality works well with our mental attitude."
Day 2 Times:- 1. Fabrizio (Ducati Xerox) 1m40.2s; 2. Neukirchner (Suzuki) 1m40.6s; 3. Haga (Ducati Xerox) 1m40.7s; 4. Checa (Honda) 1m40.6s; 5. Rea (Honda) 1m40.8s; 6. Kagayama (Suzuki) 1m40.9s; 7. Nakano (Aprilia) 1m40.9s; 8. Biaggi (Aprilia) 1m41.0s; 9. Kiyonari (Honda) 1m41.4s; 10. Corser (BMW) 1m41.9s; 11. Xaus (BMW) 1m42.4s; 12. Spies (Yamaha) 1m42.9s.
Ben Spies on the new Yamaha R-1 Superbike.
Fabrizio (Ducati) tops again on Friday
Kyalami, Friday 12thm Day 3 - Michel Fabrizio was the revelation of the Pirelli tyre development tests at Kyalami , South Africa , in preparation for the 2009 FIM Superbike World Championship. The 24 year-old Ducati Xerox rider headed the timesheets on every day of the three-day test: in today's final session he was quickest on both race tyres and qualifying rubber, on which he clocked the circuit's unofficial fastest time of 1 minute 39.714 seconds.
Ben Spies also came on strong again on the final day, despite having only one '09-spec Yamaha R1 available after his big crash on Thursday. The AMA Superbike champion powered back up to second place on soft Pirelli qualifiers towards the end. Third quickest time went to the other factory Ducati machine of Noriyuki Haga, making his debut on the 1098 F09 in place of Troy Bayliss, who retired at the end of this season.
The Hannspree Ten Kate Hondas were well up in the standings after three days of testing, with 22 year-old Jonathan Rea looking promising in fourth place ahead of 35 year-old Carlos Checa in fifth.
An oil leak in the morning failed to prevent Max Biaggi from making a good impression on the Aprilia RSV4 in the new bike's first face-off against its Superbike rivals: the Italian finished the test with a positive eighth quickest time, one second exactly off the pace of the leading Ducati.
Troy Corser had a harmless crash in the morning on his BMW S1000RR machine, the other major new entry in the 2009 season. The German bike is still slightly off the development pace in comparison with the other manufacturers but the experienced Australian is convinced that the potential is high.
OK PIRELLI – Three days of testing at Kyalami allowed one-make tyre supplier Pirelli to develop the tyres that will be used in the 2009 championship, which gets underway on March 1st at Phillip Island in Australia .
"In conditions of extreme heat we accumulated a lot of interesting data that confirms the positive development of our tyres" explained Pirelli's Head of Racing Activities Giorgio Barbier . "The times were excellent but above all we are satisfied with performance over race distance. It's going to be a great season."
In each one of the 14 rounds of next year's championship, Pirelli will provide 3 or 4 front and rear tyre solutions: regulations stipulate that each rider can use a maximum of nine fronts and eleven rears.
The next World Superbike pre-season tests will be from 23-25 January at Portimao ( Portugal ), where the development teams (one for each of the seven manufacturers present in the championship) will be joined by all the other teams.
Final Times: 1. Fabrizio (Ita-Ducati) 1'39"714; 2. Spies (Usa-Yamaha) 1'39"978; 3. Haga (Jpn-Ducati) 1'39"984; 4. Rea (GB-Honda) 1'40"035; 5. Checa (Spa-Honda) 1'40"170; 6. Neukirchner (Ger-Suzuki) 1'40"394; 7. Kagayama (Jpn-Suzuki) 1'40"657; 8. Biaggi (Ita-Aprilia) 1'40"768; 9. Nakano (Jpn-Aprilia) 1'40"968; 10. Kiyonari (Jpn-Honda) 1'41"067; 11. Corser (Aus-Bmw) 1'41"102; 12. Sykes (GB-Yamaha) 1'41"562; 13. Xaus (Spa-Bmw) 1'41"996.
---
AFT Customs newest metric custom bike "LowLA"
built by the Powersports Modeling Agency Girls
to Premier at the July 18-19th 2009 LA Calendar Show Weekend
Martell, CA. Dec 1st, 2008 – Powersports Modeling Agency, a division of AFT Customs, has begun building an all-new custom metric V-Twin for the 2009 bike show circuit season. This new motorcycle, code named "LowLA", will be built by select AFT Customs Girls from the Powersports Model Agency, with the models working under the guidance of AFT Customs owner and designer Jim Giuffra.
This new metric custom bike based on a Honda Shadow V-Twin will be constructed fully by the AFT Girls to showcase their building skills, an prove that custom bike building is not just for men, while also helping to increase the models' knowledge of motorcycles, building techniques and the industry as a whole. Jim Giuffra, the owner of AFT Customs, who received the Performance Machine Best of Show Award at the 2008 LA Calendar Motorcycle Show, and Metric Class winner at the 2005 and 2008 AMD World Championship of Custom Bike Building, will be overseeing the design and construction of the project motorcycle which will be built in full by the AFT Girls.
"The bike will be built by all the girls, but it will be my daily ride when it is done and has completed next summer's show tour at major motorccyle events", explained beautiful and skilled Sukhee, one of the Powersports Modeling Agency's newest models. "Building this bike from the ground up will dramatically increase our knowledge of motorcycles and their components, which will help to make us more valuable to clients who hire Powersports Modeling Agency models to represent their products at motorsport shows and events.
The "LoLA" bike project has already begun initial sponsor confirmation, design and component delivery, and will make it's world premier at the 2009 LA Calendar Motorcycle Show Weekend July 18-19th, where its construction by models will compliment the "pinup model theme" of the LA Calendar Motorcycle Show Weekend. From there the bike will continue on to Sturgis Bike Week where AFT Customs will defend its Metric title at he AMD World Championship.
The LA Calendar Show Weekend is held at the Queen Mary Event Park in Long Beach, California and is renown as America's premier custom, cruiser, performance and sportbike weekend. The show boasts over 250 major motorcycle and parts manufacturers and features many of the World's top Pro and Amateur street bike builders competing in the Calendar Bike Building Championship for a purse of $86,000 in cash and prize awards. The Show features many exclusive activities including the World Record Dyno Horsepower Shoot, Calendar Bike Building Seminars, the 2-day Calendar Girl Music Festival and the annual World Premier of the new FastDates.com Motorcycle PinUp Calendars with the beautiful Calendar Kittens.
At this year's 2008 Calendar Bike Show, Jim Guiffra / AFT Customs walked away with the Performance Machine Best of Show award with "Er-Hed", a special construction monoshock custom powered by a Yamaha Royal Star V-Twin engine. Then the day after the Calendar Motorcycle Show Weekend, Giuffra and the Show's other class winners were invited to attended a photo shoot with Jim Gianatsis at the Gianatsis Design Studios to have their bikes photographed for the next 2010 FastDates.com Calendars which will premier at the 2009 Calendar Motorcycle Show Weekend.
"This year AFT Customs took home the Best of Show award and I am looking forward to having Jim Giuffra, an incredibly talent builder, and his team of beautiful models / mechanics back in 2009," said Jim Gianatsis, LA Calendar Show producer. "Having the next radical new AFT Customs bike scheduled to be unveiled at our next Show only reinforces how important our event is in the streetbike world, and highlights the important media coverage we garner for our bike builders, exhibitors and sponsors. And having many of the finest custom bikes in the world together with very beautiful models is what the LA Calendar Motorcycle Show and the FastDates.com Calendars are all about!
For additional information on the LA Calendar Motorcycle Show Weekend and to order the FastDates.com Calendars go to www.FastDates.com.
For additional informaton on AFT Customs and the Powersports Modeling Agency go to www.AFTcustoms.com or phone direct Jim Giuffra, Owner, AFT Customs (209) 223-3848
About AFT (Amador Fine Tune)
Amador Fine Tune is a full service bike shop that has been in business for nearly 20 years. They offer one-off products and are a dealer for over 50 different suppliers. AFT Customs is about professional craftsmen and are certified to work on all metrics motorcycles including: Honda, Kawasaki, Suzuki and Yamaha. Though customizing metrics is relatively new, AFT Customs have been winning awards for its bikes for years and boasts over 30 world class awards including the 2005 and 2008 AMD World Championship for their metric builds and has over 30 feature articles in top industry magazines worldwide. They provide minor modifications based on customer specifications to full ground-up projects. All builds focus on style, performance, size and functionality. For all your metric needs—big and small---contact the experts at (209) 223-3848 or visit them on the web. www.aftcustoms.com.
About AFT Girls
AFT Girls, a division of Amador Fine Tune, is a modeling agency offering marketing and sales savvy girls to organizations that want to make an impact at events. Whether it is tradeshows, grand openings, parties or photography shoots, AFT Girls can help to that help to make any event more of a success and position their client as a professional, expert in the industry. To learn more about how the AFT Girls can help you and your business, check them out on the web at www.aftcustoms.com or call for rates and booking at (209) 223-3848
---
With It's Own Barely Legal Medical Attention Standing by...
The Heart Attack Grill, Phoenix, Arizona

Chandler, AZ, Dec 1st - There's nothing closer to a biker's heart than the three Bs - Bikes, Burgers and Babes, with a guy's order of preference depending on what's sandwiched between his legs, lips or hands at the time. If you happen to be riding your bike through Phoenix, Arizona you've now got the three Bs in just one stop!
The Heart Attack Grill® is a hospital themed restaurant in the Phoenix suburb Chandler, which has become internationally famous for embracing and promoting an unhealthy diet of incredibly large hamburgers. Customers are referred to as "patients," orders as "prescriptions," and the waitresses as "nurses."
The menu includes the Single Bypass Burger®, Double Bypass Burger®, Triple Bypass Burger®, and the Quadruple Bypass Burger®, ranging from half a pound to two pounds of beef. Also on the menu are "Flatliner Fries" (cooked in pure lard), no filter cigarettes, hard liquor, beer, and full sugar coke.
Complete Story and Sexy Video HERE
The Heart Attack Grill, located in the Phoenix Metro area at 6185 W Chandler Blvd. in Chandler, Arizona.
http://www.heartattackgrill.com
---
Click to Go Big.

Seen at the Long Beach Show- KTM RC8 Carbon Fibre Edition
Dec 5th - One of the suprise new Sportbikes at the Cycle World International Motorcycle Show at Long Beach, CA, this weekend was this new KTM Accessory Catalog kitted RC8 Superbike. Goodies included a carbon fibre bodywork kit to replace the stock plastic, adjustable reset footpegs, and an Akrapovic Track Exhaust System. We were told all these accessory parts are now available from your KTM dealer.
---
Ben Spies and Tom Sykes, Team Yamaha Italia wil campain the all-new R1 Superbike.
2009 SBK World Superbike Team & Rider LineUps
2009 World Superbike Team / Rider LineUps:
Look for an exciting jammed packed 40 Rider grid for the first time ever!
BMW Factory: Troy Corser, Ruben Xaus
Ducati Xerox Corse: Noriyuki Haga, Michel Fabrizio
Boulder Ducati: Jake Zemke?
RG Ducati: Regis Laconi and - Fonsi Nieto, Luca Scassa, Ben Bostrom.Lorenzo Lanzi?
Ten Kate Hannspree Honda: Carlos Checa, Ryuichi Kiyonari, Jonathan Rea - World Superbike
Andrew Pitt and Kenan Sofuoglu - World 600cc Supersport
Althea Hannspree Honda: Tommy Hill
Alto Evoution Honda: Gregorio Lavilla
HM Plant Honda: Cal Crutchlow and ?
Pro-Bike Honda: Gregorio Lavilla
Sterilgarda Alex Polita Ducati: Shane Byrne (2008 British Superbike Champion), Alessadro Polita
Guandalini Team: Jakub Smrz,
Stiggy Motorsports Honda: Leon Haslam, Robbie Rolfo
DFX Honda: Karl Muggeridge, Regis laconi or Luca Scassa
Paul Bird Motorsports / Kawasaki Europe Factory: Makoto Tamada, Broc Parcs
PSG-1 Racing: ?
Aprilia RS4 Factory Team: Max Biaggi, Shinya Nakano
Alstare Team Suzuki : Max Neukircher, Yukio Kagayama
Celani Team Suzuki Alstare - Karl Muggeridge
Yamaha Motor Italia: Tom Sykes, Ben Spies (2008 American Superbike Champion)
Yamaha Team France YZF: Unnamed Japanese rider, Regis Laconi
GMT 94 Team: David Checa, Regis Laconi?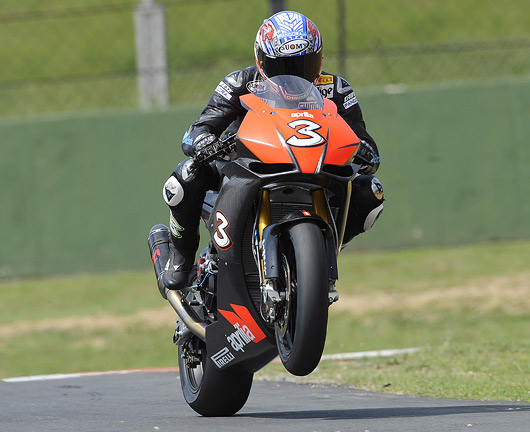 Max Biaggi dialing-in the new Aprilia V-4 Superbike during the SBK team tests at Kyalami this week.
Click on any Photo to go BIGGER and download a screensaver
Inside Yamaha's Exciting New World Superbike Team and R1 Superbike
November 2009 - Yamaha WSB riders Ben Spies and Tom Sykes enjoyed a successful two day test at Portimao with their new team on oct 26-27th after the final 2008 World Superbike race of the year. The riders used the time to develop both their relationships with their new team and also to make a start on the development of the all-new 2009 Yamaha YZF-R1 race bike.
For the Complete Story of the new Yamaha R1 go to: Pit Lane News New Bikes / Yamaha / 2009
BMW Superbike launches S1000RR.com / Production Starts Oct 2009
Nov 25th - As BMW prepares to race the new S 1000 RR in the World Superbike circuits in 2009, they have launched www.S1000RR.com to provide enthusiasts with a wealth of information about this exciting new chapter in the brand's history. Over the coming months, expect to see exclusive pictures, videos and interviews with key project leaders, racers and riders.
Please bookmark this site, because as the 2009 World Superbike Championship approaches, it will be the first place to read about pre-season testing and reaction, as well as news about the eagerly awaited production series S 1000 RR, which is rumored to be lighter and more powerful than its Japanese rivals. Fans of four-cylinder BMW motorcycles will be delighted to know that this machine can be ordered starting next March and if rumors of its power to weight ratio are true, it will be well worth waiting for. To visit this new Superbike site please go to www.S1000RR.com
---
We'd like to see a little more of Malissa, and ordering her sexy new 2009 Malissa Miller Calendar (above) featuring many almost nude photos is the best way to do that!



Marisa Miller 2009 Calendar Click to Order!

Sex Sells! Sports Illustrated Supermodel Marissa Miller shoots Pinup poster for Harley-Davidson


America's hottest swimsuit model, Califonrnia girl Marissa Miller who has been featured in recent years in the famed Sports Illustated Swimsuit Calendars and Videos, as well as the Victoria's Secret Lingerie Catalog, recently did a shoot with Harley-Davidson to promote their newly revised V-Rod. Using a known. Using a model endorsement is a big turnaround for Harley who discontinued using a Miss Harley-Davidson spokesmodel to promote their bikes at consumer events back in 2002, their last spokesmodel being our own FastDates.com Calendar Kitten Rockin' Robin Cunningham.
Click on the cover at left to order Marisa's 2009 Calendar
---
---
There's more! Go to Pit Lane News Previous Page
Also Visit: Fast Dates Calendar News • Iron & Lace Calendar News
Calendar Girl News • Meet the Models
Calendar Kittens, The Paddock Garage, Screensavers, Iron & Lace Garage

Many of our Calendar Kittens can also be seen at Playboy's website...


BikerKiss.com - the largest biker personals site!
Talking with the
World Champions!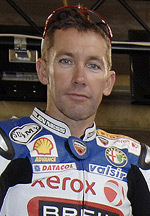 Troy Bayliss Interview
10 Questions for the 3-Time World Supebike Champion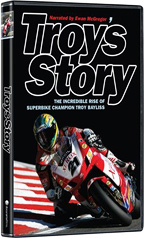 Troy's Story
The story of now 3-Time World Superbike Champion Troy Bayliss narrated by Ewan McGreggor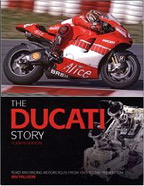 ---


World Premier!
2009 FastDates.com Calendars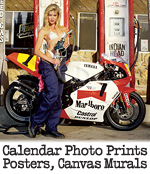 More 2009 Pin Up Model
& Motorcycle Calendars...

FIM World Superbike drops successful Brands Hatch and now,
Vallelunga Italy Rounds
Following the surprise announcement last month that the most highly attended spectator round on the World Superbike schedule, Brands Hatch in England, because it could not afford the increased sanctioning fees for 2009, now comes the announcement that Vallelunga Italy will not be returning as well. The September 27th Vallelunga date has been repace by a race a Imola Italy instead. You will find the updated 2009 SBK race schedule in the Pit lane News Calendar Schedule at left.
It is sad day for the sport and World Superbike fans that major rounds like Brands Hatch which regularly draws 100,000 spectators, can't afford the new SBK sanctioning fees.
While less popular venues like the USA World Superbike round at Miller Motorsports in Salt Lake, UT, which only pulled 5,000 spectators this year, but has major sponsor support and can be on the calendar.
It would seem a compromise might be struck for the better attended rounds to support the race fans and help to continue to grow the sport, while providing more advertising value as well. - Editor
Rome, Thursday 4th December 2008 - Following two years of successful collaboration, with record spectator attendance at the Autodromo di Vallelunga – Piero Taruffi, the contractual agreement between FGSPORT and the SOCIETA' VALLELUNGA SBK has been terminated.
The FGSPORT group and ACI VALLELUNGA spa have over the years set up an efficient partnership of collaboration and a rapport that has seen a total sharing of organizational and strategic matters. The rapport between the two parties will continue in the certainty that in the not too distant future, they will once again collaborate in important new challenges at the Vallelunga circuit.
This therefore is not a goodbye to the Rome public, but only an "arrivederci".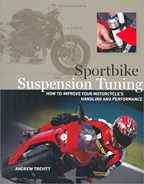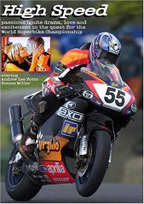 High Speed - the Movie
The best motorcyce racing movie ever made! Filmed on location at World Superbike, this an exciting romantic drama staring beautiful actress Sienna Miller.
---
AMA Pro Road Racing and Dunlop Tire Test at Daytona International Speedway:
Day 1 Report
Dunlop Pleased With Feedback; Higbee and Buell First Out; Night Tests Begins
DAYTONA BEACH, Fla. (December 5, 2008) - A new era for the reorganized AMA Pro Racing and Dunlop Tire began Friday at Daytona International Speedway Friday where several AMA Pro American Superbike and AMA Pro Daytona SportBike teams and riders tested Dunlop's latest tires all day and for a few hours into the night.
Participating riders included Jake Zemke, Ben Bostrom, Josh Hayes, Neil Hodgson, Michael Barnes, Shawn Higbee, Chris Ulrich, Blake Young, Larry Pegram and several others with American Superbikes and Daytona SportBikes from Yamaha, Honda, Buell, Suzuki and Ducati all being put through their paces. American Superbikes are running on the 2.9-mile course while Daytona SportBikes are marking a return to the full 3.51-mile course.
The main focus of the three-day test, however, is on Dunlop which signed as the Official Tire of AMA Pro Road Racing just a little over a month ago. Around the clock work on both sides of the Atlantic made for a successful first-day debut, however, with teams and riders in both premier divisions delivering favorable feedback to Dunlop personnel on site at Daytona.
"The mission here is to deliver a tire that will do the distance, be safe and the same for everybody and give good performance," said Jim Allen, Dunlop Tire Senior Road Race Manager - Motorcycle. "It is interesting to hear some of the riders that have come off other brands of tires and the comments have been very favorable all the way through. Daytona is a very, very difficult track and you always have to pay attention when you are here. It has given us troubles in the past but what we saw today was all good, all positive from a mileage standpoint and from a grip standpoint. We are quite pleased with what we have seen so far."
While Dunlop and the AMA Pro teams and riders will surely benefit from the three-day session, the tire manufacturer's first real test was just having enough tires manufactured and delivered to Florida in time for this weekend's practice.
"The guys from Dunlop in England who were involved in designing and building the tires are here and they did a remarkable job," Allen said. "We had very little notice and had about two weeks to make the tires and another week to get them over here. We have a long history here and relied on that but it was still a challenge we had to meet. There is no place to test for Daytona except at Daytona."
WHO'S ON FIRST
When Higbee rode a Richie Morris Racing Buell 1125R on to Daytona International Speedway Friday morning around 9:15 a.m., he and the RMR team became the first to turn an official lap in the new AMA Pro Racing era.
"It is really cool to be down here and there are a lot of changes going on, but I am really optimistic about the future for road racing," Higbee said. "I haven't officially signed with anyone for next year but I am working toward that and just lending a hand this weekend to Richie Morris and the team. I had two good long runs and we did one full 20-lap stint on a set of Dunlops, the tire wear looked good and that was important to find out early."
The day began with Morris joining Barnes, Buell Motorcycle President Jon Flickinger, Daytona Harley-Davidson principal Blake Rossmeyer and his daughter Shelly and AMA Pro Racing President Roger Edmondson for a press conference. Morris announced that his team will campaign the full 2009 AMA Pro Daytona SportBike season with Barnes and a GEICO Powersports-sponsored Buell 1125R.
NIGHT MOVES
Friday's opening practice is concluding with a three-hour night practice in preparation for the season-opening Daytona 200 by Honda under the lights, Friday, March 6, for the Daytona SportBike division. This will be the historic first night-time running of the classic race and no less than six portable Musco lighting units were brought in this weekend to illuminate the infield. The permanent lighting on Daytona's high banks has also been turned up brighter than it has been for previous night road course races at Daytona and the combination has literally lit-up "The World Center of Racing" as bright as it has ever been. A more detailed report on the first night practice will be sent out tomorrow.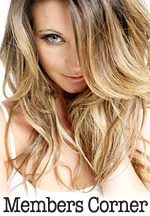 Members Corner
Hot Bikes, Sexy Kittens
Get Your Exclusive Grid Pass
aslo includes....
---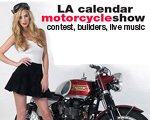 Complete Coverage!
2008 LA Calendar Motorcycle Show & Calendar Girl Music
Festival Weekend!
$86,000 Bike Building Championship
World Record Dyno Shootout!
Calendar Girl Music Festival
---


More Than $3.3 Million in Purse and PaceSetter Bonus Awards For 2009 AMA Pro Road Racing
Total Purse More Than Doubles 2008 Payout; $1.5 Million Apiece For Premier Classes
- AMA Pro Racing Communications

DAYTONA BEACH, Fla. (December 11, 2008) - With a combined total of over $3.3 million in purse money and cash bonuses posted for the AMA Pro American Superbike, AMA Pro Daytona SportBike, AMA Pro SuperSport and AMA Pro SunTrust Moto-GT championships next season, the total posted payout for the 2009 AMA Pro Road Racing season is more than double the total 2008 purse, AMA Pro officials announced today. The rich prize-money pool includes traditional race-event purse payouts as well as lucrative bonuses through the new AMA Pro Road Racing PaceSetter Program.
The premier AMA Pro American Superbike and AMA Pro Daytona SportBike divisions will each offer up to $1.5 million in total purse and bonus awards in their respective 12-event championships. By comparison, the total combined purse for all 2008 AMA Pro Road Racing championships was $1.6 million.
The 2009 totals include the AMA Pro Road Racing PaceSetter Program bonuses, which are posted for the top-25 finishers in American Superbike and Daytona SportBike race events. To be fully eligible for the PaceSetter bonuses, teams and riders must participate in various promotional and series-related activities and functions that will be a part of every AMA Pro Road Racing event weekend. This includes team and rider involvement in advance and at-race promotional and media events, autograph sessions, hospitality visits and on-time attendance and participation in all AMA Pro team and rider meetings, in addition to other promotional and series activities.
"We are pleased to not only offer what we believe are lucrative race purses for our AMA Pro Road Racing championships, but also the opportunity for AMA Pro American Superbike and AMA Pro Daytona SportBike teams to earn even more bonus money through the AMA Pro Road Racing PaceSetter Program," said AMA Pro Racing President Roger Edmondson. "Our 2009 purse is richer from top to bottom and the PaceSetter program allows our premier class teams to earn cash bonuses while also demonstrating to the competition that they are AMA Pro Road Racing's leaders both on and off the race track."
With the majority of 2009's event weekends featuring dual races for both American Superbike and Daytona SportBike, purse payouts will be based on total points scored in both event legs. Each of the premier divisions will offer $125,000 purses at each event with $15,000 going to the top points winner in each class. Second through 20th place finishing positions will earn $5,000 while the remaining finishers through 25th position will be paid $3,000. Each level of payout includes $2,500 in PaceSetter bonuses that will be awarded to eligible teams.
Race purses for the SuperSport and dual-class SunTrust Moto-GT divisions total $12,000 and $24,000, respectively. SuperSport first-place prize money is $2,500 per race while SunTrust Moto-GT class winners will each earn $5,000.
In addition to the purse and bonus program payouts, AMA Pro Road Racing also confirmed its various 2009 entry and licensing fees. Race entry fees are $250 for American Superbike, Daytona SportBike and SunTrust Moto-GT and $150 for SuperSport, with each class charging an additional $100 for late entries. American Superbike Entrant and Rider licenses and annual credentials and National Pro Expert Entrant and Rider licenses and annual credentials for Daytona SportBike are $450 apiece. An annual crew credential is $750 and an annual AMA Pro membership, which is included with all annual credentials and licenses, is $100. Event credentials, which require AMA Pro membership, are $75 in advance and $100 if purchased at the track.
The 2009 AMA Pro Road Racing season will begin at Daytona International Speedway the first weekend in March. The weekend will be highlighted by the first Daytona 200 by Honda under the lights, Friday, March 6, for the Daytona SportBike division. The Daytona kick-off will also feature American Superbike competition and races for additional AMA Pro Road Racing championships.
AMA Pro Racing is the premier professional motorcycle racing organization in North America, operating a full schedule of events and championships for a variety of motorcycle disciplines. From its Daytona Beach headquarters, the organization operates and manages AMA Pro Road Racing, which includes AMA Pro American Superbike, AMA Pro Daytona SportBike, AMA Pro SuperSport, AMA Pro SunTrust Moto-GT and the Red Bull AMA U.S. Rookies Cup in addition to the AMA Pro Flat Track Championship. Learn more about AMA Pro Racing at www.amaproracing.com
The Bush Administration Pans One Last Nail in Our Economy -
AMA warns possible U.S. tariffs on European motorcycles and scooters will cost many American jobs
PICKERINGTON, Ohio -- The American Motorcyclist Association (AMA) today strongly criticized the Bush Administration's consideration of a possible 100 percent tariff on a broad range of popular European motorcycles and scooters in retaliation for European Union (EU) restrictions on imported American beef.

"In this tough recessionary climate, it's ludicrous for the U.S. Trade Representative to even consider imposing a 100 percent motorcycle and scooter tariff, because the move will cost countless Americans their jobs," said Ed Moreland, AMA vice present for government relations.
"This very day, the Administration and the U.S. Congress are planning to bail out troubled U.S. automakers to the tune of billions of dollars to save American jobs," Moreland said. "How, in good conscience, can the U.S. Trade Representative turn around and propose a measure that will spell the end of many motorcycle and scooter dealerships, and put their employees out in the street?"
U.S. trade officials are looking at a list of more than 100 European goods for the possible imposition of 100 percent import duties in response to the EU's ongoing import ban on American beef treated with growth hormones. EU officials haven't lifted the 20-year-old ban despite a World Trade organization order to end it. Now the U.S. wants to impose $116.8 million in import duties to equal the amount of money it claims the U.S beef industry loses each year because of the ban.
Included on the hit list are motorcycles and scooters with engines displacing 51cc to 500cc, representing popular on- and off-highway machines from brands such as Aprilia, Beta, BMW, Fantic, Gas Gas, Husaberg, Husqvarna, KTM, Montesa, Piaggio, Scorpa, Sherco, TM and Vespa.
"In America, the majority of motorcycles and scooters under 500cc are sold through local dealerships," Moreland said. "Collectively, these dealerships contribute to the employment of a substantial number of Americans working in sales, service, parts and general operations. Unjustified trade sanctions on European-produced motorcycles and scooters will choke off this vital business, dealerships will close at an alarming rate, and the negative effects will spread downstream through the aftermarket and recreational-equipment sectors, and even the motorsports entertainment industry. Countless Americans will find themselves without jobs."
The AMA sent comments to the Office of the U.S. Trade Representative by a Dec. 8 deadline to express the opinions of the Association's 300,000 members on the possible tariffs.
""It is simply unconscionable that motorcycles and scooters are on the list in the first place. They have no place in a trade war over beef," Moreland said. "Furthermore, we find it tragically ironic that, as part of the auto bailout plan, federal lawmakers are considering requirements for American car makers to produce more fuel-efficient vehicles, and yet the motorcycles and scooters that the U.S. trade representative is considering for the 100 percent tariff get three to five times better fuel economy than many cars."
It is unknown when U.S. officials will decide on which European goods will be hit with the stiff tariffs.
DUCATI DEALERS COMPETE TO BUILD
THE COOLEST
MONSTER 1100 S
As the national premiere approaches, Ducati dealers get to work customizing.
Cupertino, CA (10 December 2008) – Ducati North America is pleased to announce a customization contest as part of the forthcoming Ducati Monster 1100 S showroom premiere.
In order to launch the Monster 1100 S to the public in real monster style, Ducati has launched a dealer contest to see who can build the best custom Monster. As the original custom-ready naked bike, the new Monster 1100 S is ready for modifications, and the gloves are coming off in a contest to build the best.
Fifty-eight dealers in the US and Canada have taken delivery of a body panel set in order to begin paintwork on the dealership's dream Monster; and all have accessories in house waiting to be fitted on the dealership's first bike. The results promise to be nothing less than spectacular and will launch the Monster with a bang.
The Ducati dealers will have two weeks over the holidays to build their custom; and their bikes will be unveiled to customers over the National Premiere weekend, January 9-10th. The weekend will celebrate the individuality and personal expression inspired by Ducati's original naked bike and highlight the vast potential of the Monster 1100 S.
For a list of participating dealers, and to vote for the coolest custom Monster, please visit www.ducatiusa.com; where the contest will run January 1st through January 13th.