AMA/DMG National Roadracing Championship, Round 2 Califonia Motor Speedway
Mladin Goes Two-For-Two in American Superbike at California Speedway
Eslick on a Buell Makes History with Double in Daytona SportBike

FONTANA, California (March 21-22, 2009) - Mat Mladin went a perfect two-for-two in 2009 with a win in Saturday's AMA Pro National Guard American Superbike presented by Parts Unlimited race while young American-rider Danny Eslick gave Buell its first major worldwide motorcycle road racing victory in the AMA Pro Daytona SportBike presented by AMSOIL race. The co-feature events were the opening rounds of this weekend's Suzuki AMA Pro Superbike Challenge double header at Auto Club Speedway.

American Superbike Race One Saturday
Mladin (No. 7 Rockstar/Makita Yoshimura Suzuki GSX-R1000) started the weekend by winning his second-straight pole in Friday's single-bike Superpole session but was out gunned at the start by teammate Tommy Hayden (No. 22 Rockstar/Makita Yoshimura Suzuki GSX-R1000). The Yoshimura duo would go on to stage a thrilling race-long battle that featured frequent side-by-side action, three official lead changes and numerous other lead swaps within race laps.

The first came when Hayden made a great start from the third spot on the front row and led the first lap. Mladin was quick to pounce, however, and passed Hayden for the lead through the Auto Club Speedway tri-oval on Lap 2. Hayden took the lead again on Lap 9 and then waged an all-out war for the top spot with his teammate in the race's closing laps. Mladin took the lead with two laps to go, Hayden moved back to the front on the final lap but Mladin made the winning move in Turn 10 with the checkered flag in sight.

"It was just an out-braking pass down there for the lead," Mladin said. "I was strong down there all weekend. I was within three or four bike lengths of Tommy on the back straight, so I just got in there deep. Tommy let it roll a little bit, so I let it roll and it got us the lead. It was a good race. If there is anybody up here in this field that I would like to see win one it is Tommy, but I am not going to give him one, I am going to push him hard."

Hayden had one of the best American Superbike races of his career and joins Mladin as the only riders who have hit the top-three podium in the year's opening races at Daytona and Auto Club.

"I had a pretty good pace, good rhythm and the laps were pretty consistent but Mat wasn't going anywhere," Hayden said. "I was plus zero the whole way. I tried to get through the lappers clean and I felt that I struggled a little bit with those, I could have been a little more aggressive and it would have helped me out. Overall it was a good race and a good start to the season. It's a little disappointing to be that close but it's where I wanted to be at this part of the year, to be close to Mat, see what he does and try to learn from him and at least challenge for victories. I feel like I've made that step and now I just have to work on closing them out."

Third-place went to No. 54 National Guard/Jordan Suzuki GSX-R1000 rider Geoff May who shook off a disappointing Daytona opener to hit the podium in California.

"Daytona was disappointing, I'm not going to sugarcoat it," May said. "We sat down and went over everything, figured out what went wrong and worked real hard to figure it out. We found some stuff in the suspension that was wrong, there were some mistakes made that won't happen again and you've seen the results of it. We've got the bikes where Aaron (Yates) and I are both comfortable now and we're back towards the front of the field."

Yoshimura's third rider Blake Young (No. 79 Rockstar/Makita Yoshimura Suzuki GSX-R1000) finished fourth to back up his strong fifth-place finish at Daytona. Jake Holden (No. 100 Corona Extra Honda CBR1000RR) hit the top five in a great return to the Corona team in replacement of injured rider Neil Hodgson.

Holden had a race-long battle with factory Yamaha teammates Josh Hayes and Ben Bostrom, who finished sixth and seventh, respectively. David Anthony (No. 25 Aussie Dave Racing Suzuki GSX-R1000), Taylor Knapp (No. 44 Taylor Knapp Racing Suzuki GSX-R1000) and Aaron Gobert (No. 59 Holden Racing Honda CBR1000RR) all had solid runs to complete the top 10.

The scheduled 21-lap race was shortened by two laps after a red-flag incident just after the initial race start. Larry Pegram (No. 72 Foremost Insurance/Pegram Racing Ducati 1098R) started sixth and was in thick of the lead pack when he had a high-side incident at Turn 3. The race was stopped as safety crews tended to Pegram, who has been cleared to race tomorrow, and the race was later restarted for 19 laps.

The only other major incident came when Aaron Yates (No. 23 Brand Jordan Suzuki GSX-R1000) lowsided while running third. Yates was uninjured and rode his bike back to the pits and ultimately recovered to finish 15th.

Yates and Hayden carded 1-2 both days.
American Superbike, Race Two Sunday
Mladin (No. 7 Rockstar/Makita Yoshimura Suzuki GSX-R1000) battled with teammate and early race leader Tommy Hayden (No. 22 Rockstar/Makita Yoshimura Suzuki GSX-R1000) for the second-straight day but ultimately prevailed for this third win in as many American Superbike starts this season.

"I think I'm going to have a chat with Suzuki about the teammates they keep signing up for me," said Mladin, in reference to both Hayden and former teammate and rival Ben Spies. "At the start I wanted to have a look and see what Tommy had in a few spots. There were a couple of spots yesterday that we were definitely lacking compared to Tommy and we learned a little bit from him and changed the bike. We had no chance to try it out this morning but went with it for the race and definitely were able to keep that gap between us a little bit better in those spots today."

Mladin made the winning pass on the run through Auto Club's tri-oval on Lap 10 and steadily pulled away from Hayden, who did well to nurse his damaged Suzuki to the finish after an unintentional contact incident with third-place runner Aaron Yates (No. 23 Brand Jordan Suzuki GSX-R1000).

"I got on the front straightaway, missed a couple of gears and didn't have anywhere to go," Hayden said. "It was definitely my fault and I apologize to him for that, hopefully it didn't cause too big of an issue for him. Mat had a pretty big lead so I just tried to hold on to second to bring it home."

Aside from the Yoshimura duo's weekend of success, another top story from the race was the rebound of Larry Pegram (No. 72 Foremost Insurance/Ducati 1098R) from yesterday's opening race incident. Pegram highsided just after the initial Saturday race start but recovered to finish third in Sunday's final.

Larry Pegram

"We crashed yesterday, so I was in some pain today," said Pegram, who took advantage of the Hayden and Yates incident. "I got a little tired towards the end of the race, and I was definitely a little too tentative at the beginning of it and let those guys get away. I was happy with third, obviously something happened to Aaron (Yates), and I thought he had third pretty well locked up but something happened to us yesterday so I think we deserved this."

Fourth-place went to No. 54 National Guard/Jordan Suzuki GSX-R1000 rider Geoff May who capped a good weekend after finishing third in yesterday's race. Ben Bostrom (No. 2 Yamaha YZF-R1) also posted his best American Superbike result of the season to round out the top five. Yates recovered to finish 10th.
Saturday Superbike:


1. Mat Mladin (Suzuki)
2. Tommy Hayden (Suzuki)
3. Geoff May (Suzuki)
4. Blake Young (Suzuki)
5. Jake Holden (Honda)
6. Josh Hayes (Yamaha)
7. Ben Bostrom (Yamaha)
8. David Anthony (Suzuki)
9. Taylor Knapp (Suzuki)
10. Aaron Gobert (Honda)
Sunday Superbike:
1. Mat Mladin (Suzuki)
2. Tommy Hayden (Suzuki)
3. Larry Pegram (Ducati)
4. Geoff May (Suzuki)
5. Ben Bostrom (Yamaha)
6. Josh Hayes (Yamaha)
7. Taylor Knapp (Suzuki)
8. David Anthony (Suzuki)
9. Blake Young (Suzuki)
10. Aaron Yates (Suzuki)

Championship Standings


1. Mat Mladin (94)
2. Tommy Hayden (72)
3. Geoff May (50)
4. Blake Young (46)
5. Ben Bostrom (45)
6. Josh Hayes (43)
7. Larry Pegram (39)
8. Aaron Yates (31)
9. Aaron Gobert (30)
10. Taylor Knapp/David Anthony (26)
Eslick Makes History For Buell with Double Wins in Daytona Sportbike Class
Sportbike Satursay Race One
March 21st - Eslick turned in a dominating performance on the No. 9 Bruce Rossmeyer's Daytona Racing/RMR Buell 1125R and gave the American-made manufacturer its first major victory in international motorcycle racing competition.

Eslick qualified second behind polesitter Jamie Hacking (No. 88 Monster Energy Attack Kawasaki Ninja ZX-6R) but quickly took control of the race at the start and never looked back. He led all 21 laps and his winning margin of victory of 2.510 seconds was one of the smallest gaps of the race, but only because Eslick slowed to ride a wheelie across the finish line.

"I was all by myself," Eslick said. "I kept waiting for Jamie and these guys to come up and move me out of the way but fortunately the Bruce Rossmeyer's/RMR Racing Buell 1125R just kept us up there. To celebrate I just did a big wheelie all the way down the front straightaway. It was awesome, the Dunlop tires were working great the whole race. It was just unbelievable."

Eslick joined the Rossmeyer/RMR team just weeks before the start of the season.

"Three weeks before Daytona I got a phone call asking if I wanted to ride it and I said 'Hell yeah! I want to ride it,'" Eslick said. "From here on out it's been good and it's the first win for Buell and Bruce Rossmeyer's/RMR Buell team and everybody involved. All we can do is go forward from here."

Hacking fell as low as sixth but battled with eventual third-place finisher Martin Cardenas (No. 36 Team M4 Suzuki GSX-R600) and several other top riders to finish second.

"I had a blast, it was unbelievable," Hacking said. "My race was pretty much uneventful, just battling back there with everybody and trying to finish as high as possible as we could. Toward the end, the guys ahead of me got in there and bumped each other around and I just snuck up the inside, managed to put in some good laps and finished second."

Cardenas was in second with three laps to go and held on to the final podium spot despite getting passed by Hacking.

"It was a good race, very tough," Cardenas said. "I started in 10th and began working my way up and it was tough passing all those guys, then they would pass me back again. I thought that I could finish second but two laps from the end Hacking passed me again and I couldn't do anything from then on. I tried my hardest, but it wasn't possible today so we'll see tomorrow."
The historic win for Eslick and Buell was part of a strong run of parity in Saturday's Daytona SportBike race. The three different motorcycles in the top three were part of an overall run of six different bikes in the top-eight finishers. The top trio of Buell, Kawasaki and Suzuki were joined by the Honda CBR600RR, Yamaha YZF-R1 and Aprilia RSV1000R.
Sportbike Sunday Race Two
March 22nd - Danny Eslick (No. 9 Bruce Rossmeyer's Daytona Racing/RMR Buell 1125R) turned in his second flag-to-flag performance in as many days Sunday to sweep both AMA Pro Daytona SportBike presented by AMSOIL races at the Suzuki AMA Pro Superbike Challenge.

"It feels good to be back up here again," said Eslick, who took the lead at the start of the race from second on the grid. "It wasn't as easy today as it was yesterday, not that yesterday was easy, but Jamie (Hacking) had the pressure on me. I was waiting on a sneak move but it never quite happened. The Bruce Rossmeyer's/RMR Geico Powersports Buell 1125R really stuck in there today."

Hacking (No. 88 Monster/Attack Kawasaki Ninja ZX-6R) was the weekend's Daytona SportBike Superpole winner and finished second to Eslick in both races this weekend. On Sunday, however, he steadily reeled the Buell rider in during the final half of the 21-lap race.

"We went out with a new setting that we hadn't ridden on," said Hacking, who spent the first part of the race battling in a large group of Daytona SportBikes. "It took me awhile at the beginning to figure out what the bike was doing, which is why I fell back a little bit, but once I got settled in I managed to put in some good laps and managed to catch Danny. I was thinking about everything I could possibly do. The ZX-6R ran as well as it could but it just didn't have it today."

Team M4 Suzuki rider Jason DiSalvo (No. 40 Team M4 Suzuki GSX-R600) edged teammate Martin Cardenas (No. 36 Team M4 Suzuki GSX-R600) at the finish line to take the final podium spot.

"It was an awesome race, everyone battled so hard," DiSalvo said. "I pulled up alongside Martin down the back straight and made the pass for third on the lap to the white flag, and then on the last lap he wouldn't let me make it stick. It was M4 versus M4, I don't know if my engine was a little tighter or what. I tried to get a drive on him, timed the draft just right and it worked."

For the second straight day, parity was the theme of the race in Daytona SportBike where six different makes of motorcycles were ridden by the top-seven finishers. The top trio of Buell, Kawasaki and Suzuki were joined by the Yamaha YZF-R6, Honda CBR600RR and Aprilia RSV1000R.

Cardenas, who finished third Saturday, took fourth Sunday while Josh Herrin (No. 8 Team Graves Yamaha YZF-R6) completed the top five.

Dominguez Dominates 600ccc SuperSport
The rescheduled AMA Pro SuperSport presented by Shoei race was dominated by Dustin Dominguez (No. 44 Kawasaki Ninja ZX-6R), who led all 17 laps after starting from second position.
"This is my first time here," said Dominguez, who also podiumed in the season-opening AMA Pro SunTrust Moto-GT race at Daytona earlier this month. "The chicane right off the straightaway is difficult and I've been struggling with it all week. I finally got it down, just about in time for the race. It was a fun race, I put my head down the first couple of laps, then towards the middle I just conserved tires and brought it home."
California native Garrett Willis (No. 80 Yamaha YZF-R6) finished second while Clint Shobert (No. 26 Honda CBR600RR) took third place after finishing seventh at the Daytona opener. Shobert prevailed in a race-long battle with Daytona winner Tyler Odom (No. 46 Erion Racing Honda CBR600RR), who finished fourth.

AMA Pro Racing is the premier professional motorcycle racing organization in North America, operating a full schedule of events and championships for a variety of motorcycle disciplines. From its Daytona Beach headquarters, the organization operates and manages AMA Pro Road Racing, which includes AMA Pro American Superbike, AMA Pro Daytona SportBike, AMA Pro SuperSport and AMA Pro SunTrust Moto-GT. AMA Pro Racing also manages and works closely with the day-to-day operational organizations of the AMA Pro Flat Track Championship and the AMA Pro Supermoto Championship Series in addition to other two-wheel and ATV series. Learn more about AMA Pro Racing at www.amaproracing.com.
---
Check out the Tire Bill...
Deadline Change for Miller Motorsports Park
World Superbike and World Supersport Wild Card Applications
TOOELE VALLEY, UTAH (March 25, 2009) — Miller Motorsports Park was informed today by Infront Motor Sports, organizers of the FIM HANNspree Superbike World Championship and World Supersport Championship, that the deadline for Wild Card applications for the USA Round must be moved up to March 27.
The reason for the change is due to the fact that Pirelli is shipping tires from Italy to Utah on that date, and for planning purposes all applications must be received by that date.
Fees associated with Wild Card entries are as follows: Entry Fee: 1,000 Euros; Tire Fee: 5,000 Euros (Superbike), 2,900 Euros (Supersport).
The USA Round will take place over the weekend of May 29-31, 2009.
The Application is available at www.millermotorsportspark.com/pdf/WildCard_PreApplicationForm.pdf. Completed forms and supporting information should be sent to:
Mitch Wright, Director of Racing
Miller Motorsports Park
2901 N. Sheep LaneTooele, UT 84074
FAX: (435) 277-8008
Email: mwright@millermotosportspark.com
Ben on top of the world again with the new Big Bang R1.
Hannspree SBK Superbike World Championshi Round 2, Losail
Ben Spies Tops WSB Superpole with Double Wins at Losail
Losail, Qatar March 11-14th 2009 - Yamaha's WSBK rookie rider Ben Spies took a spectacular double win in the second round of the Hannspree FIM Superbike World Championship at the Losail circuit in Qatar. The 24 year-old Texan powered to his third win in the opening four races, dominating both today's 18-lappers and twice finishing ahead of Noriyuki Haga (Ducati) and Max Biaggi (Aprilia), who were classified second and third to make up identical podiums. Complete Coverage HERE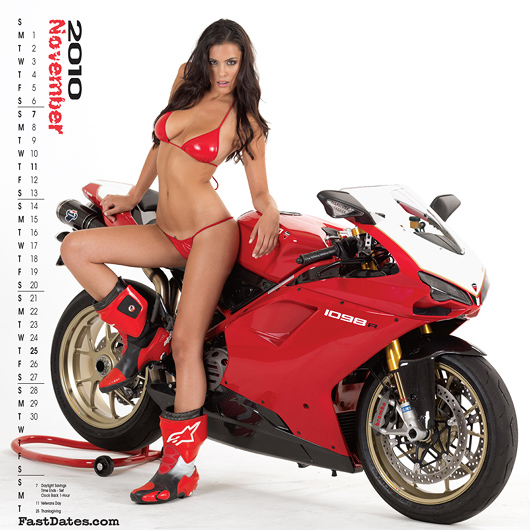 Ducati Corse SBK Confirms Calendar Kitten Sabella for WSB Miller USA
Los Angeles, April 1st - FastDates.com is excited to announce that Team Ducati Corse World Superbike has confirmed new 2010 Fast Dates Calendar Kitten Sabella Shake to be one of the team's official grid girls at the Miller Motorsports, Utah, USA World Superbike Round on Sunday May 31st 2009. This continues a long standing tradition in World Superbike where the official SBK endorsed Fast Dates World Superbike Calendar models have served as the official grid girls for SBK and top factory race teams including Ducati Corse and Alstare Suzuki. At this year's race Sabella will be be the Ducati Corse umbrella girl for team riders Noriyuki Haga and Michelle Fabrizio, assuring they look goodand stay cool and on the starting grid before the heat of battle.
Sabella will be at Miller Motorsports Park for the World Superbike Weekend to shoot with renoun motorsports and fashion photographer Jim Gianatsisfor the next edition of the Performance Machine sponsored SBK Fast Dates Calendar World Superbike Calendar with all the top factory World Superbike teams.
Beautiful Sabella, age 21, was born in Monterey California, but moved to Los Angeles a few years agoafter high school to pursue a modeling career and a higher education. She is currently in her third year of business law at Loyola Mary Mount University and can't wait to be a "....sexy attorney who kicks butt in the courtroom!"
In the meantime, while you wait to get your butt kicked by Sabella in court, you can check out her current physical evidence all 3 editions of the 2010 FastDates.com Calendars: Fast Dates sportbikes, Iron & Lace custom bikes, and Garage Girls where this sexy brunette also appears on the cover of two of the Calendars with beautiful blond haired Calendar Kitten Rachel Bernstein. The new 2010 FastDates.com Calendars go on sale at your favorite motorcycle dealer and online from July 1st 2009, while both Sabella and Rachel will be premiering with the Calendars in person at the 18th annual LA Calendar Motorcycle Show Weekend July 18-19th. Complete Calendar ordering information and Bike Show details are online at www.FastDates.com.
Getting Your Ducati 848 /1098/1198 Superbike to Handle!
If you've read any of our tests of the new generation Ducati 848 /1098/1198 Superbikes you know its only flaw, but a major one, is the cost cutting fixed steering head angle of 24.5° degrees which is way too slow and hurts handling, especially for the track use and tight canyon riding. The new 1098 Streetfighter with an even slower 25.6° steering angle is even worse off.
Only the current model Ducati 1198R and Desmosedici RR come with an adjustable steering head that can be rotated back from 24.5° to 23.5° for necessary track handling. Here is a new Chassis Kit from Department of Suspension that will help you fix an otherwise excellent Ducati Superbike by getting it to the correct 23.5° degrees steering angle use by Ducati Corse in World Superbike and MotoGP.
For complete Ducati 848 /1098/1198 Superbikes tuning and setup details, as well as tuning information for all model sportbikes, please visit The Paddock Garage
Department of Suspension Chassis Kit for Ducati 848 /1098/1198 Superbikes
http://www.departmentofsuspension.com
Department of Suspension
7720 Roxbury Ct.,Ypsilanti, MI 48197
Email: departmentofsuspension@yahoo.com
$1199 for the 1098-1198 Kit and
$1289 for the 848 - (include aurrora rod end bearings to allow for rear ride height adjustment)
A complete Chassis Set up Kit for the 848/1098/1198 Ducati Superbikes to get the bike's fixed steering head angle back to an ideal 23.5 ° setting. This setup is made by experience race chassis tuner and comes complete with a ride height measurement tool, written chassis set up instructions. We and they also recommend changing to softer rate springs which they also can supply. Final Numbers With the Kit :

Trail 100mm
Swingarm angle 10.4deg
Steering head angle 23.3 deg
Front ride height 715mm
Rear ride height 255mm (measured with DOS tool)
Swingarm length 505mm
Wheelbase 1436mm
Weight distribution 52f/48r
---
Now in the Iron & Lace Garage! The factory Ducati Corse 1198R 09 World Superbike with big detailed screen saver size photos, with and without the fairing, and full technical specifications. CLICK HERE
---
New FastDates.com Greeting Cards!
It's been nearly impossible for motorcycle enthusiasts to find cool motorcycle related greeting cards, but now through our new association with CafePress, a print-on-demand publisher, I am excitied to now offer you the first selection in a new line of official FastDates.com Calendars Greeting Cards. This first Card features our beautiful Calendar Kitten Tiffany Toth getting down for action behind the bubble of the incredible Ducati 1098S Tri Colore limited edition Superbike. Cards are printed on high quality card stock with a glassy front, measure a large 5x7 inches and come packaged (10) per box with envelopes. - Cheers! Jim Gianatsis
Order at CafePress.com/FastDates
Below - Just in case you can't get enough, here's one more look, of Tiffany who is featured in all 3 of our 2009 FastDates.com Calendars, and in some very sexy pictorials in Members Corner!
...and from Amazon.com - CLICK BELOW TO SHOP FOR OFFICIAL TEAM DUCATI APPAREL
---

Sports Illustrated Swimsuit 2009
Deluxe Wall Calendar 15x15

Click to Order




Sports Illustrated Swimsuit 2009
Wall Calendar 12x12 inches

Click to Order


Sports Illustrated Swimsuit
2009 Magazine
2009 Sports Illustrated Magazine Swimsuit Edition
February 12th, 2009 - The 2009 Sports Illustrated Swimsuit Edition magazine hit the newsstands on February 12th and continued to set the bar with the world's most beautiful supermodels photographed in nearly there swimsuits in exotic locations around the world by top fashion photographers. And in the case of the "Body Painting" section of the magazine, the girls actually wore nothing at all. Photography and models for the 2009 magazine shoot are also featured in the 2009 Sports Illustrated Calendars in the 13-inch and 15-inch edition available here on line through Amazon.com. You can also purchase the 2009 Sports Illustrated Swimsuit Edition magazine by clicking on the cover above.
Lot's of FREE PinUP Model Calendar Stuff in Calendar Girl News!
---
There's more! Go to Pit Lane News Previous Page
Also Visit: Fast Dates Calendar News • Iron & Lace Calendar News
Calendar Girl News • Meet the Models • Paddock Garage
Calendar Kittens, The Paddock Garage, Screensavers, Iron & Lace Garage

Many of our Calendar Kittens can also be seen at Playboy's website...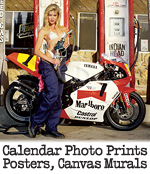 Now Available
2009 FastDates.com Calendars
---
StreetBike Performance Modifications to be Impacted by proposed New CA Smog Check
California State Sen. Fran Pavley introduced a bill on Feb. 26 that would require all on-road motorcycles model year 2000 and newer to get a biennial smog check. Still in its early stages, the bill has been assigned to the committee on Transportation and Housing and may be acted upon in the coming weeks.
The Off-Road Business Association (ORBA) says it is unclear how a proposed biennial California smog-check bill might affect dual sport bikes, but the group plans to monitor progress of the legislation closely.
"ORBA understands the importance of reducing greenhouse gas emissions but also believes that it can be done in a manner that does not harm our industry — an industry that has been particularly hard hit by the condition of the economy and the recent federal ban on youth ATV and motorcycle sales," ORBA said in a release.
California's emission laws often serve as a model for other states. ORBA says it will try to work with Pavley as the bill is being crafted.

Like with automobiles, a Motorcycle Smog Check would require a bike's OEM catalytic equipped exhaust system and smog equipment to remain in place. Currently the majority of all sportbike and American V-Twin bike owers modify or change their exhaust systems, and remove charcoal canisters.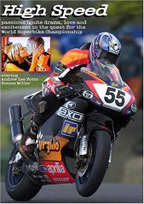 High Speed - the Movie
The best motorcyce racing movie ever made! Filmed on location at World Superbike, this an exciting romantic drama staring beautiful actress Sienna Miller.
---
AMA Pro Issues Penalties
Jamie Hackig Suspended Mat Mladin and Others Put on Probation
Contoversy continues to plague the unpopular AMG/ DMG marriage...
May 22nd, Fontana, CA - AMA Pro Road Racing rider Jamie Hacking has been suspended indefinitely following this weekend's event at Auto Club Speedway for conduct detrimental to the sport of professional motorcycle racing. The culminating incident occurred in the Auto Club Speedway media center following post-race interviews on Sunday where Hacking used a string of profane language while exiting the press interview area. Prior to this incident, Hacking displayed additional acts of inappropriate behavior in both public and media interviews.

"No premier sporting organization would tolerate, whether it be motorsports or major league stick and ball sports, the level of disrespectful, profane and vulgar language in a public forum as demonstrated by Jamie Hacking this weekend at Auto Club Speedway," said AMA Pro Road Racing Managing Event Director Colin Fraser. "His behavior was totally disrespectful to the media, his competitors and the sport of motorcycle racing in general."

Hacking will be considered for reinstatement pending payment of a $4,000 fine and delivery of a public apology to AMA Pro Road Racing officials. Subsequent to payment of the fine and receipt of an apology acceptable to AMA Pro Road Racing, Hacking will also be suspended for one full event weekend.

All fines paid to AMA Pro Road Racing will be donated to Camp Boggy Creek, a Paul Newman Hole in the Wall Camp located in Eustis, Florida, and the Roadracing World Action Fund.

Additionally, AMA Pro Road Racing also placed riders Michael Beck, Kevin Boisvert, Mat Mladin, Mark Simon and Dustin O'Hara on probation due to failure to participate in Sunday's mandatory autograph session.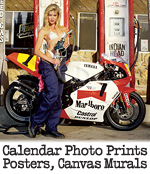 More 2009 Pin Up Model
& Motorcycle Calendars...

---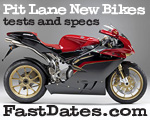 Talking with the
World Champions!
MotoGP 2009 Season Preview
Bookmakers see Rossi as the strongest title favourite over Stoner
Hayden is a 20/1 Longshot
Monday, 23 March 2009 - The bookmakers have Valentino Rossi down as a clear favourite to win his seventh premier class title this year.
Following two preseason tests thus far in 2009 and ahead of next week's MotoGP Official Test at Jerez, the bookmakers have marked the reigning MotoGP World Champion Valentino Rossi out as the clear title favourite.

The 2007 MotoGP title winner Casey Stoner is sure to have plenty to say about that and with many bookies only offering 'odds-on' (e.g. 4/5) or 'evens' (1/1) prices to punters on Rossi retaining the premier class crown, there may be a temptation to look beyond the Italian for a good bet.
Nonetheless, given his strong preseason form, his brilliant 2008 campaign and his continued determination to break records and dominate in MotoGP the current odds of close to 2/1 for a Rossi title win with bwin.com should spark some interest.

Stoner of course had a complex wrist operation over the winter and is yet to complete a full race simulation since the surgery, but he has set the fastest times at both MotoGP tests so far this year. Those factors taken into account, bwin.com offer a decent price of 3/1 on the Ducati Marlboro man to win the title, whilst several other oddsmakers have him down as a 2/1 second favourite.

Interestingly there are similar odds being offered by most bookies on the injured Dani Pedrosa and Rossi's Fiat Yamaha colleague Jorge Lorenzo.

Given his serious injuries sustained in Qatar Pedrosa has certainly suffered a major blow in his own preseason preparations. The Repsol Honda rider was briefly the World Championship leader until his costly Sachsenring crash last year, but eventually finished a distant third in the standings, although he certainly has talent to push for the title again. Even though he could miss the start of the season, bwin.com still have Pedrosa at 8/1 as third favourite, slightly 'ahead' of Lorenzo at 9/1.

Pedrosa's fiery young compatriot Lorenzo will be doing everything he can to finish ahead of his Spanish rival in the final standings. He certainly looked to have come good on the last day of testing in Qatar, but can he find the consistency to overcome the more experienced men around him in the 2009 MotoGP field?

Elsewhere, in addition to the 'big four', the likes of Repsol Honda newcomer Andrea Dovizioso (around 16/1), 2006 World Champion and Ducati newboy Nicky Hayden (from 20/1) and Rizla Suzuki colleagues Loris Capirossi and Chris Vermeulen on the improved GSV-R (both around 50/1), may also attract fans looking for an outside bet.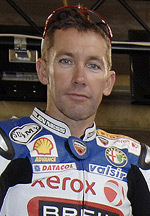 Troy Bayliss Interview
10 Questions for the 3-Time World Supebike Champion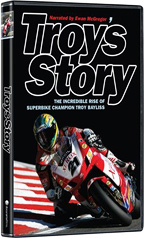 Troy's Story
The story of now 3-Time World Superbike Champion Troy Bayliss narrated by Ewan McGreggor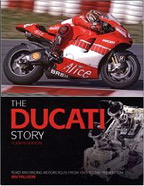 AMA Scores New Motorcycle Buyers a Federal Tax break in 2009
Vehicles eligible for the motorcycle tax deduction added to the American Recovery and Reinvestment Act are likely to include on-road and dual-sport motorcycles, as well as motorscooters and mopeds, according to the American Motorcyclist Association (AMA). The tax deduction -- first reported by the AMA on Feb. 14 -- was added at the eleventh hour to the landmark $787 billion stimulus package that President Barack Obama signed into law on Feb. 17.
"While we are awaiting final language from the Treasury Department, we believe that many motorcycles and scooters will qualify," said Ed Moreland, AMA vice president for government relations. "We have AMA members to thank, because they responded to our appeal to contact their legislators to make sure that motorcycles were part of this inclusive and equitable solution."
Moreland added that the efforts of Harley-Davidson, together with AMA, were instrumental in obtaining the same tax deduction that was provided in the stimulus plan for automobile, light truck and RV purchasers. The law also includes a 10 percent tax credit up to $2,500 for street-legal electric motorcycles purchased by December 2011.
The sales and excise tax deduction applies to motorcycles purchased between Feb. 17 and Dec. 31, 2009, with a GVWR (gross vehicle weight rating) less than an 8,500 lbs., and costing less than $49,500. Individuals can take the deduction if they make less than $125,000, or $250,000 for joint filers. The deduction is phased out for taxpayers with income between $125,000 and $135,000 ($250,000 to $260,000 for a joint return). Individuals do not have to itemize to claim the deduction.
What qualifies as a motorcycle in the economic stimulus law? According to section 571.3 of title 49, Code of Federal Regulations (CFR), a motorcycle is defined under federal law as "a motor vehicle with motive power having a seat or saddle for the use of the rider and designed to travel on not more than three wheels in contact with the ground." In addition, a "motor-driven cycle means a motorcycle with a motor that produces 5 brake horsepower or less."
To illustrate the impact of the tax deduction, consider the case of a new motorcycle purchase of $10,500. For a 7.5 percent sales tax rate, the tax would be $787.50. In California which now has a new tax rate of 9.25% starting April 1st, that deduction would be $971.25! To take advantage of the new law, purchasers would include that amount on their 2009 federal income tax return, meaning that their taxable income would be reduced by that amount before taxes are calculated. States set their own sales tax rates, so the actual amount of savings will depend on the taxpayer's state and tax rate.
"This victory indicates that our legislators are starting to recognize how motorcycles reduce traffic congestion, provide efficient use of limited parking, lessen the impact on our roads and bridges and help reduce our dependence on foreign oil," said Moreland.
Moreland added that the AMA would provide additional details of the tax deduction as soon as the Treasury Department issues its final rules. Among the questions to be answered are what model-year products are covered, including yet-to-be-released 2010 models; whether or not all unsold, new models are included, regardless of year; and whether or not off-road motorcycles are included.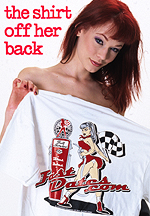 Order the Official
FastDates.com &
LA Calendar Bike Show
T-Shirts!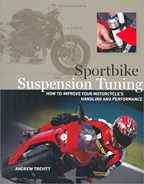 ---
Jake Holden Replaces Injured Neil Hodgson Hodgson at Fontana AMA National
Corona Extra Honda's Jake Holden finished fifth in his first race as the replacement for the injured Neil Hodgson during the AMA Pro Road Racing double-header at Auto Club Speedway in Fontana, California.
Holden was drafted back onto the team he raced Superstock for in 2008 after Hodgson suffered serious injuries in a motocross training accident earlier in the week. The 2003 World Superbike Champion punctured a lung, broke five ribs, and dislocated his left shoulder in the accident, when he unavoidably hit a downed rider. Hodgson spent a week in hospital before being released Sunday morning, hours before the second Superbike race at Auto Club Speedway. Whether he'll be fit for the next round of the series, at Road Atlanta in two weeks' time, has yet to be determined.
"As you can imagine I am doing everything in my power to get healthy as quickly as possible, so hopefully I'll be back racing sooner rather than later," Hodgson said.
Holden is no stranger to Fontana. The Oregonian claimed his first win on the Corona Extra Honda in last year's Superstock race. On Saturday, Holden battled with the factory Yamahas of Ben Bostrom and Josh Hayes before making the definitive pass on the final lap to secure fifth in his first ride on the Corona Extra Honda CBR1000RR Superbike.
On Sunday Holden was in line to duplicate, or even improve on, his Saturday result when an electrical problem knocked him out before the midpoint of the race. The problem was sudden and unexplained, and though Holden hoped it would clear out, it never did.
"These guys worked hard and it was a great opportunity to work with the Honda guys here," Holden said, putting aside the disappointment of Sunday's DNF. "So pretty happy with fifth yesterday and I was looking forward to maybe another top five today."
Both races were won by Mat Mladin (Suzuki) from teammate Tommy Hayden. Geoff May (Suzuki) finished third on Saturday and Larry Pegram (Ducati) completed the Sunday podium.
Now the series has one weekend off before resuming at Road Atlanta in Braselton, Georgia on April 4-5.

Jake Holden 5th, DNF
It was a good finish, even though it's been a long time since I've been on a race-prepped Superbike. The Honda guys, they were great. I think it was kind of a race that kind of showed me…I could see who I could get in the next race, race two, and I kind of sized everybody up. I was looking forward to another dry race, because we got the bike set up pretty good from race one. I was a little hesitant to pass the Yamaha guys I was racing with under the brakes, because there's a set-up issue I was chasing and I really didn't feel that comfortable getting them on the brakes. Race two will be another scenario. The Honda's great. The bike's super-fast.
I was looking forward to mixing it up with the front pack today (Sunday). We're just kind of trying a bunch of things and I've never ridden a proper Superbike before and it's all new to me and it was a great experience. The second start, after the first one was red-flagged, I got a decent start and got around Josh Hayes on the straightaway and started catching (Geoff) May and (Ben) Bostrom and I was ready to pick them off and we just had a little issue with the bike. It was coming out of turn nine I just noticed something was going wrong. It felt like it was clogged fuel or something. I thought it would clear out and I let Pegram and Bostrom go by and I went on the straightaway and it wouldn't clear out, so I knew it wasn't good.
Team Principal Tim Saunders
Jake (Holden) rode a very good race. We're very happy with his ride, but at the same time we're very disappointed for him. We seem to have had some electrical problem which hopefully will be fixed. I just wish we could've been up at the front. It looks like he had the measure of the guys ahead, everyone other than Mat (Mladin) and maybe Tommy (Hayden), but that's racing and hopefully we'll come back to fight another day.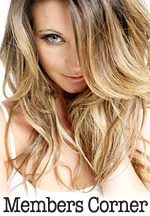 Members Corner
Hot Bikes, Sexy Kittens
Get Your Exclusive Grid Pass
aslo includes....
---