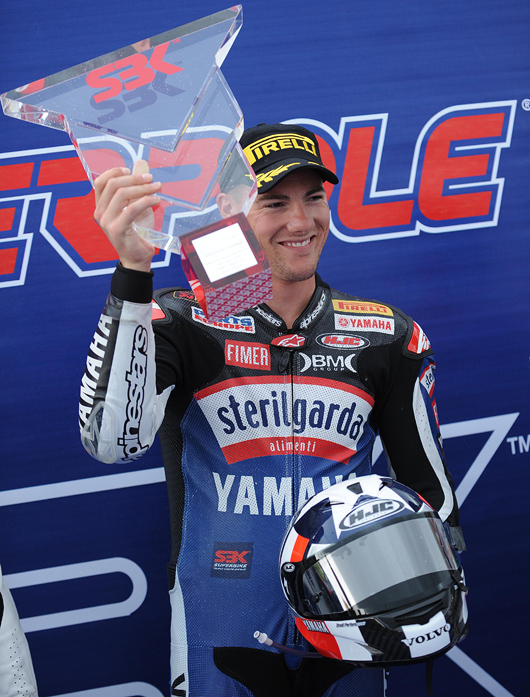 Ben Spies on top of the world at Miller.

2009 SBK Hannspree World Superbike Championship , Round 7 of 14, Miller USA
Ben Spies Dominates USA World Superbike
Weekend at Miller Motorsports Park
Tooele, Utah, Sunday 31 May 2009 - Ben Spies (Yamaha World Superbike) annihilated the opposition in the Utah US Round of the Hannspree FIM Superbike World Championship at Miller Motorsports Park, picking up his second double win of the year in his rookie SBK season. In front of 47,300 spectators the Texan again reopened the title battle in a championship that following Kyalami appeared to be firmly in the hands of Ducati. Noriyuki Haga (Ducati Xerox), who crashed heavily in practice, ran the two races in a bruised state, finishing ninth and eighth. The Japanese rider lost ground to Spies as well as to his team-mate Michel Fabrizio, who finished third and second. With the season now at its mid-point Haga leads on 265 points, with Spies up to 212 and Fabrizio on 201.
Above: Openig ceremonies for World Superbike USA round took place in downton Salt Lake City with a parade of the riders on their bikes through the middle of the city, autograph sessions and a concert.
FastDates.com Calendar Kittens Sabella Shake, left, and Leanna Pareja, right, were the stars of Miller's Pit Lane all weekend. Both models shot with us on Friday evenging with all the top factory Superbikes for the next Fast Dates Calendar, and Sabella served on Sunday as the official Ducati Corse grid girl for Michel Fabrizio. Sabella is also featured in all 3 editions of the new 2010 FastDates.com Calendars. Photo by Jim Wolf.
Qualifying - Spies takes Magnificent 7, Points Leader Haga Left Injured
Saturday 30th- Ben Spies (Yamaha World Superbike) will start tomorrow's Utah US Round of the Hannspree FIM Superbike World Championship at Miller Motorsports Park from pole position after powering to a record seventh Superpole in seven races. The 24-year-old Texan wiped out the old record of six poles on the run set by fellow Texan Doug Polen in 1991. Spies was quickest both in Superpole 2 and Superpole 3 to take the front slot with a time of 1 minute 48.319 seconds. In Superpole 1 the fastest time of 1'49.261 was set by American Jamie Hacking, who surprised everyone on the Kawasaki World Superbike machine that has so far had a difficult start to the season. Second and third places on the grid went to the Ten Kate Honda pairing of Spain's Carlos Checa, last year's double race winner, and Ryuichi Kiyonari of Japan, while Italian Michel Fabrizio (Ducati Xerox) continued his good feeling with the Miller track with the final front row grid slot.
Shane Byrne (Sterilgarda Ducati) proved to be best of the Brits with a good run to sixth, a couple of tenths behind Jakub Smrz on a similar Guandalini 1098 machine. Broc Parkes and Hacking made it a positive day for Kawasaki with seventh and eighth places on the grid. Max Biaggi's unfortunate feeling with Superpole continued as Friday's provisional pole holder crashed during Superpole 2 and although the Italian managed to get back to the pits he was eliminated and will start from row 4 with sixteenth time.
It was also a difficult Superpole for points leader Noriyuki Haga (Ducati Xerox) who had a nasty-looking crash in qualifying from which he came away bruised and battered. Haga was eliminated from the second knock-out phase and will start from row 3 with ninth quickest time. Spies and Fabrizio, respectively 88 and 85 points behind, may now have a chance to cut the gap tomorrow in the two 21-lap races.
Ben Spies: "It was a good session for us, the last few minutes there were some drops coming down and we were pretty nervous, but we'd worked well since this morning and I stuck to the plan in Superpole. I think we have a good race pace, there are a few guys that have good pace as well so the race should be interesting. Twelve months ago I didn't think I'd be here on pole at Miller in Superbike but it's great. I'm having a blast!"
Carlos Checa: "Finally this year I'm starting to be in the front group, I feel that the second place is very important to make a good start tomorrow. Overall it looks good, I hope the weather stays dry because at the end of the practice it was a little bit scary, with dark clouds and lightning! I don't know what is happening here at Miller, I always have a good feeling with this circuit, it's a good track with a lot of grip so we need to check why we have no grip in the other circuits!"
Ryuichi Kiyonari: "That was much better than Kyalami qualifying and the feeling with my Honda is much better than the recent races. As for my race pace for tomorrow I think it is a little bit not fast enough but if I can do a good start maybe I can follow the group and hope to get a podium."
Michel Fabrizio: "Superpole went well and I'm really pleased with my form, I start from the front row of the grid and out race pace is really good, let's see if we can do a couple of good races on this track tomorrow. We are losing a bit to the four-cylinder machines coming out of the turns but all things considered we are in a good position and for sure tomorrow we'll be competitive."
Noriyuki Haga: "Well I'm not a great fan of Saturday mornings at Miller! Last year I broke my collarbone and today I crashed again, perhaps my fault for pushing a little too hard while doing a long-run but fortunately the only consequence is a very sore back, that I hope doesn't cause me too many problems tomorrow. Anyway, I did my best in Superpole this afternoon; I could have been on the second row but I found traffic on track in the first two sessions and when I was about to go out again at the end of the second phase it started to rain. Tomorrow's races will be really hard and if Ben, as I'm sure he will, takes off, then I don't know whether I'll be able to stick with him but I'll try my best to take as many points as possible."
Saturday Qualifying Times: 1. Spies B. (USA) Yamaha YZF R1 1'48.344; 2. Checa C. (ESP) Honda CBR1000RR 1'48.908; 3. Kiyonari R. (JPN) Honda CBR1000RR 1'49.243; 4. Fabrizio M. (ITA) Ducati 1098R 1'49.434; 5. Smrz J. (CZE) Ducati 1098R 1'49.658; 6. Byrne S. (GBR) Ducati 1098R 1'49.982; 7. Parkes B. (AUS) Kawasaki ZX 10R 1'51.3288. Hacking J. (USA) Kawasaki ZX 10R 1'51.438; 9. Haga N. (JPN) Ducati 1098R 1'49.516; 10. Nakano S. (JPN) Aprilia RSV4 Factory 1'49.528; 11. Rea J. (GBR) Honda CBR1000RR 1'49.541; 12. Haslam L. (GBR) Honda CBR1000RR 1'49.765; 13. Kagayama Y. (JPN) Suzuki GSX-R 1000 K9 1'50.114; 14. Nieto F. (ESP) Suzuki GSX-R 1000 K9 1'50.488; 15. Scassa L. (ITA) Kawasaki ZX 10R 1'50.987; 16. Biaggi M. (ITA). Aprilia RSV4 Factory 1'51.35.
Fast Dates Calendar Kitten Sabella keeps Michel Fabrizio cool on the front row of the the starting line on his way to two runner up positions behind Ben Spies. Photo by Jim Wolf.
Race 1
Spies dominated the first race to cut the gap at the top of the table, as Haga could only finish in ninth place, losing 18 points in the process. The race was interrupted on lap 7 after a crash involving Australian Karl Muggeridge (Celani Suzuki), who only came away with a few bruises. Spies powered away again in the second part to win by a comfortable margin on aggregate times. Behind Spies finished Spain's Carlos Checa (Hannspree Ten Kate Honda), last year's double winner, and third place went to Fabrizio who was slowed by two poor starts. It was a good day for Ten Kate Honda as Ryuichi Kiyonari and Jonathan Rea came home in fourth and fifth position respectively. Max Biaggi started from row 4 but worked his way up to sixth position at the flag on his Aprilia RSV4 machine.
Ben Spies: "We've been working on our starts a bit and this is a long straightaway and I really needed to get a good one here. After the restart it was tough because I really wanted to win on the road and couldn't take too many risks to keep Carlos at bay. I just wanted to cross the line first even though I had a six-second cushion."
Carlos Checa: "From the beginning Ben was too strong today. I didn't have so much grip in the first part but then we adjusted the tyre pressure and it was better in the second. The Honda is working well here, we have a good base from last year and we used that benefit to get at a certain level and get a good result. We needed this result because it has not been so good for us since the start of the year."
Michel Fabrizio: "It's a pity about the second start, I felt a bit like a ping-pong ball, because I was under attack from all sides by three of four other guys. Luckily, I managed to stay upright. Afterwards I managed to run at my own pace and get onto the podium for a good result."
Race Two Results: 1. Spies B. (USA) Yamaha YZF R1 38'30.945 (160,527 kph); 2. Checa C. (ESP) Honda CBR1000RR 9.394; 3. Fabrizio M. (ITA) Ducati 1098R 12.742; 4. Kiyonari R. (JPN) Honda CBR1000RR 14.276; 5. Rea J. (GBR) Honda CBR1000RR 14.915; 6. Biaggi M. (ITA) Aprilia RSV4 Factory 15.461; 7. Hacking J. (USA) Kawasaki ZX 10R 22.901; 8. Smrz J. (CZE) Ducati 1098R 25.425; 9. Haga N. (JPN) Ducati 1098R 25.870; 10. Haslam L. (GBR) Honda CBR1000RR 26.093; 11. Byrne S. (GBR) Ducati 1098R 26.181; 12. Kagayama Y. (JPN) Suzuki GSX-R 1000 K9 29.275; 13. Sykes T. (GBR) Yamaha YZF R1 38.365; 14. Lavilla G. (ESP) Ducati 1098R 39.454; 15. Corser T. (AUS) BMW S1000 RR 39.513; 16. Nieto F. (ESP) Suzuki GSX-R 1000 K9 48.889
Race 2
The second race was similar to the first, with the three-times AMA Superbike champion Spies taking the lead at the first turn and never relinquishing it. Fabrizio this time got off to an excellent start and was second at the first corner, the Italian managing to keep Spies in his sights for over half the race before settling for the runner-up slot. Checa crashed out on lap 4, leaving the battle for the final podium place to be fought out between Rea, Leon Haslam (Stiggy Racing Honda), who crashed out on the final lap, and Biaggi, competitive in the race after problems in qualifying. Kiyonari, Jakub Smrz (Guandalini Ducati) and Shinya Nakano (Aprilia Racing) all finished ahead of Haga in eighth. It was an encouraging race for Kawasaki, with Parkes and Hacking often running inside the top 10, but BMW again had a difficult time of things with Xaus and Corser finishing outside the top 15.
Texan Ben Spies wore these special Longhorn State commerative Alpinestars boots at Miller.
Ben Spies: "That was a tough race, I almost feel like I robbed Michel because he rode fantastic. I tried to set a good pace but a pace that was comfortable and every time he took a tenth out I had to put a tenth back to keep him at bay. Then in the last six laps I pulled the pin and held it to the end. It's good to get a double win here, unfortunately we know Haga's not 100% but you've got to capitalize on the weekend and we made up some points."
Michel Fabrizio: "It was a good weekend, I tried every way possible until five or six laps from the end to give some problems to Ben but in my attempt to catch up to him I pusher a bit too hard and finished the front tyre so there was nothing I could do."
Jonathan Rea: "The guys have put a great bike under me this weekend, we've done some good development, but I've never had to race as slow as I could for third place because I had a few problems with the front and the front tyre. Ben and Michel put on a great run at the front, I couldn't go with them. I could see a big gaggle of riders behind me, and thought I'd keep something in reserve until the end but I couldn't see what happened with Leon's crash. Anyway it was my second podium in two rounds so I'm very happy.
Race Two Results: 1. Spies B. (USA) Yamaha YZF R1 38'25.391 (160,914 kph); 2. Fabrizio M. (ITA) Ducati 1098R 9.080; 3. Rea J. (GBR) Honda CBR1000RR 14.357; 4. Biaggi M. (ITA) Aprilia RSV4 Factory 15.636; 5. Kiyonari R. (JPN) Honda CBR1000RR 17.156; 6. Smrz J. (CZE) Ducati 1098R 17.546; 7. Nakano S. (JPN) Aprilia RSV4 Factory 19.659; 8. Haga N. (JPN) Ducati 1098R 23.455; 9. Sykes T. (GBR) Yamaha YZF R1 30.489; 10. Byrne S. (GBR) Ducati 1098R 31.775; 11. Parkes B. (AUS) Kawasaki ZX 10R 33.246; 12. Kagayama Y. (JPN) Suzuki GSX-R 1000 K9 36.758; 13. Nieto F. (ESP) Suzuki GSX-R 1000 K9 36.887; 14. Lanzi L. (ITA) Ducati 1098R 37.290; 15. Zemke J. (USA) Honda CBR1000RR 42.639; 16. Xaus R. (ESP) BMW S1000 RR 42.777
Points (after 7 of 14 rounds): 1. Haga 265; 2. Spies 212; 3. Fabrizio 201; 4. Rea 133; 5. Biaggi 126; 6. Haslam 122; 7. Sykes 113; 8. Kyonari 96; 9. Checa 93; 10. Smrz 82. Manufacturers: 1. Ducati 311; 2. Yamaha 253; 3. Honda 206; 4. Aprilia 129; 5. Suzuki 113; 6. Bmw 60; 7. Kawasaki 41
The new BMW team riders Ruben Xaus and Troy Bayliss (shown here sucking on some Pussy) struggled all weekend with their bikes' set up and each crashed out of one race.
600cc World Supersport
Kenan Sofuoglu (Hannspree Ten Kate Honda) emerged the winner from the thrilling final lap of a race-long battle between four riders and three different makes: Honda, Yamaha and Kawasaki. With just one lap to go the 2007 champion first passed points leader Cal Crutchlow (Yamaha World Supersport), and then three turns from the chequered flag made a decisive move on Eugene Laverty (Parkalgar Honda), who had led from the start. For the Turkish rider it was the 13th win of his career, and the 67th for Honda in Supersport. The Ten Kate Honda rider is now back in contention in the points standings, third on 108 points behind leader Crutchlow on 135 and Laverty on 126. Kawasaki Provec scored a good fourth place with Joan Lascorz, who started from pole. Gianluca Nannelli (ParkinGO Triumph ) crashed out of the battle for fifth, which eventually went to Fabien Foret (Yamaha World Supersport), but Garry McCoy held the Triumph flag high with a positive sixth place. Seventh went to 2008 champion Andrew Pitt (Hannspree Ten Kate Honda), who started from the final row of the grid.
600cc Supersport Results: 1. Sofuoglu K. (TUR) Honda CBR600RR 34'00.510 (155,831 kph); 2. Laverty E. (IRL) Honda CBR600RR 0.368; 3. Crutchlow C. (GBR) Yamaha YZF R6 0.521; 4. Lascorz J. (ESP) Kawasaki ZX-6R 1.833; 5. Foret F. (FRA) Yamaha YZF R6 12.071; 6. McCoy G. (AUS) Triumph Daytona 675 18.108; 7. Pitt A. (AUS) Honda CBR600RR 25.912; 8. Pirro M. (ITA) Yamaha YZF R6 26.867
Points (after 7 of 14 rounds): 1. Crutchlow 135; 2. Laverty 126; 3. Sofuoglu 108; 4. Pitt 73; 5. Lascorz 73; 6. West 66; 7. Foret 55; 8. Aitchison 50; 9. Pirro 48; 10. McCoy 39. Manufacturers: 1. Honda 158; 2. Yamaha 135; 3.Kawasaki 84; 4. Triumph 46; 5. Suzuki 30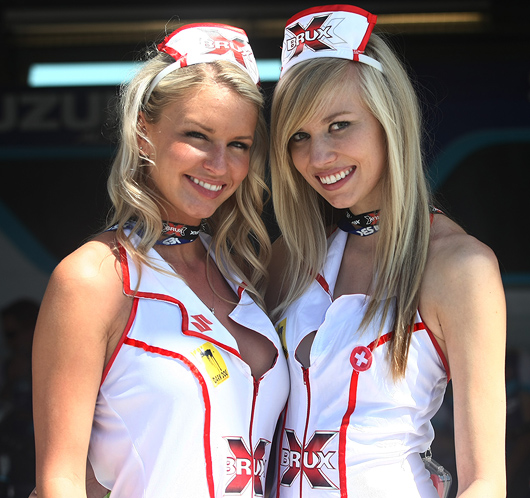 The biggest sensation for photographers in the pits all weekend, besides Ben Spies and the Fastdates.com Calendar Kittens, were the Alstare Brux Suzuki Grid Girls in their naughty nurse outfits. "It was the only way I could be assured the media would attend our press confernces," " said team PR co-ordinator Kel Edge, "Was to tell them our grid girls would be there in naughty nurse outfits!." New team sponsot Brux is a manufacturer of mouth guard for sporting activities. Photos curtesy Kel Edge,
---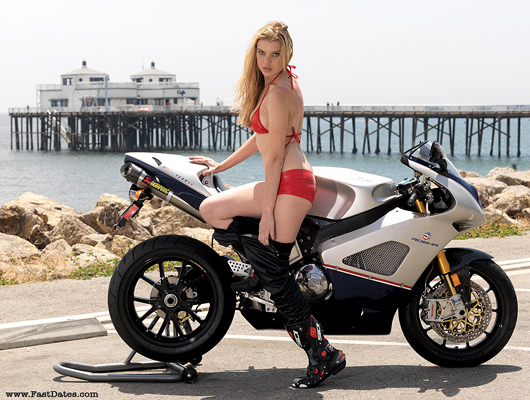 Calendar Kitten Apple strips down at Malibu Beach with the new Roehr Superbike.
And now for something a little different...

Apple Kitten shoots for Fast Dates Calendar with the $60,000 Roehr
V-Rod Superbike with World Premier at the LA Calendar Show in July!
Los Angeles, CA, May 1st - Don't think we've been relaxing indoors here during the bitter cold of our Southern Californian winter here, just waiting for our printer in China to ship us the new 2010 FastDates.com Calendars so sleazy perverts like you can gum up the pages.... hell no! We've already been hard at work shooting the next 2011 FastDates.com Calendars!

Read the complete Roehr Road Test in New Sportbikes Roehr
---
Casey collects his reward from wife Andrea in Victory Lane.
2009 MotoGP World Championship Championship , Round 5 of 17, Mugelo Italy
Casey Stoner Takes a Win and the Lead at Mugelo MotoGP
Gran Premio d'Italia Alice, Mugelo, Italy, May 29-31st - Ducati finally conquered its home race at Mugello today thanks to a stunning performance from Casey Stoner in one of the most difficult and eventful races of his career. Victory for the Australian in the second wet-to-dry flag-to-flag race in succession was his 18th for the Italian factory and it was enough to secure the World Championship lead after five rounds, with four points more than Lorenzo and nine more than Rossi, the two riders who joined him on the podium today.
The Ducati Marlboro Team rider, mindful of his Le Mans experience two weeks ago, perfectly negotiated a track that started out wet following a heavy rain shower before the race. He kept pace with the lead group even when his wet tyres were completely spent, before quickly rejoining the battle for the lead after changing to slick tyres and holding off the challenge of the men behind him.
Nicky Hayden produced an excellent performance to charge from sixteenth on the grid to finish ninth before being slowed by a small problem with his rear brake. The American is hopeful he can continue to make progress, starting with the next race in Barcelona.
Casey Stoner (Ducati Marlboro Team) 1st - "I have already won in Italy, at Misano in 2007, and it was great for Ducati but this was the one I really wanted. We've struggled to find a great setting here for the past two years but today was our day. During the practice my pace in the dry wasn't perfect but it was quite good. We started out well in the wet, I felt good and the bike was doing great until the wet tyres were worn out. I kept trying to push to the limit because I didn't want to lose ground on the others like at Le Mans and stayed out there until I was absolutely sure it was the right time to change tyres. As soon as I went out on slicks I felt comfortable and competitive. Unfortunately I had an issue with the clutch and it started to give me a few problems. Loris came past and was pushing hard and riding very well and he kept me on my toes. At one point I thought it was all over but thankfully I was able to work out a way to ride around the problem and bring the victory home. I made a couple of mistakes over the final two laps but luckily it didn't matter. It was a really difficult race but a great one for the whole team, for Filippo (Preziosi), for everybody at Ducati and all the Ducatisti. I'm so happy today."
Casey battles with Docizioso and Capirossi for the lead in the first half of the race as the track dries and they are still on "Wet" tires.
Casey Stops Rossi's Winning Streak
Race Day Sunday 31st May - In the second flag-to-flag race in as many rounds, Casey Stoner ended Valentino Rossi's Mugello winning streak with a polished performance to give Ducati their first ever victory at the circuit and a slim points lead in th still early rounds of the 2009 Championship. Much of the Gran Premio d'Italia Alice race came down to tactics in front of the 80,000-strong Italian crowd, the riders once more starting on a wet surface and completing the 23 lap contest on slick tyres, with Stoner this time judging things to perfection.
Conditions were very similar to the previous Grand Prix at Le Mans, the race getting underway on a damp track, with all riders starting on rain tyres and then switching to their slick-equipped machines as the circuit dried out. Once again, the changing conditions made for a thrilling race, with frequent changes of position, both on the track and in the pits. All three practice and qualifying sessions were held in warm, sunny conditions, though riders did get the chance to work on wet set-up during this morning's rain-hit warm-up.
Dovizioso made a storming start to the race, several riders smoking their tyres as they roared away from the damp grid, and took the lead from Stoner on lap four. The Italian led for four laps and pitted earlier than most, switching bikes at the end of lap nine. Conditions were still treacherous, however. Alex De Angelis (San Carlo Honda Gresini), Yuki Takahashi (Scot Honda) and Dani Pedrosa (Repsol Honda) all fell victim to damp tarmac during the next few laps.
Pedrosa, who had already injured his right hip while fighting to control a slide during Saturday practice, fell at the fast Savelli left-hander during his third lap on slick tyres. The Spaniard had been in severe pain following yesterday's incident and underwent painkilling injections before warm-up and the race. Pedrosa's lap 13 tumble ended a run of three brilliant podium finishes and left him battered and bruised.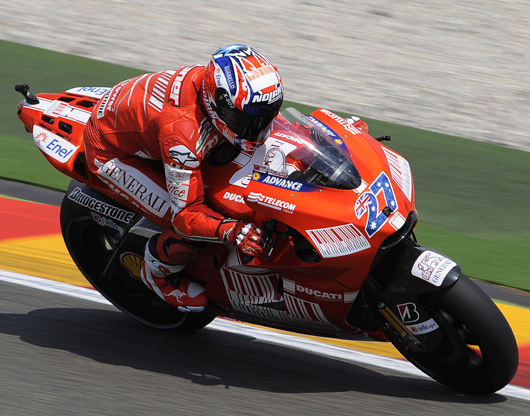 Casey takes over the lead in the Championship
Dovizioso retook the lead from Marco Melandri (Kawasaki) on lap 11 and stayed there for another three laps until Casey Stoner came past once again, with Dovisiso evently falling into the clutches of the pursuing Yamaha team riders as well. The Australian wood pull out a small lead and retook the MotoGP championship lead as he crossed the line a second in front of former leader Jorge Lorenzo, who also rode well after the scare of crashing on the sighting lap.
Lorenzo's Fiat Yamaha colleague Valentino Rossi completed the podium in third place as his seven-year winning run at his beloved home track came to an end, the Italian hero crossing the line two seconds behind Stoner and less than one tenth in front of Repsol Honda's Andrea Dovizioso.
Dovizioso missed out on the rostrum on the last lap once again, having held the race lead early on when on wet tyres. Likewise, his compatriot Loris Capirossi (Rizla Suzuki) was leading at one stage – later in the race – but he fell away in the final laps to finish fifth.
James Toseland made a brave decision to come in first and change bikes when running towards the back of the field and he just missed out on equaling his best MotoGP result of sixth as he was outdone by team-mate Colin Edwards on the last lap, having also dueled with LCR Honda's Randy de Puniet -who was eventually eighth.
Niccolò Canepa (Pramac Racing) will be delighted to have achieved his best result to date as the second highest Ducati rider in ninth at his home race, with Chris Vermeulen (Rizla Suzuki) completing the top ten behind the young Italian.
Dani Pedrosa hit the deck and crashed out on lap 14 having already damaged his hip earlier in the weekend, the Spaniard stretchered away from trackside. He will face an anxious wait to see if he is fit for his own home race at Barcelona in two weeks time. Honda satellite rider Yuki Takahashi also crashed out with 13 laps to go.
Race Classification MotoGP: (23 laps = 120.635 km)
Pos/ Rider / Nat / Team / Motorcycle / Time/ KM/H / Gap
1 / Casey STONER / AUS / Ducati Marlboro Team / DUCATI / 45'41.894 / 158.389 /
2 / Jorge LORENZO / SPA / Fiat Yamaha Team / YAMAHA / 45'42.895 / 158.331 / 1.001
3 / Valentino ROSSI / ITA / Fiat Yamaha Team / YAMAHA / 45'43.970 / 158.269 / 2.076
4 / Andrea DOVIZIOSO / ITA / Repsol Honda Team / HONDA / 45'44.023 / 158.266 / 2.129
5 / Loris CAPIROSSI / ITA / Rizla Suzuki MotoGP / SUZUKI / 45'45.168 / 158.200 / 3.274
6 / Colin EDWARDS / USA / Monster Yamaha Tech 3 / YAMAHA / 46'06.345 / 156.989 / 24.451
7 / James TOSELAND / GBR / Monster Yamaha Tech 3 / YAMAHA / 46'07.515 / 156.922 / 25.621
8 / Randy DE PUNIET / FRA / LCR Honda MotoGP / HONDA / 46'07.940 / 156.898 / 26.046
9 / Niccolo CANEPA / ITA / Pramac Racing / DUCATI / 46'13.709 / 156.572 / 31.815
10 / Chris VERMEULEN / AUS / Rizla Suzuki MotoGP / SUZUKI / 46'16.708 / 156.403 / 34.814
11 / Marco MELANDRI / ITA / Hayate Racing Team / KAWASAKI / 46'16.984 / 156.387 / 35.090
12 / Nicky HAYDEN / USA / Ducati Marlboro Team / DUCATI / 46'21.016 / 156.160 / 39.122
13 / Mika KALLIO / FIN / Pramac Racing / DUCATI / 46'34.356 / 155.415 / 52.462
14 / Toni ELIAS / SPA / San Carlo Honda Gresini / HONDA / 46'34.372 / 155.414 / 52.478
15 / Alex DE ANGELIS / RSM / San Carlo Honda Gresini / HONDA / 46'03.967 / 150.292 / 1 lap
Pole Position: Jorge LORENZO 1'48.987 173.250 Km/h
Fastest Lap: Valentino ROSSI 1'51.186 169.823 Km/h Lap 21
Circuit Record Lap: Casey STONER 1'50.003 171.649 Km/h 2008
Circuit Best Lap: Valentino ROSSI 1'48.130 174.623 Km/h 2008
World Championship Positions:
1 STONER 90, 2 LORENZO 86, 3 ROSSI 81, 4 PEDROSA 57, 5 DOVIZIOSO 56,
6 MELANDRI 48, 7 EDWARDS 45, 8 CAPIROSSI 38, 9 VERMEULEN 37, 10 DE PUNIET 34,
11 TOSELAND 26, 12 ELIAS 23, 13 DE ANGELIS 21, 14 KALLIO 19, 15 HAYDEN 13.

250cc to Aprilia's Pasini
The 250cc riders did battle on a wet track earlier in the afternoon, with Mattia Pasini (Team Toth Aprilia) eventually coming out on top by a 0.117 margin from second placed Marco Simoncelli – who he brilliantly held off on the final lap.
A big incident with ten laps to go saw title rivals Álvaro Bautista (Mapfre Aspar) and Simoncelli (Metis Gilera) clash at high speed, with both riders running off track when Bautista held the lead - Pasini pushing through to take over at the front and the Spaniard eventually finishing third. Race direction promptly investigated the incident, announcing a 5,000 USD fine for Simoncelli due to his riding in an irresponsible manner.
Thomas Luthi (Emmi - Caffe Latte) finished a distant fourth, 24 seconds behind Pasini, to go some way to make up for his Le Mans disappointment. Héctor Barberá (Pepe World Team) was fifth, three seconds behind the Swiss rider. Hiroshi Aoyama (Scot Racing Team) lost ground in the championship in sixth place, whilst Spaniards Alex Debon (Aeropuerto-Castello-Blusens) and Héctor Faubel (Valencia CF - Honda SAG) were joined in the top ten by Italian pair Raffaele de Rosa (Scot Racing) and Roberto Locatelli (Metis Gilera).
Race Classification 250cc (21 laps = 110.145 km)
1 / Mattia PASINI / ITA / Team Toth Aprilia / APRILIA / 45'38.391 / 144.801 /
2 / Marco SIMONCELLI / ITA / Metis Gilera / GILERA / 45'38.508 / 144.794 / 0.117
3 / Alvaro BAUTISTA / SPA / Mapfre Aspar Team / APRILIA / 45'39.684 / 144.732 / 1.293
4 / Thomas LUTHI / SWI / Emmi - Caffe Latte / APRILIA / 46'02.948 / 143.514 / 24.557
5 / Hector BARBERA / SPA / Pepe World Team / APRILIA / 46'05.405 / 143.386 / 27.014
6 / Hiroshi AOYAMA / JPN / Scot Racing Team 250cc / HONDA / 46'08.428 / 143.230 / 30.037
7 / Alex DEBON / SPA / Aeropuerto-Castello-Blusens / APRILIA / 46'09.716 / 143.163 / 31.325
8 / Hector FAUBEL / SPA / Valencia CF - Honda SAG / HONDA / 46'13.569 / 142.964 / 35.178
9 / Raffaele DE ROSA / ITA / Scot Racing Team 250cc / HONDA / 46'23.247 / 142.467 / 44.856
10 / Roberto LOCATELLI / ITA / Metis Gilera / GILERA / 46'24.874 / 142.384 / 46.483
11 / Alex BALDOLINI / ITA / WTR San Marino Team / APRILIA / 46'27.912 / 142.229 / 49.521
12 / Mike DI MEGLIO / FRA / Mapfre Aspar Team 250cc / APRILIA / 46'38.930 / 141.669 / 1'00.539
13 / Karel ABRAHAM / CZE / Cardion AB Motoracing / APRILIA / 47'02.121 / 140.504 / 1'23.730
14 / Ratthapark WILAIROT / THA / Thai Honda PTT SAG / HONDA / 47'03.910 / 140.415 / 1'25.519
15 / Imre TOTH / HUN / Team Toth Aprilia / APRILIA / 47'08.788 / 140.173 / 1'30.397
Pole Position: Alvaro BAUTISTA 1'52.804 167.387 Km/h
Fastest Lap: Marco SIMONCELLI 2'05.830 150.059 Km/h Lap 20
Circuit Record Lap: Alvaro BAUTISTA 1'53.669 166.113 Km/h 2008
Circuit Best Lap: Marco SIMONCELLI 1'52.589 167.707 Km/h 2009
World Championship Positions:
1 BAUTISTA 83, 2 AOYAMA 76, 3 SIMONCELLI 61, 4 BARBERA 59, 5 PASINI 51, 6 LUTHI 42,
7 DE ROSA 38, 8 LOCATELLI 36, 9 FAUBEL 35, 10 CLUZEL 28, 11 TALMACSI 28,
12 DI MEGLIO 25, 13 PESEK 24, 14 DEBON 22, 15 WILAIROT 22.
---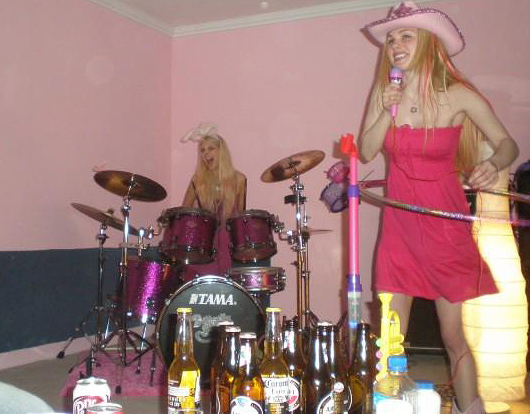 Calendar Kitten & AVN Best New Actress Nominee Jayme Langford's
Pajama Band Joins the LA Calendar Bike Show / Music Festival Weekend!
May 15th 2009 - The Los Angeles Calendar Motorcycle Show, in our never ending quest to provide wholesome family entertainment while enhancing the quality of artistic and cultural experience for our visitors, is excited to announce the addition of Pajama Band to our performance lineup with the Calendar Girl Music Festival which is included with July 18-19th 2009 event weekend at the Queen Mary Event Park in Long Beach, CA.
A unique entertainment experience, Pajama Band features the vocal talents of beautiful new 2010 FastDates.com Calendar Sex Kitten, Penthouse Pet and Hustler Honey Jayme Langford / JaymeLangford.com. Jayme is somewhat new to music, having only picked up a pink guitar and plastic trumpet from Guitar Center on Hollywood Boulevard just 3 months ago, But she is is sure her extensive modeling, pre-Med University education and precision Hula-Hoop skills will allow her to become an accomplished lead singer, guitarist and trumpeter in time for this year's Show.
For more about Pajama Band visit MySpace.com/PajamaBandMusic
For more about the LA Calendar Motorcycle Show
---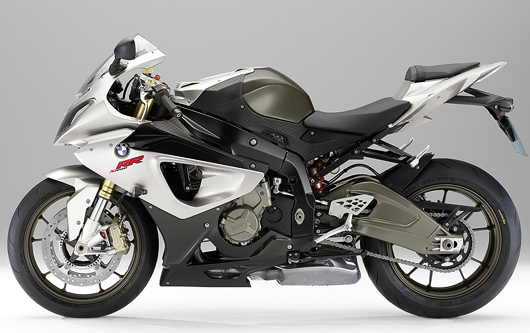 BMW's First Superbike Hits the Streets with 193hp! TC and ABS!
Monza, Italy, May 5h, 2009 - BMW introduced their new BMW S 1000 RR today on the legendary Monza Racing Circuit, BMW Motorrad is for the first time launching an absolutely innovative supersport with a straight-four power unit. With this world debut, BMW Motorrad is indeed establishing a true milestone in the world of sports machines, combining engine output of 142 kW (193 hp) with overall weight of just 204 kg (450 lb) including fuel (183 kg/403.5 lb dry weight, 206.5 kg/455.3 lb overall with Race ABS). The new S 1000 RR is the most powerful production 1000cc sport bike in the world.
The new S 1000 RR is scheduled to be released in the US by early 2010.
More in Sportbikes Index: BMW S1000RR
---
There's more! Go to Pit Lane News Previous Page

Also Visit: Fast Dates Calendar News • Iron & Lace Calendar News
Calendar Girl News • Meet the Models • Paddock Garage

Calendar Kittens, The Paddock Garage, Screensavers, Iron & Lace Garage



MotorcycleSuperstore.com
Some of our Calendar Kittens can also at Playboy's website...




Now Available
2009 FastDates.com Calendars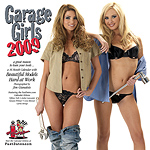 ---
Members Only
2010 Calendar
Sneak Preview!
All the new 2010 FastDates.com Calendars with all their pages are now available in large screen saver size format for your viewing in Members Corner. The printed Calendars will be avaialble to order here online July 1st, with the live World Premier with the beautiful Calendar Kittens taking place at the LA Calendar Motorcycle Show Weekend July 18-19th


The Official SBK
2008/2009 Yearbook
Awesome in full color! Commerating the 21st Anniversary of World Superbike
Troy Bayliss' 3rd World Championship Title>
PLus a technical look at ll the bikes, and a preview of Ben Spies and Noriyuki Haga battleing for the 2009 Champiosnhip!
We bought it ourselves and totally recommend it!
Miller Motor Sports Park and Infront Motor Sports renew 3-year contract extension for FIM Superbike World Championship US Round.
Tooele, Saturday 30 May 2009 - Miller Motor sports Park and Infront Motor Sports, organizer and promoter of the FIM Superbike World Championship, announced today that they have signed a three-year contract extension that will see the world's third-biggest racing series making an annual visit to Utah through 2013.
The original agreement with Infront Motor Sports (previously named FGSport), which is based in Rome , Italy , was for three years, ending in 2010. However, a new agreement has been drawn up and agreed upon, giving the FIM Superbike World Championship a stable home in North America and guaranteeing Miller Motor sports Park 's marquee event for the next half-decade. The agreement also provides for the FIM Supersport World Championship to accompany the World Superbikes for the duration of the contract.
"We could not be more pleased to reach this agreement with Infront Motor Sports," said MMP CEO and President Dan Davis. "It was important to us to secure this event for Miller Motor sports Park and fans across North America . Over the past few years, the business plan for the FIM Superbike World Championship has proven to be insightful and prudent, and we feel the championship is better positioned than any other racing series in the world right now. The management and staff of Infront Motor Sports, as well as the teams in the championship, have been terrific to work with. We have established a very good working partnership, and we look forward to five more successful and mutually beneficial years together."
" Miller Motor sports Park is a world class facility and we have been extremely satisfied with our first event in Utah last year" said Infront Motor Sports SBK Director Paolo Ciabatti . "Teams and riders really enjoyed the experience and as a result they voted MMP for the "Circuit of the Year" award, as the best venue of the 2008 championship. The new agreement is a demonstration of the excellent relationships with the management and staff of Miller Motor sports Park and shows our commitment to the US market. With seven manufacturers officially engaged in our series and thirty permanent riders, the FIM Superbike World Championship is now stronger than ever and therefore we look forward to a successful and long lasting relationship with Miller Motor sports Park for the years to come."
More Sneak Peaks!
2010 Calendar Sex Kitten
Jayme Langford

Just announced!
World Premier Debute
of Pajama Band !
Calendar Kitten, Penthoue Pet and Hustler Honey Jayme Langford and her sexy all girl Pajama Band of world famous porn starlets will be performing at the LA Calendar Motorcycle Show Weekend July 18-19th.
Fuck the Bikes! You don't want to miss this....
---


Calendar Kitten Apple
Tests the new
Roehr Harley Superbike! plus Aprilia, BMW, KTM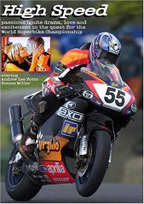 High Speed - the Movie
The best motorcyce racing movie ever made! Filmed on location at World Superbike, this an exciting romantic drama staring beautiful actress Sienna Miller.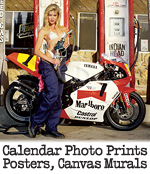 ---
California Motorcycle Smog Test Proposal modified by state senate
June 2nd -- Thanks to the efforts of FastDates.com Readers, thousands of AMA members and other concerned motorcyclists, the sponsor of a proposed California law to require motorcycles to undergo periodic exhaust emissions testing has backed away from the idea, the American Motorcyclist Association (AMA) reports.
The measure -- Senate Bill 435 introduced this year by state Sen. Fran Pavley (D-Santa Monica) -- would have required all model year 2000-and-newer on-road motorcycles with engine displacements of more than 280cc to be tested every two years. The motorcycles would have been included in the state Department of Consumer Affairs "smog check" program, which involves testing for unacceptable levels of pollutants in emissions.
"This is an initial victory for California motorcyclists, but we can't let our guard down just yet," said Nick Haris, AMA western states representative. "Senators deserve credit for recognizing how this proposal would have created an added burden for motorcyclists, motorcycle businesses, and the cash-starved state bureaucracy, and they reworked the measure to limit its scope to focus on catalytic converters. The bill is on its way to the state Assembly, but we have to remain vigilant because it could revert back to its original form."
Haris added that, in addition to AMA members, ABATE of California and the California Motorcycle Dealers Association put a lot of effort into changing the proposal.
In addition, at least one senator argued the legislation was expensive, unfair to those who ride motorcycles for recreation, and was ostensibly nothing more than another tax. Political insiders saw the proposal as just a creative way for the cash-strapped state to find more money.
"California's motorcyclists are willing to do their fair share to keep our skies clear, but this bill asked motorcyclists -- whose two wheels are far less of a resource drain than four-wheelers -- to shoulder an extra burden," said Haris. "The California Legislature has already raided $90 million of user-generated fees from the state's OHV fund. Some legislators saw this as an opportunity to create yet another motorcyclist-funded program with no thought as to the burden it placed on the backs of motorcyclists."
California's motorcycle engine emission standards are already the strictest in the nation and, because of their relatively low yearly mileage totals when compared to other vehicles, the state's motorcycles have the lowest emissions of any motor vehicle category in California.
More than 3,000 motorcyclists used the AMA Action Alert section at AmericanMotorcyclist.com to let Sen. Pavley know that they opposed the legislation. They also expressed their concern that the bill could require motorcyclists to always have a stock exhaust system, whereas automobile owners are allowed to install aftermarket systems, which can be less costly.
The emissions testing provision was dropped out of the bill and it cleared the Senate on June 1. The measure is now in the Assembly for consideration, where it could be further amended.
All motorcyclists are urged to stay abreast of the issue by contacting their California Sate Senator HERE - if you have not done so already and checking the Rights section of the AMA website at AmericanMotorcyclist.com.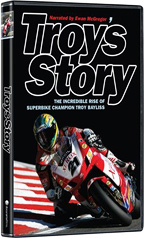 Troy's Story
The story of now 3-Time World Superbike Champion Troy Bayliss narrated by Ewan McGreggor. The video is made up of (6) 30-minute TV shows about the Champion's career and his life, beginning with his film footage of Troy taling about his minibike racing career at age 6 years! We bought it and totally recommend it!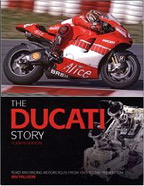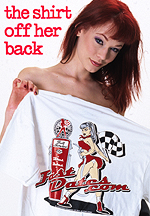 Order the Official
FastDates.com &
LA Calendar Bike Show
T-Shirts!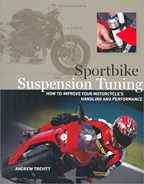 Video Tribute To John Britten. Backyard Motorcycle Visionary
onsidered at the time of his death the best motorcycle engineer in the world, designing and building motorcycles and much more, John Britten gave us a fabulous lesson of perseverance, courage, humility and creativity. If you never watched it, this 5- part documentary (total 7 h 15 minutes) shot in his home in New-Zealand is a must see for all the pros and backyard builders around the world. By the time he died of cancer in 1995, John Britten had become a household name.
See the video TV Series by going HERE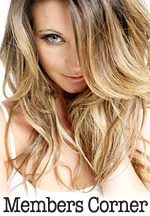 Members Corner
Hot Bikes, Sexy Kittens
Get Your Exclusive Grid Pass
aslo includes....
---
Team Roadracing Manager Gary Mathers to be Indusctedinto AMA Hall of Fame
PICKERINGTON, Ohio -- The American Motorcyclist Association (AMA) is pleased to announce the next member of the AMA Motorcycle Hall of Fame Class of 2009: accomplished racing director Gary Mathers. Mathers -- who produced 48 championships in road racing, dirt track, Supercross and motocross for Honda and Kawasaki -- will be among the motorcycling heroes honored at the 2009 induction ceremony at the Hard Rock Hotel & Casino in Las Vegas this Dec. 5.
"Motorcycle competition is the most thrilling sport in the world, and few individuals have had as much behind-the-scenes success on the modern racing landscape as Gary Mathers," said AMA President and CEO Rob Dingman. "Whether it was identifying talented racers before their time, or helping mold those racers and their teams into champions, Mathers was a master at his craft."
Added Don Rosene, chairman of the AMA Motorcycle Hall of Fame Induction Committee: "AMA Motorcycle Hall of Fame racers such as Eddie Lawson, Wayne Rainey and Bubba Shobert had one thing in common: Gary Mathers. Mathers' racing teams with Kawasaki and later with Honda dominated the '80s. He led and guided racers in all aspects of professional motorcycle racing. His dominance was unheralded, and he is well deserving of membership in the AMA Motorcycle Hall of Fame."
Mathers' keen eye for talent discovered Lawson and Rainey while Mathers was with Kawasaki. Both riders would graduate from his tutelage to become 500cc Grand Prix World Champions. Mathers then moved to American Honda Motor Co., where over the course of 16 years he would produce a total of 48 championships in dirt track, motocross, Supercross and road race, including Honda's satellite teams. With Mathers at the helm, Honda won two championships every year except for one.
"I never thought anything like this would happen," Mathers said. "When I got the call, I couldn't believe it. This is a really great way to top off a career."
Mathers said that he looks back to his second year with Honda in 1986 as one of his most successful.
"We were involved in nine different championships in dirt-track, road racing, motocross, ATV racing, all of it, and we won all of them that year," Mathers said. "The only time I took off that year was the Fourth of July and Christmas day. I wanted to win those championships so bad... I learned a lot of things over the years, but the main thing is, it's the people. The manufacturer gives you the budget, but you still need the best people you can get, and I had them from my administrative assistant on up. You surround yourself with good people, and then you just let them go. That's it."
Mathers is the seventh member announced for the AMA Motorcycle Hall of Fame Class of 2009. He joins off-road racer Randy Hawkins, suspension pioneer Gilles Vaillancourt, off-highway rights activist Mona Ehnes, industry entrepreneurs and technological trailblazers Geoff and Bob Fox, and longtime motorcycle safety proponent David Hough.
Mathers, and the other members of the class of 2009, will officially be inducted into the AMA Motorcycle Hall of Fame this Dec. 5 at the Hard Rock Hotel & Casino. Impressive even by Las Vegas standards, with an 84-foot guitar marking the entrance and all the glitz and memorabilia that fans have come to expect at Hard Rock Café locations around the world, the Hard Rock Hotel & Casino has been recently renovated with new rooms, a new convention space and a new concert venue. Ticket information will be announced shortly on the AMA Motorcycle Hall of Fame Museum website at MotorcycleMuseum.org.