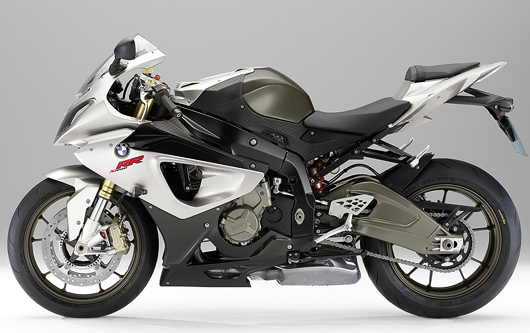 BMW's First Superbike Hits the Streets with 193hp! TC and ABS!
Monza, Italy, May 5h, 2009 - BMW introduced thrir new BMW S 1000 RR today on the legendary Monza Racing Circuit, BMW Motorrad is for the first time launching an absolutely innovative supersports with a straight-four power unit. With this world debut, BMW Motorrad is indeed establishing a true milestone in the world of sports machines, combining engine output of 142 kW (193 hp) with overall weight of just 204 kg (450 lb) including fuel (183 kg/403.5 lb dry weight, 206.5 kg/455.3 lb overall with Race ABS). The new S 1000 RR is the most powerful production 1000cc sport bike in the world.
Specifications make this superbike not only an absolute highlight in terms of its power-to-weight ratio and performance, but also, equipped with Race ABS and DTC Dynamic Traction Control, a new benchmark in terms of riding dynamics, safety and innovation. This is first-ever 4-stage Race ABS system with settings for Rain, Sport, Race and Slick conditions. This groundbreaking new ABS system weighs only about 5.5 lbs complete, which is nearly 20 lbs lighter than the competition.
BMW launched the most anticipated new sport bike in recent memory, the S 1000 RR, at the famed Monza racetrack, in Italy, during the Superbike World Championship race weekend on May 9th, 2009.
The new S 1000 RR will be unveiled officially in the US at Miller Motorsports Park in Utah during WSBK races, on the last weekend in May. Following the US unveiling, our two official S 1000 RR ambassadors: Nate Kern and Jason Turner, will be traveling to dealerships all across the nation for special S 1000 RR presentations, track days and dealer events.
The new S 1000 RR is scheduled to be released in the US by early 2010.
More in Sportbikes Index: BMW S1000RR
---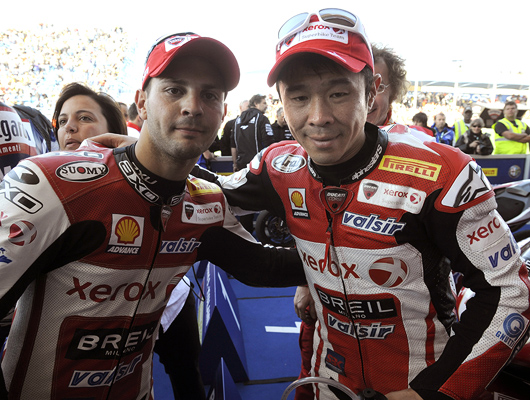 Michel Fabrizio and Noriyuki Haga at Kyalami

2009 SBK Hannspree World Superbike Championship , Round 6 of 14, Kyalami, South Africa
A Dream Day for Team Ducati as
World Superbike returns to South Africa
Kyalami (South Africa) Sunday 17th 2009 - A dream finish to the Kyalami weekend for the Ducati Xerox Team, with Haga scoring a double win in today's races followed across the line by team-mate Fabrizio.
The two Ducati Xerox riders on their 1198 machines got away to a cracking start in Race ONne and held first and second place for almost the entire race distance. For the first eleven laps it was Michel in the lead just ahead of Noriyuki and Ben Spies, until the Italian made a very small error and gave his team-mate Noriyuki the opportunity to pass. Lap by lap, Noriyuki then gradually built up a gap, leaving Michel and Spies to battle it out for second. Michel, the most consistently fast rider in the practice and qualifying sessions, finished a worthy second and also recorded the fastest lap of the race in the process with a 1m38.548.
In Race Two Noriyuki again took off from the start line and led the 24-lap race from the offset.. Michel meanwhile had to contend with Rea and then Spies in the opening laps before Spies suffered a technical failure, allowing the Italian to move into second position. The two Ducati Xerox riders then continued to increase their lead over the chasing pack, consisting of Rea, Haslam and Biaggi, who battled it out between themselves but were unable to make up what was by the end of the race an 8 second gap. Noriyuki took the win as well as the fastest lap of this second race (1m38.577) just a fraction of a second off Fabrizio's fastest lap in Race 1.
Noriyuki's arm injury, sustained last week in Monza's second race when he hit a bird, did not prove to be a problem at Kyalami today. Today's points boost moves Fabrizio up into second place in the classification, 85 points behind championship leader Haga (now holding 250 points) and 3 ahead of third-placed rider Spies. Ducati now holds 275 points in the constructors classification, leading the championship by 72 points over Yamaha.
Noriyuki Haga (Race 1 – winner, Race 2 - winner) - "In the first race, having had some suspension problems during Friday and Saturday, I have to say I didn't expect to be able to keep pace with Michel and Ben. But I made a good start and tried to stick with Michel and then when he appeared to have a small problem, I made my move. My arm was not a problem at all during the racing. I must say I was very glad to see there are less birds here at Kyalami than at Monza! In Race 2 we made a small change to the setting of my bike and I felt more comfortable on it but I knew that Michel was close behind me and in the last laps my braking was suffering, so I had to hold on and am very happy to take another 50 points away with me today and again increase my advantage in the standings."
Kyalami Gears up for World Superbike's Return
Kyalami, Wednesday 13th May 2009 - The Hannspree FIM Superbike World Championship is back in action again just a few days after last weekend's dramatic and exciting races at Monza . On Sunday evening all the bikes and ancillary material used at Monza were crated up and air-freighted to South Africa . This weekend the Superbike and Supersport teams will be getting to grips with the Kyalami circuit on the outskirts of Johannesburg , which will again be the venue for a world championship round for the first time since 2002.
The track is situated on the plateau surrounding South Africa 's most important city, and it has always been the scene for some spectacular racing, with a prestigious list of winners over the years. In the five editions held there from 1998 to 2002, Colin Edwards is the most successful rider with three wins to his name, following by Pierfrancesco Chili, Carl Fogarty and Troy Bayliss, the last winner, on 2 each and one for Ben Bostrom.
The layout of the track, measuring 4.263 metres , is technically challenging. It has 11 left-hand curves and 6 right, and a difference in elevation between the various parts of the circuit, that makes it difficult for riders and forces them to remain fully-focussed throughout the entirety of the lap.
Back in December all the manufacturer appointed test teams, except for Kawasaki , tested here, and unofficial times were well under the previous records of 1'41"321 for Colin Edwards (Honda) in pole position and the 1'42"178 of Noriyuki Haga (Aprilia) as fastest lap. The quickest rider in the tests was Michel Fabrizio (Ducati Xerox), ahead of Ben Spies (Yamaha World Superbike) and Noriyuki Haga (Ducati Xerox), the only men to dip under the 1'40" mark.
Haga, Troy Corser (who won't be present this weekend), Ruben Xaus, Regis Laconi, Gregorio Lavilla and Broc Parkes are the only riders in the WSBK championship to have raced at Kyalami.
MOVE ON UP FABRIZIO – With his win at Monza (the first for an Italian there for 9 years) and second place in race 2, Michel Fabrizio can now lay claim to being a true title contender. The win was a weight off the young Italian's shoulders and after his performance in testing here, Fabrizio now hopes to be able to cut loose in the rest of the season. Two more positive results could help him become the third force in the title battle between Haga and Spies.
HAGA BRUISED, SPIES ATTACKS – Haga's impact with a pigeon at 250 kph in the early part of the race, followed by his crash at the Parabolica, left him with a severe hematoma on his right arm. The points leader underwent physiotherapy but will possibly not be at 100% this weekend, and this could play into the hands of Spies. The Texan missed a big opportunity at Monza to take maximum points after running out of fuel in race 1, but in any case managed to make up 6 points on his rival.
HONDA, APRILIA AND BMW MAKE PROGRESS – The Italian Round at Monza showed Honda, Aprilia and BMW all making good progress. The Japanese manufacturer was back on form again thanks to two excellent thirds from Ryuichi Kiyonari and a fourth and fifth place from Jonathan Rea, who will be aiming to capitalize on that in South Africa. Aprilia were in the top 6 over the weekend thanks to Max Biaggi, who would surely have obtained a podium had he not received a penalty for cutting the chicane. Positive signs are also coming from BMW, with Ruben Xaus taking two top 10 scores at Monza to make up for Troy Corser's bad day. The Australian will be replaced by his fellow Aussie and the team's tester Steve Martin for the Kyalami race.
ABSENT AT KYALAMI – Suzuki Alstare probably came off the worst from Monza after losing their number 1 rider Max Neukirchner, who was taken out at the start of race 1 and who suffered broken and dislocated bones to his right leg. The most optimistic of forecasts points to the German being out of action for two months, just in time for the last race before the summer break at Brno . In the four races he will miss, the Alstare Brux team has opted to replace him with Fonsi Nieto, who rode for the team in 2008. Brendan Roberts, who was also involved in the same incident, will also be absent after suffering considerable bruising but the Australian presents no broken bones. Team Guandalini will replace him with Gregorio Lavilla.
Michel Fabrizio was quickest in Friday practice ahead of Jonthan Rea and Ben Spies
Fabrizio leads the way in opening Kyalami qualifying
Friday 15th May - Michel Fabrizio (Ducati Xerox) continued his recent run of positive form as he powered to the provisional pole in the opening qualifying session for the sixth round of the Hannspree FIM Superbike World Championship at Kyalami. The 24-year-old Italian, who dominated the pre-season testing session here last December, set a new official benchmark of 1 minute 38.103 seconds around the 4.246 km circuit.
Second place went to Jonathan Rea (Hannspree Ten Kate Honda), the British rider four-tenths of a second behind Fabrizio, as he continued his good form of late. Texan rookie sensation Ben Spies (Yamaha World Superbike) moved up from 14th to third in the last few minutes of the session, while Leon Haslam (Stiggy Racing Honda) was back up at the front with the final provisional front row slot.
Shinya Nakano was next up for Aprilia, followed by points leader Noriyuki Haga (Ducati Xerox), whose arm is still swollen following last Sunday's incident at Monza. Jakub Smrz (Guandalini Ducati), Tom Sykes (Yamaha World Superbike), Max Biaggi (Aprilia) and Ruben Xaus (BMW) make up the top 10, while South African champion Sheridan Morais (Kawasaki World Superbike Racing Team) caused a few eyebrows to be raised at one point as he was running in an impressive third place before ending the session in twelfth. Suzuki Alstare riders Yukio Kagayama and Fonsi Nieto, in for the injured Max Neukirchner, struggled today, finishing in 15th and 22nd position respectively
During the first lap of the morning's free practice session, Regis Laconi (Ducati DFX) crashed in the section between Turn 11 and Turn 12. Unfortunately in the crash the French rider, despite not hitting any obstacle, suffered a severe trauma to the cervical vertebrae. Transported by helicopter to the nearby Sunninghill Hospital in Johannesburg, Laconi is reported as being on the danger list. The serious injuries suffered mean that an operation will be required, which will be carried out by a neurological specialist in the next few hours.
Friday Times: 1. Fabrizio M. (ITA) Ducati 1098R 1'38.103; 2. Rea J. (GBR) Honda CBR1000RR 1'38.506; 3. Spies B. (USA) Yamaha YZF R1 1'38.600; 4. Haslam L. (GBR) Honda CBR1000RR 1'38.865; 5. Nakano S. (JPN) Aprilia RSV4 Factory 1'38.998; 6. Haga N. (JPN) Ducati 1098R 1'39.055; 7. Smrz J. (CZE) Ducati 1098R 1'39.230; 8. Sykes T. (GBR) Yamaha YZF R1 1'39.258; 9. Biaggi M. (ITA) Aprilia RSV4 Factory 1'39.284; 10. Xaus R. (ESP) BMW S1000 RR 1'39.357; Checa C. (ESP) Honda CBR1000RR 1'39.370; 12. Morais S. (RSA) Kawasaki ZX 10R 1'39.388; 13. Lavilla G. (ESP) Ducati 1098R 1'39.389; 14. Byrne S. (GBR) Ducati 1098R 1'39.470; 15. Kagayama Y. (JPN) Suzuki GSX-R 1000 K9 1'39.475; 16. Kiyonari R. (JPN) Honda CBR1000RR 1'39.788
Spies on fire as he equals Doug Polen's 1991 Superpole record
Saturday May 15th - Yamaha World Superbike rider Ben Spies erased any doubts anyone had of his abilities today as he equaled the all time consecutive Superpole record set in 1991 by fellow Texan Doug Polen. Spies had spent the earlier qualifying session and subsequent free practice sessions perfecting the set-up of the 2009 R1 in time for the Superpole heats. He came out strongly from the start and was looking fast from the word go. Saving his qualifiers for the last session, he put in an incredible 1.37.423 to go onto provisional pole with his first of the two super sticky tyres. As the session drew to a close it looked like Fabrizio was going to snatch the pole from him, putting in a super quick 1.37.289, only for the American rocket to cross the line a few seconds later 0.001 seconds faster, taking his sixth consecutive pole position start and his rightful place at the front of the grid.
Ben Spies, Yamaha World Superbike Team, (1st, 1'37.288) - "It was a good Superpole session, we got down to some fast times on race tyres in the first two heats which was great. It wasn't perfect at the end, I didn't feel I used the qualifiers as well as I could have, they were so grippy I didn't take full advantage of them. The bike is working really well but we need to find a bit more for the race so we're now going to concentrate on tomorrow. Michel Fabrizio has been riding well all weekend, I think the Ducatis will be up front and it's going to be a tough race. It's a long one and everyone will be sliding around at the end so it should be a great one to watch."
Saturday Final Superpole qualifying: 1 Ben Spies (USA-Yamaha) 1:37.288; 2 Michel Fabrizio (ITA-Ducati) 1:37.289; 3 Max Biaggi (ITA-Aprilia) 1:37.466; 4 Noriyuki Haga (JPN-Ducati) 1:37.544; 5 Jonathan Rea (GBR-Honda) 1:37.634; 6 Jakub Smrz (CZE-Ducati) 1:37.677; 7 Carlos Checa (SPA-Honda) 1:37.940; 8 Tom Sykes (GBR-Yamaha) 1:38.241; 9 Shinya Nakano (JPN-Aprilia) 1:37.935; 10 Leon Haslam (GBR-Honda) 1:37.988, 13 Yukio Kagayama (J-Suzuki Alstare Brux) 1:38.130, 21 Fonsi Nieto (E-Suzuki Alstare Brux) 1:39.831
Haga and Spies hold off Spies in Race One.
Ducati's Double Win Team Weekend at Kayalami
Kyalami, Sunday May 17th -Noriyuki Haga and Michel Fabrizio made it a triumphant day for Ducati Xerox in the sixth round of the Hannspree FIM Superbike World Championship at Kyalami. On the championship's return to South Africa for the first time in seven years, 53,000 spectators witnessed two 1-2 wins for the Japanese rider and his Italian team-mate. It was a day of misfortune once again for Ben Spies (Yamaha World Superbike), who had to retire in race 2 after claiming a podium in the first encounter. The races also saw Jonathan Rea (Hannspree Ten Kate Honda) take his first WSBK podium, while Max Biaggi and Shinya Nakano gave Aprilia an overall good result with two fifths and two sevenths respectively.
Race 1 - Haga is Uncontested as team mate Fabrizio gets the best of Spies
Haga clinched his fifth win this year with a commanding performance in race 1. After two days in the shadows, the points leader came good in the race and from the mid-point onwards ran towards the chequered flag with ease. Fabrizio and Spies had to settle for the other two podium slots, in that order, after a mid-race battle that was decided when the American made a slight mistake, his foot slipping off the pegs which caused him to back off the throttle a moment, long enough to let Fabrizio slip past, who had been pressuring ben for a number of laps in order to find a way past.
Rea and Biaggi had quite a scrap for fourth place, with the British rider getting the nod over the Italian. Biaggi once again showed he had the speed and the pace to fight for the podium, but he lost contact with the leading trio when he got stuck behind Carlos Checa (Hannspree Ten Kate Honda) for a couple of laps, the Spaniard eventually finishing sixth overall. Nakano took the second Aprilia to seventh ahead of Yukio Kagayama (Suzuki Alstare), while BMW had a difficult race, with Ruben Xaus crashing out and Steve Martin the final finisher.
Noriyuki Haga: "On Friday and Saturday we had quite a big problem but we tried to fix the suspension and couldn't find a solution. This morning we found a little better feeling but it was not perfect. My feeling was that it would be difficult to win, but in the end I am very satisfied with the victory. During the race my arm was not giving any problems, only my leg! On the last lap I saw a small bird, it looked like a pigeon and I was a bit worried because I didn't want to see any birds here!"
Michel Fabrizio: "It is a pity that the fight with Ben was for second place and not for first. Ben and I for sure lost out to Nori, because when you pass each other a few times you lose a lot of time. When Nori passed me, I lost a bit of confidence in the front so I had to settle for second place. For race 2 we'll have to make a change to the front."
Ben Spies: "We were kind of struggling to hang in there. It was a good race for all three of us and we were all three together. I passed Michel and had bit of a go to get past Nori but made a mistake and had to settle for third. We were really strong in a couple of points of the track, but giving away too much time in a couple of corners, and I couldn't get up there with them."
Superbike Race One Results: 1. Haga N. (JPN) Ducati 1098R 39'47.436 (153,66 kph); 2. Fabrizio M. (ITA) Ducati 1098R 0.950 ; 3. Spies B. (USA) Yamaha YZF R1 3.391; 4. Rea J. (GBR) Honda CBR1000RR 8.914; 5. Biaggi M. (ITA) Aprilia RSV4 Factory 9.019; 6. Checa C. (ESP) Honda CBR1000RR 14.812; 7. Nakano S. (JPN) Aprilia RSV4 Factory 14.971; 8. Kagayama Y. (JPN) Suzuki GSX-R 1000 K9 15.723; 9. Byrne S. (GBR) Ducati 1098R 21.529; 10. Sykes T. (GBR) Yamaha YZF R1 21.795; 11. Lavilla G. (ESP) Ducati 1098R 29.872; 12. Kiyonari R. (JPN) Honda CBR1000RR 34.216; 13. Morais S. (RSA) Kawasaki ZX 10R 34.275; 14. Smrz J. (CZE) Ducati 1098R 38.280; 15. Parkes B. (AUS) Kawasaki ZX 10R 40.885; 16. Nieto F. (ESP) Suzuki GSX-R 1000 K9 44.841
Race 2 - Spies Forced Out for the 2nd Week in a Row
Haga led home Fabrizio to the flag in race 2, giving the Ducati Xerox team a perfect weekend. This time round the Japanese rider led for 23 of the 24 laps and he has now pulled out a large lead in the points table. Fabrizio was again the man on his tail, the Italian livening up proceedings on the final lap with a couple of passes on his team-mate, but twice Haga came back to clinch his sixth win of the season.
Lap 3 saw the demise of Ben Spies, whose R1 machine was forced into the pits on lap 3 with gearshift problem after Ben looked like he was closing the gap on race leader Haga.. This marked the second week in a row that Ben saw a possible race victory taken away, having lost the Race One win at Monza the previous week when his R1 ran out of gas on the last lap within sight of the Finish line. The Texan has now been overtaken in the championship by Fabrizio and is 88 points behind Haga - more than a 3 race win lead and if Haga fails to score any points in 3 races.
Ten Kate Honda's Jonthan Rea scored his first WSBK podium, the youngster from Northern Ireland ending a positive weekend in third. Rea calmly held off the pressure from fellow-Brit Leon Haslam (Stiggy Racing Honda), who had crashed out of race 1 but who in turn managed to keep Biaggi at bay. The Italian RSV4 machine again showed no lack of top speed, Biaggi clocking 255 km/h in the race. Nakano picked up another seventh on the second Aprilia, behind Checa and ahead of Kagayama. A ninth place for Yamaha was earned by Tom Sykes, while South African Sheridan Morais took the leading Kawasaki to eleventh place in front of his home crowd. BMW had a another race to forget, with no points recorded by either Ruben Xaus and Steve Martin.
Noriyuki Haga: "We get some good points this weekend and I really enjoyed battling with Michel in the second race. We changed a little bit the setting from the first race and that feeling was a bit better, but at some point it got worse. On the last lap I saw Michel do harder braking than me, and of course I took the wrong line but I was able to open the gas and get to the line first."
Michel Fabrizio: "It was a very good weekend. Yesterday I was second by one thousandth, today by one curve! The race was really good, I tried right until the very end. Maybe I did the wrong thing by telling Nori where I was strong in race 1 because he pushed harder than me in that sector. On the last lap, if he hadn't been my team-mate I would have given him a push with the shoulder! But I'm happy, I'm second in the championship and that's a good thing."
Jonathan Rea: "It's gone really well. I have to thank all of my crew for making a big effort after the slow start to the season. They upped the development and now everything's fallen into place. I felt very good today and when the bunch behind caught me I thought I had to get third straight away and have some reserve at the end."
Ben Spies, Yamaha World Superbike Team, (3rd, DNF) - "We were struggling to hang in there in race one, it was a good race for all three of us up at the front. When I passed Michel I tried to reel in Nori and then unfortunately made a mistake. I was really strong in parts of the track but giving up too much time in some corners and couldn't get in there.
The second race was very unfortunate, I was feeling good and had secured an early lead, then obviously had the technical problem and had to retire, I'm really disappointed about it. I'm looking forward to going home to the USA for the next round and seeing if we can make it up."
Superbike Race Two Results: 1. Haga N. (JPN) Ducati 1098R 39'45.027 (153,816 kph); 2. Fabrizio M. (ITA) Ducati 1098R 0.322; 3. Rea J. (GBR) Honda CBR1000RR 8.936; 4. Haslam L. (GBR) Honda CBR1000RR 10.561; 5. Biaggi M. (ITA) Aprilia RSV4 Factory 10.767; 6. Checa C. (ESP) Honda CBR1000RR 12.413; 7. Nakano S. (JPN) Aprilia RSV4 Factory 12.616; 8. Kagayama Y. (JPN) Suzuki GSX-R 1000 K9 14.878; 9. Sykes T. (GBR) Yamaha YZF R1 16.225; 10. Smrz J. (CZE) Ducati 1098R 18.197; 11. Morais S. (RSA) Kawasaki ZX 10R 20.629; 12. Lavilla G. (ESP) Ducati 1098R 24.320; 13. Kiyonari R. (JPN) Honda CBR1000RR 24.564; 14. Parkes B. (AUS) Kawasaki ZX 10R 38.747; 15. Nieto F. (ESP) Suzuki GSX-R 1000 K9 50.045; 16. Salom D. (ESP) Kawasaki ZX 10R 57.999
Superbike Championship Points: (after 6 of 14 rounds) Riders - 1. Haga 250; 2. Fabrizio 165; 3. Spies 162; 4. Haslam 116; 5. Rea 106; 6. Biaggi 103; 7. Sykes 103; 8. Laconi 77; 9. Neukirchner 75; 10. Checa 73. Manufacturers: 1. Ducati 275; 2. Yamaha 203; 3. Honda 170; 4. Aprilia 106; 5. Suzuki 105; 6. Bmw 59; 7. Kawasaki 27.
World Supersport
Eugene Laverty stormed to a third win of the year at Kyalami after a dominating performance on his Parkalgar Honda machine. The Irishman pulled out a commanding four second lead in the early laps and from that moment on could administer his advantage until the flag. With this win, Laverty managed to gain five points in the championship battle on Cal Crutchlow (Yamaha World Supersport), whose lead has been cut to 13 points. Crutchlow was held up by a six-rider battle in the early laps and was unable to latch onto Laverty, then when he finally broke through he had to settle for second as the two were lapping at the same pace in the final laps. The battle for the final podium place produced a real surprise, as Kenan Sofuoglu (Hannspree Ten Kate Honda) and Joan Lascorz (Kawasaki Motocard.com), scrapping for third, obstructed each other at the final corner and were edged out by Mark Aitchison (Honda Althea), who got on to the Supersport podium for the first time. The race saw a number of missed opportunities as first Fabien Foret (Yamaha World Supersport) crashed out when he had third place in the bag, and then Gianluca Nannelli (ParkinGo Triumph) went down while fighting for fifth. The Triumph team had to settle for seventh with Garry McCoy, who finished behind sixth-placed Andrew Pitt (Hannspree Ten Kate Honda), in difficulty in the final laps.
Results: 1. Laverty E. (IRL) Honda CBR600RR 39'06.061 (149,855 kph); 2. Crutchlow C. (GBR) Yamaha YZF R6 2.546; 3. Aitchison M. (AUS) Honda CBR600RR 17.358; 4. Lascorz J. (ESP) Kawasaki ZX-6R 17.454; 5. Sofuoglu K. (TUR) Honda CBR600RR 18.221; 6. Pitt A. (AUS) Honda CBR600RR 20.561; 7. McCoy G. (AUS) Triumph Daytona 675 33.141; 8. West A. (AUS) Honda CBR600RR 37.326
Points (after 6 of 14 rounds): Riders - 1. Crutchlow 119; 2. Laverty 106; 3. Sofuoglu 83; 4. Pitt 64; 5. Lascorz 60; 6. West 60; 7. Aitchison 50; 8. Foret 44; 9. Pirro 40; 10. Lagrive 31.
Manufacturers - 1. Honda 133; 2. Yamaha 119; 3. Kawasaki 71; 4. Triumph 36; 5. Suzuki 28
---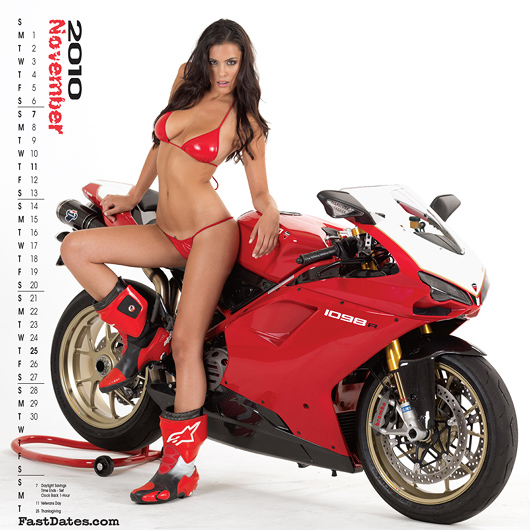 Ducati Corse SBK Confirms hot new Calendar Kitten Sabella
for Miller USA World Superbike May 31st
Los Angeles, April 1st - FastDates.com is excited to announce that Team Ducati Corse World Superbike has confirmed new 2010 Fast Dates Calendar Kitten Sabella Shake to be one of the team's official grid girls at the Miller Motorsports, Utah, USA World Superbike Round on Sunday May 31st 2009. This continues a long standing tradition in World Superbike where the official SBK endorsed Fast Dates World Superbike Calendar models have served as the official grid girls for SBK and top factory race teams including Ducati Corse and Alstare Suzuki. At this year's race Sabella will be be the Ducati Corse umbrella girl for team riders Noriyuki Haga and Michelle Fabrizio, assuring they look good and stay cool and on the starting grid before the heat of battle.
Sabella will be at Miller Motorsports Park for the World Superbike Weekend to shoot with renown motorsports and fashion photographer Jim Gianatsis for the next edition of the Performance Machine sponsored SBK Fast Dates Calendar World Superbike Calendar with all the top factory World Superbike teams.
Beautiful Sabella, age 21, was born in Monterey California, but moved to Los Angeles a few years ago after high school to pursue a modeling career and a higher education. She is currently in her third year of business law at Loyola Mary Mount University and can't wait to be a "....sexy attorney who kicks butt in the courtroom!"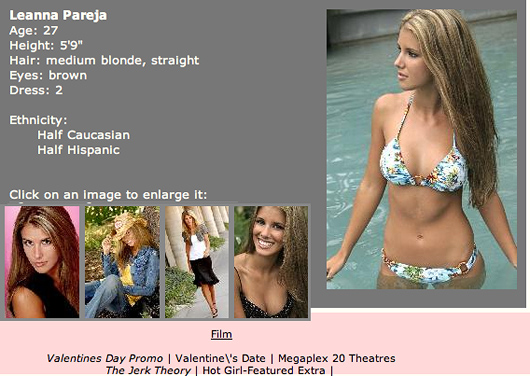 Also joining us at Miller Motorsports World Superbike on Friday to shoot the Fast Dates Calendar with Sabella will be beautiful actress, model and beauty pagent winner Leanna Pareja. Formally from Los Angeles, Leanna is now living near the track in Salt Lake City, Utah.
---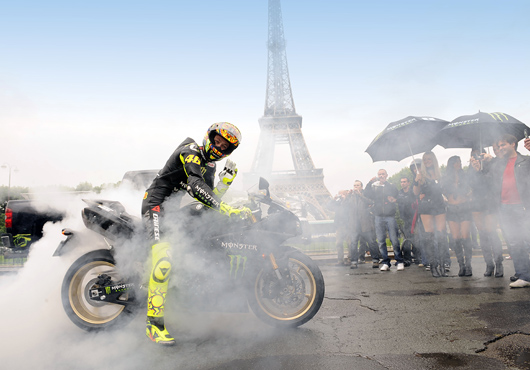 Vale made a burnout at the at the Eiffel Tower, as wellas le Arc de Triomphe

2009 MotoGP World Championship, Round 4 of 17, LeMans, France
Grand Prix de France
Oo la la! Rossi woos Paris ahead of Le Mans
Paris, France, May 14th - It wasn't quite a romantic stroll, by the Seine but there was definitely something memorable about MotoGP World Champion, Fiat Yamaha's Valentino Rossi's first blast past the Eiffel tower and Champs-Élysées with an YZF-R1. The Italian was taking in the tourist hot-spots of Paris ahead of pushing for his 99th career victory this weekend at Le Mans.
Rossi was the draw for hundreds of MotoGP fans and curious onlookers as the 30 year old carefully steered a special edition Monster Energy- livered R1 by the Arc de Triomphe, through nearby streets to a press conference and then – despite the rain – managed a burn-out in front of the French capital's famous sky-line form.
"It was quite slippery out there with the rain, but I managed to do a little burn-out by the Eiffel Tower," said Rossi who leads the current MotoGP standings by 11 points on his YZR-M1 and won the Grand Prix of Spain at Jerez two weeks ago he said. "It's my first time to the Eiffel Tower so I was pleased to do that, we all had some fun out there. I'm looking forward to this weekend at Le Mans now."
Success at the short and twisty circuit of Le Mans on Sunday could set-up a momentous weekend a fortnight later with the chance to reach 100 triumphs in front of his tifosi at Mugello.
Preview
Many 12th - The fourth round of the World Championship, the Grand Prix de France, takes place on May 17th at the famous Le Mans circuit. An eleven point gap separates MotoGP World Champion and current premier class leader Valentino Rossi from nearest rival Casey Stoner heading to the continental showdown, with the duo in top form thus far in 2009. Fiat Yamaha rider Rossi won his first race of the year at the last round in Jerez, and is the only man with a 100% podium record still intact after the opening three races. Last year he headed an all-Yamaha top three at Le Mans, and a repeat of that result would leave him just one win shy of a century of victories –an honour that he could take at his home race in Mugello.
Stoner has only finished on the podium at Le Mans on one occasion, with a third place in a wet 2007 race. The Ducati Marlboro star could regain the lead of the World Championship on Sunday, depending on the results of his immediate rivals.
Tied on points in third and fourth place are the Spanish duo of Jorge Lorenzo and Dani Pedrosa, representing Fiat Yamaha and Repsol Honda, respectively. Lorenzo crashed out of his home race at Jerez, whilst Pedrosa took a second consecutive unexpected rostrum whilst in less-than-peak condition.
Just eleven points cover positions five-thru-ten in the overall classification, With Andrea Dovizioso at the head of the 'mini table' and targeting a better feeling with the Honda RC212V. The Italian has a four-point advantage over Colin Edwards, competing in his Monster Yamaha Tech 3 team's home race on Sunday. Randy de Puniet follows up his fourth place at Jerez with a chance of home glory with his LCR Honda machinery, the Frenchman in a rich run of form.
The remaining riders in the top ten have all won races at the Le Mans circuit across the three World Championship classes, with Marco Melandri and Chris Vermeulen previous premier class victors at the track and Loris Capirossi a victor in the lower cylinder categories. A return to one-hour practice sessions is brought in from the Grand Prix de France onwards.
Pedrosa on pole for French round
Saturday 16 May - In-form Spaniard Dani Pedrosa snatched his first pole position of 2009 right at the death of Saturday afternoon's MotoGP qualifying session at the Grand Prix de France, as the riders got the chance to give it full gas on a dry track.
With weather in Le Mans always predictably unpredictable, morning rain gave way to afternoon sunshine followed by looming cloud. Pole position changed hands several times, before Pedrosa made it his own with a best effort of 1'33.974 on his final lap, taking the first spot by a 0.005s margin.
The factory Honda rider –surprising even himself with a recent run of results belying his lack of testing time and full fitness- will be joined on the front row by fellow Spanish rider Jorge Lorenzo (Fiat Yamaha) and Casey Stoner (Ducati Marlboro). Lorenzo had looked to have clinched pole with his own heroics in the final sector of the track just minutes beforehand.
Lorenzo's colleague Valentino Rossi made improvements as the session went on, his final position of fourth being a significant step forward having lapped eleventh fastest on Saturday morning. Rossi's compatriot Andrea Dovizioso (Repsol Honda) and his former team-mate Colin Edwards (Monster Yamaha Tech 3), who briefly held provisional pole in the session, will line up behind him on the grid.
The third row will feature Rizla Suzuki pair Chris Vermeulen and Loris Capirossi who both qualified within a second of Pedrosa, at a track where Vermeulen took victory in 2007. The top ten was rounded off by Italian competitor Marco Melandri (Hayate Racing) and home rider Randy de Puniet (LCR Honda) who both bounced back from crashes in the hour-long QP session.
Sete Gibernau missed the session and will not race this weekend after fracturing his collarbone and damaging shoulder ligaments in a Saturday morning free practice crash. He has flown back immediately to Barcelona for further assessment of his injuries. Weather forecasts have suggested that there is an 80% chance of rain on Sunday during the fourth MotoGP race of the year.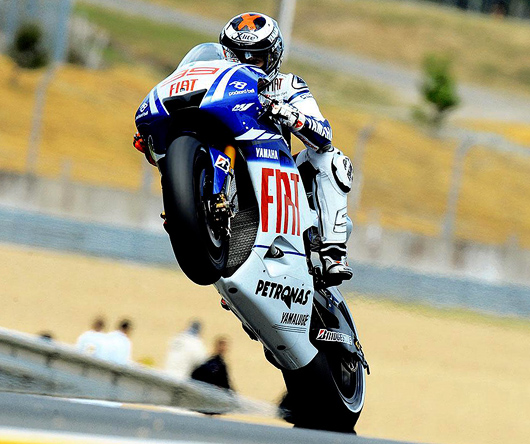 Lorenzo ttok over the World Championship points lead at leMans.
A Wet Race and Good Pit Strategy Helps Earns Lorenzo the Win
Sunday May 17th - The fourth race of 2009 was a fascinating encounter, with changing weather conditions forcing riders to change from rain tyres to slicks as the track dried following rainfall during the 125 and 250 races. Watched by 75,900 fans, the French Grand Prix was won by Jorge Lorenzo (Yamaha) whose second victory of the year puts him back in the World Championship lead.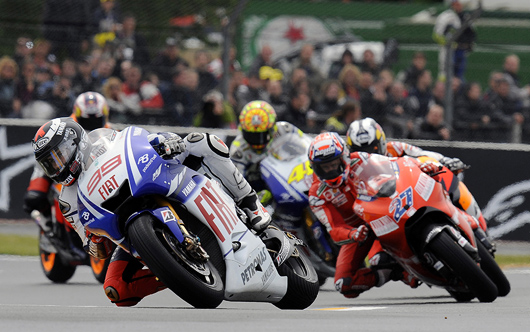 Lorenzo (98) leads the opening lap ahead of Stoner (27), Pedrosa, Rossi and Doviziso, never to be challenged for the rest of th race.
Spanish star Jorge Lorenzo found the perfect remedy for his Jerez frustrations at Le Mans, bouncing straight back from his DNF in Spain with a brilliant win at the Grand Prix de France in highly difficult conditions - to return to the top of the standings. Lorenzo took the lead on the first lap and shot away at the front, building up a big advantage on wet tyres as the track dried quickly, eventually being the last rider to change onto slicks in his first ever 'flag-to-flag' contest and riding superbly on both sets of tyres to win by a 17 second margin.
The race had started on a wet track with all riders using rain tyres, but it was obvious after the first few laps that the surface was drying and that riders would need to enter the pits and swap to their slick-equipped bikes if they wanted to be fast all the way to the finish. Pedrosa had started strong, completing the first lap in second, but then he started slipping backwards.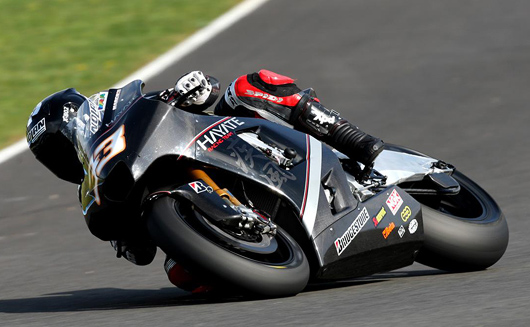 The wet track and pit stops were a great equalizer for Melandri and the Hayate racing Kawasaki.

Another brilliant effort by Hayate Racing's Marco Melandri on the independent Kawasaki factory bike saw him cross the line second for his first podium since 2007, having been unsure of his MotoGP future over the winter. Dani Pedrosa (Repsol Honda RC212V) rode his heart out to score a brilliant podium finish at Le Mans today, grabbing third place from team-mate Andrea Dovizioso (Repsol Honda RC212V) on the very last lap.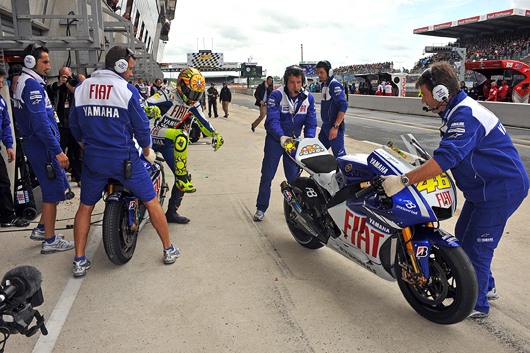 Rossi makes his 1st of four pit stops, here to change from treaded rain tires to hos back-up bike fitted with slicks.

A nightmare for Valentino Rossi saw him slip from first to joint second in the standings after a chaotic race. Reigning World Champion Valentino Rossi (Yamaha) was the first man to change to slick tyres, at the end of lap five while lying second behind Lorenzo, but his decision proved precipitous and he crashed during his out lap, the track still damp in places. The World Champion swapped bikes three times from wet to dry slick tires, to wet, to dry again, suffered the crash after the 1st bike switch, and was given a ride through for speeding in pit lane before eventually finishing last.
Australians Casey Stoner (Ducati Marlboro) and Chris Vermeulen (Rizla Suzuki) were fifth and sixth respectively, with Stoner drawing level with Rossi in second place in the championship. Veterans Colin Edwards (Monster Yamaha Tech 3), who mounted a comeback from sixteenth early in the race, and Loris Capirossi (Rizla Suzuki) would have ultimately hoped for better than their seventh and eighth places.
Down in 12th after seven laps, Pedrosa steadily got up to speed on his slicks and then started clawing his way back to the front. He made it into fourth place on lap 14, finally passing Dovizioso as they braked for the Chemin aux Boeufs chicane for the 28th and final time. The result puts Pedrosa fourth overall in the World Championship, just nine points behind Lorenzo.
Dovizioso was disappointed at losing out on his first podium finish for Repsol Honda but nonetheless the result was his best so far this year. The Italian was riding superbly, moving up to second place during the early stages of the race. He slipped to fourth after changing tyres but soon moved back into third place, holding that position until the final few corners.
Team-mates Toni Elias (San Carlo Honda Gresini RC212V) and Alex De Angelis (San Carlo Honda Gresini RC212V) had a great duel for the final place in the top ten, Elias beating De Angelis by just three tenths of a second. Elias had been the last rider to change to his slick-equipped bike, the Spaniard coming into the pits just before half-distance. It was a heroic ride from Elias who has 30 stitches in his right arm, the legacy of a recent operation to fix 'arm pump' problems.
A solid performance for James Toseland (Monster Yamaha Tech 3) saw the Englishman take a step in the right direction in ninth and Toni Elías (San Carlo Honda Gresini) completed the top ten.
Race Classification MotoGP: (28 laps = 117.18 km)
Pos/ Rider / Nat / Team / Motorcycle / Time/ KM/H / Gap
1 / Jorge LORENZO / SPA / Fiat Yamaha Team / YAMAHA / 47'52.678 / 146.848 /
2 / Marco MELANDRI / ITA / Hayate Racing Team / KAWASAKI / 48'10.388 / 145.948 / 17.710
3 / Dani PEDROSA / SPA / Repsol Honda Team / HONDA / 48'12.571 / 145.838 / 19.893
4 / Andrea DOVIZIOSO / ITA / Repsol Honda Team / HONDA / 48'13.133 / 145.810 / 20.455
5 / Casey STONER / AUS / Ducati Marlboro Team / DUCATI / 48'23.217 / 145.303 / 30.539
6 / Chris VERMEULEN / AUS / Rizla Suzuki MotoGP / SUZUKI / 48'30.140 / 144.957 / 37.462
7 / Colin EDWARDS / USA / Monster Yamaha Tech 3 / YAMAHA / 48'32.869 / 144.822 / 40.191
8 / Loris CAPIROSSI / ITA / Rizla Suzuki MotoGP / SUZUKI / 48'38.099 / 144.562 / 45.421
9 / James TOSELAND / GBR / Monster Yamaha Tech 3 / YAMAHA / 48'42.985 / 144.320 / 50.307
10 / Toni ELIAS / SPA / San Carlo Honda Gresini / HONDA / 48'45.896 / 144.177 / 53.218
11 / Alex DE ANGELIS / RSM / San Carlo Honda Gresini / HONDA / 48'46.228 / 144.161 / 53.550
12 / Nicky HAYDEN / USA / Ducati Marlboro Team / DUCATI / 48'49.325 / 144.008 / 56.647
13 / Yuki TAKAHASHI / JPN / Scot Racing Team MotoGP / HONDA / 48'49.366 / 144.006 / 56.688
14 / Randy DE PUNIET / FRA / LCR Honda MotoGP / HONDA / 49'03.977 / 143.291 / 1'11.299
15 / Niccolo CANEPA / ITA / Pramac Racing / DUCATI / 49'08.063 / 143.093 / 1'15.385
Pole Position: Dani PEDROSA 1'33.974 160.320 Km/h
Fastest Lap: Dani PEDROSA 1'35.045 158.514 Km/h Lap 27
Circuit Record Lap: Valentino ROSSI 1'34.215 159.910 Km/h 2008
Circuit Best Lap: Dani PEDROSA 1'32.647 162.617 Km/h 2008
World Championship Positions:
1 LORENZO 66, 2 ROSSI 65, 3 STONER 65, 4 PEDROSA 57, 5 MELANDRI 43,
6 DOVIZIOSO 43, 7 EDWARDS 35, 8 VERMEULEN 31, 9 CAPIROSSI 27, 10 DE PUNIET 26,
11 ELIAS 21, 12 DE ANGELIS 20, 13 TOSELAND 17, 14 KALLIO 16, 15 HAYDEN 9.
Simoncelli on Gilera wins 250cc
The 250 and 125 races were both run in treacherous wet conditions, so much so that there were 13 crashes in the 250 race and 30 crashes in the 125 race. Only one rider, Cameron Beaubier (KTM 125) sustained an injury, the American teenager breaking his left wrist.
Honda men figured strongly in the 250 race, proving the rider-friendly characteristics of the RS250RW. Hector Faubel (Valencia CF – Honda SAG) had a brilliant ride to second place to score his first podium in the category. The former 125 GP winner kept his head while many around lost theirs, Faubel moving into second place in the final third of the race when Alex Debon (Aprilia) and Thomas Luthi (Aprilia) crashed out together. The race was won by reigning World Champion Marco Simoncelli (Gilera).
Honda SAG team-mate Ratthapark Wilairot (Thai Honda PTT-SAG) scored his best-ever World Championship result in fifth place after a heroic ride with a right-hand injury sustained in a recent domestic accident. Wilairot rode with his throttle/brake hand heavily bandaged and had to learn a new riding technique, braking only with his middle finger.
Class rookie Raffaele De Rosa (Scot Honda) had another strong ride to sixth place, the Italian coming through from 15th place to score his third top ten result from his first four 250 races. His team-mate Hiroshi Aoyama (Scot Honda) had an altogether tougher time at Le Mans, the Japanese coming home eighth. The result lost him the World Championship lead, though Aoyama still holds a strong second place overall, just one point behind leader Alvaro Bautista (Aprilia).
Race Classification 250cc (26 laps = 108.81 km)
1 / Marco SIMONCELLI / ITA / Metis Gilera / GILERA / 49'07.591 / 132.893 /
2 / Hector FAUBEL / SPA / Valencia CF - Honda SAG / HONDA / 49'25.719 / 132.081 / 18.128
3 / Roberto LOCATELLI / ITA / Metis Gilera / GILERA / 49'29.233 / 131.924 / 21.642
4 / Alvaro BAUTISTA / SPA / Mapfre Aspar Team / APRILIA / 49'38.678 / 131.506 / 31.087
5 / Ratthapark WILAIROT / THA / Thai Honda PTT SAG / HONDA / 49'58.088 / 130.655 / 50.497
6 / Raffaele DE ROSA / ITA / Scot Racing Team 250cc / HONDA / 50'03.957 / 130.400 / 56.366
7 / Lukas PESEK / CZE / Auto Kelly - CP / APRILIA / 50'23.616 / 129.552 / 1'16.025
8 / Hiroshi AOYAMA / JPN / Scot Racing Team 250cc / HONDA / 50'30.473 / 129.259 / 1'22.882
9 / Imre TOTH / HUN / Team Toth Aprilia / APRILIA / 50'43.147 / 128.720 / 1'35.556
10 / Vladimir LEONOV / RUS / Viessmann Kiefer Racing / APRILIA / 50'55.581 / 128.196 / 1'47.990
11 / Hector BARBERA / SPA / Pepe World Team / APRILIA / 49'08.614 / 127.737 / 1 lap
12 / Karel ABRAHAM / CZE / Cardion AB Motoracing / APRILIA / 49'09.025 / 127.720 / 1 lap
13 / Valentin DEBISE / FRA / CIP Moto - GP250 / HONDA / 49'31.243 / 126.765 / 1 lap
14 / Toby MARKHAM / GBR / C&L Racing / HONDA / 50'01.933 / 125.469 / 1 lap

Pole Position: Alvaro BAUTISTA 1'38.270 153.312 Km/h
Fastest Lap: Alex DEBON 1'51.406 135.235 Km/h Lap 16
Circuit Record Lap: Marco SIMONCELLI 1'39.666 151.164 Km/h 2008
Circuit Best Lap: Alvaro BAUTISTA 1'38.270 153.312 Km/h 2009
World Championship Positions:
1 BAUTISTA 67, 2 AOYAMA 66, 3 BARBERA 48, 4 SIMONCELLI 41, 5 DE ROSA 31,
6 LOCATELLI 30, 7 LUTHI 29, 8 CLUZEL 28, 9 TALMACSI 28, 10 FAUBEL 27, 11 PASINI 26,
12 PESEK 24, 13 DI MEGLIO 21, 14 WILAIROT 20, 15 TOMIZAWA 14.
---
The most anticipated motorcycle of the year premiers in dealer showrooms this month
2010 Ducati Streetfighter Wheelies into North American Dealerships
May 22-23rd With Open House & Test Ride Festivities
Cupertino, CA (1 May 2009) – Just six months after its global unveiling, the 2010 Ducati Streetfighter is on its way to North American Showrooms. Heralded as "THE bike" for 2009, the Ducati Streetfighter boasts an unprecedented amount of performance for a naked style motorcycle. Loaded with componentry from Ducati's 2008 World Championship Winning Superbikes, it is guaranteed to outperform any other naked class motorcycle on the market. For the most discerning performance fans, there is an "S" variant available with Ohlins suspension, forged Marchesini wheels, carbon fiber panels, data acquisition and eight way adjustable traction control. Colors available will include Ducati red and a stunning pearl white for the Streetfighter, and a metallic black in addition to Ducati red for the Streetfighter S.
In anticipation of the Streetfighter's arrival, Ducati is pleased to announce a priority reservation system for future owners. When a customer places a deposit through the Ducati dealer network, he or she is added to Ducati's priority delivery list and is guaranteed delivery of the first Streetfighter available. Interest in the Streetfighter is at an all time high with gleaming press reviews about to hit newsstands. This priority reservation system will ensure Ducati fans get seat time on their new Streetfighter as soon the bikes hit dealerships.
To celebrate the arrival of the newest Ducati model, participating dealers will be taking part in a weekend of activities May 22-23rd. Kicking off the weekend on Friday the 22nd, dealers nationwide will hold an evening launch party where attendees can view the Streetfighter and the rest of the new Ducati range firsthand. This will set the scene for the action on Saturday, when dealerships will let their first bike loose for demo rides and activities at the shop. Interested customers can contact their local dealership in order to confirm their participation and schedule a ride on the newest jewel in the Ducati crown.
For more information on the revolutionary new Streetfighter, and for a list of participating open house dealers, please visit www.ducatiusa.com.
---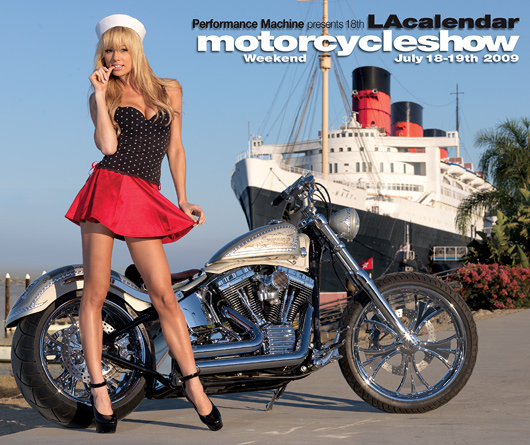 Iron Works Magazine & Mikuni Carburetors sponsored



Performance Machine Los Angeles Calendar Motorcycle Show Weekend
Now $86,000 in Cash and Awards!*
Join us again on Sunday July 13th 2008 for the World's premier Motorcycle Contest at the
Los Angeles Calendar Motorcycle Show & Calendar Girl Music Festival Weekend featuring the finest Professional and Amateur Custom, Performance, Classic V-Twins, Metric Cruiser & Sportbikes, Antique Streetbikes.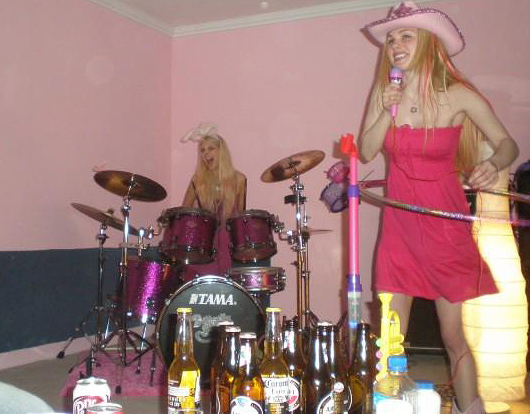 Pajama Band Joins the LA Calendar Bike Show / Music Festival Weekend!
May 15th 2009 - The Los Angeles Calendar Motorcycle Show, in our never ending quest to provide wholesome family entertainment while enhancing the quality of artistic and cultural experience for our visitors, is excited to announce the addition of Pajama Band to our performance lineup with the Calendar Girl Music Festival which is included with July 18-19th 2009 event weekend at the Queen Mary Event Park in Long Beach, CA.
A unique entertainment experience, Pajama Band features the vocal talents of beautiful new 2010 FastDates.com Calendar Sex Kitten, Penthouse Pet and Hustler Honey Jayme Langford / JaymeLangford.com. Jayme is somewhat new to music, having only picked up a pink guitar and plastic trumpet from Guitar Center on Hollywood Boulevard just 3 months ago, But she is is sure her extensive modeling, pre-Med University education and precision Hula-Hoop skills will allow her to become an accomplished lead singer, guitarist and trumpeter in time for this year's Show.
Performing with Jayme in Pajama Band are her famous porn starlet girlfriends, Jana Jordan / ClubJannaJordan.com also a Hustler Honey and Penthouse Pet, and Louisa Lanewood / LouisaLanewood.com. The band will be making its professional world premier debut at the 2009 Calendar Show performing their exciting new hit "Fuck You Until You Die" which has music critics raving, in what can only be described as pornicopia of visual and audio excitement guaranteed to leave their many new found fans breathless with their hearts palputating. Music critics are already raving that these girls have given new meaning to the genre "Hard Rock"!
For more about Pajama Band visit MySpace.com/PajamaBandMusic
For more about the LA Calendar Motorcycle Show
---
AMA/DNG National Superbike Championship, Round 5 of 12, Infineon Raceway, CA

Hayes Wins his 1st Superbike race for Yamaha in Day One at Infineon
Sanoma , Calif. May 16, 2009 - Josh Hayes (No. 4 Yamaha Motor Corp. USA Yamaha R1) claimed his first career win in AMA Pro National Guard American Superbike presented by Parts Unlimited competition and Martin Cardenas (No. 36 Team M4 Suzuki GSX-R600) ran a flawless race in Saturday's Daytona SportBike presented by AMSOIL race to claim his fourth victory of the season.

Front row pole-sitter Mat Mladin (No. 7 Rockstar/Makita Yoshimura Suzuki GSX-1000R) , Hayes, Tommy Hayden (No. 22 Rockstar/Makita Yoshimura Suzuki GSX-1000R) and Ben Bostrom (No. 2 Yamaha Motor Corp. USA Yamaha R1) started the race from the front row and took the green flag joined at the hip into Turn 1. Mladin led the first and second laps before a dramatic pass of Mladin by Bostrom going into Turn 1 on Lap 3 gave the Petaluma, California native the lead.

Hayes quickly followed Bostrom past Mladin and the Yamaha duo continued their third-lap drive through Turn 10 before Bostrom low sided at Turn 11 and handed the lead over to his teammate. Hayes led the remainder of the 22-lap race before finishing 6.135 seconds ahead of the field. Despite the wreck, Bostrom recovered to finish ninth.

"It was a pretty good day," said Hayes. "I think the pace was slower than any of us expected and the heat played a role. I was feeling things out (at first) and I saw Ben (Bostrom) being aggressive and then he had his miscue. Mat had some problems; it was not his race today. We all have bad races and Mat had his. I expect tomorrow that will not be an issue for Mat."

Hayes' win was the first for a non-Suzuki in AMA Pro National Guard American Superbike in 55 races, since Jake Zemke won on a Honda on June 18, 2006 in race two at Miller Motorsports Park, and was the first win for Yamaha at Infineon since 2001.

Second place finisher Tommy Hayden never lost sight of the front runners and after losing a position to eventual third place finisher Larry Pegram (No. 72 Foremost Insurance/Pegram Racing Ducati 1098R) on Lap 11 in Turn 6. Hayden was able to pass Pegram in Turn 9A on Lap 18 and made the pass stick but could never close the gap on Hayes to less than six seconds by the end of the race.

"It went pretty well for me," said Hayden. "I got a good start behind Mat and I was happy with that. I thought I would sit there and let him try and pull me along for a while. That's usually a good plan. But it looked like he was fighting things hard today. Ben (Bostrom) came by quick and I knew he had a little bit more speed (than Mladin). As the race went on it got hot and greasy, but it didn't get a whole lot worse. I was able to do the same lap times and it looked like it got easier for me. I just got through it and wanted to bring it home second. Josh (Hayes) had a big lead and I didn't have anything for him today."

For Lary Pegram, the result equaled his season best finish of third in race two at Fontana. "The race went good, everybody was sliding around and greasy," said Pegram. "Everybody had to dial it down a notch. I passed Tommy (Hayden), and then had the best pass of my life when I passed Mat (Mladin) on the outside of Turn 6 in the carousel. After that, things got pretty slippery and I'm really happy to be up on the podium today."

Aaron Yates (No. 23 Jordan Suzuki GSXR-R1000) ran in the top five all day and finished fourth, his second highest finish of the season coming after his podium finish at Barber Motorsports Park. Mladin, the only winner in the American Superbike competition before this weekend, faded to fifth on Lap 12 and was able to maintain the position until the finish.
"Obviously, I've had better days," said Mladin. "That's racing. We just didn't hit on the set-up today. We've had seven wins in a row, and we can't complain. We've done a fantastic job. We'll try to keep it together and get back up there tomorrow."
Mladin back on Top in Day 2 at Infinion
Sonoma, Calif. (May 17, 2009) - Season win number eight put Mat Mladin (No. 7 Rockstar/Makita Yoshimura Suzuki GSX-1000R) back on top of the podium in AMA Pro National Guard American Superbike presented by Parts Unlimited competition as Martin Cardenas (No. 36 Team M4 Suzuki GSX-600R) completed his second consecutive weekend sweep to earn win number five in AMA Pro Daytona SportBike presented by AMSOIL competition in the final round of this weekend's Kawasaki Superbike Showdown presented by Supercuts doubleheaders at Infineon Raceway in Sonoma, California.

Mladin held off repeated attempts by runner-up Ben Bostrom (No. 2 Yamaha Motor Corp. USA Yamaha R1) to take the number one spot as the two ran like they were qualifying from the moment the green flag dropped.

"It was a tough one today," said Mladin, who holds the record for AMA Pro American Superbike wins at Infineon with nine. "I had nothing left out there today. I went as hard as I could and kept going and going and going. I got stuck behind a couple of lappers but I said (to myself) I didn't want to give Ben a sniff, but he got one and he got pretty close. I just put my head down and went hard the rest of the way."

Bostrom spent his laps not only chasing Mladin, but holding off the charge of third place finisher Tommy Hayden (No. 22 Rockstar/Makita Yoshimura Suzuki GSX-1000R). Hayden threw down fast lap after fast lap at Bostrom but couldn't get by the rider from California.

"It's a tough track, one of the toughest we go to," said Bostrom. "I love it so much and I've always wanted to win a Superbike race here but I've never done it. Congratulations to Mat and Tommy, especially Mat. He rode a perfect race and it was stellar to watch".

Bostrom closed to within .608 seconds of Mladin on Lap 18 as both riders fought through traffic, but was never closer as Mladin led all 22 laps and stretched the lead to 1.833 seconds at the checkered flag. For Bostrom, his second-place finish was his highest in AMA Pro American Superbike this season.

Of the leaders, Hayden seemed to suffer the most with lapped traffic, falling back time and time again only to charge back to the rear wheel of Bostrom, but was unable to maintain enough momentum to complete the pass.

"It was a very tough race for me," said Hayden. "In the beginning Mat had his head down and was doing some quick laps. I just tried to hang in and stay close. I knew the bike was good over the distance of the race so I wanted to stay in and I hoped to make something happen but I made mistakes and lost some time. After that, I just tried to hang on."

Josh Hayes (No. 4 Yamaha Motor Corp. USA Yamaha R1) finished fourth as the Saturday AMA Pro American Superbike winner couldn't mount a charge to match the front three riders.

"It was very disappointing today, especially after yesterday," said Hayes, whose victory in Saturday's race came as the first American Superbike win of his career. "The guys worked hard on the R1 and it was all rider error. I had a headache earlier and I don't know if it was allergies or what, but I just wasn't feeling right. The R1 was staying up with the front riders and I was just trying to ride my race and hope something happened up front. But I started messing up, hitting the bumps and missing the lines and I just tried to hang on."

Mladin, who has won eight of the last 14 American Superbike races at Infineon, increases his points lead over teammate Hayden, 268-189. Hayes' performance this weekend improves him from sixth position to third in the 2009 championship points battle with 160, while Bostrom's strong performance on Sunday takes him to fourth with 150 points.

Round Six for AMA Pro National Guard American Superbike presented by Parts Unlimited will be the Suzuki Superbike Doubleheader in Elkhart Lake, Wisconsin at Road America June 5-7.
Saturday Superbike
1. Josh Hayes (Yamaha)
2. Tommy Hayden (Suzuki)
3. Larry Pegram (Ducati)
4. Aaron Yates (Suzuki)
5. Mat Mladin (Suzuki)
6. Taylor Knapp (Suzuki)
7. David Anthony (Suzuki)
8. Chris Ulrich (Suzuki)
9. Ben Bostrom (Yamaha)
10. Cory Call (Suzuki)

Sunday Superbike:


1. Mat Mladin (Suzuki)
2. Ben Bostrom (Yamaha)
3. Tommy Hayden (Suzuki)
4. Josh Hayes (Yamaha)
5. Larry Pegram (Ducati)
6. Geoff May (Suzuki)
7. Taylor Knapp (Suzuki)
8. David Anthony (Suzuki)
9. Neil Hodgson (Honda)
10. Ryan Elleby (Suzuki)

Championship Standings:


1. Mat Mladin (Suzuki) 268
2. Tommy Hayden (Suzuki) 189
3. Josh Hayes (Yamaha) 160
4. Ben Bostrom (Yamaha) 150
5. Geoff May (Suzuki) 143
6. Larry Pegram (Ducati) 131
7. Aaron Yates (Suzuki) 116
8. Blake Young (Suzuki) 114
9. Taylor Knapp (Suzuki) 97
10. David Anthony (Suzuki) 96
---
There's more! Go to Pit Lane News Previous Page

Also Visit: Fast Dates Calendar News • Iron & Lace Calendar News
Calendar Girl News • Meet the Models • Paddock Garage

Calendar Kittens, The Paddock Garage, Screensavers, Iron & Lace Garage



MotorcycleSuperstore.com
Some of our Calendar Kittens can also at Playboy's website...




Now Available
2009 FastDates.com Calendars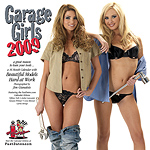 ---
Members Only
2010 Calendar
Sneak Preview!
All the new 2010 FastDates.com Calendars with all their pages are now available in large screen saver size format for your viewing in Members Corner. The printed Calendars will be avaialble to order here online July 1st, with the live World Premier with the beautiful Calendar Kittens taking place at the LA Calendar Motorcycle Show Weekend July 18-19th
WSBK Superbike World Championship at Miller on SpeedTV May 31st
Featuring Fast Dates Calendar Kitten Sabella with Ducati Corse World Championship Points Leaders Nori Haga and Michel Fabrizio
Catch all the action of the upcoming WSBK at our home turf at Miller Motorsports Park in Salt Lake City, UT, featuring Fast Dates Calednar Kitten Sabella on the starting grid as the official Team Ducati Corse umbrella girl for World Championship points leaders Noriuki Haga and Michel Fabrizio. Speed will be showing both race 1 and 2 (with a repeat showing for race 2). Don't miss a moment of BMW's historic and exiting entry in the world's most important motorcycle race.
Salt Lake City - Race 1
May 31, 2009 • 5:00pm ET / 2:00pm PT
FIM World Superbike
Salt Lake City - Race 2
May 31, 2009 • 6:00pm ET / 3:00pm PT
FIM World Superbike
Salt Lake City - Race 2
June 2, 2009 • 4:00pm ET/ 1:00pm PT
FIM World Superbike


The Official SBK
2008/2009 Yearbook
Awesome in full color! Commerating the 21st Anniversary of World Superbike
Troy Bayliss' 3rd World Championship Title>
PLus a technical look at ll the bikes, and a preview of Ben Spies and Noriyuki Haga battleing for the 2009 Champiosnhip!
We bought it ourselves and totally recommend it!
More Sneak Peaks!
2010 Calendar Sex Kitten
Jayme Langford


Just announced!
World Premier Debute
of Pajama Band !
Calendar Kitten, Penthoue Pet and Hustler Honey Jayme Langford and her sexy all girl Pajama Band of world famous porn starlets will be performing at the LA Calendar Motorcycle Show Weekend July 18-19th.
Fuck the Bikes! You don't want to miss this....
---


Calendar Kitten Apple
Tests the new
Roehr Harley Superbike! plus Aprilia, BMW, KTM


BMW S1000RR Scores Its First Win its 1st Win
Hockenheim, Germany, May 17th - The BMW S 1000 RR enjoyed its first national race success on 11 April, with victory in the prestigious 1,000 km Hockenheim race in Germany. Not only did Team Motobike (a cooperation partner of BMW Motorrad Germany for motorcyclist training programs) celebrate victory with a production version of BMW's new 1000cc superbike in this famous endurance race, but the HP2 Sport also enjoyed a podium finish in its class.
More Here
Troy Corser to Miss Kyalami WSB Because of Monza Injuries
Monaco, 15th - MayTroy Corser will not be racing in Kyalami this coming weekend. The Aussie took a severe battering in two hard crashes in Monza last weekend and it was felt that it would be better for him to give the South African round a miss and get fully fit for the USA round.

Troy - "There have been many crashes at the first chicane, so maybe it is about time that the circuit thought about how to change it. The crashes are always caused by somebody coming from behind, never by the front runners. One minute I was going into the corner and the next minute I was down. I guess the bike hitting my neck and back did most of the damage and perhaps I should not have gone out for the restart, but at the time I felt OK. Another crash!
On Sunday evening I sat down with Berti (BMW Motorrad Motorsport's director) and together we decided to give Kyalami a miss. I am still having problems with the cracked bone in my left hand and that makes changing the bike's direction not so easy. Normally, this bone takes six weeks or s to heal, so racing every other weekend is not doing it any good. Also, I suffered a little concussion in the Monza crash and that together with the cracked bone is enough. Kyalami is a very physical circuit and it's also quite bumpy and that is not good for my hand. So we decided to sit out Kyalami and give my hand a chance to get better and be in a better condition for USA at the end of the month."
Max Neukirchner badly injured at Monza
out for a least 2 months
Suzuki Alstare probably came off the worst from Monza after losing their number 1 rider Max Neukirchner, who was taken out at the start of race 1 and who suffered broken and dislocated bones to his right leg. The most optimistic of forecasts points to the German being out of action for two months, just in time for the last race before the summer break at Brno . In the four races he will miss, the Alstare Brux team has opted to replace him with Fonsi Nieto, who rode for the team in 2008.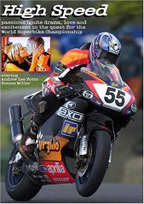 High Speed - the Movie
The best motorcyce racing movie ever made! Filmed on location at World Superbike, this an exciting romantic drama staring beautiful actress Sienna Miller.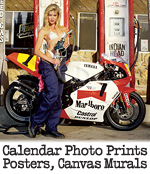 More 2009 Pin Up Model
& Motorcycle Calendars...

---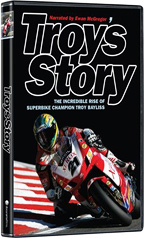 Troy's Story
The story of now 3-Time World Superbike Champion Troy Bayliss narrated by Ewan McGreggor. The video is made up of (6) 30-minute TV shows about the Champion's career and his life, beginning with his film footage of Troy taling about his minibike racing career at age 6 years! We bought it and totally recommend it!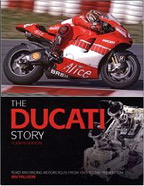 Nickey Hayden Gets new Chief mecanic at LeMans to Help Him With Set Up!
Wiil it Work?
Friday May 15 2009Round 4 - French GP - The fourth round of the MotoGP World Championship was predictably hit by rain today, as the typically changeable conditions of northern France brought an early interruption to the first free practice at Le Mans. With each session returning to an hour in length this weekend, today provided the riders with the ideal opportunity to work on bike set-up without the added pressure of restricted time constraints. However, a light shower around fifteen minutes from the end of the session halted the progress of Ducati Marlboro pair Casey Stoner and Nicky Hayden, who were making gradual and methodical improvements to the settings of their Desmosedici GP9 machines.
Stoner only completed a handful of laps on a comfortable set-up but the Australian was in impressive form, clocking the second fastest time behind today's pacesetter Andrea Dovizioso. Hayden, working for the first time with new Crew Chief Juan Martinez, was the only rider starting the session with a harder rear tyre and had just switched to a softer compound when the heavens opened. The American ended the session 15th fastest and is desperate for the opportunity of a full day's work tomorrow.
CASEY STONER (Ducati Marlboro Team) 2nd (1'36.194)
"In the first part of the session it felt like we maybe had a problem with the rear tyre because the bike was pretty difficult to ride but we haven't analyzed the data yet so we don't know what really happened. We were in and out of the garage a few times before deciding on a complete change, swapping onto my other bike with a completely new tyre. I immediately had a better feeling but we still weren't getting enough temperature into the tyre, which we think was because the rear setting was too stiff and we weren't getting enough weight transfer to load the rear and make the tyre work. We changed the set-up but we only had time to do half a lap and then the rain came, which was effectively 'game over'. It wasn't much of a session for us because we only completed three proper laps so it would be useful if we could have a dry weekend to have more time to work on the setting. Unfortunately with the way the weather forecast is, I don't think we're going to get that!"
NICKY HAYDEN – (Ducati Marlboro Team) 15th (1'38.032)
"We thought we were going to have an hour today but it seems like the weather decided we should stick to 45 minutes! It was a shame about the rain because we obviously have a lot of work to do and we're in a new situation, where me and Juan need to learn about each other, but we only got two runs in the dry. I constantly got a little faster, a little faster, and then I was really just getting going on my second run when it started to rain. For a while it looked like it couldn't decide whether it wanted to rain or whether the sun was coming back out but unfortunately the conditions were never back to what we needed. I was planning to go out on the softer tyre and see how that felt but we didn't get that chance. It's early days to comment on the relationship with Juan but he clearly knows his stuff and we'll see how we go."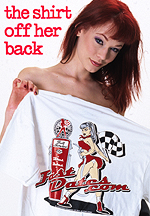 Order the Official
FastDates.com &
LA Calendar Bike Show
T-Shirts!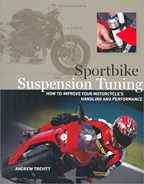 Video Tribute To John Britten. Backyard Motorcycle Visionary
onsidered at the time of his death the best motorcycle engineer in the world, designing and building motorcycles and much more, John Britten gave us a fabulous lesson of perseverance, courage, humility and creativity. If you never watched it, this 5- part documentary (total 7 h 15 minutes) shot in his home in New-Zealand is a must see for all the pros and backyard builders around the world. By the time he died of cancer in 1995, John Britten had become a household name.
See the video TV Series by going HERE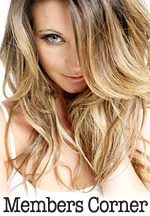 Members Corner
Hot Bikes, Sexy Kittens
Get Your Exclusive Grid Pass
aslo includes....
---
First and Last!
Mixed Results for Yamaha at LeMans
may 14th - Fiat Yamaha rider Jorge Lorenzo took a stunning second win of the season in Le Mans today, negotiating varying track conditions and a change of bikes to lead from the first lap to the flag and take the championship lead. It was a doom-laden day for his team-mate Valentino Rossi however as the world champion slid off early on and then had a ride-through penalty to compound his misfortune.
With the track still wet from a rainy morning all riders started the race on rain tyres, with the mechanics readying the dry bikes in pit lane in anticipation of an early change as the track dried out. Lorenzo, starting from second, slipped a place at the start but had passed both Casey Stoner and Dani Pedrosa by the end of the first lap to take the lead. By lap five a dry line had begun to appear and a few riders chose to make early pit stops to change bikes. The 22-year-old Spaniard however was feeling comfortable and had an excellent pace on his Bridgestone wets and so he stayed out, constantly stretching his lead. In the end he was the last of the front-runners to pit, a gamble which paid off brilliantly as he was by then nearly 34 seconds clear and was able to rejoin the race in the lead on lap 13. Once he had bit of heat in his slick tyres the youngster put his head down and kept his nerve for the remaining 15 laps and he eventually took the chequered flag an impressive 17.710 seconds clear of second-placed Marco Melandri.
It was a day of stark contrasts on the opposite side of the garage, with Rossi forced to make an incredible four visits to pit lane. The Italian was in second behind his team-mate when he elected for an early bike change, coming in to swap onto his second M1 on dry Bridgestones after just five laps. The change went smoothly but the track was still damp in places and he went down on the next lap whilst trying to warm his tyres up. He returned to the pits next time around to swap back onto his other bike, with the rules stipulating that he had to keep one wet tyre with the second bike change, but a problem with his pit-limiter meant he was penalised for speeding on exit and forced to return once again two laps later to perform a ride-through penalty. His final visit to the garage came on lap 11 when he changed once again onto a fully-dry machine, but by then he was some two laps adrift and he finished in 16th.
Lorenzo's 25-point haul takes him into the lead by one point and he now has 66 points to Rossi's 65. Stoner has the same points as Rossi but lies third as the Italian has more second places, and Pedrosa follow in the standings. With just nine points separating the top four the next round in Mugello is sure to be a thrilling spectacle.
Jorge Lorenzo - Position: 1Time: 47'52.678 - "Never in all my dreams did I imagine this situation today - winning the race and leading the championship. This season I have been much more calm and careful and so I was really upset after the crash in Jerez because I didn't expect it! Today has made up for that though. I had a very good pace with both types of tyre and the strategy of our team worked perfectly. I felt happy to stay out on the wet tyres for such a long time and in the end I think we changed at exactly the right time for our race; there was some luck on our side but we were also strong, calm and careful and this paid off. It was the first time in my life that I've had to change bikes during the race and I was very nervous, but it went smoothly and I was able to rejoin in the lead. I'm sorry for Valentino because it was bad luck to crash, but now we are nearly on the same points and it seems like the championship is starting again! I want to thank my team because they were very clever today, I'm so happy to be here and to have won a third MotoGP race."
Valentino Rossi - Position: 16thTime: +2 Laps
"I had difficulties from the start today and I really could not ride my bike to its best. Already by the fourth lap I felt that I was quite slow and that I couldn't ride as I wanted. I decided to change bikes early because usually this strategy - being among the first to change the bike - pays off. Of course I knew that I had to warm the tyres up a little bit but I crashed anyway in that corner because at that point the track was still wet and I just didn't ride into it in a calm enough manner. Luckily I was able to make it back to the pits and I changed again, but the rule says that if you change the bike again then you have to use one wet tyre, and so this is what we did. When I started that time, the pit-limiter on my bike was not on and so I was given a ride-through for speeding, but by that time it was too late for our race anyway. We've had problems throughout the entire weekend with the set-up of the bike and today I was just hoping that I could stay with the riders in front and get some important points for the championship. Now we go to Mugello, my home GP, where I will perhaps be even more motivated than usual!"
Casey Stoner is 5th for Ducati at LeMans, Hayden Continues to Struggle
Not satisfied with interrupting the first two races of the season, the heavens once again opened over the Grand Prix de France GP to create an exciting flag to flag race that started out wet before drying out. Casey Stoner emerged from the drama with a fifth place that was certainly creditable but not entirely satisfactory to the Australian, who would surely have fought for the podium if it weren't for a technical problem in the dry part of the race.
Despite making an excellent start Stoner was not totally comfortable with his wet set-up and struggled during the early stages, dropping from second place to seventh in just three laps. After changing to a bike fitted with slick tyres he then encountered a problem with his steering damper, which he managed to fix himself but lost valuable time as a result. Once he got back into his rhythm he was able to pass compatriot Chris Vermeulen for fifth place and pick up eleven crucial points that leave him level in the championship with Valentino Rossi on 65 points – one behind today's deserved winner Jorge Lorenzo. With Daniel Pedrosa lurking on 57, the championship is wide open after four rounds.
It has also been a positive weekend overall for Nicky Hayden, who wasn't blessed with the ideal conditions to begin working with a new Chief Mechanic but still made progress throughout the weekend and put in an impressive race performance. Lapping in fourth place before changing machines he was battling for eighth in the second, dry half of the race when Mika Kallio crashed, the Finn's Ducati making contact with Hayden's and causing it some light damage, as well as forcing the American off track. A twelfth place finish was scant reward for an otherwise encouraging weekend.
CASEY STONER (Ducati Marlboro Team) 5th
"I'm pretty disappointed because I don't think we realised our potential at all today – the wet bike we started with had a big problem and I couldn't find any traction from the warm-up lap. I never felt comfortable and I was losing a lot of time but it still wasn't dry enough to come in for slick tyres. Then when I switched over my other bike had a problem with the steering damper and after four laps I had to take my hand off the gas coming down the straight to fix it. After that I felt much better, the bike was more comfortable and I was able to ride to my potential. I think if it wasn't for that we would have been able to battle for the podium today but unfortunately these things happen sometimes and we just have to hope things work out better next time. I now really look forward to Mugello, one of my favourite. I've got some good results there and I feel we have a bit better package this year compared to the last one so hopefully we should be able to fight more at the front".
NICKY HAYDEN – (Ducati Marlboro Team) 12th
"The conditions were tricky and sometimes you have races that aren't exactly what you've planned. It's actually good fun on the grid making late decisions on set-up and tyres and things, with the track being wet but the sun shining. I got a decent start and even though I've had very little time on this bike in the rain my feeling was pretty good and I was able to move up a few spots. We came in and changed to slick tyre but with the track temperatures being so low it was hard to get any heat into the tyres, especially on the left side now that we don't have dual compound rubber anymore. I was actually as high as eight at one point but I got unlucky again when Kallio crashed and his bike slid into me. I was lucky to save it because the impact was hard – you can see the rubber on the side of my bike – and I ran off track. It cost me time and positions and also damaged the front wheel sensor. We have two so the bike was working as well but probably it didn't help things. Overall it's not a great result but it has been a weekend where me and Juan have been able to work a lot together for the first time, we've tried to build an understanding and hopefully we can go forward from here."
LIVIO SUPPO – Ducati Marlboro Team MotoGP Project Director
"Unfortunately we didn't have any time to set the bikes up for the wet conditions today so it was a bit of a gamble and Casey who we know is unbelievably fast in the rain, was unable to meet his potential. Things were better in the dry and only one rider set better lap times than Casey. It has been a real shame but we have to think positive because last year when we left Le Mans we were forty one points behind in the championship and now the gap is just one. It was a difficult race for Nicky after the contact with Mika Kallio but he rode well and is making constant improvements, so we're looking ahead to the next race with plenty of optimism."
Yamaha Champions Riding School Debuts at Miller Motorsports Park
TOOELE VALLEY, UTAH (May 12, 2009) — Miller Motorsports Park is pleased to announce a marketing partnership with Yamaha Motor Corporation U.S.A. for the creation of the Yamaha Champions Riding School, which will offer a performance riding curriculum aimed at sport bike street riders and track day participants.
The Yamaha Champions Riding School will offer classes at Miller Motorsports Park starting June 3-4, and is investigating the possibility of offering classes at an additional location. The school is the newest addition to the Miller Performance Training Center, which also offers a variety of training programs for cars, karts and off-road vehicles.
The creation of the Yamaha Champions Riding School signifies the beginning of a strategic partnership between Miller Motorsports Park and Yamaha Motor Corporation U.S.A. Yamaha will be the Official Motorcycle of the Miller Performance Training Center and will supply all motorcycles and provide marketing support to help promote the school to riders of all brands. Throughout the year, special well-known racing stars and champions will attend or participate as "guest instructors."
Students attending the Yamaha Champions Riding School can expect a great experience on the school's 2009 Yamaha R6s and R6Ss, the new FZ6R and a handful of FZ1s included for those of long inseam. The '09 R6 has been heralded as one of the best 600s by the international press and, when combined with the award-winning layouts of Miller Motorsports Park, will provide students with the best rides of their lives.
An all-star cast of instructors has been assembled for the Yamaha Champions Riding School, led by Nick Ienatsch. Joining Ienatsch on the instructor roster will be Ken Hill and Dale Kieffer, both of whom have strong credentials, as well as two-time MRA No. 1 plate holder Mark Schellinger and multi-time MRA and USBA class champion Shane Turpin.
"The Yamaha Champions Riding School combines small classes with top-level instruction to improve the riding of every type of street rider," Ienatsch said. "We'll have kids looking to begin a road racing career and older riders returning to motorcycling after putting the kids through college; our group of instructors will be able to help everyone who walks through the door."
For Miller Motorsports Park, the new partnership with Yamaha represents a valuable expansion in the Miller Performance Training Center's portfolio.
"Once we made the decision to start our own school, it was a matter of finding the right partner and the right instructors," said Miller Motorsports Park CEO and President Dan Davis. "We are thrilled to be teaming up with Yamaha, who have been terrific to work with, and we'll put Nick Ienatsch and his staff of instructors up against any other school in the world."
For Yamaha, the partnership with Miller Motorsports Park was a natural fit.
"Miller Motorsports Park is a first-class facility in every respect," said Yamaha Motorcycle Marketing Manager David Docktor, "and the Miller Performance Training Center is just one example of that. We're very pleased to be partnering in the Yamaha Champions Riding School, which we are confident will be one of the world's top riding schools, and we look forward to a long and mutually beneficial relationship with Miller Motorsports Park."
For more information on Yamaha Sportbikes please
www.yamaha-motor.com.
For more information on the Yamaha Champions Riding School, call 435-277-8797 or visit MMPSchools.com/motorcycle
For information regarding Miller Motorsports Park, call 435-277-RACE (7223) or visit the track's website at www.MillerMotorsportsPark.com.
Neil Hodgson Returns to AMA Superbike at Infenion After His Training Crash
Results - DNF, 9th
"Sort of knackered, second-hand is how I feel. It was tough, tough race. I knew it was going to be around this track.

Obviously, first race back after the injury. But I survived, I rode as hard as I could. I was good for about five laps and then everything sort of wore off, the pain-killers. And you never feel total clarity when you've taken quite a lot of pain-killers and anti-inflammatories and stuff.
So I felt slightly not on my game, anyway. But, it were a long sort of last 12, 13 laps. What was happening is as I got weaker on the bike, I then didn't move my body position and just leaned the bike further over, because I didn't have the strength to put the bike into the corner. And then I were like riding off the edge of the tires and nearly crashing it and I thought, 'I'm going to crash it trying to battle for seventh place.
And having crashed in the first race, I didn't want to do it again. That was just the usual last corner crash. I trail braked onto the bump, which is pretty much onto the apex. I didn't get away with it. The bike, it's not good at turning on those sorts of corners anyway. You've pretty much got to trail brake to make it turn. I just asked too much really. I got caught out with how greasy the track was. I think everyone was ready for it today, but yesterday it caught everybody out.
So I survived and I sort of didn't come here with any expectations of great results or anything. I knew what I had. I knew it was going to be a problem. I survived the weekend and I'm confident that this is as bad as it'll ever be and it'll be a lot stronger for the next race at Elkhart Lake. I think the Honda's pretty fast. Obviously, you need speed around there. So I'm looking forward to it and my season starts again at Elkhart, I'd say. This was just a practice, a bit of a shakedown, really."