Dani Pedrosa still looks happy even after Valentino rained on his Spanish parade.

2009 MotoGP World Championship , Round 3 of 17, Spanish Grand Prix at Jerez
Rossi Romps to Win Spanish Thriller at Jerez
Gran Premio bwin.com de España, Jerez, Spain, May 1st-3rd - Valentino Rossi took a stunning win in Jerez today, his first of the season and the 98th of his career taking him 11 points clear at the top of the championship. His Fiat Yamaha team-mate Jorge Lorenzo had a disappointing home race, crashing out on lap 24 when closing on the final podium position.
The reigning World Champion had looked in trouble yesterday but an overnight set-up change saw him fastest in warm-up and he lined up confident that he would be able to mount a challenge. Starting from fourth on the grid, Rossi held his position at the start and managed to pass Lorenzo on the final turn of the second lap. Casey Stoner was the next target and the Italian quickly began to close the gap, setting the fastest lap of the race on lap four. Rossi and Stoner exchanged a couple of entertaining passes in the next few laps before the Yamaha rider made it stick at the end of the seventh lap, with the gap to Dani Pedrosa in the lead then standing at 1.2 seconds. The middle section of the race saw Rossi making little headway into the Spaniard's lead but at two-thirds distance he suddenly found a new rhythm and started shaving tenths off the gap, making the definitive move and claiming the lead with 10 laps to go. From then on there was only one winner and the irrepressible 30-year-old brought his M1 home 2.7 seconds clear of second-placed Pedrosa. Ever the joker, Rossi took advantage of the moment to replicate one of his most famous post-race stunts ten years on, making a stop on his victory lap to pop into a track side portable toilet, to the delight of the 120,000-strong crowd.
After his dazzling pole position Lorenzo was fully expecting to challenge for the win but the higher track temperature today caused problems and he lacked the grip and pace of yesterday. The Mallorcan, who turns 22 tomorrow, spent most of the race in a lonely fourth position but in the final stages began to close on Stoner and looked like he might have a podium chance. With the gap down to under half a second the excitement began to build in the 99 side of the garage but with just four laps to go he lost the front and went down, emerging unhurt from the gravel trap but with damage to his foot peg and throttle meaning there was no chance to finish the race.
Rossi now leads Stoner by 11 points in the standings, whilst Lorenzo slips to third, 13 points adrift of the Australian. The MotoGP paddock will reconvene on French soil in ten days time for round four in Le Mans.

Rossi scored his first MotoGP win of the year at Jerez at took the championsgip points lead.
Jerez MotoGP Preview: Rossi faces a strong Spanish contingent
The MotoGP World Championship's return to Europe saw the riders in high spirits on Thursday afternoon at Jerez, the scene for this weekend's Gran Premio bwin.com de España. At the pre-event press conference, current World Championship leader Jorge Lorenzo gave his thoughts on competing in Spain for the first time this year. The Fiat Yamaha man was one of four Spaniards attending the media gathering, accompanied by Repsol Honda's Dani Pedrosa, San Carlo Honda Gresini rider Toni Elias and home returnee Sete Gibernau (Grupo Francisco Hernando), whilst Italian reigning World Champion Valentino Rossi was also present.
The winner of the last round at Motegi, Lorenzo, stated, "It's nice to be at my own GP, and it is always special for Spanish riders, more so now that we have a chance for the podium and are working for an even higher performance with our Bridgestone tyres."
A multiple race-winner at Jerez, Rossi added, "The last two races we have been fighting rain, but this time it's looking there will be better weather. Things were always difficult in Qatar and Motegi as we got coped with the rain and had less time on track."
Earlier in the day Spanish star Gibernau made a 40km journey from the Jerez circuit with fellow MotoGP riders Alex de Angelis, Colin Edwards and former premier class World Champion Alex Crivillé to visit the ranch of famous Spanish bullfighter Jesulin de Ubrique. The riders toured the traditional Spanish style ranch, shared a 'tapas' meal, saw De Ubrique's game hunting trophies and were treated to a brief bullfighting demonstration before having a shot at the traditional Spanish art. Later the riders saw the fields where De Ubrique breeds the animals which are used in traditional Spanish 'bull runs'.
Also on Thursday, several riders took some time out to 'relax' with a game of poker on the 50 metre-high elevated bwin.com 'Sky Platform,' which will be present at the Jerez circuit throughout the weekend.
Practice for the Gran Premio bwin.com de España begins for the MotoGP stars on Friday afternoon at 2.05pm local time, with the 125cc riders on track at 1.05pm and the 250cc competitors getting underway at 3.05pm.
Rossi starts Jerez weekend as Quickest
Friday 1 May - The action at the Gran Premio bwin.com de España got underway on Friday afternoon at the Circuito de Jerez, with Fiat Yamaha's Valentino Rossi setting the pace in Spain and sending a May Day warning to those looking to beat him this weekend.
Happily for the riders the session took place in fine conditions, under brilliant blue Andalusia skies and on a dry surface, with similar conditions forecast for the rest of the weekend -after two rain-affected GPs so far this year in Qatar and Japan.
Rossi started the Spanish visit with a best effort of 1'39.647 on the 16th of the 21 laps squeezed into the 45-minute first free practice session, continuing the good pace he demonstrated in the Official MotoGP Test at the same track in March.
Three other riders who also performed well in the final preseason test at Jerez, namely Rizla Suzuki's Loris Capirossi (1'40.011), Ducati Marlboro's Casey Stoner (1'40.268) and Fiat Yamaha's Jorge Lorenzo (1'40.441) lapped second to fourth quickest, respectively, whilst Repsol Honda rider Andrea Dovizioso was around a second adrift of Rossi's pace to complete a top five which featured four different manufacturers.
The likes of Colin Edwards (Monster Yamaha Tech 3), Randy de Puniet (LCR Honda), Chris Vermeulen (Rizla Suzuki), Marco Melandri (Hayate Racing) and Dani Pedrosa (Repsol Honda) all registered top ten times, Pedrosa lapping a second and a half off the quickest pace.

A very cool Jorge Lorenzo last week in Japan, continues his cool at home this week in Spain.
Lorenzo on top in Jerez Qualifying
Saturday May 2nd - Jorge Lorenzo delighted his home crowd at the Jerez de la Frontera circuit in beautiful conditions on Saturday afternoon, as he repeated his 2008 pole for this year's Gran Premio bwin.com de España. It was in in stark contrast to the appalling weather at Motegi a week ago, which saw qualifying cancelled altogether, the growing Spanish crowd at the Andalusian track were bathed in some typical Iberian sunshine and the riders only had a strong wind to contend with during the timed sessions.
Lorenzo and his Spanish rival Dani Pedrosa did battle for pole position during the 45-minute session, with the Fiat Yamaha rider eventually emerging on top with a 1'38.933 hot lap on the eighteenth of his 21 turns of the track.Saturday morning's fastest rider Pedrosa again demonstrated his improving form and fitness on his Repsol Honda RC212V machine, lapping just 0.051s behind his young compatriot.
Ducati Marlboro's Casey Stoner, who won the BMW M Award at Jerez in March's Official MotoGP Test, was around half a second behind Lorenzo; his best effort put him third on the grid at one of his least-favoured tracks.
Friday's top man, World Champion Valentino Rossi could not match his championship rivals and after a modest Saturday morning free practice outing the Italian qualified off the front row for the first time this year in fourth place.
A good effort from Randy de Puniet saw him as the top satellite qualifier in fifth place for the LCR Honda team, whilst the second line of the grid was rounded off by Rizla Suzuki's Loris Capirossi - who made sure four different manufacturers are represented on the front two rows. The third row, meanwhile, features Colin Edwards (Monster Yamaha Tech 3), Andrea Dovizioso (Repsol Honda) and Toni Elias (San Carlo Honda Gresini). Chris Vermeulen (Rizla Suzuki) was tenth fastest, with Sete Gibernau (Grupo Francisco Hernando) twelfth and 2006 World Champion Nicky Hayden (Ducati Marlboro) down in sixteenth. San Carlo Honda Gresini's Alex de Angelis crashed at the end of the session and qualified in fifteentth place, but was not reported to be injured.
Rossi Reels in Pedrosa for the Win and Points Lead
Sunday Race Day,May 3rd - Valentino Rossi took his first win of the season at the Gran Premio bwin.com de España on Sunday, beating Dani Pedrosa to the line by a 2.7s margin in front of a huge Spanish crowd of more than 123,000 fans in Andalusia. The rostrum was completed by Casey Stoner, who trailed Rossi by 10 seconds - the Ducati Marlboro rider moving into second place in the championship. It was the Australian's first podium appearance at the southern Spanish track on any category.
Watched by more than 120,000 sun-blessed fans, Pedrosa led from the start, all the way to lap 18 of 27, when he was passed by Rossi. The Spaniard kept his head down to finish just 2.7 seconds behind the race winner and more than eight seconds ahead of third-placed Casey Stoner (Ducati). It was Pedrosa's second podium finish in a single week, the former 125 and 250 World Champion taking third in last Sunday's Japanese GP. Both results are minor miracles, Pedrosa having battled a multitude of injury problems during the past six months. The knee and wrist injuries he suffered in early March meant that he was also the only rider to go into today's race without having attended the two-day preseason tests session at Jerez.
Pedrosa led for the first half of the race having made one of his trademark strong starts from second on the grid, but Rossi took the lead with ten laps to go and did not look back there and his triumph gives him an 11 point lead in the general standings.
As was the case in the 250cc and 125cc races, the Spanish rider who got underway in pole position crashed out in MotoGP. Fiat Yamaha's Jorge Lorenzo lost control riding in fourth place with three laps to go, losing ground in the championship race after coming into the weekend as the series leader.
An excellent performance from Randy de Puniet, meanwhile, saw the Frenchman bring his LCR Honda satellite machine home in fourth place, having qualified in fifth, to give himself a confidence boost ahead of his home GP at Le Mans in two weeks time.
Another fine run from Marco Melandri gave the Italian another good points haul in fifth, improving upon his good result from last weekend in Japan for the Kawasaki-equipped Hayate Racing team.Rizla Suzuki's Loris Capirossi rode steadily from sixth on the grid to maintain the position meaning that five different manufacturers were represented in the top six.
Where Are They Now? Above: Once Kings of the pond, now fish in the sea, Former World Superbike Champions Colin Edwards, and below, James Toseland.

Monster Tech Yamaha's Colin Edwards crossed the line seventh, whilst Andrea Dovizioso did well to finish eighth in his third ride for the factory Repsol Honda team -having left the track at one stage due to a lack of grip. Toni Elías was the second best Spaniard in ninth for the San Carlo Honda Gresini team, with the top ten completed by Suzuki's Chris Vermeulen.
Sete Gibernau -on his return to Jerez for his first race at the track since 2006- could only manage 11th for the Grupo Francisco Hernando team with their privaterr Ducati. Former World Champion Nicky Hayden however, Stoner's teammate on the other factory Ducati Marlboro bike qualified for the race on the back row in 16th of 18 bikes, and immediately work his way to the back of the field by the end of the opening lap. Nicky would cross the finish line in 15th as the last bike running at the end of the race, having never come to grips with the spec tires used by everyone else, or his set-up for the bike.
Valentino Rossi (Yamaha Fiat) - Position: 1st: "This is a wonderful victory because yesterday we were really quite worried! I couldn't ride how I wanted to and it was very hard. We had to work all together to understand how to fix the problem and finally we made a big change to try to make the bike feel how I like in the corner, which worked, so I have to say a huge thank you to Jeremy and all my guys. This morning we could tell immediately that things were much better and then we made a couple more small changes after warm-up, which made my M1 and my Bridgestone tyres feel even better. The race was long and quite hard - I lost some time getting past Lorenzo at the start and then I had a good battle with Stoner, which I enjoyed. After that I wasn't so fast and I couldn't close the gap to Pedrosa for a while; he was very quick but finally things improved and I was able to catch and pass him. It's great to win again and especially here in Jerez, which I love. It's ten years since I made the joke with the toilet here and so I thought it would be funny to do it again if I won - I liked that a lot! Now I hope that the changes we've made here will help us for the rest of the season. Thanks again to everyone!"
Dani Pedrosa (Repsol Honda) 2nd: "I really wanted to win here but I knew it was going to be tough because Valentino has been very strong through the weekend and I knew he'd be fast in the race – and that's how it turned out. I got a good start, got out in front and then I just tried to concentrate on my race and see what would happen. Although of course I wanted to win here for me, the team and the fans, I'm actually very happy with the podium and surprised too. We struggled when we arrived on Friday and having missed so much testing in the winter – and the test here – It's a very good result for us, so I must say thanks to my team and everyone who's working with me. We're having quite a difficult time at the moment to get the machine performance to where we want it, so this podium is unbelievable."
Casey Stoner (Ducati Marlboro Team) 3rd - "After all these years this is my first time on the podium at Jerez so it has been a long time coming – I've had plenty of opportunities in the past but I've been unlucky and made mistakes, so this tastes really sweet. Today I wasn't nervous about the race at all because to be honest I went into it thinking that I didn't have a chance of finishing on the podium. We knew Dani, Valentino and Jorge all had a better pace than us so we took a bit of a gamble with the setting to try and find an extra edge and it paid off, so I have to thank the team for that. I got a great start and I was running right up there with Dani in the early stages but I started to lose the front in a few corners. When Valentino came I tried to hold him off as best as I could but when he came past me the second time I decided to try and stay behind him, to see if he could take me with him to Dani. Unfortunately from that point I was losing the front even more often and there was one place in particular where I was almost crashing every lap. When Jorge started to close in I honestly thought it was 'game over' but I kept pushing to try and at least take the battle to the final laps. It was just getting to the point where I was going to have to back off because I was risking a crash, but Jorge solved that problem for me! I couldn't believe my luck but I think we deserved it though because the whole team has worked incredibly hard all weekend and I could not have given more in the race. It is only third place but it feels even better than the win in Qatar."
Jorge Lorenzo (Yamaha Fiat) DNF: - "I am very sad, because I was so fast all weekend and on pole position. Unfortunately today the temperature meant that our setting did not work in the same way and at the moment we don't understand why. This is really more disappointing than the actual crash. Fourth position wouldn't have been so bad but when you're in front of your fans, at home with so much adrenalin on the bike of course you try to do the maximum. I could see that the podium was possible and maybe the right thing would have been to go more gently and not push so hard in that moment, but I always want to do my best. Then I made a mistake and I threw all my good work away. We have to try to forget this and wake up feeling positive tomorrow because Le Mans is near. I'm sorry to all the fans who came to see me, to my team, family and to everybody!"
Results Motegi MotoGP: (27 laps = 119.421 km)
Pos/ Rider / Nat / Team / Motorcycle / Time/ KM/H / Gap
1 / Valentino ROSSI / ITA / Fiat Yamaha Team / YAMAHA / 45'18.557 / 158.141 /
2 / Dani PEDROSA / SPA / Repsol Honda Team / HONDA / 45'21.257 / 157.984 / 2.700
3 / Casey STONER / AUS / Ducati Marlboro Team / DUCATI / 45'29.064 / 157.532 / 10.507
4 / Randy DE PUNIET / FRA / LCR Honda MotoGP / HONDA / 45'50.450 / 156.307 / 31.893
5 / Marco MELANDRI / ITA / Hayate Racing Team / KAWASAKI / 45'51.685 / 156.237 / 33.128
6 / Loris CAPIROSSI / ITA / Rizla Suzuki MotoGP / SUZUKI / 45'52.685 / 156.180 / 34.128
7 / Colin EDWARDS / USA / Monster Yamaha Tech 3 / YAMAHA / 45'52.978 / 156.163 / 34.421
8 / Andrea DOVIZIOSO / ITA / Repsol Honda Team / HONDA / 45'53.182 / 156.152 / 34.625
9 / Toni ELIAS / SPA / San Carlo Honda Gresini / HONDA / 46'01.246 / 155.696 / 42.689
10 / Chris VERMEULEN / AUS / Rizla Suzuki MotoGP / SUZUKI / 46'03.740 / 155.555 / 45.183
11 / Sete GIBERNAU / SPA / Grupo Francisco Hernando / DUCATI / 46'06.749 / 155.386 / 48.192
12 / Yuki TAKAHASHI / JPN / Scot Racing Team MotoGP / HONDA / 46'10.432 / 155.179 / 51.875
13 / James TOSELAND / GBR / Monster Yamaha Tech 3 / YAMAHA / 46'12.240 / 155.078 / 53.683
14 / Alex DE ANGELIS / RSM / San Carlo Honda Gresini / HONDA / 46'12.498 / 155.064 / 53.941
15 / Nicky HAYDEN / USA / Ducati Marlboro Team / DUCATI / 46'19.794 / 154.657 / 1'01.237
Pole Position: Jorge LORENZO 1'38.933 160.945 Km/h
Fastest Lap (New Record) : Valentino ROSSI 1'39.818 159.518 Km/h Lap 4
Circuit Record Lap: Dani PEDROSA 1'40.116 159.043 Km/h 2008
Circuit Best Lap: Jorge LORENZO 1'38.189 162.164 Km/h 2008
World Championship Positions:
1 ROSSI 65, 2 STONER 54, 3 LORENZO 41, 4 PEDROSA 41, 5 DOVIZIOSO 30,
6 EDWARDS 26, 7 DE PUNIET 24, 8 MELANDRI 23, 9 VERMEULEN 21, 10 CAPIROSSI 19,
11 KALLIO 16, 12 DE ANGELIS 15, 13 ELIAS 15, 14 TOSELAND 10, 15 GIBERNAU 8.

250cc GP to Simoncelli
There was a brilliant battle between four riders at the front of the 250cc race, with Scot Racing team's Hiroshi Aoyama ultimately emerging on top, holding off the advances of Álvaro Bautista right at the death. The lead changed hands continuously throughout the race between Aoyama, Bautista and Metis Gilera's World Champion Marco Simoncelli – the Italian falling away slightly in the final laps to eventually come home third.
Aoyama outfought Bautista on the very last corner, the Japanese rider beating the Spaniard in his home race just as the Aprilia man had done to the Honda equipped Aoyama last week at Motegi. Aoyama now holds the championship lead by four points from Mapfre Aspar rider Bautista.
As the front four crossed the line within three seconds of each other, Simoncelli completed the podium ahead of fourth placed Héctor Barberá (Pepe World Team Aprilia), the Italian finishing 0.063s ahead of the Spaniard. A close battle for fifth place was won by Thomas Luthi (Emmi – Caffe Latte) who beat Mattia Pasini (Team Toth Aprilia) to the line by 0.004s.
250cc GP Results: (26 laps = 114.998 km)
1 / Hiroshi AOYAMA / JPN / Scot Racing Team 250cc / HONDA / 45'08.805 / 152.832 /
2 / Alvaro BAUTISTA / SPA / Mapfre Aspar Team / APRILIA / 45'08.937 / 152.824 / 0.132
3 / Marco SIMONCELLI / ITA / Metis Gilera / GILERA / 45'11.511 / 152.679 / 2.706
4 / Hector BARBERA / SPA / Pepe World Team / APRILIA / 45'11.574 / 152.676 / 2.769
5 / Thomas LUTHI / SWI / Emmi - Caffe Latte / APRILIA / 45'26.751 / 151.826 / 17.946
6 / Mattia PASINI / ITA / Team Toth Aprilia / APRILIA / 45'26.755 / 151.826 / 17.950
7 / Gabor TALMACSI / HUN / Balatonring Team / APRILIA / 45'35.093 / 151.363 / 26.288
8 / Jules CLUZEL / FRA / Matteoni Racing / APRILIA / 45'35.277 / 151.353 / 26.472
9 / Roberto LOCATELLI / ITA / Metis Gilera / GILERA / 45'36.451 / 151.288 / 27.646
10 / Raffaele DE ROSA / ITA / Scot Racing Team 250cc / HONDA / 45'41.174 / 151.027 / 32.369
11 / Mike DI MEGLIO / FRA / Mapfre Aspar Team 250cc / APRILIA / 45'41.422 / 151.013 / 32.617
12 / Shoya TOMIZAWA / JPN / CIP Moto - GP250 / HONDA / 45'43.046 / 150.924 / 34.241
13 / Lukas PESEK / CZE / Auto Kelly - CP / APRILIA / 45'45.694 / 150.778 / 36.889
14 / Hector FAUBEL / SPA / Valencia CF - Honda SAG / HONDA / 45'46.042 / 150.759 / 37.237
15 / Ratthapark WILAIROT / THA / Thai Honda PTT SAG / HONDA / 46'25.591 / 148.619 / 1'16.786
Pole Position: Alex DEBON 1'43.028 154.548 Km/h
Fastest Lap (New Record): Alvaro BAUTISTA 1'43.338 154.084 Km/h Lap 15
Circuit Record Lap: Marco SIMONCELLI 1'43.546 153.775 Km/h 2008
Circuit Best Lap: Dani PEDROSA 1'42.868 154.788 Km/h 2005
World Championship Positions:
1 AOYAMA 58, 2 BAUTISTA 54, 3 BARBERA 43, 4 LUTHI 29, 5 CLUZEL 28, 6 TALMACSI 28,
7 PASINI 26, 8 DI MEGLIO 21, 9 DE ROSA 21, 10 SIMONCELLI 16, 11 PESEK 15,
12 LOCATELLI 14, 13 TOMIZAWA 14, 14 DEBON 13, 15 S.AOYAMA 10.
---
The most anticipated motorcycle of the year premiers in dealer showrooms this month
2010 Ducati Streetfighter Wheelies into North American Dealerships
May 22-23rd With Open House & Test Ride Festivities
Cupertino, CA (1 May 2009) – Just six months after its global unveiling, the 2010 Ducati Streetfighter is on its way to North American Showrooms. Heralded as "THE bike" for 2009, the Ducati Streetfighter boasts an unprecedented amount of performance for a naked style motorcycle. Loaded with componentry from Ducati's 2008 World Championship Winning Superbikes, it is guaranteed to outperform any other naked class motorcycle on the market. For the most discerning performance fans, there is an "S" variant available with Ohlins suspension, forged Marchesini wheels, carbon fiber panels, data acquisition and eight way adjustable traction control. Colors available will include Ducati red and a stunning pearl white for the Streetfighter, and a metallic black in addition to Ducati red for the Streetfighter S.
In anticipation of the Streetfighter's arrival, Ducati is pleased to announce a priority reservation system for future owners. When a customer places a deposit through the Ducati dealer network, he or she is added to Ducati's priority delivery list and is guaranteed delivery of the first Streetfighter available. Interest in the Streetfighter is at an all time high with gleaming press reviews about to hit newsstands. This priority reservation system will ensure Ducati fans get seat time on their new Streetfighter as soon the bikes hit dealerships.
To celebrate the arrival of the newest Ducati model, participating dealers will be taking part in a weekend of activities May 22-23rd. Kicking off the weekend on Friday the 22nd, dealers nationwide will hold an evening launch party where attendees can view the Streetfighter and the rest of the new Ducati range firsthand. This will set the scene for the action on Saturday, when dealerships will let their first bike loose for demo rides and activities at the shop. Interested customers can contact their local dealership in order to confirm their participation and schedule a ride on the newest jewel in the Ducati crown.
For more information on the revolutionary new Streetfighter, and for a list of participating open house dealers, please visit www.ducatiusa.com.
---
The Official SBK 2008/2009 Yearbook
Commerating the 20th Anniversary
of World Superbike and
Troy Bayliss' 3rd World Championship Title

The World Superbike Championship is a spectacle for the technical enthusiast with modified production bikes representing the point of contact between the most advanced technology and the machines that we see darting along the public roads every day. The official Superbike World Championship book has always tried to transmit this important fact through its pictures.

From the 2008 edition, that message is further developed and goes even deeper into the technical aspects of the sport, so extremely interesting to the most competent fans. But as well as the bikes, the men of the category are able to maintain close contact with their public. That is why champions and their colleagues recount their human side as well as their sports career, aspects to which ample space has been given in the Superbike annual. There is no lack of chapters devoted to other categories (Supersport, Superstock 1000, Superstock 600), which complete the world championship program. All highlighted by the most spectacular pictures of the season.
---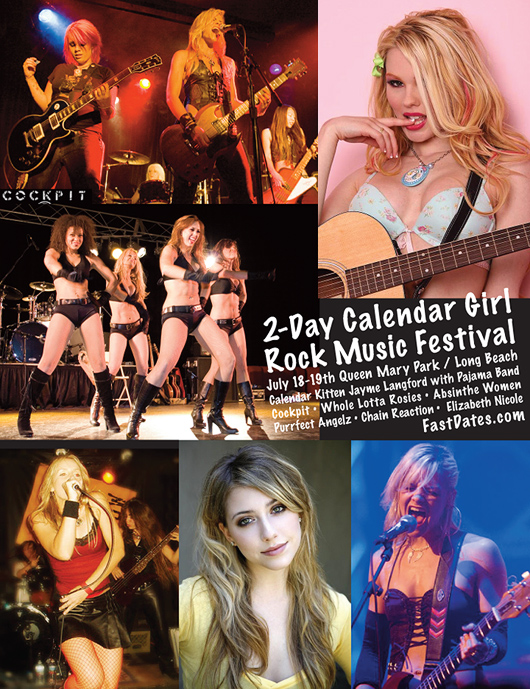 Iron Works Magazine & Mikuni Carburetors sponsored



Performance Machine Los Angeles Calendar Motorcycle Show Weekend
Now $86,000 in Cash and Awards!*
Join us again on Sunday July 13th 2008 for the World's premier Motorcycle Contest at the
Los Angeles Calendar Motorcycle Show & Calendar Girl Music Festival Weekend featuring the finest Professional and Amateur Custom, Performance, Classic V-Twins, Metric Cruiser & Sportbikes, Antique Streetbikes.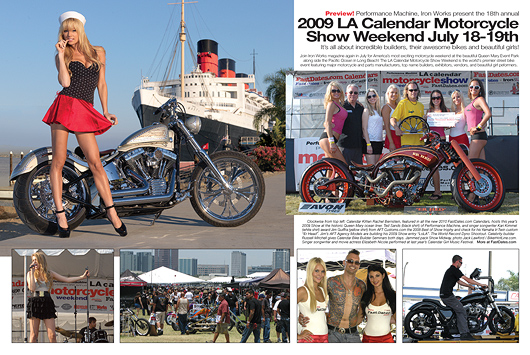 Other exciting new classes and activities at this year's Los Angles Calendar Motorcycle Show include the Metric Midway with wide range of special activities for metric Road and Sportbike enthusiasts and fans will take place in the Midway including custom and performance bike displays, demo bike rides, a special Metric Cruiser and Sportbike trophy contest class, together with related Venders, Dealers and Product Manufacturers. More....


Pre war sportbike! Mike Dunn's beautiful 1934 Zundapp K500 wlil be among the entries at the 2009 Calendar Show. Vintage German Motorcycles www.vintagegermanmotorcycles.com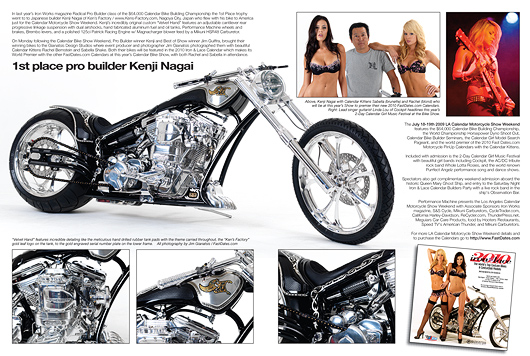 ---
New FastDates.com Greeting Cards!
It's been nearly impossible for motorcycle enthusiasts to find cool motorcycle related greeting cards, but now through our new association with CafePress, a print-on-demand publisher, I am excitied to now offer you the first selection in a new line of official FastDates.com Calendars Greeting Cards. This first Card features our beautiful Calendar Kitten Tiffany Toth getting down for action behind the bubble of the incredible Ducati 1098S Tri Colore limited edition Superbike. Cards are printed on high quality card stock with a glassy front, measure a large 5x7 inches and come packaged (10) per box with envelopes. - Cheers! Jim Gianatsis
Order at CafePress.com/FastDates
Below - Just in case you can't get enough, here's one more look, of Tiffany who is featured in all 3 of our 2009 FastDates.com Calendars, and in some very sexy pictorials in Members Corner!
---
Matt Mladin leads Ben Bostrom and Blake Young.
AMA/DMG Superbike Championship, Barber Motorsports Round 3 of 11
Round Four of 2009 AMA Pro Season
Honda Superbike Classic at Barber Motorsports Park May 1-3rd
This Weekend's Event Features Dual American Superbike and Daytona SportBike Races
LEEDS, Ala. (April 30, 2009) - Championship leaders Mat Mladin (No. 7 Rockstar/Makita Yoshimura Suzuki GSX- R1000) and Danny Eslick (No. 9 Bruce Rossmeyer's Daytona Racing/RMR Buell 1125R) will lead a full field of AMA Pro Road Racing teams and riders to Barber Motorsports Park this weekend for the 7th annual Honda Superbike Classic. Over 130 AMA Pro motorcycles are entered for the event that takes place at the picturesque Barber Motorsports Park circuit, May 1 - 3.

The packed weekend of AMA Pro Road Racing is headlined by AMA Pro National Guard American Superbike presented by Parts Unlimited and AMA Pro Daytona SportBike presented by AMSOIL, which will run dual feature races on Saturday and Sunday. Also on the card are the up-and-coming riders of the AMA Pro SuperSport presented by Shoei division and a two-hour enduro for AMA Pro SunTrust Moto-GT.

The Barber Motorsports Park weekend will be the second consecutive AMA Pro Road Racing event on a permanent road course in the Southeast after the series visited Road Atlanta for the AMA Pro Suzuki Superbike Showdown earlier this month. The 2009 series opened with a pair of races on the superspeedway road courses at Daytona International Speedway (Daytona 200 Week by Honda, March 4 - 6) and Auto Club Speedway (Suzuki AMA Pro Superbike Challenge, March 20 - 22).

Flag-to-flag coverage of the four featured Barber Motorsports Park races as well as SuperSport and SunTrust Moto-GT highlights will be showcased on the new AMA Pro Prime Time show on SPEED in consecutive episodes on Saturday, May 9 at 10 p.m. ET (7 p.m. PT) and in a special Sunday airing on May 17 at 10 a.m. ET (7 a.m. PT).

Undefeated American Superbike championship leader Mladin has 157 points and has not lost a race at Barber since 2006. He has been the clear class of the field this year while his Yoshimura Suzuki teammates Tommy Hayden (No. 22 Rockstar/Makita Yoshimura Suzuki GSX-R1000) and Blake Young (No. 79 Rockstar/Makita Yoshimura Suzuki GSX-R1000) have been among the few riders able to keep pace with their Australian teammate this season. Hayden is second in points with 112 and has finished out of the top three only once in the year's first five races. Young, in turn, scored his first podium finish of the year with a second-place finish in Race 2 at Road Atlanta where he also led his first laps of the season. He is fourth in the championship standings with 89 points.

Geoff May (No. 54 National Guard Jordan Suzuki GSX-R1000) is third in the American Superbike Championship with 92 points after finishing third in three of the last four races, including both rounds at Road Atlanta. His Jordan Suzuki teammate Aaron Yates (No. 23 Brand Jordan Suzuki GSX-R1000) has yet to crack the top three this season but had a best finish of fifth one race ago at Road Atlanta. Yates won three straight Superstock races at Barber from 2006 through last year.

Yamaha's American Superbike contenders include Ben Bostrom (No. 2 Yamaha Motor Corp. USA Yamaha R1) and Josh Hayes (No. 4 Yamaha Motor Corp. USA Yamaha R1). Hayes is fifth in the championship standings with 77 points and is coming off of his best weekend of 2009 at Road Atlanta where he scored fifth- and fourth-place showings. Bostrom is sixth in the standings with 71 points and has one top-five race finish so far this season.
Race One: Mladin Goes Six-for-Six
BIRMINGHAM, Ala. (May 2, 2009) - Mat Mladin continued his dominance of AMA Pro National Guard American Superbike presented by Parts Unlimited while Martin Cardenas claimed his second AMA Pro Daytona SportBike presented by AMSOIL victory in his last three starts in Saturday's 1st race of the weekend's 2-race Double header Honda Superbike Classic races at Barber Motorsports Park.

Racing the 2009 Suzuki GSX-R1000 model for the first time today, Mladin dropped back to fourth on the opening lap after starting from pole on the No. 7 Makita/Rockstar Yoshimura Suzuki GSX-R1000. However, he quickly began working his way back toward the front, and claimed the lead from Ben Bostrom's No. 2 Yamaha R1 on Lap 6 of the 21-lap race.

Mladin wouldn't be challenged from that point on as he claimed his sixth AMA Pro American Superbike victory in six 2009 starts, this time by 1.928 seconds ahead of teammate Blake Young. It was also Mladin's fifth consecutive victory at Barber Motorsports Park and the eighth of his career at the 2.38-mile Alabama road circuit.

"At the start of the race, the boys were having a bit of a go," Mladin said. "Ben came by and I just sort of sat there to see what was going on, just to get a feel for the bike with a full tank of gas and a few laps in. I had a bit of a look at what they were doing and made our way through. I just tried to keep it solid, but try not to wear too much stuff out, because we really didn't know what the bike was capable of doing or what it was going to do to the tires. This motorcycle, as far as a GSX-R1000 goes, is very, very different to any other one we've ever had. It's a very different motorbike. We have some work to do to try and figure out a few things. We didn't want to go too crazy today. We were riding hard, but we needed to keep it within a certain envelope."

Young and Bostrom played central roles in a thrilling race-long battle for second place, although both riders also spent time at the head of the field. Young led Lap 2 on his No. 79 Rockstar/Makita Yoshimura Suzuki GSX-R1000 before surrendering the spot to Bostrom, and the two riders resumed their battle -- this time for second -- throughout the remainder of the race. Young took advantage of several lappers on the second-to-last lap to claim second place for the second-straight race behind his teammate.

"It started off pretty good there," Young said. "After getting out front, I really wanted to see what the track was like. It was obviously really green and not very much grip, but I just tried to get comfortable and put in a pace that I was comfortable doing. Ben came by and he was running a bit quicker, so I definitely just jumped in and tried to learn where he was a little bit better. All of a sudden, Mat came by and he was running even more of a quicker pace, so I knew he was going to go. I was just trying to stay on his rear wheel and wait until he went by Ben and try to go with him. It didn't end up like that. We had to wait another lap, but I just kept my head down and worked really hard. We've got another race tomorrow. Hopefully, we can get up there and race with Mat a little bit longer."

Bostrom also had his hands full keeping the No. 22 Rockstar/Makita Yoshimura Suzuki of Tommy Hayden at bay, but the 2009 Daytona 200 winner managed to take his first AMA Pro American Superbike podium result of the season with a third-place run on the No. 2 Yamaha Motor Corp. USA Yamaha R1. Bostrom's Daytona 200 victory came aboard an AMA Pro Daytona SportBike.

"It's a lot better than where I've been sitting, so I'm not going to be bummed," said Bostrom of his third-place showing. "I'm going to sleep well tonight. I think it was a fantastic ride and the Yamaha worked amazing. The boys here (Mladin and Young) are out-riding us a little bit and made a couple of amazing passes on me. Mat about scared the (crap) out of me, honestly. It was good racing. It got my heart rate up, and I'm ready to attack again. I'm looking forward to another good day tomorrow. Hopefully, that's how it goes. I want to maintain this spot up here and keep racing. I really enjoyed racing with these guys. It just seems like a long way 'til today. It's a big race tomorrow. It's going to be exciting. Hopefully, we find something, but honestly, these guys are riding amazing, so it's going to be hard to chip away at it."

Hayden finished fourth on the No. 22 Rockstar/Makita Yoshimura Suzuki GSX-R1000, and Josh Hayes -- who led the opening lap of the race -- completed the top five aboard the No. 4 Yamaha Motor Corp. USA Yamaha R1.
The Copy Cat Killer Stikes Agian on Sunday!
Sunday May 4th - Rockstar Makita Suzuki's Mat Mladin won his seventh AMA Superbike race of the season on Sunday afternoon at Barber Motorsports Park in Birmingham, Alabama.Despite lengthy delays in the racing program due to heavy rain and tornado warnings, an abbreviated, 16-lap AMA Superbike race was run at the end of the day and six-time AMA Superbike Champion Mladin picked up his 79th career AMA Superbike win.
Jordan Suzuki's Aaron Yates followed Mladin home in second place and picked up his best result of the season while Rockstar Makita Suzuki team mate Tommy Hayden struggled with the track's semi-wet conditions and finished up in eighth place, while third team rider Blake Young crashed early on and was unable to finish the race.
Mat Mladin: "It's good to get seven AMA Superbike wins in a row. Now we'll go to Infineon and see if we can get another one. The Rockstar Makita Suzuki GSX-R1000 worked great today. We found some stuff out this morning in the warm-up and I had a completely different motorcycle in the afternoon. I was able to run some lap times that were very similar to this morning, even with the wet conditions of the track and that's pretty good. I feel like we've made a lot of progress with the new 2009 bike this weekend."
Aaron Yates: "It's great to be on the podium again as it's been a while. This weekend has been up and down for us. We only got the 2009 Jordan Suzuki GSX-R1000 a few weeks ago and we're still getting it sorted out. But I'm feeling pretty good about the bike, and it's running pretty good. It just feels great to get back up on the podium and show how hard the Jordan Suzuki guys are working."
Tommy Hayden: "It was just an awkward day today. Once we got out on the track, it was a struggle with all the wet spots and I had a hard time feeling comfortable. It felt very slippery and I couldn't get into a good rhythm. It was getting a little better as the race went on, but not good enough. It was unfortunate, but at the end of the day, I think I'm in a pretty similar position in the points as far as the gap behind me, so that's a positive. Also, I did learn a lot with the new Suzuki that I think we can put to use in the next race."
Sunday Superbike:
1. Mat Mladin (Suzuki)
2. Aaron Yates (Suzuki)
3. Ben Bostrom (Yamaha)
4. Josh Hayes (Yamaha)
5. Geoff May (Suzuki)
6. Larry Pegram (Ducati)
7. Jake Holden (Honda)
8. Tommy Hayden (Suzuki)
9. Taylor Knapp (Suzuki)
10. David Anthony (Suzuki)

Saturday Superbike:


1. Mat Mladin (Suzuki)
2. Blake Young (Suzuki)
3. Ben Bostrom (Yamaha)
4. Tommy Hayden (Suzuki)
5. Josh Hayes (Yamaha)
6. Larry Pegram (Ducati)
7. Geoff May (Suzuki)
8. Jake Holden (Honda)
9. Taylor Knapp (Suzuki)
10. Aaron Yates (Suzuki)
Championship Standings:
1. Mat Mladin (Suzuki) 220
2. Tommy Hayden (Suzuki) 143
3. Geoff May (Suzuki) 122
4. Blake Young (Suzuki) 114
5. Ben Bostrom (Yamaha) 113
6. Josh Hayes (Yamaha) 111
7. Aaron Yates (Suzuki) 98
8. Larry Pegram (Ducati) 94
9. David Anthony (Suzuki) 69
10. Taylor Knapp (Suzuki) 68
---
Mission Motors to Race Isle of Man in June on new Electric Superbike
Racer Tom Montano selected as rider for TTXGP Carbonless Class Entry
April 2009 - Mission Motors, builder of the world's fastest production electric sportbike, the Mission One, today announced the debut of its Motorsports Program, with veteran motorcycle racer Tom Montano set to pilot the Mission One in the inaugural TTXGP, the world's first carbon-free Grand Prix. The race will take place on the Isle of Man on June 12, 2009.

With 25 years of racing experience, Montano, has achieved top-level finishes at the AMA, AFM, WERA, FIM & the Isle of Man. He also holds the distinction of being one of the fastest Americans around the Isle of Man TT course. Mission Motors will enter the Mission One in the Pro A class of the inaugural TTXGP.

"We are proud to have such an accomplished rider on board for our racing debut. Tom's racing experience and history at the TT coupled with our innovations in electric propulsion will be a winning combination for the team," said Forrest North, Mission Motors Founder and CEO. "This is a great opportunity to show the world that you can build a zero emissions sportbike without sacrificing power and top performance."


Mission Motors has targeted high performance and iconic design in the development of its first vehicle, the Mission One. With a top speed of 150 mph, a 150-mile range and unparalleled access to torque, the Mission One surpasses the performance figures of other production electric motorcycles and gives chase to gas-powered incumbents. The Mission One's design, created by Yves Behar and fuseproject, blends traditional racing elements with a modern pioneering sensibility.
Montano's previous Isle of Man race experience includes 10th in Supersport, 13th in the Senior TT, and numerous top 20 finishes. His AMA pedigree includes 2001 Pro Thunder Champion, 3rd in 2002 Pro Thunder championship, and numerous top ten finishes in Superbike and Supersport. These are in addition to his multiple AFM class championships of 600 Production, Open Production, and Open Twins.

"I'm thrilled to be a part of Mission Motors' team for this history-making event," said Montano. "We've put the Mission One through its paces in testing and I'm confident that we'll make history on June 12th."


About Mission Motors
Mission Motors is building the fastest production electric motorcycle in the world. Headquartered in San Francisco, California, the company combines innovative technology, iconic design, and superb performance with the freedom of a zero emissions riding experience. Mission's elite team of engineers is creating the first motorcycle company built on the innovative spirit of the Silicon Valley. The concept is simple: Redefine the world of performance motorcycles. http://www.ridemission.com

About TTXGP
The TTXGP, the world's first clean emission Grand Prix, is due to be held on the Isle of Man TT circuit, mid-TT season, on June 12, 2009. Rules and regulations for the TTXGP together with team registration details can be found at www.ttxgp.com.
---
There's more! Go to Pit Lane News Previous Page

Also Visit: Fast Dates Calendar News • Iron & Lace Calendar News
Calendar Girl News • Meet the Models • Paddock Garage

Calendar Kittens, The Paddock Garage, Screensavers, Iron & Lace Garage



MotorcycleSuperstore.com
Some of our Calendar Kittens can also at Playboy's website...




Now Available
2009 FastDates.com Calendars


The Official SBK
2008/2009 Yearbook
Awesome in full color! Commerating the 21st Anniversary of World Superbike
Troy Bayliss' 3rd World Championship Title>
PLus a technical look at ll the bikes, and a preview of Ben Spies and Noriyuki Haga battleing for the 2009 Champiosnhip!
We bought it ourselves and totally recommend it!
---
The Governator Replies to FastDates.com!


We've taken our own advice and contacted all our CA state senators and governor and fellow biker Aronold Schwarzenegger regarding the proposed new California Smog Check Law for Motorcycles.
See Pit Lane News
Apr 2009 Page 2 News

We just received the following personal reply from the Governator:

Thank you for writing me about Senate Bill 435. I appreciate your suggestions on proposed legislation affecting our state.
I generally do not take a position on legislation until a bill has reached my desk because it can change significantly from the time it is introduced until the time it is finalized. For the current session, the California Legislature has until September 11, 2009 to pass legislation, and I have until October 11, 2009 to sign or veto proposed bills.
You may continue to follow this and any other bill under consideration by lawmakers at the Official California Legislative website: www.leginfo.ca.gov. You may also read my legislative messages at www.gov.ca.gov.
Again, I appreciate your interest in California's future. An informed and engaged public is important for effective government in our state.
Sincerely,
Arnold Schwarzenegger
Governor, State of California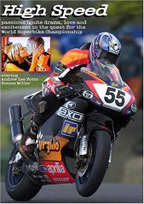 High Speed - the Movie
The best motorcyce racing movie ever made! Filmed on location at World Superbike, this an exciting romantic drama staring beautiful actress Sienna Miller.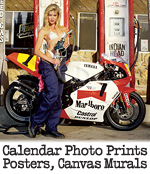 More 2009 Pin Up Model
& Motorcycle Calendars...

---
Dorna Payoff Scandal?
No More Aprilia, Yamaha, Gilera 2-stroke winners in GP2 as MotoGP goes to Spec Engines
Moto2 Classin 2010 to
be powered by Honda
Japanese factory chosen as single engine supplier for new class, whilst practice sessions for 2009 also undergo modification.
Saturday, 02 May 2009 - The initial engine supplier for the Moto2 class, the 600cc prototype World Championship series which will run for the first time in 2010, has been confirmed as Japanese manufacturer Honda. After receiving offers from various potential suppliers, the Permanent Bureau of FIM President Mr Vito Ippolito and Dorna CEO Carmelo Ezpeleta made the unanimous decision to give the spec engine supplier contract to Honda.

The first Moto2 engine will run at over 150hp, housed inside chassis of the teams' choosing. The prototype bikes will make their entrance to the World Championship against the current crop of 250cc machinery, which will run alongside the class in an arrangement similar to that made for the 500cc/MotoGP switch in 2002.
Rules changes regarding the 2009 season were also announced on Saturday at Jerez, with the duration of all MotoGP Free Practice and Qualifying sessions to be extended from 45 minutes to 1 hour as of the upcoming Grand Prix de France. The new standard event schedule will now be as follows:
FRIDAY
125cc FP1 12.40-13.40
MotoGP FP1 13.55-14.55
250cc FP1 15.10-16.10
SATURDAY
125cc FP2 09.00-09.40 - QP 13.00-13.40
MotoGP FP2 09.55-10.55 - QP 13.55-14.55
250cc FP2 11.10-12.10 - QP 15.10-15.55
SUNDAY
125cc: WUP 08.40-09.00 Race 11.00
250cc: WUP 09.10-09.30 Race 12.15
MotoGP: WUP 09.40-10.00 Race 14.00
Guintoli Set to Defend
British Superbike Lead
at Olton Park
Team Suzuki Press Office - May 1. Worx Crescent Suzuki's Sylvain Guintoli faces the daunting challenge of the Oulton Park circuit this May Bank Holiday, and as championship leader, will face a stern test in defending his championship lead.
The Cheshire circuit, set in the country park grounds of the old Oulton Hall, which was destroyed in a fire many years ago, is world-renowned for its technical difficulty with rapidly changing gradients and blind crests leading into unforgiving corners.
Is the Frenchman ready for the challenge? - "I've ridden nothing like this track before and for some of the corners I think I'll have to close my eyes for a second! I've been around it in a car and after Brands we came here and I rode about 40 laps on a track day. I couldn't do proper lap times because of the traffic but I got a good idea of the corners and it really is a very nice track.
"It'll be tough, but there is no reason why we shouldn't do well here. The team scored a double win here last year, so it suits the bike - and this year's GSX-R1000 is even better."
Team manager Jack Valentine confirms that technically the team are 100% ready. - "The bike has shown through testing, and at Brands, that its base set-up is very good - it's worked on every track we've been to. For this weekend we expect to make only small changes to the settings to ensure Sylvain gets the best balance and feel with the bike. With this being a long 2.6-mile course we'll make gearing changes too.
"We won't be pressuring Sylvain, though. It's a long weekend and with Sylvain being new here we'll look for a progressive improvement in lap times - top 10 will be fine to start with, but we'll expect to be at the front by the races.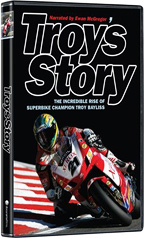 Troy's Story
The story of now 3-Time World Superbike Champion Troy Bayliss narrated by Ewan McGreggor. The video is made up of (6) 30-minute TV shows about the Champion's career and his life, beginning with his film footage of Troy taling about his minibike racing career at age 6 years! We bought it and totally recommend it!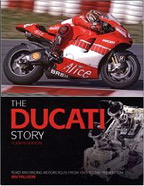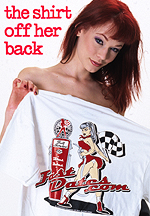 Order the Official
FastDates.com &
LA Calendar Bike Show
T-Shirts!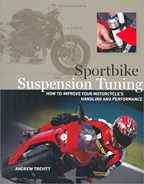 2009 Superbike World Championship
Preview: Round 5, Monza,
DUCATI XEROX RIDER HAGA'S HOPES ARE HIGH; FIRST "HOME" RACE FOR THE FACTORY SQUAD THIS WEEK AT MONZA
Monza (Italy), Monday 4th May: Eight of the 2009 World Superbike season's twenty-eight races have already been run and Ducati Xerox rider Noriyuki Haga has powered his Ducati 1198 machine as far as the podium in 100% of the races held so far, winning four of them and finishing second in the rest. Next stop Monza, the first of three "home" rounds for the Italian factory squad and their riders, particularly for Noriyuki who resides in Milan.
Noriyuki has led this season's championship right from the opening round and now holds a 60-point advantage over the chasing pack while Michel's strong results at Valencia and Assen mean that he maintains his fourth place on the leader board. At this stage last year, heading into fifth round Monza, Noriyuki and Michel found themselves in sixth and thirteenth place respectively in the classification, so for both riders the situation at this point is already much improved with respect to 2008. At the latest round, held two weeks ago in Assen, Noriyuki took his fourth win of the season and a second place while Michel boosted his points total by finishing the two races in ninth and fourth position.
Last month the Ducati Xerox factory squad completed a successful two-day test session at Monza's Autodromo Nazionale and thus hopes that the work carried out during those days will come to fruition this weekend.
For Noriyuki the event is as close to a "home" race as he gets as, although there is no Japanese round, he has been a resident of Milan for several years, meaning that support for Nitro-Nori, and his Italian team-mate Michel, will definitely not be in short supply.
It is interesting to note that the track has, historically, been extremely kind to the Ducati factory squad, with riders Carl Fogarty, Neil Hodgson, Régis Laconi and Troy Bayliss having tallied up six double wins between them since 1999.
In his role as Ducati ambassador, reigning Superbike World Champion Troy Bayliss will also be present at the track this weekend to support both Noriyuki and Michel and meet with the countless Ducatisti who, in turn, can benefit this year from a dedicated Ducati grandstand, "Ducati Village" and bike park.
Noriyuki Haga (1st in championship, 180 points)
Nori's recent results at Monza have been outstanding with three wins and a second place finish in the last four races held here in 2008 and 2007, a similar result this year would certainly boost his points advantage.
"We did some testing at Monza recently and it was my first chance to rider the 1198 there. Although we had a few problems, I know these will be resolved for the race weekend. I am already really excited about the Monza race. I am not thinking about the possibility of winning the championship, I just think about each race, taking one weekend at a time. Of course at Monza I hope to win again, especially because it is my home circuit!"
Haga's Superbike form at Monza:
2008: Race 1 – 2nd, Race 2 – winner
2007: Race 1 – winner, Race 2 – winner
2006: Race 1 – 4th, Race 2 – 3rd
2005: Race 1 – 11th, Race 2 – 9th
2004: Race 1 – DNF, Race 2 – DNF
2002: Race 1 – DNF, Race 2 – 3rd
2000: Race 1 – DNF , Race 2 – 5th
NEUKIRCHNER LOOKING FOR A REPEAT OF LAST YEAR.
Team Suzuki Alstare Brux rider Max Neukirchner won his first ever WSBK race at Monza last year and is hoping that history will repeat itself this coming Sunday at the 5.793 kilometre circuit. His win in the first race was the first by a German rider in the 21-year history of the series and was followed by a superb runner-up spot in race two.
Team mate Yukio Kagayama had a mixed day last year, taking fourth in race one and a DNF in race two, and is hoping for an improvement this time round.
Max - Last year was a wonderful occasion for me and I will never forget my first win in World Superbikes. They always say that the first win is the hardest and really I should have got it in Valencia when I was on the way to victory when I go knocked off within sight of the chequered flag.
It's important to have a fast bike at Monza and know how to play the slipstreaming game. It's easy to be at the front of the pack and lose out on the draft and get beaten to the flag, so it's something you have to watch out for. I like fast tracks and I think our bike will be well-suited to Monza. For sure, my intention is to finish on the podium in both races and if I can repeat my win of last year, I would be very happy.
Yukio - My season has been a bit up and down and this does not make me so happy so far. I have a good bike and know my results should be a lot better. Sometimes the bike is not so easy because some little changes can produce big effects - and not always in the right direction. But my job is to race, so I and the team have to find ways of making the bike work better so that I can challenge the podium again. This is what I want, and I will do my best to try and achieve it.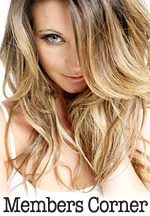 Members Corner
Hot Bikes, Sexy Kittens
Get Your Exclusive Grid Pass
aslo includes....
---
In a self-serving promotional release, the Daytona Motorsports Group,
owners of the AMA National Roadracing Championship, try to justify why an 1270cc Buell ridden by Shawn Higbee is kicking ass in their premier AMA Pro Daytona SportBike class which is contested mainly by 600cc Japanese 4-cylinder bikes...
Weight-to-Power Ratios Studied Among AMA Pro Daytona SportBike Superpole Contenders
Dyno Tests Reveal 0.49 Pounds Per Horsepower Difference From Top to Bottom
BIRMINGHAM, Ala. (May 2, 2009) - In an ongoing effort to maintain a competitive balance among all manufacturers competing in the AMA Pro Daytona SportBike presented by AMSOIL division, AMA Pro Road Racing officials dyno tested the 10 motorcycles that qualified for Friday's Superpole session at Barber Motorsports Park.
"AMA Pro Racing is dedicated to ensuring that we deliver to our fans great competition on the track between a variety of brands," said AMA Pro Racing President Roger Edmondson. "This was an important step in getting the formula where it needs to be to make good on that commitment."
It was the first test of its kind performed by AMA Pro Road Racing officials on Daytona SportBikes, although similar tests have been performed in the past for Canadian Superbike and SunTrust Moto-GT bikes. The dyno tests revealed that the bike with the highest weight-to-power ratio was 2.65 pounds per horsepower, and there was a difference of 0.49 pounds per horsepower between the top performer and the lowest-ranked bike among those tested at 3.14 pounds per horsepower.
There was a 0.28 pounds per horsepower gap between the first- and second-ranked bikes. AMA Pro Road Racing officials will now utilize this data along with other variables, such as aerodynamics, ram air, rider size and lap times to determine if any additional performance modifications are necessary to provide a better show for AMA Pro Road Racing fans.
"This is the first time we've ever done this at AMA Pro Road Racing," said Director of Competition Colin Fraser. "We will analyze these variables along with a multitude of other things that affect performance on the track. The most important variable to analyze is lap time. After all, we race at the track, not the dyno."
A complete listing of the dyno testing results will not be released, as raw horsepower is meaningless without an inclusion of all the other variables. Any adjustments to the bikes will be announced once all data is analyzed.
Editors Comment: DMG tries to make it sound with this Press Release that a 0.49 pounds per horsepower gap between the top performing bike at 2.65 lbs/hp and the lowest-ranked bike among those tested at 3.14, is somewhat insigficant. Howerver this is effectively an 18.5% performance gap, or a differnce of 27.5 horsepower against a 150 hp bike - quite a difference. The fact DMG won't identify which bikes are making which numbers, show they have something to hide in their premier class which they are trying to stuff down our throats in America in replacmet of the world standard 1000cc FIM Superbike Class, bikes which are too fast to race onunsafe Daytona Motorsports Group owned racetracks.
Injured Neil Hodgsen Hopes to Return to AMA Superbike at Infinion Raceway
May 3rd - The AMA Superbike series has a one weekend break before traveling to the wine country north of San Francisco for the fifth championship round at Infineon Raceway where former World Superbike Champion Neil Hodgson is hopeful of returning. Hodgson suffered a punctured lung, separated shoulder, and other injuries in a motocross accident in mid-March.
Neil (Hodgson) is doing everything he can to be ready for Infineon. Neil wants to be back and knows that in order to race with the guys now that have another three races under their belts, he needs to be 100%. And he knows where he wants to be and that's up front, and to do that he has to be physically ready to go. And we're anticipating at Infineon it will be a return for Neil, but he's the one who makes the ultimate decision.
Sterilgarda Sponsors Yamaha World Superbike Team
Sterilgarda SponsorshipMay 5th - Italian food brand Sterilgarda has joined up to sponsor the Yamaha World Superbike team for selected races of the 2009 championship season. Starting with the upcoming Monza race, the Sterilgarda brand will feature on the bikes and leathers of both Ben Spies and Tom Sykes.
Sterilgarda is a food production company based in Italy, providing products for over 40 years and today producing over 1200 tons of foodstuffs daily. Core product lines include cheese, milk, yogurt and fruit juices.
Sterilgada are a familiar face in the WSB paddock, having been keen supporters and partners of racing teams and riders for some time. The 2009 Yamaha World Superbike Team has had a strong start to the 2009 season with a new bike and new riders, making it an attractive proposition for sponsors, the team have already won four out of the eight races run so far with rookie Ben Spies who is regularly fighting at the front of the pack for the race win and currently sits second in the championship.
"We are really happy to be able to link our brand with The Yamaha World Superbike Team," said Nando Sarzi, the owner of Sterilgarda Alimenti. "We're really excited to be able share the racing emotions and success with the team, starting with Monza this weekend, the home race for both the team and our company. Professionalism and quality are two common, shared elements that drive both Sterilgarda and Yamaha in the search for great success."
"It's fantastic to have Sterilgarda onboard," said Laurens Klein Koerkamp, Manager, Yamaha Motor Europe Racing Division. "It's very positive to have such a well known brand in the paddock recognize how successful the Yamaha World Superbike Team is and want to be part of it. We're looking forward to working together and this being the start of a long term relationship."
For further information on the Sterilgarda brand please visit www.sterilgarda.it