Contracted American Honda rider Neil Hodgson raced on the Honda supported Corona CBR1000RR this year, but it was a difficult season due to Neil's an early season training crash on a motocross bike which left him injured and caused him to miss some races mid season and return not fully fit.
American Honda Announces Withdrawl from
AMA Pro Roadracing for the Immediate Future
Torrance, CA, Friday Sept 18th - American Honda announced today that they will not participate in next season's AMA/DMG American Superbike championship. Honda cited, "current AMA/DMG racing environment does not align with our company goals," as the reason for its withdrawal.
Corona Extra Honda race team participated in this series with our award-winning 2009 CBR1000RR in the AMA Superbike class, unfortunately participation in this series did not meet our racing goals and objectives.
Regrettably the current AMA/DMG racing environment does not align with our company goals. Effective today 9/18/09, AHM will not be renewing contracts with Corona Extra Racing and will be terminating the on-site Road Race operations by 9/30/09. All assets will be put into storage for future consideration. Team staff was informed of these changes today at 1:00PM PDT.
During the 2009 AMA/DMG Road Racing series, American Honda Motor Company, Inc. contracted team personnel, including team Honda rider Neil Hodgson, to the Corona Extra Honda race team. Honda fielded a factory-supported effort racing under the Corona Extra Honda team with riders Neil Hodgson and Jake Holden riding 2009 Honda CBR1000RRs.
In Honda's press release there was no mention of long standing support team Erion Racing which cuently fields riders Jake Zemke and Chris Peris in the AMA Daytona Sportbike Class aboard 2009 Honda CBR600RRs. With Honda out of the series one can only assume that other major players including Suzuki and Kawasaki might also be abandoning the series.
Honda's decision to abandon the AMA Pro Superbike Championship which the Daytona Motorsports Group, the AMA pro Series' new owners, has turned into a farce this year is made easier by the fact that the Honda CBR1000 with Neil Hodgsen was never competitive this season in America. And that Honda's U.S. sales have declined 50% over the last year because of the economic downturn. The race team budget, part of the company's overall advertsing budgets, is one of the first cuts that have to be taken as evidened by Honda not fielding an in-house race team this year. Now there will be no outside support team as well.
---
Shooting the new 2010 Fast Dates Calendar
The return of World Superbike Championship to America last year at Miller Motorsports Raceway in Utah, after a 3 year absence stateside, gave us an exciting new venue to shoot the 2010 edition of the SBK World Superbike endorsed Fast Dates Calendar. Once again calendar photographer and producer Jim Gianatsis was able to photograph all the top factory World Superbike on pit lane with some very beautiful Calendar Kittens for the world's premier sportbike calendar, now celebrating it's 18 year!
Everything you have heard about the Miller Motorsports facility is true. It has been built as as a World class roadracing facility with no expense spared, and along with Laguna Se ca and Indianapolis is one of only 3 FIM approved racetracks in America. Everything is exceptional from the road course layout and and construction, to the Spectator Grandstands and Pit Garages, to the Administration and Press Facilities. The track was way overstaffed with very courteous personnel, making a visit there a wonderful experience. It was incredible to see every team bike even had their own personal Fire Marshal with hand carried fire extinguisher.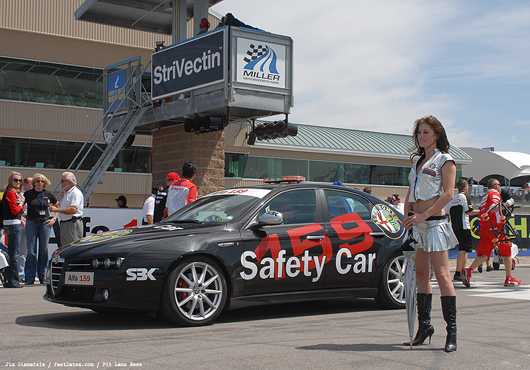 Alfa's important talent, the 159 Sports sedan and accompanying grid girl.

We can only guess how much it must cost to put on a World Superbike race in America when we saw that SBK even flew in the 2 obligatory official Ala Romeo 159 pace cars, and had a full compliment of Alfa grid girls to go with them.
The beauiful Alfa Grid Row Girls, 20 minutes before the start of Sunday's first World Superbike race, and the mainspectator viewing area behind them is empty.
This year we decided to book our Fast Dates Calendar Kittens locally from the largest, supposedly most reputable modeling agency in Salt Lake City, Urban Talent Wilhelmina. We showed the agency president. Tina Bullen, photography by Email of our current calendars with the models posing in swimsuits with the World Superbike on Pit Lane. Tina approved of the shoot and said she'd be happy to work with us. I prepared a list of models I wanted to hire from the portfolios on the Urban Talent website, but the first 10 girls on my list said they weren't available for our Calendar.
The fact that of the some 200 models listed on the Urban website, not one had a swimsuit or body photo in their portfolio made me think these might be very conservative Mormon girls. But Tina assured me otherwise. Final after about 4 weeks of going back and forth trying to find models, just 2 weeks before the race weekend I was able to lock down 3 girls for the Calendar shoot, who would also serve as umbrella girls for team Alstare Suzuki on Sunday.
The 2 Mormon models on Friday from Urban Talent.

I arranged for 2 of the models to meet me at our hotel, the Airport Marriott, to stay for the weekend starting on Thursday Evening, so we could get acquainted, I could explain to them about the shoot which was planned for the nest day, Friday evening after WSB Practice on Pit Lane in front of the team garages , and I could get them to the track on time each day in my car. I also showed them samples of the current Fast Dates Calendars just to confirm to them what we'd be shooting. Later that evening we met up with my buddy, "High Speed" movie producer Jeff Jenkins, and the girls took us into downtown Salt Lake City where we had dinner on the patio of a fantastic Japanese restaurant at a cool outdoor shopping mall. We had a great evening, the girls were beautiful, and I was looking forward to a great Calendar Shoot the next day.
The next day at the hotel we meet for breakfast, and then by 10am we were in my rental car and off to the track about 30 days away. We were on the Interstate driving past the Great Salt Lake, and despite their living here in salt Lake City, one of the models said this was the first time she had ever been west of town seen the Great Salt Lake, the biggest and most notable natural attraction in the state! When we got to the track we first stopped at the Administration Building to pick up our SBK credentials. From there we went into the track with a case of the new 2009 Fast Dates Calendars I had brought, as i do every year, and walked down Pit Lane to meet all the SBK factory teams and managers, give them a copy of the new Calendar with their bikes I shot the year before, and schedule to shoot their bikes again this year after Practice starting around 5:30 pm.
The Mormons, original settlers of Salt Lake City, Utah, also came to Miller Motorsports Park to practice their unique religious beliefs.
Once we had all the team bikes lined up to shoot, the models and Ii had the rest of the afternoon to kill, so we walked the spectator side of the track, first visiting the Miller Race Car Museum, then walking down to the far end of Spectator row were Ducati was the lone manufacturer to setup a creditable manufacturer's display .It was quite a hike, nearly half a mile, and during the lunch break both Troy Bayliss and Lorenzo Lanzi were there to autograph posters. Then we hiked back towards the pits, stopping at a concession stand for a corn dog lunch and then went into the Main Grand stand to watch WSB Practice. After practice i walked the girls back to our ar by the pits so they 'ld have a hour to get ready for the all important Calendar shoot. I left them alone for about45 minutes to get ready, freshen up and do their makeup while i went back to the pits to check on the team bikes.
I returned to the parking lot to get the models and my cameras at 5pm for our shoot, and found them standing outside the car, talking in heated voices and animated gestures on their Apple i-phones to the model agency. It seems in the 45 minutes I left them alone at the car, they got bored, and decided to search the internet to see just what the FastDates.com Calendar website, which they were advertising on the front of their Calendar Kitten Uniforms, was all about. And in scrolling through the pages of the world's most popular motorcycle and pinup calendar website they came across some banner link ads for Playboy.com. The models clicked on the Playboy ads and - "Oh My God, this is a pornographic website! We can't model for this. We're good Mormon girls. Our families and husbands / boyfriends would never accept this, and neither will we"
Did the 2010 FastDates calendat shoot take place at Miller? The saga continues HERE
---
Common ground between manners and madness?
Ducati previews 2010 Hypermotard 796 with Slipper Clutch
Borgo Panigale (BO), 23rd September 2009- Ducati releases the first images of the Hypermotard 796, in advance of the international EICMA motorcycle show, Milan. The Hypermotard family will expand for 2010 with the addition of the exciting new Hypermotard 796. Just as aggressively striking as the 1100, the new Hypermotard 796 features a lower seat height and brand new smooth and flexible engine to make it the perfect urban assault vehicle. Whether it's working the daily commute or attacking the open roads, the 796 will ride the common ground between manners and madness by mixing Ducatiís unrivalled twin-cylinder power and sportbike heredity with the lightweight and minimalist supermotard concept.
The 796 weighs in at just 167kg (368lb), partly achieved by a lightweight engine, but also by continued chassis development that includes redesigned top and bottom fork clamps and an improved frame layout which eliminates almost all of the forged elements previously used with the 1100. At 825mm (32.5in), the seat height of the 796 is a sure-footed 20mm (0.8in) lower than the 1100 and, when combined with the new engineís smooth power delivery, this Hypermotard inspires confidence however and wherever its ridden.
The completely new Ducati 796 engine, which conforms to Euro 3 regulations, produces 81hp (59.6kW) of power and 55.7lb-ft (7.7kgm) of torque with the smooth and economic rideability expected from all Desmodue L-Twins. The engine is equipped with an APTC ëwetí clutch to give a ëslipperí type action that prevents destabilization of the rear-end during aggressive down-shifting and also gives the extra benefit of a super-light feel at the lever, a great advantage in stop-start city traffic or during longer journeys.
The new 796 comes in an urban-style Dark finish with matte black tank and beak section, black frame and black wheels or, alternatively, matte white tank with contrasting matte black beak, black frame and black wheels. For the purists, an 1100 look-alike red tank with matching beak section, red frame and black wheels gives the 796 a traditional livery.
All information can be found on the official Ducati site: http://www.ducati.com/news/09/news018/news018.jhtml
Below: Here's some more images of Ducati's new 2010 replacement for the current aircooled Multistada, this new bike powered by the watercooled 1098cc 150hp Testastretta Superbike engine. We can't wait!
---

Sunday's race win podium with Hayes on the top step between Mlad and Yates.
2009 AMA/DMG Superbike Championship, New Jersey Round 11 of 11
Mladin Retires at New Jersey with his 7th AMA Superbike Title
Yamaha's Josh Hayes Brings Home the Bacon Both Days
MILLVILLE, N.J. (September 6, 2009) - Josh Hayes (No. 4 Yamaha Motor Corp. USA Yamaha R1), Josh Herrin (No. 8 Team Graves Yamaha YZF-R6) and Yamaha doubled up to close out the 2009 AMA Pro Road Racing season with a pair of repeat race wins Sunday in the AMA Pro Superbike Championships on Thunderbolt Raceway at New Jersey Motorsports Park (NJMP).

Hayes won his fourth straight and seventh overall AMA Pro American Superbike presented by Parts Unlimited race of the year while Herrin also went four for four with AMA Pro Daytona SportBike presented by AMSOIL victories. Both riders moved to second in their respective series' championships after winning the Saturday finals and then locked the runner-up positions down in Sunday's season-ending races.
Matt Mladin (Rockstar Yoshimura Suzuki) sat out the Heartland Kansas round due to track safety issues, easily wrapped up the 2009 AMA Pro Superbike Championship one round earlier at VIR, but showed up at New Jeresy Motorsportks Park to go out fighting. This year was his 7th AMA Superbike Championshp title. Additional Coverage HERE
---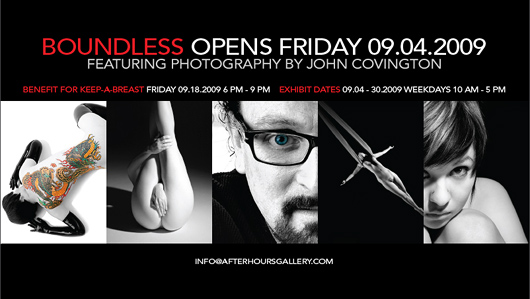 Iron & Lace Calendar Builder
The 3rd Rebirth of John Convington
For most of us it's a challenge, or a dream, to get through life doing one thing right, or even to excel at doing it better than someone else. Meet former Iron & Lace Calendar bike builder John Covington from Phoenix, Arizona, one of the most notable ,wildest creative custom bike builders in the mid 1990s.
John started Surgical Steeds, latter renamed Steed Muscle Bikes, and was a fixture at west cost bike shows including our annual LA Calendar Motorcycle Show and on the custom bike scene. Two of his more notable designs were a U.S. Air Force Stealth Fighter YF-22 inspired custom "Stealth V2" which was featured on the cover and inside the 1996 Iron & Lace Calendar with model Cherie Wimberly. Three years later John was back with a Carol Shelby "Cobra 427" replica bike which I shot at Laughlin Bike Week with model Linda O'Neal for the 1999 Iron & Lace Calendar.
The last time we saw John was at the 2002 LA Calendar Motorcycle Show with a display of his Steed Muscle Bikes. After that we heard he sold his custom bike business and had started his own heavy metal rock band, playing drums, and calling himself the "Pulverizor". OK, so much for career change "Number Two".
Then just last month we received an Email from John inviting us to a photo exhibit and book singing premier at a prestigious art galley in Phoenix. What? Career Number Three! We checked out his web site and came to find he is now working as a professional studio photographer in Phoenix with his own major studio facility, and his portfolio is really impressive. Check it out: http://www.jcstudiosllc.com
When we read his online biography, we realized we never knew ho multifaceted his personalities and talents were: "John Covington is a member of the American Society of Media Photographers (ASMP) and has made his mark in automotive, alternative fashion, musician and lifestyle photography. His base of operations is in Phoenix, Arizona, where he shoots regularly for a wide range of national publications.
Covington's passion for photography began at age eight with his first Brownie camera. However, his road to photography took a few turns and detours before the camera became his full-time vocation. You can see those unexpected paths in his photographs. His education at the Art Center College of Design (Pasadena) expresses itself in his art sometimes surprisingly graphic compositions.
You can see his years as a rock drummer reveal themselves in his fascination with fringe characters and underlying rhythm in his backgrounds and lighting.
Wonder where the fascination with soft curves, smooth lines, and on-the-edge detailing comes from? Credit it to his years as designer and manufacturer of Alternative American motorcycles. Covington's past infuses his present. He explores the edges that make people stop and stare, then wonder if what they're beholding is safe or dangerous."
Enter Boundless, John's Art Show this past September and the name of his limited edition book on nude models tied up in bondage themes.
"The concept for Boundless was inspired by the alternative and tattooed models streaming into Covington's studio for magazine shoots. As he photographed them, he realized that each model possessed her own grace and energy, but the shackled context of their commercial assignments denied them any personal expression. Covington invited them back to his studio on their own terms, creating a space where they could delve passionately and deeply into the feminine. The resulting images are empowering, engaging and . . . Boundless."
We highly recommend stopping by John's web site, check out some of the exciting images from his show and book, and ordering a signed copy of Boundless for yourself.
http://www.jcstudiosllc.com/boundless
---
There's more! Go to Pit Lane News Previous Page

Also Visit: Fast Dates Calendar News • Iron & Lace Calendar News
Calendar Girl News • Meet the Models • Paddock Garage

Calendar Kittens, The Paddock Garage, Screensavers, Iron & Lace Garage



MotorcycleSuperstore.com
Some of our Calendar Kittens can also at Playboy's website...

FREE! New Met-Art Model Galley Updated Daily - Stop Back Each Day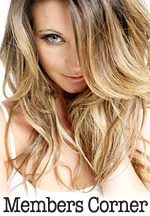 Hot Bikes, Sexy Kittens
Your Exclusive Grid Pass
also includes....
---
World Premier!
2010 FastDates.com Calendars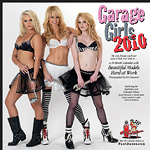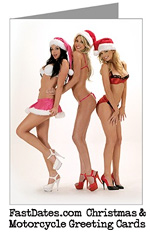 Sports Illustrated
Swimsuit Calendars!
---
Championship on the line... On its way to Imola, Ducati Xerox Superbike Team Tests at Mugello
Mugello (Italy),Wednesday 23rd September: the Ducati Xerox squad headed to the Mugello circuit for two days of testing, yesterday and today, sharing the track with the Ducati MotoGP Test Team, before moving straight on to Imola for this weekend's World Superbike event. Michel Fabrizio was out on track yesterday and in favourable conditions he was able to make 67 laps on board the Ducati 1198.
Today it was Noriyuki Haga's turn and under sunny skies (with a track temperature around 35°C) the Japanese rider also had a constructive day. Over the two days, the squad concentrated on testing various set-ups, with the aim to improve turning on entry into the corners. Noriyuki completed 69 laps with a best time of 1m52.3s. At the end of today the Ducati Xerox technicians declared themselves satisfied with the work completed.
Both the factory riders, having just renewed their contracts with Ducati for the 2010 racing season, are feeling very confident ahead of this year's final three races. Tomorrow the Ducati Xerox team arrives at Imola, ready for the twelfth World Superbike round, the third event to take place in Italy. In front of their "home crowd" Noriyuki and Michel will be fighting both for the race win and the world title.
Noriyuki Haga
"It's been a useful day. We will try to implement some of what we have tested here today at Imola on Friday and see how we go there. Now I need to turn my concentration to this weekend's racing…"
Michel Fabrizio
"It all went well yesterday. Luckily it didn't rain and so we were able to get through all the work we had planned. During the afternoon we continued to work with the development bike and I was able to provide my technicians with a lot of useful data. Let's say that we are satisfied with the progress made and with the times recorded."
Ducati Corse Re Signs Haga and Fabrizio for 2010 World Superbike
Bologna (Italy), Monday 21st September: just a few days prior to the Imola Superbike round, taking place from 25th to 27th September, Ducati confirms that both the Ducati Xerox riders Noriyuki Haga and Michel Fabrizio will stay with the team for the 2010 racing season. In the last week Ducati's management have reached an agreement with both Noriyuki and Michel, meaning that the two talented riders, currently second and third in the World Superbike standings, will remain on board for the coming year. This important renewal will allow for a continuation of the great work that results from such close collaboration between the technical staff and the riders. For the 34-year old Japanese rider this will be his second consecutive season with the Ducati Xerox squad and is the third for 25-year old Italian Michel who debuted with the team, alongside Troy Bayliss, in 2008.
Noriyuki Haga - "I am very happy that this great team continues to believe in me! I thank Ducati, the team and everyone that was involved in making the decision. I have a great relationship with my team and with Michel, and so I am more than happy to stay here in 2010. We don't yet know how this year will end, but what is certain is that I will continue to do my best, as I do every weekend. Knowing that I have a job for next year will surely spur me on; I will give 200% in Imola this weekend, and then if that's not enough I'll redouble my efforts at Magny and Portimao!"
Michel Fabrizio - "I'm very happy, I received confirmation of the renewal the day before my birthday and this news was a great end to the week. I'm currently third in the championship and I'll continue to give my all in the final three rounds. At Imola I'm going to go on fighting my own battle, and then we'll see how Nori and I are placed… I'll perhaps change my strategy for the last two races, if need be, in order to assist Nori. Next year I won't let anyone get ahead as quickly as Nori did this season and I'll be doing all I can to be near the top of the standings right from the start of the championship."
Filippo Preziosi – General Director Ducati Corse
"Nori and Michel are both racing, and bringing home extremely satisfying results, in what is a very close-fought championship and so Ducati is proud to be able to confirm them both for the 2010 season. The experience they have accumulated this year will surely contribute to even stronger performances in the future. My compliments to the entire team, for the professionalism and passion with which everyone works each weekend at the tracks."
Ducati Xerox Team to have Live Garage Streaming from Imola WSB
Sept 26-27th
During the upcoming World Superbike weekend, to be held at the Italian circuit of Imola from 25th to 27th September, the Ducati Xerox Team, in collaboration with Ducati.com, will allow fans from around the world the chance to see right to the heart of the action, by providing live streaming direct from Noriyuki Haga's garage on both Saturday 26th and Sunday 27th September.
A brand new experience, with the live and uncut footage undoubtedly spiking the interest of the countless passionate fans who are following the Superbike racing as the season comes to a thrilling climax. This is a way for the loyal fans, sponsors and Ducatisti to participate, allowing them a "fly on the wall" view of the unique, adrenalin-fuelled world of the motorcycle racer and his team.
With only three races left, and with both of the Ducati Xerox riders, Noriyuki Haga and Michel Fabrizio, in the running for the rider's title, the experiment is thus implemented for the very first time at Imola, which is of course hosting what is the "home round" for Ducati.
Never before has a motorcycle racing team initiated such a project and, if all goes to plan at Imola, the service will also be available during the final two rounds, at Magny-Cours and Portimao.
A web-cam, positioned this time in Haga's pit garage, will be activated between 14.00 and 17.00 on Saturday and between 09.00 and 17.00 on Sunday, allowing users to log on to the official Ducati site - www.ducati.com – and watch live streaming of "Nitro-Nori" and his technical team in action during Superpole, Sunday warm-up and the all-important races.
For more information, log on to www.ducati.com from Monday 21st September. The Ducati Xerox Team awaits you at Imola!
Ben Spies Re Signs with Yamaha for 2010 and 2011
Yamaha Racing Communications, Sept 4th - Yamaha Motor Company., Ltd and Yamaha Motor Europe N.V. are delighted to announce that an Agreement has been concluded with Ben Spies for his participation with Yamaha for 2010 and 2011. The program foresees a season in 2010 with the Yamaha World Superbike Team based in Gerno di Lesmo, Italy and a switch to Yamaha's satellite MotoGP team for 2011.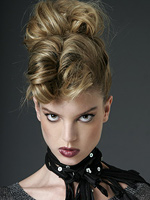 Calendar Kitten Apple
Tests the new
Roehr Harley Superbike!



---
Embarassing!
AMA/DMG Awards Buell 1125R the 2009 Daytona Sportbike Championship
Sept 6th - This week's high Buell 1125R placing in the AMA Pro Superbikereally shows what a screw-up the new Daytona Motorsports Group has made of the AMA roadracing championship, and in particular in the Daytona 600cc Sportbike class where Danny Eslick (No. 9 GEICO Powersports/RMR Buell 1125R) runs a1125cc DOHC 4-valve V-Twin engine against 600cc Japanese fours, Ducati 848cc and Aprilia 1000cc V-Twins? An embarassing inequality to say the least.
Here's why:
At this week's AMA Superbike season final at New Jersey in the premier Pro Superbike Class composed of 1000cc Japanese 4-cylinder superbikes and 1200cc Ducati superbikes, the Buell 1125cc Rs finished a very competitivie 6th and 8th place against bikes its same displacement size:
New Jersey Motorsports Sept 5th Saturday Superbike:
1. Josh Hayes (Yamaha)
2. Tommy Hayden (Suzuki)
3. Aaron Yates (Suzuki)
4. Ben Bostrom (Yamaha)
5. Larry Pegram (Ducati)
6. Taylor Knapp (Buell)
7. Blake Young (Suzuki)
8. Cory West (Buell)
9. Damian Cudlin (Suzuki)
10. Geoff May (Suzuki)
13. Neil Hodgson (Honda)
So for DMG to allow the same 1125cc Beull to cherry pick in the 600cc Daytona Sportbike class which is 3 seconds a lap slower than the Superbike class is a joke. Let alone award them the Championship in that class for 2009
And don't give Buell too much credit for building their 1125R sportbike. The engine, suspension, brakes and wheels were designed, built and sourced from other manufacturers in Europe and Japan. They had to do this as the American made aircooled Sportster engine is not a viable sportbike engine.
Yamaha Takes SBK Superbike Points Lead at Nurburgring
Massimo Meregalli, Yamaha World Superbike Team Manager

"We came here with the target of catching Nori, we achieved that and now we are leading the championship. It would be impossible to get a better result. I think Ben really used his head in the second race, he saw that it was tough to catch Rea especially during the last lap so he took the points. This is the first time our team has led the championship so we are very happy. We are now even more motivated to continue like this. It was a really tough weekend for Tom. He had found a really good pace in the earlier sessions but struggled to repeat it in the race. It was disappointing not to see him get a higher position at the end. The settings which seemed to work really well in the practice sessions were not so good in the race for him. We will see if can achieve more at Imola."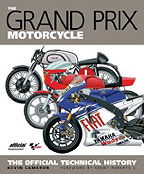 Kevin Cameron's
New Books
by America's Favorite
Motorcycle Technical Guru
Ducati Corse Hires 125cc MotoGP Rider Mattia Pasini for 3-Day Mugello Test on GP09 Bike
Sept 21st - Prior to the next MotoGP round, to take place at the Portuguese track of Estoril on 4th October, Mattia Pasini will be back on board the Desmosedici GP9 during a three-day test session at Mugello from 22nd to 24th September. He will ride alongside official test rider Vittoriano Guareschi under the supervision of Filippo Preziosi. Pasini, currently fifth in the 250cc World Championship standings, already rode the Ducati in testing after the Czech MotoGP on 17th August and he was immediately at ease on the GP9, despite the test being affected by the rain. The Ducati technicians, impressed by the Italian rider and his way of working, decided together with Mattia to do another test, and therefore include him in this week's pre-planned testing at Mugello.
---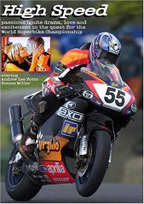 High Speed - the Movie
The best motorcyce racing movie ever made! Filmed on location at World Superbike, this an exciting romantic drama staring beautiful actress Sienna Miller.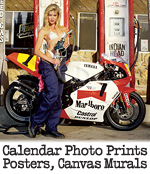 Erotica Archives
FREE New Model
Galley Updated Daily
Warning Contains Nudity
---
Chris Carr regains motorcycle world land speed record
Sept 23rd - Piloting the BUB Streamliner 'Lucky 7' at the Bonneville Salt Flats, Utah, Chris Carr regained the motorcycle world land speed record with a new mark of 367.382 mph.
Still awaiting ratification by the FIA, the time was the average of the requisite two opposite direction passes and was set during a 'private time' session booked by the Denis Manning's BUB team following the tricky conditions and fire experienced at the BUB Speed Trials at the beginning of the month.
Full details and pictures will appear on the team's website shortly, and in the November edition of AMD Magazine.
BUB's racing is an Exhibitor and Sponsor at our LA Calendar Motorcycle Show Weeekend and FastDates.com extends its congratulations to Chris Carr and the entire BUB Racing team. www.bubracing.com


The Official SBK
2008/2009 Yearbook
Awesome in full color! Commerating the 21st Anniversary of World Superbike
Troy Bayliss' 3rd World Championship Title>
PLus a technical look at ll the bikes, and a preview of Ben Spies and Noriyuki Haga battleing for the 2009 Champiosnhip!
We bought it ourselves and totally recommend it!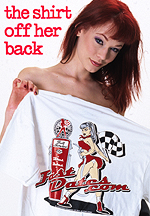 Order the Official
FastDates.com &
LA Calendar Bike Show
T-Shirts!