After early rce leader dani Pedrosa crashed out, Rossi (46) took over the race lead ahead of a hard charging team mate Lorenzo (99), only for Rossi to crach out as well near mid race.
2009 MotoGP World Championship, Indianapolis USA, Round 12 of 17
Jorge Lorenzo Scores Indianapolis MotoGP Victory
Indianapolis Motor Speedway, IN, Aug 31st 2009 - Jorge Lorenzo took an emphatic third victory of the season at Indianapolis this afternoon, halving Valentino Rossi's championship lead in the process as his Fiat Yamaha team-mate slid out. The determined Spaniard was joined on the podium by Alex de Angelis and Nicky Hayden, with Tech 3 Yamaha riders Colin Edwards and James Toseland both putting in good rides to finish fifth and sixth.
Dani Pedrosa took the hole shot with Rossi in close pursuit but Lorenzo got a poor start, forcing him to make one of his favourite 'por fuera' moves, around the outside of three riders. The leading trio quickly pulled several seconds ahead of the chasing pack but on lap four Pedrosa slid out, leaving the Yamaha pair alone once again at the front. There was little between the rival team-mates and on the ninth of 27 laps Lorenzo made a brilliant move on Rossi, passing him on the brakes into turn one. Just two laps later the World Champion ran slightly wide and, finding himself on a dirty part of the track, lost the front and went down. He remounted in 16th place but a problem with his throttle forced him to retire soon after.
With no other challengers in sight, Lorenzo just had to bring his number 99 Yamaha home safely and he did so in fine style to win the second Indianapolis Grand Prix, in the Centenary year of the historic track. The youngster has now cut Rossi's lead to 25 points with five rounds remaining and just one week before the second of Rossi's home races at Misano in Italy.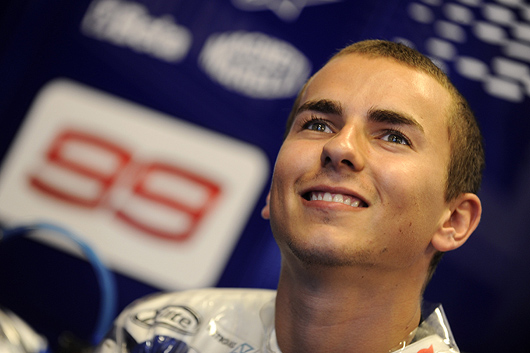 Jorge Lorenzo - "This is fantastic for me and for my team! I've had two crashes in a row but now I've won, and my closest rivals have crashed instead. Of course I'm sorry for them but these are the highs and lows of racing and it's an amazing result for me. I was strong all weekend and I really want to thank my team for giving me a great bike. I had a hard start and I had to try very hard to pass people and get back to third, but then I had a good rhythm and I was able to go with Valentino and Dani. Once Dani had gone I knew it would be a hard fight between me and Valentino and in fact when he crashed I didn't realise for a while, because I misread my pit-board and thought it said +0! Anyway, my bike was great and from then on it was quite easy, I just stayed focused. I had great fun on the slow-down lap with the fans and I am so happy to win here at this amazing track. The championship was almost gone but in one day things have changed a lot. It will be hard but we won't give up!"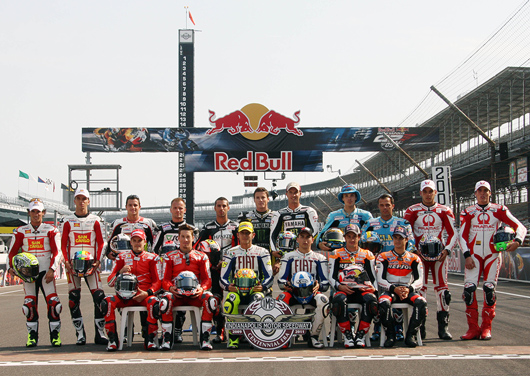 MotoGP stars on the brick Finish Line at Indianapolis. UnfortunatelyCasey Stoner is missing. CLICK to GO BIG

Indianapolis Red Bull MotoGP Preview
Indianapolis, Indiana, Aug 28-30th, 2009 - The second ever World Championship visit to Indianapolis Motor Speedway takes place this weekend following 2008's historic inaugural Red Bull Indianapolis Grand Prix, with last year's race-winner Valentino Rossi looking for another victory to augment his standings lead at the twelfth round of the season. It is another special occasion for MotoGP as the event coincides with Indy's 100th anniversary, the circuit having been constructed in 1909.
In the first ever premier class MotoGP World Championship contest at the famous 'Brickyard' last year Rossi took maximum points as he was awarded the win, leading by six seconds when the scheduled 28 lap race was curtailed on the 20th lap, with Nicky Hayden and Jorge Lorenzo placing second and third respectively.
With 257,000 permanent seats the Indianapolis Motor Speedway is the largest spectator sporting facility in the world and fills to capacity for its crown jewels, the Indy 500 and Allstate 400 car races. Originally constructed in 1909 with a 2.5-mile oval, an exciting 16-turn motorcycle road circuit, which includes part of the historic oval, was purpose-built last year for MotoGP. Last year's appalling weather aside, average temperatures in late August generally range from highs of around 25ºC to lows touching 15ºC and the entire paddock will be hoping for slightly more average conditions this time around.
Rossi and his MotoGP rivals will hope for good weather this time out - following last year's event when the remnants of Hurricane Ike hit raceday at the iconic American venue – with the Italian star hoping to increase his current 50 point championship advantage, on the back of yet another success story in the Czech Republic at the last round.
Rossi's Fiat Yamaha team-mate Lorenzo finished just in front of him on the timesheet in the second and final post-race test of the year on the Monday after the Czech race and the Spaniard will aim to bounce back from his two DNFs at Brno and Donington Park, as he attempts to claw his way back into the title battle with six Grands Prix remaining. Lorenzo is to compete at Indianapolis with his 2010 ride already sorted, following the news that he is to continue with Yamaha for another year.
In the continued absence of the recuperating Casey Stoner, who remains in Australia and is expected back on track at Estoril early in October, the bookies' favourite to feature on the podium with Rossi and Lorenzo is Repsol Honda's Dani Pedrosa – who was second in the Brno race and sits fourth in the general classification, 77 points adrift of Rossi.
For Monster Yamaha Tech 3 rider Colin Edwards the second U.S. visit of the year gives him the chance to consolidate his top five championship position as he attempts to improve on a disappointing 15th place finish in last year's Indy race. Edwards' fellow American Hayden - 14th in the championship at present - would love to repeat his 2008 Indianapolis result and get on the podium for the first time with Ducati.
Also aiming for the same goal is Pedrosa's team-mate and Hayden's replacement at Honda, Andrea Dovizioso, who just missed out on the rostrum again at Brno and was fifth in the inaugural MotoGP Indianapolis contest last September. Dovizioso lies sixth in the standings, just ahead of Honda satellite counterpart Randy de Puniet who has ridden consistently in 2009 and is due to make a decision soon on where he will ride next year.
Eighth placed Marco Melandri will compete at Indianapolis safe in the knowledge that a ride with San Carlo Honda Gresini has been confirmed for next year, whilst his fellow top ten representatives Loris Capirossi and Chris Vermeulen, of the Rizla Suzuki team, are also likely to confirm their future plans in due course, with both hoping for strong Indy performances.
The weekend will see Finnish rider Mika Kallio continue in the factory Ducati team as Stoner's temporary replacement, whilst young Spaniard Aleix Espargaró gets an exciting chance to ride for the Pramac Racing team on the satellite Ducati Desmosedici GP9 vacated by Kallio.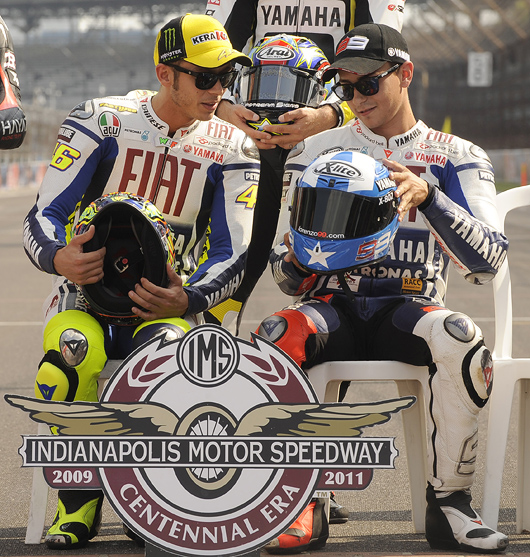 Rossi and Lorenzo.
Yamaha's Rossi and Lorenzo are the Pre-Race favorites
After their differing fortunes last time out in Brno, MotoGP championship leader Valentino Rossi and runner-up Jorge Lorenzo will arrive in Indianapolis this week for the second American round of the year, at the iconic Indianapolis Motor Speedway. The Fiat Yamaha pair are separated by 50 points but with six rounds remaining the title is far from decided and it promises to be another exciting weekend for the Italian and the Spaniard.
Rossi took a commanding victory last time out, his fifth of the season and also his 160th career podium, which means he now has the most podiums in the history of the sport. The Italian made a victorious debut at Indianapolis last year, adapting to the track immediately and taking a brilliant win in the rain-wracked race, which was stopped eight laps early as the tail end of Hurricane Ike battered the track. Rossi admits to loving racing in the States and having missed out on a win in Laguna this year the 30-year-old would like to make up for it this week. On Saturday night he will make a special appearance at the Indy Mile, the world-famous dirt-track event that takes place just a few miles away in this motor racing Mecca.
Indianapolis last year was an important moment too for Lorenzo as the then-rookie took his first ever podium in the wet, keeping his head to bring his M1 home in third place amidst incredibly difficult conditions. After two races on the bounce with zero points the championship runner-up is desperate to turn his fortunes around this weekend and is counting on the work done during the Brno test to put him in the best possible shape from the start this time.
Valentino Rossi - "Anything can happen"
"2008 in Indy was something special because it was the first time we had been there and it is definitely the most famous racetrack in the world. We didn't really know what to expect but our bike worked very well and we were fast from the start, in the wet and the dry. Every year is a different story however so we won't know where we are until we start our work on Friday afternoon. Last year I had a great win but, like everyone, I really hope that was the only hurricane we ever have to race in and that this time the conditions are more 'normal'! As I said in Brno, it would be stupid for us to relax and consider the championship won, anything can happen and we know that Lorenzo will be very strong this weekend and determined to make up for the last two races. We must keep focused."
Jorge Lorenzo - "We're ready"
"Indy is very special for me because it's the first track where I got a podium in wet conditions, in my very first year in MotoGP! Last year was strange, maybe we should have finished earlier because Hurricane Ike was pretty strong; this time I hope everything will be a little bit easier. I am feeling confident because I've felt good in the last races, riding very fast since the beginning of the weekend, despite what's happened on Sunday. I am not thinking about the championship any more but I would like to win a race again after more than three months, especially here in Indy when it's the centenary of the track. It's a busy two weeks, with Misano straight after, but we're ready."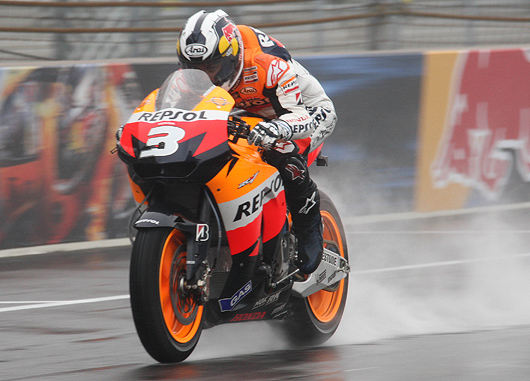 Pedrosa Fastest at The Brickyard in Friday Rain
Friday August 28th Indy Practice - The man setting the best lap of the opening MotoGP practice session of the Red Bull Indianapolis Grand Prix was Repsol Honda's Dani Pedrosa, who went round the 4.216km track in 1'51.507s in wet conditions. With the riders lapping more than ten seconds off the sort of pace that would be expected on a dry track, it was Pedrosa who adapted best to the conditions on his factory RC212V as he produced his best time on the sixth of just 16 laps.
Late charges from Pedrosa's former team-mate Nicky Hayden (Ducati) and the reigning MotoGP World Champion Valentino Rossi (Fiat Yamaha) saw them place themselves in second and third positions on the timesheets, with times respectively 0.155s and 0.307s behind the Spaniard. Like Hayden and Rossi, the Italian's Yamaha colleague Jorge Lorenzo also produced his fastest pace on his final lap, putting himself fourth with a 1'51.894 time.
Satellite pair Alex de Angelis (San Carlo Honda Gresini) and James Toseland (Monster Yamaha Tech 3) were fifth and sixth, with both hoping for good results this weekend as they attempt to secure 2010 rides.The top ten was completed by Loris Capirossi (Rizla Suzuki), home rider Colin Edwards (Monster Yamaha Tech 3), Andrea Dovizioso (Repsol Honda) and Marco Melandri (Hayate Racing). Aleix Espargaró got his first ever MotoGP ride in the session and did well to end up in 15th place, lapping ahead of Gabor Talmacsi and his temporary team-mate Niccolò Canepa.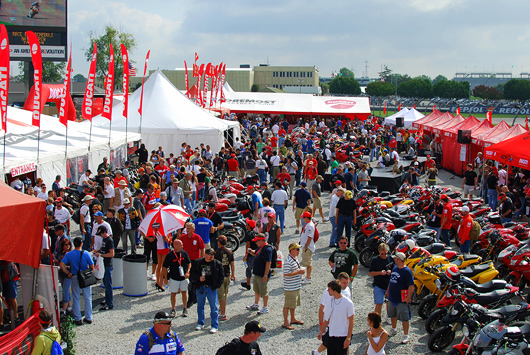 Above, the Ducati Midway. The Indianapolis MotoGP had a great crowd this year, possibly twice the size of this year's July Laguna Seca round, thanks in part to to better weather on the weekend. With a "announced attendance of 70,000" people on the Speed TV broadcast you can surmise this was the week total counted consecutively each day, so actual attendance may have been 30,000 race fans, the best USA motorcycle race attendance this millennium since Laguna Seca's first MotoGP year in 2005.

Pedrosa Secures Pole on Saturday
Saturday Aug 29th - MotoGP qualifying at the Red Bull Indianapolis Grand Prix on Saturday concluded with Spaniard Dani Pedrosa in pole position, following a superb performance from the Repsol Honda rider. Pedrosa's best effort of 1'39.730 gave him a new pole position record and his second pole of 2009, with his nearest rival and compatriot Jorge Lorenzo of the Fiat Yamaha team unable to get within half a second of him. Indeed, Pedrosa has been quickest in all three sessions so far at The Brickyard.
Lorenzo's team-mate Valentino Rossi is also on the front row, though the World Champion left it very late as he slotted into third place with his best time in the final moments, placing nearly nine-tenths of a second down on Pedrosa.
That late lap from the legendary Italian denied Alex de Angelis (San Carlo Honda Gresini) a front row start by just one hundredth of a second, but the San Marino rider still qualified in fourth and is looking good at Indy so far, ahead of his home round next week.
There was a rare crash for Colin Edwards (Monster Yamaha Tech 3) with less than ten minutes to go, but he still ended up fifth, with his fellow American Nicky Hayden (Ducati) just behind him in sixth, rounding off row two.
There was also a late crash for Toni Elías (San Carlo Honda Gresini) but he went round seventh quickest and he is joined on the third row by Italians Andrea Dovizioso (Repsol Honda) and Marco Melandri (Hayate Racing). Briton James Toseland (Monster Yamaha Tech 3) completed the top ten.Mika Kallio also hit the deck and finished down in 15th place on the factory Ducati he is temporarily riding.
Dani Pedrosa, Repsol Honda: 1st – 1m 39.730s. "I'm really happy with this pole position because we have been fast all weekend so far - in the wet as well as the dry - so this is very positive. The lap times are quick and also consistent which should give us a good chance in the race tomorrow. I've been comfortable on the machine from the start and things have just clicked here - it's not as if we've made any big changes for this race. We can't relax at all though because I'm sure the other riders will improve and we know how strong our rivals have been this season. So we must make a few small adjustments to make sure we have the best possible package tomorrow. I'm really looking forward to the race because it looks like the weather should be good - a big contrast to last year - and it will be great to feel the race-day atmosphere at Indianapolis in more normal conditions than last year's wash-out. Now we'll just stay focused and concentrate on our preparation for tomorrow."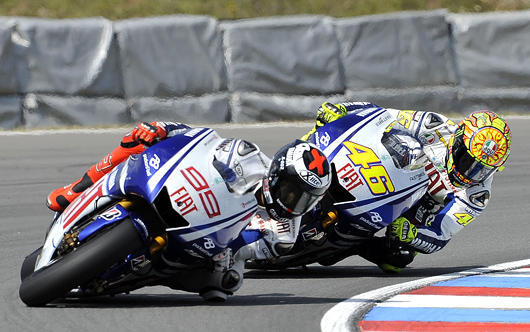 Rossi battles hardwith Lorenzo for the lead at Brno, the pair shattering the lap record nearly every lap.
Lorenzo Wins as His top Rivals Crash Out
Sunday Aug 30th - The battle for the 2009 FIM World Championship was blown wide open on Sunday at the Red Bull Indianapolis Grand Prix as Jorge Lorenzo scored a great win and his Fiat Yamaha colleague Valentino Rossi suffered his first DNF of the year. Lorenzo eventually crossed the line with a 9.5s winning margin to cut Rossi's championship lead in half, as the deficit dropped from 50 to 25 points, with five races remaining.
Behind Lorenzo there was a great ride from San Carlo Honda Gresini's Alex de Angelis who did his quest to remain in MotoGP no harm at all in second place, gaining his first ever premier class podium from fourth on the grid. Nicky Hayden also rode brilliantly after qualifying sixth, repeating his 2008 Indianapolis podium, this time in third position – his best result to date with Ducati. Hayden got the better of Andrea Dovizioso, despite a stiff challenge from the man who replaced him in the Repsol Honda team, the Italian yet again having to settle for fourth on the last lap.
It was Dani Pedrosa dominated the opening laps of the race from his Pole Position by leading Rossi and Lorenzo as they pulled away fro the rest of the field in dramatic fashion. But then on lap 4 Dani los tthe front end of his hone on the low grip track and slid off onto the grass with most superficial damage. He bravely picked up his RC212V and rejoined in last place, down on the the field by about half a lap, then doing well to finally finish in 10th position.
Nest it was World Champion Valentino Rossi hit the ground on lap nine when battling for the race lead with Lorenzo, the Italian able to remount and try to continue, only to have to retire a couple of laps later due to the damage his M1 machine sustained. It is the first time Rossi has failed to finish a race since Valencia in 2007.
Colin Edwards and James Toseland claimed impressive top six positions for the Monster Tech3 Yamaha team with hard fought performances in today's dramatic Indianapolis Grand Prix in front 75,000 spectators. Edwards came home a solid fifth with the Texan disappointed not have been closer to the front in his second home race of the season. After Dani Pedrosa crashed out of the lead Edwards was briefly third before he began to struggle with some rear grip issues. Today's results saw Edwards to retain fifth position in the championship standings.
With a daring early charge from 10th on the grid Briton James Toseland scored his equal best result of the season with sixth place after an thrilling late race battle with Marco Melandri. After Melandri had briefly got ahead on lap eight Toseland was back in sixth on lap 10 and then rebuffed every challenge until Melandri crashed out of seventh position with two laps remaining.
The top ten also featured Loris Capirossi (Rizla Suzuki), Mika Kallio (Ducati) and Toni Elías (San Carlo Honda Gresini). A special mention must go to Pramac Racing's temporary replacement rider Aleix Espargaró who earned three points in 13th place on his MotoGP debut.
Alex De Angelis (San Carlo Honda Gresini), 2nd: "I have to thank the team for the incredible job they have done this weekend – the bike has been fantastic ever since we unpacked it on Friday and we have gone from strength to strength over the course of the weekend. They also gave me a lot of confidence this morning and honestly I think they had more belief that I would be on the podium today than I did! It is a fantastic result, but it is no fluke because we have been in great form over the last five races. It is a long time since I was on the podium back in the 250cc class and I had almost forgotten what a great feeling it was. Now I want to enjoy it and celebrate with another good performance at my home race next weekend."
Nicky Hayden (Ducati MotoGP Team) 3rd: "It feels great to be on the podium here at Indianapolis and I want to thank all the team, my friends, family and fans for their support because this has been a tough season and I've needed every one of them. I was really careful at the start because I watched the 125cc race earlier on and the guy in my grid position made a jump start – it made me think that I really didn't want to do that today! As a result I didn't get a great start but I saw Lorenzo charge past a few guys, making a hole in the pack, so I tried to follow him. I pushed hard and in the middle of the race I went as fast as I have all weekend, but I didn't have any more than that. Dovizioso came on strong at the end so I gave myself a little pep talk and made sure I was ready for whatever he had. He was going to have to come up with something special to keep me off the podium here at Indy! Thankfully I kept it together and brought it home. We don't have long to the next race at Misano but I'm in the mood for a little party tonight. My buddies have seen the sun come up every day since Friday but hopefully they've got something left in the tank for me!"
Dani Pedrosa (Repsol Honda), 10th: "This result was a real shame but sometimes it happens - it's racing. We did a great job all through practice and qualifying, I was confident for the race and of course I was hoping to win today. I was pushing very hard at the start of the race and perhaps I pushed too much. There was some cloud cover today and maybe the front tyre was a little cooler than before, but whatever the reason, I made a mistake and lost the front. I'm sorry for the team because they've worked really hard for me, and also to the fans who've given me great support. I wanted to win in American again but it wasn't to be. There was some damage to the bike - the handlebar was bent inwards and the footpeg was worn away quite badly, but actually I was able to recover and ride at a fast pace to take some points at the end. Looking on the positive side, we've been very fast here and that means we can take a lot of confidence to Misano next weekend."
Valentino Rossi - Position: DNF: "Today is a disappointment of course! We struggled here with the setting all weekend but we made an improvement today and I got a good start and was able to stay in touch with Pedrosa. Once he fell, I knew it would be between Jorge and I but I honestly don't know how it would have finished, because Jorge was very fast today. Of course, it would have been better to have finished second than not to finish at all! Unfortunately I ran wide on to a dirty part of the track at turn one and lost the front. I tried to carry on but there was a problem with my throttle and it wasn't possible. I want to congratulate Jorge for his victory and now we look forward to coming back to the front at Misano. We are still leading the championship and this is the most important thing."
Results MotoGP : (28 laps = 118.048 km)
Pos/ Rider / Nat / Team / Motorcycle / Time/ KM/H / Gap
1 / Jorge LORENZO / SPA / Fiat Yamaha Team / YAMAHA / 47'13.592 / 149,976 /
2 / Alex DE ANGELIS / RSM / San Carlo Honda Gresini / HONDA / 47'23.027 / 149,478 / 9,435
3 / Nicky HAYDEN / USA / Ducati Team / DUCATI / 47'26.539 / 149,294 / 12,947
4 / Andrea DOVIZIOSO / ITA / Repsol Honda Team / HONDA / 47'27.070 / 149,266 / 13,478
5 / Colin EDWARDS / USA / Monster Yamaha Tech 3 / YAMAHA / 47'39.846 / 148,599 / 26,254
6 / James TOSELAND / GBR / Monster Yamaha Tech 3 / YAMAHA / 47'46.000 / 0.148 / 32,408
7 / Loris CAPIROSSI / ITA / Rizla Suzuki MotoGP / SUZUKI / 47'47.992 / 148,177 / 0.034
8 / Mika KALLIO / FIN / Ducati Team / DUCATI / 47'48.448 / 148,154 / 34,856
9 / Toni ELIAS / SPA / San Carlo Honda Gresini / HONDA / 47'58.597 / 147,631 / 45,005
10 / Dani PEDROSA / SPA / Repsol Honda Team / HONDA / 47'58.969 / 147,612 / 45,377
11 / Chris VERMEULEN / AUS / Rizla Suzuki MotoGP / SUZUKI / 47'59.070 / 147,607 / 45,478
12 / Randy DE PUNIET / FRA / LCR Honda MotoGP / HONDA / 48'05.886 / 147,259 / 52,294
13 / Aleix ESPARGARO / SPA / Pramac Racing / DUCATI / 48'17.144 / 146,686 / 1'03.552
14 / Gabor TALMACSI / HUN / Scot Racing Team MotoGP / HONDA / 48'28.678 / 146,105 / 1'15.086
Pole Position: Dani PEDROSA 1'39.730 152.186 Km/h
Fastest Lap (New record): Lap 4 Jorge LORENZO 1'40.152 151.545 Km/h
Circuit Record Lap: 2008 Valentino ROSSI 1'49.668 138.395 Km/h
Circuit Best Lap: 2009 Dani PEDROSA 1'39.730 152.186 Km/h
World Championship Positions:
1 ROSSI Valentino 212, 2 LORENZO Jorge 187, 3 STONER Casey 150, 4 PEDROSA Dani 141,
5 EDWARDS Colin 123, 6 DOVIZIOSO Andrea 120, 7 DE ANGELIS Alex 88,
8 CAPIROSSI Loris 86, 9 DE PUNIET Randy 84, 10 MELANDRI Marco 79,
11 VERMEULEN Chris 77, 12 HAYDEN Nicky 73, 13 TOSELAND James 72, 14 ELIAS Toni 70,
15 KALLIO Mika 42.
Simoncelli Wins 250cc GP for Gilera
Hiroshi Aoyama (Scot Honda) extended his 250 World Championship lead with a determined ride to second place. Aoyama moved into second on the fourth of 26 laps and immediately began pressuring race leader Marco Simoncelli (Metis Gilera). The Japanese rider was able to keep the gap under .3s until the 22nd lap when a slight bobble in turn 11 cause him a moment's hesitation. That gave Simoncelli the impetus he needed to speed up. The Italian set the fastest lap of the race on the 24th and Aoyama had no answer. Instead he protected his second place finish, and the 20 points that go with it.
Hector Faubel (Valencia CF-Honda SAG) and Ratthapark Wilairot (Thai Honda PTT-SAG) were battling mid-race before they went in their separate directions. Wilairot moved up as high as fifth place before a heartbreaking mechanical issue took him out of the race with less than five laps to run. Faubel was also on the move when he had a moment that wrenched his back. The Spaniard lost a few positions and wasn't able to reclaim then.
That Raffaele De Rosa (Scot Honda) even rode is a testament to his determination. The Italian had to take a trip to a local hospital after crashing in Saturday qualifying. The damage was a slight separation of his left shoulder and a bruised left leg. Weakened by injuries, De Rosa didn't have the confidence to race at 100% and finished 11th.With five races remaining, Aoyama leads Alvaro Bautista (Mapfre Aprilia), third today, by 16 points, 192 to 176.
Results 250cc
Race Classification 250cc (26 laps = 109.616 km)
1 / Marco SIMONCELLI / ITA / Metis Gilera / GILERA / 45'43.599 / 143,832 /
2 / Hiroshi AOYAMA / JPN / Scot Racing Team 250cc / HONDA / 45'45.542 / 0.144 / 1,943
3 / Alvaro BAUTISTA / SPA / Mapfre Aspar Team / APRILIA / 45'48.260 / 143,588 / 4,661
4 / Mike DI MEGLIO / FRA / Mapfre Aspar Team 250cc / APRILIA / 45'56.375 / 143,165 / 12,776
5 / Roberto LOCATELLI / ITA / Metis Gilera / GILERA / 45'59.074 / 143,025 / 15,475
6 / Hector BARBERA / SPA / Pepe World Team / APRILIA / 46'03.070 / 142,818 / 19,471
7 / Lukas PESEK / CZE / Auto Kelly - CP / APRILIA / 46'06.281 / 142,652 / 22,682
8 / Hector FAUBEL / SPA / Honda SAG / HONDA / 46'16.408 / 142,132 / 32,809
9 / Thomas LUTHI / SWI / Emmi - Caffe Latte / APRILIA / 46'32.920 / 141,292 / 49,321
10 / Karel ABRAHAM / CZE / Cardion AB Motoracing / APRILIA / 46'33.444 / 141,265 / 49,845
11 / Raffaele DE ROSA / ITA / Scot Racing Team 250cc / HONDA / 46'37.166 / 141,077 / 53,567
12 / Alex BALDOLINI / ITA / WTR San Marino Team / APRILIA / 47'13.316 / 139,277 / 1'29.717
13 / Valentin DEBISE / FRA / CIP Moto - GP250 / HONDA / 47'21.436 / 138,879 / 1'37.837
14 / Axel PONS / SPA / Pepe World Team / APRILIA / 47'30.271 / 138,449 / 1'46.672
15 / Vladimir LEONOV / RUS / Viessmann Kiefer Racing / APRILIA / 47'30.420 / 138,441 / 1'46.821
Pole Position: Mike DI MEGLIO 1'44.341 145.461 Km/h
Fastest Lap (New record): Lap 24 Marco SIMONCELLI 1'44.720 144.935 Km/h
Circuit Record Lap: New circuit
Circuit Best Lap: 2009 Mike DI MEGLIO 1'44.341 145.461 Km/h
World Championship Positions:
1 AOYAMA Hiroshi 192, 2 BAUTISTA Alvaro 176, 3 SIMONCELLI Marco 165,
4 BARBERA Hector 133, 5 PASINI Mattia 100, 6 DE ROSA Raffaele 82, 7 FAUBEL Hector 79,
8 LOCATELLI Roberto 78, 9 LUTHI Thomas 74, 10 DEBON Alex 73, 11 DI MEGLIO Mike 63,
12 PESEK Lukas 53, 13 CLUZEL Jules 48, 14 WILAIROT Ratthapark 43,
15 ABRAHAM Karel 39.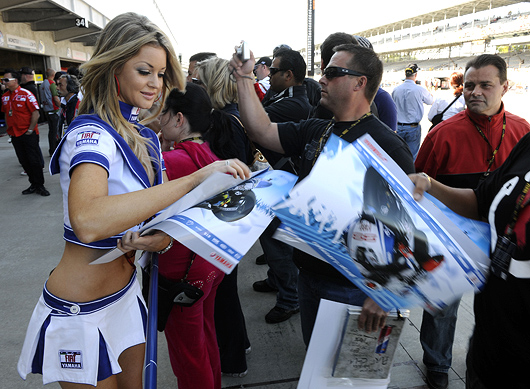 ---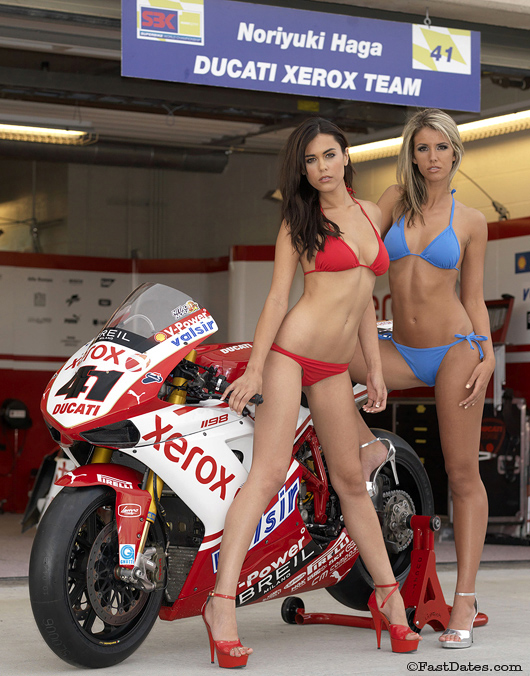 2009 SBK World Superbike Championship, Nuremburg, Round 11 of 14

Preview: The Ring gets ready to Rock & Roll with renewed Haga-Spies duell
Nurburgring, DM, Tuesday 1st Sept 2009 - The 2009 Hannspree FIM Superbike World Championship is back in action following the summer break with the eleventh round of the championship taking place at Germany's legendary Nurburgring circuit, an hour or so from Bonn. The German Round is the first in a series of the final four (the others being Imola, Magny-Cours and Portimao), which will lead to the crowning of the 2009 world champion. The eventual winner will now come from a short-list of three: points leader Noriyuki Haga (Ducati Xerox), Ben Spies (Yamaha World Superbike) and Michel Fabrizio (Ducati Xerox).
The Nurburgring circuit is one of the most spectacular in the world, with its 5.137 km layout offering numerous unique features. Each lap is made up of 17 curves, some of which, in particular the three after the start-finish line, are extremely tricky from a technical point of view, while the track surface is exceptional in both wet and dry conditions.
World Superbike has been to the Nurburgring three times: twice before the track underwent modifications (1998-1999) and then last year. The winners were Aaron Slight (Honda) and Pierfrancesco Chili (Ducati) in 1998, while the following year Ducati scored a double with Carl Fogarty and Troy Corser. Nine years later the German track was witness to another double win, this time by Noriyuki Haga (Yamaha Motor Italia), who pulled off this incredible feat just two weeks after breaking his collarbone in the previous US Round at Miller Motorsports Park.
STAR WARS – The memories of Haga's amazing performance twelve months ago could be just what the Ducati rider needs to galvanize him into action, as he arrives in Germany in a similar position due to his recovery from the injury he suffered two races back at Donington. The Japanese rider will have to be on top form indeed to hold off his closest rival Ben Spies, who is currently on the crest of a wave with three wins in the last four races. There are just 7 points between the two at the moment and the German Round could see a sensational changeover at the top. Ducati Xerox team-mate Michel Fabrizio could also play a key role in proceedings this weekend. Not only is the young Italian in the midst of the title battle, albeit 53 points behind Haga and 46 behind the Texan (with 200 points still up for grabs), but team strategy could also play a major role. At Brno he unwittingly took Spies out of the action thus allowing Haga to keep the championship lead, but in Germany he could easily take away points from the American with careful race tactics.
APRILIA ON THE MOVE – After the last round Max Biaggi and Aprilia will now surely be key players at the German track. The win at Brno helped to boost morale in the Italian team and even though it came at a circuit where the RSV4 had already been tested, it goes without saying that the four-cylinder machine from the Noale factory is making major progress towards the top in its return season in WSB. Biaggi raced here last year and can undoubtedly give the right indications to the Aprilia engineers to get the RSV4 machine to the top this time around.
WATCH OUT FOR HONDA – The Hannspree Ten Kate Honda team have had an up and down season so far but at least they have seen the rise of Jonathan Rea, the only winner for the Japanese manufacturer this year and surely one of the men to watch in WSB in the future. Rea is a true fighter and the German track, which he is familiar with after racing here in Supersport, is another chance for him to shine. Carlos Checa has shown signs of a renaissance in recent races, while over in the Stiggy Racing Honda camp Leon Haslam aims to put in another solid performance to become top Honda man ahead of Rea. Further possible surprises could come from Shane Byrne (Sterilgarda Ducati), who is having an excellent second half of the season.
BMW PLAY AT HOME – The BMW Motorrad men showed major improvement at Brno, with Troy Corser and Ruben Xaus both capable of getting onto row 2 in Superpole and the Australian bringing home the best result of the season for the team with a fifth place finish. The German squad is working hard to close the gap on the frontrunners, and with their home round ahead BMW obviously want to make a good impression. It hasn't been an idle summer for Kawasaki either as the Paul Bird Motorsport team raced successfully in a BSB round at Brands Hatch, giving an opportunity for Broc Parkes to try out some new material, while the injured Makoto Tamada remained at home to recover for the race. Over in Suzuki Alstare the Belgian squad cannot count on their top rider Max Neukirchner, who was injured again in Imola testing. After racing singleton at Brno, Yukio Kagayama will be flanked by Karl Muggeridge, released from his contract by the Celani team, which will not be present in Germany.
Points (after 10 of 14 rounds): 1. Haga 326; 2. Spies 319; 3. Fabrizio 273; 4. Rea 206; 5. Biaggi 200; 6. Haslam 180; 7. Sykes 150; 8. Checa 145; 9. Byrne 134; 10. Smrz 132. Manufacturers: 1. Ducati 412; 2. Yamaha 362; 3. Honda 306; 4. Aprilia 207; 5. Suzuki 133; 6. BMW 87; 7. Kawasaki 53
---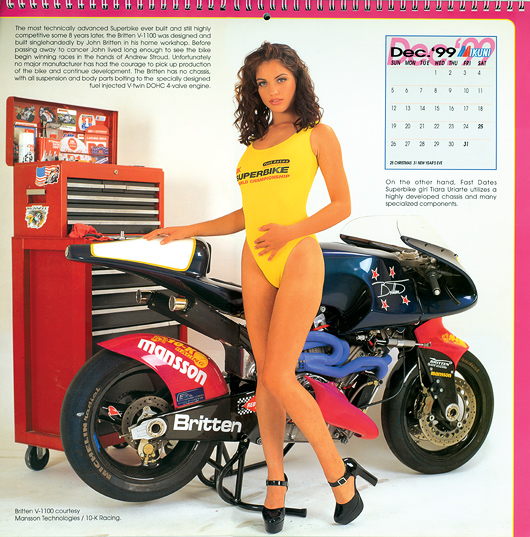 One of John Britten's rare hand built from scratch superbikes. #8 of 10 built, was featured in the
1999 Fast Dates Calendar.
New Video Tribute To John Britten. Backyard Motorcycle Visionary
He was considered at the time of his death the best motorcycle engineer in the world. His Britten Superbike, today, almost 20 years later is still one of the most advanced sportbikes ever built. Designing and building motorcycles and much more, John Britten gave us a fabulous lesson of perseverance, courage, humility and creativity. Now available is this incredible this 5- part documentary on the John Britten story, shot in his home in New-Zealand is a must see for all the pros and backyard builders around the world. By the time he died of cancer in 1995, John Britten had become a household name.

Watch the video TV Series The John Britten Story
The Official Britten Website: www.Britten.co.nz
---
Awarding Ron Roth / Eye Candy Cycle Design 1st place Sportbike for their turbocharged Kawasaki Zx14 is from left: Ted Sands / Performance Machine, Elizabeth Nicole / singer songwriter actress and host, and FastDates.com Calendar Kittens Apple and Melody.
World Premier of the 2010 FastDates.com Calendars
New Shinya Kimura Retro Sportbike Customs for Brad Pitt
Plus the all girl built AFT Metric Customs bike "LoLA" wins Best Metric Custom!

Performance Machine presents the 18 Annual
2009 LA Calendar Motorcycle Show Weekend with the
Calendar Bike Building Championship &
2-Day Calendar Girl Music Festival
July 18-19th 2009, Queen Mary Event Park, Long Beach, CA - The 18th annual Los Angeles Calendar Motorcycle Show and Calendar Girl Music Festival Weekend presented by Performance Machine, America's premier custom, cruiser, performance and sportbike weekend marked its returned to the Queen Mary Event Park in Long Beach. Thousands of motorcycle and rock music fans were in attendance for the world's most exciting 2-day motorcycle event in the beautiful Queen Mary Event Park on the grass alongside the Pacific Ocean with it's cool ocean breezes to fend off California summer's scorching heat.
Spectators view the Pro Builder Class entries along the Park's shore line at Sunday's Calendar Bike Building Championship. The Show has 10 different classes dispersed throughout the Park to provide an even flow of spectators to all the venders and exhibitors.

Making their world premier at the Calendar Show are is the exciting new 2010 Fast Dates.com Calendars: Fast Dates Race Bikes, Iron & Lace Custom Bikes and Garage Girls Pinup Model Calendar sponsored by SBK World Superbike, Performance Machine and Mikuni Carburetors Photographed by renown motorsports and fashion photographerand Calendar Show promotoer Jim Gianatsis, the FastDates.com Calendars always features the word's top roadracing and custom motorcycles, together with beautiful swimsuit and centerfold models roadracing bikes. Fans got to meet and pose for pictures with Calendar Kittens Apple Price and Melody Schuster who are featured in the new Calendars premiering at the Show!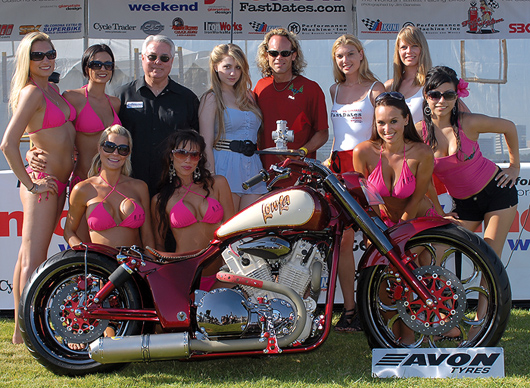 This is what custom bike building is all about! That's AFT Metric Customs guru Jim Guiffra standing (red shirt) between Elizabeth Nicole and the Calendar Kittens, and all the AFT Models who built the bike LoLA in pink bikinis.
Click to go BIG.
Cockpit, the hottst girl rock band on the planet entertained the troops both days of the Show.
Additional 2009 LA Calendar Show coverage and photos HERE
---
There's more! Go to Pit Lane News Previous Page

Also Visit: Fast Dates Calendar News • Iron & Lace Calendar News
Calendar Girl News • Meet the Models • Paddock Garage

Calendar Kittens, The Paddock Garage, Screensavers, Iron & Lace Garage



MotorcycleSuperstore.com
Some of our Calendar Kittens can also at Playboy's website...

FREE! New Met-Art Model Galley Updated Daily - Stop Back Each Day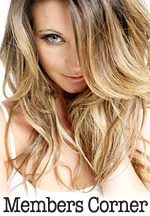 Members Corner
Hot Bikes, Sexy Kittens
Get Your Exclusive Grid Pass
aslo includes....
---
World Premier!
2010 FastDates.com Calendars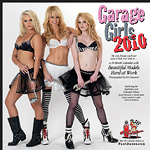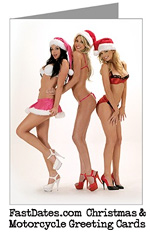 ---
Injured Ducati Xerox Superbike Riders Pass Test at Mugelo

Mugello (Italy), Wednesday 2nd September: The Ducati Xerox Team has been on track at the Mugello circuit yesterday and this morning, as guests of the Ducati MotoGP Team, to carry out two days of testing and to verify at the same time the physical condition of Noriyuki Haga, two months after the incident at Donington Park in which the Japanese rider fractured both his right ulna and left scapula. After the six-week long summer break, during which time he continued with a combination of physiotherapy and training, Nitro-Nori got back on his Ducati 1198 yesterday and although his shoulder injury caused him some discomfort at the start, he was able to ride much more comfortably today and the team is therefore feeling confident ahead of this weekend's race.
Under clear skies Noriyuki and his squad worked on different set-ups and made adjustments regarding forks and shocks, making about 90 laps in total during the two-day test, with positive results and encouraging lap times. Engineer Ernesto Marinelli, technical director of the Superbike project, declared himself satisfied with the work completed, having identified two promising directions to try out this coming weekend at the Nürburgring.
Yesterday Michel Fabrizio was also on track and he also is back in shape after suffering muscle damage in practice during his recent MotoGP outing at Brno, a problem that fortunately seems to have resolved itself.
The Ducati Xerox Team departs tomorrow for Germany and this weekend's Nürburgring round. At this point the two Ducati Xerox riders declare themselves to be fit and ready for the season's crescendo. After ten of fourteen Superbike rounds held so far, Noriyuki continues to lead the championship with 326 points while Michel occupies third place in the overall standings, holding 273 points.
MotoGP Riders and Teams in Jeparady for 2010
With motorccyle sales down some 40% world wide we will be seeing continued budget cutback in MotoGP roadracing for 2010.
MotoGP will be the hardest hit for 2 rason, the first being the prototype bike teams are more expensive to run than a World Superbike team. And because MotoGP doesn't relate as directly to production bikes and production bike sales like World Superbike.
The semi-factory Kawasaki Moto-GP team of Hayate Racing with rider Marco Melandri will probably not be retuning to MotoGP next season as Kawaskai has announced it will not be developing, building and supporting its MotoGP bike. This will reduce the already megre MotoGP grid from 18 down to possibly just 17 bikes.
Also in jepardy are the MotoGP careers of many riders including former World Superbike Champions Colin Edwards, James Toseland and Chris Vermuelin who remain unsighed as of theis date. Vermuelin who has already been told by Suzuki tat he will not be resigned with them.
Also uncertain of his fate with the Ducati is America's favorite "good old boy" Nicky Hayden who hasn't delivered as expected in his switch to Ducati this year.
Ducati Corse normally only likes to sign a sure thing, and Hayden's highest placed finish this season of just a 3rd at Indianapolis has to be kept in perspective. Top runner Casey Stoner wasn't there, and race leaders Pedrosa and Rossi crashed out, so realisticly Hayden only earned 6th place at this home race. Not very good. For compaison, Hayden's next highest finish this year was his other home race, Laguna Seca in July were he was 5th behind these missing riders.
Ducati's only delimina is who would they hire to replace Hayden? If we had a say, we'd choose James Toseland who won the 2005 World Superbike title for Ducati, then jumpedship to MotoGP and Yamaha.
Red Bull Indy MotoGP Schedule August 28-30

Indianapolis, IN – August 15, 2009 – The Red Bull Indianapolis GP on Aug. 28-30 at the Indianapolis Motor Speedway offers a dream weekend for motorcycle racing enthusiasts, on and off the track.
A full schedule of events is planned during the second annual MotoGP event at IMS, including more than 11 hours of overall on-track time for the best riders in the world on Practice Day, Friday, Aug. 28, Qualifying Day, Saturday, Aug. 29 and Race Day, Sunday, Aug. 30.
The action starts at 9:30 a.m. Friday with rider question-and-answer sessions and a Riders For Health Charity Auction until 12:30 p.m. at the 6th Street Stage located in the IMS infield.
Fans can get an up-close look at the exotic prototype motorcycles raced in MotoGP during the popular Pit Walkabout, which takes place from 9:45-11:30 a.m.
All three classes – MotoGP, 250cc and 125cc – each will have one-hour practice sessions Friday afternoon. MotoGP superstars Valentino Rossi, Jorge Lorenzo and Dani Pedrosa, and American stars Colin Edwards and Nicky Hayden will get their first laps of the weekend on the 2.621-mile circuit from 1:55-2:55 p.m. Friday.
The Saturday schedule is packed with more than five hours of on-track time among the three classes, with practice in the morning and qualifying in the afternoon.
Morning practices start at 9 a.m., with MotoGP on track at 9:55 a.m. A Cycle World Seminar will take place from 11 a.m.-noon on the 6th Street Stage before qualifying begins at 1 p.m. MotoGP riders will start their high-speed quest for the pole at 1:55 p.m.
After qualifying, a stunt riders show will take place at 4:05 p.m., followed by a free concert by Crash, the rock band led by MotoGP star James Toseland, on the 6th Street Stage from 4:30-5:30 p.m.
Race Day adrenaline kicks in quickly with a stunt riders show at 8:30 a.m. Sunday, followed by separate Warm Up sessions for all three classes from 9:40-11 a.m.
The 125cc race, featuring American rookie Cameron Beaubier, starts at noon, followed by the 250cc race at 1:15 p.m.
Pre-race festivities for the featured MotoGP race will start at 2:15 p.m. with parade laps by 1993 World Champion Kevin Schwantz on the 500cc Suzuki that legendary American Schwantz rode to the world title.
The countdown then will continue to the MotoGP race, which starts at 3 p.m.
Motorcycle enthusiasts also can browse and purchase the latest gear and aftermarket accessories all three days at the Vendor Marketplace in the Gasoline Alley Garages.
Race weekend activity outside of IMS includes the XDL Sportbike Freestyle Championship and Motorcycles on Meridian events Friday and Saturday evening in downtown Indianapolis, and the Lucas Oil Indy Mile AMA Pro Flat Track Grand National race on Saturday night at the Indiana State Fairgrounds.
2009 RED BULL INDIANAPOLIS GP SCHEDULE
(All times local)
FRIDAY, Aug. 28 PRACTICE DAY
8am.-6pm - Public Gates Open
8 a.m.-6 p.m.
Vendor Marketplace Open, Gasoline Alley Garages
9:30 a.m.-12:30 p.m.
Riders For Health Charity Auction, Rider Q&A's, 6th Street Stage
9:45-11:30 a.m.
Pit Walkabout
12:40-1:40 p.m.
125cc Free Practice 1
1:55-2:55 p.m.
MotoGP Free Practice 1
3:10-4:10 p.m.
250cc Free Practice 1
6 p.m.
XDL Sportbike Freestyle Championship, Downtown Indianapolis
7 p.m.-3 a.m.
Motorcycles on Meridian, Downtown Indianapolis
SATURDAY, Aug. 29 QUALIFYING DAY
7am.-6pm - Public Gates Open
7 a.m.-6 p.m.
Vendor Marketplace Open, Gasoline Alley Garages
9-9:40 a.m.
125cc Free Practice 2
9:55-10:55 a.m. MotoGP Free Practice 2
11 a.m.-noon
Cycle World Seminar, 6th Street Stage
11:10 a.m.-12:10 p.m.
250cc Free Practice 2
1-1:40 p.m.
125cc Qualifying
1:55-2:55 p.m.
MotoGP Qualifying
3:10-3:55 p.m.
250cc Qualifying
4:05 p.m.
Stunt Riders Show
4:30-5:30 p.m.
Live Music by Crash with MotoGP Rider James Toseland, 6th Street Stage
6 p.m. - XDL Sportbike Freestyle Championship, Downtown Indianapolis
7 p.m.-3 a.m. -Motorcycles on Meridian, Downtown Indianapolis
7 p.m. - Lucas Oil Indy Mile AMA Pro Flat Track Grand National, Indiana State Fairgrounds
SUNDAY, Aug. 30
RACE DAY
7 am.-6 pm - Public Gates Open
7 a.m.-6 p.m.
Vendor Marketplace Open, Gasoline Alley Garages
8:30-9am - Stunt Riders Show
9:40-10 a.m. - 125cc Warm Up
10:10-10:30am - 250cc Warm Up
10:40-11am - MotoGP Warm Up
Noon- 125cc Race (23 laps)
1:15 p.m. - 250cc Race (26 laps)
2:15 p.m. - Parade Laps by 1993 World Champion Kevin Schwantz on 500cc Title-Winning Bike
3 p.m. -MotoGP Race (28 laps
'King Kenny' to ride legendary bike at Indianapolis Fairgrounds
American motorcycle racing legend "King" Kenny Roberts will take several hot laps on his infamous Yamaha TZ-750 during the Lucas Oil Indy Mile AMA Pro Flat Track Grand National race Saturday, Aug. 29 at the Indiana State Fairgrounds.
Three-time 500cc World Champion and two-time AMA Grand National champion Roberts rode the bike to a historic victory in 1975 at the "Indy Mile" with a breathtaking, last-lap pass. The bike, built and tuned by former 250cc World Champion Kel Carruthers, was thought by many to be impossible to ride on the dirt due to its brute power.
"After the race in 1975, I said they didn't pay me enough to ride that thing, and this year will be no different!" Roberts said. "But it should be fun for the fans to hear that Yamaha TZ once again up against the bales."
Defending Red Bull Indianapolis GP winner Valentino Rossi, a six-time MotoGP World Champion, plans to attend the event to see Roberts on the TZ-750.
"For sure, Kenny's win at this event on the Yamaha 34 years ago was monumental," Rossi said, "and the fact that I was not born yet makes it even more exciting for me to be there this time!"
More Indy Rider
Race Comments
Colin Edwards - Position: 5th - Time: +0'26.254
"It wasn't as much fun as thought it was going to be, to be honest with you, I had hopes of better result at my home race. I did the same times I did all weekend but I struggled with some grip issues, it just felt like everything was pivoting on the rear, it was like speedway, as soon as I got the bike on the side the rear came around and that is not the fast way. I couldn't put any load on the rear. At the end of the day we had the same tyres as the guy who won the race so whether it was so mething in our set-up or riding style, I don't know. All I could was watch Nicky and Andrea walk away from me and I took some big risks on the brakes. Once Nicky got by it became hard to manage and I think we turned a tyre on the rim, I had a lot of vibration over the final ten laps."
James Toseland - Position: 6th - Time: +0'32.408
"It's very pleasing to finish in the top six, I know I'm capable of these sort of results and need to be doing it very weekend. It was an entertaining race for me, pushing my way through from tenth on the opening lap and today I don't think I lost any friends doing that. Later in the race I had a great battle with Marco Melandri until he made a mistake with two laps go, I thought it would be a fight right to the end with him. I didn't have good feeling in the warm-up so I was little worried for the race but we softened the bike up a little and I was able to keep my pace fr om qualifying. Melandri was really strong in turns one and two but i just kept covering my line, kept my head down and kept pushing. Now I'm really looking forward to Misano next week, a track I know very well from superbikes.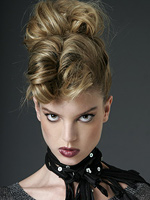 Calendar Kitten Apple
Tests the new
Roehr Harley Superbike!



---
Mat Mladin Announces
His Retirement
August 1st 2009 - 6-time US Superbike champion Mat Mladin, who has dominated the series for nearly the last decade, he won't be racing at all after the conclusion of the 2009 DMG Superbike season.
Mladin did have talks with World Superbike teams in the early part of the 2009 season in regards to 2010. Mladin's current Suzuki contract ends this year and many had hoped he would move to World Superbike in 2010. Ben Spies' success in that series this year makes it an easy guess that Mladin could go there and win races, if not the championship.
However, Mladin said today that he will not race after this season.
Mladin to Compete in Final Round of AMA Pro Racing Competition as No. 1 at New Jersey
7-time Champion's Bike to be Renumbered for AMA Pro Superbike Championship Weekend
DAYTONA BEACH, Fla. (August 21, 2009) - Mat Mladin, the most successful rider in the 34-year history of AMA Pro National Guard American Superbike presented by Parts Unlimited competition, clinched an unprecedented seventh title last weekend and will close out the season's remaining doubleheader aboard his familiar Rockstar/Makita Yoshimura Suzuki GSX-R1000 with the No. 1 plate symbolic of his 2009 championship during the AMA Pro Superbike Championship Weekend, to be held September 4 - 6 at New Jersey Motorsports Park.
"The request came in from Yoshimura Suzuki that Mladin be allowed to renumber his Suzuki GSX-R1000 with No. 1 for the final round of the 2009 season," said Roger Edmondson, President of AMA Pro Racing. "We consider it a fitting tribute to the most prolific champion that American Superbike has ever seen."
The 37-year old Australian has raced motorcycles for the past 28 years, earning championships in amateur Flat Track and Motocross before being picked up by a factory team and claiming his first Australian Superbike Championship in 1992. The road racing standout arrived in America in 1996, leading portions of several races during his rookie season in American Superbike competition. Mladin signed with Ferracci Ducati for 1997 and earned his first four AMA Pro wins that year. His most successful years began when he signed with Yoshimura Suzuki in 1998, taking seven poles and winning the Las Vegas finale in his first season with the team. From 1999 to 2009, Mladin amassed seven championships and an additional 77 official victories for Yoshimura Suzuki and will have the opportunity to score two more race wins in New Jersey.
"In the end we're looking forward to getting home, both of us, and getting home to our family," said Mladin, who will return to New South Wales with wife Janine and their two young children after the New Jersey event. "As much as a lot of people don't realize, we both have mothers and fathers and you don't see them that often. It's going to be nice. In a couple of weeks in New Jersey, my mom is going to come over, and my sister. They were obviously a big part of my career in my early days and it's going to be nice to get home, for the kids to have their grandparents around and for Janine and I to dump the kids with the grandparents every now and then and go catch a movie."
The AMA Pro Superbike Championship Weekend will be featured in a pair of same-day telecasts on SPEED. Saturday's American Superbike and Daytona SportBike finals will be shown that night in a two-hour show at 7:30 p.m. ET (4:30 p.m. PT) while Sunday's premier class races and other highlights will air in a two-hour show that evening at Midnight ET (9 p.m. PT).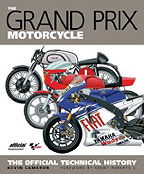 Kevin Cameron's
New Books
by America's Favorite
Motorcycle Technical Guru
---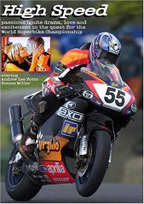 High Speed - the Movie
The best motorcyce racing movie ever made! Filmed on location at World Superbike, this an exciting romantic drama staring beautiful actress Sienna Miller.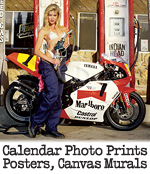 Erotica Archives
FREE New Model
Galley Updated Daily
Warning Contains Nudity
---
Yamaha confirm Jorge Lorenzo as rider for The Fiat Yamaha MotoGP Team For 2010
Jorge Lorenzo and Yamaha Motor Company have signed a one year extension to the current rider agreement that will see Lorenzo, presently second in the 2009 MotoGP World Championship standings, as team mate of reigning MotoGP champion Valentino Rossi for another year.
Lin Jarvis, Managing Director of Yamaha Motor Racing, said "We are obviously delighted that Jorge has decided to stay at Yamaha for the next season and we hope that he will remain at Yamaha for many years to come. Jorge has shown his talent, his ability to learn and to compete at the highest level with many excellent performances in 2008 and 2009. We have no doubt that he has the ability and drive to become MotoGP World Champion and we are proud that he has decided to remain with Yamaha, despite having received some very serious approaches from some of our competitors. This timely decision now allows us to focus on the present championship, where our riders are currently first and second, and to make definitive plans for our 2010 MotoGP program."
"I am very happy!" said Jorge Lorenzo. "Today is a good day because I have decided to remain with the Yamaha Factory Team in 2010. It was a very important decision and that's why I have had to take the last few weeks to make it, but I think that this is the best decision for me in this moment. I want to thank Yamaha because they have always done everything that they have promised, and I especially would like to say thank you to Lin Jarvis and Masao Furusawa."


The Official SBK
2008/2009 Yearbook
Awesome in full color! Commerating the 21st Anniversary of World Superbike
Troy Bayliss' 3rd World Championship Title>
PLus a technical look at ll the bikes, and a preview of Ben Spies and Noriyuki Haga battleing for the 2009 Champiosnhip!
We bought it ourselves and totally recommend it!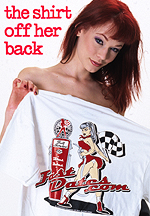 Order the Official
FastDates.com &
LA Calendar Bike Show
T-Shirts!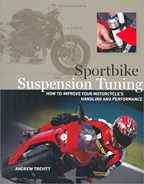 ---
Preview
Misano up next as
MotoGP returns to Europe
Set 1st - The thirteenth round of the 2009 FIM MotoGP World Championship takes place this weekend as the riders and their teams visit Misano for the Gran Premio Cinzano di San Marino e della Riviera di Rimini.
Although World Champion Valentino Rossi has a special relationship with Mugello this is his true home event with the Misano circuit lying just 14km from his beloved hometown of Tavullia. The Italian maestro will again enjoy massive support from the home crowd as he attempts to repeat his 2008 victory at this event and get his title defence immediately back on course after his Indianapolis disappointment.
Rossi's Indy DNF was the first time he has failed to finish a MotoGP race since Valencia at the end of the 2007 season, but he is unlikely to dwell on his Sunday crash for too long as he focuses on increasing the 25 point advantage he holds over his talented young Fiat Yamaha team-mate Jorge Lorenzo with five rounds to go.
For Lorenzo his championship dream has been revived by the results at Indianapolis, with the Spaniard bouncing back spectacularly from two consecutive DNFs at the previous two rounds to take a superb victory and halve the deficit at the top of the standings. The man from Majorca won the 250cc race at Misano two years ago from pole position and last year he was second in the MotoGP race.
In the continued absence of Ducati's Casey Stoner, who is due to return at the round after Misano in Estoril, the Fiat Yamaha team will again expect the principal threat to come from Repsol Honda's Dani Pedrosa who sits fourth in the standings, 71 points behind Rossi and 46 behind Lorenzo. Pedrosa was in great form over the Indianapolis weekend, until a crash when leading the race hindered his progress and he ended up tenth, but he does not have a brilliant record at Misano.
There is an intriguing battle for fifth place in the standings between Monster Yamaha Tech 3's Colin Edwards and Repsol Honda's Andrea Dovizioso, with the American currently edging it by just three points. Misano is not Edwards' favourite track and he knows Dovizioso will be desperate for a good result on Italian soil, so he will be determined to spoil the party.
One rider going into this round on a massive high is San Carlo Honda Gresini's Alex de Angelis, who proudly rides at his home event on the back of a well-deserved first MotoGP podium at Indianapolis. That result could not have come at a better time for the San Marino rider who is still looking for a team for 2010.
The home fans will also be getting behind the likes of Rizla Suzuki's Loris Capirossi and Hayate Racing's Marco Melandri, who sit eighth and tenth in the standings at present, whilst ninth placed LCR Honda's Randy de Puniet will battle through the pain of his ankle injury in order to try and get a decent points haul at what is a home event for his team boss Lucio Cecchinello.
The Ducati riders will also be keen to keep the Ducatisti fans happy on 'home turf' with Nicky Hayden looking in better shape after his first podium result for the Italian factory arrived at his home GP at Indianapolis. With Mika Kallio continuing to temporarily ride as a substitute for Stoner alongside Hayden in the works team, the impressive Aleix Espargaró gets another substitute ride on the satellite Ducati with Pramac Racing.