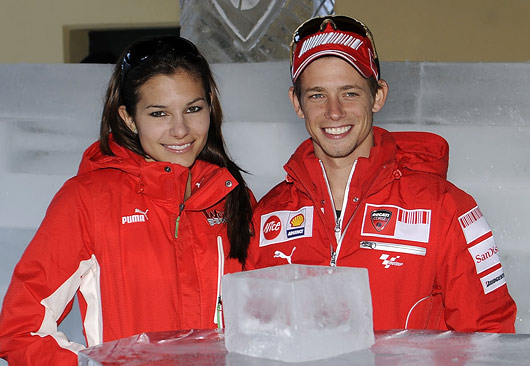 Casey with wife Andrea
2009 MotoGP World Championship, Czech GP Round 11 of 17
Casey Stoner Out of Action for 3 races Due to Health Problems,
Mika Kallio to substitute for him on Ducati Team
Monday Aug 10th 2009 - Casey Stoner will not take part in the next three Grands Prix, and will next return to action at the beginning of October for the Grand Prix of Portugal. The Australian has suffered physical problems since the Catalunya GP, which have caused him severe fatigue during the last five races. Stoner took this difficult decision after having consulted with sports doctors who have looked after him for many years back home in Australia. At this challenging time, he has the support of the team and the whole of Ducati who together with Stoner have enjoyed racing at the top of the sport for the last three seasons.
Mika Kallio will join Nicky Hayden in the Ducati Marlboro Team for the next three races, thanks to the great spirit of collaboration between Ducati and the satellite team owned by Paolo Campinoti. Kallio is in his debut season in MotoGP and has already proved to be very competitive on the GP9. For the Brno race, his place in the Pramac Team will be taken by Michel Fabrizio.
CASEY STONER, Ducati Marlboro Team (3rd in the championship on 150 points)
"After five extremely difficult races due to my health, I returned to Australia to visit the sports doctors who have looked after me for many years. We have taken the difficult decision not to contest the next three rounds of the championship, to allow my body time to recover from the recent stress. The doctors believe that during the Barcelona race I was suffering from a virus, and, that I subsequently pushed my body too hard, leading to problems that have caused my fatigue since then. The doctors are continuing with many tests to try to understand these problems and make sure it does not happen again. I have spoken with Ducati and thank them for their understanding at this time. I feel very sorry for the factory, my team, my sponsors and the fans and I am also disappointed because the bike in the last races has been very competitive. I will be doing everything possible to come back at full strength for Portugal.
MIKA KALLIO, (15th in the championship on 34 points)
"When I took the call I could hardly believe it, but then I talked to my manager and I realised it was true. I am proud to be racing the next three events with the Ducati Marlboro Team. Obviously I'm not expecting to suddenly be a second quicker, because our bikes are very similar to the official machines, but I hope to be able to pick up some good results for the team. I would particularly like to thank Paolo Campinoti, who has allowed me to enjoy this incredible opportunity. It will be a real honour for me. Nonetheless I would like to send my best wishes to Casey, and I hope to see him back out on track as soon as possible."
LIVIO SUPPO, MotoGP Project Director
"It's obviously difficult for us to contemplate the next three races without Casey, but it's clear that the most important thing at this time is his health. Since his debut with us in Qatar in 2007, Casey has won 18 times as well as taking countless podium finishes, becoming one of the top riders in the World Championship in the process. We have already overcome tough times together, like when he had to undergo surgery on his scaphoid towards the end of last season. We are united whether in times of success or in times of difficulty. We are confident that the doctors will help solve the issues that have affected him since early June and that Casey will be able to take part in the last races of the year in peak fitness. Then we can prepare for 2010 in the best way possible. A big thank you to Paolo Campinoti who as always has proved to be a great supporter and an ideal partner for Ducati, allowing Mika to ride with the Ducati Marlboro Team for the next three races. Mika is having a really positive debut year in MotoGP and we are delighted that he will be alongside Nicky in the official works team. In his place at Brno in the Pramac Team will be Michel Fabrizio, who I am certain will know how to give the right kind of performance on one of his preferred tracks."
THE TRACK
The Brno circuit snakes its way around the hills that border the Czech Republic's second city and is one of the jewels in the crown of motorcycle racing. Built in 1987 to replace the old and dangerous road circuit that had previously hosted Grand Prix racing, the 'new' track retains some of the original characteristics and for this reason it is much to the liking of the riders. With track width reaching 15m in some places, its fast and mixed layout features fast direction changes, chicanes and elevation changes. The extra width rewards a precise racing line and those continual elevations changes, with several downhill braking areas, require a perfect bike set-up, a talented rider and good tyre life. Engine performance is also an important factor, with the long straights giving the MotoGP machines chance to really stretch their legs.
BRNO CIRCUIT RECORDS
Circuit Record: Casey Stoner (Ducati - 2008), 1'57.199 - 164.618 km/h
Best Pole: Valentino Rossi (Yamaha - 2006), 1'56.191 - 167.403 km/h
Circuit length: 5.403km
MotoGP Race 2009: 22 laps (118.866 km)
MotoGP Schedule 2009: 14:00 CET
Podium 2008: 1st Valentino Rossi, 2nd Toni Elias, 3rd Loris Capirossi
Pole 2008: Casey Stoner (Ducati), 2'11.657 – 147.738 Km/h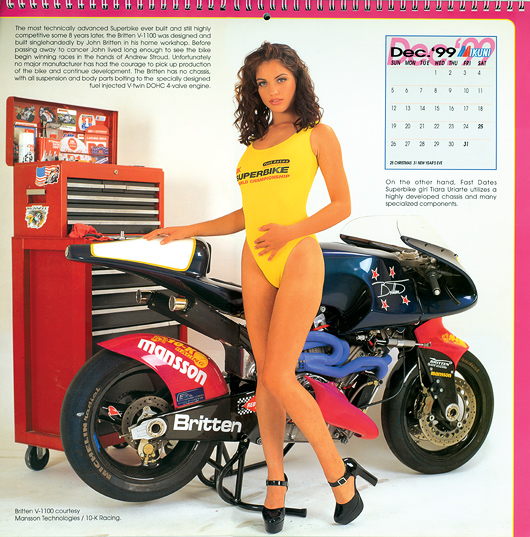 One of John Britten's rare hand built from scratch superbikes. #8 of 10 built, was featured in the
1999 Fast Dates Calendar.
New Video Tribute To John Britten. Backyard Motorcycle Visionary
He was considered at the time of his death the best motorcycle engineer in the world. His Britten Superbike, today, almost 20 years later is still one of the most advanced sportbikes ever built. Designing and building motorcycles and much more, John Britten gave us a fabulous lesson of perseverance, courage, humility and creativity. Now available is this incredible this 5- part documentary on the John Britten story, shot in his home in New-Zealand is a must see for all the pros and backyard builders around the world. By the time he died of cancer in 1995, John Britten had become a household name.

Watch the video TV Series The John Britten Story
The Official Britten Website: www.Britten.co.nz
---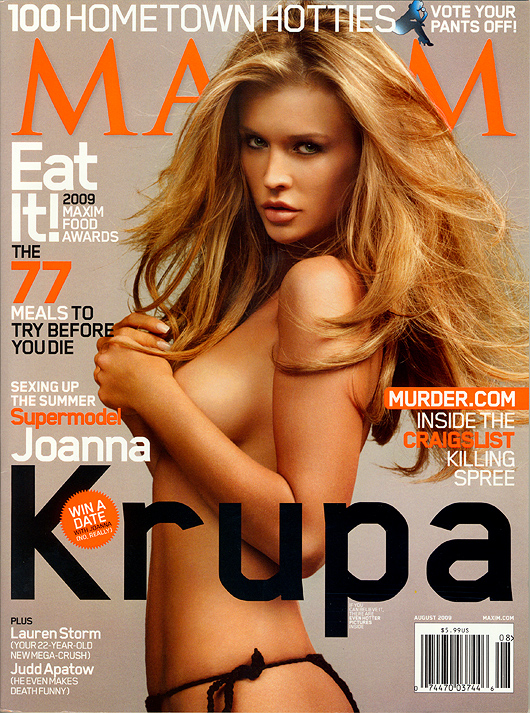 Joanna does MAXIM again
August 1st - One of our most beautiful FastDates.com Calendar Kittens ever, Joanna Krupa, has again scored the cover of MAXIM magazine, this time for August 2009 which is on newstands now. We first discovered Joanna back in 2003 where we photographed her for the 2004 FastDates.com Calendars. Since then Joanna has gone on to become the most photographed, most popular swimsuit models in the world, having graced the covers of every major mens magazine from Playboy to Esquire.
Currently Joanna is featured in the ABC TV series "The Superstars" in which she and other celebrities and athletes compete in grueling physical challenges. She has also recently completed a feature movie with actor Michael Madsen, and is looking to do a reality show on NBC TV about female MMA fighters. That's Joanna on the cover of Garage Girls 2004 , below, sandwiched between Janelle Perzina who went on to star on TV's Big Brother 5, and World Superbike Calendar Kitten Chandi Mason.
Visit their Kitten profiles in Meet the Models: Joanna Krupa • Janelle Perzina • Chandi Mason
See even more of Joanna in FastDates.com Members Corner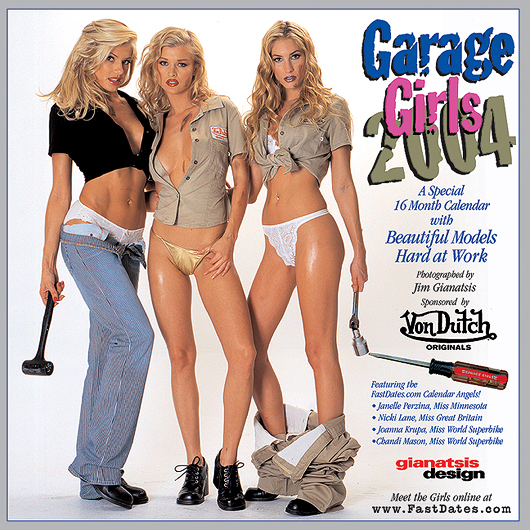 Awarding Ron Roth / Eye Candy Cycle Design 1st place Sportbike for their turbocharged Kawasaki Zx14 is from left: Ted Sands / Performance Machine, Elizabeth Nicole / singer songwriter actress and host, and FastDates.com Calendar Kittens Apple and Melody.
World Premier of the 2010 FastDates.com Calendars
New Shinya Kimura Retro Sportbike Customs for Brad Pitt
Plus the all girl built AFT Metric Customs bike "LoLA" wins Best Metric Custom!

Performance Machine presents the 18 Annual
2009 LA Calendar Motorcycle Show Weekend with the
Calendar Bike Building Championship &
2-Day Calendar Girl Music Festival
July 18-19th 2009, Queen Mary Event Park, Long Beach, CA - The 18th annual Los Angeles Calendar Motorcycle Show and Calendar Girl Music Festival Weekend presented by Performance Machine, America's premier custom, cruiser, performance and sportbike weekend marked its returned to the Queen Mary Event Park in Long Beach. Thousands of motorcycle and rock music fans were in attendance for the world's most exciting 2-day motorcycle event in the beautiful Queen Mary Event Park on the grass alongside the Pacific Ocean with it's cool ocean breezes to fend off California summer's scorching heat.
Spectators view the Pro Builder Class entries along the Park's shore line at Sunday's Calendar Bike Building Championship. The Show has 10 different classes dispersed throughout the Park to provide an even flow of spectators to all the venders and exhibitors.

Making their world premier at the Calendar Show are is the exciting new 2010 Fast Dates.com Calendars: Fast Dates Race Bikes, Iron & Lace Custom Bikes and Garage Girls Pinup Model Calendar sponsored by SBK World Superbike, Performance Machine and Mikuni Carburetors Photographed by renown motorsports and fashion photographerand Calendar Show promotoer Jim Gianatsis, the FastDates.com Calendars always features the word's top roadracing and custom motorcycles, together with beautiful swimsuit and centerfold models roadracing bikes. Fans got to meet and pose for pictures with Calendar Kittens Apple Price and Melody Schuster who are featured in the new Calendars premiering at the Show!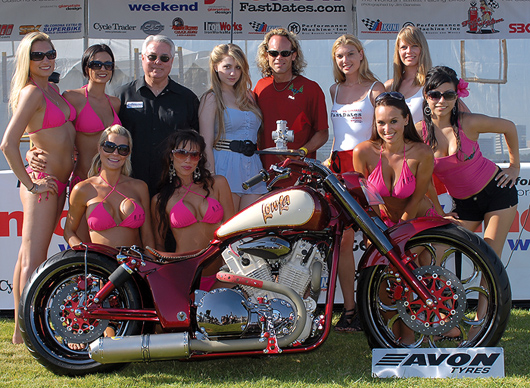 This is what custom bike building is all about! That's AFT Metric Customs guru Jim Guiffra standing (red shirt) between Elizabeth Nicole and the Calendar Kittens, and all the AFT Models who built the bike LoLA in pink bikinis.
Click to go BIG.
AFT Metric Customs and Models win 1st Place Metric!
The weekend marked the World Premier of "LoLA" built by AFT Metric Customs & Modeling Agency, last year Best of Show winner. The AFT Model Agency Girls built LoLA just for just for the 2009 LA Calendar Show. Spectators got to meet all the girls who built the bike and company director Jim Guiffra and get an autographed poster of this picture! On Sunday LoLA was entered in the Calendar Bike Building Championship where it took 1st Place in the Metric Custom class.
LoLA was built in just 4 months for its world premier from a new 2009 Honda VXT1300 with a ground up rebuild to Pro Street drag bike specifications. The naked engine features JE Pistons and a Web Cam. Special modifications include a hidden radiator, hydraulic clutch conversion from cable, and an "Oh So Sexy" Red/Cream paint job. Congratulations girls, great job1 Photo: www.PhotosByRichard.net Hi-Resolution
Update August 7th, 2009 - Jim Guiffra Emails us from Sturgis Bike Week:
"We took 6th at AMD World Championship of Custom Bike Building with LoLA and two 1sts in Rats Hole & Sukhee (keeling 2nd from left in the above photo) won Miss Rats Hole Sturgis '09!" - Congradulations to Jim and the AFT Models
Calendar Kittens Apple and Melody stop by the Performance Machine display to check the great products and some new custom bikes by Roland Sands Design that the girls just might be shooting with for the next FastDates.com Calendars.
Cockpit, the hottst girl rock band on the planet entertained the troops both days of the Show.
Former LA Calendar Best of Show winner Shinya Kimura premiered 2 new retro sportbike custom racers s he just built for Hollywood star Brad Piit. One is powered by an old bevel drive Ducati 750cc engine, and the other by a Triump 650cc twin.
Additional 2009 LA Calendar Show coverage and photos HERE
World Premier!2010 FastDates.com Calendars
Making their world premier at the Calendar Show are is the exciting new 2010 Fast Dates.com Calendars Fast Dates Race Bikes, Iron & Lace Custom Bikes and garage Girls Pinup Model Calendar sponsored by SBK World Superbike, Performance Machine and Mikuni Carburetors Photographed by renoun motorsports and fashion photographer Jim Gianatsis, the FastDates Calendars always features the word's top roadracing and custom motorccyles, together with beautiful swimsuit and centerfold models roadracing bikes.
Jim Gianatsis with singer songwriter and actress Elizabeth Nicole.

This new 2010 Fast Dates R ace Bike Calendar cover features Ducati's World Superbike Championship winning homologation 1098R Superbike with beautiful Calendar Kittens Rachel Bernstein and Sabella Shake. Of course inside , there's all all the top factory race bikes of the SBK World Superbike Championship photographed this year on location at the Miller Motorsports Park round in Utah, USA. Included are the top factory superbikes from Yamaha, Honda, Suzuki, Kawasaki, and Ducati including 3-time World Champion Troy Bayliss' Xerox Ducati 1098F08, Carlos Checa's Ten Kate Honda CBR1000RR, and Max Biaggi's Alstare Suzuki GSXR1000.
The 2010 Iron & Lace Custom Bike Calendar features last year's Calendar Show winning custom bikes from AFT Customs and Ken's Customs in Japan, a Triumph retro racer from former Show winner Shinya Kimura, and the top 3 winning bikes of last year's AMD World Chamionship of Custom bike Building.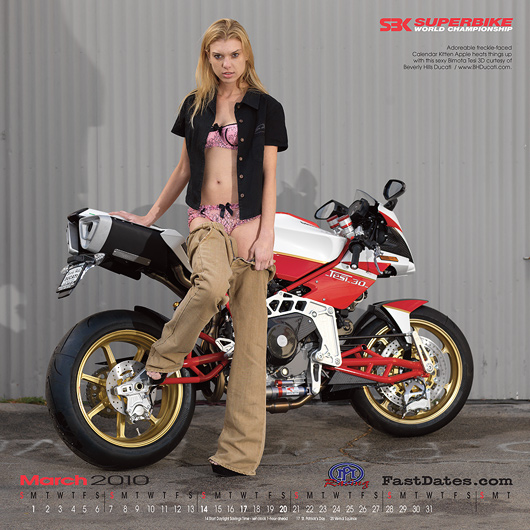 Newest Calendar Kitten Apple Price, featured in all 3 editions of the new 2010 FastDates.com Calendars was at the Show both days to meet the spectators and autographed her pictures in the new calendars.
---
Ducati's new 2010 Superbike Powered Multistrada Replacement
England's MCN spotted Ducati's latest adventure touring motorcycle while it was being tested, they captured some accurate images and this sneak release press photo for the the latest creation of the Bologna house.
Aimed to replace the Multistrada model, the bike is built around the water-cooled 1099cc V-twin engine of the Ducati Streetfighter, with the engine detuned through the fuelling system and a more rstrictive catalitic converter equipped for greater sport-touring performance.
Among the new features is the front fairing which now longer turns with the handlebars. The single-sided swingarm remains, the wheels and brakes get upgrade to superbike model specifications,while the right side unveils an awkward looking exhaust. The collector box is positioned under the engine .
Comfort and appropriate styling is a must for the new Ducati so while the generous bodywork allows for plenty of room both for rider and passenger, the windscreen is adjustable as seen from the hinges on the side mounting. With a pair of aggressive ram air scoops at the front of the front fender and 1098's LCD dashboard, this bike looks ready for this autumn's EICMA show in Milan.
---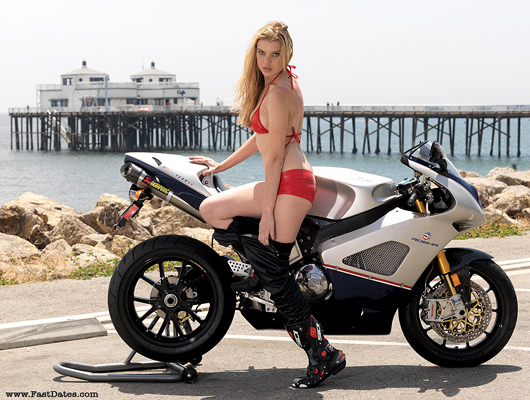 ROEHR Motorcycles extends it's $44,995, introductory special pricing program.
August 10th - ROEHR Motorcycles LLC will extend it's successful, introductory, special pricing program, of $44,995 MSRP for the 2010 ROEHR 1250cc supercharged V-Rod engined superbike, until the end of 2009. This introductory price will now be the base price on all 2010 ROEHR 1250cc motorcycles. All bikes are individually built to order. A list of optional equipment and color choices are available. Fast Dates New Bikes

The Roehr 1250sc is the fastest and most powerful American production sportbike, featuring a specially developed, supercharged, 1250cc, 180hp, liquid cooled, DOHC, 8V, V-twin engine. Roehr Motorcycles is a small volume manufacturer of hand built, high performance motorcycles, made in the USA.
Contact ROEHR MOTORCYCLES at: www.roehrmotorcycles.com • phone 708-212-7324 for more information.
---
There's more! Go to Pit Lane News Previous Page

Also Visit: Fast Dates Calendar News • Iron & Lace Calendar News
Calendar Girl News • Meet the Models • Paddock Garage

Calendar Kittens, The Paddock Garage, Screensavers, Iron & Lace Garage



MotorcycleSuperstore.com
Some of our Calendar Kittens can also at Playboy's website...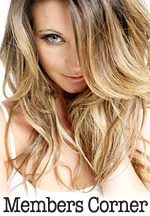 Members Corner
Hot Bikes, Sexy Kittens
Get Your Exclusive Grid Pass
aslo includes....
---
World Premier!
2010 FastDates.com Calendars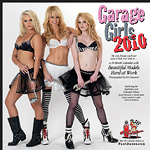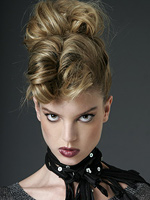 Calendar Kitten Apple
Tests the new
Roehr Harley Superbike!


---
Mat Mladin Announces
His Retirement
August 1st 2009 - 6-time US Superbike champion Mat Mladin, who has dominated the series for nearly the last decade, he won't be racing at all after the conclusion of the 2009 DMG Superbike season.
Mladin did have talks with World Superbike teams in the early part of the 2009 season in regards to 2010. Mladin's current Suzuki contract ends this year and many had hoped he would move to World Superbike in 2010. Ben Spies' success in that series this year makes it an easy guess that Mladin could go there and win races, if not the championship.
However, Mladin said today that he will not race after this season.
Mladin Withdraws from Heartland Park AMA Superbike Due to Safety Concerns
Friday, July 31, 2009 - "Due to safety concerns I will not compete in this weekend's round of the AMA Superbike championship in Topeka," said current AMA Superbike Championship points leader Mat Mladin in an issued statement today.
"It is important to note that Topeka is a newly sanctioned round on the championship schedule. It is also important to note that Topeka has made changes to the track, but unfortunately, as is the case too many times, the track approval process was flawed and we arrived at a facility that was not ready for our caliber of competition.
This is 2009, and the days of showing up to race tracks that we know nothing about and have not been allowed to test at because of the AMA/DMG new rules regarding our testing are raising serious safety issues.
We race 200hp motorcycles where with constant development, the brakes, the tires, the chassis, the engines and the complete package as a whole gets faster every year. With this development the corner speeds and straight line speeds get faster and faster. With these extra speeds the margin of safety gets much smaller if the racetracks are not made safer.
We go to a few venues that still have some safety issues, but many of these venues have made vast improvements over the past few years. Sanctioning new venues with numerous safety flaws is just plain ridiculous.
Why do people have to get hurt seriously or worse before a racetrack is made safe before adding it to our National Championship schedule?
The adage of "they are going to make changes" doesn't cut it after someone has hit a concrete wall.
With acceptance of these new venues with obvious safety flaws, the bar has been dropped in regards to safety, opening the door to many other circuits that are not acceptable or fit for racing modern day motorcycles.
I will never accept the lowering of safety standards for the sake of a few people making money. It is the young kids, the future of the sport that will bear the brunt of the worst of this. One day, the teams and riders need to come together for the well being of each other.
Last but not least, I thank my fans for their continual support over the years. Without you, none of this racing is possible, and I'm very upset about not having a safe platform to put on a show for you guys this weekend, but I also know that none of you want to see me busted up in the bottom of a concrete wall or ten foot deep ditch. I look forward to seeing you all at VIR in two weeks. - Regards Mat"


The Official SBK
2008/2009 Yearbook
Awesome in full color! Commerating the 21st Anniversary of World Superbike
Troy Bayliss' 3rd World Championship Title>
PLus a technical look at ll the bikes, and a preview of Ben Spies and Noriyuki Haga battleing for the 2009 Champiosnhip!
We bought it ourselves and totally recommend it!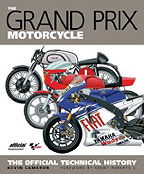 Kevin Cameron's
New Books
by America's Favorite
Motorcycle Technical Guru
---
Pro Italia Cafe Desmo
Sunday, August 23rd
Cafe Desmo, Pro Italia Ducati;s annual Italian bike show, will happen on Sunday, August 23rd from 12-4 PM in, at and around their Los Angeles location.
Show up on your restored vintage bikes, tweaked custom rides, exotic 2-wheeled art, beautiful stock machines and franken-bikes. Calling all Ducatis, Aprilias, MV Agustas, Laverdas, Moto Guzzis, Moto Morinis, Morbidellis, Benellis, Orams, Motori Dardos, Meottis, Moto Ibis etc. While the bike show is for Italian bikes we're lookin' for and will welcome homemade wonders, personal bits of engineering, street trackers, rat-bikes, things-you-just-don't-see-everyday of all makes and models.
The centerpiece of the day will be the Italian Bike Show. All makes, models, years and conditions of motorcycles from the land of Italy are invited to participate. Attendance is free but please RSVP (with your name and details of your bike) to rsvp.proitalia@gmail.com to take part in the show, or, when in the shop, let Rick (in Sales) know you wanna show. There will be trophies and a special guest: a pre-production Monster 900, from Aprilia Design Chief Miguel Galluzzi's personal collection. Mark your calendars and we'll see you there.
http://www.proitalia.com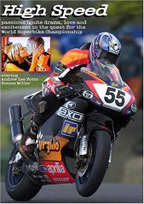 High Speed - the Movie
The best motorcyce racing movie ever made! Filmed on location at World Superbike, this an exciting romantic drama staring beautiful actress Sienna Miller.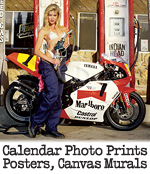 Erotica Archives
---
YOSHIMURA SUZUKI TAKES VICTORY AT SUZUKA 8 HOURS
Team Suzuki Press Office - July 26. -Yoshimura Suzuki took another great victory at this weekend's Suzuka 8 hour race in Japan.
The Suzuki Yoshimura team of Daisaku Sakai, Kasuki Tokudome and Nobuatsu Aoki took victory with a one-lap gap over the Kawasaki Trick Star Racing of Hiloyasu Izutsu, Shinya Takeishi and Ryuji Tsuruta and the Honda Dream RT Sakurai ridden by Takumi Takahashi and Chojun Kameya, who ended in third place.
The Suzuki Plot Faro Panthera of Osamu Deguchi and Koji Teramoto finished in fifth place, after competing in the top three for much of the race.
2009 SUZUKA 8 HOURS RESULTS:
1. Yoshimura Suzuki with Jomo. JPN. Suzuki. D. Sakai, K. Tokudome, N. Aoki
2. Trick Star Racing. JPN. Kawasaki. H. Izutsu, S. Takeishi, R.Tsuruta
3. Honda Dream Sakurai. JPN. Honda. T. Takahashi, C. Kameya
4. Yamaha Austria. AUT. Yamaha. I. Jerman, S. Martin, G. Giabbani
5. Plot Faro Panthera. JPN. Suzuki. O. Deguchi, K. Teramoto
6. Beet Racing. JPN. Kawasaki. O. Nishijima, K. Hasegawa, S. Karita

BMW Announces low $13,800 US PRICING ON THE S 1000 RR
July 15th - Today BMW Motorrad USA announced the pricing on the 2010 S 1000 RR and its factory installed options.
BMW introduced the most anticipated new sport bike in recent memory, the S 1000 RR, at the famed Monza racetrack during the Superbike World Championship races. And since the launch date the sport bike fans everywhere have been eagerly awaiting the price of this new Superbike from BMW.
The S 1000 RR has been designed to offer the most complete supersport package with class-leading power and performance combined with cutting edge technology and competitive pricing.
We're very pleased to announce the pricing on the 2010 BMW S 1000 RR:
MSRP*: $13,800.00
Options:
Race ABS (excluding DTC):
Race ABS and Dynamic Traction Control (DTC) Combined:
Gear Shift Assistant:
Anti Theft Alarm:
Motorsports Paint Scheme:
$1,000.00
$1,480.00
$ 450.00
$ 395.00
$ 750.00
The options include either standalone new 4-stage Race ABS or Race ABS combined with multi-stage Dynamic Traction Control. Other must have options include the truly awesome Gear Shift Assistant that allows clutchless upshifts during acceleration, Anti Theft Alarm and the WSBK-inspired Motorsports Paint Scheme.
This new Superbike from BMW weighing only 404 lbs, and putting out a massive 193 hp, is one of the most potent, sophisticated and lightest sport bikes ever unleashed on the planet. The new S 1000 RR is the most powerful production 1000cc sport bike in the world.
In addition to the most potent power plant in its class, the BMW S 1000 RR introduces new technical features such as the first-ever 4-stage Race ABS system with settings for Rain, Sport, Race and Slick conditions. This groundbreaking new ABS weighs only about 5.5 lbs complete, which is nearly 20 lbs lighter than the competition.
The S 1000 RR also introduces a new multi-stage Dynamic Traction Control (DTC) which allows smooth acceleration on wet roads, or puts down full-on power on the track and settings in between depending on the road and riding conditions.
With its highly distinctive new asymmetrical headlights, which follow the very elegant and unique asymmetrical panels, this first BMW Superbike promises to standout from the crowd of liter-class bikes.
For more info about this awesome new BMW and to see and hear this Superbike in person, please visit www.BMWPlanetPower.com and check out the S 1000 RR US Tour Calendar.
The new S 1000 RR is scheduled to be released in the US by early 2010.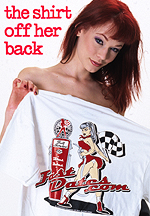 Order the Official
FastDates.com &
LA Calendar Bike Show
T-Shirts!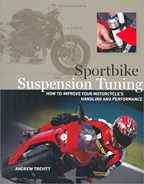 ---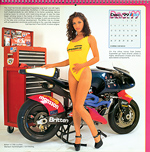 One of John Britten's few hand built from scratch superbikes was featured in the 1999 Fast Dates Calendar.
Video Tribute To
John Britten.
Backyard Motorcycle Visionary
He was considered at the time of his death the best motorcycle engineer in the world. His Britten Superbike, today, almost 20 years later is still one of the most advanced sportbikes ever built. Designing and building motorcycles and much more, John Britten gave us a fabulous lesson of perseverance, courage, humility and creativity. If you never watched it, this 5- part documentary (total 7 h 15 minutes!) shot in his home in New-Zealand is a must see for all the pros and backyard builders around the world. By the time he died of cancer in 1995, John Britten had become a household name.
See the video TV Series
John Britten TV Series
---