Race 2 at Misano was a knock down, dragged out fight to the finish between Rea (65), Fabrizio (84) and Haga (41) who each tok turns leadings. With the change to Ohlins suspension this week on the Ten Kate Hondas, and superior top-end speed, Rea was able to retake the lead on the last lap when it mattered most to claim his first ever WSB win.

2009 SBK Fast Dates World Superbike Championship, Round 8 of 14, Misano Italy
Exciting World Superbike at Misano - Spies and Rea Share Wins
But Haga and Fabrizio Increase Their Points
Misano, Italy, Race Day Sunday, 21 June 2009 Ben Spies (Yamaha World Superbike) and Jonathan Rea (Hannspree Ten Kate Honda) scored the two wins in a memorable day of racing at the Misano World Circuit in Italy. In front of 65,000 spectators Spies took his eighth seasonal win in the first race, while Rea grabbed his maiden Superbike win in the second. The Ducati Xerox pairing of Michel Fabrizio, third and second in the two races, and Noriyuki Haga were also key players in the day's action, and the Japanese rider now has a 48 point lead over Spies and 55 over his team-mate.
Preview: Misano gears up for Adriatic Riviera Superbike scorcher
MISANO, 8th ROUND, JUNE 19-21st 2009 - After the overseas double-header in South Africa and USA , the Hannspree FIM Superbike World Championship returns to European soil for the start of the second half of the 2009 season. Round 8 of 14 will be held this weekend at the Misano World Circuit on Italy 's sun-kissed Adriatic Riviera, with the event holding the denomination of San Marino Round. The circuit in the Romagna region, a stone's throw away from world-famous seaside resorts Rimini and Riccione, measures 4.226 km and has been the venue for 17 editions of the championship. It underwent a major restyling in 2007 with changes to the layout and sense of direction, which is now clockwise.
Misano is a circuit where Ducati has always dominated. The Italian manufacturer has taken its twin-cylinder machines onto the podium 26 times in 34 races, leaving the other manufacturers with the crumbs: Honda 3 wins, Aprilia 2, Yamaha, Suzuki and Kawasaki 1.
As for riders, the most successful at Misano is three-times world champion Troy Bayliss with 6 wins, while Giancarlo Falappa, Regis Laconi and Ruben Xaus all have three apiece. Out of all the riders who have won at Misano, only two will be on the track this coming weekend, the BMW pairing of Troy Corser (2 wins) and Xaus, who was the last to take a victory, in race 2 twelve months ago. Both Régis Laconi (Ducati DFX) and Max Neukirchner (Suzuki), who have also won at Misano, the German in race 1 last year, are currently out of action with injuries.
HAGA'S MISANO JINX – The splendid double win by Ben Spies (Yamaha World Superbike) at Miller has reopened the title battle, which after South Africa appeared to be heading the way of Noriyuki Haga (Ducati Xerox). The Japanese rider, bruised and battered in the Utah Round, still has a healthy lead over his rivals (53 points over the American and 64 over team-mate Michel Fabrizio), but is arriving at a circuit that is his 'pet hate' seeing as he has never won there. In 18 appearances, Haga has only scored three podiums at Misano, his best being in 2007 when he finished runner-up in race 2 behind Bayliss, while in the first he ended up on the ground after a contact with Max Biaggi, while they were fighting for second place.
FastDates.com Calendar Kitten Sabella and Michel Fabrizioon the starting grid. 2 weeks ago at Miller.
TWO'S COMPANY – Both Spies and Fabrizio are aiming to take away further points from the championship leader and they arrive at Misano as the riders most in form. The Texan doesn't know the circuit but so far has always demonstrated that he has no problems in this area, and he is backed up by an ultra-competitive Yamaha YZF-R1. As for Fabrizio, the rider from Rome has made a quantum leap in quality recently, proving that he can fight for the win at every circuit, and he will be aiming high this time around.
MISANO OUTSIDERS – At Misano, Superbike can often produce some major upsets and the heat will surely have a major effect on men and machines. The outsiders this weekend include Max Biaggi (Aprilia Racing), who has been putting together a string of top 5 results recently. The RSV4 machine is getting closer to the top and the Italian will surely be a difficult opponent for everyone. The Noale manufacturer should bring some new material to Misano and Biaggi will be hoping to upset the applecart in front of his home fans.
ON THE WAY UP – The Honda riders are now emerging as front-runners as well after a difficult start to the season. Jonathan Rea, Ryuichi Kiyonari, Carlos Checa (Ten Kate) and Leon Haslam (Stiggy Racing) have all been on the podium at least once and the Miller race showed that the CBR 1000 RRs are not that far away from the level of Ducati and Yamaha. All eyes will in particular be on Rea, who is fast becoming a true contender. Progress is also being recorded by Kawasaki , who will enter American Jamie Hacking once again in place of the still convalescent Makoto Tamada as team-mate to Broc Parkes.
SUZUKI AND BMW – The Suzuki Alstare team will again be present at Misano without the injured Max Neukirchner, who is expected to be back for Brno at the end of July. The team's progress will continue to revolve around Yukio Kagayama, who is not exactly 100% fit after crashing in the USA, and Fonsi Nieto who is struggling to find the best possible feeling with the GSX-R 1000. Attention will also be focused on the BMW Motorrad team, which had a difficult time overseas, but the German squad has had an opportunity to analyze everything back in the factory workshop and both Corser and Xaus will be looking for improvements this weekend.
SUPERSPORT – The Miller round saw Kenan Sofuoglu (Hannspree Ten Kate Honda) right back in contention, and now there are three men fighting for the world title: the Turkish rider, together with points leader Cal Crutchlow (Yamaha World Supersport) and his closest rival Eugene Laverty (Parkalgar Honda). This trio of riders must be the favourites for the victory, together with Andrew Pitt (Hannspree Ten Kate Honda), who won here last year and who also won his only Superbike race here as well. Joan Lascorz (Kawasaki) is called upon to give a further demonstration of his progress this season, while two Italian riders to watch at their home track include Michele Pirro (Yamaha Lorenzini) and Massimo Roccoli (Intermoto Honda), who scored his only World Supersport win at Misano in 2006.
SUPERSTOCKERS ARE BACK – After more than one month's break, both Superstock classes re-join the weekend programme. In the Superstock 1000 FIM Cup Claudio Corti (Suzuki Alstare) leads the way with two wins out of three, but Xavier Simeon (Ducati Xerox Junior Team), three times runner-up, is just one point behind. Potential candidates for victory also include Maxime Berger (Ten Kate Honda) and Javi Fores (Pedercini Kawasaki), while a surprise could come from Italian Davide Giugliano (MV Agusta). In the 600 class the logical favourite is Danilo Petrucci (Yamaha Trasimeno), with two wins in three races, but the Italian will undoubtedly have to watch out for his British rival Gino Rea (Ten Kate Honda), level on points at the top, Frenchman Jeremy Guarnoni (MRS Yamaha), Belgium's Vincent Lonbois (MTM Yamaha) and Marco Bussolotti (Yamaha Trasimeno), who will be hoping to turn his so far below-par season around with a good result at Misano.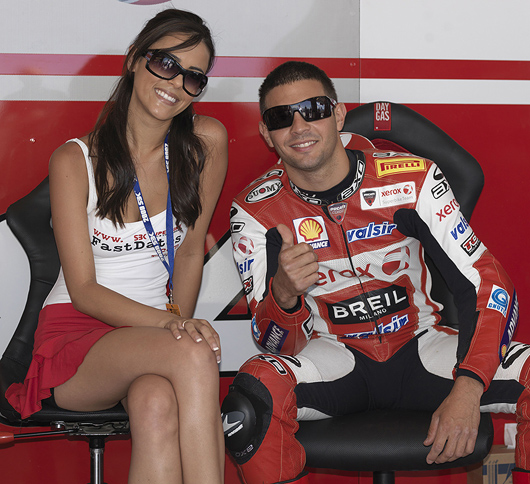 Michel was feeling on top of the world after Friday afternnon Qualifying, thanks in part to a little good luck brought by FastDates.com Calendar Kitten Sabella. But who will Sabella play lucky charm with for Superpole on Saturday? Stay tuned....
Fabrizio edges out Spies at end of Misano Q1
Misano, Friday 17 June 2009 -Michel Fabrizio (Ducati Xerox) slammed in two quick laps in rapid succession at the end of today's Misano Q1 to end up with the provisional pole at the Misano World Circuit. The Italian's time of 1 minute 37.016 seconds was good enough to edge out Ben Spies (Yamaha World Superbike) from the top slot, after the Texan rookie had headed the standings almost throughout. Third and fourth on the provisional front row of the grid went to the still injured Yukio Kagayama (Suzuki Alstare) and British rider Jonathan Rea (Hannspree Ten Kate Honda). The top 19 positions in today's standings are all contained within one second, confirming the current equilibrium reigning in Superbike. The provisional front row is also made up of four different manufacturers - Ducati, Yamaha, Suzuki and Honda – with a fifth, Kawasaki, opening up the second row following a superb performance by Broc Parkes.
The session also confirmed the constant improvement of the Ten Kate Honda team, with Ryuichi Kiyonari and Carlos Checa in sixth and seventh position respectively, ahead of points leader Noriyuki Haga (Ducati Xerox), four-tenths of a second down on his team-mate. After two difficult events, BMW have bounced back into the top 10, with Troy Corser running well throughout and ending up tenth overall. This time round BMW went better than Aprilia, as Shinya Nakano could only manage 11th and Max Biaggi 16th, eight-tenths off the polesitter. For the moment John Hopkins (Stiggy Racing Honda) is outside the Superpole top 20, the American down in 26th position on his return to action following his Assen crash.
Times: 1. Fabrizio M. (ITA) Ducati 1098R 1'37.016; 2. Spies B. (USA) Yamaha YZF R1 1'37.102; 3. Kagayama Y. (JPN) Suzuki GSX-R 1000 K9 1'37.209; 4. Rea J. (GBR) Honda CBR1000RR 1'37.238; 5. Parkes B. (AUS) Kawasaki ZX 10R 1'37.281; 6. Kiyonari R. (JPN) Honda CBR1000RR 1'37.396; 7. Checa C. (ESP) Honda CBR1000RR 1'37.44; 8. Haga N. (JPN) Ducati 1098R 1'37.451; 9. Haslam L. (GBR) Honda CBR1000RR 1'37.490; 10. Corser T. (AUS) BMW S1000 RR 1'37.503; 11. Nakano S. (JPN) Aprilia RSV4 Factory 1'37.630; 12. Lanzi L. (ITA) Ducati 1098R 1'37.702; 13. Smrz J. (CZE) Ducati 1098R 1'37.710; 14. Xaus R. (ESP) BMW S1000 RR 1'37.773; 15. Lavilla G. (ESP) Ducati 1098R 1'37.786; 16. Biaggi M. (ITA) Aprilia RSV4 Factory 1'37.813
World Supersport
Despite it being his first time at Misano Cal Crutchlow (Yamaha World Supersport) soon made his intentions clear with quickest time in the first free practice session. The championship leader stopped the clocks with a time of 1 minute 39.442 seconds, just five-hundredths off the track record. Crutchlow made his decisive move five minutes from the end of the session, grabbing the provisional pole from Joan Lascorz (Kawasaki Provec), who also looked rapid throughout. The British rider's rivals for the title, Kenan Sofuoglu (Hannspree Ten Kate Honda) and Eugene Laverty (Parkalgar Honda) follow in third and fourth place but are four and nine-tenths off the pace. Fifth and sixth quickest times went to two of the possible candidates for the win, Frenchman Fabien Foret (Yamaha World Supersport) and Australian Andrew Pitt (Hannspree Ten Kate Honda), ahead of Mark Aitchison (Honda Althea) and two Italians, Massimo Roccoli (Intermoto Honda) and Michele Pirro (Yamaha Lorenzini).
Times: 1. Crutchlow C. (GBR) Yamaha YZF R6 1'39.442; 2. Lascorz J. (ESP) Kawasaki ZX-6R 1'39.821; 3. Sofuoglu K. (TUR) Honda CBR600RR 1'39.895; 4. Laverty E. (IRL) Honda CBR600RR 1'40.355; 5. Foret F. (FRA) Yamaha YZF R6 1'40.560; 6. Pitt A. (AUS) Honda CBR600RR 1'40.592; 7. Aitchison M. (AUS) Honda CBR600RR 1'40.673; 8. Roccoli M. (ITA) Honda CBR600RR 1'40.676
Jacob Smurz blew everyone away by winning Superpole for Sunday's race.
Smrz ends Spies' Superpole record at Misano
Misano, Saturday 20th - Jakub Smrz (Guandalini Ducati) brought Ben Spies' seven-race Superpole record to an end with a new circuit best lap in the decisive qualifying session at Misano. The 26 year-old from the Czech Republic was in terrific form, powering his private Guandalini Ducati 1098 around the 4.226 km Misano World Circuit in a time of 1 minute 35.435 seconds. Second place in an exciting session, which was held under the constant threat of rain, went to Britain's Jonathan Rea (Hannspree Ten Kate Honda), who has been fast all weekend. Spies was also on the pace on his team Yamaha World Superbike machine, but the Texan this time had to settle for the third slot, just ahead of one of his championship rivals, Fabrizio (Ducati Xerox) in fourth.
Jakub Smrz continues his Fast Dates encounter at Misano, turning the quickest timeon Saturday in Superpole Qualifying. FastDates.com Calendar Kitten Sabella must be spreading the good luck around!
Jakub Smrz: "I am really pleased with my first-ever Superpole, it's a great feeling to be there. But not just my Superpole time was good, I also have a good race pace as well, and I hope to be able to fight against the other guys up at the front and get a podium in the races. Last year I went well at Misano, but I hope for a better result this time around."
Jonathan Rea: "It's been pretty good for us, we found a good time for the second place. A big thanks to my crew, they've been doing so much all week. We got through a fair amount of hardware at Magny-Cours testing and got a good base setting for this weekend. And finally in the last few sessions and qualifying we've been doing some good times, so hopefully it'll all come good in the race tomorrow."
Ben Spies: "A front row start is good anyway and congratulations to Jakub. We missed out today because we just didn't have it when it counted. I'm happy with the bike and the race set-up is good, but to be honest we're a little bit quicker than the guys we're racing against for the championship and that's a good thing. However I'm sure they'll all be up there in the race tomorrow."
Michel Fabrizio: "It's important to be on the front row here at Misano and I start from the same position as last year, but this time in the race I hope to do better! I saw both this morning and this afternoon that my race pace was very similar to that of Ben's so it's clear that I'll be running my race around him tomorrow."
The Misano Superpole was also the first time Pirelli did not use their one-lap qualifying tyre, which has now been abandoned in favour of a new soft compound that can last up to five or more laps. The results were extraordinary because all four riders on the front row of the grid went quicker than last year's mark set by Troy Corser in 1'35"993.
The second row of the grid sees Shane Byrne (Sterilgarda Ducati) holding down fifth place, with points leader Noriyuki Haga (Ducati Xerox) and the Ten Kate Honda duo of Carlos Checa and Ryuichi Kiyonari seventh and eighth. Max Biaggi (Aprilia Racing) was heading for a front row slot but failed to make the final run due to a technical problem and the Italian had to settle for ninth, ahead of Leon Haslam (Stiggy Racing Honda) and Fonsi Nieto, the leading Suzuki Alstare runner. The first BMW, that of Troy Corser, qualified on row 4, while after their encouraging form shown on Friday, the two Kawasakis of Broc Parkes and Jamie Hacking slipped down to the fifth row.
Superbike Start Qualifying Times: 1. Smrz J. (CZE) Ducati 1098R 1'35.435; 2. Rea J. (GBR) Honda CBR1000RR 1'35.609; 3. Spies B. (USA) Yamaha YZF R1 1'35.631; 4. Fabrizio M. (ITA) Ducati 1098R 1'35.811; 5. Byrne S. (GBR) Ducati 1098R 1'36.224; 6. Haga N. (JPN) Ducati 1098R 1'36.277; 7. Checa C. (ESP) Honda CBR1000RR 1'36.537; 8. Kiyonari R. (JPN) Honda CBR1000RR 1'36.884; 9. Biaggi M. (ITA) Aprilia RSV4 Factory 1'36.439; 10. Haslam L. (GBR) Honda CBR1000RR 1'36.510; 11. Nieto F. (ESP) Suzuki GSX-R 1000 K9 1'36.510; 12. Nakano S. (JPN) Aprilia RSV4 Factory 1'36.682; 13. Kagayama Y. (JPN) Suzuki GSX-R 1000 K9 1'36.916 ; 14. Sykes T. (GBR) Yamaha YZF R1 1'36.978; 15. Corser T. (AUS) BMW S1000 RR 1'36.994; 16. Lanzi L. (ITA) Ducati 1098R 1'37.20
World Supersport Qualifying
Italian Michele Pirro upset the applecart in Supersport qualifying at Misano with a blistering lap in the last few minutes to take pole. For the Yamaha Lorenzini man it was the first time he starts from the top slot, and it comes in his first season in the category. The last time an Italian started from Supersport pole was Michel Fabrizio (Honda) at Magny-Cours in 2005. The session was conditioned by a rain shower at the start, which kept the riders in their pit garages until ten minutes from the end. The final stages were hectic as all the riders went out on the drying track to set their time, and Pirro was the best at interpreting the changing track conditions. Leader Cal Crutchlow (Yamaha World Supersport) lines up alongside in an Italian sandwich, with 2006 Misano Supersport winner Massimo Roccoli (Intermoto Honda) third. Katsuaki Fujiwara took the first Kawasaki Provec machine to fourth, while Gianluca Nannelli (Triumph ParkinGo) showed good progress to grab the fifth slot. One of the protagonists of the season Eugene Laverty (Parkalgar Honda) had some difficulty but lines up in eighth, one row ahead of three other possible candidates for the win, Andrew Pitt (Hannspree Ten Kate Honda), Joan Lascorz (Kawasaki Provec) and Kenan Sofuoglu (Hannspree Ten Kate Honda).
World Supersport Qualifying Times: 1. Pirro M. (ITA) Yamaha YZF R6 1'40.498; 2. Crutchlow C. (GBR) Yamaha YZF R6 1'40.508; 3. Roccoli M. (ITA) Honda CBR600RR 1'40.509; 4. Fujiwara K. (JPN) Kawasaki ZX-6R 1'40.994; 5. Nannelli G. (ITA) Triumph Daytona 675 1'41.109; 6. West A. (AUS) Honda CBR600RR 1'41.425 ; 7. Aitchison M. (AUS) Honda CBR600RR 1'41.458; 8. Laverty E. (IRL) Honda CBR600RR 1'41.459
Ben lead the start of Race One on wet tires, but quickly dropped back to 4th until the track dried enough he could pull into the pits and changed to his backup bike on dry tires.
Spies Judges Race One's Wet/Dry Race to Perfection
RACE ONE Sunday, 21 June - Ben Spies (Yamaha World Superbike) scored his eighth win of the season in the first Superbike race of the day, held in flag-to-flag conditions, which meant the riders started on a wet track but took the flag in the dry. Half-way through the 24-lap race, which at that point had been totally dominated by Shane Byrne (Sterilgarda Ducati), the entire field started to pit to change bikes and tyres. Spies was the rider who judged things to perfection. the Texan immediately finding the right pace in the dry and going on to win by almost 8 seconds from Byrne.

There was a fantastic scrap for 3rd place with Michel Fabrizio (Ducati Xerox) making his 1098 machine as wide as possible on the final lap to hold off the rapidly catching poleman Jakub Smrz (Guandalini Ducati). Fifth place went to championship leader Noriyuki Haga (Ducati Xerox), who limited the damage on a track that is not one of his favourites, the Japanese rider passing his compatriot Yukio Kagayama (Suzuki Alstare) in the final stages. Jonathan Rea (Hannspree Ten Kate) was the first Honda to the flag in a race that saw him start from the back of the grid and pick up a ride-through penalty. Tenth place went to Superbike rookie Matthieu Lagrive (Honda Althea), behind Shinya Nakano (Aprilia), while team-mate Max Biaggi was in difficulty in these conditions and could only finish 13th.
Once he changed to dry tires, Ben quikly work his way back into the race lead.
Ben Spies: "It was a hard one, we knew from the start it was going to get dry and in that first half hats off to Shakey, he rode great. I had the feeling in the rain that I wasn't quite happy but I tried as hard as I could to stay close to Michel. My box showed me that some riders were starting to come in for a change so I said that it was time to get in now. It was a hectic race, pretty eventful, not a great race but I was happy to pull this one off."
Shane Byrne: "That was a fantastic race. It's a shame it didn't stay wet for a little bit longer because I had a really big lead at one point. I wasn't sure what to do with the tyre situation and all the time the lead was going up, and I didn't know whether to stay out or not. I switched bikes with about seven laps to go and the first two laps were really difficult. Ben had done a couple more dry laps than I had, he passed me and there was no way I was going to get him. It was a fantastic result for the team at their home circuit, they've all worked really hard."
Michel Fabrizio: "That's not a bad result, it was a great battle with Jakub for the final podium slot. When I saw that on the big screen that he was getting closer and closer, I knew that I had to invent something special on the last lap. I was unable to find the best possible feeling immediately with the dry tyres and I slipped back a bit but I've had a lot of bad luck in recent years at Misano so I'm very happy to get onto the podium."
Misano Superbike - Race 1, Sunday, 21 June 2009 13:20
Results: 1. Spies B. (USA) Yamaha YZF R1 45'02.773 (135,093 kph); 2. Byrne S. (GBR) Ducati 1098R 7.931; 3. Fabrizio M. (ITA) Ducati 1098R 11.836; 4. Smrz J. (CZE) Ducati 1098R 11.886; 5. Haga N. (JPN) Ducati 1098R 31.670; 6. Kagayama Y. (JPN) Suzuki GSX-R 1000 K9 33.241; 7. Rea J. (GBR) Honda CBR1000RR 35.772; 8. Sykes T. (GBR) Yamaha YZF R1 41.931; 9. Nakano S. (JPN) Aprilia RSV4 Factory 51.507; 10. Lagrive M. (FRA) Honda CBR1000RR 59.921; 11. Checa C. (ESP) Honda CBR1000RR 1'04.285; 12. Haslam L. (GBR) Honda CBR1000RR 1'04.313; 3. Biaggi M. (ITA) Aprilia RSV4 Factory 1'19.822; 14. Xaus R. (ESP) BMW S1000 RR 1'22.412; 15. Polita A. (ITA) Suzuki GSX-R 1000 K9 1'31.635; 16. Hacking J. (USA) Kawasaki ZX 10R 1'39.830
Misano offers one of the best track facilities in the world. Notice the addition of new tinted glass wind panes on the Pit wall with open gaps for signaling. Onthe roof are hospitality aras. The Paddock behind has a resort style cafeteria restaurant and a swimming pool, great for riders to cooldown between races! Click to go BIG.

Jonthan Rea's Ten Kate Honda
Plays Cat and Mouse with Team Ducati in Race Two
RACE TWO Sunday, 21 June - The second Superbike race saw talented young Brit Jonathan Rea take his first ever win after an exciting race-long scrap first with Haga, and then with Fabrizio that set the last laps of the race alight. The final podium slot went to points leader Haga, who took advantage of a bike problem for Ben Spieson the opening lap that drop him back to 17th, the Texan still managing to work back up to 9th after being slowed by a clutch issue.
Smrz picked up another fourth place after passing Carlos Checa (Honda) on the final lap as the Spanish rider's tyres went off. Byrne was once again up amongst the front-runners and he finished the second race in sixth place. The first Yamaha to the finish was the R1 of Tom Sykes, seventh ahead of Leon Haslam (Stiggy Racing Honda). The Aprilias of Biaggi and Nakano both finished in the points, together with the Suzukis of Kagayama and Nieto, while Xaus and Corser (BMW) and Parkes and Hacking (Kawasaki) all failed to finish in the top 15.
Jonthan Rea, Fabrizio and Haga were this close the whole race, sometimes even touching
Jonathan Rea: "To win my first race in Italy here is really special for me before my home round next weekend at Donington. As everybody's aware we switched suspensions, and tried them for the first time on Monday at Magny-Cours and the team all did a marvelous job to get me to win the race here so this is really special for them as well. I got settled into my own rhythm and Michel came past but he couldn't outbrake me and that spared my bike from doing all the running. I could pass where I wanted to pass and I saved it to the last lap. I'm really over the moon with the win!"
Michel Fabrizio: "In race 2 I didn't have a perfect feeling with the front and Rea's Honda accelerated better out of the corners than me. It's a pity I didn't win today but two podiums are my best result on this track and knowing that I did my best makes me happy. I'm just a few points behind Spies in the table and maybe I can start thinking about the title now although I realize that to be a serious candidate I have to keep on getting good results and even win a few races".
Noriyuki Haga: "Race 2 was much better than the first one: I got a good start but then Johnny and Michel passed me and it was hard to keep their pace, maybe because they're much younger than me! Seriously though we have taken home some good points and that's important because Misano is not one of my favourite tracks. Now I'm looking forward to racing at Donington where in recent years I've always had good results."
Superbike Results Race 2: 1. Rea J. (GBR) Honda CBR1000RR 39'11.204 (155,293 kph); 2. Fabrizio M. (ITA) Ducati 1098R 0.063; 3. Haga N. (JPN) Ducati 1098R 0.457; 4. Smrz J. (CZE) Ducati 1098R 3.635; 5. Checa C. (ESP) Honda CBR1000RR 4.460; 6. Byrne S. (GBR) Ducati 1098R 4.538; 7. Sykes T. (GBR) Yamaha YZF R1 12.679; 8. Haslam L. (GBR) Honda CBR1000RR 12.763; 9. Spies B. (USA) Yamaha YZF R1 13.237; 10. Biaggi M. (ITA) Aprilia RSV4 Factory 14.412; 11. Kagayama Y. (JPN) Suzuki GSX-R 1000 K9 20.073; 12. Nieto F. (ESP) Suzuki GSX-R 1000 K9 20.239; 13. Nakano S. (JPN) Aprilia RSV4 Factory 22.351; 14. Kiyonari R. (JPN) Honda CBR1000RR 24.547; 15. Lavilla G. (ESP) Ducati 1098R 24.696; 16. Xaus R. (ESP) BMW S1000 RR 25.615
Superbike Championship Riders Points (after 8 of 14 rounds): 1. Haga 292; 2. Spies 244; 3. Fabrizio 237; 4. Rea 167; 5. Biaggi 135; 6. Haslam 134; 7. Sykes 130; 8. Checa 109; 9. Smrz 108; 10. Kiyonari 98. Manufacturers: 1. Ducati 351; 2. Yamaha 287; 3. Honda 240; 4. Aprilia 142; 5. Suzuki 128; 6. Bmw 62; 7. Kawasaki 41
600cc World Supersport to Crurchlow
Cal Crutchlow (Yamaha World Supersport) got the better of Eugene Laverty (Parkalgar Honda) in an exciting Supersport clash at Misano. The points leader just had the edge in a two-part race, which was red-flagged due to oil on the track, beating his rival in a sprint to the line. With his third win of the season Crutchlow has a 14 point lead over Laverty, and the fight now looks to be between these two as Kenan Sofuoglu (Hannspree Ten Kate Honda) picked up a DNF with a crash while running third. The Dutch team's forgettable weekend was completed with a crash for Andrew Pitt, while the Australian was leading in the early stages. Massimo Roccoli (Intermoto Honda) rode a great race to step onto the podium on a track where he won in 2006. The Italian held off Joan Lascorz (Kawasaki Provec) on aggregate after a late charge by the Spanish rider. Australian Mark Aitchison scored a convincing fifth for the Honda Althea team, ahead of Katsuaki Fujiwara (Kawasaki Provec) and Anthony West (Stiggy Racing Honda), while poleman Michele Pirro (Yamaha Lorenzini) had to retire from eighth place with a technical problem.
600cc Supersport Results: 1. Crutchlow C. (GBR) Yamaha YZF R6 36'51.032 (151,377 kph); 2. Laverty E. (IRL) Honda CBR600RR 0.263; 3. Roccoli M. (ITA) Honda CBR600RR 16.289; 4. Lascorz J. (ESP) Kawasaki ZX-6R 20.894; 5. Aitchison M. (AUS) Honda CBR600RR 21.615; 6. Fujiwara K. (JPN) Kawasaki ZX-6R 22.272; 7. West A. (AUS) Honda CBR600RR 25.099; 8. Foret F. (FRA) Yamaha YZF R6 26.374
Points (after 8 of 14 rounds): 1. Crutchlow 160; 2. Laverty 146; 3. Sofuoglu 108; 4. Lascorz 86; 5. West 75; 6. Pitt 73; 7. Foret 63; 8. Aitchison 61; 9. Pirro 48; 10. Roccoli 40.
European Superstock 1000
The fourth round was dominated by Maxime Berger (Ten Kate Honda), his second win of the season. The Frenchman was quickest off the mark, and he immediately pulled out a decisive margin for the win. The runner-up slot, his fourth in four races, went to Xavier Simeon (Ducati Xerox), who thanks to this result becomes the new Superstock points leader. The man he knocked off the top, Claudio Corti (Suzuki Alstare), had to settle for fourth and is now six points behind in the standings. The final podium place went to Sylvain Barrier (Garnier Junior Yamaha), while two more Italians, Michele Magnoni (Bevilacqua Yamaha) and Davide Giugliano (Unionbike MV Agusta) finished fifth and sixth.
Superstock 1000cc Results: 1. Berger M. (FRA) Honda CBR1000RR 15'07.296 (150,913 kph); 2. Simeon X. (BEL) Ducati 1098R 5.596; 3. Barrier S. (FRA) Yamaha YZF R1 8.647; 4. Corti C. (ITA) Suzuki GSX-R 1000 K9 8.907; 5. Magnoni M. (ITA) Yamaha YZF R1 9.066; 6. Giugliano D. (ITA) MV Agusta F4 312 R 12.028; 7. Fores J. (ESP) Kawasaki ZX 10R 12.361; 8. Beretta D. (ITA) Ducati 1098R 13.509
Points (after 4 of 10 rounds): 1. Simeon 80; 2. Corti 74; 3. Berger 66; 4. Fores 51; 5. Barrier 43; 6. Beretta 36; 7. Jesek 28; 8. Baz 23; 9. Magnoni 19; 10. Burrel 18
European Superstock 600
Thanks to his third win of the year Danilo Petrucci (Yamaha Trasimeno) has pulled out a decisive lead in the championship, a result made even more positive by the eighth place for his closest rival Gino Rea (Ten Kate Honda). The race was decided in the final stages with Petrucci getting the better of his team-mate Marco Bussolotti. Belgium's Vincent Lonbois (MTM Yamaha) prevented an all-Italian podium and moves into third in the standings. Eddi La Marra (Honda Lorini) was fourth and Jeremy Guarnoni (MRS Yamaha) fifth. Two wild-cards, Ferruccio Lamborghini (Yamaha Media Action) and Giuliano Gregorini (Baru Racing Yamaha), were also up amongst the front-runners but both crashed out.
Superstock 600cc Results: 1. Petrucci D. (ITA) Yamaha YZF R6 17'13.058 (147,268 kph); 2. Bussolotti M. (ITA) Yamaha YZF R6 0.103; 3. Lonbois V. (BEL) Yamaha YZF R6 0.381; 4. La Marra E. (ITA) Honda CBR600RR 3.560; 5. Guarnoni J. (FRA) Yamaha YZF R6 3.933; 6. Boscoscuro A. (ITA) Yamaha YZF R6 7.110; 7. Tamburini R. (ITA) Yamaha YZF R6 7.494; 8. Rea G. (GBR) Honda CBR600RR 7.523
Points (after 4 of 10 rounds): 1. Petrucci 75; 2. Rea 58; 3. Lonbois 56; 4. Guarnoni 54; 5. Bussolotti 46; 6. Litjens 38; 7. La Marra 35; 8. Kerschbaumer 32; 9. Guittet 27; 10. Lombardi 23
---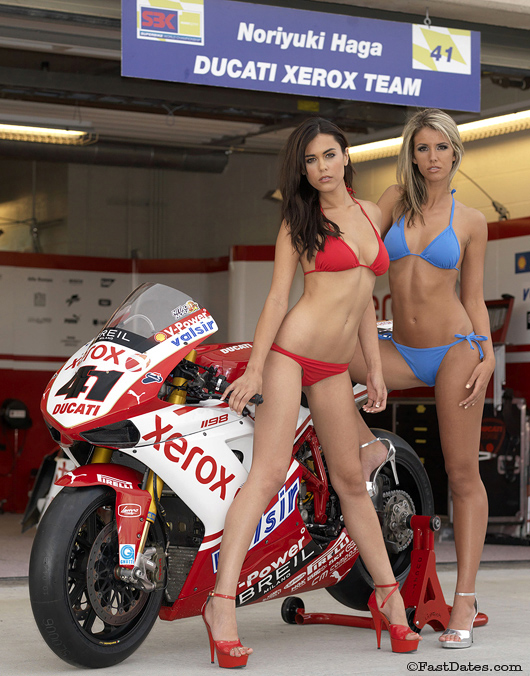 What's Red, White and Blue and Hot all over? Our Fast Dates Calendar shoot in the Team Ducati Corse garage with points leader Nori Haga's 999RS at the Miller USA round of the Hanspree World Suerbike Championship
2009 SBK Fast Dates World Superbike Calendar Shoot, Round 7 of 14, Miller USA
Marking the 20th Anniversary of the Fast Dates Calendar!
Kittens Shoot Fast Dates World Superbike Calendar
with Top Factory Teams at Miller USA Race Weekend
By Jim Gianatsis
Miller Motorsport Park, Tooele, Utah, 29- 31 May 2009 - It's unreal to think it's been 20 years we've been producing the Fast Dates Racebike Swimsuit Model PinUp Calendar. The first 1991 edition of the then Mikuni Fast Dates Calendar premiered in the summer of 1990 featuring a then unknown Playboy Playmate on the cover named Pamela Anderson, posing in a pink bikini in the saddle of Miguel Duhamel's Yoshimura Suzuki GSX-R750L AMA Superbike. Then published by Mikuni American, still one of my advertsing cleints today, the Calendar was used as a promotion to show all the top racing bikes of the time which used Mikuni carburetors.
Playboy Playmate Pamela Anderson with all-natural enhancements was featured on the cover of the first Fast Dates Calendar whicd we photographed 20 years ago. The bike is Miguel Duhamel's Yoshimur Suzuki GSXR750 running Mikuni RS Flatside Carburetors. A few new copies of the 1991 calendars are still available for sale in Collectors Corner.
A little know fact, but there actually were earlier Mikuni Calendars, but the public never got to see them. In the 1980s Mikuni purchased pre printed nude model calendars from a printer in Japan imprinted with Mikuni's company name on them, and sent them out to distributors and friends at Christmas time. I became their ad agency around 1987 and convinced them it might be fun to publish our own nude calendar and incorporate the Mikuni carburetors in the pictures. The first original Mikuni Calendar was published for 1990 and featured my photo of Playboy Playmate Terri Lynn Doss on the cover holding a Mikuni carburetor, with purchased stock photos of nude Penthouse models inside. We advertised the calendar in Cycle News the fall and sold out the complete print run of 1,000.
For 1991 we wanted to try and offer them retail in motorcycle dealers through Mikuni distributors, but we knew we could sell nude pinup model calendars in a family visited motorcycle dealership, so I shot the next calendar with all the models in swimsuits or lingerie with top racing bikes that used Mikuni carburetors and Fast Dates was born. In successive years other Mikuni Calendars were made for their other markets: Berm Busters motocross, Hot Waves personal watercraft, Iron & Lace custom bikes, Ripped Pavement roadracing action and Garage Girls pinups. As the markets have changed, and sexual harassment laws became established and enforced in America, some of those titles have come and gone, Mikuni American gave their Calendar program to Gianatsis Design.
It might be noted that back in the 1970s and early 1980's even major American motorcycle distributors U.S. Suzuki and Yamaha USA published and gave away pinup model calendars featuring Playboy Playmates and Hawaiian Tropic girls. Today both of them and American Honda have corporate policies that their team race bikes can not be photographed with swimsuit models. One of the main reasons why Fast Dates is now only photographed at World Superbike races and is endorsed by SBK, a european based organization on a continent where beautiful women are allowed to be admired, not labeled as exploitation and pornography.
2011 Fast Dates Calednar Kittens Sabella Shake, left, and Leanna Pareja, right, shooting at Miller. But don't wait for next years calendar... Sabela is featured in the all three new 2010 FastDates.com Calendars which go on sale July 1st 2009 and are availble right now for downloading in Members Corner.
Flash forward 20 years and I'm flying into Salt Lake City Utah with beautiful FastDates.com Calendar Kitten Sabella Shake who is featured in all three editions of the new 2010 Calendars which released for sale on July 1st. Traveling with us is a case of the new Fast Dates Calendars with brunette Sabella on the cover together with her girlfriend, blond Paris Hilton look-a-like Rachel Bernstein. We will be handing out the new Calendar to the factory teams at riders on Thursday afternoon at the Miller Motorsports USA round of the SBK World Superbike Championship as a thank you for last year's Miller shoot, and to remind them to have their bikes ready for us to photograph that evening for the 2011 Fast Dates Calendar

Joining us at the track on Friday at Miller was the Sugar Blond to our spicy Miss Pepper, southern California swimsuit model and beauty pageant winner Leanna Pareja. Her own business in wireless sales and a boyfriend brought Leanna to Salt Lake City about 2 years ago, but we can tell you she's already planning her return to much missed SoCal.
The rest of the 2009 FastDates Calendar Shoot story at Miller WSB story continues HERE

2009 Miller USA World Superbike Race Report • Fast Dates Calendar News Home
---
Rossi replica Yamaha YZF R125
6/15/09 - How cool is this? Yamaha has introduced this cool new Valentino Rossi replica 2009 YZF R125 street legal 250 lb. sportbike powered by a watercooled 15 hp engine in an aluminum deltabox fame. Isn't this the perfect entry level streetbike for any teenager, a Novice racer spec bike class, or a fun 2nd bike for any sportbike enthusiast? Unfortunately Yamaha USA has no pland to bring this beauty sateside - read their news release at left. Maybe you can ask your local dealer to encourge them?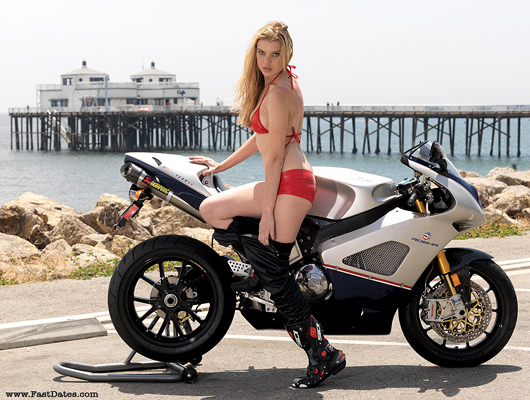 Calendar Kitten Apple strips down at Malibu Beach with the new Roehr Superbike.
And now for something a little different...
Apple Kitten shoots for Fast Dates Calendar with the $60,000 Roehr
V-Rod Superbike with World Premier at the LA Calendar Show in July!
Los Angeles, CA, May 1st - Don't think we've been relaxing indoors here during the bitter cold of our Southern Californian winter here, just waiting for our printer in China to ship us the new 2010 FastDates.com Calendars so sleazy perverts like you can gum up the pages.... hell no! We've already been hard at work shooting the next 2011 FastDates.com Calendars with beautiful Calendar Kittens like Apple, shown here at the Malibu Beach Pier astride the hot new supercharged Harley V-Rod powered Roehr Superbike.
Apple is also featured in all 3 of the new 2010 FastDates.com Calendars which premier here in July online and at the 2009 LA Calendar Motorcycle Show Weekend July 18-19th. Oh, did we tell you both Both Apple and the Roehr will also be at the Show? You don't want to miss them.
Apple's Test New Sportbikes Roehr • The LA Calendar Motorcycle Show July 18-19th
---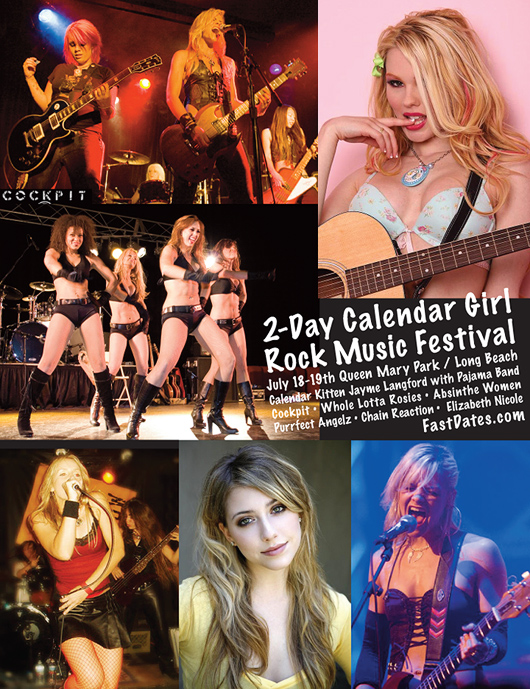 Calendar Kitten & AVN Best New Actress Nominee Jayme Langford's
Pajama Band Joins the LA Calendar Bike Show / Music Festival Weekend!
May 15th 2009 - The Los Angeles Calendar Motorcycle Show, in our never ending quest to provide wholesome family entertainment while enhancing the quality of artistic and cultural experience for our visitors, is excited to announce the addition of Pajama Band to our performance lineup with the Calendar Girl Music Festival which is included with July 18-19th 2009 event weekend at the Queen Mary Event Park in Long Beach, CA.
We're in LOVE! Jayme shows what she'd like to do to us!

A unique entertainment experience, Pajama Band features the vocal talents of beautiful new 2010 FastDates.com Calendar Sex Kitten, Hustler Honey and AVN Starlet Jayme Langford / JaymeLangford.com. Between her extensive modeling and acting career, being a pre-Med University student and exhibiting precision Hula-Hoop skills, Jayme figured she also has what it takes to be an accomplished lead singer, guitarist and trumpeter in time for this year's Calendar Bike Show Weekend.
Jayme is not new to music, having taken music and pianno lessons all her life. But after picking up a new pink guitar and plastic trumpet from Guitar Center on Hollywood Boulevard just a few months ago she thought, "Damn, I'm not busy enough, why don't I start a girl porn star rock band as well!" Who were we to talk her out of it?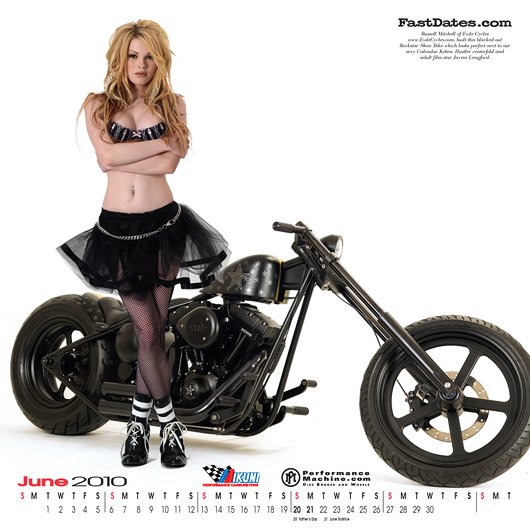 Jayme Langford and celebrity builder Russell Mitchell will rock your world by personaly autographing for you their new 2010 Iron & Lace Calendar featuring Jayme and Russell's Exile Rockstar custom available at the 2009 LA Calendar Motorcycle Show and Calendar Girl Muisc Festival Weekend July 18-19th. Jayme's PajamaBand will be performing on Sunday, with Russell holding a Calendar Bike Building Seminar.
Performing with Jayme in Pajama Band are her famous adult starlet girlfriends, Jana Jordan / ClubJannaJordan.com also a Hustler Honey and Penthouse Pet, and Louisa Lanewood / LouisaLanewood.com. The band will be making its professional world premier debut at the 2009 LA Calendar Show Weekend on Sunday the 19th performing their exciting new hit "Fuck You Until You Die" which has music critics raving, in what can only be described as pornicopia of visual and audio excitement guaranteed to leave their many new found fans breathless on the verge of cardiac arrest. Music critics are already raving that these girls have given new meaning to the genre "Hard Rock"!
For Jayme's Calendar Kitten profile go to Meet the Models - Jayme Langford
For more about PajamaBand visit MySpace.com/PajamaBandMusic
For more about the LA Calendar Motorcycle Show
Below: Jayme's girlfriend Janna Joran beats the drums in PajamaBand which makes its world premier at the 2009 Calendar Show . On Mondy after the Show, Jayame and Janna will shoot with the winning Calendar Bike Building Championship bikes for the next FatDates.com Calendar.
---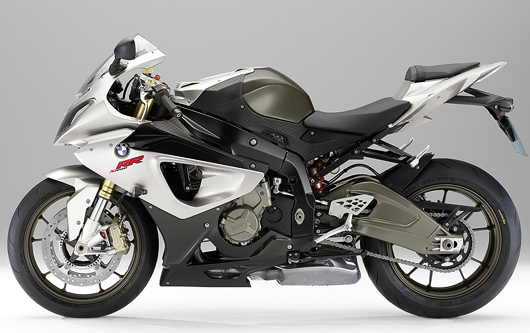 BMW's First Superbike Hits the Streets with 193hp! TC and ABS!
Monza, Italy, May 5h, 2009 - BMW introduced their new BMW S 1000 RR today on the legendary Monza Racing Circuit, BMW Motorrad is for the first time launching an absolutely innovative supersport with a straight-four power unit. With this world debut, BMW Motorrad is indeed establishing a true milestone in the world of sports machines, combining engine output of 142 kW (193 hp) with overall weight of just 204 kg (450 lb) including fuel (183 kg/403.5 lb dry weight, 206.5 kg/455.3 lb overall with Race ABS). The new S 1000 RR is the most powerful production 1000cc sport bike in the world.
The new S 1000 RR is scheduled to be released in the US by early 2010.
More in Sportbikes Index: BMW S1000RR
---
There's more! Go to Pit Lane News Previous Page

Also Visit: Fast Dates Calendar News • Iron & Lace Calendar News
Calendar Girl News • Meet the Models • Paddock Garage

Calendar Kittens, The Paddock Garage, Screensavers, Iron & Lace Garage



MotorcycleSuperstore.com
Some of our Calendar Kittens can also at Playboy's website...


Members Only
2010 Calendar
Sneak Preview!
All the new 2010 FastDates.com Calendars with all their pages are now available in large screen saver size format for your viewing in Members Corner. The printed Calendars will be avaialble to order here online July 1st, with the live World Premier with the beautiful Calendar Kittens taking place at the LA Calendar Motorcycle Show Weekend July 18-19th
More Sneak Peaks!
2010 Calendar Sex Kitten
Jayme Langford

Just announced!
World Premier Debute
of Pajama Band with Jayme Langford at
LA Calendar Bike Show
July 18-19th !
Calendar Kitten, Penthoue Pet and Hustler Honey Jayme Langford and her sexy all girl Pajama Band of world famous porn starlets will be performing at the LA Calendar Motorcycle Show Weekend July 18-19th.
Damn the Bikes, you don't want to miss Pajama Band performing their new hit single "Fuck You Unitil You Die!"
Also Returning!
Singer and Actress
Elizabeth Nicole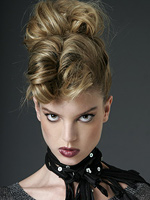 Calendar Kitten Apple
Tests the new
Roehr Harley Superbike!
meet her in person at the LA Calendar Motorcycle Show July 18-19th




Now Available
2009 FastDates.com Calendars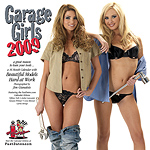 ---
American Blake Young
to race Donnington
World Superbike
Team Suzuki Press Office - June 23rd -Team Suzuki Alstare Brux is giving talented American Blake Young a ride on Max Neukirchner's GSX-R1000 K9 at the British World Superbike ninth round at Donington Park this weekend.
With Neukirchner still sidelined through injury, Team Manager Francis Batta has decided to give the 21-year old a no-pressure ride at the East Midlands circuit after discussions with Young and former World Champion Kevin Schwantz.
Young, from Wisconsin, is riding the Rockstar Makita Suzuki Factory Racing GSX-R1000 Suzuki in this year's AMA championship; has taken two podiums to date; and currently lies in eighth position behind team mate and series leader Mat Mladin.
He will join regular Suzuki Alstare Brux rider Yukio Kagayama, who is carrying on racing despite broken bones in his right heel; the gritty Japanese rider has already defied the pain to race in America and Misano and is determined as ever to battle for the podium.
Blake Young: "I'm really excited to race the Suzuki Alstare Brux GSX-R1000 at Donington Park this weekend. I've been racing motorcycles for as long as I can remember. I always wanted to race Superbikes and I got the chance to do that with the Rockstar Makita Suzuki team in America. Now, getting the opportunity to do a World Superbike race with the Suzuki Alstare Brux team in Europe is like a dream come true. I'm looking forward to it and want to make the most of this opportunity."


The Official SBK
2008/2009 Yearbook
Awesome in full color! Commerating the 21st Anniversary of World Superbike
Troy Bayliss' 3rd World Championship Title>
PLus a technical look at ll the bikes, and a preview of Ben Spies and Noriyuki Haga battleing for the 2009 Champiosnhip!
We bought it ourselves and totally recommend it!
Jonthan Rea takes maiden World Superbike win
in style
Maisano June 21st - Hannspree Ten Kate Honda's Jonathan Rea won the second of today's two eighth round World Superbike championship races at Misano in Italy – his first win in his debut season.
It was a stunning bounce back after the 22-year-old was dogged by bad luck in the opening 24-lap encounter at the 4.2km Misano circuit. In wet conditions, Rea's number one machine developed a fuel problem on the sighting lap and he was given a ride back to the pits by his Ten Kate team-mate, Ryuichi Kiyonari.
However, both riders were given a ride-through penalty for contravening regulations, a punishment compounded by Rea being denied access to the grid on his spare machine. He was forced to start the warm-up lap from pit lane and the race from the back of the grid.
Rea got a scorching start and was in tenth place by the end of lap one, despite a clash with Kiyonari which finished the Japanese rider's race through a broken gear shift and left a hole in Rea's right foot from his team-mate's footpeg. He moved up to sixth place before pitting for his ride-through penalty. With the track then drying, riders began coming into pit lane to change to dry tyres, Rea changing on lap twelve before setting a succession of fastest laps and finishing in an impressive seventh place.
With the circuit dry, Rea's performance in race two was even more impressive. Starting from second place on the grid, the Northern Irishman slipped past Noriyuki Haga for the lead on lap four. Haga and his Ducati team-mate, Michel Fabrizio, each took turns at the front later in the race, but Rea dived past the Italian early in the final lap and held him at bay to take a stunning victory.
Rea's Hannspree Ten Kate Honda team-mate, Carlos Checa, took 11th place in the rain affected first outing and posted an impressive fifth place in race two, after chasing Rea and the two Ducatis for much of the race.
Jonathan Rea – 7th and 1st
I jus t want to thank the whole crew and the Andreani group for working so hard to help make this happen. It really bodes well for us all for the rest of the season. We knew we had the pace this weekend but race one was a pretty bad situation. I needed to start with scrubbed tyres in the wet but the problem on the sighting lap finished that plan. With the penalties and brand new tyres and having destroyed my footrest and rear brake in the crash with Kiyo, it was difficult, so seventh was about as good as we could have hoped for. Race two was great and, as soon as I knew I had the pace to match the two Ducatis I was comfortable. I tried a few different lines in the closing laps to probe and find the best way through. When I got past Fabrizio, it was pretty straightforward. It's really nice to win here in Italy, in Ducati's back yard, where we thought it would be quite hard. But we've come leaps and bounds recently and hopefully we can fight at the front in every race.
Carlos Checa – 11th and 5th -
I am actually quite positive, even though we did not have the perfect set-up and had some problems with movement in the rear of the bike. With those problems, I was struggling to match the pace of Jonathan and the two Ducatis. It's been a very busy weekend with new suspension in the bike and we had a few things that we wanted to test this morning. However, the wet conditions made that impossible. Considering the big changes we have been working with this weekend, I think we can take a lot of positives to Donington next weekend.
Ronald Ten Kate – team manager - It's been a very up and down day and a long road to success this season, with some difficult development steps with the CBR1000RR. Although we still have a few more plans and ideas that we want to try, Jonathan's win today was a major breakthrough. I'd like to thank him and the other riders, the whole crew and Honda for staying loyal to us, and a special thanks to Andr! eani Gro up for all their hard work this week. Although the championship may be out of our reach this season, our intentions for the rest of the year are quite clear – winning!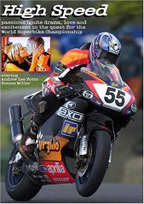 High Speed - the Movie
The best motorcyce racing movie ever made! Filmed on location at World Superbike, this an exciting romantic drama staring beautiful actress Sienna Miller.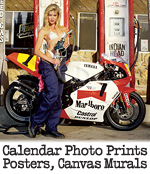 ---
High drama in Misano as Yamaha riders fight for points in wet and dry races
Race One saw drama unfold as the World Superbike riders headed out for a wet race but were forced to change midway for slicks as the rain stopped and the sun broke out. Yamaha rider Ben Spies spent most of the wet heat in 4th tucked up behind rival Fabrizio as he paced himself on the damp track. He picked the ideal time to change to his dry bike on lap 13, emerging from the pits right behind Fabrizio, taking him swiftly for 8th position. Spies then displayed a typical Texan masterclass in racing, working swiftly up to take Xaus for the lead on lap 17, leading from there to the chequered flag.

Race Two saw a technical issue with the clutch drop Spies from 2nd back to 17th. He then proved his skill yet again, riding round the fault to work through eight riders to take ninth in the race.
Team-mate Tom Sykes made up for an average qualifying position to post good finishes in both races. Race one saw the British rider pit early for slicks and then come out fighting in 13th, enjoying the damp conditions he pushed on to eventually take eighth at the chequered flag. Race two saw a good start, Sykes moving to 11th then fighting hard all the way up to duel with Haslam for the 7th place spot as the race end drew close. Having lost the spot to Haslam on lap 20 he took it back again and crossed the line to claim his well deserved points.
Spies now prepares for Donington next week on 244 points, second in the championship and now closer to Haga, with 48 points separating them. Sykes heads back to the UK for his home race seventh in the championship on 130 points, with only five points separating him from fifth placed Max Biaggi.
Ben Spies, Yamaha World Superbike Team (1st, 9th)
"Race one was definitely better than race two! It was good for us, we did what we had to do. I stayed as close as I could to Fabrizio, I couldn't run Byrne's pace but wanted to stay with Michel as he was the one who mattered to me in the championship. I picked the right moment to come in and get out on dry tyres and switch bikes and put in good pace and we managed to win the race. Race two wasn't so great, I had an issue with the clutch on the start, for the first few laps I was short shifting and trying to ride round it. It finally came better but when I got behind Corser and Kagayama and those guys I couldn't get round them easily. The last seven or eight laps it came good and I tried to run everyone down and started picking them off. I got up to Sykes and Haslam and they were having their little battle, we were definitely faster but I needed another lap to get round them which I didn't have. It's frustrating as we've lost good points this year and we'd be leading the championship with them. We'll go to Donington and try to start over again and see what happens."
Tom Sykes, Yamaha World Superbike Team (8th, 7th)
"From where we qualified we've made a bit better day of things than I expected. For race 1 in the wet I had some difficulty with too much traction in the first heat. I pulled in a bit sooner than I would have done if I'd had a perfect wet set up. In the second half we were fast and consistent, I really enjoyed it, the 14 laps felt like two it was over so quickly. Race two we made a couple more changes and I was pretty happy with the balance of the bike, I struggled with some rear grip but we're improving the small bits and it's onwards and upwards. It's been a tough weekend and I'd like to thank the whole of the team, we've put our heads together and they put in a lot of hard work and effort to improve the bike."
Massimo Meregalli, Yamaha World Superbike Team Manager
"The first race was amazing, the second race was different! In the end we came here 54 points behind Nori and now we're 48 points behind so it's still better for the championship. Tom made a great improvement which was really important for him so now we're going to Donington where he will make another step. Both Ben and Tom know the track there, and Ben has showed us that when he doesn't have to learn the track he can be even quicker. See you in a week."
Alstare Suzuki Brux
Struggles at Maisano without injuered Neukirchner
SUPER SIXTH FOR YUKIO IN DIFFICULT CONDITIONS.
Misano June 21st - Team Suzuki Alstare Brux rider Yukio Kagayama endured difficult conditions in the rain-affected first race in Misano, but ended the 24-lapper with a superb sixth place. He opted for a harder rear spring in race two, but it didn't work as well as he had expected and he finished in 11th position. Fonsi Nieto ended with a 18th in race one, but improved to 12th in race two.
Ben Spies (Yamaha) won the rain-affected first 24-lapper, with Shane Byrne (Ducati) second and Michel Fabrizio (Ducati) third. Race two started in the dry and, apart from a few spots of rain, continued to remain a dry race. Jonathan Rea (Honda) had a race long battle with Michel Fabrizio and Noriyuki Haga (Ducati), but held them both off to record his maiden WSBK victory.
Yukio
That was a difficult weekend and today was very tricky because of the changing conditions in the first race. I felt fairly comfortable for the first three or so laps, but the track dried so quickly so, after a few more laps, we decided to pull in and change bikes. But my second bike had a half dry/half wet setting and my feeling with it was not so good. I pushed as hard as I could, especially when I was fighting with Nori, but I had to settle for sixth place.
I made a mistake by choosing a harder rear spring in race two and wasn't able to pick up the pace. Sorry to my team. Overall though, I found a good feeling with my bike this weekend, but I am disappointed not to get the results I expected.
Fonsi
I started with full wets, but the track dried very quickly and I didn't have any confidence with the grip. We changed bikes and I think I progressed quite well, but I saw a blue flag and thought some really fast rider was going to pass, so I pulled over. But it was just the guys behind me and they all went past and I had lost three or so places! I wasn't happy about this and by the time I recovered, it was too late. I made a good start in the second race and found a good pace. The bike's balance felt good, but towards the end of the race I began to have problems with the front brake. I had a good battle with Max (Biaggi) and finished with a positive feeling.
Misano Proves Hard To Master For Kawasaki Superbike Pair
WSBK, Misano, Republic of San Marino, 21 June 2009
Broc Parkes and Jamie Hacking each had separate issues at Misano on raceday and as a consequence neither rider was able to take a points scoring finish, despite occasional bright showings in practice.
The first 24-lap race of the day saw the first use of the flag-to-flag rules in World Superbike, as the race started out on a wet track but got drier as the time went on, meaning almost every rider changed their machine in the middle of the race. Hacking was 16th in the opener, and Parkes 17th.
In the second race, run in dry conditions throughout, the team's riders could not replicate or improve their best lap times from practice, and thus Parkes was disappointed in finishing 17th again; Hacking even more so to be 22nd.
In the championship chase Parkes remains 18th and Hacking 20th.
Broc Parkes: "It's been a mixed bag kind of weekend for me. I was happy with Friday's fifth place but we struggled in Superpole to get a flying lap in and I missed sector two for the first time this year. The rain in race one obviously made conditions really difficult and we chose the wrong tyre, so I really struggled with grip as it dried up. By the time I changed tyres it was too late to make up any major ground. In race two I got a bad start and I still didn't feel like we had the right direction on the bike so really struggled in the corners. We tried so many things over the weekend but with little improvement. Battling in 17th place is really disappointing for me and the team so I can only hope that we have a better race in Donington."
Jamie Hacking: "In the first race I wasn't clear on the rules regarding the tyres as in the States the tyres you start on are the one's you finish on so I didn't see the board telling me to pit until it was too late. That was really disappointing as I felt we could finish at least in the top ten. In race two I got a decent start but I tried to go a bit steady into the corners when it was crowded, so I didn't make the same mistake as in Miller. I lost some places so I was pushing hard and unfortunately ran into the back of someone later on and went off track. I was trailing in last and I could move only a few places forward. I'm really disappointed for the team and for myself and I just hope that I can make up some ground at the Donington race.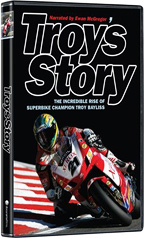 Troy's Story
The story of now 3-Time World Superbike Champion Troy Bayliss narrated by Ewan McGreggor. The video is made up of (6) 30-minute TV shows about the Champion's career and his life, beginning with his film footage of Troy taling about his minibike racing career at age 6 years! We bought it and totally recommend it!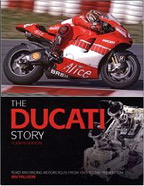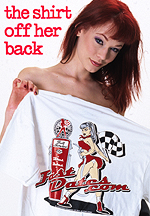 Order the Official
FastDates.com &
LA Calendar Bike Show
T-Shirts!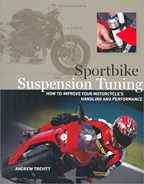 Video Tribute To John Britten. Backyard Motorcycle Visionary
onsidered at the time of his death the best motorcycle engineer in the world, designing and building motorcycles and much more, John Britten gave us a fabulous lesson of perseverance, courage, humility and creativity. If you never watched it, this 5- part documentary (total 7 h 15 minutes) shot in his home in New-Zealand is a must see for all the pros and backyard builders around the world. By the time he died of cancer in 1995, John Britten had become a household name.
See the video TV Series by going HERE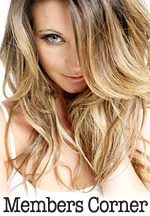 Members Corner
Hot Bikes, Sexy Kittens
Get Your Exclusive Grid Pass
aslo includes....
---
Freddie Spencer
Goes Bankrupt, Looses his Home and disolves his Superbike School in Las Vegas
June 1st - We ran a news release here in Pit Lane News a few weeks ago that well known sportbike personality and teacher at the Freddie Spenser Superbike School in Las Vegas, Nick Ienatsch, had moved to Miller Motorsports park, UT, to head the new partnership with Yamaha Motor Corporation U.S.A. for the creation of the Yamaha Champions Riding School, which will offer a performance riding curriculum aimed at sport bike street riders and track day participants.
While at Miller for the World Superbike Weekend and asking why Nick had left the Spenser School, we were told the well known Freddie Spenser Superbike School at Las Vegas International Speedway had closed.
Upon further inquires at Miller with the assembled media and friends who know Freddie we learned the following - Freddie Spenser's wife has a big gambling problem and they had become some $400,000 in debt. The couple had not made a mortgage payment on their home in about 6 months and it is now in foreclosure. And his wife is no in the process of divorcing him.
We asked why Freddie did not consider moving his school to Miller Motorsports and we were told that Miller personnel had tried to contact and negotiate with Freddie a number of times to move his schooled to Miller, but he proved unreachable able and never returned their calls.
In fact, Freddie has a reputation for being unable to focus on things, as evidenced at the end of the World and National Superbike career back in the early 1990's when he often missed practice sessions and press conferences.
This may also account for why Freddie is no longer co hosting SpeedTV roadracing race coverage on this season, having been replaced by another former Superbike Champion, Scott Russell, who joins main commentator Ralph Sheheen as their "expert commentator".
Now rather than Freddie's past out-of touch broadcast ramblings on '..tires going off", we have to try and decipher what the backwoods Georgia native Russell is trying to convey in his undecipherable redneck southern drawl.
DUCATI KICKS OFF SUMMER WITH INAUGURAL PASSPORT RALLY
New England Desmo Owners Club Hosts Summer-Long Event
Cupertino, Calif. (June 24, 2009) – In cooperation with Ducati North America, the New England Ducati Desmo Owners Club is proud to announce the inaugural Passport Rally.
Beginning July 3, interested participants can pick up a rally-specific passport at any northeastern Ducati dealership and start riding. This exciting rally is a great opportunity for Ducati owners and enthusiasts to obtain passport stamps at events and dealerships throughout New England. The Passport Rally is open to all registered New England Desmo Owners Club members and up to three additional guest riders. Each participant is encouraged to visit at least five participating dealerships or events to gather passport stamps. Rally passport stamps can be obtained at each of the following events:
New England Desmo Owners Club Track Day – July 14
Maine European Motorcycle Enthusiasts Meet – July 23-26
Lars Anderson Tutto Italiano – August 2
New England Ducati Owners Club Picnic – August 16
Indy MotoGP – August 27-31
Lars Anderson European Motorcycle Day – September 13
Italian Motorcycle Owners Club Rally – September 13
The final event will be held September 19 at the Stratton Mountain Resort in Stratton, Vt. To gain entrance to the final Passport Rally event, riders must have at least five stamps from the various summer events or be a non-Ducati owner sponsored by a valid passport holder.
The Passport Rally will be an action packed day with demo rides available on the latest 2009 Ducati models and an exclusive visit to the Shelburne Museum motorcycle exhibit.
For event details, including dealerships stocking the rally passports, please visit www.ducatiusa.com.