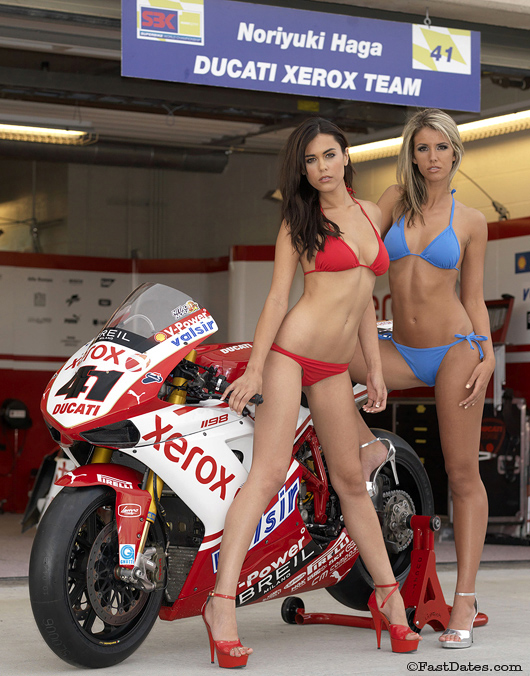 What's Red, White and Blue and Hot all over? Our Fast Dates Calendar shoot in the Team Ducati Corse garage with points leader Nori Haga's 999RS at the Miller USA round of the Hanspree World Suerbike Championship
2009 SBK Fast Dates World Superbike Calendar Shoot, Round 7 of 14, Miller USA
Marking the 20th Anniversary of the Fast Dates Calendar!
Kittens Shoot Fast Dates World Superbike Calendar
with Top Factory Teams at Miller USA Race Weekend
By Jim Gianatsis
| | |
| --- | --- |
| | Miller Motorsport Park, Tooele, Utah, 29- 31 May 2009 - It's unreal to think it's been 20 years we've been producing the Fast Dates Racebike Swimsuit Model PinUp Calendar. The first 1991 edition of the then Mikuni Fast Dates Calendar premiered in the summer of 1990 featuring a then unknown Playboy Playmate on the cover named Pamela Anderson, posing in a pink bikini in the saddle of Miguel Duhamel's Yoshimura Suzuki GSX-R750L AMA Superbike. Then published by Mikuni American, still one of my advertsing cleints today, the Calendar was used as a promotion to show all the top racing bikes of the time which used Mikuni carburetors. |
A little know fact, but there actually were earlier Mikuni Calendars, but the public never got to see them. In the 1980s Mikuni purchased pre printed nude model calendars from a printer in Japan imprinted with Mikuni's company name on them, and sent them out to distributors and friends at Christmas time. I became their ad agency around 1987 and convinced them it might be fun to publish our own nude calendar and incorporate the Mikuni carburetors in the pictures. The first original Mikuni Calendar was published for 1990 and featured my photo of Playboy Playmate Terri Lynn Doss on the cover holding a Mikuni carburetor, with purchased stock photos of nude Penthouse models inside. We advertised the calendar in Cycle News the fall and sold out the complete print run of 1,000.
For 1991 we wanted to try and offer them retail in motorcycle dealers through Mikuni distributors, but we knew we could sell nude pinup model calendars in a family visited motorcycle dealership, so I shot the next calendar with all the models in swimsuits or lingerie with top racing bikes that used Mikuni carburetors and Fast Dates was born. In successive years other Mikuni Calendars were made for their other markets: Berm Busters motocross, Hot Waves personal watercraft, Iron & Lace custom bikes, Ripped Pavement roadracing action and Garage Girls pinups. As the markets have changed, and sexual harassment laws became established and enforced in America, some of those titles have come and gone, Mikuni American gave their Calendar program to Gianatsis Design.
It might be noted that back in the 1970s and early 1980's even major American motorcycle distributors U.S. Suzuki and Yamaha USA published and gave away pinup model calendars featuring Playboy Playmates and Hawaiian Tropic girls. Today both of them and American Honda have corporate policies that their team race bikes can not be photographed with swimsuit models. One of the main reasons why Fast Dates is now only photographed at World Superbike races and is endorsed by SBK, a european based organization on a continent where beautiful women are allowed to be admired, not labeled as exploitation and pornography.
Beautiful bikini models wandering the team garages at World Superbike....this must be the annual Fast Dates Calendar shoot!
Flash forward 20 years and I'm flying into Salt Lake City Utah with beautiful FastDates.com Calendar Kitten Sabella Shake who is featured in all three editions of the new 2010 Calendars which released for sale on July 1st. Traveling with us is a case of the new Fast Dates Calendars with brunette Sabella on the cover together with her girlfriend, blond Paris Hilton look-a-like Rachel Bernstein. We will be handing out the new Calendar to the factory teams at riders on Thursday afternoon at the Miller Motorsports USA round of the SBK World Superbike Championship as a thank you for last year's Miller shoot, and to remind them to have their bikes ready for us to photograph that evening for the 2011 Fast Dates Calendar
Normally I wouldn't hire the same model for two possible covers in a row, but one look at beautiful Sabella and how a tiny bikini frames into an erotic work of art her incredibly sexy, hard, curvaceous body and it just doesn't matter. You can never get too much of a good thing!
Did I forget to mention that you might know Sabella? If you've ever been to Cannery Row in Monterey, CA, during a Superbike or MotoGP race weekend at Laguna Seca, you might have eaten at on of her restaurants. She was born and raised in Monterey where her parents own two well know seafood restaurants there on Cannery Row and the Pier. After graduating high school 3 years ago, Sabella moved to West Los Angeles to attend Loyola Marymount University where our 21 year old is just completing her pre-law Bachelor's degree towards being a "Sexy Attorney who kicks ass in the courtroom!" And for fun she models part time.
We are bummed to tell you that Sabella won't be joining us at the July 18-19th 2009 LA Calendar Motorcycle Show Weekend this year for the premier of her new 2010 FastDates.com Calendars. She's booked be in South Beach, Miami, to work Fashion Week, strutting the catwalk in next year's hottest new bikinis. But we promise you the Calendar Kittens and Singers who will be at this year' Showwill be just as draw dropping
2011 Fast Dates Calednar Kittens Sabella Shake, left, and Leanna Pareja, right, shooting at Miller. But don't wait for next years calendar... Sabela is featured in the all three new 2010 FastDates.com Calendars which go on sale July 1st 2009 and are availble right now for downloading in Members Corner.

Joining us at the track on Friday at Miller was the Sugar Blond to our spicy Miss Pepper, southern California swimsuit model and beauty pageant winner Leanna Pareja. Her own business in wireless sales and a boyfriend brought Leanna to Salt Lake City about 2 years ago, but we can tell you she's already planning her return to much missed SoCal.
By the time World Supersort practice had wrapped up at 5:30 on Friday evening, the factory teams were already rolling their team bikes out on pit lane in front of their Garages for us to photograph. This being a Fast dates shoot, if you've ever read the stories of past shoots, you know something major always goes wrong just before shoot gets underway. This year I am happy to report our two Kittens were perfect Angels and they did an incredible job of posing with the bikes, changing suits in a stairwell, and tolerating hundreds of leering riders, mechanics and the media with cameras pressing in from behind me while we tried to work.
Last year's double WSB race winner Carlos Checa wanted to get in on the action when we moved over to the Ten kate Honda garages to shoot his race bike.
There was one privateer World Superbike team however, which won't get their bike in the Calendar. One of their mechanics thought he was cool and ran back into their garage to get butt shots of the girls with his phone camera. The girls and I warned him once, but her persisted in his childish behavior which including being in the background of our shoot, so we just picked up and walked off to the next garage.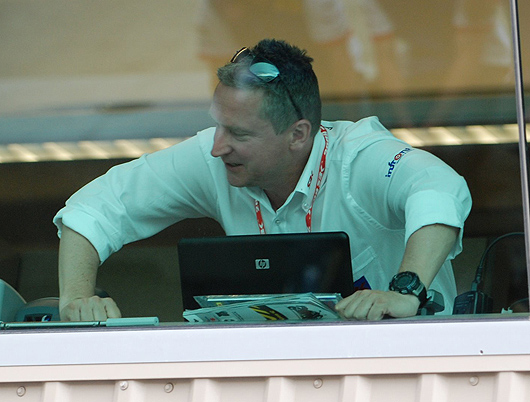 SBK Press Officier Julian Thomas checks out the Fast Dates calednar shoot from the Press Room above the Pits.
It's Jullain who interviews the race winners in the Press Room after each race.
The Calendar shooting drama this year included the weather, and both my fill flash units which refused to work. At home before coming I had test both units thoroughly, one in fact was brand new for added insurance, and I had spares of full charged ni-cad batteries. But the moment I set either flash unit on their tripods they just quit working. And to compound the problem the sky turned black as thunder clouds rolled in and it began to sprinkle. My only option was to open up the ISO speed on my digital Hasselblad HP3-39 from 100 to 400 and drop the shutter speed down to 1/125 sec to keep the bike and models within the focus depth of field.
The riders were falling in love with our girls at every garage stop, this time it was Jakub Smrz.
Towards the end of the evening shoot World Championship points leader Noriyuki Haga's 1198RS was ready for us to shoot. Now it was really getting dark and I was really nervous about getting the most important shot for the Calendar. The Hasselblad has a built in on-camera flash which I've never tried to use, and I didn't know how to set it for Main or Fill Flash. But I popped it up, crossed my fingers and gave it a try and the test shot came out perfect with no needed readjustment. The pictures came out perfect, and next year's 2011 Fast Dates Cover will probably come out of this setup with Sabella and Leanna and the Number 41 bike. Man, was I relieved Whew!
Top Cat Gianatsis mugs for the camera with the Calendar Kittens
Model Leanna left us that evening after the shoot when we got back to our hotel in Salt Lake City. My buddy craig and i went into downtown for dinner while Sabella retired to her room to rest up for the rest of the weekend. We had 2 more bikes we had missed and wanted to try and shot on Saturday if possible. One was Max Biaggi's hot new rocket ship RSV4 Aprilia, but with a crash on Friday and mechanical issues all weekend, the Aprilias were always torn down and never assembled to the point I could photograph one of them, except when they had to be rolled out to race. And we couldn't shoot Ben Spies' bike because Yamaha adopted a policy 4 years ago not to allow their bikes to be photographed with swimsuit models (However, you just still might see Ben's YZR1 in the Calendar with one of our Kittens next year...wink!).
With the photography for the 2011 Fast Dates Calendar completed on Saturday, I gave Sabella over to Davide Tardozzi at Ducati Corse to serve as the team's Umbrella Girl on Sunday, just as we do almost every year. Normally Sabella might have been paired with Championship points leader Nori Haga, but Nori had crashed in Saturday practice and was in so much pain he could only qualify that afternoon on the 3rd row. Team mate Michel Fabrizio, however, was 2nd in points and had qualified in 4th to earn a front row start at Miller. So Sabella was paired with Michel on the grid for both World Superbike races, with Michel turning in strong 3rd and 2nd place finishes both races behind American Ben Spies.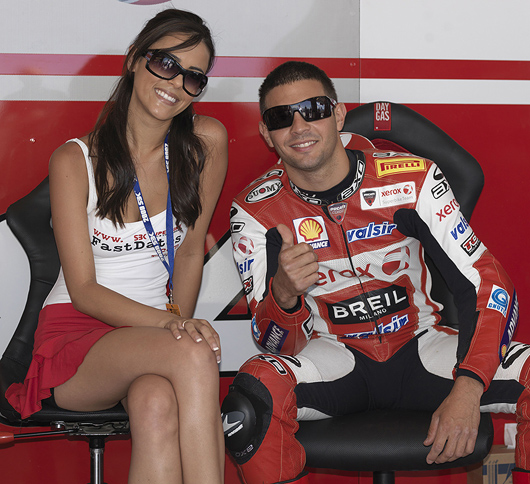 Needless to say, both Michel and Fabrizio became infatuated with other over the weekend. On Saturday Michel was driving her in a golf cart around the paddock and over to the Ducati display in the spectator midway for his official poser signing session. They even stopped by his trailer in the paddock so he could log online with his laptop computer and show her a Translation Website she could use to write to him Emails, since he couldn't speak or read English, and she couldn't speak or read Italian.
Sabella was infatuated again on Saturday, when she saw HBO's Nip Tuck actor John Hensley in the Miller Media Room and almost feinted! I told her I'd introduce her to him and we cornered him on an outside walkway for some pictures together. Just like a swooning schoolgirl, after each of her encounters with Michel Fabrizio and John Hensley, sweet little Sabella would be left standing there with shaking knees, unable to say anything but "Oh my God!" and fanning her flushed face non-stop with a hand to cool down.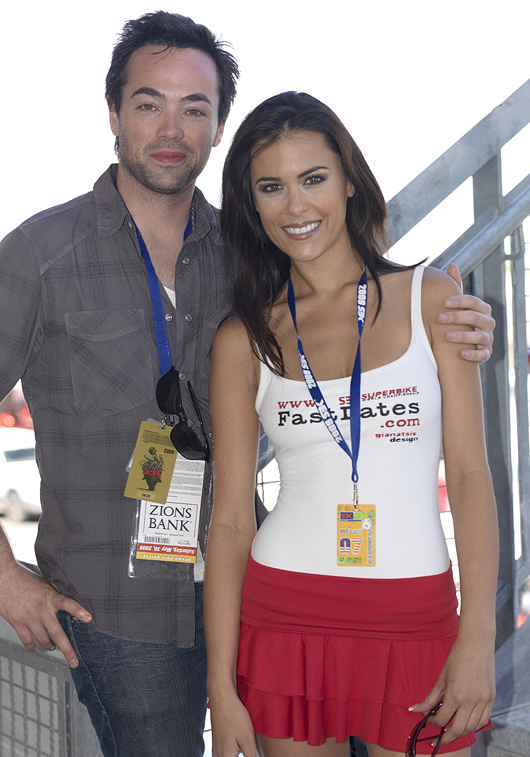 Spectator attendance this year just at Miller about doubled from the initial return of World Superbike to America last year. I roughly counted some 6,500 spectators this year compared to 3,200 last year. The death his past year of track owner and beneficiary Larry Miller, and the depressed economy has not changed anything at all for Miller Motorsports Park, The Track and In Front Motorsports during the weekend announced that they had extended their American round SBK Superbike contract for 3 more years through to 2013. The track has added the Yamaha Motorcycle Racing School as a permanent addition to the facility to compliment their car racing school. And just across the road from the track's main entrance, big construction was underway for a huge motorsports industrial complex so manufacturers and race teams can make Toole Utah their permanent race shop home and test facility.
In all it was a great weekend at Miller Motorsports World Superbike. The organization and hospitality by SBK and Miller Motorsports, and their people was incredible, as was the racing, particularly with the addition of the 600 World Supersport Class to the program. Who needs AMA any more?
2009 Miller World Superbike Race Report • Fast Dates Calendar News Home
Sabella and Michel on the starting grid.
---
Lorenzo (99) lead Rossi (46) from Pole position on the start, then the Yamaha team duo passed and repassed each other all race never than this far apart. On the final lap they passed eaxh other 3 moe times, but Rossit slipped back through again in the final corner to take the win by just a few feet.
2009 MotoGP World Championship , Round 6 of 17, Catalunya, Spain
3 Lead Canges on the the Final Lap and a 3-Way Championship Tie!
Brilliant Rossi Slips Inside Lorenzo in Final Corner for Win #99
Gran Premi Cinzano de Catalunya, Sunday 14 June - Yamaha superstars Valentino Rossi and Jorge Lorenzo dominated an incredible Catalan Grand Prix today, delivering a show-stopping performance from start to finish at Montmeló in front of a packed house. It was the reigning World Champion Rossi who finally emerged the winner, taking a memorable 99th career victory after a stunning last-corner pass on his 22-year-old team-mate, but the Fiat Yamaha pair were separated by under one hundredth of a second after 25 thrilling laps.
After running at a near identical pace all weekend it always looked like being a head-to-head between them and they set off in grid order with Lorenzo leading from Rossi and Casey Stoner. The Italian made his first move at the end of the straight on lap four and passed the Mallorcan into turn one, but all three remained within half a second of each other until four laps later, when the Yamaha duo on their YZR-M1s began to pull away from Stoner, quickly opening out a second's gap and leaving the rest of the field trailing in their wake. With just a couple of tenths between them there was no margin for error but at the end of the back straight on lap thirteen Lorenzo saw a way through and passed his team-mate to take the lead. They continued wheel to wheel until Rossi made another move ten laps later, but the race still wasn't over and there were several more nail biting changes of lead between them before Lorenzo looked to have it sewn-up half way round the final lap. The nine-time champion had one more card to play on the youngster however and edged his machine through in an inch-perfect last corner challenge to take his ninth win in all classes at this track.
With Stoner finishing third, the three incredibly now have 106 points apiece after six races, meaning something of a championship restart for them at the Dutch TT in Assen in two week's time, a favourite track for both Rossi and Lorenzo.
Rossi and Lorenzo put on breathtaking display to dominate for Yamaha
Sunday 14th - An amazing head-to-head battle between Yamaha teammates Valentino Rossi and Jorge Lorenzo saw the Italian take his 99th Grand Prix victory by a 0.095s margin at Barcelona. In front of nearly 90,000 fans the reigning World Champion battled with the young pretender to his crown throughout the 25-lap MotoGP race, securing the win on the last corner.
Despite some slight cloud cover close to the Mediterranean coast, air temperatures of 40°C meant that it was a draining experience for the premier class riders. Rossi and Lorenzo threw everything into their duel, with 'The Doctor' executing a superb move right at the death to take maximum points.
Casey Stoner (Ducati Marlboro) was on the podium again, to maintain his World Championship challenge, with the result leaving Rossi, Lorenzo and the Australian all tied on 106 points at the head of the standings – the Italian on top as the possessor of the most recent victory.
Stoner was absolutely exhausted after the race having worked extremely hard to fend off a strong challenge from Andrea Dovizioso. The Repsol Honda rider produced another consistent display to finish in fourth place for the third round in succession, having started in fourth on the grid -this time missing the podium by 0.052s.
Meanwhile, an excellent battle between Loris Capirossi (Rizla Suzuki) and Dani Pedrosa (Repsol Honda) for fifth place eventually saw an Italian emerge in front of a Spaniard again, Capirossi crossing the line just over two seconds ahead. With two-way fights for positions going on throughout the order, Colin Edwards (Monster Yamaha Tech 3) used all his experience to overcome Randy de Puniet (LCR Honda) for seventh.
New MotoGP arrival Gabor Talmacsi finished his very first premier class race, whilst Scot Racing teammate Yuki Takahashi crashed out on the first lap. San Carlo Honda Gresini's Toni Elías meanwhile was also unable to finish as his miserable home record continued.
Valentino Rossi (Team Yamaha Fiat) 1st - "As we say in Italy, "Mamma Mia!" I think I can honestly say that this was one of the best and hardest wins of my career. Maybe Laguna last year was more important but this was a great, great victory because it went to the very last corner and it's a long time since that has happened. I have dreamed about that move for the last two weeks and today it worked and I am so happy to have this 99th win. We did a perfect job all weekend and my M1 and Bridgestone tyres were brilliant, but we knew that Lorenzo was in the same situation and for sure he was very strong today. I had to be very brave and take it right to the limit in order to beat him. This victory today is more important than the 25 points and anyway now we all have the same, what a championship this is! As well as thanking my team, I especially want to dedicate this win to my Crew Chief Jeremy Burgess because his mother sadly died yesterday. I have to say thank you to her and to him because without him, for sure, I would never have arrived at 99 wins. Now I am going to go to sleep for quite a long time because I need to recover from this excitement!"
Jorge Lorenzo (Team Yamaha Fiat) 2nd - "This was an incredible battle today and a brilliant show for everyone, I am happy to have been a part of it. Of course I am sad to have lost because I put my heart on my bike and in my career I am more used to winning these last-lap fights, but today Valentino was maybe a little bit cleverer or a little bit braver than me at the very end and he was able to beat me. In fact during that last lap, after I passed him, I expected him to pass me back on the brakes much earlier but he didn't come, and then I just didn't close the line enough on the final corner and that was it. I am proud however because I am young and I still have a lot to learn in this class. My team have worked so well all weekend so thanks to them, if we can continue as strongly as this all season then who knows what can happen?"
Casey Stoner (Ducati Marlboro Team) 3rd - "I haven't felt in great shape all weekend – I wasn't ill but I wasn't quite myself. Then last night I couldn't sleep, I probably got a couple of hours at the most, and after just a couple of laps this morning I was destroyed. I decided to race myself, basically, and bring home as many points as I could manage but my bike was fantastic and that is why I was able to ride it to a really valuable podium. The team did a perfect job after the warm-up and if I wasn't so ill, I think I could have stayed with Valentino and Jorge until the end, although I'm not saying I could have beaten them. I started to suffer from really strong cramps and I could barely ride – I was falling over the front of the bike in the hard-braking areas and I was struggling to keep my concentration. I thought about stopping but decided to just back off for a while and try to hang on for a top ten. The bike was so good that I was able to keep up a decent pace and hold off Dovizioso. Tonight I'll try to get plenty of rest and recover my strength for the test tomorrow because this is an important period in the championship and we need to test. After that it's Assen and I'm already looking forward to it."
MotoGP Rsults: (25 laps = 118.175 km)
Pos/ Rider / Nat / Team / Motorcycle / Time/ KM/H / Gap
1 / Valentino ROSSI / ITA / Fiat Yamaha Team / YAMAHA / 43'11.897 / 164.138 /
2 / Jorge LORENZO / SPA / Fiat Yamaha Team / YAMAHA / 43'11.992 / 164.132 / 0.095
3 / Casey STONER / AUS / Ducati Marlboro Team / DUCATI / 43'20.781 / 163.577 / 8.884
4 / Andrea DOVIZIOSO / ITA / Repsol Honda Team / HONDA / 43'20.833 / 163.574 / 8.936
5 / Loris CAPIROSSI / ITA / Rizla Suzuki MotoGP / SUZUKI / 43'31.728 / 162.892 / 19.831
6 / Dani PEDROSA / SPA / Repsol Honda Team / HONDA / 43'34.079 / 162.745 / 22.182
7 / Colin EDWARDS / USA / Monster Yamaha Tech 3 / YAMAHA / 43'35.444 / 162.660 / 23.547
8 / Randy DE PUNIET / FRA / LCR Honda MotoGP / HONDA / 43'37.162 / 162.553 / 25.265
9 / Mika KALLIO / FIN / Pramac Racing / DUCATI / 43'43.694 / 162.149 / 31.797
10 / Nicky HAYDEN / USA / Ducati Marlboro Team / DUCATI / 43'45.490 / 162.038 / 33.593
11 / Chris VERMEULEN / AUS / Rizla Suzuki MotoGP / SUZUKI / 43'48.580 / 161.847 / 36.683
12 / Alex DE ANGELIS / RSM / San Carlo Honda Gresini / HONDA / 43'48.771 / 161.836 / 36.874
13 / James TOSELAND / GBR / Monster Yamaha Tech 3 / YAMAHA / 43'51.330 / 161.678 / 39.433
14 / Marco MELANDRI / ITA / Hayate Racing Team / KAWASAKI / 43'56.685 / 161.350 / 44.788
15 / Sete GIBERNAU / SPA / Grupo Francisco Hernando / DUCATI / 43'58.651 / 161.230 / 46.754
Pole Position: Jorge LORENZO 1'41.974 166.877 Km/h
Fastest Lap: Casey STONER 1'42.858 165.443 Km/h Lap 2
Circuit Record Lap: Dani PEDROSA 1'42.358 166.251 Km/h 2008
Circuit Best Lap: Casey STONER 1'41.186 168.177 Km/h 2008
World Championship Positions:
1 ROSSI 106, 2 LORENZO 106, 3 STONER 106, 4 DOVIZIOSO 69, 5 PEDROSA 67,
6 EDWARDS 54, 7 MELANDRI 50, 8 CAPIROSSI 49, 9 DE PUNIET 42, 10 VERMEULEN 42,
11 TOSELAND 29, 12 KALLIO 26, 13 DE ANGELIS 25, 14 ELIAS 23, 15 HAYDEN 19.
250cc GP to Bautista
Mapfre Aspar's Álvaro Bautista extended his lead at the top of the 250cc standings to 12 points with a highly polished performance earlier in the afternoon, crossing the finish line seven seconds ahead of his nearest rival Hiroshi Aoyama.
The victory was made all the more sweet by the fact that World Champion Marco Simoncelli (Metis Gilera) retired with a mechanical problem after crashing on the second lap, meaning that the Italian -who clashed with Bautista in Mugello two weeks ago- dropped to fifth in the standings and now trails the Spaniard by 47 points after six races.
As Bautista took his second victory and fourth podium of the year, Barcelona resident Aoyama (Scot Racing Team) brought his Honda home in second place at his 'second home race', beating poleman Héctor Barberá (Pepe World Team) on the last lap – the Japanese rider fighting back after looking like he had technical issues in the middle of the race. Aoyama consolidated his second place in the championship with his third podium of the season.
Mattia Pasini (Team Toth Aprilia) dropped in the final laps when looking like he would be on the rostrum again, ultimately finishing in fourth, 3.5s behind Barberá.
Another fight between 'best of enemies' Thomas Luthi (Emmi - Caffe Latte) and Alex Debon (Aeropuerto-Castello-Blusens) saw the Swiss rider make a late mistake to hand fifth place to the Spaniard.
250cc Results: (23 laps = 108.721 km
1 / Alvaro BAUTISTA / SPA / Mapfre Aspar Team / APRILIA / 41'09.018 / 158.522 /
2 / Hiroshi AOYAMA / JPN / Scot Racing Team 250cc / HONDA / 41'16.203 / 158.062 / 7.185
3 / Hector BARBERA / SPA / Pepe World Team / APRILIA / 41'16.300 / 158.056 / 7.282
4 / Mattia PASINI / ITA / Team Toth Aprilia / APRILIA / 41'19.802 / 157.833 / 10.784
5 / Alex DEBON / SPA / Aeropuerto-Castello-Blusens / APRILIA / 41'24.758 / 157.518 / 15.740
6 / Thomas LUTHI / SWI / Emmi - Caffe Latte / APRILIA / 41'24.798 / 157.516 / 15.780
7 / Ratthapark WILAIROT / THA / Thai Honda PTT SAG / HONDA / 41'37.672 / 156.704 / 28.654
8 / Karel ABRAHAM / CZE / Cardion AB Motoracing / APRILIA / 41'40.618 / 156.519 / 31.600
9 / Raffaele DE ROSA / ITA / Scot Racing Team 250cc / HONDA / 41'42.778 / 156.384 / 33.760
10 / Hector FAUBEL / SPA / Valencia CF - Honda SAG / HONDA / 41'42.861 / 156.379 / 33.843
11 / Jules CLUZEL / FRA / Matteoni Racing / APRILIA / 41'43.889 / 156.315 / 34.871
12 / Lukas PESEK / CZE / Auto Kelly - CP / APRILIA / 41'44.135 / 156.299 / 35.117
13 / Alex BALDOLINI / ITA / WTR San Marino Team / APRILIA / 41'48.858 / 156.005 / 39.840
14 / Mike DI MEGLIO / FRA / Mapfre Aspar Team 250cc / APRILIA / 41'51.839 / 155.820 / 42.821
15 / Stevie BONSEY / USA / Milar - Juegos Lucky / APRILIA / 42'25.542 / 153.757 / 1'16.524
Pole Position: Hector BARBERA 1'46.749 159.413 Km/h
Fastest Lap: Alvaro BAUTISTA 1'46.656 159.552 Km/h Lap 9
Circuit Record Lap: Alex DE ANGELIS 1'45.925 160.653 Km/h
Circuit Best Lap: Jorge LORENZO 1'45.098 161.917 Km/h 2007
World Championship Positions:
1 BAUTISTA 108, 2 AOYAMA 96, 3 BARBERA 75, 4 PASINI 64, 5 SIMONCELLI 61, 6 LUTHI 52,
7 DE ROSA 45, 8 FAUBEL 41, 9 LOCATELLI 36, 10 CLUZEL 33, 11 DEBON 33,
12 WILAIROT 31, 13 TALMACSI 28, 14 PESEK 28, 15 DI MEGLIO 27.
---
Larry and his 1198R Ducati had the speed and determination to win on Sunday, breaking the Yoshimura Suzuki winning streak.

2009 AMA/DMG Superbike Championship , Round 6 of 11, Road America
Pegram and His Pet Ducati trounces reigning stars
Mladin and Sushi Suzuki on Day Two at Road America
Elkhart Lake, Wisconsin, June 6-7th 2009 – Larry Pegram and the Foremost Racing Ducati 1098R won the AMA Pro Superbike Class today after a race long dual at historic Road America- only three months after Ducati's return to Superbike racing in America. Larry Pegram used the stable chassis and massive horsepower of the Ducati 1098 R Superbike to defeat the long dominant Suzuki squad today. The fast, flowing circuit has historically suited Ducati well, and entering the weekend Pegram was confident of a win.
"I told my guys we've got past Barber and Sears Point. Those are my two worst circuits and after finishing third at Sears Point I knew we could win anywhere else," commented Pegram. "The bike went well in the wet yesterday and I felt confident going into today's race."
Pegram's primary opposition came from Suzuki's Mat Mladin, who pressured Pegram from flag to flag; stating later that the Ducati 1098R must have had a "10 mph advantage" over the Suzuki on the straightaway. In an effort to take control of the race Mladin attempted a series of risky passes, only to find Pegram blowing back by. With two laps to go Pegram built up a gap, and put his head down to take the checkered flag.
"I got a good start and out-broke everyone into turn five," said Pegram in the press conference. "Once I made it out front I rode a good pace until Mladin caught me. I didn't want a four or five way battle come the last few laps so I had to stay on Mladin in order to gap the others. The Ducati was working better than the Suzuki over most the track so I just fought to keep Mat behind me. On the last few corners I kept telling myself to keep my head down and not screw it up! It feels so good to win on my own factory team. It's been a long time since we set started out in 2004, and my last Superbike win was at Willow Springs in 1999. To be able to do it on a factory Ducati, with the team I built means a lot to me. It hasn't fully set in yet but it feels so great."
The race win was popular with both fans in attendance as well as historians of the sport, all delighted to see Ducati back on top of the podium in America. After a three year absence from the Superbike class Ducati returned to action only three months ago; with today marking their 40th win in the class. Looking forward to the next round at Mazda Raceway Laguna Seca July 3-5th; Pegram has another reason to smile- this weekend's finish promotes him two spots to fourth overall in the Championship.
Mladin Take Victory in First Half of Suzuki Superbike Doubleheader on Saturday
Saturday June 6th - In a cool and rainy day at Road America, Mat Mladin continued to roll in AMA Pro National Guard American Superbike presented by Parts Unlimited with another victory and Chris Peris took his first AMA Pro Daytona SportBike presented by AMSOIL victory in the first day of the Suzuki Superbike Doubleheader.

Despite putting the No. 7 Rockstar/Makita/Yoshimura Suzuki GSX-R1000 on pole Friday, Mladin had to overcome a few challenges to win today. First, he encountered a clutch problem that prevented him from participating in the 10-minute warm up just prior to the race. Because of that and the fact that track conditions were less than ideal, Mladin dropped back a few positions at the start.

He quickly worked his way back toward the front of the field and took the lead from Larry Pegram's No. 72 Foremost Insurance/Pegram Racing Ducati 1098R heading into Turn 3 on the second lap. Mladin would not be challenged from that point on and he went on to score his ninth win in 10 tries this season and the 81st of his career.

"We had a bit of a problem in the warm up so we didn't get to do any laps," Mladin said. "So the first lap, lap and a half, of the race I was trying to get the feel of the racetrack because I didn't know how it was going to be. It worked out good for us, though. After that first lap, I got a bit of a feel for it and the Rockstar Makita Suzuki GSX-R1000 felt good. I decided to have a go at it. I just kept trying to go."

Finishing an impressive second was Michael Laverty on the No. 8 Celtic Racing Suzuki GSX-R1000. The 2007 British Supersport champion was well suited for the tricky conditions and methodically charged from 11th on the grid to score his best American Superbike result to date. He also turned the fastest lap in the race at 2:30.803. It was Laverty's fourth start of the season.

"A lot of people in the American paddock don't know who I am yet," Laverty said. "That's the biggest result from this is people might realize I can ride a bit. I'm over the moon. We've got a new bike this weekend, and we've been getting it better in the dry every session. I think I've got the pace for, probably, top five in the dry. It was nice today in the wet with a bit of a leveler. I was able to just keep plugging away.

"If I hadn't gotten such a bad start, I probably could have raced Mat for the win, but I just had to come back through from 11th. By the time I got through to second, he already had quite a gap. It was a bit frustrating from that point of view, with the win being so close, but at the end of the day, Mat is one of the best Superbike riders in the world and I was pushing him pretty hard towards the end. I even pushed him into a bit of a mistake. It's been a good race, and hopefully if it rains tomorrow, I can repeat the performance or even go one better."

Completing the podium was Ben Bostrom with a third-place performance on the No. 2 Yamaha Motor Corp. USA Yamaha R1. It was Bostrom's fourth podium result in his past five American Superbike starts. He also won the Daytona 200 by Honda Daytona SportBike race to open the year.

"The bike is fantastic, and this track's quite fun in the rain, as well," Bostrom said. "It's got a lot of different elements to it because there's some patches here and there in different corners. The boys just out rode us today. I'll look forward to tomorrow. We might get another shot at it in the wet, which will be great."

Pegram wound up fourth to secure his third straight top-five result and his fifth top five in 10 races. Blake Young, who hails from nearby Madison, Wis., rounded out the top five with a fifth-place run on the No. 79 Rockstar/Makita/Yoshimura Suzuki GSX-R1000. Young returned to American Superbike competition this weekend after missing last month's doubleheader at Infineon Raceway due to injury.

The second American Superbike race of the Suzuki Superbike Doubleheader at Road America goes off from a standing start at 3:00 p.m. local time tomorrow. Once again, the scheduled distance is 13 laps (50 miles).
Pegram Take Victory in Suzuki Superbike Doubleheader on Sunday
ELKHART LAKE, Wis. (June 7, 2009) - On a nearly perfect day for racing at Road America, Larry Pegram captured his first AMA Pro Racing National Guard American Superbike presented by Parts Unlimited victory in 10 years and Martin Cardenas scored his sixth AMA Pro Daytona SportBike presented by AMSOIL victory of the season on the final day of the Suzuki Superbike Doubleheader.

The American Superbike race featured an epic, four-bike battle royal at the front with Pegram on the No. 72 Foremost Insurance/Pegram Racing Ducati 1098R, Mat Mladin on the No. 7 Rockstar/Makita/Yoshimura Suzuki GSX-R1000, Blake Young on the No. 79 Rockstar/Makita/Yoshimura Suzuki GSX-R1000 and Geoff May on the No. 54 National Guard Jordan Suzuki GSX-R1000. The four bikes swapped positions throughout the first three-quarters of the race before the fight for the victory became a mano-a-mano duel between Pegram and Mladin.

As he also did at the standing start in Saturday's first race of the doubleheader, Pegram got an outstanding start from the second row and claimed the lead. Pegram led the first six laps of the 13 lap race before Mladin first took the lead as he went in search of his 10th victory of the season. The second half of the race featured a seesaw battle in which Pegram would power past Mladin heading into Turn 1 at the end of the long front straightaway, and Mladin would return the favor under braking in Turn 5 on each lap.

As a result, Mladin was scored as the leader from Lap 7 through Lap 11. However, the lead changed hands an amazing four times on Lap 8 alone as the two combatants thrilled the Road America fans with their determination to wrestle the lead from one another at every opportunity.

The battle came to a head on the penultimate lap of the race. Pegram took the lead on the front straight heading into Turn 1, but Mladin reclaimed the position in Turn 3. Pegram finally sealed the deal on the run from Turn 3 to Turn 5 and managed to pull away for a 0.342-second victory.

It was Pegram's first win since April 19, 1999 at Willow Springs Raceway in Rosamond, Calif., and was the third victory of his AMA Pro Racing career. The other win came in 600 SuperSport competition at Pikes Peak International Raceway in Fountain, Colo. On September 6, 1998.

"It was definitely a great race," said Pegram. "I was expecting that I could run the pace, but I wasn't expecting to lead like that most of the time. I was real comfortable. When Mat would get in front of me, he wouldn't really get me anywhere. We were pretty even, but I'd catch him in The Carousel (Turns 9 and 10). When we'd go through there, he would gap me in the left-hander after The Carousel. It was weird. He was really getting through there good. It's been such a long time. I don't know if that was as good as the first one or not, but I don't want to wait 10 years for another one."

For Mladin, who won the opening race of the doubleheader on Saturday, it was just the second time in 11 races this season that he did not stand atop the box. However, it was his 10th podium of the season and he comfortably leads teammate Tommy Hayden (No. 22 Rockstar/Makita/Yoshimura Suzuki GSX-R1000) - who finished seventh today - in the American Superbike championship standings by 110 points, 325-215, with nine races remaining on the season.

"Obviously, it was back-and-forth," Mladin said. "In the end, we couldn't get it done. We rode hard and that's all we could do today."

Riding the No. 23 Jordan Brand Suzuki GSX-R1000, Aaron Yates caught the lead pack late in the race as his teammate dropped back. Yates came out on top in the fight for the final podium spot with Young, taking third place away in Turn 11 on the final lap. Young fell just after Yates took the spot away, but was not injured in the incident and finished the race in eighth place. It was Yates' first podium since finishing second in the second race of a doubleheader at Barber Motorsports Park last month.

"We had a pretty decent race there," Yates said. "The start didn't go quite like I was hoping. I left a little late, but I managed to just start to get by folks and just started putting in some good laps. We made some changes last night and this morning, so I was able to go out there and ride like I needed to to go fast. Thanks to the Jordan crew for that.

"I couldn't do much with 'ol Blake. His little self on that Yoshimura bike was getting it pretty good down the straightaways. I was making a lot of ground through the (Turns) 5, 6 and 7 area. I had a look under the inside of him coming out of The Carousel. I was on the inside for the next turn on one lap, and I knew he'd just get me on the straightaway. On the final lap, I looked again, but I was a little too late getting in there. I just kind of slipped up under him for that right (Turn 11) and I had to get in there and kind of park it. He wasn't expecting that, for sure, and I guess he had to get on the brake a little hard or something. It looked like he slid down, and I was able to just ride it hard to the end. It feels good to get us up here on the podium for the Jordan Suzuki."

May made it two Jordan Suzuki GSX-R1000s in the top four with a fourth-place performance, for his sixth top-five result of the season. Ben Bostrom finished fifth on the No. 2 Yamaha Motor Corp. USA Yamaha R1. It was Bostrom's fifth top five in his past six races and was his sixth top-five run of the season overall.

The next round for American Superbike is scheduled for Sunday, July 5 as part of the Red Bull U.S. Grand Prix at Mazda Raceway Laguna Seca.
Saturday Superbike:
1. Mat Mladin (Suzuki)
2. Michael Laverty (Suzuki)
3. Ben Bostrom (Yamaha)
4. Larry Pegram (Ducati)
5. Blake Young (Suzuki)
6. Aaron Yates (Suzuki)
7. Ryan Elleby (Suzuki)
8. David Anthony (Suzuki)
9. Tommy Hayden (Suzuki)
10. Mark Crozier (Suzuki)

Sunday Superbike:


1. Larry Pegram (Ducati)
2. Mat Mladin (Suzuki)
3. Aaron Yates (Suzuki)
4. Geoff May (Suzuki)
5. Ben Bostrom (Yamaha)
6. Neil Hodgson (Honda)
7. Tommy Hayden (Suzuki)
8. Blake Young (Suzuki)
9. Jake Holden (Honda)
10. David Anthony (Suzuki)

Championship Standings:


1. Mat Mladin (Suzuki) 325
2. Tommy Hayden (Suzuki) 215
3. Ben Bostrom (Yamaha) 187
4. Larry Pegram (Ducati) 180
5. Josh Hayes (Yamaha) 164
6. Geoff May (Suzuki) 161
7. Aaron Yates (Suzuki) 152
8. Blake Young (Suzuki) 142
9. David Anthony (Suzuki) 120
10. Taylor Knapp (Suzuki) 97
---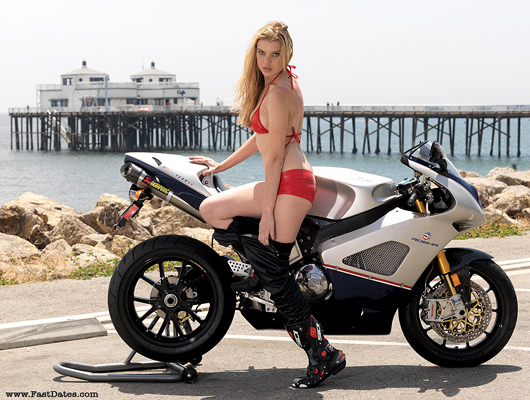 Calendar Kitten Apple strips down at Malibu Beach with the new Roehr Superbike.
And now for something a little different...
Apple Kitten shoots for Fast Dates Calendar with the $60,000 Roehr
V-Rod Superbike with World Premier at the LA Calendar Show in July!
Los Angeles, CA, May 1st - Don't think we've been relaxing indoors here during the bitter cold of our Southern Californian winter here, just waiting for our printer in China to ship us the new 2010 FastDates.com Calendars so sleazy perverts like you can gum up the pages.... hell no! We've already been hard at work shooting the next 2011 FastDates.com Calendars with beautiful Calendar Kittens like Apple, shown here at the Malibu Beach Pier astride the hot new supercharged Harley V-Rod powered Roehr Superbike.
Apple is also featured in all 3 of the new 2010 FastDates.com Calendars which premier here in July online and at the 2009 LA Calendar Motorcycle Show Weekend July 18-19th. Oh, did we tell you both Both Apple and the Roehr will also be at the Show? You don't want to miss them.
Apple's Test New Sportbikes Roehr • The LA Calendar Motorcycle Show July 18-19th
---
Calendar Kitten & AVN Best New Actress Nominee Jayme Langford's
Pajama Band Joins the LA Calendar Bike Show / Music Festival Weekend!
May 15th 2009 - The Los Angeles Calendar Motorcycle Show, in our never ending quest to provide wholesome family entertainment while enhancing the quality of artistic and cultural experience for our visitors, is excited to announce the addition of Pajama Band to our performance lineup with the Calendar Girl Music Festival which is included with July 18-19th 2009 event weekend at the Queen Mary Event Park in Long Beach, CA.
A unique entertainment experience, Pajama Band features the vocal talents of beautiful new 2010 FastDates.com Calendar Sex Kitten, Hustler Honey Jayme Langford / JaymeLangford.com. Between her extensive modeling and acting career, being a pre-Med University student and exhibiting precision Hula-Hoop skills, Jayme figured she also has what it takes to be an accomplished lead singer, guitarist and trumpeter in time for this year's Calendar Bike Show Weekend.
Jayme is not new to music, having taken music and pianno lessons all her life. But after picking up a new pink guitar and plastic trumpet from Guitar Center on Hollywood Boulevard just a few months ago she thought, "Damn, I'm not busy enough, why don't I start a girl porn star rock band as well!" Who were we to talk her out of it?
Performing with Jayme in Pajama Band are her famous adult starlet girlfriends, Jana Jordan / ClubJannaJordan.com also a Hustler Honey and Penthouse Pet, and Louisa Lanewood / LouisaLanewood.com. The band will be making its professional world premier debut at the 2009 LA Calendar Show Weekend on Sunday the 19th performing their exciting new hit "Fuck You Until You Die" which has music critics raving, in what can only be described as pornicopia of visual and audio excitement guaranteed to leave their many new found fans breathless on the verge of cardiac arrest. Music critics are already raving that these girls have given new meaning to the genre "Hard Rock"!
For Jayme's Calendar Kitten profile go to Meet the Models - Jayme Langford
For more about Pajama Band visit MySpace.com/PajamaBandMusic
For more about the LA Calendar Motorcycle Show
---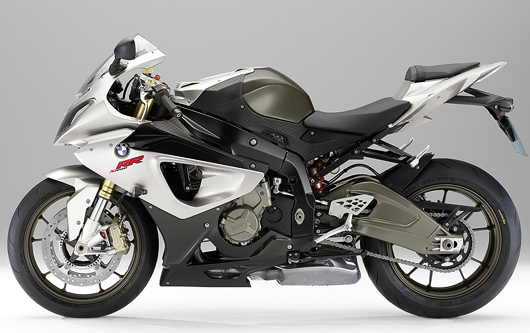 BMW's First Superbike Hits the Streets with 193hp! TC and ABS!
Monza, Italy, May 5h, 2009 - BMW introduced their new BMW S 1000 RR today on the legendary Monza Racing Circuit, BMW Motorrad is for the first time launching an absolutely innovative supersport with a straight-four power unit. With this world debut, BMW Motorrad is indeed establishing a true milestone in the world of sports machines, combining engine output of 142 kW (193 hp) with overall weight of just 204 kg (450 lb) including fuel (183 kg/403.5 lb dry weight, 206.5 kg/455.3 lb overall with Race ABS). The new S 1000 RR is the most powerful production 1000cc sport bike in the world.
The new S 1000 RR is scheduled to be released in the US by early 2010.
More in Sportbikes Index: BMW S1000RR
---
There's more! Go to Pit Lane News Previous Page

Also Visit: Fast Dates Calendar News • Iron & Lace Calendar News
Calendar Girl News • Meet the Models • Paddock Garage

Calendar Kittens, The Paddock Garage, Screensavers, Iron & Lace Garage



MotorcycleSuperstore.com
Some of our Calendar Kittens can also at Playboy's website...


Members Only
2010 Calendar
Sneak Preview!
All the new 2010 FastDates.com Calendars with all their pages are now available in large screen saver size format for your viewing in Members Corner. The printed Calendars will be avaialble to order here online July 1st, with the live World Premier with the beautiful Calendar Kittens taking place at the LA Calendar Motorcycle Show Weekend July 18-19th
More Sneak Peaks!
2010 Calendar Sex Kitten
Jayme Langford

Just announced!
World Premier Debute
of Pajama Band with Jayme Langford at
LA Calendar Bike Show
July 18-19th !
Calendar Kitten, Penthoue Pet and Hustler Honey Jayme Langford and her sexy all girl Pajama Band of world famous porn starlets will be performing at the LA Calendar Motorcycle Show Weekend July 18-19th.
Damn the Bikes, you don't want to miss Pajama Band performing their new hit single "Fuck You Unitil You Die!"
Also Returning!
Singer and Actress
Elizabeth Nicole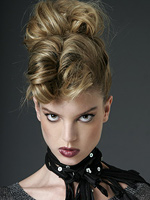 Calendar Kitten Apple
Tests the new
Roehr Harley Superbike!
meet her in person at the LA Calendar Motorcycle Show July 18-19th




Now Available
2009 FastDates.com Calendars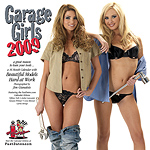 ---


The Official SBK
2008/2009 Yearbook
Awesome in full color! Commerating the 21st Anniversary of World Superbike
Troy Bayliss' 3rd World Championship Title>
PLus a technical look at ll the bikes, and a preview of Ben Spies and Noriyuki Haga battleing for the 2009 Champiosnhip!
We bought it ourselves and totally recommend it!
SpeedTV Announces Return to Previous
"Same Day" AMA Superbike Race Day Coverage
Miller Motorsports, UT, May 31st - Speed TV announced today during their on air coverage of World Superbike, that they would be retuning to same day coverage of AMA Superbike racing "...due to the input and response from fans.
This year,s you may be aware, SpeedTV stopped its traditional same day broadcast of AMA Pro Superbike to give us 1 week delayed coverage of all the DMG conceived classes in a slick 1-hour program on Saturday night called "AMA Pro Prime Time"
While well produced, "AMA Pro Primetime" was obviously sponsored, if not produced by the Daytona Motorsports Group to give a highly positive (read "biased') slant to all 4 classes of the very unpopular 2009 AMA National Roadracing Championship.
Obviously "AMA Pro Prim Tine" didn't draw the audience numbers they were hoping for, and the stopping of same day race broadcast made a lot of fans unhappy.
Not many roadracing fans want to stay hoe on a Saturday night to watch week old race coverage that they already read about, the weekend it happened, on the internet.
However it was never made clear when full coverage of AMA Superbike racing will return, as Road America wasn't covered this following weekend of Speed. Nor was it made clear if "AMA Pro Time" will still continue the following weekend to broadcast the other 3 classes of the AMA Championship which we don't cover here in Pit Lane News, and which obviously most race fans don't care for as well.
Freddie Spencer
Goes Bankrupt, Looses his Home and disolves his Superbike School in Las Vegas
June 1st - We ran a news release here in Pit Lane News a few weeks ago that well known sportbike personality and teacher at the Freddie Spenser Superbike School in Las Vegas, Nick Ienatsch, had moved to Miller Motorsports park, UT, to head the new partnership with Yamaha Motor Corporation U.S.A. for the creation of the Yamaha Champions Riding School, which will offer a performance riding curriculum aimed at sport bike street riders and track day participants.
While at Miller for the World Superbike Weekend and asking why Nick had left the Spenser School, we were told the well known Freddie Spenser Superbike School at Las Vegas International Speedway had closed.
Upon further inquires at Miller with the assembled media and friends who know Freddie we learned the following - Freddie Spenser's wife has a big gambling problem and they had become some $400,000 in debt. The couple had not made a mortgage payment on their home in about 6 months and it is now in foreclosure. And his wife is no in the process of divorcing him.
We asked why Freddie did not consider moving his school to Miller Motorsports and we were told that Miller personnel had tried to contact and negotiate with Freddie a number of times to move his schooled to Miller, but he proved unreachable able and never returned their calls.
In fact, Freddie has a reputation for being unable to focus on things, as evidenced at the end of the World and National Superbike career back in the early 1990's when he often missed practice sessions and press conferences.
This may also account for why Freddie is no longer co hosting SpeedTV roadracing race coverage on this season, having been replaced by another former Superbike Champion, Scott Russell, who joins main commentator Ralph Sheheen as their "expert commentator".
Now rather than Freddie's past out-of touch broadcast ramblings on '..tires going off", we have to try and decipher what the backwoods Georgia native Russell is trying to convey in his undecipherable redneck southern drawl.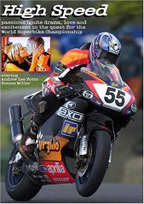 High Speed - the Movie
The best motorcyce racing movie ever made! Filmed on location at World Superbike, this an exciting romantic drama staring beautiful actress Sienna Miller.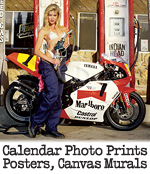 ---
FIM ANNOUNCEMENT - Moto2 / 250cc 2010 World Championship - Saturday 13 June - The Selection Committee comprising delegates from the FIM, Dorna and IRTA met on the 11th June to consider applications from teams wishing to participate in the Moto2 class in 2010.
It was decided to provisionally offer entries in this class to 27 teams (41 riders). A further 10 teams were placed on a reserve list and, regrettably, it was necessary to refuse applications from 10 teams.
The teams provisionally accepted will have until the Portuguese Grand Prix to confirm the details of their entry including the team structure, machines to be used and riders contracted. Decisions on the teams accepted will be made in Estoril based on this information.
Due to the overwhelming interest in this new class and the quality of the initial applications it is the intention of FIM, Dorna and IRTA to accept an entry significantly larger than the current 250cc class.
As announced earlier, the currnet Moto2 / 250cc 2-stoke prototyp class will change next year to 600cc 4-cylinder 4-stroke engines using a spec Honda supplied engine, run in a prototype chassis.
California Motorcycle Smog Test Proposal modified by state senate
June 2nd -- Thanks to the efforts of FastDates.com Readers, thousands of AMA members and other concerned motorcyclists, the sponsor of a proposed California law to require motorcycles to undergo periodic exhaust emissions testing has backed away from the idea, the American Motorcyclist Association (AMA) reports.
The measure -- Senate Bill 435 introduced this year by state Sen. Fran Pavley (D-Santa Monica) -- would have required all model year 2000-and-newer on-road motorcycles with engine displacements of more than 280cc to be tested every two years. The motorcycles would have been included in the state Department of Consumer Affairs "smog check" program, which involves testing for unacceptable levels of pollutants in emissions.
"This is an initial victory for California motorcyclists, but we can't let our guard down just yet," said Nick Haris, AMA western states representative. "Senators deserve credit for recognizing how this proposal would have created an added burden for motorcyclists, motorcycle businesses, and the cash-starved state bureaucracy, and they reworked the measure to limit its scope to focus on catalytic converters. The bill is on its way to the state Assembly, but we have to remain vigilant because it could revert back to its original form."
Haris added that, in addition to AMA members, ABATE of California and the California Motorcycle Dealers Association put a lot of effort into changing the proposal.
In addition, at least one senator argued the legislation was expensive, unfair to those who ride motorcycles for recreation, and was ostensibly nothing more than another tax. Political insiders saw the proposal as just a creative way for the cash-strapped state to find more money.
"California's motorcyclists are willing to do their fair share to keep our skies clear, but this bill asked motorcyclists -- whose two wheels are far less of a resource drain than four-wheelers -- to shoulder an extra burden," said Haris. "The California Legislature has already raided $90 million of user-generated fees from the state's OHV fund. Some legislators saw this as an opportunity to create yet another motorcyclist-funded program with no thought as to the burden it placed on the backs of motorcyclists."
California's motorcycle engine emission standards are already the strictest in the nation and, because of their relatively low yearly mileage totals when compared to other vehicles, the state's motorcycles have the lowest emissions of any motor vehicle category in California.
More than 3,000 motorcyclists used the AMA Action Alert section at AmericanMotorcyclist.com to let Sen. Pavley know that they opposed the legislation. They also expressed their concern that the bill could require motorcyclists to always have a stock exhaust system, whereas automobile owners are allowed to install aftermarket systems, which can be less costly.
The emissions testing provision was dropped out of the bill and it cleared the Senate on June 1. The measure is now in the Assembly for consideration, where it could be further amended.
All motorcyclists are urged to stay abreast of the issue by contacting their California Sate Senator HERE - if you have not done so already and checking the Rights section of the AMA website at AmericanMotorcyclist.com.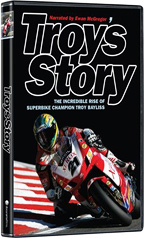 Troy's Story
The story of now 3-Time World Superbike Champion Troy Bayliss narrated by Ewan McGreggor. The video is made up of (6) 30-minute TV shows about the Champion's career and his life, beginning with his film footage of Troy taling about his minibike racing career at age 6 years! We bought it and totally recommend it!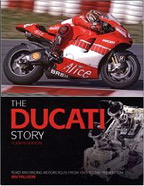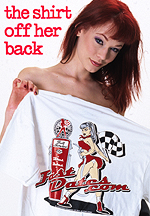 Order the Official
FastDates.com &
LA Calendar Bike Show
T-Shirts!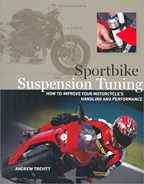 Video Tribute To John Britten. Backyard Motorcycle Visionary
onsidered at the time of his death the best motorcycle engineer in the world, designing and building motorcycles and much more, John Britten gave us a fabulous lesson of perseverance, courage, humility and creativity. If you never watched it, this 5- part documentary (total 7 h 15 minutes) shot in his home in New-Zealand is a must see for all the pros and backyard builders around the world. By the time he died of cancer in 1995, John Britten had become a household name.
See the video TV Series by going HERE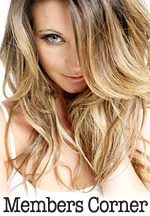 Members Corner
Hot Bikes, Sexy Kittens
Get Your Exclusive Grid Pass
aslo includes....
---
Catalunya MotoGP
RIDER QUOTES

Andrea Dovizioso (Repsol Honda), fourth finisher, said: "We had a great race today and we finished only nine seconds behind the winner - this is a very important point and we are getting closer every time. We only missed the podium by 52 thousandths of a second, which is a pity because I really like this racetrack and we were fast for the whole weekend, so the podium was the target and it was within the reach. I didn't have a good start and it took me some time to overtake Randy and then Dani which meant I had a gap to close before I could reach Stoner. Maybe I should have tried to attack Casey with six laps to go, when he slowed down, because later I didn't have any other chance. The race conditions were really demanding because it was really hot today, but the result was promising and we can move on from here."
Dani Pedrosa (Repsol Honda), sixth finisher, said: "It's been a very hard weekend and I finished the race exhausted and in a lot of pain, but I don't regret being here this weekend trying to do my best. I didn't want to miss my home race and even though sixth position is not the best result in front of my fans, I'm happy with it. I could feel their enormous support during the whole weekend and it helped me a lot to race. It also wouldn't have been possible without the doctors' help: They kept me in the best possible condition to bear the pain. The injections I've had on each day worked, but obviously to do 25 laps it's been very hard. The doctors told me that this fracture needs time to heal so I'm going to rest as much as possible and see what the progress is for Assen. The team asked me not test tomorrow to give me the best chance to recover and it's a sensible decision. I didn't have a great start today, but I could manage to stay in the second group in the race. I tried to stay with Capirossi, but I couldn't, so I choose to maintain the sixth position. I'm really tired now, but it was a worthwhile race."
Monster Yamaha Tech 3 rider Colin Edwards moved into the top six in the MotoGP world championship standings today after finishing seventh in physically demanding Catalunya GP.
Starting the 25-lap race from the second row of the grid, the American lost four places in a typically frenetic opening lap before settling into a consistently fast rhythm as temperatures again soared close to 40 degrees.
Holding eighth until the 13th lap as he again battled to overcome a lack of front-end feel from his Monster Yamaha Tech YZR-M1, Edwards passed Randy de Puniet on lap 14 to claim seventh position.
That put him just over three seconds off a battle for fifth place involving Italian veteran Loris Capirossi and Dani Pedrosa. Edwards produced a determined effort to put pressure on Pedrosa and he was only 1.4s away from the Spaniard and a third top six finish of the season at the chequered flag. Today's result lifted Edwards into sixth in the overall points and he's now the leading non-factory rider in the series.
A poor start ruined James Toseland's hopes of capitalising on his best grid position of the season as he slipped back from ninth to 16th on the first lap in front of 88,502 sun-kissed fans at the Montmelo circuit.
Despite the early setback, the British rider went into full attack mode and became locked in an exciting duel with home favourite Sete Gibernau. Toseland passed Gibernau on lap 16, though by that stage he'd lost contact with a five-rider battle ahead. He eventually recovered to 13th after a pass on Marco Melandri on lap 22.
Colin Edwards 7th - 54 points
"It was a hard race physically because it was so hot out there but I felt I couldn't ride how I want because of the front-end issue again. But I lost a few places off the line and I'm struggling to get this year's bike to start. I'm good on the clutch but with the wheelbase shorter on the Yamaha this year I struggle to keep the front-end down as I'm accelerating. I felt good this morning in the warm-up when I was third. It was a bit cooler and I could get the bike to turn, but as soon as it gets hot and slippy I can't get the bike to turn at all. If I tried to push it would just push the front wide and lose time. I want to push and I could see (Loris) Capirossi and (Dani) Pedrosa in front of me, but the more I push the more mistakes I'd make. As many problems as I've had this weekend with the crash yesterday and the lack of feel with the front, I can't really be upset with seventh. I'm not happy with it, but it was a bit of damage limitation this weekend. My guys at Mon ster Yamaha Tech 3 have worked really hard and we're going to sort this out and be back fighting closer to the front in Assen, which is a circuit I love."
James Toseland 13th - 29 points
"I'm really disappointed because I went into the race with high expectations after my best qualifying of the year. But I made a bad mistake off the line and gave myself a mountain to climb. The engine just bogged and I lost a load of time and had no chance of getting it back because everybody is doing similar times ahead of me. I also had a few set-up issues in the race and I'm not happy with that. I didn't have a lot of rear grip and we've got to work on the setting to find some rear grip when the tyre is starting to wear. After about eight or ten laps I was having a few issues with rear grip, but the bad start was what really cost me and that was my fault. It's frustrating because we've been going in the right direction and it had looked like we might have had a decent weekend. But I'll pick myself up and be ready to give it my all again for the Monster Yamaha Tech 3 Team in Assen."
Herve Poncharal - Team Manager - "That was an incredible show and an incredible result for Yamaha. I congratulate them because it was unforgettable and anybody who says MotoGP is boring should watch that race. For Monster Yamaha Tech 3 it was a decent result but I think Colin and James will acknowledge they could have been a bit higher up. Colin had a bad start and by the time he recovered, Pedrosa and Capirossi were a bit too far in front of him. He never gave up and he was rewarded by moving back into the top six in the world championship and he's the best non-factory rider at the moment, so credit to him. It was disappointing for James because all weekend he has been very strong. He is making progress and I know he can bounce back from this and be back challenging for the top ten in Assen."
Hayden Still Struggling
NICKY HAYDEN – (Ducati Marlboro Team) 10th - "I was hoping for a little more than this but realistically at the moment it was the best I could manage. I started from near the back but kept passing people and made progress throughout the race. I got close to Kallio and tried my best to pass him but made a couple of mistakes and he beat me. All in all it's not a spectacular result but it is definitely a step forward. I've been close to the front guys all weekend, we've worked well and we've learnt a lot about the bike. I'm already looking forward to getting back on the bike for the test tomorrow and continuing to work down this path, which we think is the right one."
LIVIO SUPPO –Ducati MotoGP Project Director "Casey was outstanding today – he certainly wasn't in top physical condition but once again he gave it absolutely everything. He set the fastest lap of the race and for as long as he was physically able he was right there with Valentino and Jorge, who have otherwise been one step ahead of us all weekend. The team also did a great job to make some changes after the warm-up and get the bike in the right shape. So today is a third place that actually means more than that, like Jerez. As far as Nicky is concerned we're starting to reap the fruit of a lot of hard work. It was a much more positive weekend than Mugello, from his sixth fastest time on Friday right through to a top ten finish today. We just need to shave a few tenths more off his lap time and that will be the objective for us in the test tomorrow."