World Premier!
2010 Fast Dates Racebike Pinup Calendar
July 1st, 2009, Los Angeles, CA - Making its world premier is the exciting new SBK World Superbike endorsed 2010 Fast Dates Race Bike Swimsuit Pinup Calendar sponsored by Performance Machine. Photographed by renoun motorsports and fashion photographer Jim Gianatsis, the Fast Dates racebike pinup model Calendar always features the word's top sport and roadracing bikes.
This year's cover features Ducati's World Superbike Championship winning homologation 1098R Superbike with beautiful Calendar Kittens Rachel Bernstein and Sabella Shake. Of course inside , there's all all the top factory race bikes of the SBK World Superbike Championship photographed this year on location at the Miller Motorsports Park round in Utah, USA. Included are the top factory superbikes from Yamaha, Honda, Suzuki, Kawasaki, and Ducati including
3-time World Champion Troy Bayliss' Xerox Ducati 1098F08, Carlos Checa's Ten Kate Honda CBR1000RR, and Max Biaggi's Alstare Suzuki GSXR1000.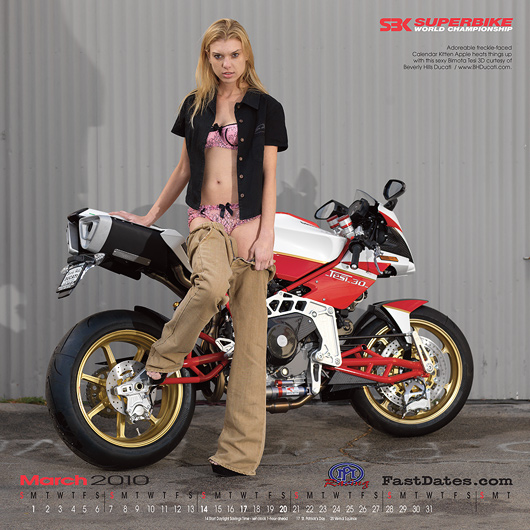 There's also some exciting street legal exotica with a Bimota Tesa 3D and an American V-Twin naked bike. While the Fast Dates Calendar Kittens this year are the SBK Championship' barely legal Pirelli and Hannespree grid girls Lauren Brooke, Jamie Jungers, Shona Kay and Kami Wilson. Mix in bite of beautiful LA Calendar Kitten Apple Price and you're sure to be purring with contentment! Click Here to ORDER
---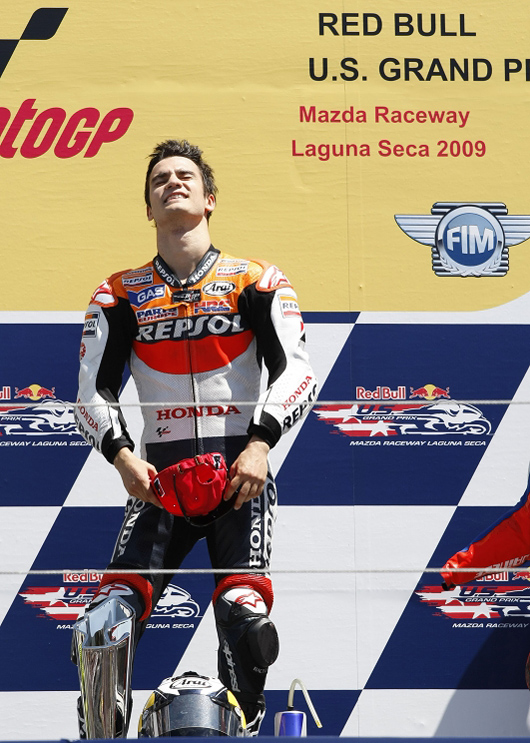 The agony of victory? - Dani Pedrosa.
2009 MotoGP World Motorcycle Championship, Round 8 of 17, Red Bull U.S. GP
Dani Pedrosa takes runaway US MotoGP Victory at laguna
Laguna Seca, CA , July 3-5 2009 - Dani Pedrosa, Team Repsol Honda, got s great drive from his 2nd row start at today's Laguna Seca U.S. MotoGP to emerge from Turn 2 with the race lead, and pull away to victory. Pedrosa was never challenged for the led until the last laps' final Turn 11, having nearly relaxed a little too much in backing off his pace by nearly 2 seconds, allowed Valentino Rossi Fiat Yamaha to attempt a pass in the final corner Turn 11 before Pedrosa heard the Yamaha coming and got back on the throttle just in time to hold Rossi off as they raced towards the finish line.
Rossi's teammate Jorge Lorenzo took third, having passes Casey Stoner, Marlboro Ducati, mid way through the race. Stoner had passed Rossi for 2nd place in the opening laps and looked like he could reel-in on Pedrosa for the lead, but half way through the race casey again seemed to suffer from the malady that has been robbing him of energy when he exerts himself hard, and casey again fell off his pace to be passed by Rossi and Lorenzo, eventually finishing a distant 4th..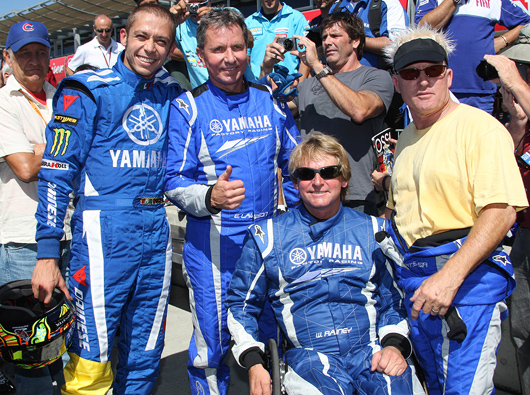 MotoGP greats Rossi, Lawson, Rainey and Roberts got to gather for a media event cart race.
Laguna Seca Gears Up for the U.S. MotoGP
Press Day Thurday 2nd - Thursday afternoon in the MotoGP paddock, and already Rossi had been proclaimed a race winner at Laguna Seca. The Italian will have to wait until Sunday for his real shot at glory, but a SuperKart 'exhibition' against three MotoGP Legends gave him an early taste of triumph.
Pitting reigning World Champion Rossi against past titlists Wayne Rainey, Eddie Lawson and Kenny Roberts Sr., the run-out began as an exhibition between the Yamaha riders past and present on the American track. However, things inevitably got competitive, with Rossi coming out on top in a one-lap sprint.
Find out who is the greatest of the Red Bull U.S. Grand Prix weekend over the next three days, beginning with Friday's free practice session and concluding with the Sunday race, broadcast live on FOX at 2pm Pacific time (5pm Eastern time).
Race Preview
This weekend's Red Bull U.S. Grand Prix at Laguna Seca is the first of two FIM World Championship visits to America this year and is the second of four GPs in a five week period, as the 2009 season really begins to gather pace.
With Indianapolis to come in August the MotoGP riders will this weekend enjoy their first Stateside trip of the campaign as they head to California, with visits to Sachsenring and Donington Park still to come on the busy schedule before the summer break.
After seven rounds so far this year things are tight at the top, with three main protagonists emerging as the title candidates. Heading to Assen in the Netherlands last weekend, Valentino Rossi, Jorge Lorenzo and Casey Stoner were all square on points at the head of the standings and even though Rossi has pushed ahead with the superb 100th GP victory of his career at the Dutch track his young rivals are still snapping at his heels.
Last year at Laguna Rossi took a hugely important win over Stoner, passing him brilliantly on infamous Corkscrew corner and scoring a significant psychological blow against the Australian. This year, however, he has two key rivals to contend with.
World Champion Rossi goes into round eight in great from, with a five point lead over Lorenzo in the general classification, having relegated his Fiat Yamaha team-mate to second place in the last two races at Catalunya and Assen. The Italian looks as strong as ever, with his Yamaha M1 machine working brilliantly as he looks to turn up the heat on his rivals.
Lorenzo, meanwhile, has never completed a race at Laguna having crashed out on the first lap on his debut at the Californian track last year. He insists however that this year he is finding things more comfortable at tracks which did not favour him in the past and can be expected to be pushing Rossi hard at the front again this weekend.
Fitness doubts for Stoner could be the major factor hindering the Ducati star following another grueling race in The Netherlands, where for the second round in succession he finished third, but was totally exhausted on the podium. If he can recover full strength he will be confident of another good performance on Sunday, at a track where he won in 2007 and finished second in 2008.
Behind the leading three in the championship, the Repsol Honda duo of Andrea Dovizioso and Dani Pedrosa will be desperate to bounce straight back from their Assen disappointments having both crashed out of the Dutch contest, in separate incidents at the same corner, when well positioned to earn some decent points. Dovizioso is currently fourth in the standings, some distance behind the top three, but with just a two point advantage over Pedrosa and Colin Edwards.
Texan rider Edwards arrives for his home race in good form following his fourth place at Assen and is hoping for another strong result as he seeks to extend his MotoGP career. The Monster Yamaha Tech 3 rider was on the podium at Laguna Seca in 2005 but since then has struggled for good results there and will aim to correct that pattern on Sunday. His compatriot Nicky Hayden, the only other American rider in the premier class at present, boasts two of his three MotoGP career wins at Laguna and would love nothing more than to get his first top five result of 2009 on his Stateside debut for Ducati this weekend.
Ahead of the weekend's Californian spectacular Randy de Puniet, Toni Elías and the aforementioned Stoner have already been soaking up the American atmosphere with a visit to the famous Universal Studios Hollywood theme park in Los Angeles, on Tuesday afternoon.
Taking a chance to relax before they head up the coast along Route 101 to Laguna, the trio of premier class competitors were given a tour of the Universal Studios Hollywood attractions, including film and TV sets and rollercoasters, getting up close and personal with 'Desperate Housewives', 'Jaws', 'The Mummy' and 'The Simpsons'.
The Red Bull U.S. Grand Prix promises to be a memorable event, coinciding with the American 4th July celebrations and commencing this Friday, 3rd July, with Free Practice 1 at 1.55pm local time, (9.55pm GMT, 10.55pm CET). The 250cc and 125cc classes do not compete at Laguna and will be back in action at Sachsenring on the 17th-19th July weekend.
Rossi Leads Friday Practive, Stoner Crashes Hard, Hayden Leds the Back Row
July 3rd - In perfect conditions at the Laguna Seca circuit on Friday afternoon, with Californian sunshine and comfortable temperatures of 24°C, the MotoGP riders got the eighth race weekend of the year underway. World Champion Valentino Rossi put down the fastest time late in FP1 for the Red Bull U.S. Grand Prix. The current MotoGP 'big three' were on top again as the action commenced, Rossi followed on the timesheet by his Fiat Yamaha team-mate Jorge Lorenzo and Ducati's Casey Stoner.
Rossi's 1'21.981s lap around the shortest track on the MotoGP calendar, on the last of his 32 laps, was enough to put him 0.112s ahead of the young pretender to his crown Lorenzo.A first lap crasher in the 2008 race on his Laguna Seca debut, Lorenzo will aim to put the memories of last year's contest behind him and already looks comfortable around the picturesque American track. Stoner was himself just 0.189s down on Rossi's pace as he tested his condition following the severe exhaustion he has experienced in recent weeks. The 2007 Laguna Seca race-winning Australian is out for revenge over Rossi this weekend following their epic 2008 battle.
Valentino Rossi - Position: 1stTime: 1'21.981, Laps: 32
"I am happy with the session today, it was a good performance and at the end, with the harder tyre, we did an especially good job and I was able to make the best time. We got a lot of data about the track, which we will use tomorrow in order to improve things further. We need to work a bit to improve the front feeling because we can still make the bike a bit easier to ride in one or two corners and then we will also look at the electronics in order to control the wheelie, because there are a lot of bumps and jumps on this circuit. Once again me, Lorenzo and Stoner are very close so we can expect another big fight this weekend, but we are confident that our M1 is working well."
Jorge Lorenzo - Position: 2ndTime: 1'22.093, Laps: 38
"I was very fast today and I feel good here at this track in the California sunshine! I know that this is a very complicated circuit to get used to and that you have to make a lot of laps to learn it, but I did have some time on it last year and I feel great here now. Today I stopped after a few laps and changed the tyre to the harder Bridgestone one and then I felt even better; I was having a lot of fun riding the bike and I was able to do more or less race distance with consistent lap times. We will work on further improving our setting tomorrow and I hope that I can continue in the same way again."
In fourth place was Repsol Honda's Dani Pedrosa. The Spanish rider is still fighting back to 100% fitness this weekend, although he is already in far better shape than last year when he went home after the Friday practices -due to injuries sustained at Sachsenring in the previous round.
There was a good start to the weekend for San Carlo Honda Gresini's Toni Elías who immediately benefitted from the introduction of a new chassis on the Honda RC212V to lap fifth quickest. Italian pair Andrea Dovizioso (Repsol Honda) and Marco Melandri (Hayate Racing) were sixth and seventh, respectively, 0.899s and 1.159s down on the pace. Rizla Suzuki's Chris Vermeulen crashed at the beginning of the session but soon got back out on track to complete 27 laps in total and still managed to go round eighth fastest. Colin Edwards (Monster Yamaha Tech 3) and Alex de Angelis (San Carlo Honda Gresini) rounded off the top ten, whilst Edwards' compatriot Nicky Hayden made a sluggish start to his American Ducati debut in 14th place.
Lorenzo and the team's umbrlla girls.

Fiat Yamaha Qualifies One-Two on Front Row, Stoner in 3rd
Lorenzo Takes Pole With 2 hard Crashes In 1-Hour Qualifying
Saturday Afternoon Qualifying, July 4th - Jorge Lorenzo secured his fourth pole position of the season at Laguna Seca today for tomorrow's US Grand Prix despite crashing twice during the qualifying session, the second accident leaving him with an Acromial Clavicular Separation to the right side and a contusion to the right foot. He is hopeful for tomorrow but will be reassessed in the morning before taking a final decision on whether or not to race.
His Fiat Yamaha team-mate Valentino Rossi secured second after a last-minute improvement which edged Casey Stoner, who also crashed in the final minutes, into third.
This morning was much cooler than yesterday but Lorenzo continued strongly and topped the time sheets for the second free practice session. Rossi meanwhile struggled a little on the colder track and could only manage third. The sun finally came out at lunchtime and qualifying was run in temperatures more similar to yesterday, Lorenzo quickly claiming the top spot and remaining there for the majority of the session. With twenty minutes to go the Spaniard lost the front at turn ten and slid out for the first time but he was unhurt and raced back to the pits to change bikes. Whilst he was off track Stoner moved into provisional pole but Lorenzo showed there were no ill effects of the crash just ten minutes later by re-taking the top spot. However with just three minutes to go the 22-year-old crashed again in the same section of the track and was less lucky this time, being taken immediately to the circuit clinic for examination. The damage to his right shoulder area, although painful, is not dangerous and he is hoping to ride tomorrow but will wait until the morning before making a decision.
Rossi found the going today somewhat harder than yesterday and was unable to find the perfect setting for his M1, losing time particularly in the final sector of the 3.6km track. In the last ten minutes the World Champion was constantly improving his time but not enough to move from third position, where he sat behind Stoner and Lorenzo. His last flying lap, although not enough for pole, was an improvement however and he moved into second, 0.167 seconds off his team-mate.
Jorge Lorenzo - Position: 1st Time: 1'21.678
"I was trying to push but first I had some traffic and then the tyres were cold, and I wasn't in the right shape to try to improve my time. I'm disappointed for these two crashes but I am okay and I am optimistic that I will be able to ride tomorrow. Now the American doctors and the Clinica Mobile are working together to try to help me as best they can and make me more comfortable. Thanks to all the American people here for their support!"
Valentino Rossi - Position: 2nd Time: 1'21.845
"Firstly I want to say that I hope Lorenzo and Stoner are okay for the race tomorrow, because it should be a great battle between the three of us. I am happy about this session because we have had two practices today when we haven't been in perfect shape and we have struggled in some areas, especially in the last sector where we are still not strong enough. I was finding it quite hard to ride at the maximum there today and control the bike how I wanted, so we need to try to improve a bit more. It depends how the other two are but I hope they're okay and then we can have an exciting race."
However, it wasn't all plain sailing for Ducati's Casey Stoner eith4r , who crashed out heavily at the end of the session. The 2007 World Champion is nevertheless confident he will be able to ride tomorrow although he is expecting a gruelling race, not least because of the physical exhaustion he has been suffering in recent weeks. Hayden can also expect a tough battle in an intense mid-pack, with less than half a second separating him from the man in fourth on the grid and three riders within three tenths just behind him.
Casey Stoner (3rd; 1'21.910)
"To be honest the bike had given us a few warnings in a lot of places around the circuit today and I'm sure there were a lot of other guys in a similar situation. The tyre is quite hard on the right-hand side and needs a couple of laps to warm up properly. Unfortunately on the lap before the crash, in the most important corner for heating that side of the tyre up I was held up by two riders having a disagreement and then I got stuck behind one of them into the next right-hander too. I was wary that the tyre would be cooler than I needed it to be on the next lap so I went into turn three a lot more carefully than normal, but as I closed the gas on the way into the corner the rear just came around. I tried to pick the bike up and go straight into the gravel but it didn't want to and that was it – it threw me straight up in the air! It hurt when I landed but I thought I'd only winded myself - now it looks like I might have torn something in my groin, which is not the best thing to happen before the race. Anyway, we have a great bike for this track so we'll see what we can do."
MotoGP Qualifying


Pos. Rider Manu. Nat. Total Time
1 Jorge Lorenzo Yamaha ESP 1'21.678
2 Valentino Rossi Yamaha ITA 1'21.845
3 Casey Stoner Ducati AUS 1'21.910
4 Daniel Pedrosa Honda ESP 1'22.113
5 Andrea Dovizioso Honda ITA 1'22.135
6 Toni Elias Honda ESP 1'22.146
7 Colin Edwards Yamaha USA 1'22.490
8 Nicky Hayden Ducati USA 1'22.540
9 Chris Vermeulen Suzuki AUS 1'22.633
10 Loris Capirossi Suzuki ITA 1'22.662
11 Marco Melandri Kawasaki ITA 1'22.842
12 Alex De Angelis Honda SMR 1'23.004
13 Sete Gibernau Ducati ESP 1'23.106
14 Randy De Puniet Honda FRA 1'23.147
15 James Toseland Yamaha GBR 1'23.390
Dani Pedrosa (3) emerges from Turn 11 on the opening lap with the lead ahead of Casey Stoner (27), Rossi Dovizioso (4) and pole sitter Lorenzo (99).

Pedrosa Storms is a Hot Laguna Victory
Race day, Sunday July 5th - Repsol Honda's Dani Pedrosa stormed to a flag-to-flag victory in the U.S. Grand Prix before a sun-drenched crowd of nearly of over 46,000 on the challenging Laguna Seca circuit within sight of the Pacific Ocean in Monterey, California.
Starting fourth on the grid, the Spaniard jetted into the lead over the turn one crest and into the turn two left hand hairpin. Then he was gone. Pedrosa set one fast lap after another to pull away to what seemed a certain victory. But on the final lap Valentino Rossi (Yamaha) made a robust challenge to Pedrosa, closing onto his rear tire in the final turn. Pedrosa, however, was resolute, and used the power of the Honda RC212V to cross the line with a gap of .344s. Rossi was second and his teammate Jorge Lorenzo was third.
The victory, Pedrosa's seventh in MotoGP and 30th career, was his first since the Catalunya Grand Prix on June 8, 2008. He was also able to solidify fourth in the championship after eight of 17 rounds.
What made the victory especially sweet, was that it showed he'd reverted to the form that can take him to victory after a very difficult set of races. Pedrosa injured his right hip in a crash in Mugello and for the following two races he couldn't ride as he wanted. Today he was under no physical restrictions and showed what a powerful package he and the Honda RC212V can be.
Attrition took its toll on the field as they tried to complete 32 laps of the demanding 3.61k track. Only 12 made it to the finish, but four of the top eleven were Honda-mounted. San Carlo Honda Gresini's Toni Elias finished a season best sixth and within .4 secs. of fifth placed Nicky Hayden (Ducati), who he chased to the checkered flag.
Randy De Puniet (LCR Honda) finished ninth, two spots in front of Alex De Angelis on the second San Carlo Honda Gresini machine. De Puniet had difficulty with traffic in the early laps before breaking clear. His fastest lap was the 18th of 32, by which time he was securely in ninth. De Angelis also found the early part of the race more difficult than the latter part. His fast lap was also on the 18th. And though he pressured Marco Melandri (Kawasaki), he couldn't find a way past and was frustrated to miss out on a top ten finish by under a second.
Andrea Dovizioso (Repsol Honda) was among the unlucky. The Italian was in a secure fifth place and on the tail of the lead quartet when his front end slid away in the left hand turn five on the seventh lap. Earlier he'd had problems with engine braking after inadvertently hitting his clutch lever on one of the plastic stanchions separating the pit lane exit from the track. But he took full responsibility for the crash, which happened after repeated warnings.
Earlier, Gabor Talmacsi (Scot Honda) had crashed out on the fourth lap. It was his first race crash in his third MotoGP race, and on his first visit to Laguna Seca.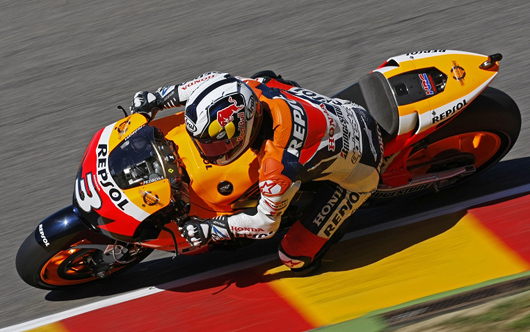 Dani Pedrosa, Repsol Honda: 1st, said: "This is a fantastic win for us and it's a great feeling after such a long time without a victory. The start to the season has been really difficult and actually it's been tough since Sachsenring last year because I've had a lot of injuries and I haven't been able to ride at 100 per cent for a long time, or train properly. But my team and Honda never gave up and I'd like to thank everyone who's been working really hard to help me get back to this position. I'd also like to thank the doctors who have treated me because there have been quite a few of them! I got a good start, I was able to get into a good rhythm straight away and my pace was a little better than in practice. Perhaps my only mistake here was to slow down too much on the last lap because I didn't realize how close Valentino was. Anyway, it was a great race, a great day and it's a great feeling. Now I just want to focus on each race and get the best results possible. There's a long way to go in the championship but there's also a big gap to the leaders so I'm just going to take it one race at a time."
Race Classification MotoGP: (32 laps = 115.52 km)
Pos/ Rider / Nat / Team / Motorcycle / Time/ KM/H / Gap
1 / Dani PEDROSA / SPA / Repsol Honda Team / HONDA / 44'01.580 / 157.433 /
2 / Valentino ROSSI / ITA / Fiat Yamaha Team / YAMAHA / 44'01.924 / 157.412 / 0.344
3 / Jorge LORENZO / SPA / Fiat Yamaha Team / YAMAHA / 44'03.506 / 157.318 / 1.926
4 / Casey STONER / AUS / Ducati Team / DUCATI / 44'14.012 / 156.695 / 12.432
5 / Nicky HAYDEN / USA / Ducati Team / DUCATI / 44'23.243 / 156.152 / 21.663
6 / Toni ELIAS / SPA / San Carlo Honda Gresini / HONDA / 44'23.621 / 156.130 / 22.041
7 / Colin EDWARDS / USA / Monster Yamaha Tech 3 / YAMAHA / 44'31.781 / 155.653 / 30.201
8 / Chris VERMEULEN / AUS / Rizla Suzuki MotoGP / SUZUKI / 44'34.437 / 155.498 / 32.857
9 / Randy DE PUNIET / FRA / LCR Honda MotoGP / HONDA / 44'41.905 / 155.065 / 40.325
10 / Marco MELANDRI / ITA / Hayate Racing Team / KAWASAKI / 44'49.608 / 154.621 / 48.028
11 / Alex DE ANGELIS / RSM / San Carlo Honda Gresini / HONDA / 44'50.390 / 154.576 / 48.810
12 / Niccolo CANEPA / ITA / Pramac Racing / DUCATI / 45'20.111 / 152.887 / 1'18.531
Pole Position: Jorge LORENZO 1'21.678 159.112 Km/h
Fastest Lap : Dani PEDROSA 1'21.928 158.627 Km/h Lap 15
Circuit Record Lap: Casey STONER 1'21.488 159.483 Km/h 2008
Circuit Best Lap: Casey STONER 1'20.700 161.040 Km/h 2008
World Championship Positions:
1 ROSSI 151, 2 LORENZO 142, 3 STONER 135, 4 PEDROSA 92, 5 EDWARDS 76,
6 DOVIZIOSO 69, 7 MELANDRI 61, 8 VERMEULEN 61, 9 DE PUNIET 58, 10 CAPIROSSI 56,
11 TOSELAND 39, 12 HAYDEN 38, 13 ELIAS 37, 14 DE ANGELIS 36, 15 KALLIO 26.
---
AMA/DMG Superbike Championship, Round 7 of 11

Mladin Wins American Superbike at Laguna for 10 Season Wins
Bostrom Goes Two for Two in AMA Pro Daytona SportBike
Monterey, CA, July 5th - Mat Mladin earned his 10th AMA Pro National Guard American Superbike presented by Parts Unlimited victory and Ben Bostrom took his second AMA Pro Daytona SportBike presented by AMSOIL victory in Sunday's Red Bull U.S. Grand Prix at Mazda Raceway Laguna Seca.

As he has done at every previous American Superbike round this season, Mladin started his No. 7 Rockstar/Makita/Yoshimura Suzuki GSX-R1000 from the pole position. However, the Aussie dropped all the way back to sixth place on the opening lap before beginning his march back to the front. He was fifth at the end of Lap 2, took fourth place on Lap 3, third on Lap 5 and second on Lap 6 of the 18-lap race.

Mladin then began stalking teammate and race leader Blake Young on the No. 79 Rockstar/Makita/Yoshimura Suzuki GSX-R1000. He finally made his move to the inside in Turn 11 on Lap 11 and went on to lead the rest of the way. Mladin crossed the stripe 1.642 seconds ahead of Young and 4.588 seconds in front of Aaron Yates on the No. 23 Brand Jordan Suzuki GSX-R1000, giving Suzuki a podium sweep. Mladin now leads the American Superbike championship standings by 127 points over teammate Tommy Hayden (No. 22 Rockstar/Makita/Yoshimura Suzuki GSX-R1000) with 12 of 20 races now in the books.

"It was obviously a good race for us today," Mladin said. "Most importantly, it's great to have the three Suzukis up here. That's what we're here to do is to try and get a Suzuki on top of the box. Today, it was good to fill the podium."

Young led Laps 2 through 10 en route to his third second-place result of the season and his seventh top-five result in 10 starts. He missed the doubleheader at Infineon Raceway in May due to an injury.

"We got off to a really good start and got to lead some laps," Young said. "I think that's probably the most amount of laps I've led so far in a Superbike race, so it felt really good. The crew worked really hard for me this weekend. I really want to thank them. It got a little rough around the shop, but some guys stepped in and stepped up and filled some shoes. They took care of business and got us up here today, so I really want to give this one to the guys back at the shop and thank them very much for everything. It was a good race for us. I tried to set a pretty good pace and Mat was coming. When he got by, he kind of got a little bit of a gap on me. I tried to jump in as quick as I could to learn where he was better than me, but I just put my head down and figured anything could happen. We ended up second today and I'm really happy with it."

Yates picked up his second consecutive third-place trophy finish and his third podium result of the season. He has finished inside the top 10 in 10 races this season.

"It went okay," Yates said. "I kind of fell in a pace and couldn't really get going any better. I thought we could go faster. We had a pretty good run this morning, but the bike just didn't feel like it did in the morning warm up. We made a couple little changes and we thought it was going to give us a little better feel, but I was kind of stuck in a groove there. These guys (Mladin and Young) got out there. They were going fast. I think I was matching their pace, and I don't know how hard Mat was going, but I just couldn't close up any ground. It just feels good to bring home a podium position for the Jordan Suzuki crew. They worked hard this weekend and made it on the podium."

Josh Hayes finished fourth on the No. 4 Yamaha Motor Corp. USA Yamaha R1 for his seventh top-five run of the year. Hayes came home one spot ahead of teammate Bostrom, who finished fifth aboard his No. 2 Yamaha Motor Corp. USA Yamaha R1 and led the race's opening lap. Bostrom has finished inside the top five in each of his last four American Superbike starts and a total of seven times this season.

The race was shortened to 18 laps from its scheduled 23-lap distance due to a pair of first-lap incidents. The initial race start was aborted when four bikes jumped the standing start. On the second start, a crash involving multiple riders in Turn 2 originally brought out a full-course yellow and the safety car and later a red flag when several riders passed the safety car on course.
American Superbike:
1. Mat Mladin (Suzuki)
2. Blake Young (Suzuki)
3. Aaron Yates (Suzuki)
4. Josh Hayes (Yamaha)
5. Ben Bostrom (Yamaha)
6. Neil Hodgson (Honda)
7. Jake Holden (Honda)
8. Tommy Hayden (Suzuki)
9. Geoff May (Suzuki)
10. Larry Pegram (Ducati)

Championship Standings:


1. Mat Mladin (Honda) 355
2. Tommy Hayden (Suzuki) 228
3. Ben Bostrom (Yamaha) 203
4. Larry Pegram (Ducati) 191
5. Josh Hayes (Yamaha) 182
6. Aaron Yates (Suzuki) 173
7. Geoff May (Suzuki) 173
8. Blake Young (Suzuki) 169
9. David Anthony (Suzuki) 120
10. Taylor Knapp (Suzuki) 101
Next up for AMA Pro American Superbike is a doubleheader at the Honda Super Cycle Weekend presented by Dunlop Tires at Mid-Ohio Sports Car Course on the weekend of July 17-19.
Bostrom Stays Perfect in Daytona SportBike
Bostrom took his second AMA Pro Daytona SportBike presented by AMSOIL victory in a close battle with Chaz Davies at Mazda Raceway Laguna Seca. Riding the No. 1s Team Graves Yamaha YZF-R6, Bostrom first took the lead on Lap 6 of what would be a 21-lap race when race and points leader Martin Cardenas had a low-side crash in Turn 10. Cardenas started from the pole and led the first five laps before his incident.

Bostrom led through a 27-minute red flag brought about by a three-bike incident in the famed Mazda Raceway Laguna Seca Corkscrew involving Jason DiSalvo (No. 40 Team M4 Suzuki GSX-R600), Ricky Parker (No. 96 RPR Racing Yamaha YZF-R6) and Chris Fillmore (No. 55 Chris Fillmore Racing Yamaha YZF-R6). None of the three riders were injured and the race was shortened two laps from its scheduled 23-lap distance.

Bostrom led when the green flag flew again on Lap 11 but Davies motored his No. 57 Factory Aprilia Millennium Technologies Team Aprilia RSV1000R around Bostrom and into the lead on Lap 15. Bostrom would not go down without a fight, however, and the Californian once again regained the lead in Turn 11 with slightly more than three laps remaining.

While Davies kept the pressure on, Bostrom would not be denied, going on to win by 0.226 seconds for his second Daytona SportBike triumph. Bostrom also won the prestigious Daytona 200 By Honda to open the year in his only other Daytona SportBike start to date.

"It was fantastic," Bostrom said. "I really enjoyed the little bike there. That race was quite enjoyable and Chaz did an amazing job. The race came down to the end and it was just one of those fantastic races. We knew the R6 was well capable of winning and it did, so it stands on top of the podium on a track that Yamaha helps sponsor, so that's fantastic. It's about time that little 600 won again, so it won at the correct track and it was good. It was very fun to ride."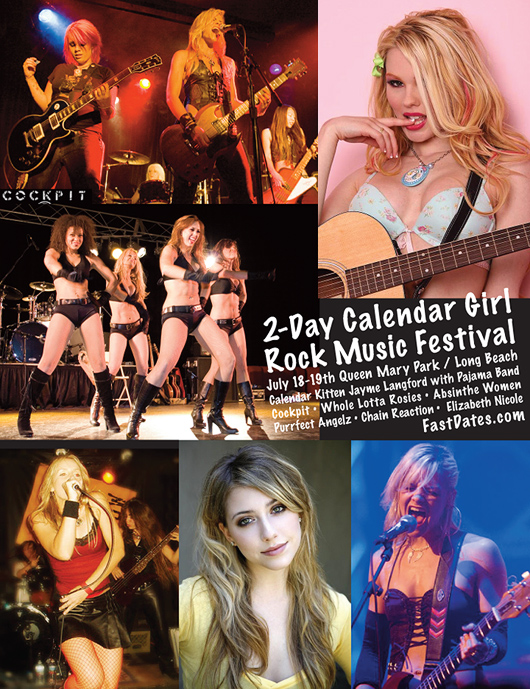 Calendar Kitten & AVN Best New Actress Nominee Jayme Langford's
Pajama Band Joins the LA Calendar Bike Show / Music Festival Weekend!
May 15th 2009 - The Los Angeles Calendar Motorcycle Show, in our never ending quest to provide wholesome family entertainment while enhancing the quality of artistic and cultural experience for our visitors, is excited to announce the addition of Pajama Band to our performance lineup with the Calendar Girl Music Festival which is included with July 18-19th 2009 event weekend at the Queen Mary Event Park in Long Beach, CA.
We're in LOVE! Jayme shows what she'd like to do to us!

A unique entertainment experience, Pajama Band features the vocal talents of beautiful new 2010 FastDates.com Calendar Sex Kitten, Hustler Honey and AVN Starlet Jayme Langford / JaymeLangford.com. Between her extensive modeling and acting career, being a pre-Med University student and exhibiting precision Hula-Hoop skills, Jayme figured she also has what it takes to be an accomplished lead singer, guitarist and trumpeter in time for this year's Calendar Bike Show Weekend.
Jayme is not new to music, having taken music and pianno lessons all her life. But after picking up a new pink guitar and plastic trumpet from Guitar Center on Hollywood Boulevard just a few months ago she thought, "Damn, I'm not busy enough, why don't I start a girl porn star rock band as well!" Who were we to talk her out of it?
Below: Jayme's girlfriend Janna Joran beats the drums in PajamaBand which makes its world premier at the 2009 Calendar Show . On Monday July 12th following the Calendar Show Weekend, both Jayme and Janna will shoot with producer and photographer Jim Gianatsis and the winning bikes from the Show's $64,000 Calendar Bike Building Championship. The pictures will be featured in the next editions of the FastDates.com Calendars.
---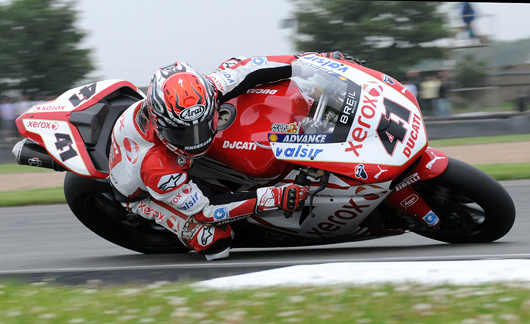 Nori's would crash in Race 2 at Donnington with the bike landing on him hard, breaking his shoulder and elbow, possibly ending his chance to hold off Ben Spies for the Championship.
World Superbike Post Cards
Last week's Donnington WSB Coverge HERE
Coverage from our FastDates Calendar Shoot at Miller WSB HERE and HERE
This picture is actually from last week's race at Misano, but it wasso awesome we just had to show it to you. It show Michel Fabrizio (84) actually looking over into Ben Spies eyes as Michelle is passing Ben going into a corner. You'll see Ben's hand is off thegas and pulling on the front brake lever to slow for th upcoming turn, while Michelll is still on the gas and looking over as he goes by. CLICK TO GO BIG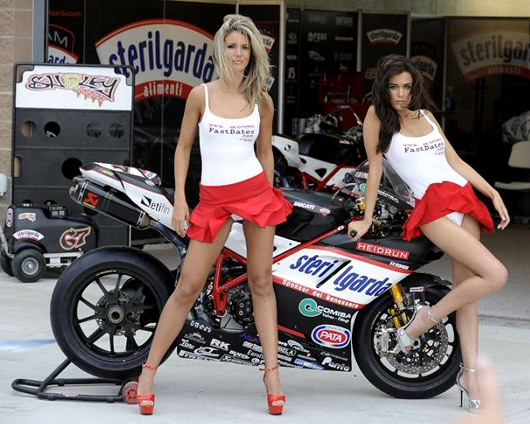 The FastDates.com Calendar Kittens encounter a stiff breeze when shooting with Shakey Byrne's Sterilgado Ducati 1198RS.
---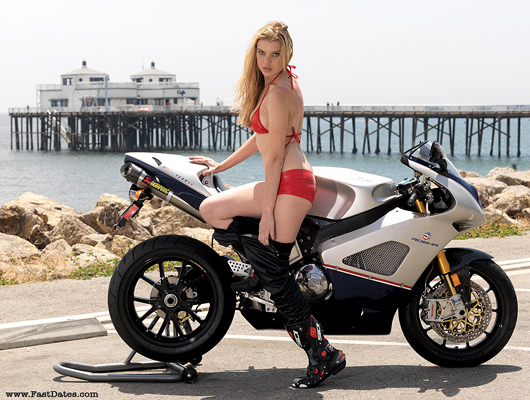 Calendar Kitten Apple strips down at Malibu Beach with the new Roehr Superbike.
And now for something a little different...
Apple Kitten shoots for Fast Dates Calendar with the $60,000 Roehr
V-Rod Superbike with World Premier at the LA Calendar Show in July!
Los Angeles, CA, May 1st - Don't think we've been relaxing indoors here during the bitter cold of our Southern Californian winter here, just waiting for our printer in China to ship us the new 2010 FastDates.com Calendars so sleazy perverts like you can gum up the pages.... hell no! We've already been hard at work shooting the next 2011 FastDates.com Calendars with beautiful Calendar Kittens like Apple, shown here at the Malibu Beach Pier astride the hot new supercharged Harley V-Rod powered Roehr Superbike.
Apple is also featured in all 3 of the new 2010 FastDates.com Calendars which premier here in July online and at the 2009 LA Calendar Motorcycle Show Weekend July 18-19th. Oh, did we tell you both Both Apple and the Roehr will also be at the Show? You don't want to miss them.
Apple's Test New Sportbikes Roehr • The LA Calendar Motorcycle Show July 18-19th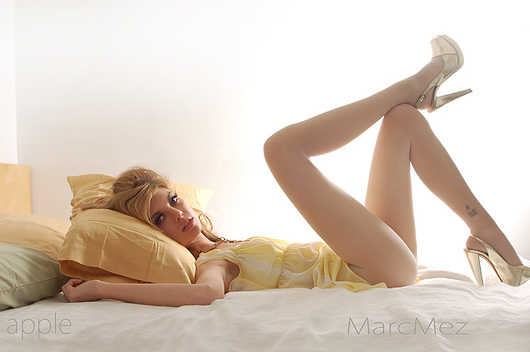 ---


New Suzuki GSXR 600/750/1000
More in Sportbikes Index: Suzuki 2009
---
There's more! Go to Pit Lane News Previous Page

Also Visit: Fast Dates Calendar News • Iron & Lace Calendar News
Calendar Girl News • Meet the Models • Paddock Garage

Calendar Kittens, The Paddock Garage, Screensavers, Iron & Lace Garage



MotorcycleSuperstore.com
Some of our Calendar Kittens can also at Playboy's website...


Members Only
2010 Calendar
Sneak Preview!
All the new 2010 FastDates.com Calendars with all their pages are now available in large screen saver size format for your viewing in Members Corner. The printed Calendars will be avaialble to order here online July 1st, with the live World Premier with the beautiful Calendar Kittens taking place at the LA Calendar Motorcycle Show Weekend July 18-19th


2010 Fast Dates Kitten Sabella Shake
Offical Ducati Corse Grid Girl for Michel Fabrizio at Miller World Superbike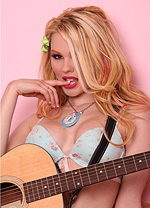 More Sneak Peaks!
2010 Calendar Sex Kitten
Jayme Langford

Just announced!
World Premier Debute
of Pajama Band with Jayme Langford at
LA Calendar Bike Show
July 18-19th !
Calendar Kitten, Penthoue Pet and Hustler Honey Jayme Langford and her sexy all girl Pajama Band of world famous porn starlets will be performing at the LA Calendar Motorcycle Show Weekend July 18-19th.
Damn the Bikes, you don't want to miss Pajama Band performing their new hit single "Fuck You Unitil You Die!"
Also Returning!
Singer Songwriter
and Actress
Elizabeth Nicole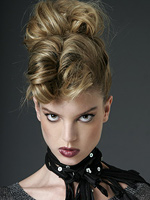 Calendar Kitten Apple
Tests the new
Roehr Harley Superbike!
meet her in person at the LA Calendar Motorcycle Show July 18-19th




Now Available
2009 FastDates.com Calendars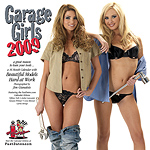 ---
Ben Spies Tops the Factory Race Team Silly Season Shipping List for 2010
July 19th - With his incredible Superpole and race win record in his rookie year of SBK World Superbike this season, and as the silly season gets underway for rumors of what factory teams are talking to which riders to sign for 2010, it is obvious that American ben Spies is sitting in the cat bird's seat. Ben's ride this 2009 season on the Italian Yamaha squad in World Superbike was only with a 1-year contract as Yamaha had no idea how he might fare in the big leagues. But now the way Ben has proven himself to be nearly unbeatable he pretty much can name his own price on any team in either World Superbike or MotoGP
The only exception to that is the Yamaha MotoGP where Ben was hoping to land after proving himself in World Superbike. Both for 2010 with the factory Yamaha Fiat MotoGP team riders of Valentino Rossi and Jorge Lorenzo leading the points chase there and both still having another year on their contracts, there just isn't room for Ben next year.
We don't see the personable Spies ever fitting in at Honda, and neither of the other Japanese teams have competitive bikes.
So Ben's choices for 2010 might mean his riding for the team with the next winning est bikes (after Yamaha) and biggest checkbook, and that's Ducati. If Ben wanted to go to MotoGP with Ducati he'd certainly be given Nicky Hayden's ride at the drop of hat. It's still Ducati's dream to have an American Champion on their bike to support their biggest market.
While in the Supebike Class, Ducati Corse has always put winning over its relationship with its riders on the Corse team, and either Haga or Fabrizio could be let go, depending on who of the 2 Ducati riders finishes 3rd in the Championship behind Spies and the other Ducati rider. Ben is sure to win the World Superbike title this year now that Haga is injured.
If Ben doesn't go to ducati next year, his choice could be either Ten kate Honda, Alstare Suzuki or staying at Yamaha Italia, all depending on who has the bigger offer. Yamaha's ace in the hoe for keeping Ben is that they can guarantee him a Yamaha MotoGP ride in 2011 when Rossi might retire.


The Official SBK
2008/2009 Yearbook
Awesome in full color! Commerating the 21st Anniversary of World Superbike
Troy Bayliss' 3rd World Championship Title>
PLus a technical look at ll the bikes, and a preview of Ben Spies and Noriyuki Haga battleing for the 2009 Champiosnhip!
We bought it ourselves and totally recommend it!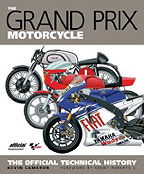 New Kevin Cameron Books
by America's Favorite
Motorcycle Technical Guru
---
From an AMA/DMG Press Release (Pardon us while we put on our Shit Wadding Boots):
Fans, Competitors, Promoters Welcome New AMA Pro Road Racing Programming On SPEED
Strong Support for Same-Day Format That Begins This Weekend at Mazda Raceway Laguna Seca
DAYTONA BEACH, Fla.June 30, 2009- This weekend's premier AMA Pro Road Racing events at the Red Bull U.S. Grand Prix at Mazda Raceway Laguna Seca will be the first races to air on SPEED in a new, same-weekend programming format that was announced last month. SPEED's decision to return to same-day or same-weekend coverage of AMA Pro Road Racing has been welcome news for series competitors, promoters and, most importantly, motorcycle road racing fans.

After a brief experiment in the first half of the year with the Saturday evening studio program AMA Pro Prime Time, SPEED is returning to same-weekend coverage of AMA Pro National Guard American Superbike presented by Parts Unlimited and AMA Pro Daytona SportBike presented by AMSOIL racing beginning with the action from Mazda Raceway Laguna Seca, July 3 - 5. The AMA Pro Road Racing action from Mazda Raceway can be seen Sunday, July 5 at 9 p.m. PT (late Sunday/early Monday, July 6 at Midnight ET).
Telephone messages and emails of support have poured into AMA Pro's Daytona Beach headquarters over the last month while several AMA Pro Road Racing stakeholders have gone on record in full support of SPEED's recent decision.
SpeedTV Not Exactly Truthful about return to "Same Day Race Coverage"
July 5th - All of SpeedTV's advertsised hype about returning to "same day race coverage of AMA Superbike this weekend at Laguna Seca was not exactly true. The weekend's Daytona Sportbike Class was scheduled for broadcast at 12:00 am Midnight on Sunday/Monday, followed by AMA Pro Superbike at 1:00am Monday. Sorry Speed, that is not same day coverage.
It was rebroadcast again at midnight on Monday the 6th
Lorenzo blazes to
Lagua Seca Pole before
injury-inducing crash
Red Bull U.S. Grand Prix - Saturday 4 July Fiat Yamaha's Jorge Lorenzo took pole position for Sunday's Red Bull U.S. Grand Prix in a crucial qualifying session, but will require medical checks before the race after crashing late in the run.
A dramatic qualifying session at Laguna Seca, which ended with the Spaniard being stretchered away having set the pole position time of 1'21.678, also saw a heavy fall for Casey Stoner.
Lorenzo was unaffected by a lowside crash on the fourth corner with 20 minutes to go, jumping on his second M1 to grab pole for Sunday's race, before a massive highside crash saw him taken away from trackside and straight to the medical centre. Initial tests showed a partially dislocated right shoulder and a bruised right foot, but Lorenzo will neither be passed fit to ride, nor ruled out of action, until Sunday morning.
Second fastest qualifier Valentino Rossi stood alone in parc fermé, having lapped 0.167s behind Lorenzo, with third fastest rider Stoner also crashing hard on turn three in the final minutes. Stoner appeared to be walking unaided, albeit unsteadily, after the session and is ok to race.
The second row for Sunday's eighth MotoGP contest of 2009 will be an all-Honda affair, with factory pair Dani Pedrosa and Andrea Dovizioso qualifying fourth and fifth respectively, in front of San Carlo Honda Gresini's Toni Elías – all three less than half a second down on Lorenzo.
MotoGP's American representatives Colin Edwards (Monster Yamaha Tech 3) and Nicky Hayden (Ducati) will be joined on row three by Chris Vermeulen (Rizla Suzuki), who like Hayden has a good record at Laguna. The top ten qualifiers list was completed by Vermeulen's veteran teammate Loris Capirossi –a previous winner at the track in the 1993 250cc race.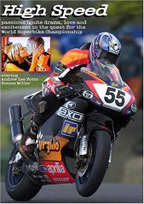 High Speed - the Movie
The best motorcyce racing movie ever made! Filmed on location at World Superbike, this an exciting romantic drama staring beautiful actress Sienna Miller.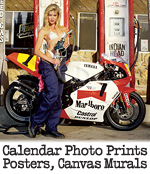 ---
Sixth double podium for Fiat Yamaha Team after intense Laguna finale
Laguna Seca MotoGP, July 5th - The Fiat Yamaha pairing of Valentino Rossi and Jorge Lorenzo shared the MotoGP podium for the sixth time this season at the US Grand Prix today, finishing second and third at Laguna Seca. Rossi closed down a gap of over three seconds to eventual winner Dani Pedrosa but fell just short of making another final-corner pass, whilst a brave Lorenzo battled through the pain of his injured shoulder to rally after a poor start and finish a strong third.
Rossi dropped one place to third at the start but Lorenzo, starting from pole, slipped right back through the field to eighth after the first corner. Both riders quickly began to make up ground however, the Italian passing Casey Stoner into the corkscrew and the Spaniard overtaking three riders to cross the line in fifth first time around. It was a short lived stint in second for Rossi as Stoner passed him back into turn one on the third lap while Pedrosa began to open up a big gap at the front of the field. There was no change for several laps until Andrea Dovizioso crashed on lap seven, elevating Lorenzo to fourth and giving the youngster clear air in front just as he began to find his rhythm. On lap twelve Rossi made his decisive pass on Casey Stoner and re-took second place and he immediately set about trying to close a gap of nearly three seconds to Pedrosa.
Over the next few laps however it was Lorenzo who was the man on the move and the brave Mallorcan gradually began to move closer to Stoner until he was able to make a brilliant pass on the brakes into the final corner to move into third. With Rossi unable to make much headway into Pedrosa's lead at that point, another Fiat Yamaha showdown began to brew as lap-by-lap Lorenzo edged closer to his team-mate. With four laps to go the 22-year-old saw his chance and tried to pass the World Champion at the final corner, but he suffered a big slide in the process and ran wide, letting Rossi back through and dropping back over a second. The drama wasn't over yet however as on the final lap Rossi suddenly found himself within striking distance of Pedrosa and a final-corner overtake looked to be on the cards, but in the end he was just a couple of tenths too far off and crossed the line 0.344 seconds adrift, with Lorenzo 1.926 seconds behind him.
Rossi extends his lead at the top of the championship to nine points over Lorenzo, who in turn stretches the gap from Stoner to seven points. There is a now a two week break before the MotoGP paddock returns to Europe for another double-header at the Sachsenring in Germany followed by Donington in the UK.
Valentino Rossi - Position: 2ndTime: +0.344
"The first half of the race was quite difficult because we weren't at 100% today. I didn't expect Dani to be so fast but he was very strong and there wasn't much I could do to go with him! The last ten laps were very exciting because Lorenzo was pushing me so hard that I had to really make another step and then Dani slowed down and suddenly he was right in front of me! I thought there was a chance to pass on the final corner but unfortunately I was just too far off and it was too much of a risk. Second is good today because we were not in perfect shape here, we missed something in the setting and this is always a hard track anyway, so we have to be happy with these twenty points. We have extended the championship lead so it's a good result for us and we have shown that we are still strong this year even when things are not perfect. This consistency is the most important thing for the championship. Now I am happy that we have some time to rest because these have been a hard two weeks and the next two races are very important because we are all so close!"
Jorge Lorenzo - Position: 3rdTime: +1.926
"I always try to do my best and I think that is what I have done today, considering my physical condition. I am really proud and I think that this was one of my best races. My foot was okay but I had a lot of pain in my right shoulder, which meant I wasn't strong in my right hand and I had to over-compensate with my left; I am really tired now! I want to thank the Clinica Mobile because they made it possible for me to finish the race. After a while I started to forget about the pain a bit and I just wanted to do my best and I knew that it was possible to pass Valentino. Unfortunately I hit some bumps when I braked deep and my rear tyre moved a lot and I was lucky not to crash - maybe without this mistake, if I had been able to pass him, it would have been possible to win but anyway third is good in the circumstances and we have taken good points. Now we have some time to recover; I am fit and strong so I hope that by Sachsenring I will be back to my best."
Top Five Result for Team Ducati at Laguna with Hayden's Best Yet
Laguna Seca MotoGP July 5th - Casey Stoner and Nicky Hayden crossed the line in fourth and fifth place today to secure a top team result for Ducati that confirms the forward steps taken with the Desmosedici GP9 in recent weeks.

A top five finish for Hayden is the result of relentless hard work and dedication from rider and team since the start of the season and his best qualifying and race performances of the campaign so far represented a source of huge satisfaction. The American delighted his home crowd not only with his performance but also with a special 'stars and stripes' livery, that will also be available on the new Ducati 848, launched in the USA two days ago.

However, a fourth place finish for Stoner was another case of damage limitation following another physically demanding weekend. The Australian has been combating physical exhaustion and to have two races in successive weekends certainly didn't help his cause here. Stoner will now stay on in the United States for extensive tests at the Fremont Surgery Center with Dr. Arthur Ting and Dr. Tuan, to try and understand the source of the problem.
CASEY STONER (Ducati MotoGP Team) (4th)
"It has been a weekend to forget. I can't be happy with fourth place even if it has limited the damage to my championship chances. Today I didn't feel as bad at the end of the race as I have done in the last two but I'm still not right. I found it really difficult to keep my concentration over the last few laps and I was in a bit of a daze by the end. My left arm was feeling really tired by the end because of the fact there are so many left-handers here and my left wrist still doesn't have the full range of movement after my operation in the winter. I'm really disappointed because without all of these problems we could have done so much better. I want to thank the team for giving me a great bike and also Doctor Claudio Macchiagodena and our physiotherapist Freddie (Dente) for all their help. Now we'll focus on trying to find out the root of the problem because racing in this condition is not much fun."
NICKY HAYDEN – (Ducati MotoGP Team) (5th)
"I have won here twice and to say that fifth place feels just as good might sound strange but man, so much hard work has gone into getting us to this point and I want to savour this feeling. To be racing at home, to score a solid result and to have had fun out there is nice. I just want to say a huge 'thank you' to my whole team, to Ducati and to everybody who has continued to believe in me during some difficult times this season. We have made progress over the last two races, we have kept the faith and it has paid off with this fifth place. Hopefully we can keep it going and score even better results as the season progresses."
Lorenzo injuries confirmed in Barcelona
Wednesday, 08 July 2009
Fiat Yamaha rider Jorge Lorenzo is expected to ride at the next round in Germany, though he will need painkillers in order manage his discomfort due to his Laguna Seca injuries.
Having returned to Spain from California on Tuesday MotoGP title candidate Jorge Lorenzo underwent medical tests on Wednesday afternoon in Barcelona where his injuries from last Saturday's Red Bull U.S. Grand Prix qualifying session crash were re-examined.
A CAT scan at a private clinic confirmed the diagnosis of Clinica Mobile from the weekend, with Lorenzo carrying a small fracture in the head of the fourth metatarsal in his right foot, contusions to the bones in both ankles and an 'acromial clavicular separation' (collarbone damage) in his right shoulder.
Lorenzo will need to rest up ahead of the next round at Sachsenring where it is expected he will ride after being given further painkilling injections. In the mean time he will be treated with anti-inflammatory medicine and will undergo a course of physiotherapy.
Toseland labels Laguna Seca black flag 'pretty harsh'
Wednesday, 08 July 2009
Monster Yamaha Tech 3 rider disappointed in penalty decision.
Wednesday, 08 July 2009 - Disqualified from the Red Bull U.S. Grand Prix, James Toseland was understandably disappointed with events stateside this past weekend. The Briton had been adjudged to have jumped the start of the race at Laguna Seca and, despite the frantic efforts of his Monster Yamaha Tech 3 crew on the pit wall to alert him of the need for a ride-through, was not aware of the penalisation until a black flag was ready to be waved.

To add a tragicomic twist to the proceedings, Toseland's belated entry into the pits meant that he also missed the first showing of the black flag. He maintained that his premature take-off was marginal at worst, and explained why he wasn't on the lookout for his pitboard early on.

"I feel like the jump start was pretty harsh. I knew it was close but I didn't think I'd jumped the start and that early in a 32-lap race I'm not looking at my pitboard," said the Yamaha satellite rider, fighting for his place in MotoGP for 2010. "I was just concentrating on catching the guy in front and the first thing I realised that I'd been penalised was when I saw the black flag and my number.

"Obviously if I'd known I'd jumped the start then I would have come in but I've watched the TV replay and you can't see anything. I didn't gain any places either so in my opinion it's pretty harsh. It's a setback but I've just got to get on with it and bounce back in Germany."

Toseland had a tough weekend overall, as even prior to his disqualification. A crash in qualifying and a wrong direction for his setup on the second bike left him qualifying a lowly fifteenth for the stateside showdown.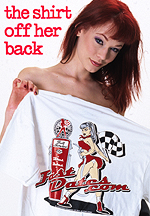 Order the Official
FastDates.com &
LA Calendar Bike Show
T-Shirts!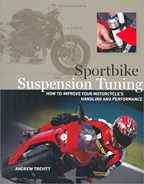 Video Tribute To John Britten. Backyard Motorcycle Visionary
onsidered at the time of his death the best motorcycle engineer in the world, designing and building motorcycles and much more, John Britten gave us a fabulous lesson of perseverance, courage, humility and creativity. If you never watched it, this 5- part documentary (total 7 h 15 minutes) shot in his home in New-Zealand is a must see for all the pros and backyard builders around the world. By the time he died of cancer in 1995, John Britten had become a household name.
See the video TV Series by going HERE
---