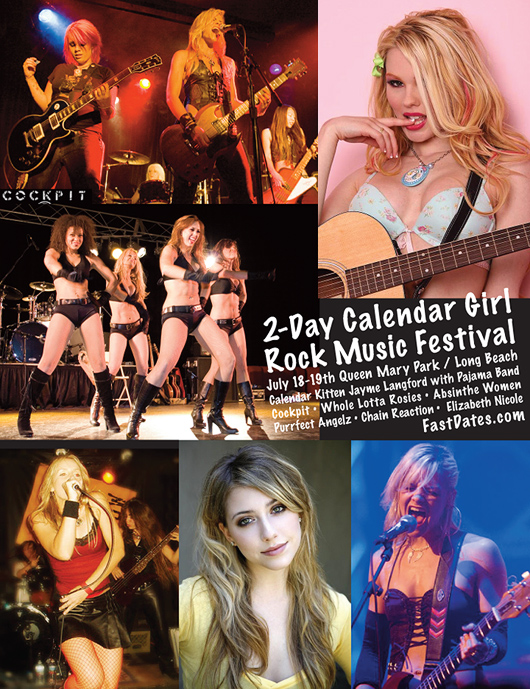 Calendar Kitten & AVN Best New Actress Nominee Jayme Langford's
Pajama Band Joins the LA Calendar Bike Show / Music Festival Weekend!
May 15th 2009 - The Los Angeles Calendar Motorcycle Show, in our never ending quest to provide wholesome family entertainment while enhancing the quality of artistic and cultural experience for our visitors, is excited to announce the addition of Pajama Band to our performance lineup with the Calendar Girl Music Festival which is included with July 18-19th 2009 event weekend at the Queen Mary Event Park in Long Beach, CA.
We're in LOVE! Jayme shows what she'd like to do to us!

A unique entertainment experience, Pajama Band features the vocal talents of beautiful new 2010 FastDates.com Calendar Sex Kitten, Hustler Honey and AVN Starlet Jayme Langford / JaymeLangford.com. Between her extensive modeling and acting career, being a pre-Med University student and exhibiting precision Hula-Hoop skills, Jayme figured she also has what it takes to be an accomplished lead singer, guitarist and trumpeter in time for this year's Calendar Bike Show Weekend.
Jayme is not new to music, having taken music and pianno lessons all her life. But after picking up a new pink guitar and plastic trumpet from Guitar Center on Hollywood Boulevard just a few months ago she thought, "Damn, I'm not busy enough, why don't I start a girl porn star rock band as well!" Who were we to talk her out of it?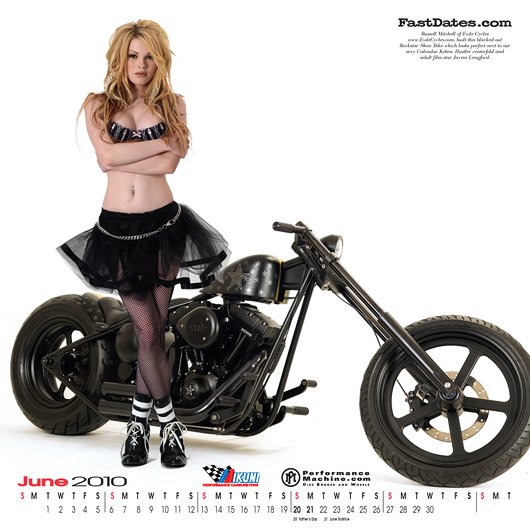 Jayme Langford and celebrity builder Russell Mitchell will rock your world by personaly autographing for you their new 2010 Iron & Lace Calendar featuring Jayme and Russell's Exile Rockstar custom available at the 2009 LA Calendar Motorcycle Show and Calendar Girl Muisc Festival Weekend July 18-19th. Jayme's PajamaBand will be performing on Sunday, with Russell holding a Calendar Bike Building Seminar.
Performing with Jayme in Pajama Band are her famous adult starlet girlfriends, Jana Jordan / ClubJannaJordan.com also a Hustler Honey and Penthouse Pet, and Louisa Lanewood / LouisaLanewood.com. The band will be making its professional world premier debut at the 2009 LA Calendar Show Weekend on Sunday the 19th performing their exciting new hit "Fuck You Until You Die" which has music critics raving, in what can only be described as pornicopia of visual and audio excitement guaranteed to leave their many new found fans breathless on the verge of cardiac arrest. Music critics are already raving that these girls have given new meaning to the genre "Hard Rock"!
For Jayme's Calendar Kitten profile go to Meet the Models - Jayme Langford
For more about PajamaBand visit MySpace.com/PajamaBandMusic
For more about the LA Calendar Motorcycle Show

Kittens Jana and Jayme go to Guitar Center to get ready for the Calendar Show!
Below: Jayme's girlfriend Janna Joran beats the drums in PajamaBand which makes its world premier at the 2009 Calendar Show . On Monday July 12th following the Calendar Show Weekend, both Jayme and Janna will shoot with producer and photographer Jim Gianatsis and the winning bikes from the Show's $64,000 Calendar Bike Building Championship. The pictures will be featured in the next editions of the FastDates.com Calendars.
---


2009 SBK Fast Dates World Superbike Championship, Round 9 of 14, AssenDutch TT
Spies Goes Double at Donnington
Narrows Haga's Superbike Championship Lead
Donington Park, Great Britain June 26-28th - Ben Spies (Yamaha World Superbike) pulled off another amazing double triumph in the ninth round of the Hannspree FIM Superbike World Championship in front of 61,000 spectators at Donington Park. The Texan has now reduced the 48 point gap at the top of the table to 14 from Noriyuki Haga (Ducati Xerox), who crashed in race 2, picking up a broken vertebra in the process. Haga's Italian team-mate Michel Fabrizio was third in race 2 and is now 51 points behind. Aprilia had a good first race, with Max Biaggi second at the finish, while the best of the numerous British platoon present at Donington was Leon Haslam (Stiggy Racing Honda), who finished second to Spies in race 2.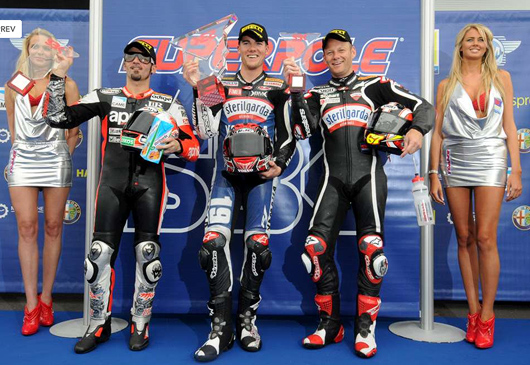 Ben Spies (center) started of the weekend by winning wSaturday's Superpole Qualifying with Max Biaggi 2nd (left) and reigning British Superbike champ Shakey Byrne 3d (right).
Race 1 - Biaggi and the Aprilia hound Spies to the last lap
Spies continued to steamroller his way to the wins in World Superbike as he took his ninth victory of the year in the first race. After setting his eighth pole in qualifying, the Texan rider dominated the 23-lap race but was shadowed all the way by Max Biaggi (Aprilia Racing). The Italian ran faultlessly in second until the final lap, when Ben upped the ante to power to the chequered flag, but Biaggi also encountered a fuel problem a couple of hundred metres from the flag and risked losing out on second. This was Biaggi's first podium since Qatar. Third went to points leader Haga, who limited the damage in a race where he was not in a position to challenge for the win. In the all-British battle for fourth place, Haslam got the better of Shane Byrne (Sterilgarda Ducati). Aprilia's excellent performance was completed by a sixth place for Shinya Nakano. Home idol and Misano winner Jonathan Rea (Hannspree Ten Kate Honda) could only finish in seventh, ahead of John Hopkins (Stiggy Racing Honda). Michel Fabrizio (Ducati Xerox) had a gear change problem and could only finish 12th, while Ruben Xaus scored one point for BMW.
Ben Spies: "It was a tough race for us, Max was there the whole time and we were both able to do quick laps. I got a bit of a gap then made a couple of mistakes and he got back on me. The last three laps I rode as hard as I could, we got down to the 30s, then I couldn't hear Max coming into the chicane on the last lap so knew something was wrong and I took the last corners easy. We can't be too conservative now, we have to claw back and get a whole lot of points in a couple of races."
Max Biaggi: "I am very happy with this result after a very hard decision we made in free practice and qualifying. Yesterday we found a way to go fast and we made the right choice in tyres and the balance was correct. In the warm-up we had some problems but for the race we fixed most of them. Just on the last lap at the last chicane we had some trouble, I don't know what, the bike just stopped and then went back again in the last few metres before the flag. I think I deserved second!"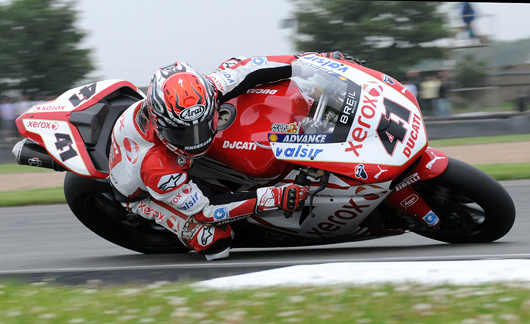 Nori's would crash in Race 2 with the bike landing on him hard, breaking his shoulder and elbow, possibly ending his chance to hold off Ben Spies for the Championship.
Noriyuki Haga: "I tried to do my best but the front two guys were very fast. I tried to catch up for the victory but I had to settle for third position. Of course during the laps I tried to push and catch them up but it was quite difficult. Our package was quite different but for the next race we try to change something to improve the riding of the bike."
Superbike Race 1 Results: 1. Spies B. (USA) Yamaha YZF R1 34'57.230 (158,831 kph); 2. Biaggi M. (ITA) Aprilia RSV4 Factory 7.156; 3. Haga N. (JPN) Ducati 1098R 10.968; 4. Haslam L. (GBR) Honda CBR1000RR 18.843; 5. Byrne S. (GBR) Ducati 1098R 19.125; 6. Nakano S. (JPN) Aprilia RSV4 Factory 21.286; 7. Rea J. (GBR) Honda CBR1000RR 23.644; 8. Hopkins J. (USA) Honda CBR1000RR 32.849; 9. Smrz J. (CZE) Ducati 1098R 32.904; 10. Kiyonari R. (JPN) Honda CBR1000RR 33.192; 11. Checa C. (ESP) Honda CBR1000RR 34.535; 12. Fabrizio M. (ITA) Ducati 1098R 35.093; 13. Camier L. (GBR) Yamaha YZF R1 35.441; 14. Lanzi L. (ITA) Ducati 1098R 39.034; 15. Xaus R. (ESP) BMW S1000 RR 41.067; 16. Lagrive M. (FRA) Honda CBR1000RR 46.4
Race 2 - Spies Shows Total Domonaton, Haga Crashes Out Hard
Spies also dominated the second race, but this time without any pressure from his rivals. The Yamaha man immediately pulled away at the start to pick up a seven second lead, which he administered easily to pick up his tenth win of the year. Spies' double coincided with a disaster for Haga, who crashed out of second place on lap 5 while trying to make up ground on the leader. The Japanese rider was taken to hospital in Derby with a fractured vertebra and other injuries. Race 2 saw a British rider on the podium, thanks to Haslam, who held off Fabrizio. With the outcome of this race, the Italian keeps alive his title chances. Byrne put on another good show, finishing fourth ahead of fellow Brit Tom Sykes. Xaus again scored points for BMW, this time with a positive ninth place. Both Aprilia riders crashed out, Biaggi suffering a hairline crack in his right foot in the process, but remounting to finish 21st, while John Hopkins (Stiggy Racing Honda) did not make it to the start of race 2, the still-injured American totally exhausted after his race 1 efforts
Ben Spies: "It was a picture perfect weekend, I know Haga had a big crash and hope he's OK. That's not the way you want to do it but you've got to capitalize when things go wrong. The track was definitely hot in the second race and a little bit slick so we made some changes to the bike that made it better. Fortunately we didn't have to push to the absolute limit but it all worked great today."
Leon Haslam: "We've been struggling for the past few rounds with unknown circuits and I really wanted to get on that podium today. I feel good, obviously feel sorry for Haga because I was pushing him hard and I was pretty happy to get second. In the first race I was really suffering from chatter but everyone in the team has been behind me all weekend so a big thanks to them."
Michel Fabrizio: "Today Ben was very fast and it was impossible to catch him. In the first race I had a problem with the gear change, while in the second I had a great battle with Haslam. I am very happy with the result, but very sorry for Haga and his crash."
This picture is actually from last week's race at Misano, but it wasso awesome we just had to show it to you. It show Michel Fabrizio (84) actually looking over into Ben Spies eyes as Michelle is passing Ben going into a corner. You'll see Ben's hand is off thegas and pulling on the front brake lever to slow for th upcoming turn, while Michelll is still on the gas and looking over as he goes by. CLICK TO GO BIG
Superbike Race 2 Results: 1. Spies B. (USA) Yamaha YZF R1 35'14.788 (157,512 kph); 2. Haslam L. (GBR) Honda CBR1000RR 6.622; 3. Fabrizio M. (ITA) Ducati 1098R 6.816; 4. Byrne S. (GBR) Ducati 1098R 7.349; 5. Sykes T. (GBR) Yamaha YZF R1 8.145; 6. Camier L. (GBR) Yamaha YZF R1 13.463; 7. Kiyonari R. (JPN) Honda CBR1000RR 15.751; 8. Ellison J. (GBR) Yamaha YZF R1 16.837; 9. Xaus R. (ESP) BMW S1000 RR 22.891; 10. Andrews S. (GBR) Kawasaki ZX 10R 30.347; 11. Lanzi L. (ITA) Ducati 1098R 30.622;12. Lagrive M. (FRA) Honda CBR1000RR 31.562; 13. Kagayama Y. (JPN) Suzuki GSX-R 1000 K9 32.148; 14. Parkes B. (AUS) Kawasaki ZX 10R 32.607; 15. Rea J. (GBR) Honda CBR1000RR 32.806; 16. Scassa L. (ITA) Kawasaki ZX 10R 34.269
Points (after 9 of 14 rounds): 1. Haga 308; 2. Spies 294; 3. Fabrizio 257; 4. Rea 177; 5. Haslam 167; 6. Biaggi 155; 7. Sykes 141; 8. Smrz 115; 9. Checa 114; 10. Byrne 113. Manufacturers: 1. Ducati 383; 2. Yamaha 337; 3. Honda 273; 4. Aprilia 162; 5. Suzuki 131; 6. Bmw 70; 7. Kawasaki 47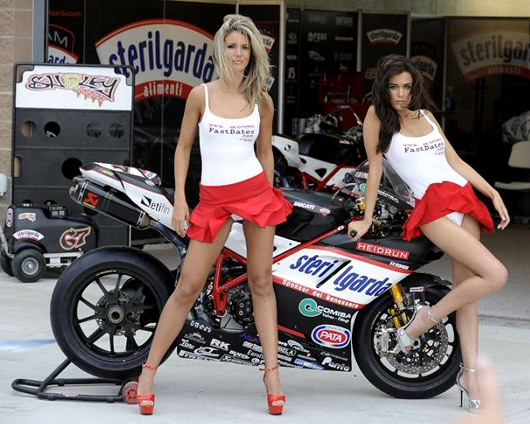 The FastDates.com Calendar Kittens encounter a stiff breeze when shooting with Shakey Byrne's Sterilgado Ducati 1198RS.
World 600ccc Supersport
Coventry man Cal Crutchlow (Yamaha World Supersport) had a terrific homecoming race at the Donington circuit as he shrugged off the broken ankle he picked up in qualifying to take a dominant fourth win of the year. His chief rival in the title battle Eugene Laverty (Parkalgar Honda), together with Joan Lascorz (Kawasaki Provec) tried hard in the early stages, but the Irishman crashed at the Melbourne Hairpin and the Spaniard had to take second best after Crutchlow upped the pace in the final part. Laverty rejoined and worked his way back up the field from 22nd place to fifth overall. It was a great result for veteran Australian Garry McCoy, who gave Triumph its first ever podium in Supersport. Kenan Sofuoglu (Hannspree Ten Kate Honda) could only finish fourth and is now 64 points away from the top of the standings, while team-mate Andrew Pitt fared even worse to finish in tenth. Gianluca Vizziello (Stiggy Racing Honda) scored his best result of the year in seventh behind Barry Veneman (George White Ten Kate Honda).
Supersport Results: 1. Crutchlow C. (GBR) Yamaha YZF R6 34'15.876 (154,981 kph); 2. Lascorz J. (ESP) Kawasaki ZX-6R 5.391; 3. McCoy G. (AUS) Triumph Daytona 675 14.918; 4. Sofuoglu K. (TUR) Honda CBR600RR 22.248; 5. Laverty E. (IRL) Honda CBR600RR 37.054; 6. Veneman B. (NED) Honda CBR600RR 39.079; 7. Vizziello G. (ITA) Honda CBR600RR 39.978; 8. Nannelli G. (ITA) Triumph Daytona 675 42.733
Points (after 9 of 14 rounds): 1. Crutchlow 185; 2. Laverty 157; 3. Sofuoglu 121; 4. Lascorz 106; 5. Pitt 79; 6. West 75; 7. Foret 63; 8. Aitchison 61; 9. McCoy 55; 10. Pirro 49. Manufacturers: 1. Honda 191; 2. Yamaha 185; 3. Kawasaki 117; 4. Triumph 69; 5. Suzuki 30
European Superstock 1000
After four second places, Xavier Simeon scored his first win of the season on the Xerox Ducati 1098, the Belgian increasing his lead in the championship to 11 points over his closest rival, Claudio Corti (Alstare Suzuki). The Belgian led the race from lights to flag, gradually easing off towards the end. Corti had a great race, recovering to finish second from 22nd on the grid, while Maxime Berger (Ten Kate Honda) also ran well, setting fastest lap in 1'33"516, and taking the final podium slot after also moving up from row 6. Fourth place went to Javi Fores (Kawasaki Pedercini), who finished ahead of the two Frenchmen Sylvain Barrier (Garnier) and Loris Baz (MRS), both on Yamahas, and Daniele Beretta (Ducati Xerox) in seventh.
Superstock 1000 Results: 1. Simeon X. (BEL) Ducati 1098R 18'54.713 (153,161 kph); 2. Corti C. (ITA) Suzuki GSX-R 1000 K91.600; 3. Berger M. (FRA) Honda CBR1000RR 2.110; 4. Fores J. (ESP) Kawasaki ZX 10R 2.522; 5. Barrier S. (FRA) Yamaha YZF R1 3.433; 6. Baz L. (FRA) Yamaha YZF R1 5.596; 7. Beretta D. (ITA) Ducati 1098R 9.556; 8. Schouten R. (NED) Yamaha YZF R1 10.646
Points (after 5 of 10 rounds): 1. Simeon 105; 2. Corti 94; 3. Berger 82; 4. Fores 64; 5. Barrier 54; 6. Beretta 45; 7. Baz 33: 8. Jezek 32; 9. Magnoni 19; 10. Burrell 19. Manufacturers: 1. Ducati 105: 2. Suzuki 94; 3. Honda 92; 4. Kawasaki 64; 5. Yamaha 62; 6. MV Agusta 18; 7. Aprilia 8
European Superstock 600
The Superstock 600 championship battle was thrown wide-open after points leader Danilo Petrucci (Yamaha Trasimeno) crashed out on the second lap after being taken out by Vincent Lonbois (MTM Yamaha) while in the lead. The Italian remounted to finish ninth, a result that allowed him to maintain his points lead. The chasing riders Gino Rea (Ten Kate Honda) and Marco Bussolotti (Yamaha Trasimeno) are now 4 and 11 points down on the leader respectively. The British rider and the Italian fought it out for the win at the end of a terrific scrap, and in the end it was Bussolotti who took the chequered flag for his first win of the year. Third place went to Frenchman Jeremy Guarnoni (MRS Yamaha), while Eddi La Marra (Lorini Honda) missed a good chance by crashing out on lap 6 while in the lead of the race. The Italian recovered to finish 12th.
Superstock 600 Results: 1. Bussolotti M. (ITA) Yamaha YZF R6 16'18.425 (148,022 kph); 2. Rea G. (GBR) Honda CBR600RR 0.213; 3. Guarnoni J. (FRA) Yamaha YZF R6 2.126; 4. Guittet B. (FRA) Honda CBR600RR 6.948; 5. Kerschbaumer S. (AUT) Yamaha YZF R6 11.136; 6. Morelli N. (ITA) Honda CBR600RR 14.695; 7. Chmielewski A. (POL) Yamaha YZF R6 14.780 8. Lonbois V. (BEL) Yamaha YZF R6 16.782
Points (after 5 of 10 rounds): 1. Petrucci 82; 2. Rea 78; 3. Bussolotti 71; 4. Guarnoni 70; 5. Lonbois 64; 6. Kerschbaumer 43; 7. Guittet 40; 8. La Marra 39; 9. Litjens 38; 10. Chmielewski 30
---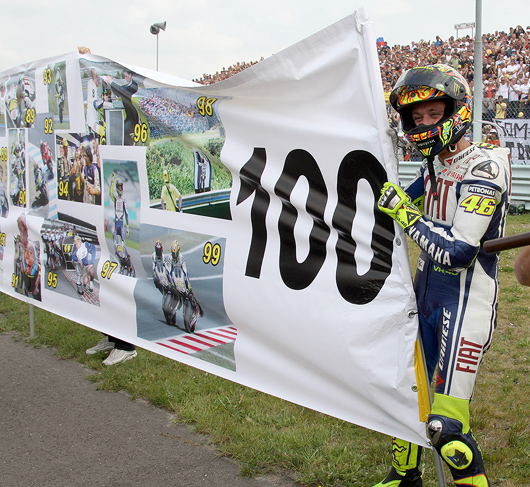 Rossi celebrates his 100th MotoGP win at Assen with a banner picturing each of his previous 99 victories.
CLICK TO GO BIG
2009 MotoGP World Motorcycle Championship, Round 7 of 17, AssenDutch TT
Rossi Masters the Dutch TT with his 100th Win
Assen, Netherlands, June 26-27th Valentino Rossi won his 100th Grand Prix, took his second triumph in succession and became the undisputed leader of the FIM MotoGP World Championship with a stellar performance at the Alice TT Assen. A vintage Rossi performance was celebrated with his unraveling a backdrop and posing for a classic photo with antiquated cameras, the Italian's latest post-race show with his faithful fan club.
Teammate Jorge Lorenzo was once again forced to settle for second place, his third on the bounce. The Spaniard got off to a bad start from third on the grid and, although he was able to fight back up to the front, could not provide Rossi with the same challenge that he had done last time out.
Ducati Marlboro's Casey Stoner completed the podium with a solitary ride chasing Lorenzo. The Australian now trails Rossi and his Spanish rival in the overall standings after the trio had been level on points heading in to the Assen race.
Colin Edwards equaled his best result of the year with fourth place, at the head of an enthralling battle between the 'best of the rest'. Rizla Suzuki's Chris Vermeulen and Edwards' Monster Yamaha Tech 3 teammate James Toseland were also in the top six with their best finishes of the season to date.
Repsol Honda riders Dani Pedrosa and Andrea Dovizioso had been in with a shout at the rostrum, but both took tumbles before the race took its full shape. Pedrosa had high hopes of scoring a podium finish in the MotoGP race after he had qualified second fastest, just 0.085 seconds off pole position. And the Spaniard was looking good in the early stages, contesting third place with Lorenzo. But on lap five Pedrosa lost the front at the first turn and slid off. Despite the tumble, which left him uninjured, Pedrosa believes that his team has taken a step forward with machine performance and is looking forward to the next races.
Team-mate Dovizioso took over fourth place after fighting his way through from seventh after a so-so start. The Italian was confident of another strong result but he ran out of luck on lap 11 when he slid off at turn one. He too walked away unhurt.
While Rossi ran away with the race the interest settled on a frantic seven-man battle for sixth place, featuring de Puniet, Toni Elias (San Carlo Honda Gresini), Alex De Angelis (San Carlo Honda Gresini), James Toseland (Yamaha), Nick Hayden (Ducati), Loris Capirossi (Suzuki) and Mika Kallio (Ducati). Positions within the group changed constantly as the seven men fought for position through the challenging twists and turns of Assen, MotoGP's most historic racetrack. There was little doubt that the finishing order would only be finalised during a last-lap sort-out and that is exactly what happened. Kallio crashed at the high-speed Hoge Heide section just a few hundred metres from the finish, then Elias and Loris Capirossi (Rizla Suzuki) ran off the track at the final chicane, Elias crossing the line in eighth place, just metres ahead of Hayden and Capirossi. Elias had made an impressive charge through the pack, from 13th on lap four, but was penalised 20 seconds for his last-lap indiscretion at the chicane which put him in 12th place.
MotoGP Race Classification: (26 laps = 118.43 km)
Pos/ Rider / Nat / Team / Motorcycle / Time/ KM/H / Gap
1 / Valentino ROSSI / ITA / Fiat Yamaha Team / YAMAHA / 42'14.611 / 168.210 /
2 / Jorge LORENZO / SPA / Fiat Yamaha Team / YAMAHA / 42'19.979 / 167.854 / 5.368
3 / Casey STONER / AUS / Ducati Marlboro Team / DUCATI / 42'37.724 / 166.690 / 23.113
4 / Colin EDWARDS / USA / Monster Yamaha Tech 3 / YAMAHA / 42'43.725 / 166.300 / 29.114
5 / Chris VERMEULEN / AUS / Rizla Suzuki MotoGP / SUZUKI / 42'48.216 / 166.009 / 33.605
6 / James TOSELAND / GBR / Monster Yamaha Tech 3 / YAMAHA / 42'53.958 / 165.639 / 39.347
7 / Randy DE PUNIET / FRA / LCR Honda MotoGP / HONDA / 42'54.154 / 165.626 / 39.543
8 / Nicky HAYDEN / USA / Ducati Marlboro Team / DUCATI / 42'54.434 / 165.608 / 39.823
9 / Loris CAPIROSSI / ITA / Rizla Suzuki MotoGP / SUZUKI / 42'55.284 / 165.553 / 40.673
10 / Alex DE ANGELIS / RSM / San Carlo Honda Gresini / HONDA / 43'00.621 / 165.211 / 46.010
11 / Marco MELANDRI / ITA / Hayate Racing Team / KAWASAKI / 43'12.388 / 164.461 / 57.777
12 / Toni ELIAS / SPA / San Carlo Honda Gresini / HONDA / 43'14.385 / 165.611 / 59.774
13 / Sete GIBERNAU / SPA / Grupo Francisco Hernando / DUCATI / 43'19.977 / 163.981 / 1'05.366
14 / Niccolo CANEPA / ITA / Pramac Racing / DUCATI / 43'24.508 / 163.696 / 1'09.897
15 / Yuki TAKAHASHI / JPN / Scot Racing Team MotoGP / HONDA / 43'24.541 / 163.694 / 1'09.930
Pole Position: Valentino ROSSI 1'36.025 170.768 Km/h
Fastest Lap (New record): Valentino ROSSI 1'36.558 169.825 Km/h Lap 4
Circuit Record Lap: Casey STONER 1'36.738 169.509 Km/h 2008
Circuit Best Lap: Casey STONER 1'35.520 171.670 Km/h 2008
World Championship Positions:
1 ROSSI 131, 2 LORENZO 126, 3 STONER 122, 4 DOVIZIOSO 69, 5 PEDROSA 67,
6 EDWARDS 67, 7 CAPIROSSI 56, 8 MELANDRI 55, 9 VERMEULEN 53, 10 DE PUNIET 51,
11 TOSELAND 39, 12 DE ANGELIS 31, 13 HAYDEN 27, 14 ELIAS 27, 15 KALLIO 26.
250cc GP Win and Points Lead to Aoyama
Hiroshi Aoyama claimed his second win of the 2009 season in the 250cc race, taking the leadership of the World Championship as a consequence. The Scot Racing rider's immediate rival, Álvaro Bautista, had looked to be on course to push Aoyama to the line as the duo broke free and dashed for the chequered flag. However, Mapfre Aspar rider Bautista smashed into the back of Aoyama's Honda on the fast chicane, ending the Spaniard's race and leaving the race winner lucky to stay upright.
Bautista´s late retirement meant that the battle behind him became one for the runner-up spot, with poleman Héctor Barberá eventually getting the better of reigning World Champion Marco Simoncelli.
Mattia Pasini and Thomas Luthi ended their hopes of catching up with the leaders when they collided midway through the race, Pasini losing his fourth position in the overall classification with a third DNF of the year. Metis Gilera rider Simoncelli now assumes the place as he attempts to remount his title challenge.
250cc Race Classification: (24 laps = 109.32 km)
1 / Hiroshi AOYAMA / JPN / Scot Racing Team 250cc / HONDA / 40'44.008 / 161.027 /
2 / Hector BARBERA / SPA / Pepe
World Team / APRILIA / 40'48.432 / 160.736 / 4.424
3 / Marco SIMONCELLI / ITA / Metis Gilera / GILERA / 40'54.347 / 160.348 / 10.339
4 / Aleix ESPARGARO / SPA / Balatonring Team / APRILIA / 40'55.391 / 160.280 / 11.383
5 / Roberto LOCATELLI / ITA / Metis Gilera / GILERA / 40'55.604 / 160.266 / 11.596
6 / Alex DEBON / SPA / Aeropuerto-Castello-Blusens / APRILIA / 40'58.273 / 160.092 / 14.265
7 / Karel ABRAHAM / CZE / Cardion AB Motoracing / APRILIA / 41'01.990 / 159.851 / 17.982
8 / Hector FAUBEL / SPA / Valencia CF - Honda SAG / HONDA / 41'03.020 / 159.784 / 19.012
9 / Ratthapark WILAIROT / THA / Thai Honda PTT SAG / HONDA / 41'04.934 / 159.660 / 20.926
10 / Raffaele DE ROSA / ITA / Scot Racing Team 250cc / HONDA / 41'05.041 / 159.653 / 21.033
11 / Mike DI MEGLIO / FRA / Mapfre Aspar Team 250cc / APRILIA / 41'16.136 / 158.937 / 32.128
12 / Lukas PESEK / CZE / Auto Kelly - CP / APRILIA / 41'25.337 / 158.349 / 41.329
13 / Alex BALDOLINI / ITA / WTR San Marino Team / APRILIA / 41'49.329 / 156.835 / 1'05.321
14 / Valentin DEBISE / FRA / CIP Moto - GP250 / HONDA / 41'56.459 / 156.391 / 1'12.451
15 / Imre TOTH / HUN / Team Toth Aprilia / APRILIA / 40'52.181 / 153.803 / 1 lap

Pole Position: Hector BARBERA 1'40.019 163.948 Km/h
Fastest Lap: Hiroshi AOYAMA 1'40.706 162.830 Km/h Lap 8
Circuit Record Lap: Alvaro BAUTISTA 1'40.340 163.424 Km/h 2008
Circuit Best Lap: Alvaro BAUTISTA 1'39.510 164.787 Km/h 2008
World Championship Positions:
1 AOYAMA 121, 2 BAUTISTA 108, 3 BARBERA 95, 4 SIMONCELLI 77, 5 PASINI 64,
6 LUTHI 52, 7 DE ROSA 51, 8 FAUBEL 49, 9 LOCATELLI 47, 10 DEBON 43, 11 WILAIROT 38,
12 CLUZEL 33, 13 DI MEGLIO 32, 14 PESEK 32, 15 ABRAHAM 31.
---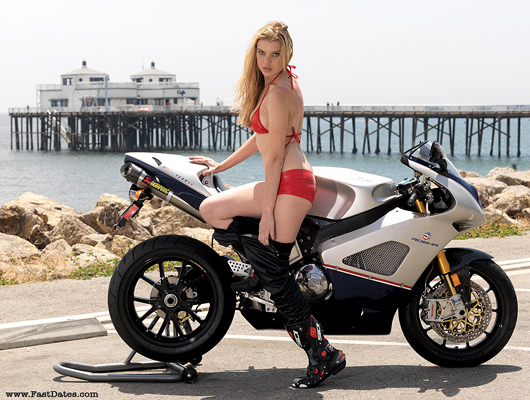 Calendar Kitten Apple strips down at Malibu Beach with the new Roehr Superbike.
And now for something a little different...
Apple Kitten shoots for Fast Dates Calendar with the $60,000 Roehr
V-Rod Superbike with World Premier at the LA Calendar Show in July!
Los Angeles, CA, May 1st - Don't think we've been relaxing indoors here during the bitter cold of our Southern Californian winter here, just waiting for our printer in China to ship us the new 2010 FastDates.com Calendars so sleazy perverts like you can gum up the pages.... hell no! We've already been hard at work shooting the next 2011 FastDates.com Calendars with beautiful Calendar Kittens like Apple, shown here at the Malibu Beach Pier astride the hot new supercharged Harley V-Rod powered Roehr Superbike.
Apple is also featured in all 3 of the new 2010 FastDates.com Calendars which premier here in July online and at the 2009 LA Calendar Motorcycle Show Weekend July 18-19th. Oh, did we tell you both Both Apple and the Roehr will also be at the Show? You don't want to miss them.
Apple's Test New Sportbikes Roehr • The LA Calendar Motorcycle Show July 18-19th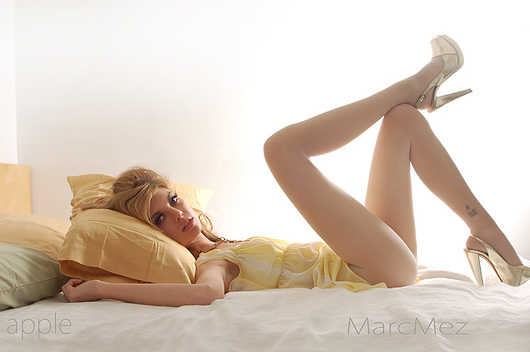 ---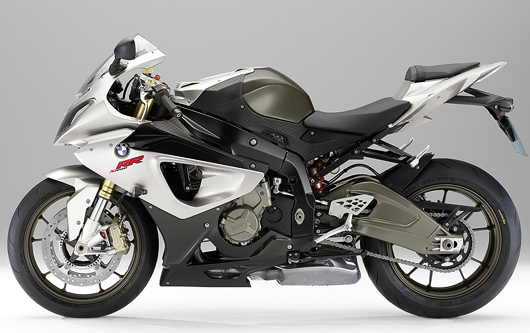 BMW's First Superbike Hits the Streets with 193hp! TC and ABS!
Monza, Italy, May 5h, 2009 - BMW introduced their new BMW S 1000 RR today on the legendary Monza Racing Circuit, BMW Motorrad is for the first time launching an absolutely innovative supersport with a straight-four power unit. With this world debut, BMW Motorrad is indeed establishing a true milestone in the world of sports machines, combining engine output of 142 kW (193 hp) with overall weight of just 204 kg (450 lb) including fuel (183 kg/403.5 lb dry weight, 206.5 kg/455.3 lb overall with Race ABS). The new S 1000 RR is the most powerful production 1000cc sport bike in the world.
The new S 1000 RR is scheduled to be released in the US by early 2010.
More in Sportbikes Index: BMW S1000RR
---
There's more! Go to Pit Lane News Previous Page

Also Visit: Fast Dates Calendar News • Iron & Lace Calendar News
Calendar Girl News • Meet the Models • Paddock Garage

Calendar Kittens, The Paddock Garage, Screensavers, Iron & Lace Garage



MotorcycleSuperstore.com
Some of our Calendar Kittens can also at Playboy's website...