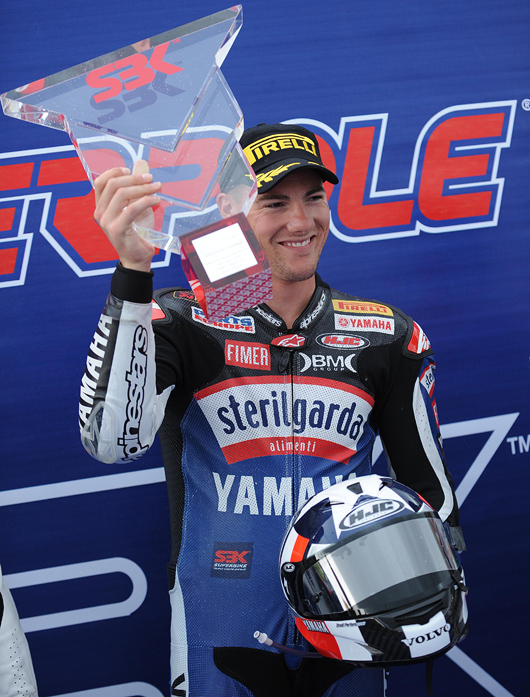 2009 SBK World Superbike Championship, Nurburgring, Round 11 of 14

Spies Takes Superbike Championship Lead from Haga at Nurburgring
Jonathan Rea Scores a Haga Knock Down and Win in Race 2
Nurburgring, Germany, Sept 4-6th 2009 -The Nurburgring GP circuit was witness to an incredible performance from Yamaha World Superbike rider Ben Spies today as he attacked the track to take the championship lead from rival Haga. Race one started well for the American but was almost immediately red flagged for a crash between Tamada, Hopkins and Parkes. The restart saw Spies move up into third behind Rea and Haga until the third lap where he took Rea on the brakes to move into second position. Rea briefly retook the position but held it for mere seconds before relinquishing again to the American missile. Spies then set about reeling in Haga, taking nearly half a second a lap off the Ducati rider's lead until he had closed it to 0.3 seconds by lap 10. As they entered the chicane at the end of the lap, he pulled a swift move and took the lead, which he held to the line, throwing in an extra turn of speed at the end to increase his lead.

Race two saw a less than perfect start with Spies dropping to sixth amid a pack of riders. He fought through the pack to fourth, and gradually worked through to third behind Rea and Haga. Rea and Haga came together going into the first corner of lap four, taking Haga out of the race and leaving Ben to tuck in behind Rea to the finish line, taking second spot on the podium.
Ben Spies, Yamaha World Superbike Team (1st, 2nd) - "The first race was tough, Rea and I battled a bit for the first couple of laps and Nori got away so I had to reel him back in, using a lot of my tyre to do that. When I got to him I knew he was really strong in the first few corners so I slowed the pace a bit and controlled him through there. With three laps to go we pulled the pin and got back down to some fast laps.

The second race was a tough one, I didn't get a great start and had to spend some time working through the pack, when I eventually got up to Rea he had a great pace on so I tucked in and was waiting for him to make a mistake, which unfortunately he didn't! I used up a lot of my tyres fighting through the pack and was starting to slide around a bit at the end so tucked in and took the points. It's fantastic to be leading the championship, it's what we came here to do, so we're looking forward to getting to Imola and seeing if we can build on this. The team have been brilliant, and have worked really hard all weekend."
Ben Spies heads to Imola in two weeks time having taken the lead in the World Superbike Championship with an 18 point advantage over demoted Haga with six races remaining. Team mate Tom Sykes leaves Germany sitting in eighth place in the standings just 12 points behind seventh position rider Carlos Checa.
Ben Spies Re Signs with Yamaha for 2010 and 2011
Yamaha Racing Communications, Sept 4th - Yamaha Motor Company., Ltd and Yamaha Motor Europe N.V. are delighted to announce that an Agreement has been concluded with Ben Spies for his participation with Yamaha for 2010 and 2011. The program foresees a season in 2010 with the Yamaha World Superbike Team based in Gerno di Lesmo, Italy and a switch to Yamaha's satellite MotoGP team for 2011.
Laurens Klein Koerkamp, Racing Manager Yamaha Motor Europe said – "We got to know Ben this season in our Yamaha World Superbike Team as a very talented, professional and dedicated person whom we are thrilled to continue working with. Not only is the relationship between Ben, the team and Yamaha in general very successful but also it's a pleasure to work with him. This early agreement permits Yamaha and Ben Spies to now fully focus on their 2009 World Superbike campaign in their challenge to achieve their first World Superbike Championship titles together."
Lin Jarvis, Managing Director of Yamaha Motor Racing said – "We are truly excited about the prospect of Ben's arrival into our future MotoGP program. Ben is doing a great job for Yamaha in his first season in the World Superbike Championship. He is in great shape to challenge for the title this year and we will be rooting for him at the remaining four events this season. Ben's primary mission is to win both his and Yamaha's first World Superbike title. After that when Ben eventually makes the move to the MotoGP championship we will be ready for him and, in line with the new MotoGP regulations, we will create a place for him within the Yamaha satellite team and give him the support he needs for his next challenge.
Ben Spies: "I am very happy to say that I will remain a part of the Yamaha family and will continue in the WSB series for 2010. This is an exciting period of my racing career and I look forward to even more. Yamaha has been great in the warm welcome that I have received entering the world level and I want to thank them for all they have done, and giving me their trust for a next career step into MotoGP in 2011."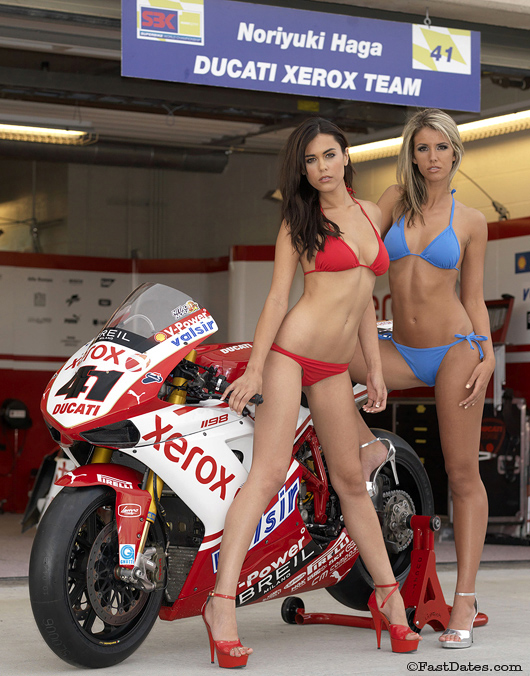 Race Preview: The Ring gets ready to Rock & Roll with renewed Haga-Spies duell
The 2009 Hannspree FIM Superbike World Championship is back in action following the summer break with the eleventh round of the championship taking place at Germany's legendary Nurburgring circuit, an hour or so from Bonn. The German Round is the first in a series of the final four (the others being Imola, Magny-Cours and Portimao), which will lead to the crowning of the 2009 world champion. The eventual winner will now come from a short-list of three: points leader Noriyuki Haga (Ducati Xerox), Ben Spies (Yamaha World Superbike) and Michel Fabrizio (Ducati Xerox).
The Nurburgring circuit is one of the most spectacular in the world, with its 5.137 km layout offering numerous unique features. Each lap is made up of 17 curves, some of which, in particular the three after the start-finish line, are extremely tricky from a technical point of view, while the track surface is exceptional in both wet and dry conditions.
World Superbike has been to the Nurburgring three times: twice before the track underwent modifications (1998-1999) and then last year. The winners were Aaron Slight (Honda) and Pierfrancesco Chili (Ducati) in 1998, while the following year Ducati scored a double with Carl Fogarty and Troy Corser. Nine years later the German track was witness to another double win, this time by Noriyuki Haga (Yamaha Motor Italia), who pulled off this incredible feat just two weeks after breaking his collarbone in the previous US Round at Miller Motorsports Park.
STAR WARS – The memories of Haga's amazing performance twelve months ago could be just what the Ducati rider needs to galvanize him into action, as he arrives in Germany in a similar position due to his recovery from the injury he suffered two races back at Donington. The Japanese rider will have to be on top form indeed to hold off his closest rival Ben Spies, who is currently on the crest of a wave with three wins in the last four races. There are just 7 points between the two at the moment and the German Round could see a sensational changeover at the top. Ducati Xerox team-mate Michel Fabrizio could also play a key role in proceedings this weekend. Not only is the young Italian in the midst of the title battle, albeit 53 points behind Haga and 46 behind the Texan (with 200 points still up for grabs), but team strategy could also play a major role. At Brno he unwittingly took Spies out of the action thus allowing Haga to keep the championship lead, but in Germany he could easily take away points from the American with careful race tactics.
APRILIA ON THE MOVE – After the last round Max Biaggi and Aprilia will now surely be key players at the German track. The win at Brno helped to boost morale in the Italian team and even though it came at a circuit where the RSV4 had already been tested, it goes without saying that the four-cylinder machine from the Noale factory is making major progress towards the top in its return season in WSB. Biaggi raced here last year and can undoubtedly give the right indications to the Aprilia engineers to get the RSV4 machine to the top this time around.
WATCH OUT FOR HONDA – The Hannspree Ten Kate Honda team have had an up and down season so far but at least they have seen the rise of Jonathan Rea, the only winner for the Japanese manufacturer this year and surely one of the men to watch in WSB in the future. Rea is a true fighter and the German track, which he is familiar with after racing here in Supersport, is another chance for him to shine. Carlos Checa has shown signs of a renaissance in recent races, while over in the Stiggy Racing Honda camp Leon Haslam aims to put in another solid performance to become top Honda man ahead of Rea. Further possible surprises could come from Shane Byrne (Sterilgarda Ducati), who is having an excellent second half of the season.
BMW PLAY AT HOME – The BMW Motorrad men showed major improvement at Brno, with Troy Corser and Ruben Xaus both capable of getting onto row 2 in Superpole and the Australian bringing home the best result of the season for the team with a fifth place finish. The German squad is working hard to close the gap on the frontrunners, and with their home round ahead BMW obviously want to make a good impression. It hasn't been an idle summer for Kawasaki either as the Paul Bird Motorsport team raced successfully in a BSB round at Brands Hatch, giving an opportunity for Broc Parkes to try out some new material, while the injured Makoto Tamada remained at home to recover for the race. Over in Suzuki Alstare the Belgian squad cannot count on their top rider Max Neukirchner, who was injured again in Imola testing. After racing singleton at Brno, Yukio Kagayama will be flanked by Karl Muggeridge, released from his contract by the Celani team, which will not be present in Germany.
Points (after 10 of 14 rounds): 1. Haga 326; 2. Spies 319; 3. Fabrizio 273; 4. Rea 206; 5. Biaggi 200; 6. Haslam 180; 7. Sykes 150; 8. Checa 145; 9. Byrne 134; 10. Smrz 132. Manufacturers: 1. Ducati 412; 2. Yamaha 362; 3. Honda 306; 4. Aprilia 207; 5. Suzuki 133; 6. BMW 87; 7. Kawasaki 53
British Riders Rea and Sykes revel in Friday rain at Nurburgring
Practice Friday Friday 4th - British riders Jonathan Rea (Hannspree Ten Kate Honda) and Tom Sykes (Yamaha World Superbike) revelled in the poor conditions in today's opening qualifying session at the Nurburgring. Braving the cold, wind and the rain at the German circuit Rea posted the quickest time of the day in 2 minutes 11.278 seconds to head the timesheets. The Northern Ireland youngster was half-a-second ahead of Sykes, who also pirouetted his YZF machine at one of the slower corners on his first visit to the circuit. An impressive third place went to Australian Troy Corser, who made further progress for BMW at the German manufacturer's home race. Another British rider, youngster Richard Cooper, standing in for the injured Ruben Xaus, put in an impressive eleventh quickest time on the second BMW.
Both Ducati Xerox riders were well up in the timesheets. Michel Fabrizio was in fourth place while Noriyuki Haga shrugged off any residual damage from his recent injury to take fifth, three-tenths behind his team-mate. Sterilgarda Ducati's Shane Byrne also came off his 1098 machine during the session but was able to post the sixth quickest time of the day, ahead of Leon Haslam (Stiggy Racing Honda), Jakub Smrz (Guandalini Ducati) and Ryuichi Kiyonari (Ten Kate Honda). Italian Luca Scassa made up the top 10 with a confident performance in the damp conditions on his Kawasaki Pedercini ZX10R.
For the moment championship challenger Ben Spies (Yamaha World Superbike) is down in 13th place as he gets to grips with another circuit he has never raced on before, one place ahead of Brno winner Max Biaggi on the first of the Aprilias, the Italian focusing on setting up the bike for tomorrow's decisive sessions. Suzuki Alstare's stand-in rider Karl Muggeridge was fifteenth quickest but would surely have improved had he not crashed out five minutes from the end.
Times: 1. Rea J. (GBR) Honda CBR1000RR 2'11.278; 2. Sykes T. (GBR) Yamaha YZF R1 2'11.781; 3. Corser T. (AUS) BMW S1000 RR 2'12.086; 4. Fabrizio M. (ITA) Ducati 1098R 2'12.354; 5. Haga N. (JPN) Ducati 1098R 2'12.635; 6. Byrne S. (GBR) Ducati 1098R 2'12.819; 7. Haslam L. (GBR) Honda CBR1000RR 2'12.979; 8. Smrz J. (CZE) Ducati 1098R 2'13.089; 9. Kiyonari R. (JPN) Honda CBR1000RR 2'13.215; 10. Scassa L. (ITA) Kawasaki ZX 10R 2'13.238; 11. Cooper R. (GBR) BMW S1000 RR 2'13.391; 12. Checa C. (ESP) Honda CBR1000RR 2'13.550; 13. Spies B. (USA) Yamaha YZF R1 2'13.898; 14. Biaggi M. (ITA) Aprilia RSV4 Factory 2'13.928; 15. Muggeridge K. (AUS) Suzuki GSX-R 1000 K9 2'14.073; 16. Baiocco M. (ITA) Ducati 1098R 2'14.075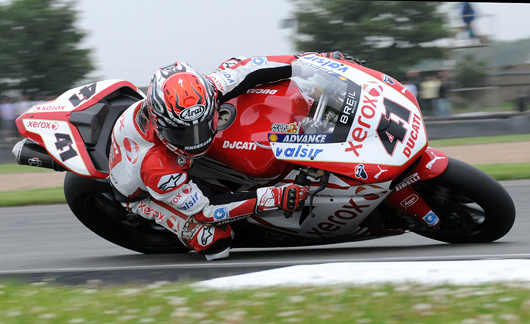 Haga back to his Samurai best in Superpole at the Nurburgring
Superpole Saturday Sept 5th - Noriyuki Haga (Ducati Xerox) bounced back to his best form in today's qualifying sessions at the Nurburgring as he took his first Superpole win of the year and his seventh overall. At a circuit where he scored a brilliant double win last year, the championship leader made up for his recent difficult period with a commanding lap time of 1 minute 55.489 seconds, despite still not being at 100% from his Donington injury. Haga's lap time came in the final minutes of the third Superpole run, but he was unable to improve on the lap record time of Max Neukirchner (Suzuki Alstare), absent this year due to injury. Haga denied Jonathan Rea (Hannspree Ten Kate Honda) of his maiden pole by just three-tenths of a second, the British rider lining up on the front row ahead of his fellow Honda man Leon Haslam (Stiggy Racing), on the front row for the second time this season. Fourth place went to Italian Michel Fabrizio (Ducati Xerox), who pushed fellow title-chaser Ben Spies off the front row of the grid by just a whisker. The Texan, who has signed for Yamaha for the next two years, crashed in the afternoon session and didn't look as incisive in Superpole as he had in previous races.
Noriyuki Haga: "It's been good to get back into things yesterday and today, also I did my best lap in Superpole. The bike is really good for the feeling. I like this track but it's my first time here with Ducati so this is a good result. I needed a result like this for the championship battle, tomorrow I will just try and do my best."
Jonathan Rea: "I put a pretty good lap in at the start and thought it was enough so I rolled off a bit, but all credit to Nori, that was a really good lap. The bike's working really well here, I'm glad the guys didn't fall asleep on holiday during the summer break! We've come back with some development parts on the bike. I really love this circuit, but I can sleep solid tonight and look forward to things tomorrow."
Leon Haslam: "We've had a tough mid-season and the last race at Brno wasn't one of the best so to bounce back after the break with a front row start – I've only had one this year – is really good. I've really got to grips with this new circuit, which I've never been to, so I'm looking forward to tomorrow."
Michel Fabrizio: "I'm not particularly satisfied with fourth position on the grid. It was a bit difficult because we made some changes to the bike in the afternoon session and were only able to find the right set-up in the second Superpole run. But it's OK, the others are looking really strong, even the two guys next to me on the grid, so it'll be a good battle tomorrow."
Troy Corser again notched up a row 2 position on his BMW S1000 RR machine, confirming the German manufacturer's upward trend, while Max Biaggi (Aprilia Racing) and Carlos Checa (Hannspree Ten Kate Honda) completed the front two rows. The first Kawasaki, the ZX-10R of Makoto Tamada was on row 3, while Yukio Kagayama placed his Suzuki Alstare BRUX GSX-R1000 on the fourth row.
Superpole Times: 1. Haga N. (JPN) Ducati 1098R 1'55.489; 2. Rea J. (GBR) Honda CBR1000RR 1'55.749; 3. Haslam L. (GBR) Honda CBR1000RR 1'55.776; 4. Fabrizio M. (ITA)Ducati 1098R 1'55.927; 5. Spies B. (USA) Yamaha YZF R1 1'55.938; 6. Corser T. (AUS) BMW S1000 RR 1'56.296; 7. Biaggi M. (ITA) Aprilia RSV4 Factory 1'56.440; 8. Checa C. (ESP) Honda CBR1000RR 1'56.699; 9. Sykes T. (GBR) Yamaha YZF R1 1'56.406; 10. Byrne S. (GBR) Ducati 1098R 1'56.663; 11. Nieto F. (ESP) Ducati 1098R 1'56.670; 12. Tamada M. (JPN) Kawasaki ZX 10R 1'56.683; 13. Kagayama Y. (JPN) Suzuki GSX-R 1000 K9 1'56.901; 14. Smrz J. (CZE)Ducati 1098R 1'57.091; 15. Parkes B. (AUS) Kawasaki ZX 10R 1'57.098; 16. Lagrive M. (FRA) Honda CBR1000RR 1'57.293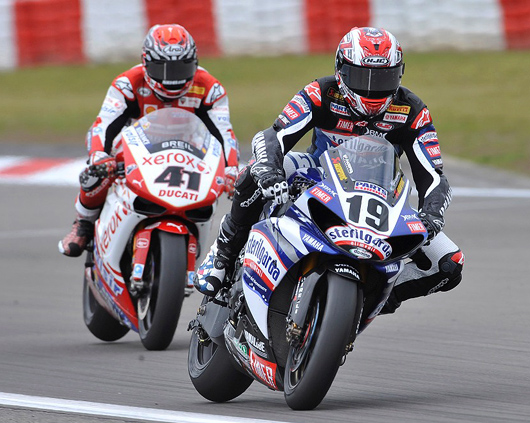 Ben Spies (19) passed a determined Haga (41) in Race One and held him at bay right to the finish.

Spies Takes Championship Lead, Haga Crashes in Race 2
Race Day, Sunday 6th - The German Round of the Hannspree FIM Superbike World Championship offered a number of thrills and spills at the Nurburgring as Ben Spies (Yamaha World Superbike) moved into the lead of the championship for the first time this year. In front of 42,000 spectators the Yamaha man took the race 1 win from Noriyuki Haga (Ducati Xerox), and his second place in race 2, in addition to a turn 1 crash for Haga, allowed him to open up an 18-point gap at the top of the table. Britain's Jonathan Rea (Hannspree Ten Kate Honda) took his second win of the season with a commandeering performance in race 2.
Spies Bests Haga in Heads Up Race One Fight
Spies notched up his 12th win of the season at the end of a nail-biting scrap with his championship rival Haga, reducing the gap at the top of the table to just two points. The Japanese rider powered away to the best possible start, but Spies managed to recover by the mid-point, when he took over at the front. With a couple of laps to go before the chequered flag, Haga made a slight error and the Texan was able to cut loose to take the win. Third place went to Carlos Checa (Hannspree Ten Kate Honda), who held off his team-mate Jonathan Rea for the final podium slot.
There was another terrific battle for fifth between Max Biaggi (Aprilia Racing), Leon Haslam (Stiggy Racing Honda) and Michel Fabrizio (Ducati Xerox), who finished in that order. Troy Corser scored a positive eighth place for BMW, with the Australian running in fourth for much of the race before dropping away in the final stages. Stand-in rider Karl Muggeridge brought the first Suzuki Alstare BRUX machine home in 12th, but both Kawasaki riders were forced into retirement. Makoto Tamada was involved in an incident shortly after the start together with John Hopkins (Stiggy Racing Honda), and they were both taken to Adenau hospital for checks for slight concussion.
Ben Spies: "It was a good race, I didn't get a great start and I lost a little bit of time to get past Rea, while Nori got away a little bit and I really had to move to catch him. When I got Nori we passed and re-passed. It was tough because he was extremely fast in the first section. The bike started moving around quite a bit and then with three laps to go it was time to put the hammers down and go."
Noriyuki Haga: "I'm not so happy, I wanted to win and I felt sure I could win that race. I tried to overtake Ben everywhere but in some parts he was quicker than me and in some parts my bike was quicker than his, but I couldn't get past him, he was a little faster than me so I had to settle for second place. "
Carlos Checa: "Yesterday qualifying wasn't so good but we knew we had a good pace and a good feeling with the bike. I didn't feel so well this weekend either. My start wasn't good, but we had the pace during the race. And starting from behind it was fun, a good fight until the end with Johnny. So it's quite positive and I'm very happy."
Superbike Race One Results: 1. Spies B. (USA) Yamaha YZF R1 39'04.818 (157,737 kph); 2. Haga N. (JPN) Ducati 1098R 3.850; 3. Checa C. (ESP) Honda CBR1000RR 6.990; 4. Rea J. (GBR) Honda CBR1000RR 7.109; 5. Biaggi M. (ITA) Aprilia RSV4 Factory 12.825; 6. Haslam L. (GBR) Honda CBR1000RR 13.243; 7. Fabrizio M. (ITA) Ducati 1098R 14.223; 8. Corser T. (AUS) BMW S1000 RR 14.382; 9. Sykes T. (GBR) Yamaha YZF R1 17.206; 10. Byrne S. (GBR) Ducati 1098R 26.547; 11. Lagrive M. (FRA) Honda CBR1000RR 27.388; 12. Muggeridge K. (AUS) Suzuki GSX-R 1000 K9 30.968; 13. Smrz J. (CZE) Ducati 1098R 31.069; 14. Kiyonari R. (JPN) Honda CBR1000RR 31.188; 15. Kagayama Y. (JPN) Suzuki GSX-R 1000 K9 40.165; 16. Scassa L. (ITA) Kawasaki ZX 10R 54.897
Ben Spies (19) caught leader Jonthan Rea (65) with 3 laps to go in the 2nd Race, but the Brit had the speed and defensive lines that allowed him to keep his lead and the win.

Jonathan Rea Takes Out Haga, Bests Spies in Race Two
The Hannspree Ten Kate Honda team returned to the top of the podium in the second encounter, thanks to a superb race by Jonathan Rea, who scored his second season win after the one at Misano. The British youngster finished just ahead of Spies who had to work up fro a slow 6th place start, but once Ben caught Rea he was never able to better the Honda rider's pace to make a pass.
Championship points leader Haga was taken out of the race in a fierce opening lap battle, when he and Rea made contact in a corner where their lines intersected and Haga went down, but Rea was able to continue on and take over the race lead. Haga choose not to remount his Ducati which appeared have suffered only minor damage, which in turn would hand Ben Spies the Championship lead and an 18 points adavantage between them at the end of the day.
Third place again went to Checa, ahead of Biaggi, who had another convincing run, this time to fourth, and Haslam in fifth. Corser was again one of the protagonists, with a sixth place finish for BMW. It wasn't a particularly good day for Fabrizio, who added a ninth place in race 2 to his seventh earlier on, the Italian finishing behind Ryuichi Kiyonari (Ten Kate Honda) and Tom Sykes (Yamaha World Superbike). The final top-10 position went to Yukio Kagayama (Suzuki Alstare BRUX), while Kawasaki could only manage three points overall in the German race weekend, thanks to a thirteenth place in the second race by Broc Parkes.
Jonathan Rea: "I tried to ride my own race and mind my own business. I got a really bad start and had to get a bit aggressive with people in turn 1 because I had to regroup and come from a long way back. I had to put moves down quick, because I really messed up race 1 which was all my fault. We changed nothing in between, my guys sat me down and explained exactly what I had to do to win. I gave it all today, the package was really strong."
Ben Spies: "The track was a lot cooler and it was definitely much quicker. I didn't get off the line good and a bunch of people came round me in turn 1 and I lost almost two seconds to the lead. I came up to the front but by the time I got there I just didn't quite have the rear grip to get out of the corners in the last five laps. Johnny was not making any mistakes so hats off to him for winning. It wasn't my race, but we've got the championship lead now."
Carlos Checa: "I did such a really great start I couldn't believe it! Then I had a fight with Haga and Johnny passed me, he was quite strong. I tried to follow him until the end when I lost some metres. Ben also had some good pace and I saw that it was impossible to keep his pace but anyway third place is a good result for me and the team."
Superbike Race Two Results: 1. Rea J. (GBR) Honda CBR1000RR 39'01.561 (157,956 kph); 2. Spies B. (USA) Yamaha YZF R1 0.786; 3. Checa C. (ESP) Honda CBR1000RR 4.993; 4. Biaggi M. (ITA) Aprilia RSV4 Factory 8.191; 5. Haslam L. (GBR) Honda CBR1000RR 10.907; 6. Corser T. (AUS) BMW S1000 RR 17.152; 7. Kiyonari R. (JPN) Honda CBR1000RR 19.473; 8. Sykes T. (GBR) Yamaha YZF R1 19.721; 9. Fabrizio M. (ITA) Ducati 1098R 22.981; 10. Kagayama Y. (JPN) Suzuki GSX-R 1000 K9 24.161; 11. Smrz J. (CZE) Ducati 1098R 29.367; 12. Nieto F. (ESP) Ducati 1098R 30.007; 13. Parkes B. (AUS) Kawasaki ZX 10R 37.281; 14. Scassa L. (ITA) Kawasaki ZX 10R 47.883; 15. Iannuzzo V. (ITA) Honda CBR1000RR 49.549; 16. Baiocco M. (ITA) Ducati 1098R 49.635
Superbike Championship Points (after 11 of 14 rounds): 1. Spies 364; 2. Haga 336; 3. Fabrizio 289; 4. Rea 244; 5. Biaggi 224; 6. Haslam 201; 7. Checa 177; 8. Sykes 165; 9. Byrne 140; 10. Smrz 140. Manufacturers: 1. Ducati 439; 2. Yamaha 407; 3. Honda 347; 4. Aprilia 231; 5. Suzuki 143; 6. BMW 105; 7. Kawasaki 56
World Supersport 600cc
Cal Crutchlow (Yamaha World Supersport) scored another undisputed win in the 11th round of the championship at the Nurburgring. The points leader appeared to have an extra gear over his rivals right from the start of the weekend and showed it during the race when he immediately pulled away at the start and went on to take the chequered flag by 10 seconds. The next men to finish were Eugene Laverty (Parkalgar Honda)and Joan Lascorz (Kawasaki Motocard.com), who engaged in a terrific scrap for the runner-up slot. Thanks to his second place Laverty keeps Crutchlow's lead down to 22 points with three rounds remaining. Massimo Roccoli (Intermoto Czech Honda) put in a good run to fourth place, the Italian holding off the attacks from Fabien Foret (Yamaha World Supersport). A bad start ruined the race of Garry McCoy (Triumph ParkinGo), but the Australian managed to finish eighth at the flag, while Kenan Sofuoglu (Hannspree Ten Kate Honda) looked as though he might challenge Crutchlow in the early laps but then crashed out and later retired.
Supersport 600cc Results: 1.Crutchlow C. (GBR) Yamaha YZF R6 37'56.481 (154,348 kph); 2. Laverty E. (IRL) Honda CBR600RR 10.109; 3. Lascorz J. (ESP) Kawasaki ZX-6R 10.250; 4. Roccoli M. (ITA) Honda CBR600RR 31.980; 5. Foret F. (FRA) Yamaha YZF R6 34.575; 6. Aitchison M. (AUS) Honda CBR600RR 34.724; 7. Pitt A. (AUS) Honda CBR600RR 36.352; 8. McCoy G. (AUS) Triumph Daytona 675 36.391.
Supersport 600cc Points (after 11 of 14 rounds): 1. Crutchlow 210; 2. Laverty 188; 3. Lascorz 138; 4. Sofuoglu 128; 5. Foret 99; 6. West 96; 7. Pitt 94; 8. Aitchison 71; 9. McCoy 71; 10. Roccoli 62. Manufacturers: 1. Yamaha 235; 2. Honda 231; 3. Kawasaki 149; 4. Triumph 85; 5. Suzuki 3
European Superstock 1000
Xavier Simeon (Ducati Xerox Junior Team) looks to be well on the way to winning this year's Superstock 1000 FIM Cup title after the Belgian youngster scored a lights to flag victory, his third in a row. Simeon now has a 40-point advantage over his closest rival Claudio Corti (Suzuki Alstare BRUX), who could only finish fifth. The runner-up slot went to Maxime Berger (Ten Kate Honda), who put together an incredible recovery from 16th position on the grid. Another positive podium place went to Javi Fores (Kawasaki Pedercini), while Davide Giugliano (Suzuki Celani) prevailed in a quartet of battling Italians, Corti finishing ahead of Daniele Beretta (Ducati Xerox) and Andrea Antonelli (Yamaha Trasimeno).
Superstock 1000cc Results: 1. Simeon X. (BEL) Ducati 1098R 22'13.426 (152,558 kph); 2. Berger M. (FRA) Honda CBR1000RR 2.763; 3. Fores J. (ESP) Kawasaki ZX 10R 5.649; 4. Giugliano D. (ITA) Suzuki GSX-R 1000 K9 6.620; 5. Corti C. (ITA) Suzuki GSX-R 1000 K9 7.085; 6. Beretta D. (ITA) Ducati 1098R 7.353; 7. Antonelli A. (ITA) Yamaha YZF R1 12.097; 8. Jezek O. (CZE) Honda CBR1000RR 12.338
Points (after 7 of 10 rounds): 1. Simeon 155; 2. Corti 115; 3. Berger 102; 4. Fores 100; 5. Barrier 67; 6. Beretta 66; 7. Jezek 56; 8. Giugliano 38; 9. Baz 35; 10. Savary 30. Manufacturers: 1. Ducati 155; 2. Honda 128: 3. Suzuki 117; 4. Kawasaki 100; 5. Yamaha 84; 6. MV Agusta 21; 7. Aprilia 12
European Superstock 600
Vincent Lonbois (MTM Yamaha) scored his second win in a row in the Superstock 600 class, and now becomes the leading rival for the European title to Danilo Petrucci (Yamaha Trasimeno). The Italian limited the damage with the runner-up slot, but is now only 8 points ahead of the Belgian with three rounds remaining. Third place went to Marco Bussolotti (Yamaha Trasimeno), who took the flag ahead of Eddi La Marra (Honda Lorini), who almost got onto the podium. Britain's Gino Rea (Ten Kate Honda) could only finish sixth and is now 24 points down on Petrucci, while Frenchman Jeremy Guarnoni (MRS Yamaha) crashed out of the race.
Superstock 600cc Results: 1. Lonbois V. (BEL) Yamaha YZF R6 18'53.030 (146,897 kph); 2. Petrucci D. (ITA) Yamaha YZF R6 1.096; 3. Bussolotti M. (ITA) Yamaha YZF R6 1.383; 4. La Marra E. (ITA) Honda CBR600RR 1.512; 5. Karlsen F. (NOR) Yamaha YZF R6 1.794; 6. Rea G. (GBR) Honda CBR600RR 7.404; 7. Guittet B. (FRA) Honda CBR600RR 10.811; 8. Kerschbaumer S. (AUT) Yamaha YZF R6 15.917
Points (after 7 of 10 rounds): 1. Petrucci 122; 2. Lonbois 114; 3. Rea 98: 4. Bussolotti 96; 5. Guarnoni 83; 6. La Marra 68; 7. Kerschbaumer 59; 8. Guittet 56; 9. Litjens 38; 10. Chmielewski 35
---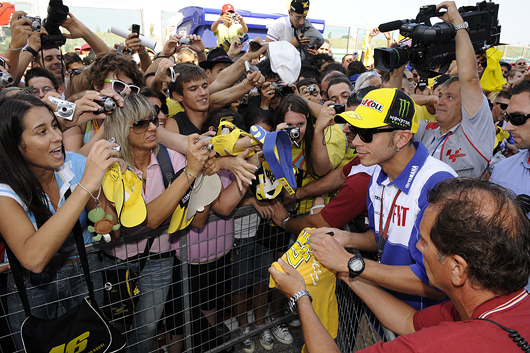 Rossi was greeted at his home Misano track by a sold-out crowd of Italian fans.

2009 MotoGP World Championship, Misano IT, Round 13 of 17
The Doctor Makes a House Call at Misano
Gran Premio Cinzano di San Marino e della Riviera di Rimini, San Marino, Italy Sept 2-6th - Valentino Rossi may have had a donkey on his helmet today but it was 'The Doctor' riding the bike once again, as the local Italian hero bounced back from his Indianapolis mistake with an emphatic home victory at Misano. His Fiat Yamaha team-mate Jorge Lorenzo finished a strong second, making this the fifth one-two finish for the team this season.
After the boiling heat of the last two days the temperature today was brought right down by a strong wind, which meant track conditions were quite different to how they had been so far. Rossi, starting from pole, dropped to third at the start whilst Lorenzo narrowly escaped a pile up, which claimed three other riders. The Spaniard then got in front of the Italian for a few laps as Dani Pedrosa and Toni Elias battled it out for the lead, but on lap five all changed as Rossi moved into second, passing both his team-mate and Elias, and Lorenzo despatched Elias a few corners later to take third.
Rossi was flying by now and took the lead next time around, gradually opening out a gap as Lorenzo struggled to get by Pedrosa. It took the gutsy 22-year-old six laps to overtake his compatriot and by the time he was through Rossi was two seconds clear and Lorenzo had to settle for second and his tenth podium of the season. Rossi, who lives just 10 km from the track, eventually crossed the line 2.416 seconds ahead, taking his eleventh career win on Italian soil and his sixth of the season to a rapturous welcome from his passionate fans.
The gap from Rossi to Lorenzo is now 30 points, whilst Yamaha lead both the Teams and Manufacturers standings by large margins. There is now a four-week break to the next round, at Estoril in Portugal, with four races remaining in total.
Preview: Misano up next as MotoGP returns to Europe
The thirteenth round of the 2009 FIM MotoGP World Championship takes place this weekend as the riders and their teams visit Misano for the Gran Premio Cinzano di San Marino e della Riviera di Rimini.
Although World Champion Valentino Rossi has a special relationship with Mugello this is his true home event with the Misano circuit lying just 14km from his beloved hometown of Tavullia. The Italian maestro will again enjoy massive support from the home crowd as he attempts to repeat his 2008 victory at this event and get his title defence immediately back on course after his Indianapolis disappointment.
Rossi's Indy DNF was the first time he has failed to finish a MotoGP race since Valencia at the end of the 2007 season, but he is unlikely to dwell on his Sunday crash for too long as he focuses on increasing the 25 point advantage he holds over his talented young Fiat Yamaha team-mate Jorge Lorenzo with five rounds to go.
For Lorenzo his championship dream has been revived by the results at Indianapolis, with the Spaniard bouncing back spectacularly from two consecutive DNFs at the previous two rounds to take a superb victory and halve the deficit at the top of the standings. The man from Majorca won the 250cc race at Misano two years ago from pole position and last year he was second in the MotoGP race.
In the continued absence of Ducati's Casey Stoner, who is due to return at the round after Misano in Estoril, the Fiat Yamaha team will again expect the principal threat to come from Repsol Honda's Dani Pedrosa who sits fourth in the standings, 71 points behind Rossi and 46 behind Lorenzo. Pedrosa was in great form over the Indianapolis weekend, until a crash when leading the race hindered his progress and he ended up tenth, but he does not have a brilliant record at Misano.
There is an intriguing battle for fifth place in the standings between Monster Yamaha Tech 3's Colin Edwards and Repsol Honda's Andrea Dovizioso, with the American currently edging it by just three points. Misano is not Edwards' favourite track and he knows Dovizioso will be desperate for a good result on Italian soil, so he will be determined to spoil the party.
One rider going into this round on a massive high is San Carlo Honda Gresini's Alex de Angelis, who proudly rides at his home event on the back of a well-deserved first MotoGP podium at Indianapolis. That result could not have come at a better time for the San Marino rider who is still looking for a team for 2010.
The home fans will also be getting behind the likes of Rizla Suzuki's Loris Capirossi and Hayate Racing's Marco Melandri, who sit eighth and tenth in the standings at present, whilst ninth placed LCR Honda's Randy de Puniet will battle through the pain of his ankle injury in order to try and get a decent points haul at what is a home event for his team boss Lucio Cecchinello.
The Ducati riders will also be keen to keep the Ducatisti fans happy on 'home turf' with Nicky Hayden looking in better shape after his first podium result for the Italian factory arrived at his home GP at Indianapolis. With Mika Kallio continuing to temporarily ride as a substitute for Stoner alongside Hayden in the works team, the impressive Aleix Espargaró gets another substitute ride on the satellite Ducati with Pramac Racing.
Rossi On Pole at Misano
Saturday 5th - Qualifying at the Gran Premio Cinzano di San Marino e della Riviera di Rimini went down to the wire on Saturday afternoon at Misano, but Valentino Rossi ultimately emerged on top.Having crashed out at Indianapolis last Sunday Rossi is fighting back in style at his home event this weekend and he took pole right at the end of an intriguing qualifying practice. The Italian legend has been the fastest rider in every session so far this weekend and his last gasp 1'34.338 lap put him in pole position for the sixth time this season in the Rimini coast sunshine.
As the session drew to a close it looked as though Repsol Honda's Dani Pedrosa had snatched pole from Rossi with a decent 1'34.560 effort, but the Fiat Yamaha rider found another level in the closing seconds to deny the Spaniard.Completing the front row, Rossi's team-mate Jorge Lorenzo also marked his best time at the end of the hour, but he finally fell half a second short of his title rival. Lorenzo will need to be at his very best if he is to improve on his second place result in last year's Misano contest.
The second row of the grid is headed by San Carlo Honda Gresini rider Toni Elías who lapped with a similar pace to Lorenzo and he will be desperate for a good performance on Sunday as he fights for his future in the premier class.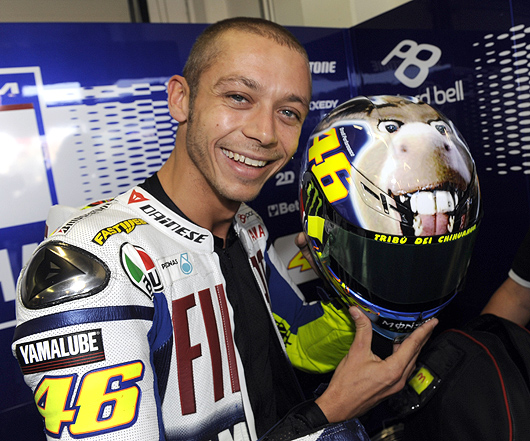 No one can make fun of himself better than the Doctor, himself. After crashing out while leading the US MotoGP at Indianapolis last week, Valle showed up at Misano this week with a "donkey" painted on his helmet and nicknamed himself ' The Flying Donkey."

Rossi comes back with a hometown Misano triumph
Race Day Sunday 6th - World Champion Valentino Rossi delighted the home crowd at Misano on Sunday with his second successive victory at the Italian circuit, to reassert his authority in the MotoGP title race. Valentino caught and passed opening lap leader Dani pedrosa on lap 5, then proceeded to pull out and maintain a safe 2.4 second win at the Gran Premio Cinzano di San Marino e della Riviera di Rimini over his team-mate Jorge Lorenzo.This was Rossi's the perfect response to his Indianapolis crash and Rossi now leads the Spaniard by 30 points in the standings, with four rounds to go.
Right at the start of the race there was drama - and heartbreak -when Alex de Angelis (San Carlo Honda Gresini) misjudged his line and speed into the first corner and crashed out of his home contest, and into with American Colin Edwards (Monster Yamaha Tech 3), who in turn then took out Nicky Hayden (Ducati Marlboro) sliding into him. No one was injured, but all 3 riders were out of the race
Lorenzo did his very best to stay with his illustrious team-mate over the course of the 28 lap contest, but he himself got held up behind Dani Pedrosafor another 5 laps. The factory Honds just had to much poer o the strainght s and couldn't be passed there, while Jorge's higher cornering speed was continuously block by Dani. Pedrosa finally ran wide enough in a corner that Jorge could finally slip though, but by that time Rossi had checked out and Jorge could not reel the Doctor back in.
In the fial half of the race Repsol Honda's Pedrosa could not match the pace of the powerful Fiat Yamaha pair, eventually crossing the line ten seconds behind Lorenzo to complete the podium.
Andrea Dovizioso (Repsol Honda) and Loris Capirossi (Rizla Suzuki) had a fierce fight behind the rostrum finishers, with Dovizioso eventually coming out on top by two-tenths of a second for his third fourth place finish in a row.
The top ten was rounded off by early race leader Toni Elías (San Carlo Honda Gresini), Mika Kallio (Ducati Marlboro), Marco Melandri (Hayate Racing), Chris Vermeulen (Rizla Suzuki) and James Toseland (Monster Yamaha Tech 3), whilst temporary Pramac Racing representative Aleix Espargaró did very well in eleventh place in just his second MotoGP race.
Valentino Rossi - Position: 1stTime: 44'32.882 - "This is a great feeling! It's taken me some time to get used to Misano and view it as a 'home' race because Mugello is so special to me, but I can honestly say that winning here today, in front of everyone dressed in yellow and with 46s everywhere, is a great emotion and I want to thank everyone for making it so special. Today I had to go quite carefully with the full tank at the start and I took some time to get to the front but once I was there it was great and my bike felt fantastic. We didn't expect to be this competitive here but it's been a perfect weekend, so I have to say a huge thank you to the team for a brilliant job. Since Indianapolis, when I made that mistake, we have been so focused and concentrated and everyone deserves this result. I was the 'flying donkey' today! I am happy that we are going into a month without racing with these memories and this points lead, but as we saw in Indy everything can change quickly so we will be fully focused once again in Estoril
Results MotoGP: (28 laps = 118.328 km)
Pos/ Rider / Nat / Team / Motorcycle / Time/ KM/H / Gap
1 / Valentino ROSSI / ITA / Fiat Yamaha Team / YAMAHA / 44'32.882 / 159.371 /
2 / Jorge LORENZO / SPA / Fiat Yamaha Team / YAMAHA / 44'35.298 / 159.227 / 2.416
3 / Dani PEDROSA / SPA / Repsol Honda Team / HONDA / 44'45.282 / 158.635 / 12.400
4 / Andrea DOVIZIOSO / ITA / Repsol Honda Team / HONDA / 44'59.212 / 157.816 / 26.330
5 / Loris CAPIROSSI / ITA / Rizla Suzuki MotoGP / SUZUKI / 44'59.421 / 157.804 / 26.539
6 / Toni ELIAS / SPA / San Carlo Honda Gresini / HONDA / 45'01.168 / 157.702 / 28.286
7 / Mika KALLIO / FIN / Ducati Marlboro Team / DUCATI / 45'03.066 / 157.591 / 30.184
8 / Marco MELANDRI / ITA / Hayate Racing Team / KAWASAKI / 45'04.639 / 157.500 / 31.757
9 / Chris VERMEULEN / AUS / Rizla Suzuki MotoGP / SUZUKI / 45'04.791 / 157.491 / 31.909
10 / James TOSELAND / GBR / Monster Yamaha Tech 3 / YAMAHA / 45'11.229 / 157.117 / 38.347
11 / Aleix ESPARGARO / SPA / Pramac Racing / DUCATI / 45'19.555 / 156.636 / 46.673
12 / Randy DE PUNIET / FRA / LCR Honda MotoGP / HONDA / 45'24.923 / 156.327 / 52.041
13 / Niccolo CANEPA / ITA / Pramac Racing / DUCATI / 45'36.080 / 155.690 / 1'03.198
14 / Gabor TALMACSI / HUN / Scot Racing Team MotoGP / HONDA / 45'55.229 / 154.608 / 1'22.347
World Championship Positions:
1 ROSSI Valentino 237, 2 LORENZO Jorge 207, 3 PEDROSA Dani 157, 4 STONER Casey 150,
5 DOVIZIOSO Andrea 133, 6 EDWARDS Colin 123, 7 CAPIROSSI Loris 97,
8 DE ANGELIS Alex 88, 9 DE PUNIET Randy 88, 10 MELANDRI Marco 87,
11 VERMEULEN Chris 84, 12 ELIAS Toni 80, 13 TOSELAND James 78, 14 HAYDEN Nicky 73,
15 KALLIO Mika 51.
250cc GP to Barberá
A tremendous battle between Héctor Barberá (Pepe World Team) and home rider Mattia Pasini (Team Toth Aprilia) went right down to the wire in the 250cc class, with a desperate last lap ending with the Spaniard crossing the line four-hundredths of a second in front of the Italian.
There was also a superb fight for the last podium position between title candidates Álvaro Bautista (Mapfre Aspar) and Hiroshi Aoyama (Scot Racing Team) on the final lap – and it was a Spanish rider who succeeded in that contest too, albeit by just six-thousandths of a second. That result means Bautista now trails Aoyama by 13 points at the head of the standings.
Mike di Meglio (Mapfre Aspar) completed the top five after appearing to concede ground right at the end. There was home heartbreak for World Champion Marco Simoncelli, meanwhile, as he crashed out on lap twelve when fighting for the race lead, later citing a traction control problem for the accident in which he appeared to lose the rear end before hitting the ground.
Results 250cc (26 laps = 109.876 km)
1 / Hector BARBERA / SPA / Pepe World Team / APRILIA / 43'23.353 / 151.940 /
2 / Mattia PASINI / ITA / Team Toth Aprilia / APRILIA / 43'23.393 / 151.937 / 0.040
3 / Alvaro BAUTISTA / SPA / Mapfre Aspar Team / APRILIA / 43'25.044 / 151.841 / 1.691
4 / Hiroshi AOYAMA / JPN / Scot Racing Team 250cc / HONDA / 43'25.050 / 151.841 / 1.697
5 / Mike DI MEGLIO / FRA / Mapfre Aspar Team 250cc / APRILIA / 43'25.274 / 151.828 / 1.921
6 / Jules CLUZEL / FRA / Matteoni Racing / APRILIA / 43'32.555 / 151.404 / 9.202
7 / Alex DEBON / SPA / Aeropuerto-Castello-Blusens / APRILIA / 43'33.836 / 151.330 / 10.483
8 / Raffaele DE ROSA / ITA / Scot Racing Team 250cc / HONDA / 43'34.713 / 151.279 / 11.360
9 / Hector FAUBEL / SPA / Honda SAG / HONDA / 43'42.306 / 150.841 / 18.953
10 / Thomas LUTHI / SWI / Emmi - Caffe Latte / APRILIA / 43'47.833 / 150.524 / 24.480
11 / Karel ABRAHAM / CZE / Cardion AB Motoracing / APRILIA / 43'48.033 / 150.513 / 24.680
12 / Shoya TOMIZAWA / JPN / CIP Moto - GP250 / HONDA / 44'14.874 / 148.991 / 51.521
13 / Alex BALDOLINI / ITA / WTR San Marino Team / APRILIA / 44'15.827 / 148.938 / 52.474
14 / Valentin DEBISE / FRA / CIP Moto - GP250 / HONDA / 44'35.028 / 147.868 / 1'11.675
15 / Balazs NEMETH / HUN / Balatonring Team / APRILIA / 44'38.868 / 147.656 / 1'15.515
Pole Position: Hiroshi AOYAMA 1'38.867 153.879 Km/h
Fastest Lap: Lap 23 Hiroshi AOYAMA 1'39.039 153.612 Km/h
Circuit Record Lap: 2008 Marco SIMONCELLI 1'38.993 153.683 Km/h
Circuit Best Lap: 2008 Hector BARBERA 1'38.047 155.166 Km/h
World Championship Positions:
1 AOYAMA Hiroshi 205, 2 BAUTISTA Alvaro 192, 3 SIMONCELLI Marco 165,
4 BARBERA Hector 158, 5 PASINI Mattia 120, 6 DE ROSA Raffaele 90,
7 FAUBEL Hector 86, 8 DEBON Alex 82, 9 LUTHI Thomas 80, 10 LOCATELLI Roberto 78,
11 DI MEGLIO Mike 74, 12 CLUZEL Jules 58, 13 PESEK Lukas 53, 14 ABRAHAM Karel 44,
15 WILAIROT Ratthapark 43.
---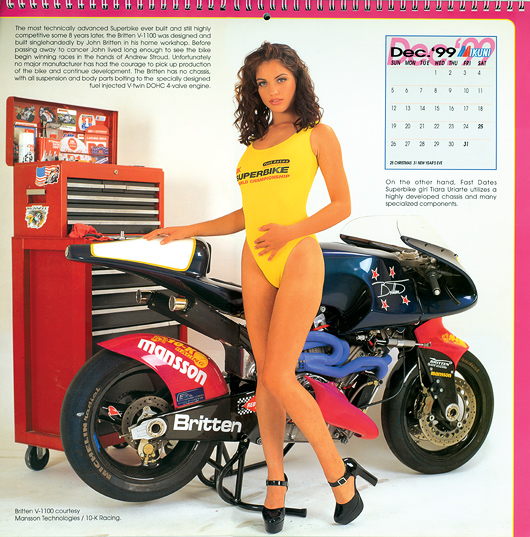 One of John Britten's rare hand built from scratch superbikes. #8 of 10 built, was featured in the
1999 Fast Dates Calendar.
New Video Tribute To John Britten. Backyard Motorcycle Visionary
He was considered at the time of his death the best motorcycle engineer in the world. His Britten Superbike, today, almost 20 years later is still one of the most advanced sportbikes ever built. Designing and building motorcycles and much more, John Britten gave us a fabulous lesson of perseverance, courage, humility and creativity. Now available is this incredible this 5- part documentary on the John Britten story, shot in his home in New-Zealand is a must see for all the pros and backyard builders around the world. By the time he died of cancer in 1995, John Britten had become a household name.

Watch the video TV Series The John Britten Story
The Official Britten Website: www.Britten.co.nz
---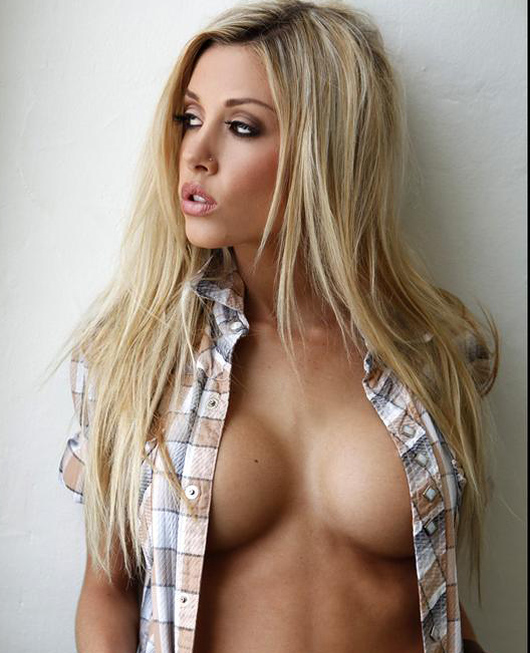 Shooting with 2 Beautiful
new Calendar Kittens
Sept 2009 - We discovered beautiful up coming new Playboy Playmate Heather Rae Young (above, waiting for a stiff breeze) wondering around aimlessly at this year's 2009 LA Calendar Motorcycle Show. We couldn't help ourselves but to offer to make her even more famous by becoming a Calendar Kitten and shooting her for the next 2011 FastDates.com Calendars. Somehow she fell for our stupid pickup line.

We must be doing something right! We even convinced Heather to do a girl/girl shoot with supermodel Tarah Tobiason (at right).

Our newest Calendar Kittens shot together this last with Jim Gianatsis for all three 2011 Garage Girls Iron & Lace, and Fast Dates Calendars with Valentino Rossi's YZR1 MotoGP bike and two new custom V-Twins from Calendar Builder Todd Silicatio at ToddsCycle.com.
New 2010 Ducati Sport Tourer
Here's the first spy photo of the new 2010 Ducati Adventure Tourer / Multistrada replacement which we showed you a preview of a week weeks earlier. The bike features the watercooled 1098cc 4-valve Testastretta Superbike engine as found in the new Streetfighter which is rated around 150hp, some 55hp more than the current 95ho aircooled 2-valve 1080cc Multistrada - more than a 50% power increase!
Word is the current Multistrada 1080 will be dropped from the Ducati line because the ugly duckling is no longer selling well. We think this would be unfortunate as it is still a great bike, and if you remember we named it FastDates.com's Bike of the Year back in 2004 when it was first introduced. We own a Multistrada ourselves, and even convinced Edelweiss Tours to add it to their bike group as a more nimble and lightweight alternative to the big BMW GS1200R and then we rode one across 5 European counties in 6 days on their High Alpine Adventure tour. We think Ducati should still keep the Multistrada in its line up, but give it a face lift, a fixed windscreen, a more comfortable saddle for touring, and lower the price below $10,000 more in line with its smaller 620cc sister in the Ducati line.
---
There's more! Go to Pit Lane News Previous Page

Also Visit: Fast Dates Calendar News • Iron & Lace Calendar News
Calendar Girl News • Meet the Models • Paddock Garage

Calendar Kittens, The Paddock Garage, Screensavers, Iron & Lace Garage



MotorcycleSuperstore.com
Some of our Calendar Kittens can also at Playboy's website...

FREE! New Met-Art Model Galley Updated Daily - Stop Back Each Day