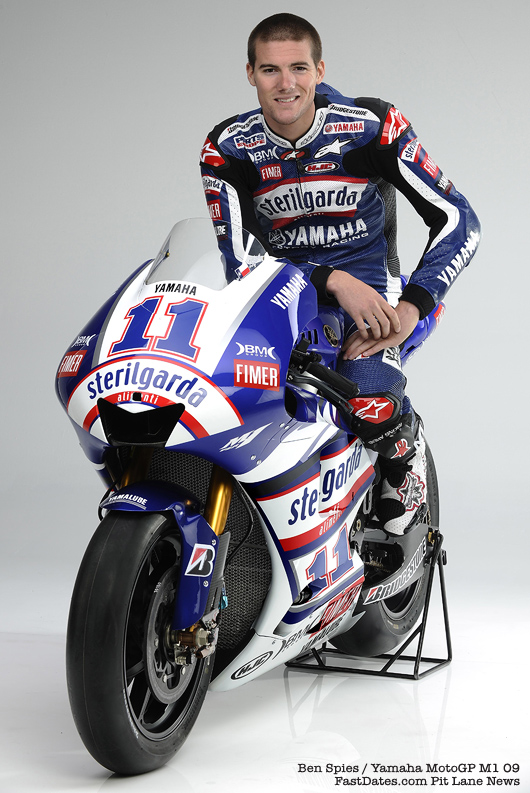 Yamaha unveils Ben Spies' livery for Valencia
Italy, Nov 4th - The Sterilgarda Yamaha Team have unveiled the special one-off livery for 2009 World Superbike Champion Ben Spies ahead of his wildcard ride at the final MotoGP race in Valencia this weekend. Spies will be riding the Yamaha YZR-M1 prior to joining the Tech3 Yamaha Team next Monday to start testing for the 2010 season.
The American rider has achieved astonishing success in his rookie year in World Superbike, bringing the first ever World Superbike Championship victory for Yamaha. Over the 2009 season he scored 14 race wins and 11 pole position starts in the class, becoming the all-time greatest rookie in the process.
Ben Spies and YZR-M1 - "I'm really excited for the opportunity to race at Valencia this weekend," said Spies. "I'm fully aware that MotoGP is a big step up from World Superbike and realize it's not going to be possible to achieve the same results in my first year there. I see this weekend as an opportunity to spend some time on the bike and start learning it for next season, and to have some fun as well!"
Pedrosa celebrates his 2nd victory of the season at Valencia.
2009 MotoGP Championship, Valencia, Italy, Round 17 of 17
Pole Sitter and Favorite, Casey Stoner Crashes Out on Warm Up Lap!
Pedrosa and Honda Win MotoGP 2009 Finale at Valencia
Aoyama and Honda Win the Last 250 GP Ever
Valencia, November 6-8 , 2009 - Honda enjoyed a great 2009 season finale at Valencia today with Dani Pedrosa (Repsol Honda) winning the MotoGP race in dominant style and Hiroshi Aoyama (Scot Honda) securing the last-ever 250 World Championship. It was a fitting climax to the season that marked Honda's 50th anniversary of Grand Prix racing.
Pedrosa was in awesome form. He led from start to finish, leaving his rivals struggling to match his pace during the 30 lap event run in cool, windy conditions. Starting from the front row of the grid the local hero took just three laps to open a 2.1 second gap over his pursuers, using the speed of his RC212V to maximum advantage (Pedrosa was fastest through the start/finish speed trap at 316.6km/h). At one stage he was 4.4 seconds in front of closest challenger Valentino Rossi (Yamaha), finally crossing the line 2.6 seconds ahead of the Italian who just bettered team-mate Jorge Lorenzo.
Pedrosa's second victory and 11th podium of the year gave him third in the 2009 MotoGP World Championship. The only man who could have beaten him to third overall was Casey Stoner (Ducati), but the Australian didn't even make the start after sliding off during the warm-up lap. Cool conditions made the track quite treacherous throughout the weekend.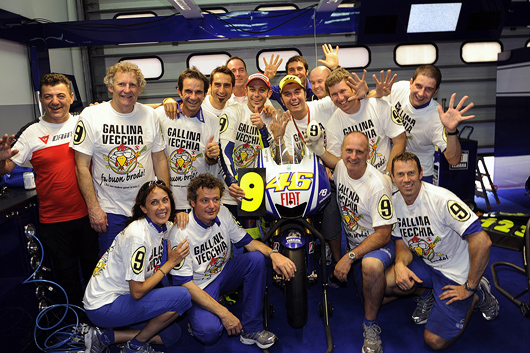 The Italian Super Chicken, Valentino Rossi , is now a veteran "Old Hen / Gallina Vecchia " ready for the cooking pot, celebrating his 9th World Championship two weeks ago at Sepang. Rossi's fans will be out in full force at his Valencia home track to continue the celebration. CLICK TO GO BIG
Valencia Preview
Valentino Rossi, Jorge Lorenzo, Casey Stoner, Dani Pedrosa and Ben Spies were all present at the official pre-event press conference in Valencia on Thursday, ahead of the 17th and final round of the 2009 MotoGP season; the FIM Gran Premio Generali de la Comunitat Valenciana.
While Rossi may have already wrapped up this year's title with a race to spare, the Italian's focus is still on winning the race as he looks to improve on what he believes was a difficult third place last year in Valencia.
"It's a different approach to the race now for sure, it's possible to think just about the result, and this weekend will be very interesting for us because last year I was on the podium but it was quite a bad race for us – I wasn't able to get a good pace. The weather was a big problem also, with the rain. So we hope for better in terms of temperature and rain," said Rossi. "The last time I won here was in 2004 so it's a long time ago. We have to do better."
Rossi is also looking forward to the test that follows immediately after the race weekend. He added, "It will be important. I think we'll try the first prototype of the new bike for 2010, and it will be very interesting to try the bike here in Valencia at what is a difficult racetrack. I have to keep the motivation and the concentration for the test because it's important."
Stoner, who dominated the weekend in Valencia last year as he secured pole position, set a lap record and won the race, believes that despite two wins in his last two races he would not have challenged Rossi for the title had he not had a three-race absence due to fatigue.
"It has come late, but the way my season was going I don't think the outcome of the championship would have been any different," said the Ducati rider, who sits third in the standings. "A lot of people have been talking about 'what ifs' but to be honest we might not even have been able to fight for race victories again if we hadn't sorted my health out. So I am very happy with the way the season has gone now, and things are looking good for us for next year. I think we will be a lot stronger in 2010."
Lorenzo, who came closest to challenging Rossi for the title this year, said that he will go for the race win if the conditions were right. If not, the Spaniard will ride a safe race to ensure second place in the standings.
"We must understand our goal this weekend. If we can race a good race and be fast then we can try (for the win)," said Lorenzo. "If we're not so fast then the cleverest thing is to think of the championship and finish second; after losing the fight for the World title second is a good position. Everyone wants to win the World title but sometimes it's just not possible, and you have to appreciate what you are getting."
Also taking place in Valencia on Thursday was the 'Day of Champions', as MotoGP's official charity Riders for Health enjoyed its traditional end-of-season event at the Ricardo Tormo Circuit. Attendees watched a stunt show with Emilio Zamora, visited to the pit lane and paddock, and had a briefing with Randy Mamola. MotoGP riders were present at a fundraising auction giving away race memorabilia with all profits going towards Riders' work in Africa assisting in the delivery of vital medical supplies.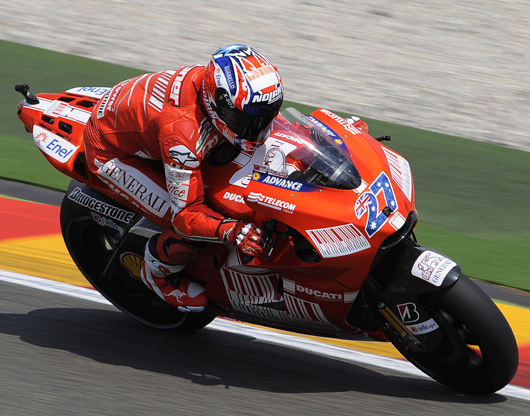 Casey Stoner Tops Friday Practice on Ducati and Yamaha's home track
Practice Friday Nov 6th - In fine sunshine at the Ricardo Tormo circuit on Friday, Ducati Marlboro's Casey Stoner started the Gran Premio Generali de la Comunitat Valenciana weekend in the manner which he hopes will secure a third straight race win as he recorded the best lap time in Free Practice 1.
After overcoming some early dissatisfaction with the response of his Desmosedici GP9, Stoner set a best time of 1'32.813 to leave Jorge Lorenzo second fastest. Fiat Yamaha rider Lorenzo aims to secure second spot in the World Championship standings this weekend, ahead of Stoner, and he followed the Australian on the time sheet by a margin of 0.382s.
In the wake of his confidence-boosting first wet podium in Malaysia last time out, Dani Pedrosa was third on the time sheet as he kept a close tab on Lorenzo, timing his fastest lap just 0.046s slower.
World Champion Valentino Rossi completed the top four after experiencing a rare run-off midway through the session. The Italian star came in almost half a second ahead of Randy de Puniet, who bounced back from his high-side crash and DNF at Sepang to ride a good session and record the fifth-fastest lap.
Alex de Angelis (San Carlo Honda Gresini), Colin Edwards (Monster Yamaha Tech 3), Andrea Dovizioso (Repsol Honda), Loris Capirossi (Rizla Suzuki) and Nicky Hayden (Ducati Marlboro) all recorded top-ten times in the session as well, with wildcard Ben Spies 15th on his factory Yamaha.
Casey Takes Valencia Pole
Qualifying Saturday Nov 7th - Ducati Marlboro Team rider Casey Stoner will start the final round of the 2009 MotoGP World Championship from the front of the grid after a dominant performance in today's single qualifying practice for the Gran Premio Generali de la Comunitat Valenciana. The Australian was rarely troubled at the top of the time sheets. Tomorrow the 2007 World Champion chases a repeat of his win here last year and a hat-trick of back-to-back victories to round off the 2009 season.
CASEY STONER (Ducati Marlboro Team) (1st; 1'32.256) - "We've been fastest in every session so far so we have to be pleased with that and the fact we were able to do most of the lap times we did on a race tyre today is a good sign. I felt pretty comfortable out there but one of the softer rear tyres pushed the front that bit harder and it folded on me in four or five corners. It's a shame because potentially we could have gone that bit quicker but I can't complain. We're on pole position again, in good shape for the race tomorrow and looking forward to it. Hopefully the weather holds out because it would be nice for everybody to end the season with a good race."
Repsol Honda's Dani Pedrosa was next quickest as he improved his own best practice time by over 0.4s to secure second place, ahead of Jorge Lorenzo, who was third fastest overall in the practice sessions as well.
Heading up the second row of the grid will be Lorenzo's Fiat Yamaha team-mate and World Champion Valentino Rossi, whose fourth position was enough to secure him the BMW M Award for best qualifier in MotoGP in 2009.Colin Edwards (Monster Yamaha Tech 3) took fifth spot for the eighth time this season, after improving significantly on his own practice times from earlier in the weekend, whilst Stoner's Ducati Marlboro team-mate Nicky Hayden took the final second-row slot with his final lap, beating Randy de Puniet (LCR Honda) to sixth.
De Puniet recovered from an early crash to ensure seventh place, after an impressive showing in both practice sessions, whilst Toni Elías (San Carlo Honda Gresini) will occupy eighth in the starting positions.Ben Spies, riding as a wildcard entry for the Sterilgarda Yamaha Team and completing only his fourth ever qualifying session in MotoGP, will line up ninth, with Andrea Dovizioso also coming through inside the top ten.
Circuit Record (800cc) : Casey Stoner (Ducati - 2008), 1'32.582 – 155.732 Km/h
Best Pole (990cc): Valentino Rossi (Yamaha - 2006), 1'31.002 – 158.436 Km/h
2009 Pole (800cc): Casey Stoner (Ducati) 1'32.256 – 156.282 km/h
Dani Pedrosa took the lead off the atart and immediately pulled out a 2-3 second gap on the rest of the field that last the race. The spectator crowd was large around 70,000 people.
Casey Crashes Out on WarmUp Lap!
Pedrosa takes second win of the season at Valencia
Race Day, Nov 7th - Victory on home soil saw Dani Pedrosa end the 2009 FIM World Championship on a high at the Gran Premio Generali de la Comunitat Valenciana, as the Repsol Honda man enjoyed a start-to-finish win in the final race of the 2009 season and Valentino Rossi and Jorge Lorenzo completed the podium. The top 3 finishers never really challenged each other during the race, after Rossi got past his team mate on the opening laps when Lorenzo got out of shape on the painted curbing and was forced to surrender his then 2nd place in front of Rossi. The mishap put Lorenzo a one second behind Rossi which he was never able to reagan, while race winner Pedrosa maintained a 2-3 second lead the entire race.
The only real drama in the race started before the race had even commenced, as pole position holder Casey Stoner's high-side crash on the warm-up lap from purposely starting the race on cold tires, and that meant he was unable to take his place on the grid.
Filippo Preziosi – Ducati Corse General Director: - "Unfortunately after a virtually perfect weekend Casey was denied the opportunity to finish it with a good race today. We've been using this grid strategy for the past two season, but the only risk is that the tyres are colder than they should be for the "warm-up lap". We obviously need to change this for the future and make sure there is enough temperature in the tyre. It is the first time it has happened in two years but once is already too much so we will look to improve on that.
Stoner's crash on the warm up lap allowed Pedrosa to lead the grid from second position on the front row, and after taking the hole shot he did not look back, sealing third spot in the overall standings in the process.
World Champion Valentino Rossi followed the Spaniard home in second place, finishing 2.630s behind Pedrosa as he ended his title-winning season with his 13th podium of the campaign. The Italian's Fiat Yamaha team-mate Jorge Lorenzo, who did well to hold onto his bike when a moment on the opening lap almost threw him off, was a further 0.283s behind as he took third, having already sealed second spot in the Championship by virtue of Stoner's non-start.
Stoner ended the season in fourth place overall, with Colin Edwards' fourth place in the race allowing him to snatch fifth in the 2009 standings from Andrea Dovizioso.
The top five on the day was completed by Stoner's Ducati Marlboro team-mate Nicky Hayden, who held off the challenge of Toni Elías as the Spaniard came in sixth in his final race with the San Carlo Honda Gresini team.
Wildcard rider Ben Spies rode to an impressive seventh-placed finish, and in depriving Dovizioso of that spot – the Italian finished eighth – played a direct role in helping his future Monster Yamaha Tech 3 team-mate Edwards take fifth in the Championship.
There were also top-ten finishes for Rookie of the Year Mika Kallio (Pramac Racing) and Alex de Angelis (San Carlo Honda Gresini).
Dani Pedrosa, Repsol Honda: race winner - "It's really great to finish off the season with a win, especially here in front of my home fans. I was waiting on the grid with my visor up and I was looking to the side for Casey to arrive, but the marshal in front of me was walking to the side and I was thinking: 'Where is he going!' So I assumed something had happened to Casey on the warm-up lap. In the first few laps I had to be careful because you have to warm up the tyres here, especially on the right hand side. But once that was done, we maintained a good pace and kept focused.
In the last laps, the wind was strong and it would have been easy to make a mistake, but I was able to control the gap to Valentino and take this win. I was thinking back to Laguna Seca where Valentino closed the gap a lot, and I also knew that Jorge was catching Valentino too, so I just kept pushing.
I'm very happy for the team because we struggled quite a lot in practice here, and yet we were able to win in front of all the Spanish fans. I'd like to thank the fans too. To get third in the championship is not what I was expecting but it's a nice surprise, even though Casey wasn't in the race. This season has not been easy and tomorrow's testing will be important so that we can start 2010 in the best possible shape. This gives us a good start towards that."
Valentino Rossi - Position: 2nd, Time: +2.630 - "I'm really happy about this result because it was fantastic to be able to ride well at Valencia and it's my best finish here since 2004. Of course it would have been better to win but I lost some time at the start battling with Elias and Lorenzo and by that time Pedrosa had gone and at this track it's almost impossible to make up a two second gap. It's not one of our best tracks but after the problems we had all weekend we can be very pleased, we made a great modification in warm-up so thanks to all my guys for this. We've ended the championship on the podium and it's been a great season, another world title and the triple crown for Yamaha, I am very proud. Thank you to Yamaha, all my team, Bridgestone and everyone else, now we will have a little party before we start work on the 2010 bike tomorrow!"
Jorge Lorenzo
Jorge Lorenzo
Jorge Lorenzo - Position: 3rd, Time: +2.913 - "I had some good fights at the start and I was feeling quite strong but then I made a big mistake in the slow corner and I was lucky not to crash, so Valentino got by. I was in a bit of pain and I took some time to recover,\ and by then the gap was a bit too big to catch him. Anyway I'm happy to get another podium in Spain and I am so proud to have finished second in the championship; I want to thank everyone, Yamaha, Bridgestone and all my team, because we have worked so hard and this is a great achievement in just our second season. Now I can't wait to start testing the new bike and I look forward to being even stronger next year."
MotoGP Results
Race Classification MotoGP : (30 laps = 120.15 km)
Pos / Rider / Nat / Team / Motorcycle / Time/ KM/H / Gap
1 / Dani PEDROSA / SPA / Repsol Honda Team / HONDA / 46'47.553 / 154.062 /
2 / Valentino ROSSI / ITA / Fiat Yamaha Team / YAMAHA / 46'50.183 / 153.918 / 2.630
3 / Jorge LORENZO / SPA / Fiat Yamaha Team / YAMAHA / 46'50.466 / 153.903 / 2.913
4 / Colin EDWARDS / USA / Monster Yamaha Tech 3 / YAMAHA / 47'20.068 / 152.299 / 32.515
5 / Nicky HAYDEN / USA / Ducati Marlboro Team / DUCATI / 47'22.138 / 152.188 / 34.585
6 / Toni ELIAS / SPA / San Carlo Honda Gresini / HONDA / 47'22.441 / 152.172 / 34.888
7 / Ben SPIES / USA / Sterilgarda Yamaha Team / YAMAHA / 47'25.259 / 152.021 / 37.706
8 / Andrea DOVIZIOSO / ITA / Repsol Honda Team / HONDA / 47'25.917 / 151.986 / 38.364
9 / Mika KALLIO / FIN / Pramac Racing / DUCATI / 47'30.044 / 151.766 / 42.491
10 / Alex DE ANGELIS / RSM / San Carlo Honda Gresini / HONDA / 47'31.242 / 151.702 / 43.689
11 / Randy DE PUNIET / FRA / LCR Honda MotoGP / HONDA / 47'33.571 / 151.578 / 46.018
12 / James TOSELAND / GBR / Monster Yamaha Tech 3 / YAMAHA / 47'37.779 / 151.355 / 50.226
13 / Aleix ESPARGARO / SPA / Pramac Racing / DUCATI / 47'44.721 / 150.988 / 57.168
14 / Loris CAPIROSSI / ITA / Rizla Suzuki MotoGP / SUZUKI / 47'54.430 / 150.478 / 1'06.877
15 / Chris VERMEULEN / AUS / Rizla Suzuki MotoGP / SUZUKI / 47'59.254 / 150.226 / 1'11.701
Pole Position: Casey STONER 1'32.256 156.282 Km/h
Fastest Lap: Dani PEDROSA 1'32.778 155.403 Km/h Lap 10
Circuit Record Lap: 2008 Casey STONER 1'32.582 155.732 Km/h
Circuit Best Lap: Valentino ROSSI 1'31.002 158.436 Km/h 2006
2009 Final MotoGP World Championship Positions:
1 ROSSI 306 (World Champion 2009), 2 LORENZO 261, 3 PEDROSA 234, 4 STONER 220,
5 EDWARDS 161, 6 DOVIZIOSO 160, 7 ELIAS 115, 8 DE ANGELIS 111, 9 CAPIROSSI 110,
10 MELANDRI 108, 11 DE PUNIET 106, 12 VERMEULEN 106, 13 HAYDEN 104,
14 TOSELAND 92, 15 KALLIO 71.
Hiroshi Aoyama
250cc Grand Prix - Barbera and Aprilia wins last 250cc race for Aprilia
Aoyama Takes final 250cc Title when race leader Simoncelli crashes out
A dramatic 250cc race ended with Hiroshi Aoyama claiming the World title after defending champion Marco Simoncelli crashed out when in the lead, as Héctor Barberá took the victory. Álvaro Bautista (Mapfre Aspar Team) and Raffaele de Rosa (Scot Racing) completed the podium, as Barberá won by a margin of 3.663s and sealed second spot in the World Championship standings ahead of Simoncelli.
Scot Racing Team rider Aoyama survived a run-off in lap nine, which dropped him down to eleventh position – the lowest finish he could afford in order to claim the title – as an engrossing race then saw Simoncelli lose the front of his bike when going into turn two with seven laps to go, thus ending his race.
Thomas Luthi (Emmi - Caffe Latte), Ratthapark Wilairot (Thai Honda PTT SAG) and Karel Abraham (Cardion AB Motoracing) all finished ahead of Aoyama in the race. The new World Champion also survived an earlier scare when nearly touching bikes with Bautista, before Simoncelli recovered from falling to eighth place from first on the grid to lead the race. Aoyama's run-off then added more entertainment, before Simoncelli's crash handed him the title as both Mike di Meglio (Mapfre Aspar) and Jules Cluzel (Matteoni Racing) also suffered spills which ended their seasons on a low.
Hiroshi Aoyama, Scot Honda: seventh "I have been racing for 23 years, so I have been waiting for this moment for 23 years. It's incredible! I am very proud to win this title, and it makes it extra special that it's the last 250 title. Today I wanted to win the race, so I was pushing, pushing, pushing, but finally I pushed too much and went outside of the track. I was riding in the gravel, like riding motocross and I kept telling myself 'Don't crash! Don't crash!' I came back on track, but I was so far back and it was so difficult to think about my position. Finally I saw Simoncelli had crashed, so I knew then that my position was okay to win the title. Today's race was not the best for me but to win the championship is fantastic. This has been a difficult season, but my team staff gave me great support, we had a great team, they cheered me up and gave me extra motivation when I needed it. I want to say a big, big thank you to everyone – Scot, Honda, Dunlop, everyone who helped me. It was not so easy, but I could push hard with all this help."
250cc GP Results (27 laps = 108.135 km)
Pos / Rider / Nat / Team / Motorcycle / Time/ KM/H / Gap
1 / Hector BARBERA / SPA / Pepe World Team / APRILIA / 44'10.601 / 146.867 /
2 / Alvaro BAUTISTA / SPA / Mapfre Aspar Team / APRILIA / 44'14.264 / 146.664 / 3.663
3 / Raffaele DE ROSA / ITA / Scot Racing Team 250cc / HONDA / 44'16.266 / 146.553 / 5.665
4 / Thomas LUTHI / SWI / Emmi - Caffe Latte / APRILIA / 44'16.281 / 146.553 / 5.680
5 / Ratthapark WILAIROT / THA / Thai Honda PTT SAG / HONDA / 44'24.202 / 146.117 / 13.601
6 / Karel ABRAHAM / CZE / Cardion AB Motoracing / APRILIA / 44'24.298 / 146.112 / 13.697
7 / Hiroshi AOYAMA / JPN / Scot Racing Team 250cc / HONDA / 44'38.039 / 145.362 / 27.438
8 / Alex BALDOLINI / ITA / WTR San Marino Team / APRILIA / 44'45.698 / 144.947 / 35.097
9 / Roberto LOCATELLI / ITA / Metis Gilera / GILERA / 44'46.467 / 144.906 / 35.866
10 / Shoya TOMIZAWA / JPN / CIP Moto - GP250 / HONDA / 44'50.777 / 144.674 / 40.176
11 / Shuhei AOYAMA / JPN / Racing Team Germany / HONDA / 44'59.696 / 144.196 / 49.095
12 / Lukas PESEK / CZE / Auto Kelly - CP / APRILIA / 45'03.733 / 143.980 / 53.132
13 / Balazs NEMETH / HUN / Balatonring Team / APRILIA / 45'16.615 / 143.298 / 1'06.014
14 / Mike DI MEGLIO / FRA / Mapfre Aspar Team 250cc / APRILIA / 45'29.293 / 142.632 / 1'18.692
15 / Valentin DEBISE / FRA / CIP Moto - GP250 / HONDA / 45'29.477 / 142.622 / 1'18.876
Pole Position: Alex DEBON 1'36.116 150.006 Km/h
Fastest Lap: Hector BARBERA 1'36.866 148.844 Km/h Lap 17
Circuit Record Lap: 2007 Mika KALLIO 1'35.659 150.722 Km/h
Circuit Best Lap: Hiroshi AOYAMA 1'35.109 151.594 Km/h 2006
2009 Final 250cc GP World Championship Positions:
1 AOYAMA 261 (World Champion 2009), 2 BARBERA 239, 3 SIMONCELLI 231,
4 BAUTISTA 218, 5 PASINI 128, 6 DE ROSA 122, 7 LUTHI 120, 8 DI MEGLIO 107,
9 FAUBEL 105, 10 DEBON 101, 11 LOCATELLI 85, 12 CLUZEL 82, 13 WILAIROT 81,
14 ABRAHAM 74, 15 PESEK 74.
125cc Grand Prix - Julian Simon Takes Race and Title for Aprilia
It was a third straight one-two for Bancaja Aspar team-mates Julián Simón and Bradley Smith in the 125cc contest, as the pair put on another enthralling display which went down to the last lap. Taking their duel to the very last corner of the race again, Simón managed to hold off his rival for another thrilling finish, as he eventually finished 0.220s ahead.
Pol Espargaró (Derbi Racing Team) completed the podium after riding a lonely race in third, confirming fourth place in the World Championship, with Nico Terol finishing tenth in the race as he sealed third in the season's overall standings.
Simone Corsi won the battle for fourth place ahead of the impressive Marcel Schrotter, with Joan Olivé (Derbi Racing Team), Efrén Vázquez (Derbi Racing Team), Sandro Cortese (Ajo Interwetten) and Randy Krummenacher (Degraaf Grand Prix) all finishing inside the top ten.
125cc: Race Classification (24 laps = 96.12 km)
Pos / Rider / Nat / Team / Motorcycle / Time / KM/H / Gap
1 / Julian SIMON / SPA / Bancaja Aspar Team 125cc / APRILIA / 41'17.553 / 139.666 /
2 / Bradley SMITH / GBR / Bancaja Aspar Team 125cc / APRILIA / 41'17.773 / 139.654 / 0.220
3 / Pol ESPARGARO / SPA / Derbi Racing Team / DERBI / 41'29.676 / 138.986 / 12.123
4 / Simone CORSI / ITA / Fontana Racing / APRILIA / 41'35.130 / 138.682 / 17.577
5 / Marcel SCHROTTER / GER / Toni - Mang Team / HONDA / 41'35.470 / 138.664 / 17.917
6 / Joan OLIVE / SPA / Derbi Racing Team / DERBI / 41'35.887 / 138.640 / 18.334
7 / Efren VAZQUEZ / SPA / Derbi Racing Team / DERBI / 41'36.055 / 138.631 / 18.502
8 / Sandro CORTESE / GER / Ajo Interwetten / DERBI / 41'36.106 / 138.628 / 18.553
9 / Randy KRUMMENACHE / SWI / Degraaf Grand Prix / APRILIA / 41'36.284 / 138.618 / 18.731
10 / Nicolas TEROL / SPA / Jack & Jones Team / APRILIA / 41'38.833 / 138.477 / 21.280
11 / Dominique AEGERTER / SWI / Ajo Interwetten / DERBI / 41'41.188 / 138.347 / 23.635
12 / Lorenzo ZANETTI / ITA / Ongetta Team I.S.P.A. / APRILIA / 41'51.922 / 137.755 / 34.369
13 / Luis SALOM / SPA / Jack & Jones Team / APRILIA / 41'55.503 / 137.559 / 37.950
14 / Takaaki NAKAGAMI / JPN / Ongetta Team I.S.P.A. / APRILIA / 41'55.643 / 137.552 / 38.090
15 / Johann ZARCO / FRA / WTR San Marino Team / APRILIA / 41'57.596 / 137.445 / 40.043
Pole Position: Julian SIMON 1'41.472 142.088 Km/h
Fastest Lap: Julian SIMON 1'41.650 141.839 Km/h Lap 4
Circuit Record Lap: 2007 Hector FAUBEL 1'39.380 145.079 Km/h
Circuit Best Lap: Gabor TALMACSI 1'39.029 145.593 Km/h 2007
2009 Final 125cc GP World Championship Positions:
1 SIMON 289 (World Champion 2009), 2 SMITH 223.5, 3 TEROL 179.5, 4 ESPARGARO 174.5, 5 GADEA 141, 6 CORTESE 130, 7 IANNONE 125.5, 8 MARQUEZ 94, 9 OLIVE 91,
10 BRADL 85, 11 CORSI 81, 12 FOLGER 73, 13 AEGERTER 70.5, 14 VAZQUEZ 54,
15 REDDING 50.5.
---
Order Now! New FastDates.com Calendar Christmas & Greeting Cards
Give your sportbike friends the best Christmas ever! Send them the new FastDates.com Holiday Card to help spread some cheer! Featured on the card our Santa's Kitten Helpers Sabella and Rachel who are featured in the new 2010 Fast Dates World Superbike Calendar. Talk about our Kittens being naughty and nice, Christmas couldn't get any better than this! Order Now!
Greeting Cards are available in the FastDates.com CafePress Store.
---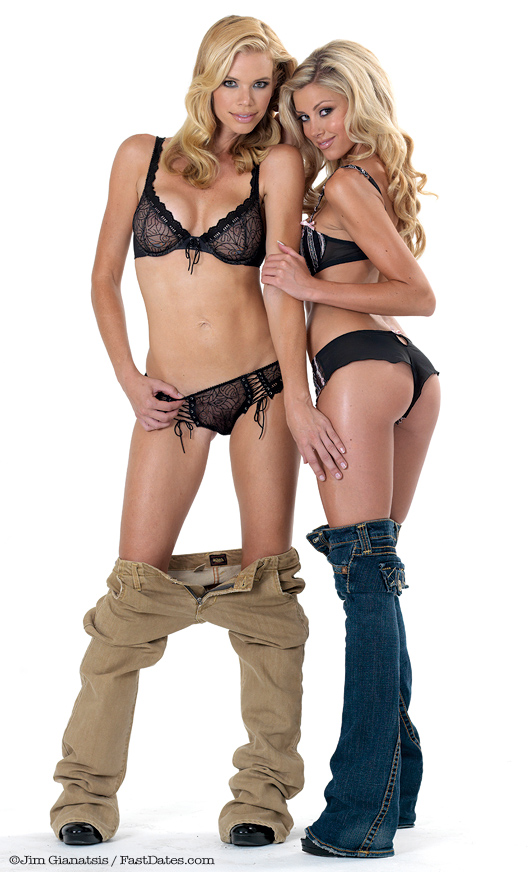 New Calendar Kittens Tarah & Heather
Gianatsis Design Studios, November 2009 - We told you about our upcoming photo shoot last month with California supermodel Tarah Tobiason (above left) and upcoming Playboy Playmate Heather Rae Young (above right), so we thought you might like to see one of the pictures! Both Kittens were a joy to shoot with and will be featured in all 3 editions of the 2011 FastDates.com Calendars.
Heather's already photographed Playboy Centerfold feature is expected to appear in the next few months. possibly as Miss January 2010. Heather has been featured earlier in many of the Playboy Newsstand Specials magazines, and on the Playboy.com website (at the banner ad link below). But you may not recognize Heather in her earlier Playboy shoots where she was a slightly plump barely-legal teen model out of high school. Last year at age 20, Heather took on a serious training and diet routine that almost completely transformed her into the goddess like creature we know her as now. We've never seen a girl with such a perfect face and boy, a body so hard and tight, our dream was to bounce quarters off her perfectly round butt and six-pack tummy.
Heather has also confirmed she will be joining us at the 2010 LA Calendar Motorcycle Show Weekend to premier and autograph her new 2011 FastDates.com Calendars.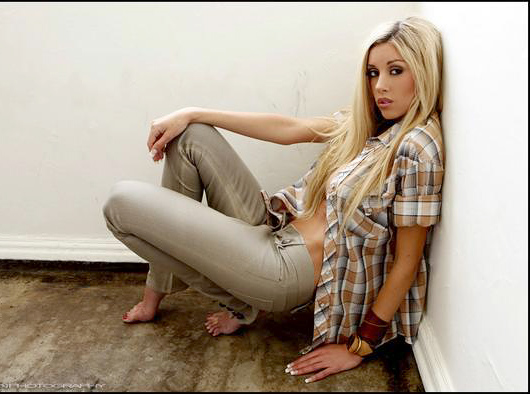 Shooting with 2 Beautiful
new Calendar Kittens
We discovered beautiful up coming new Playboy Playmate Heather Rae Young (above, waiting for a stiff breeze) wondering around aimlessly at this year's 2009 LA Calendar Motorcycle Show. We couldn't help ourselves but to offer to make her even more famous by becoming a Calendar Kitten and shooting her for the next 2011 FastDates.com Calendars. Somehow she fell for our stupid pickup line.

We must be doing something right! We even convinced Heather to do a girl/girl shoot with supermodel Tarah Tobiason (at right).

Our newest Calendar Kittens shot together this last with Jim Gianatsis for all three 2011 Garage Girls Iron & Lace, and Fast Dates Calendars with Valentino Rossi's YZR1 MotoGP bike and two new custom V-Twins from Calendar Builder Todd Silicatio at ToddsCycle.com.
2010 Garage Girls - Beautiful Models Hard at Work!
"All Killer, No Filler" is the only way to describe each year's of the exciting Garage Girls Calendar photographed by Jim Gianatsis featuring a close-up look at this year's most beautiful FastDates.com Calendar Kittens, but without the bikes getting in the way! The sexy 2010 Garage Kittens include 3 beautiful cover supermodels: Rachel Bernstein, Playboy Playmate Athena Lundburg, and Hustler centerfold and adult teen film star Jayme Langford. We've got your wall covered with the Kittens nearly uncovered in smoking hot poses from very nice to very naughty!
Also getting dirty in this year's Garage Girls Calendar are Apple Price and Cora Skinner, two more of this year's hottest Calendar Kittens. Garage Girls is the perfect companion to our other FastDates.com Motorcycle Calendars, Fast Dates and Iron & Lace, so you can keep up to date all year long, both in the Garage where you keep your tools, and in the House where you park your bike!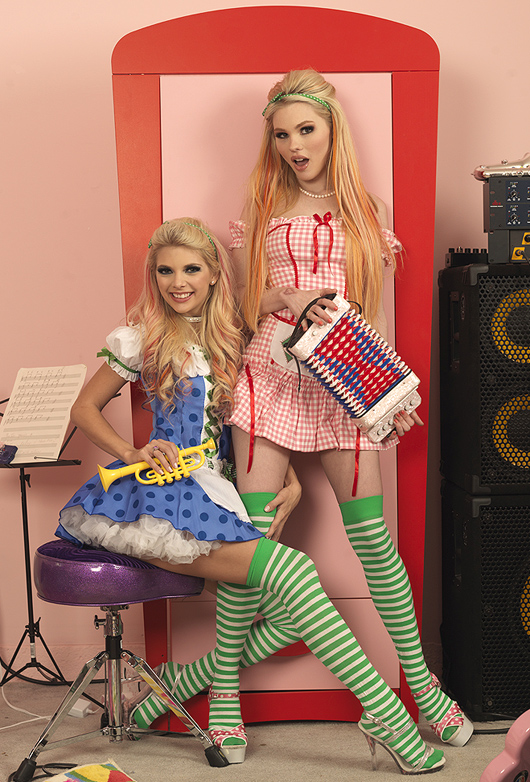 Janna and Jayme at Pajama band rehearsal.
Jim Gianatsis shoots with Jayme Langford, Janna Jordan
and Taylor Taylor for new HD TV series "Doheny Models"
November 2009 - This summer I was excited to shoot with our sexy little Calendar Kitten Jayme Langford who is featured in the 2010 Fast Dates calendars Garage Girls and Iron and Lace for a new upcoming program series on the HD TV network. Produced by Robert Bennett who already produces "Bikini Destinations" and "Get Out" for the HD channel, this new show is called "Doheny Models" and is hosted by model Tyler Taylor. The show's concept is for Tyler to follow and join professional models on location for sexy photo shoots.
Our particular show features Tyler coming to visit and audition for a photo shoot I am doing with Pajama Band, the pop rock band made up of calendar Kittens and adult film stars Jayme Langford and Janna Jordan. The shoot takes place at Jayme and Janna's house in Sherman Oaks which can old be described as a set out of "Alice and Wonderland" The house itself is decorated with props and furniture from some of the wild and colorful adult film sets they have worked on. The girls ride around the house and yard in a kid's pink electric car and pink bicycles. And out in the back yard they have a guest house which has been turned into a rehearsal and recording studio for their band. The who thing is very surreal, particularly when Janna pulled up to the house in her 1972 limited edition Cale Yarborough Mercury Cyclone NASCAR replica street car.she has owned since she first started driving at age 16 back home in Texas.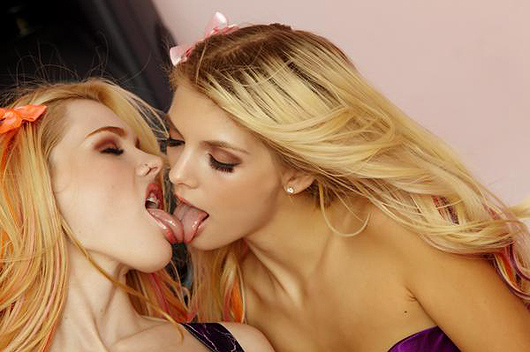 Jayme and Janna practice their guitar licks at Pajama Band rehearsal.
Pajama Band with Jayme and Janna is just one of the bands that performs at our annual LA Calendar Motorcycle Show Weekend. Look for "Doheny Model"s with pour Pajama Band photo shoot to premier on the HD TV network beginning in 2010. - Jim Gianatsis
Doheny Models hostess Tyler Taylor (left) poses with Jayme at Pajama Band rehearsal.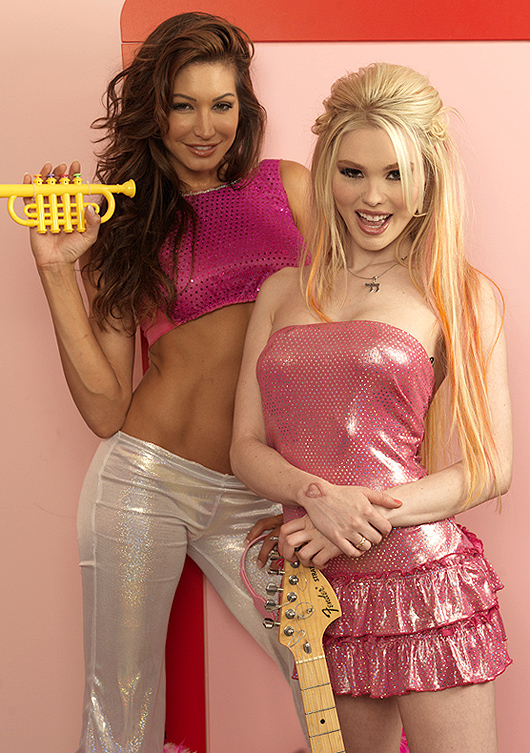 ---
4th Place winner "Harrier" from SE Service, Skogas, Sweeden uses a BMW boxer engine as the main stressed frame member for a monoshock suspended front swingarm with center hub steering.
Sportbike Contenders at the
2009 AMD World Championship of Custom Bike Building
Sturgis, South Dakota, 2009 - The Official World Championship of Custom Bike Building encompasses some 18 bike shows in total, in 16 different countries around the world: Germany, Austria, Switzerland, Italy, France, Spain, Portugal, Sweden, The Netherlands, Ireland, Japan, Australia, Russia, Canada, Mexico and the United States.The World Championship of Custom Bike Building is an Official Sponsor of the annual Sturgis Motorcycle Rally and is endorsed by the City of Sturgis as the sole official custom bike event of the world famous 69 year-old rally. Winners from the 18 rounds are invited to the AMD World Championship Final which takes place at Sturgis Bike Week each August.
Past AMD World Championship winners like our FastDates.com Calendar builder Roger Goldammer from Canada have won overall with innovative sport/racing bikes in a field of mostly Harley V-twin customs choppers. But this year with the down turn in the economy and the custom bike market, more practical sportbike styled customs that appeal to everyone across the board in motorcycling. Check out these four awesome street customs, to of which are from our regular FastDates.com Calendar bike builders Roland Sands and Jesse Rooke.
You can see high resolution screen savers images of these bikes and more from the 2009 AMD World Championship in the Iron & Lace Garage as part of Members Corner.
Roland Sands built this cool Harley V-twin powered monoshock Cafe Racer featuring a Ducati style tube frame and swingarm. The exhaust pipes are guaranteed leg burners.
Jesse Rooke built our favorite, most practical and fun looking of all the Show's bikes, a street legal supercharged Harley V-twin powered street tracker (above and below) built for Dunlop Tires with single sided swingarm. Believe it or not, this cool bike only placed 25th in the 33 bike field!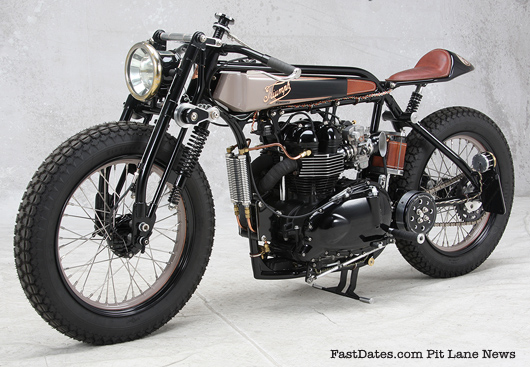 Taking 6th Place with "TT Deluxe " was LC Fabrications from Mt. Crawford, Virginia. They use a modern Triumph Bonneville twin cylinder engine in a retro 1920's style race bike chassis.
---
Calendar Kitten Joanna does MAXIM and Playboy again, stars on TV's Dancing with the Stars
November 1st - FastDates.com Calendar Kitten Joanna Krupa seems to be appearing everywhere this month.She is currently the top celebrity contestant on this fall TV season's "Dancing with the Stars", recording top scores each week with her professional dancing partner. Look for Joanna to pull off the season's win.

We also caught Joanna on "Chelsea Lately"on E! TV hosted by Chelsea Handler where she talked with the sexy female comedian and they both revealed they are both be on alternate covers of the December 2009 issue of Playboy Magazine. Chelsea was also on the Jay Leno Show that evening where Jay revealed her Playboy cover. Chelsea has a humorous semi nude photo feature inside the issue, while our beautiful Calendar Kitten Joanna has a much more revealing
8-page nude pictorial inside the December issue.
---
There's more! Go to Pit Lane News Previous Page

Also Visit: Fast Dates Calendar News • Iron & Lace Calendar News
Calendar Girl News • Meet the Models • Paddock Garage

Calendar Kittens, Paddock Garage, Screensavers, Iron & Lace Garage




MotorcycleSuperstore.com
Some of our Calendar Kittens can also at Playboy's website...


FREE! New Met-Art Model Galley Updated Daily - Stop Back Each Day


World Premier!
2010 FastDates.com Calendars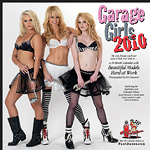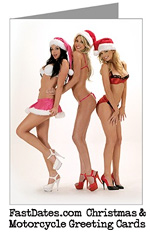 Sports Illustrated
Swimsuit Calendars!
---
Shocker!
Davide Tardozzi
Leaves Ducati Corse
Borgo Panigale (Bologna, Italy), 9 November 2009 - Davide Tardozzi, SBK project manager, leaves the historic Bologna-based company to seek new professional challenges.
Ducati, at the end of the 2009 Superbike season, and thanks to this year's World Manufacturers Championship win, has amassed 16 such titles in this category. An important and significant accomplishment, in which Tardozzi's role has been fundamental. In Ducati since 1999, first as Team Manager and more recently, since 2007, as the SBK project manager, Tardozzi leaves the company having grown professionally and having contributing greatly to the success of the Italian firm.
"Davide has been part of Ducati's recent history", commented Claudio Domenicali, General Director of Ducati, "a friend and, at the same time, an important presence that has allowed Ducati to achieve significant successes, particularly in the World Superbike Championship where, in recent years, he has project managed with passion, competence and professionalism. We are sorry to announce that Davide will not be part of the 2010 team but, at the same time, we wish him our very best wishes for the new challenges that await him, and thank him for the many years of service during which we have won and lost together.
In the Ducati Xerox Team, Ernesto Marinelli, currently technical director of the squad, will take over Davide's role as SBK project manager.
This press release from Ducati announching Tardozzi's leaving the most successful team in World Superbike which he has guided since 1992, come on the heels of last week's announcement(see below) that
Olivia Suppo, Ducati's MotoGP project manager was also leaving as head of the MotoGP team.
We can only summise that the current economic climate which has seen Ducati's worldwide motorcycle sales decline 30-405 over the last year has forced Ducati SpA to let go its 2 top and highest paid race team managers. Their duties will now be assumed by their next in commands.
Multiple battles to be contested at final 2009 MotoGP round at Valencia
Gran Premio Generali de la Comunitat Valenciana, Tuesday 3 November - Valentino Rossi may have sealed the 2009 FIM MotoGP World Championship at Sepang, but there are still scores to be settled involving Jorge Lorenzo, Casey Stoner, Dani Pedrosa, and a host of other riders in the final round of the season.
A ninth world title was wrapped up by Rossi in Malaysia, leaving the remainder of the MotoGP class to decide the final standings beyond first place for the 2009 season at the Gran Premio Generali de la Comunitat Valenciana.
Rossi's Fiat Yamaha team-mate Lorenzo pushed him the closest for the title this year, and now the 22 year-old looks primed to secure second spot in his second season in the premier class. With a 25-point margin between him and Stoner in third, it would take a non-point scoring finish from the Spaniard and a race win for the Ducati Marlboro man to dislodge Lorenzo from the runner-up position.
Far likelier for Stoner, who comes into round 17 in a rich vein of form having won his last two races at Sepang and Phillip Island, is third place to round off a season interrupted by illness. Speculation will linger as to how the final standings could have looked had the 2007 World Champion not missed Brno, Indianapolis and Misano due to fatigue, but the focus is now on preventing Pedrosa from regaining third place. With victory last year and second the season before, the 24 year-old Australian has a strong pedigree at Valencia.
Repsol Honda's Pedrosa is 11 points adrift in fourth, and needs a strong showing at a track where he won in 2007 and finished second last time out.
The competition for fifth place is still very much alive, with just six points the difference between Andrea Dovizioso and Colin Edwards. The Italian's crash at Sepang was not largely capitalized on by Edwards, whose 13th-placed classification means that the fight for fifth will now go down to the wire at Valencia.
Seventh place, meanwhile, is still to be decided upon between no less than six candidates. Marco Melandri (Hayate Racing), Loris Capirossi (Rizla Suzuki), Alex de Angelis and Toni Elías (both San Carlo Honda Gresini), Chris Vermeulen (Rizla Suzuki) and Randy de Puniet (LCR Honda) are all separated by just seven points from positions seven to 12.
All have top-ten finishes at Valencia within the past two seasons, with Melandri's fourth in 2007 the most notable recent result from the pack. Nicky Hayden, at a further eight points adrift of De Puniet, has an outside chance of challenging for seventh if he manages his second podium of the year and other results go his way.
Also riding at Valencia will be American star Ben Spies, who will take to the track as a wildcard for Yamaha in preparation for his first full MotoGP season with Monster Yamaha Tech 3 in 2010. In the Pramac Racing team another rider who is coming into MotoGP full-time next season will be making an additional guest appearance this weekend, as Aleix Espargaró again substitutes the injured Niccolò Canepa.

Last 250cc GP Championship to be Decided
After prevailing in his epic battle with Marco Simoncelli at Sepang, Hiroshi Aoyama is within touching distance of being named the 2009 250cc World Champion in the final race of the season – and indeed the final 250cc contest in the 60-year history of Grand Prix racing before the introduction of the new Moto2 class next year.
Simoncelli had narrowed the gap at the top of the standings to just 12 points prior to Malaysia, but an enthralling 'head-to-head' was won by Aoyama who now heads to Spain with a 21-point cushion.
Should Simoncelli win his seventh race of the campaign at Valencia – thus surpassing his total from 2008 when he won the title – Aoyama would need to finish no lower than eleventh to still take the crown.
The Scot Honda rider has a checkered history at the circuit however, with last year's fifth place being his best-ever finish. Prior to that, Aoyama has placed sixth and tenth and registered two DNF's, whereas Simoncelli won last year's race having already secured the title.
Héctor Barberá in third place could mathematically catch Simoncelli in second, but would need to finish second or higher at Valencia and hope for a poor result for the Metis Gilera man. Barberá has a strong record at the track, having finished inside the top five on five occasions in the 250cc and 125cc classes.
Álvaro Bautista's title hopes ended with his second crash in three races at Sepang, and Valencia is the only one of the three Spanish circuits on the calendar at which he has not tasted a GP victory. Fourth in the championship is safe for the Mapfre Aspar man, who could take third with a good display if Barberá falters.
Matt ia Passion in fifth is 21 points ahead of Thomas Luthi, who leads a pack which also comprises Raffaele de Rosa, Mike di Meglio, Héctor Fable and Alex Ebon. Those five riders are separated by just six points in the battle for sixth spot.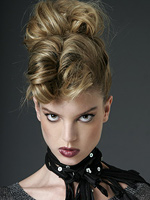 Calendar Kitten Apple
Tests the new
Roehr Harley Superbike!



Aprilia RSX1000

LIVIO SUPPO LEAVES THE DUCATI MARLBORO TEAM. NEW MANAGEMENT OF THE 2010 SQUAD IS ANNOUNCED
Borg Spangle (Bologna, Italy), 5 November 2009 – The last race of the 2009 MotoGP season will also be the last race in Ducati Marlboro Team colors for Olivia Suppo, Ducati's MotoGP project manager. The Italian manager will leave Ducati to embark on a new professional adventure.
In Ducati since 1999, Sup po was involved in this challenging and ambitious project from the very beginning, contributing with his intuition, perseverance and enthusiasm to the world title victory of 2007 and to the many podiums and successes that have characterized the life of the Ducati Desmosedici from its debut in 2003 up until today.
"Olivia has meant a great deal to Ducati and also to me personally; he has been a loyal and valuable colleague but above all a great friend," commented Claudio Dominical, General Director of Ducati. "We are very sorry that he has decided to leave the company but, in light of his correctness, professionalism and the great contribution he has made to the growth and success of the MotoGP project and the Ducati brand, we can only offer him our very best wishes as he takes on a new professional challenge. This is, however, also one of those moments in which we can rethink our organization in order to further improve, and this is what we have done in defining the 2010 team's direction. The management of the Ducati Marlboro Team will be entrusted to, and reinforced by, two new managerial figures. Ales sandro Cicognani, currently marketing manager for the Ducati Corse Division, will be responsible for the MotoGP project and alongside him, Vittoriano Guareschi, already the test rider for Ducati, will undertake the role of Team Manager, bringing to the squad a wealth of knowledge and experience that he has gained through being a professional rider and, most recently, a test rider."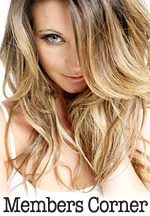 Hot Bikes, Sexy Kittens
Your Exclusive Grid Pass
also includes....
---
Double podium sees Fiat Yamaha seal triple crown in Valencia as Edwards scores fourth and Spies seventh place.
Valencia, Italy Nov 8th -Valentino Rossi and Jorge Lorenzo finished second and third in the season-ending Grand Prix of Valencia this afternoon, the ninth time the pair have shared the podium this season. It ensured that Yamaha won the Triple Crown for the second year running after Rossi took the Riders' title, Fiat Yamaha the Teams' and Yamaha the Constructors'. Today's result also sealed Lorenzo the runner-up spot in the Championship in just his second year in MotoGP. Between them the Italian and the Spaniard have taken ten wins and a further seventeen podiums, Yamaha's most successful year ever in MotoGP.
With pole-man Casey Stoner crashing on the warm-up lap the first corner shuffle saw Dani Pedrosa take the lead followed by Toni Elias, Rossi and Lorenzo, who quickly passed Rossi to re-take third. The first few laps were a mini battle between the Yamaha team-mates as Lorenzo fought to hold off Rossi and look for a way past Elias at the same time. He passed his fellow Spaniard in the last sector of lap three and Rossi followed quickly in his footsteps, overtaking Elias on the brakes into turn one on the fourth lap. A huge slide by Lorenzo soon after however left the 22-year-old unbalanced and shaken up and Rossi went through, leaving Lorenzo to take a bit of time to find his rhythm again. The World Champion set off after Pedrosa and for a little while looked like he was gaining but Valencia is a notoriously tricky track to make up ground on and in the end he was content to chase home the Spaniard for second place, his best result at Valencia since 2004. Lorenzo finished just three tenths off Rossi but was delighted to seal second in the championship in front of his home fans.
As well as Yamaha sealing the Triple Crown and filling the first two spots in the championship, a brilliant performance from Tech 3 rider Colin Edwards today saw him take fourth and ensure fifth place in the championship, the top non-factory rider. Yamaha wild-card Ben Spies finished a brilliant seventh in his first MotoGP race on the M1 and James Toseland finished 12th in his farewell race for the team.
Quote from Lin Jarvis, Managing Director, Yamaha Motor Racing -
"It gives me a great personal satisfaction for Yamaha and the Fiat Yamaha Team to have achieved "back to back" titles for 2008 and 2009. Our strong performances throughout this year's MotoGP championship are the result of a good cocktail of essential ingredients all being blended together in the right way. The performances of our riders have been incredible. Vale has won his 9th World Championship, making it 4 titles with Yamaha in his 6 seasons with us. Jorge has again surprised and thrilled us all year and made fantastic progress to claim the runner's-up position in only his second MotoGP season. Our engineers have used every single input from our riders' feedback over the past years and throughout this season to develop the YZR-M1 bike into the "bike of reference" in the MotoGP paddock. Our Team staff have worked tirelessly at every test and every Grand Prix to provide the optimum circumstances for our riders to be ready to win. Our corporate staff in Japan and Italy have also provided the essential "base camp" support to provide the back-up for all of the "troops" in the front line. Last but not least, Fiat Auto and our official sponsors and suppliers have also provided the essential support to enable us to go racing in the best possible way. I would like to personally thank everybody for the great team work that has allowed us to achieve all our targets."
Davide Brivio - Team Manager
"After two days of struggling with the setting this was a very good race for us. I think the team and the engineers did a very good job to change the bike completely and find a way that worked for Valentino and we're happy to finish second here in Valencia, which has never been one of our best results. Now if we arrive here next year needing a good result, we'll be a bit more confident! It's been a great season, a historic one for Yamaha because we won everything we could and our riders won the most races and the triple crown, it's a season to remember. Now we're looking forward to the next one, which starts tomorrow for us, and we will try to repeat the result!"
Daniele Romagnoli - Team Manager - "This was a good end to the championship for us and a good way to celebrate a wonderful season with Jorge and the fantastic job the whole Yamaha team have done this year to win the triple crown. We've shown all season how strong Yamaha is and the job everyone has done has been fantastic. This is my last race with Yamaha so I want to take the chance to thank everyone here, it's been a great eight years and I wish Jorge and all the team all the best for the future.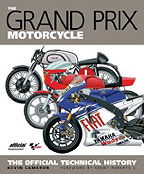 Kevin Cameron's
New Books
by America's Favorite
Motorcycle Technical Guru
---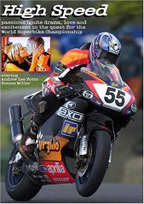 High Speed - the Movie
The best motorcyce racing movie ever made! Filmed on location at World Superbike, this an exciting romantic drama staring beautiful actress Sienna Miller.


Erotica Archives
FREE New Model
Galley Updated Daily
Warning Contains Nudity
---
SEASON ENDS WITH CONTRASTING FORTUNES FOR STONER AND HAYDEN AT VALENCIA
Valencia, Nov 8th - The Ducati Marlboro Team concluded its 2009 MotoGP World Championship with contrasting fortunes for its two riders, as Nicky Hayden ended the season on a high with a hard-fought fifth place but Casey Stoner was left empty handed following a crash on the warm-up lap. Stoner came into the race with back-to-back wins and was a strong contender to make it a hat-trick following a dominant performance in practice. However, the grid strategy used by the team for the last two years proved to have a weak point today and the Australian's tyres were not up to the right temperature, leading him to crash.
Hayden has made constant progress over the course of the weekend to mirror the positive trend of his season following a difficult start. The American started from sixth on the grid and improved by one placing in the race to claim fifth for the second successive race, despite dropping back to seventh on the opening lap. Confidence is now high in both camps for a much better season in 2010, preparations for which start in a three-day test that gets underway tomorrow here at Valencia.
CASEY STONER (Ducati Marlboro Team) (DNF; 4th in the championship on 220 points)

"Obviously this is a frustrating and disappointing way to finish the season. There have been plenty of highs and lows throughout the year and we have ended on a low, but with another lesson learnt for next season. We have had this strategy for two years and not had a problem until today so I guess it is better it happened here than in the first race of next season in Qatar! The important thing is that after back-to-back wins in Australia and Malaysia we have shown our pace here at Valencia and we know we have everything in place to be competitive next season if we do the job right over the winter. Now I am looking forward to working on the bike over the next three days and then spending a couple of months building up my physical fitness, which I haven't been able to dedicate myself 100% to for such a long time. We know it will be hard next year but we are confident that we can be back and fighting again. I want to give my personal thanks to everybody in the team – to Filippo and everybody at Ducati Corse for giving me a bike that was competitive even when I wasn't and for working to make sure it was firing on all cylinders when I came back. I also want to thank Livio Suppo, who is leaving the team, for all the support he has given me since I joined Ducati and especially during the difficult moments this season."
NICKY HAYDEN – (Ducati Marlboro Team) (5th in the race; 13th in the championship on 104 points)

"I thought it might be possible to do a little better than that today but I didn't get the best start. The clutch was slipping a little bit down the first couple of straightaways and I lost some positions. After that I managed to pull myself up again and from there it was a case of doing my best to try and bridge the gap to Colin (Edwards). The bike was working quite well but every time I closed a tenth or two he had an answer and pulled it back out. Towards the end I had some issues in a couple of left-handers and my pace dropped too much. Anyway, I had an enjoyable race, going back and forth with a few guys at the beginning especially. It's not a spectacular result but we've end the season with two top fives and we know we have a direction to work in over the winter. It hasn't been a great season for me in terms of results but the improvements we have made since the start are huge and I'm excited about the future. We're thirteenth overall, which looks awful on paper, but we are only eleven points off seventh and I had three first-lap incidents that weren't my fault – just one of those could have made the difference. Next season starts tomorrow and I can't wait to get back to work! There will be some changes in the team and a few guys leaving who I will miss. I want to thank them because even though it's on old saying it really is true that Ducati is like a family. All I can say is good luck to them and I'm looking forward to welcoming the new guys in."
Filippo Preziosi – Ducati Corse General Director:
"Unfortunately after a virtually perfect weekend Casey was denied the opportunity to finish it with a good race today. We've been using this grid strategy for the past two season, but the only risk is that the tyres are colder than they should be for the "warm-up lap". We obviously need to change this for the future and make sure there is enough temperature in the tyre. It is the first time it has happened in two years but once is already too much so we will look to improve on that. We have some ideas already and we will have something different in place for the first race of next season. Nicky picked up another solid fifth place, ending the season running comfortably within the mid-pack towards the front and that is a positive sign for next year, even though we need to take another step forward. We start testing with him and with Casey tomorrow with three days of testing here at Valencia. Finally a big hug to Livio and good luck for his future".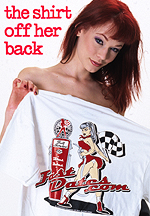 Order the Official
FastDates.com &
LA Calendar Bike Show
T-Shirts!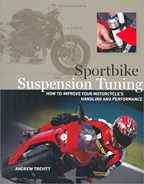 Rizla Suzuki looking ahead following Valencian adversity
Valencia Nov 8th - Rizla Suzuki will begin testing and preparations for the 2010 season tomorrow following a below par finish to this year's calendar for Loris Capirossi and Chris Vermeulen.
Due to the cool weather conditions experienced here at Valencia all weekend and the disappointing qualifying from both riders yesterday, this afternoon's race was always going to be a difficult and demanding affair. Capirossi used the softer of the two Bridgestone compounds available to him for the 30-lap race, but was still unable to generate enough heat to give him the performance he required. He battled stoically throughout the whole race and his 14th place finish was scant reward for the hard work he has put in all weekend.
Vermeulen had hoped to leave the team with a good to result from his last appearance in Rizla Suzuki colours, but the Australian struggled as much as Capirossi to find the performance from his Suzuki GSV-R. Vermeulen crossed the line in 15th place to secure the one remaining point scoring position in the race and give him the small consolation of being the only rider to score points at every event this season.
Today's race was held in cool and very windy conditions at the Ricardo Tormo circuit in Spain. Over 94,000 spectators witnessed a near faultless performance from home star Dani Pedrosa, as he led from start to finish to win his second Grand Prix of the year.
Rizla Suzuki will now regroup and restructure in time for a three-day test that begins at the Valencian circuit tomorrow, when new rider Alvaro Bautista will join the team to begin his career as a MotoGP rider.
Loris Capirossi - "Before we got to Valencia our expectation was that it would be a bit tough here as the conditions would be quite cold and everything we expected seems to have come true. It was difficult in the practice as we tried to find a good setting, but just never got the feeling we wanted. I chose the softer tyre today, even though I didn't have a good feeling in that – so you can imagine how difficult the hard one would have been to use! At the start of the race when the tyre was new everything felt not too bad and I tried to follow some guys , but as the grip levels dropped down I didn't have complete control over the bike and struggled even more. I tried to defend my position but it felt like everyone could get past me, so all I did was try to make sure I finished the race. This result is not good for me, the team and Suzuki, because we try to work hard and we really want to have a result – so this feeling is not good. Thankfully, the good thing we have as a team is that we are strong inside and we know what our target is. We want to make sure we break everybody's balls so that we can get to the front and we have to do it next year, because like this is just not good enough!
"I also want to say I feel sorry for Chris that he had to finish with this result. I have worked with him for two seasons and he is a great team-mate and we have a good friendship. We work well together and we check data all the time to try to improve the bike, so for me this is not a nice day. After two seasons it will be difficult to look over and see a different guy in my box, but this is the way life goes and I want to say good luck and welcome to Alvaro and hope we can work together as well as Chris and I have done."
Chris Vermeulen: - "It has been a difficult weekend and the only positive I can take from it is that we definitely improved in the race from yesterday's qualifying and managed to pass a few guys out there today. I was catching Loris towards the end of the race and I could see that he was struggling with a similar sort of situation as I was. Suzuki has got a lot of work to do to get this sorted, but I really hope they are able to do that, especially for all my crew who work so hard to get things right. I want thank everyone at Suzuki and in the team for what they have done in the last four years, we've had some good times – sadly today was not one of them unfortunately. I hope the guys get a lot of work done in the winter and come out much stronger. I also want to wish good luck to Loris and Alvaro for 2010; I have enjoyed working with Loris and will miss the friendship and rivalry that we had together."
Paul Denning - Team Manager: - "I have nothing to say about today's race! The 2010 season starts tomorrow and our huge differential in performance in low-grip conditions is clear for all to see. To get the consistency in the bike is the highest priority and along with Alvaro taking his first steps as a MotoGP rider tomorrow, our target is very clear.
"I'd like to thank Loris for riding at 100% all season and for being such a fantastic team player, the team will be doing everything in its power to push the Suzuki factory to give him the bike in 2010 that his efforts deserve. As for Chris, he has also been a huge asset to Suzuki for four years and we all wish him well as he takes a new direction in his career. He has always been the consummate professional – both on and off the track – and we wish him and his family well. He'll always be welcome whenever he comes to visit.