Harley announces MV-Agusta sale and Buell closure
October 15th - Following the September announcement that it intended to close the Buell plant throughout November and December of 2009 as a cost cutting measure, the company announced today that it is to formally end the production of all Buell products.
In a further move to reduce operating costs, the Company is also placing legendary Varese, Italy, sports bike manufacturer MV Agusta up for sale, following the July 2008 confirmation that it had turned to MV Agusta as a purchase target (for $109m) following the failure of its efforts to buy Ducati. Relative to MV Agusta, the company will immediately commence efforts to sell the business, which is based in Varese, Italy.
.
"Buell and MV Agusta are great companies, with proud brands, high-quality exciting products and passionate enthusiasm for the motorcycle business. Buell has introduced many innovative advancements in motorcycle design and technology over the years, and MV Agusta is known in Europe for its premium, high-performance sport motorcycles. However, our strategy to focus on the Harley-Davidson brand reflects the fact that we believe our investments in that brand are a better utilisation of overall company resources," said Keith Wandell, Chief Executive Officer of Harley-Davidson.
In a statement about the closure of the company he founded, Erik Buell said: "I will always be proud of what we have accomplished. It is a testimony to what a small group of passionate and inspired people can do, and with brilliant innovations, we've produced some of the best-handling bikes of all time.
"I personally look forward to exploring how I can continue to work with Harley-Davidson to bring advanced product technology to riders" said Buell.
Remaining inventories of Buell motorcycles, accessories and apparel will continue to be sold through authorised dealerships until the inventory is cleared. Warranty coverage will continue as normal for Buell motorcycles, and the Company will provide replacement parts and service through dealerships. The decision will result in a reduction over time of about 80 hourly production positions and about 100 salaried positions at Buell.
Harley-Davidson, Inc. expects to incur approximately $125 million in one-time costs related to the discontinuation of the Buell product line. The company expects to incur approximately $115 million of that amount this year.
Harley-Davidson's third quarter results were predictably disappointing by their own historical standards, with retail motorcycle sales down 21.3 percent, though compared to the 30.1 percent decline endured in the second quarter of this year, CEO Wandell said he was "mildly encouraged" by the performance.
The company says it shipped 54,236 motorcycles during the quarter, which was within guidance, and that for the nine months to date shipments were 187,085, compared to 226,898 motorcycles shipped in the first nine months of 2008.
However, Harley-Davidson's retail sales have actually bucked the market trend; both for the latest quarter and for the year as a whole so far. Sales were 24.3 percent down within the United States, and 13.1 percent down internationally, but that is in the context of a domestic US heavyweight (651+cc) market that is said to have plummeted 35.9 percent during the quarter.
For the nine month year-to-date, Harley says its retail sales are 22.9 percent down worldwide (25.5 percent domestically, 16.5 percent internationally) but Harley has in fact been consistently out-performing the market in America throughout the year to date, and is gaining market share elsewhere. In the United States, the domestic US heavyweight market is down a whopping 38.7 percent for the first nine months compared to 2008.
Meet the "good old days" with the return of a practicle comfortable to ride Superbike. Kawasaki's new Z1000 gives us older generation sportbikers reason to be happy again.
New 2010 Kawasaki Sportbikes
Kawasaki Z1000: A Return to the World's Coolest Streetbike
October 2009 - With this latest in a long line of naked Kawasaki streetbikes, Kawasaki started with a clean sheet, drawing upon more than 35 years of experience in giving the people what they want. If the new Z1000 knocks your eyeballs out, that's exactly what Kawsaki had in mind. In the naked streetbike wars, this looks to us like the perfect candidant to take on the new Ducati 1098 Streetfighter and the proven Aprilia Tuono, Triumph Speed Triple and KTM Super Duke!
A sharp new front cowl sloped back at an acute angle highlights the Z1000ís new nose, followed by a tilting instrument panel, visible through an orange lens, that can be angled to suit rider preference. Just below that a long, narrow headlight represents Kawasakiís first use of a line-beam unit. Following the lines rearward, the eyes will next encounter a dynamically designed steel gas tank, flared on the sides to let you grab it with your knees, and trim at the rear for a snug fit. The seatís low and narrow at the front to make ground contact easy, and it flows beautifully rearward to end in a futuristically retro LED taillight behind a red lens.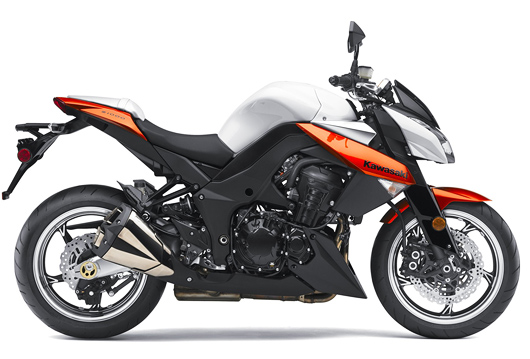 The new Kawasaki Z1000 returns us to the legendary Z1 lineage gong back to 1973 with modern superbike chassis, suspnsion and brakes.
Previous Z1000s used a steel frame, but this one gets its own all-new aluminum one. Similar in concept to the frame of the Ninja ZX10R sportbike, the frame beams curve over the engine, resulting in a narrow bike thatís easy to grip with the knees. The engine bolts in solidly, stressed-member style, at three places, and in a rubber mount at the upper rear of the crankcase for great torsional rigidity and solid handling. Wherever possible, welds were eliminated for a smooth, organic appearance. The main frame and swingarm pivot areas, for example, are cast as a single unit. The rear subframe is a three-piece aluminum die-casting, light, smooth and beautiful.
At the heart of every naked bike is its engine. We didnít just bolt it into that frame for solid handling, we did it so you won't forget what youíre riding: You'll definitely feel those 1,043cc's of fuel-injected Kawasaki four-cylinder every time you twist the throttle. A secondary balance shaft eliminates excess vibes, but on this bike, a little bit of character is designed in. In the same spirit, the bikeís cool air system uses ducts just ahead of the fuel tank to usher air into the airbox, a placement that lets the rider savor the bold sound of screaming air being sucked into the engineís downdraft intakes.
The Z1000's inline-four cylinder engine uses a longish stroke 56mm to make the most impact in the rpm range most used by naked bike riders. Long-stroke engines keep intake air velocity up for maximum midrange power whatever the displacement. From nearly any rpm, rolling the Z1000's throttle open provides the kind of instant gratification most sportbikes just canít quite muster. Having said that, this engine also spins up noticeably faster from about 7000 rpm upwards, with a silky smooth, highly intoxicating response.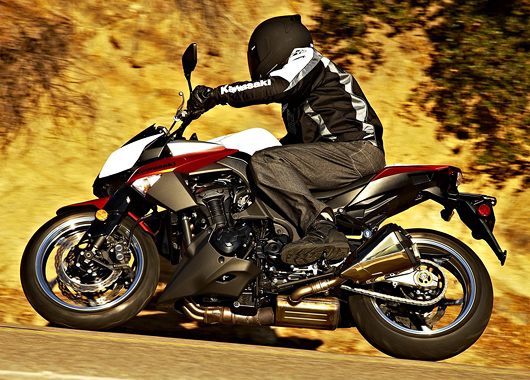 Some may like the looks, but The Z1's George Jetson styled exhaust system will definetly father some aftermarket replacements.
What more do you need? Not much. How about new five-spoke wheels, with spokes machined near the rims for a custom-wheel look. We carried forward the quad-pipe theme from the last Z1000 (and the first Z1), but an under-engine pre chamber let the engineers use shorter mufflers for great looks, better mass centralization and light, quick handling. A solid-mount handlebar and aluminum footpegs lifted from the Ninja ZX-10R complete with machined edges contribute to the Z1000ís direct feel.
Nobody scrimped on the suspension and running gear, either: A radial-pump master cylinder provides the latest in braking feel and feedback. Adding compression damping adjustability to the 41mm inverted fork gives it all-way tunability, and a completely new, horizontal placement of the rear shock provides typically UNI-TRAK-like performance.
The next time somebody complains to you that modern motorcycles have no soul, take them for a ride on a new Z1000. Everything about it is up-to-the-minute modern. But you can feel its roots every time you hit the starter. This one's classic Kawasaki all the way.
The venerable ZX10 just gets refinements this year in color choices of Green/White, or in Black.
2010 Kawasaki ZX10 Superbike
The 10R returns with a host of refinements for 2010. New more aerodynamic bodywork is designed to slice through the atmosphere cleanly at speed, and to look even better doing it. A new fairing with a stronger family resemblance to its ZX-6R sibling leads the way for the rest of the minimalist new plastic, and a new, dark gray embossed coating on the bike's titanium muffler carries the light, slick theme rearward. Inside the cockpit, new inner covers reflect the high quality and performance of the rest of the ZX-10R package.
All that power needs to be kept in check, of course, and rider feedback has led to the fitment of a new, premium 18-position Öhlins steering damper. The new damper uses sophisticated internal circuitry, including pistons and springs, to keep the Ninja tracking straight and true under the most challenging conditions.
Putting that power to asphalt is also critical, and significant upgrades to the six-speed transmission's shift mechanism handle that task with even greater efficiency. Changes to the guide hole plate, shift shaft, return and set springs and shift collar all collaborate to reduce clearances at the pivot — resulting in more precise, positive gear changes every time. Smooth downshifts are enhanced by a standard, back-torque limiting clutch.
The Ninja's 998cc, four-cylinder engine continues to crank out the kind of straight-shortening power that leaves other liter bikes in its wake. Fed by a bank of four 43mm Keihin throttle bodies with two injectors per cylinder and bristling with 16 titanium valves, the ZX-10R uses a highly advanced Kawasaki Ignition Management System (KIMS) to dole out all that power with maximum control. KIMS monitors all standard fuel injection input data (engine speed, throttle position, vehicle speed, gear position and feedback from intake air temperature, intake air pressure, engine temperature and O2 sensors), but adds one more crucial wrinkle by checking for sudden changes in rpm every 0.02 seconds. Highly sophisticated, KIMS is programmed to leave control in the rider's hands, but will retard ignition when a sudden increase in engine rpm exceeds programmed parameters.
A track-oriented fully adjustable 43mm inverted fork and advanced rear suspension are designed to work with the ZX-10R's carefully tuned aluminum frame for unparalleled feel and feedback. Diamond-like Carbon (DLC) coating on the fork tubes reduces stiction for precise action. A four-way adjustable rear shock includes low and high-speed compression damping, and controls the pressed aluminum swingarm via the latest UNI-TRAK® linkage design.
Light and stiff squeeze-cast wheels keep unsprung weight down and suspension performance high; their reduced rotational inertia further enhances the 10R's quick steering and acceleration. Radial-mounted Tokico brake calipers controlled by a radial master cylinder squeeze 310mm petal discs up front with maximum sensitivity, while the rear 220mm petal disc is stopped by a single-piston caliper.
Wrap it all in that sleek new bodywork, add fuel, and you're looking at an even more beautiful version of the most highly advanced, high-performance Kawasaki sportbike ever.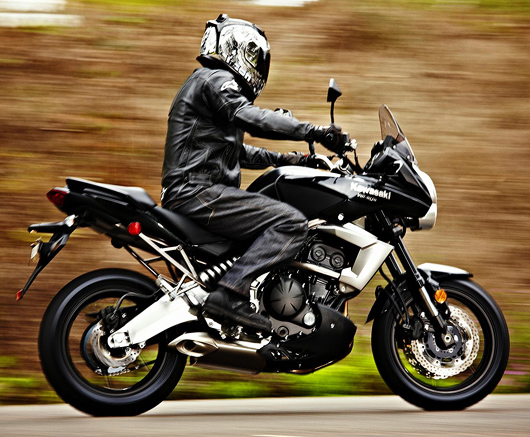 Above: The new 2010 Kawasaki KLE650 Cafe looks like the purfect around town, commuter bike.
---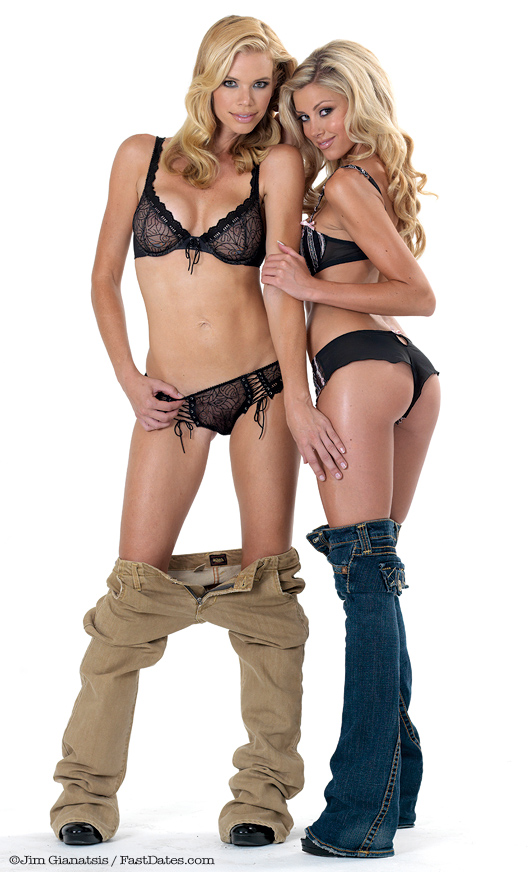 New World Superbike Calendar Kittens Tarah & Heather
Gianatsis Design Studios, October 2009 - We told you about our upcoming photo shoot last month with SoCal supermodel Tarah Tobiason (above left) and upcoming Playboy Playmate Heather Rae Young (above right), so we thought you might like to see one of the pictures! Both Kittens were a joy to shoot with and will be featured in all 3 editions of the 2011 FastDates.com Calendars.
Heather's already photographed Playboy Centerfold feature is expected to appear in the next few months. possibly as Miss January 2010. Heather has been featured earlier in many of the Playboy Newsstand Specials magazines, and on the Playboy.com wesite (at the banner ad link below). But you may not recognize Heather in her earlier Playboy shoots where she was a slightly plump barely-legal teen model out of high school. Last year at age 20, Heather took on a serious training and diet routine that almost completely transformed her into the goddess like creature we know her as now. We've never seen a girl with such a perfect face and boy, a body so hard and tight, our dream was to bounce quarters off her perfectly round butt and six-pack tummy.
Heather has also confirmed she will be joining us at the 2010 LA Calendar Motorcycle Show Weekend to premier and autograph her new 2011 FastDates.com Calendars.
And speaking of the new 2011 Fast Dates World Superbike Calendar and our new models....

You can link to this page, but it is illegal to copy and post this image on other websites or news media.
Max Biaggi's Aprilia RSV1000 World Superbike. Click to go BIG.
Maxi Biaggi's Aprilia RSV 1000 World Superbike
©photographed for the 2011 Fast Dates Calendar by Kel Edge
As you know we take pride in Fast Dates being the official Calendar of World Superbike, and Jim Gianatsis is the only photographer allowed track access with our Fast Dates Calendar Kittens to shoot with all the top factory team bikes on pit lane. This year at the Miller Motorsports USA round where we went to shoot next year's calendar, unfortunately the all new factory Aprilia RSV of Max Biaggi was never available to shoot. If the team's RSVs weren't on the race track being ridden, they were back inside the garage being pulled apart and worked on for 3 straight days.
We finally did get a quick 5 minute shoot with Max's bike and our model Sabella inside the Aprilia garage before the 1st race on Sunday, but the garage was so cramped we couldn't get a nice full width shot that was Calendar quality. We needed Fast Dates to have all the top factory Superbikes like it does every year, so what did we do? We E-mailed our good buddy Kel Edge, top freelance photographer on the World Superbike tour, as well as press agent for Alstare Suzuki, and asked him to try and get some calendar quality shots of Max's bike for us. At the Imola race on Saturday, just before sunset, Kel was able to get one of Max's bike off along side the back of the garages for some quick shots for us. These are the first ever seen approved pictures of the factory Aprilia RSV Superbike. Thanks Kel!
But there's no model with the bike, you ask? True. But thanks to a digital miracle called Photoshop and a lot of hours of diligent work, we can promise you that both Calendar Kittens Tarah Heather and Heather will be pictured in the calendar with Max's bike in a photograph you will believe it was shot as one. Cheers! - Jim Gianatsis
P.S. The production Aprilia Superbike is expected to be released to US dealers this November 2009 in a full Ohlins spec version first. Aprilia's RSV4 Factory will have a MSRP of $20,999 and the RSV4 R at $15,999.
---
The 2010 Crossbow Calendar - English Bikes and Birds
Our British FastDates.com Calendar distributor, Crossbow-Calendars.com has just released their 24th edition of the original sportbike pinup model calendar. Photographed and produced by John Withrope, a former editor of Britian's Superbike magazine back in the day. This year's Crossbow is one of their best yet and, as always, it is a ecliptic mix of sport, custom and classic street bikes together with beautiful London Mirror Page 3 birds, some of the shots of which show the models topless.
The first time easily available in available to America, the famous Crossbow Calendar features 18 Pages, 15 Trick Bikes, 3 full bleed poster pages, a revisable rear cover, and is printed in a large 15" x 13" horizontal format. It features top UK glamour models Carla Brown, British Playboy's Lisamarie Burke, Jamie & Amy.
The calendar's complete price including airmail shipping from England is just US $22.00 making it comparably priced to our calendars. Order it online here at: http://www.crossbow-calendars.com/acatalog/America.html
Our favorite pictures in the 2010 Crossbow Calendar include, below, the exotic Ducati Testastretta powered Verus RVC3 Superbike with lovely Carla Brown giving it a soft caressing. Click on all to go BIG.
OMG! And how about lovely Lisa Marie at a petite 5'4" height but packingan impressive 34E-25-34 chassis, checking the ride height on this exotic polished aluminum framed street custom GSXR1000 4-cylinder superbike. We think Twins still rule....
Want to blow your buddies into the weeds? Show up at the Rock Store with this supercharged Yamaha R1 with bikini clad 5'1" pocket rocket Jamie spec 'ed out at 30D-22-32 riding on the back pillion!
---
Honda Unveils 'Futuristic' 2010 VFR1200F
October 8th, Los Angeles - American Honda today released information on the much-anticipated 2010 VFR1200F. Calling it a "futuristic sport motorcycle," the company revealed that an option will be an automatic transmission with a manual mode. The model will hit showrooms in the spring. Retail pricing has not yet been determined.
Features listed in a Honda press release:
Honda MotoGP engine technology and architecture:
• Light-and-compact 1237cc liquid-cooled 76-degree V-4 that pumps out "amazing levels of power";
throttle by wire;
• Lightweight-and-compact Unicam valvetrain allowing for significantly smaller cylinder heads;
• Optional Dual Clutch Automatic Transmission with manual mode and automatic mode with two D/S modes and paddle-style shifters;
• Slipper clutch in the manual-shift VFR1200F;
• GP technology layer-concept aero fairing for better air management and futuristic style; and
* Next-generation shaft drive system with offset pivot point and sliding constant-velocity joint for "a new level of shaft-drive performance and control."

Specifications:
Model: VFR1200F / VFR1200F with Dual Clutch Automatic Transmission
Engine Type: 1237cc liquid-cooled 76-degree V-4
Bore and Stroke: 81mm x 60mm
Compression Ratio: 12.0:1
Valve Train: SOHC; four valves per cylinder
Induction: PGM-FI with automatic enrichment circuit, 44mm throttle bodies and 12-hole injectors
Ignition: Digital transistorized with electronic advance
Transmission: Six-speed (VFR1200F)/Six-speed automatic with two modes and manual mode (VFR1200F with Dual Clutch Automatic Transmission)
Final Drive: Shaft
Suspension: Front: 43mm cartridge fork with spring preload adjustability; 4.7 inches travel. Rear: Pro Arm single-side swing arm with Pro-Link single gas-charged shock with remote spring preload adjustability and rebound damping adjustability; 5.1 inches travel
Brakes: Front: Dual full-floating 320mm discs with CBS six-piston calipers with ABS. Rear: Single 276mm disc with CBS two-piston caliper with ABS
Tires: Front: 120/70 ZR17 radial. Rear: 190/55 ZR17 radial
Wheelbase: 60.8 inches (1545mm)
Rake (Caster angle): 25°30'
Trail: 101.0mm (4.0 inches)
Seat Height: 32.1 inches (815mm)
Fuel Capacity: 4.9 gallons
Color: Red
Curb Weight: 591 lbs. (VFR1200F) /613 pounds (VFR1200F with Dual Clutch Automatic Transmission)

"This is one of the most exciting motorcycles in Honda's history," Honda's Bill Savino stated. "The VFR1200F establishes a whole new definition of performance motorcycling, one that taps into Honda's rich V-4 VFR heritage and extends it into the future of Honda motorcycling. The new technology within this motorcycle is flat-out amazing, and it all works together in a manner that takes the VFR1200F strides forward in how a high-end machine looks, works and feels."
Our thoughts? The BMW 1200 K bike did this 5 years earlier. Also being revealed this month is the new the new 2010 Kawasaki Concourso 14 ABS. At 650+ pounds wet for the Honda , we'd rather take a car.
---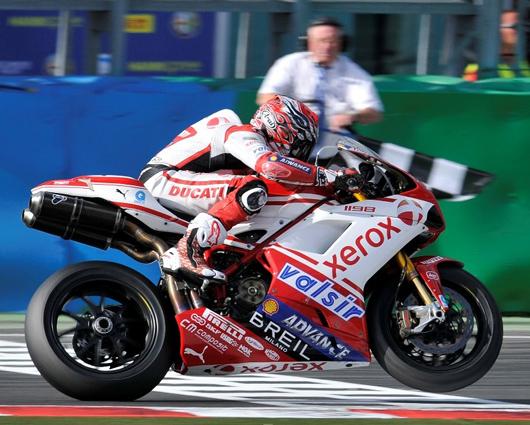 Race Two- all Haga and Ducati.
2009 SBK World Superbike Championship, Magny-Cours France, Round 13 of 14
Ducati Takes 16th Constructors' Title at Magny-Cours
Haga Looses, then Retakes the Championship lead with Spies
Magny-Cours (France), Sunday 4th October 2009: this afternoon on the French track of Magny-Cours, Noriyuki Haga took a fantastic Race 2 win on board his Ducati 1198, coming straight after his second place finish in the first race. With these results, Noriyuki regains the championship lead with an advantage of ten points over Spies (Yamaha). At the end of this, the penultimate round, and thanks to today's two podiums, Ducati celebrates winning its sixteenth Constructors title in the World Superbike Championship. This was not the only success of the day as this morning the Belgian rider Xavier Simeon and the Ducati Xerox Junior Team won both the riders and constructors titles in the Superstock 1000 championship.
A spectacular first race in which the two championship leaders Haga and Spies battled it out for the victory until the final corners of the last lap. For the first fifteen laps Noriyuki was hot on the heels of Biaggi but found it hard to get past him. Finally, during the sixteenth lap of twenty-three, he made his move and got ahead of Max to move into second position, immediately turning his attention to closing the gap of more than a second that had opened between himself and race leader Spies. On the very last lap Nori had caught the American and when the latter made a mistake entering a corner, Nori took the opportunity to get up alongside Ben but unfortunately he couldn't hold the line into the next corner and so it was Spies on the Yamaha to cross the line first, just 0.181 of a second ahead of Haga. Fabrizio did not made a good start and then had to work to pass Haslam on the Honda. By the time he managed this, during the course of the fourth lap, the gap between himself and the leaders was already fairly large and it was impossible to catch up. Michel concluded the race in a solid fourth place, 5 seconds behind Biaggi and 11 seconds ahead of Haslam.
In Race 2 Noriyuki made a blazing start and after a few corners he got straight past Biaggi to take the race lead, closely followed by both Biaggi on the Aprilia and Rea on the Honda. Haga pushed hard from the start but was unable to shake the chasing pair. In this race however, it was the Japanese rider who was the stronger competitor and, aware of the importance of the points, he continued to push to ensure himself of the win, his eighth of the season. Fabrizio unfortunately fell on lap three, having erred while braking at the end of the straight. He managed to rejoin the race and subsequently made a good recovery, moving up from last position to thirteenth and thus gaining two points. Complete Report HERE
---
There's more! Go to Pit Lane News Previous Page

Also Visit: Fast Dates Calendar News • Iron & Lace Calendar News
Calendar Girl News • Meet the Models • Paddock Garage

Calendar Kittens, Paddock Garage, Screensavers, Iron & Lace Garage




MotorcycleSuperstore.com
Some of our Calendar Kittens can also at Playboy's website...


FREE! New Met-Art Model Galley Updated Daily - Stop Back Each Day


World Premier!
2010 FastDates.com Calendars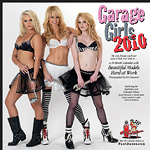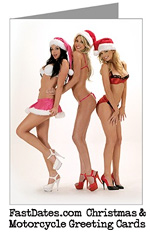 Sports Illustrated
Swimsuit Calendars!
---
New Rider Line Up for Alstare Suzuki in 2008 World Superbike
Oct 12th - Two new and talented riders will join Suzuki Alstare for the 2010 season - the 25th anniversary of the Suzuki GSXR - Frenchman Sylvain Guintoli (27) and Briton Leon Haslam (26).

Team Alstare began its negotiations with Sylvain Guintoli late last Thursday evening and worked throughout the weekend to finalise the agreement. Thanks to the quick response and excellent collaboration between Suzuki Japan, Suzuki GB and Team Crescent's Paul Denning, we were quickly able to conclude a very satisfactory deal allowing Sylvain's arrival at Alstare (for the World Superbike Championship, on an official factory bike) and Yukio Kagayama's return to BSB with Team Crescent, who are looking forward to working with him again.

Alstare would like to thank Yukio for his skill and courage during the five years of working together and wish him all the best in his fight for the BSB crown next year.

Francis Batta, Alstare team owner - "Sylvain already knows about the Suzuki GSX-R and Pirelli tyres and his professionalism and motivation for this new challenge are positive factors for us to start working together straight away.
We at Team Suzuki Alstare are also very happy to welcome a British rider. The Suzuki UK distributor has always given great support to Team Suzuki Alstare and all of us are delighted to have signed Leon Haslam for the 2010 World Superbike Championship. Leon has a good family set-up and they advise, support and help him very well. He has a real fighting spirit and is one of the best riders in the WSBK series, for sure. We are certain he will fit in perfectly with the Team Suzuki Alstare structure, as we both share the same desire to work hard and to win.
With a team of such quality and experience as Suzuki Alstare, we feel that Leon will have a very bright future."
Leon Haslam, rider - "The opportunity to join Team Suzuki Alstare was something that my father and I took extremely seriously immediately. The team enjoys direct support from the manufacturer and a long history of success, so joining them offers me an exciting step forward in my career. Meeting Francis (Batta) and listening to his plans and desire to succeed confirmed the potential of the whole team and its infrastructure.
Suzuki Alstare has a very experienced team of technicians and potential for development, both in-house and via the factory in Japan. This means that the team is 100 per cent geared up to win the 2010 World Superbike Championship.
This is naturally opening a new chapter in my own career and one that I relish. The team has a promising winter test plan (with the Suzuki factory) so I'm very much looking forward to these tests, the 2010 World Superbike Championship and challenging for the world title."
Yamaha World Superbike Team announce 2010 season line-up
October 1st - The Yamaha World Superbike Team are proud to announce an all-British rider team for the 2010 season, with double World Superbike Champion James Toseland making a welcome return to the paddock. The popular 28-year-old recognised world wide as the UK's number 1 rider has taken the opportunity to stay in the Yamaha family replacing Spies and moving across from the Yamaha Tech 3 MotoGP satellite team. Toseland enjoyed a strong rookie season in MotoGP in 2008 and has been a regular protagonist in the mid pack battles over the two years. His focus and commitment combined with his previous experience and success should prove a winning combination with the Yamaha team.
Partnering Toseland, current Yamaha World Supersport rider Cal Crutchlow moves up to the 1000cc class next year. 24yr old Crutchlow has been enjoying an incredible rookie year in the World Supersport Championship and with two rounds remaining, championship leader Crutchlow can already claim nine pole position starts, five race wins and numerous lap records on unknown circuits in his debut appearance on the world stage. His move from the World Supersport team to World Superbike is a natural progression and reflects Yamaha's nurturing of young riders, allowing them to grow within the Yamaha Racing family. Crutchlow has already proved talented on a Superbike, ending the 2008 British Superbike season third in the standings alongside two wildcard appearances in World Superbike in 2008 which saw him score an impressive 2nd place finish on the podium at Donington and a ninth place at Portimao for the season finale.
James Toseland - "I'm looking forward to return to World Superbikes," said James Toseland. "I want to show I'm still the rider that can win world titles. Of course there is some disappointment at losing my opportunity in MotoGP as I believe the challenge was still achievable, but the R1 has proven to be beyond the strongest bikes in Superbike and I know many of the Yamaha World Superbike Team guys, so I'm going to pick up where I left off and give 100% to achieving good results with the team. Within Superbike there were a few options available to me, however the way Yamaha have treated me since I joined them has been outstanding. They gave me a great opportunity in MotoGP, but now I do wish Ben all the best in his campaign and my aim is to continue Yamaha's success in World Superbike."
Cal Crutchlow - "I'm happy to stay to be staying with Yamaha," said Cal Crutchlow. "This will be my second year of my two year contract as agreed when I started in Supersport this year. Moving up to World Superbike will be a great challenge, I'm looking forward to it and am under no illusion as to how hard it is but I intend to do a good job. I'm also looking forward to riding with another Brit. Ben is obviously doing really well this year and I wish him luck for the last two WSB rounds and next year in MotoGP. It's great to be working with Yamaha again in 2010."
"We are very excited about our 2010 rider line up," said Laurens Klein Koerkamp, Racing Manager, Yamaha Motor Europe. "The experience of James combined with the fresh talent of Cal should make it a very competitive and successful combination to challenge for the title again in 2010. I have no doubt that James will be as strong in World Superbike as before, or even stronger with the added experience he picked up in MotoGP and we're all very happy he stays with Yamaha. For Cal it's a natural progression for both us and him to move up to the Yamaha World Superbike Team. As a successful R6 Cup rider in the past and having proven his talent yet again in World Supersport this year we want to continue developing his career within Yamaha."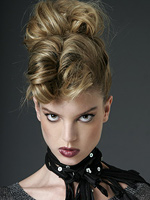 Calendar Kitten Apple
Tests the new
Roehr Harley Superbike!



Chris Vermeulen Signs For Kawasaki WSB Team
October 4th - Chris Vermeulen, one of the few riders to win both MotoGP and World Superbike races, has joined the Kawasaki World Superbike Racing Team for the 2010 season.
Currently racing in MotoGP, Vermeulen will soon apply his talents to the official WSB Ninja ZX-10R and will get his first chance to ride the machine during tests in November.
Vermeulen's career path after his initial successes in his native Australia saw him make his international breakthroughs in Asian and British Championships, with his first global success coming with ultimate victory in the 2003 World Supersport Championship.
A promotion to World Superbike in 2004 and 2005 culminated with the highly respected Vermeulen a close runner up in his second year on a 1000cc machine. His subsequent move to MotoGP netted him a win at Le Mans and six other podium places in more recent times.
During his previous WSB career Chris secured 23 podiums, including 10 wins, from 45 starts. His immediate aim for Kawasaki is to expand those already impressive statistics. Still only 27 years old, Vermeulen is a highly experienced rider who brings with him a burning desire to succeed, and the proven talent to make an impact in WSB racing.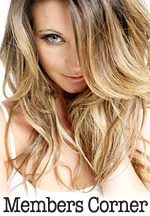 Hot Bikes, Sexy Kittens
Your Exclusive Grid Pass
also includes....
---
Cycle Worlds Editor Dave Edwards is Let Go Due To Economy
Oct 8th - Another example of how hard the down turned economy has impacted the motorcyce industry which is supported by consumer non-essential income is to look at the bike magazines. America's biggest selling magazine Cycle World (monthly circulation now down around around 250,000) does not feature any motorcycle manufacturers' ads in it's latest November 2009 issue. In their place are many full page filler house and charity ads to fill the ad holes. The issue has lots of great bike tests and features, but its loss of industry ads has dropped the page count to just 98 pages.
Longtime Cycle World Editor David Edwards was reportedly let go from his position as VP/Editor In Chief last week.
Dave will be replaced at the top by current Executive Editor and roadracer Mark Hoyer.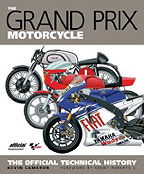 Kevin Cameron's
New Books
by America's Favorite
Motorcycle Technical Guru
---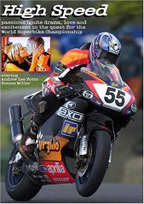 High Speed - the Movie
The best motorcyce racing movie ever made! Filmed on location at World Superbike, this an exciting romantic drama staring beautiful actress Sienna Miller.


Erotica Archives
FREE New Model
Galley Updated Daily
Warning Contains Nudity
---
Stiggy Racing Honda and Leon Haslam will part company at the conclusion of this year's World Superbike Championship after successful 2009 season
Oct 7th - After team owner Johan Stigefelt assembled a high quality team of engineers and Honda machinery the ability of Haslam complemented that with results beyond all expectation.
But it has been a tough debut year off the track in the World Superbike Championship for Stiggy Racing Honda and persistent financial issues led to the Stiggy operation being forced to end its relationship with financial backers S2 Racing.
As a result, Johan Stigefelt and Leon Haslam took the mutual decision to part company to pursue their own respective options for the future.
"After the S2 Racing financial issues and complications it was clear that we had to address the future alone," said Stigefelt. "Our plans involved Leon but we are not fully in a position to commit for 2010 at this stage therefore its better for Leon to pursue his career elsewhere.
Stigefelt continued: "Overall, with Leon, it has been a great year. We didn't know each other too well at the start but the experience has been thoroughly enjoyable and I hope we can work together again one day."
Haslam commented: "I think it's fair to say that we started the year as complete underdogs and outsiders but I knew we had the potential with Johan's team when I saw the guys he'd brought in for me.
My crew and the rest of the guys have done an excellent job and the results confirm their ability as a team. I want to thank Stiggy for this opportunity, for believing in me and getting me back in the top level of racing again. I hope Stiggy manages to regroup quickly as the team is still young and clearly has huge potential."
For 2010, Stiggy Racing Honda will shortly announce its presence in the World Superbike paddock with the exact plans still to be finalised.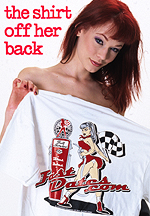 Order the Official
FastDates.com &
LA Calendar Bike Show
T-Shirts!