Former F1 World Champion Sir Jackie Stewart is possibly telling Leon and Ron Haslam what it was like when Grand Prix racing during his time had a 10% mortality rate per year. If you raced for 10 years the odds were you wouldn't survive. Jackie retired from racing while still young at age 30 after winning the 1969, 1971, 1973 World Driver's Championships. Click to GO BIG

When World Champions Collide
Silverstone Inaugurates Its new Grand Prix Circuit
Silverstone, England, April 30th, 2010 - Our good buddy and FastDates.com contributor Kel Edge sent these cool pictures from the inauguration of the newly revised, legendary Silverstone racing circuit in England. A lot of money is being spent to upgrade the old racing circuit to modern Grand prix standards, which it needed. However, it has been taking place amid a lot of controversy since other British tracks, Donnington in particular which is already an FIM and FIM proved track, have lost their upcoming Formula One and MotoGP to Silverstone even before the required revisions had started. It all has to do with Formula One politics, F1 president Bernie Eckelstone, and lots of money.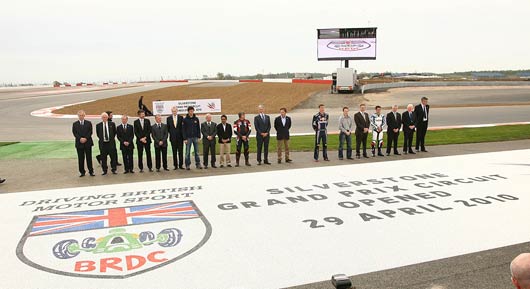 Silverstone will stage it's first modern MotoGP motorcycle round this June 20th,
while Donnington has the British Round of World Superbike taking place there on August 4th. For next year, 2011, we wouldn't be surprised to see a WSB round taking place there, possibly as a "European" round if the "British" SBK round remains at Donnington.
On hand for the revised track inauguration at Silverstone was some British royalty in the guise of former Formula One World Champion, Sir Jackie Stewart. Jackie is pictured here with one of Britain's fastest father and son pairings in world championship roadracing, former GP star Ron Haslam and his son Leon Haslam, former British Superbike star and a leading contender in this year's World Superbike Championship aboard the Alstare Suzuki. Ron Haslem holds racing schools at the Silverstome track. Also joining the festivities was Mark Weber, a leading contender in this year's Formula One World Championship with his Red Bull Ferrari powered car.

World Champion contenders! Ron and Leon Haslam take to the new Silverstone track on bikes, while F1 race winner Mark Weber (middle above ) plays in his Red Bull Ferrari. Take a ride with them on the newly revised track in the YouTube.com video below.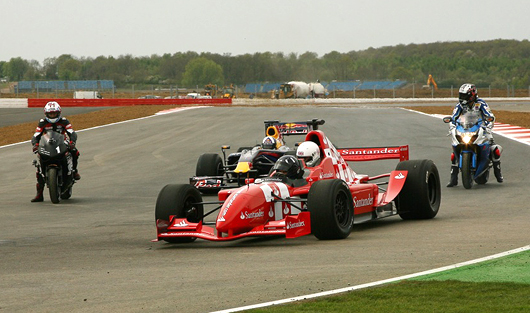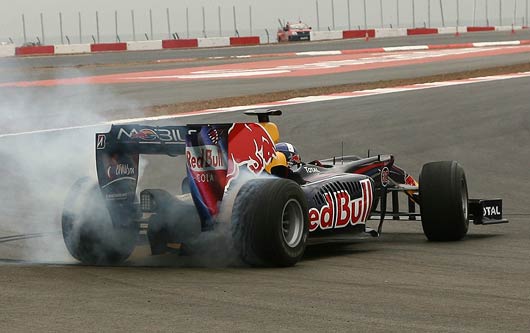 ---
AFT Customs to premier new custom Bonneville racer "Kemosabe"
at the 2010 LA Calendar Motorcycle Show July 18th
Custom Honda Bobber Built and Piloted
by ATF Models for Bonneville World Record Attempt

More details, pictures of the Kemosabe build in Iron & Lace News • Calendar Motorcycle Show July 18th
---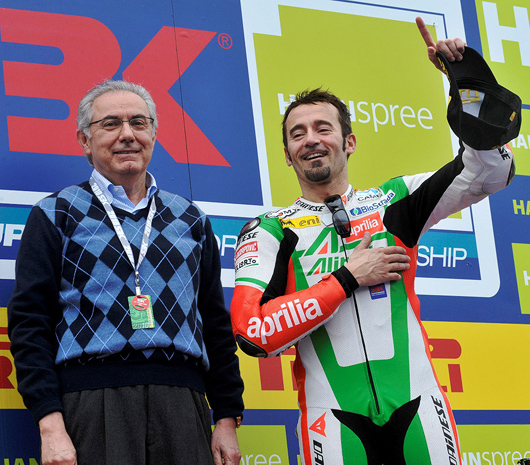 Max shares the Monza podium with the CEO of Aprilia.

Hannespree World Superbike Championship, Monza Round 5 of 13
Troy Corser Gives BMW its First Ever Podium in Race 2
Max and Aprilia Make It an SBK All Italian Double at Monza Autodromo
Monza, Italy, May 7-9th 2010 - An outstanding weekend of action at the Autodromo Nazionale di Monza, played out in front of 115,000 people, culminated in a remarkable double win for Max Biaggi and his Aprilia Alitalia team, and pulled Max up to within three points of championship leader Leon Haslam (Alstare Suzuki). Biaggi made some radical changes to his rear suspension after his race one win and eventually ran out the clear winner of race two. This was Max's second double of the year, the first coming in Portimao.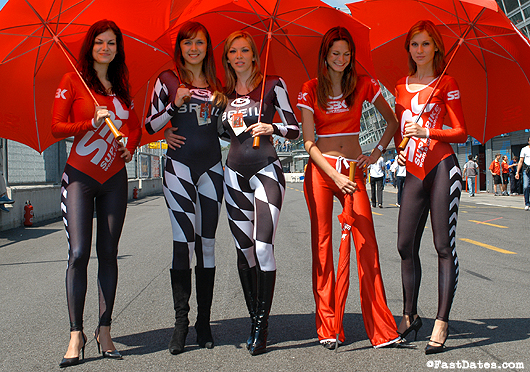 PREVIEW: World Superbike returns to the 'Temple of Speed' at Monza
The HANNspree FIM Superbike World Championship returns to the Autodromo Nazionale di Monza from May 7-9 for another classic appointment with the Italian track. Twenty years on from the first edition at the Monza parkland circuit on the outskirts of Milan, the challenge is still the same, but this time with seven different manufacturers competing with the best racing talent from Italy and abroad. On this high-speed track production-based Superbike machines lap at an average speed of close to 200 km/h, and this year expectations are high that the races will produce sparks from lights to flag.

For two-wheeled racing fans Monza will offer numerous talking points this weekend: table-toppers Suzuki with Britain's Leon Haslam, the all-Italian combination of Aprilia, Alitalia and Biaggi, the factory Ducati riders trying to shrug off their below-par season start, Honda back at the top once again following Johnny Rea's domination at Assen, reigning champions Yamaha with two talented British stars, BMW on the up and up and Kawasaki who are aiming to finally join the front-running party.

On the rider front the 27-year-old Brit Leon Haslam, the son of Ron 'Rocket' Haslam who graced the 500 GP scene for many years, is currently on the top of the pile. After four rounds Leon leads the way with two wins to his name, and is 20 points ahead of Max Biaggi. Max, for his part, appears to have all the right cards this year to become the first ever Italian to win the World Superbike title and a double win in Portugal is projecting him towards that success. All eyes will also be on another British Lion, 23-year-old Leon Camier who stepped onto the WSB podium for the first time at Assen, while another Suzuki, a GSXR1000 Yoshimura for Yukio Kagayama, also joins the grid in the first of three races slated in for this year.

Not everything is going according to plan in Ducati and the Italian manufacturer, which has won 18 of the 36 races held at Monza, is looking to one of its congenial tracks to set things right. Both the Xerox Ducati men, Noriyuki Haga and Michel Fabrizio have struggled to regain ground since the opening round in Australia and thousands of fans will be following closely their every move. As well as the factory squad, the Althea Ducati team has brought back Spaniard Carlos Checa to a level of competitiveness rarely seen in the last couple of years, and Checa will receive capable back-up from Shane Byrne, who is still looking for a breakthrough this year. Jakub Smrz is producing excellent form, especially in qualifying, on the Borciani-Guandalini Ducati 1098 machine, while Italian colours are also capably represented by Lorenzo Lanzi (DFX) and Luca Scassa (Supersonic).

Much attention surrounds relative newcomers BMW, who after a year of running in the new S1000RR, are now starting to appear in the top positions. BMW hope to continue this positive trend at Monza, a track where the four-cylinder German machine can lay down all of its power and maybe a podium finish is on the cards. The Tardozzi effect is beginning to be felt throughout the team and two-times champion Troy Corser, together with Ruben Xaus, is rapidly making progress.

Dutch team Hannspree Ten Kate have taken Japanese manufacturer Honda back to the top after a disappointing start to the year with a dominant double win for Rea at Assen. After the latest modifications the CBR is now a perfectly competitive bike again, and Rea is aiming for further success, while things are a bit more difficult for young German Max Neukirchner who hasn't yet got entirely to grips with his new Honda mount. Monza will also mark the return of Vittorio Iannuzzo on the private Squadra Corse Italia Honda CBR.

Yamaha hopes of repeating last year's fantastic American exploit, when Spies took one win at Monza and the title, lie with two British riders, James Toseland and Cal Crutchlow. For Toseland the return to Superbike, after a couple of unsuccessful seasons in MotoGP, has not been easy but his well-known perseverance has rewarded him with three podiums in the last four races, a result that has propelled him into fifth overall. Crutchlow's impact is the result of a spectacular riding style and two Superpoles have earned the Coventry man a front-row place in the eyes of Superbike fans everywhere in his debut season.

For Kawasaki the grass continues to be 'greener' on the other side of the fence. Chris Vermeulen's crash at Phillip Island together with him missing the next two rounds at Portimao and Valencia as he recovered from his knee injury, has scaled down the revitalized team's ambitions. Tom Sykes is doing everything possible to get good results but for the moment there is some way to go.

World Superbike Points (after 4 rounds of 13): 1. Haslam 148; 2. Biaggi 128; 3. Rea 110; 4. Checa 103; 5. Toseland 86; 6. Haga 85; 7. Corser 68; 8. Guintoli 55; 9. Fabrizio 53; 10. Crutchlow 49. Manufacturers: 1. Suzuki 148; 2. Aprilia 134; 3. Ducati 130; 4. Honda 111; 5. Yamaha 93; 6. BMW 69; 7. Kawasaki 19
Opening Day Belongs to Cal Crutchlow / Sterilgarda Yamaha
Monza, Friday 7th May -The opening day of action at the Autodromo di Monza belonged to Britain's Cal Crutchlow (Yamaha Sterilgarda), who confirmed his excellent qualifying form this year with provisional pole position, after topping the timesheets also in the morning's free practice run. The World Supersport champion set a time of 1 minute 44.577 seconds to go two-tenths faster than Assen double winner Jonathan Rea (Hannspree Ten Kate Honda), while third quickest time went to Michel Fabrizio on the Ducati Xerox 1098, who looked to be in fine form after his recent Misano test.

The BMW Motorrad team continued to make headway in qualifying with first Ruben Xaus and then Troy Corser both lying at the top of the timesheets for a while. In the end the Australian set the fourth time, ahead of points leader Leon Haslam (Suzuki Alstare) . Max Biaggi (Aprilia Alitalia), who had set an astonishing record top speed of close to 327 km/h in FP1, finished seventh, while Jakub Smrz with the PATA client Ducati ended up in eighth. The last two top 10 positions went to James Toseland (Yamaha Sterilgarda) in ninth and Luca Scassa (Sueprsonic Ducati), who on the damp track had been as high as third.

Yoshimura WSB debut rider Daisaku Sakai had a tough baptism with the Monza track, earning himself a provisional nineteenth place together with a morning and an afternoon crash.

Friday Superbike Times: 1. Crutchlow C. (GBR) Yamaha YZF R1 1'44.577; 2. Rea J. (GBR) Honda CBR 1000 RR 1'44.789; 3. Fabrizio M. (ITA) Ducati 1198 1'45.134; 4. Corser T. (AUS) BMW S1000 RR 1'45.234; 5. Haslam L. (GBR) Suzuki GSX R 1000 1'45.303; 6. Xaus R.(ESP) BMW S 1000 RR 1'45.542; 7. Biaggi M. (ITA) Aprilia RSV 4 1'45.592; 8. Smrz J. (CZE) Ducati 1198 1'45.603; 9. Toseland J. (GBR) Yamaha YZF R1 1'46.019; 10. Scassa L. (ITA) Ducati 1198 1'46.111; etc.

World Supersport Friday
A fantastic lap of 1 minute 48.303 seconds by Ireland's Eugene Laverty (Parkalgar Honda) was enough to knock Triumph BE1 Racing's David Salom off the top slot in the last few minutes of qualifying at Monza. The Spanish rider has been looking competitive all day however and he was able to place his Triumph 675 machine in front of the Kawasakis of Joan Lascorz (Motocard.com) and Fabien Foret (Lorenzini). The third major championship contender Kenan Sofuoglu (Hannspree Ten Kate Honda) was next up in fifth ahead of his Italian team-mate Michele Pirro.

Supersport 600 Times: 1. Laverty E. (IRL) Honda CBR 600 RR 1'48.303 (192,028 km/h); 2. Salom D. (ESP) Triumph Daytona 675 1'48.523; 3. Lascorz J. (ESP) Kawasaki ZX-6R 1'48.663; 4. Foret F. (FRA) Kawasaki ZX-6R 1'48.743; 5. Sofuoglu K. (TUR) Honda CBR 600 RR 1'48.938; 6. Pirro M. (ITA) Kawasaki ZX-6R 1'49.448; 7. Fujiwara K. (JPN) Kawasaki ZX-6R 1'49.534; 8. Lagrive M. (FRA) Triumph 675 Daytona 1'49.620; etc.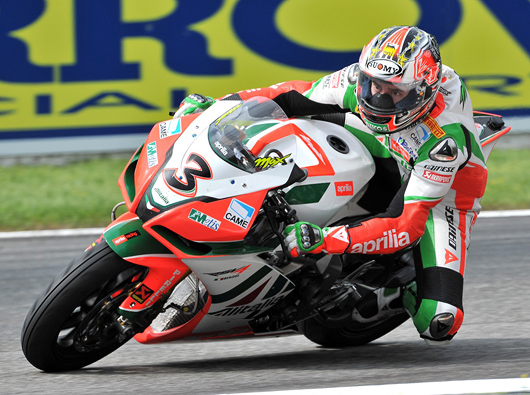 Local boy does good! The Italian takes his first ever Superike pole at Monza
Max Biaggi takes Superpole for Aprila
Monza (Italy), Saturday May 8th - Remarkable as it sounds, six time Superbike World Championship race winner Max Biaggi (Aprilia Alitalia) scored his first career pole today at Monza, holding off a field packed with potential pole men at his home race. His best Superpole lap was a new track best 1'42.121, putting him on pole for the first time in his four year Superbike World Championship career. His average lap speed for his new record lap was 203.653 km/h. Biaggi also set the fastest top speed in WSB history today, hitting a recorded 330.2 km/h.

Max, cheered on by a vocal local support, was followed by Cal Crutchlow (Yamaha Sterilgarda) on a 1'42.154, only 0.033 from topping the pre-race rankings. Michel Fabrizio (Ducati Xerox) and Jonathan Rea (Hannspree Ten Kate Honda) finished off the first row, with the second row headed by championship leader Leon Haslam (Suzuki Alstare). Ruben Xaus (BMW Motorrad), who fell late in the session, James Toseland (Yamaha Sterilgarda) and Tom Sykes (Kawasaki Racing Team) completed the top eight riders. Sykes gave Kawasaki its best qualifying performance for some time and with slipstreaming ruling the races at Monza, the Englishman is keen to get to grips with tomorrow's races. Crutchlow had set a new best mark in Superpole 2 with a 1'42.255, until Biaggi improved it still further in Superpole 3.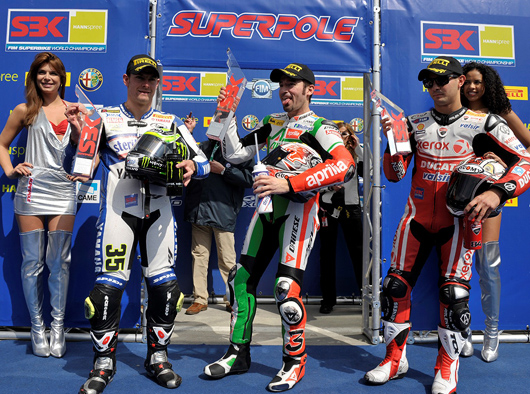 Superpole Top 3: Crutchlow, Biaggi and Fabrizio.

Daisaku Sakai (Yoshimura Suzuki Racing Team) was 21st in qualifying at a track that is new to him and his entire team. A fall in practice hurt his right shoulder, which also held him back when it came to final qualifying.
Max Biaggi: "It's been a great Saturday for us but it's not Sunday! So far it's the best qualifying we did ever, there are no points for Superpole but it's the emotion that counts! I want to dedicate it to all the team, because they are working very hard. This is a big step forward for us because at the last race we started on the third row. We are running a good pace compared to Yamaha and Honda and we're looking forward to tomorrow. A good tyre at the end of 18 laps is going to make all the difference, especially at the Parabolica."
Earlier in the day, the morning's second qualifying proved to be an extremely successful session for Michel Fabrizio, on board his 1198. Despite an initially damp track, with conditions very similar to yesterday, times began to drop later in the session and, after substituting used slicks with new ones, the Italian rider was able to push hard, recording an impressive 1'43.737 on his penultimate lap to take overall first position at the end of qualifying, three tenths of a second faster than Rea (Honda) in second. By the close of the session, Noriyuki had also made progress, improving on yesterdays qualifying time by almost a second and a half, to qualify in overall twelfth position for the afternoon's Superpole.

In the early afternoon's final free practice session, times improved once again and Michel impressed once more, ducking under the 1'43 barrier to make two very fast laps right at the end of the session, recording the fastest overall time of this practice session at the very last minute (1'42.6). Noriyuki continued to lose valuable tenths, particularly through the first sector of track, and closed in fourteenth.

Cal Crutchlow: "All credit to Max, he did a good lap. We seemed to do a very good lap in Superpole 2 - a 1'42.2 on a seven lap old race tyre, then we put two qualifiers in the last session and never had any grip so I think the race tyre is better than the qualifier around here. It was a good lap and the races are going to be close and tough tomorrow."

Michel Fabrizio: "It went very well and we are happy with this improvement, we really needed a result like this today. After three races in which we had been 'missing' it was vitally important to be up there. I've got a good chance of winning tomorrow's races because my race pace is good, I feel like I'm down a few horsepower on the straight, I'll have to find a rope and tie it to the closest four-cylinder bike to pull me along!"

Jonathan Rea: "I am happy because my bike is working pretty good and I am excited for the races tomorrow and it looks like we can be in a position to fight for the front. In the qualifying the other guys did a very good job and I could not match their pace but there will be some exciting races and for anyone sitting in the grandstands watching it should be cool tomorrow."
Superpole 2010 WSB Italy

- Monza 08/05/2010
Pos. Rider Manu. Nat. Total Time
1. Max Biaggi Aprilia ITA 1'42.121
2 Cal Crutchlow Yamaha GBR 1'42.154
3 Michel Fabrizio Ducati ITA 1'42.499
4 Jonathan ReaHonda GBR 1'42.566
5 Leon Haslam Suzuki GBR 1'42.633
6 Ruben Xaus BMW ESP 1'42.725
7 James Toseland Yamaha GBR 1'42.789
8 Tom Sykes Kawasaki GBR 1'43.111
9 Max Neukirchner Honda GER 1'43.410
10 Luca Scassa Ducati ITA 1'43.431
11 Carlos Checa Ducati ESP 1'43.506
12 Troy Corser BMW AUS 1'43.508
13 Leon Camier Aprilia GBR 1'43.530
14 Sylvain Guintoli Suzuki FRA 1'43.691
15 Shane Byrne Ducati GBR 1'43.813
World Supersport 600 Qualifying
Kenan Sofuoglu (Hannspree Ten Kate Honda) took his ninth career pole with a new track best of 1'47.848 in final qualifying, outpacing a late charge from Parkalgar Honda rider Eugene Laverty. Only those two went into the 1'47s, with championship leader Joan Lascorz (Motocard.com Kawasaki) third fastest. Michele Pirro from Hannspree Ten Kate Honda was a creditable fourth, and former WSS Champion Fabien Foret (Lorenzini by Leoni Kawasaki) fifth on his privateer machine. The best triumph on show belonged to David Salom (ParkinGO BE-1 Triumph), in sixth place.

Supersport Times: 1. Sofuoglu K. (TUR) Honda CBR 600 RR 1'47.848; 2. Laverty E. (IRL) Honda CBR 600 RR 1'47.962; 3. Lascorz J. (ESP) Kawasaki ZX-6 R 1'48.233; 4. Pirro M. (ITA) Honda CBR 600 RR 1'48.367; 5. Foret F. (FRA) Kawasaki ZX-6R 1'48.483; 6. Salom D. (ESP) Triumph 675 Daytona 1'48.523; 7. Fujiwara K. (JPN) Kawasaki ZX-6R 1'48.695; 8. Rea G. (FRA) Honda CBR 600 RR 1'49.029; etc.

European Superstock 1000 Qualifying
Ayrton Badovini (BMW Motorrad Italia) took his third pole of the year today, ending up 0.252 seconds ahead of another BMW rider, Sylvain Barrier, from the Garnier Junior team. Three Honda riders followed the leading duo with Michele Magnoni (SCI Garvie Image), Maxime Berger (Ten Kate Race Junior) and Andrea Antonelli (Team Lorini) completing the top five. Badovini set the new track best with his 1'46.092, as the sun shone on Monza once more.

Superstock Times: 1. Badovini A. (ITA) BMW S 1000 RR 1'46.092; 2. Barrier S. (FRA) BMW S1000 RR 1'46.344; 3. Magnoni M. (ITA) Honda CBR 1000 RR 1'47.247; 4. Berger M. (FRA) Honda CBR 1000 RR 1'47.464; 5. Antonelli A. (ITA) Honda CBR 1000 RR 1'47.603; 6. Lussiana M. (FRA) BMW S 1000 RR 1'47.858; 7. Beretta D. (ITA) BMW S 1000 RR 1'47.888; 8. Mahr R. (AUT) Suzuki GSX-R K9 1'47.914; etc.

European Superstock 600 - Race
A thrilling race between riders on three different types of machines finally went to Jeremy Guarnoni (MRS Racing Yamaha) after an express train of leading speed was only derailed on the final corner. Florian Marino (Ten Kate Race Junior Honda) tried to pass leader Guarnoni but ran wide at the Parabolica, and Leandro Mercado (BWG Racing Kawasaki) was pushed wide and crashed. Marino would get going again to score third, with pole man Federico D'Annunzio (Yamaha Martini Racing) second. In the championship, Guarnoni leads on 86 points, 20 ahead of Marino. A rash of fallers in the early laps of the race ensured that only nine riders made the finish.

Supertock 600 Results: 1. Guarnoni J. (FRA) Yamaha YZF R6 15'03.324 (184,184 km/h); 2. D'Annunzio F. (ITA) Yamaha YZF R6 5.508; 3. Marino F. (FRA) Honda CBR 600 RR 9.972; 4. Russo R. (ITA) Yamaha YZF R6 10.214; 5. Casalotti S. (ITA) Yamaha YZF R6 14.388; 6. Le Coquen (ITA) Yamaha YZF R6 14.414; 7. Calero Perez N. (ESP) Yamaha YZF R 6 19.716; 8. Covena T. (NED) Yamaha YZF R6 19.977; etc.
Points (after 4 rounds of 10): 1. Guarnoni 86; 2. Marino 66; 3. D'Annunzio 51; 4. Karlsen 47; 5. Lombardi 38; 6. Lanusse 30; 7. Calero Perez 28; 8. Fanelli 25; 9. Le Coquen 21; 10. Major 20

In Race One Biaggi (3) had to fend off as many as 12 riders at once for the lead, here staying ahead of Toseland (52), Haslam, Crutchlow and Jonathan Reaa (65) who crashed out both races on the Ten Kate Honda.

Max and Aprilia Enjoy Their Best Race Day Yet
Monza, Sunday May 9th RACE DAY - An outstanding weekend of action at the Autodromo Nazionale di Monza, played out in front of 115,000 people, culminated in a remarkable double win for Max Biaggi and his Aprilia Alitalia team, and pulled Max up to within three points of championship leader Leon Haslam (Alstare Suzuki). Biaggi made some radical changes to his rear suspension after his race one win and eventually ran out the clear winner of race two. This was Max's second double of the year, the first coming in Portimao.

Superbike Race One
Biaggi scored the race one win with a well-judged front running ride, albeit with several riders for company through all 18 laps. He kept his pace and consistency on his vee four machine to lead Yamaha Sterilgarda duo James Toseland and Cal Crutchlow across the line, finishing 0.247 seconds ahead of Toseland. Leon Haslam was only 0.958 seconds behind Biaggi, in fourth, with Leon Camier, Biaggi's team-mate, fifth. Ruben Xaus (BMW) was sixth, Michel Fabrizio seventh for Ducati Xerox. Troy Corser went eighth and Tom Sykes ninth on his Kawasaki Racing Team machine.

Max Biaggi: "That was a special result, because it is special to win at Monza and because this is a special track with a very high top speed. We worked very hard for this race weekend so it was a perfect performance by all the team. The Yamaha guys running together means they could be quicker than me in the final lap but we held it together and took our first win here at Monza."

James Toseland: "Another second place, it's a bit frustrating, but it was a good strong race. I want to congratulate the team for getting two bikes on the podium. Congratulations to Max, he didn't put a foot wrong. On that last lap I was hoping he was going to make a slight mistake to allow me to get alongside but he didn't. They were strong round here, but we're getting better all the time, but as I said second and third all the time is a bit frustrating."

Cal Crutchlow: "I felt like I put together a solid race, but we never got the best of starts again, the bike is hard to get off the line, but all credit to Yamaha, we came to their home round and second and third for me and James is a strong result. We knew we would struggle a bit for speed, but to be honest I struggled throughout with gear shifting, I had a leaky engine oil cover. I was struggling to change gear up the box, but I feel I rode well."

Results: 1. Biaggi M. (ITA) Aprilia RSV4 1000 (C/A); 2. Toseland J. (GBR) Yamaha YZF R1 0.247 (B/A); 3. Crutchlow C. (GBR) Yamaha YZF R1 0.297 (B/A); 4. Haslam L. (GBR) Suzuki GSX-R 1000 0.958 (C/A); 5. Camier L. (FRA) Aprilia RSV4 1000 4.493 (C/A); 6. Xaus R. (ESP) BMW S1000 RR 7.343 (B/A); 7. Fabrizio M. (ITA) Ducati 1198 7.369 (B/A); 8. Corser T. (AUS) BMW S 1000 RR 9.344 (B/A); 9. Sykes T. (GBR) Yamaha YZF R1 15.338 (C/A); 10. Guintoli S. (FRA) Suzuki GSX-R 1000 16.761 (B/A); 11. Haga N. (JPN) Ducati 1198 16.921 (A/A); 12. Neukirchner M. (GER) Honda CBR 1000 RR 22.231 (C/A); 13. Byrne S. (GBR) Ducati 1198 22.602 (B/A); 14. Checa C. (ESP) Ducati 1198 22.742 (A/A); 15. Smrz J. (CZE) Ducati 1198 26.266 (B/A); 16. Scassa L. (ITA) Ducati 1198 26.415 (B/A); 17. Lanzi L. (ITA) Ducati 1198 26.968 (C/A); 18. Vermeulen C. (AUS) 36.964 (B/A); 19. Hayden R. (USA) Kawasaki ZX-10R 61.646 (B/A)

Troy Corser battled for the lead in both races, claiming BMW's first ever podium in Race 2.

Superbike Race Two
Biaggi took his second win of the day in fine style after closest challenger Crutchlow suffered an oil leak and crashed. Max's eventually clear win, by 4.5 seconds from Leon Haslam, was an important one and sends the WSB paddock to Kyalami confident of more close action between this year's two most consistently fast riders. Haslam now has 181 points to Biaggi's 178 as he struggled with a sore wrist from a couple of hairy moments in the second race.

Third place for Troy Corser was a historic first podium for BMW in WSB racing, in only the second season of full-on competition for the S 1000RR in the production-based series. Corser is now seventh in the championship. Leon Camier was a lonely fourth for Aprilia in race two and an aggressive fifth from Kawasaki rider Tom Sykes rounded out a day of new high points for many riders and teams. James Toseland was taken to hospital to have a CT scan after suffering concussion in a high-speed crash, with Jonathan Rea spraining his ankle and Ruben Xaus escaping the turn one collision without injury.

In contrast to Biaggi's great day some leading lights suffered in the final analysis, with Carlos Checa 14th and 11th in the races, as he ties for fourth place on 110 points with Rea, who did not score today. Toseland is fifth on 106, Haga sixth on 100.

Max Biaggi: "This track is very long and it's very easy to make a little mistake plus when you have your rhythm you stay with it, and it's difficult to go faster and easier to go slower. Anyway I'm happy with the result, it was a close race. I'm happy for me and my team. It's an unbelievable result, it looks like we are achieving our goal. Here there is also the President of our group and it's been a great weekend for everyone."

Leon Haslam: "We had a few big moments in that race and I'm nursing my wrist because one of them sent me off the back of the bike when I was with Max and Cal at the time. This weekend's been tough, we've been a little bit down on speed, which is unlike the Suzuki, but the boys have worked fantastic. To get on the podium here in Monza is always special so I'm really happy for that. The battle for the title is definitely closing in, we knew Max was going to be strong here, but hopefully we can get back to our winning ways because each race is getting tougher and tougher."

Troy Corser: "I'm so happy, the team has put a lot of hard work into the project not just this year but last year and sometimes it's been difficult and frustrating. But this weekend we've worked really hard and have been progressively getting better and better, just struggling a bit with braking, but we made a change for the second race and it made the bike easier to stop. We had the speed, our bike was as fast as anything out there, and it just took me a few laps to get used to the brakes in the second race. Thanks to all the boys at BMW, it's been a long time coming, let's hope it's not going to be the last one!"

Superbike Race 2 Results: 1. Biaggi M.(ITA) Aprilia RSV4 1000; 2. Haslam L. (GBR) Suzuki GSX R 4.547; 3. Corser T. (AUS) BMW S 1000 RR 5.469; 4. Camier L. (FRA) Aprilia RSV4 1000 10.267; 5. Sykes T. (GBR) Kawasaki ZX-10 R 15.561; 6. Haga N. (JPN) Ducati 1198 15.816; 7. Guintoli S. (FRA) Suzuki GSX-R 1000 15.861; 8. Smrz J. (CZE) Ducati 1198 20.977; 9. Byrne S. (GBR) Ducati 1198 21.920; 10. Scassa L. (ITA) Ducati 1198 21.974; 11. Checa C. (ESP) Ducati 1198 27.152; 12. Neukirchner M. (GER) Honda CBR 1000 RR 29.315; 13. Vermeulen C. (AUS) Kawasaki ZX-10R 30.858; 14. Hayden N. (USA) Kawasaki ZX 10 R 47.160; 15. Parkes B. (AUS) Honda CBR 1000 RR 48.824

Pirelli Race Tyre Selection (Front/Rear): All riders on same solutions with the exception of Checa, who changed to B front tyre for Race 2.

Points (after 5 rounds of 13): 1. Haslam 181; 2. Biaggi 178; 3. Rea 110; 4. Checa 110; 5. Toseland 106; 6. Haga 100; 7. Corser 92; 8. Camier 72; 9. Guintoli 70; 10. Crutchlow 65. Manufacturers: 1. Aprilia 184; 2. Suzuki 181; 3. Ducati 149; 4. Honda 119; 5. Yamaha 113; 6. BMW 95; 7. Kawasaki 37

World 600 Supersport to Laveerty
The Supersport race, held over 16 laps, was won by a flag-to-flag show of speed and consistency from Parkalgar Honda rider Eugene Laverty. He won by 2.8 seconds from Hannspree Ten Kate Honda rider Kenan Sofuoglu. Third, and only just behind Sofuoglu after he made a mistake on the penultimate lap, was Joan Lascorz (Motocard.com Kawasaki). Sofuoglu's team-mate Michele Pirro was the first Italian rider home, in fourth place, holding off Katsuaki Fujiwara (Kawasaki Motocard.com) and French rider Matthieu Lagrive, who was the first Triumph rider in the classification. In the championship, things are now very tight, with Lascorz still leading, on 101 points, while Sofuoglu has 97 and Laverty 91.

Results: 1. Laverty E. (GBR) Honda CBR 600 RR 28'51.936 (192,129 km/h); 2. Sofuoglu K. (TUR) Honda CBR 600 RR 2.817; 3. Lascorz J. (ESP) Kawasaki ZX-6R 3.043; 4. Pirro M. (ITA) Honda CBR 600 RR 21.238; 5. Fujiwara K. (JAP) Kawasaki ZX-6R 22.003; 6. Lagrive M. (FRA) Triumph 675 Daytona 22.056; 7. Davies C. (GBR) Triumph 675 Daytona 30.724; 8. Salom D. (ESP) Triumph 675 Daytona 30.730; etc.

Points (after 5 rounds of 13): 1. Lascorz 101; 2. Sofuoglu 97; 3. Laverty 91; 4. Davies 55; 5. Salom 40; 6. Rea 40; 7. Harms 35; 8. Pirro 34; 9. Fujiwara 34; 10. Lagrive 30. Manufacturers: 1. Honda 120; 2. Kawasaki 101; 3. Triumph 65

Europen Superstock 1000 Race
Ayrton Badovini (BMW Motorrad Italia) secured the race win from pole but only after a fight with early fast man, Sylvain Barrier. The Frenchman was to crash his Garnier racing BMW and lose any chance of points, leaving Badovini ahead of eventual second place rider Michele Magnoni (SCI Honda Garvie Image) second and Daniele Berretta, Badovini's team-mate, third. In the championship, Badovini has 100 points, Magnoni 47 and Maxime Berger 46.

Results: 1. Badovini A. (ITA) BMW S1000 RR 21'44.147 (192,848 kmh); 2. Magnoni M. (ITA) Honda CBR 1000 RR 6.101; 3. Beretta D. (ITA) BMW S 1000 RR 6.371; 4. Lussiana M. (FRA) BMW S 1000 RR 6.522; 5. Petrucci D. (ITA) Kawasaki ZX-10R 18.222; 6. Savary M. (SVI) BMW S 1000 RR 19.518; 7. Baroni L. (ITA) Ducati 1198 21.971; 8. Bussolotti M. (ITA) Honda CBR 1000 RR 22.147; etc.

Points (after 4 rounds of 10): 1. Badovini 100; 2. Magnoni 47; 3. Berger 46; 4.Giugliano 45; 5. Barrier 40; 6. Petrucci 30; 7. Antonelli 28; 8. Baz 27; 9. Bussolotti 26; 10. Tutusaus 25. Manufacturers: 1. BMW 100; 2. Honda 73; 3. Suzuki 52; 4. Kawasaki 30; 5. Yamaha 29; 6. KTM 25; 7. Ducati 22; 8. Aprilia 13
---
Ducati Racing Experience 2010
Bologna 2010 -The eagerly awaited Ducati Riding Experience is back for 2010 and a new cooperation with the Federazione Motociclistica Italiana (FMI) will offer an even more structured programme of riding courses aboard Ducati motorcycles at top Italian circuits.
The DRE offers an all-round experience with great courses, exciting tracks, a line-up of 30 top instructors, a fleet of 90 dedicated Ducati motorcycles and a support staff of more than 30 to ensure participants a valuable and enjoyable day to remember. Additional details at Right. Read about our experience at DRE SCHOOL
---

The Dorsoduro 750 is designed for attacking tight roads with a more comfortable and control thanks to a sit-up riding position made possible by taller handlebars and more forward placed foot controls. The factory model gets a solo sadle, higher spec suspension and brakes, and lightweight carbonfibre bodywork.
New Aprilia Dorsoduro 750 Factory
Aprilia has reworked it's recenty introduced Dorsoduro 750 to upgraded specs in its "Factory" version for 2010 to take on Ducati's popular Hypermoto S. Compared to Ducati's 2-valve aircooled V-twin desmo, the watercooled DOHC 4-valve twin cylinder 92hp engine powering the Dorsoduro 750cc Factory matches the Ducati's perfect mix of rideability, flexibility and exhilaration in a lightweight canyon carving package.
More information and photos in: NewBikes / Aprilia
Aprilia Dorsodura 750 Factory Price: Euro $9,990 / approx USA $13,286
---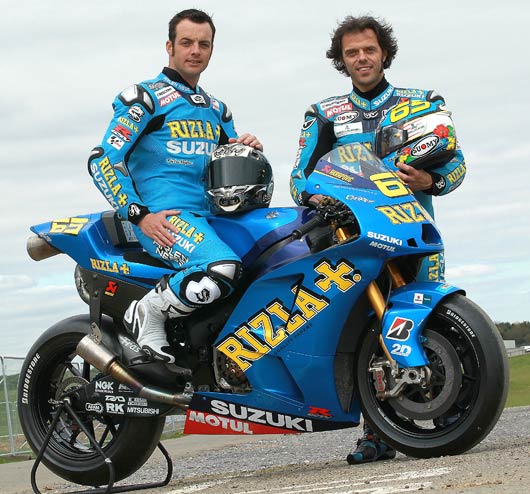 Donald (on the bike) and Loris above

Rizla Suzuki Brings MotoGP Bike & Loris Capirossi to
Isle of Mann TT Festivities for Suzuki's 50th Anniversary
Thursday, May 06, 2010 - Rizla Suzuki MotoGP and Loris Capirossi will be heading to the Isle of Man for the famous TT races in June to help Suzuki celebrate its 50th racing anniversary.
The Suzuki Motor Corporation celebrates 50 years of International racing at this year's Isle of Man TT races - the venue where it all began in 1960 - and the Japanese manufacturer has announced another 'first' on the Island, with the news that Capirossi's GSV-R MotoGP machine will make a lap of the famous TT course – the first ever modern-day four-stroke Grand Prix motorcycle to lap the 37.73 mile (60.72km) course.

Capirossi's Suzuki GSV-R800, that took him to his 300th Grand Prix race start at the opening round of the 2010 world championship at Qatar in April, will be piloted by 2008 TT winner Cameron Donald – the first man to complete the Isle of Man circuit at 131mph (210.82km/h) - straight after the final race of this season's TT calendar on Friday 11th June. Capirossi will also join in the celebrations as he will lead the Friday morning parade lap accompanied by Rizla Suzuki Team Manager Paul Denning, both onboard 2010 Suzuki GSX-Rs – a machine that is itself celebrating its 25th anniversary this year.

The GSV-R lap in the hands of Donald will be the crescendo of a week of activities on the Isle of Man as this year's TT looks set to be owned by Suzuki, with a host of events and attractions taking place throughout race week of the famous festival.

With Suzuki GSX-R1000s the chosen marshal bikes for this year's event, thanks to Suzuki GB becoming the official TT manufacturer partner, fans will get ample opportunity to revel in the brand's 50th anniversary with events happening all over the Island.

The Suzuki racing flag on the roads will be flown by Donald's 'Relentless Suzuki by TAS' team where he will be racing alongside team-mate and former TT winner Bruce Anstey. Suzuki will also have a special exhibition at the Manx Museum, as well as backing the famous Ramsey Sprint events on Sunday 6th and Tuesday 8th June, the Laxey Motorcycle Show on 10th June and the Suzuki parade on the final day of TT fortnight. With an all-star cast of men - including Capirossi - and machines present, this year's TT certainly looks like being a feast for all things Suzuki!

Loris Capirossi: "I am really excited about visiting the Isle of Man and supporting Suzuki's 50th year celebrations, it will be great to go there and be involved. I've never been to the TT before so it will be amazing to see those 'crazy' guys on the racetrack, but I'm not sure it can really be called a racetrack with all those houses and things around - it's not like any track I'm used to! I think it is an event that everybody interested in motorcycle racing should go to at least once in their life and after the first time I'm sure I'll go back again. I want to do one full lap – but not as fast as those guys – so I can see for myself what it's like and what they have to contend with."

Cameron Donald: "To be given the opportunity to ride a MotoGP bike is one thing, but to be offered the Rizla Suzuki GSV-R is a dream come true for me. If I'd been given the opportunity to ride it at a circuit – any circuit – I'd have been more than happy, but to ride it around the world famous Isle of Man TT circuit where I ply my trade, is another thing altogether.

"I spent time with the Rizla Suzuki guys at Phillip Island last year and they made me feel more than welcome. Loris Capirossi is a great guy and a Grand Prix legend, so to ride one of his bikes is an honour. I know these things don't get pulled together overnight, so I'd especially like to thank everyone at Suzuki and team bosses at Relentless by TAS Suzuki and Rizla Suzuki – Philip Neill and Paul Denning - for making this possible.
"It's a special year for Suzuki as a manufacturer and a very special anniversary for the GSX–R range. So while I will be aiming to put the Relentless by TAS Suzukis on the top step of the podium this year on the Island, riding the GSV-R will be the icing on the cake."
---
New Edelweiss Ducati World Championship Race Tours
FastDates is off to Italy in September for an Incredible World Superbike Tour

FastDates.com editor Jim Gianatsis was the first to ask Edelweiss to add Ducati's light and nimble Multistrada to their tour bike line up back in 1997 for use on our Motorcyclsist High Alpine Adventure Tour that year. And we suggested to Edelweiss that they incorporate a tour to a World Superbike round. We are now excited to annouch that Edelweiss has joined up with the Ducati factory this year to offer 2 incredible race tours with the all-new Ducati 1200 Multistrada.
Three of the four Edelweiss Ducati Tours this year are centered around World Championship races:
• California Adventure to Laguna Seca MotoGP- July 17-28th
• Italy World Superbike Tour to Imola - September 19-27th
• Australia Adventure to Phillip Island MotoGP - October 11-23rd

We picked the Imola SBK Tour immediatley because our next country on our personal Edelweiss must do list was central and southern Italy, now with the added bonus of stopping to wath the World Superbike race at Imola on Sunday September 25th. Now the added bonus to allthis is the Tour start and stops at the Ducati factory in Bologna where we get a tour of the Ducati factory and Museum, and a tour of the nearby Ferrari factory. Add in overnight stops over in Florence and other Italian cities and this is one awesome tour for any motoesports fan. Check it out and tell them FastDates.com sent you at Edelweissbike.com
Also Check our previous rides! Western Alps Touring Center Tour • High Alpine Adventure
Hits and Misses: The Ducati Streetfighter 1098
2010 Ride Review Update - The Ducati Testastretta 4-valve watercooled twin cylinder engined Superbike is a World Championship winner, the Hypermoto 1180 air cooled 2-valve twin cylinder engined naked sportbike is one of Ducati's biggest success stories and most fun bikes to ride. It stood to reason that a Testastretta powered naked bike would be the best of both worlds ...incredible power and torque in a light, nimble, incredibly handling package.
Enter the Ducati Streetfighter in the spring of 2009 amid much hype and excitement. It was a stripped down naked version of the 1098 Superbike with slightly higher one piece bars. Our mouth was watering, we wanted one in our garage. But then, a quick look at the spec sheet for the Streetfighter and we immediately became concerned.
The already slow 24.5° steering geometry and 56.3 ins. wheelbase of the Superbike (the 1198R models are adjustable to an even quicker 23.5° angle as used by the Corse race team) hasn't been retained in the Syteetfighter, or matched to the even quicker handling Hypermoto at 24° steering, wheelbase 57.3 ins. Instead, the Streetfighter was make even slower handling with a really raked out 25.3° steering head angle and an extended swingarm for a 57.8 ins. wheelbase. We decided to reserve judgment until we actually got to ride a Streetfighter on the street. Meanwhile Ducati premiered the Streetfighter to the International press on a high speed race track where the slow handling and low handlebars would not be as noticeable.
We finally got to test ride a streetfighter at our local dealer in the fall of 2009 once the initial pre ordered bikes had been sold, and demo bikes became available. To our dismay we found the Streetfighter to be even more disconcerting to ride than the spec sheet led us to think. The bike just does not turn, and the low, short leverage handlebars don't help any by pulling you up over the front of the bike. You no real leverage to overcome the bike's slower steering,while you are positioned splayed across the gas tank, staring at the front wheel with no perceived protection that even a race fairing would provide. We kept thinking we were ready to die by being planted head first, into the first object on the road that got in our way.
Compounding matters even further is the rear set foot peg location retained from the Superbikes which provide no leverage or control for sit up street or tight canyon riding. The foot pegs/foot controls need to be positioned 2.5 ins. in front of the swingarm pivot like on the Hypermoto, not 4.0 ins behind the swingarm pivot like the Superbike. In all, the Streetfighter's foot pegs need to be moved 6-7 ins. forward for better bike control and rider comfort on the street.
The Streetfighter 1098 is just not a very easy or enjoyable bike to ride. Why would a serious sportbike company like Ducati design the ergonomics of the Streetfighter like this we don't know (because a lot of people buy Ducati Monsters with the same silly riding position/ergonomics, stupid!). Ducati is marketing this bike as a rich kid's toy for profiling around town, and not as canyon racer. We have to point out the new Multistrada 1200 has essentially the same Testastretta engine with 10cc more and even better around-town power, a very comfortable sit-up riding position, ergonomics, and it is afar better bike for all applications (it's just not as sexy looking as the Streefighter). If you've noticed, the few people who did buy a Streetfighters when it first came out, well, they just aren't riding them much. They leave it parked at home. The word is out. And now Ducati NA is now trying hard to move current Streetfighters with discount financing offers.
We have suggested to Ducati that they make available an optional Ducati Perforance Kit that offers more forward placement foot peg controls, and a taller, more rearward placed handlebar. This would at least make the bike ride able for people who have already bought one, or the bikes not yet sold. And for the next model year Ducati certainly needs to include these foot and handlebar changes as standard, together with a change back to the stock Superbike swingarm and a quicker 24° steering angle. Then Ducati would have the ultimate naked superbike I'd want to own.
---

Playboy Playmates, red haired Jamie Edmonson left, and blond Heather Rae Young right, are FastDates.com's newest Calendar Kittens headed for World Superbike at Miller Motorsports Park this month. Photo by Josh Ryan.
WARNING: DO NOT CLICK ON THIS PICTURE!
Playboy's hottest new Playmates become FastDates.com Calendar Kittens
and Team Ducati Corse Grid Girls at Miller USA World Superbike
Jamie and Heather appearing at 2010's Miller USA World Superbike May 29-31st
with team Ducati Corse and at the LA Calendar Motorcycle Show July 18th!
Los Angeles, CA, April 1st, 2010 - Playboy magazine's hottest, sexiest, most beautiful new 2010 Playmates, Miss January Jamie Faith Edmonson, and Miss February Heather Rae Young, have been confirmed by FastDates.com Calender producer Jim Gianatsis to be the official SBK World Superbike Fast Dates Calendar Kittens at the Miller Motorsports USA World Superbike round May 29-31st 2010 to photograph the next Fast Dates World Superbike PinUp Calendar with all the top factory team race bikes. Both Calendar Kittens have also been confirmed by multi-time SBK World Championship winning team Ducati Corse to be their official grid girls on race day for their two factory riders, Noriyuki Haga and Michel Fabrizio.
---
The Making of the FastDates.com Calendars now on DVD!
Sure, we may be slow getting around to some things, one of those being the re mastering of our infamous Making of the FastDates.com Calendars movies from VHS tape to high definition DVD. But now thanks to the help of Amazon.com we've entered the 21st century and you can stuff into your Computer or Big Screen DVD player the fastest, hottest, wettest, sexiest motorcycle movies ever made!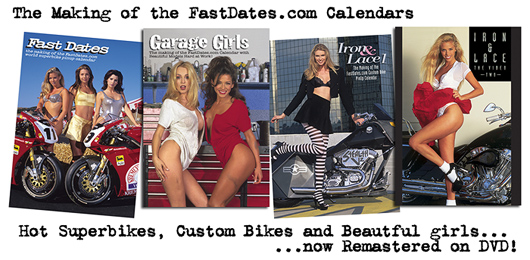 The making of the FasDates.com Calendars DVD movies are available from Amazon.com and in the FastDates.com Video Store.
---
There's more! Go to Pit Lane News Previous Page

Also Visit: Fast Dates Calendar News • Iron & Lace Calendar News
Calendar Girl News • Meet the Models • Paddock Garage

Calendar Kittens, Paddock Garage, Screensavers, Iron & Lace Garage




MotorcycleSuperstore.com
Some of our Calendar Kittens can also at Playboy's website...


FREE! New Met-Art Model Galley Updated Daily - Stop Back Each Day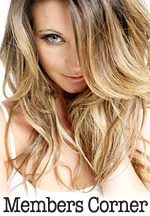 Hot Bikes, Sexy Kittens
Your Exclusive Grid Pass
also includes....
---
---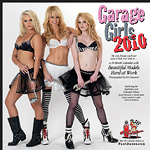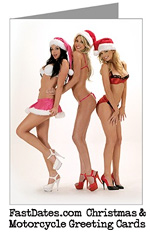 ---
New motorcycle exports into U.S. fall drastically
Powersports Business
Monday May 3, 2010

The number of new motorcycles being brought into the United States by major manufacturers continues to drop by a significant amount. Spring is normally the peak selling season for new model bikes, but not this year in this economy. As you may already know, American Suzuki is not importing any new 2010 motorcycles at all, choosing instead to continue to offer left over 2009 models.
The latest monthly report by metric manufacturers shows new bike exports into the United States falling by 71 percent compared to the prior-year month. That March data is included in a report from the Japan Automobile Manufacturers Association (JAMA), which includes Honda, Yamaha, Suzuki and Kawasaki.
Canada also saw a smaller, but still significant decline in JAMA exports. Canada exports totaled 2,620 units, a 32 percent decrease from a year ago.
The U.S. export number by JAMA companies totaled 6,938 units in March compared to 24,234 units a year ago.
The March decline was not all that different from February, when JAMA reported a 62 percent decrease from the year-ago month.


KTM RC8R



Aprilia RSX1000


Kawasaki Z1000
---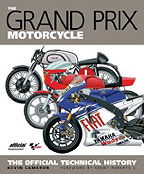 Kevin Cameron's
New Book!
by America's Favorite
Motorcycle Technical Guru
---


Calendar Show Debute
July 18th 2010
of Recording Star
Singer / Songwriter
Sara Haze!
This exciting new Soulful Pop Rocker will knock your socks off!

Click to hear and order Sara's latest CD!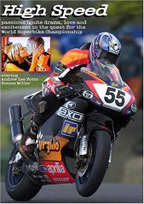 High Speed - the Movie
The best motorcyce racing movie ever made! Filmed on location at World Superbike, this an exciting romantic drama staring beautiful actress Sienna Miller.


Erotica Archives
FREE New Model
Galley Updated Daily
Warning Contains Nudity
---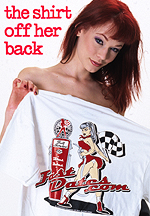 Order the Official
FastDates.com &
LA Calendar Bike Show
T-Shirts!
---
HASLAM RETAINS WSB SERIES LEAD AFTER MONZA PODIUM
Team Suzuki Press Office - May 9. - After a fourth place in the first race, Team Suzuki Alstare rider Leon Haslam fought tooth-and-nail to take a podium in the second race at the Monza World Superbike Championship fifth round in Italy to keep his series lead intact.
Haslam was charging after Cal Crutchlow in second place, but then inherited runner-up spot when Crutchlow slid off at the first chicane. Troy Corser (BMW) was in Haslam's wheeltracks for the last few laps, but the GSX-R1000-mounted Briton held him off to take his seventh podium of the season.
Haslam's team mate Sylvain Guintoli finished 10th in race one, but then improved in race two: He was on course for a terrific sixth place, but the smallest of mistakes in the last turn allowed Noriyuki Haga (Ducati) through.
Max Biaggi (Aprilia) won both races today with Yamaha team mates James Toseland and Cal Crutchlow taking second and third in race one.
Leon Haslam - Race 1: 4th, Race 2: 2nd: "Today was a hard day and I'm happy to leave Monza still leading the title race. Max was strong here and I knew it was going to be tough pair of races. The podium in race two was very hard work, but I didn't want to miss out on a podium today and kept battling away.
"I had a really big 'moment' in race two and was way out of the saddle twice in the space of a fraction of a second. Somehow I stayed on the bike, but it was a very close thing! After Cal crashed, Troy kept me on my toes, but Max was too far in front for me to catch so I just made sure of runner-up spot. I did something to my wrist when I had my 'moment' and it felt pretty sore, but I managed to carry one to the end.
"In race one, I lost contact with the leaders and then had a bit of a grip problem for the last four or five laps and couldn't get out of the corners as fast as I wanted. We made some little suspension changes- just a few clicks here and there - for race two and the bike was definitely better to ride."
Sylvain Guintoli - Race 1: 10th, Race 2: 7th: "Generally the weekend has ended not so badly. I enjoyed the second race because I was involved in a really good fight with Nori Haga and Tom Sykes. I managed to pass Nori right towards the end, but then I made a very small mistake in the last turn and he got me back.
"Seventh is not so bad after how the weekend began, but I have learnt that I - or me and my team - have to manage practice and qualifying better and get into a good, consistent rhythm as soon as we can. Not doing that means a low grid position and this Championship has so many good riders and bikes that you cannot afford to be way down the grid if you want to be a contender. I think I probably could've got fifth today if it hadn't been for a crash right in front of me on the opening lap. I had to take avoiding action and go straight on at the first chicane and lost time in the process. But I fought hard and caught up the guys ahead, before my good battle with Tom and Nori. I am happy with my performance in race two and now I want to build on that and be much better at the start of a race weekend."
No SBK joy at Monza for Hannspree Ten Kate Honda Hannspree
Monza may 9th - Ten Kate Honda rider Jonathan Rea crashed out of both of today's fifth round World Superbike championship races at Monza in Italy, ending the weekend without a single point but still retaining third place in the 2010 championship standings.
His team-mate Max Neukirchner did not enjoy a trouble-free raceday either, struggling with chatter in race one and then having to fight back from last place in race two after being forced off the circuit on the opening lap.
Starting from the front row of the grid, Rea got away slowly in the first of today's 18-lap encounters at the 5.777km Monza circuit, ending lap one in 11th place. The 23-year-old calmly fought his way up to fourth before falling unhurt at the fast entry to the Parabolica turn on lap eight.
In race two, the Northern Irishman was caught in a first-corner melée after getting clipped by another rider. Rea was transferred back to the medical centre but n othing more than a sore left ankle was diagnosed.
After making a step forward at the final round in Holland, Max Neukirchner was unable to consolidate on improvements to his Hannspree Ten Kate Honda CBR1000RR. The German qualified ninth but suffered chatter problems in race one which relegated him to a 12th place finish.
Small changes to the bike produced a better package for race two, but Neukirchner was forced into the gravel at Monza's famous Ascari chicane on the first lap, rejoining the race in last place but fighting back for another 12th place finish.
Max Neukirchner – 12th and 12th The chatter was really bad in race one but the changes we made improved the bike a lot for race two. Unfortunately, as we went into the Ascari chicane on the first lap, Chris Vermeulen was on the inside and made a mistake which forced me right across the gravel. When I got back on the track I was in last place, b ut the changes to the bike allowed me to brake deeper into the corners, with better grip levels and I could get on the throttle faster on the exit. It was an improvement and we've learned some more this weekend but the results were still not good. We need to work on braking even deeper and getting the bike upright earlier, and we'll try to do that next weekend in South Africa.
Jonathan Rea – DNF and DNF
Well it's been a bad weekend for our assault on the championship. I made a small mistake at the end of the back straight in the first race when I was trying to avoid Leon [Haslam] and Cal [Crutchlow]. Then race two ended before it had begun when I got skittled off going in the first corner. But I'm not down in the dumps about it. It's times like these that you can really tell the strength of a team and I know that this team is really very strong. They gave me a good bike this weekend but we co uldn't really make the most of it. I'm actually really excited at the challenge ahead, because we were able to make up quite a lot of points in the middle and end of last season. We'll all pull together now and I fully intend to get back to winning ways at Kyalami next weekend.
Ronald ten Kate –
team-manager
After the perfect weekend in Assen last time out, we knew that our little Hannspree Ten Kate world would not always enjoy days like that. But we certainly hit the other side of perfect today. We still remain confident, however, because the speed shown by Jonathan this weekend will surely bring him back to the front of the field at the next round. But it wasn't just Jonathan who had difficulties today. Max had chatter problems in race one and was pushed off the track early in race two. Even so, after the step forward he enjoyed at Assen, we weren't able to repeat it here in Monza, so there is plenty more work to do.
Highs and lows for Yamaha at Monza
With just four hundredths of a second between them, James Toseland and Cal Crutchlow shot out of the legendary Parabolica curve on the final lap of Race One today in second and third respectively to deliver Yamaha Sterilgarda's first double podium of the year.

Crutchlow, having qualified second, had initially got off the line in fifth with Toseland two places behind in seventh. They worked their way up as a pair, passing Fabrizio and Corser to take third and fourth by lap three. Toseland then passed his team mate for third on lap four at the end of the high speed start-finish straight, then closed down on Haslam and Biaggi at the front. A brief fight with Haslam with some heart stopping passes saw Toseland take second where he stayed tucked up behind race leader Biaggi. Team mate Crutchlow took second from him briefly on lap 14 having caught up again after a missed chicane dropped him to fourth. Toseland was quick to recover position however and got as far as a look up the inside of Biaggi coming out of Parabolica before settling for second less than three tenths from the front at the chequered flag.
Race Two was brought short for both riders. Another rider collided with Toseland going into the first chicane on the opening lap, causing a big crash leaving him with light concussion. He was awake following the incident but taken to hospital for a check up to assess if there was further injury. Team mate Crutchlow made a good start and was chasing Biaggi in second place just 0.1 seconds behind the leader. On lap 11 stones from Biaggi's rear wheel were flicked up, peppering Crutchlow's helmet, with one piercing his oil cooler. This caused him to low side going into the first chicane on lap 12. He was uninjured in the fall but unable to continue.
After the Monza round Toseland remains in fifth position in the championship on 106 points, now just four points away from Rea in third. Crutchlow remains in tenth position on 65 points, just seven behind Sylvain Guintoli in eighth.
James Toseland, Yamaha Sterilgarda World Superbike Team, (2nd, DNF)
" The first race was a good strong race, I just want to congratulate the team, it's their home race and to get two of us on the podium is great. Max Biaggi rode a great race, he had a strong bike here and we expected him to go well, he didn't put a foot wrong. I was hoping on the last lap he was going to make a slight mistake, just enough for me to get alongside but he didn't so fair play to him. We're getting better with each race, moving in the right direction and it's getting frustrating finishing in second and third now!"
Cal Crutchlow, Yamaha Sterilgarda World Superbike Team, (3rd, DNF)
"I felt like I put together a really solid first race, we didn't get the best of starts but made up for it and got stuck in. All credit to Yamaha, they've done a good job to give James and I a competitive package so it was great for us both to deliver them the podiums here for their home round. It was a strong result and we rode well so I was looking forward to the second race. I started really well and didn't take long to get tucked in behind Max, I knew exactly what I was doing and had my strategy sorted to pass him on the last lap. Incredibly some stones flew up off his back wheel, I was so close behind I felt some hit my helmet and unfortunately a big one made a hole in my oil cooler. I made it through another lap, but coming into the first chicane it must have reached my back tyre and I went straight down.
Ducati Xerox Team Battle Hard for Precious Points at Monza: 6th and 7th for Haga and Fabrizio
Monza (Italy), Sunday 9th May: the Ducati Xerox team faced two challenging races today at the Monza circuit and at the end of the day riders Noriyuki Haga and Michel Fabrizio were satisfied to come away with more valuable points, their best results today being a hard-fought sixth place in Race 2 for Haga and a seventh place finish in Race 1 for his team-mate Fabrizio.

Race 1. Michel started from third on the grid but lost a few positions in the first laps, as the two Yamahas and Rea's Honda got past him. When Rea crashed out mid-race, Fabrizio moved temporarily back up into fifth position but was soon passed by Camier, at an evident advantage on the Aprilia when it comes to top speed. The Ducati Xerox rider subsequently held sixth position until the very last corner of the final lap when Xaus on the BMW sneaked past, with Michel crossing the line in seventh position. Team-mate Noriyuki meanwhile spent the best part of the race battling with Ducati privateer Scassa and then, in the second half of the race, with Guintoli on the Suzuki. From sixteenth on the grid, the Japanese rider immediately made up three positions before moving up to eleventh place when Rea fell. Noriyuki held eleventh position for the remainder of the race; although managing to pass Guintoli on two occasions, the Frenchman quickly regained the advantage to take tenth position ahead of Noriyuki.

Race 2 got off to a dramatic start when Toseland, Rea and Xaus crashed out at the first chicane. Michel's bike, knocked in the ensuing confusion, ran off track, causing Michel to lose a few positions; after this collision Michel suffered from a malfunction with the electronic gear shifter. Fabrizio tried to ride around the gearing problem but found himself in difficulty and at the start of the second lap he slipped, losing the rear of his 1198, and unable to rejoin the race. Noriyuki meanwhile gained, immediately progressing from sixteenth to seventh position, with Michel just behind him in eighth. Noriyuki battled for sixth position against Sykes on the Kawasaki for the remainder of the race, unfortunately losing out to the Englishman in the final stages, although a crash for Crutchlow up ahead of them meant that Haga eventually concluded the race in sixth place.

Noriyuki still lies in sixth position in the overall standings with 100 points; Michel is eleventh with 62 points. Ducati remains in third position in the manufacturers classification (149 points) behind Suzuki (181) and Aprilia with 184.

Michel Fabrizio (Race 1 – 7th, Race 2 - DNF) "Race 1 was going quite well; it's only a shame that we don't have the top speed to be able to stick with the guys on the straight, with more engine power I could have done a lot better. In Race 2 I ran off when those guys crashed at the first chicane of the first lap and I tried to keep riding but I couldn't get the bike into gear, and then I slipped. It was tough out there today but at least we take home some valuable points and hope that things go better at Kyalami."

Noriyuki Haga (Race 1 – 11th, Race 2 – 6th) "In both races I was having a lot of difficulty turning the bike and didn't have enough grip at the rear. In Race 1 I was having to put it right down on its side to get it to turn as I wanted and this of course meant that I couldn't keep pace with those ahead of me. We changed a few things before Race 2 and improved the situation a little. Grip was good in the first five laps or so but from mid-race it was really hard, as the bike was drifting wide and was hard to control. In the end I'm quite satisfied with sixth position, as it was tough here this weekend."
TROY TAKES HIS FIRST PODIUM FOR BMW!
Troy took his first ever podium for BMW in the second Superbike World Championship race in Monza today. It was a superb performance by Troy and his team and just reward for all the hard work and effort they've put in over a year and five races.
Recently, Troy has been knocking on the door and this afternoon he was able to give the BMW S 1000 R its first Superbike World Championship podium.

After some small problems in race one, which caused Troy to finish eighth, he and team decided to make some radical changes to the bike for race two. It was a bit of a gamble, but it paid off big time!

Max Biaggi (Aprilia) started on pole and dominated both races today, winning by just two tenths of a second in race one and by a healthier four and a half seconds in race two. Yamaha teamsters James Toseland and Cal Crutchlow took second and third in race one and Crutchlow was in contention for the runner-up spot in race two before a fall put him out of the reckoning. Leon Haslam (Suzuki) then inherited second place, but had to fight off Troy for the last six laps.

Troy - Race 1: 8th, Race 2: 3rd
"I knew that a podium was possible after Assen. The bike has been working better for me recently and I expected a podium here or at the next round. I'm extremely happy with the bike's performance today, particularly in the second race. I was able to race the track and not think about what I was doing.
The bike was spinning quite a lot in the first race, so we made some radical changes for race two. It's not the thing we'd normally do, but I felt we had nothing to lose and our gamble paid off!
The braking performance was much better today and I felt confident stopping the bike. The only area where we lost out on today is exiting the chicanes. There, some of the other's can get on the gas a lot quicker than me. This afternoon, my bike was a complete package and I felt in control and could run consistently fast - especially once I got used to the way the brakes were working.

For me, race two today was one of my best ever rides. I made a good start and for a moment I thought I was going to get all the way to the front. I was smart going into the first chicane and made sure I got through it safely. Later, when I was behind Leon, I got water on my visor and thought it was raining. I used all my tear-offs before I realised that the water was coming from Leon's bike! I thought his bike might blow up, so I eased up a little because I didn't want to get caught up in any crash, but that allowed him to just pull away a little. I chased after him as best I could in the last couple of laps and we had a really good fight. In the end, he just had enough to beat me to the line, but it was pretty close.

Today has been a fantastic day for us all at BMW and I want to thank everybody involved, including the people back at the workshop. I knew this bike had potential and now that we've taken our first podium, I'm sure that there'll be more to come.
See ya!" -Troy
Season Best For Kawasaki with Sykes As He Goes Fifth In Race Two
WSBK, Monza, Italy, 9 May 2010
The best weekend of qualifying and racing for Kawasaki Racing Team rider Tom Sykes saw him ninth and fifth at Monza on his Ninja ZX-10R, as his recuperating team-mate Chris Vermeulen also scored well.
Tom's ninth place in race one came after a good start, with the Yorkshireman only losing ground in the second half of the race and riding an eventually lonely last few laps. He would have very high calibre company in race two, as he was third on lap one, then contested the final few laps with Noriyuki Haga, re-passing the Japanese star at every opportunity. Tom held him off at the line to record his best result this year for the Kawasaki Ninja ZX-10R.
Chris was once more once more held back by both his 18th place qualifying position and pain and weakness in his injured knee. The Aussie rider fought every lap as hard as he could and scored 18th and 13th place finishes in the two 18-lap races. His grit and determination place him 19th in the overall rankings.
The whole weekend was a boost for the KRT squad, as qualifying for Tom in particular went to plan and he made the final sector of Superpole. He then had the confidence to use his skill to the full for all of each race.
In the overall championship Tom is now 14th on 35 points, with the next race scheduled for Kyalami, in South Africa, next weekend.
Tom Sykes: "In race two I got a good start and stayed out of trouble but I was not quite able to make the pace early on. Obviously Nori made a few strong passes, and I let him do a little bit of the work for a while. Then my lap times improved and I had a go at passing him, but he came straight back at me, in typical Nori style. With two to go I made a pass and get my head down, then on the final corner I rode defensively and pulled off a good result in fifth. All credit to Kawasaki and the team, it is very well deserved and a good confidence booster for us for the rest of the year."
Chris Vermeulen: "In each race I got a very good start, but in the first race we had tried to make a few small set-up changes on the bike, but it was in the wrong direction. Physically it made the bike very hard to handle, to change direction, so I was very tired after race one. My lap times were a lot better in race two and the bike was good, it was just my leg that is still the main thing stopping me from racing to my full potential. But I was happy with the progress in race two and racing with someone like Max Neukirchner, so it wasn't too bad.

2010 Ducati Riding Experience will have
FMI recognition
Bologna - 11 March 2010 -The eagerly awaited Ducati Riding Experience is back for 2010 and a new cooperation with the Federazione Motociclistica Italiana (FMI) will offer an even more structured programme of riding courses aboard Ducati motorcycles at top Italian circuits.
The DRE offers an all-round experience with great courses, exciting tracks, a line-up of 30 top instructors, a fleet of 90 dedicated Ducati motorcycles and a support staff of more than 30 to ensure participants a valuable and enjoyable day to remember.
While remaining true to the formula that has made the DRE so successful, 2010 will see the adoption of FMI parameters and protocols for the Basic Course, providing a firm foundation for new riders to learn on right from the start. Furthermore, the DRE organisation will share their proven track training methods with Italian Federation experts so as to create the first officially certified school in Italy, a certification to which all schools will have to qualify in future.
With the new FMI official agreement, the DRE now builds upon the high standards already achieved in 2009 and underlines the companyís continuous development and improvement of their riding school in line with its range of motorcycles.
From taking a first step into motorcycling aboard a light, agile and user-friendly Monster 696 in the Basic course to improving existing road skills aboard a Hypermotard 796, 1100 and Monster 1100 in the Intermediate course, Ducati will improve and perfect all riding techniques. Those riders who prefer to improve their talents on the track will have the opportunity to spend a day receiving detailed instruction aboard an incredible Superbike 848, the mid-range Superbike proven, in recent years, to be the best learning platform. Track riders can progress from Racing 1 through to Racing 2 and, for advanced track riders, to the Master Racing course aboard the famous 1198 S with Ducati Traction Control.
A list of prices and full calendar of 2010 events to be held at major Italian circuits are now online at Ducati.com.
2010 DRE Calendar
28-29 April Imola
Basic - Racing 2, Master Racing
20-21 May Adria
Basic, Intermediate, Racing 1
25-25 June Imola
Basic - Racing 2, Master Racing
15-16 July Mugello
Basic - Racing 2, Master Racing
9-10 September Adria
Basic, Intermediate, Racing 1
The Courses
The Ducati riding courses offer a complete DRE. From those wishing to sit on a motorcycle for the very first time in the knowledge that they are in the company of highly qualified instructors, to those who want to improve their existing road skills in a structured learning environment. Riders who wish to improve their track riding skills can enjoy an exciting, adrenalin-filled experience alongside many professional racers and champions such as Italian riders, Paolo Casoli and Dario Marchetti.
Basic Course
This course is aimed at men and women who have never ridden a motorcycle, but would like to get a taste of the motorcycling world. It includes individual theory lessons and practice sessions in the paddock using the Monster 696. The course is open to a maximum number of 28 participants divided into four groups and is intended to teach the basics of riding, including pulling-away, changing gear, cornering and braking for beginners. A motorcycle licence is not necessary to take part in this course but participants must be over 18.
Intermediate Course
This course is designed for anyone who has a good level of motorcycling experience, and wants to improve their skills further. Ducati is focusing on safety more than ever and this course uses specific exercises that simulate road situations inside the paddock to improve overall machine control.
The Intermediate course is open to a maximum number of 42 participants, divided into groups of six. After the paddock sessions, participants will spend two track sessions experiencing the thrill of the race circuit in complete safety and accompanied by their instructors. The motorcycles used for this course are the, Hypermotard 796, Hypermotard 1100 and Monster 1100 and applicants must have a motorcycle licence with no engine size restrictions.
Racing 1 Course
This course is aimed at motorcyclists who are track novices and want to enter the track for the first time and learn in a safe environment. Safety and quality are top priorities for Ducati, so the track is restricted exclusively for the Racing 1 course. It concentrates on the basics of track etiquette, techniques, riding style and on enhancing rider confidence.
Racing 2 Course
This course is for expert motorcyclists who already have track experience and want to perfect their riding technique a little further. It is held at circuits that host World Championship races and provide a more demanding environment in which to learn. The course concentrates on riding techniques that maximise performance, perfecting riding style and optimising racing lines.
Both Racing 1 and 2 courses use the Superbike 848, a motorcycle perfectly suited for riders wanting to gain track confidence and optimise their riding skills. Its perfect balance of power, lightweight and superb chassis set-up combined with great instruction will bring out the best in every rider.
Master Racing course
In pursuit of maximum rider performance, Ducati offers a highly focussed tuition in its Master Racing course aboard the awesome Superbike 1198 S. Equipped with Ohlins suspension and Brembo Monobloc brakes the 1198 S uses Ducati Traction Control technology to help tame the Testastretta Evoluzione engine for the track. This course is intended for highly expert riders who want to achieve an even more advanced riding performance alongside top racing instructors and ex champions.
The course has a maximum of three participants in each group to ensure that every rider gets individual attention from the instructor. Each rider also receives an extra track session with professional data acquisition equipment, bringing their total track sessions to seven rather than six in previous editions. Participants must have attended at least one DRE track riding course already and have reached a level of riding appropriate to this course. The course concentrates on extreme track riding techniques more closely associated to a competition racing style.
*Data Acquisition
As part of the Master racing course, participants will be able to compare their ëperformance dataí with that of their instructorís. The system records throttle opening, engine rpm, vehicle speed, lap time, suspension travel, brake pressure, tyre temperatures and corner trajectories to give a full report. At the end of the test, the retrieved data forms a debrief session between each participant and their instructor and each participant is presented with a printed copy of their data.
Instructors
Ducati has built a highly qualified line-up of instructors, many of who are National, European or even World Champions. They not only bring advanced riding skills to the DRE, but also create an extremely exciting and fun day in a friendly environment, typical of Ducati.
Registration
Signing-up for the courses started at the beginning of March on Ducati.com with most courses expected to fill up fast. Payment can be made online by credit card or bank transfer, with special terms reserved for members of Official Ducati Owners Clubs. The cost of the courses includes the use of the motorcycle, fuel, instruction, lunch, free refreshments and a welcome kit.
A professional photographer is also present at the event and images can be viewed and purchased at the end of the day or online after the date. Some special hotel rates are also available.
Riding Gear
All participants must wear a leather suit, back protector, gloves, boots and a full-face helmet, however, those not in possession of, or are unwilling to travel with, the appropriate riding gear, can hire it during their online booking process (subject to availability).
More information is available online at http://www.ducati.com
DRE Customer Services at dre2010@ducati.com or telephone +39 051 6413693.