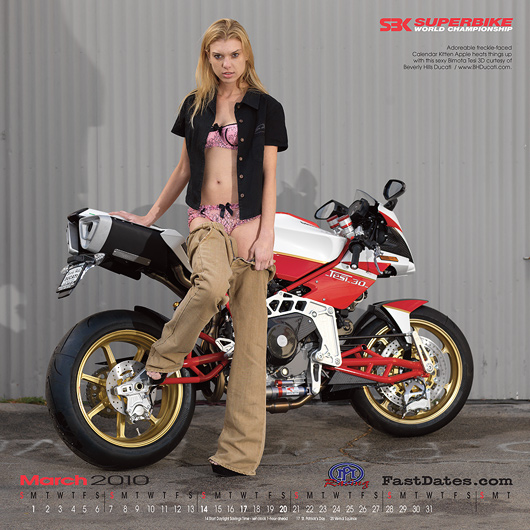 Apple Kitten strips down to her lingerie in a Bevely Hills back alley with a sexy Bimota Tesi 3D.
This Month in the 2010 Fast Dates World Superbike Calendar...
Freckled Faced Calendar Kitten Apple and the Exotic Bimota Test 3D
Calendar photographer Jim Gianatsis shot this month's March 2010 Fast Dates Calendar page of beautiful model Apple Price with the excotic Bimota Tesi D3. The picture was taken in the back alley behind Beverly Hills Ducati / Bimota in Beverly Hills, CA, who kindly supplied the bike for our Calendar shoot. The shop's customer list includes such Hollywood celebrities as Brad Pitt and Tom Cruise. Click to Order
---
Former American Honda factory rider Jake Zemke, finally on a competitive bike, rewarded Jordan Suzuki wth double Superbike wins in his first race for the team at Daytona.

2010 AMA Pro National Roadracing Championship, Daytona Round 1

Zemke Doubles at Daytona International Speedway
in AMA Pro National Guard American SuperBike
Superbike Thursday Race One
DAYTONA BEACH, FL, March 4, 2010 - Jake Zemke took a hard-earned victory aboard his No. 54 National Guard Jordan Suzuki GSX-R1000 in the opening round of AMA Pro National Guard American SuperBike competition during the Daytona 200 Week at Daytona International Speedway. Zemke led six of the race's 15 laps in the afternoon race around the 2.90-mile short course at the famed circuit. The opening SuperBike round of the year only found two factory supported prvateer teams in attendance: Yoshimura Suzuki and Graves Yamaha, with 23 rider entries on the starting grid.

After a thrilling AMA Pro Racing SuperSport race, the AMA Pro American SuperBike field lined up under sunny skies and the warmest temperatures of the event so far. The exciting qualifying session saw Aaron Yates take pole position for the doubleheader races on his No. 23 Michael Jordan Motorsports Suzuki GSX-R1000, followed by practice pacesetter Larry Pegram with his No. 72 Foremost Insurance Ducati 1098R and Rockstar Makita Suzuki GSX-R1000 teammates No. 22 Tommy Hayden and No. 79 Blake Young completing the front row. Josh Hayes and his No. 4 Team Graves Yamaha YZF-R1 and eventual day one race winner Zemke were next up alongside Ben Bostrom's No. 155 Pat Clark Motorsports Yamaha YZF-R1 and an impressive Chris Ulrich on his No. 18 RoadRacingWorld.com Suzuki GSX-R1000.

At the start, Young shot into the lead as Yates slipped to fourth. Ulrich jumped up to sixth, while unfortunately his teammate John Hopkins suffered a mechanical problem on his No. 21 Team M4 Monster Energy Suzuki GSX-R1000 and was unable to finish the race. Hayes also had a tough day, dropping back at the start, never able to mount a charge back to front. Young and Hayden ran one-two for a few laps as Pegram battled with Yates and a hard-charging Zemke. The first five broke away and made the race their own all the way to the finish.

Zemke took the lead with a huge drafting move on lap seven and led Hayden, Pegram, Young and Yates, all within inches of each other, around the high eastern banking. Pegram and Hayden went by Zemke on lap 11 with Young and Yates holding station. Hayden had a near slide in the infield, later saying that it really didn't hurt his chances at that particular point on the racetrack. With two laps to go, there was a massive reshuffling as Hayden took the lead and was closely followed by Zemke, Pegram, Yates and Young.

Hayden finished second and Pegram closed out the podium with third. Yates and Young took fourth and fifth, respectively, to complete the top five. Pegram, Yates and Young all turned their fastest laps on the final lap of the race.

After diving into the lead in turn one on the last lap, Zemke was able to break free and build a small gap and as the other riders hit the banking for the final time. Hayden, Pegram and Yates raced each other hard and allowed Zemke to pull away for a magnificent win, his margin of victory a mere 0.238 of a second. An emotional National Guard Jordan Suzuki team celebrated after a sensational start to the season. Under the watchful eye of team owner Michael Jordan, it was a perfect start to the 2010 season for the new rider combination. Collecting his trophy from sponsor Sgt. First Class John Metzler in Victory Lane, Zemke paid tribute to the men and women serving our country in the National Guard and all of our armed forces all over the world and was also full of praise for his new team.

The final AMA Pro National Guard American SuperBike race of the Daytona 200 week goes green tomorrow at 4:00 p.m. local time and both races can be seen in their entirety this Saturday beginning at 10:30 p.m. ET on SPEED.

Tommy Hayden (left) and Jake Zemke (Center) shared the Superbike podium both days, while Larry Pegram (right) had to trade 3rd lace with Ben Bostrom on Friday.
Superbike Friday Race Two
DAYTONA BEACH, FL, March 5, 2010 - The National Guard Jordan Suzuki team got their season off to a dream start in the second race in a set of doubleheader AMA Pro National Guard American SuperBike races on the famous 2.9 mile short course at Daytona International Speedway. In an absolute last gasp pass at the line, Jake Zemke's No. 54 Suzuki GSX-R1000 passed No. 22 Rockstar Makita Suzuki GSX-R1000 rider Tommy Hayden and won by 0.009 of a second for the second win in as many days. Fighting back from a disappointing first race yesterday, Ben Bostrom's No. 155 Pat Clark Racing Palms Hotel/Las Vegas Motor Speedway Yamaha YZF-R1 finished in a solid third place.

Starting under clear and sunny skies, the field was led again by Aaron Yates's No. 23 Brand Jordan Suzuki GSX-R1000 from pole position but Hayden and his Rockstar Makita Suzuki teammate Blake Young made a mighty move on Aaron into turn one and took over at the front. Once again the field fought furiously on the Daytona banking. Larry Pegram, aboard the No. 72 Foremost Insurance Ducati 1098R and Zemke picked up a big draft in the tri-oval and shot up into second and third places on lap two as Hayden built up a one second lead over the pack behind him.

Josh Hayes on his No. 4 Team Graves Yamaha YZF-R1 and Ben Bostrom made good starts and joined the group behind Yates and Young. Another rider making his first appearance among the front runners this year was Brett McCormick and the No. 6 Picotte Racing Suzuki GSX-R1000. McCormick, Hayes and Bostrom had their own battles just behind the leaders. Chris Ulrich on his No. 18 Monster Energy Roadracingworld.com Suzuki GSX-R1000 recovered nicely from a lap one, turn one overshoot and was back up to 11th following up from yesterday's impressive run.

Young was the next to encounter trouble as he ran wide at turn one on lap nine. Meanwhile, back up front the following group caught back up to Hayden and the race was back up for grabs. Zemke had fought his way back to the lead and many times the leader at the stripe wasn't necessarily the leader into turn one. Zemke was fighting his handling but everyone was on the absolute limit and the bikes were all moving around in and out of the corners and especially on the banking. Meanwhile, Bostrom was making a nice move to the front, passing Hayes on lap 11.

Tommy Hayden

Yates joined his teammate back at the front and when Hayden ran wide at turn one, it looked like a Michael Jordan Motorsports one-two finish might be in the cards. On lap 13, Hayden came back by Yates and Bostrom continued his well-measured march to the front by passing an always strong Larry Pegram into turn one. Hayden then made a sensational pass on Zemke in the International hairpin and began to put a nice gap on Zemke. Hayden got a great launch out of the chicane on the back straight and as he came around to the flag, it looked like Zemke had too much ground to make up before the finish line. But with Bostrom looking on with what he described as an amazing view from his Yamaha, Zemke passed Hayden at the line and won by just 0.009 of a second and later said he was trying to see the scoreboards on the cool down lap to see who won.
Yates took a fighting third, followed by Pegram, Hayes, Young and McCormick finished in a fine eighth place. Rounding out the top ten was David Anthony on his Aussie Dave Racing Suzuki GSX-R1000 and Taylor Knapp on his RidersDiscount.com Suzuki GSX-R1000.
John Hopkins returned home from a disappointing MotoGP career with Kawasaki, rejoining the Roadracing World M4 Monster Suzuki AMA Superbike Team along side Chris Ulrich, the team that gave John his start years earlier. Both riders were off 2 seconds a lap off the lead the pace at Daytona, with Hopper suffering a highside in Turn One during Friday's race. Both experienced Pro riders were bested by their rookie 16-year old girl team mate Elena Myers who carded 6-7 finishes in the SuperSport races.

All in all, it was a dream start to the season for AMA Pro National Guard American SuperBike and again under the watchful eyes of team owner Michael Jordan, Jake Zemke is proving to be a very wise choice for the Jordan organization. With the strong runs by Hayden and Bostrom, this year is shaping up to be one of the best in this exciting premier class of motorcycle racing.

Both rounds of AMA Pro American SuperBike can be seen in back-to-back broadcasts Saturday night on SPEED starting at 10:30 p.m. ET. Next on the schedule for AMA Pro Road Racing is Auto Club Speedway in Fontana, California over the March 26 - 28 weekend.
Daytona Superbike Race 1:


1. Jake Zemke (Suzuki)
2. Tommy Hayden (Suzuki) +0.238
3. Larry Pegram (Ducati) +0.259
4. Aaron Yates (Suzuki) +0.291
5. Blake Young (Suzuki) +0.307
6. Chris Ulrich (Suzuki) +27.398
7. Taylor Knapp (Suzuki) +27.43
8. Shawn Higbee (Ducati) +1 lap
9. Shane Narbonne (Suzuki) +9.078
10. Barrett Long (Ducati) +16.377

Daytona Superbike Race 2:


1. Jake Zemke (Suzuki)
2. Tommy Hayden (Suzuki) +0.009
3. Ben Bostrom (Yamaha) +0.081
4. Aaron Yates (Suzuki) +0.212
5. Larry Pegram (Ducati) +0.858
6. Josh Hayes (Yamaha) +1.838
7. Blake Young (Suzuki) +22.383
8. Brett McCormick (Suzuki) +29.235
9. David Anthony (Suzuki) +34.124
10. Taylor Knapp (Suzuki) +34.404

Top 10 Points Standings:


1. Jake Zemke 62
2. Tommy Hayden 50
3. Larry Pegram 37
4. Aaron Yates 37
5. Blake Young 30
6. Taylor Knapp 25
7. Ben Bostrom 24
8. Chris Ulrich 24
9. Josh Hayes 23
10. Shane Narbonne 20
Herrin Wins the 69th Running of the
AMA Pro Road Racing Daytona 200
DAYTONA BEACH, FL, March 5, 2010 - After losing out on the Daytona 200 victory in 2009, No. 8 Team Graves Yamaha YZF-R6 rider Josh Herrin secured his name in the history books by becoming the 69th winner of the now very much castrated Daytona Beach classic without a factory racing team or Superbike in sight. Held for the second year in a row under the lights, Herrin battled a number of riders before pulling away after a super quick pit stop on lap 39. After that, he rode with tremendous composure and skill to take the checkered flag with a 7.964 second margin of victory on the historic 3.55 mile Daytona International Speedway.

Dane Westby and his No. 2 Project 1 Yamaha YZF-R6 took a well deserved second place and up until the last pit stop, it was a two man race. Westby showed his skill by running up front all night, trading the lead with Herrin several times over the course of the 57 lap race. Finishing third was 2007 Daytona 200 winner Steve Rapp on his No. 15 Team Latus Motors Racing Ducati 848. Rapp also ran up front all night and was one of five riders to lead during the race.

Leading the field off the line was pole winner Danny Eslick on the No. 1 GEICO Powersports RMR Suzuki GSX-R600 and as the field took the green flag from the standing start, fellow front row rider Martin Cardenas, riding the No. 36 Team M4 Monster Energy Suzuki GSX-R600, shot into the lead and led the field through turns one and two. In a heartbreaking moment, Cardenas had the front end slide out on him going into turn three and down he went, his race over. It was a devastating moment for what was clearly a big pre-race favorite. Further back in the lineup, a number of riders came together in the next turn, necessitating a red flag and immediate race stoppage and full restart from the original grid.

One rider, P.J. Jacobson, was transported from the scene to Halifax Hospital but was later released. Four other riders were examined at the infield care center and released and one rider, Bostjan Skubic, later complained of dizziness, was taken to Halifax for precautionary evaluation and was later released. After a brief delay, the race was restarted and this time the field had three riders go off in turn one but with no impact on the race. A tight group of 10 riders were drafting and swapping positions, with many changes every lap. Rapp, Herrin, Eslick, Team Graves Yamaha teammate Tommy Aquino, Kev Coghlan riding the Aussie Dave Racing Yamaha, Westby and more were all part of the action.
Another front-runner was Brett McCormick on his No. 61 Picotte Racing Suzuki GSX-R600. He was slowed early by an excursion though the chicane but regained his momentum and began another race at the back of the lead group, fighting with Cory West aboard the No. 57 Vesrah Suzuki GSX-R600, Bobby Fong on the No. 30 Crozier Robinson Motorsports Ducati 848 and Jeff Wood on the No. 75 Vesrah Suzuki. The leaders were lapping in the one minute and fifty second range, which was just off the fastest qualifying times. Meanwhile, making strong but steady progress up from her 22nd starting position was Melissa Paris aboard the No. 13 MPH Racing Yamaha YZF-R6.

The first round of pit stops began on lap 17 and Aquino suffered a malfunction with his fueling apparatus, which caused fuel to spill all over the bike and led to his retirement from the race. Herrin stopped one lap later and had a flawless stop. Eslick also had a good stop and the lead was now held by Coghlan, ahead of Eslick, Westby, Herrin, Rapp, and Taylor Knapp riding the Ducshop Racing Ducati 848.

Coghlan then stopped on lap 21 and Herrin and Westby regained the lead battle with Rapp and the rest. As things settled down, a three bike breakaway with Westby, Herrin and Eslick kept the pressure on each other, each pulling the occasional wheelie out of the chicane lap after lap. By lap 25 it really became a two bike race, Herrin and Westby really now extending their lead over the field. Melissa Paris continued her strong run, now up to 13th. Brett McCormick's promising run came to an end as he was involved in a multi-bike accident in the International Horseshoe on lap 32.

By lap 34 there were seven riders on the lead lap, the second round of pit stops began and the race to the checkers was on. Herrin and Westby came down pit lane side by side on lap 39 and each wouldn't give an inch until they stopped in their respective pit boxes. The Team Graves Yamaha team really excelled and sent Herrin off before Westby, giving Herrin the gap he needed to break away. Westby rode as hard as could, but the gap to Herrin slowly grew as the race wound down.

In another moment of heartbreak, girl racer and Josh Hayes' wife Melissa Paris' excellent race came to a premature end when she lost front wheel traction while running in 11th place entering the chicane on lap 49. She had run as high as 10th place and was also treated and released from Halifax Hospital.

Later commenting that he was in nearly perfect rhythm, Herrin put his name in the record books as the second youngest winner of the Daytona 200 and the youngest at the races held at the Daytona International Speedway. At 19 years and 10 months, he is only preceded by Brad Andres who, when winning the 200 in 1955, was 18 years and 11 months old.

Eslick survived a late race coming together with a slower competitor to finish fourth, Coghlan took fifth, West was sixth, Geoff May riding his No. 99 GMR Racing Suzuki GSX-R600 finished seventh, Shawn Higbee finished eighth on his Higbee-Racing.com Buell followed by the tenacious Taylor Knapp and Eric Wood rounded out the top ten on his Honda CBR600RR.
AMA Pro Road Racing will be at Auto Club Speedway in Fontana, California from March 26 - 28 for round two of the 10 event schedule.
16-year old girl racer Elena Myers takes 6th
Beaubier Wins AMA Pro 600cc SuperSport Race One at the Line
DAYTONA BEACH, FL, March 4, 2010 - From the drop of the green flag until the last lap, the opening round of the 2010 AMA Pro Racing SuperSport Championship provided non-stop action during the opening day of racing during the Daytona 200 Week. AMA Pro Racing rookie Cameron Beaubier took his first victory by an amazing 0.001 of a second, just beating Joey Pascarella as they battled side by side all the way to the finish line. Also taking advantage of the furious drafting on the final lap was Jake Gagne who took third, setting an all-Yamaha YZF-R6 podium in the kick-off race for the 2010 AMA Pro Road Racing season at Daytona International Speedway.

Under clear but cool conditions, the field was led by Pascarella, J.D. Beach, Beaubier and Gagne. Tomas Puerta, Hunter Nash, Elana Myers and Daniel Guevara made up the second row and all soon joined in a seven-bike train after the start. Pascarella fell back momentarily but by the end of lap one he was back into the lead. A furious battle then continued as Pascarella, Beach and Beaubier swapped the lead back and forth. Lap after lap, one would be leading as they crossed the start-finish line and another would take the lead going into turn one under fierce braking. On lap four, with with the lead pack in a tight draft, Beach shot into the lead and looked like a real contender for the win. Puerta got a huge draft and took the lead on lap eight, leading until Pascarella regained the top spot while the group literally battled inches apart on the high banks of Daytona.

By lap 10, the first five started to break away from the pack as Myers and Guevara continued their impressive runs just behind the lead group. On the penultimate lap, Gagne missed the chicane and drove through with no gain or loss of position, rejoining the battle as the group ran back up the banking into the tri-oval for the last lap. Pascarella dove into the lead going into the last lap, and he and Beaubier fought it out. As they came into sight of the finish line, the duo were side by side for a photo finish. Each thought that the other had won and ultimately, the margin of victory for Beaubier was 0.001 seconds, the closest finish in the history of AMA Pro Racing. Review of the high-speed photo finish camera system showed what appeared to be less than two inches difference.

Joyous in victory lane, Beaubier's was still amazed that he had earned his first AMA Pro Racing victory. Pascarella was gracious in defeat, losing by 0.001 of a second isn't all bad and he has every right to be pleased with his performance after starting from pole position. Gagne also took advantage of the draft and took a well deserved third place, a testament to his perseverance after his miscue in the chicane.
Beach took fourth followed by Puerta, Huntley Nash and an excellent sixth place for Elena Myers on her Suzuki GSX-R600. The first five riders were all on Yamaha YZF-R6 motorcycles.

A great start to the 2010 season and for the AMA Pro SuperSport class, Friday is sure to see another exciting race on the high banks of Daytona International Speedway. Highlights from both SuperSport races can be seen during the AMA Pro American SuperBike presented by National Guard broadcasts on SPEED this Saturday night.
Elena Myers took two top ten finishes in her first AMA Pro National races.
16-year old girl racer Elena Myers takes 7th
Pascarella takes Victory in AMA Pro 500cc SuperSport Race Two
DAYTONA BEACH, FL, March 5, 2010 - After Thursday's unbelievable AMA Pro SuperSport race, where Joey Pascarella lost by 0.001 of a second, Pascarella, on his No. 25 LTD Racing Yamaha YZF-R6 came back to take a well judged victory in the second of two 2010 AMA Pro Racing SuperSport races held at the legendary Daytona International Speedway, this time winning by over a second at the flag.

In a podium sweep, Pascarella's LTD Yamaha YZF-R6 teammates No. 32 Jake Gagne and No. 12 Tomas Puerta took second and third after battling the entire 12 lap race with yesterday's winner No. 16 Cameron Beaubier and his teammate No. 73 J.D. Beach on their Rockwall Yamaha YZF-R6's.

Beach, who looked like a likely winner yesterday was again denied victory when he encountered a mechanical problem forcing him out of the race on lap seven. That left Beaubier alone at the front against the LTD Yamaha teammates. Lap after lap, they all took shots at Pascarella, but he was very strong under braking for turn one and fought off every charge. Behind the lead group, No. 75 Huntley Nash on his Yamaha YZF-R6, No. 82 Daniel Guevara riding a Suzuki GSX-R600 and the again impressive Elena Myers on her No. 21 Suzuki GSX-R600 enjoyed a furious battle lap after lap, with Guevara eventually getting by Huntley Nash and Myers to finish fifth, sixth and seventh respectively.

Pulling wheelies out of the chicane onto the back banking, Gagne, Puerta and Beaubier got close to Pascarella, but only Puerta was able to head Pascarella, when he officially led lap six. Going into the last lap, it looked like another photo finish but this time for second, as Joey Pascarella took a well deserved first place. Beaubier was second with Gagne and Puerta right behind and after another big drafting move, Gagne ended up second over Puerta, with Beaubier finishing fourth. Guevara finished a fine fifth followed by Myers. Sam Nash, racing in the Top Gun class, finished eighth on his No. 44 Yamaha YZF-R6, No. 77 Honda CBR600RR Top Gun rider Eric Stump II finished ninth and Ryan Kerr took tenth on his No. 28 Kawasaki Ninja ZX-6R.

This year's AMA Pro SuperSport season got off to a unbelievable start Thursday and Friday's race showed that the LTD and Rockwall Yamaha teams will be tough to beat. With the impressive Myers, Guevara and Huntley Nash close behind, the championship is wide open.

Highlights from each round of AMA Pro SuperSport can be seen in back-to-back broadcasts of the week's AMA Pro National Guard American SuperBike races Saturday night on SPEED starting at 10:30 p.m. ET. Next on the schedule for AMA Pro Road Racing is Auto Club Speedway in Fontana, California over the March 26 - 28 weekend.
---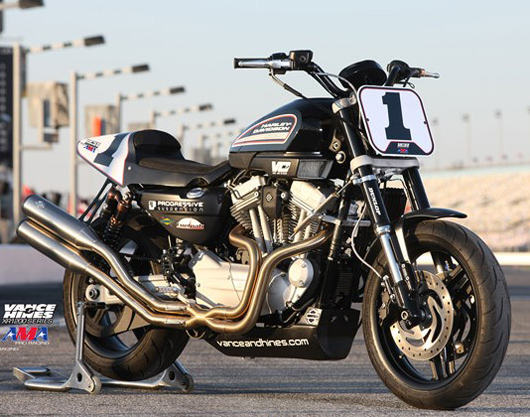 AMA Pro Racing Announces New
Vance & Hines XR1200 Series for AMA Pro Road Racing
DAYTONA BEACH, FL, March 4, 2010 - AMA Pro Racing and Vance & Hines are pleased to announce the launch of the new AMA Pro Vance & Hines XR1200 Series, a spec-bike five race championship featuring specially modified Harley-Davidson XR1200 motorcycles.

This exciting new series will provide loyal Harley-Davidson owners, dealers and enthusiasts a chance to join the action at selected AMA Pro Road Racing weekends throughout the country.

As the presenting sponsor, Vance & Hines will also serve as the official race kit supplier for the class. The kit will consist of a Vance & Hines XR1200 exhaust system, a Fuelpak fuel management system, race bodywork including number plate, single seat tail section and belly pan, 17-inch front wheel with matching front fender, steering damper, oil cooler relocator and race decal package. The cost for the complete kit will be $3500.

"We have racing in our DNA, Harley-Davidson has racing in their DNA and we are truly thrilled to bring Vance & Hines and Harley-Davidson back into AMA Pro Racing," Terry Vance, a prolific champion as both rider and team owner, said of the new series. "The XR1200 has proven to be an exciting platform for spec racing in Europe and this class will be a perfect cost-effective platform to showcase new talent on a national stage. Many of the finest motorcycle racers all over the world got their start in the AMA Supertwins class of the 1990s."

As in all AMA Pro Road Racing series, Dunlop will provide the spec tire for the class and Sunoco will fuel the racers with their Sunoco 260 GTX fuel. In addition to the Vance & Hines supplied kit parts, teams will be allowed to upgrade their suspension, hand and foot controls, brake components and instrumentation.

AMA Pro Racing Chief Operating Officer David Atlas welcomed the new series, "Adding another element to our events with a series of this caliber will be a great benefit to our sport. The specification of the XR1200 package will put the premium on the rider's ability and will provide a great new class of racing that has ties to the past."

Vance & Hines also announced that the XR1200 Series will feature a $5,000 purse payout at each of the five rounds, $2,500 going to the race winner, $1,000 to the runner-up and $750 for third. Fourth and fifth place finishers will receive $500 and $250 respectively.

For the 2010 season, the AMA Pro Racing Vance & Hines XR1200 Series will race at five rounds of the AMA Pro Road Racing Championship. The first race will be just north of Harley-Davidson's Milwaukee headquarters at Road America in Elkhart Lake, WI. Next up will be the classic Mid-Ohio Sports Car Course, moving on to Virginia International Raceway and New Jersey Motorsports Park. The season finale will be at Barber Motorsports Park. For more information, please contact Vance & Hines Motorsports at (317) 852-9057 or www.amaproracing.com.
---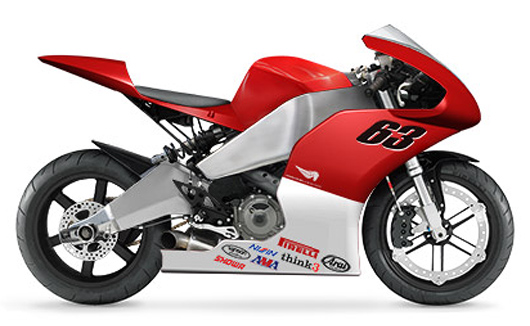 Eric Buell Racing Announces 3 new Racebikes
March 1st - Eric Buell is back in business at EricBuellRacing.com offering 3 non street legal, race track versions of his formerly successful 1125 Superbike. These track only bikes are being offered in 3 versions: a 1125R stock 140hp Daytona Sport Bike, a 1125RR 170hp American Super Bike, and a new larger displacement 1190RR 185hp American Super Bike (pictured above).
We are guessing that when Harley-Davidson dissolved the Buell sportbike brand last fall there were a lot of unsold 1125R bikes and parts laying around, and they gave Eric a fire-sale deal on the stuff rather than send it all to the crusher. Word has it that Eric can't produce his own street bikes because of an agreement he has with Harley, but we suspect in part it was their condition in giving him all the leftover 1125R stuff, that they not continue to be sold as streetbikes and subject Harley to future legal liability problems. Otherwise, why would Harley begrudge Eric not to build future strret legal sportbikes, particularly if they used Harley sorced engines?
The newest Eric Buell Racing model pictured above is the 1190RR which bumps up the 1125R displacement. The two cylinders are bored out to 106mm (from 103mm), with stroke unchanged at 67.5mm. Bike description on the Erik Buell Racing website states that: "Engines are completely disassembled and blueprinted, with top-shelf internal parts added to deliver reliable performance at the extreme rev ranges required for a twin-cylinder bike to compete at these power levels."
Specifications reveal use of a dual injector with showerhead for the fueling, rather than the single injector on the 1125RR. The 1190RR also sources a titanium 2-into-1 exhaust, rather than the 1125's steel unit. All told the mods add up to a claimed 185 rear-wheel horsepower and 93 lb-ft torque. That's a 10 hp and 7 lb-ft claimed increase over the 1125RR. The 1190 drops eight lbs as well, with a claimed dry weight of 360 lbs.
The 1190RR represented the next step for the Buell marque. Erik Buell has said he would like to focus on American SuperBike in 2010, with plans to jump to World Superbike in 2011. Without question, the 1125 would have to be altered to take advantage of the 1200cc displacement gap for Twins to be competitive – so the 1190 displacemnt job is a must. And while the AMA is known for making up its own homologation rules as it goes along, there is slim to no chancein hell the 1190RR can be homologated for FIM competiton without the required 500 bike production run of street legal bikes.
The EBR website currently states for the new 1190 that: "Although it is not currently approved for AMA ASB class racing, this bike can be raced in many classes around the world and should add new excitement racing against other premium street-based twin roadracers."
The German-based Pegasusraceteam.com haspurchased two of the 1190RR to compete in the European Sound of Thunder Series (Erik Buell Racing Makes First Sales). Addition to the AMA Pro Road racing series seems improbable, though Buell has courted AMA homologation controversy in the past – most notably with its XBRR racebike in the old Formula Xtreme series.
Buell 1190RR Specs
Engine
Type: 72? V-Twin, 4-Stroke, 4-valve DOHC FF valvetrain
Displacement: 1190 cc
Bore and Stroke: 106 x 67.5
Compression Ratio: 14.25:1
Heads: CNC ported
Valves: Titanium, 42.0mm intake, 35.4 mm exhaust
Power: 185 RWHP @11,500 RPM (Dynojet Rear Wheel)
Torque: 93.0 Ft-lbf @ 9,500 RPM (Dynojet Rear Wheel)
Piston: Forged alloy slipper type
Rod: Forged H-beam high strength alloy steel
Crankshaft: Lightweight forged steel
Fuel System: IDS Technology DDFI 3 electronic fuel injection and engine management system, fully programmable, 61mm throttle bodies, dual injector with showerhead, PWM fuel pump
Exhaust: Titanium ultralight 2 into 1 system.
Clutch: Multiplate Slipper
Primary Drive: Straight cut gear, 1.806 ratio
Transmission: 6 speed
Ratios: 6th - 24/25 (0.960:1)
5th - 25/24 (1.042:1)
4th - 27/23 (1.174:1)
3rd - 29/21 (1.381:1)
2nd - 28/16 (1.750:1)
1st - 32/13 (2.462:1)
Final Drive: 520 Chain

Chassis
Frame: Light alloy large section beam with integral fuel cell
Subframe: Light alloy tubular
Wheelbase: Adjustable - 1400 to 1460 mm (55.1 to 57.4 in.)
Rake: Adjustable - 21? to 22.5?
Front Suspension: Showa Race 43mm inverted fork, fully adjustable with BPF technology providing true separation of rebound and compression damping.
Front Wheel Travel: 120mm (4.72 in)
Front Brake: 387.5 mm (15.25 in) semi floating ISO multi-fin rotor with 8 piston ZTL2.5 caliper
Front Wheel: 6 spoke ZTL magnesium, 3.50 x 17
Front Tire: 120/17 ZR-17 Pirelli Diablo Corsa III
Rear Suspension: Light alloy swingarm with Showa Race damper, adjustable compression, rebound and ride height.
Rear Wheel Travel: 127 mm (5 in)
Rear brake: 240mm lightweight disc, 2 piston caliper
Rear Wheel: 6 spoke magnesium, 6.00 x 17
Rear Tire: 190/55 ZR-17 Pirelli Diablo Corsa III
Fuel Capacity: 4.6 US Gal
Battery: Buell Li-tech Lithium Nanotech
Dry Weight: 360 lbs (wet, no fuel)
---
| | |
| --- | --- |
| Click to Order Now from Amazon.com! | |
Hot off the Presses!
New 2009-2010 World Superbike and Motocourse Yearbooks
If you are a real roadracing enthusiast, here's the next step in your library collection, the official 2009-2010 season roadracing annuals from SBK World Superbike and Motocourse. Both annuals are beautiful covetable quality books providing exciting race-by-race coverage in story and spectacular photography of the just completed 2009 Championships, along with rider and bike features, and a preview of the upcoming 2010 season.
The Motocourse Annual covers both MotoGP and World Superbike, as well as the Superbike Championships in top countries like Britain and the USA. While the Superbike Yearbook only covers World Superbike, it is our favorite of the two as it includes technical photo features of all the top factory bikes, a feature of the new World Champion which this past 2009 season was American Ben Spies, and it has great articles by World Superbike Press officer Julian Thomas.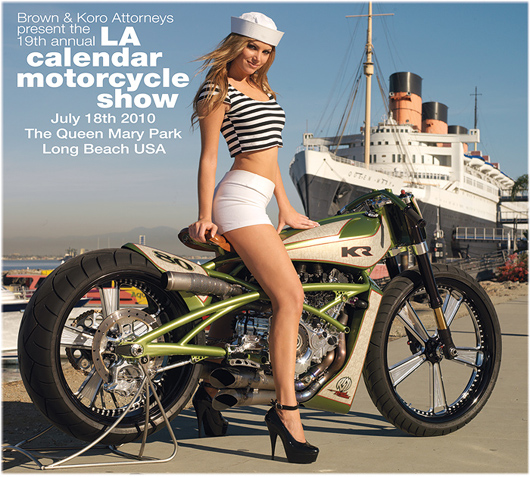 ---
There's more! Go to Pit Lane News Previous Page

Also Visit: Fast Dates Calendar News • Iron & Lace Calendar News
Calendar Girl News • Meet the Models • Paddock Garage

Calendar Kittens, Paddock Garage, Screensavers, Iron & Lace Garage




MotorcycleSuperstore.com
Some of our Calendar Kittens can also at Playboy's website...


FREE! New Met-Art Model Galley Updated Daily - Stop Back Each Day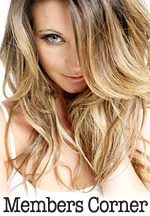 Hot Bikes, Sexy Kittens
Your Exclusive Grid Pass
also includes....
---
16 year old Elena Myers Makes AMA Pro SuperSport Debut At Daytona
March 2nd- It's been five years in the making, but 16-year-old Elena Myers will make her long-awaited professional racing debut at Daytona International Speedway starting with practice on Wednesday, riding a Suzuki GSX-R600 in the AMA Pro Racing SuperSport class.
Myers' Daytona debut is being backed by Team Hammer, Inc. and Richie Morris Racing (RMR) and she is actively seeking financial support for the balance of the 2010 AMA SuperSport season.

At Daytona, Myers will be riding motorcycles provided by Team Hammer, now racing as Team M4 Monster Energy Suzuki, with crew supplied by RMR, now racing as Geico Powersports RMR Suzuki.

"It seems like I've been waiting forever for this," said Myers. "Ever since I was 11 years old, when I met Team Hammer owner John Ulrich, we've had this plan that when I turned 16 I'd make my Pro debut at Daytona on one of his bikes. The economy has affected sponsorship, but we're here at Daytona and ready to go. When we first talked about doing this, I was so young and didn't really know what the future would hold. But five years later the time has come and it's pretty unbelievable! "

Myers added, "Teaming up with Richie Morris Racing and having Danny Eslick as my teammate here at Daytona is incredible. I've been testing an M4 Suzuki out in California to get used to the different brand and all I can say is that the bike works awesome! I know I'm gonna have the best support behind me and I plan to make the most of this opportunity. I really want to thank John Ulrich again for believing in me all these years and for making all this happen. Having the right people behind me has made all the difference in the world."

Last Sunday, Myers finished fourth in an ASRA Superbike race, drafting and passing a group of three other riders on the run to the finish line.

Elena Inteview at Daytona
---
World Premier!
2010 FastDates.com Calendars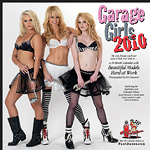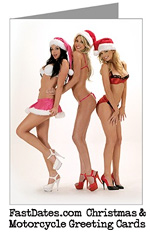 SI Swimsuit 2010 Magazine
Click to Order


Sports Illustrated
Swimsuit Calendars!
---
Yamaha reveals intention to continue racing its prototype 800cc YZR-M1 in the MotoGP world championship in 2012
Yamaha is the first of the big four Japanes manufacturers to signal its intention to shun the opportunity to build a brand new 1000cc prototype machine when new regulations are implemented in 2012.
MotoGP will allow four-cylinder bikes with a maximum capacity of 1000cc to compete in the premier class in 2012 as rights owner Dorna desperately tries to bolster plummeting grid numbers.
But plans for an exclusive 1000cc grid in 2012 appear in tatters already.
Cash-strapped factories are reluctant to commit huge amounts of money in developing a brand new 1000cc production bike engine and requested that the current spec 800cc four-strokes also be allowed to compete in 2012.
Rules were approved accordingly in Barcelona earlier this month with different weight limits and fuel tank limits for both 1000cc and 800cc machines in a bid to ensure both will race on an equal level of performance.
Yamaha race boss Masao Furusawa told MCN: "The timing is very bad because of the economical situation and if we change the engine size it means double the costs.
"But we can't start the project and from the standpoint of cost savings I don't like to change the regulation from 800cc to 1000cc. From the standpoint of the costs I would like to continue racing 800s."
Furusawa though hinted that Yamaha could change its policy depending on the strategy of rival factories like Honda and Ducati.
He added: "It depends on the competition. If our competitors make a better engine than us then we have to change."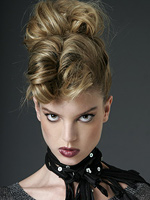 Calendar Kitten Apple
Tests the new
Roehr Harley Superbike!


KTM RC8R



Aprilia RSX1000


Kawasaki Z1000
---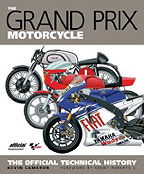 Kevin Cameron's
New Book!
by America's Favorite
Motorcycle Technical Guru
---


Just announced!
Calendar Show Debute
July 18th 2010
of Recording Star
Singer / Songwriter
Sara Haze!
This exciting new Soulful Pop Rocker will knock your socks off!

Click to hear and order Sara's latest CD!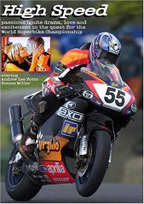 High Speed - the Movie
The best motorcyce racing movie ever made! Filmed on location at World Superbike, this an exciting romantic drama staring beautiful actress Sienna Miller.


Erotica Archives
FREE New Model
Galley Updated Daily
Warning Contains Nudity
---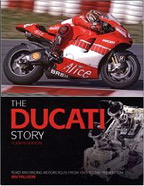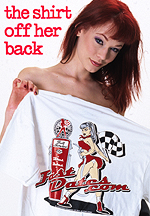 Order the Official
FastDates.com &
LA Calendar Bike Show
T-Shirts!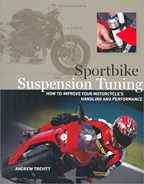 WORX CRESCENT BSB RIDERS END SPANISH TEST ON TOP
Team Suzuki Press Office - March 6. Worx Crescent Suzuki riders Tommy Hill and Yukio Kagayama concluded their three-day British Superbike Championship pre-season test at Cartegena in Spain today having made important progress - and taking the unofficial lap record in the process.
While Hill unofficially broken the lap record and set the fastest time - and with his team-mate only tenths-of-a-second behind - Team Manager Jack Valentine warns that these tests aren't about lap times; but detailed bike-preparation in readiness for the BSB season, which gets underway at Brands Hatch in just 26-days time.
The BSB test, following on from private tests at the Portimao circuit in Portugal in February, has not been without its problems: Kagayama's bike has suffered teething problems with its new engine management system, which has limited his track time. Both riders have suffered crashes too: Hill crashed yesterday while passing another rider and Kagayama high-sided in the final session today. Both riders escaped injury and both bikes have been fully repaired.
Over the three days, Hill completed 90 laps of testing, while Kagayama made 52.
Tommy Hill: "The testing has been really good and I'm very happy with progress. We came here with a big list of jobs to work through and it's been good to get through these; working with different chassis and suspension settings. The lap times have come down and now the bike is really starting to feel my own. This circuit is really tight and twisty and so I've been able to ride the bike in a way that's similar to how we ride the UK circuits, so everything we're doing here is relevant. It's going well."
Yukio Kagayama: "It hasn't been easy for me with the problems we've had, but even on my side of the garage we've still made good progress and the speed is there. We've focused on working through many settings. We need to try many settings as there are many circuits in the season, so we need many ideas, many answers so that we can always be fast. So, good progress, but still more work to do!"
Jack Valentine - Team Manager: "Testing is a serious business and it's not at all straight forward. It's been fairly-cold here and it's been a job for the riders to find grip, so to get the lap times they have is excellent progress. As well, this test has been organised in sessions - rather than an open pit lane - and this has given the team a good taster of the kind of approach we'll need to take in race-qualifying under the new one-bike rule. So far, all is good."
The team had intended to conduct only three days testing at Cartegena but will now take part in the fourth and final-day of testing tomorrow, before moving onto the Guadix circuit later in the week for the final tests before the BSB season begins.
WORX CRESCENT SUZUKI TOPS CARTEGENA BSB TEST
Neil Hodgson 7th Quickest on New Yamaha Ride
Team Suzuki Press Office - March 7. Worx Crescent Suzuki's Yukio Kagayama stole the honour of recording the fastest lap-time from the Cartegena 2010 BSB test today in Spain after he slashed nearly a second off the previous best times and lapping at a scintillating 1:33.51.
With team-mate Tommy Hill only 200ths-of-a-second behind, the pair easily bettered the official lap record and finished first and second at the top of the BSB test times.
Jack Valentine - Team Manager: "We're very, very pleased with today's outcome. We had only planned for three days' testing here but considering the high workload and the teething issues we've experienced, we felt the extra day would help prepare the team better for the next test at Guadix on Tuesday.
"Yukio's had his work cut out these last few days, but today he was able to put in 42 laps - nearly equal to what he did over the entire three previous days. This brought him up to Tommy's pace and it was a real pleasure to see the pair of them all-but sharing the best lap time. But, just as importantly, those lap times weren't one-offs for either of them as they were able to lap consistently at this very fast pace.
"So we're really happy with the progress made: We've come here with a team that's much bigger than we had last year and we've come with new kit in the form of the Öhlins suspension and Motec engine management. The bikes, the riders; and the team are really starting to gel and we've achieved everything we set out to do."
Unofficial overall top 10 test times:
1 Yukio Kagayama (Worx Crescent Suzuki) 1m:33.51s
2 Tommy Hill (Worx Crescent Suzuki) 1m:33.53s
3 Michael Laverty (Relentless Suzuki) 1m:34.3s
4 Dan Linfoot (Motorpoint Yamaha) 1m:34.4s
5 James Ellison (Swan Honda) 1m:34.5s
6 Stuart Easton (Swan Honda) 1m:34.8s
7 Neil Hodgson (Motorpoint Yamaha) 1m:34.9s
8 Alastair Seeley (Relentless Suzuki) 1m:34.9s
10 9 Josh Brookes (HM Plant Honda) 1m:35.0s
Ryuichi Kiyonari (HM Plant Honda) 1m:35.2s
Elías and Márquez the leaders at weather-affected Moto2 / 125cc Official Test at Jerez,
Spain, Monday March 8th - The second official Moto2/125cc pre-season test ended at the Jerez circuit on Monday, and Toni Elías and Marc Márquez set the fastest time in each respective category.
With wet weather conditions affecting the first and final days on Saturday and Monday, day two on Sunday proved to be the most fruitful and it was then that the riders from both the Moto2 and 125cc classes produced the best lap times of the weekend.
The second test with the official Honda engines to be used in the inaugural Moto2 season in 2010 allowed the intermediate class riders to continue their adaptation to the 600cc machines, and with the top nine all within a second of one another the competitive nature of the new class was apparent. Gresini Racing rider Toni Elías was the fastest of the three days with a time of 1'45.024.
Colombian Yonny Hernández (Blusens STX) continues to impress and at fractionally over half a second behind Elías was second on the overall timesheet, with American Kenny Noyes of the Jack&Jones by Antonio Banderas team showing his ability in third, at a gap of 0.176s to Hernández.
Alex de Angelis (Scot Racing) displayed his adeptness at riding in the wet by topping the timesheets on Saturday and Monday, and was fourth overall after his best time from Sunday placed him just over seven-tenths of a second off former team-mate Elías.
The Forward Racing pairing of Jules Cluzel and Claudio Corti were a close fifth and sixth respectively, and Interwetten Moriwaki rider Thomas Lüthi was just 0.013s off the Italian rider's time. Roberto Rolfo (Italtrans STR), returning from injury, Shoya Tomizawa (Technomag-CIP) and Mapfre Aspar rider Julián Simón (who was the fastest of the first test at Valencia last week) completed the top ten on the timesheet, with these times registered in dry conditions in Sunday's early session.
It was a similar situation with the 125cc riders as the best times from the eighth-litre class were all recorded on Sunday. Marc Márquez, the fastest rider at Valencia, was again top of the timesheets in 1'47.473. The Red Bull Ajo Motorsport rider was followed by Bainet Derbi duo Pol Espargaró (0.284s behind) and Efrén Vázquez, who was just over a full second off Márquez's time. Bancaja Aspar team-mates Nicolas Terol and Bradley Smith occupied fourth and fifth on the timesheet respectively.
Another British rider in Danny Webb (Andalucia Cajasol) was sixth fastest, with Esteve Rabat (Blusens STX), Alberto Moncayo (Andalucia Cajasol), Randy Krummenacher (Molenaar Racing) and Sandro Cortese (Avant Intact Ajo Motorsport) all posting top-ten times.
The third and final official pre-season Moto2/125cc test is scheduled for March 27-29, again at Jerez.