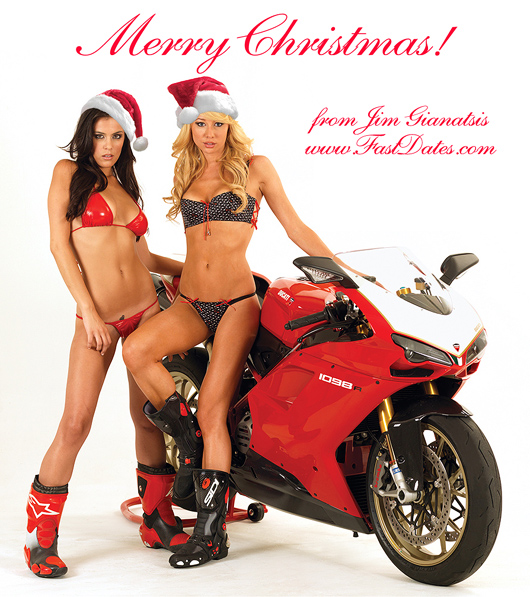 ---

Valentino Rossi in action on the 800cc Yamaha YZR-M! MotoGP bike.

MotoGP to allow 1000cc Production Superbike Engines in 2012
Dec 11th - The FIM issued an update today on 2010 GP Technical Regulations for the 2010 racing season which finalized details for the new 600cc spec engine GP2 Class, but also revealed the MotoGP Championship's intention to return the premier MotoGP Class to larger 1000cc 4-cylinder engines beginning with the 2012 race season.
Would the production based Ducati Desmosedici RR 1000cc engine dominte in the new 2012 MotoGP class?

Exact engine details for the new 2012 MotoGP Class are not yet finalized, but it is expected that the rules will be adjusted so more affordable production based 1000cc Superbike engines can be raced as an alternate choice to the more exotic and expensive 800cc prototype engines now being used, both in prototype chassis. The rule change is need to help fill the class where team entries are now down to as few as 16 bikes per race because of the huge expense in developing and fielding a prototype MotoGP machine.
The MotoGP engine rule change was discussed earlier this year when series promoter DORNA, the MSMA (manufacturer's association) and the FIM meet to discuss that budget tight privateer teams should be allowed to use tuned 1000cc streetbike engines to help bolster the ranks of the MotoGP grid. MSMA treated the suggestions as a joke, insisting they wanted the class to remain 100% prototype for engine development purposes.
DORNA officials then asked the factory teams then asked the factory teams to give them an affordable price for privateer teams to lease their factory engines. When the factory bosses returned with their answers, their idea of "affordable" was about $1.04 million for a single rider team's season of engines. After that it didn't take much time for DORNA's proposal to gain traction. You can guess how many engines could be garnered from production GSXR1000, CBR1000, YZF-R1, ZX10, BMW1000s and even Ducati Desmosedici RRs for 500 times less money.
Ben Spies in action on the 1000cc Yamaha YZF-R1 World Superbike.

And how competitive is a Superbike engine against a full-on MotoGP bike? Let's compare Ben Spies' track times at the April 2009 Valencia World Superbike round, to Ben's race times at the November Valencia MotoGP round.
Ben's best qualifying / race laps were 1:33.270 / 1:35.004 on his World Superbike Yamaha YZF-R1 where he was the fastest man on the track, and 1:33.539 / 1:34.015 on his MotoGP Yamaha YZR-M1, while Honda's Dani Pedrosa was quickest with 132.256 / 1:34.015 qualifying / race laps.
That's very impressive with near equal times for the Superbike which is running a stock production based chassis and weighs approximately 80 more pounds than a MotoGP bike. Just image how quick the low cost Superbike engine would be in the lighter MotoGP prototype chassis! And during the racing season any inequalities between the 1000cc production and 800cc prototype engines could be adjusted with adding or subtracting weight to the bikes, just as is commonly done in car racing.
You can read the details of the new FIM regulations at:
http://motogpinfo.motogp.com/2009/fim/gpcomission_dec09.pdf
---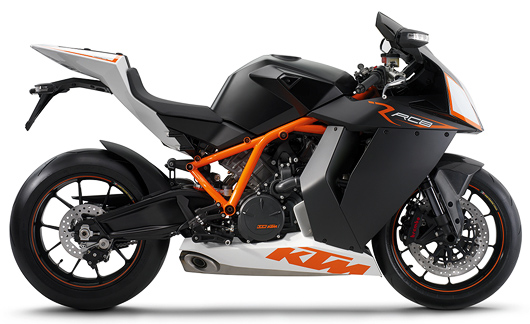 KTM Releases 1190 RC8R Superbike to America
IDM Red Bull and Akrapovic Limited Editions also available
Long Beach, CA, December 2nd – KTM North America, Inc. will unveil the two newest street models, the KTM 1190 RC8 R IDM Red Bull and Akrapovic Limited Editions, at the Long Beach International Motorcycle Show December 4-6 at the Long Beach Convention Center.

After receiving positive reviews from the media following the successful launch at Mazda Raceway Laguna Seca in November, KTM is proud to show the bikes to the public during the Southern California IMS Tour.

2010 will mark the first year that KTM has brought the highly publicized 1190 RC8 R motorcycle to the United States. After a successful year in Europe, the bike will be sold to the US public in 2010 in its standard 'R' form as well as in two limited editions, the IDM Red Bull version and the Akrapovic version.

These 1195cc, 75 º V-twin, 170hp 'R' model machines include a host of engine upgrades to fulfill the fantasy of most all track day riders. The engineers started with super light pistons and increased the compression ratio, reworked the combustion chamber, and added adjustable camshafts. Its chassis features a revised geometry, race spec suspension and adjustable pegs, shifter, sub frame and ride height.


Both models come with a limited edition number plate, special edition body work, and an optional closed course race kit which includes an Akrapovic titanium exhaust system, thinner head gaskets, improved air filter and a tool for adjusting the camshafts for race specifications. In addition, the two limited edition models have the KTM 'R' model upgrades including an orange powder-coated frame, carbon front fender and more.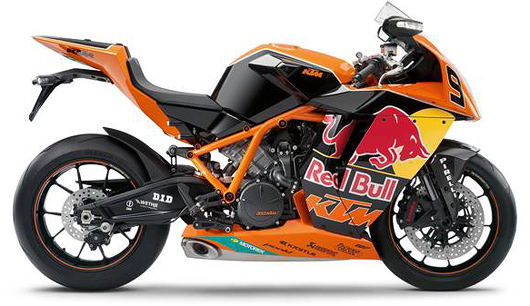 We are excited to see the hard core KTM RC8R joining the V-Twin contingent from Europe which is principally the Ducati 1198 Superbike line. Aprilia has discontinued their out-dated 1000cc RSV 2- cylinder Superbike with the additional of the new RSV 4-cylinder. KTM seems to have priced the RC8R competitively with the top-of-the -market Ducati Superbike line, and the power and weight seems to be equal with comparable Ducati models when you add-in the optional Performance Accessory Kits.
The one big advantage the RC8R holds over the base 1198 and 1198S Ducati is the KTM's quicker 23.3 degree steering angle, compared to the Ducati which is a much slower 24.5 degrees. The Ducati is much to slow steering and handles like a truck as a result. You have to go for the much pricier 1198R model at $43,000 to get the adjustable steering head which you can modify to set it back to the necessary 23.5 degrees as used by the Ducati Corse race team (see Ducati 1198 Superbike in Paddock Garage).

The Ducati 1198S and 1198R models hold an advantage over the RC8R with their electronic traction control systems and high end Ohlins Suspensions, at a cost of $4,000 more than the comparable RC8R. Plus the Ducati's 90° V-twin engine is smoother running and slightly lighter than the more compact RC8R's 75° V-twin which as to run balance shafts to keep it smooth. The Ducati 1198R also comes with the full Termignoni Racing Exhaust and CPU, a Slipper Clutch and Titanium rods and valves to lightened the engine even further. While power is bumped up from 180hp near to 200 hp with the race exhaust. Our personal 1198R weighs in at 401 pounds with 1/2 tank of fuel, so we's assume its dry weight to be down around 370 lbs, maybe 10-20 lbs. lighter than the RC8R with its race exhaust installed.
Either way, the KTM RC8R will provide a lot of bang and performance for the price if you can afford it. KTM has been racing the RC8R in the German Superbike Championship this year 2009, and plans to do so for 1-2 more years before possibly entering the World Superbike Championship in 2012. With this hot ticket we'd like to see them there in 2011!
For more information on these models visit www.ktmusa.com or check out your nearest KTM dealer.
General information
Model: 2010 KTM 1190 RC8 R
Suggested RC8R Retail
RC8R Orange/Black: $19,998
RC8R Limited Edition Akrapovic, Red Bull: $$23,998

Performance Accessory Kits:
• Club Race Kit w/Apropovic EV04 Race Exhaust, increases power to 180hp: $4,699.99
• Superstock Kit w/Apropovic EV04 Race Exhaust, CPU, increases power to 186hp: $5,199.99
• Superbike Kit w/Apropovic EV04 Race Exhaust, CPU, Slipper Clutch, 190hp: $$11,999.99

Engine and transmission
Displacement: 1195.00 ccm (72.92 cubic inches)
Engine type: DOHC V-Twin Cylinder 4-Valve head, 4-Stroke
Power: 167.62 HP (122.4 kW)) @ 10250 RPM
Torque: 123.00 Nm (12.5 kgf-m or 90.7 ft.lbs) @ 8000 RPM
Compression: 12.5:1
Bore x stroke: 105.0 x 69.0 mm (4.1 x 2.7 inches)
Fuel system: Injection. Keihin EFI (throttle body 52 mm)
Starter: Electric
Lubrication system: Dry sump, pressure lubrication with 3 Eaton pumps
Cooling system: Liquid
Gearbox: 6-speed

Physical measures
Dry weight: 182.0 kg (401.2 pounds)
Seat height: 805 mm (31.7 inches) If adjustable, lowest setting.
Alternate seat height: 825 mm (32.5 inches) If adjustable, highest setting.
Ground clearance: 110 mm (4.3 inches)
Wheelbase: 1,430 mm (56.3 inches)

Chassis and dimensions
Frame type: Chromium-Molybdenum trellis frame, powder-coated. Aluminium subframe.
Rake (fork angle): 23.3∞
Trail: 97 mm (3.8 inches)
Front suspension: WP-USD, 43 mm
Front suspension travel: 120 mm (4.7 inches)
Rear suspension: WP-Monoshock
Rear suspension travel: 120 mm (4.7 inches)
Front tyre dimensions: 120/70-ZR17
Rear tyre dimensions: 190/55-ZR17
Front brakes: Double disc. Brem
Front brakes diameter: 320 mm (12.6 inches)
Rear brakes: Single disc
Rear brakes diameter:
220 mm (8.7 inches)
Exhaust system: Stainless steel underfloor silencer with regulated catalytic converter
Speed and acceleration
Power/weight ratio: 0.9210 HP/kg

Other specifications
Fuel capacity: 16.50 litres (4.36 gallons)
Color options: Black/Orange, IDM Red Bull, and Akrapovic Limited Editions
---
Valencia World Superbike Tests - Toselands' Home Comming
Ten Kate Honda's Jonthan Rea (above) posted a quick 1:34.2s time in recent winter World Superbike tests at the Valencia circuit. Yamaha's Cal Crutchlow was quickest overall with a 1:344.0 flat, while retuning former World Superbike Champion James Toseland, after 4 lackluster seasons in MotoGP, was also very quick at 1:34.3. The complete test report is in the Tire Chatter column at right.
---
Above: Jamie Jungers straddles Max Biaggi's Sterligarda Ducati 1098RS in the 2010 FastDates.com Calendar.
Jamie looks surprisingly similar to Tiger's wife Elin.
Calendar Kitten Jamie Jungers revealed
as the latest liaison in the on going Tiger Woods sex scandal
Los Angeles, CA, Dec 6th - The FastDates.com Calendar website received a phone call this Saturday morning from the New York Post newspaper looking to secure photographs for a breaking news story in their Sunday edition of model Jamie Jungers. The Post told us they had discovered that Las Vegas based model and our 2010 Fast Dates Calendar Kitten Jamie was now the 4th girl to be revealed to have had an affair with billion dollar golfing sports icon Tiger Woods! A Goggle search for Jamie's name had brought the NY Post to our website.
Just 10 days earlier on Thanksgiving night at 2:30 am in the morning, Tiger Woods began receiving world wide news coverage when he crashed his Cadillac Escalade in front of his house in an upscale gated community in Florida while possibly being chased by his beautiful Swedish wife Elin Nordegren, the mother of their 2 children, who was chasing him from the house with a golf club, breaking out the windows in his SUV as he tried to get away. In the days that followed it come to light that Tiger had been having ongoing secret affairs and liaisons with many women over the last 2-3 years.
Our Jamie was now being revealed as the 4th girl involved in the scandal. Jamie looks surprisingly similar to Tiger's wife Elin, and may just have been the perfect out-of-town play girl replacement for Tiger while wife Elin was left home pregnant and tending to the babies.

Former Swedish swimsuit model,
now Mrs Tiger Woods, Elin Nordegren


Tiger Woods likes scoring on and off the gold course.
Tiger spent much of his away time from home, traveling on the pro golf tour and stopping over in Las Vegas to party in Sin City's most exclusive clubs where he was given full access to the VIP lounges and the most beautiful models and celebrities who could get behind the velvet robes to meet and party with him. In this case "What Happens in Vegas, Stays in Vegas" was not to be. And now Elin is looking to take Tiger for the most expensive divorce or prenuptial settlement in every, reportedly up towards $80 million.
Jamie Jungers is revealing that her affair with Tiger Woods lasted two years. Jungers, a beautiful 26-year old blonde model from Las Vegas, has made a deal to tell her story to a British newspaper. Jungers' affair with the golfer fit the pattern of Tiger's extra-marital dalliances, with the relationship spanning two years but contact sporadic. Jungers is a look alike for Woods' wife Elin. Jungers met Tiger in Las Vegas and their romantic hookups took place in several different cities, with Tiger arranging for him to meet her.
Fast Dates Calendar photographer Jim Gianatsis met model Jamie at the 2008 Miller Motorsports, USA, World Superbike race where we hired and photographed her with 3 other models that weekend for the new 2010 Fast Dates World Superbike Calendar. Jamie is featured in 6 photos in the Calendar.
Look for our exclusive Fast Dates Calendar pictures of Jamie in the New York Post newspaper beginning on Sunday December 6th going out to 700,000 readers and on the www.NYPost.com website.
• You can read about our Fast Dates Calendar shoot with Jamie in Fast Dates News July-August 2008
• Order Jamie's 2010 Fast Dates Calendar
Our 2010 Fast Dates Calendar Kittens were, from left to right, Pirelli girls Lauren Brooke and Jamie Jungers, Hannspree girls Shona Kay and Kami Wilson, here with World Champion Troy Bayliss's Ducati 1098F08 Superbike.
CLICK to GO BIG
---
| | |
| --- | --- |
| Click to Order Now from Amazon.com! | |
Hot off the Presses!
New 2009-2010 World Superbike and Motocourse Yearbooks
If you are a real roadracing enthusiast, here's the next step in your libarary collection, the official 2009-2010 season roadracing annuals from SBK World Superbike and Motocourse. Both annuals are beautiful coffe-table quality books providing exciting race-by-race coverage in story and spectactular photography of the just completed 2009 Championships, along with rider and bike features, and a preview of the upcoming 2010 season.
The Motocourse Annual covers both MotoGP and World Superbike, as well as the Superike Championships in top countries like Britian and the USA. While the Superbike Yearbook only covers World Superbike, it is our favorite of the two as it includes technical photo features of all the top factory bikes, a feature of the new World Champion which this past 2009 season was American Ben Spies, and it has great articles by World Superbike Press officier Julian Thomas.
---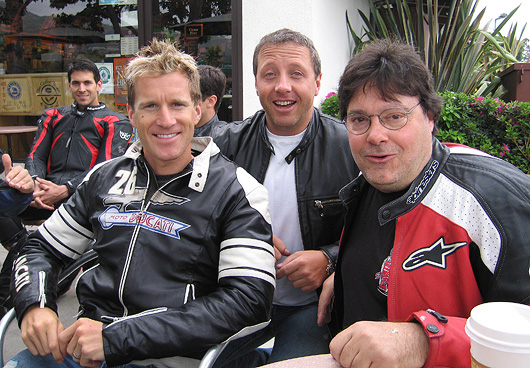 Neil (left) hanging out at the Rockstore during a Sunday morning ride with editor Gianatsis (right) and friends.

Neil Hodgson returns to 2010 British Superbike Championship
Dec 1st - Former World and British Superbike Champion Neil Hodgson has signed with the Motorpoint Yamaha team to contest the 2010 British Superbike Championship. Neil won the British Superbike Championhip in 2000 with HM Plant Ducati, which landed him a seat on the factory Ducati Corse team where he won 2003 World Superbike Championship. Neil moved to America in 2005 to race the AMA National Championship, first with Ducati, and then with American Honda where he found himself on uncompetive Honda CBR bikes against the Yoshimura Suzuki domination in the American Series. Neil and his family will now leave Southern California move back to their established home on the Isle of Man.
---
The Sport Edition "S" Verison with Carbon Fibre and Ohlins Suspension, 150 hp and just 450 pounds wet, anti-lock brakes, traction control and electronic ride height. Awesome!
Click any picture to go BIG

New Ducati MULTISTRADA 1200
Ducati Intoduces at EICMA the most Advanced,
Powerful, Lightweight Sport Touring Bike Ever
'A new biking concept'. That was the brief given to the Ducati designers when they started work on the original Multistrada. It arrived on the market in spring of 2003 and created a new and exciting segment, typical of the Bologna manufacturer. A new vision which combined sports performance with trail-blazing capabilities while providing an extremely comfortable ride and unrivalled versatility.
Initially produced with the air-cooled 1000 DS engine, which was later upgraded to 1100cc in 2006, the Multistrada immediately made a name for itself with its bold personality. Thanks to an impressive technical specification it soon became synonymous with pure riding pleasure, being equally at ease on mountain roads and motorways, ideal for long distances while agile and manageable in town.
Now, Ducati have taken the concept further, with a design that satisfies all the demands of a motorcyclist combined into one bike: a Multistrada with the emphasis on Multi, a sportbike which is powerful and fun but also easy to ride and whose first priority is safety and comfort.
The new Multistrada 1200 has arrived.

MULTISTRADA 1200: FOUR-BIKES-IN-ONE!
Four different motorcycles, available at the touch of a button, change the fundamental characteristics of the new Multistrada 1200. Power and torque delivery, suspension settings, and traction control can be changed – even while riding – to enable the motorcycle to adapt to the needs of the rider and not the other way around. With the Multistrada 1200, Ducati introduce the concept of four-bikes-in-one with four Riding Modes: Sport, Touring, Urban and Enduro.
New Ducati Special Editions also Introduced for 2010
2010 Special Editions celebrate the historic Ducati Corse logo change and two world titles in Superbike and Superstock. The 1198 S Corse Special Edition and 1198 R Corse Special Edition, both equipped with factory team-style aluminium fuel tanks, Ducati Traction Control and a special celebratory Ducati Corse livery, now complement the lightweight and agile 848 now in Dark colour scheme, the awesomely powerful 1198, and the high-spec 1198 S to complete the 2010 Superbike model line-up.
There are more exciting new products in the Ducati Hypermotard range that now becomes a fully-fledged family of bikes in 2010. No longer just one, but three versions, designed to suit different needs, but each with the same specific objective: to provide excitement and fun. So here is the new, agile Hypermotard 796, which joins the new and even more powerful Hypermotard 1100EVO as well as the extreme version, the as yet unseen Hypermotard 1100 EVO SP.
The new Hypermoto 1100 Evo SP gets everything in the Ducati Performance Accessories Catalog thrown at it like the Race Exhaust, Competiton Saddle, Slipper Clutch and Foot Peg Assembly and then some, like the wire spoke wheels to repalce the already lightweight forged magnesium wheels found on the S model. Click to go BIG.
Additional Ducati 2010 new bike details HERE
---
Moto Guzzi's Terblanche V12 Concept Bikes Unveiled at EICMA
Milan, Italy, Nov 10th - Moto Guzzi unveiled three V12 concepts at the EICMA Show this week. Miguel Galluzzi and Pierre Terblanche - two of the most brilliant motorcycle designers of all time - teamed up to present us with their styling exercises centred around the very essence of the Moto Guzzi brand - its legendary in-line twin-cylinder engine. The V12 prototypes have been developed around the 1,200 cc 4-valve 90-degree V-twin from Mandello, so much so that they were even named after it.
MOTO GUZZI V12 LM: (Above in Red) This is the Italian sports bike reinvented, true to the legacy of the legend of Le Mans it is named after. This bike is for those who want an exclusive motorcycle to ogle and to own for the utmost riding pleasure. The bike provides excellent performance under all riding conditions and easy rideability for all to enjoy. Like the other two versions, the V12 LM combines luxury details (height adjustment for top fairing and handlebar) with innovative, yet well-proven components.


MOTO GUZZI V12 STRADA: (Above in Silver) that is a purist's motard, taking cues from classic enduro design and contemporary MX simplicity while keeping the focus on the mechanical details. Two unique stylings of old-made-new are the flat-faced, numberplate-style LED headlamp and the MX fuel cap with breather hose. The machine also fatures a hollowed sweeping tail. Terblanche gives a highly sculptural form that looks like it came straight off a starship. Not only did he avoid being completely cheesy, he made it amazing. Moto Guzzi's press statement calls the V12 Strada a commuter, great for two-up riding. We're not fooled. This is a hoon machine built for the oncoming Apocalypse if ever we saw one. Press statement after the jump.
Christmas Picture curtesy Samantha Bond Model Management, London
---
There's more! Go to Pit Lane News Previous Page

Also Visit: Fast Dates Calendar News • Iron & Lace Calendar News
Calendar Girl News • Meet the Models • Paddock Garage

Calendar Kittens, Paddock Garage, Screensavers, Iron & Lace Garage




MotorcycleSuperstore.com
Some of our Calendar Kittens can also at Playboy's website...


FREE! New Met-Art Model Galley Updated Daily - Stop Back Each Day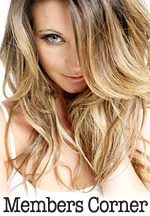 Hot Bikes, Sexy Kittens
Your Exclusive Grid Pass
also includes....
---
World Premier!
2010 FastDates.com Calendars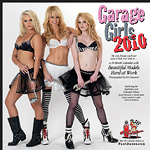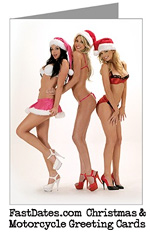 Sports Illustrated
Swimsuit Calendars!
---
Kawasaki USA Pulls Out of AMA Roadracing
Dec 21st - Kawasaki Motors Corp., U.S.A. will not participate in the AMA Pro Racing road racing series in 2010, the company announced in a press release.
"While we've always considered road racing an integral part of our sport bike development process, the realities of the current economic situation dictate the temporary suspension of our U.S. road racing activities," Bruce Stjernstrom, the company's marketing director, said in the press release.
Kawasaki's history of successful road racing includes 20 AMA series championships.
"We expect to see eventual improvements in the general economic condition and Kawasaki will re-evaluate its road-racing position as we monitor those issues," said Stjernstrom.

Kawasaki's announcement follows a 2 months after American Honda's announcement that they would pull out of AMA roadracing for 2010 and the foreseeable future.
World Ducati Week
June 10-13th 2010
The planned date for motorcycle fans of all ages and nationalities to come together is June 10th-13th 2010 at the Misano World Circuit.
Four days of non-stop fun are planned: track sessions, official riders and stunts, evening parties, concerts, motorcycle tours, Ducati Factory and Museum visits, historical bikes exhibitions, conferences, and much more.
If you are coming from outside Europe, the ticket is free!
For European participants, prices will be the same as in 2007.
4 day pass (June from 10th to 13th)
Type purchased until April 30th
purchased from May 1st
biker 70 euros 80 euros
visitor/ passegger 45 euros 50 euros
DOC member
40 euros 40 euros

One day pass - available from June 9th - only at the circuit
Thursday 35 euros
Friday 35 euros
Saturday 45 euros
Sunday 45 euros
Keep an eye on Ducati.com — more information on how you can join us will be online in the upcoming months.
Tiger's Vegas Vixen /
Fast Dates Calendar Kitten set to roll the dice with a spicy tell-all!
By SELIM ALGAR and JAMES FANELLI / NewYorkPost.com

Dec 6th - A Las Vegas stunner who works as a casino companion to high-rollers and celebrities has reportedly anted up another salacious Tiger tell-all. Jamie Jungers, 26, is set to kiss and tell about a tawdry two-year tryst with Woods.

The petite blonde, who has also worked as a FastDates.com Calendar pinup, revealed details about the affair to a British tabloid that plans to publish the story, according to Radar online. Their dalliances allegedly occurred in various cities, with Woods arranging for the hookups.

When reached by The Post yesterday, Jungers didn't deny the relationship, but was tight-lipped on details.
"I really can't talk about that right now," she said. "I'd love to give you some information, but I have a job. I have a life. I'm going to have to talk to my lawyer."

She later left her Vegas home with her lawyer, Robert Reynold, who referred questions to CrocMedia, an international firm that brokers celebrity stories.
Jungers works for Trashy Girls, a lingerie line and entertainment agency that supplies casinos with women to hang out with their high-rollers and celebrities.
Toseland and Crutchlow enjoy a productive Yamaha 2-Day Test Valencia
Dec 9-10th - Sterilgarda Yamaha world Superbike riders Cal Crutchlow and James Toseland settled in for their second test with their new 2010 team today at the Ricardo Tormo circuit in Valencia. The British pairing spent the day working through various electronic settings on the bike, including the anti wheelie control and the traction control to find a smoother feeling on the throttle of the championship winning R1. Crutchlow also spent some time working with the team to perfect his positioning on the R1, a larger bike than his championship winning R6.
James Toseland, Sterilgarda Yamaha World Superbike Team (1'34.8)
"It's nice being on a track I know so I could really concentrate on the bike, unlike Portimao in the last test where I was learning the circuit as well. I think we've been really competitive today, the times I've been doing have been really comfortable, so a sign for me that the bike and team is working well. We've been mainly working on the electronic side of things today. It's such a new bike, there were a lot of things the team wanted to try out during the 2009 season but didn't have time to do, so the team are taking the opportunity to try some new things with a new rider to see if there's an improvement."
Cal Crutchlow, Sterilgarda Yamaha World Superbike Team (1'35.0)
"We worked through some stuff today, mostly positioning on the bike, it felt a bit different from Portugal so it's been harder to get comfy today. I didn't use any good tyres in today's sessions so I think I got some decent times which I'm pleased with, the times were consistent 35's over the day. We've got some more stuff to try tomorrow and we'll keep working hard methodically through everything."
Massimo Meregalli, Sterilgarda Yamaha World Superbike Team Manager
"I think the first day of the test went well, we got some good information from both riders. On Cal's side we tried to fit him better on the bike as he's very small. So we've made some changes to suit him. We've also bought along some new parts which we will continue to test. James is getting more confident with the bike and performing well so we're looking forward to continuing tomorrow."
Day Two
The all British line up of Cal Crutchlow and James Toseland wrapped up a successful final day of testing in Valencia this afternoon. Both Crutchlow and Toseland had spent the two day test at the Ricardo Tormo circuit working through electronic and chassis settings on their R1 superbikes ahead of the 2010 season next year.
Day two saw big improvements from both riders as the times came down, covering some 60 laps each, despite neither of them getting the opportunity to take advantage of the faster tyres towards the end of the day. They will now head home for Christmas before joining up with their new team again in Portugal in January for the first test of 2010 at the Portimao circuit in the Algarve.
Cal Crutchlow, Yamaha Sterilgarda World Superbike Team (1'34.0)
"Today was even better than the first day, we worked through a lot more settings in the sessions. I'm disappointed with my final time though as I think I could have been fastest at the end of the day but I didn't get a chance to use the fastest tyre. I'm happy enough with my overall pace and consistency. We've still more to do so I'm looking forward to getting back on the bike in January and keeping up the development."
James Toseland, Yamaha Sterilgarda World Superbike Team (1'34.3)
"A really encouraging test for me, again I'm happy being on a track I know so I can concentrate on the bike set up. I feel we've come on quite a bit with the bike over the last two days. I didn't utilize the quick tyre to its full potential as I got held up which is a shame as I was quite confident of getting into the 33s. I ended up on 34.3, which was a good pace. I'm getting used to the way of riding the bike and getting confident with the team as well. I think if we had a race tomorrow we'd be in with a shout!"
Massimo Meregalli, Yamaha Sterilgarda World Superbike Team Manager
"For the second test for both riders and last test of the season I'm very satisfied. We've made some good improvements to the feel of the electronics and suspension, with some very useful feedback from the riders. We'll take a break now and come back to it in January in Portimao and I think we will achieve even more."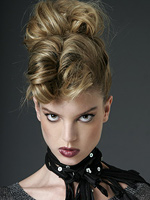 Calendar Kitten Apple
Tests the new
Roehr Harley Superbike!



Aprilia RSX1000

---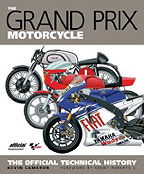 Kevin Cameron's
New Book!
by America's Favorite
Motorcycle Technical Guru
---
Ten Kate Honda's Rea and Neukirchner work hard at Valencia test
Dec 9-10th - In the final World Superbike track action of 2009, Hannspree Ten Kate Honda's Jonathan Rea set the fourth fastest unofficial time in a two-day test, which concluded this afternoon at Valencia in Spain.
Despite a small crash yesterday, the 22-year-old, who finished his debut WSBK season in championship fifth place, completed 190 laps of the 4.005km Ricardo Tormo circuit with a best time of 1'34.2s as he tested a combination of new swingarm, front forks and electronics on his 2009 Honda CBR1000RR Fireblade.
The Valencia test marked Rea's first track outing since his coronation in the 'Kings of Wanneroo' meeting in Perth, Australia last month where the Northern Irishman won all three races on a stock Honda CBR1000RR.
Also testing in Valencia was Max Neukirchner, Rea's new Hannspree Ten Kate Honda team-mate for the 2010 season, continuing his familiarisation with the team and the Honda CBR1000RR – a process which started in October at Portimao in Portugal.
The German ace spent most of 2009 on the sidelines through injury but Neukirchner has been training hard and his current fitness levels are high enough for the 26-year-old to have completed 160 laps during his two days at Valencia, setting a best time of 1'34.7s.
Jonathan Rea – best time 1'34.2s
We've had a really constructive couple of days here and got through a lot of work. We evaluated three sets of forks with different internal specifications, a slightly modified swing arm and some different electronics, so there was a big list of things to assess. What we didn't get much of a chance to do was combine all the good things we found into one package and we were still working through things when Pirelli asked us to test the two new tyres they had. One of them felt pretty good, but we didn't really have the right set up to get the best out of it. Overall, I'm really happy though, because it was a big workload we had to get through.
Max Neukirchner – best time 1'34.7s
I'm really happy with this test, because it was really important for me to get more time on the bike and look for a good base setting. We only made some suspension adjustments and didn't really test any new parts. I built up my pace slowly and only this afternoon did I really start to push a little harder when I had a good feeling and began to feel confident enough to open the throttle. This was only my fourth day with the team and I have not ridden very much since the crash at Monza in May. Of course, I still need some more time on the bike but I can go into the winter holidays with a good feeling now and continue my training, which has been quite intense recently. I did 160 laps here at Valencia and had no fitness problems; I might be a little sore tomorrow, but I'm feeling very good!
Ronald ten Kate – team manager
All the stuff that we needed to test here has been tested, and it was a lot of work to get through. The improvement from our race here in April is like the difference between night and day so it's definitely been a good step forward for Jonathan, who has put in a lot of laps and worked really hard. We're also beginning to find to clear direction forward with Max. We tested a lot of different settings so we will be able to narrow the window a lot more for him at our next test in Portimao in January. For now, we head back to our families in a very positive frame of mind and take this opportunity to wish everyone a merry Christmas and a very happy and successful New Year.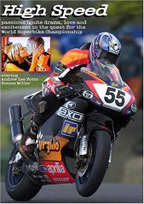 High Speed - the Movie
The best motorcyce racing movie ever made! Filmed on location at World Superbike, this an exciting romantic drama staring beautiful actress Sienna Miller.


Erotica Archives
FREE New Model
Galley Updated Daily
Warning Contains Nudity
---
Yoshimura of Japan to take on World Superbike Challenge in 2010
Team Suzuki Press Office - November 30. - Tuning specialists Yoshimura is set to enter the World Superbike Championship in 2010 using the Suzuki GSX-R1000.
The Suzuka 8 Hour World Endurance Championship-winning team will enter selected races as a wild-card entry with the aim of gathering information and technical knowledge for the next generation of Yoshimura aftermarket products.
In a statement issued by Yoshimura Japan, President Fujio Yoshimura said: "Yoshimura has been associated with motorcycle racing for nearly 60 years and we must thank the sport for the passion it has given to us, along with the fans and team sponsors who have shared the same passion for such a long time.
"Yoshimura has always put its efforts into the development of new ideas, and our challenges have created many products. Our first 4-into-1 race exhaust, which was developed during our first overseas challenge in the USA in 1971, is the one which represents our history and one that took us into a new era in racing and the street market with a wide variety of aftermarket business.
"Now Team Yoshimura has decided to embark on a new challenge; to enter selective WSBK races in 2010 as a wild-card entrant. It should give us further opportunities to develop more new, high-quality aftermarket products for the worldwide motorcycle market.
"The economic situation has been very tough and it is not easy to take on new challenges, but we believe we still have to pursue these new challenges to support our ongoing development programme."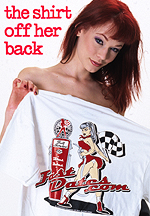 Order the Official
FastDates.com &
LA Calendar Bike Show
T-Shirts!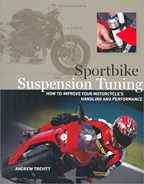 DUCATI ROCKS THE ROXY IN LOS ANGELES ON THE JAN 2nd
Stop by Pro Italia Motors, Glendale CA on Saturday afernoon, January 2nd 2010, as Musician and Disk Jockey Steve Jones takes delivery of his newly customized Ducati. Steve here to see his bike for the first time as well as John Morena and Bill Oberman, the craftsmen. Pro Italia fans will remember John and Bill from their beautful Sport Classic that Pro Italia has had on display in the shop and up at the Laguan Seca MotoGP. Be there to see their latest creation before it rides off into the sunset. They'll have some refresments for the event.
And then Steve will be on stage later than night at the Roxy on the Sunset Strip in Hollywood , CA,with the rest of the Ducati All-Stars. The band is made up of Ducati enthusiasts who will be getting together to kick out the jams. The band is made up of Steve Jones - guitar (Sex Pistols), Jason Bonham - drums (Led Zeppelin 2008), Steve Stevens - guitar (Billy Idol), Billy Morrison - guitar & vocals (Camp Freddy & Circus Diablo), Mark McGrath - Vocals (Sugar Ray), Chris Wyse - bass (The Cult), Donovan Leitch - vocals (Camp Freddy & son of legendary singer Donovan Leitch) and Franky Perez - vocals (Scars on Broadway)
Get tickets via Ticketmaster while they are still in existance. There will be "first come - first serve" Ducati exclusive parking in the front of the club. Free motorcycle parking will be available on the west side. Again, ACT!
WSBK to Modify Superpole Format for 2010
November 30th- Infront Motor Sports wishes to announce that there will be a new World Superbike Event Schedule starting from the 2010 season.
In a spirit of constant consultation with teams and other interested parties, a few changes have been made in the different classes, which are as follows:
In the Superbike class, the Superpole format has been slightly modified to Superpole 1 (14 minutes), Superpole 2 (12 minutes), Superpole 3 (10 minutes), with the 7 minute break between them remaining. The break between the end of free practice and the beginning of the Superpole has now been extended to 25 minutes from 15 minutes.
In Supersport one extra qualifying session has been added at 5pm on Friday afternoon on a request from teams, and the race on Sunday has been moved forward by 5 minutes to 13.30 on a request from TV stations.
In Superstock 1000 one qualifying session has been added at 3pm on Friday afternoon, as requested by the teams.
Finally the Superstock 600 race has been moved to Saturday afternoon at 6pm. There are now two qualifying sessions and one free practice session for this class.
In addition, starting from the 2010 season, the official timing will have an extra intermediate split in every circuit.
AMA Pro Racing Announces Structure and Personnel Changes
DAYTONA BEACH, FL (November 25, 2009) - AMA Pro Racing announces today the restructuring of its corporate infrastructure and other changes in personnel.

AMA Pro Racing Managing Member, David Atlas has been appointed Chief Operating Officer. Atlas will now have day to day operational control of AMA Pro Racing with Managing Member and President Roger Edmondson moving to the Chairman and Chief Executive Officer position. This will enable Edmondson to focus on the overall direction of AMA Pro Racing and its vision for the future.

Atlas brings thirty years of motor racing experience to his new role, having been actively engaged with various sanctioning groups, racing teams and in driver management. Atlas was one of the original AMA Pro Racing managing members and will now focus on the day-to-day operational aspects of the AMA Pro Racing operation.

As the new Chairman and Chief Executive Officer, Edmondson will continue to provide the vision and direction for AMA Pro Racing. Roger's extensive history in motorcycle racing gives him a unique perspective on class creation and where the sport will grow and develop with his very unique understanding of the latest trends in the business.

AMA Pro Racing confirms the departure of Roy Janson from the company. Janson, who has been in the sport for forty years, will be relocating back to his home in Ohio for non-threatening health reasons. Janson will continue to be available to AMA Pro Racing as an independent contractor/consultant.

Joining the AMA Pro Racing operation will be racing and communications veteran John Szymanski as the Director of Public Relations and overall communications.

Szymanski brings over thirty years of racing experience having worked with teams, drivers, tracks and major manufacturers in a variety of roles within the sport. He will provide a consistent and thorough face to the PR role with AMA Pro Racing.
Erik Buell starts motorcycle race shop
December 21st - After Harley-Davidson shut down Buell Motorcycle Co., Erik Buell established an independent motorcycle race shop, Erik Buell Racing, according to The Business Journal of Milwaukee.
The new company will specialize in the supply of race use-only Buell motorcycle parts and race preparation services for engines and motorcycles, and the manufacturing and sale of Buell 1125R-based race use-only motorcycles under license from Harley-Davidson, as well as providing technical support to racers of Buell motorcycles.
"I'm looking forward to helping Buell racers keep their bikes flying," Buell told the The Business Journal. "We've got some exciting race development projects in the works and it will mean a lot to me personally to see Buell racers competing for wins and championships in the 2010 season and beyond."