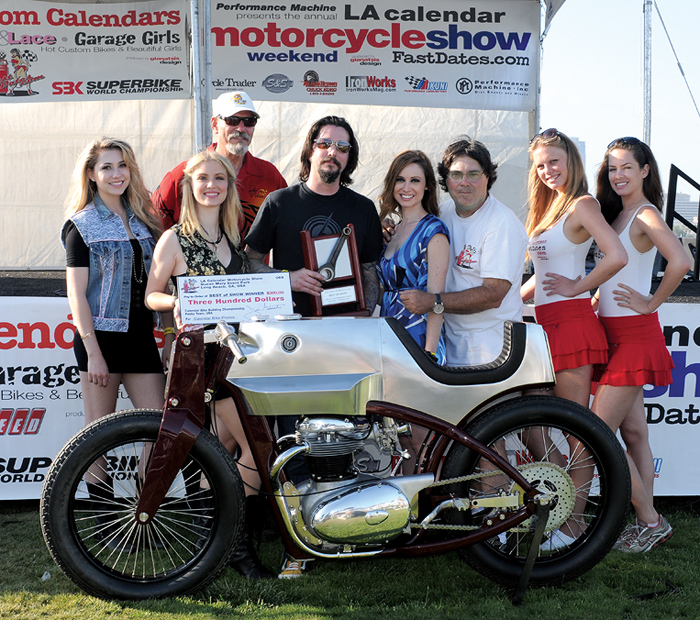 Left to right: Actress, singer songwriter and host Elizabeth Nicole, magician Krystan Lambert, Keith "Bandit" Ball
of Bikernet.com, 2010 Calendar Bike Building Championship winner Chris Flechtner / Speed Shop Design, singer songwriter Katie Cole, Calendar Show producer Jim Gianatsis, Calendar Kittens Melody Schuster and Candise Lakota.


The Hottest, Rockingest, Sexiest, Best Motorcycle Show on The Planet!
Brown & Koro Motorcycle Attorneys present the 19th Annual 2010
LA Calendar Motorcycle Show & Calendar Girl Music Festival Weekend
Complete 2010 LA Calendar Motorcycle Show COVERAGE HERE
2010 LA Calendar Motorcycle Show & Calendar Girl Music Festival
Long Beach, CA, July 18th 2010 - The 19th annual Los Angeles Calendar Motorcycle Show & Calendar Music Festival presented by Motorcycle Attorneys Brown & Koro, America's premier streetbike event marked its returns to the Queen Mary Event Park in Long Beach on Sunday July 18th 2010. The Show's return to it's original 1-day format proved to be a big success, both in reducing production costs for everyone involved from the bike product manufacturers and vendors, to the builders and spectators traveling from out-of-town and having to book hotels. Visitor attendance was up for this year's new 1-day Show format, higher than the daily totals seen at the Show the last two years.
What the LA Calendar Show didn't cut back on was its incredible entertainment value for spectators over the course of the jam packed 8 hour day. Fans were again treated to the incredible customs in the Calendar Bike Building Championship, the Calendar Bike Building Seminars, the L&L Motorsport World Record Dyno-Jet Dyno Shootout, over 5 hours of live stage performances in the Calendar Girl Music Festival, West Coast premiers of new model bikes from Los Angeles Indian, SoCal Ducati / Triumph among others, beautiful Calendar Kittens and models everywhere to pose with you for photos, plus complimentary admission aboard the historic Queen Mary ghost ship (normally $12 entry). Not to forget the free Saturday Night Builder's Party aboard the Queen Mary with Irish pop rock singer Juliet Tworsey and her band Fire Bug.
All this taking place in a beautiful grass park on the edge of the cool Pacific Ocean which has to be the best Bike Show venue on the planetfor a low ticket price of just $25. An incredible value when considering the lost work days traveling to other long distance bike events, standing on hot asphalt all day, and still having to spend $30-$50 to see the separately priced music concerts.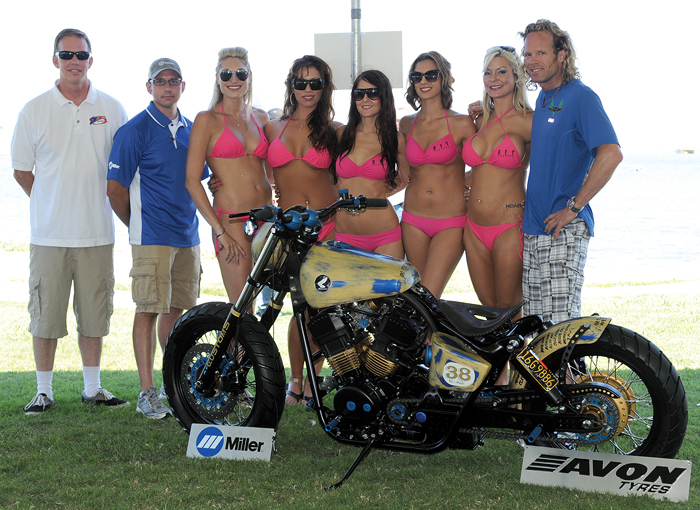 AFT Custom's Jim Giuffra and the AFT Model Agency girls premiered their new "Kimosabe" Bobber in the Calendar Bike Builder's Seminar with the help of sponsors Bryan Weaver / JE Pistons and John Swartz / Miller Electric. Miller gave away a $2,150 TIG Welding Kit to one lucky spectator and $75 Cash Back Certificates to every spectator stopping by their booth at the Show and to all 30 Bike Contest winners. Kimosabe took 1st Place Metric Custom, AFT's 3rd Class Win and Best of Show award in 4 consecutive years!
Spectators got to meet top celebrity custom bike builders including past Show winner Jim Giuffra and the AFT Motorsports Models who were premiering an all-new bobber race bike named "Kimosabe" which the girls will be racing at Bonneville in August. They conducted a Builder's Seminar with their sponsors Miller Electric and JE Pistons to explain the details of the bike build. Miller also held a raffle drawing on Stage at the end of the day, giving away a $2,150 Miller TIG Welding Kit to one lucky spectator, as well as giving $75 cash-back gift certificates towards Miller equipment purchases to every spectator who stop by their booth. Another great value for the low admission price to the Show.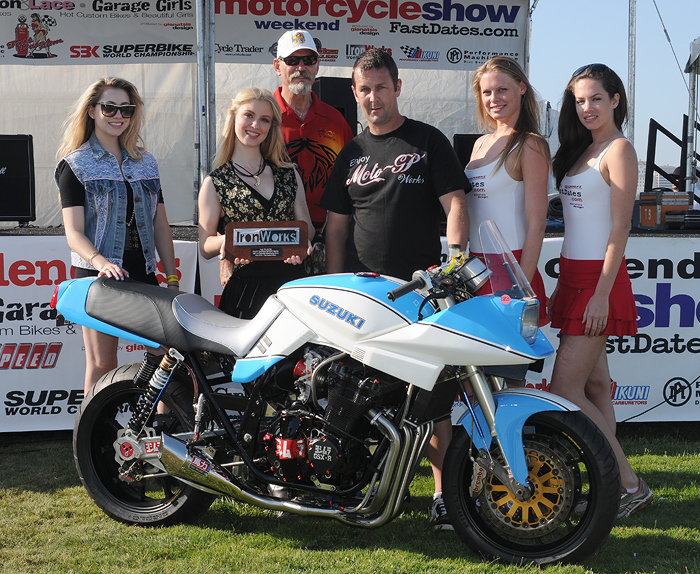 Other top FastDates.com Calendar builders holding free Calendar Builder Seminars during the day were Russell Mitchell / Exile Cycle and Todd Silicato / Todd's Cycle. While former Best of Show winner and builder to the stars, Shinya Kimura / ChabottEngineering.com showed off two of his latest bikes, one an old Knucklehard powered alloy faired racer (featured in the 2009 Iron & Lace Calendar) still coated in the dust from the past week's high speed run at El Mirage Dry Lake, and the other a commissioned custom bodied Ducati 999S Superbike named "Edge". Also at the Show in the Metalsport Wheels display signing posters was celebrity custom car builder Chip Foose of Chip Foose Designs.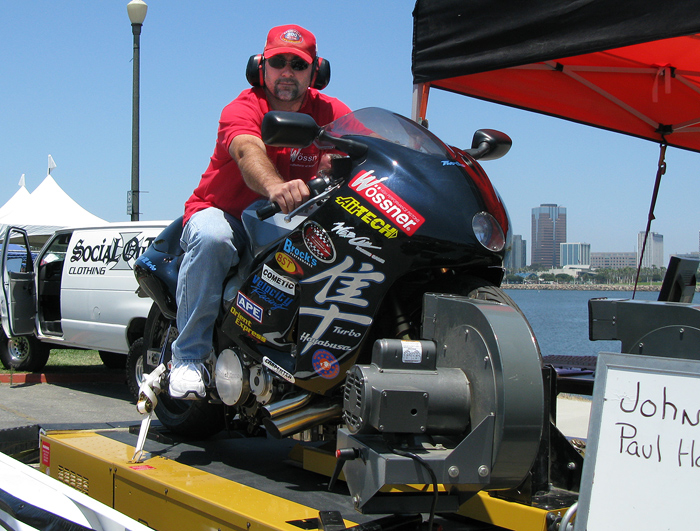 The Calendar Show's exclusive L&L Motorsports produced World Championship Horsepower Dyno Shoot Out was open up to everyone to see just how strong their streetbike really was with Classes & Awards for all stock and modified American V-Twin and Metric Sportbikes. Taking home top prize again this year was former 545hp record holder John Noonan, posting this year a lower, but still impressive 469.69hp with another turbocharged Suzuki Hayabusa.
The Calendar Girl Music Festival portion of the Show with its beautiful girl performers headlined the day with recording artist Emily Jaye and her band Frentik. Making a popular return engagement was the AC/DC Tribute rock band Whole Lotta Rosies, plus new Australian singer songwriter Katie Cole teaming up with another Show favorite Elizabeth Nicole, plus the world renown Purrfect Angelz song and dance group. The stage activities were hosted by Elizabeth Nicole who is also a TV and movie actress, and assisting Elizabeth with Awards Presentations at the end of the day was the legendary Keith "Bandit" Ball from Bikernet.com.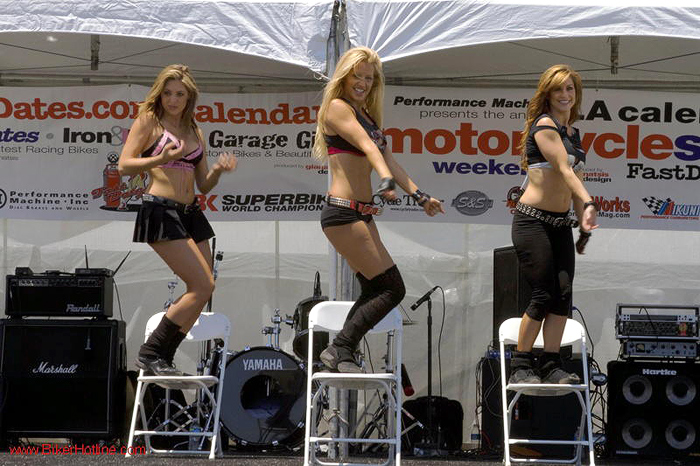 A special treat was 18-year old Krystan Lambert - the World's Most Beautiful Magician and star on Fox TV's "Masters of Illusion".
Krystan performed on the Main Stage during band change overs and in the Calendar Bike Builder's Seminar Tent between classes with the famed FastDates.com Calendar builders. And if making a live rabbit appear out of thin air wasn't enough, for Krystan's final performance at the end of the day she made the Queen Mary ocean liner disappear, then reappear again before anyone noticed it was missing! Now that's hare raising magic!

The Show itself celebrates the annual world premier of the new 2011 FastDates.com Motorcycle Pin Up Calendars, with Calendar Kittens Melody Schuster & Candise Lakota on hand to meet with fans and autograph the new calendars.
The Calendar Bike Building Championship again featured many of the world's top Pro and Amateur street bike builders competing for cash, awards, and the coveted FastDates.com Calendar Best of Show Trophy. The 10 Calendar Bike Building Championship Classes include the premier Radical Pro Builder Class sponsored by Iron Works magazine, plus 9 other classes for American V-Twin Custom and Street Bikes, Vintage Bikes, as well as Metric Sportbikes and Cruisers
Chris Flechtner / Speed Shop Design returned to the 2010 Show with an all new, completely unique and quite controversial design to take Best of Show. The special construction bike named "Beezerker" features a stock mid 1960s BSA A65 engine in a fully hand built chassis and bodywork. The bike has such original features as parallelogram front forks and a frame which houses the oil tank and the hidden exhaust pipes routed up through the rear of the frame to exit at the rear of the seat cowling.
Just like Kenji Negai of Ken's Factory, Japan, who took 1st Place Pro Builder in 2008 and returned with an all new and even more exciting bike to take 2009 Best of Show, Chris also returned for blood the 2nd time around after taking 1st Pro Builder with his retro styled Speed Shop Special #6 last year. Chis is an experienced professional designer who has devoted the last 2 years to build two completely different custom bikes to premier at the LA Calendar Motorcycle Show.
Because "Beezerer" isn't powered by a the prerequisite American V-twin engine like most major bike show winners are, the internet bogs were abuzz the next day questioning the validity of the Calendar Show's Best of Show winner. But then the LA Calendar Show has never been know for its conventionality having awarded its top trophy in the past to other then other unknown builders with unconventional builds, and now well-respected builders: Dreamcraft Studios, Jesse Rooke, Shiny Kimura, Roland Sands, Russell Mitchell and Kenji Negai.
Although Chris may have been an unknown builder on the national scene before his emergence at last year's Calendar Show, he explains, "I've made more than a dozen custom bikes as well as modified and restored numerous classic motorcycles. I have also built a number of ground up custom cars. Most recently I have been working part time at my day job as a furniture designer, now devoting most of my time with my own custom bike building company Speed Shop Design the past year to get it moving along faster. The "Beezerker" intentionally pushes the boundaries of design and blurs time to give you a bike you simply can not place in a particular era, it's meant to be timeless like all good design should be."
"Beezerker" was Chris' first attempt in working with aluminum which he used to build the bike's fuel tank and 1930's Metropolis style bodywork. He also built all the hand and foot controls from scratch, including the foot mechanically actuated rear sprocket brake. The bike's originality defies description, if not classification, and could have been entered in nearly every one of the Show's Calendar Bike Building Championship's 10 classes from Modern and Classic Twin, to Street Custom and Sportbike. For 2 years now Chris has entered the Pro Builder Class in the Calendar Bike Building Championship, winning first the Pro Builder Class, and now this time around Best of Show.
Speed Shop Special #6 is featured in the just released 2011 Iron & Lace Calendar and in the FastDates.com Calendar Bike Garage.
Best of Show winner Beezerker was photographed by Jim Gianatsis on Monday after this year's Show for the Calendar Bike Garage and in the next FastDates.com Calendars.
Complete 2010 LA Calendar Motorcycle Show COVERAGE HERE
---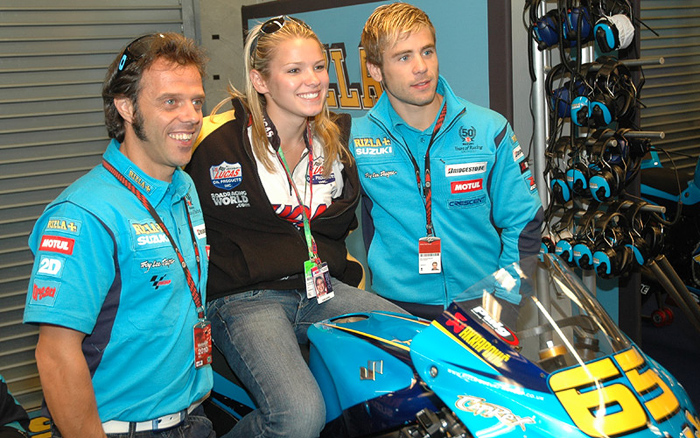 Elena Myers to ride Suzuki GSV-R MotoGP bike at Valencia
AMA Supersport race winner invited to ride after season-ending MotoGP race in November. Story at right.
---
Tommy Hill (33) on the Cresent Worx Suzuki leads fellow Suzuki riders Michael Laverty (7) and Alastair Seeley (34).

British Superbike Championship, Brands Hatch Round 8 of 12
Seeley scores a single, Tom Sykes doubles at BSB Brands Hatch
Brands Hatch, England, August 7-8th - British Superbike Series rookie Alastair Seeley scored a magnificent debut British Superbike victory at Brands Hatch in the first race on Saturday of the weekend's triple header. The Relentless by TAS Suzuki rider qualified his GSX-R1000 Superbike strongly on row two in seventh position around the GP circuit. Then in a two-part opening race - red flagged because of rain - the diminutive Ulsterman, better known to racing fans as 'The Wee Wizard', held off seasoned professionals Michael Rutter and Ryuichi Kiyonari to take the team's second British Superbike victory of the season in treacherous conditions.
The victory sets the reigning British Superstock Champion up well for Sunday's opening race, where he will take the coveted pole position slot after posting the fastest lap in today's encounter. His victory also lifted him back into a provisional Showdown top-six position, eking out a 17-point margin over closest rival John Laverty.
Alister Seeley: "I got good starts today and that made the difference. I had some front-end issues in the dry part of the race, and in the re-start in the wet I had loads of slides on white lines and the kerbs, but managed with it okay. My visor steamed up so I opened it, but with the wind streaming into my eyes I had to shut it again. We held on for the win and it's all credit to my Relentless by TAS Suzuki team and our superb GSX-R1000 Superbike that we made the top step.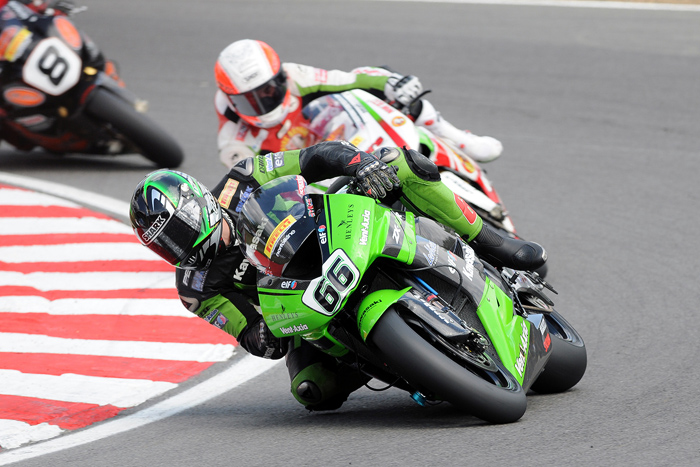 Tom Sykes (66) dominated on Sunday with both race wins.

Then for Sunday's Superbike double header, Kawasaki Racing Team World Superbike rider Tom Sykes put in an outstanding performance at the packed British Superbike race at Brands Hatch to complete a dominant double race win. New recruit for the weekend was Northern Irishman, Ian Lowry, who also put in a sterling first-time performance on the Ninja machine.

Having flown directly from Japan first thing Friday morning, Sykes was straight on the pace during the first practice session and continued to ride impressively over the entire race weekend outshining his former BSB competitors. Qualifying in second position behind Rutter gave Sykes a front row advantage for Saturdays two-part race but unfortunately the wet weather conditions put a slight dampening on Tom's fifth place result. Starting Sundays two races from the second row in race one and front row in race two ensured two good starts from Tom who took to the front early in both races to set a blistering pace and an outstanding double race victory ahead of Honda rider, Kiyonari.

Lowry made the most of his factory spec World Superbike Kawasaki despite battling with a severe chest infection over the weekend. Having never ridden on the Ninja ZX-10R before, Ian quickly got to grips with the machine on Friday and was consistently inside the top twelve to start Saturday's race from an impressive tenth place on the grid. Heavy rain hindered Lowry's lap times in the second-part of race one, and despite a well deserved tenth place he was forced to start Sunday's racing in a disappointing eighteenth position. Ian battled out the three races to complete the weekend with a deserving double tenth and eleventh place.

The Kawasaki Racing Team will now take a well-earned break during August and will regroup again for round eleven of the Hannspree World Superbike Championship taking place at the Nurburgring on 5 September.
Tom Sykes: "It's great to race at Brands Hatch again as it's a circuit I really love. There was quite a bit of pressure from myself to perform this weekend but we used this as a bit of a test and up until last night things weren't really going that well. But we went back to basics and made a few changes which obviously seemed to work in today's races. Hats off to the team and Paul Bird for pushing hard for us to come here as the results paid off and it just goes to show we're not doing a bad job in where we are in the World Championship. It's a nice pat on the back to the guys for all their hard work this year and really good for me to get the double. It has certainly put a smile on my face."
Ian Lowry: "I was called Thursday lunchtime to ride for the Kawasaki Superbike Team and I jumped at the opportunity despite having been pretty ill the past week. I was thrown in the deep end a little but I really enjoyed riding the Kawasaki machine and on Friday I gelled with it straight away and managed to do some good lap times. In Sundays' races I wasn't quite as comfortable due to my health but I'm pleased I was able to perform at this level having been out of racing most of the year. I want to thank Paul Bird and the Kawasaki Racing Team for the opening and I really hope I get another opportunity to try and better what I did here this weekend."


Paul Bird – Team Owner: "I promised Stuart Higgs that I would bring my Team to a BSB race this year and Brands was it for us as it's always been a favourite of mine and sorely missed on the World Superbike Calendar. Motorsport Vision put on a great show and we are over the moon to have contributed to the success of the weekend. Tom rode outstandingly and proved that he is a World Class rider and it is obviously a nice lift for the team and myself to enjoy some winning ways again. Ian did a fantastic job for us under the circumstances as he was called in last minute and wasn't a hundred percent well, but he tried hard and got some good track time and results for us here."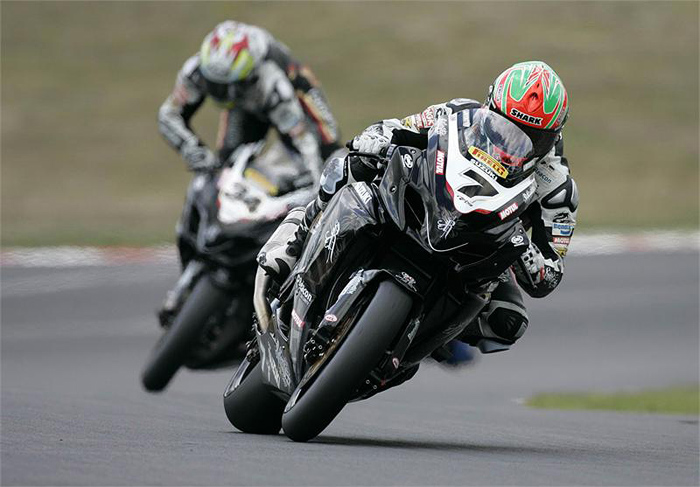 Both Laverty (7) and Seeley (34) crashed out on Sunday trying to go for the lead in Race 2. Here Seely gets airborne atfer catching his team mate!
Michael Laverty: "Race one wasn't too bad today. I came out with fourth place but I was disappointed that I couldn't challenge the leaders. We made some suspension changes for race two, which allowed me to run a better pace, but I didn't have the pace in the early laps on fresh tyres. Once the tyres started to slide I could make ground back on the leaders and I had third in the bag. I pushed on as I felt I could go for the win; unfortunately it wasn't to be and I lost the front at Druids. Although I leave Brands frustrated, I have qualified for the Shootout, so now I have a new focus: to find the speed to win races."
Alastair Seeley: "I've gone from hero to zero this weekend. The boys did a great job building a complete bike for me so I could take part in the second race. I got a bad start in race two but composed myself and pushed my way through and onto the back of Easton. We had caught John Laverty but the rear end came right round on me down into turn one and that was the day over. It has been a tough day, but you get them now and again, but on the positive side - we are still 10 points in front of seventh place, so it's all to play for at Cadwell Park. I can't thank the team enough today for their efforts in getting me back out on track."
2010 Brands Hatch British Superbike Race Results
RACE 1: Saturday 7 August


(2 part-race declared WET - 18 laps)
1. A. Seeley (Relentless Suzuki)
2. M. Rutter (Ridersmotorcycles.com Ducati)
3. R. Kiyonari (HM Plant Honda)
4. J. Brookes (HM Plant Honda)
5. T. Sykes (Kawasaki Racing Team)
6. M. Laverty (Relentless Suzuki)
7. J. Ellison (Swan Honda)
8. Y. Kagayama (Crescent Suzuki)
9. J. Laverty (Buildbase Kawasaki)
10. I. Lowry (Kawasaki Racing Team

RACE 2: Sunday 8 August

(20 laps)

1. T. Sykes (Kawasaki Racing Team)
2. R. Kiyonari (HM Plant Honda)
3. M. Rutter (Ridersmotorcycles.com Ducati)
4. M. Laverty (Relentless Suzuki)
5. J. Ellison (Swan Honda)
6. T. Hill (Crescent Suzuki)
7. S. Easton (Swan Honda)
8. Y. Kagayama (Crescent Suzuki)
9. D. Linfoot (Motorpoint Suzuki)
10. I. Lowry

RACE 3: Sunday 8 August

(20 laps)

1. T. Sykes (Kawasaki Racing Team)
2. R. Kiyonari (HM Plant Honda)
3. M. Rutter (Ridersmotorcycles.com Ducati)
4. T. Hill (Crescent Suzuki)
5. J. Ellison (Swan Honda)
6. J. Brookes (HM Plant Honda)
7. Y. Kagayama (Crescent Suzuki)
8. S. Easton (Swan Honda)
9. J. Laverty (Buildbase Kawasaki)
10. S. Andrews (MSS Colchester Kawasaki)
British Superbike Championship standings:
1. Ryuichi Kiyonari (HM Plant Honda) 249
2.Tommy Hill (Worx Crescent Suzuki) 242
3.Josh Brookes (HM Plant Honda) 239
4.Michael Rutter (Ridersmotorcycles.com Ducati) 217
5.Michael Laverty (Relentless Suzuki by TAS) 206
6.Alastair Seeley (Relentless Suzuki by TAS) 153
---
MotoGP World Championship, Cardion ab Grand Prix Ceské republiky, Round 10 of 18

Preview MotoGP World Championship chase resumes at Brno
Tuesday 10 August - Refreshed and ready to take on the second half of the 2010 season the MotoGP riders and teams are back in action this weekend at Brno for the Cardion ab Grand Prix ?eské republiky, where the chase to catch Championship leader Jorge Lorenzo recommences.
After nine of the 18 rounds of the season the Fiat Yamaha rider is 72 points clear at the top of the standings, thanks to his superb form of having taken six wins and three second places so far. Another top-two finish would make Lorenzo only the third rider in GP racing's 62-year history to place either first or second in the opening ten races of a season, the others being Giacomo Agostini and Mick Doohan. To maintain his fantastic form Lorenzo will need to win at a circuit he has not yet triumphed at in the premier class, after crashing last year when battling team-mate Valentino Rossi for the race lead. He does have a fine record in the smaller classes there however.
Dani Pedrosa is the closest to Lorenzo in the standings at present and the Repsol Honda rider has a point to prove following his crash at Laguna Seca in the previous round. The Spaniard enjoyed a consistent run leading up to the summer interval and was leading the race in the U.S. when he fell, and has twice finished on the podium at Brno including second place last year – his best premier class Brno result.
In third place at 23 points off his team-mate is Andrea Dovizioso, who is eager to rediscover his early-season podium form, whilst the resurgent Casey Stoner (Ducati Team) is hot on the Italian's tail. Stoner did not race at Brno last season but has tasted victory there (in 2007), something he is still yet to do in 2010 but a result that appears to be moving ever closer after four successive podium finishes in the last four rounds.
Brno has been a very fruitful hunting ground for Valentino Rossi who has five premier class wins there (it was also the site of his first 125cc win), and the Italian has been victorious at the Czech track for the last two years. A podium last time out at Laguna in only his second race back from injury moved him back up to fifth, where he sits a single point ahead of Nicky Hayden (Ducati Team). Another American rider, Ben Spies (Monster Yamaha Tech 3) is also closing in on the top five and Brno offers a familiar circuit for the rookie, who has previously ridden there in WSBK.
Set to make an extremely speedy and very welcome return to action from his broken leg is Randy de Puniet (LCR Honda). Pending medical clearance the Frenchman intends to ride again just four weeks after his crash at Sachsenring – last year he rode to tenth place at Brno having broken his ankle just three weeks before the race.
San Carlo Honda Gresini pair Marco Melandri and Marco Simoncelli are closely matched in ninth and tenth in the standings, whilst Colin Edwards (Monster Yamaha Tech 3) will follow up his best result of 2010 so far with an attempt to place higher than seventh. Héctor Barberá (Páginas Amarillas Aspar), Rizla Suzuki pair Loris Capirossi and Álvaro Bautista, and Pramac racing duo Mika Kallio and Aleix Espargaró will all aim for improvements, and Alex de Angelis (Interwetten Honda MotoGP Team) is set to continue in place of the injured Hiroshi Aoyama.
---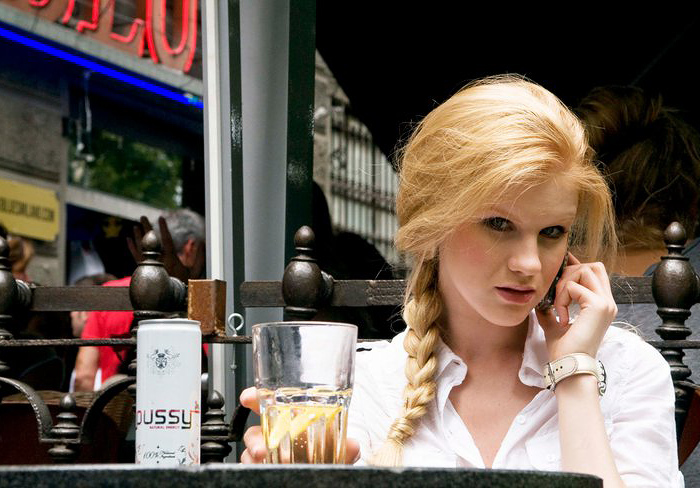 Besides cute furry things, Pussy is an all natural energy drink based out of Monte Carlo that sponsors our buddy,
former AMA National and World Superbike Champion Troy Corser. We're down with any cool beveage that tastes great and
gets us beautiful girls and front door parking spot at the legendary Casino Royale in Monte Carlo!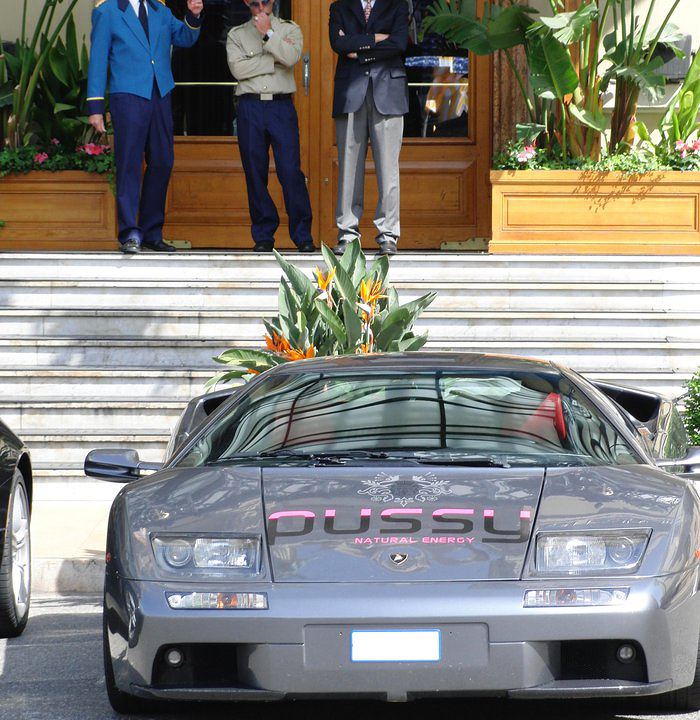 Below, Troy wrangles our Fast Dates Calendar Kittens at Miller WSB,
Playboy Playmates Jamie Edmonson and Heather Rae Young.
The Fast Dates Calendar Kittens heat up the track at Miller World Superbike!
Click for Complete Coverage • Heather Rae is also featured in sexy pictorials in Members Corner
The Making of the FastDates.com Calendars now on DVD!
Sure, we may be slow getting around to some things, one of those being the re mastering of our infamous Making of the FastDates.com Calendars movies from VHS tape to high definition DVD. But now thanks to the help of Amazon.com we've entered the 21st century and you can stuff into your Computer or Big Screen DVD player the fastest, hottest, wettest, sexiest motorcycle movies ever made!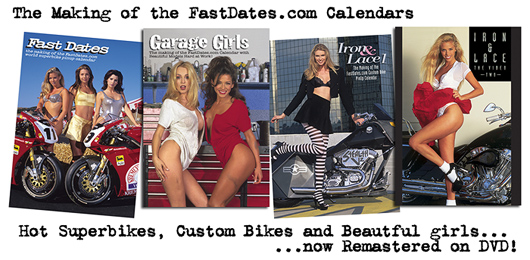 The making of the FasDates.com Calendars DVD movies are available from Amazon.com and in the FastDates.com Video Store.
---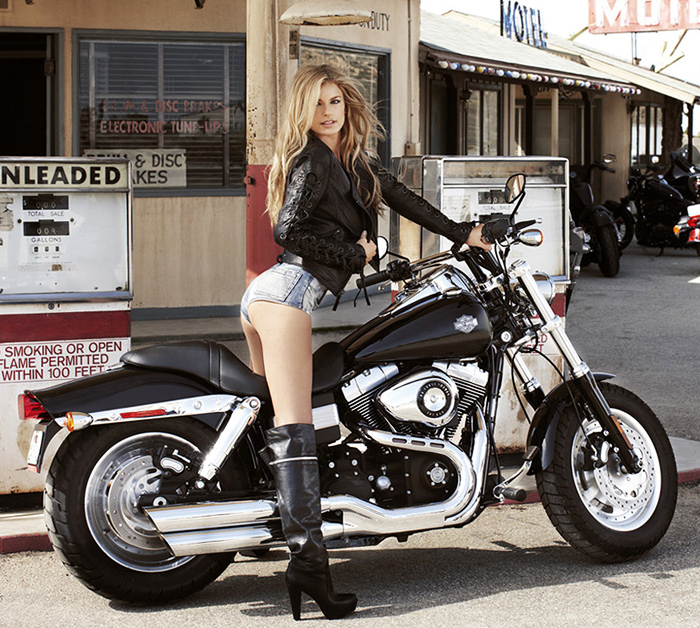 Win a Date with Marissa Miller and a Harley-Davidson of your choice!
August 2010 - We are sure you've noticed that Harley-Davidson has brought back beautiful Supermodel Marissa Miller to highlight their print, internet and TV advertsing campaign again for 2010. Kudo's to the American motorcycle manufacturer for bringing back sexy to mainstream advertsing. The only foolish thing about the campain are the videos and print shots of an obvious stand-in/stunt woman who is riding and doing burnouts on her Harley, particulary since Marrisa told us in her Harley photo shoot video last year that she doesn't ride.
With this year's Marissa Miller ad campain Harley is offering us a chance to registerto win a Harley-Davidson of our choice, a ride at some great destination in America, and a chance to meet Marissa in person. Log on tho Harley's website to enter the contest: www.H-D.com/START
---
There's more! Go to Pit Lane News Next Page

Also Visit: Fast Dates Calendar News • Iron & Lace Calendar News
Calendar Girl News • Meet the Models • Paddock Garage

Calendar Kittens, Paddock Garage, Screensavers, Iron & Lace Garage





MotorcycleSuperstore.com
Some of our Calendar Kittens can also at Playboy's website...


FREE! New Met-Art Model Galley Updated Daily - Stop Back Each Day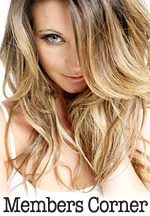 Hot Bikes, Sexy Kittens
Your Exclusive Grid Pass
also includes....
---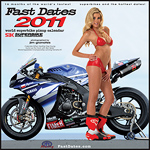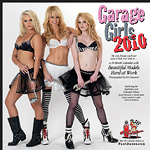 2011 Calendars!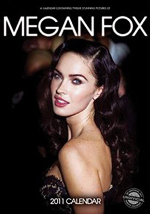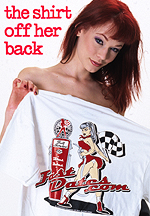 Order the Official
FastDates.com &
LA Calendar Bike Show
T-Shirts!
---
UEM Superstock 600 Championship Age Limit Set at 22 Years for 2011
PRESS INFORMATION
SILVERSTONE, 01/08/2010
SBK World Superbike has issued that the maximum age for the 2011 UEM European Superstock 600 Championship riders will be 22 years.

This will assure that on the world stage the 600cc class will be a training ground for new riders to move up to the 1000cc World Superbike and European Superstock Classes, and will not be as hotly contested by major manufacturers looking for additional Championship titles.
This is in marked contrast to the AMA 600cc Daytona Sportbike Class in America which the Daytona Motorsports Group series owners have been trying to promote as their premier class, only because the bigger 1000cc Superbikes, both in Superstock ans Superbike specifications, are too fast and not safe at most of their outdated race track venues like Daytona Speedway.
Buell 1190 Racing Superbike Heads Towards Street Legal Roadbike?
Check out this video which has just surfaced indicating that Eric Buell might be hoping tobecome a motorcycle manufacturer one again with a street legal 1190.
Click Here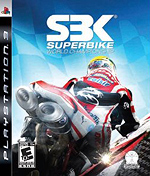 New Playstation!
Superbike & MotoGP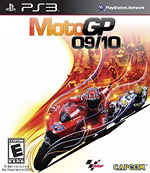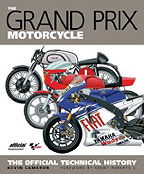 Castiglioni Brothers Buy back MV Agusta from Harley-Davidson

The Official Press Release From MV Agusta
Varese, August 6th 2010 – Claudio and Giovanni Castiglioni, through their family holding company have repurchased from Harley Davidson 100% of the shares of MV Agusta Motor S.p.A. which owns historic brands MV Agusta and Cagiva. Harley-Davidson announced in October 2009 its intention to sell MV Agusta to concentrate on its core business and brand.
In connection with the repurchase transaction Lazard and Co. have acted as the financial advisor along with counsel Alessandro Varrenti (CBA) and Giuseppe Galeano whom provided legal and tax assistance in conjunction with family counsellors Giuseppe Carteni (Leadlaw), Andrea Lanata and Sergio Caramella.
Along with Giovanni Castiglioni, the company will be headed by Mr. Massimo Bordi, a well known Italian manager. A 62-year-old engineer, Bordi took Ducati to success during the years when that company was owned by the Castiglionis and continued to manage it successfully under the ownership of Texas Pacific Group. Since 2003 Massimo Bordi has been the CEO of Same Deutz Fahr, contributing largely to the success of the company. Massimo Bordi commented that "MV Agusta has full capacity to once again become a major player in the high luxury brand motor bikes, this brand is one of the most recognized worldwide. We will implement a number of reorganization and managerial actions in the near future. Both the current and new models under development have a very strong character, great innovative features and a very unique design, I have no doubts about their future success."
Claudio Castiglioni, the historic intimate soul of MV Agusta will continue as chairman, and will concentrate on the development of the new products. Upon signing the agreement with Harley-Davidson, Claudio Castiglioni stated "MV Agusta is the crown jewel of Italian motorcycles, I am thrilled to have completed this transaction. I have already won once together with Massimo Bordi, we made the most beautiful bikes in the world and we will continue with this tradition".
The Official Press Release From Harley-Davidson.
MILWAUKEE, Aug. 6, 2010 Harley-Davidson, Inc. (NYSE: HOG) has concluded the sale of its subsidiary, MV Agusta, to Claudio Castiglioni and his wholly owned holding company, MV Agusta Motor Holding, S.r.l., effective today. Castiglioni is the former owner of the Italian motorcycle maker and has served as MV Agusta's chairman since 2008, when Harley-Davidson acquired the company.
In October 2009, Harley-Davidson announced its intention to sell MV Agusta as part of a new corporate strategy to focus resources on the Harley-Davidson brand. Since then, Harley-Davidson has held discussions with various potential MV Agusta buyers. "MV Agusta is a proud brand and we wish Mr. Castiglioni and the company's employees well," said Harley-Davidson President and Chief Executive Officer Keith Wandell. "Our decision to divest MV Agusta reflects our strategy to focus our efforts and our investment on the Harley-Davidson brand, as we believe this provides an optimal path to long-term growth."
---


KTM RC8R



Aprilia RSX1000


Kawasaki Z1000
---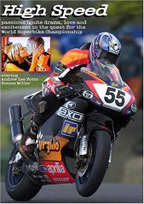 High Speed - the Movie
The best motorcyce racing movie ever made! Filmed on location at World Superbike, this an exciting romantic drama staring beautiful actress Sienna Miller.


Erotica Archives
FREE New Model
Galley Updated Daily
Warning Contains Nudit
---
Elena Myers to ride Suzuki GSV-R MotoGP bike at Valencia
AMA Supersport race winner invited to ride after season-ending MotoGP race in November
August 04, 2010
From AMA Pro Racing:
The Rizla Suzuki MotoGP team has invited AMA Pro Racing SuperSport race winner Elena Myers to ride a factory GSV-R racebike in Valencia, Spain following the final MotoGP event of the 2010 season. The offer was made after 16-year-old Myers was invited to tour the Rizla Suzuki pit garage during the Red Bull U.S. Grand Prix at Mazda Raceway Laguna Seca last weekend.
"We saw that she was doing quite well over here on her Suzuki," said Tim Walpole, Rizla Suzuki MotoGP Press and PR Officer. "So we thought she might like to come by the box and get to meet the guys and have a look at how we do things."
"It blows my mind that people like that are kind of looking at me and the AMA stuff," said Myers, who rides for the Lucas Oil Roadracingworld.com RMR Suzuki team. "To get this opportunity is a once in a lifetime kind of thing."

When Myers arrived in Rizla Suzuki's bustling garage, she was introduced to MotoGP racer Loris Capirossi, who asked a lot of questions about her racing and then immediately invited her to sit on one of his GSV-R racebikes. "It felt really small," said Myers, "but everything, all the bars and levers and pegs were exactly where I wanted it. I was like, 'I could ride this thing right out of here.'
"It was really cool, especially talking to Capirossi. I have a lot of respect for the guy but even more now that I've talked to him. I thought he was a really down-to-earth guy. Talking to him was just crazy, to say the least." Myers also met Rizla Suzuki's MotoGP rookie Alvaro Bautista, who explained what all the switches and buttons on the GSV-R's handlebars and dashboard did.


After Myers chatted with Bautista, it was time for the Rizla Suzuki crew to start the warm-up procedure on one of Capirossi's machines, and they asked for Myers' assistance in blipping the throttle of the 240-horsepower beast. "It was like a 125 almost with the way the rpm went up so fast," said Myers. "Any movement of the throttle made the revs jump so fast. I'm just speechless about the whole thing."
While she was visiting the Rizla Suzuki garage, a couple of different team staffers asked Myers if she would like to ride one of the GSV-R racebikes some time, and she thought they were joking. But Rizla Suzuki Team Manager Paul Denning then made it clear that he would like to give her an opportunity to do some laps on one of the bikes, after the season-ending Grand Prix at Valencia, in Spain. Denning explained that it wouldn't be a test, but just a chance for Myers to experience riding a MotoGP racebike.
"If I could ride it that would just be the most insane thing ever, even if it was for just a couple of laps. I'm just speechless about it, it's so crazy," said Myers. "It was all pretty overwhelming, but that's where I want to be some day. And this just makes me want it even more now. I'm going to be motivated no matter what, but seeing what this is all like makes me want it even more."
AMA Pro Racing and Miller Motorsports Park Announce the Return of ASMA Racing to 2011 Miller World Superbike Weekend in 2011
DAYTONA BEACH, Fla. (August 13, 2010) - AMA Pro Racing and Miller Motorsports Park are pleased to announce that AMA Pro Road Racing will return to Miller Motorsports Park in conjunction with the Utah USA round of the FIM Superbike World Championship presented by HANNspree for a celebration of motorcycle racing over the Memorial Day weekend in 2011.
Miller Motorsports Park was the result of the vision, drive and determination of its founder, the late Larry H. Miller, a successful automobile and media businessman and Utah Jazz NBA team owner. The facility is built to the highest standards and provides a first-class facility for riders, teams and fans alike.
"We are delighted to be returning to Miller Motorsports Park," said AMA Pro Chief Operating Officer and Managing Member, David Atlas. "Our riders have indicated that racing at Miller Motorsports Park was very important and we were delighted that we could come to an agreement with the Miller family and the track to combine the best of AMA Pro road racing with the Superbike World Championship to create a real celebration of motorcycle racing."
AMA Pro Racing previously competed at Miller Motorsports Park from 2006 through 2008. A number of current AMA Pro National Guard SuperBike competitors have won AMA Pro races at Miller including Jake Zemke, Josh Hayes and Geoff May.
Bryan Miller, assistant general manager of Miller Motorsports Park said, "With the return of AMA Pro Racing, we will host the most competitive motorcycle race weekend in North America in 2011; the best in the world with SBK, the best in the U.S. with AMA Pro Racing and the best semi-pro race with the Lucas Oil Superbike Challenge. This competition is the cornerstone of the new Memorial Day tradition we are working to build for America's motorcycling community."
The event will take place over the Memorial Day weekend, beginning on Saturday, May 28th and concluding on Memorial Day, Monday, May 30th, 2011.
Further information on the 2011 AMA Pro Road Racing schedule will be announced as it is finalized. Please visit www.amaproracing.com for series information.
Pro Itaia Cafe Desmo 2010, Friday-Sunday, August 20-22. Friday Night Book Signing / Sunday Concert Details.
Glendale, CA - Last year was beyond our expectations with more than 200 bikes in the show and about 1000 people visiting. It's going to be even better this year so join us for Cafe Desmo 2010, our annual Italian motorcycle bike show, which will be held this August 20-22 with a weekend full of very cool events. We're hoping you, and the rest of the SoCal sport bike community come out. Check it out at our Cafe Desmo page. So...

Register your special bike for the Sunday morning show. Who knows . . . you may win one of the very special trophies (and lots of press and envy). While you needn't pre-register, we find it helpful to organize the show. There's a category for everyone. Any Cafe Desmo posters we have will go first to the participants in the show. If you're not showing, come anyway to see all the cool bikes and make some new friends. Oh, by the way, it's free!

Join us Friday night (7PM) at Pro Italia for a cocktail and book release party. We're feeling we need more women who ride (or want to ride) at Pro Italia, so join the East Side Moto Babes as they welcome author Christina Shook to Pro Italia for a book release party for "Chicks on Bikes". Yup, this too is free!
Meet us on Saturday night (8PM) at Labries Lounge in Glendale to hear some terrific rock n' roll by The Lords of Altamont. $10 at the door.

Ride up to the Crest at 12:30PM on Sunday (pre-register for your special t-shirt, picnic and to join lots of other bikes for $40). But if you don't want to spend the $40, most of which will be contributed to help fix the Crest, come anyway. The concert is free and it's at Newcomb's Ranch at 2:30 and there'll be a big screen showing videos before. There you'll hear an outdoor concert with "Shifty Uncle" featuring Brian Nutter from Keith Urban's band, Rikki Rockett from Poison, Robbie Crane from Ratt, and Snake from Skid Row will be joined by Erik Buell from the Thunderbolts and Mike Stone from Speed X and Queensryche. Other guest musicians are expected as well.

www.ProItalia.com
phone 818 249-5707
AMA Pro Road Racing VIR Rider Update - Aaron Yates Returns, Blake Young Still Recovering
DAYTONA BEACH, Fla. (August 11, 2010) - The popular Aaron Yates, injured back in March, will make his return to the AMA Pro National Guard SuperBike series at this weekend's Suzuki White Lightning AMA Pro Nationals Presented by Foremost Insurance at Virginia International Raceway in Alton, Va. Yates will practice his #23 Jordan Suzuki and make a further evaluation if he will race after that. Brett McCormick, Aaron's teammate who has been riding the second Jordan Suzuki in Yates' absence will also compete along with National Guard Suzuki Jordan rider Jake Zemke.
"I'm excited about riding again," said Yates. "And really looking forward to getting back out there."

In a correction, Blake Young, rider of the Rockstar Makita Suzuki will not be riding this weekend at VIR. Young continues his recovery from injuries suffered in a testing accident at Barber Motorsports Park, not at VIR as erroneously reported by AMA Pro. Rockstar Makita Suzuki's team manager Peter Doyle is hopeful that Blake will be able to return to racing soon but isn't putting a date on Young's comeback.
"I think it's one of those injuries that you just have to let heal in its own time," Doyle said. "We want Blake back 100 percent healthy so we can go out there and try to win some races full force. We'll just have to take it a day at a time."

The AMA Pro Vance & Hines XR1200 Series will also compete this weekend. Danny Eslick and Jake Holden will again lead the field of Harley-Davidson XR1200s in the third race of the season for the big twins. Eslick, winner of the first two races and his teammate Holden, will be back aboard their RMR Bruce Rossmeyer Daytona Racing XR1200s with support from GEICO Powersports and Lucas Oil.
Joining them on the grid will be the Wyman brothers, Travis and Kyle. Kyle will be on another RMR Bruce Rossmeyer Daytona Racing XR1200 and Travis will be on the Harv's Harley-Davidson Racing machine. Eric Stump will be back on the AbsoluteCycle.com XR1200 and Paul James will be returning on the James Gang Hoban Brothers Racing XR1200 with support from Harley-Davidson of Appleton. Matthew Heidel makes his series debut on the Shar-Tuff Uniforms Harley-Davidson and Mark Cernicky joins the series on the Hog Racing XR1200. Practice and qualifying will be on Saturday, August 14th and the 18 lap race will be on Sunday, August 15th.
Please visit www.virclub.com for ticket and event information and www.amaproracing.com for series information.
AMA Pro Roadracing AwardsBanquet at Barber Motorsports Sept 27th
The 2010 AMA Pro Road Racing Awards Banquet will be held at the Barber Vintage Motorsports Museum on Monday September 27, 2010. We are currently finalizing details of the evening including time of the ceremony and hotel location. A room block offering discount accommodations will be established and available on a first come first serve basis. Please mark your calendars. Final details & ticket order forms will be released shortly.