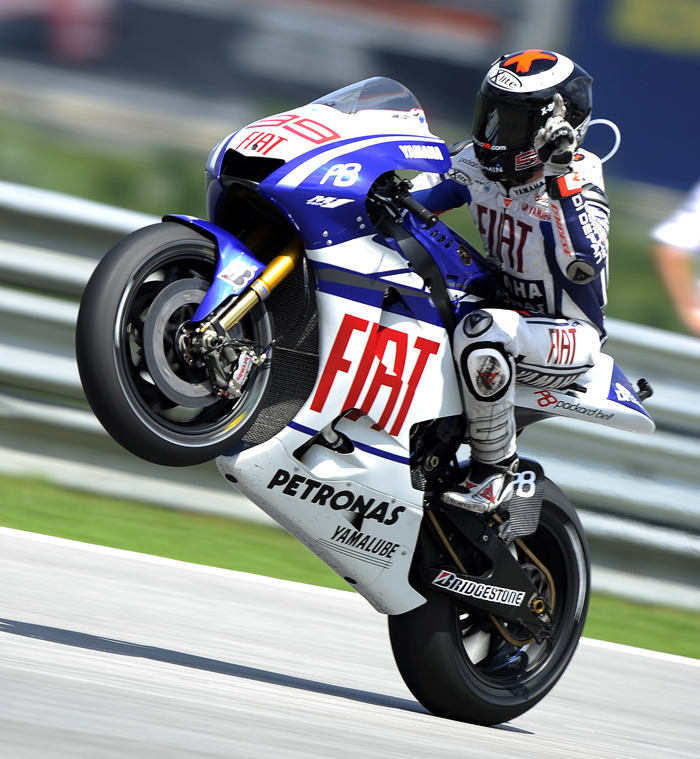 MotoGP World Championship, Sepang, Malaysia, Round 15 of 18
Jorge Lorenzo and Tomi Elias crowned MotoGP and Moto2 World Champions in Malaysia, Valentino Rosi takes the Race Win
Shell Advance Malaysian Motorcycle Grand Prix - Sunday 10 October Report Race Day - Jorge Lorenzo was confirmed as the 2010 FIM MotoGP World Champion on Sunday at Sepang, as the 23 year-old Fiat Yamaha rider rode to a third place finish in the Shell Advance Malaysian Motorcycle Grand Prix. It was a thrilling race that was won by Valentino Rossi, as the Italian took his first victory since the season opener in Qatar, on a day on which his great rival and current teammate celebrated his first premier class title.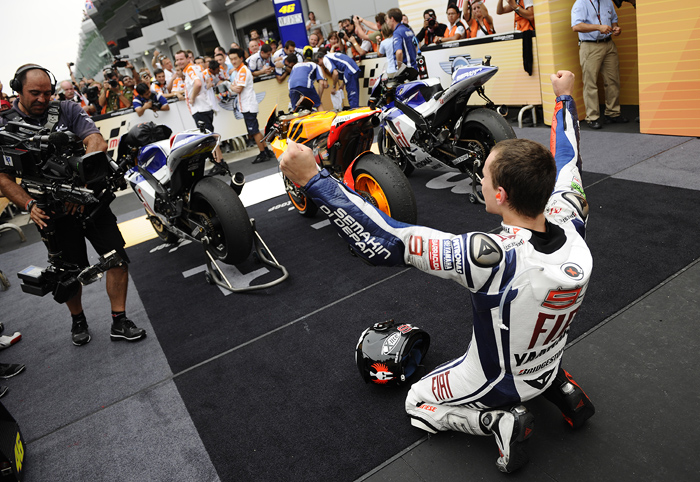 Pole sitter Lorenzo got off to a fantastic start and led into turn one as the race got underway, but Rossi's getaway from the starting grid was not so swift and he had dropped as low as 11th on the opening lap. Casey Stoner (Ducati Team) suffered a huge disappointment when he crashed out of the race on the opening lap.
CASEY STONER (Ducati Marlboro Team) DNF - "I'm bitterly disappointed with this weekend. Going into that race we were confident of a good result. We knew we would be at the front challenging for the win and watching the race confirmed that. I know I had the pace to be up there. On the first lap I was calm, I made up some positions in the first two corners and when I got behind Dovizioso and Lorenzo I was happy to stay there and let the tyres get up to temperature. Unfortunately I crashed because they weren't warm enough but I don't think I could have been more careful over those opening laps. I'm so disappointed that such a small thing can ruin an entire weekend."
In typically tropical heat, Dovizioso was in the hunt for today's win from the beginning, leading through turn one after starting from the front row of the grid. As the lone Repsol Honda rider, Dovizioso put on a great show. After Lorenzo went past on lap one, the Honda man stayed right with the Spaniard, finally taking the lead at the halfway mark of the 20 laps. But by then Rossi had caught the leading duo and snatched first place from Dovizioso the following lap. Once again, Dovi didn't give up. He repassed his compatriot at turn one on lap 16, only for Rossi to come by once more. Starting the final lap Dovizioso had closed the gap to just three tenths but he couldn't quite get close enough to mount a final attack. The result
Andrea Dovizioso (Repsol Honda) stuck with Lorenzo and the pair established a slight gap at the front, but by only the third lap Rossi had recovered to fourth position as he set his sights on the leaders. Soon he was into third and closing quickly on Dovizioso. Rossi was repeatedly laying down fast laps as he homed in on the leading duo and, just past the midway point of the race, the Italian took the lead, having first passed Lorenzo and then Dovizioso. The two Italians swapped first position again in what was a thrilling fight to the end.
Rossi was not to be denied his second win of the season however and crossed the line 0.224s ahead of Dovizioso, with Lorenzo in third and cementing the 2010 title with his 13th podium of the season as the celebrations started.
Ben Spies (Monster Yamaha Tech 3) took fourth position with rookie Álvaro Bautista (Rizla Suzuki) equalling his season's best result in fifth. Nicky Hayden (Ducati Team) and Hiroshi Aoyama (Interwetten Honda MotoGP) followed, with Marco Simoncelli (San Carlo Honda Gresini) eighth having battled closely with former 250cc rival Aoyama. Marco Melandri (San Carlo Honda Gresini) and Randy de Puniet (LCR Honda) completed the top ten.
Valentino Rossi - Position: 1st Time: 41'03.448 - "This is a wonderful moment for me, I am so happy to win like this and take my 46th win with Yamaha on 'my' M1. It was one of my worst starts and for a moment I was really worried, but within a few corners I understood that I could go for it, because my bike felt great today thanks to a small change we made in warm-up, Jeremy's idea really worked! I rode so well and it was a fantastic race, one of the best of my career I think. I wanted this 46th win so much because as everyone knows it's a special number for me! Thanks to my team because everyone worked so hard this weekend and I think this is a great repayment for everyone. To win like this, from 11th at the first corner, is a great feeling. Finally I want to say congratulations to Yamaha and to Jorge; he has been fast all season, at all tracks and in all conditions and he deserves to be the World Champion."
Andrea Dovizioso (Repsol Honda RC212V): 2nd
"I'm very happy with this second place today and it was a great race. We have been fighting for the victory at the last two races at two very different tracks, and also in different conditions, so this is really positive. I tried to stay close to Valentino on the last lap but in the final braking area I wasn't close enough to take him in the middle of the corner, even though he was too late on the brakes and went wide. Anyway, this result for Honda, Repsol and my team is really important. Last year we were 40 seconds behind the winner in the race here, so to be just 0.2s behind means we've moved forward a lot. Also, in the middle of the season, we weren't on the podium for a long time, so to be back in the top three is very important for us. We have to be happy because this was almost a win, and the riders in front of me are changing at each race, which means we have better consistency. We are happy and I'd like to say thank you to Honda and my crew. From the middle of the season until now we improved a lot because of the hard work of a great team."
Jorge Lorenzo - Position: 3rd Time: +6.035 - "This is a dream come true for me today, I can't really believe it yet; I need five minutes on my own just to relax, enjoy the quiet and take in what I have done! This is something I have always wanted and something I've dreamed of my whole life, so it is the most incredible moment for me. It is difficult to find the words to thank everyone, I am just so happy, but I have to say thank you to Yamaha, my team and everyone who has made this happen. I started very well today, I didn't lose any positions but then Andrea and Valentino came past me and I wasn't riding as well as I could have, so I didn't want to push too much. Anyway I knew that winning the race wasn't the most important thing this time. I had to just put myself on autopilot and get the points I needed. Now we can relax and enjoy the last three races of the championship, but first of all we are looking forward to celebrating tonight!"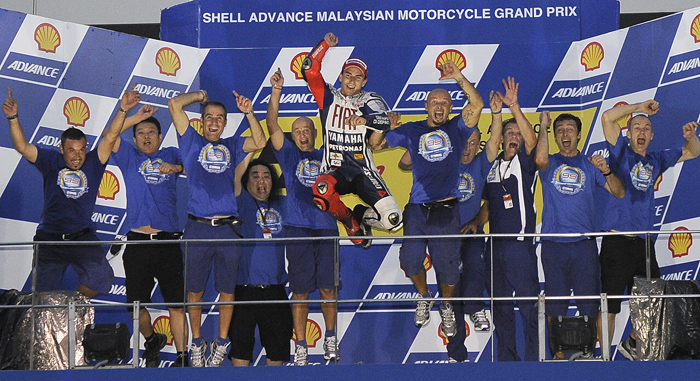 Davide Brivio - Rossi Team Manager - "What a race! It was a fantastic race and great weekend because we had a difficult day yesterday and could only qualify sixth, but the team did a great job to change the bike and Valentino felt very comfortable in the race. He rode very well, making the fastest lap in the race and coming from 11th position and 2.5 seconds down on the leaders on the first lap. This milestone 46th win was a great way to celebrate Valentino's amazing time with Yamaha. It's a wonderful day for Yamaha all round because Jorge is the World Champion so we say congratulations to him, he's been very strong this year. All of our team are very happy today! Now we're looking forward to Australia, another great track for Valentino, and we hope his victories are not over with yet with Yamaha."
Wilco Zeelenberg - Lorenzo Team Manager - "This is a wonderful day for our team and I can't believe what an amazing first year I have had with Jorge in MotoGP! Jorge has proven over and over that he is a winner and our tactics this season - to always go for the podium - have paid off and here we are, World Champions! As usual Jorge was clever today and he knew that he had to be careful, as he has been many times this season, and it was the right move. He has won seven races and been on the podium many more so it really has been a wonderful season. Thank you to everyone for working so hard and well done to Jorge."
Results MotoGP: (20 laps = 110.96 km)
Pos / Rider / Nat / Team / Motorcycle / Time/ KM/H / Gap
1 / Valentino ROSSI / ITA / Fiat Yamaha Team / YAMAHA / 41'03.448 / 162.153 /
2 / Andrea DOVIZIOSO / ITA / Repsol Honda Team / HONDA / 41'03.672 / 162.138 / 0.224
3 / Jorge LORENZO / SPA / Fiat Yamaha Team / YAMAHA / 41'09.483 / 161.756 / 6.035
4 / Ben SPIES / USA / Monster Yamaha Tech 3 / YAMAHA / 41'17.124 / 161.257 / 13.676
5 / Alvaro BAUTISTA / SPA / Rizla Suzuki MotoGP / SUZUKI / 41'18.850 / 161.145 / 15.402
6 / Nicky HAYDEN / USA / Ducati Team / DUCATI / 41'22.274 / 160.923 / 18.826
7 / Hiroshi AOYAMA / JPN / Interwetten Honda MotoGP / HONDA / 41'23.666 / 160.833 / 20.218
8 / Marco SIMONCELLI / ITA / San Carlo Honda Gresini / HONDA / 41'27.022 / 160.616 / 23.574
9 / Marco MELANDRI / ITA / San Carlo Honda Gresini / HONDA / 41'27.412 / 160.591 / 23.964
10 / Randy DE PUNIET / FRA / LCR Honda MotoGP / HONDA / 41'35.298 / 160.083 / 31.85
11 / Hector BARBERA / SPA / Paginas Amarillas Aspar / DUCATI / 41'42.027 / 159.652 / 38.579
12 / Mika KALLIO / FIN / Pramac Racing Team / DUCATI / 41'42.297 / 159.635 / 38.849
Pole Position: Jorge LORENZO 2'01.537 164.335 Km/h
Fastest Lap : Valentino ROSSI 2'02.117 163.554 Km/h Lap 9
Circuit Record Lap: Casey STONER 2'02.108 163.566 Km/h 2007
Circuit Best Lap: Valentino ROSSI 2'00.518 165.724 Km/h 2009
World Championship Positions:
1 LORENZO 313, 2 PEDROSA 228, 3 ROSSI 181, 4 STONER 180, 5 DOVIZIOSO 179,
6 SPIES 152, 7 HAYDEN 139, 8 DE PUNIET 94, 9 SIMONCELLI 92, 10 MELANDRI 86,
11 EDWARDS 81, 12 BARBERA 74, 13 BAUTISTA 69, 14 ESPARGARO 52, 15 AOYAMA 44.

Rolfo Wins, Elias Secures the Title in Moto2
Toni Elías was crowned the first-ever Moto2 World Champion at Sepang on Sunday after the Spaniard took fourth place in the 14th round of the 2010 campaign. Roberto Rolfo was also celebrating as he took his first World Championship victory since triumphing in the 250cc class at Jerez in 2004, after a fantastic race that saw both Rolfo and Elías involved in separate battles.
Stepping onto the podium for the first time this season was Alex de Angelis (JiR Moto2) who challenged Rolfo for the win late on, with Andrea Iannone (Fimmco Speed Up) completing the rostrum after a marvellous duel with Gresini Racing's Elías. Completing the top five was Alex Debón (Aeroport de Castelló-Ajo), with top-ten results for Karel Abraham (Cardion AB Motoracing), Stefan Bradl (Viessmann Kiefer Racing), Dominique Aegerter (Technomag-CIP), Jules Cluzel (Forward Racing) and Simone Corsi (JiR Moto2). Pole sitter, Julián Simón, who was the only man who could prevent Elías from confirming the title, finished a distant 21st, after crashing while battling at the front of the race.
Results Moto2: (19 laps = 105.412 km)
Pos / Rider / Nat / Team / Motorcycle / Time/ KM/H / Gap
1 / Roberto ROLFO / ITA / Italtrans S.T.R. / SUTER / 41'09.412 / 153.673 /
2 / Alex DE ANGELIS / RSM / JIR Moto2 / MOTOBI / 41'09.452 / 153.671 / 0.04
3 / Andrea IANNONE / ITA / Fimmco Speed Up / SPEED UP / 41'15.327 / 153.306 / 5.915
4 / Toni ELIAS / SPA / Gresini Racing Moto2 / MORIWAKI / 41'15.734 / 153.281 / 6.322
5 / Alex DEBON / SPA / Aeroport de Castello - Ajo / FTR / 41'21.324 / 152.935 / 11.912
6 / Karel ABRAHAM / CZE / Cardion AB Motoracing / FTR / 41'21.870 / 152.902 / 12.458
7 / Stefan BRADL / GER / Viessmann Kiefer Racing / SUTER / 41'21.931 / 152.898 / 12.519
8 / Dominique AEGERTER / SWI / Technomag-CIP / SUTER / 41'22.001 / 152.894 / 12.589
9 / Jules CLUZEL / FRA / Forward Racing / SUTER / 41'24.422 / 152.745 / 15.01
10 / Simone CORSI / ITA / JIR Moto2 / MOTOBI / 41'26.119 / 152.64 / 16.707
11 / Hector FAUBEL / SPA / Marc VDS Racing Team / SUTER / 41'29.591 / 152.427 / 20.179
12 / Alex BALDOLINI / ITA / Caretta Technology Race Dept / I.C.P. / 41'29.874 / 152.41 / 20.462
13 / Yonny HERNANDEZ / COL / Blusens-STX / BQR-MOTO2 / 41'31.050 / 152.338 / 21.638
14 / Michael RANSEDER / AUT / Vector Kiefer Racing / SUTER / 41'31.800 / 152.292 / 22.388
15 / Claudio CORTI / ITA / Forward Racing / SUTER / 41'33.924 / 152.163 / 24.512
Pole Position: Julian SIMON 2'08.562 155.355 Km/h
Fastest Lap (New record) : Julian SIMON 2'08.691 155.199 Km/h Lap 7
Circuit Record Lap: New category
Circuit Best Lap: Julian SIMON 2'08.562 155.355 Km/h 2010
World Championship Positions:
1 ELIAS 262, 2 SIMON 168, 3 IANNONE 163, 4 LUTHI 138, 5 CORSI 119, 6 CLUZEL 101,
7 TALMACSI 95, 8 TAKAHASHI 86, 9 TOMIZAWA 82, 10 ROLFO 75, 11 DEBON 63,
12 BRADL 61, 13 GADEA 59, 14 ABRAHAM 59, 15 REDDING 58.
Results 125cc: (18 laps = 99.864 km)
Pos / Rider / Nat / Team / Motorcycle / Time / KM/H / Gap
1 / Marc MARQUEZ / SPA / Red Bull Ajo Motorsport / DERBI / 40'29.035 / 148.005 /
2 / Pol ESPARGARO / SPA / Tuenti Racing / DERBI / 40'31.376 / 147.862 / 2.341
3 / Nicolas TEROL / SPA / Bancaja Aspar Team / APRILIA / 40'32.691 / 147.783 / 3.656
4 / Efren VAZQUEZ / SPA / Tuenti Racing / DERBI / 40'35.815 / 147.593 / 6.78
5 / Bradley SMITH / GBR / Bancaja Aspar Team / APRILIA / 40'36.168 / 147.572 / 7.133
6 / Sandro CORTESE / GER / Avant Mitsubishi Ajo / DERBI / 40'36.332 / 147.562 / 7.297
7 / Esteve RABAT / SPA / Blusens-STX / APRILIA / 40'55.683 / 146.399 / 26.648
8 / Luis SALOM / SPA / Stipa-Molenaar Racing GP / APRILIA / 40'58.374 / 146.239 / 29.339
9 / Tomoyoshi KOYAMA / JPN / Racing Team Germany / APRILIA / 40'58.374 / 146.239 / 29.339
10 / Randy KRUMMENACHE / SWI / Stipa-Molenaar Racing GP / APRILIA / 40'58.400 / 146.237 / 29.365
11 / Johann ZARCO / FRA / WTR San Marino Team / APRILIA / 41'05.364 / 145.824 / 36.329
12 / Alberto MONCAYO / SPA / Andalucia Cajasol / APRILIA / 41'06.580 / 145.752 / 37.545
13 / Adrian MARTIN / SPA / Aeroport de Castello - Ajo / APRILIA / 41'20.297 / 144.946 / 51.262
14 / Jakub KORNFEIL / CZE / Racing Team Germany / APRILIA / 41'23.669 / 144.749 / 54.634
15 / Marcel SCHROTTER / GER / Interwetten Honda 125 / HONDA / 41'23.670 / 144.749 / 54.635
Pole Position: Marc MARQUEZ 2'13.398 149.723 Km/h
Fastest Lap: Marc MARQUEZ 2'13.773 149.303 Km/h Lap 13
Circuit Record Lap: Alvaro BAUTISTA 2'13.118 150.038 Km/h 2006
Circuit Best Lap: Andrea DOVIZIOSO 2'12.684 150.529 Km/h 2004
World Championship Positions:
1 MARQUEZ 247, 2 TEROL 244, 3 ESPARGARO 235, 4 SMITH 171, 5 CORTESE 132,
6 RABAT 127, 7 VAZQUEZ 123, 8 KOYAMA 109, 9 KRUMMENACHER 90, 10 WEBB 80,
11 ZARCO 77, 12 FOLGER 56, 13 MONCAYO 55, 14 SALOM 47, 15 IWEMA 34.
---
New TV Series Cafe Racer Begins on Discovery HD Theatre October 13th
Airing on October 13th on Discovery HD Theater, this wild ride will consist of thirteen rip-riot, ground pounding episodes focusing on the history of the café racer and the lifestyles of those who build and ride them.
Expect to see rare historical film footage and more rockabilly music than a Gene Vincent reunion tour, all in stunning high-def format broadcast on your favorite channel, Discovery HD Theater.In addition you'll be able to watch as a handful of builders produce some of the most amazing motorcycles all paying homage to the grand daddy of modern sport and race bikes.
Get plugged in to http://www.caferacertv.com and definitely follow it on Facebook and Twitter as this two wheeled love story unfolds… You won't be disappointed! Click here for the TV Schedule
---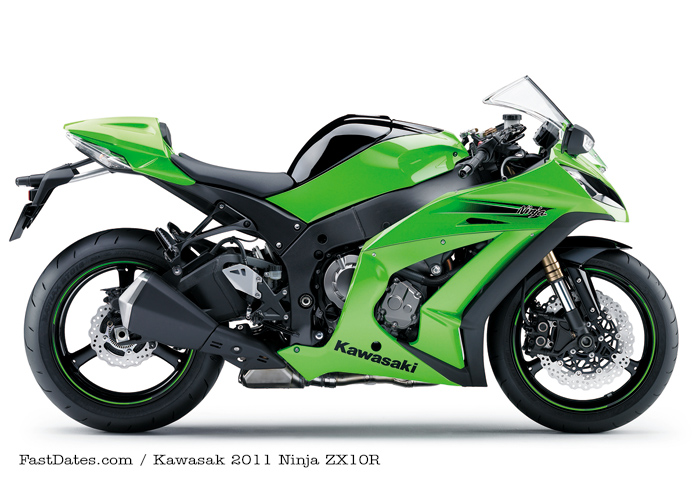 The all new 2011 200hp Kawasaki ZX10R
Intermot, Germany, October 5th - Featuring a new engine, new frame and new suspension, Kawasaki's newest litrebike flagship represents the first complete redesign since the Ninja ZX-10R's debut in 2004, and offers a significant jump in base performance. Ninja ZX-10R models have always pursued the highest circuit performance. To remain competitive, each successive model has offered more power and more control. The latest
machine is no exception. Featuring a new engine, new frame and new suspension, Kawasaki's newest litrebike flagship represents the first complete redesign since the Ninja ZX-10R's debut, and offers a significant jump in base performance.
Designed to enable a greater number of riders to experience the thrill of riding a superbike at the limit, the new Ninja ZX-10R is loaded with cutting-edge technology. New features like Kawasaki's new race-type traction control system (S-KTRC) and supersport-grade ABS (KIBS) are there to assist riders explore the limit. From stock Titanium race headers, traction contol and anti-lock brakes, a slipper clutch, to even an Ohlins steering damper, this is the highest spec Superbike to appear on the scene. The new engine produces 200.1 hp on a static dyno without the advantage of it's ram air, making this the most powerful production litre bike in the world, the perfect weapon for Paul Bird Team Kawasaki to base its assault with a vengence on the 2011 World Superbike Championship.
All New Engine
Designed for both stunning maximum power and manageability, the all-new engine offers a 147.1 kW (200.1 PS) output (without Ram Air), increased throttle control and an engine character that enables more time at full throttle. The new engine offers linear power delivery right to its heady peak power. Great care was taken to ensure ideal engine manageability during all parts of the corner: getting off the throttle in corner entry, getting back on the throttle mid-corner, opening the throttle on corner exit. Peak torque was moved to the higher rpm range, eliminating the torque peaks and valleys that made it difficult for racers to open the throttle with confidence. Keeping mid-range torque at a level no more than necessary further facilitates getting back on the gas.

The new engine features a completely revised crank/transmission shaft layout: the transmission input shaft is now located above the other two. Further, relative to the output shaft, the crankshaft is now located about 10 degrees higher. The new layout contributes to a higher centre of gravity and more centralised mass, enabling even more nimble handling.

• Cylinder bores are machined with a "dummy" head bolted in place, yielding improved bore circularity and cylindricity. As a result of the increased precision, lower tension piston rings can be used, reducing mechanical loss.
• The new engine also features offset cylinder shafts: relative to the crankshaft, the cylinder bore centres are positioned 2 mm toward the exhaust side of the engine. This results in reduced lateral piston force at the point of maximum combustion pressure (reducing mechanical loss) and lower piston loads (enabling the use of lighter pistons).
• Larger intake valves (30 mm >> 31mm) and wider intake ports are complemented by 24.5 mm exhaust valves and completely revised exhaust ports. The new arrangement contributes to more efficient breathing, reduced engine braking effect, more linear power delivery and increased control on throttle opening.
• High-lift cams offer increased valve lift and revised valve overlap.
IN: 9.7 mm >> 10.3 mm EX: 8.5 mm >> 9.1 mm
• This also contributes to the idealised engine braking, offering improved rear wheel traction, as well as greater stability and increased control on corner entry. The changes also facilitate carrying speed into corners (also due to revisions to the chassis), and, along with the engine's overall character, increase the ability to control the chassis using the throttle.
• Larger-diameter intake tappets (26.5 mm >> 29 mm) are used to suit the high-lift cams.
• New lightweight pistons features shorter skirts (20 mm >> 16.5 mm). Using thinner oil rings (1.5 mm >> 1.2 mm) accommodates the deeper recesses necessary to suit the higher-lift cams.
• Camshafts made of chromoly (formerly cast iron) contribute to weight savings. The camshafts receive a revised soft nitriding treatment and the cam portions receive a lapping treatment to ensure sufficient durability to handle the heavier valve springs needed for use with high-power cams and increased operating speed.
• Connecting rods feature stronger rods and big ends to suit the increased power output.
• The crankshaft is made from harder material features stronger pins and journal fillets. Durability of the gear teeth was also increased.
• New ignition stick coils have greater secondary coil current. The improvedcombustion efficiency results in improved performance and driveability.
• A single-shaft secondary balancer helps reduce engine vibration. Its use allows a number of vibration-damping parts to be simplified, contributing to weight savings. (In particular, handlebar weights could reduced, improving steering response.)
Cassette Race Style Transmission
Race-style cassette transmission facilitates gear ratio changes to suit track conditions. With the revised engine layout, the "cassette" is located high enough hat it can be accessed without having the engine oil drain out.

Fine-tuned primary and final reduction ratios minimise rear end movement (squat/lift) on acceleration/deceleration. The more composed rear enables greater freedom with suspension settings. Closer 4th, 5th and 6th gear ratios complement the Ninja ZX-10R's circuit performance.
Primary reduction ratio: 1.611 (87/54) >> 1.681 (79/47). Final reduction ratio: 2.412 (41/17) >> 2.294 (39/17).
Ram Air / Airflow / Dual injection
Ram Air intake is positioned closer to front of the bike (where air pressure is higher), contributing to increasedairbox filling efficiency. New airbox has a higher ceiling, allowing air to enter the intake funnels from above, for more efficient breathing. Airbox volume has also increased (8 litres >> 9 litres) and a new air filter offers a greater effective area (up approximately 48%), both of which further contribute to efficient breathing.

Oval intake funnels (velocity stacks) contribute to flow efficiency. Throttle bodies features larger ø47 mm main throttle valves (previously ø43 mm) for increased power and improved throttle control. Oval sub-throttle valves are also correspondingly larger. An ISC (Idle Speed Control) valve mounted on the throttle body unit automatically adjusts idle speed for more stable performance. In addition to helping meet emissions requirements, this device contributes to easier starting and improved driveability from stops.
Exhaust System
New exhaust header pipes, formed from heat-resistant titanium alloy, have almost the same length and diameter as their race-use
counterparts. (This feature makes it easier for riders to increase exhaust performance (for track applications) without having to replace the entire exhaust system.) Header collectors (4-2 and 2-1 sections) are hydroformed, resulting in a simple, lightweight construction. A larger-volume pre-chamber (formed from stainless steel) contains two catalysers and an exhaust device located at the pre-chamber exit. The pre-chamber enables both reduced exhaust noise and high performance, and contributes greatly to mass centralisation.
New Frame
The chassis, featuring an all-new aluminium twin-spar frame, was completely re-evaluated for enhanced handling, high controllability and significant weight savings. The new twin-spar frame traces a more direct line from the head pipe to the swingarm pivot. This delivers more linear behaviour, translating to greater control. Frame twist was designed to be as close to the main pipes as possible, which further facilitates rider control.
Frame also offers increases cornering stability and a high level of feedback. The new frame is an all-cast construction consisting of only seven pieces. This afforded engineers a great deal of design freedom. Wall thickness could be minimised while ensuring the required strength and rigidity. Fewer pieces also means fewer welds, contributing to a higher-quality appearance and reduced variance in production. Engine hangers (for the upper engine mounts) are unitised with the frame's mainpipes, contributing to weight savings.

Aluminium swingarm
Like the frame, the swingarm is an all-cast (3-piece) construction. The swingarm's rigidity balance was designed to complement the frame.
Horizontal Back-Link Rear Suspension
New rear suspension positions the shock unit and linkage above theswingarm. The new arrangement offers a number of benefits, including increased road holding (especially in the final third of the stroke range), smoother suspension action from initial through mid-stroke (even with hard settings), increased stability and feedback when cornering, as well as contributing to mass centralisation.The Horizontal Back-link rear suspension arrangement frees up space taken up by the Uni-Trak suspension lower linkage, enabling a larger pre-chamber, which in turn allows the use of a shorter muffler and contributes to mass centralisation.
Cutting-Edge Traction Control to Help the Rider Explore the Edge
A number of new high-tech features facilitate rider control and assist riders experience the thrill of riding a high-powered superbike at the limit. S-KTRC (Sport-Kawasaki TRaction Control), Kawasaki's predictive race-type traction control, helps riders push harder on the racetrack by maximising acceleration. KIBS (Kawasaki Intelligent anti-lock Brake System), Kawasaki's supersport-grade high-precision ABS, uses high-precision control to offer added braking reassurance in emergency situations while minimising intrusion during hard sport riding. Power Mode selection offers riders a choice of power delivery to suit conditions.

Predictive race-type traction control: S-KTRC (Sport-Kawasaki TRaction Control)
Highly sophisticated system is based on MotoGP racing technology. Unlike the KTRC system used on the 1400GTR ABS (Concours 14 ABS in
N. America), which was designed to offer rider reassurance when traversing slippery surfaces, S-KTRC, which was designed to maximise
forward motion, allows riding at the edge of traction.

The quickest acceleration requires a certain amount of slip, so, in order to optimise traction, S-KTRC actually allows slip. The ideal slip ratio varies according to conditions. The system looks at a number of parameters to get an accurate real-time picture of what is going on: front and rear wheel speed (slippage), Δ engine rpm, Δ throttle position, Δ slippage, Δ acceleration, etc. Using complex analysis, the system is able to predict when traction conditions are about to become unfavourable. By acting before slippage exceeds the range for optimal traction, drops in power can be minimised, resulting in ultra-smooth operation. The system is also able to distinguish between torque wheelies, which are smooth, and sudden wheelies, which can be dangerous. Torque wheelies are allowed as long as acceptable acceleration is maintained. Sudden wheelies trigger system intervention.
New Suspension BPF (Big Piston Front Fork)
The new BPF with ø43 mm inner tubes is one of the great contributing factors to the new Ninja ZX-10R's enhanced composure under braking. Compared to a cartridge-type fork of the same size, the BPF features a main piston almost twice the size (ø39.6 mm vs ø20 mm on ZX1000F); oil inside the BPF acts on a surface area almost four times the size. The larger surface area allows the damping pressure to be reduced while ensuring the damping force remains the same. Reducing the damping pressure allows the slide pipe to move more smoothly, which is especially noticeable at the initial part of the stroke. The result is greater control as the fork begins to compress and very calm attitude change as vehicle weight shifts forward when reducing speed, and thus greater chassis stability on corner entry.

Because the BPF eliminates many of the internal components used in a cartridge-type fork, construction is simplified resulting in lighter overall fork weight.
Complete Factory ZX109-11 Specification Sheet PDF
---
Ducati introduces revised 1198SP Superbike for 2011, and optional ABS for Monsters
With the next generation Ducati Superbike another year away (see Ducati 5th Generation Superbike Preview), Ducati has updated their current mid-level 1198S Superbike to SP status for 2011. This upgrade includes parts from the current 2010 Corse Special Edition models: the larger capacity aluminum fuel tank which reduces the orierall weight by 2.2 pounds, and a Slipper Clutch. The 1198 base model now gets Ducati Traction Contol (DTC) as standard. And Both models get na electronic shifter aka Ducati Quick Shift (DQS). Here's what Ducati tells us:
| | |
| --- | --- |
| | |
2011 DUCATI SUPERBIKE
The 2011 Superbike model line-up presents the exciting new 848EVO with 140hp, Brembo Monobloc callipers, steering damper and stunning new arctic white silk colour scheme with red frame and red wheels and dark stealth finish with black frame and black wheels. The 1198 now comes equipped with Ducati Traction Control (DTC), Ducati Quick Shifter (DQS) and Ducati Data Analyser (DDA) as standard equipment while the brand new, track-ready 1198 SP rolls out with DTC, DQS, DDA, Ohlins TTX rear suspension, slipper clutch and lightweight aluminium fuel tank.

The application of DTC to the standard model 1198 underlines Ducati's intention to broaden the use of tried and tested race-derived electronics to its high-powered range, while the introduction of DQS to the 1198 and 1198 SP marks the first time in history that "quick-shift" electronics have been fitted to a production Ducati.

The Ducati 848EVO, 1198 and 1198 SP Superbikes are the product of a team of designers and engineers who have combined their Ducati MotoGP and World Superbike technologies to create the finest sportbikes in the world. From race-level engine specifications to World Championship-winning traction control and quickshiftelectronics, the results are pure excellence. The Ducati Traction Control (DTC) system further confirms Ducati's technology flow from racing to production and demonstrates how solutions developed for the track can be applied to enhance safer performance on the road. Ducati Superbikes are race bikes, pure and simple.
Because of the current economic climate, and pricing competition from the other high end European brands like BMW, Aprilia and MV Agusta, Ducati has held their pricing on their new upgraded models for 2011 even with all the performance upgrades. The 848EVO was announced as an early 2011 model this past July. Packing 140hp and weighing a featherweight 369lbs, it is the best performing middleweight sport bike on the market. Already available in Stealth Black and Ducati Red, Intermot saw the addition of a limited production scheme: Arctic White with a red frame and red wheels. Pricing for the 848EVO Dark is an aggressive $12,995.
Setting the standard for Superbike lust is the Ducati 1198. For 2011 the 1198 features a host of upgrades at no extra cost as a reminder to new market competition that Ducati is still the class of the field. The 1198 will now come with the Ducati Traction Control system (DTC) fitted as standard; improving rider safety and lap times in spades. Supporting the DTC system is the new Ducati Quick Shifter, (DQS) which will further assist riders in their never ending conquest for speed. The Ducati Data Analyzer (DDA) enables riders to download traction control and six other performance parameters in order to better understand and improve their riding habits. The 2011 1198 will arrive in showrooms this December at $16,495, just in time to prep the bike for racing season.
The 1198 SP is the new crown jewel of Ducati's formidable Superbike family. It features a massive 170hp and 97 lb/ft of torque combined with a flyweight of 370lbs. Making the package work for the rider is a combination of electronic rider aids and performance oriented hard parts found on no other sport bike available. The electronics include a MotoGP derived digital dash, Ducati Traction Control, the new Ducati Quick Shifter and a Ducati Data Analyzer to review all measures of performance data. The top of the line suspension includes Ohlins front forks and an Ohlins TTx rear shock. These match up with a Ducati Performance Slipper Clutch, aluminum fuel tank and Brembo Monobloc calipers to ensure world class performance for only $21,995
2011 Ducati Superbike Specification Chart
2011 DUCATI MONSTER
The 2011 Monster range sees the 696 with a comfort-enhancing 20mm bar-riser, 43mm Marzocchi front suspension, a new dark stealth and stone white colour scheme with dark chrome handlebar finish and a new sub-frame ready for the Ducati Performance grab-rail accessory. Launched as an early entry to model year 2011, the 796 now gets Marzocchi front suspension, while the 1100 and 1100 S follow the rest of the range with a new sub-frame ready to accept accessory passenger grab-rails. The latest Monster family provides a stylish range of lifestyle motorcycles, all available with optional ABS and with high attention to user-friendly detail. The Monster's cult status as a design icon of hand-built, naked motorcycles remains as authentic as ever.

Monster ABS
The 2011 Monster family now offers all models with optional anti-lock braking system (ABS). The ABS developed by Ducati and offered as an option on the entire Monster family is the most sophisticated version available in motorcycling. Designed to reduce the risk of wheel-lock under heavy braking or when braking in low grip conditions, the system reads wheel speed data from phonic wheel sensors to detect potential wheel lock. If the wheel speed differential falls below a specific safety limit, the control unit immediately reduces the brake system pressure to the appropriate calliper to avoid wheel lock. The pressure reduction on each individual braking circuit is activated by electronically controlled valves,
which then close as the wheel speed differential moves away from a locking scenario.
---
MCE INSURANCE BRITISH SUPERBIKE CHAMPIONSHIP
Final round – Oulton Park – 8/9/10 October
HAT TRICK HERO KIYONARI IS BRITISH CHAMPION FOR THE THIRD TIME
Oulton Park, Great Britain 8/9/10 October - Ryuichi Kiyonari was crowned British champion for the third time after a dramatic and incident packed triple race final round of the MCE Insurance British Superbike series at Oulton Park. The HM Plant Honda rider had gone into the action in third place in the standings, but powered into contention as he won the first of the three races on Saturday afternoon, running almost a second clear of the leader in the title stakes, Suzuki riding Tommy Hill. That put Kiyonari into second place in the title takes, ten points down on Hill, and although admitting he was nervous going into Sunday, the Honda rider was to enjoy a slice of good fortune with Hill soon out of the running in the first of those races.
An incident at Lodge Corner provided the major turning point in the outcome of the title. Hill was duelling fiercely with Swan Honda rider James Ellison for supremacy, with the lead changing several times but on the seventh lap it all went wrong for the Worx Suzuki rider who was running a close second. Trying to nose through on the inside line of the right-hander, Hill clipped Ellison's bike – they both tumbled, but Hill managed to re-start, only to crash spectacularly again shortly afterwards, extensively damaging his bike.
Four other riders tumbled in the aftermath of that incident and the race was red-flagged. On the res-start, over seven laps Kiyonari took charge, winning comfortably ahead of his team-mate Josh Brookes to move ahead in the chase for the crown. Swan Honda rider Stuart Easton took third place, while Ellison, who had made the re-start was back in seventh place.
Kiyonari had a 15 points advantage over Hill as they lined up for the final race of the season for which Kiyonari was on pole. Hill, on a bike rapidly re-built, was on the third row, but full of fight. There was no stopping Kiyonari once he had moved ahead of Michael Laverty on the second lap, as he dictated terms from the front, while adrift of him, Brookes carved through the pack from seventh on the opening lap, to be running second, and little more than half a second down.
Ellison ended what had been a difficult campaign, in which his title hopes had been wrecked by a broken leg sustained in practice for the second row, finished the campaign with a solid ride into third place, but his Swan Honda team-mate Stuart Easton was sidelined by a machine problem.
Kiyonari took his third British title 649-625 over his team-mate Josh Brookes with Hill, who had led the title chase for most of the season, third overall on 620 points.

Ryuichi Kiyonari (HM Plant Honda): "The first race on Sunday was good for me but I was feeling more nervous ahead of the last race as I felt that the pressure was on me and that I had more to lose. It was a good race and I wanted to win so badly. The second race I was pushing hard as I knew that the others needed the win, but it feels a relief now as the win was enough to be champion again. It has been a big fight all season and all the other riders haven't made it easy for me all year. It has been tough and there have been good and bad moments but now I can relax. The championship means as much to me as the others and I have to thank everyone for their support and the team for their hard work."
Josh Brookes (HM Plant Honda): "The start of the first Sunday race was not great for me but I was making progress, then Tommy went down and then Michael crashed in front of me and it was crazy as I was on the grass and doing all I could just to keep going. The red flag came out and we changed the tyre but we had a chatter problem and I was doing everything I could but it just wasn't enough as I was struggling. It was so frustrating when Stuart (Easton) went passed me but it was points that mattered. In race two I didn't get a good start and I think I clipped the kerb going into the first corner and then it all was pretty mad and I dropped down the pack. We had made a slight change from the first race and it meant that I had the confidence to really push it. I was catching Kiyo but I just couldn't get that final bit, but it was a good race to finish the year with a podium, but I really wanted the championship win. I suppose it is something to come back for next season!
Havier Beltran (Team manager HM Plant Honda): "Coming into the weekend we knew we had a points deficit and we knew the title was obtainable but we had to beat Tommy Hill to do it. Thing changed for us and Kiyo was phenomenally fast and feeling confident we could win. Today we could never have expected and I couldn't express how the team felt going into the final race of the season with the advantage. The whole team have worked hard all season with the support of our championship sponsors an to finish first and second in the standings is just fantastic and we couldn't have asked for more from Kiyo and Josh."
James Ellison (Swan Honda): "It has been a rollercoaster of a year for me and again this weekend. I wanted to win so badly today and I have been pushing hard as I felt stronger here than I have over the past rounds. I wanted to end the season on a high and it just wasn't to be. I thought I could win but Kiyo braked late and I had to brake harder to avoid him which unsettled me and I was on the grass. I couldn't have tried harder this weekend and I have to thank the Swan Honda team for their efforts this season."
Stuart Easton (Swan Honda): "That was a tough race and the move to get ahead of Josh was like I put on Leon Camier here last year, but I just waited and if I could do it then I knew I would just have to go for it. I think Hizzy (the late former British Champion Steve Hislop) must be up there helping me as I always seem to make my moves there. It's not a win but its champagne so hopefully we can do the same in the last race. In the second race I was suffering with chatter problems which forced me to retire which was frustrating after the podium earlier in the day but I need to thank everyone at Swan Honda for their support."
Shaun Muir (Team owner Swan Honda): "It has been a frustrating year overall for us, but we ended it with a double podium. We knew we had the potential and seeing James here makes you wonder what could have been. We are happy to have come away with these podium finishes and now we can go away and plan for next season to come back stronger."
Results Race1
1 / Ryuichi KIYONARI / JPN / Honda - HM Plant Honda / 25:43.282 /
2 / Tommy HILL / GBR / Suzuki - Worx Crescent Suzuki / 25:44.103 / 0.821
3 / James ELLISON / GBR / Honda - Swan Honda / 25:48.989 / 5.707
4 / Michael LAVERTY / GBR / Suzuki - Relentless Suzuki by TAS / 25:51.741 / 8.459
5 / Josh BROOKES / AUS / Honda - HM Plant Honda / 25:57.909 / 14.627
6 / Tommy BRIDEWELL / GBR / Honda - Quay Garage Tyco Racing / 25:58.283 / 15.001
7 / Stuart EASTON / GBR / Honda - Swan Honda / 26:00.121 / 16.839
8 / Gary MASON / GBR / Kawasaki - MSS Colchester Kawasaki / 26:03.391 / 20.109
9 / John LAVERTY / GBR / Kawasaki - Buildbase Kawasaki / 26:11.314 / 28.032
10 / Loris BAZ / FRA / Yamaha - Motorpoint Yamaha / 26:16.111 / 32.829
11 / Dan LINFOOT / GBR / Yamaha - Motorpoint Yamaha / 26:16.341 / 33.059
12 / Simon ANDREWS / GBR / Kawasaki - MSS Colchester Kawasaki / 26:17.312 / 34.030
13 / Yukio KAGAYAMA / JPN / Suzuki - Worx Crescent Suzuki / 26:18.007 / 34.725
14 / Peter HICKMAN / GBR / Yamaha - Ultimate Racing / 26:18.249 / 34.967
15 / Alastair SEELEY / GBR / Suzuki - Relentless Suzuki by TAS / 26:20.428 / 37.146
Fastest lap: Lap 12 Tommy HILL GBR Suzuki - Worx Crescent Suzuki 1:35.680 163.00 kph
Results Race2
1 / Ryuichi KIYONARI / JPN / Honda - HM Plant Honda / 11:16.253 /
2 / Stuart EASTON / GBR / Honda - Swan Honda / 11:19.246 / 2.993
3 / Josh BROOKES / AUS / Honda - HM Plant Honda / 11:19.484 / 3.231
4 / Michael RUTTER / GBR / Ducati - RidersMotorcycles.Com / 11:20.301 / 4.048
5 / Alastair SEELEY / GBR / Suzuki - Relentless Suzuki by TAS / 11:23.690 / 7.437
6 / John LAVERTY / GBR / Kawasaki - Buildbase Kawasaki / 11:27.704 / 11.451
7 / James ELLISON / GBR / Honda - Swan Honda / 11:27.727 / 11.474
8 / Michael LAVERTY / GBR / Suzuki - Relentless Suzuki by TAS / 11:31.155 / 14.902
9 / Loris BAZ / FRA / Yamaha - Motorpoint Yamaha / 11:31.501 / 15.248
10 / Adam JENKINSON / GBR / Kawasaki - Buildbase Kawasaki / 11:36.979 / 20.726
11 / Steve BROGAN / GBR / BMW - Jentin Racing - BMW Motorrad / 11:37.165 / 20.912
12 / Tom TUNSTALL / GBR / Honda - Doodson Motorsport / 11:37.320 / 21.067
13 / Yukio KAGAYAMA / JPN / Suzuki - Worx Crescent Suzuki / 11:39.956 / 23.703
14 / Gary MASON / GBR / Kawasaki - MSS Colchester Kawasaki / 11:42.840 / 26.587
15 / Hudson KENNAUGH / RSA / Aprilia - Splitlath Motorsport / 11:43.226 / 26.973
Fastest lap: Lap 2 Ryuichi KIYONARI JPN Honda - HM Plant Honda 162.79 kph
Results Race3
1 / Ryuichi KIYONARI / JPN / Honda - HM Plant Honda / 26:07.496 /
2 / Josh BROOKES / AUS / Honda - HM Plant Honda / 26:08.135 / 0.639
3 / James ELLISON / GBR / Honda - Swan Honda / 26:12.027 / 4.531
4 / Michael LAVERTY / GBR / Suzuki - Relentless Suzuki by TAS / 26:15.290 / 7.794
5 / Tommy HILL / GBR / Suzuki - Worx Crescent Suzuki / 26:16.851 / 9.355
6 / Loris BAZ / FRA / Yamaha - Motorpoint Yamaha / 26:18.217 / 10.721
7 / Alastair SEELEY / GBR / Suzuki - Relentless Suzuki by TAS / 26:20.352 / 12.856
8 / John LAVERTY / GBR / Kawasaki - Buildbase Kawasaki / 26:24.716 / 17.220
9 / Chris WALKER / GBR / Honda - Sorrymate.com SMT Honda / 26:24.827 / 17.331
10 / Dan LINFOOT / GBR / Yamaha - Motorpoint Yamaha / 26:30.377 / 22.881
11 / Yukio KAGAYAMA / JPN / Suzuki - Worx Crescent Suzuki / 26:37.724 / 30.228
12 / Adam JENKINSON / GBR / Kawasaki - Buildbase Kawasaki / 26:38.116 / 30.620
13 / Tom TUNSTALL / GBR / Honda - Doodson Motorsport / 26:39.112 / 31.616
14 / Hudson KENNAUGH / RSA / Aprilia - Splitlath Motorsport / 26:48.357 / 40.861
15 / Simon ANDREWS / GBR / Kawasaki - MSS Colchester Kawasaki / 26:49.265 / 41.769
Fastest lap:Lap 14 James ELLISON GBR Honda - Swan Honda 1:35.848 162.72 kph
Final Championship points
Name Total
1 KIYONARI 649, 2 BROOKES 625, 3 HILL 620, 4 LAVERTY 604, 5 RUTTER 559, 6 SEELEY 550,
7 ELLISON 210, 8 LAVERTY 190, 9 EASTON 189, 10 WALKER 130, 11 BRIDEWELL 105,
12 MASON 104, 13 ANDREWS 103, 14 LINFOOT 101, 15 KAGAYAMA 92.
---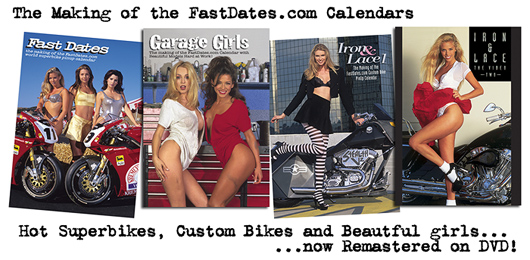 The making of the FasDates.com Calendars DVD movies are available from Amazon.com and in the FastDates.com Video Store.
---
There's more! Go to Pit Lane News Next Page

Also Visit: Fast Dates Calendar News • Iron & Lace Calendar News
Calendar Girl News • Meet the Models • Paddock Garage

Calendar Kittens, Paddock Garage, Screensavers, Iron & Lace Garage





MotorcycleSuperstore.com
Some of our Calendar Kittens can also at Playboy's website...


FREE! New Met-Art Model Galley Updated Daily - Stop Back Each Day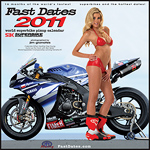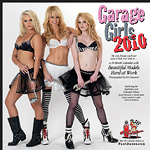 2011 Calendars!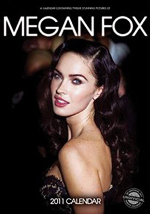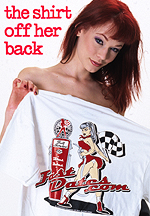 Order the Official
FastDates.com &
LA Calendar Bike Show
T-Shirts!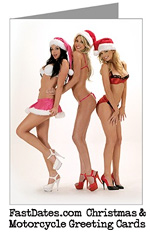 Order Your FastDates.com
Christmas Cards Now!
---
Management changes see BMW Motorrad sets its course for the future in the FIM Superbike World Championship.
Munich/Stephanskirchen, 12th October 2010. BMW Motorrad Motorsport is heading into
the future with a new management structure. Bernhard Gobmeier will replace Berthold
Hauser as BMW Motorrad Motorsport Director with immediate effect. The move comestwo weeks after BMW Motorrad and Team Manager Davide Tardozzi agreed to part
company by mutual consent. Gobmeier will be responsible for all BMW Motorrad Motorsport activities, including the company's factory involvement in the Superbike World Championship.

It is rumored that Tardozi, former Ducati Corse team manager for many years, may be taking over as team manager at the Yamaha World Superbike team based out of Monza, Italy. We spoke to Davide last May at Miller WSB and he told us, that while working at BMW in Germany, he was still commuting home on non race weekends to be with his family at their home back in Italy. The move to Yamaha in Monza will alow Davide to spend more time back at home with his family.
"I'm pleased to announce this fundamental realignment," says Hendrik von Kuenheim,
General Director of BMW Motorrad. "The new structure puts BMW Motorrad Motorsport
in extremely good shape to meet the challenges of the future. Bernhard Gobmeier has
filled a variety of roles within the BMW Group over the years and brings his experience in
motor sport to the job. I'm in no doubt that he will continue to take BMW Motorrad
Motorsport forwards with his analytical and structured approach. He will bring himself up to speed with the current situation as quickly as possible and put the necessary
measures in place."
And von Kuenheim continues: "I would like to thank Berthold Hauser for all his good work
over recent years. He can look back on some impressive successes in his career as BMW
Motorrad Motorsport Director. Under his leadership Richard Sainct won the Paris-Dakar
Rally in 1999 and 2000 as BMW Motorrad made its return to the event. And Berthold
Hauser was also responsible for the team's successful start to life in the Superbike World
Championship and its first podium finishes. He will continue to perform a managerial role
for BMW Motorrad."
New BMW Motorrad Motorsport Director Gobmeier, adds: "I'm looking forward to taking
on this new challenge in a top-class race series with a professional racing team and two
strong riders. Our aim is clear: to build consistently on the positive foundations which
Berthold Hauser and his team have put in place over recent years, so that we can be in a
position to win races on merit as soon as possible."
Gobmeier, a qualified engineer, has worked for BMW AG for more than 16 years, during
which time he has performed a variety of roles. In 1994 and 1995 he was responsible for
overhauling the company's sales activities for BMW M vehicles in North America and
restructuring its racing activities in the American Le Mans Series (ALMS) with the BMW
M3 GT. The native Bavarian then filled various management positions within BMW M
GmbH between 1996 and 2008, before taking over as head of chassis development at
BMW Motorrad in 2008.
---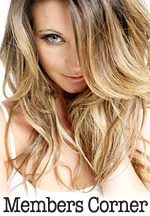 Hot Bikes, Sexy Kittens
Your Exclusive Grid Pass
also includes....
---
Michel Fabrizio Returns to Alstare Suzuki for the 2010 World Superbike Championship
With the departure of the Ducati Corse Superbike team from World Superbike, and Alstare's loss of Leon Haslem to BMW because of its reduced budget from Suzuki of Jpan, Alstare Suzuki has annunced they have signed Michel Ffabrizio for the coming season....
October 9th - Former Alstare rider Michel Fabrizio has rejoined the team and will spearhead their attack on the 2011 Superbike World Championship next year. Michel is no stranger, having raced for Team Alstare Suzuki Corona Extra in the 2003 European Superstock Championship, taking four wins and winning the title in the process. Most of the mechanics he worked with then are still with the team these days, so his first outing, during the Magny-Cours tests last week, saw him slip easily into place and start working well straightaway. The tests were hampered by poor weather on the first day, but day two saw sunshine, a dry track and rapidly falling lap times. Considering that Michel has spent the last three seasons riding a twin cylinder bike, he was soon comfortably into the groove on Suzuki Alstare's 2010 GSX-R1000 and left the French track pleased with his first ride on a four cylinder Superbike since 2007.

Michel - "I am very happy with how the tests went at Magny-Cours last week, even though the weather was not so good on the first day. I am a bit surprised how easily I got used to the Suzuki Alstare bike after three years of riding a twin. A twin requires a completely different style to a four, so to jump onto a four and get comfortable so soon is a very good sign. Having known the team from before obviously helped and soon I felt as if I had never been away. My first impressions of the bike are that it feels strong and can be a title contender. Leon showed that this year, so I am looking forward to more tests and then racing it. This championship is very hard and competitive and you have to be on your game all the time. But, I know I have a good team behind me and I think we can have a very good season next year."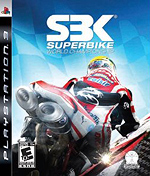 New Playstation!
Superbike & MotoGP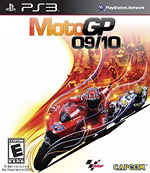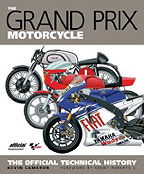 ---
FIM Superbike World Championship 2011 Provisional Calendar
February 27 Australia
Phillip Island
March 27 Europe
t.b.a
April 17 The Netherlands
Assen
May 8 Italy
Monza
May 30 (Monday) United States
Miller Motorsport Park
June 12 San Marino
Misano
June 19 Spain
Motorland Aragon
July 10 Czech Republic
Brno
July 31 Great Britain
Silverstone
September 4 Germany
Nurburgring
September 25 Italy
t.b.a
October 2 France
Magny Cours
October 16 Portugal
Portimao
2011 Provisional MotoGP calendar announced
The provisional calendar features the GP of Aragon again following a successful visit there this year.
March 20 - Qatar – Doha Losail (Evening race)
April 3 - Spain - Jerez de la Frontera
April 24 - Japan - Motegi
May 1 - Portugal - Estoril
May 15 - France - Le Mans
June 5 - Catalunya - Catalunya
June 12 - Great Britain - Silverstone
June 25 - Netherlands - Assen (Saturday Race)
July 3 - Italy - Mugello
July 17 - Germany - Sachsenring
July 24 - United States - Laguna Seca (Only MotoGP class)
August 14 - Czech Rep. - Brno
August 28 - Indianapolis - Indianapolis
September 4 - San Marino and Riviera di Rimini - Misano
September 18 - Aragon - Motorland Aragon
October 16 - Australia - Phillip Island
October 23 - Malaysia - Sepang
November 6 - Valencia - Ricardo Tormo – Valencia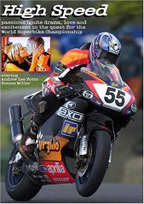 High Speed - the Movie
The best motorcyce racing movie ever made! Filmed on location at World Superbike, this an exciting romantic drama staring beautiful actress Sienna Miller.


Erotica Archives
FREE New Model
Galley Updated Daily
Warning Contains Nudity
---
Jorge Lorenzo -
My dream has come true!
The 2010 MotoGP World Champion
"This is my first title in the premier category and my dream has come true! This is really the maximum a motorcycle rider can achieve in his career so we have to celebrate and enjoy these hours, minutes and seconds like it's the end of the world. You imagine this moment in your head your whole life but when it comes you don't know how to act or what to say. I am trying to be relaxed, to speak clearly and not say anything crazy! I'm so tired right now; I just need to be alone in a room for a few minutes, just thinking about what I've done!
I want to thank so many people, it's difficult to find the words but I have to mention Yamaha, all my team, Bridgestone and everyone involved. And of course thank you very much to my fans, who have been with me every step of the way.
The perfect situation today would have been to win, but it wasn't to be this time. I made a good start and was riding well and I thought I could go away from Andrea at one point, but then he overtook me and then Valentino as well, and I thought there were too many risks today to fight for the victory; it was better to wait until the end of the race.
Motorcycling is my passion and my job but it's also a game, and this is what I was saying when I held up the sign saying 'game over.' Today it's over for this season because I am the World Champion! I don't think about the future now, I just want to celebrate my first MotoGP title and I can't think beyond this night. The future will be tough and exciting, with giants for my rivals, but we don't need to think about that now, we can just enjoy the moment.
Phillip Island isn't my best track for MotoGP but I want to try to win because I haven't won there. I want to win some more races this season and I will try my hardest to do so.
We have come such a long way; some things happen very slowly in your career and some very fast. When I started in the World Championship I was almost last in the 125 class but in only eight years I have become MotoGP World Champion. It's incredible how life can change. We have fought so hard and for this. I've been fortunate because I've had good luck, good bikes and good teams. I've always been surrounded by people who want to best for me and I am very grateful for this. The pre-season didn't start so well with my broken finger but in the end it's been a fantastic year. If I had to pick the three best races I would say the number one was Jerez, because it was the first time I won there in MotoGP and it's maybe the best place to win a race. Plus I enjoyed my jump in the lake! Silverstone was maybe the best race I made, because I was aggressive and fast. Then finally here, not for the riding but for the importance and the World Championship. I don't know yet if I will use the number one next season. If I can think of a good design then yes, if not I stick with 99!
World Champion - it sounds unbelievable to hear these words, it is such a pleasure, you feel like you're king of the world. We will enjoy this night to the maximum."
JORGE LORENZO STATISTICS
• Jorge Lorenzo becomes only the second Spanish rider to win the MotoGP world title - the other was Alex Criville in 1999.
• He is the first Spanish rider to win world titles in both the 250cc class and premier-class.
• Lorenzo has finished in the top four at the first fifteen races of the year on his way to taking the world title.
• At the age of 23 years 159 days he is the sixth youngest rider of all-time to win the premier-class title after: Freddie Spencer, Casey Stoner, Mike Hailwood, John Surtees and Valentino Rossi.
• He is the third youngest rider to have won world titles in both the 250cc and premier-class, after: Mike Hailwood and Valentino Rossi.
• During 2010, Jorge Lorenzo became only the fourth rider in the 62-year history of motorcycle Grand Prix racing to finish on the podium in the premier-class at the opening twelve GP races of the year.
Visit with Lorenzo Online November 4th
To all fans who would like to personally congratulate Jorge and the team you are kindly invited to leave a message on our Facebook page: www.Facebook.com
/YamahaRacingcom , on the 'Contrats 99' tab. All your posts will be passed on to Jorge during the weekend of the Spanish Grand Prix in Valencia (5-7 November) and Jorge will then select 5 lucky fans of those who left him a nice message to be invited to have a unique and exclusive chat with the new MotoGP world champ through Skype! So make sure you leave your salutation on our 'Congrats 99' page before Thursday 4th of November, 18.00 pm CET.
Althea Gears Up as Ducati's Official Suport Team in 2011 World Superbike
Oct 14th - With a couple of weeks to go before several World Superbike teams begin testing at Motorland Aragon, the Althea Racing Team is starting preparations for next season with a first taste of the Spanish track. Following the withdrawal of the factory squad, Althea Racing has become Ducati's de facto representation in the championship and the team run by Genesio Bevilacqua will be aiming to be one of the contenders for the 2011 title, with rider Carlos Checa.
The three-day Aragon test will be a first opportunity to face up to next year's rivals and the Italian entrepreneur and General Manager of the team is already relishing the challenge. "We will be going to Aragon with a package that is already competitive and together with Carlos we will be pushing forward in the development work we began in 2010," declared Bevilacqua. "Taking to the track as an 'official' team doesn't worry us at all, because over the past season we showed on a number of occasions that we could compete with the top teams and third overall in the championship is clear evidence of that. It is obvious that we will have to work hard to keep up with our rivals, but we are ready and can't wait to begin this new adventure".
Carlos Checa will be testing on his 'home' track and this may be extra stimulus for the Spaniard to do well on his first pre-2011 season test. A good result will also show once again that the rider from San Fruitos and the Italian Ducati team have reached a good level of feeling together. "It will be an extra stimulus for him to do well," continued Bevilacqua, "because all eyes will be on him. As always we will try and make available the best possible bike for him thanks also to direct support from Ducati".