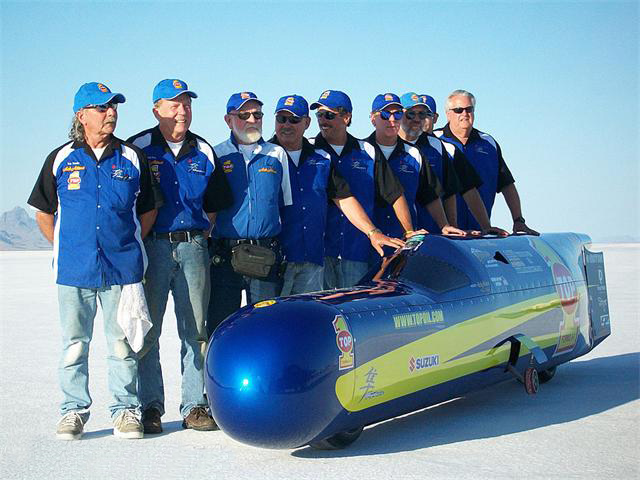 Ack Attack Sets New Motorcycle Top Speed Record of 376.156 mph
Bonneville, Utah, Sept 25th 2010 - Rocky Robinson and the Top 1 Ack Attack crew battled through adversity all weekend long to set a new motorcycle world land speed record of 376.156 mph at the Cook Motorsports Top Speed Shootout 2010 at the Bonneville Salt Flats. After a first run where Rocky said the Ack Attack streamliner wanted to "heel over to the right" followed by gearing issues that almost prevented them from making a final run, Rocky and the Ack Attack crew pulled it all together to make a record-breaking run down the Bonneville Salt Flats. The Ack Attack streamliner's exit speed was an incredible 394 mph while its kilo record was 376.363.
Robinson once again holds the title of world's fastest man on two wheels after recapturing the title he lost to Denis Manning's BUB 7 streamliner. His 394 mph exit speed is the closest yet to the magical 400 mph barrier teams like Ack Attack and BUB 7 strive to shatter. Here's what Robinson's team posted on his official site.
"What a year it's been. To summarize, Rocky has taken the record back on September 25, 2010 at 376.363 mph after losing the record he held from the TOP 1 OIL World LSR Shoot Out in 2008 to his rival Chris Carr on the BUB Streamliner at the Cook's Shootout in 2009."
Robinson barely managed to break the 300 mph barrier on his first run after experiencing difficulties with the streamliner's aerodynamics tilting to the right. Later, Mike Akatiff and team had to deal with an engine that wouldn't shift into fifth or sixth gear.

Rocky Robinson emergerges from Ack Attack after his record run. Photo curtesy Brenda Leale
Here is a post from the the Landracing Forum chronicling the problems that plagued the team right up to the last second. "So if the bike wouldn't shift beyond fourth (well, one engine would, the other wouldn't) -- well, what to do? While Rocky was in the pit he was brainstorming. Mike Akatiff went to the lawnmower pit (about 5 miles down course) to join in the celebration and while he was gone Rocky got the idea of re-gearing so fourth would maybe do it. He called Mike, he and Mike talked to the gear guy and decided that such-and-such sprockets would be right for 385 or so in fourth, and they decided that what the heck, there wasn't much to lose if it didn't work -- and everything to gain. So they dug around in the parts boxes -- witness this stack of rear sprockets."
The adversity Rocky and his team had to overcome makes their accomplishment all the more remarkable. Congratulations, Rocky and the Ack Attack team on your world record-setting run. Can't wait for you to share the story in your monthly Motorcycle USA column, Salt Addiction.
---
The Ducati MotoGP Team got togther for a viictory photo after the Aragon win. Click to GO BIG.

MotoGP World Championship, Gran Premio A-Style de Aragón, Spain, Round 13 of 18

Stoner storms to his first win of 2010 at Aragon with a Ducati 1-3
Aragón, Spain Sunday 19 September- Casey Stoner took his first victory of the 2010 campaign at Aragón on Sunday, converting his pole position at the Spanish circuit into a well-deserved win. The Ducati Team rider finished 5.148s ahead of Dani Pedrosa, with Nicky Hayden completing the podium for his first top-three result of the year after a magnificent last-lap overtake on championship leader, Jorge Lorenzo.
Starting from pole Stoner held his position going into the first turn, but usual rapid starter Pedrosa dropped to fifth as the riders bunched up in the tight opening curve. The Repsol Honda rider fought back in the early stages of the race however to climb to second behind Stoner, and the gap between the two fluctuated throughout. The pair were consistently fast for the duration of the race but Stoner managed to pull away towards the end as he achieved what was eventually a comfortable 25 points, with Pedrosa maintaining his good form in second.
There were battles all the way through the field and none more entertaining than that between Hayden and Lorenzo for the final podium spot. A fearless overtake on Lorenzo by Hayden on the final lap delivered the American the honours, and ended the Fiat Yamaha rider's record of having placed on the rostrum at every race so far this season. weBen Spies notched another impressive result with fifth place as he resisted the challenge of Andrea Dovizioso, who crashed out on the final lap whilst pushing hard in better the American
Valentino Rossi rounded off a tough weekend in sixth place, whilst rookies Marco Simoncelli and Álvaro Bautista completed the top eight with solid displays. Marco Melandri and Aleix Espargaró took top-ten finishes, whilst Randy de Puniet escaped injury when he crashed out on lap 16.
Lorenzo's advantage at the top of the Championship was cut to 56 points and he now stands on 284 points, with Pedrosa on 228 in second. Stoner's victory lifts him to third on 155, with Rossi staying fourth and Dovizioso dropping to fifth.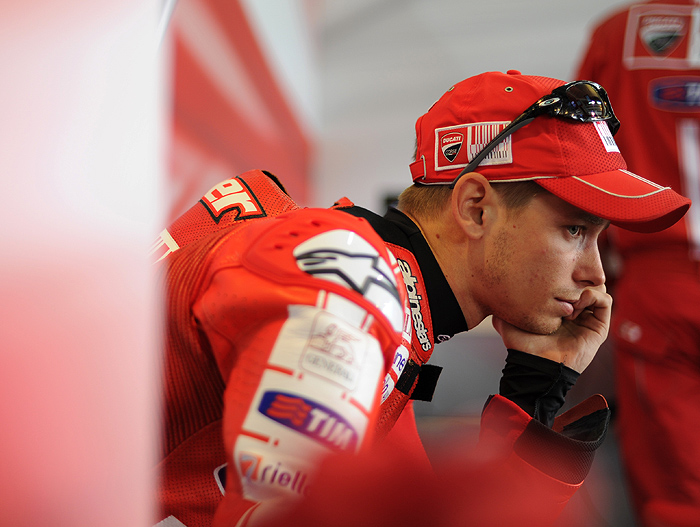 Casey Stoner (Ducati Marlboro Team) 1st - "This win is a big relief, to be honest! We had the first race in Qatar wrapped up until I made a mistake and their have been other opportunities to win this year that I have missed out on through my own errors. We have had a lot of problems trying to find the final two or three tenths to run with Dani and Jorge this season but we changed the bike completely this weekend to adjust my position on it and got it working almost how we want it to. I had a little slip off in warm-up this morning which was a worry going into the race. I was staying away from every white line that I could over the first few laps but we were able to pick up the pace when we needed to and bring home a win. I want to thank the team, the factory and everybody who has stuck by me – I'm just sorry it took so long!"
Dani Pedrosa (Repsol Honda RC212V): 2nd - "I'm pretty happy with second place today even though of course I wanted to win in front of the Spanish fans. In the first corner I had a slide which lost me a couple of places and then over the next few laps I had to make up some positions before getting behind Casey. By this point he was quite a way in front and our pace was similar at this stage so I tried really hard to catch him and managed to close the gap. But then I started to have some rear-wheel slides and it wasn't possible for me stay with him so I thought: 'Ok, this is my place today.' Our bike here was struggling more with tyre wear than some of the others, but anyway, second place is not bad and the championship is still alive, even though it will be very difficult to catch Lorenzo. I'd like to say thanks to my team who are working really hard, and I want to maintain this momentum because recently we have been fast at every race. I'm looking forward to Honda's home event at Motegi."
Nicky Hayden – (Ducati Marlboro Team) 3rd - "It feels great to be back on the podium and I really enjoyed myself today. The bike has been working really well all weekend and in the race I was able to get a good start and stay with Jorge. There wasn't really anywhere I could get a wheel in and over the last couple of laps he pushed hard to get away but I decided that fourth wasn't good enough for me today. I did a bit of a backyard move in the chicane over there and managed to hold him off to the line. It's nice to be on the podium, it has been a really good weekend for us and for the team, the sponsors and the supporters I'm glad we could be up here today. We'll try to do it again a few more times before the season's over!"
Vittoriano Guareschi, Ducati Team manager - "I am really happy for Casey, Nicky and all the team because today is payback for all their hard work. They have never backed off, even in the difficult moments. We came to a track that nobody had been to before but our bike worked well from the start. Both Nicky and Casey were fast in all conditions and today they produced a fantastic performance. Casey pushed very hard from the start to the finish but he always had the situation under control and even when he made a little mistake he recovered strongly and lap after lap he established an insurmountable lead over Dani. He really was brilliant today. Nicky was also fantastic because he kept up a strong pace throughout the race and never gave Lorenzo the chance to escape. He fought with him right to the end and came out with a podium. Congratulations to everybody but now we have to keep working as hard as ever to make sure we finish the season strongly."
Results MotoGP: (23 laps = 116.794 km)
Pos / Rider / Nat / Team / Motorcycle / Time/ KM/H / Gap
1 / Casey STONER / AUS / Ducati Team / DUCATI / 42'16.530 / 165.761 /
2 / Dani PEDROSA / SPA / Repsol Honda Team / HONDA / 42'21.678 / 165.425 / 5.148
3 / Nicky HAYDEN / USA / Ducati Team / DUCATI / 42'26.026 / 165.143 / 9.496
4 / Jorge LORENZO / SPA / Fiat Yamaha Team / YAMAHA / 42'26.110 / 165.137 / 9.58
5 / Ben SPIES / USA / Monster Yamaha Tech 3 / YAMAHA / 42'30.301 / 164.866 / 13.771
6 / Valentino ROSSI / ITA / Fiat Yamaha Team / YAMAHA / 42'43.860 / 163.994 / 27.33
7 / Marco SIMONCELLI / ITA / San Carlo Honda Gresini / HONDA / 42'45.041 / 163.918 / 28.511
8 / Alvaro BAUTISTA / SPA / Rizla Suzuki MotoGP / SUZUKI / 42'51.784 / 163.489 / 35.254
9 / Marco MELANDRI / ITA / San Carlo Honda Gresini / HONDA / 42'51.923 / 163.48 / 35.393
10 / Aleix ESPARGARO / SPA / Pramac Racing Team / DUCATI / 42'51.997 / 163.475 / 35.467
11 / Hector BARBERA / SPA / Paginas Amarillas Aspar / DUCATI / 42'52.052 / 163.471 / 35.522
12 / Colin EDWARDS / USA / Monster Yamaha Tech 3 / YAMAHA / 43'01.890 / 162.849 / 45.36
13 / Hiroshi AOYAMA / JPN / Interwetten Honda MotoGP / HONDA / 43'04.849 / 162.662 / 48.319
14 / Mika KALLIO / FIN / Pramac Racing Team / DUCATI / 43'14.577 / 162.052 / 58.047
Pole Position: Casey STONER 1'48.942 167.803 Km/h
Fastest Lap (New record): Dani PEDROSA 1'49.521 166.915 Km/h Lap 9
Old Circuit Record Lap: New Circuit
Circuit Best Lap: Casey STONER 1'48.942 167.803 Km/h 2010
World Championship Positions:
1 LORENZO 284, 2 PEDROSA 228, 3 STONER 155, 4 ROSSI 140, 5 DOVIZIOSO 139,
6 SPIES 131, 7 HAYDEN 125, 8 DE PUNIET 81, 9 MELANDRI 74, 10 SIMONCELLI 74,
11 EDWARDS 70, 12 BARBERA 66, 13 ESPARGARO 50, 14 BAUTISTA 49, 15 CAPIROSSI 41.
Iannone takes his third win of 2010 in the Moto2
Andrea Iannone took his third win of 2010 in the Moto2 World Championship at Aragón on Sunday with another dominant performance, securing victory from pole position by a margin of 6.203s over second placed Julián Simón. Iannone's Fimmco Speed Up teammate Gabor Talmacsi completed the podium with championship leader Toni Elías fourth.
The leading quartet managed to avoid a crash at turn one, which was started by Fonsi Nieto, who also collected Alex Baldolini, Mattia Pasini, Ricky Cardús and Yonny Hernández on his way to the gravel trap. All the riders involved were uninjured. Just as he'd done to take his first win of the season in Mugello, Iannone got away at the front and immediately set about building an insurmountable gap back to his pursuers.
Alex de Angelis was running towards the front when he suffered the disappointment of crashing out having started from the front row, and it was left to Simón, Simone Corsi and Talmacsi to begin the battle for the final two podium spots. Jules Cluzel and Scott Redding were part of a chasing pack, which Dominique Aegerter later joined, whilst championship leader Elías overcame a difficult grid position of 12th to rise to fifth by the midway point of the race.
All the while at the front Iannone was riding a comfortable race with a solid lead, which stood at as much as eight seconds towards the closing stages. The Italian eventually repeated his wins from pole that came at Mugello and Assen, with Simón holding off Talmacsi's challenge. It was the Mapfre Aspar rider's third consecutive second place finish, with Talmacsi taking a well-deserved first podium of the season.
Elías completed an impressive recovery from the third row to end fourth, coming close to catching the final podium spot, with Corsi, Cluzel, Aegerter, Redding and Stefan Bradl following him across the line. Another impressive ride in 10th came from Thomas Lüthi who overcame a difficult qualification position of 20th to again score points. There was bitter disappointment for British wild card Kev Coghlan however who had enjoyed a good weekend, qualifying in 13th. The Scottish rider suffered mechanical issues that meant he started from Pit Lane and he was later forced to retire from the race.
Elías remains at the top of the standings and is now on 224 points, 76 ahead of Simón who retains second place. Iannone moves into third and is now four points off Simón, with Lüthi fourth and Corsi fifth.
Results Moto2: (21 laps = 106.638 km)
Pos / Rider / Nat / Team / Motorcycle / Time/ KM/H / Gap
1 / Andrea IANNONE / ITA / Fimmco Speed Up / SPEED UP / 40'33.264 / 157.77 /
2 / Julian SIMON / SPA / Mapfre Aspar Team / SUTER / 40'39.467 / 157.369 / 6.203
3 / Gabor TALMACSI / HUN / Fimmco Speed Up / SPEED UP / 40'39.540 / 157.364 / 6.276
4 / Toni ELIAS / SPA / Gresini Racing Moto2 / MORIWAKI / 40'40.387 / 157.309 / 7.123
5 / Simone CORSI / ITA / JIR Moto2 / MOTOBI / 40'42.424 / 157.178 / 9.16
6 / Jules CLUZEL / FRA / Forward Racing / SUTER / 40'46.145 / 156.939 / 12.881
7 / Dominique AEGERTER / SWI / Technomag-CIP / SUTER / 40'46.251 / 156.932 / 12.987
8 / Scott REDDING / GBR / Marc VDS Racing Team / SUTER / 40'52.145 / 156.555 / 18.881
9 / Stefan BRADL / GER / Viessmann Kiefer Racing / SUTER / 40'54.157 / 156.427 / 20.893
10 / Thomas LUTHI / SWI / Interwetten Moriwaki Moto2 / MORIWAKI / 40'54.435 / 156.409 / 21.171
11 / Claudio CORTI / ITA / Forward Racing / SUTER / 40'54.690 / 156.393 / 21.426
12 / Yuki TAKAHASHI / JPN / Tech 3 Racing / TECH 3 / 40'55.242 / 156.358 / 21.978
13 / Mike DI MEGLIO / FRA / Mapfre Aspar Team / SUTER / 40'55.435 / 156.345 / 22.171
14 / Michele PIRRO / ITA / Gresini Racing Moto2 / MORIWAKI / 40'58.011 / 156.181 / 24.747
15 / Ratthapark WILAIROT / THA / Thai Honda PTT Singha SAG / BIMOTA / 41'03.716 / 155.82 / 30.452

Pole Position: Toni Andrea IANNONE 1'55.148 158.759 Km/h
Fastest Lap (New record) : Andrea IANNONE 1'55.003 158.959 Km/h Lap 7
Circuit Record Lap: New category
Circuit Best Lap: Andrea IANNONE 1'55.003 158.959 Km/h 2010
World Championship Positions:
1 ELIAS 224, 2 SIMON 148, 3 IANNONE 144, 4 LUTHI 130, 5 CORSI 108, 6 TALMACSI 95,
7 CLUZEL 94, 8 TOMIZAWA 82, 9 TAKAHASHI 76, 10 GADEA 59, 11 REDDING 47,
12 DEBON 46, 13 AEGERTER 45, 14 ROLFO 43, 15 BRADL 43.
---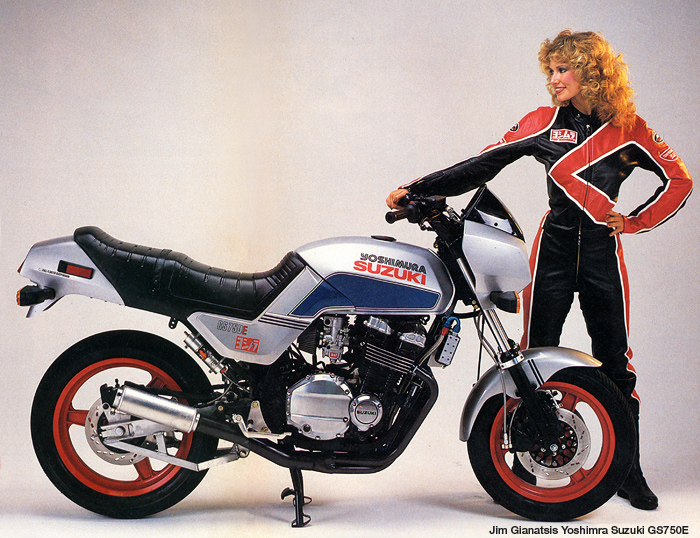 1983 Yoshimura Suzuki GS750E Street Superbike
By Jim Gianatsis
During the early 1980s I had just moved out to California to work at Moto-X Fox in San Jose, California. I was responsible for adverting and product design and marketing, which at the time also included Fox Shox. Fox was primarily a motocross product company up to then, but in 1980 I started to get turned on to streetbikes and bought a 1981 Suzuki GS750 D model as my personal bike to ride on the beautiful Santa Cruz Mountain roads above the city, and used it for development of a new line of Fox Streetbike Apparel and Fox Street Shox.
I quickly looked to find a top factory team in AMA Pro roadracing to sign to use and promote our Fox products, much in the same way Fox had been doing so in Professional Motocross for years. The best place to start was at the top and I signed Team Yoshimura Suzuki and its 2-time National Championship winning rider Wes Cooley to use Fox Shox on his race bikes and our apparel. It was a first for the sport of roadacing. Because no one else at Fox really cared about roadracing, it was up to me to help develop and test the Fox Twin Shox's damping, spring rates and fitment applications for streetbikes. And for the Yoshimura team that meant attending on the AMA Nationals and test sessions to set up the Shox for Wes at every race. Wes used the Fox Shox on his Yoshimura Suzuki Katana 1000 during the 1981 season to finish 2nd in the AMA Superbike Championship behind new Champion Eddie Lawson on the potent Muzzy Kawasaki Z1000R.
There I am in the Yoshimura jacket on the ground, setting up the Fox rear suspension of Eddie Lawson's 1982 Superbike Championship winner.
It was obvious though, that Cooley's Katana handled better than Kawasaki Z1000R, and going into the 1982 season I was able to get also the Honda and Kawasaki factory teams to do back-to-back testing with Fox Shox compared to the Ohlins and Works Performance Shocks they were running at the time, all of them were significantly quicker with their bikes handling much better on the Fox. Eddie Lawson's lap times at the Washington Superbike National that year were he first tried the Fox Shox I sent up for him was nearly 1.5 seconds faster. Eddie went on the win the National Championship again in 1982 with the bikes I helped sent up for him.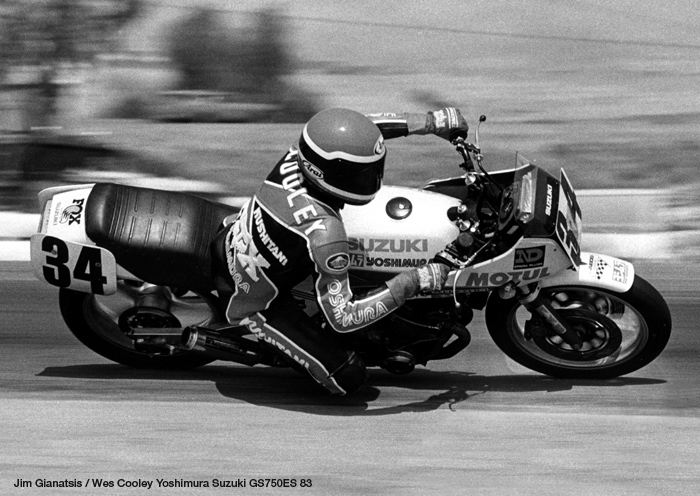 Wes Cooley's 1983 Superbike was based on the GS 750ES model which was the same as our E model, except for a larger front fairing and lower clip-on handlebars.
The 1983 Superbike season would see a big change in Superbikes with the AMA downsizing the class from 1025cc to 750cc and the introduction of the new single rear shock designs from Honda, Suzuki and Kawasaki. I worked with Honda in the initial development tests of the Fox Twin Clicker single shock on their new 750cc Interceptor Superbike during the fall of 1982. A few months later i left Moto-X Fox and moved to Los Angeles to start my own motorsports adverting agency, Gianatsis Design Associates, with Yoshimura Suzuki being one of my first new clients.
I sold my trusty old twin shock 1981 Suzuki GS750 in 1983 and bought one of the all new single shock GS750E models. This would also be the same model bike Yoshimura would be campaigning in the 1983 Superbike Nationals with Wes Cooley. I suggested to Fuji Yoshimura and then general manager at Yoshimura, my buddy Marcel Fortney, that we convert my bike into a street legal Yoshimura Superbike to showcase the Yoshimura and Fox products, both in our adverting campaign, and to the motorcycle media.
Remember when Superbike engines were air cooled, and cat suits on models were sexy!
The GS stock engine was ported by Don Sakakura, then Yoshimura head team mechanic for Wes Cooley at the time, later to be general manager. It was given a race cam, but wouldn't run well on the street with stock compression and the big VM 33mm Mikuni carbs pictured in the studio photos, so we put a rack of smaller VM 29mm and the bike actually made more power. So much power that in its Motorcyclist magazine test it recorded a 1/4 mile time around 1/2 second quicker han Eddie Lawson's full race KZ750 Muzzy Superbike test in Cycle magazine around the same time.
My GS750 was tested by Motorcyclist magazine editor Ken Vereeke in the January 1984 issue, and Ken essentially reported it was the best sportbike, power and handling wise, he'd ever ridden. Some special details I added to the bike were the racing Dymag wheels which I ordered and had painted Red to match the Suzuki lettering on the tank. A couple of "firsts" as no one had ever run real magnesium race wheels on the street before, nor had anyone I'd seen ever paint their wheels Red. We also added the exotic 4-piston Brembo Racing Brakes with quick-release mounts (not yet mounted on the studio bike shoot with Kari), also very trick for the time. And of course, the Fox Twin-Clicker Single Show which I helped develop for the race team, mounted up to a braced swingarm which Don built.
Here is that historic bike, possibly the first ever street-legal Superbike, which was featured in the Yoshimura magazine ad campaigns and product brochure in 1984. The beautiful studio photo was taken by photographer Dave Bush with model Kari Boca. This shoot with Kari and my GS would serve as my inspiration for the Fast Dates Supebike Pinup Calendar which I would produce with Mikuni some 7 years later in 1991.
Click on the Motorcyclist Pages to enlarge and read the full story. with additional details on the bike.
I rode the GS on the street a coule ties a month, usually up to the Rock Store, and roadraced it in club races out at Willow Springs Raceway for 2 years. It always seemed down on power at the track, but it was until after I stopped racing it that I pulled the engine down and found one of the piston's had been seized and the rings were stuck in its grooves! I put in a new piston and rings and rode it on the street for a few more years. Around 1980 I put it up for sale in Cycle News and fellow back East in New Jersey called be up right away to buy it. He had seen the story on the bike in Motorcyclist back in 1984 and he had always wanted a bike just like it. He actually bought a stock '83 GS after he story came out and was going to do the modification himself, but never got around to it. Now he had the real thing. And now looking back, it's one of those bikes I wish I'd had kept forever, parked in the living room next to my first Ducati.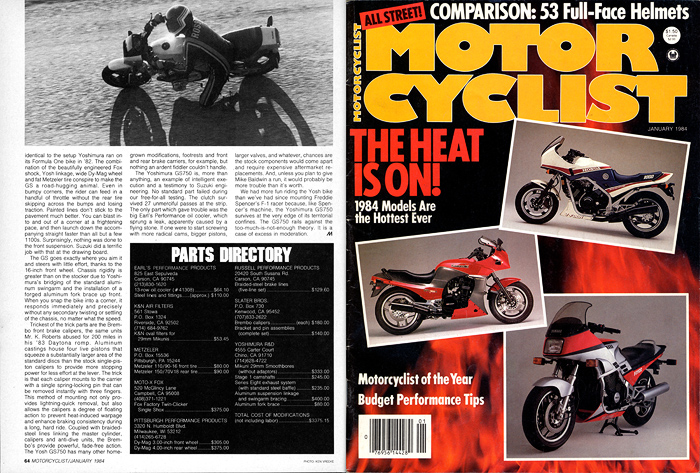 ---
Kawasaki World Superbike Racing Team Unveils 2011 Ninja ZX-10R Racer
Nurburgring September 2nd 2010 - The all-new Kawasaki Ninja ZX-10R race bike has been unveiled to the international press at the Nürburgring racetrack, in advance of the full launch of the production machine in early October.The new Ninja ZX-10R race bike has been eagerly anticipated by everyone involved in the Superbike racing project for a while now and therefore the Kawasaki Superbike Racing Team are extremely keen to get started with the new Ninja ZX-10R.
Steve Guttridge, the Race Planning Manager from Kawasaki Motors Europe, said of the new bike and the timing of the 'sneak preview' of the racebike version of the Ninja ZX-10R, "The new race bike has been eagerly anticipated by everyone involved in the Superbike racing project for a while now. The PBM team have evolved and restructured continuously in order to be in a position to utilise the new bike's potential to the maximum next season. As you can imagine the Paul Bird team are ultra keen to get started with it and so who better than the team itself to help us show the first edition of the race version of it here at the Nürburgring?"
Ichiro Yoda, the Kawasaki Project Director, confirmed that racing is at the heart of the new machine's DNA. "We have started development this bike with slick tyres and racing spec engine. This is a quite different procedure than previous models."
No specific details of the all-new production bike were released, which will have to wait until next month. The next chance the world's media will have to get close to this exciting new machine again will be at official unveiling of the production model, at the Cologne show in early October.
---
---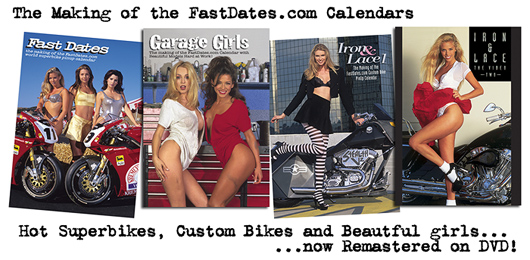 The making of the FasDates.com Calendars DVD movies are available from Amazon.com and in the FastDates.com Video Store.
---
There's more! Go to Pit Lane News Next Page

Also Visit: Fast Dates Calendar News • Iron & Lace Calendar News
Calendar Girl News • Meet the Models • Paddock Garage

Calendar Kittens, Paddock Garage, Screensavers, Iron & Lace Garage





MotorcycleSuperstore.com
Some of our Calendar Kittens can also at Playboy's website...


FREE! New Met-Art Model Galley Updated Daily - Stop Back Each Day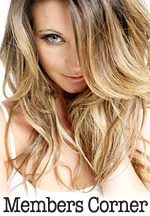 Hot Bikes, Sexy Kittens
Your Exclusive Grid Pass
also includes....
---
Harley-Davidson struggles to survive amid $75/hr employee wage benefits
Sept 26th - In an address last Thursday during a meeting at the Harley-Davidson Museum, CEO Keith Wandell said that through a succession of labor agreements over the years, Harley management had lost control of costs.
As an example, he mentioned that employees at the Harley Menomonee Falls Plant were making an average $32 per hour in wages and with all benefits added were costing the company $75 per hour. Wandell made reference to the auto industry, and in particular to General Motors, a company unable to remain profitable under the burden of its payroll, pension and benefit costs. He also agreed that part of the blame is on the management for failing to innovate and produce attractive products at reasonable prices.
Regarding the new 7-year labor agreement recently agreed by Harley Wisconsin Unions and by which the number of workers will be reduced by about 200 and replaced by "casual workers" with lower pay and without benefits, Keith Wandell explained that his company did not ask for wage concessions, but Instead asked for the ability to hire casual employees and to make changes in the medical plan, the same plan offered to management. He said that before his arrival as CEO, management would make its offer to the unions and they would vote no. The company would then offer more, the unions would vote no again, and the company would offer more until the unions agreed to a contract.The key to the labor contracts, Wandell said, is to gain production flexibility that the company needs to deliver bikes on demand. Harley's business is seasonal, and the current contracts don't provide the flexibility to address market downturns. He declared that in a tough economy where motorcycle sales have plummeted 40%, Harley had two choices: "Sit by and hope that things change or change whatever can be changed."

Some union representants reacted angrily to Wandell's statements. "Something is definitely wrong when the CEO of a troubled company makes more than $6 million a year and then whines about how out of control workers' wages have become" said Frank Larkin, spokesman for the International Association of Machinists and Aerospace Workers, which represents some Harley workers in Milwaukee. "Once again the workers have stepped up and taken cuts in wages, benefits and working conditions in order to save this company. It's not our fault that managers can't manage. The remarks are a slap in the face" said Michael Bolton, United Steelworkers of America District 2 director, which represents most of the Harley plant workers. Maybe Wandell's statements were a poor timing choice coming so soon after workers concessions.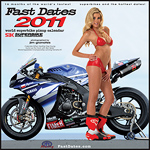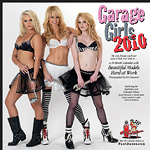 2011 Calendars!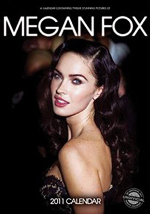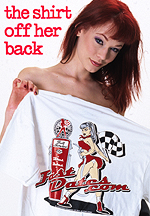 Order the Official
FastDates.com &
LA Calendar Bike Show
T-Shirts!
---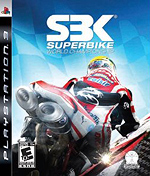 New Playstation!
Superbike & MotoGP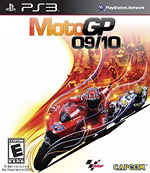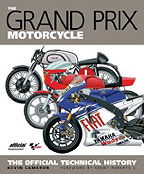 ---


KTM RC8R



Aprilia RSX1000


Kawasaki Z1000
---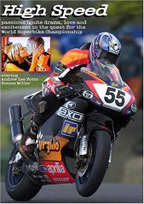 High Speed - the Movie
The best motorcyce racing movie ever made! Filmed on location at World Superbike, this an exciting romantic drama staring beautiful actress Sienna Miller.


Erotica Archives
FREE New Model
Galley Updated Daily
Warning Contains Nudity
---
Proposed CA Motorcycle Manditory Stock Exhaust Bill is Modified
Sept 13th - Hey Guys, It looks like our Emails to the Govenator have worked. Senator Fran Pauley's proposed legislation to require mandatory annual motorcycle inspections to enforce use of OEM exhaust systems has been modified, to not require inspections. We still will need to run a stock or aftermarket CARB approved muffler, but now you have to be stopped by a police officer and cited for the violation.
In actuality, this is not much different than the current California law making it "Illegal to Modify any Motor Vehicle's Exhaust System to Make It Louder than Stock". A law which currently is not regularly enforced, even when it comes to those god awfully loud straight pipe Harleys. But now a police office can look at your bike, and if the CARB engraving or sticker is not on the pipe, he can write you a ticket without having to prove how loud the bike is. We just wish CA police officers would make an effort to ticket loud straight pipe irresponsible V-twin owners for everyone's peace and quiet. That's what prompted all this proposed mandatory inspection to begin with.
Read the proposed modified bill HERE

Arnold to Vote on Califnonia Motorcycle Noise Bill this Week
7/26/10 - The laid-back vibe of this affluent Los Angeles suburb gets a jarring weekend wake-up call when hundreds of motorcycles thunder through the Santa Monica Mountains, triggering car alarms, rattling windows and jolting dogs into fits of barking.
"They rev their engines with complete disregard for the people who live here," complained neighborhood resident Tonia Aery. "It's obnoxious."
Aery's wish for peace and quiet could come true after the state Senate passed a bill this month that would make it a motor vehicle violation to ride a roaring hog. The only catch is that the decision now falls to the state's biker-in-chief, Gov. Arnold Schwarzenegger, an avid motorcyclist.
Schwarzenegger's fellow riders - still bitter over an 18-year-old state law requiring helmets - are hoping he'll veto the law.
The bill targets motorcyclists who remove factory-installed emission control devices mandated by the U.S. government and replace them with custom, after-market parts that often make their bikes louder - and, consequently, dirtier. If passed, motorcycles would be required to bear the proper U.S. Environmental Protection Agency label certifying that the exhaust system is clean burning and does not exceed 80 decibels - about the same as a vacuum cleaner.
At least six cities, including Denver and Boston, and the state of Oregon have passed similar noise-prevention laws, but muffling motorcycles here could have symbolic impact.
The Hells Angels started here, so did the raucous motorcycle rallies in Hollister that inspired "The Wild One," the 1953 Marlon Brando movie that cemented bikers' rebellious image in American pop culture.
"It's another example of government intrusion into our lifestyle," said Mike Levison, president of the Southern California Harley Riders Association.
The bill by Sen. Fran Pavley would fine first-time offenders up to $100, but their ticket could be voided if they make corrections. Subsequent infractions would be subject to fines of $100 to $250.
For years, residents in Pavley's district have complained about bikes that rumble along Pacific Coast Highway and echo through the twisting canyons of Malibu, Calabasas and Agoura Hills.
Last year, Pavley, D-Agoura Hills, tried to close a loophole in the state law that exempts motorcycles from pollution standards by mandating smog inspections every two years. Vocal motorcyclists helped defeat the bill so she amended it to target noise. If signed, the bill will effectively make the state's 826,000 registered motorcycles meet air pollution requirements by meeting noise standards.
Federal and state laws that limit motorcycle noise already exist, but Pavley said enforcement is lax because it's impractical to outfit police with noise-monitoring instruments.
"It's already illegal to modify the pipe to make your bike louder," Pavley said. "So this is not a new law, it's enforcement of an existing law."
California Highway Patrol Officer Leland Tang, whose Woodland Hills office regularly fields complaints about noisy bikes, noted that state law prohibits drivers from modifying their cars' exhaust system to make the engine louder. But bikers can dodge the ordinance because the Bureau of Automotive Repair, which inspects vehicles to ensure their exhaust systems are in compliance, is not set up to inspect motorcycles.
Bikers fear the legislation would put a crimp in more than their tailpipes and could prevent them from customizing their motorcycles because makers of aftermarket parts - faced with the daunting task of having to list every make and model their parts can be used for - could go out of business.
"We're never going to advocate breaking the law, what we're trying to advocate is reasonable choices to allow consumers to customize their vehicles," said Imre Szauter, government affairs manager for American Motorcyclist Association.
Pavley said the EPA stamp will be required for motorcycles made after 2013, giving enough time for partsmakers to comply.
Even motorcyclists known for sounding off on their boisterous peers think the new law is a bad idea.
"This bill doesn't directly address the noise issue, it just regulates what you can purchase for your bike," said Don Amador, whose Quiet Warrior Riding consulting firm advocates riding with sound-compliant equipment. He suggests that authorities adopt a decibel test to measure actual noise output.
Schwarzenegger, who has until Sept. 30 to decide, has not taken a position on the legislation, said spokesman Aaron McLear. The governor, whose most famous movie image depicts him as gun-toting, motorcycle-riding cyborg in "The Terminator" series, has a bike collection and sometimes rides around the Malibu hills with his pals.
McLear said he didn't know if Schwarzenegger's motorcycles meet federal noise requirements.
The bill's not the first time Schwarzenegger has faced the prospect of being in the hot saddle over something that would affect his lifestyle. Earlier this year, the governor known for puffing on expensive cigars vetoed legislation that would have banned smoking at all California state parks and beaches. He said the bill crossed the line of government intrusion.
On the other hand, Schwarzenegger received environmental kudos for signing Pavley's landmark global warming law imposing stronger regulations on greenhouse gas emissions.
Mike Levison, the Harley rider, said he gets annoyed by loud hogs, but thinks peer pressure's a better way to quiet loud bikes. In the past, he's banished loud bikes to the back of the pack.
"Guys revving up their noisy pipes remind me of my 8-year-old grandson. Every time he jumps in the pool he yells, 'Hey Grandpa, look at me! Look at me!' " the retired businessman said. "They're making noise to get attention. It's no wonder the public has come down on us because of these idiots."