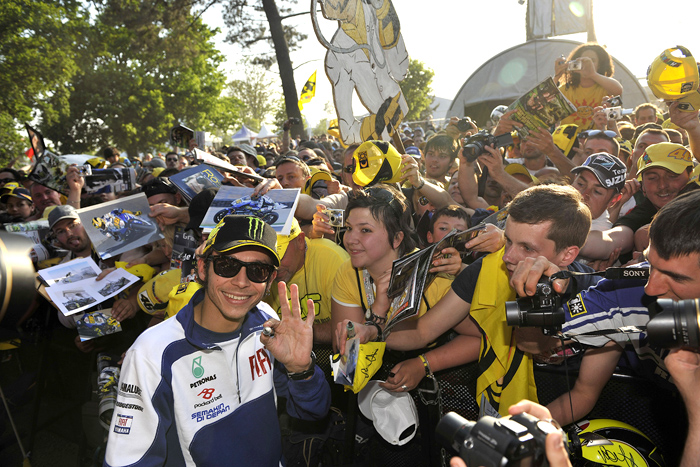 Yamaha and Valentino to Part Company at end of 2010
Yamaha Racing Press Release, Bruno, Czech Republic, Aug 15th 6:00pm: - Yamaha Motor Co., Ltd. would like to announce that the partnership between Valentino Rossi and Yamaha will come to an end at the close of the season, when Valentino will move on to new challenges. Yamaha and Valentino have enjoyed seven fantastic seasons of racing, during which time they have won four MotoGP World Championships together.
Valentino has played a huge part in the history of Yamaha and he will always remain an important part of Yamaha's heritage. Yamaha is extremely grateful for Valentino's contributions to its racing successes over the past seven years and it would like to wish him the very best in his future racing endeavours. Yamaha will be putting all its efforts into ensuring a successful and happy end to the partnership over the remaining races.
Lin Jarvis, Managing Director of Yamaha Motor Racing, said "On behalf of the Yamaha Motor Group, I would like to express our sincere gratitude for the amazing seven years that we have spent together. Valentino joined Yamaha in 2004 at a moment when Yamaha was struggling in road racing after eleven seasons without a championship victory. Valentino's victory at his first GP race for Yamaha in South Africa in 2004 was an incredible moment and was just the first of many more race wins that have thrilled MotoGP fans and Yamaha fans around the world. His unsurpassed skills as a racer and a development rider enabled him to win four MotoGP world titles to date with us and helped Yamaha develop the YZR-M1 into the 'the bike of reference' for the MotoGP class.
"There have been so many wonderful experiences and victories and we are very proud to have been able to make history together. Whilst we regret Vale's decision to move on, at the same time we fully respect his decision to search for a new challenge and we wish him the very best for 2011 and beyond.
"For the remaining eight races of 2010 Valentino will remain a Yamaha Factory rider. As such he will continue to benefit from our full support and we hope and expect to see some more race wins with him 'in blue' before the season is over!"
Valentino Rossi - "It is very difficult to explain in just a few words what my relationship with Yamaha has been in these past seven years.
"Many things have changed since that far-off time in 2004, but especially 'she', my M1, has changed. At that time she was a poor middle-grid position MotoGP bike, derided by most of the riders and the MotoGP workers. Now, after having helped her to grow and improve, you can see her smiling in her garage, courted and admired, treated as the 'top of the class'.
"The list of the people that made this transformation possible is very long, but I would like to thank anyway Masao Furusawa, Masahiko Nakajima and 'my' Hiroya Atsumi, as representatives of all the engineers that worked hard to change the face of our M1. Then Jeremy Burgess and all my guys in the garage, who took care of her with love on all the tracks of the world and also all the men and women that have worked in the Yamaha team during these years.
"Now the moment has come to look for new challenges; my work here at Yamaha is finished. Unfortunately even the most beautiful love stories finish, but they leave a lot of wonderful memories, like when my M1 and I kissed for the first time on the grass at Welkom, when she looked straight in my eyes and told me 'I love you!'"

Vaentino Rossi And Ducati Together from 2011
Ducati Press Release, Bruno, Sunday August 15th 6:01pm: Ducati and Valentino Rossi have signed a two year agreement for the nine-times World Champion to race with the "Rossa" of Borgo Panigale in the Ducati Marlboro Team from 2011.
The arrival of Valentino in Ducati opens a new and exciting chapter in the Italian factory's sporting history and, indeed, of the whole MotoGP Championship. The opportunity of lining-up such an extraordinary rider and character is considered by Ducati to be a huge value to the whole Ducati MotoGP project.
"We are delighted to announce that Valentino Rossi will be with us from 2011," commented Gabriele Del Torchio, President of Ducati Motor Holding. "He is a paragon of excellence in the world of motorcycling, coherent with our Italian company which is a standard-bearer for "made in Italy" excellence. These are key values for success in technology, design and sportsmanship. In addition to the strong and passionate intent of both parties, this agreement has been made possible by the committed support of our shareholder Investindustrial and all the sponsors associated with the Ducati Marlboro Team, sponsors which have believed in this opportunity and share and support our choices."
"Firstly, Valentino is a great fan of motorcycles and so it has always been a pleasure for me to listen his opinions," said Filippo Preziosi, Ducati Corse General Director. "Until the Valencia GP he will remain a competitor, one so great that he has always given a special value to our victories, but as soon as he rides the Ducati for the first time, we will work together on every single detail that will develop a bike capable of showing his huge talent. Working with Valentino is one of the most exciting things for every Engineer and it's good to know we will have this great opportunity next season."
---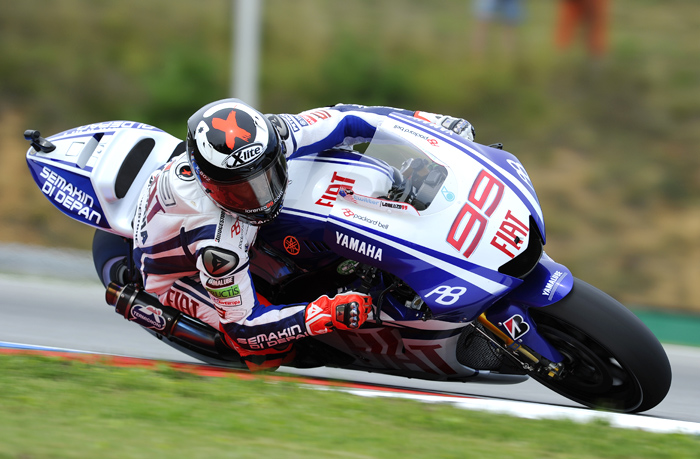 MotoGP World Championship, Cardion ab Grand Prix Ceské republiky, Round 10 of 18

Lorenzo Racks Up Another Decisive Win at Bruno MotoGP
Bruno, Czech Republick, August 13-15th - Jorge Lorenzo took an impressive seventh win of the season in Brno this afternoon with a clinical performance that saw him lead from the first lap to the chequered flag. In doing so he becomes only the third premier-class rider in history to finish in the top two at the opening ten races of the season. In stark contrast to his Fiat Yamaha team-mate's good fortunes, Valentino Rossi ran into problems from the start and could only finish fifth.
Despite surrendering pole position for the first time in six races, some bold moves from the Spaniard around the first two turns saw him take the lead before the first split and he looked in imperious form on his Yamaha M1, with yesterday's front-end troubles clearly a thing of the past. Dani Pedrosa kept close on his heels for the first few laps but every time his fellow countryman closed the gap a few tenths Lorenzo responded with renewed vigour and by the tenth lap he was a second clear. From then on he was unchallenged and he crossed the line 5.494 seconds clear of Pedrosa to take the 33rd win of his career and his 12th in MotoGP.
With the weather looking favourable following heavy rain this morning, Rossi was confident that he would be able to mount a strong challenge for honours this afternoon but it was not to be for the Italian today. He had felt strong all weekend despite sliding off yesterday but he never had the same confidence in the race and was unable to ride as he would have liked. He had dropped from fifth on the grid to eighth by the end of the first lap before rallying to pass Colin Edwards and Nicky Hayden to move to fifth by lap six, but from then on he could make no further headway and rode a lonely race to the flag.
Another maximum-points haul for Lorenzo leaves the young Mallorcan 77 points clear of Pedrosa in the standings, with eight rounds remaining. Rossi holds on to fifth, 14 points behind Andrea Dovizioso. Tomorrow will see both Fiat Yamaha riders back out on track, weather permitting, for a one-day test before the bikes are shipped off to Indianapolis for the second US round of the season in two week's time.
Preview MotoGP World Championship chase resumes at Brno
Refreshed and ready to take on the second half of the 2010 season the MotoGP riders and teams are back in action this weekend at Brno for the Cardion ab Grand Prix ?eské republiky, where the chase to catch Championship leader Jorge Lorenzo recommences.
After nine of the 18 rounds of the season the Fiat Yamaha rider is 72 points clear at the top of the standings, thanks to his superb form of having taken six wins and three second places so far. Another top-two finish would make Lorenzo only the third rider in GP racing's 62-year history to place either first or second in the opening ten races of a season, the others being Giacomo Agostini and Mick Doohan. To maintain his fantastic form Lorenzo will need to win at a circuit he has not yet triumphed at in the premier class, after crashing last year when battling team-mate Valentino Rossi for the race lead. He does have a fine record in the smaller classes there however.
Dani Pedrosa is the closest to Lorenzo in the standings at present and the Repsol Honda rider has a point to prove following his crash at Laguna Seca in the previous round. The Spaniard enjoyed a consistent run leading up to the summer interval and was leading the race in the U.S. when he fell, and has twice finished on the podium at Brno including second place last year – his best premier class Brno result.
In third place at 23 points off his team-mate is Andrea Dovizioso, who is eager to rediscover his early-season podium form, whilst the resurgent Casey Stoner (Ducati Team) is hot on the Italian's tail. Stoner did not race at Brno last season but has tasted victory there (in 2007), something he is still yet to do in 2010 but a result that appears to be moving ever closer after four successive podium finishes in the last four rounds.
Brno has been a very fruitful hunting ground for Valentino Rossi who has five premier class wins there (it was also the site of his first 125cc win), and the Italian has been victorious at the Czech track for the last two years. A podium last time out at Laguna in only his second race back from injury moved him back up to fifth, where he sits a single point ahead of Nicky Hayden (Ducati Team). Another American rider, Ben Spies (Monster Yamaha Tech 3) is also closing in on the top five and Brno offers a familiar circuit for the rookie, who has previously ridden there in WSBK.
Set to make an extremely speedy and very welcome return to action from his broken leg is Randy de Puniet (LCR Honda). Pending medical clearance the Frenchman intends to ride again just four weeks after his crash at Sachsenring – last year he rode to tenth place at Brno having broken his ankle just three weeks before the race.
San Carlo Honda Gresini pair Marco Melandri and Marco Simoncelli are closely matched in ninth and tenth in the standings, whilst Colin Edwards (Monster Yamaha Tech 3) will follow up his best result of 2010 so far with an attempt to place higher than seventh. Héctor Barberá (Páginas Amarillas Aspar), Rizla Suzuki pair Loris Capirossi and Álvaro Bautista, and Pramac racing duo Mika Kallio and Aleix Espargaró will all aim for improvements, and Alex de Angelis (Interwetten Honda MotoGP Team) is set to continue in place of the injured Hiroshi Aoyama.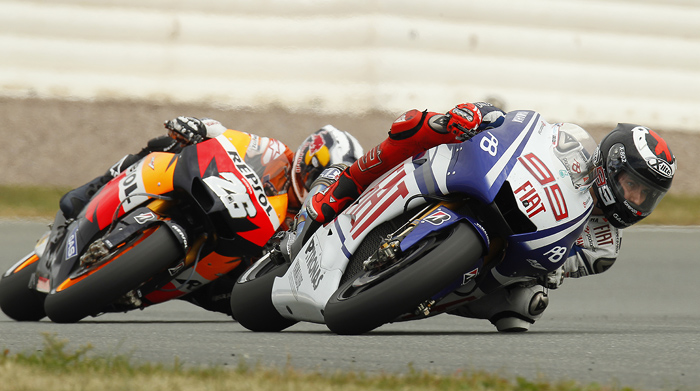 This is the closest Pedrosa (26) got to Lorenzo (98) during the opening laps, eventually dropping back by 6 seconds at the finish.

Lorenzo Extends his Championship lead
Race Day Sunday 15th - Jorge Lorenzo's phenomenal 2010 form continued at the Cardion ab Grand Prix ?eské republiky on Sunday where the Fiat Yamaha rider won his seventh race of the season. A front row start was converted into another 25 points by the Spaniard, who maintained his record of having finished inside the top two in every race so far.
The sun was shining brilliantly in stark contrast to the wet morning warm-up session and the dark clouds that had circled the track as just over 148,000 enthusiastic fans packed out the Brno circuit. Lorenzo quickly engaged himself in an early battle with rival Dani Pedrosa (Repsol Honda) – who started from pole position – by taking the lead in the third corner.
There were two early fallers as Loris Capirossi (Rizla Suzuki) and Andrea Dovizioso (Repsol Honda) went down inside the opening three laps, the latter managing to avoid collisions with a number of oncoming bikes while stranded in the middle of the track coming out of turn nine. Dovizioso rejoined the back of the race but was forced to retire shortly after with a handlebar issue.
Lorenzo and Pedrosa exchanged fastest-lap times in the preliminary stages of the race as they set the pace but the championship leader gradually began to pull away from his compatriot, and the pair were also well ahead of Casey Stoner (Ducati Team) in third place. The riders became more separated as the race reached its finale, and Lorenzo cruised across the line 5.494s ahead of Pedrosa to extend his Championship lead over his fellow Spaniard to 77 points. The Repsol Honda rider was followed onto the podium by Australia's Stoner, who finished third almost six seconds back and also moved into third in the Championship ahead of Dovizioso.
Ben Spies will move up from the satelight Monster team to fill Rossi's vacant seat at the factory Yamaha team alongside Lorenzo next year.
Ben Spies (Monster Yamaha Tech 3) placed fourth from his first MotoGP front row grid position having made an impressive start, with Valentino Rossi (Fiat Yamaha) fifth, just over four seconds off the rookie. American duo Nicky Hayden (Ducati Team) and Colin Edwards (Monster Yamaha Tech 3) were sixth and seventh respectively, with Marco Melandri (San Carlo Honda Gresini Team), Héctor Barberá (Páginas Amarillas Aspar) and the returning Randy de Puniet (LCR Honda) completing the top ten just four weeks after breaking his leg in Germany.
Man at the top, adored by fans.
Jorge Lorenzo - Position: 1st, Time: 43'22.638 - "After my problems yesterday and the crash I didn't expect this today, I thought it would be much more of a struggle. Once I got to the front I expected Dani to come with me and I knew it was my moment and that I had to push as much as possible. I thought he would try to overtake me but I felt good, pushed hard and little by little I was able to lose him. I know I said I was riding for the championship now and that's still true but when there's the chance to win I have to take it! To take my seventh win in one season is fantastic, thank you to all of my team for such a good job after we had difficulties yesterday. Tomorrow we have an important test which we hope will help us in the last part of the championship and then we go to Indianapolis, a track that I love."
Dani Pedrosa (Repsol Honda RC212V): 2nd - "It's good to be back on the podium after the crash at the last race at Laguna Seca so I'm happy about this. My start was good and I was in first place through the first corner but in the first left-hander I was a little bit too concerned about my tyre temperature and braked too early, which allowed Ben and Jorge to get past. When I was in second place behind Jorge again I was trying as hard as possible to stay close, which I could do for a few laps, but for some reason I wasn't quite able to go as fast as yesterday – I had quite a lot of wheelspin and was struggling to get good drive out of the corners. I tried to adjust my riding to improve this but Jorge was gradually able to open the gap. So today wasn't the best result for us, but still the podium is ok and we can build on this result. After the test tomorrow we go to Indianapolis and I was strong there last year – despite the mistake in the race – so I'm confident we can be competitive again at the next race."
Valentino Rossi - Position: 5thTime: +17.930 - "We are really disappointed tonight because we had hoped to do a good race and I was confident that I could challenge at the front today. It seemed everything was right and yesterday we had a good pace but today we just weren't as fast and I couldn't stay with the leaders. We are sad but tomorrow we will have the chance to test and try to understand what went wrong today, which will help us to be in better shape in Indianapolis. As for my future, you will know something at 6pm today."
Results MotoGP: (22 laps = 118.866 km)
Pos / Rider / Nat / Team / Motorcycle / Time/ KM/H / Gap
1 / Jorge LORENZO / SPA / Fiat Yamaha Team / YAMAHA / 43'22.638 / 164.416 /
2 / Dani PEDROSA / SPA / Repsol Honda Team / HONDA / 43'28.132 / 164.07 / 5.494
3 / Casey STONER / AUS / Ducati Team / DUCATI / 43'34.064 / 163.698 / 11.426
4 / Ben SPIES / USA / Monster Yamaha Tech 3 / YAMAHA / 43'36.361 / 163.554 / 13.723
5 / Valentino ROSSI / ITA / Fiat Yamaha Team / YAMAHA / 43'40.568 / 163.291 / 17.93
6 / Nicky HAYDEN / USA / Ducati Team / DUCATI / 43'49.453 / 162.74 / 26.815
7 / Colin EDWARDS / USA / Monster Yamaha Tech 3 / YAMAHA / 43'56.034 / 162.333 / 33.396
8 / Marco MELANDRI / ITA / San Carlo Honda Gresini / HONDA / 44'02.044 / 161.964 / 39.406
9 / Hector BARBERA / SPA / Paginas Amarillas Aspar / DUCATI / 44'02.277 / 161.95 / 39.639
10 / Randy DE PUNIET / FRA / LCR Honda MotoGP / HONDA / 44'03.531 / 161.873 / 40.893
11 / Marco SIMONCELLI / ITA / San Carlo Honda Gresini / HONDA / 44'04.670 / 161.803 / 42.032
12 / Aleix ESPARGARO / SPA / Pramac Racing Team / DUCATI / 44'09.729 / 161.494 / 47.091
13 / Alex DE ANGELIS / RSM / Interwetten Honda MotoGP / HONDA / 44'14.006 / 161.234 / 51.368
Pole Position: Dani PEDROSA 1'56.508 166.948 Km/h
Fastest Lap: Jorge LORENZO 1'57.524 165.504 Km/h Lap 11
Circuit Record Lap: Jorge LORENZO 1'56.670 166.716 Km/h 2009
Circuit Best Lap: Valentino ROSSI 1'56.145 167.469 Km/h 2009
World Championship Positions:
1 LORENZO 235, 2 PEDROSA 158, 3 STONER 119, 4 DOVIZIOSO 115, 5 ROSSI 101,
6 HAYDEN 99, 7 SPIES 90, 8 DE PUNIET 75, 9 MELANDRI 61, 10 EDWARDS 57,
11 SIMONCELLI 54, 12 BARBERA 48, 13 CAPIROSSI 36, 14 ESPARGARO 32, 15 KALLIO 31.
Tony Elias Scores his 100th win
It was a frustrating weekend which ended in heartbreaking fashion for Álvaro Bautista (Rizla Suzuki) as the rookie slid out on the last corner of the final lap, having just passed Marco Simoncelli (San Carlo Honda Gresini Team) who took 11th. A controlled and well-measured ride from standings leader Toni Elías delivered the Spaniard's fourth win of the 2010 campaign at Brno, which also marked the Gresini team's 100th podium finish in the World Championship.

As opposed to the start of the earlier 125cc contest the Moto2 riders were met with sun as they lined up on the grid, and early in the race there were up to nine riders battling for the lead, amongst them pole man Shoya Tomizawa (Technomag-CIP) and Jules Cluzel (Forward Racing), who got off to a great start from the third row.
Arne Tode (Racing Team Germany) crashed out early on but there were few fallers, and Elías patiently monitored the situation at the head of the race, sidling up to Tomizawa. Andrea Iannone (Fimmco Speed Up) was also in the group vying for positions towards the front and the Italian moved into first position as halfway approached.
Iannone threatened to pull away as he has done more than once before this season, but Elías recovered a gap of over a second to overtake on lap 13 as Roberto Rolfo (Italtrans STR) became involved in the top-three battle. Unfortunately for the Italian a mechanical failure on the next lap ended his race prematurely after an impressive ride.
The experienced Elías started to pull away and Yuki Takahashi (Tech 3 Racing) passed Iannone to slot into second on the penultimate lap, a position he held to the finish line. The victorious Elías met the chequered flag with an advantage of 2.312s over the Japanese rider to take the 25 points, with Iannone third behind Takahashi by just over six-tenths of a second.
Cluzel and Julián Simón (Mapfre Aspar) completed the top five, with Gabor Talmacsi (Fimmco Speed Up) completing a solid weekend in sixth. Thomas Lüthi (Interwetten Moriwaki Racing) placed 11th, which means Iannone now sits second in the Championship standings at seven points ahead of the Swiss rider. Elías' lead at the top remains strong after nine rounds and he is now 55 points clear.
Results Moto2 (20 laps = 108.06 km)
Pos / Rider / Nat / Team / Motorcycle / Time/ KM/H / Gap
1 / Toni ELIAS / SPA / Gresini Racing Moto2 / MORIWAKI / 41'51.715 / 154.88 /
2 / Yuki TAKAHASHI / JPN / Tech 3 Racing / TECH 3 / 41'54.027 / 154.738 / 2.312
3 / Andrea IANNONE / ITA / Fimmco Speed Up / SPEED UP / 41'54.674 / 154.698 / 2.959
4 / Jules CLUZEL / FRA / Forward Racing / SUTER / 41'58.620 / 154.456 / 6.905
5 / Julian SIMON / SPA / Mapfre Aspar Team / SUTER / 41'58.689 / 154.451 / 6.974
6 / Gabor TALMACSI / HUN / Fimmco Speed Up / SPEED UP / 41'58.739 / 154.448 / 7.024
7 / Alex DEBON / SPA / Aeroport de Castello - Ajo / FTR / 41'59.523 / 154.4 / 7.808
8 / Simone CORSI / ITA / JIR Moto2 / MOTOBI / 42'03.406 / 154.163 / 11.691
9 / Stefan BRADL / GER / Viessmann Kiefer Racing / SUTER / 42'07.673 / 153.902 / 15.958
10 / Shoya TOMIZAWA / JPN / Technomag-CIP / SUTER / 42'07.689 / 153.901 / 15.974
11 / Thomas LUTHI / SWI / Interwetten Moriwaki Moto2 / MORIWAKI / 42'08.201 / 153.87 / 16.486
12 / Hector FAUBEL / SPA / Marc VDS Racing Team / SUTER / 42'08.205 / 153.87 / 16.49
13 / Fonsi NIETO / SPA / Holiday Gym G22 / MORIWAKI / 42'11.141 / 153.691 / 19.426
14 / Sergio GADEA / SPA / Tenerife 40 Pons / PONS KALEX / 42'11.845 / 153.649 / 20.13
15 / Raffaele DE ROSA / ITA / Tech 3 Racing / TECH 3 / 42'11.942 / 153.643 / 20.227
Pole Position: Shoya TOMIZAWA 2'03.452 157.557 Km/h
Fastest Lap (New record) : Toni ELIAS 2'04.315 156.463 Km/h Lap 16
Circuit Record Lap: New category
Circuit Best Lap: Shoya TOMIZAWA 2'03.452 157.557 Km/h 2010
World Championship Positions:
1 ELIAS Toni 161, 2 IANNONE Andrea 106, 3 LUTHI Thomas 99, 4 SIMON Julian 88,
5 TOMIZAWA Shoya 82, 6 CLUZEL Jules 74, 7 CORSI Simone 73, 8 TAKAHASHI Yuki 72,
9 TALMACSI Gabor 62, 10 GADEA Sergio 49, 11 DEBON Alex 46, 12 NIETO Fonsi 41,
13 ROLFO Roberto 37, 14 ABRAHAM Karel 33, 15 WILAIROT Ratthapark 25.
---


Anstey make Ulster histoy at 133.977 mph!
Bruce Anstey (5) and his Relentless by TAS Suzuki GSX-R1000 Superbike have made history by becoming the World's fastest combination of rider and machine ever in Ulster Grand Prix at Dundrod in Northern Ireland, averaging an astonishing 133.977mph on the public road course! Story at Right.
---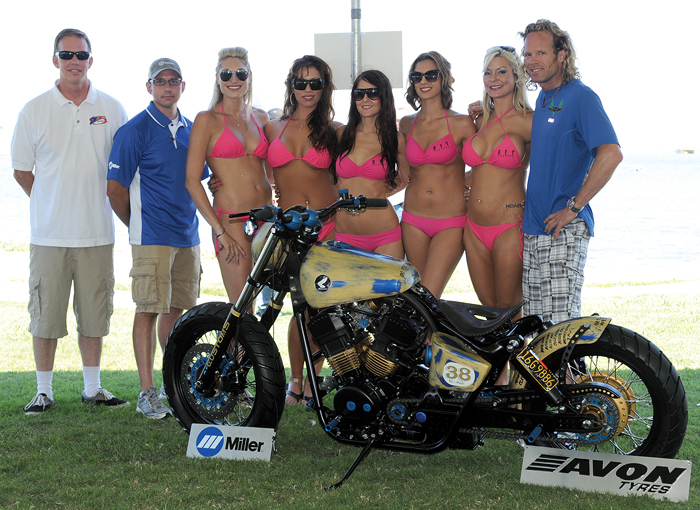 AFT Custom's Jim Giuffra and the AFT Model Agency girls premiered their new "Kimosabe" Bobber in the Calendar Bike Builder's Seminar with the help of sponsors Bryan Weaver / JE Pistons and John Swartz / Miller Electric. Miller gave away a $2,150 TIG Welding Kit to one lucky spectator and $75 Cash Back Certificates to every spectator stopping by their booth at the Show and to all 30 Bike Contest winners. Kimosabe took 1st Place Metric Custom, AFT's 3rd Class Win and Best of Show award in 4 consecutive years!
Complete 2010 LA Calendar Motorcycle Show COVERAGE HERE
2010 LA Calendar Motorcycle Show & Calendar Girl Music Festival
Long Beach, CA, July 18th 2010 - The 19th annual Los Angeles Calendar Motorcycle Show & Calendar Music Festival presented by Motorcycle Attorneys Brown & Koro, America's premier streetbike event marked its returns to the Queen Mary Event Park in Long Beach on Sunday July 18th 2010. The Show's return to it's original 1-day format proved to be a big success, both in reducing production costs for everyone involved from the bike product manufacturers and vendors, to the builders and spectators traveling from out-of-town and having to book hotels. Visitor attendance was up for this year's new 1-day Show format, higher than the daily totals seen at the Show the last two years.
What the LA Calendar Show didn't cut back on was its incredible entertainment value for spectators over the course of the jam packed 8 hour day. Fans were again treated to the incredible customs in the Calendar Bike Building Championship, the Calendar Bike Building Seminars, the L&L Motorsport World Record Dyno-Jet Dyno Shootout, over 5 hours of live stage performances in the Calendar Girl Music Festival, West Coast premiers of new model bikes from Los Angeles Indian, SoCal Ducati / Triumph among others, beautiful Calendar Kittens and models everywhere to pose with you for photos, plus complimentary admission aboard the historic Queen Mary ghost ship (normally $12 entry). Not to forget the free Saturday Night Builder's Party aboard the Queen Mary with Irish pop rock singer Juliet Tworsey and her band Fire Bug.
Spectators got to meet top celebrity custom bike builders including past Show winner Jim Giuffra and the AFT Motorsports Models who were premiering an all-new bobber race bike named "Kimosabe" which the girls will be racing at Bonneville in August. They conducted a Builder's Seminar with their sponsors Miller Electric and JE Pistons to explain the details of the bike build. Miller also held a raffle drawing on Stage at the end of the day, giving away a $2,150 Miller TIG Welding Kit to one lucky spectator, as well as giving $75 cash-back gift certificates towards Miller equipment purchases to every spectator who stop by their booth. Another great value for the low admission price to the Show.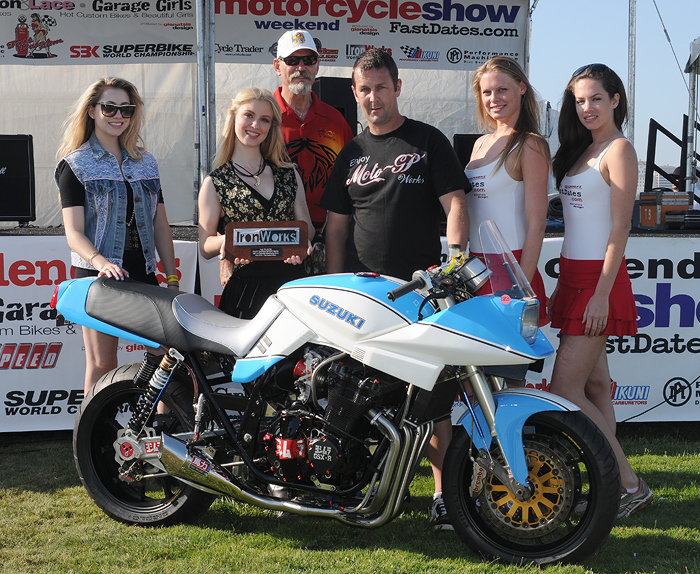 Above, 1st place Sportbike Class winner Chris Redpath / MotoGPwerks.com has his winning Katana featured in the Calendar Bike Garage.
Other top FastDates.com Calendar builders holding free Calendar Builder Seminars during the day were Russell Mitchell / Exile Cycle and Todd Silicato / Todd's Cycle. While former Best of Show winner and builder to the stars, Shinya Kimura / ChabottEngineering.com showed off two of his latest bikes, one an old Knucklehard powered alloy faired racer (featured in the 2009 Iron & Lace Calendar) still coated in the dust from the past week's high speed run at El Mirage Dry Lake, and the other a commissioned custom bodied Ducati 999S Superbike named "Edge". Also at the Show in the Metalsport Wheels display signing posters was celebrity custom car builder Chip Foose of Chip Foose Designs.
The Calendar Girl Music Festival portion of the Show with its beautiful girl performers headlined the day with recording artist Emily Jaye and her band Frentik. Making a popular return engagement was the AC/DC Tribute rock band Whole Lotta Rosies, plus new Australian singer songwriter Katie Cole teaming up with another Show favorite Elizabeth Nicole, plus the world renown Purrfect Angelz song and dance group. The stage activities were hosted by Elizabeth Nicole who is also a TV and movie actress, and assisting Elizabeth with Awards Presentations at the end of the day was the legendary Keith "Bandit" Ball from Bikernet.com.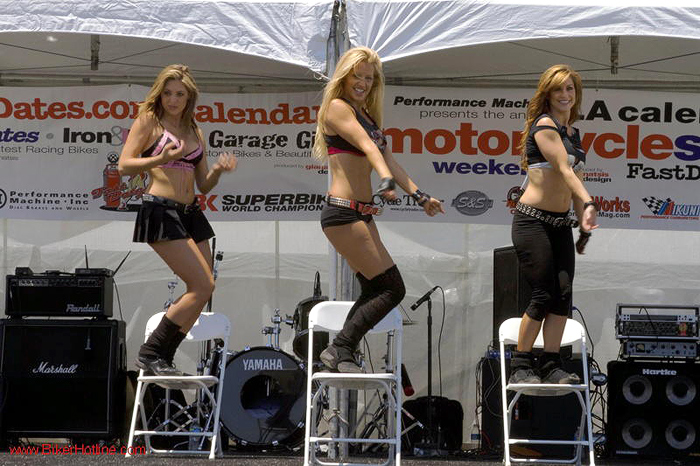 A special treat was 18-year old Krystan Lambert - the World's Most Beautiful Magician and star on Fox TV's "Masters of Illusion".
Krystan performed on the Main Stage during band change overs and in the Calendar Bike Builder's Seminar Tent between classes with the famed FastDates.com Calendar builders. And if making a live rabbit appear out of thin air wasn't enough, for Krystan's final performance at the end of the day she made the Queen Mary ocean liner disappear, then reappear again before anyone noticed it was missing! Now that's hare raising magic!

The Show itself celebrates the annual world premier of the new 2011 FastDates.com Motorcycle Pin Up Calendars, with Calendar Kittens Melody Schuster & Candise Lakota on hand to meet with fans and autograph the new calendars.
The Calendar Bike Building Championship again featured many of the world's top Pro and Amateur street bike builders competing for cash, awards, and the coveted FastDates.com Calendar Best of Show Trophy. The 10 Calendar Bike Building Championship Classes include the premier Radical Pro Builder Class sponsored by Iron Works magazine, plus 9 other classes for American V-Twin Custom and Street Bikes, Vintage Bikes, as well as Metric Sportbikes and Cruisers. Complete 2010 LA Calendar Motorcycle Show COVERAGE HERE
---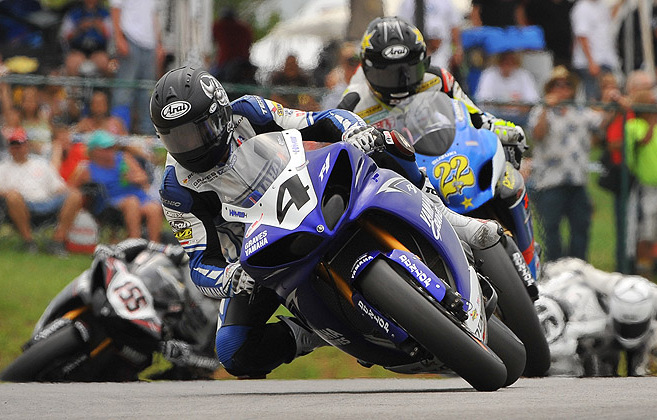 Josh Hayes leads Tommy Hayden and Ben Bostrom
AMA Nationa Pro Road Racing Round 8 of 10

Suzuki White Lightning AMA Pro Nationals at Axton Virginia
ALTON, Va. (August 14, 2010) - - Today saw three thrilling AMA Pro Road Racing races at the 2.25-mile Virginia International Raceway in Alton, Va., in the opening day of competition for the Suzuki White Lightning AMA Pro Nationals presented by Foremost Insurance. One was a runaway, one was a photo finish and the last was almost as close as the second one!
In Saturday's National Guard SuperBike Race One, it was Rockstar Makita Suzuki rider Tommy Hayden who took his fourth AMA Pro SuperBike win of the season by 0.005 of a second over pole position winner Ben Bostrom. Bostrom led on his Pat Clark Motorsports Yamaha coming down to the line but in a mighty move, Hayden pulled out and just crossed the line, inches ahead of Bostrom. The fun wasn't over for Hayden who, in his successful attempt to win the race, was out of position at that very high speed part of the track and he used all of his considerable skills to wrestle his Suzuki under control after he found himself running wide off the track onto the grass. He brought it back under control and took a critical victory in his pursuit of Josh Hayes and his Team Graves Yamaha team.
"We started coming to the finish and I had huge momentum when I pulled out," Hayden commented on his pass for the win. "The way I was pointing too, when I pulled out, I never even got pointed towards turn one I don't think. I started leaning a little and I just had the biggest front slide I think you can have without crashing. I pretty much thought I was down and somehow I just stayed in the throttle and steered it back up and pointed out in the grass and hoped there was nothing out there I couldn't see, any ditches or nothing coming up and just tried to ride it out. It feels good, I really feel like I needed this one today."
Hayes, by virtue of leading the most laps in today's race, has a one point lead over Hayden in their close battle for the National Guard SuperBike Championship. Hayes had led early in the race after taking the lead from a fast starting Hayden. Hayes took the lead on lap four and led until lap 10 when Ben Bostrom asserted himself into the mix by grabbing the lead from Hayes in turn one. Hayes responded and took the lead right back the next lap and he led for the next nine laps until Bostrom moved ahead on lap 21 which enabled Hayden to get by Hayes as well. Bostrom led as the last lap began but Hayden made a big late braking move into turn one and took the lead but Bostrom was able to fight right back and retook the lead two corners later and looked a likely winner until Hayden made his great move heading down to the flag to take the win.
Behind the riveting battle for the win, Larry Pegram on his Foremost Insurance Ducati finished fourth after dueling with Jake Zemke on the National Guard Jordan Suzuki, Zemke's Jordan Suzuki teammate Brett McCormick, Taylor Knapp on the RidersDiscount.com Suzuki and a front row starting Eric Bostrom on his Cycle World Attack Performance Suzuki. Knapp actually finished fifth ahead of McCormick, Bostrom and Zemke.
John Hopkins made his return to the series today and he rode his M4 Monster Energy Suzuki extremely well, running in a solid fourth place for most of the race until he went down in turn four near the end of the race. Another rider making a comeback this weekend was Jordan Suzuki rider Aaron Yates and he practiced and qualified his regular #23 Jordan Suzuki on the outside of the second row. Yates elected not to start today's race, his recovery is obviously going well but he wasn't absolutely sure he would bring his best to the race, which was run in very hot and humid conditions. Overall, it was another exciting race in a season that has seen five different winners in SuperBike. Tommy Hayden continues to respond to Josh Hayes' every move in the championship battle and this fight is going right down to the wire.
American SuperBike Race 1
Race Time: 33:04.102 Margin of Victory: 0.005 Best Race Lap: Ben Bostrom (1:25.574)
1 22 Tommy Hayden Rockstar Makita Suzuki Suzuki GSX-R1000 23 Laps WINNER 1:25.756 30
2 155 Ben Bostrom Pat Clark Motorsports Yamaha YZF-R1 0.005 0.005 1:25.574 26
3 4 Josh Hayes Team Graves Yamaha Yamaha YZF-R1 0.303 0.298 1:25.635 22
4 72 Larry Pegram Foremost Insurance ·Pegram Racing Ducati 1098R 20.615 20.312 1:26.037 18
5 44 Taylor Knapp RidersDiscount.com Suzuki GSX-R1000 22.272 1.656 1:26.461 16
6 45 Brett McCormick Jordan Suzuki Suzuki GSX-R1000 25.297 3.025 1:25.879 15
7 32 Eric Bostrom Cycle World Attack Performance Yoshimura Suzuki Suzuki GSX-R1000 25.388 0.090 1:26.469 14
8 54 Jake Zemke National Guard Jordan Suzuki Suzuki GSX-R1000 34.647 9.259 1:26.043 13
9 18 Chris Ulrich M4 Monster Energy Suzuki Suzuki GSX-R1000 50.489 15.842 1:27.121 12
10 101 Jordan Szoke Waznie Racing Ciclo Werks BMC Dewildt Honda Honda CBR1000RR 58.235 7.745 1:27.397 11
11 48 Chris Clark Pat Clark Motorsports Yamaha YZF-R1 1:05.197 6.961 1:27.748 10
12 64 Shane Narbonne DASPerformance.com Suzuki GSX-R1000 1:05.379 0.182 1:27.775 9
13 63 Skip Salenius Run 1 Racing Motorsports Yamaha YZF-R1 22 Laps 1 Lap 1:29.933 8
14 99 Geoff May Erik Buell Racing Buell 1125RR 18.205 18.205 1:26.725 7
15 21 John Hopkins M4 Monster Energy Suzuki Suzuki GSX-R1000 18 Laps 4 Laps 1:25.677 6
16 9 Eric Haugo Viking Moto Suzuki GSX-R1000 16 Laps 2 Laps 1:30.942 5
17 111 Kenny Rodriguez Graham Motorsports Yamaha YZF-R1 1 Lap 15 Laps 1:34.200 0
18 23 Aaron Yates Jordan Suzuki Suzuki GSX-R1000 DNS DNS -no times-
Redemption for Hayes in Superbike on on Day Two
ALTON, Va. (August 15, 2010) - After Saturday's amazing display of action and close finishes, Sunday's AMA Pro Road Racing finals at the 2.25-mile Virginia International Raceway in Alton, Va. to close out the the Suzuki White Lightning AMA Pro Nationals Presented by Foremost Insurance event weekend provided redemption for a couple of riders and also brought a divisional championship to another very deserving rider.
Team Graves Yamaha AMA Pro National Guard SuperBike points leader Josh Hayes had a day where he totally reasserted himself at the top of the tables in every way. After what was for him a disappointing third place result in Saturday's race, where his main championship rival Tommy Hayden took a well measured victory with his Rockstar Makita Suzuki, Hayes came back today to utterly dominate the 23 lap race here at Virginia International Raceway.

"I just feel like I woke up, I didn't like to get beat yesterday," said Hayes. "Somewhere along the way I feel like I kind of got lost a little bit, just in my riding. I wasn't riding my full potential and I was still capable of racing for the wins. I think our motorcycle has a lot to do with that, we have a really good motorcycle. I was just thinking about, what was my mindset last year? I was racing myself a lot more last year. These guys ride great, but I put an awful lot of pressure on myself to perform, so that's what I tried to get back to this morning and today's race was a race against myself."

Hayes led every lap on his way to a series high fifth win in the powerful SuperBike class. Pole position winner and Ben Bostrom and his Pat Clark Motorsports Palms Casino Yamaha duplicated his second place from yesterday to round out a solid weekend for the Las Vegas Motor Speedway supported team. Bostrom had surgery on his thumb after the last race and he was feeling the effects but didn't let it dampen his spirit or resolve.
Tommy Hayden, as he has all season long, took what might have been a tough day and in his usual determined way, battled first with Hayes and then fought Bostrom for second before he finished third to stay close to Hayes in the points chase. Hayden is only 11 points adrift of Hayes with two double header race weekends to go.

"I felt pretty good about stepping up and going faster than I had all weekend there for the first five or six laps," said Hayden. "But in the end we didn't have the pace to go that fast, or cooked the tire a little bit and couldn't keep up. That's the biggest part of it really, we just weren't fast enough."
Riding to fourth place was Jordan Suzuki rookie Brett McCormick who easily had the best race of his season in relief of injured teammate Aaron Yates. Yates did make an appearance at VIR this weekend and quickly showed his mettle with an excellent qualifying effort but he decided not to race until he was fully confident that he was in race distance shape after his lengthy lay off.

Another rider having a good day was Taylor Knapp who rode his RidersDiscount.com Suzuki to a nice fifth place finish after dueling with first Jake Zemke and then Geoff May on his Buell. Chris Ulrich also ran well today and took seventh aboard his M4 Monster Energy Suzuki. Zemke fell to eighth on his National Guard Jordan Suzuki after battling hard to hold onto every position. Zemke ran in fifth place in the early stages of the race.
Larry Pegram fell from sixth at the start down to 15th on lap two but as usual, Pegram put on a great show for the fans and took his Foremost Insurance Ducati all the way back up to ninth at the flag. Canadian Superbike Champion Jordan Szoke made his second AMA Pro SuperBike appearance of the year after racing at Mid-Ohio and impressed once again with a nice tenth place finish after a spirited battle with Shane Narbone on his DASPerformance.com Suzuki.
Daytona SportBike Photo Finish
The AMA Pro Daytona SportBike presented by AMSOIL race was even more exciting and came down to an even closer finish. After seeing Danny Eslick take the pole position, Eslick was joined on the front row by his championship rival Josh Herrin along with six time 2010 Daytona SportBike winner Martin Cardenas and Tommy Aquino.
At the start, a fast starting P.J. Jacobson shot into the lead on his Celtic Racing Suzuki, ahead of Eslick's GEICO Powersports Suzuki, Aquino and his Team Graves Yamaha, Martin Cardenas' M4 Monster Energy Suzuki and Clinton Seller, Steve Rapp and Bobby Fong. The big surprise was that Josh Herrin was hit by another rider diving into turn one and essentially, Herrin's day was done. Back on the track Eslick, Jacobson, Aquino, Cardenas and Fong put on quite a show. Right behind this group was Steve Rapp on his Team Latus Motors Ducati and also Cory West on the Vesrah Suzuki. On lap 15 David White, riding Grant Smith's Memory Racing Kawasaki fell in turn four and the race had to be red flagged to remove his stricken motorcycle.
At the restart, Eslick got a great start and led into turn one. Now there were six bikes running together and Cory West was a man in a hurry and a couple laps later, West made a major move and passed Cardenas for the lead but it was short lived as he fell before the end of the very same lap, letting Cardenas and the rest back by.
Bobby Fong had made a couple of major moves of his own and rode his DNA Energy Drink Ducati from tenth to the lead on a couple of occasions as he and Eslick had a quite the battle along with Cardenas who was right there. One would lead and then another, it was anybody's race. As the race wound down, Eslick was pushed back to third and watched as Bobby Fong and Cardenas went at it. Cardenas had the advantage and coming out to the last corner, he looked a sure winner but Fong moved to the outside as the two neared the flag and they went over the line virtually side by side.
It took a photo review by AMA Pro Road Racing Race Director David McGrath to determine that Fong had indeed won by the absolute slimmest of margins to take his very first AMA Pro Daytona SportBike victory. Fong had been knocking on the door for the last few races and after his heartbreaking fall while leading at the last round at Laguna Seca, this was a popular win for him and the CNR Motorsports team. Josh Herrin's misfortune enabled Eslick to take the points lead and allowed Cardenas to move into second in points ahead of Herrin.
"It feels awesome," said Fong. "We've been working at it all year long to get to the top of the box. With this class, you don't know, a person in fifteenth place could win it's so close and the guys are just so awesome out here."
Tomorrow's race will give Herrin a chance to make up some valuable points after losing ground today. Tommy Aquino took fourth ahead of a determined Steve Rapp and sixth was Fong's Ducati teammate, Michael Beck. Race two of the VIR doubleheader weekend tomorrow at 1:30 p.m. local time. Today's Daytona SportBike race can be seen on SPEED in a set of same-day delayed broadcasts tonight, Saturday, August 14, 2010 beginning at 10 p.m. ET (7 p.m. PT).
SuperSport Standout
In SuperSport, J.D. Beach took his Rockwall Engineering Yamaha to a dominant win over Joey Pascarella on his DNA Energy Drink Yamaha and Huntley Nash on his LTD Racing Yamaha. Beach took his sixth win of the season by over 13 seconds and extended his AMA SuperSport Young Gun East Division points lead over his sidelined teammate Cameron Beaubier and today's fourth place finisher, Tomas Puerta, Huntley Nash's LTD Racing Yamaha teammate. While Beach was able to again ride off into the distance, Pascarella had to battle his way through Puerta and then had a long battle with Nash to claim second place.
"My bike is my baby, I take good care of that thing," said Beach. "We got that thing set up real good, it's a great bike, the team's great. All I have to do is get on it, twist the throttle and go."
---
The Fast Dates Calendar Kittens heat up the track at Miller World Superbike!
Click for Complete Coverage • Heather Rae is also featured in sexy pictorials in Members Corner
The Making of the FastDates.com Calendars now on DVD!
Sure, we may be slow getting around to some things, one of those being the re mastering of our infamous Making of the FastDates.com Calendars movies from VHS tape to high definition DVD. But now thanks to the help of Amazon.com we've entered the 21st century and you can stuff into your Computer or Big Screen DVD player the fastest, hottest, wettest, sexiest motorcycle movies ever made!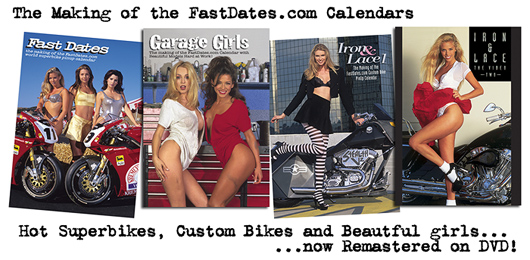 The making of the FasDates.com Calendars DVD movies are available from Amazon.com and in the FastDates.com Video Store.
---
There's more! Go to Pit Lane News Next Page

Also Visit: Fast Dates Calendar News • Iron & Lace Calendar News
Calendar Girl News • Meet the Models • Paddock Garage

Calendar Kittens, Paddock Garage, Screensavers, Iron & Lace Garage





MotorcycleSuperstore.com
Some of our Calendar Kittens can also at Playboy's website...


FREE! New Met-Art Model Galley Updated Daily - Stop Back Each Day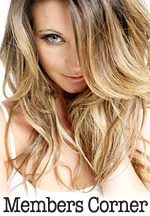 Hot Bikes, Sexy Kittens
Your Exclusive Grid Pass
also includes....
---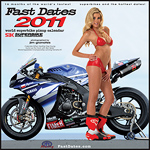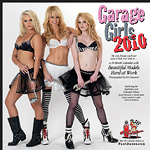 2011 Calendars!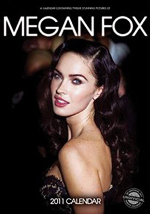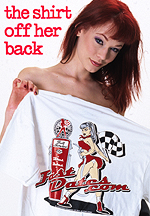 Order the Official
FastDates.com &
LA Calendar Bike Show
T-Shirts!
---
Jay Leno Will Be Grand Marshal Of Red Bull Indianapolis Grand Prix
INDIANAPOLIS, IN – August 18, 2010 – (Motor Sports Newswire) – Yamaha and the Indianapolis Motor Speedway are pleased to bring legendary comedian and late-night television host Jay Leno to serve as grand marshal of the Red Bull Indianapolis GP motorcycle race.
Leno, an avid motorsports enthusiast and collector of motorcycles and cars, will meet with MotoGP teams and riders on Race Day, Sunday, Aug. 29 at IMS and also present a trophy to a podium finisher.
"The Indianapolis Motor Speedway is one of the greatest spectator tracks in the world," Leno said. "Thankfully my R1 will stay in the Big Dog Garage as I plan to watch and cheer on our three Americans right from the pits."
Leno's role as grand marshal extends his involvement with both the Indianapolis Motor Speedway and MotoGP.
In 1999, Leno drove the Chevrolet Monte Carlo Pace Car that led the field of 33 drivers to the start of the Indianapolis 500. In July, Leno opened his incredible collection of cars and motorcycles at Jay Leno's Garage in Southern California to current MotoGP riders and legends in a special event presented by Yamaha before the Red Bull U.S. Grand Prix at Mazda Raceway Laguna Seca in Monterey, Calif.
IMS tickets: Tickets for the 2010 Red Bull Indianapolis GP are on sale now. A new structure offers additional value and flexibility to fans attending the annual MotoGP event.
Among the highlights of the new ticket structure are lower prices and single-day reserved and general admission tickets for Race Day, Sunday, Aug. 29. Children 12 and under will be admitted free any day of the event if accompanied by an adult holding a general admission ticket.
Fans can order tickets online at www.imstix.com, call the IMS ticket office at (317) 492-6700, or (800) 822-INDY outside the Indianapolis area or visit the ticket office at the IMS Administration Building at the corner of Georgetown Road and 16th Street. Online orders can be made at any time. Hours for phone orders and the ticket office are 8 a.m.-5 p.m. (ET) Monday-Friday.
General admission tickets provide access to the grounds, viewing mounds along the infield section of the circuit and selected grandstands, which provide excellent angles to see the greatest riders in the world.
Fans can now print their tickets – three-day reserved seat and Race Day-only general admission and reserved seat tickets – with their printer after ordering tickets online at www.imstix.com. Tickets for groups of 20 or more also are on sale. Contact the IMS Group Sales Department at (866) 221-8775 for more information.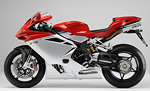 How would you like to buy a factory full of brand new 2010 MV Agustas
for just $3?
Exclusive!!
Claudio Castiglioni Pays Harley-Davidson
$3 for MV Agusta!
When 2 years ago Harley-Davidson bought Italian motorcycle maker MV Agusta for $109 million the US was already in a deep recession, Harley sales were sagging with a management extremely worried about its core baby-boomer customers getting older and losing their will to ride a motorcycle. MV Agusta was also in financial trouble.
Harley-Davidson never explained how this acquisition would help them acquire younger motorcycle enthusiasts. Was it an exchange of technology, an extension of the number of dealerships abroad, both? The only things we know is that the strategy didn't work if even implemented. Then, in October 2009 new Harley President Keith Wandell announced his intention to sell MV Agusta as part of a new corporate strategy to focus resources on the Harley-Davidson brand. No potential buyers being found, Harley-Davidson announced on August 6, 2010 that the company "had concluded the sale of its subsidiary, MV Agusta, to Claudio Castiglioni and his wholly owned holding company, MV Agusta Motor Holding", Castiglioni being the former owner of the Italian motorcycle maker.
It was reported that it looked like Harley-Davidson gave back MV Agusta to its former owner and that Harley being a public company it would have to report to the SEC (Securities Exchange Commission) the terms of the transaction. As a matter of fact the Wall Street Journal just reported that the 8-K filing with the SEC shows that Harley essentially paid MV Agusta's former owners to take it back. The financial newspaper explains the content of the filing showing:
1- that Harley had previously wrote-down $162.6 million for the fair value of MV Agusta and began treating the unit as a discontinued operation after announcing its intention to sell it a year ago.
2- that Harley anticipates additional related losses from discontinued operations in the third quarter of 2010.
3- that Harley received "nominal consideration" from Cariglioni for the transaction. In a subsequent interview a Harley-Davidson spokesman said that the specific amount it received was $3 Euros.
FIM ANNOUNCEMENT
MotoGP Rule Changes
1000cc Engines Only
for 2012
Saturday 14 August
For Immediate Release - The Grand Prix Commission, composed of Messrs. Carmelo Ezpeleta (Dorna, Chairman), Claude Danis (FIM), Hervé Poncharal (IRTA) and Takanao Tsubouchi (MSMA), in the presence of M. Paul Butler (Secretary of the meeting), in a meeting held on August 14 in Brno (Czech Republic), unanimously decided to introduce amendment to the Road Racing World Championship Grand Prix Regulations.
MotoGP class for 2012
Technical Specifications
(as announced on 17/02/10)
Capacity up to 1,000cc
Number of maximum cylinders 4
Maximum bore ø 81 mm
Minimum weight 150 kg (up to 800cc) and 153 kg (over 800cc)
Maximum number of engines available for use by each rider 6
Fuel tank capacity 21 liters
Exception for Claiming Rule Teams (CRT's)
Maximum number of engines available for use by each rider: 12
Fuel tank capacity 24 liters
The selection of the Claiming Rule Teams (CRT's) will be by unanimous decision of the Grand Prix Commission.
Modification to this exception due to performance of the teams requires the simple majority of the Grand Prix
Commission.
Immediate application
Official MotoGP
post-race tests
For these tests of 1 day duration, each rider will be restricted in the quantity and specification of tyres that they
may use at a single test event as follows:
For all practice sessions, a maximum of 8 slick tyres will be allocated, specifically:
Front slick tyres: 2 of Specification "A" + 2 of Specification "B" = 4 in total.
Rear slick tyres: 2 of Specification "A" + 2 of Specification "B" = 4 in total.
During all practice sessions, a maximum of 4 wet tyres, specifically:
Front wet tyres: 2 of the standard specification
Rear wet tyres: 2 of the standard specification
In addition each rider may use 1 set of tyres (1 front + 1 rear) retained from their allocation for the preceding event.
These tyres may be new or used (NB. used tyres must still be mounted on wheels from the preceding event), and the
team must inform the tyre supplier which set of tyres (1 front + 1 rear), if any, they wish to retain for the test within
2 hours of the preceding race finish.

Number of engines for MotoGP 2010
For 2010 the manufacturer members of MSMA who did not win at least 2 dry races in 2008 + 2009 seasons can use 9
engines instead of 6.
Buell 1190 Racing Superbike Heads Towards Street Legal Roadbike?
Check out this video which has just surfaced indicating that Eric Buell might be hoping tobecome a motorcycle manufacturer one again with a street legal 1190.
Click Here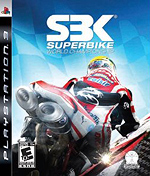 New Playstation!
Superbike & MotoGP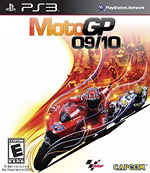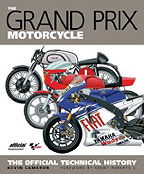 Castiglioni Brothers Buy back MV Agusta from Harley-Davidson

The Official Press Release From MV Agusta
Varese, August 6th 2010 – Claudio and Giovanni Castiglioni, through their family holding company have repurchased from Harley Davidson 100% of the shares of MV Agusta Motor S.p.A. which owns historic brands MV Agusta and Cagiva. Harley-Davidson announced in October 2009 its intention to sell MV Agusta to concentrate on its core business and brand.
In connection with the repurchase transaction Lazard and Co. have acted as the financial advisor along with counsel Alessandro Varrenti (CBA) and Giuseppe Galeano whom provided legal and tax assistance in conjunction with family counsellors Giuseppe Carteni (Leadlaw), Andrea Lanata and Sergio Caramella.
Along with Giovanni Castiglioni, the company will be headed by Mr. Massimo Bordi, a well known Italian manager. A 62-year-old engineer, Bordi took Ducati to success during the years when that company was owned by the Castiglionis and continued to manage it successfully under the ownership of Texas Pacific Group. Since 2003 Massimo Bordi has been the CEO of Same Deutz Fahr, contributing largely to the success of the company. Massimo Bordi commented that "MV Agusta has full capacity to once again become a major player in the high luxury brand motor bikes, this brand is one of the most recognized worldwide. We will implement a number of reorganization and managerial actions in the near future. Both the current and new models under development have a very strong character, great innovative features and a very unique design, I have no doubts about their future success."
Claudio Castiglioni, the historic intimate soul of MV Agusta will continue as chairman, and will concentrate on the development of the new products. Upon signing the agreement with Harley-Davidson, Claudio Castiglioni stated "MV Agusta is the crown jewel of Italian motorcycles, I am thrilled to have completed this transaction. I have already won once together with Massimo Bordi, we made the most beautiful bikes in the world and we will continue with this tradition".
The Official Press Release From Harley-Davidson.
MILWAUKEE, Aug. 6, 2010 Harley-Davidson, Inc. (NYSE: HOG) has concluded the sale of its subsidiary, MV Agusta, to Claudio Castiglioni and his wholly owned holding company, MV Agusta Motor Holding, S.r.l., effective today. Castiglioni is the former owner of the Italian motorcycle maker and has served as MV Agusta's chairman since 2008, when Harley-Davidson acquired the company.
In October 2009, Harley-Davidson announced its intention to sell MV Agusta as part of a new corporate strategy to focus resources on the Harley-Davidson brand. Since then, Harley-Davidson has held discussions with various potential MV Agusta buyers. "MV Agusta is a proud brand and we wish Mr. Castiglioni and the company's employees well," said Harley-Davidson President and Chief Executive Officer Keith Wandell. "Our decision to divest MV Agusta reflects our strategy to focus our efforts and our investment on the Harley-Davidson brand, as we believe this provides an optimal path to long-term growth."
---


KTM RC8R



Aprilia RSX1000


Kawasaki Z1000
---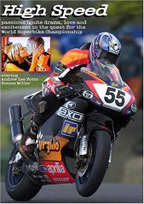 High Speed - the Movie
The best motorcyce racing movie ever made! Filmed on location at World Superbike, this an exciting romantic drama staring beautiful actress Sienna Miller.


Erotica Archives
FREE New Model
Galley Updated Daily
Warning Contains Nudit
---
ANSTEY AND SUZUKI MAKE ULSTER GP HISTORY
Team Suzuki Press Office - August 15.- Kiwi Bruce Anstey and his Relentless by TAS Suzuki GSX-R1000 Superbike have made history by becoming the World's fastest combination of rider and machine ever in Ulster Grand Prix at Dundrod in Northern Ireland, averaging an astonishing 133.977mph in the final race of the day.
Anstey's record-breaking lap aided his Superbike win in the final race of the day, taking the TAS Racing team's top step tally to 12 at 'The Ulster'. And judging by the reaction of the 30,000 strong crowd at the County Antrim venue, the London-based Kiwi was also the event's most popular winner around the 7.401-mile circuit.
Anstey was unfortunate not to have also taken the opening Superbike race win in a six-lap thriller that involved up to six riders. The 41-year-old suggested in a succinct manner afterwards during a radio interview, that backmarkers probably blighted his cause at the Lindsay Hairpin on the final circuit, but was happy in the circumstances with second place.
Cameron Donald overcame a mid-week medical for a viral infection and fought bravely in all of today's races. After a mediocre start to the day in the Superstock encounter, where he finished 11th, the Cookstown-based Aussie got himself in the thick of the action in both Superbike races. In the opening race he overshot at Cochranestown losing out on the opportunity of a podium return to Dundrod. But in race two his lap times were only bettered by his world record-breaking team-mate and those who flanked him on the podium. Donald eventually finished fourth with a best lap of 133.401mph.
Bruce Anstey: "I said before today that our bikes were very competitive and while I missed out in the cat-and-mouse game for victory in the opening Superbike race, I wasn't going to make the same mistake twice. Granted, there wasn't much in it between the top four or five guys today, but ultimately we proved that the GSX-R1000 in Relentless Suzuki trim is not only the best, but the fastest road racing Superbike on the planet. A big thank you to all the boys in the team today for a big effort - they work hard all year and it's nice to give them something to boast about at the end of a tough season."
MotoGP Teams
Test at Bruno on Monday after MotoGP
August 16th, Bruno Race Circuit - Jorge Lorenzo and Valentino Rossi today completed a one-day test at Brno, alongside the rest of the MotoGP grid, to set themselves up for the final eight races of the season. The test was cut short when it began to rain in the mid afternoon but not before both Fiat Yamaha men had the chance to do some important work on their M1s.
Lorenzo picked up from where he left off yesterday, the race winner once again topping the time sheets nearly half a second ahead of Casey Stoner. The championship leader tried a new engine upgrade and a new suspension setting for his M1 and also completed some laps on Yamaha's 2011 prototype YZR-M1.
After struggling in yesterday's race Rossi and his crew were keen to understand what had happened so they worked closely on their setting to do just that today, with the Italian completing more laps than nearly anyone else. Rossi also had the chance to try the new 2010 engine upgrade and finished the day fourth fastest.
The team now has a weekend off before flying to Indianapolis next week for the next round of the MotoGP World Championship.
Jorge Lorenzo - Position: 1st Time: 1'56.269 Laps: 44
"This was an important and interesting test for us, both for the rest of the season and looking towards next year. We had a lot to do but unfortunately the rain forced us to stop early. As well as the 'new' prototype machine for next year we also tried an engine upgrade and a new Ohlins suspension, but it's too early to know if they will be better for our M1, which is already very competitive. We got quite a lot of information though so hopefully it will help the engineers to improve things even more."
Valentino Rossi - Position: 4th Time: 1'57.129 Laps: 50
"I'm happier today because we worked hard to understand what happened during yesterday's race and at the end we have a clearer picture. We worked a lot on the setting and we found out some things, which we hope will be useful over the rest of the season and help us to have some more good races. I tried a new engine for the 2010 bike and it's not so different but there are some small things about it which I think can help; I hope we can use it soon."
Positive test for Spies and Edwards in Brno
Less than 24 hours after a strong performance in the Czech Republic MotoGP race, the Monster Yamaha Tech 3 Team was back hard at work for a one-day test session at the Brno circuit today.
Perfect conditions this morning allowed Texan Spies to complete 36 of his 42 laps on board a 2011 prototype model of Yamaha's factory YZR-M1 machine.
Spies was delighted with the potential of the test bike and finished in sixth position on the timesheets having been able to give valuable feedback to engineers.
Spies ended with a best time of 1.57.575 to lap 0.5s quicker than he managed when finishing in an impressive fourth place in yest erday's 22-lap race.
The 26-year-old though was unable to complete a further assessment of the new bike when rain brought an early end to proceedings shortly after 3pm.
Colin Edwards finished one place higher up in fifth place as he was able to spend 41 laps assessing different front-end geometry settings and a revised front tyre specification from Bridgestone.
Edwards, who equalled his best result of the season in yesterday's race with seventh, set a best time of 1.57.512 to finish almost a second faster than his quickest race pace.
Colin Edwards 5th 1.57.512 – 41 laps - "We made a change with the set-up for the race yesterday and I didn't really have a good feeling with the bike, so we reverted back to the setting I was happy with on Saturday just to try and understand why I wasn't able to run the same pace. I've learned not to race the bike with a setting that we hadn't tested but we thought it would be fine. I tested some different front-end geometry to try and make more progress with the better turning performance we found earlier in the weekend and we've got some more ideas for the future. I tried a new Bridgestone front and I was really happy with that so it was a good test. Although I wasn't happy with the result yesterday, I felt we made a breakthrough with the bike here and I'm really looking forward to challenging for my first top six finish of the season at the next race in Indianapolis."
Ben Spies 6th 1.57.575 – 42 laps - "It was a good day. I can't say too much about the new bike and honestly I'm not sure exactly what I rode. I just got on and rode what was given to me and I didn't set any blistering lap times today but th at was not the objective. Today was all about giving feedback and getting some data on the new bike. The good thing is that I was pretty much on the pace of the bike I've been riding since February and that is a big positive because we've got plenty of time to work on that bike. We got lots of information so it was a productive day. It was a good weekend with my first front row start and a strong fourth place in the race and after today I'm heading to Indianapolis for another home race full of confidence. I love racing in front of my home fans and hopefully I'll be able to get my best result of the season at Indy."
Test Times
1. Jorge Lorenzo (SPA) Fiat Yamaha Team 1'56.269
2. Casey Stoner (AUS) Ducati Marlboro Team 1'56.844
3. Dani Pedrosa (SPA) Repsol Honda Team 1'56.944
4. Valentino Rossi (ITA) Fiat Yamaha Team 1'57.129
5. Colin Edwards (USA) Monster Yamaha Tech 3 1'57.512
6. Ben Spies (USA) Monster Yamaha Tech 3 1'57.575
7. Andrea Dovizioso (ITA) Repsol Honda Team 1'57.691
8. Loris Capirossi (ITA) Rizla Suzuki MotoGP 1'57.700
9. Nicky Hayden (USA) Ducati Marlboro Team 1'57.991
10. Hector Barbera (SPA) Aspar Team 1'58.017
11. Marco Melandri (ITA) San Carlo Honda Gresini 1'58.070
12. Marco Simoncelli (ITA) San Carlo Honda Gresini 1'58.091
13. Aleix Espargaro (SPA) Pramac Green Team 1'58.612
14. Hiroshi Aoyama (JPN) Interwetten-Honda MotoGP 1'58.830
15. Mika Kallio (FIN) Pramac Green Team 1'58.926
16. Alvaro Bautista (SPA) Rizla Suzuki MotoGP 1'59.454