Inside the Ducati factory, a Testastretta 4-valve Engine meets the trademark Trellis frame.
The perfect trip for any sportbike fanatic
The Ducati Edelweiss Imola Superbike Tour - Italy, the Factory & Museum, Imola WSBK!
By Jim Gianatsis, Editor
Bologna Italy, September 2010 - Once you've taken one Edelweiss Motorcycle Tour in a beautiful location somewhere in the world you'll become hooked and want to return for another, year after year. The new for 2010 season Ducati Edelweiss Imola sounded to be the perfect tour for me, a hard core Ducati owner enthusiast and superbike fanatic. It would kick off in Bologna, Italy with a tour of the Ducati Factory and Museum, pick up a new Ducati Multistrada MTS1200S Touring powered by a 150hp version of the potent Testastretta 4-vale Superbike motor, and ride across the mountain roads and through the vineyards of Tuscany in Northern Italy, finishing up with a weekend at the SBK World Superbike races at the famed Imola race circuit where we would see Max Biaggi and Aprilia clinch his first World Superbike title. How's that for the ultimate sportbike fanatic's dream vacation?
There' a lot more HERE: Part 1 The Trip • Part 2 The Ducati Factory / Museum • Part 3 Imola World Superbike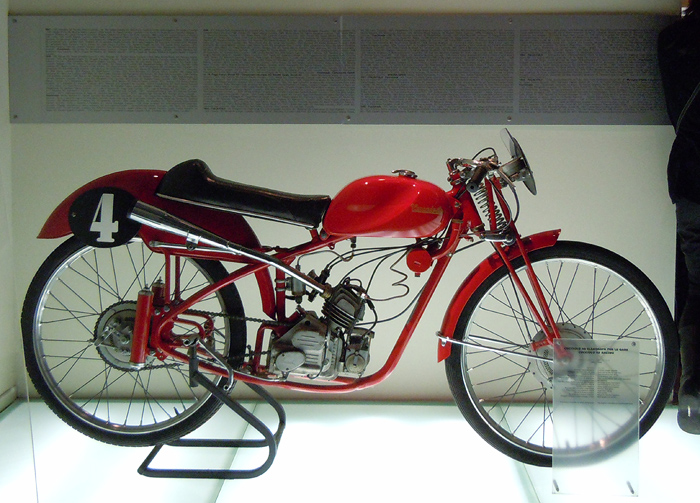 The first and last Ducati racebikes, the 50cc Cucciolo of 1948 and Casey's Stoners frameless MotoGP bike of today, some 60 years later.
---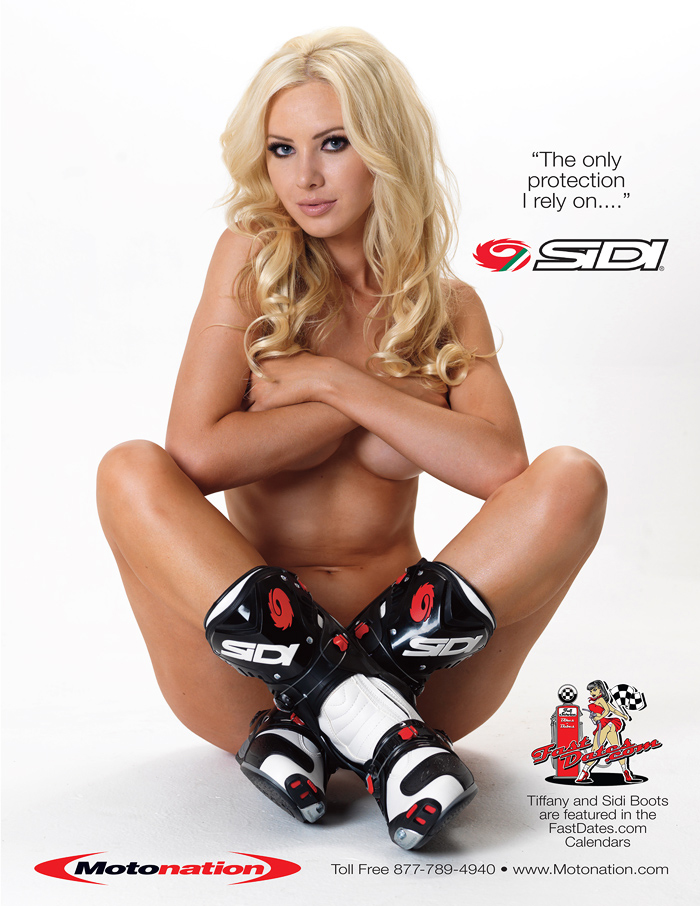 Tiffany is also featured without her boots in Members Corner
---
Michale Laverty accepts the Sunflower Trophy at Bishopscourt.

The Rising Stars of British Superbike

Laverty Faultless with Irish Sunflower Hat Trick
Ireland, November 17th - Michael Laverty ended the 2010 season in fine style, taking a hat trick of Superbike victories on his Relentless by TAS Suzuki at the Sunflower Trophy Races on Saturday in Northern Ireland. Laverty dominated all practice sessions, comfortably dipping inside the Bishopscourt circuit lap record on his way to pole position, and when it came to race action, the British Superbike star put in three faultless performances. It takes his Sunflower Trophy success tally to six since 2002 and the 29-year-old now has a phenomenal record of 18 career victories in all classes at the prestigious end-of-season event.
Team mate Alastair Seeley made a number of minor changes throughout the day, improving the set-up on his GSX-R1000 Superbike and ended the day with a podium, as did Relentless by TAS Suzuki debutant James Westmoreland in the Supersport class.
Michael Laverty: "That was the perfect way to cap off what has been a successful and enjoyable season. It was quite a dominant weekend for us as we lead every practice session and every lap in all three Superbike races. My Relentless by TAS Suzuki was working perfectly and never missed a beat. I was almost a little over confident and when Ian upped his pace during the main event, I was caught off guard and had to respond. I wasn't at my limit and had plenty in reserve, so I managed to pull a small gap and won the Sunflower Trophy for the sixth time. It was an enjoyable day and I'd like to thank the whole team for a big effort and all our sponsors for making it happen."
Alastair Seeley: "I was a bit frustrated and disappointed but that final race podium lifted my spirits. I got involved in a drag race off the line with Michael in the last Superbike race, but when Marshall dived under me then got ejected, I had to brake hard to miss his bike and Michael got away. Ian then came past and tried to make a break, but I managed to get onto the back of him, although I couldn't quite get the drive I wanted out of the turns to have a go at him. I didn't want to bin it, so I just brought my GSX-R1000 Superbike home for a podium to finish the season on a positive note. I also took a second off my best ever lap around Bishopscourt so I was pretty pleased with that. Thanks to the boys in the workshop and the whole team for a very enjoyable year."
James Westmoreland: "It was always going to be a difficult weekend on a new bike at a new track, but we were realistic and did a good job in a limited timeframe. It took a bit of time to set the bike up to suit me on Wednesday and Thursday, but I was very impressed with the whole set-up within the Relentless by TAS Suzuki team and really enjoyed riding their GSX-R600. I have to say I was not on the limit with their bike, and had we had a little more time I could have done a lot more, although I was happy to give the team a podium in the second race. That was the icing on the cake. I must say it was a real pleasure to work with team; they worked very hard and did everything they could for me and I gelled well with them. I would like to thank Hector and Philip for the opportunity."
Philip Neill - Team Manager: "Today was the perfect end to a fantastic season for our team. Everyone has worked so hard and to win the Sunflower Trophy for a fourth time - Michael's sixth- is testament to our group effort. Michael again proved he is a master of the Sunflower event and with his effortless style he never looked like he would be beaten all day, also demonstrating the strength of the Relentless by TAS Suzuki GSX-R1000.
"Alastair also showed progress this weekend by lapping faster than he has ever done before at Bishopscourt, and in his defence he came up against some stiff opposition, which included a World Superbike machine. It was very pleasing to see him end up where he started his season at Brands Hatch: on the podium.
"James Westmoreland joined us for a one-off appearance and with very little track time on an unfamiliar GSX-R600, he posted a podium behind two former World Supersport machines. What made his performance particularly impressive was the fact that he was running a specification we may see in the British Supersport Championship in 2011. Basically the bike had no electronic gimmicks like traction control.
"Finally I'd just like to thank our riders, team members and our loyal sponsors and partners for their support throughout 2010 in what has been a great season for everyone involved."
Sunflower Race: 1 Michael Laverty [Relentless by TAS Suzuki] 11: 12.462; 2 Ian Lowry [Kawasaki] +2.506sec; 3 Marshall Neill [Honda] +9.483; 4 John Laverty [Kawasaki] +9.742; 5 Alastair Seeley [Relentless by TAS Suzuki] +10.331; 6 Barry Burrell [Kawasaki] +16.385.
Superbike Race 1: 1 Michael Laverty [Relentless by TAS Suzuki] 10:09.509; 2 Marshall Neill [Honda] +3.552sec; 3 Ian Lowry [Kawasaki] +3.715; 4 John Laverty [Kawasaki] +3.948; 5 Alastair Seeley [Relentless by TAS Suzuki] +7.653; 6 Brian McCormack [Honda] +16.555.
Superbike Race 2: 1 Michael Laverty [Relentless by TAS Suzuki] 10:07.309; 2 Ian Lowry [Kawasaki] +7.331sec; 3 Alastair Seeley [Relentless by TAS Suzuki] +8.006; 4 Barry Burrell [Kawasaki] +18.269; 5 Michael Dunlop [Honda] +21.856; 6 Brian McCormack [Honda] +25.426.
Supersport Race 1: 1 Marshall Neill [Honda] 10:21.827; 2 Sam Lowes [Honda] +0.122sec; 3 Ben Wilson [Kawasaki] +0.441; 4 James Ellison [Honda] +2.959; 5 Kirk Jamison [Yamaha] +4.792; 6 James Westmoreland [Relentless by TAS Suzuki] +11.186.
Supersport Race 2: 1 Marshall Neill [Honda] 10:24.603; 2 James Ellison [Honda] +0.955sec; 3 James Westmoreland [Relentless by TAS Suzuki] +5.447; 4 Billy McConnell [Yamaha] +5.896; 5 Michael Dunlop [Honda] +6.146; 6 Kirk Jamison [Yamaha] +6.475.
---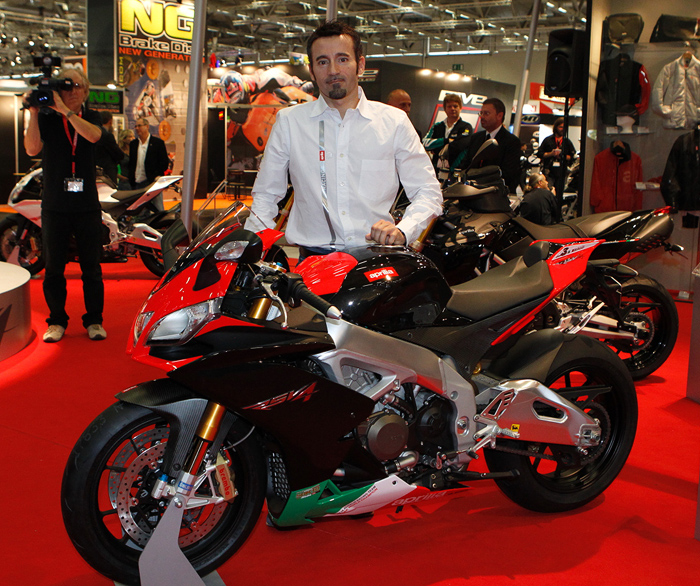 Aprilia Unveils new 1200 Dorsodura, Biaggi RSV4 Replica
at 2010 Intermot / International Motorcycle Fair
Cologne, 5 October 2010 - With over 110,000 sq m exhibiting space and 1,097 exhibitors accounting for 1,575 brands from the most diverse sectors of the motorcycle industry, the German motorcycle fair hosted the debut of the Aprilia RSV4 Factory APRC Special Edition at the press conference held today. This is the road version of the bike that managed to clinch both World Superbike titles in eight days, during the last two race weekends, with Max Biaggi snatching the Riders' title in Imola and Aprilia the Constructors' title in Magny Cours.
Aprilia claims a one-two the year after its debut in WSBK, and brings its list of achievements to 45 world titles, making the brand from Noale the most winning European manufacturer in the Motorcycle World Championship with 277 Grand Prix wins.
The new road version of the World Superbike winning bike was christened today in Cologne by five-time world champion Max Biaggi, together with Maurizio Roman, Director of Product Development and Strategy for the Piaggio Group, Stefano Sterpone, Commercial Director for the Group, and Leo Mercanti, Head of Product Development and Racing.
Maurizio Roman, Director of Product Development and Strategy, said: "These two World Superbike titles prove that our technology and products are at the forefront of the industry. I am so glad this achievement came just before the Cologne Fair, as the show is to host the debut of the sophisticated road version of our magnificent RSV4 that has dominated the Superbike season. This bike includes all electronic technology innovations used on the race track to offer motorcycle lovers the very best top-notch technology applied to sports bikes".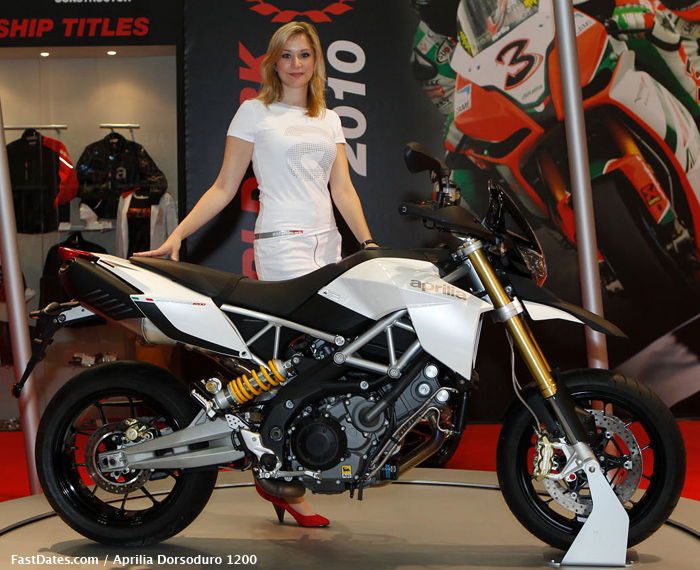 Beside the RSV4 Factory Special Edition equipped with Aprilia APRC traction control, the brand from Noale unveiled the brand new supermotard Aprilia Dorsoduro 1200. "At the Cologne Fair, Aprilia will be presenting a yet more exhaustive range that is the result of the significant technology investment the Piaggio Group has lavished on this great sports brand", stated Stefano Sterpone, Commercial Director for the Group. "The RSV4 Factory Special Edition - summing up all the expertise of an amazing racing season into a road bike - is complemented by the Dorsoduro, a more muscular version propelled by a brand new 1200cc 130 HP V-twin engine developed by Aprilia". Moto Guzzi has some new products in store as well: "The "eagle brand" launches its beautiful small-capacity special bike, the V7 Racer, and has readied the Norge 1200 with several improvements and the new 4 valves per cylinder engine for the grand touring market" says Stefano Sterpone.
Max Biaggi, the first Italian world champion in WSBK history, unveiled the new RSV4 APRC SE: "The bike I christened today is the true descendant of the RSV4 I rode to victory as many as 10 times during this amazing racing season. The technology transfer from the race track to the road is self-evident, especially in terms of electronics. It is good to see how the efforts of the whole team in the pit not only bring in wins, but also turn out increasingly advanced products for motorcycle lovers".
Caution - This Met-Art Model Galley Contains Full Nudity!


---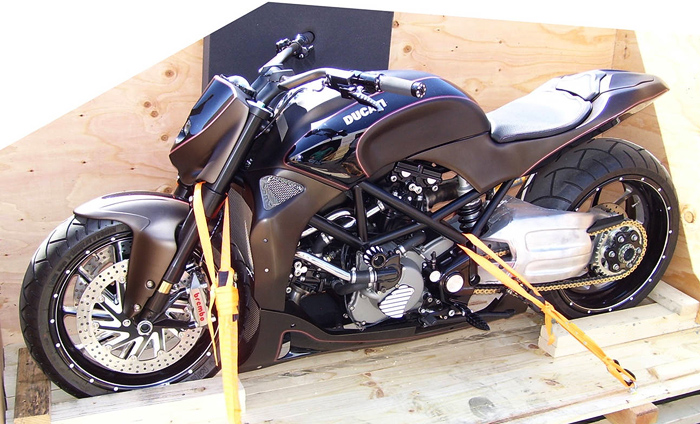 New Ducati 2011 Diavel devil cruiser revealed!
October 18th - Who knows where these spy pictures come from? We saw the new 2011 Ducati Diavel (Devil) Cruiser being wheeled through the Ducati factory under a blanket when we were on the Edelweiss Tour there back on September 2oth. Here it is in its final production form in a shipping crate on the way to a trade show or photo shoot. The new Diavel will make its first public appearance at the EICMA International Motorcycle Show this coming November, and certainly followed by the Cycle World International Show Tour in the USA.

Announcing the new model's name ahead of the official presentation, the famous Italian manufacturer is about to turn another dream into reality. This dream comes true via using the local Bolognese dialect for "devil" in naming their new model the Diavel – pronounced Dee-ah-vel.

The idea for the Diavel name was born early in the development process of the bike, when the prototype was assembled and wheeled out in front of a group of Ducati engineers and technicians for the first time. One person looking from the rear of the bike saw its silhouette and exclaimed in Bolognese dialect: "Ignurànt comm' al diavel!" Meaning: "Evil, like the devil!"

From that moment on, Diavel became the nickname for the project. Ducati now makes the name official as it approaches the unveiling in Milan. Reminiscent of how the "Monster" was named 20 years ago, the Diavel is now destined to follow the same Bolognese tradition. Ducati is proud to continue shaping the future of motorcycling while staying faithful to its Italian heritage.

Built to have a commanding presence, though lightweight and agile, the Diavel will take the man-motorcycle relationship to the next level in absolute comfort. For fans of technology ABS, Ducati Traction Control and Ducati Riding Modes will deliver a confidence-inspiring sophistication. Stunning looks, the Superbike-derived Testastretta 11° engine and 456lb of authentic Ducati performance will drive a comfortable sport lifestyle that could only be dreamt of until now. This same engine in the new Multistrada produces 150hp. What appears to be a dull-black paint finish in this photo is actually a fine weave carbon fibre mat finish at closer look.
For comparison, the Diavel's main completion are the: Suzuki M109R (764 lbs), Harley-Davidson V-Rod Muscle (673 lbs), Star VMAX (683 lbs / 685 lbs for the California version). Plus special construction bikes like the Confederate and Ecosse in the $80,000 price range. Whether you like this type of bike or not, you must admit it is beautiful. With as much or more power than its rivals, being some 250lbs lighter in weight, housed in a Superbike platform with Brembo Monoblock brakes, we think Ducati has a sure winner on its hands. If this bike don't bring the Industry out of its depression, nothing will. The only curiosity is the seemingly lack of provision for carrying a passenger / bolting on passenger pegs..
---


MotoGP World Championship, Estoril, Spain, Round 17 of 18
Yamaha Doubles Estoril MotoGP
bwin Grande Prémio de Portugal, Estoril, Spain - Sunday October 31st - Fiat Yamaha riders Jorge Lorenzo and Valentino Rossi put in a superb team performance today at the Grand Prix of Portugal on the Estoril circuit, taking first and second respectively to deliver Yamaha it's third consecutive Triple Crown with the Team, Rider and Manufacturers' titles. The achievement marks the first time since the Triple Crown's inception that any manufacturer has won it three times in a row. After a weekend of disruption from the weather today's race was run mainly in bright sunshine, although rain earlier in the day meant the track was still patchy to begin with.
2010 World Champion Lorenzo made a strong start from pole, taking the lead into the first corner before briefly relinquishing it to Nicky Hayden for a few seconds before taking back control of the race. Team-mate Rossi made a play for the lead on lap four, relegating Lorenzo to second until lap 17 where a decisive out braking manoeuvre saw the Spaniard retake the lead, putting his head down to build an impressive eight second lead over Rossi by the chequered flag. The victory was another landmark for Lorenzo, being the third consecutive time he has won from pole position at this track. Rossi's second position finish continues his impressive record in Portugal, giving him his tenth podium here in all classes.
Rossi's second-place and a non-finish from Casey Stoner means the Italian has moved back to third in the championship standings, 19 points off Dani Pedrosa and second place. The final round of the season comes in one week's time at Valencia in Spain.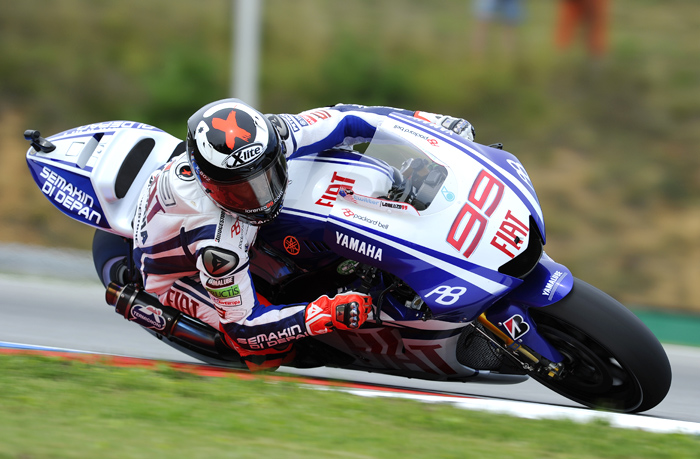 Race winner Jorge Lorenzo
Fiat Yamaha riders Jorge Lorenzo and Valentino Rossi put in a superb team performance today at the Grand Prix of Portugal on the Estoril circuit, taking first and second respectively to deliver Yamaha it's third consecutive Triple Crown with the Team, Rider and Manufacturers' titles. The achievement marks the first time since the Triple Crown's inception that any manufacturer has won it three times in a row. After a weekend of disruption from the weather today's race was run mainly in bright sunshine, although rain earlier in the day meant the track was still patchy to begin with.
2010 World Champion Lorenzo made a strong start from pole, taking the lead into the first corner before briefly relinquishing it to Nicky Hayden for a few seconds before taking back control of the race. Team-mate Rossi made a play for the lead on lap four, relegating Lorenzo to second until lap 17 where a decisive out braking manoeuvre saw the Spaniard retake the lead, putting his head down to build an impressive eight second lead over Rossi by the chequered flag. The victory was another landmark for Lorenzo, being the third consecutive time he has won from pole position at this track. Rossi's second position finish continues his impressive record in Portugal, giving him his tenth podium here in all classes.
Rossi's second-place and a non-finish from Casey Stoner means the Italian has moved back to third in the championship standings, 19 points off Dani Pedrosa and second place. The final round of the season comes in one week's time at Valencia in Spain.
With the World Championship clinched 3 weeks ago by Jorge Lorenzo, a long 18-race season spanning 8 months, a slim field of 17 riders in the premier MotoGP Class downsized even further by injuries, and two of the top factory riders looking to change teams since back in August, you might be like many in wishing this 2010 MotoGP race season had ended already.
Race Preview: Lorenzo looking for wins as the battle rages behind
Having wrapped up his first MotoGP World Championship title in Sepang three weeks ago, and with the pressure well and truly off, Jorge Lorenzo is going for wins to cap off his momentous year.Lorenzo has won the Portuguese Grand Prix from pole position the last two years and the newly crowned World Champion is keen to make it a hat-trick of victories at the Estoril circuit this weekend.
"I have good memories of the Estoril circuit, especially in MotoGP," declared Lorenzo during the pre-event press conference. "In the past I've been fast here, but this is a new season, a new year, so let's see what happens in the first practice. I really pushed at the maximum in Phillip Island and I think I made a great race, but the problem was how quick Casey was, meaning I could only finish second. I hope that here at Estoril I'll have more opportunity to fight for the win," concluded the new World Champion.
While Lorenzo has only race wins on his mind, the same isn't true of his closest rivals. Second place in the championship is still very much up for grabs, as Casey Stoner and Valentino Rossi both look to depose Dani Pedrosa from the runner-up position.
Stormy Atlantic Weather Knocks out Saturday Qualifying
Saturday 30th - Relentless heavy rainfall at Estoril this afternoon forced the cancellation of all three qualifying sessions for tomorrow's Portuguese Grand Prix. Grid positions have thus been decided from the three practice sessions from yesterday and this morning, all of which were run on a wet track.
Conditions have been pretty miserable since practice got underway yesterday morning, with strong winds and squalls blowing in from the nearby Atlantic Ocean. The track was awash when the first MotoGP practice session got underway at 10am yesterday, so much so that only two MotoGP riders went out, completing a total of just seven laps between them. Conditions improved during yesterday afternoon's session, but the rain got worse again this morning and by lunch time the storms lashing Estoril grew in their intensity until race direction decided it was too dangerous for riders to venture out for qualifying. Yesterday there were 37 crashes across all three classes – MotoGP, Moto2 and 125 – and there were a further 45 tumbles this morning as riders fought vainly to find meaningful grip on the treacherous tarmac. The only rider to suffer injury was Moto2 rider Axel Pons (Tenerife 40 Pons, Pons Kalex), who fractured his right collarbone.
The last occasions on which grid positions were decided from free practice was at Motegi last year and at Sepang in 2006 when torrential rain forced the cancellation of qualifying.
Lorenzo Wins Easily on Sunny Race Day
Sunday 30th - Jorge Lorenzo won from pole position for the third year in succession at Estoril as he took victory at the bwin Grande Premio de Portugal on Sunday, finishing ahead of Valentino Rossi and Andrea Dovizioso. The Fiat Yamaha rider, for whom this was an eighth win in his title-winning 2010 campaign, got the better of his rival and team-mate Rossi as they battled early on and when he took the lead on the 17th of 28 laps he did not look back, eventually taking the chequered flag 8.629s clear of the Italian. It was Lorenzo's first win since the Brno round, and leaves him on course to still be able to beat Rossi's 2008 record points haul (373) in a single season in MotoGP with one round still remaining.
The Italian brought home his factory M1 in a lonely second position for his tenth podium at Estoril in 11 visits as he finished almost 18 seconds ahead of Dovizioso, who had engaged in a thrilling battle to the very finish with Marco Simoncelli for the final podium position. It was the Repsol Honda rider who edged it – by just 0.059s – to take his seventh podium of the season and leave the San Carlo Honda Gresini rider still looking for his first rostrum in the premier class.
Ducati Team rider Nicky Hayden placed fifth after coming close to the podium, the American just 0.620s behind Simoncelli, whilst Randy de Puniet (LCR Honda) and Colin Edwards (Monster Yamaha Tech 3) completed the top seven, both within three seconds of Hayden.
Dani Pedrosa (Repsol Honda) came in eighth, with Marco Melandri (San Carlo Honda Gresini) and Héctor Barberá (Páginas Amarillas Aspar) inside the top ten. Álvaro Bautista (Rizla Suzuki), Hiroshi Aoyama (Interwetten Honda MotoGP) and Loris Capirossi (Rizla Suzuki) were the final three riders to finish the race.
Casey Stoner (Ducati Team) suffered the bitter disappointment of crashing out at turn 13 on lap five as he pushed hard while in third position, whilst Pramac Racing pair Aleix Espargaró and Carlos Checa both failed to finish too, the former crashing on lap one and the latter retiring with an arm pump problem with 15 laps remaining. Ben Spies (Monster Yamaha Tech 3) didn't start the race after crashing on the sighting lap and dislocating his left ankle.
The battle for the runner-up spot in the Championship will now be determined next weekend, with Pedrosa on 236 points and Rossi on 217 and the only two who can now possibly end the campaign in second.
MotoGP Race Classification: (28 laps = 117.096 km)
Pos / Rider / Nat / Team / Motorcycle / Time/ KM/H / Gap
1 / Jorge LORENZO / SPA / Fiat Yamaha Team / YAMAHA / 46'17.962 / 151.746 /
2 / Valentino ROSSI / ITA / Fiat Yamaha Team / YAMAHA / 46'26.591 / 151.276 / 8.629
3 / Andrea DOVIZIOSO / ITA / Repsol Honda Team / HONDA / 46'44.437 / 150.313 / 26.475
4 / Marco SIMONCELLI / ITA / San Carlo Honda Gresini / HONDA / 46'44.496 / 150.31 / 26.534
5 / Nicky HAYDEN / USA / Ducati Team / DUCATI / 46'45.116 / 150.277 / 27.154
6 / Randy DE PUNIET / FRA / LCR Honda MotoGP / HONDA / 46'46.259 / 150.216 / 28.297
7 / Colin EDWARDS / USA / Monster Yamaha Tech 3 / YAMAHA / 46'48.071 / 150.119 / 30.109
8 / Dani PEDROSA / SPA / Repsol Honda Team / HONDA / 47'02.909 / 149.33 / 44.947
9 / Marco MELANDRI / ITA / San Carlo Honda Gresini / HONDA / 47'31.611 / 147.827 / 1'13.649
10 / Hector BARBERA / SPA / Paginas Amarillas Aspar / DUCATI / 47'35.683 / 147.616 / 1'17.721
11 / Alvaro BAUTISTA / SPA / Rizla Suzuki MotoGP / SUZUKI / 47'35.870 / 147.606 / 1'17.908
12 / Hiroshi AOYAMA / JPN / Interwetten Honda MotoGP / HONDA / 47'50.987 / 146.829 / 1'33.025
13 / Loris CAPIROSSI / ITA / Rizla Suzuki MotoGP / SUZUKI / 47'57.714 / 146.486 / 1'39.752
Pole Position: Jorge LORENZO 1'48.522 .000 Km/h
Fastest Lap : Jorge LORENZO 1'37.928 153.737 Km/h Lap 20
Circuit Record Lap: Dani PEDROSA 1'36.937 155.309 Km/h 2009
Circuit Best Lap: Jorge LORENZO 1'35.715 157.291 Km/h 2008
World Championship Positions:
1 LORENZO 358, 2 PEDROSA 236, 3 ROSSI 217, 4 STONER 205, 5 DOVIZIOSO 195,
6 SPIES 163, 7 HAYDEN 163, 8 SIMONCELLI 115, 9 DE PUNIET 110, 10 MELANDRI 100,
11 EDWARDS 99, 12 BARBERA 82, 13 BAUTISTA 78, 14 ESPARGARO 60, 15 AOYAMA 51.
Visiting World Supersport Champ Sofuoglu almost wins Moto2!
A thrilling, topsy-turvy Moto2 race opened proceedings at Estoril today with the track still damp in places following some morning rainfall, though dry enough to make slick tyres the unanimous choice. The race was won by first-timer Moto2 winner Stefan Bradl (Viessmann Kiefer Racing, Suter) who beat Alex Baldolini (Caretta Technology Race Dept, I.C.P.) by just seven hundredths of a second.
Bradl, former 125 GP winner and son of former GP rider Helmut Bradl (who won five 250 GPs for Honda in 1991) rode a perfectly judged race, pushing hardest where the track was at its most grippy and taking care in the less grippy final part of the lap. Baldolini did get in front a few laps from the flag but Bradl had a better pace and eventually Baldolini settled for second and his first-ever podium finish.
The battle for the final podium featured plenty of rough and tumble, with a group of nine riders going for third place in the final laps. Phillip Island winner Alex De Angelis (JIR Moto2, Motobi) won the fight in the final seconds, outpacing Scott Redding (Marc VDS Racing Team, Suter) and impressive Moto2 first-timer Kenan Sofuoglu (Technomag-CIP, Suter) in the run to the chequered flag. Both de Angelis and Redding had charged through the pack after a steady first few laps when the track was still quite damp in places. The pair were 12th and 21st at the end of lap one.
Sofuoglo was the star performer in the early stages, breaking away from the pack at a terrific rate to build a seven second advantage in the first 11 laps, despite the treacherous conditions. But he was struggling with a loose left handlebar, the legacy of a crash during morning warm-up. His mechanics had still been fixing the damaged bike on the grid, hence the oversight.
With the handlebar causing him problems, the double World Supersport Champion's lead dwindled rapidly and he was caught by Bradl and Baldolini with seven laps remaining. While the 20-year-old German and the 25-year-old Italian continued their battle for the lead, Sofuoglo fell back into the clutches of the pack, where he did his best to hold onto that final podium place. At the finish line there was just 1.7 seconds between third-place De Angelis and 11th-placed Hector Faubel (Marc VDS Racing Team, Suter).
Sofuoglo joined the Moto2 grid at Estoril just a few weeks after clinching his second World Supersport crown with Ten Kate Honda, riding a Honda CBR600RR. The 26-year-old takes the place of Technomag-CIP rider Shoya Tomizawa who lost his life in a high-speed accident during last month's San Marino Moto2 race.
Moto2 Race Classification: (26 laps = 108.732 km)
Pos / Rider / Nat / Team / Motorcycle / Time/ KM/H / Gap
1 / Stefan BRADL / GER / Viessmann Kiefer Racing / SUTER / 46'59.723 / 138.82 /
2 / Alex BALDOLINI / ITA / Caretta Technology Race Dept / I.C.P. / 46'59.791 / 138.817 / 0.068
3 / Alex DE ANGELIS / RSM / JIR Moto2 / MOTOBI / 47'02.553 / 138.681 / 2.83
4 / Scott REDDING / GBR / Marc VDS Racing Team / SUTER / 47'02.565 / 138.68 / 2.842
5 / Kenan SOFUOGLU / TUR / Technomag-CIP / SUTER / 47'02.670 / 138.675 / 2.947
6 / Raffaele DE ROSA / ITA / Tech 3 Racing / TECH 3 / 47'03.034 / 138.657 / 3.311
7 / Anthony WEST / AUS / MZ Racing Team / MZ-RE HONDA / 47'03.108 / 138.653 / 3.385
8 / Gabor TALMACSI / HUN / Fimmco Speed Up / SPEED UP / 47'03.675 / 138.626 / 3.952
9 / Dominique AEGERTER / SWI / Technomag-CIP / SUTER / 47'04.007 / 138.609 / 4.284
10 / Karel ABRAHAM / CZE / Cardion AB Motoracing / FTR / 47'04.034 / 138.608 / 4.311
11 / Hector FAUBEL / SPA / Marc VDS Racing Team / SUTER / 47'04.215 / 138.599 / 4.492
12 / Julian SIMON / SPA / Mapfre Aspar Team / SUTER / 47'12.729 / 138.183 / 13.006
13 / Axel PONS / SPA / Tenerife 40 Pons / PONS KALEX / 47'26.252 / 137.526 / 26.529
14 / Simone CORSI / ITA / JIR Moto2 / MOTOBI / 47'27.483 / 137.467 / 27.76
15 / Robertino PIETRI / VEN / Italtrans S.T.R. / SUTER / 47'27.982 / 137.443 / 28.259
Pole Position: Gabor TALMACSI 1'50.916 .000 Km/h
Fastest Lap (New record) : Scott REDDING 1'45.456 142.762 Km/h Lap 23
Circuit Record Lap: New category
Circuit Best Lap: Scott REDDING 1'45.456 142.762 Km/h 2010
World Championship Positions:
1 ELIAS 271, 2 SIMON 185, 3 IANNONE 179, 4 LUTHI 143, 5 CORSI 129, 6 TALMACSI 103,
7 CLUZEL 101, 8 BRADL 97, 9 REDDING 91, 10 TAKAHASHI 86, 11 DE ANGELIS 85,
12 TOMIZAWA 82, 13 ROLFO 75, 14 ABRAHAM 71, 15 DEBON 70.
---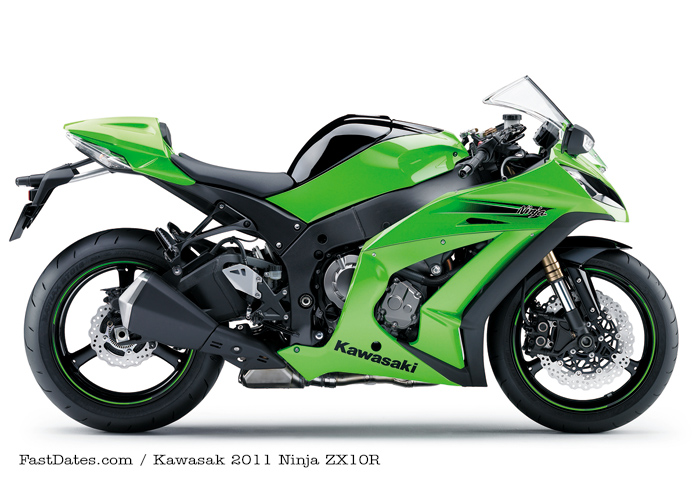 The all new 2011 200hp Kawasaki ZX10R
Intermot, Germany, October 5th - Featuring a new engine, new frame and new suspension, Kawasaki's newest litrebike flagship represents the first complete redesign since the Ninja ZX-10R's debut in 2004, and offers a significant jump in base performance. New features like Kawasaki's new race-type traction control system (S-KTRC) and supersport-grade ABS (KIBS) are there to assist riders explore the limit. From stock Titanium race headers, traction contol and anti-lock brakes, a slipper clutch, to even an Ohlins steering damper, this is the highest spec Superbike to appear on the scene. The new engine produces 200.1 hp on a static dyno without the advantage of it's ram air, making this the most powerful production litre bike in the world, the perfect weapon for Paul Bird Team Kawasaki to base its assault with a vengence on the 2011 World Superbike Championship.

Additional Details HERE
---
The Pretty Reckless

Taylor Momsen gets Pretty Reckless


She's the next big thing. Most of America still knows her as sweet young long legged Jenny Humphry on the prime time TV soap Gossip Girl. But in the last year actress Taylor Momsen turned 15 to 17 years old (going on 25) and emerged from her jail bait caccoon as a catapiller turned vampire bat - the sexiest rock diva ever. Taylor tops Madonna and Avril LaVigne in raunch, sex and beauty with songs like "Going Down" and "Make Me Wanna Die" while perfoming in bra, panties and garters. She also can sing! In interviews she talks about dating older guys, masterbating with her vibrator, and likes to say "fuck" a lot. We got to meet her this past summer when she performed on the Vans Warped Tour, performing at one concert with a Tampon string hanging from her panties the entire show. OMG. Check our her R-rated videos on YouTube.com and order her full 12-song Album "Light Me Up" recently released in England and is now available here in the colonies on Amazon.com by clicking left. Fuck yea! More Pretty Reckless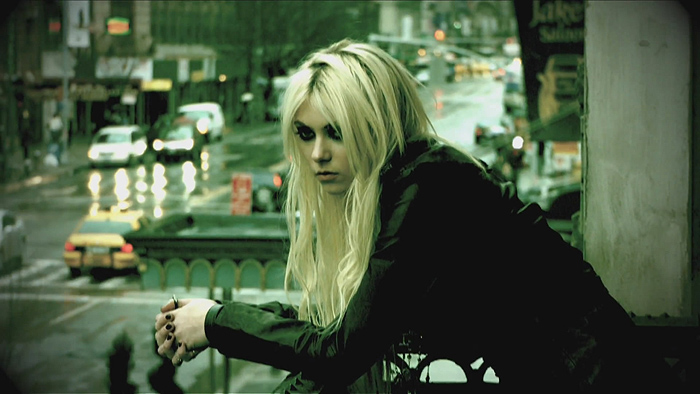 Below: Our fearless editor stalks Taylor at the recent Vans Warped Tour where she leans in to give us a kiss,
and her body guards (aka Band Members) close in for the kill.
---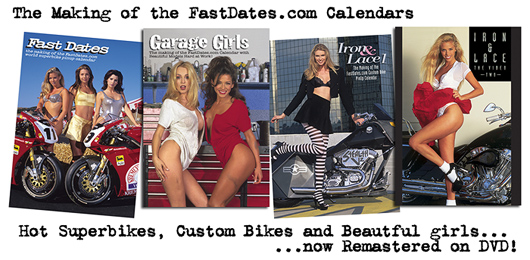 The Making of the FasDates.com Calendars DVD movies available in the FastDates.com Video Store.
---
There's more! Go to Pit Lane News Next Page

Also Visit: Fast Dates Calendar News • Iron & Lace Calendar News
Calendar Girl News • Meet the Models • Paddock Garage

Calendar Kittens, Paddock Garage, Screensavers, Iron & Lace Garage





MotorcycleSuperstore.com
Some of our Calendar Kittens can also at Playboy's website...



FREE! New Met-Art Model Galley Updated Daily - Stop Back Each Day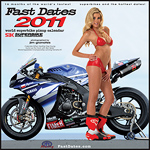 2011 Calendars!
with FastDates.com Calendar Kitten, Ducati Corse Grid Girl
and Playboy Playmate
Heather Rae Young!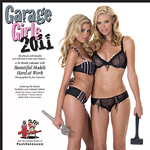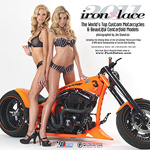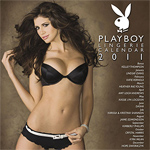 Click for even more Calendars!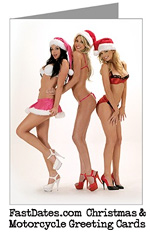 There's More
FastDates.com Gear!
Greeting Cards, Shirts, Mugs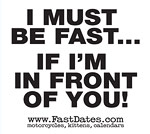 ---
Burgess and Rossi
Together at Ducati
Oct 19th - The championship winning potent team of Valentino Rossi and Jeremy Burgess will take their championship winning act to Ducati for the next two years.
Rumors of Rossi moving to Ducati began early this season were quickly followed by similar rumors about Burgess joining him. Until nowt, Burgess had beensilent about his future, neither confirming nor denying, but simply listing the pros and cons of leaving Yamaha for Ducati. That all changed when Burgess broke his silence at this past weekend's Australian Grand Prix at Phillip Island. It was there that the championship winner confirmed he would be moving from Yamaha's shop near Monza to Ducati's headquarters close to Bologna. In making the move, Burgess could add to his legendary status by winning a world title with yet another manufacturer.

Rossi To Test Ducat
Moto GP Bike Soon
Yamaha Racing will release Valention Rossi immediatley after the season ending Valencia MotoGP race on Nov 7th so he can try the current Ducati MotoGP bike before having surgery on his previously injured shoulder. The early test will allow Ducati to make any suggested changes to the bike to accomodate Rossi while he is in recovery from his surgery.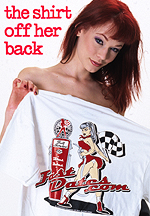 Order the Official
FastDates.com &
LA Calendar Bike Show
T-Shirts!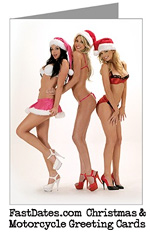 Order Your FastDates.com
Christmas Cards Now!
---
Carlos Checa to replace Mika Kallio at final 2 MotoGP rounds
Oct 17th - Pramac Racing Ducati rider Mika Kallio was released from the final two races of his contract late on the Sunday night of the Australian Grand Prix in a move that was widely expected.
The Finnish rider had been suffering increasing pain in the left shoulder he injured early in the season in France and his results have suffered. Since the injury, suffered in the third race of the year, he's had one top ten finish, a ninth in the Red Bull U.S. Grand Prix at Mazda Raceway Laguna Seca. Kallio finished his final ride with the team in 11th place.
Superbike race winner Carlos Checa will replace Kallio for the final two races. The Althea Racing Ducati World Superbike rider tested a Ducati Desmosedici test bike last week in Mugello. Afterwards, he wrote in a posting on his Twitter feed that t he would do the final two races, in Estoril, Portugal and Valencia, Spain.
"It is since Japan's race that the pain in my left shoulder, injured in Le Mans race, has become too intense," Kallio said. "I immediately talked to the team, who understood my situation and agreed that I would try to race in Malaysia and Australia and then decide to continue or not in the last two races. Unfortunately, despite the good race today, the pain didn't allowed me to perform in the best way.

Together with the team, we decided to conclude our partnership today. It has been a hard choice for me, but in this way I'll be able to find the best physical condition and think about my future. I would like to thank Paolo Campinoti that was very helpful in managing this situation. I would like to also thank all the technical staff of the Pramac Racing Team with which I have found myself very well in this two year and I'll always remember them with great affection."
Noriyuki to Privateer
Team DFX Corse Aprilia
Oct 10th -
Tuesday after the Magny-Cours race the new 2011 season kicked off with a few top names having their first rides out on their new machines. Noriyuki Haga was out on the newly formed Pata Racing Team Aprilia, which is a mix of Marco Borciani as team manager and the existing DFX Corse squad, only now close to factory level Aprilias, rather than the support 1098RS Ducati's that DFX raced this past this year. The Borciani and Guandalini (B&G) team partnership is now dissolved. Haga has signed to ride the bikes in 2011, but team Manager Marco Borciani was not optimistic after the weekend that running two riders—what Aprilia ideally wanted—will be a realistic option.
Max Biaggi does Aprilia
for Two More Years
The duo which dominated the 2010 world SBK championship is reconfirmed.

Noale, 18 October 2010 – Aprilia Racing and Max Biaggi sealed the contract which ties the 2010 World Superbike Champion to Aprilia for 2011-2012, the brand which fist saw him triumph at his début in the 250 Moto GP class.

Thanks to this agreement, which is valid for two years, Max Biaggi and Aprilia will be able to team up together to defend the Rider and Manufacturer titles earned this year.

In fact, 2010 was an extraordinary year in sport for the Biaggi-Aprilia duo in World SBK: ten victories, four double wins and another four podiums led the five time champion to take the rider world championship (the first Italian in motorcycling history) and Aprilia to its first triumph in the WSBK Manufacturer standings.

With confirmation of the Biaggi-Aprilia association, one of the most victorious pairs in sports history is renewed: Max boasts five world championships in a record time frame, considering the fact that sixteen years have passed since his first 250 world championship and this year's SBK title. Aprilia boasts a collection of 45 world titles and, with 277 victories in GP, it is the most victorious name in the history of MotoGP.

"I'm obviously very happy to be continuing this winning adventure in World SBK with Aprilia" stated Max Biaggi. "After an exciting but tiring season, after many years of racing and many victories, it was only natural and right to stop and think, to reflect on such an important future commitment. And in my considerations a very decisive factor was, as it was at the beginning of this adventure with Aprilia, the fact that I feel so close to a team and a company which is so capable and so focussed on the sports objective. Now we need to prepare as best as we can for next season. We are well aware that we cannot rest on our laurels and that we will be in all of our rivals' sights. But now I am also sure that we will be highly motivated at the start of the first race, with a bike which I have brought up and which I did not want to abandon, ready to die hard... extremely hard".
Management changes see BMW Motorrad sets its course for the future in the FIM Superbike World Championship.
Munich/Stephanskirchen, 12th October 2010. BMW Motorrad Motorsport is heading into
the future with a new management structure. Bernhard Gobmeier will replace Berthold
Hauser as BMW Motorrad Motorsport Director with immediate effect. The move comestwo weeks after BMW Motorrad and Team Manager Davide Tardozzi agreed to part
company by mutual consent. Gobmeier will be responsible for all BMW Motorrad Motorsport activities, including the company's factory involvement in the Superbike World Championship.

It is rumored that Tardozi, former Ducati Corse team manager for many years, may be taking over as team manager at the Yamaha World Superbike team based out of Monza, Italy. We spoke to Davide last May at Miller WSB and he told us, that while working at BMW in Germany, he was still commuting home on non race weekends to be with his family at their home back in Italy. The move to Yamaha in Monza will alow Davide to spend more time back at home with his family.
"I'm pleased to announce this fundamental realignment," says Hendrik von Kuenheim,
General Director of BMW Motorrad. "The new structure puts BMW Motorrad Motorsport
in extremely good shape to meet the challenges of the future. Bernhard Gobmeier has
filled a variety of roles within the BMW Group over the years and brings his experience in
motor sport to the job. I'm in no doubt that he will continue to take BMW Motorrad
Motorsport forwards with his analytical and structured approach. He will bring himself up to speed with the current situation as quickly as possible and put the necessary
measures in place."
And von Kuenheim continues: "I would like to thank Berthold Hauser for all his good work
over recent years. He can look back on some impressive successes in his career as BMW
Motorrad Motorsport Director. Under his leadership Richard Sainct won the Paris-Dakar
Rally in 1999 and 2000 as BMW Motorrad made its return to the event. And Berthold
Hauser was also responsible for the team's successful start to life in the Superbike World
Championship and its first podium finishes. He will continue to perform a managerial role
for BMW Motorrad."
New BMW Motorrad Motorsport Director Gobmeier, adds: "I'm looking forward to taking
on this new challenge in a top-class race series with a professional racing team and two
strong riders. Our aim is clear: to build consistently on the positive foundations which
Berthold Hauser and his team have put in place over recent years, so that we can be in a
position to win races on merit as soon as possible."
Gobmeier, a qualified engineer, has worked for BMW AG for more than 16 years, during
which time he has performed a variety of roles. In 1994 and 1995 he was responsible for
overhauling the company's sales activities for BMW M vehicles in North America and
restructuring its racing activities in the American Le Mans Series (ALMS) with the BMW
M3 GT. The native Bavarian then filled various management positions within BMW M
GmbH between 1996 and 2008, before taking over as head of chassis development at
BMW Motorrad in 2008.
---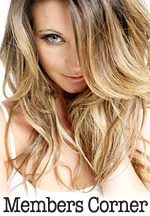 Hot Bikes, Sexy Kittens
Your Exclusive Grid Pass
also includes....
---
Michel Fabrizio Returns to Alstare Suzuki for the 2010 World Superbike Championship
With the departure of the Ducati Corse Superbike team from World Superbike, and Alstare's loss of Leon Haslem to BMW because of its reduced budget from Suzuki of Jpan, Alstare Suzuki has annunced they have signed Michel Ffabrizio for the coming season....
October 9th - Former Alstare rider Michel Fabrizio has rejoined the team and will spearhead their attack on the 2011 Superbike World Championship next year. Michel is no stranger, having raced for Team Alstare Suzuki Corona Extra in the 2003 European Superstock Championship, taking four wins and winning the title in the process. Most of the mechanics he worked with then are still with the team these days, so his first outing, during the Magny-Cours tests last week, saw him slip easily into place and start working well straightaway. The tests were hampered by poor weather on the first day, but day two saw sunshine, a dry track and rapidly falling lap times. Considering that Michel has spent the last three seasons riding a twin cylinder bike, he was soon comfortably into the groove on Suzuki Alstare's 2010 GSX-R1000 and left the French track pleased with his first ride on a four cylinder Superbike since 2007.

Michel - "I am very happy with how the tests went at Magny-Cours last week, even though the weather was not so good on the first day. I am a bit surprised how easily I got used to the Suzuki Alstare bike after three years of riding a twin. A twin requires a completely different style to a four, so to jump onto a four and get comfortable so soon is a very good sign. Having known the team from before obviously helped and soon I felt as if I had never been away. My first impressions of the bike are that it feels strong and can be a title contender. Leon showed that this year, so I am looking forward to more tests and then racing it. This championship is very hard and competitive and you have to be on your game all the time. But, I know I have a good team behind me and I think we can have a very good season next year."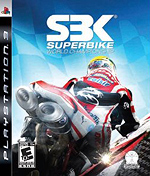 New Playstation!
Superbike & MotoGP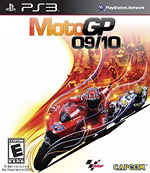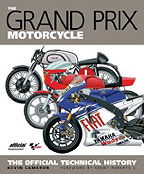 ---
FIM Superbike World Championship 2011 Provisional Calendar
February 27 Australia
Phillip Island
March 27 Europe
t.b.a
April 17 The Netherlands
Assen
May 8 Italy
Monza
May 30 (Monday) United States
Miller Motorsport Park
June 12 San Marino
Misano
June 19 Spain
Motorland Aragon
July 10 Czech Republic
Brno
July 31 Great Britain
Silverstone
September 4 Germany
Nurburgring
September 25 Italy
t.b.a
October 2 France
Magny Cours
October 16 Portugal
Portimao
2011 Provisional MotoGP calendar announced
The provisional calendar features the GP of Aragon again following a successful visit there this year.
March 20 - Qatar – Doha Losail (Evening race)
April 3 - Spain - Jerez de la Frontera
April 24 - Japan - Motegi
May 1 - Portugal - Estoril
May 15 - France - Le Mans
June 5 - Catalunya - Catalunya
June 12 - Great Britain - Silverstone
June 25 - Netherlands - Assen (Saturday Race)
July 3 - Italy - Mugello
July 17 - Germany - Sachsenring
July 24 - United States - Laguna Seca (Only MotoGP class)
August 14 - Czech Rep. - Brno
August 28 - Indianapolis - Indianapolis
September 4 - San Marino and Riviera di Rimini - Misano
September 18 - Aragon - Motorland Aragon
October 16 - Australia - Phillip Island
October 23 - Malaysia - Sepang
November 6 - Valencia - Ricardo Tormo – Valencia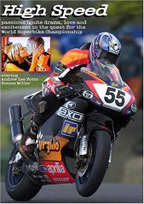 High Speed - the Movie
The best motorcyce racing movie ever made! Filmed on location at World Superbike, this an exciting romantic drama staring beautiful actress Sienna Miller.


Erotica Archives
FREE New Model
Galley Updated Daily
Warning Contains Nudity
---
Jorge and Valentino Comment on Estoril
Jorge Lorenzo
Position: 1stTime: 46'17.962
"On the warm-up lap I could see there were still a few wet parts and I knew that I was going to have to be careful at the beginning. I got a great start and was in the lead but eventually Valentino overtook me and then off he went. He had a better pace than me then and I couldn't go with him. As the track got drier I found my pace improving and then step-by-step I closed the gap and was able to get past him. At that point I felt really good and I am so happy to win for the third time here at Estoril. It was a long time since I have won but my confidence has remained high and I haven't been worried. I knew I could win here at my favourite track. We also confirmed the Triple Crown for Yamaha today so well done to the whole team for this victory."
Valentino Rossi
Position: 2ndTime: +8.629
"Like I said yesterday, a wet warm up and a dry race is a difficult one! I am happy about this weekend, we worked really well on the bike on the wet and this morning I was the fastest in the warm up, if it had been a wet race I could have been very competitive. For the dry we started blind so I had to try to take some risks at the beginning because the setting was ok, but it was not enough because when Jorge got into his rhythm he was faster than me, I had no way to fight with him. I tried to stay with him but he was too fast. Anyway second place is positive for my championship because I am back in third place and I'm not so far from Dani Pedrosa in second. I'm happy to have improved the setting of the bike but we are still not strong enough so we will try to improve for Valencia for a final win with Yamaha."
Visit with Jorge Lorenzo Online November 4th
To all fans who would like to personally congratulate Jorge and the team you are kindly invited to leave a message on our Facebook page: www.Facebook.com
/YamahaRacingcom , on the 'Contrats 99' tab. All your posts will be passed on to Jorge during the weekend of the Spanish Grand Prix in Valencia (5-7 November) and Jorge will then select 5 lucky fans of those who left him a nice message to be invited to have a unique and exclusive chat with the new MotoGP world champ through Skype! So make sure you leave your salutation on our 'Congrats 99' page before Thursday 4th of November, 18.00 pm CET.
Althea Gears Up as Ducati's Official Suport Team in 2011 World Superbike
Oct 14th - With a couple of weeks to go before several World Superbike teams begin testing at Motorland Aragon, the Althea Racing Team is starting preparations for next season with a first taste of the Spanish track. Following the withdrawal of the factory squad, Althea Racing has become Ducati's de facto representation in the championship and the team run by Genesio Bevilacqua will be aiming to be one of the contenders for the 2011 title, with rider Carlos Checa.
The three-day Aragon test will be a first opportunity to face up to next year's rivals and the Italian entrepreneur and General Manager of the team is already relishing the challenge. "We will be going to Aragon with a package that is already competitive and together with Carlos we will be pushing forward in the development work we began in 2010," declared Bevilacqua. "Taking to the track as an 'official' team doesn't worry us at all, because over the past season we showed on a number of occasions that we could compete with the top teams and third overall in the championship is clear evidence of that. It is obvious that we will have to work hard to keep up with our rivals, but we are ready and can't wait to begin this new adventure".
Carlos Checa will be testing on his 'home' track and this may be extra stimulus for the Spaniard to do well on his first pre-2011 season test. A good result will also show once again that the rider from San Fruitos and the Italian Ducati team have reached a good level of feeling together. "It will be an extra stimulus for him to do well," continued Bevilacqua, "because all eyes will be on him. As always we will try and make available the best possible bike for him thanks also to direct support from Ducati".
Bostom Brothers to
Pair Up on AMA ProSuperbikes with Pat Clark Motorsports
Oct 20th- The Pat Clark Motorsports team is expected to replace their black Yamahas with green Kawasakis for the 2011 season, while increasing their rider pool with another Bostrom, and working with Attack Performance.. An announcement is expected next week.
The team is expected to add Eric Bostrom to older brother Ben and Chris Clark, the son of the team owner, while switching from the R1 to Kawasaki's new ZX-10R, the sources, who asked not to be identified, said.
The addition of Kawasaki is a plus for the AMA Pro Road Racing championship, which lost both Honda and Kawasaki after the 2009 season. Both had been involved through satellite teams, Honda through Corona Extra Racing and Kawasaki through Attack Performance. It's unlikely that Honda will return in 2011.
Brembo Calipers Standard on 2011 Suzuki GSX-R 600/750 Sportbikes
After years of cooperation in MotoGP, Brembo is also now a supplier for Suzuki road bikes with a new brake caliper designed specifically for the latest version of the GSX-R 600 and 750, the flagship Super Sport model of this Japanese manufacturer.
With this new supply, which will last for approximately three years, Brembo reconfirms its position as one of the favorite suppliers of the leading motorcycle manufacturers and strengthens its presence in the Japanese motorcycle market, where it has been working with Yamaha for some years.
In the first half of 2010, Suzuki was the third largest Japanese manufacturer in terms of sales volume in Europe, and its models GSX-R 600 and 750 are both in the top ten Super Sport models sold in Europe.
With this new application, Brembo further consolidates its position in the new motorcycle market, adding another prestigious brand to the list of its many international customers, including Aprilia, BMW, BRP-Bombardier Recreational Products, Ducati, Harley-Davidson, Husqvarna, KTM, Moto Guzzi, MV Augusta, Piaggio, Triumph and Yamaha.
THE PRODUCT: the front monobloc M4x32 caliper, customized for the two versions of the GSX-R, Suzuki's top sporting road bike yet, contains 4 pistons of 32 mm diameter and is based on the Brembo monobloc technology, identical to the one used in MotoGP and Sbk, which, using exclusive, cutting-edge production technologies, offers a light, compact product with high stiffness. The brake caliper M4x32 has a 108mm mounting distance and offers high performance in terms of brake power and control.