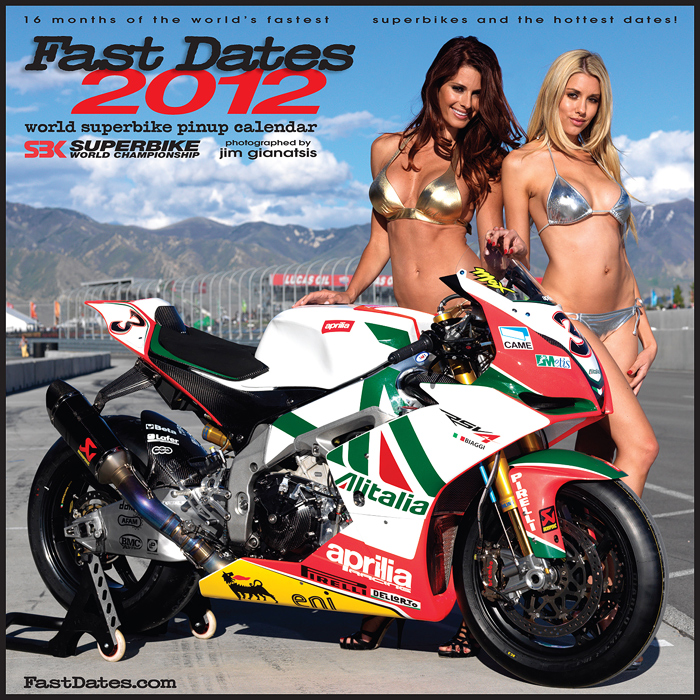 World Premier of the new 2012 SBK Fast Dates World Superbike Calendar
World Superbike Calendar Kittens and Playboy Playmates Jamie Edmonson and Heather Rae Young rock our world
with Max Biaggi's 2010 World Superbike Championship Aprilia RSV4 on the cover
We are excited to present to you the new 2012 Fast Dates Calendar, the official calendar of the SBK World Superbike Championship photographed on location at the Miller USA World Superbike race by Jim Gianatsis. Featured on the cover and inside is Max Biaggi's 2010 World Superbike Championship winning Aprilia RSV4. Inside you'll also find Nori Haga's Ducati 1198RS, Carlos Checa's Althera Ducati 1198RS, Leon Haslam's Alstare Suzuki GSXR1000, Jonthan Rea's Ten Kate Honda CBR1000RR, Chris Vermeulen's Kawasaki ZX-10, and Troy Corser's BMW S1000RR. There's also the top MotoGP bikes with 2010 World Champion Jorge Lorenzo's Yamaha M1, and Valentino Rossi's radical frameless Ducati GP11 bike. An added bonus is Chris Redpath's 1st Place Sportbike Class winner "Katana Wes Cooley" at the 2010 LA Calendar Motorcycle Show and a rare 1993 Ducati 888 SPO.
The the beautiful SBK Fast Dates Calendar Kittens photographed at Miller USA World Superbike in sexy swimwear and serving as the official Ducati Corse grid girls fro Nori Haga and Michel Fabrizio are Playboy Playmates Heather Rae Young and Jaime Edmonson. Also included in the Calendar are sexy Kittens Jennifer Englund and Sara Balint, MotoGP grid girl Brit Shelstad and Hustler centerfold and Girls Gone Wild's Sexiest Girl In America Bree Daniels. This is your exclusive 16-month pit pass beginning with September 2011, to the world's fast roadracing motorcycles and beautiful grid girls in sexy swimwear!
Order the 2012 Fast Dates Calendar • Screensavers in Members Corner
This Month in the Fast Dates World Superbike Calendar ....
World Superbike Calendar Kittens Sabella Shake Leanna Pierjena get up close and personal with
Noriyuki Haga's factory Ducati Corse 1198RS 09 Superbike.
Order the 2011 Fast Dates Calendar • Screensavers and Kittens in Members Corner
---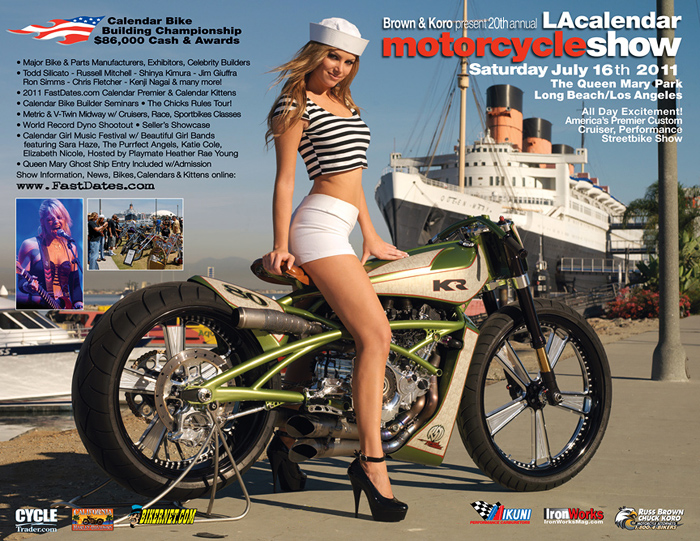 LA Calendar Motorcycle Show July 16th West Coast Premier
new American made Motus MK V-4 Naked Sport and Touring Bikes!
Los Angeles, CA, June 8th, 2011 - Motus Motorcycles will use the LA Calendar Motorcycle Show for the West Coast premier of their new MST series high performance KM V-4 1650cc Touring and R Model naked sportbikes. The Motus MST series of comfortable American sportbikes have been engineered from the ground up for performance, comfort, and range. The MST concept is a fresh take on what an American motorcycle can be, with optimum rider and passenger comfort for extended, spirited journeys, and quality components for responsive handling.
Motus Motorcyles are the brain child of Lee Conn, designed and built by well known race car engineers Pratt & Miller, fabricators of the 24-Hour of LeMans winning factory Corvettes. The lightweight aluminum V-4 pushrod fuel injected engine is based on the iconic Corvette V-8 small block motor which in normally aspirated race form can pump out up to 800 horsepower. So half an engine could easily be tuned for reliability in the 200-300hp range. Kiss your Yamaha V-Max good-bye!

This will be your first chance to see, touch and order one. MotusMotorcycles.com • LA Calendar Motorcycle Show
Hot New Indian Casino Bike Premier from Jim Guiffra and AFT Custom Models!
The Los Angeles Calendar Motorcycle Show features many of the world's top Pro and Amateur custom street bike builders in attendance with their newest 2-wheeled creations of rolling art to compete in the Calendar Show Bike Building Championship for cash and awards including the coveted Best of Show Trophy.
Four-time Calendar Bike Building Championship winner Jim Giuffra and the AFT Customs Motorsports Models return to this year's Calendar Show on a 4-year winning streak which has already seen them take home a Best of Show and three 1st Place Metric Custom titles. All of the custom bikes emerging from AFT Customs shop in Jackson, CA, are the creation of shop owner Jim Guiffra, but are hand craft from the ground-up by the beautiful motorsports savvy trade show models represented by the AFT Modeling Agency. In fact two of the girls, Cyndi and Kristen, recently returned from Miller Electric Welding's corporate headquarters in Wisconsin where they received their TIG Welding Certifications. All of the Agency's girls are fully versed in motorcycle tuning, repair,and custom bike fabrication, making them the perfect spokes models for motorsports manufacturers at trade shows and consumer events.
One custom to premier is named 'Azumati' - its a VT750 Bobber/Street tracker being built on commission for the Jackson Rancheria Indian Casino. Asumati is a Miwuk Indian word meaning grizzly bear, the monarch of the forest. In Miwuk stories the bear is a symbol of great strength and courage. This bike will be just as fierce with a Yamaha R1 front end, Race Tech Piggyback Rear Shocks, a hidden radiator, CR450 front hub and brake." http://www.AFTcustoms.com
Sexy Calendar Girl Music Festival with the Barb Wire Dolls!
Joining the Show's Calendar Girl Music Festival, which is included with Queen Mary Ghost Ship and Bike Show admission for just $20 is returning headlining band Frenetic with leader singer and Master of Ceremonies Emily Jaye, is the new band Barb Wire Dolls, the girl-fronted "Street-Rock" band from Greece who just moved to Los Angeles. Currently taking on the famed Sunset Strip in Hollywood, this band is breaking audiences out of zombiehood with electrifying live shows and a killer 6 song EP "Punk The Fussies!"

Barb Wire Dolls have been getting non-stop radio airplay on the World Famous KROQ of Los Angeles. Rodney Bingenheimer, the legendary DJ credited for first playing and breaking The Sex Pistols, The Ramones, The Clash, Blondie, X, Nirvana, The Offspring, Oasis, No Doubt, and Coldplay, was the first to play their demo and thinks their song "California" is a certifies hit. Queen Isis, the young sex goddess and singer of Barb Wire Dolls, with Tas (guitar), Gabriel (bass), and Greg (drums) have the right kind of energy and talent to bring back raw rock power. The band will be performing 2 sets on Saturday which can be described as nothing less than raw, wild, loud and very R-rated sexy.

Facebook.com/BarbWireDolls
---


Fast Dates does Superbikes in Italy!

The Devil Made Us Do It! Testing the Ducati Diavel at its home in Bologna
Is it love? We stopped at this graffiti adorned house on a side street in Bologna. For riding comfort, handing and performance all in one package the Ducati Diavel has no equal. Check out our Complete FastDates.com Ducati Diavel Test HERE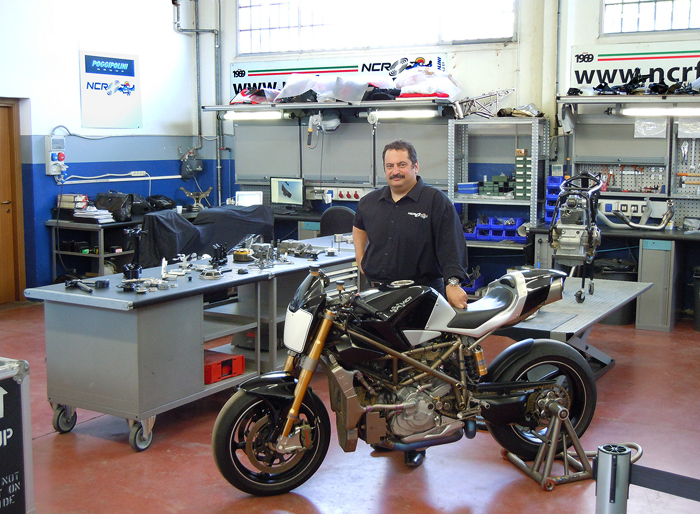 A Visit to NCR / Poggipolini in Bologna
The world's trickest Ducati Bikes and Parts HERE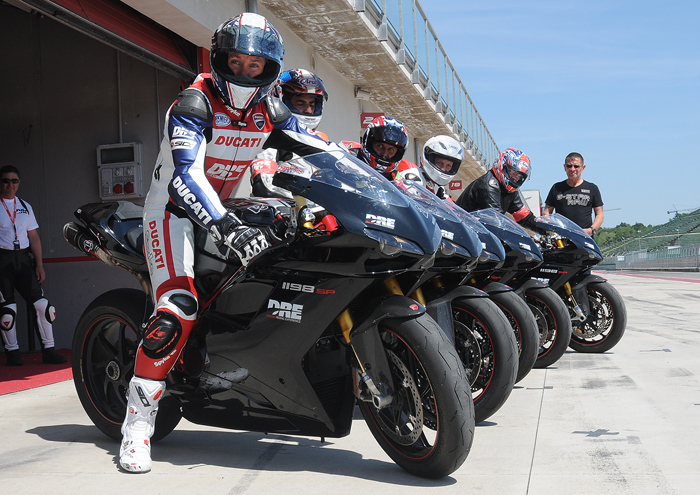 Racing World Superbikes at Monza & Imola with a 3-time World Champion!
Troy Bayliss Racing Academy at Imola • World Superbike Race at Imola • Fast Dates Calendar Shoot at Miller WSBK
---
Jorge (1) swoops by Stoner in the closing laps at Mugello.
FIM MotoGP World Championship Championship, Round 8 of 18, Mugello Italy
Lorenzo takes Stoner at Mugello and closes the championhip lead
Mugello, Italy, Race Day July 3rd - A fantastic race saw Jorge Lorenzo stalk down Casey Stoner to clinch his second win of the season at the Gran Premio d'Italia TIM, while Andrea Dovizioso passed his Repsol Honda team mate on the last lap to finish second. A colourful crowd of over 83,000 fans packed the Italian circuit under brilliant blue skies, bright sunshine and air temperatures of 29ºC. Stoner started from pole position to break from the field early and looked set to have victory in the bag, until with 9 laps remaining, Lorenzo began to chip away at the Australian's more than 2 second lead, finally catching and taking over the lead with six laps to go. The Spaniard's win closes the World Championship standing lead of Casey Stoner to 19 points.

Dovizioso hunted down and passed Stoner on the very last lap to grab second position in front of his home crowd. The Italian remains third in the Championship with 119 points, ahead of Valentino Rossi (Ducati Team) with 91. Ben Spies (Yamaha Factory Racing) battled with San Carlo Honda Gresini Team's Marco Simoncelli for fourth position, both of whom started on the front row. The two made multiple late braking passes on one another until the American got the better of the Italian on the last lap.

A five man battle for sixth between Rossi, Héctor Barberá (Mapfre Aspar), Álvaro Bautista (Rizla Suzuki), Colin Edwards (Monster Yamaha Tech 3) and Dani Pedrosa (Repsol Honda) ensued throughout the race, with Barberá dueling with Rossi at the front of the pack. Rossi broke away at 11 laps to go, putting his GP11.1 in the sixth spot, ahead of the Ducati of Barberá in seventh.

Dani Pedrosa (Repsol Honda), who dominated the Italian Grand Prix last year, was eighth across the line after starting from the same grid position on his return to racing having missed the last three GPs through injury. The Spaniard finished just in front of Edwards and Ducati Team's Nicky Hayden, who had an early run off to finish in tenth. Cal Crutchlow (Monster Yamaha Tech 3) retired to the pits with front tire issues, the second race in a row he has suffered with the similar problems.
Ben Spies and Jorge Lorenzo and friends.
Jorge Lorenzo, Yamaha 1st: "For a long time it has been one of the sweetest victories. The victory in Jerez was not 'real' because it was raining. It's been a tough race because of the hot conditions without water in the camel back. I pushed and tried to be there with all of my heart! I tried to overtake Andrea in the downhill at the chicane and then I did the same with Casey because I thought it was the perfect corner for it. Now we have a competitive bike and I hope to keep this pace. Now I am more motivated and confident for the future, after this great result. I think it was one of my most demanding races in my career. It reminded me a bit the 125cc times, with many overtakings. I did a good start again and now I just want to watch the race again on TV. Congratulations to all of my team, they never gave up. I knew it would have been difficult today, but the 'martillo' is back!"
Andrea Dovizioso, Repsol Honda: 2nd "Mugello is always a special event and the feeling on the podium is unbelievable. Today I was the first and only Italian rider on the podium and this makes the result even more special. The support of the fans was incredible, they were all pushing for me and they motivated me a lot especially when I was tired because of the heat and this track which is so physically demanding. This morning we fine-tuned the set-up to have more stability with the front and I had a good feeling. We made a good start and we were able to be consistent for the whole race despite the fact there was not so much grip and the tyres were spinning. In the first part of the race I had some good battles with Jorge (Lorenzo) for the second position. Then, at the end of the race, overtaking Casey (Stoner) gave me the second place. I could see Casey was spinning a lot but he was very strong in some corners so I couldn't pass him where I wanted, in the end I managed it on the last lap. This second position is so important for the championship, because I earned some good points and reduced the gap. Casey and Jorge are really strong but we have shown that we are there, the season is long and we just need to believe it. I want to thank the team and all the people around me. We have a winning bike and we are working hard in all areas"
Casey Stoner, Repsol Honda: 3rd "I can't say I'm totally happy with the result today. We started the race very strong and everything felt fantastic on the bike, however, we had a problem with the tyres after a few laps. We believe this was related to incorrect tyre pressures for today's track temperature and we should have probably reduced them a little compared with what we used in warm-up because as soon as the tyres got up to a certain pressure, I lost all the grip in the rear and this led to me starting to close the front. I think this is why we were able to be so fast in the beginning of the race, as the tyres were able to warm up very quickly, but then the tyre overheated and I lost all the grip. I'm disappointed as our potential to win today was high, I thought I might still have potential to fight with Jorge and Andrea, but Jorge came past and he was too fast for me. Then Andrea came past and I thought I could respond, but I didn't have any traction. It's still a podium, and important points but I'm here to win races."
MOTOGP RACE Results: (23 laps = 120.635 Km)
POS / RIDER / NAT. / TEAM / MOTORCYCLE / TIME / KM/H / GAP
1 / Jorge LORENZO / SPA / Yamaha Factory Racing / YAMAHA / 41'50.089 / 173.016 /
2 / Andrea DOVIZIOSO / ITA / Repsol Honda Team / HONDA / 41'51.086 / 172.947 / 0.997
3 / Casey STONER / AUS / Repsol Honda Team / HONDA / 41'51.232 / 172.937 / 1.143
4 / Ben SPIES / USA / Yamaha Factory Racing / YAMAHA / 41'59.069 / 172.399 / 8.98
5 / Marco SIMONCELLI / ITA / San Carlo Honda Gresini / HONDA / 41'59.165 / 172.392 / 9.076
6 / Valentino ROSSI / ITA / Ducati Team / DUCATI / 42'16.539 / 171.212 / 26.45
7 / Hector BARBERA / SPA / Mapfre Aspar Team MotoGP / DUCATI / 42'18.834 / 171.057 / 28.745
8 / Dani PEDROSA / SPA / Repsol Honda Team / HONDA / 42'22.132 / 170.835 / 32.043
9 / Colin EDWARDS / USA / Monster Yamaha Tech 3 / YAMAHA / 42'23.510 / 170.742 / 33.421
10 / Nicky HAYDEN / USA / Ducati Team / DUCATI / 42'24.813 / 170.655 / 34.724
11 / Hiroshi AOYAMA / JPN / San Carlo Honda Gresini / HONDA / 42'27.448 / 170.478 / 37.359
12 / Karel ABRAHAM / CZE / Cardion AB Motoracing / DUCATI / 42'34.053 / 170.037 / 43.964
13 / Alvaro BAUTISTA / SPA / Rizla Suzuki MotoGP / SUZUKI / 42'37.743 / 169.792 / 47.654
14 / Randy DE PUNIET / FRA / Pramac Racing Team / DUCATI / 42'38.929 / 169.713 / 48.84
15 / Toni ELIAS / SPA / LCR Honda MotoGP / HONDA / 43'05.288 / 167.983 / 1'15.199
Pole Position: Casey STONER 1'48.034 174.778 Km/h
Fastest Lap (New record): Jorge LORENZO 1'48.402 174.184 Km/h Lap 17
Old Circuit Record Lap: Dani PEDROSA 1'49.531 172.389 Km/h 2010
Circuit Best Lap: Casey STONER 1'48.034 174.778 Km/h 2011
CHAMPIONSHIP POSITIONS TO DATE:
1 STONER 152, 2 LORENZO 133, 3 DOVIZIOSO 119, 4 ROSSI 91, 5 HAYDEN 77, 6 SPIES 74,
7 PEDROSA 69, 8 AOYAMA 56, 9 EDWARDS 53, 10 SIMONCELLI 50, 11 BARBERA 44,
12 ABRAHAM 37, 13 ELIAS 35, 14 CRUTCHLOW 32, 15 BAUTISTA 30.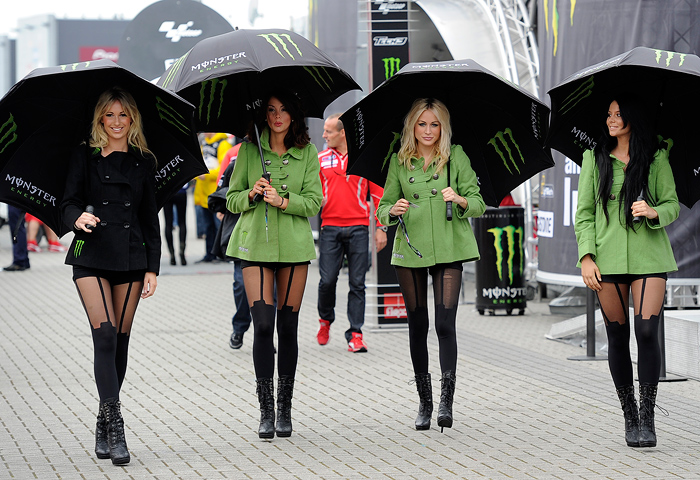 Here's Pictures of Yamaha's 50th Anniversay Grand Prix display last week at the Assen MotoGP round, featuing many of the world championship winning bikes (above) and riders (below).The anniversary Exposition contain a unique collection of 14 Yamaha Grand Prix Racing machines representing Yamaha's heritage built up over 50 years of Grand Prix competition. The bikes, all original and in mint condition, have been sourced from: Communication Plaza (Yamaha's Iwata-based corporate exhibition facilities) Yamaha Motor Racing Srl and Ferry Brouwer's Yamaha Classic Racing Team roster. Besides the motorcycles there are also historic items, memorabilia, photographs and videos to mark 50 years of history. The legenday Yamaha racers on hand (below from left ) included Rod Gould, Phil Read, Giacomo Agostini, Schrurgers, Steve Baker, Chas Mortimer, Johnny Cecotto
---

Our newest Calendar Kittens, college co-eds Camilla Hahn Chiniquy (brunette) and Taylor Gunnin (blond) standing in the pouring rain, help warm up Carlos Checa's Althea Ducati for Monday's Memorial Day World Superbike race. It must have helped as Carlos would go on to post double race win on this bike.
SBK World Superbike Championship, Round 5 of 10, Miller USA - Continued
Postcards from Miller USA World Superbike by Jim Gianatsis
Miller Motorsports Park, Tooele, Utah, USA), Memorial Day Weekend May 28-30th 2011 – FastDates.com was again excited to attend the Miller Motorsports Park USA round of the World Superbike Championship this year to cover the exciting race weekend and photograph the next edition of the official SBK Fast Dates World Superbike Calendar. I had just found Taylor a few months earlier through one of my favorite local model agencies, Brand Model and Talent, and booked her then to be sure I'd have her confirmed for the trip to Salt Lake City, Utah, and the Miller WSBK race weekend. The Complete Fast Dates Calendar Shoot STORY HERE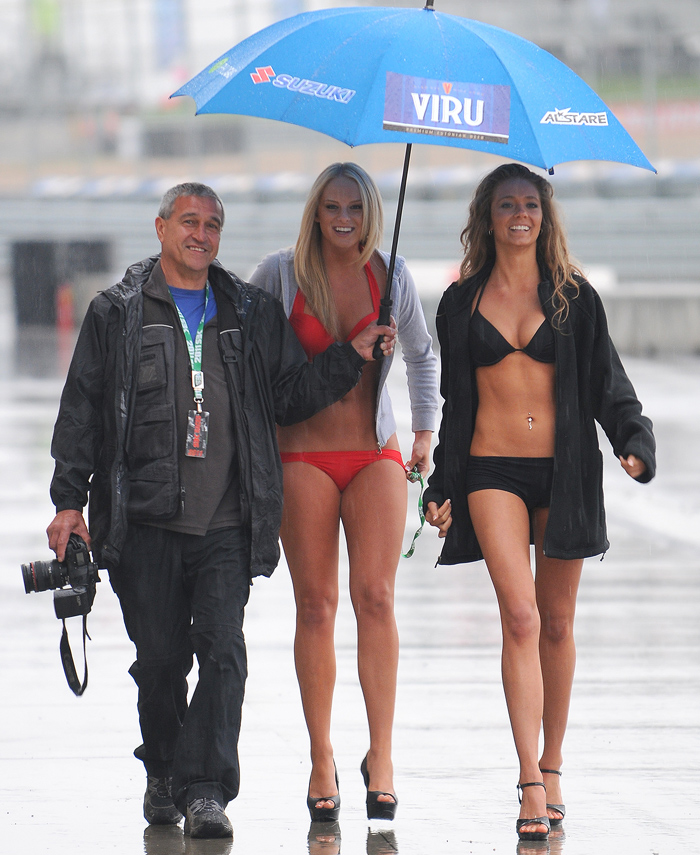 Famed World Superbike photojournalist Kel Edge helped with our shoot and keeping the Calendar Kittens dry.
| | | | |
| --- | --- | --- | --- |
| | | | |
| | | | |
| | | | |
| | | | |
| | | | |

World Superbike Championship points leader Carlos Checa has dominated at Miller in previous years, and just as we predicted did so again this year on the privateer Althea Racing Ducati 1198RS.
On the American Memorial Day holiday enthusiastic Superbike fans fans were treated to a double win from a rider who was robbed of a double last year by simple bad luck, Carlos Checa (Althea Racing Ducati). The Spaniard, who entered this event as championship leader, had a dose of good luck this time as his two main rivals had difficult race day experiences. Marco Melandri (Yamaha World Superbike) was tenth and then sixth, while Max Biaggi (Aprilia Alitalia) crashed out of race one after colliding with Jonathan Rea (Castrol Honda). Reigning champion Biaggi recovered good ground in race two, taking third place.
COMPLETE MILLER WSBK and AMA RACE COVERAGE HERE.
---
There's more! Go to Pit Lane News Next Page

Also Visit: Fast Dates Calendar News • Iron & Lace Calendar News
Calendar Girl News • Meet the Models • Paddock Garage

Calendar Kittens, Paddock Garage, Screensavers, Iron & Lace Garage





MotorcycleSuperstore.com
Some of our Calendar Kittens can also at Playboy's website...



FREE! New Met-Art Model Galley Updated Daily - Stop Back Each Day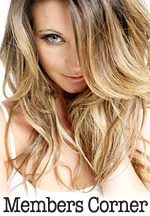 Hot Bikes, Sexy Kittens
Your Exclusive Grid Pass
also includes....
---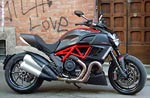 The Devil Made Us Do It!
Testing the Ducati Diavel in Italy
2011 Calendars!
with FastDates.com Calendar Kitten, Ducati Corse Grid Girl
and Playboy Playmate
Heather Rae Young!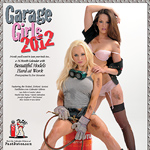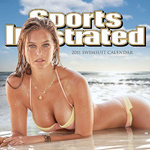 Click for even more Calendars!
---
Yamaha and GE Capital bring Lorenzo, Spies, EDWARDS, Lawson, Rainey, Roberts & Music to the Stage at
RED BULL U.S. GRAND PRIX
Mazda Laguna Seca Raceway
Cypress, California June 28, 2011 – Yamaha and GE Capital are proud to announce the return of one of the most entertaining activities of the Red Bull U.S. Grand Prix weekend as Yamaha MotoGP Riders Jorge Lorenzo, Ben Spies, Colin Edwards and Cal Crutchlow plus Yamaha legends Eddie Lawson, Wayne Rainey and Kenny Roberts will meet their fans for an up close question and answer session prior to the live music set on stage Saturday July 23 from 6:00 to 7:00 PM.
Official MotoGP commentators Nick Harris and Gavin Emmet will again join the riders for the question and answer session that was a major hit last year and fans will be encouraged to join in the fun with questions of their own.
"We are very excited about this year's entertainment and again proud to be part of it," said Paul Puma, Executive V.P. for GE Capital. "The fact that Yamaha riders will be up close and in person on the GE Financial Stage will make it an event not to be missed!"
Saturday night features a live performance by The Dirty Heads, who Rolling Stone named as one of the Top Bands of 2010, following the rider interviews at 7:00 PM.
"This event will be another way for us to celebrate the 50th Anniversary of World Grand Prix Racing for Yamaha" said Bob Starr, Communications Manager of Yamaha Motorsports Group. "Thanks to our partners at GE Capital, this interview session and concert will surely add to an exciting weekend of racing and entertainment for the fans and one never knows who'll be the most entertaining!"
For tickets and more information please visit: MazdaRaceway.com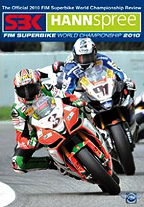 World Superbike Review
Click to find DVD Coverage of Every Year!
MotoGP Review
Click to find DVD Coverage of Every Year!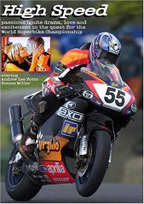 High Speed - the Movie
The best motorcycle racing movie ever made! Filmed on location at the World Superbike races , this an exciting romantic drama staring beautiful British actress Sienna Miller.
---
Elena Myers Scores Woman's First Ever
AMA Pro Roadracing Podium at Barber
BIRMINGHAM, AL (June 19, 2011) –Team SuzukiScoopFans rider Elena Myers is truly coming into her own. The 17-year-old Californian rode a flawlessly determined AMA Pro SuperSport race on Saturday to capture her first podium of the 2011 season at Barber Motorsports Park in Birmingham, AL.
In Saturday's 17-lap race, Myers got a great start on her SuzukiScoopFans Suzuki GSX-R600 and charged into the lead after just a few laps. She went on to lead the pack for several laps before settling into third position. Even so, while battling for her podium spot, Myers posted the fastest lap of the race. She and the other front-runners went on to gap the field and Myers was on the box for the first time this season.

"I got a good start on my SuzukiScoopFans Suzuki GSX-R600 in Saturday's race," said Myers. "I was starting on the second row from the fifth spot – that's my best qualifying this year – and I felt pretty good about that. I was second off the line, then we had a red flag. In the restart, I had another good start and was trying to put my head down and I led for a few laps, and even went back and forth with the lead guys, but they ended up pulling a gap. I made my way home in third place and I'm really excited about that. It's my first podium of the year and this was my first podium since my win last year. It's definitely a big confidence-booster for me."

Sunday's race again saw Myers get up front fairly quickly and she was running in third for several laps before bringing home a solid fifth-place finish. Although Myers is contesting all the 2011 AMA SuperSport rounds, officially she is only competing in the West Coast Championship. This weekend's races at Barber were East Coast rounds and did not affect Myers' overall championship points standings. She remains in fifth place in the West Division.
"Today went pretty well," she said. "I finished in fifth place. I didn't get such a great start but I was battling with the top guys again. I think overall it was a good weekend – a third and a fifth, you can't be too upset about that. My leathers are clean, I'm clean and my Suzuki looks good. A big thanks to everybody at Suzuki and my crew and everybody who really made this weekend a good one for me. Thanks to all the fans for coming out, and now I can't wait for Mid-Ohio."

The 2011 SuzukiScoopFans team's next event of the 2011 AMA Pro SuperSport season will be at the Mid-Ohio Sports Car Course in Lexington, OH, on July 8-10, 2011.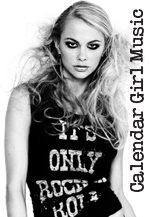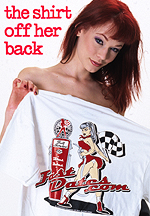 Order the Official
FastDates.com &
LA Calendar Bike Show
T-Shirts!
---
Clarification from the FIM on Production Bikes in MotoGP
Misano, June 6th - On the occasion of the San Marino Round of the 2011 FIM Superbike World Championship in Misano (ITA), and with reference to the interviews recently published on some motorsports web sites, FIM President Vito Ippolito reiterated what has already been stated several times: Any complete motorcycle model derived from series production, homologated or not for the FIM Superbike/Supersport/Superstock is not eligible and will not be accepted in the FIM Grand Prix World Championship classes.
Comeback rides for Rossi and Hayden at Mugello
Sunday Jul 03 2011 - Both Ducati Marlboro Team riders charged from the rear at Mugello. Valentino Rossi was left behind on the start and found himself in twelfth place at the end of lap 1, and motivated by the enthusiastic crowd, he caught the group of riders in front of him and climbed to sixth place. The Italian had a better pace in the race than he had all weekend, thanks to a setup change that his technicians made before the warm-up.
Nicky Hayden had a great launch at the start and immediately climbed to fifth place, but he went long in a corner and couldn't stop on the dirty part of the asphalt. He went off the track and re-entered in last place. He climbed as high as tenth place after that, and although he was disappointed by the lost opportunity, he was pleased that the work done over the weekend has helped him find a good feeling with his GP11.

Valentino Rossi (Ducati Marlboro Team) 6th - "We have a bike that is different in many aspects from the one we started the season with. We're aware that it needs to undergo further development from a technical point of view, but even at this stage it has shown that it has a good margin of improvement just with setup. The weather didn't help us at Assen, and the same was true here. We had limited time to work this weekend, so once again we made a significant setup change on Sunday morning. It was a step forward, and in the race I was able to have a better rhythm than in practice, although the improved behavior in corners was accompanied by a small loss of grip. Anyway, we think it's a good direction to try in the future with our setup. I lost some time on the start because the clutch slipped, and I was almost last into the first turn, with a lot of ground to make up. It's a shame because I've always managed to do well on the starts with the Ducati this year. Still, I'm not sure how long I would have been able to stay with Spies and Simoncelli even if I had started better. The gap on lap times was less than at Assen, which is positive, but it's still quite large, about eight tenths. We have to keep working in order to stay with the Hondas and Yamahas. We're all doing all we can, both us at the track and the guys at Ducati. It's certainly a difficult situation, but to come here to Mugello and see all these flags and fans cheering always provides a big thrill and gives us motivation to return to the front."

Nicky Hayden (Ducati Marlboro Team) 10th - "We used a different spring combination in the clutch, and I got probably my best start of the year. I was up to fifth in the first couple of corners, and the bike felt good. The tyres came right in and I was committed to trying to go with that front group, but I didn't get it stopped in time going into Turn 1 on lap 2. I thought I had it saved, but the front pushed on the dirty part of the track and I had to go into the gravel. I was dead last, but my rhythm wasn't bad as I tried to bring back some guys. It's a shame. It's easy to say now, but I think without that mistake, I could have done a really good race for the team and myself. The crowd was as good as I've ever seen it, and it was special to be here on a Ducati. We've got a lot of things going in the right way—a lot of support and guys working hard—and in the long run, I've got to believe that will pay off."

Vittoriano Guareschi (Team Manager) - "We made a significant change to the setup of Valentino's bike in this morning's warm-up, and it helped us to be faster, but he didn't have a good start in the race. There was a problem with the clutch, and he was left behind. He made a nice charge, but it took him thirteen laps to recover and get behind the group that he battled with. He had a good pace after that, close to that of Spies and Simoncelli. It was a similar story for Nicky. We found a decent setup for his bike, with the new frame, and he was fast in this morning's warm-up. Unlike Vale, he had a good start, but starting the second lap, the bike didn't slow enough on the brakes. He had to brake on the dirty part of the track and went into the gravel. He rejoined the race in last place, which is really a shame, because he rode well. We know it's still not enough, and we have to keep improving the bike, but we worked well with both riders this weekend and made progress on the setup that we think will be helpful in the near future. We'll try to verify that at the Sachsenring.
Honda MotoGP Rider Quotes
Andrea Dovizioso, Repsol Honda: 2nd - "Mugello is always a special event and the feeling on the podium is unbelievable. Today I was the first and only Italian rider on the podium and this makes the result even more special. The support of the fans was incredible, they were all pushing for me and they motivated me a lot especially when I was tired because of the heat and this track which is so physically demanding. This morning we fine-tuned the set-up to have more stability with the front and I had a good feeling. We made a good start and we were able to be consistent for the whole race despite the fact there was not so much grip and the tyres were spinning. In the first part of the race I had some good battles with Jorge (Lorenzo) for the second position. Then, at the end of the race, overtaking Casey (Stoner) gave me the second place. I could see Casey was spinning a lot but he was very strong in some corners so I couldn't pass him where I wanted, in the end I managed it on the last lap. This second position is so important for the championship, because I earned some good points and reduced the gap. Casey and Jorge are really strong but we have shown that we are there, the season is long and we just need to believe it. I want to thank the team and all the people around me. We have a winning bike and we are working hard in all areas"

Casey Stoner, Repsol Honda: 3rd
"I can't say I'm totally happy with the result today. We started the race very strong and everything felt fantastic on the bike, however, we had a problem with the tyres after a few laps. We believe this was related to incorrect tyre pressures for today's track temperature and we should have probably reduced them a little compared with what we used in warm-up because as soon as the tyres got up to a certain pressure, I lost all the grip in the rear and this led to me starting to close the front. I think this is why we were able to be so fast in the beginning of the race, as the tyres were able to warm up very quickly, but then the tyre overheated and I lost all the grip. I'm disappointed as our potential to win today was high, I thought I might still have potential to fight with Jorge and Andrea, but Jorge came past and he was too fast for me. Then Andrea came past and I thought I could respond, but I didn't have any traction. It's still a podium, and important points but I'm here to win races."
Marco Simoncelli, San Carlo Honda Gresini: 5th
"It was a very tough race because it was really hot and the track conditions were new to us so I didn't have the same feeling as in practice. The front three were able to set a slightly faster pace, I was able to hang on for six or seven laps but after that I lost touch. I tried to fight off Spies at the end but he was faster than me through the final corner and managed to take the inside line to pass me. Anyway, I am happy because it was a hot and long race. It was a positive weekend overall because the most important thing for us was to finish the race. The strange thing is that when the racing is close at the front and there is only nine seconds covering the top five I seem to stay upright but when they are more strung out and I have the opportunity to make positions up I have some kind of disaster!"
Dani Pedrosa, Repsol Honda: 8th
"I'm very happy with my performance and the result was worth it in the end, even if I'm still far from 100% fit. Historically in the past, when I have tried to go back racing after an injury I wasn't able to finish the race and today I managed to. I see that even being out for a quite a long period of time, I haven't lost the speed, so I'm sure that I'll back on top when my physical condition improves. At the start of the race, I had a problem with the clutch and I couldn't operate the gears for a lap and a half, so I lost everything in this moment. I lost many places and when the clutch started working again I tried to get into rhythm and find my pace, even though I was very tired very soon. I was improving step by step and caught the group ahead consisting of Valentino (Rossi), (Hector) Barberá and (Alvaro) Bautista. However, by that time I already had no energy to push any harder. I am extremely tired now, I gave everything I had and to take eighth position and eight points in my conditions, together with this clutch problem is quite a good result in my view. I'm satisfied with my race pace, I didn't think I would be able to lap in the high 1'49's, low 1'50's during the twenty three laps, so I'm happy about this. Congratulations to Jorge (Lorenzo) for his good race and many thanks to my fans and doctors for helping me to be back."
Ben Spies, Yamaha, 4th - "It was a good race, me and Simoncelli battled it out. I made a couple of mistakes at the beginning which I'm a little upset about. Looking at the lap times we definitely weren't the strongest but I think we were just on the cusp of fighting for the podium. I made a couple of crucial mistakes on lap three and six and then let the front guys get away. We did a good job getting back up to Simoncelli. Once I saw we weren't going to catch the front guys I let Marco back by, I wanted him to pull me around to see where I was stronger than he was. I left it until the last lap, the last corner I could see he was leaving the door wide open so we were able to sneak right in and get fourth place. It's great for Yamaha to get a win and me a fourth, I would have liked to have been on the podium but you can't do it every time. Marco and I had fun, we had a couple of good passes back and forth and he was clean so I was happy!"