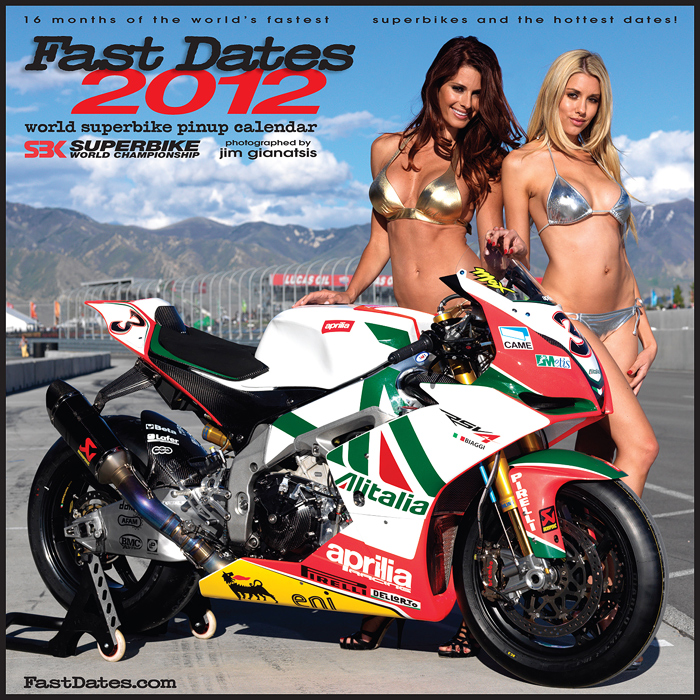 Calendar Kitten Heather goes to Playboy Camp!
August 2011 - Fast Dates.com Calendar Kitten and Playboy Playmate Heather Rae Young, featured (above) in the new 2012 Fast Dates World Superbike Calendar with girlfriend Jaime Edmonson, is back in the current August 2011 issue of Playboy magazine! The ocassion is a 6-page pictorial of Playboy Playmates attending Camp Playboy in a wooded mountain retreat where, thankfully, clothes are optional. In fact, Heather is the featured model in the pictorial where she is au natural on every page, including the page shown below where she gets ready to snuggle into her sleeping bag for a night under the stars. You can check out Heather's entire pictorial in Members Corner.
Heather's vist to Camp Playboy with her Playmate girlfriends is also featured in a series on Playboy TV starting this Friday July 21st at 9 PM Eastern/Pacific Time. You can also wacth Playboy TV online my clicking the Playboy banner link-
Many of our Calendar Kittens can also at Playboy's website...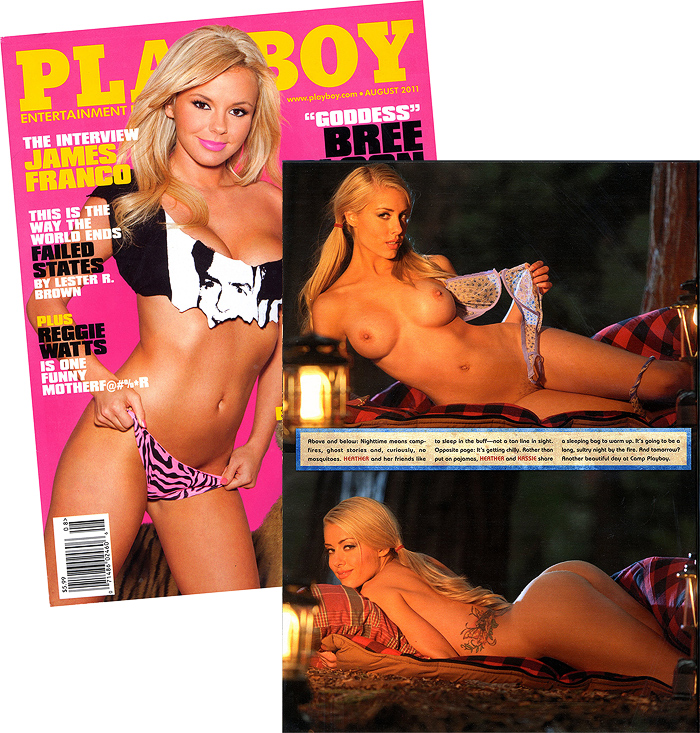 ---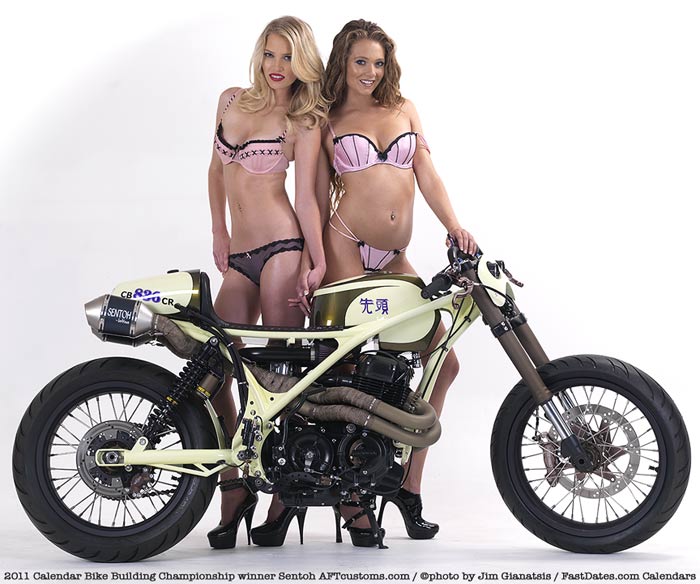 2011 LA Calendar Motorcycle Show Winner AFT Customs
wins again at AMD World Championship in Sturgis
Sturgis, SD, August 10th, 2011 - Jim Giuffra and the girls at AFT Customs took the Custom Performance class win this week at the prestegious AMD World Championship of Custom Bike Building held at Sturgis Bike Week in South Dakota. They beat out customer car builder Brian Fuller who also entered a customized Honda CB750 which he built on-air for the 2nd season of Cafe Racer on HD Dicovery TV.
Our Newest Kittens on the Prowl!
On Sunday, the day after this year's 20th anniversary LA Calendar Motorcycle Show, rather than taking the day off to recover, we were back in the photo studio and hard at work to shoot the top winning bikes at this year's Show for the next FastDates.com Calendars. My Kittens for the shoot were included Fast Dates Calendar World Superbike girl at the Miller USA round in May, Camilla Chiniquy (the brunette at left) who flew down from Salt Lake City, Utah, shoot and hang and work the Calendar Show for 2 weeks this past month. And joining us was a brand new Kitten, supermodel Shannon Baucom (blond at right), who took the train up to Los Angeles from her home in San Diego. Shannon had just return from 3-months of modeling assignments in Istanbul, Turkey, and Milan, Italy. You can get a preview of their 2013 Calendar Shoot with our Best of Show winning bike from AFT Customs in the Calendar Bike Garage. - Jim Gianatsis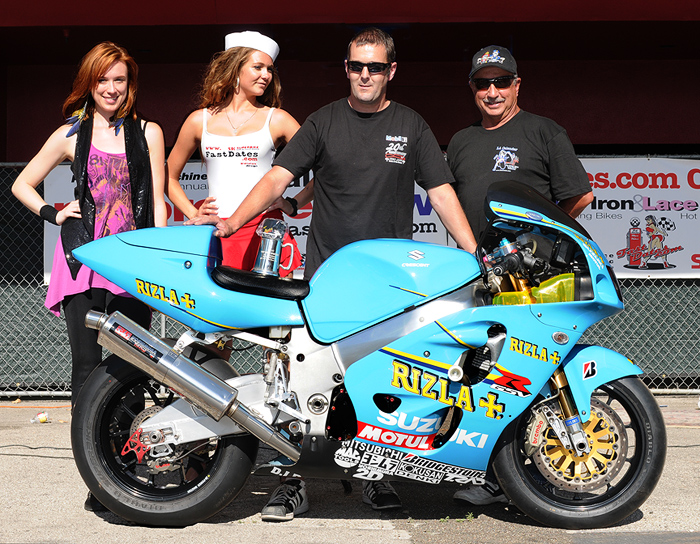 Above: Former Superbike and MotoGP mechanic Chris Redpath, owner of the sportbike performance shop MotoGPwerks.com in Los Angeles, former Sportbike Class winner, returned to the Show this year with a whole slew of custom and race prepared sportbikes bikes to place 1st, 2nd and 3rd in the Sportbike Class. His winning machine was this GSXR1000 replica of a Rizla Suzuki MotoGP bike. Calendar Kitten Camilla shot with the bike in our studios the next day for the next Fast Dates Calendar. Along side them are show host Emily Jaye from our headline band Frentik, and industry friend and Show Assistant Lee Chapin.
Thanks to everyone who came to our 20th annual LA Calendar Show on Saturday the 16th - we had some really incredible people, music and custom bikes and a great day. Congratulations to Jim Giuffra at AFT Customs for now taking wins 5 years in a row and taking Best of Show with classic a 1970s classic Honda CB 750 named Sentoh! The Complete Story w/ Photos HERE
---
Casey Stoner and Andrea Doviziso finished 1-2 at Brno for Repsol Honda.
FIM MotoGP World Championship, Round 11 of 18 Brno
Pedrosa scores his first MotoGP pole of the season at Brno
Cardion ab Grand Prix Ceske Republiky, Brno, CZ, August 12-14th 2011 - Casey Stoner captured his sixth win of the season in front of 155,400 fans at Brno for Sunday's Cardion ab Grand Prix Ceské republiky, stretching his Championship lead to 32 points over Jorge Lorenzo (Yamaha Factory Racing).
Dani Pedrosa (Repsol Honda) got the hole shot from his first pole position of the season, with Lorenzo taking the lead from him on the second lap. Stoner then took second from the Yamaha rider, just as Pedrosa crashed out of the front of the field, handing the Australian the lead.

While Stoner lengthened the gap at the head of the pack, Lorenzo came under pressure from Andrea Dovizioso (Repsol Honda), the Italian passing the Spaniard to take and hold second position for his fifth podium of the season. Marco Simoncelli (San Carlo Honda Gresini Team) then caught and passed Lorenzo, moving into the third podium spot and keeping it until the finish line, the first podium of his MotoGP class career.

Dani Pedrosa
Pedrosa scores his first MotoGP pole of the season
Qualifying, Sunday Sat 13th - Repsol Honda's Dani Pedrosa took the front position on the grid with a time of 1'56.591 in qualifying on Saturday, a time fast enough to put him on pole but still not a fast as the crushing lap he dealt Friday by a margin of 0.268s.
The premier class took to a dry track after the morning wet practice session, with reigning MotoGP Champion Jorge Lorenzo (Yamaha Factory Racing) taking an early provisional pole and Casey Stoner (Repsol Honda) leading in second half of qualifying. But Pedrosa retaliated, grabbing back the top spot and keeping it until the end of the outing.

Lorenzo pushed hard, bettering his previous best time by four tenths with a time of 1'56.704, giving him a front row start in the second spot, followed by Stoner with lap of 1'56.860 to put him in the final front row spot.

Ben Spies (Yamaha Factory Racing) who started from the front row least year in his MotoGP rookie season, qualified four with a 1'57.178. The Texan is joined on the second row by Marco Simoncelli (San Carlo Honda Gresini Team), whose time of 1'57.351 placed him in fifth to start. Valentino Rossi (Ducati Team) joins the second row after posting a time of 1'57.367, giving him his best qualifying of the season so far.
Andrea Dovizioso will start from the third row, his time of 1'57.442 placing him seventh fastest. American duo Colin Edwards (Monster Yamaha Tech 3) and Nicky Hayden (Ducati Team) take the final two spots on the third row, while Hiroshi Aoyama (San Carlo Honda Gresini), riding for the first time in the MotoGP class at Brno after missing last year's race through injury, completed the top ten.

Cal Crutchlow (Monster Yamaha Tech 3) crashed out of eighth position with 12 minutes remaining, running back to the pits to mount his second bike, finally concluding the qualifying in eleventh. The British rider's crash was followed by Cardion ab Motoracing's Karel Abraham crashing out of qualifying, the 21 year old from Brno will start his home race from last on the grid.

John Hopkins (Rizla Suzuki) did not participate in the qualifying session due to injuries sustained in his FP3 crash pronouncing him unfit for racing.
Pedrosa (25) leads the first lap ahead of Dovizioso (4) and Stoner (27).
Stoner Wins as Honda dominates the Podium
Race Day,Sunday 14th August - Honda riders monopolised the podium at Brno this afternoon, dominating a race that was full of high tension. Casey Stoner (Repsol Honda RC212V) ran away from the pack to score his sixth win of the year in awesome style ahead of team-mate Andrea Dovizioso (Repsol Honda RC212V), while Marco Simoncelli (San Carlo Honda Gresini RC212V) finally scored his first premier-class podium. It might have been even better for Honda had not pole-sitter Dani Pedrosa (Repsol Honda RC212V) slid off moments after taking the lead in the early stages.
The race started in warmer conditions than those experienced in practice and qualifying – with track temperature up seven degrees on yesterday – but Honda's top two MotoGP teams took the challenge in their stride. Pedrosa leapt away from the grid to lead into the first corner, but it was reigning World Champion Jorge Lorenzo (Yamaha) who led at the end of the first lap. Pedrosa re-passed his fellow Spaniard at the first turn on lap three, Casey successfully attacking the Yamaha two corners later, only for Pedrosa to slide off at the very next turn. The former 125 and 250 World Champion – who walked away unscathed – was mystified by the accident.
Lorenzo (1) is relegated back to 4th behind Dovizioso (4) and Simoncelli (58), Spies is 5th.
Stoner was now in the lead and he didn't waste time building an advantage over his pursuers. Within four laps he was two seconds in front of Dovizioso who had also worked his way past Lorenzo. Then by half-distance the Australian was more than five seconds ahead. At one point the gap was more than eight seconds, but in the final laps he eased off to cross the line 6.5s up on his team-mate. It was an especially impressive performance considering that Stoner and his crew had struggled to get the best out of his RCV during practice. And the fact that Lorenzo was relegated to fourth by Dovizioso and Simoncelli means that Stoner extended his championship lead to 32 points with seven races to go.
Dovizioso didn't have an easy time as he sped towards his fourth second-place finish of the year. Lorenzo briefly re-passed the Italian in the early stages, after he had had a big moment, then Dovi got back into second once more only to come under serious pressure from Marco Simoncelli for much of the remainder of the race. Dovizioso's fifth podium of the year reinforced his third place in the points standings, now just 23 points behind Lorenzo.
Rossi (46) passes Ducati teammate Hayden (69) for 6th.
Simoncelli was understandably delighted with his first podium finish, less than a second down on Dovizioso. At one point in the closing stages it looked like he was stirring himself to attack the Repsol rider but he couldn't quite make it. Nevertheless third place had a very sweet taste for the former 250 World Champion who had come so close on several occasions earlier this year, only to slide off or suffer another setback.
Hiroshi Aoyama (San Carlo Honda Gresini RC212V) had a spirited ride to ninth place, his best result since June's Dutch TT. The Japanese rider didn't have the best of starts and had to come through from 14th place at the end of the first lap.
Toni Elias (LCR Honda MotoGP RC212V) was part of an entertaining three-way contest for tenth place, a real improvement compared to some of the Spaniard's earlier outings. In the end the reigning Moto2 World Champion came home 11th, just one tenth of a second behind Hector Barbera (Ducati) and a tenth ahead of Randy de Puniet (Ducati).
Casey Stoner, Repsol Honda: Race winner - "We knew we could make a strong podium challenge today, but we didn't really expect the race win. As soon as the race got underway I was having a good battle with Andrea, but this cost me a little time and I was afraid that Jorge and Dani would stretch away from me, but when I got past I found I had plenty of speed to catch up and the bike felt great. I passed Jorge and then Dani sadly crashed out so I pushed to see if I could pull a gap and I was able to do so quite quickly, then from this point it was a matter of managing the race. I'm very sorry for Dani, he would have been hard to beat today. After such a hard weekend it's fantastic to come out with a comfortable win, a big thanks to my team who never give up, they always support me so a huge thanks to them. Tomorrow we'll be back on the 1000 for another day of testing, so I hope the weather stays dry for us!"
Andrea Dovizioso, Repsol Honda: 2nd - "I'm really happy to be back on the podium, it's a good result after a difficult weekend and second position is so important for the championship. In the warm-up we made some small changes and my feeling improved. I arrived at the race very determined and I made a very good start from seventh position. In the first laps I was riding cautiously to save the tyres. I had good pace and when Dani crashed I tried to stay with Casey, but I made a mistake at turn 13 and I almost went off the track. I lost contact and from that moment Casey built a gap that was impossible to catch. I'm happy of how I managed the race first with Lorenzo and then with Simoncelli to maintain second position. In the final five laps I pushed harder, lapping under 1m 58s to maintain the margin from Marco. I didn't want to fight with him in the last corners. I want to thank Honda and the team for the good work, despite the fact that we struggled slightly over the weekend, we have demonstrated one more time that in the race we are there and I'm really looking forward to Indy in two weeks time."
Marco Simoncelli, San Carlo Honda Gresini: 3rd - "I am really happy. I have been very strong this year but it has been tough because we have had some difficult situations to deal with. Me and the team have never lost our faith though and finally the result has come so I want to thank all of them, as well as Honda and anybody else who has maintained their belief in me. On the last lap today I just wanted it to be over and nothing bad to happen and thankfully it all worked out. I am really delighted. I didn't make a great start and had to pass Valentino, who fought back for three corners and I have the tyre marks on my leathers to prove it! It was a nice battle even though it was short. I tried to attack Dovizioso at the end but he was pushing hard and I decided to settle for the position because I knew Lorenzo was making up ground behind me."
MOTOGP RACE RESULTS: (22 laps = 118.866 Km)
POS / RIDER / NAT. / TEAM / MOTORCYCLE / TIME / KM/H / GAP
1 / Casey STONER / AUS / Repsol Honda Team / HONDA / 43'16.796 / 164.786 /
2 / Andrea DOVIZIOSO / ITA / Repsol Honda Team / HONDA / 43'23.328 / 164.373 / 6.532
3 / Marco SIMONCELLI / ITA / San Carlo Honda Gresini / HONDA / 43'24.588 / 164.293 / 7.792
4 / Jorge LORENZO / SPA / Yamaha Factory Racing / YAMAHA / 43'25.309 / 164.248 / 8.513
5 / Ben SPIES / USA / Yamaha Factory Racing / YAMAHA / 43'26.982 / 164.142 / 10.186
6 / Valentino ROSSI / ITA / Ducati Team / DUCATI / 43'29.428 / 163.989 / 12.632
7 / Nicky HAYDEN / USA / Ducati Team / DUCATI / 43'39.833 / 163.337 / 23.037
8 / Colin EDWARDS / USA / Monster Yamaha Tech 3 / YAMAHA / 43'40.985 / 163.265 / 24.189
9 / Hiroshi AOYAMA / JPN / San Carlo Honda Gresini / HONDA / 43'41.998 / 163.202 / 25.202
10 / Hector BARBERA / SPA / Mapfre Aspar Team MotoGP / DUCATI / 43'53.362 / 162.498 / 36.566
11 / Toni ELIAS / SPA / LCR Honda MotoGP / HONDA / 43'53.475 / 162.491 / 36.679
12 / Randy DE PUNIET / FRA / Pramac Racing Team / DUCATI / 43'53.905 / 162.465 / 37.109
13 / Loris CAPIROSSI / ITA / Pramac Racing Team / DUCATI / 44'05.707 / 161.74 / 48.911
Pole Position: Dani PEDROSA 1'56.591 166.829 Km/h
Fastest Lap: Casey STONER 1'57.191 165.975 Km/h Lap 2
Circuit Record Lap: Jorge LORENZO 1'56.670 166.716 Km/h 2009
Circuit Best Lap: Valentino ROSSI 1'56.145 167.469 Km/h 2009
CHAMPIONSHIP POSITIONS TO DATE:
1 STONER 218, 2 LORENZO 186, 3 DOVIZIOSO 163, 4 ROSSI 118, 5 PEDROSA 110, 6 SPIES 109,
7 HAYDEN 103, 8 SIMONCELLI 76, 9 EDWARDS 75, 10 AOYAMA 70, 11 BARBERA 62, 12 ABRAHAM 46,
13 ELIAS 43, 14 BAUTISTA 39, 15 CRUTCHLOW 34.
---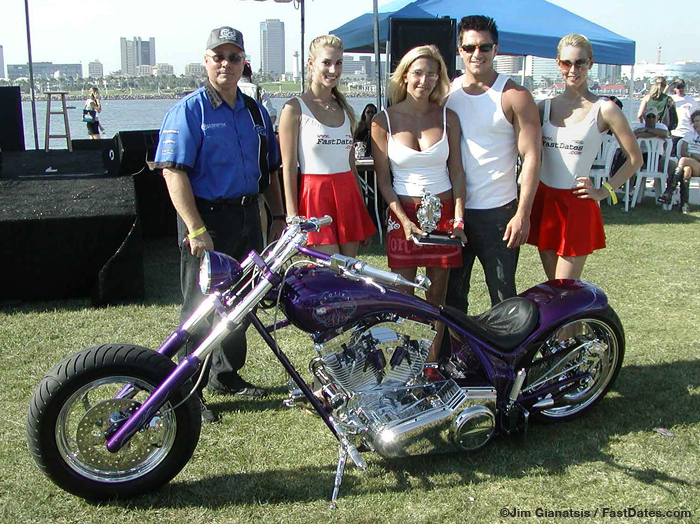 Our Calendar Bike Building Championship awards presentation at the 2003 LA Calendar Show with pictured left to right: Show sponsor Ted Sands of Performance Machine, Calendar Kitten Chandi Mason, accused murder accomplice Nanette Packard with new boyfriend Bill McNeal who she would later marry, Calendar Kitten Miss Great Britain Nicki Lane and their winning Cyril Huze bike

Love, Greed, Custom Bikes and Murder in the OC
Calendar Show Winner goes to trial for Murder of Millionaire Boyfriend
Santa Ana, California August 10th , 2011 – The often-delayed murder trial of a Nanette Packard charged, along with her former lover Eric Naposki, they murdered her other multimillionaire boyfriend in 1994, has been delayed to start Nov. 4th 2011. Nanette Johnston Packard McNeal, now 46, is accused of plotting the death of William Francis McLaughlin, a wealthy Newport Beach businessman whose company in the 1980s invented a device that filters plasma from blood, on Dec. 15, 1994, so that she could reap a windfall from a life insurance policy and as a beneficiary of his will.
Nanette Packard had been jailed previously for a year for writing checks to herself from McLaughlin's account without his knowledge. This includes a $250,000 check on the day he was murdered. She pleaded guilty to that crime in 1996 and was jailed for a year. Recent murder charges for her and her other boyfriend of the time, Eric Naposki, have been fueled by newly discovered evidence.
In 2003 Nanette Packard attended the LA Calendar Motorcycle Show with a newer boyfriend, Bill McNeal, who she would later marry and have his child. At the Calendar Show they entered an expensive Cyril Huze built custom chopper, estimated value $50,000, in the Pro Builder Class where they took 1st Place.
Nanette Packard with Bill McNeal, who she would later marry, when they attended the 2003 Calendar Show.
The motive for the slaying, Deputy District Attorney Matt Murphy says, was money: Johnston, who later became known as Nanette Packard, stood to collect $1 million in life insurance from McLaughlin's death, and believed she was entitled to live in his beach house and assume ownership of a luxury car. Naposki and Packard, who had been had been carrying on an affair behind McLaughlin's back for months, then planned to live together on the funds collected after McLaughlin's death, Murphy contends.

Nanette Johnston Packard McNeal and Eric Naposki, were arrested in 2009 after the Orange County District Attorney's Office, reopened the cold-case murder investigation, and they pleaded not guilty. Nanette was 4 months pregnant with a child with her current husband Bill McNeal.

She is now being tried separately from her former boyfriend, Eric Naposki, now 44, in the shooting death of McLaughlin, 55, who was gunned down inside the million-dollar-plus home in the gated community of Balboa Coves he lived in with Packard – a girlfriend more than 25 years younger.

Orange County prosecutors believe that Naposki, a former National Football League linebacker , shot McLaughlin six times in the chest after obtaining a key to his house from Johnston. Johnston meet Eric Naposki in 1992, then a club bouncer and fitness instructor, when her young children took a fitness class from him at The Sporting Club in Irvine. Naposki's trial took place this past June-July and he has been convicted by the Jury of the McLaughlin murder. His Sentencing is set for Oct. 21.
---
Cafe Racer Season 2 to air on Velocity TV starting August 3rd 9-10PM EST
July 2011 - One of the best streetbike programs on television, Café Racer returtns Wednesay August 3rd on the new Velocity network, formally known as Discovery HD Theater. Hosted by Cafe Racer magazine editor and coordinating producer Mike Seate, the world of low bars and high-performance has continued to grow recently, particulaly as the economic climate has reduce expensive new bike sales median age of bike riders gets older. Now its really cool to build the custom sportbike of your dreams using oldand affordable junkyard dogs from the 1970s. This second season of Café Racer will bring us up to date with where the International café racer scene is going. The crew travels to faraway Italy, Wales, England and all across the United States where they unearthed some extraordinary custom motorcycle builders.
The builders and their unique rides are still our main focus, bringing in some new blood to the cafe racer cult such as hot rod builder Bryan Fuller, Reverend Jim of Florida's Church of the Apehangers, custom sportbike king Nick Anglada and Matt Rambow of Colorado Norton Works to name just a few. Some of your favorite builders from last season have clued us in on their latest ground-up builds, including Greg Hageman, Florida's Dime City Cycles and Santiago Choppers' Alan Bernard who, for a second time, created a mind-blowing custom bike that he donated to the Curing Kid's Cancer charity. Alan's Harley-powered Norton brought in some serious money to help children's cancer research, and our cameras were there to catch the occasion.

Celebrities Billy Joel, Last Comic Standing Alonzo Bodden and award winning singer/producer Butch Walker bring their passion for café racers to the show as well and the 2008 World Champion Phillies get a chance to wiegh in on one of our latest creations. You'll find Cafe Racer show schedule and times here: www.caferacertv.com
---
Carlos Checa and the privater Althea Ducati team carded their 10th victory this season.
SBK World Superbike Championship, Round 9 of 13 Silverstone
Carlos Checa sets multiple records at Silverstone with Double World Superbike Wins
Silverstone, Unitd Kingdom, July 29-31st 2011 – World Championship leader Carlos Checa (Althea Racing Ducati) had a remarkable weekend in front of 64,000 fans at Silverstone, despite not expecting to be in full contention before arriving in the UK. In winning the first race Checa became the rider who gave Ducati 300 race wins in the WSB championship since itsbeginning, and added one to the total when he took his second win in a few hours. His race two victory was Carlos' tenth of the season. And Checa is something of a century man, as he notched up 100 WSBK races in the second encounter and he was also the rider to give Honda its 100th win in WSBK, at Miller Motorsports Park in 2008. Continued Here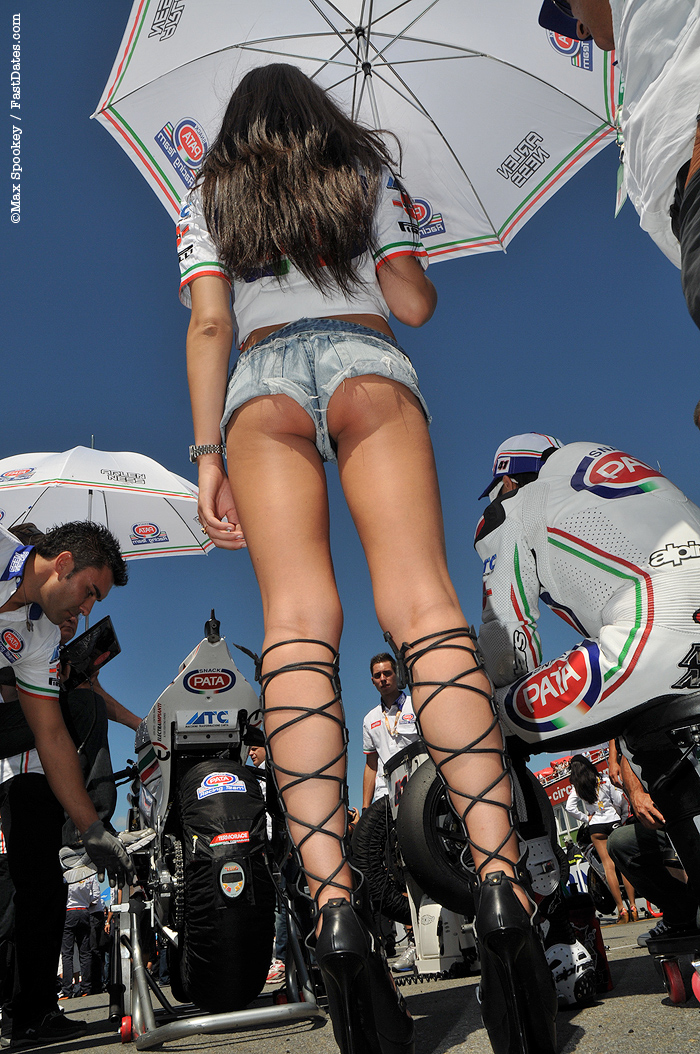 The economic slowdown has hit the sport hard, particularly in the available budgets for grid girl uniforms....
---
There's more! Go to Pit Lane News Next Page

Also Visit: Fast Dates Calendar News • Iron & Lace Calendar News
Calendar Girl News • Meet the Models • Paddock Garage

MEMBERS CORNER! Calendar Kittens, Paddock Garage, Iron & Lace Garage





MotorcycleSuperstore.com
Some of our Calendar Kittens can also at Playboy's website...



FREE! New Met-Art Model Galley Updated Daily - Stop Back Each Day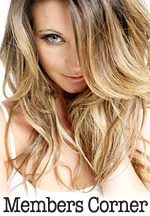 Hot Bikes, Sexy Kittens
Your Exclusive Grid Pass
also includes....
---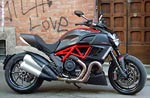 The Devil Made Us Do It!
Testing the Ducati Diavel in Italy
2011 Calendars!
with FastDates.com Calendar Kitten, Ducati Corse Grid Girl
and Playboy Playmate
Heather Rae Young!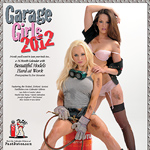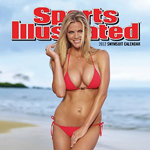 Click for even more Calendars!
---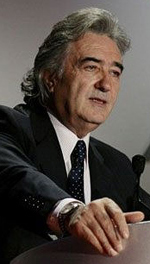 Italian Motorcycle Manufacturing Legend,
MV Agusta's Claudio Castiglioni Passes Away
Aug 17th 2011 - MV Agusta President Claudio Castiglioni has passed away in a clinic in Varese early this morning at age 64, according to the company.
Castiglioni transformed family business Cagiva from a parts and components company into a full motorcycle manufacturer in the 1970s, winning the World Motocross championship amongst other accolades, and achieved sufficient success to buy Ducati in 1985, where the Ducati 916 and Monster were developed under his tutelage.
He also acquired Husqvarna, which has won a number of World Championships in Enduro, Motocross and Supermotard over the years.

After selling Ducati to American investment group TPG in 1996 he focused on the MV Agusta brand, which he had bought in 1991. Having taken the legendary designer Massimo Tamburini with him from Ducati, he repeated his success at MV with such iconic designs as the F3, F4 and Brutale, building strong foundations for the future.

A particularly canny businessman, he sold MV twice, only to buy it back both times for a nominal sum. Firstly sold to Proton for €70 million in 2003, he bought it back for €1 a year later, and then resold it to Harley-Davidson for another €70 million in 2008, buying it back in 2010 for €3.

A year ago Castiglioni handed over executive control to his son Giovanni, who has said he will continue to take his father's vision of creating "the most beautiful motorcycles in the world" into the future.
www.mvagusta.it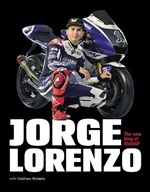 Economic Reality - Yamaha and Alstare Suzuki to withdraw from World Superbike in 2012
Yamaha Official World Superbike Team withdraws at the end of 2011 season from World Championship
Aug 1st 2011- Yamaha Motor Europe N.V. (YME) has decided to withdraw their official Yamaha World Superbike Team at the end of the current season from the FIM Superbike World Championship.
This announcement follows a full strategic review of the Marketing Operations within Europe including all Motorsport activities and takes into account the continuing severe and rapidly changing Powered Two Wheeler market conditions throughout the region.
Due to this decision more resource and focus will now be used for direct "Customer" activities to ultimately add more value to Yamaha ownership and increased Customer Satisfaction.
YME would like to express their sincere thanks and appreciation for the total commitment, support, and passion shown by the extremely professional and dedicated riders and team members both past and present throughout the many years of participation in the FIM Superbike World Championship. YME would also like to thank all the highly valued business partners and suppliers who have in-turn supported the team and in addition would like to thank Infront Motorsports, the FIM Superbike World Championship promoters. YME has chosen this timing of announcement to ensure that all existing obligations are correctly met, and to not limit any opportunities or future planning for all personnel involved.
Riders Marco Melandri and Eugene Laverty are currently respectively 3rd and 4th in the overall 2011 FIM Superbike World Championship standings for riders with 4 rounds to go. YME and the team will continue to give its maximum efforts until the end of the existing season to try and regain the World Superbike title which Yamaha also won in 2009.
Yamaha will continue the availability of road racing kit parts, known as YEC Racing kit parts, for its R1 and R6 production models for private teams entering at all racing levels.
Alstare Suzuki Team Owner Frances Batta States his teams' positiion for 2012 World Superbike
31st July 2011- Alstare team manager Francis Batta would like to clarify his position regarding current speculation about 2012. Francis Batta and Alstare have been involved with Suzuki for the best part of thirteen years and this tremendous relationship has given the everybody an immense amount of satisfaction. The strong relationship was forged right from the very beginning and has grown throughout the years and is one that Francis values very highly. Francis has been a loyal supporter of Suzuki and it is for this reason that he would like to continue with them alone in the future. If Suzuki decide not to take part in the World Superbike Championship next year, Francis will also stop rather than continue with another manufacturer.
SBK Superbike moves to 1-Bike Rule, BSB Goes Production Bikes in 2012
In a effort to keep World Superbike racing affordable and its grids full in the current down turned world economy, SBK World Superbike will be restricting its premier World Superbike class teams to just one Race Bike per rider beginning in 2012. Currently all the factory teams, as well as many of the top privateer teams, have 2 bikes in their race garages for each of their riders.
One of the bikes serves as a back-up should the rider's primary #1 bike be crashed during the race weekend.
With a factory race bike valued anywhere between $100,000 to $200,000 each, a 2-rider team team might be able to reduce its costs in equipment, additional team personnel and transportation by about $500,000 per race season.
And what if a rider destroys his one bike at a race meeting during Practice or the 1st Race, how can he finish up the race weekend? Each team will be allowed to bring (1) spare rolling chassis with them, plus the usual compliment of spare engines.
So if one of the team riders destroys his Primary #1 Bike in Practice, Superpole or Race One, the team will have enough time between Races to install an engine in the team's spare rolling chassis.
Meanwhile in the British Superbike Championship, the 1000cc Superbike class bikes will be much closer to Production Superstock Rules, currently called the EVO Class in Britain.
Similar to current the Superstock spec bikes raced in AMA Superbike.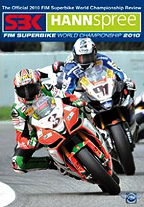 World Superbike Review
Click to find DVD Coverage of Every Year!
MotoGP Review
Click to find DVD Coverage of Every Year!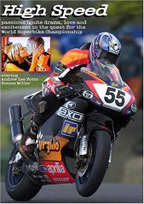 High Speed - the Movie
The best motorcycle racing movie ever made! Filmed on location at the World Superbike races , this an exciting romantic drama staring beautiful British actress Sienna Miller.
---
Hopkins Injured and out of Brno Grand Prix
Saturday Aug 12th - Rizla Suzuki's wild-card rider John Hopkins will be unable to compete in the rest of this weekend's proceedings at the Brno Grand Prix after crashing in this morning's practice.
Hopkins crashed at turn three on his sixth lap in the very wet and slippery conditions, and as he slid into the gravel his right hand sustained an impact causing a break and dislocation of his third finger and fracture of his second finger. He was immediately taken to the medical centre to have x-rays, where the injury was diagnosed and set in traction Hopkins will now return to America to have an operation to repair the injury as he aims to ensure he is fit for the next round of the British Superbike Championship at Cadwell Park later this month.

Rizla Suzuki wishes him a speedy recovery and will update on his progress as more information becomes known.

Paul Denning – Team Manager:
"This morning's injury is a huge disappointment to all of us at Rizla Suzuki and of course mostly to John. He is completely devastated that he is not able to compete in the Grand Prix tomorrow, especially as his form yesterday was extremely promising. He was just building up to speed very gradually in the wet conditions and, on the first lap that he tried to push a little bit harder, he made a simple mistake and folded the front. It was on exactly the same corner that Casey had done the same thing at the start of the session, but John was just less lucky and as he entered the gravel trap the angle of his hand meant that the impact folded his fingers. This caused a substantial break to one finger and further damage to another. If the injury had been his left hand he would be on the GSV-R this afternoon, but to control a MotoGP bike and expect to be competitive with that injury to his throttle and braking hand is completely unrealistic.

"From the team, thanks to John for being so professional and a pleasure to work with this weekend. It was also great to have a two-rider team again and all the clear advantages that it brings. Despite what happened this morning I believe everybody in MotoGP was impressed with the potential shown here in Brno by John. I have no doubt that we will see him on a Grand Prix bike again in the near future."
Positive Weekend for Ducati's Rossi and Hayden at Brno
Sunday Aug 14 -The Ducati Team took important steps forward at the Czech Republic Grand Prix, where Valentino Rossi and Nicky Hayden finished sixth and seventh, respectively. The riders' finishing positions were the same as in the previous round at Laguna Seca, but both reduced their gaps to the front considerably, the Italian by well over half.

After he and his team made steady progress with the setup of his GP11.1 for the entire weekend, Rossi had a competitive pace for most of the race, chasing the front group all the way to the finish. Working exclusively on the GP11, Hayden's team experienced challenges throughout the weekend but persevered with a respectable performance.
Tomorrow both riders will take part in a day of testing that the Ducati Team will use to continue the work on the 800.

Valentino Rossi (Ducati Team) 6th - "I'd say we can be pretty pleased, as we took a step forward. I must say that Filippo and Ducati has been intelligent, because just with some small changes, we were able to get a good result, improving in both wet and dry conditions and in both qualifying and the race. Now I'm able to ride the bike better under braking and on corner entry, and I can use the front tyre better.

We started with the goal of fighting with the group ahead of us, but unfortunately we made a small mistake with the start procedure for heating the tyres and the first two laps were difficult, without enough grip. It's a lesson that we'll remember next time. I didn't have a great start like I did at Laguna, for example. That would have helped a lot, because from the third lap to the finish, I had the same pace as the two Yamahas, and even 'Sic' wasn't so far ahead. It's sixth place, but it's a sixth place that's much more important than our other results. The gap is much smaller, although I backed off in the final laps since there was nothing else I could do. Otherwise, I would've been just ten seconds from Stoner and much less than that from the podium.

Now we must focus and take another step. We'll try the 800 tomorrow, and it will be a very important test for confirming other new details and for continuing work on the setup. We'll probably take a couple of final runs with the GP11, but we'll definitely be continuing with the GP11.1. Finally, I'd like to compliment 'Sic' for a podium that he really deserved, for today's race but also for what he has shown this season."

Nicky Hayden (Ducati Team) 7th
"It's been a really tough weekend right from when we got the bikes out of the crates from Laguna, but we chipped away at it. The guys have worked extremely hard, and we got better and better. We even made a change after the morning warm-up that actually helped a bit, although I didn't really understand it the first few laps, and the group was already gone. I held on and got seventh, which isn't fantastic. Still, the gap to the front is the closest it's been this season, which is positive. The bike was really good in a few places, but I was slow in change of direction and couldn't get the bike to finish the corner and was spinning the tyre a lot. We also need to understand why I had the slowest top speed. It would've been nice to hang onto that front group a bit longer, but Colin pushed me all the way to the end. The work's far from over for this weekend, because we've got a big day tomorrow. Valentino tried some new parts on the front that they seem real happy about, so hopefully I can try those tomorrow. Test days are so important, and we really need a dry day tomorrow to try to make a big step."

Vittoriano Guareschi (Team Manager) - "It was a positive weekend for our team. We made progress with Valentino session by session, and with Nicky we solved enough of the difficulties from Friday that he was nearly four seconds faster than last year. Compared to Laguna Seca, Valentino reduced his pace and his final gap to the front, and he was closer to the lead group. His feeling with the front of the GP11.1 was also better thanks to some details that we changed. We can say that, overall, it was the most productive race weekend of the season. Tomorrow we'll have an important test day because we'll try some more small details for the GP11.1 with Valentino, and Nicky will be able to try it without pressure and also to make a useful comparison with the GP11."

Tough Battle for
Yamaha at Brno
Yamaha Factory Racing riders Jorge Lorenzo and Ben Spies secured fourth and fifth places respectively today in a tough battle for the Grand Prix of Czech Republic. World Champion Lorenzo made a great start from second place on the grid, taking the lead on the first lap and holding off his rivals until a small mistake dropped him to third. As race leader Dani Pedrosa crashed out he was promoted to second but having opted for a softer front tyre than the rest of the grid the Mallorcan struggled to maintain his pace, eventually succumbing a couple of places to finish fourth at the line. Despite his lack of grip he started to close back in on third placed rider Marco Simoncelli in the final laps and was less than a second behind at the chequered flag.
Ben Spies put in a valiant effort this afternoon, holding a strong pace for the duration of the race despite being in less than perfect condition. He continued to be hampered by physical issues with a numb arm resulting from a trapped nerve in his neck. Having lost one position off the start to fifth he held that for the 22 lap race, gradually closing in on his team mate Lorenzo in front, finishing just 1.5 seconds behind him.
Lorenzo heads to the next round in the USA at the Indianapolis circuit in two weeks time holding second in the Championship, trailing leader Casey Stoner by 32 points. Team mate Spies also retains his position of sixth in the Championship standings, now nine points behind Valentino Rossi in fourth and just one point behind Pedrosa in fifth.

Jorge Lorenzo Position 4th - Time +8.513 "The front tyre we chose was not the best option today. We tried it in qualifying and yesterday morning and it gave me a really good feeling and very constant pace. Today with the different conditions and temperature it was not working. From the beginning of the second lap I was really close to losing my front in every corner so it was difficult to improve on fourth position. The Championship is now even more difficult for us but that doesn't mean it is finished. There are still a lot of points to be played for so we must focus on winning the most races we can. Now we must forget this race which is probably one of the worst this season and possibly in my MotoGP career, I am excited to try the 1000 bike and improvements to the current 800 engine tomorrow as well!"
Ben Spies Position 5th - Time +10.186 "That was a hard race; I wanted to quit every lap past the ninth! I tried as hard as I could and didn't make too many mistakes. I just thought with Valentino coming behind me and being ahead in the Championship I've just got to keep on going until I fall of this thing. I didn't fall off and I finished so it was a good result. Now it's the complete opposite, it's my right arm that's completely dead because that's all that was working in the race. Again I've got to thank the team; the bike was really good and definitely a podium bike. I've also got to thank the Clinica guys; I've never been in there so much, every day! That was the hardest physical race I've ever done. We got it finished, put it behind us and we scored some points."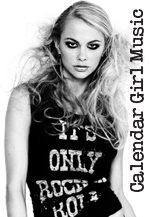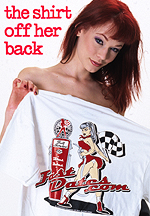 Order the Official
FastDates.com &
LA Calendar Bike Show
T-Shirts!
---
DUCATI ANNOUNCES "A MIDSUMMER BIKE DREAM" SPECIAL SALES PROGRAM
From August 16th through October 31, 2011:
4.25% financing on both the multi-award winning Ducati Multistrada 1200 and iconic 1198 Superbike, and up to $1,500.00 additional in-store credit towards Ducati Apparel and Ducati Performance Accessories for the 1198 Superbike.

Cupertino, Calif. (16 August 2011) - Ducati announces a special program for Customers that are looking to finally get their hands on one of the two most successful models in the Ducati line-up, the Multistrada 1200 and the 1198 Superbike.

Running from August 16th through October 31st, "A Midsummer Bike Dream" provides Customers with an attractive financing offer as low as 4.25%* for 60 months with the purchase of any 2010 or 2011 Multistrada 1200 version or standard 1198 Superbike at participating Ducati dealerships.

Additional in-store credit up to $1,500.00* is available with the purchase of any standard 1198 Superbike, to complement the purchase with anything from a Ducati Performance exhaust to a Ducati riding jacket.

Celebrating very positive Ducati sales results in the first seven months of 2011, "A Midsummer Bike Dream" is a great opportunity for both adventure-touring riders, that can finally find the multi-award winning Multistrada 1200 available at Ducati dealers, and for sport riders that are looking to own the iconic and long-winning Ducati 1198 Superbike.

For more information about this opportunity, interested Customers are welcome to visit www.ducatiusa.com or their local Ducati dealer for further details.
MotoGP Tests at Brno after race weekend. Teams try new 1000cc bikes
Monday May 15th - Yamaha debuted their developing 2012 prototype on track at Brno on Monday and Honda continued the evolution of their 1000cc machine, as the premier class remained for an extra day at the Czech Republic track for an official MotoGP Test.

With the weather allowing a full day of riding Yamaha Factory Racing riders Jorge Lorenzo and Ben Spies had their first shakedown of the 2012 prototype, with Lorenzo second on the timesheet with a best time of 1'56.253 from 28 laps on the evolving bike. His team-mate Ben Spies also enjoyed riding the new machine, setting a best effort of 1'56.306 from 24 laps which placed him third fastest, and the American ended his day early at the midway break. Both riders also rode their 800cc M1 machines, in which they tested new engine parts, a new fairing and chassis components.

In the Repsol Honda garage Dani Pedrosa was another rider who had a first taste of what the 1000cc capacity machines will offer next year, as the Spaniard rode the 2012 bike for the first time. He ran two 2012 machines with differing set-ups, registering a best time of 1'56.264 from 37 laps as part of a methodical workload. His team-mate and current Championship leader Casey Stoner also rode Honda's 2012 spec bike – his second outing after riding at Jerez back in May – and was quickest around the Brno circuit with a time of 1'56.168 as he enjoyed the benefits of an updated chassis.

Valentino Rossi worked through a heavy schedule with his Ducati Team on the Desmosedici GP11.1, the bike he is riding this season, putting in 74 laps and posting a best effort of 1'58.266. The Italian tried a range of set-ups, focusing primarily on riding positions and bike height. Team-mate Nicky Hayden rode an initial early-morning run on the GP11 before focusing on the GP11.1 for the rest of the day, and the American was pleased with his progress as he lapped at 1'57.533.

The Marc VDS team were also present as they continued testing the Suter 2012 prototype. Mika Kallio got his lap time down to a 2'00.144 in a highly productive day, as he made big steps in the development of the bike – his fourth Test on it.
Elsewhere, Monster Yamaha Tech 3 riders Colin Edwards and Cal Crutchlow were both present, the American testing Bridgestone tyres and a Yamaha electronics package and the Brit a revised setting similar to the one he rode earlier in the season on their respective 2011 M1 bikes. Toni Elías (LCR Honda) and Loris Capirossi (Pramac Racing) were also both at the Test, as each rider looked to improve on what they had found during the GP weekend.