Carly's new Ducati Superbike
Cute, long legged T-Mobile spokesmodel Carly Foulkes has turned into a cultural media icon, one of the most recognized and popular people on American TV. The month T-Model introduced Carly in a new TV commercial as a sexy biker girl ona Ducati Superbike. Go Carly!

Now if we could just get those marketing bitches at Progressive Insurance to kill off that annoying and ugly spokesmodel Flo (Stephanie Courtney) in their lame ass advertising campaign - the worst ever - thank God for Tivo so we can fast forward through them, while they help keep SpeedTV on the air. On the other hand, we do love all the GEICO Insurance ads, Geckos or not, for the originality and entertainment value (see below, Dude!). Either way, just remember when any company like Progressive or Geico spends probably $ Billions of dollars a year on National Prime TV and print ads, their customer insurance rates are going to be the most expensive in the market. We go with AAA for the lowest rates, best service, and they handle all our DMV needs.
---
Lorenzo dogged Stoner the entire race, but never could get alongside the reigning champ.
MotoGP World Championship, Round 2 of 18, Jerez, Spain

Lorenzo keeps Stoner honest at Jerez
Gran Premio bwin de España, Jerez, Spain, Sunday, 29 April 2012–On a day when MotoGP™ fans around the globe were treated to three absolutely thrilling races, reigning World Champion Casey Stoner took his first premier-class victory at the Jerez track at the Gran Premio bwin de España, as he fought an epic battle with championship rival Jorge Lorenzo. With rain throughout much of the practice sessions, and the ever-imminent threat of rain, it had looked like a wet race may ensue. However the Jerez sky was kind to the riders and the fans, resulting in some tremendous racing from the off.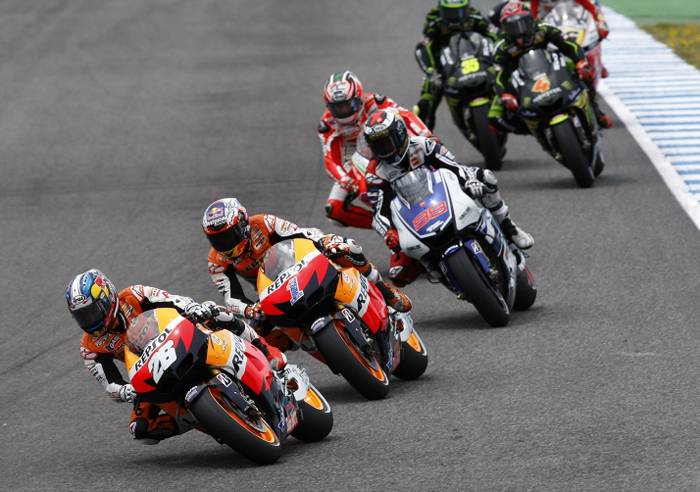 Repsol Honda Team´s Dani Pedrosa took the wholeshot in front of Yamaha Factory Racing´s pole-sitter Lorenzo, with Monster Yamaha Tech3´s Cal Crutchlow charging behind. Some tough overtaking saw the pack shuffled numerous times in the opening four laps, as Ducati Team´s Nicky Hayden was bumped wide by Crutchlow, and Lorenzo touched Tech3´s Andrea Dovizioso´s bike after an aggressive move up the inside.
Pedrosa´s team mate Casey Stoner then found his stride and moved to the front as he passed Lorenzo and then team mate Pedrosa, after which he did not relinquish the lead all race, despite being taken right down to the wire by Lorenzo in the closing stages.

Pedrosa had to hold off the advances of Crutchlow until the bitter end as well, as the Briton continues to impress in his second-only season in MotoGP. His team mate Dovizioso could not keep up the pace, having opted for a soft front tyre compared to Crutchlow´s hard choice, and finished fifth in front of San Carlo Honda Gresini´s Álvaro Bautista and LCR Honda MotoGP´s rookie Stefan Bradl, who is having a solid start to his debut season.
Monster Yamaha Tech 3 Team rider Cal Crutchlow produced the best performance of his MotoGP career in an enthralling Spanish Grand Prix today to finish fourth after an epic podium battle with Circuito de Jerez specialist Dani Pedrosa.The British rider finished fourth for the third MotoGP race in succession having been in podium contention right from the start of a 27-lap race that started under grey skies that threatened rain and finished in arguably the best conditions of a weather disrupted weekend.
Having had only one dry session all weekend, Crutchlow's decision to race with the ha rd compound front Bridgestone tyre was fully vindicated and his fantastic surge towards the top three began with 19 laps remaining when he passed Monster Yamaha Tech 3 team-mate Andrea Dovizioso and Nicky Hayden in quick succession.
The 26-year-old then embarked on a relentless pursuit of Pedrosa for the remainder of the race, with Crutchlow exerting immense pressure on the Spanish rider to try and secure his maiden MotoGP rostrum. The engrossing battle captivated a crowd of over 103,000 fans and went right down to the last lap but despite his best efforts, Crutchlow was unable to find a way to make a pass on Pedrosa, who was having to showcase all his talent to keep the former World Supersport Champion at bay.
At the chequered flag, Crutchlow was just over 0.4s behind Pedrosa and only 2.465s away from race winner and reigning World Champion Casey Stoner. He also set the fastest lap of the race with a 1.40.019 on the 15th lap, which was over 0.3s quicker than factory Yamaha rider Jorge Lorenzo's personal best.

Hayden, who had started on the front row and was pushing hard in the opening stages, dropped off towards the end of the race and finished seventh. This put him ahead of team mate Valentino Rossi, who tussled with Pramac Racing´s Hector Barberá throughout. Lorenzo´s team mate Ben Spies had another disappointing race, as he finished a full eight places behind his team mate in 10th.

An annoyed Randy de Puniet, who had looked on course to finish top CRT in 12th, pulled off in the last lap with mechanical issues, leaving the way for his team mate Aleix Espargaró to take top CRT honours. Britain´s James Ellison of the Paul Bird Motorsport team also pulled into the pits on the last lap with a mechanical issue.
Casey Stoner, Repsol Honda: Race winner
"We didn't get a great start so I tried to stay out of trouble. There were people outbraking each other, touching and it was important just to keep out of the way! Then I managed to gain a lot of positions in a short space of time and reached the front. I didn't try to pull a gap, as I knew Jorge (Lorenzo) and Dani (Pedrosa) were very fast, but I just wanted to stay in front with them and pull away from the others. Then I saw that Jorge and I had slightly better pace and we could make a gap. I was focusing on where I wanted to go as there were a lot of wet patches and it was easy to make a mistake. We managed the race for the conditions of the circuit and as they improved I pushed a little more. The bike as a whole felt much better than in qualifying. I did get some arm pump again, but thankfully not to the extent I had it in Qatar. Considering the weekend in general, and how fast Dani and Jorge are at this track, to win here is something very special for me."
Jorge Lorenzo, Yamaha 2nd - Time +0.947 -"Today I knew it would be a very important decision on the grid to choose the right front tyre. Finally we chose the soft one, unfortunately we were wrong and had a lot of problems during the race, I wasn't as confident as in practice. Without good feelings to finish second is not so bad, we are still leading the Championship and have good motivation for Estoril."
Dani Pedrosa, Repsol Honda: 3rd
"It's been a strange race for me. On the grid I thought it might not be a completely dry race so I was very cautious at the beginning, also after we saw so many crashes in the first laps of Moto3 and Moto2. So I started well but I was passed and then I lost too much time with (Andrea) Dovizioso and (Nicky) Hayden. When I managed to overtake them and take the third position, Casey and Jorge were already too far in front, four seconds ahead. So I put my head down and started increasing my pace, but at the same time it was difficult to keep the concentration because (Cal) Crutchlow was on a hard front tyre and he was pushing me a lot, braking harder in the last laps. In general, I feel happy with my performance on a really tricky weekend. A second and a third position finish is not the best, but it's a good start to the season."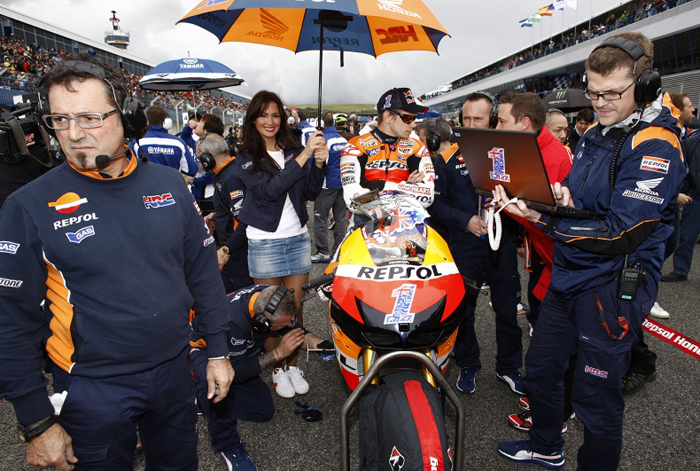 MOTOGP RACE: (27 laps = 119.421 Km)
POS / RIDER / NAT. / TEAM / MOTORCYCLE / TIME / KM/H / GAP
1 / CASEY STONER / AUS / REPSOL HONDA TEAM / HONDA / 45'33.897 / 157.253 /
2 / JORGE LORENZO / SPA / YAMAHA FACTORY RACING / YAMAHA / 45'34.844 / 157.199 / 0.947
3 / DANI PEDROSA / SPA / REPSOL HONDA TEAM / HONDA / 45'35.960 / 157.135 / 2.063
4 / CAL CRUTCHLOW / GBR / MONSTER YAMAHA TECH 3 / YAMAHA / 45'36.362 / 157.112 / 2.465
5 / ANDREA DOVIZIOSO / ITA / MONSTER YAMAHA TECH 3 / YAMAHA / 45'51.997 / 156.219 / 18.1
6 / ALVARO BAUTISTA / SPA / SAN CARLO HONDA GRESINI / HONDA / 45'55.292 / 156.032 / 21.395
7 / STEFAN BRADL / GER / LCR HONDA MOTOGP / HONDA / 46'02.534 / 155.623 / 28.637
8 / NICKY HAYDEN / USA / DUCATI TEAM / DUCATI / 46'02.766 / 155.61 / 28.869
9 / VALENTINO ROSSI / ITA / DUCATI TEAM / DUCATI / 46'08.749 / 155.274 / 34.852
10 / HECTOR BARBERA / SPA / PRAMAC RACING TEAM / DUCATI / 46'09.000 / 155.26 / 35.103
11 / BEN SPIES / USA / YAMAHA FACTORY RACING / YAMAHA / 46'11.938 / 155.095 / 38.041
12 / ALEIX ESPARGARO / SPA / POWER ELECTRONICS ASPAR / ART / 46'46.625 / 153.178 / 1'12.728
13 / DANILO PETRUCCI / ITA / CAME IODARACING PROJECT / IODA / 46'52.566 / 152.855 / 1'18.669
14 / MATTIA PASINI / ITA / SPEED MASTER / ART / 47'03.039 / 152.288 / 1'29.142
15 / IVAN SILVA / SPA / AVINTIA BLUSENS / BQR / 47'06.375 / 152.108 / 1'32.478
Pole Position: Jorge LORENZO 1'39.532 159.976 Km/h
Fastest Lap: Cal CRUTCHLOW 1'40.019 159.197 Km/h Lap 15
Circuit Record Lap: Dani PEDROSA 1'39.731 159.657 Km/h 2010
Circuit Best Lap: Jorge LORENZO 1'38.189 162.164 Km/h 2008
CHAMPIONSHIP POSITIONS TO DATE:
1 LORENZO 45, 2 STONER 41, 3 PEDROSA 36, 4 CRUTCHLOW 26, 5 DOVIZIOSO 22,
6 BAUTISTA 19, 7 HAYDEN 18, 8 BRADL 17, 9 ROSSI 13, 10 BARBERA 13, 11 SPIES 10,
12 ESPARGARO 5, 13 EDWARDS 4, 14 PETRUCCI 3, 15 DE PUNIET 3.
MOTO2 RACE: (17 laps = 75.191 Km)
POS / RIDER / NAT. / TEAM / MOTORCYCLE / TIME / KM/H / GAP
1 / POL ESPARGARO / SPA / PONS 40 HP TUENTI / KALEX / 30'12.879 / 149.313 /
2 / MARC MARQUEZ / SPA / TEAM CATALUNYACAIXA REPSOL / SUTER / 30'13.120 / 149.293 / 0.241
3 / THOMAS LUTHI / SWI / INTERWETTEN-PADDOCK / SUTER / 30'13.362 / 149.273 / 0.483
4 / SCOTT REDDING / GBR / MARC VDS RACING TEAM / KALEX / 30'17.293 / 148.95 / 4.414
5 / TAKAAKI NAKAGAMI / JPN / ITALTRANS RACING TEAM / KALEX / 30'17.716 / 148.916 / 4.837
6 / CLAUDIO CORTI / ITA / ITALTRANS RACING TEAM / KALEX / 30'18.760 / 148.83 / 5.881
7 / MIKA KALLIO / FIN / MARC VDS RACING TEAM / KALEX / 30'19.028 / 148.808 / 6.149
8 / DOMINIQUE AEGERTER / SWI / TECHNOMAG-CIP / SUTER / 30'19.976 / 148.731 / 7.097
9 / TONI ELIAS / SPA / MAPFRE ASPAR TEAM / SUTER / 30'20.745 / 148.668 / 7.866
10 / JOHANN ZARCO / FRA / JIR MOTO2 / MOTOBI / 30'21.559 / 148.602 / 8.68
11 / BRADLEY SMITH / GBR / TECH 3 RACING / TECH 3 / 30'22.261 / 148.544 / 9.382
12 / ALEX DE ANGELIS / RSM / NGM MOBILE FORWARD RACING / SUTER / 30'22.647 / 148.513 / 9.768
13 / XAVIER SIMEON / BEL / TECH 3 RACING / TECH 3 / 30'23.312 / 148.459 / 10.433
14 / ANDREA IANNONE / ITA / SPEED MASTER / SPEED UP / 30'44.245 / 146.774 / 31.366
15 / GINO REA / GBR / FEDERAL OIL GRESINI MOTO2 / MORIWAKI / 30'44.383 / 146.763 / 31.504
Pole Position: Marc MARQUEZ 1'43.005 154.582 Km/h
Fastest Lap: Randy KRUMMENACHER 1'44.905 151.783 Km/h Lap 7
Circuit Record Lap: Toni ELIAS 1'44.710 152.065 Km/h 2010
Circuit Best Lap: Stefan BRADL 1'42.706 155.032 Km/h 2011
CHAMPIONSHIP POSITIONS TO DATE:
1 MARQUEZ 45, 2 ESPARGARO 41, 3 LUTHI 27, 4 REDDING 23, 5 IANNONE 22, 6 KALLIO 15,
7 RABAT 13, 8 NAKAGAMI 13, 9 SMITH 12, 10 CORTI 10, 11 ELIAS 10, 12 ZARCO 10, 13 DI MEGLIO 9,
14 AEGERTER 8, 15 CORSI 8.
---
Triumph Speed Triple R
One of the coolest new bikes in the Triunph streetbike line for 2012 is the new Speed Triple R featuring upgraded suspension and braking componests from Ohlins and Brembo. The bike also gets 1.7 pound lighter PVM race wheels, and ABS as standard which can be turned off and on as desired. Shown here on this R model is the optional Arrow track expanust system which helps to remove a few more pounds and up the power output as well. Available colors are White (shown) or Black.
The European manufacturers Triumph, BMW and Ducati are the only motorcycle companies showing a strong recovery with a big increased sales from the recent economic depression, because they are building high end bikes that us aging baby boomers want to buy. If the Big Four Japanese manufactures continue to miss the target in America and Europe, and their sales don't recover, might not be called Big or remain around much longer.Sorta like what Japan did to the European bike manufacturers back in the 1970s, but now the shoe is on the other foot.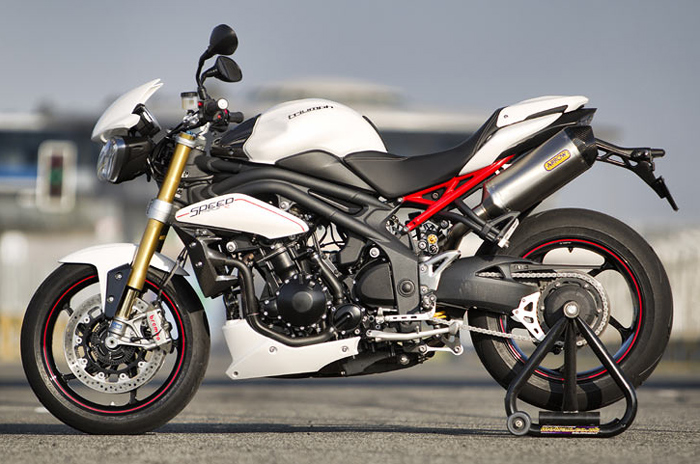 ---
The podium after RaceTwo with winner Rea (middle) and 2nd Guintoli (left) and 3rs Laverty (right).
Superbike Championship, Round 3 of 14, Assen, Netherlands

Guintoli and Rea share the wins amid the rain
and another traditionally dramatic Assen raceday
Assen, Netherlands, April 20-22nd,2011 – Changeable weather conditions played a major part in proceedings during raceday at Assen, with the first race stopped and then re-run over only nine laps, and the second race bringing forth a variety of tyre choices on a damp initial track surface that saw the podium places change frequently. In race one Sylvain Guintoli (Effenbert-Liberty Ducati) took his first ever race win in SBK and the first for his team, while in race two a bad tire choice for 2011 champion Carlos Checa (Althea Racing Ducati) saw him out of the points. Honda World Superbike team rider Jonathan Rea took his first win of the year in the second full 22-lap race. Complete Assen Superbike Coverage Here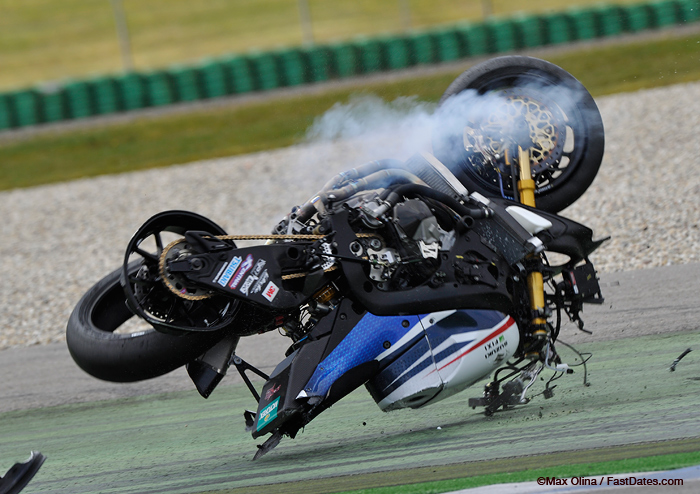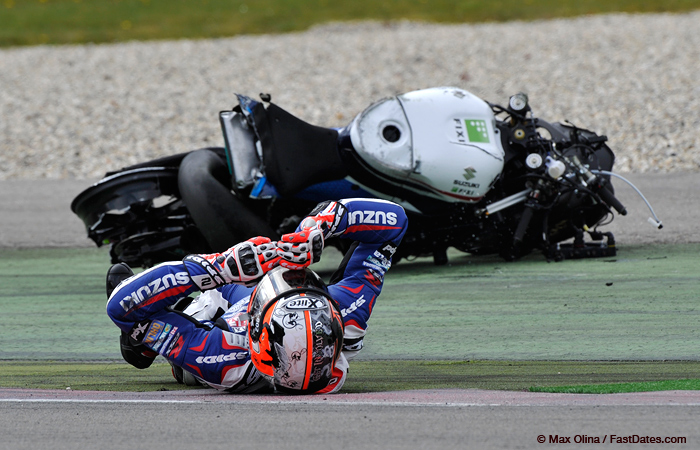 Beautiful SBK World Superbike grid girls, Jitka and Petra.
---
Order Advance Calendar Bike Show Tickets Now!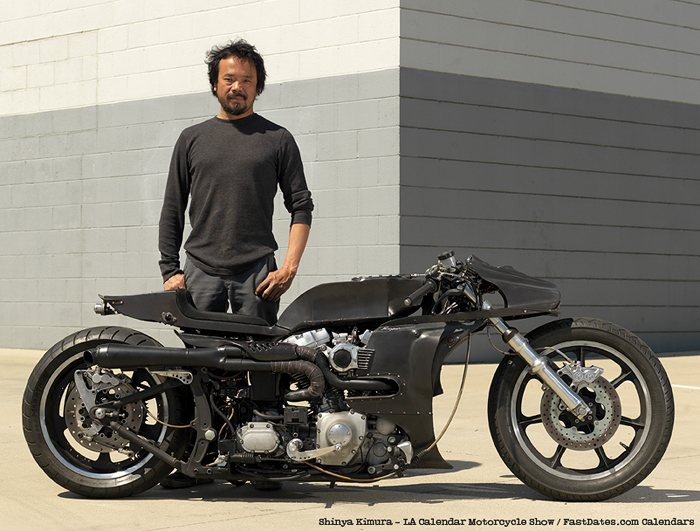 ---
There's more! Go to Pit Lane News Previous Week

Also Visit: Fast Dates Calendar News • Iron & Lace Calendar News
Calendar Girl News • Meet the Models • Paddock Garage

MEMBERS CORNER! Calendar Kittens, Paddock Garage, Iron & Lace Garage





MotorcycleSuperstore.com
Some of our Calendar Kittens can also at Playboy's website...



FREE! New Met-Art Model Galley Updated Daily - Stop Back Each Day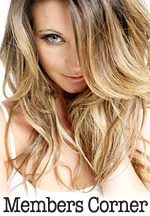 Hot Bikes, Sexy Kittens
Your Exclusive Grid Pass
also includes....
---
Order the New
2012 Calendars!
with FastDates.com Calendar Kitten, Ducati Corse Grid Girl
and Playboy Playmate
Heather Rae Young!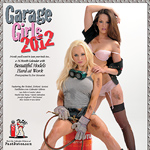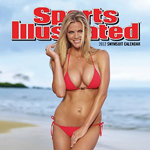 Click for even more Calendars!
---
Hayden, Rossi eight and ninth in Spanish Grand Prix
Jerez, April 29th - The weekend's last rain shower fell less than an hour before the Spanish Grand Prix, leaving time for the water to evaporate enough to have the race declared dry, so the MotoGP riders started on slick tyres. Nicky Hayden, who started from the first row, was involved in a back-and-forth battle for third place with Crutchlow and Pedrosa. The American then steadily lost ground as grip decreased, eventually finishing eighth. Valentino Rossi, who started from the fifth row, steadily improved his pace as he climbed to eighth place.

Both riders will continue working on the setup of the GP12, starting this Friday when they again take to the track for free practice at the Portuguese Grand Prix in Estoril, and also during the post-race test on Monday.

Nicky Hayden (Ducati Team) 8th
"It was fun for a couple of laps. We know our bike is great at generating heat in the tyres, and for the first few laps, I was able do what I wanted. Then about the time it looked like the other guys' tyres came up to temperature, mine had already started losing grip, especially in the front. I was pushing wide in places and guys started coming past me. We knew it would be tough in the dry. My setup was okay, but to really try to go with those guys wasn't possible. I was able to close back down on Bradl at the end and have a bit of a race the last couple of laps, but he beat me. Eighth place is certainly not what our goal is. The bike's got a lot of potential, but at the moment, the gap to the rest is still too far. Hopefully we can get a dry weekend in Estoril and try to be closer to the front on Sunday."

Valentino Rossi (Ducati Team) 9th
"The positive thing from today's race is that I think it might help us to do a bit better in the coming events, starting next week in Portugal. Today we used a setup that's new for us, and it gave some positive signs. First we tried some solutions to give me a feeling similar to what I've had in the past, but it doesn't work. Today's setting was very similar to what Nicky has used for a while, though not exactly the same. I must get used to riding the bike a bit differently than I'm used to, and today that caused me to lose some ground in the early laps because I was basically starting blind. I wasn't going bad once I found my rhythm, in the sense that I was matching the times of those who were fighting for sixth place, and I was able to push until the end, doing a 1:41.0 on the penultimate lap. This helps me to be a little more optimistic as I look ahead to the next races because if I'm able to ride a bit better, it could be a place for us to start from. In fact, we'll use this setting when we start on Friday. Naturally, we'll have to keep working, be more effective in qualifying so that we can start further forward, and improve acceleration and a number of other things, which we've already discussed at Ducati as we try, together, to improve the GP12."

Vittoriano Guareschi (Team Manager)
"Today we wanted to see both Nicky and Vale finish the race closer to the front, but overall, there are several positive things to take from this weekend as we continue our work and our development path for the GP12. We received confirmation that we're very fast in the wet, and in the dry, we had a good qualifying session with Nicky, who made the first row. Nicky was very competitive in the early laps of the race, and now we must also improve over race distance with him. Vale found qualifying difficult, but in the race, using a setting that he'd never tried, he felt okay and was steadily gaining confidence and going faster. These are signs that show us the direction to follow starting with the next round in a few days in Portugal."
Max Biaggi retakes SBK Championship Points Lead at Assen
First Podium astride Aprilia for Laverty
Assen, 22 April 2012 – The Assen round Sunday will be long remembered for the continuous pendulum of emotions, both because of the uncertain weather and the great show on the track. The Aprilia Racing Team confirmed itself as a key player in spite of the difficulties Max Biaggi and Eugene Laverty faced throughout the weekend. The Northern Irish rider's rostrum finish in Race 2 ended a day which returns the championship's first place position to Biaggi, even if only by one point.

The first thing to note about race one is that it was red flagged due to rain with nine laps to go. After returning to the pits to put on the softer tyres for the wet, the riders lined up for a new start in the driving rain. Max and Eugene immediately demonstrated excellent pace in truly difficult grip and visibility conditions. Biaggi and Laverty rode past the chequered flag respectively in fourth and fifth place.

Race 2, on the other hand, started with no rain and quickly drying asphalt, so much that almost all the riders chose full slicks directly from the starting grid. Max, starting from the fifth row, was able to earn twelfth place within the first three laps, taking advantage of some mistakes made by the forerunners to end the race in eighth place. Eugene's race was a battle of the top 5 with overtaking and fast laps galore. The rider from Northern Ireland skilfully managed a difficult race and flew to his first podium (third place) under the Aprilia Racing colours.

Checa's seventeenth place in Race 2 returned the championship lead spot to Max Biaggi, albeit only one point in front of the Spaniard. The Aprilia Racing Team is also at the top of the team standings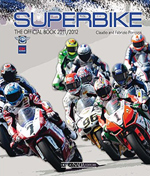 The Official SBK
2011-2012 Yearbook
These SBK Yearbooks are the Best Books Ever about World Superbike
They feature wesome color photography of the riders, bike and racing action. The feature a deailed revue of the past season in pictures and stactics, awith a detailed look at the bikes and riders.
Plus a technical look data all the bikes, a preview of the upcoming season's Championship!
We buy this every year ourselves and highly recommend it!
SBK World Superbike Video Game
---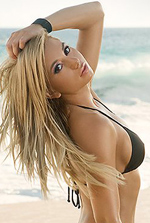 Meet 2012 Calendar Kitten
Sara Balint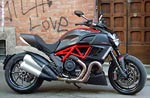 The Devil Made Us Do It!
Testing the Ducati Diavel in Italy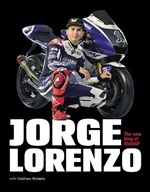 Sudco High Performance & OEM Replacement Parts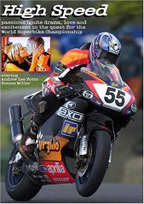 High Speed - the Movie
The best motorcycle racing movie ever made! Filmed on location at the World Superbike races , this an exciting romantic drama staring beautiful British actress Sienna Miller.
---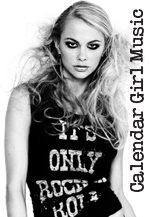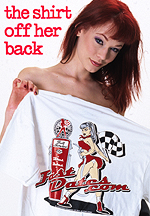 Order the Official
FastDates.com &
LA Calendar Bike Show
T-Shirts!
---