The Russians will be seeing more then red as the World invades Russia. Beautiful girls, fast riders and high horsepower machines will take over Moscow, something Napoleon couldn't accomplish some 3 centuries earlier with the entire French Army!
SBK World Superbike Championship, Round 11 of 14, Moscow, Russia
Back in the USSR!
Preview: World Superbike Invades Russia
Rome (Italy), Sunday 19 August 2012 – In the midst of its 25th anniversary celebrations the eni FIM Superbike World Championship makes another major step forward in history as international bike racing arrives in Russia for the very first time. The eleventh round of this exciting season also constitutes a milestone for motorcycle racing in general: Russia is in fact a major industrial power with 143 million inhabitants, a rapidly growing economy and an enormous number of motorsport fans, who will have an opportunity to see World Superbike in person for the first time.

The front staight at Moscow Raceway shows the beautiful new Herman Tilken designed facility. You can see the track map on the side of the Pit Building. The back section has a lot of elevation changes and tight corners. Until we see the new Circuit of the America's in Austin Texas, this new Russian circuit facility is better than any stand alone roadcourse in America. This is the start of Sunday's Superbike Race One with Tom Sykes pulling a killer hole shot on his fctory Kawasaki. CLICK TO GO BIG
The event takes place this coming weekend, 24-26 August, at the spectacular new Moscow Raceway circuit, measuring 3931 metres in its WSBK layout. The circuit, which cost around 130 million Euro to build, lies close to Volokolamsk, around 100 kms to the west of the immense Russian capital.

Moscow Raceway was inaugurated on July 15 with a World Series car event, and to give the Superbike riders the possibility of getting to know the track, a supplementary test-session has been organized for Wednesday 22 August. The event itself will be presented to the Russian and international media on Thursday 23 August at the Ritz-Carlton Hotel in Moscow, close to the Kremlin.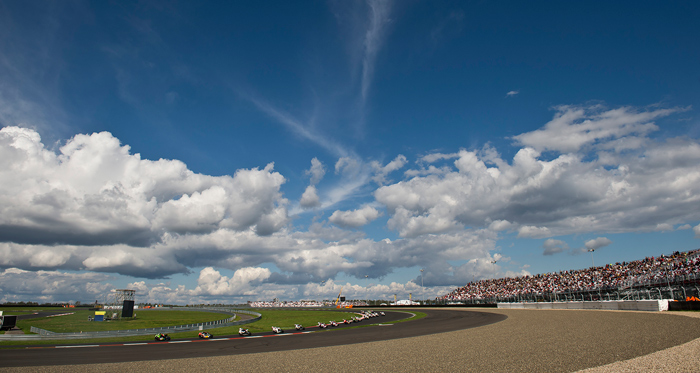 Moscow Raceway - CLICK TO GO BIG

The Russian Round will be the start of the decisive run-in for this year's title and the situation in the championship could not be any closer. At the last round in Silverstone chasing rider Marco Melandri (BMW Motorrad Motorsport) whittled down the gap to Max Biaggi (Aprilia Racing Team), who has led the standings since the opening round in Australia, to just 10.5 points. Two rounds ago Biaggi had a 55-point lead over his fellow Italian, but in Superbike every race is unpredictable and surprises are the order of the day. With 200 points still up for grabs in the final four rounds (Russia, Germany, Portugal and France), Tom Sykes (Kawasaki Racing Team), Carlos Checa (Althea Racing Team Ducati) and Jonathan Rea (Honda World Superbike Team) are also still in with a chance, with Rea just 70.5 points from the leader.

41-year-old Biaggi has been preparing for the race with just a short holiday break and his usual careful training routine, while after Silverstone Melandri celebrated his 30th birthday with friends at home.

In the UK neither Biaggi nor Melandri were able to score particularly brilliant results, picking up respectively 2.5 and 13 points out of a total of 37.5, due to the half score awarded in the rain-affected second encounter. But Sykes (10 points), Checa (16) and Rea (16.5) could only partially capitalize on the leading duo's setbacks and for them Moscow represents one of the final opportunities to remain in touch with the leaders.

The Manufacturers' race is also at a good point with BMW (316 points) now ahead of Aprilia (302.5): this is the first time that the German manufacturer has been in the lead of this particular classification. Ducati are not far behind either on 300 points and even Kawasaki (253.5) have a good chance of closing the gap.

The title race is made even more exciting by the fact that as well as the leading contenders, there are also many other riders in with a chance of upsetting the applecart by going for individual race wins. Silverstone was a case in point, with the 19-year-old Frenchman Loris Baz, the Kawasaki Racing Team's revelation, producing terrific form to score his first win and a third place. Baz has already taken three podiums in the last four races and is sure to be a contender in the future.

All eyes will also be on Eugene Laverty (Aprilia Racing Team), Leon Haslam (BMW Motorrad Motorsport) and Davide Giugliano, the 22-year-old youngster from Rome and Checa team-mate in Althea Racing. One man to watch with particular attention will be Sylvain Guintoli (Pata Racing Team Ducati), the Frenchman who has already won in the wet in the Netherlands and the UK, moving into eighth place overall and becoming top 'satellite' rider. The FIXI Crescent Suzuki team also showed signs of a revival at Silverstone, with Leon Camier in particular emerging as a frontrunner.

Points (after 10 di 14 rounds): 1. Biaggi 274; 2. Melandri 263.5; 3. Sykes 222.5; 4. Checa 220.5; 5. Rea 203.5; 6. Haslam 170; 7. Laverty 160.5; 8. Guintoli 122.5; 9. Fabrizio 108.5; 10. Giugliano 106; etc. Manufacturers: 1. BMW 316; 2. Aprilia 302.5; 3. Ducati 300; 4. Kawasaki 253.5; 5. Honda 209.5; 6. Suzuki 75.5.

World Supersport 600cc
In Russia the Supersport battle also reaches a high watermark: with 100 points still to play for, nine riders from three different manufacturers (Honda, Kawasaki and Triumph) have a slim chance of taking the title, but barring surprises the winner will undoubtedly be one of the four riders who have dominated the championship since the start and who are now separated by 30 points: Kenan Sofuoglu (Kawasaki Lorenzini), Sam Lowes (Bogdanka PTR Honda), Jules Cluzel (PTR Honda) and Fabien Foret (Kawasaki Intermoto Step).

Sofuoglu, the 27-year-old who has already been crowned Supersport champion twice, has headed the standings since the first race but in the last three events his results have been fifth, second and fifth, due to the repercussions of a niggling knee injury. Lowes gained some ground in his home round and the 22-year-old is now just 14 points off the top slot, but he in turn is being reeled in by his team-mate Jules Cluzel, now just 28 points behind following his second win of the season at Silverstone.

Meanwhile Sofuoglu, a Muslim from Turkey, has already become the most successful rider ever in the Supersport category with 19 wins to his name, adding to 45 podium finishes (in 65 races) and 13 poles and he will surely be a hard man to beat in the remaining rounds.

In Supersport all the Russian fans will have something to cheer on with 25-year-old Vladimir Leonov (Yakhnich Motorsport Yamaha), one of the emerging stars of the category. Leonov has already been on the podium with a third place at Assen and despite an injury at Donington that kept him out of action for one race, he is currently lying 12th overall.

Points (after 9 of 13 rounds): 1. Sofuoglu 148; 2. Lowes 134; 3. Cluzel 120; 4. Foret 118; 5. Parkes 98; 6. Morais 71; 7. Quarmby 67; 8. Baldolini 62; etc. Manufacturers: 1. Honda 197; 2. Kawasaki 187; 3. Triumph 91; 4. Yamaha 73; 5. Suzuki 6.
Checa heads the testing times in Russia
Moscow Raceway, Russia, Wed 22nd August 2012 – Carlos Checa (Althea Racing Ducati) led the way in testing for the eni FIM Superbike World Championship runners at Moscow Raceway, heading up the 21-strong group as World Superbike ventured onto the new circuit for the very first time. His final best time of 1 minute 35.891 seconds was enough to keep him ahead of Leon Haslam (BMW Motorrad Motorsport) and the charging late push of Tom Sykes (Kawasaki Racing Team). Marco Melandri (BMW Motorrad Motorsport) ran out fourth, only just ahead of the works Aprilia Racing machine of Max Biaggi.

Carlos Checa: "It is a nice adventure to be here in Russia and it's a really nice track. In some places you can only use about 15% of throttle and just keep rolling the bike. We feel quite well today and this is a track where we have been working well in both the morning and the afternoon. We understand the line, the gearbox and the tyres. At the end we felt the tyres were working a lot better in the afternoon because probably the asphalt is less aggressive now. We are losing a lot on the straight, which is uphill, so it is not easy to manage that."

Chaz Davies (ParkinGO MTC Racing Aprilia) put his vee four into the top six places, ahead of Checa's team-mate Davide Giugliano. Top Honda rider was Jonathan Rea (Honda World Superbike Team) in 12th place, one up on the best Suzuki tester, Leon Camier (FIXI Crescent Suzuki).

The new circuit proved to be a challenge for all the top riders, with slow and fast corners combined, including a drop downhill and a long straight back uphill into the final corner.

A long delay after a red flag incident, when one machine lost oil at the end of the main straight, cost the SBK riders some track time this afternoon, but all had the opportunity to get used to the challenging new circuit in a territory all new to SBK racing before practice starts for real on Friday 24th August.

Testing Times: 1. Carlos Checa (Althea Racing) Ducati 1098R 1'35.891; 2. Leon Haslam (BMW Motorrad Motorsport) BMW S1000 RR 1'36.071; 3. Tom Sykes (Kawasaki Racing Team) Kawasaki ZX-10R 1'36.119; 4. Marco Melandri (BMW Motorrad Motorsport) BMW S1000 RR 1'36.304; 5. Max Biaggi (Aprilia Racing Team) Aprilia RSV4 Factory 1'36.421; 6. Chaz Davies (ParkinGO MTC Racing) Aprilia RSV4 Factory 1'36.637; 7. Davide Giugliano (Althea Racing) Ducati 1098R 1'36.716; 8. Eugene Laverty (Aprilia Racing Team) Aprilia RSV4 Factory 1'36.823; 9. Niccolò Canepa (Red Devils Roma) Ducati 1098R 1'36.858; 10. Sylvain Guintoli (PATA Racing Team) Ducati 1098R 1'36.865; etc.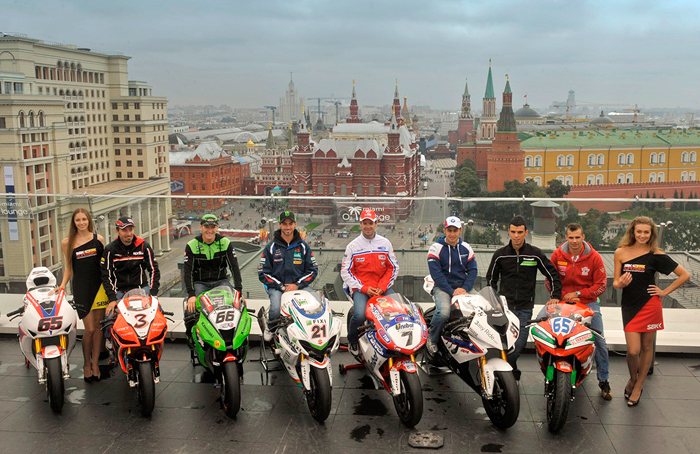 Click to go BIG.
Putting on the Ritz!
Russian Round launch for World Superbike at the Ritz
Moscow, August 23, 2012 – World Superbike had a high-powered introduction to Russia today with the traditional pre-event press conference for national and international media held in the spectacular rooftop surroundings of the luxury Ritz-Carlton Hotel in central Moscow, literally just a stone's throw away from Red Square and the Kremlin.

The launch of this Sunday's Russian Round of the eni FIM Superbike World Championship, the first time ever a global racing championship, either two wheels or four, is held on Russian soil at the Moscow Raceway, saw the participation of over 100 media who were able to meet and greet the protagonists of this weekend's racing as well as hear what the panel of speakers had to say about this truly landmark event.

The importance of World Superbike's first venture into Russia for the entire region was highlighted by the presence of Gallyamov Amir (Minister of Sport and Tourism for the Moscow Region), and by Alexey Vorobyev (Head of Moscow Sport Committee), while Alexandr Yakhnich (President of YMS Promotion Ltd) and Paolo Ciabatti (SBK Superbike World Championship Director) duly represented the organizers of the Russian Round and the Championship promoters respectively. Ekaterina Belcevich also attended as Head of the Moscow Raceway Project, the brand-new circuit that has been built at a cost of 130 million Euro on the outskirts of Moscow.

"Finally World Superbike has arrived in Russia!, declared Alexandr Yakhnich. "We are happy that the circuit has been completed on time and has been homologated by the FIM. It's been a hard challenge but it has all come about thanks to collaboration between Yakhnich Motorsport and Infront Motor Sports, together with the support of the Moscow government and the Moscow Raceway which has completed the construction of the circuit just in time. A special thanks also to Mr Dmitry Kozak, the deputy prime minister of the Russian Federation, who gave us every possible support. Now the racing starts and we are sure that Russian fans can enjoy this great championship."

Paolo Ciabatti added: "I would like to take this opportunity to thank Alexandr Yakhnich for his great efforts because without him and his team all this would not have been possible. It's a great achievement, we are the first really important motorsports event to come to Russia and it's an honour and privilege to be able to show that our sport is very thrilling and exciting and hopefully it will bring more attention from the Russian general public, also through Russian television and the presence of Russian riders."

Max Biaggi (Aprilia Racing Team), Carlos Checa (Althea Racing Ducati), Tom Sykes (Kawasaki Racing Team), Leon Haslam (BMW Motorrad Motorsport) and John Hopkins (FIXI Crescent Suzuki), together with two-time Supersport champion Kenan Sofuoglu and the talented young Russian Vladimir Leonov (Yakhnich Motorsport Yamaha) were the riders selected to represent the arrival of the two FIM-sanctioned world championships to Russia and they took centre stage to answer questions from journalists, before posing for the obligatory photo shoot, this time on the top of the hotel, overlooking Moscow's famous monuments and landmarks.
Giugliano leaps ahead in Friday Practice at new Moscow track
Practice Friday 24th – The Althea Racing Ducati pairing of Davide Giugliano and Carlos Checa led the field in the eni FIM Superbike World Championship first qualifying session at Moscow Raceway with Giugliano setting the best lap so far of 1 minute 35.074 seconds. They each had a trip onto the gravel at one point of the session but ended their first day in the best possible positions in any case.

Sylvain Guintoli (PATA Racing Team Ducati) made it a clean sweep for the Ducati riders inside the top three, with the first four-cylinder machine being that of Marco Melandri (BMW Motorrad Motorsport) in fourth. Chaz Davies (ParkinGO MTC Racing Aprilia) carried on his strong form from the morning session to go fifth in qualifying and be top Aprilia rider on show.

Fastest Kawasaki man Tom Sykes (Kawasaki Racing Team) was sixth, while PATA Racing Team rider Lorenzo Zanetti claimed a fine seventh on a good day for the Ducati crews. Hiroshi Aoyama (Honda World Superbike Team) proved to be the fastest Honda man, in eighth place, having been inside the top four at one time.

Max Biaggi (Aprilia Racing) had a tough day and finished only 13th with John Hopkins (FIXI Crescent Suzuki) the first Suzuki rider in the day 1 rankings in 14th place.The first qualifying session was held in dry conditions with overhead cloud making its presence felt, leaving air temperatures at a mild 18°C and track temperatures at 22°C.

Friday Practice Times: 1. Giugliano (Ducati) 1'35.074 average 148.848 kph; 2. Checa (Ducati) 1'35.284; 3. Guintoli (Ducati) 1'35.751; 4. Melandri (BMW) 1'35.772; 5. Davies (Aprilia) 1'35.828; 6. Sykes (Kawasaki) 1'35.905; 7. Zanetti (Ducati) 1'35.980; 8. Aoyama (Honda) 1'35.988; 9. Haslam (BMW) 1'36.039; 10. Rea (Honda) 1'36.061; 11. Canepa (Ducati) 1'36.143; 12. Baz (Kawasaki) 1'36.174; 13. Biaggi (Aprilia) 1'36.236; 14. Hopkins (Suzuki) 1'36.293; 15. Badovini (BMW) 1'36.326; 16. Fabrizio (BMW) 1'36.442; etc.
Checa wins first Russian Tissot-Superpole contest
Moscow Raceway, Saturday Aug 25th – Carlos Checa (Althea Racing Ducati) obliterated the previous track best from practice at the all-new Moscow Raceway during Tissot-Superpole qualifying, in readiness for the eni FIM Superbike World Championship races on Sunday. The top 16 riders in Superpole were whittled down to a top eight and Checa proved to be the best of them after the three sessions had been completed, setting a new track best of 1 minute 34.193 seconds. It is his first pole win of the 2012 season but the ninth of his career.

Tom Sykes (Kawasaki Racing Team) has more poles than anyone else in 2012, seven, but had to settle for second best this time, with two fellow ex-British championship riders, Eugene Laverty (Aprilia Racing) and Leon Haslam (BMW Motorrad Motorsport) also on the front row.

Carlos Checa: "Finally Tom had some problems with the qualifiers because he has been very difficult to beat in Superpole. Here we found good pace and a good lap time with the soft tyres, we interpreted well the line in the slow area. The circuit is a really nice for me, slow and good fun to ride. But it's really special to be in Moscow, racing here, it seems strange if you look back a long time ago. But things have changed now and it's a pleasure to be part of that change!"

Tom Sykes: "It's great to be on the front row. All week we've been quite consistent and then had to find something last night but we've been good today. In Superpole 1 we did a good time on the race tyre but had a couple of problems when we used the qualifier. Carlos has been looking good all weekend and totally deserved that one, I had no answer today."

Eugene Laverty: "Definitely a big improvement from where we've been all weekend, from down in 17th on Friday. We learnt a few things in qualifying and progressed well with the bike. The last time was actually on set used qualifiers. It took a bit of time to get dialed in but we're looking good for the races tomorrow."

Marco Melandri (BMW Motorrad Motorsport) went fifth; Jonathan Rea (Honda World Superbike Team) sixth. To make sure the championship battle remains tense, Max Biaggi (Aprilia Racing) was seventh fastest and well in the leading rider mix. Davide Giugliano (Althea Racing Ducati) fell in Superpole three and thus starts eighth on the grid.

Loris Baz (Kawasaki Racing Team) could not overcome some issues with approach into the final corner and he had to settle for a third row starting position, having had two crashes in qualifying this weekend as well. Niccolo Canepa (Red Devils Roma) was a strong tenth on his privateer Ducati machine, while John Hopkins (FIXI Crescent Suzuki) was 11th and Hiroshi Aoyama (Honda World Superbike Team) went 12th.

After some top performances in practice and regular qualifying Chaz Davies (ParkinGO MTC Aprilia) dropped to 13th on the grid after opting to save his qualifying tyres for Superpole 2 and 3, and he was unable to remain inside the top 12 riders.

Two 25 lap SBK races are schedule for Sunday 26th August, with close action expected at this impressive new venue in an exciting new country for the eni FIM Superbike World Championship to visit on the championship trail.

Superpole Times: 1. Checa (Ducati) 1'34.193 average 150.240 kph; 2. Sykes (Kawasaki) 1'34.549; 3. Laverty (Aprilia) 1'34.562; 4. Haslam (BMW) 1'35.170; 5. Melandri (BMW) 1'35.224; 6. Rea (Honda) 1'35.237; 7. Biaggi (Aprilia) 1'35.253; 8. Giugliano (Ducati) 1'34.973; 9. Baz (Kawasaki) 1'35.224; 10. Canepa (Ducati) 1'35.255; 11. Hopkins (Suzuki) 1'35.678; 12. Aoyama (Honda) 1'35.834; 13. Davies (Aprilia) 1'35.629; 14. Zanetti (Ducati) 1'35.678; 15. Guintoli (Ducati) 1'35.689; 16. Salom (Kawasaki) 1'35.798; etc.
Tom Sykes collects a victory kiss from his girlfriend.

Melandri soars into the Championship lead after Moscow Thrillers
Moscow Raceway (Russia), Sunday 26 August, 2012 – After winning race two at the all-new Moscow Raceway Marco Melandri (BMW Motorrad Motorsport) took the lead in the eni FIM Superbike World Championship for the first time in 2012, following up a second place finish in race one in perfect style. Melandri reversed the opening race finishing order as he beat Tom Sykes (Kawasaki Racing Team) by less than one second in the second intense 25-lapper in front of 32,500 enthusiastic fans. Sykes' race 1 win was his second of 2012, following on from his success at Monza in May.

Melandri had been stung by a wasp on his left leg in the first race but battled on to his podium finish, then recovered well enough to take an important lead after race two that now gives him an 18.5 point advantage over the long time championship leader, Max Biaggi (Aprilia Racing Team). Biaggi had been third in race one but no-scored in race two.

The enthusiastic and thoroughly entertained Russian race fans judged the first ever SBK event in their country a real success, even if many of the top names were to lose points after several high profile but largely injury-free crashes. Biaggi had a collision under braking with Leon Haslam (BMW Motorrad Motorsport) in race two and neither rider finished, which means that Melandri now has 308.5 points to Biaggi's 290, with Sykes third on 267.5.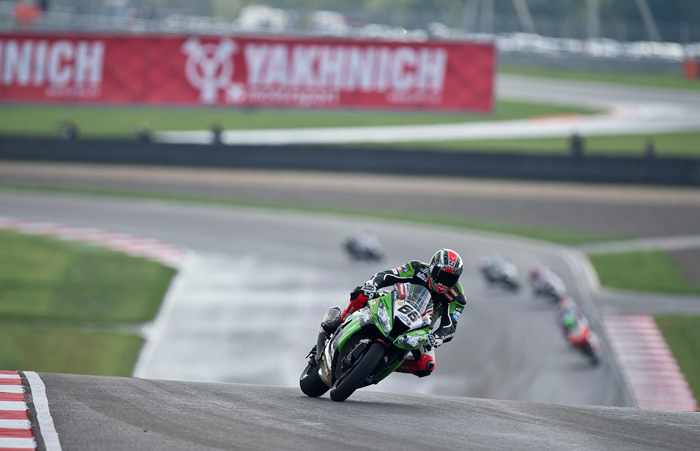 Tom Sykes pulled out a runaway 9 second lead in Race One on a track still very much wet from rain just before the Start. Here you can see the Moscow track has nice elevation changes in the back section.

Race One - Sykes Runs Away as Melandri and Biaggi Battle for Points
Sykes scored the first win after a faultless display of front running at a high pace. Despite damp patches on the track surface from earlier rain, his instant speed from second on the grid kept him away from the troubles many other top riders endured behind him, with crashes helping Melandri finish second. Biaggi overhauled his team-mate Eugene Laverty (Aprilia Racing Team) on the very last lap to take third place and what would prove to be important points. Potential podium riders Carlos Checa (Althea Racing Ducati), his team-mate Davide Giugliano, Chaz Davies (ParkinGO MTC Racing Aprilia), Jonathan Rea (Honda World Superbike Team) and Sylvain Guintoli (Pata Racing Team Ducati) all crashed out, with Haslam also falling then restarting to finish sixth after clashing with Chaz Davies (ParkinGO MTC Aprilia).
Carlos Checa starting from pole on a still wet track (after rain earlier in the day), was in fourth place at the end of the first lap while his team-mate Davide Giugliano made a strong start, moving into seventh through the first corners and into fifth after the first lap. All of the riders took it easy through lap one as they got to grips with the damp track conditions. On lap two Giugliano passed his team-mate to take fourth place and started to chase down the leading group composed of Sykes, Haslam and Laverty, overtaking the latter a few corners later. Unfortunately contact between Checa and Rea on the same lap left the Spaniard on the ground, forcing him to return to the garage; a real pity in a race where the podium was well within reach.

From lap six Davide battled first with Laverty and then with Rea and was in third place on lap eight, positioned between the aforementioned pair. Rea crashed towards the middle of the race, leaving Eugene and Davide to fight it out between themselves but sadly it wasn't to last as a crash for Giugliano on lap 13 left him out of the running. He too found himself on the gravel, putting a premature end to what would have surely been a great race.

Tom Sykes: "This race win was better than the Monza one as we got a little bit more of a reward in points terms. I did a lot of work on tyres yesterday and we went a slightly different way from most people in race one. We worked a lot on this yesterday and that work paid off today. The bike felt great. I had a little bit of pressure on at half race distance but I was trying to save the tyre a little bit. When the gap got down to three seconds I pushed on a little more and it seemed to work. To lead start-to-finish and take the win over full race distance is very rewarding. We had a good margin at the end and it was a nice race. Quite a long race, to be honest, and it is quite a physical circuit. The lap is short but more concentration and physical input in needed compared to some other circuits. Overall we should be very satisfied. Race one was great with maximum points and race two gave us another 20 points in the bag.


SUPERBIKE RACE1: (Laps 25 = 98,275 Km)
POS / RIDER / NAT. / TEAM / MOTORCYCLE / GAP
1 / T. SYKES / GBR / Kawasaki Racing Team / Kawasaki ZX-10R / 41'07.852
2 / M. MELANDRI / ITA / BMW Motorrad Motorsport / BMW S1000 RR / 8.878
3 / M. BIAGGI / ITA / Aprilia Racing Team / Aprilia RSV4 Factory / 12.603
4 / E. LAVERTY / IRL / Aprilia Racing Team / Aprilia RSV4 Factory / 13.027
5 / M. FABRIZIO / ITA / BMW Motorrad Italia GoldBet / BMW S1000 RR / 29.582
6 / L. HASLAM / GBR / BMW Motorrad Motorsport / BMW S1000 RR / 30.587
7 / N. CANEPA / ITA / Red Devils Roma / Ducati 1098R / 32.17
8 / L. ZANETTI / ITA / PATA Racing Team / Ducati 1098R / 34.704
9 / J. HOPKINS / USA / FIXI Crescent Suzuki / Suzuki GSX-R1000 / 40.366
10 / D. SALOM / ESP / Team Pedercini / Kawasaki ZX-10R / 41.143
11 / L. BAZ / FRA / Kawasaki Racing Team / Kawasaki ZX-10R / 44.363
12 / A. BADOVINI / ITA / BMW Motorrad Italia GoldBet / BMW S1000 RR / 47.813
13 / H. AOYAMA / JPN / Honda World Superbike Team / Honda CBR1000RR / 52.65
14 / A. LUNDH / SWE / Team Pedercini / Kawasaki ZX-10R / 1'20.273
15 / L. CAMIER / GBR / FIXI Crescent Suzuki / Suzuki GSX-R1000 / 2 Laps
Fastest Lap: 13° Leon Haslam 1'36.729 146,302 Km/h
Lap Record: 2012 L. Haslam 1'36.729 146,300 Km/h
Best Lap: 2012 C. Checa 1'34.193 150,240 Km/h
Laverty (58) leads Davies (19)
Race Two: Melandi Tracks Down Sykes for the Win and the Championship Lead
Tom Sykes took another spectactular start on his Kawasaki in Race 2, but was not able to pull out as big a lead this time as a 6-way battle ensued just behind him Malandri moving up through Checa, Giugliano, Haslam, Biaggi, Laverty, and Rea. Crashes were eveywhere, taking out some ten riders during the race including points leader Max Biaggi.
Max Biaggi was making up positions following all the excitement after the start. During the ninth lap, while attempting to overtake Rea on the last braking section, he was push wide by Rea who didn't see him, devertsing Max's attention as he ran into the back of Haslam, who was just ahead of him, putting htem both to the ground in a high speed explosion of bikes and riders. Neither the English rider nor the Corsair suffered physical injuries, but the crash cost Max important championship points.

"The crash was the last thing we needed – confirmed a disappointed Max Biaggi – Unfortunately, when I changed my line in the braking section I ended up on some dirty asphalt and I wasn't able to slow down. I saw Haslam drawing closer and tried unsuccessfully to avoid the collision. I apologised to him straight away. At first I thought he had been injured, but fortunately he assured me that he was OK. After the podium finish in the first race I wanted to stay up front. This really complicates the championship but it certainly isn't over yet".
Melandri, meanwhile, was steadily moving up, eventually taking the lead in the closing laps, heading up Sykes by less than a second after another 25-laps of drama and incident. Sykes had been too preoccupied with the riders behind him to read his pit signals at one time and he missed out on a late chance to attack Melandri again. Davies was third after the three riders in front of him on the last lap were affected by a highside from Laverty. The Irish rider was to retire but Rea recovered from his collision with Laverty's machine, and subsequent crash, to go seventh. The following Checa was pushed off track and dropped back to finish fourth. Leon Camier was a strong fifth for the FIXI Crescent Suzuki team, after some woes in qualifying and a heavy crash in practice.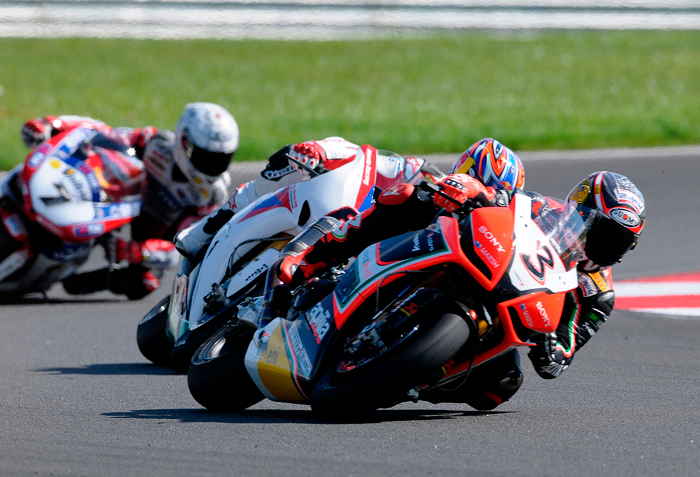 Biaggi leads Jonny Rea and Checa before the two went down in the final laps, handing Checa a 4th place. Rea remounted fo a 7th place
This time Checa didn't get away particularly quickly and was sixth through the first corners, followed by his team-mate Davide, seventh. On lap five Carlos lay seventh, Davide eighth and both were struggling to catch the leading group that were able to gain precious tenths along the straightway. Carlos finally got past Biaggi and at the mid-race point, when Biaggi and Haslam crashed out, the current champion was able to start pushing from fifth to catch Laverty ahead of him. Carlos crossed the line in final fourth position, narrowly missing the incident that saw Rea and Laverty hit the gravel on the last lap. In the final stages Giugliano lost a little ground due to tyre wear and rode a solitary final few laps; he nevertheless pushed as hard as he could to the line, closing in final sixth position.

Marco Melandri: "It's been an awesome day for me because race 1 was very tough, so finishing second was for me like a win. But in Race 2 I felt very good, my crew chief made a small modification on the bike and I felt very confident from the beginning. About six or seven laps to go, my rear tyre was sliding a lot but was working perfectly with my BMW. I'm so happy because this year we are doing a great job."

Tom Sykes: "I got a little bit carried away battling with Eugene behind me in race two and in trying to save my tyre I did not read the pit signals. When I looked there were two laps remaining and I wanted to push on and try to pressure Marco in the last few laps. I felt I had a good package today and could have done it, but when you are riding with guys of Marco's standard you cannot leave things to the last minute. But, realistically, we are happy. A first and second, still third overall and the gap at the front tightening up. There are still a lot of points to play for."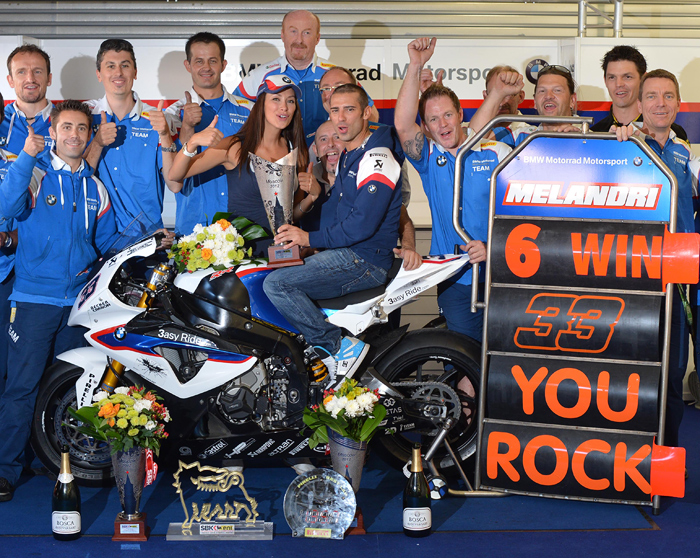 SUPERBIKE RACE 2: (Laps 25 = 98,275 Km)
POS / RIDER / NAT. / TEAM / MOTORCYCLE / GAP
1 / M. MELANDRI / ITA / BMW Motorrad Motorsport / BMW S1000 RR / 40'14.677
2 / T. SYKES / GBR / Kawasaki Racing Team / Kawasaki ZX-10R / 0.976
3 / C. DAVIES / GBR / ParkinGO MTC Racing / Aprilia RSV4 Factory / 4.213
4 / C. CHECA / ESP / Althea Racing / Ducati 1098R / 5.954
5 / L. CAMIER / GBR / FIXI Crescent Suzuki / Suzuki GSX-R1000 / 13.568
6 / D. GIUGLIANO / ITA / Althea Racing / Ducati 1098R / 15.173
7 / J. REA / GBR / Honda World Superbike Team / Honda CBR1000RR / 23.125
8 / A. BADOVINI / ITA / BMW Motorrad Italia GoldBet / BMW S1000 RR / 23.696
9 / L. BAZ / FRA / Kawasaki Racing Team / Kawasaki ZX-10R / 23.884
10 / L. ZANETTI / ITA / PATA Racing Team / Ducati 1098R / 24.096
11 / S. GUINTOLI / FRA / PATA Racing Team / Ducati 1098R / 24.881
12 / J. HOPKINS / USA / FIXI Crescent Suzuki / Suzuki GSX-R1000 / 39.643
13 / D. SALOM / ESP / Team Pedercini / Kawasaki ZX-10R / 1'01.449
14 / A. LUNDH / SWE / Team Pedercini / Kawasaki ZX-10R / 1'36.596
Fastest Lap: 10° Marco Melandri 1'35.794 147,730 Km/h
Lap Record: 2012 L. Haslam 1'36.729 146,300 Km/h
Best Lap: 2012 C. Checa 1'34.193 150,240 Km/h
CHAMPIONSHIP POSITIONS TO DATE:
1 MELANDRI 308.5, 2 BIAGGI 290, 3 SYKES 267.5, 4 CHECA 233.5, 5 REA 212.5,
6 HASLAM 180, 7 LAVERTY 173.5, 8 GUINTOLI 127.5, 9 FABRIZIO 119.5, 10 GIUGLIANO 116
11 DAVIES 115.5, 12 SMRZ 92.5, 13 BAZ 90, 14 BADOVINI 85, 15 CAMIER 77.5.

World Supersport to Sofuoglu
The fine weather that welcomed the Supersport racers to the Moscow Raceway provided perfect conditions for Kenan Sofuoglu (Kawasaki Lorenzini) to win his third race of the season and extend his championship lead to 33 points. The Turkish rider had Jules Cluzel (PTR Honda) as a shadow for most of the race but his pace at the end was enough to draw him over five seconds ahead at the flag. An amazingly popular third place for Vladimir Leonov (Yakhnich Motorsports Yamaha) was a pleasing spectacle for the new Moscow Raceway crowd. Fourth was Sofuoglu's team-mate Sheridan Morais, with Broc Parkes (Ten Kate Racing Products) fifth. In the championship Sofuoglu has 173 points, Cluzel 140 and the luckless Sam Lowes (Bogdanka PTR Honda) 138, after he jump started and dropped to 12th in the race following a ride-through penalty.

RESULTS SUPERSPORT RACE: (Laps 22 = 86,482 Km)
POS / RIDER / NAT. / TEAM / MOTORCYCLE / GAP
1 / K. SOFUOGLU / TUR / Kawasaki Lorenzini / Kawasaki ZX-6R / 36'13.935
2 / J. CLUZEL / FRA / PTR Honda / Honda CBR600RR / 5.022
3 / V. LEONOV / RUS / Yakhnich Motorsport / Yamaha YZF R6 / 13.018
4 / S. MORAIS / RSA / Kawasaki Lorenzini / Kawasaki ZX-6R / 16.504
5 / B. PARKES / AUS / Ten Kate Racing Products / Honda CBR600RR / 32.568
6 / F. FORET / FRA / Kawasaki Intermoto Step / Kawasaki ZX-6R / 33.854
7 / A. ANTONELLI / ITA / Bike Service R.T. / Yamaha YZF R6 / 34.377
8 / G. TALMACSI / HUN / PRORACE / Honda CBR600RR / 34.471
9 / R. TAMBURINI / ITA / Team Lorini / Honda CBR600RR / 37.727
10 / M. SCHOLTZ / RSA / Bogdanka PTR Honda / Honda CBR600RR / 37.802
11 / A. BALDOLINI / ITA / Power Team by Suriano / Triumph Daytona 675 / 38.103
12 / S. LOWES / GBR / Bogdanka PTR Honda / Honda CBR600RR / 42.645
13 / R. QUARMBY / RSA / PTR Honda / Honda CBR600RR / 42.784
14 / F. MARINO / FRA / MSD R-N Racing Team India / Kawasaki ZX-6R / 54.753
15 / L. MARCONI / ITA / VFT Racing / Yamaha YZF R6 / 1'00.150
Fastest Lap: 12° Jules Cluzel 1'38.167 144,158 Km/h
Lap Record: New Circuit
Best Lap: 2012 J. Cluzel 1'37.347 145,370 Km/h
CHAMPIONSHIP POSITIONS TO DATE:
1 SOFUOGLU 173, 2 CLUZEL 140, 3 LOWES 138, 4 FORET 128, 5 PARKES 109,
6 MORAIS 84, 7 QUARMBY 70, 8 BALDOLINI 67, 9 IANNUZZO 51, 10 TAMBURINI 50,
11 LEONOV 48, 12 ANTONELLI 47, 13 METCHER 31, 14 TALMACSI 26, 15 LANZI 25.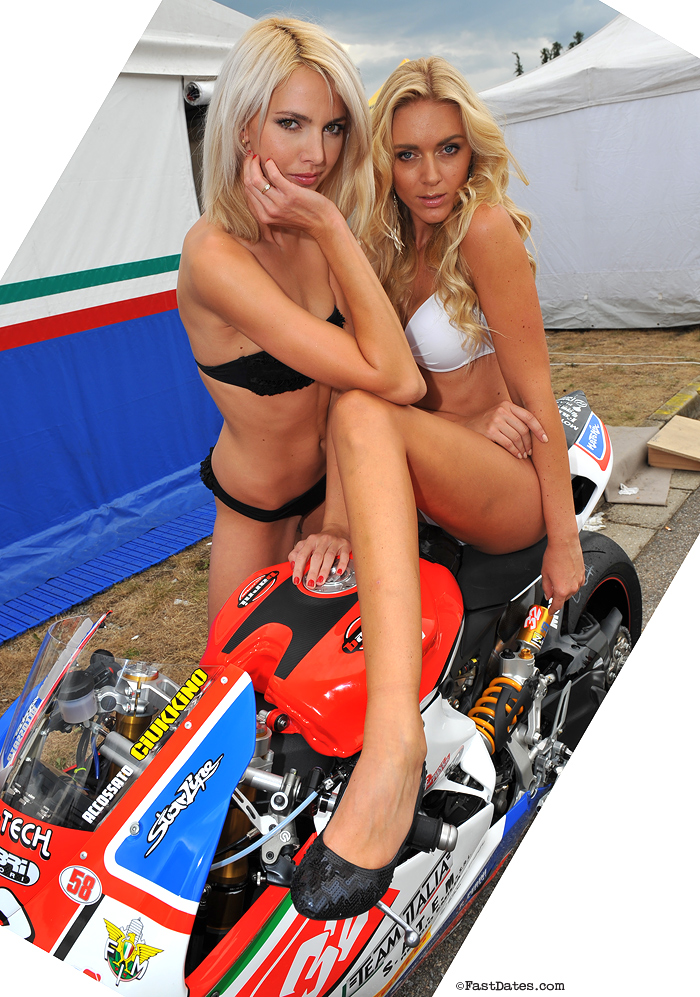 Meet SBK World Superbike Grid Girls Jitka and Petra
featured in the 2014 FastDates.com Calendars!
Are the Russians serious about minibike roadracing or what! Check out this exotic racer competing in one of the support races
at Moscow Raceway with its trellis chasssis and monoshock rear suspension, damping adjustable front upside down forks.
And check the tire warmers! Photo by Sergey Kaliganov.
---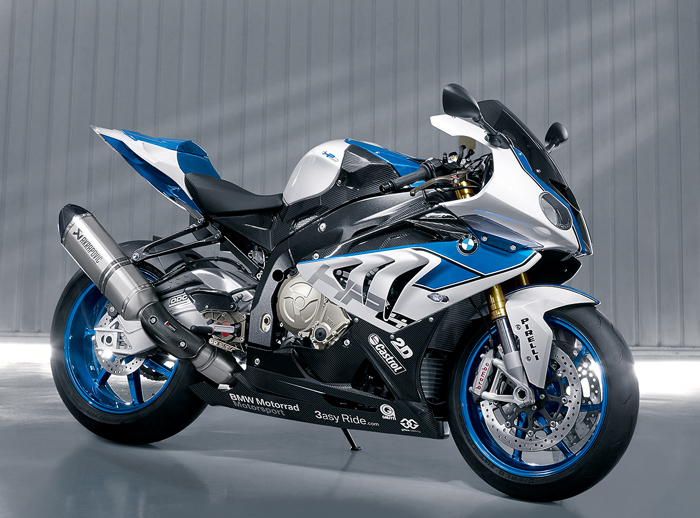 BMW HP4 S 1000RR Superbike World Premier & Feature Report
August 1st, 2012 - With the BMW HP4, BMW Motorrad presents the lightest 4-cylinder supersports bike in the 1000cc class to date. Based on the BMW S 1000 RR - or RR for short - the new sports motorcycle has an output of 142 kW (193 hp) and weighs just 199 kilos including Race ABS and with a 90% full fuel tank (169 kg dry weight with Race ABS).

The new BMW HP4 sees its world premiere in 2012 and is a continuation of BMW Motorrad's HP model series founded in 2005. After the boxer models HP2 Enduro, HP2 Megamoto and HP2 Sport, the BMW HP4 is the first 4-cylinder motorcycle in the HP family. The HP label stands for high performance, and the HP4 once again embodies outstanding agility, power and riding dynamics. But it also reflects the use of extremely high-quality materials and intelligent technology, carefully conceived down to the last detail. In short, the HP4 stands for perfectly controllable power and sporty perfection.
Complete Details and Pictures in New Bikes: BMW HP4 S1000RR Superbike
---
Pedrosa (26) stalked and sized up Lorenzo (99) for the entire race, moving in to take the lead on the last lap.
FIM MotoGP World Championship, Round 12 of 18, Brno, Czech Republic

Pedrosa Bests Lorenzo again at Brno
Brno, Czech Repulic, August 26th 2012 - MotoGP™ fans were treated to some exciting racing this weekend at the bwin Grand Prix ?eské republiky in Brno with Repsol Honda Team's Dani Pedrosa storming to a thrilling victory in the premier-class ahead of Jorge Lorenzo and Cal Crutchlow, opening up the championship race once more. Dani Pedrosa (Repsol Honda RC213V) scored a magnificent and crucial victory at Brno this afternoon, defeating World Championship rival Jorge Lorenzo (Yamaha) in a breathtaking last-lap duel. Pedrosa's second win in eight days confirms that he is on the charge and reduces Lorenzo's series advantage to 13 points with six races remaining.
With Pedrosa's team-mate Casey Stoner (Repsol Honda RC213V) absent due to an injury sustained at last weekend's Indianapolis Grand Prix, the two Spaniards were in a class of their own today, quickly pulling clear of the pack and settling into a tense duel. Throughout the 22 laps they were never separated by more than half a second, the pair usually just a few metres apart around the majestic Czech circuit.
Despite dark clouds looming, the track was dry, much to the delight of riders and fans, and it was Yamaha Factory Racing's Lorenzo who got the holeshot off the line, holing off Pedrosa and Monster Yamaha Tech 3's Crutchlow. Yamaha's Ben Spies looked to continue his bad luck as he dropped back drastically after a few corners with a slipping clutch. This left Tech 3's Andrea Dovizioso and Ducati Team's Valentino Rossi to chase down Crutchlow in third.

With 17 laps to go, LCR Honda MotoGP's Stefan Bradl was involved in a tight battle with San Carlo Honda Gresini's Álvaro Bautista, with the German taking the Spaniard for sixth after dicing for numerous turns. Meanwhile, Spies looked to have re-found his stride with the issue sorted, and was fighting his way back through the pack after dropping down to 13th. Three laps later, Bradl was dicing with Rossi for fifth place, getting the better of the Italian after a few attempts. On the same lap, Spies' race came to an end after he crashed out of his charge.

Avintia Blusens' Iván Silva suffered a technical issue with 12 laps remaining, while Lorenzo and Pedrosa were neck and neck at the front of the race, having pulled out a significant gap over Crutchlow. On the same lap Bautista overtook Rossi, whose Desmosedici looked to be slowing. A lap later Pedrosa sparked some life into the battle at the front, as he got past Lorenzo on the inside, though the Mallorcan continued to stick to his rear wheel.

On the last lap it was MotoGP racing at its best with Lorenzo forcing his way past Pedrosa with a tough move, with the Repsol Honda rider fighting back almost immediately, and the two almost neck-and-neck into the final turn. With Pedrosa on the better line coming into the final turn, he got the best drive to the line to take his third victory of the season.

Crutchlow recorded his own milestone by taking his first ever podium in the MotoGP class, and ending a 12-year premier-class podium drought for a British rider. It was a fitting way to celebrate his contract extension with the team this weekend. Pedrosa's win has moved him to within 13 points of Lorenzo and blown the championship race wide open at the top. Fourth spot went to Dovizioso, in front of Bradl, Bautista, Rossi and Power Electronics Aspar's Randy de Puniet who finished top CRT. Cardion AB Racing's local rider Karel Abraham and De Puniet's teammate Aleix Espargaró completed the top ten
RESULTS MOTOGP RACE: (22 laps = 118.866 Km)
POS / RIDER / NAT. / TEAM / MOTORCYCLE / TIME / KM/H / GAP
1 / Dani PEDROSA / SPA / Repsol Honda Team / HONDA / 42'51.570 / 166.403 /
2 / Jorge LORENZO / SPA / Yamaha Factory Racing / YAMAHA / 42'51.748 / 166.391 / 0.178
3 / Cal CRUTCHLOW / GBR / Monster Yamaha Tech 3 / YAMAHA / 43'03.913 / 165.608 / 12.343
4 / Andrea DOVIZIOSO / ITA / Monster Yamaha Tech 3 / YAMAHA / 43'10.161 / 165.208 / 18.591
5 / Stefan BRADL / GER / LCR Honda MotoGP / HONDA / 43'17.152 / 164.764 / 25.582
6 / Alvaro BAUTISTA / SPA / San Carlo Honda Gresini / HONDA / 43'21.021 / 164.519 / 29.451
7 / Valentino ROSSI / ITA / Ducati Team / DUCATI / 43'26.084 / 164.199 / 34.514
8 / Randy DE PUNIET / FRA / Power Electronics Aspar / ART / 43'55.855 / 162.344 / 1'04.285
9 / Karel ABRAHAM / CZE / Cardion AB Motoracing / DUCATI / 43'59.848 / 162.099 / 1'08.278
10 / Aleix ESPARGARO / SPA / Power Electronics Aspar / ART / 44'01.542 / 161.995 / 1'09.972
11 / Toni ELIAS / SPA / Pramac Racing Team / DUCATI / 44'01.573 / 161.993 / 1'10.003
12 / Yonny HERNANDEZ / COL / Avintia Blusens / BQR / 44'15.610 / 161.137 / 1'24.040
13 / Colin EDWARDS / USA / NGM Mobile Forward Racing / SUTER / 44'19.468 / 160.903 / 1'27.898
14 / Michele PIRRO / ITA / San Carlo Honda Gresini / FTR / 44'27.735 / 160.404 / 1'36.165
15 / James ELLISON / GBR / Paul Bird Motorsport / ART / 44'32.135 / 160.14 / 1'40.565
---
Powerplant Motorcycles' Pro Builder Class Calendar Bike Building Championship winner with our band Nylon Pink and
FastDates.com World Superbike Calendar Kittens Kinsey Ray and Sabella Shake.
Japanese Builder Hoshikawa Hideki flys in to take Best of Show
2012 LA Calendar Motorcycle Show
Calabasas, California, USA, Sunday July 22nd, 2012 - The 21st edition of the LA Calendar Motorcycle Show sponsored by Russ Brown Motorcycle Attorneys moved into its third decade as the premier outdoor streetbike event in America featuring its top Celebrity Builders, the Calendar Bike Building Championship & Concours d' Elegance, selected Vendors and Exhibitors, Calendar Girl Music live performances, now taking place at a beautiful new new location on the lawn and under the shade trees of the Calabasas Inn, in the upscale Los Angeles suburb of Calabasas, California. The first decade of the Calendar Motorcycle Show took place at the exciting Museum of Flying at the Santa Moncia Airport, then expanded in 1991 to two days the larger Queen Mary event facility in Long Beach venue alongside the Pacific Ocean.
For the fourth time in eight years, a top Japanese builder used the LA Calendar Show to mark his entrance onto the world stage, following in the foot steps of former Best of Show and Class winners Shinya Kimura / Chabott Engineering, Kenji Nagai / Ken's Factory and Hiroyouki Hirata of BB Custom Factory who all flew in with their bikes from Japan to compete at the Calendar Show.
Complete 2012 LA Calendar Motorcycle Show Coverage Here
Hoshikawa Hideki / Asterisk Bike Hi-Resolution Feature Pictorial in Calendar Bike Garage
---
The Fast Dates World Superbike Calendar Presents a History, Track Tests,
Team Rider and Designer Interviews, and Pictures of All the
Ducati Corse World Superbikes
by Alan Cathcart and Jim Gianatsis
The year 2011 marked the 25th anniversary of the creation of the first, of a now legendary line of Ducati Superbikes with their trademark Desmoquattro 4-valve V-twin motors hung below a lightweight trellis tube frame, race bikes that went on to dominate the then new World Superbike Championship for next quarter of a century. Arguably the most significant motorcycle engine design of any kind since the CB750 Honda, and surely the most remarkable and successful volume production engine format ever used in world competition by any single manufacturer, the venerable Ducati 4-valve desmodromic engine recorded to this date 14 World Superbike Championship titles in the 24 year history of the world's premier production bike based world roadracing series.
This book chronicles the development and history all five Ducati Corse World Superbike generations from the first Desmoquatro 750cc prototype to the revolutionary new 1199 Panigale Superquadro together with interviews with the Ducati designers, team racers and managers. This unique insight is provided by renown motorcycle racer and journalist Alan Cathcart who has had the envious and often exclusive opportunity to test ride every one of the factory Corse race bikes over the last 25 years, those tests of which are featured here. Photography of the Corse factory bikes and riders is proved by the world's most renown motorcycle roadracing photographers.
Adding icing to the cake, and to warrant this big collectors edition book, included are the incredible high definition photographs of the bikes taken by former racer, motojournalist and photographer Jim Gianatsis as featured in the Fast Dates World Superbike Calendars from those years with the beautiful Fast Dates Calendar Kittens who served as the official SBK and Team Ducati Corse grid girls at the race where the bikes were photographed.
This 224 page large format collectors edition book begins with a Forward by Massimo Bordi, legendary designer of the Desmoquattro back in 1974. Then it dives into the technical details, revealing photography and Cathcart's exclusive tests of every one of the factory Ducati Corse Superbikes from the First Generation 851cc Daytona raced prototype, to Doug Polen's Fast by Ferracci 888/926 World Championship winner. Followed by the Second Generation 916/955 machines, the Third Generation 999, the Fourth Generation 1098/1198, to the all-new Fifth Generation 1199 Panigale. Included along the way are interviews with all the factory riders and World Championship winners from Doug Polen, Carl Fogarty and Troy Corser, to Neil Hodgson, James Toseland, Troy Bayliss, Nori Haga and Carlos Checa. While the tradition continues with a detailed look at the new 1199 Panigale and a interview with the designers who created it, and an exclusive track test of the newest Generation 1199 bike by Cathcart and 3-time World Superbike Champion Troy Bayliss.
This is a must have book for every Ducati and motorcycle roadracing enthusiast. Gianatsis Design has produced and published the book in a beautiful large format 12x12-inch hard cover design coffee table style Collectors Edition Book featuring 224 pages in full color printed on 100# dull coat art paper for the best possible reproduction and presentation. Books are individually shrink wrapped and have a printed cover wrapper.
Order Now from Amazon.com USA: USD $69.95 • Amazon.com UK/Europe: UK £55.00 / EUR $55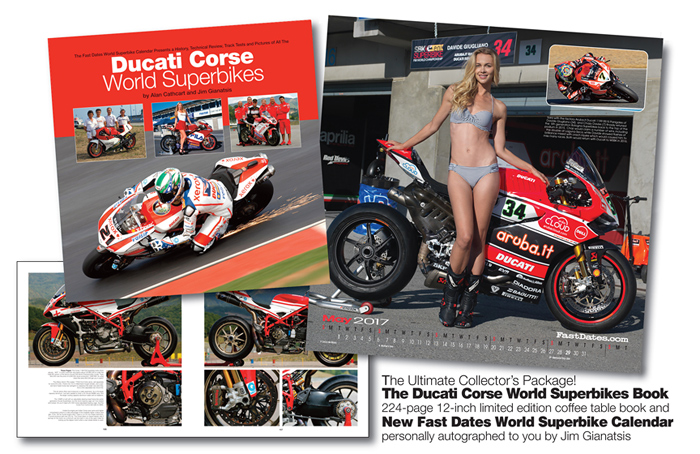 Exclusive Autographed Collector's Package!
The all new Ducati Corse World Superbikes 224-pg book and the 2013 Fast Date World Superbike Calendar - World Release July 1st 2012
Personally autographed to you (or the name you request on the PayPal.com Order Form) by Jim Gianatsis and shipped direct to you.
For more information or to order the Book or the Calendar individually, unsigned, go to the Sportbike Books and Fast Dates Calendar order pages. $100 Collector's Package, plus $20 USPS Priority Mail Shipping & Handing in the USA.
---
There's more! Go to Pit Lane News Previous Week

Also Visit: Fast Dates Calendar News • Iron & Lace Calendar News
Calendar Girl News • Meet the Models • Paddock Garage

MEMBERS CORNER! Calendar Kittens, Paddock Garage, Iron & Lace Garage





MotorcycleSuperstore.com
Some of our Calendar Kittens can also at Playboy's website...



FREE! New Met-Art Model Galley Updated Daily - Stop Back Each Day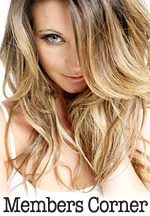 Hot Bikes, Sexy Kittens
Your Exclusive Grid Pass
also includes....
---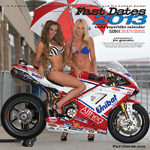 Order the New
2013 Calendars!
with FastDates.com Calendar Kitten, Ducati Corse Grid Girl
and Playboy Playmate
Heather Rae Young!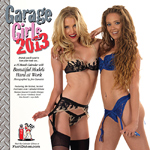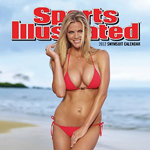 Click for even more Calendars!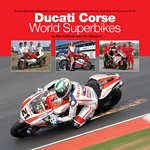 Retail $69.95 ea.
Click to Order

Ducati Corse
World Superbikes
by Alan Cathcart
& Jim Gianatsis
The most extensive book ever on the history of the winningest bikes in SBK World Superbike. Covers all 5 Generations of the Desmoquatro factory Ducati Corse World Superbikes from the first 750/851 prototypes to the new 5th generation 1199 Panigale with technical details and photos, interviews with all the engineers and factory riders, track tests of every bike, and full page photos of the bikes from all the Fast Date Calendars with the official Ducati Corse and SBK Calendar Kittens.
Photography by the world's top roadracing photographers including Gold & Goose, Kel Edge, Fabrizio Porrozzi, Max Olina.
This is a high quality Collectors Edition hard cover coffee table book, 224-pages in large 12x12-inch format printed on 100# dull coat art paper.

Click on the cover above to order individual copies from Amazon.com. Retail $69.95 ea.
Also at Amazon.com.uk
---
Casey Stoner Returns to Australia for Surgery
Will Miss Czech MotoGP
Aug 23rd - Reigning MotoGP World Champion Casey Stoner is on his way to Australia to undergo surgery on the injuries he sustained in an accident during qualifying for last weekend's Indianapolis Grand Prix.
The Repsol Honda rider will have the injuries – a complex combination of ligament, cartilage and bone damage to his right ankle – fixed once the swelling has subsided.
Last Sunday Stoner heroically rode to a fourth-place finish at Indy. The Australian had also considered competing in this weekend's Czech Grand Prix, until his surgeon in Australia had fully examined the x-rays and insisted that the injury needs intervention.
"The risk at Indy wasn't riding with the injury, it was the risk of crashing on it," said Stoner before leaving Brno this afternoon. "The crash was a nasty one – the first time in my career that I've not been able to walk away. I have no idea about my comeback – hopefully it will be one or two races before Phillip Island."
Stoner is currently in third place in the 2012 MotoGP points standings behind team-mate Dani Pedrosa and Yamaha's Jorge Lorenzo.
Ducati Team at Brno
with Rossi only,
injured Hayden's return
is postponed
Aug 21st- The Ducati Team will take to the track at Brno with Valentino Rossi only, as Nicky Hayden, who injured his right hand in a qualifying crash at the Indianapolis GP, is staying in the United States to recover. The American, who is expected to return at Misano, will not be replaced in the Czech Republic.
The circuit, which was built in the mid-'80s, features a large variety of corner types and elevation changes. It is fast, flowing, and very wide. Rossi has collected four podium finishes there in addition to his seven wins across all classes.
VALENTINO ROSSI, Ducati Team - "Laguna and Indy were two very difficult races, so I'm happy that we race again in just a few days, at Brno. The next two weeks will be very important for the rest of the season. I expect to do better in the Czech Republic, as it's a track that I like and that is more 'normal.' I had a pretty good dry race there last year with Ducati, also in terms of the gap to the front. Then next week we'll have two days of testing at Misano, where we'll have some new things to try that I hope will help us to be faster in the last part of the season."
Masao Furusawa,
Yamaha M1 MotoGP Bike Designer Interview:
On Visiting Italy to help Ducati's Filippo Preziosi, and Rossi's move to Yamaha
August 21st - The news that the former head of Yamaha's MotoGP program Masao Furusawa had visited Italy to talk to Ducati Corse boss Filippo Preziosi spread like wildfire through the racing world. After initial sightings in Italy of Furusawa, rumors quickly began to spread that the legendary Japanese engineer had been contacted by Ducati to help them fix their troubled Desmosedici, in a bid to keep Valentino Rossi at the factory. The rumors turned out to be true, and so veteran Japanese journalist Akira Nishimura visited Furusawa at his Kyoto home to ask him about the visit. Furusawa explained how he visited Italy at Filippo Preziosi's request, talked of his motorcycle design philosophy, and explains why he decided to turn down Ducati's request for help. Furusawa goes on to talk about visiting Valentino Rossi in Tavullia to discuss his future, and gives his vision of Rossi's chances at Yamaha.
The interview gives a fascinating insight into a key point in motorcycle racing history. It highlights the lengths to which Ducati is willing to go to change their fortunes, and it also highlights interesting aspects of Japanese culture, and the effect they can have on the direction of racing and the individuals involved.

Read Interview Here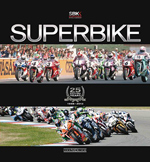 The Official SBK
World Superbikes
1987-2012
25 Year History Book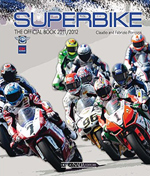 The Official SBK
2011-2012 Yearbook
These SBK Yearbooks are the Best Books Ever about World Superbike
They feature awesome color photography of the riders, bike and racing action. The feature a detailed revue of the past season in pictures and statistics, with a detailed look at the bikes and riders.
Plus a technical look data all the bikes, a preview of the upcoming season's Championship!
We buy this every year ourselves and highly recommend it!
SBK World Superbike Video Game
---
Meet 2013 Calendar Kitten
Shannon Baucom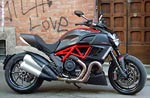 The Devil Made Us Do It!
Testing the Ducati Diavel in Italy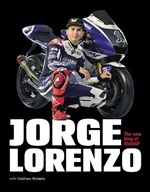 Sudco High Performance & OEM Replacement Parts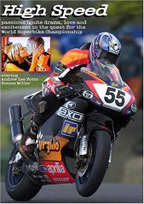 High Speed - the Movie
The best motorcycle racing movie ever made! Filmed on location at the World Superbike races , this an exciting romantic drama staring beautiful British actress Sienna Miller.
---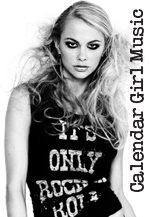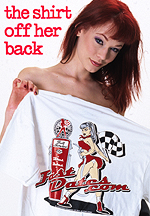 Order the Official
FastDates.com &
LA Calendar Bike Show
T-Shirts!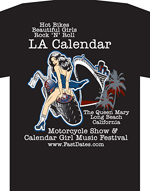 ---
Yamaha Tech 3 Team Confirms all
British Riders for 2013
Aug 25th - The Monster Yamaha Tech 3 Team has confirmed that it will field an all-British rider line-up with Cal Crutchlow and Bradley Smith in the 2013 MotoGP World Championship.
Crutchlow has signed a new one-year agreement after a fantastic second season in MotoGP. The 26-year-old is currently fifth in the World Championship standings and he has scored eight top six finishes and started from the front row of the grid in three races.
Smith will move up from the Tech 3 Racing Moto2 project. A consistent top six challenger in the ultra-competitive Moto2 class, the 21-year-old has signed a two-year contract for 2013 and 2014.
Cal Crutchlow - "I am delighted to commit my future to the Monster Yamaha Tech 3 Team for at least one more year. Together we have made huge progress this season and achieved some strong results and I am confident we can be even more competitive in 2013. Yamaha and Monster have been very loyal to me over a long period of time and they both made it clear how much they wanted to keep me for next year. That was incredibly flattering and I really appreciate their support. Next year will be my fifth with Yamaha and I am excited to continue my MotoGP career with them. My relationship with Tech 3 also played a big part in my decision. Herve Poncharal and all my crew have given me unbelievable backing since I joined in 2011. Yamaha put together a great package for 2012 and next year it will be even stronger. Hopefully I can reward their loyalty by challenging for the podium throughout 2013, which I know we are capable of."
Bradley Smith - "It is an honour for me to get the opportunity to move to MotoGP with the Monster Yamaha Tech 3 Team. I have dreamed about being a MotoGP rider for as long as I can remember and to get this chance with such a professional and successful team is fantastic. It is clear from the results achieved by Cal and Andrea (Dovizioso) in 2012 that together Tech 3, Yamaha and Monster is a very competitive package and I can't wait to begin this new adventure in my career. I know I have a huge challenge ahead of me but I believe in my ability and I am grateful to Herve Poncharal, Yamaha and Monster for showing a lot of confidence in me to offer me this chance. I already know the Tech 3 Team so it won't be such a huge transition for me and I have a good relationship with Cal. This will be very important because I can learn a lot from him. I am now looking forward to finishing the season strongly in Moto2 for Tech 3 Racing before I get my first chance to ride a YZR-M1 machine in Valencia."
Hervé Poncharal - Monster Yamaha Tech3 Team Manager "I am really happy to confirm that Cal and Bradley will be with the Monster Yamaha Tech 3 Team in 2013. Cal has done an amazing job this season and I am convinced that he is only going to continue to improve. He is a fast rider but also a big personality and we were determined to keep him with us for next season. We know there was a lot of interest in him, so for us to capture his signature is a big positive. Bradley has demonstrated his high potential in Moto2 and I have every confidence in him that he will be competitive in MotoGP. Of course he faces a very difficult challenge because the level now in MotoGP is incredible. But he has a great attitude and a big desire to make this new chapter in his career a successful one. What I can assure him is that Tech 3, Yamaha and Monster will give him 100% support to help him show his potential. I have no doubt this is the strongest line-up we could have put together for next season and we can look ahead to 2013 with high expectations."