MOTOGP: Ezpeleta Details MotoGP-WSBK Relationship
Dorna will run both the MotoGP and Superbike World Championships going forward. Dorna Sports CEO Carmelo Ezpeleta broke down the specifics today in Japan.

Preceding the riders' press conference on Thursday at the Twin Ring Motegi, Dorna Sports CEO Carmelo Ezpeleta also held a conference to explain the recent announcement of the World Superbike Championship coming under the Dorna umbrella.
"The reason for this press conference is, as all of you know, that last week it was announced by Bridgepoint, who is the mother company of Infront Sports and Media and Dorna, the decisions about Dorna and Infront Motorsports, who is the company that runs the World Superbike Championship
"One year ago, a little bit more than one year ago, Bridgepoint, who is the biggest shareholder of Dorna Sports, acquired Infront Sports and Media - the owners of Infront Motorsport, which is the company that runs World Superbike. Since Bridgepoint's acquisition of Infront Sports and Media, we have been having several meetings with Infront Motorsports to try to adapt the technical rules of both championships. This was the main aim of Bridgepoint, trying to think of the two championships together, which can have a lot of benefits, and also many synergies.
"We had several meetings during last year, first in Madrid, then in Rome, then in Paris and finally in Donington, trying to accommodate the rules first of all. And this was impossible. So finally the decision of Bridgepoint was to maintain two championships, two separate championships as two separate companies, but both under the umbrella of Dorna Sports.
"Of course for next year things will continue as they are, and both MotoGP and WSBK will continue the same way, with exactly the same system of organization and with the same technical rules. And from now, together with the FIM, the manufacturers, the circuits and with the teams, we will try to accommodate these difficult economic times to set up two championships that are able to continue and to grow together. There will also be a collaboration with Infront Sports and Media regarding other aspects of the two championships."
Is it true that the ownership of the Superbike championship has been put directly under Dorna?
Yes, that is correct.
Why until now we haven't had the new regulation for Superbike that Mr. Flammini announced on Sunday? Is there some change coming or is it just a matter of time?
For 2013 the regulations will be the ones that have been approved between the FIM and Infront Motorsports. For 2014, we will obviously work together with the manufacturers and the different bodies involved to change the regulations. We think that a championship derived from production bikes that is using 39 engines during one season, and in MotoGP you are using six -- to be honest it's not very correct, and we need to set up both championships with their own spirit. One is from bikes based on production motorcycles, and another is for prototypes. This is something we will do with the FIM first, and then with the manufacturers who are involved in both championships.
Do you expect to convince BMW, Kawasaki, Aprilia and Suzuki to be in MotoGP in 2014?
No, I am not trying to convince anybody. The obligation of the organizer of the championship, together with the FIM, is to set up technical rules to make the championship. But it's obvious that the regulations, in my opinion, in both championships are so expensive, that we need to set that up. We have been working for a long time with the MSMA here in the MotoGP championship, but this is a little bit contradictory if we are trying to reduce the cost and reduce the performance and using six engines, and the MSMA are even proposing five for next year, and then Superbike, which is theoretically for production-based bikes are using 39.
Who is going to run the World Superbike Championship?
In principal we are still talking with the people to know exactly who will run it, but it will run under the umbrella of Dorna. At the top of both championships there will be Dorna.
In terms of electronics, we know what you are looking at in MotoGP, but what's the future of electronics in WSBK?
It's too early to talk about electronics or whatever. In 2013 it will be exactly as proposed by the different parties involved, there will not be any changes for 2013.
Do you think now it is easier for Dorna to find an agreement with the factories for the rules in the future?
Not necessarily. All the decisions have been made in MotoGP with all the parties involved, and we will continue like that. It is important to set up something that is reasonable and possible from an economical point of view. The economical situation is difficult and we don't know how long this will be. I'm convinced that everybody will understand that.
Does this mean you will do two different meetings with the factories for the two championships?
The technical discussions will be separate, because the manufacturers are not the same in both championships.
As regards the calendar there are four or five dates that are the same for MotoGP and Superbike, are you going to make some changes for 2013?
A. For 2013 the calendars will be as presented. Both are provisional, so things could change, but for sure it's easy to have some conflicts.
For 2014 your idea is to introduce the standard ECU for everybody, will it continue the same or will you accept some other ideas from the manufacturers during next year?
We always accept ideas from anybody. We are not 'in favor' of ECUs or limit of revs or whatever, we are in favor of reducing the costs and increasing the show. This is the main aim of both championships - reducing costs and increasing the show.
Have you had any meetings with any MSMA members after the announcement?
Between the announcement and today, no. We were travelling. We will talk with everybody and we talk at every single Grand Prix with all the parties involved. We will talk separately with them and together if they want. The Grands Prix are normally a place for meetings about everything, there is no special meeting arranged, but of course we will talk to everybody about it.
Is it now easier to talk to Honda from this position?
With Honda it is always easy to talk. We have no problem to talk with Honda, Yamaha, and Ducati who are the three manufacturers involved in the MotoGP World Championship and we will continue to talk to them. We are happy to have the possibility to talk with the manufacturers about the ways to run the championship.
---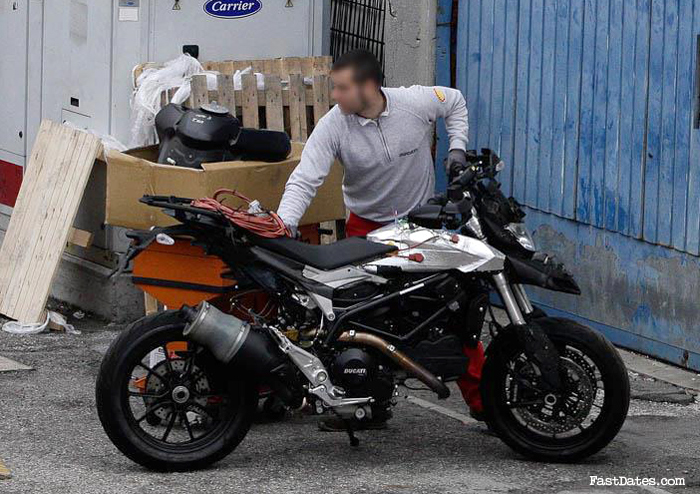 Ducati Spy Shots!
Pictured above in a side alley at Ducati is this prototype Desmodue powered bike which is probably the next generation Hypermoto as indicated by its high handlebars with lever guards and folding mirrors, although it could just as easily be a new generation Monster. Obvious is a new lightweight trellis tube frame and styling cues from the new Multistradas including the big high mounted front fender, sharper styled bodywork and the optional rear luggage rack. We think a new generation Monster could also benefit from a more comfortable and practical redesign like this.
Pictured below is another picture we found floating around the internet which could be anything. The bike is obviously the current new 1199S Panigale Superbike with the full race Termignoni Exhaust System and the bodywork decorated in Team Althea Ducati World Superbike livery. It could be a new Special Edition model as is typical with Ducati and might be introduced at EICMA as a 2013 model. However the bike does not have any street lighting equipment, mirrors, and is using race bodywork, but it can't be a race bike if it has the OEM electronic suspension and other stock equipment, and doesn't have number plates. So stayed tuned....


---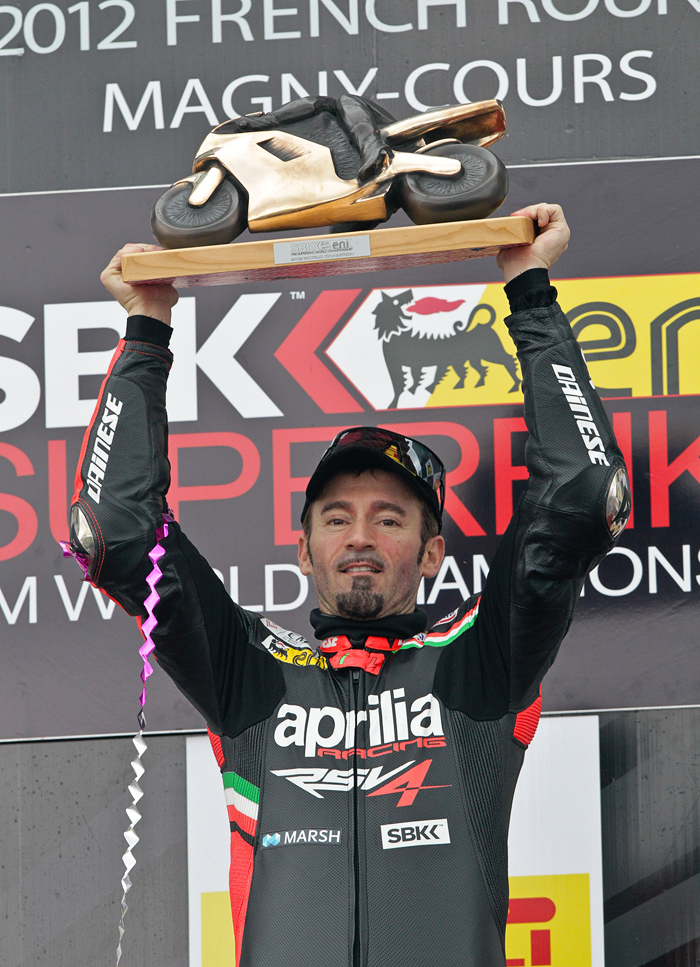 Max Biaggi celebrates his 2012 World Superbike title on the podium with his new Suomy replica helmet.
2012 FIM Eni World Superbike Championship, Round 14 of 14, Magny-Cours, France
Biaggi, Melandri and Sykes take it down to the wire
2012 Superbike Season Finale Showndown at Magny-Cours

Magny-Cours, France, October 8-10th 2012 - The 2012 Eni SBK World Superbike Championship went down to the Final Lap, of the Final Race of the Final Round in the most exciting and dramatic way possible for the history books and fans of the world's premier production bike based roadracing series. Going into the Final Round, Aprilia's Max Biaggi had a seemingly insurmountable 33-points lead to garner his 2nd world title for the Italian marquee, and only had to finish in the top 10 of both races where 25 points were up for grabs in each of the two Races. While his two remaining challengers, Tom Sykes on the factory Kawasaki and Marco Melandi on the factory BMW would pretty much have to finish on the podium of both races while their challengers did poorly. At the end of the day Max Biaggi would win his 2nd World Title for Aprilia with a 1.5 point margin at the finish. The Italians, Japanese and British were ecstatic with the 2012 SBK season results, while back in Munich another World War had begun with encouraging victories, but ended in humiliating defeat. COMPLETE RACE COVERAGE
Above" The 3 new World Champions in Supersport, Superbke and Superstock. Click to go BIG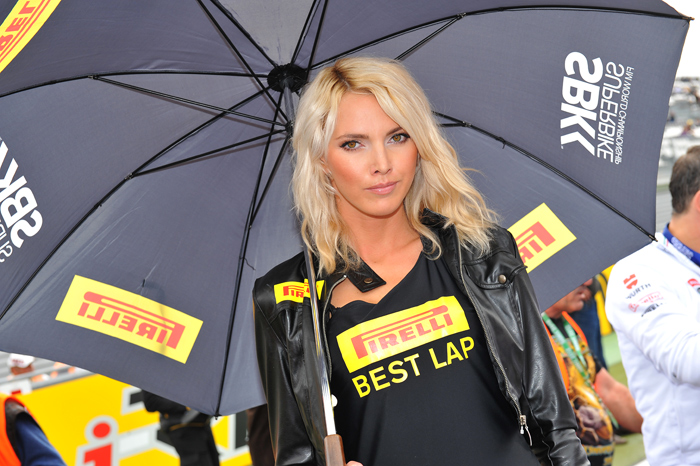 FastDates.com Calendar Kitten and SBK Grid Girl Petra strut the grid for Pirelli at Magny-Cours. Look for her in the next 2014 FastDates.com Calendars. Photo by Max Olina. Complete Magny-Cours Race Covergae HERE
---
2012 MotoGP World Championship, Round 15 of 18, Motegi, Japan
Pedrosa keeps title race alive with another dominate victory in Motegi
Motegi, Japan, Sunday October 14th, 2012 - In an enthralling MotoGP™ race at the AirAsia Grand Prix of Japan in Motegi it was Repsol Honda Team's Dani Pedrosa who closed the gap in the title fight further with a strong win ahead of Jorge Lorenzo and Álvaro Bautista.
It was Yamaha Factory Racing's Lorenzo who got away best, yet had to be bold in turn one to hold off Pedrosa. Power Electronics Aspar's Randy de Puniet crashed on the first lap but re-joined, while Yamaha's Ben Spies crashed out going into lap two, citing afterwards that he suffered a brake failure. It was a crash-laden early stage as Avintia Blusens' Yonny Hernandez also dropped his bike in the gravel, suffering a left top-shoulder-joint dislocation and a contusion to the left foot.

Repsol Honda's Casey Stoner had made a good start running fourth behind Monster Yamaha Tech 3's Cal Crutchlow in third. Yet three laps in Stoner was taken by San Carlo Honda Gresini's Álvaro Bautista. LCR Honda MotoGP's Stefan Bradl was stalking Stoner closely, whilst fending off Tech 3's Andrea Dovizioso in seventh.

With 17 laps remaining Lorenzo and Pedrosa had pulled out a lead at the front with Crutchlow running a lonely third. Stoner was desperately looking for a way past Bautista, yet the Spaniard was battling hard to keep the Australian at bay. Meanwhile Ducati Team's Valentino Rossi was in eighth struggling to keep up with Dovizioso's pace in front. It was then two laps later that Dovizioso forced his way past Bradl, who was suffering with arm-pump, to hunt down Stoner in fifth.

With 13 laps remaining Pedrosa got better drive out of turn four and made his way past Lorenzo on the straight into the lead, looking instantly quicker on the Honda. As Lorenzo tried to keep up, it was Bautista who was slowly closing in on Crutchlow, who did well to save a near fall. Five laps on, De Puniet was forced to retire, as was Hernandez's teammate Iván Silva. The same lap also saw Dovizioso make his way past Stoner into fifth.

With six laps left Pedrosa had built up a commanding lead over Lorenzo, whilst as a lap later Bautista muscled his way past Crutchlow into the final podium spot, and the pair provided a thrilling battle on track. The Brit fought almost straight back with a move up the inside, yet Bautista retook him in the next turn where the two touched. And it was heartbreak for Crutchlow on the last lap as he pulled over having run out of fuel, whilst looking to fight to the line.

It was ultimately Pedrosa who kept his nerve to take the chequered flag, with Lorenzo and Bautista completing the rostrum, making it the second ever premier-class podium for the San Carlo rider. This now cuts Pedrosa's deficit to Lorenzo to 28 points with three races remaining. The first non-podium finisher in fourth was Dovizioso followed by Stoner, Bradl, Rossi, Ducati's Nicky Hayden, Yamaha YSP Racing Team's wildcard Katsuyuki Nakasuga and Pramac Racing Team's Héctor Barberá. Top CRT spot went to De Puniet's teammate Aleix Espargaró, whilst Came IodaRacing Project's Danilo Petrucci had to retire on the last lap.
RESULTS MOTOGP RACE: (24 laps = 115.224 Km)
POS / RIDER / NAT. / TEAM / MOTORCYCLE / TIME / KM/H / GAP
1 / Dani PEDROSA / SPA / Repsol Honda Team / HONDA / 42'31.569 / 162.569 /
2 / Jorge LORENZO / SPA / Yamaha Factory Racing / YAMAHA / 42'35.844 / 162.297 / 4.275
3 / Alvaro BAUTISTA / SPA / San Carlo Honda Gresini / HONDA / 42'38.321 / 162.14 / 6.752
4 / Andrea DOVIZIOSO / ITA / Monster Yamaha Tech 3 / YAMAHA / 42'47.966 / 161.531 / 16.397
5 / Casey STONER / AUS / Repsol Honda Team / HONDA / 42'52.135 / 161.269 / 20.566
6 / Stefan BRADL / GER / LCR Honda MotoGP / HONDA / 42'56.136 / 161.018 / 24.567
7 / Valentino ROSSI / ITA / Ducati Team / DUCATI / 42'57.641 / 160.924 / 26.072
8 / Nicky HAYDEN / USA / Ducati Team / DUCATI / 43'08.293 / 160.262 / 36.724
9 / Katsuyuki NAKASUGA / JPN / Yamaha YSP Racing Team / YAMAHA / 43'08.363 / 160.258 / 36.794
10 / Hector BARBERA / SPA / Pramac Racing Team / DUCATI / 43'42.298 / 158.184 / 1'10.729
11 / Karel ABRAHAM / CZE / Cardion AB Motoracing / DUCATI / 43'47.227 / 157.887 / 1'15.658
12 / Aleix ESPARGARO / SPA / Power Electronics Aspar / ART / 43'54.338 / 157.461 / 1'22.769
13 / Colin EDWARDS / USA / NGM Mobile Forward Racing / SUTER / 43'56.537 / 157.33 / 1'24.968
14 / James ELLISON / GBR / Paul Bird Motorsport / ART / 44'00.957 / 157.066 / 1'29.388
15 / Michele PIRRO / ITA / San Carlo Honda Gresini / FTR / 44'06.181 / 156.756 / 1'34.612
Pole Position: Jorge LORENZO 1'44.969 164.654 Km/h
Fastest Lap (new record): Dani PEDROSA 1'45.589 163.687 Km/h Lap 4
Old Circuit Record Lap: Dani PEDROSA 1'46.090 162.914 Km/h 2011
Circuit Best Lap: Jorge LORENZO 1'44.969 164.654 Km/h 2012
CHAMPIONSHIP POSITIONS TO DATE:
1 LORENZO 310, 2 PEDROSA 282, 3 STONER 197, 4 DOVIZIOSO 192, 5 BAUTISTA 144, 6 ROSSI 137,
7 CRUTCHLOW 135, 8 BRADL 125, 9 HAYDEN 101, 10 SPIES 88, 11 BARBERA 70, 12 ESPARGARO 55,
13 DE PUNIET 53, 14 ABRAHAM 37, 15 HERNANDEZ 28.
---
2012 British Superbike Championship, Round 13 of 13, Brands Hatch, GB
Tripple Wins secure Shane "Shakey" Byrne his 3rd British Superbike Championship
Brands Hatch, Sunday 14th October 2012 - Shane 'Shakey' Byrne sealed his third British Superbike Championship in emphatic style with a superb triple victory at the final round at Brands Hatch in Kent this weekend. Aboard the Rapid Solicitors Racing Team Kawasaki, the Isle of Sheppey rider was in imperious form around his local track as he looked to defend a nine point lead coming into the final round.

Saturday's Race One of Three saw Byrne lead from the start and was still in front when the red flags came out to stop the race following a brief rain shower meaning he took maximum points to take into today's final two races. Holding an 18 point advantage going into the penultimate race, Byrne was soon in command knowing a victory would seal his third title if main rival Josh Brookes finished lower than second. Byrne crossed the line first with Brookes in second meaning the title decider for the 2012 MCE Insurance British Superbike Championship would go to the final race.

In front of another massive Brands Hatch crowd, Bryne shadowed race leader Brookes in the knowledge that a lowly 14th place finish would give him the crown to add to his 2003 and 2008 titles but he wasn't going to settle for second and took the lead with a couple of laps to go.
To the roars of his local fans, Shakey took the victory and with it the title to make him unbeaten around the Brands Hatch GP track in seven races. It also meant he took his tally to 41 BSB victories to move to within two wins of record holder Ryuichi Kiyonari.

To add to a memorable day for the Penrith-based PBM team, newly crowned Metzeler Superstock 1000 Champion Keith Farmer also took victory to add to the celebrations whereas Stuart Easton impressed over the weekend to claim a best result of fifth in Saturday's BSB race.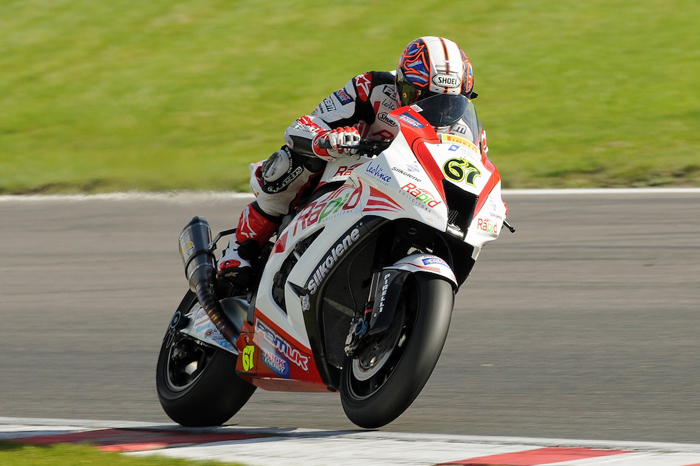 Shane Byrne: "That's not bad for a weekend's work and whereas the previous two British titles I've won have been wrapped up well in advance this one went right down to the final race so it's probably the hardest. I'd like to pay tribute to the team for giving me the tools to do the business this season and it's great to work with Paul Bird once again. What it now means is I have to think about coming back here next year to defend the title as I'd like to beat the record of three championship victories achieved by Niall Mackenzie and Ryuichi Kiyonari!"

Paul Bird, Team Owner: "This is our best championship win to date and to win both the British Superbike Championship and the Superstock 1000 Championship, we have also won most races which is testament to the team who have done a brilliant job. It's also good to secure Kawasaki's first BSB title for 20 years. Considering the pressure Shakey was under he rode exceptionally well and to go out and win the final race when he didn't need to was simply amazing. These are exciting times for the team and we would love to retain Shakey's services next year, whether it be in MotoGP or BSB as we will be contesting both championships again. We said we were only coming back to win the title and that's what we have done and I'd like to pay tribute to our sponsors, especially Rapid Solicitors and everyone else who has made this possible, you all know who you are. Well done to Keith who has done an awesome job for us this year and also to Stuart who has had a very testing year on the back of his injuries, I need to sit down with both riders and discuss the future with them."
MCE British Superbike Championship Race One 15 laps


1 Shane Byrne (Rapid Solicitors Kawasaki)
2 Tommy Hill (Yamaha)
3 Josh Brookes (Suzuki)
4 James Westmoreland (Honda)
5 Stuart Easton (Rapid Solicitors Kawasaki)
6 Barry Burrell (BMW)

MCE British Superbike Championship Race Two 23 laps


1 Shane Byrne (Rapid Solicitors Kawasaki)
2 Josh Brookes (Suzuki)
3 Michael Laverty (Honda)
4 Barry Burrell (BMW)
5 Tommy Bridewell (BMW)
6 Tommy Hill (Yamaha)
7 Stuart Easton (Rapid Solicitors Kawasaki)

MCE British Superbike Championship Race Three 20 laps


1 Shane Byrne (Rapid Solicitors Kawasaki)
2 Josh Brookes (Suzuki)
3 Tommy Hill (Yamaha)
4 Tommy Bridewell (BMW)
5 Barry Burrell (BMW)
6 James Westmoreland (Honda)
12 Stuart Easton (Rapid Solicitors Kawasaki)

Final Championship Standings (after 12 rounds)


1 Byrne (Rapid Solicitors Kawasaki) 683pts
2 Brookes 655
3 Hill 612
4 Lowes 584
5 Laverty 581
6 Bridewell 577
10 Easton (Rapid Solicitors Kawasaki) 135

Metzeler National Superstock 1000cc Championship 16 laps
1 Keith Farmer (Rapid Solicitors Kawasaki)
2 PJ Jacobsen (Suzuki)
3 Howie Mainwaring (BMW)
4 Hudson Kennaugh (Kawasaki)
5 Victor Cox (Kawasaki)
6 Daniel Johnson (Kawasaki)

Final Superstock Championship standings


1 Farmer (Rapid Solicitors Kawasaki) 207 pts
2 O'Halloran (Honda) 157
3 Cox 142
4 Storrar (BMW) 142
5 Costello (Kawasaki) 114
6 Mainwaring 105
---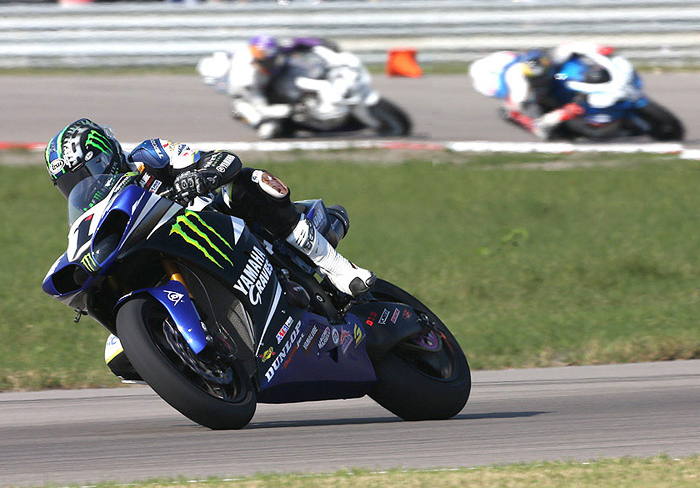 Josh Hayes dominated the 2012 AMA Superbike Championship with 16 race victories in a championship with just Graves Yamaha and Yoshimura Suzuki factory team involvement.

2012 AMA Pro Roadracing Championship, Round 11 of 11, New Orleans, LA
Josh Hayes Completes AMA Superbike Sweep at New Orleans Finale
NEW ORLEANS, LA, October 6-7th , 2012 - Three-time AMA Pro National Guard SuperBike king Josh Hayes closed out his epic 2012 campaign in fitting style. The Monster Energy Graves Yamaha superstar notched up two more blowout victories in Saturday and Sunday's two race double headers to put the finishing touches on the season in front of his home crowd. Hayes tore off from pole in both races and blitzed to his 15th and 16th wins of the season, far and away the most attained in a single-season in the 30-plus year history of the championship. The Mississippian worked his advantage into double digits before easing to the last checkered flag of 2012 with a 9.194-second margin of victory in Sundays last race.

Along with posting the record for most wins in a season, Hayes also established the new mark for most consecutive wins (ten), tied the record for most consecutive poles (eleven) and most poles in a season (ten). He also moved into a tie for second with most SuperBike titles (three), and surpassed Miguel DuHamel to grab sole possession of second-place on the all-time SuperBike wins list (33).

Hayes said of his historic season, "It was the perfect way to end an incredible year. A lot of fans and friends came out and I'm glad I was able to do a good job in front of them. I think we are showoffs and we tend to do some of our best work when people are around. It was just an awesome weekend -- I had a lot of fun."

Josh Hayes runs away with Race One on Saturday. Note the lack of runoff area exiting the final turn, and the dangerously low front straight pit wall where a careening bike could take out dozens of team personel.
Underlining his absolute mastery of the struggling to survive AMA Championhip, while Hayes seemed to leave the field in his wake with relative ease, the premier class finale was otherwise a rather ragged affair, fraught with crashes, mechanical issues, and penalties among top-ten contenders.

Yoshimura Suzuki's Blake Young and National Guard Jordan Suzuki's Roger Hayden were embroiled in a struggle for the runner-up position some six seconds behind the leader on lap 9 of 18. However, as the two dove into Turn 1 to open lap 10, Hayden's front wheel contacted Young's rear wheel as they both attempted to corral their machines under braking.The two crashed at speed together but quickly popped up to their feet, disappointed but seemingly unharmed. That double disaster elevated the fight for fourth between Team Hero EBR's Danny Eslick and Jordan Suzuki's Ben Bostrom into one for the runner-up position.

However, while they remained glued together on track throughout, they were separated by nearly five seconds on the scoring monitors when Eslick was hit by a penalty for crossing the white line coming onto the start/finish straight; a boundary line put into place prior to the event to modify the radius of the turn with rider safety in mind.

"I had a good fight there with Danny," Bostrom said. "Josh just left us in the dust. I was behind Danny and I saw him cross the white line. I came by the pitboard and they held up '3' and I held up '2'. They might have thought I was showing them the peace sign. I realized I could just follow him to the finish line. What else is there to do? So I just followed him around."

Eslick took the checkered flag in second but the position officially went to veteran Bostrom. The duo's lead on fourth was sufficient for Eslick to claim the final spot on the podium despite his penalty.

The Oklahoman was uncertain that he had been penalized while still on track and thought he had finished second, but wasn't overly surprised to learn the truth. "I knew I ran off," he explained. "The thing wheelied coming off the corner and I chopped the throttle, but it ran out onto (the line). It is what it is. I'm still up here with two of the best guys out there. I can't complain."

Team Amsoil/Hero EBR's Geoff May suffered a mechanical issue with his machine while running fourth, quickly following the plight of Foremost Insurance Pegram BMW's Larry Pegram.A lap later Riders Discount K&L Supply's Taylor Knapp crashed from fifth in a race marred by heavy attrition. The mistakes and mishaps opened the door for a tremendous result from multi-time AMA Pro National Guard SuperBike race winner Aaron Yates, who took home fourth on the EvanSteelPerformance.com BMW S1000RR in his second event back to the Series.

Fifth went to KTM/HMC Racing's Chris Fillmore to complete what has to be regarded as the fledgling SuperBike squad's most successful weekend yet. M4 Suzuki's Chris Ulrich equaled his best SuperBike result yet with a sixth-place result, followed by Team Venezuela's Robertino Pietri. Kneedraggers.com/Motul/Fly Racing's David Anthony, Attack Performance Kawasaki's Steve Rapp, and Anthony's teammate Jordan Burgess rounded out the top ten.
In addition to the GEICO Motorcycle AMA Pro Road Racing action, therewas family-friendly entertainment located in every turn. Event promoter M1 PowerSports brought in motorcycle stunt rider Jason Britton, a variety of New Orleans culinary concoctions, a 4x4 Monster Ride Truck, their Big Kahuna Bikini Girls, a kid's corral full of fun for the Little Kahunas and dozens of vendors.
This was the first AMA National race held at the recently opened New Orleans Raceway facility, effectively a club level track with no pit facilities located in the flat scrub pine woods on the outskirts of New Orleans. Josh reported purchased 700 tickets for his nearby hometown Gulfport Mississippi fans from M1 Powersports, producers of the race. It looked like there might have that many spectators there in total for the race weekend. Hopefully M1 broke even for the cost of the event with GEICO Insurace sposorship support, Josh's generosity from his Yamaha factory bonus money for winning the Championship earlier, and the entry fees paid by all the riders, their teams and families.
COMPLETE RESULTS

AMA Pro GoPro Daytona SportBike 600cc
Martin Cardenas of the GEICO Suzuki squad got a measure of revenge on Cameron Beaubier (Y.E.S./Graves/Yamaha) in Sunday's AMA Pro GoPro Daytona SportBike race at NOLA Motorsports Park as the two class titans put on a memorable show during the final race of the 2012 season. Cardenas crashed out of Saturday's race won by Beaubier and the Yamaha pilot tied the series champion for victories this year with seven heading into today's race.

Cardenas won Sunday's nail-biter after a thrilling ending, one that saw both riders giving it all they had on the final lap. The Colombian was able to answer each of Beaubier's tries at a pass and held off his younger rival for a 0.208 second win. For Cardenas, it was his eighth victory in his championship season. Cardenas pulled away from the field early and Beaubier managed to catch up to make it a two-man fight. Both riders had slight bobbles that set up the last-lap showdown.

"For sure I wanted to beat Cameron," said Cardenas. "Lately, he was winning a lot. I was prepared to give everything. If it worked out? Fine. If not? The ground was also okay. I gave everything I had."

Tommy Aquino (Kneedragers.com Yamaha) beat Dane Westby (M4 Suzuki) to the line after that duo traded paint on the final lap. J.D. Beach (RoadRace Factory/Red Bull) finished fifth after a podium on Saturday. He topped Jason DiSalvo (Latus Motors Racing Triumph) by less than half a second. Tommy Hayden, still recovering from an injury sustained at New Jersey in the fall, was next. Michael Beck of Team Beck Racing recovered from a crash on Saturday to finish eighth.

AMA Pro Motorcycle-Superstore.com SuperSport 600cc
Y.E.S./Graves/Yamaha's Garrett Gerloff won the AMA Pro Motorcycle-Superstore.com SuperSport race at NOLA Motorsports Park on Sunday, topping Saturday's winner Hayden Gillim of the RoadRace Factory/Red Bull team and overall championship winner James Rispoli of Celtic Racing/ Orient Express Racing.

Gerloff took the lead early and was never challenged, winning by 11.725 seconds. The young standout, who began the year in GoPro Daytona SportBike before being injured, ran away from the field in a dominating performance in the 15-lap race. It was reminiscent of Gerloff's first Motorcycle-Superstore.com SuperSport win in New Jersey last year.

"Everything went really well and I got a good start for once," said Gerloff. "I was just trying to get into my rhythm and pull a gap."

In the SuperSport East championship, Dustin Dominguez finished fourth but unfortunately his effort wasn't enough to win the divisional title. Jake Lewis of the Riders Discount Vesrah Suzuki team finished 11th and managed to hold on to the title by a margin of 11 points, 256 to 245, respectively. Travis Wyman (Harv's H-D) was sixth, just ahead of Miles Thornton (Eyeball NYC) and Ryan Kerr (Best Book 1 Kawasaki) and Suzuki SportBike TrackGear.com's Elena Myers.
---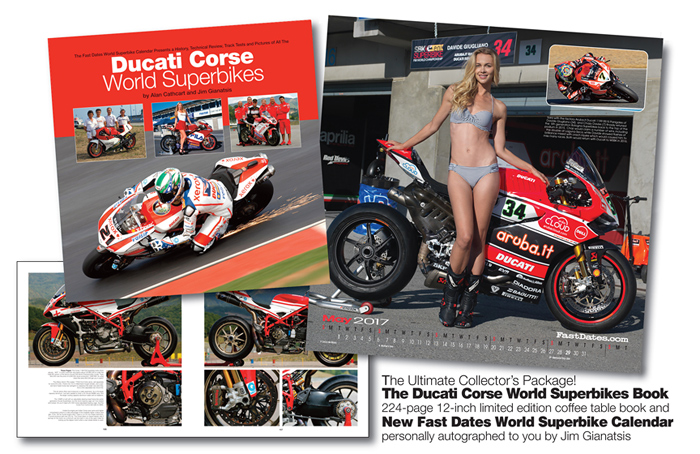 Order Now from Amazon.com USA: USD $69.95 • Amazon.com UK/Europe: UK £55.00 / EUR $55
Exclusive Autographed Collector's Package!
The all new Ducati Corse World Superbikes 224-pg book and the 2013 Fast Date World Superbike Calendar - World Release July 1st 2012
Personally autographed to you (or the name you request on the PayPal.com Order Form) by Jim Gianatsis and shipped direct to you.
For more information or to order the Book or the Calendar individually, unsigned, go to the Sportbike Books and Fast Dates Calendar order pages. $100 Collector's Package, plus $20 USPS Priority Mail Shipping & Handing in the USA.
Ducati Corse World Superbike Book Signings in Los Angeles!
Jim Gianatsis will be doing a signing of his new Ducati Corse World Superbikes Book and 2013 Fast Dates Calendar
in the LA area at these upcoming Ducati Dealer Open Houses:

• Nov 17th, 2012 - SoCal Motorcycles Open House, Brea, CA
Stop by, say hello, and get a personally autographed copy of the new book!
---
Edelweiss adds an exciting new Motorcycle Trip!
2-Weeks ADVENTURE COSTA RICA & NICARAGUA
Enjoy fascinating wildlife, exotic landscape and wonderful routes on this motorcycle tour in Costa Rica and Nicaragua! Travelling to Costa Rica and Nicaragua on a is a one of a kind experience. Active volcanoes, deep rainforests, unknown vegetation and much more are the main highlights of this tour as well as the most stunning beaches! At the very beginning of our tour we ride up to the volcano Irazu and on to Turrialba.

You better sleep well this night, because on the next day's ride you will have to master the highest mountain pass of the Panamericana Highway called Cerro de la Muerte, at an altitude of 10,000 ft. Then we continue to the volcano Poas and La Fortuna where we will enjoy the convenience of a rest day, to take a swim in the hot springs, see the waterfalls or to do some horseback riding.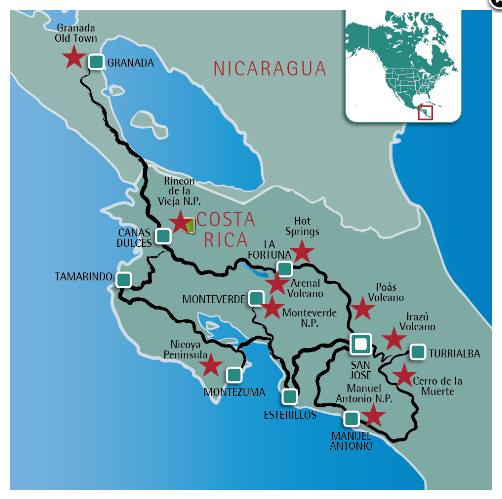 Another overnight in Canas Dulces and we finally cross over into Nicaragua where we first follow the shoreline of its lake before reaching the colonial town of Granada, where we soak in all the sights this wonderful town has to offer! After having had two overnights in this buzzling city we cross the border back to Costa Rica and spend some time along and at the coast. A visit of Monteverde cloud forest is a must, before we get to one of the most splendid beaches of Costa Rica – Esterillos. Here we will spend our last night to enjoy the local life before returning to San Jose.
The Costa Rica /Nicaragua Tours are schedued to take place in February/March of 2013 and 2104.
For more information about this and the other incredible Edelweiss Motorcycle Tours click here:
---
There's more! Go to Pit Lane News Previous Week

Also Visit: Fast Dates Calendar News • Iron & Lace Calendar News
Calendar Girl News • Meet the Models • Paddock Garage

MEMBERS CORNER! Calendar Kittens, Paddock Garage, Iron & Lace Garage


Amazon.com Motorcycle Products & Apparel Store



MotorcycleSuperstore.com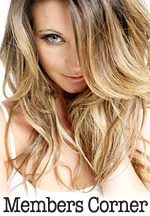 Hot Bikes, Sexy Kittens
Your Exclusive Grid Pass
also includes....
---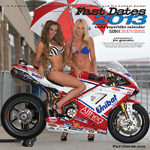 Order the New
2013 Calendars!
with FastDates.com Calendar Kitten, Ducati Corse Grid Girl
and Playboy Playmate
Heather Rae Young!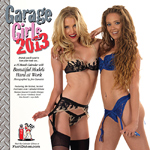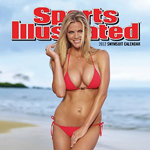 Click for even more Calendars!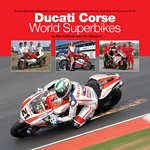 Retail $69.95 ea.
Click to Order from Amazon.com

Ducati Corse
World Superbikes
by Alan Cathcart
& Jim Gianatsis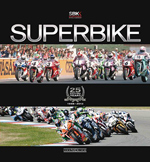 The Official SBK
World Superbikes
1987-2012
25 Year History Book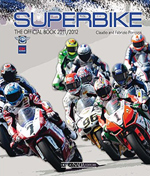 The Official SBK
25th Anniversary
2011-2012 Yearbook
These SBK Yearbooks are the Best Books Ever about World Superbike
They feature awesome color photography of the riders, bike and racing action. The feature a detailed revue of the past season in pictures and statistics, with a detailed look at the bikes and riders.
Plus a technical look data all the bikes, a preview of the upcoming season's Championship!
We buy this every year ourselves and highly recommend it!
SBK World Superbike Video Game
---
2013 FIM Superbike, Supersport World Championships & FIM Superstock 1000cc Cup
Provisional Calendar, Released October 6th, 2012

DATE COUNTRY CIRCUIT
X= WSBK / WSS / STK
24 February Australia Phillip Island X X
10 Mar India Buddh Circuit X X
7 April Spain Aragon X X X
28 April Netherland Assen X X X
12 May Italy Monza X X X
26 May UK Donington X X
9 June Portugal Portimao (STC) X X X
23 June Tba Tba* X X X
30June Italy Imola X X X
21 July Russia Moscow Raceway X X
4 August UK Silverstone X X X
1 September Germany Nurburgring X X X
29 September USA Laguna Seca X
6 October France Magny Cours X X X
20 October Spain Jerez X X X
* Tba

The 2013 World Superbike Calendar looks to grow with one more race meeting next year at the new Buddh track in India. For the USA round Miller Motorsports Park no longer appears on the Calendar in May, with a new American round returning to Laguna Seca aftyer an 8 year absence there, in September. A yet to be confirmed race date venue is held on the Calendar for June 23rd, normally the weekend for Brno Czech Republic
Laguna Seca returns to the World Superbike calendar beginning in 2013
Rome (Italy), Friday 21 September 2012 – Following a three-year agreement between Infront Motor Sports and Mazda Raceway Laguna Seca, the United States Round of the eni FIM Superbike World Championship will take place at the Californian circuit next season and in 2014 and 2015.

The confirmed date for the 2013 event will be 27-29 September, and it marks the return of the championship to the spectacular Monterey circuit for the first time after an eight-year absence. The last World Superbike round was held at Laguna Seca in 2004.

Paolo Flammini, CEO of Infront Motor Sports, declared: "We are absolutely delighted to be returning to Laguna Seca for the US Round for the first time since 2004. Over the ten-year period in which we were last there, we witnessed an extraordinary growth in interest and in overall attendance and we are sure that this event will once again become one of the most prestigious on the calendar. The return of Laguna Seca to the Superbike World Championship, with its six competing manufacturers, will definitely be a boost to the championship's growth in the US market as California has a special tradition and offers significant opportunities for the motorcycle industry, sponsors and media."

"We have a strong history with World Superbike and are thrilled to have them commit to a three-year race schedule," says Gill Campbell, Mazda Raceway Laguna Seca CEO/general manager. "Their return to Mazda Raceway Laguna Seca solidifies our position as THE premier circuit in the U.S. for motorcycle racing."
Meet 2013 Calendar Kitten
Shannon Baucom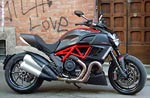 The Devil Made Us Do It!
Testing the Ducati Diavel in Italy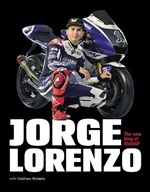 Sudco High Performance & OEM Replacement Parts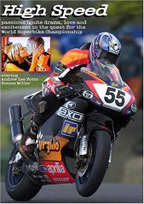 High Speed - the Movie
The best motorcycle racing movie ever made! Filmed on location at the World Superbike races , this an exciting romantic drama staring beautiful British actress Sienna Miller.
---
Camier Re-Signs with
Fixi Cresent Suzuki
for 2013 World Superbike
Team Suzuki Press Office, October 6th - FIXI Crescent Suzuki has announced that it has agreed terms to secure the services of Leon Camier for the 2013 Superbike World Championship.
Camier completed the deal shortly before this weekend's final round of the season at Magny-Cours in France and will sign a one-year extension to his current contract. The former British Superbike Champion joined the Crescent Suzuki squad for its first season in WSBK this year and has been influential in steering the Yoshimura-powered Suzuki GSX-R to its current position, not only because of his racing ability - which saw the FIXI Crescent Suzuki team takes its first podium in World Superbikes with Camier on board - but also from an engineering point of view with his valuable technical input.
The agreement with Camier follows hot-on-the-heels of the news that FIXI will remain as title sponsor for the team's attack on the World Superbike Championship in 2013 and that Team Principal Paul Denning will take over the day-to-day running of the team. News on Camier's team-mate will be announced soon, as the FIXI Crescent Suzuki squad finalises its plans for next year.
Leon Camier: - "I am so happy to continue working with FIXI Crescent Suzuki and the whole team. We had a tough start to 2012, but the guys have all worked so hard to turn things around and we are now more competitive and close to the podium. I really wanted to stay here and continue with what we have started and to win races on the Suzuki, which is still the target and will be our main focus for 2013. The whole team is totally focused on succeeding in WSBK and with everything that is happening at the moment we are heading in that direction - it feels good to be a part of it."
Paul Denning - Team Principal: "To secure the deal with Leon is a very important step in achieving the team's 2013 targets. He was at the forefront of our thoughts when we originally planned to bring Crescent Suzuki to World Superbikes and his input, positive attitude and hard work through the first season has helped push us to a more competitive level. He is now regularly challenging the front guys and we are sure the plans we have in place for 2013 will see him regularly fighting for the podium. He has been a great asset to the whole team and his professionalism is obvious to all. We are all looking forward to working with him again and making sure he is in a position to be pushing for victories in 2013."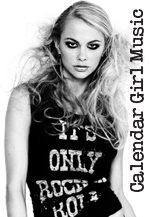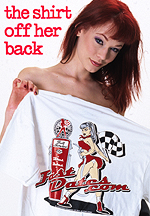 Order the Official
FastDates.com &
LA Calendar Bike Show
T-Shirts!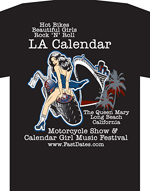 ---
Pirelli Official Tyre Supplier of
SBK World Superbike Season Finale Statement
"With the Magny-Cours round Pirelli closes out an important season, the ninth in a row as sole supplier of all the World Superbike Championship classes. But today was above all a day for the participants to celebrate, that is, the riders and the teams. Pirelli congratulates first and foremost Max Biaggi and the Aprilia Racing team who have achieved a splendid double win in a 3 year period in confirmation of the excellent work done by the entire team in the Championship these past few years. It would be impossible, however, not to mention Biaggi's two fiercest rivals, Tom Sykes on his Kawasaki and Marco Melandri on his BMW, who contributed to making this year an exciting championship down to the last race. This was a Superbike Championship which was marked by an extremely battle between riders from various teams throughout the season. In fact, riders from five different motorcycle manufacturers placed in the top five, demonstrating the excellent work Pirelli has done in developing solutions which work well on different brand bikes.

Our compliments also go once again to Kenan Sofuoglu and the Kawasaki Lorenzini team for their win in World Supersport, as well as to Sylvain Barrier and Michael VD Mark for their respective victories in Superstock1000 FIM Cup and Superstock600 UEM European Championship.

Also, this year (as in 2011), Pirelli decided to provide incentive for our rising stars in European motorcycling who participate in the national Superstock 600 championships: this is why the Pirelli Superstock 600 Series was established last year, a Pirelli initiative which once again provided the most talented riders from the various European STK600 Championships with the opportunity to take part as wild cards in the last European Superstock 600 Championship race held here in France. The 3 riders who placed the highest in the race standings were Italian Franco Morbidelli who races in CIV, Brit Lee Jackson who races in British Superbike and Austrian Marco Nekvasil from IDM. These riders were awarded a memorial tag and also received a monetary price as an incentive for their growth and careers.

In closing, we are very satisfied with the work done this year in the factory derivative Championship and we are ready to take on the next season where we will be faced with a new challenge: the new 17 inch tyres which will replace the 16.5" format which have been used until now in the World Superbike Championship." - Giorgio Barbier, Racing Director Pirelli Moto