---
The new F4RR in White/Black with electronically adjustable Ohlins suspension, Brembo Monoblock M50 Front Calipers.
MV Agusta Premiers Phree New 2013 F4, F4R, F4RR Superbike Models
and Its New F3 675cc World Supersport Team
February 1st, 2013 - The F4 continues to play an important part of the history of high performance motorcycling. It is the epitome of emotion, performance, and speed clothed in a uniquely desirable design. The new F4 is an important leap into the future, a technological revolution without limits.

THE NEW MV AGUSTA F4.
Crossing the border of imagination. The new F4 is our best yet, encompassing the latest technology and engine developments. A true state of the art masterpiece. After intense months of design, development and testing MV Agusta have redefined the characteristics of the F4 with an ambitious underlying goal to make the F4 the most advanced hypersport bike on the market. We achieved this by creating three versions to form the new range. Sharing the same distinctive DNA yet possessing different technical solutions to satisfy every rider. The F4 RR contains the most advanced engineering solutions, enhanced by a range of technical excellence to offer the complete control of the vehicle and maximum performance: chassis control utilizing vehicle inertia sensors, a unique engine control with Ride-By-Wire system, Öhlins electronic control suspension and steering damper as well as GP spec titanium connecting rods. The unique and comprehensive technology of the F4 RR has been extended to the versions F4 R & F4, which also share several aesthetic and functional innovations. These include a re-proportioned and lighter "signature" four exit silencer, new lightweight forged wheels and a new front spoiler integrated into the front fairing with DRL (Daylight Running Lights) that enhance the design, as well as the new tail light incorporating light guide technology. All complemented with completely new graphics and colors.
The new F4RR in Red/White with electronically adjustable Ohlins suspension, Brembo Monoblock M50 Front Calipers.

These elements make the new F4 more advanced than ever before yet with total respect for the history of this iconic machine. Our objective was to create a vehicle that exceeded the expectations of customers based on a new technological platform, focused on electronics and its fundamental contribution improving power delivery of the engine and driving dynamics on the road and on the track. All this combined with a thorough review of the engine to provide competitive performance.
Characteristics In detail, the main features of MV Agusta F4:
• Short-stroke inline four-cylinder engine with central cam chain and radial valves
• MVICS Technology (Motor & Vehicle Integrated Control System)
• ELDOR electronics package with Ride-By-Wire system and four maps engine
-Throttle sensitivity adjustable (selectable between Normal, Sport and Rain)
-Max torque (selectable between Normal, Sport and Rain)
-Variable Engine response (selectable between Normal, Sport and Rain)
- Engine Braking (selectable between Normal, Sport and Rain)
- RPM limiter (selectable between Normal, Sport and Rain)
• Inertial vehicle lean angle sensor
• Traction control adjustable on eight levels
• Anti-wheeling
• Electronic EAS (Electronically Assisted Shift)
• Modular mixed structure frame with hand TIG welded tubular steel trellis and aluminum plates
• Öhlins suspension with electronic control (F4 RR)
• Brembo monobloc brake calipers (model M50 on the F4 RR)
The new F4 in Red/Silver with a Sachs shock and Marzocchi front forks, Brembo M4 Front Calipers. Click to GO BIG

Design
The identity of F4 has been accentuated further with the integration of new design solutions and distinctive features present on the new model. A motorcycle that has already won countless awards in virtue of its beauty. The attention to the sensual form of the bodywork has inspired the
designers choice of graphics and color. The front headlight is flanked by two distinctive light guides positioned on the leading edge of the spoiler: in this way an aerodynamic element becomes a distinctive element of the front view day or night, as well as helping to improve active safety by improved frontal visibility. Similarly the new rear light gains intensity through an integrated light guide. Completely new wheel designs employing considerable weight reduction are now available in two versions: the first, F4, utilizing razor thin spokes and a silver finish, the second of F4 R, F4 RR, further reduces the weight and material thickness through the process of forging aluminum alloy, besides the implementation of a race inspired design. There has been a significant update to the four tailpipe exhaust system, a characteristic feature of the F4 from its incarnation. The two external terminals are now much shorter and tapered, the central pair extends up above the end of the tailpiece. The F4 is even more racing, and lightweight both visually and physically!
Engine
A four-cylinder advanced "short stroke" engine powers the entire F4 range. Piston diameters of 79 mm are combined with a stroke of 50.9 mm. The peak rev limit has been raised to 14,000 RPM for the F4 RR. The assembly is completely by expert technicians and thus very precise, with the selection and measurement of all components to ensure perfect uniformity and maximum performance; A procedure that only MV Agusta could adopt. The engine has undergone a thorough update of the distribution system: the intake and exhaust valves now use a single spring instead of the two of the previous model. In this way the moving mass is reduced to the advantage of the speed reached by the motor and the speed and reactivity to engine rpm. The piston blanks are hard anodized treated to be even more durable and reliable. The connecting rods of the F4 RR are made
of titanium, a solution more akin to a GP racer not a production machine, to offer improved strength and lightweight, matched to a rebalanced crankshaft. The oil circuit has been redesigned, inside and outside the engine crankcase with the aim of ensuring perfect main bearings and connecting rod lubrication increasing reliability, even under extreme working loads. The operating temperature of the engine is now lower, due to the greater radiator efficiency and new oil lines. The short-stroke inline four-cylinder is available in two power configurations: F4 and F4 R reaches
195 hp, while F4 RR is pushed to a record 200.8 hp.

50 mm diameter throttle bodies are employed with a revised variable length intake tract (TSS). The gearbox as on all the MV Agusta four-cylinder engines, is a six-speed unit, with the clutch featuring a mechanical slipper device. Four engine maps are available: three default and to customizable by the pilot.
Electronics
The system MVICS (Motor & Vehicle Integrated Control System) is now integrated onto the new F4 ensuring accurate multimap engine management and driver assistance devices: traction control, anti-wheeling and shifter EAS (Electronically Assisted Shift). The central element is the Ride-By- Wire system: presented for the first time on the three-cylinder F3 675, it has been fully optimized and specifically redeveloped for the new F4. The system has electronic redundancies to ensure maximum effectiveness and the safety required: the data that arrives from the two potentiometers is cross-examined with analog signals, and a third sensor confirms the requirement of complete throttle closure. Two additional sensors are arranged on the throttle bodies. Completely new and developed specifically for F4 is the inertia platform sensor arrangement: it uses three gyroscopes and three accelerometers and provides the electronic control unit an array of information about the of the vehicle dynamics, moment by moment. Consequently, the intervention of traction control and anti-wheeling are particularly accurate thanks to the encoder placed on the front wheel. This system permits improved safety characteristics as well as performance. Riding is therefore simplified for the pilot; a primary objective of the F4 project. The algorithms that define the function of the system MVICS, are in fact maximized continuously to provide the maximum
available torque at the rear wheel, relative to the conditions of the asphalt and pilot request. The electronic assisted gear shift, standard on all three versions, reduces the amount of time required to change gears.

Another innovation is the system which allows you to choose your own settings in respect to the pre selected defaults, Normal, Sport and Rain. This enables you to customize five parameters (sensitivity of throttle, torque, speed limiter, engine response and engine braking), so you can construct a map of engine management that encompasses your personal riding style.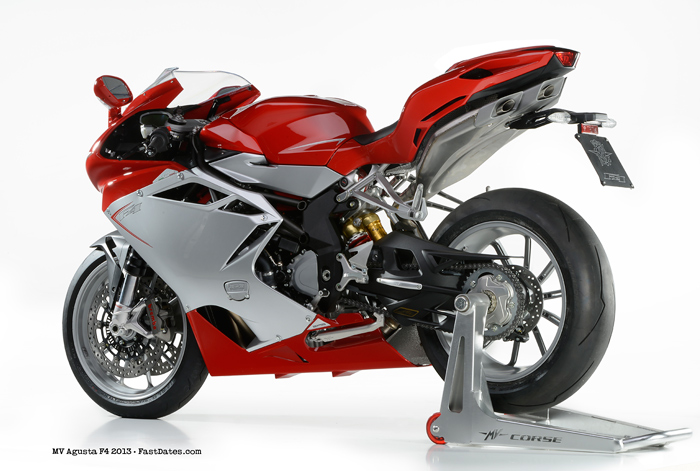 The new F4 in Red/Silver with a Sachs shock and Marzocchi front forks, Brembo M4 Front Calipers. Click to GO BIG.
Suspension
The three versions of the new model offer three distinct combinations of fork and shock while all providing the established traditional handling strengths of F4. The F4 equipment includes a 50mm diameter Marzocchi fork and Sachs shock that are both fully adjustable. F4 R utilizes a race specification Öhlins, again fully adjustable.

Technological excellence and complete personalization are distilled on the F4 RR: Öhlins suspension with electronic control allows the driver to choose between different setups directly from the dashboard. As aforementioned there are specific modes of power delivery for the four
cylinder engine; the pilot, however, may also adjust the suspension in a completely autonomous way from the engine maps. The system provides separate control for compression damping and rebound damping, while customizing the spring preload is manual. The electronic steering damper allows to choose between manual or automatic adjustment, in which case the response varies as a result of vehicle speed.

Brakes
The brake system on the F4 RR is state of the art in the hypersports category. It is composed of two 320 mm diameter front discs with steel flanges. They gripped by the new Brembo Monobloc M50; an absolute reference for performance, weight and stiffness with a specifically designed and
dedicated radial pump. The system is completed by a four piston rear caliper together with a 210 mm diameter disc. The F4 and F4 R replaces the monobloc found on the F4 RR with the effectiverace bred Brembo M4 front brake calipers and Nissin master cylinders.

Colors and Prices
The new F4 range, consisting of the three versions (F4, F4 R and F4 RR), is proposed for 2013 with graphics and colors never seen before. Each version is available in two color combinations.
F4 White - Red/Silver € 16,990* • F4 R White - Red/Silver € 18,990* • F4 RR Pearl White/Black - Red/White € 23,990*
*Every country could have a price variation due to local import duties and taxes.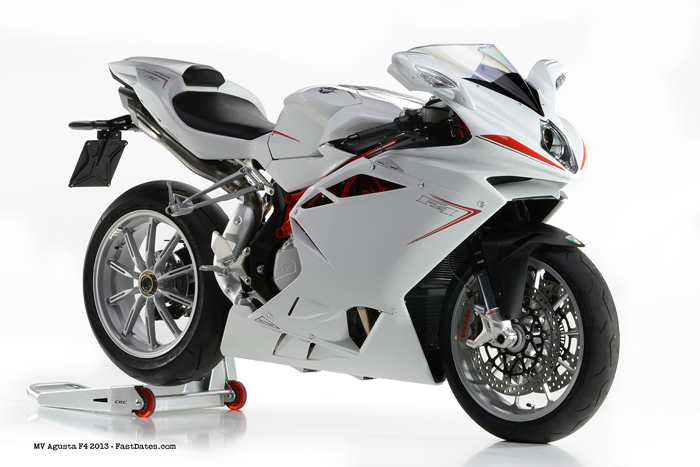 The new F4 in White with a Sachs shock and Marzocchi front forks, Brembo M4 Front Calipers. Click to GO BIG.
---
New Team ParkinGO MV Agusta 2013 World Supersport team riders Roberto Rolfo and Christian Iddon discuss their excitment for the upcoming season with the assembled world press at the MV factory. Click to GO BIG.

MV Agusta and ParkinGO Introduces its New 2013 World Supersport Team
photography by Silvio Tosseghini / STfoto.com

Schiranna, Italy . Feb 1st, 2013 - MV Agusta has formally unveiled the bike that will herald its much anticipated return to international motorsport competition in 2013, when it embarks on a full factory campaign in the World Supersport Championship. The iconic Italian marque announced plans to field a pair of works-backed F3 675 machines in November as part of a collaboration with Team ParkinGO, formenr series champions with Chaz Davies in 2011 and race winners at Superbike level. Presenting the factory backed team today were MV company President Giovanni Castiglioni and legendary Design Enginner Massimo Bordi.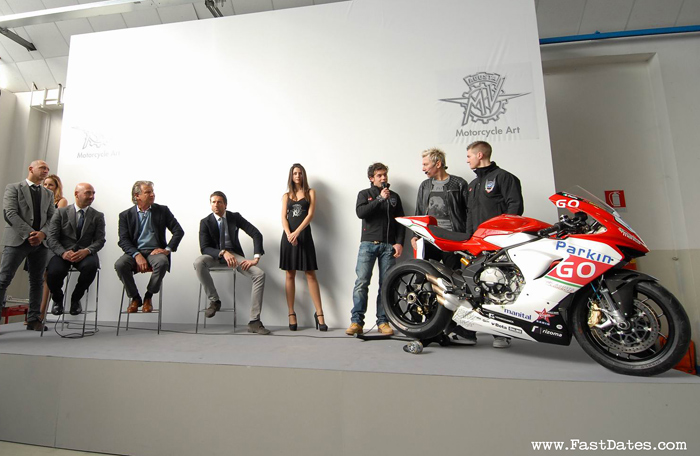 On the MV stage from left, Giuliano and Paolo Rovelli of ParkinGO. MV's Massimo Bordi and Giovanni Castiglioni, MV show model, riders Roberto Rolfo and Christian Iddon talking with the stage presenter. Click to GO BIG.

Taking the wraps off the race-ready machine during a ceremony at its base in Schiranna, the three-cylinder bike was revealed in MV Agusta's corporate red and white colours, with a touch of green added to reflect the tricolore of its Italian heritage. Giuliano Rovelli, the President of ParkinGO together with his brother Paolo introduced the team's two riders who included the experienced Italian Roberto Rolfo and British rookie Christian Iddon. Team ParkinGO gave the F3 its first shakedown at Cartagena earlier this week, though it won't go up against its main rivals until the team arrives in Australia for the official pre-season test at Phillip Island in just over two weeks' time.
MV Agusta's arrival, coupled to a privateer Suzuki effort run by Suriano Racing, means six manufacturers will be represented full-time in the World Supersport Championship for the first time since 1999.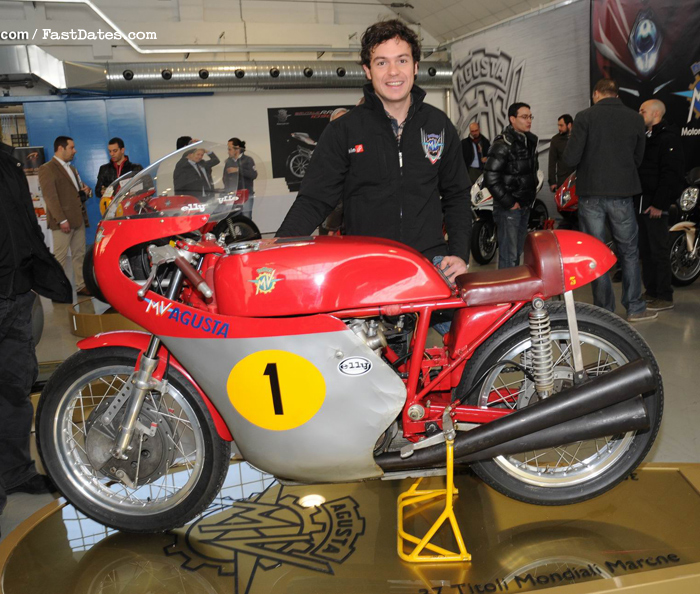 Team rider Roberto Rolfo poses with one MV Agusta's legendary 500cc 4-cylinder GP bikes with which Mike Hailwood won 4 consecutive World Champions beginning in 1962. Click to GO BIG.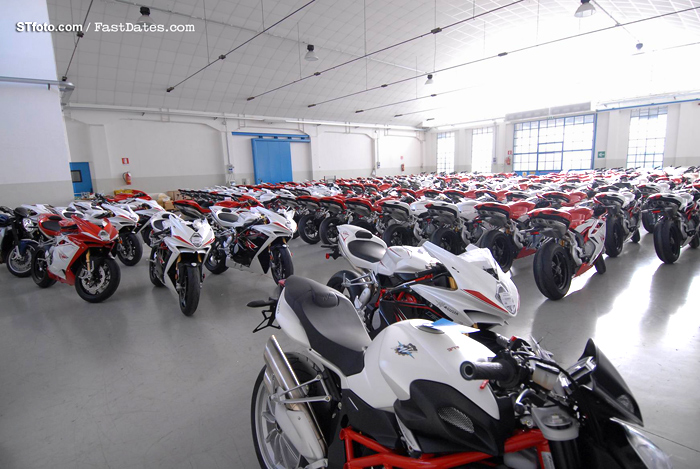 When was the first time you saw some $5 Million worth of MV Agustas in one room? Click to GO BIG


MegaFactory! - National Geographic takes us inside the MV Agusta Factory
The story of modern day MV Agusta and the design and development of the new F3 675 Superbike.
---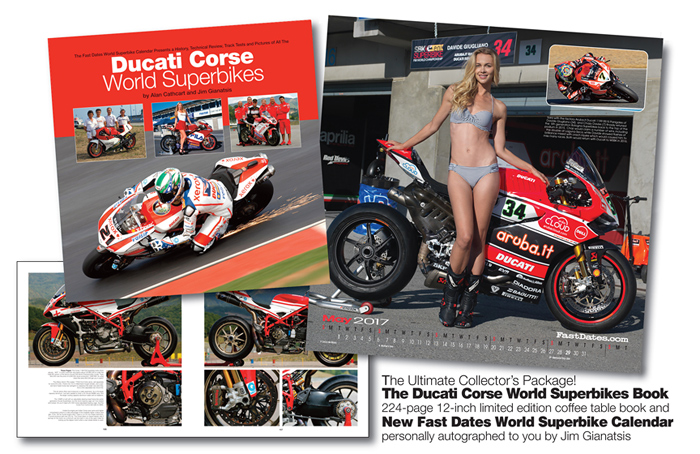 Order Now from Amazon.com USA: USD $69.95 • Amazon.com UK/Europe: UK £55.00 / EUR $55
Exclusive Autographed Collector's Package!
The all new Ducati Corse World Superbikes 224-pg book and the 2013 Fast Date World Superbike Calendar - World Release July 1st 2012
Personally autographed to you (or the name you request on the PayPal.com Order Form) by Jim Gianatsis and shipped direct to you.
For more information or to order the Book or the Calendar individually, unsigned, go to the Sportbike Books and Fast Dates Calendar order pages. $100 Collector's Package, plus $20 USPS Priority Mail Shipping & Handing in the USA.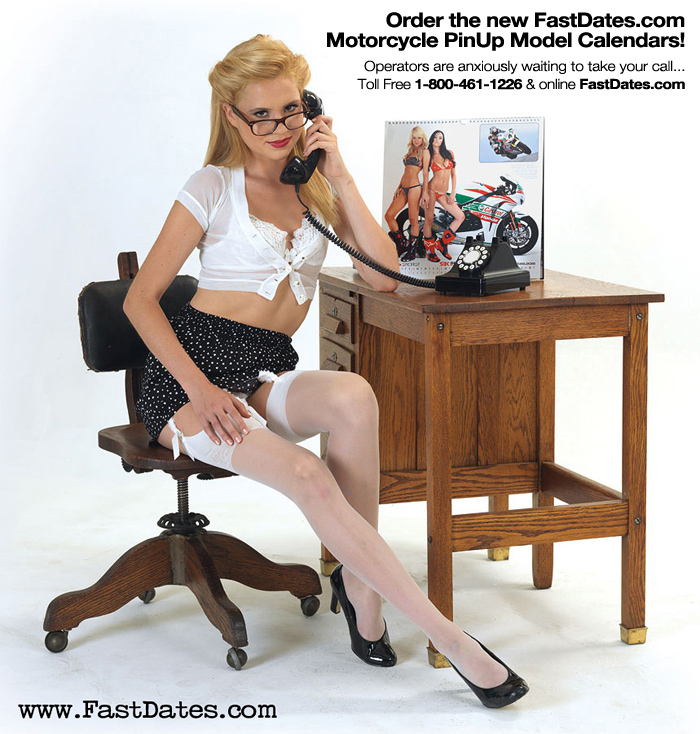 FastDates.com Webite cover model Halle wants to remind you to order your new 2013 Calendars.
Weekdays 8am - 5pm Pacific Coast Time phone Van Leuween Distributing at 1-800-461-1226 or ORDER ONLINE HERE.
---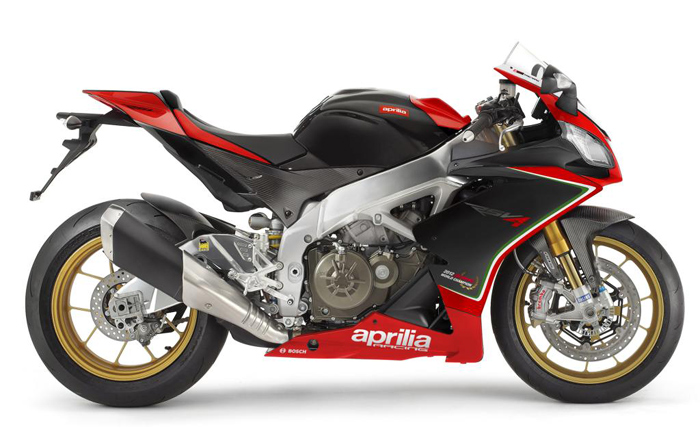 Exclusive New USA Model -
Aprilia's 2013 RSV4 Factory APRC ABS SBK World Superbike Champion Special Edition
January 25th -In honor of the 2012 World Superbike Champion Aprilia RSV4, Aprilia USA has developed a limited edition 2013 RSV4 Factory exclusively for the North American market. Nowhere else in the world will the 2013 RSV4 Factory APRC ABS SBK Special Edition be available for sale. The bike will be available at U.S. and Canadian dealers in April. Pricing will be announced on February 1st.

2013 RSV4 Factory APRC ABS SBK Special Edition Features:
INCREASED PERFORMANCE
State-of-the-art Bosch 3 level ABS
New Brembo M430 front calipers and front brake master cylinder.
Refined Aprilia Traction Control and map 1 Aprilia Wheelie Control for racing use.
Revised engine positioning inside the chassis to ensure ideal weight distribution.
Increased performance exhaust system.
Optimized engine: Friction reduction, Improved crankcase ventilation.
New 200/55-17 rear tire, now also available on the 2013 RSV4 R APRC ABS

VEHICLE OPTIMIZATION
Redesigned fuel tank taken directly from the SBK RSV4 race machines Improved feeling during braking and in the corners
Increased fuel capacity (4.8 gal. / 18.5 l)
Improved ergonomics with Lower rider seat height (-0.19 inch / -5 mm)
New satin headlight finish

For more information and full pictures of the new 2013 Special Edition 2013 RSV4 Factory, please visit www.Facebook.com/ApriliaAmericas.
Aprilia slashes retail prices $2,000 - $4,000 on 2012 V4 models
Jan 31st N.Y. - Aprilia USA has launched a V4ALL campaign promoting much lower pricing for all 2012 V4 models."Aprilia is the World Superbike champion," said Miguel Martinez, president and CEO of Piaggio Group Americas. "It is our V4ALL goal to provide more sportbike riders the opportunity to own and experience a world-championship-derived motorcycle."
Consumers can now own a 2012 Tuono V4 R for $12,999 (down from $14,999), a 2012 RSV4 R APRC for $13,999 (down from $16,999), and a 2012 RSV4 Factory APRC for $18,999 (down from $22,999). Lower prices also are available on earlier RSV4 R and Factory models. Aprilia is advising riders to check with their nearest Aprilia USA dealer.
Each member of the V4 family comes standard with the Aprilia Performance Ride Control system, the brand's World Superbike traction control system. The system also provides wheelie control, launch control and quick shift.
---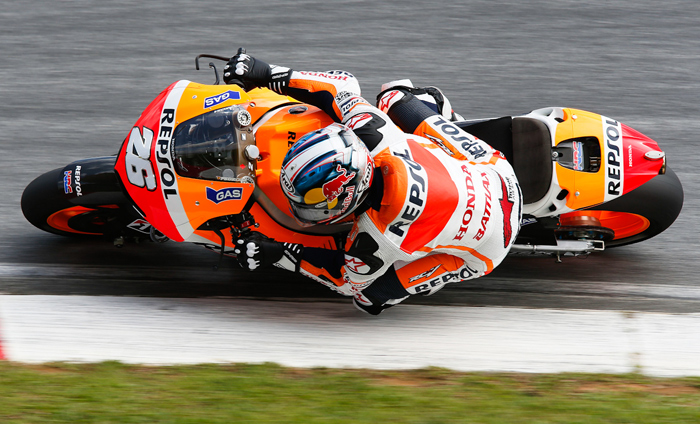 Dani Pedrosa was quickest.
2013 MotoGP World Championship

Honda's Pedrosa tops 3-day MotoGP Tests in Indonesia as Ducati flounders way off pace.
Sepang, Indonesa, Feb 7th 2013 - Repsol Honda Team's Dani Pedrosa heads into the two-week break as the man to beat after ending the final day of three days of official MotoGP testing at Sepang test on top, as riders across the field dropped their laps times each day.
Pedrosa's rookie teammate Marc Márquez gave everyone a scare in the morning as he crashed in the final turn at speed, although he walked away unscathed and could continue his work on his second bike. He stated that he tried to turn in despite missing his braking marker and lost the front. A record lap set by Spaniard Pedrosa of 2:00'100 was not beaten all day, as Yamaha Factory Racing's Jorge Lorenzo ended just over three tenths off, himself focussing on a race simulation later in the day.

The Doctor is in, and back, in new team Yamaha sponsor Monster Energy colors.
His Italian teammate Valentino Rossi also showed that he could get below the 2:01 mark, leaving it until just before lunch to post his fastest time that saw him end the day in third behind his teammate. Spaniard Márquez, despite going quicker again today, was this time unable to finish in the top three as he put in a lengthy run at the end, yet stayed a close fourth, challenged by the impressive Cal Crutchlow, the last rider below the 2:01 mark, on his 2012 Monster Yamaha Tech 3 machine. The Brit said afterwards he hoped to receive some of the upgrades the factory team is testing, as he feels there is some more speed to be found.

LCR Honda MotoGP's Stefan Bradl just missed out on that feat with a time of 2.01'003, although the German looked on good form as he went quicker once more on his RC213V. Go & Fun Honda Gresini's Spaniard Álvaro Bautista improved over yesterday's time, getting more dialled in to the bike's geometry and Showa suspension, with British Tech 3 rookie Bradley Smith continuing his steep, but progressive, learning curve in eighth. Smith also undertook a race simulation early in the day before setting his best time.

The Ducati Corse factory team and its Parmac Support Team found itself well off pace at the bottom of the factory teams with US rider Nicky Hayden only gaining a second over the three days, as he ended the day in ninth and 2 seconds behing Pedrosa, with Italian teammate Andrea Dovizioso less than a hundredth behind. Yamaha test rider Katsuyuki Nakasuga was the first outside of the top ten, in front of Power Electronics Aspar's Spaniard Aleix Espargaró, who put in a tremendous effort to place his CRT 12th, and just over 2.5s off the top. He ousted the factory Ducati Pramac Team's Italian rookie Andrea Iannone into 13th, who was without American teammate Ben Spies today, as the Texan decided to sit it out and let his shoulder recuperate before the second Sepang test. He finished the overall standings in 15th.

HRC test rider Kosuke Akiyoshi headed Paul Bird Motorsport's Brit Michael Laverty, who has improved by nearly 3s over the three days on his MotoGP™ debut. He beat established French Aspar rider Randy de Puniet, who finished ahead of Yamaha test rider Wataru Yoshikawa, Avintia Blusens' Héctor Barberá and HRC test rider Takumi Takahashi. Came IodaRacing Project's Danilo Petrucci ended the day in 20th, in front of Cardion AB Motoracing's Karel Abraham, Avintia's Hiroshi Aoyama, NGM Mobile Forward Racing's Claudio Corti and Ioda's Lukas Pesek. Rounding out the back of the grid are PBM's Yonny Hernandez, who is still trying to fix chatter issues, as well as NGM's Colin Edwards and Gresini's Bryan Staring. Edwards was left frustrated by the lack of progress, but said that the work had now been done to come to the second test with a much more complete package.
Sepang Test Times - Day Three:
1. Dani Pedrosa ESP Repsol Honda (RC213V) 2m 0.100s (Lap 4/44)
2. Jorge Lorenzo ESP Yamaha Factory (YZR-M1) 2m 0.429s (4/58)
3. Valentino Rossi ITA Yamaha Factory (YZR-M1) 2m 0.542s (43/55)
4. Marc Marquez ESP Repsol Honda (RC213V) 2m 0.636s (32/54)
5. Cal Crutchlow GBR Yamaha Tech 3 (YZR-M1) 2m 0.734s (5/53)
6. Stefan Bradl GER LCR Honda MotoGP (RC213V) 2m 1.003s (14/43)
7. Alvaro Bautista ESP Honda Gresini (RC213V) 2m 1.502s (29/48)
8. Bradley Smith GBR Yamaha Tech 3 (YZR-M1) 2m 2.093s (43/48)
9. Nicky Hayden USA Ducati Team (GP13) 2m 2.184s (19/49)
10. Andrea Dovizioso ITA Ducati Team (GP13) 2m 2.277s (37/38)
11. Katsayuki Nakasuga JPN Yamaha Test Rider (YZR-M1) 2m 2.616s (12/21)
12. Aleix Espargaro ESP Aspar (ART CRT) 2m 2.628s (37/47)
13. Andrea Iannone ITA Pramac Racing (GP13) 2m 2.864s (17/32)
14. Kosuke Akiyoshi JPN Honda Test (RC213V) 2m 3.082s (14/28)
15. Michael Laverty GBR Paul Bird Motors (ART CRT) 2m 3.874s (40/47)
16. Randy De Puniet FRA Aspar (ART CRT) 2m 4.066s (38/38)

17. Wataru Yoshikawa JPN Yamaha Test (YZR-M1) 2m 4.137s (5/18)
18. Hector Barbera ESP Avintia (FTR-Kawasaki CRT)* 2m 4.211s (31/37)
19. Takumi Takahashi JPN Honda Test (RC213V) 2m 4.288s (37/46)
20. Danilo Petrucci ITA Ioda Racing (Suter-BMW CRT)* 2m 4.531s (32/34)
21. Karel Abraham CZE Cardion AB (ART CRT) 2m 4.766s (57/61)
22. Hiroshi Aoyama JPN Avintia (FTR-Kawasaki CRT)* 2m 4.940s (43/45)
23. Claudio Corti ITA Forward (FTR-Kawasaki CRT)* 2m 5.107s (13/37)
24. Lukas Pesek CZE IodaRacing (Suter-BMW CRT)* 2m 5.321s (39/40)
25. Yonny Hernandez COL Paul Bird Motorsport (ART CRT) 2m 5.580s (14/43)
26. Bryan Staring AUS Honda Gresini (FTR-Honda CRT) 2m 5.970s (38/41)
27. Colin Edwards USA Forward (FTR-Kawasaki CRT)* 2m 6.141s (38/41)
* Control ECU.
---
Jonthan Rea on the new Pata Snacks sponsored factory Honda with the team still run by Ten Kate, together with new team mate Leon Haslam, look to be two of the top contenders for the 2013 season.
World Superbike Teams heading for first 2013 Testing in Spain
Jan 23-24th - The 2013 eni FIM Superbike World Championship got underway this past week at Jerez, Spain for many of the factory race tams. It was the first opportunity for the new teams and riders to try out the new bikes they will be racing for the coming season. Many of the bikes appeared in Black carbon fiber bodywork, which looked really cool, as many are still finalizing their sponsors and team colors. CONTINUED
---
Speed Charts courtesy MotorcycleNews.com
Which is really Fastest? MotoGP versus World Superbikes
Here is a really interesting comparison our friends at Motorcycle News in England put together to compare the performance of last season's 2012 MotoGP bikes versus factory World Superbikes. As you know FIM and Dorna created the CRT category of bikes in MotoGP to help fill the diminishing grid of prototype factory bikes in the expensive MotoGP class, by allowing privateer teams to use 1000cc production superbike engines in prototype MotoGP style chassis, prototype frames required so not to infringe on the all production based bikes used in World Superbike.
The minimum weight for MotoGP and CRT bikes in 2012 was 157kg /345 lb, and it will rise this year 2013 to 160kg / 352lb. For comparison the FIM minimum weight in 2012 WSB was 165kg / 363lb for 1000cc four cylinders, while the 1200cc V-Twin Ducati's 1198RS's were restricted with an additional 6kg - 171kg / 376lb and 52mm engine intake restrictors (production 1198 Ducati Superbike models came stock with 58mm intakes. For 2013 the 1200cc V-Twins will get to loose the 6kg / handicap and all WSBK bikes will be at 165kg / 363lb, but the all new 1199RS Panigale will still have to breath through 52mm intake restrictors.
The above APRILIA: WSB v CRT comparison chart shows that an Aprilia RSV4 powered CRT prototype as ridden by Randy De Puniet, despite being 8kg / 18lb lighter, with trick composite brake rotors and exotic Bridgestone tires, was actually slower than Max Biaggi's Aprilia Superbike. Max's riding talent might have had a little to do with it, but De Puniet team could have saved a lot of money and gone faster if they could have purchased a raced an Aprilia race spec World Superbike with sold last season for around $74,000. They probably spent 2-3 time that amount to built their Aprilia RSV4 powered CRT bike.
The above Ducati: WSB v MotoGP comparison is also fair for judging top factory MotoGP bike vs WSB bikes, in that Valentino Rossi's GP12 Ducati prototype was about 0.25 seconds a lap off the pace of the factory Honda and Yamaha MotoGP bikes of Casey Stoner and Jorge Lorenzo. And Carlos Checa's Ducati 1198RS WSB bike with its 6 kg / 13.2lb weight handicap was about .25 seconds slower than the top factory Aprilia, BMW and Kawasaki superbikes. As the above chart shows the lap time difference last year 2012 between a factory MotoGP bike vs factory WSB bike was around 1.5 seconds.
That lap time difference between factory MotoGP vs WSB will come down even closer in 2013 with the added 160kg / 352lb weight increase in MotoGP, and even closeragain in 2014 as the announced fuel restrictions come into play and if composite brake rotors are possibly outlawed to further help reduce costs in the prototype class. In these two premier motorcycle roadracing classes, when tire contact patch area, engine design and displacement, weight, chassis and bodywork design are all do similar, production based Superbikes are now just as fast as factory MotoGP bikes. And we already know World Superbike puts on more exciting racing because their are more manufacturers and teams, more production bikes and good riders capable of winning. If a current World Superbikes could run at the same weight, with the same composite brakes and the same tires as MotoGP bikes, Superbikes could run on par and have a good chance of beating a MotoGP bike.
I also love sports car racing. But in car racing it's not possible to make the same prototype vs production racing comparison. In automobile roadracing, there's a wide gap between pure race Formula One and a Production Based Sports Cars because when you have 4 wheels and aerodynamic bodywork providing huge down force, and a 1,000 pounds difference in minimum weight, a single seater F1 car will soundly thrash a production GT car by some 15-20 seconds a lap on any track. But then just as interesting, a full bodied Le Mans 2-seater prototype sports car with even 500 more pounds more weight than an F1 car, has better aerodynamics and downforce with its enclosed wheels and cockpit, and can generate even higher cornering, braking and top speedsthan an open wheel F1 car on many tracks. So there is a real fan base for all types of Grand Prix, prototype LeMans and production based GT roadracing cars. And I won't even get into NASCAR
Which begs the question for the two premier leagues in motorcycle roadracing- do we really need MotoGP any more? The bikes are not that exotic or exciting any more with the need to keeps the cost and the speeds under control, and everyone agrees the racing is really boring. World Superbikes are actually faster than the CRT bikes which make up half the MotoGP class. At the very least, MotoGP should allow the entry of production based Superbikes with similar weight and brakes, to fill up the GP grid so their races will be closer and more exciting again. All Dorna would need to do is limit Superbike entries to privateer teams, so all the factory Superbike teams will remain in WSBK. What do you think? - Jim Gianatsis, Editor
---
There's more! Go to Pit Lane News Previous Week

Also Visit: Fast Dates Calendar News • Iron & Lace Calendar News
Calendar Girl News • Meet the Models • Paddock Garage
Get FastDates.com T-Shirts, Mugs & Photographs from Our Store

MEMBERS CORNER! Calendar Kittens, Paddock Garage, Iron & Lace Garage


Amazon.com Motorcycle Products & Apparel Store



MotorcycleSuperstore.com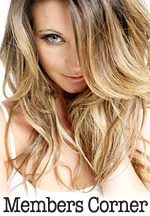 Hot Bikes, Sexy Kittens
Your Exclusive Grid Pass
also includes....
---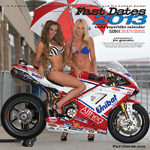 Order the New
2013 Calendars!
with FastDates.com Calendar Kitten, Ducati Corse Grid Girl
and Playboy Playmate
Heather Rae Young!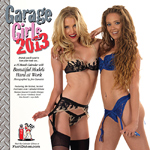 Click for even more Calendars!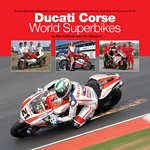 Retail $69.95 ea.
Click to Order from Amazon.com

Ducati Corse
World Superbikes
by Alan Cathcart
& Jim Gianatsis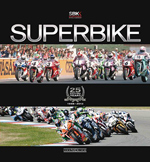 The Official SBK
World Superbikes
1987-2012
25 Year History Book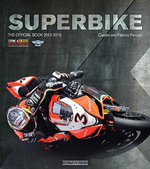 The Official SBK
2012-2013 Yearbook
These SBK Yearbooks are the Best Books Ever about World Superbike. They feature awesome color photography of the riders, bike and racing action. The feature a detailed revue of the past season in pictures and statistics, with a detailed look at the bikes and riders.

Plus a technical look data all the bikes, a preview of the upcoming season's Championship!
We buy this every year ourselves and highly recommend it!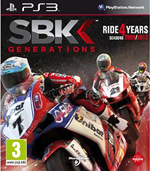 SBK World Superbike Video Game
---
India's Budd International Circuit added to 2013 World SBK Calendar as Final Round
As the World Superbike Championship enters its 26th year in 2013, a record 15-16 rounds will be featured on the schedule.
Jan 15th - The newest additions are the Buddh International Circuit near New Delhi in India, Jerez in Spain, and the one that's going to excite American World SBK fans – Laguna Seca Mazda Raceway. World Superbike has only visited the Jerez circuit – a normal on the MotoGP schedule – one other time back in 1990.
The FIM moved the Buddh WSBK date from March 10 to Nov. 17, which is the final round. The FIM says: "The World Superbike race in India has been moved from 10 March to 17 November due to an insufficient period of time to properly finalize the training of the marshals and medical staff around the racetrack.
"FIM representatives will be at the Indian track on 19, 20, and 21 this January in order to carry out the final racetrack homologation and provide the relevant seminars about the different aspects involved in the sporting organization of the event."
The 2013 World Superbike schedule is lacking three circuits that were on the 2012 calendar – Misano (San Marino), Brno (Czech Republic) and Miller Motorsports Park (Utah, USA). But one of these may return (likely Brno or Misano).
In February, World Superbike, which will be marketed under the same umbrella as MotoGP with Dorna Sports, confirmed it would return to Sentul, Indonesia, where the series competed from 1994 to 1997. But things appear to be pushed back another year. Portimao is scheduled for round 8 June 7-9, but is still subject to contract.
As tradition, the 2013 World Superbike Championship will get underway at Phillip Island, next year's Australian race held Feb. 22-24. World Superbike will also hold the official test the Monday and Tuesday before the season at Phillip Island, which is the most frequently visited venue in World SBK history. The series has met there 22 times since 1988.
The 2013 World Superbike finale will take place Nov. 17 at Buddh International Circuit. Heading into 2013 World Superbike, the man who would have donned the number-one plate, Max Biaggi, retired. The Aprilia Racing Team rider won the 2012 World SBK Championship, his second title in the series (first arriving in 2010 with Aprilia).
2013 World Superbike Provisional Calendar:
February 24: Phillip Island, Australia
April 14: Aragon, Spain
April 28: Assen, Netherlands
May 12: Monza, Italy
May 26: Donington, UK
June 9: Portimao, Portugal
June 23: TBA
June 30: Imola, Italy
July 21: Moscow Raceway, Russia
August 4: Silverstone, UK
September 1: Nurburgring, Germany
Sept 29: Laguna Seca USA
October 6: Magny-Cours, France
October 20: Jerez, Spain
November 17: Buddh International Circuit, India
Consumer International Motorcycle Show tour
joins Dealer Expo in Indianapolis February 15-17th.
Dec 7th, 2012 - The largest consumer motorcycle show tour launches its first Indianapolis event during Dealer Expo weekend in February 2013. The Progressive International Motorcycle Shows will make a weekend stop at the Indiana Convention Center Feb. 15-17, co-locating with the 2013 Dealernews International Powersports Dealer Expo being held that same weekend in a separate area of the facility.
"Our goal in developing one, single powersports weekend was to make sure we listened carefully to our customers, so that we created the right format, in the right city, at the right price and built the combined trade and consumer industry event they wanted," said Advanstar Executive Vice President Danny Phillips.

Dealers attending the 2013 Dealer Expo will be able to visit the motorcycle show for free on Sunday afternoon. Show management encourages dealers to schedule meetings with their OEMs during this time. Dealers also will have the opportunity to view the 2013 models from a number of vehicle manufacturers.
Consumers will not be granted access to the Dealer Expo, nor any of its features and events, until Sunday afternoon, when the entire facility will be open to all trade and consumer attendees. The Dealer Expo will remain a secured, trade-only event from Friday morning to noon on Sunday, according to show management.
For more information on the Indianapolis Progressive International Motorcycle Shows, visit www.motorcycleshows.com. To register for Dealer Expo, visit www.dealerexpo.com.
Japanese Manufacturer's Bike Sales Struggle while European Brands Hit New Highs
Ducati North America Reports All-Time Record Sales for 2012
The Japanese motorcycle brands continue to struggle to survive as America and the World continues to recover from the recent Economic Depression. In part, because they tighten their belts during the economic downturn and stop development on new bikes, and are now caught in the recovery with no new offerings to excite buyers. While the European brands Ducati, BMW and KTM and Triumph continued to invest in exciting new designs that have come into production, attracting the interest of American Baby Boomers who still have money to spend on expensive new toys. While Japanese brands like Suzuki, Kawasaki and Yamaha in particular, who do not have strong selling automotive lines to help support them, are now in serious trouble.

Ducati NA Reports Ten Consecutive Quarters of Retail Sales Growth
Retail Sales Increase of 21% over 2011
Sales Increases in every North American Region
42% annual increase in Apparel and Accessories sales

Cupertino, Calif. (January 17, 2013) – Ducati North America today reported achieving the highest sales in the company's history, with a record 10,883 units retailed in 2012. This result marks the company's tenth consecutive quarter of increased sales and further solidifies North America as Ducati's number one global market.

This all-time sales record was achieved thanks to a sales increase of 21 percent versus 2011, despite the industry trend of marginal growth. Each North American region achieved sales increases in 2012, with USA growing 21 percent, Canada 25 percent and Mexico 7 percent.
Ducati's line of apparel and Ducati Performance accessories also registered new sales records, with a significant annual growth of 42 percent.

"Ducati's new all-time sales record and the consistent growth in all North American markets confirm our customers' extremely positive response to our products and marketing programs," said Cristiano Silei, CEO of Ducati North America. "We are fully geared to continue this growth in 2013 with many highly-anticipated new products and our strongest dealer network to date."

The largest and most diverse product offering in Ducati's history continues to attract customers to the brand. Ducati's flagship Superbike, the 1199 Panigale, saw impressive sales in its first months on the market and earned "Bike of the Year" honors by Motorcyclist magazine. The new Streetfighter 848 was awarded "Best Middleweight" by Cycle World magazine. The Monster family of motorcycles, Ducati's highest selling model, celebrates this year its 20th Anniversary. The Diavel received "Best Cruiser" by Cycle World magazine and by MotorcycleUSA for the second-straight year.

New models for 2013 include the completely redesigned Hypermotard family as well as new versions that expand Ducati's offering in the adventure-touring segment: the new flagship Granturismo which completes a totally refreshed Multistrada line-up, and the all new, more versatile, Diavel Strada and Hyperstrada.
Meet 2013 Calendar Kitten
Shannon Baucom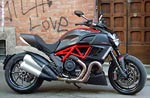 The Devil Made Us Do It!
Testing the Ducati Diavel in Italy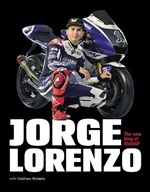 Sudco High Performance & OEM Replacement Parts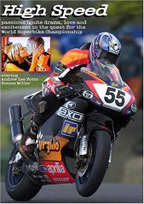 High Speed - the Movie
The best motorcycle racing movie ever made! Filmed on location at the World Superbike races , this an exciting romantic drama staring beautiful British actress Sienna Miller.
---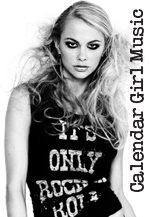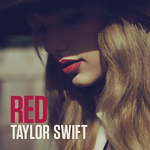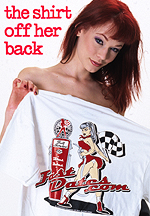 Order the Official
FastDates.com &
LA Calendar Bike Show
T-Shirts!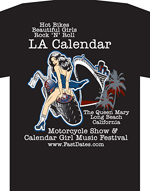 ---
'Mr. Daytona' Scott Russell to headline AMA Motorcycle Hall of Fame Breakfast at Daytona, presented by Motul, during Bike Week
PICKERINGTON, Ohio -- The AMA Motorcycle Hall of Fame is pleased to announce that "Mr. Daytona" -- five-time Daytona 200 winner Scott Russell -- will be the featured guest at its annual AMA Motorcycle Hall of Fame Breakfast at Daytona, presented by Motul, on Friday, March 15, 2013, 7:00 a.m., at the Daytona 500 Club on the infield at Daytona International Speedway.
Taking place during 2013 Daytona Bike Week, the fundraising breakfast will feature a live interview with Scott Russell on stage, an audience Q&A period and an autograph session with the AMA Hall of Famer and Daytona 200 legend. The event is open to the public, and tickets are available now at www.motorcyclemuseum.org. Proceeds benefit the American Motorcycle Heritage Foundation, which raises funds for the Hall of Fame.
"Scott Russell practically owned America's most prestigious motorcycle roadrace in the 1990s, racing against the best riders in the U.S., and often, Europeans who would travel to the States to compete," said AMHF Chairman Jeff Heininger. "If Scott was in the race, more often than not, everyone else was racing for second place.
"It's more than fitting that the stars have aligned to feature Mr. Daytona at the AMA Motorcycle Hall of Fame Breakfast at Daytona -- at Daytona International Speedway," Heininger added. "This is one event that fans won't want to miss."
Russell said he's looking forward to connecting with fans and catching up with old industry friends at the Breakfast at Daytona.
"As a fan, a racer, and now as a TV commentator, I've been coming to Daytona in March forever, and it's great now to be hosted in one of my favorite places in support of the AMA Motorcycle Hall of Fame," Russell said. "Daytona will always be a special place for me."
Russell may be best known for winning the Daytona 200 in 1992, 1994, 1995, 1997 and 1998, but he also won the AMA Superbike Championship (1992), and the World Superbike Championship (1993). In addition, he holds three AMA 750 Supersport titles, and won the famous Suzuka Eight-Hour endurance race with Aaron Slight in 1993.
PEDROSA COMPLETES SEPANG TESTING DOMINANCE
Sepang, Feb 7th - Dani Pedrosa (Repsol Honda RC213V) took top honors for the third consecutive day of MotoGP testing at the Sepang International Circuit, cementing his dominance and making him the early favorite for the 2013 MotoGP World Championship. Team-mate Marc Marquez finished his first three-day Sepang test with the fourth fastest time after having been third fastest on the first two days, and also after concluding a successful race simulation. And Honda riders Stefan Bradl (Team LCR Honda MotoGP) and Alvaro Bautista (Go & Fun Honda Gresini) again finished with the sixth and seventh fastest times, as they'd done a day earlier.
The test marked the first time in his career that Pedrosa had swept to honours on all three days of of a test, though that wasn't his aim. His aim was to improve his Repsol Honda RC213V, which he did through a structured and efficient testing programme. Pedrosa diligently worked through a number of development issues on the second year 1000cc machine, with an emphasis on weight distribution. By rule, the Repsol Honda RC213V weighs three kilograms more than it did last year and Pedrosa, who bore the brunt of the development work, was tasked with finding the optimal location for distributing the added weight.
He left the test satisfied and looking forward to returning in less than three weeks' time, when he hopes to test new Ohlins forks and shocks, clutch parts, and software settings.
The 19-year-old Marquez narrowly missed out on finishing third, the hypothetical front row, for the third day in row, though there was no shame in finishing fourth. Just ahead of him were two world champions, Valentino Rossi in third and reigning world champion Jorge Lorenzo in second.
Marquez showed dazzling speed in the first test of the new year, putting himself near the top of the order from the outset. The team studiously provided him with the tools needed to improve his efficiency on the Repsol Honda RC213V and he made the most of them. He had a brief setback in the morning when he crashed for the first time in the MotoGP class, but he was unfazed and quickly got back up to speed. His fast lap of 2m, 0.636s came on the 32nd of 33 laps, at the 5.548km Malaysian circuit.
In the afternoon, Marquez did a simulated race, 20 laps at speed to learn how the motorcycle would react with a lighter fuel load and used tyres. The times were remarkably consistent, which is what Marquez and the team were looking for as they head into the season. The Honda riders will return to Sepang in three weeks time, Feb. 26-28, to continue their off-season testing.

Dani Pedrosa (Repsol Honda RC212V): 1st, 2m, 0.100s
We can leave Sepang with a good feeling, because we had good lap times on all three days. We were able to put in a lot of laps and, above all, try out some important things with the engine and the bike weight to adjust to the three kilos more for this season - dictated by the new rules. Today we focused on rear tyres, in particular the new Bridgestone hard compound. It is similar to the old one with a little more grip in some areas, but it also creates more chatter. We finished the test well and hope to continue like this in the following ones.
Marc Marquez (Repsol Honda RC212V): 4th, 2m, 0.636s
I am very happy with the results that we have had from these three days, above all because I gradually got more consistent with my times. This was what we were looking for from this test. Day by day we improved our times, but this is secondary, really. The important thing is that we made our first race simulation, which has helped me to understand the class and the bike better and his given us a lot of information for the next test. We also had a first crash, which luckily was fairly light. I lost the front on the brakes, but I was unhurt and the overall verdict on the test is still very positive.
Successful Sepang Tests for Yamaha's Dream Team
Feb 7th - Yamaha Factory Racing riders Jorge Lorenzo and Valentino Rossi today completed the third and final day of the first official MotoGP test of 2013 at the Sepang International Circuit in Malaysia. Despite the threat of bad weather both riders were able to enjoy a good amount of dry track time to work through a number of potential engine and chassis specifications for the 2013 YZR-M1. Reigning World Champion Lorenzo delivered his trademark consistency from day one, leading the time sheet at times and never straying far from the front. The Mallorcan was under the official race lap record of the Sepang circuit this morning and just a tenth of a second from the official pole record. He went on to complete a long run this afternoon to wrap up the test. Teammate Rossi continued to go from strength to strength having been reunited with the YZR-M1, the Italian again improving on his time from the day before by nearly half a second to finally dip under the 2'01 mark and finish in third place just over a tenth of a second from teammate Lorenzo in second.
The Japanese Yamaha engineers will now take the valuable data gained back to Japan to work towards the second Sepang test in a few weeks time.
Jorge Lorenzo, 2nd Quickerst 2'00.429 - "I think these three days have been positive for us. We tried many things and some of them were good. We need to reconfirm again in another track but here we were able to improve a little bit. I was able to make a simulation this afternoon, the first one I've done in Sepang in my GP career. I felt strong physically, mentally and riding so it was good. The other riders are also really strong so it promises to be an interesting season."
Valentino Rossi, 3rd Quickest 2"00.542 -"I'm very happy, all three days were very good. We worked hard on the bike and improved day by day. The third day was the best, we were able to stay less than half a second from pole position and the lap time is higher which is interesting. Today we finished third in the standings which is theoretically the front row so I'm very happy with this first test."
Ducati Team's 2013 season starts with a whimper at
first official test at Sepang
Feb 17th - Today marked the conclusion of the three-day IRTA-organized test at the Malaysian Sepang circuit, where teams prepared for the new MotoGP Championship, to start on 7 April in Qatar.

Andrea Dovizioso and Nicky Hayden took to the track on their Desmosedici GP13 bikes.

The Italian, who is making his debut with the Desmosedici this year, had to adapt to a bike and team that are completely new for him and, thanks in part to his recent experience aboard other factory bikes, was able to give his first real feedback to the Ducati engineers regarding the frame, electronics and engine characteristics.

The American, beginning his fifth season aboard the Italian bike, tried to find his rhythm as he used the three days of testing to provide his own valuable input for the future development of the bike.

The team certainly can't be satisfied with its results, so it heads home aware of the challenging work that must be carried out in order to get back toward the top of the time sheets. They will begin trying new ideas during the next test at Sepang at month's end and at the Jerez test in late March.

Nicky Hayden (Ducati Team) 9th, 2:02.110
"We obviously can't be happy when our times are that far off of the top guys, but we knew it was going to be tough. Sepang has never been a particularly good track for Ducati: we raced here in October, and the bike hasn't changed much since then. We found a couple little things over the course of the test, which allowed us to improve our consistency on day three, but I think we need something big. Anyway, it was nice to be back on the bike and working with the guys. The team has worked extremely hard, and we just have to stay motivated and keep giving them the right information so that we can hopefully start making some real progress soon."

Andrea Dovizioso (Ducati Team) 10th, 2:02.277
"Yes, it was a difficult test but we didn't expect it to be any different. We're here to improve the situation and everybody knows the level we are now so we have to improve. We tested as much stuff as we could, because we're focused on improving the bike. The gap to the others is big, and we pushed a lot to understand the bike. I gave a lot of feedback, maybe too much! We don't know how the next test in Sepang will be. There's too short a time between now and then, so it's difficult to do something big in this time. We still have to decide which parts we can bring to the second test. Unfortunately, we need time to try something big."

Paolo Ciabatti, Ducati MotoGP Project Director
"Obviously, we're not satisfied. We knew we were starting from a base that needed significant development work, but it's not nice to realize we're still so far from the leaders. Still, our engineers gathered important data, and now the only thing to do is to roll up our sleeves and continue the development program in the factory. The goal is clear: bring Ducati back to the top of the results sheet as soon as possible."