March - April 2009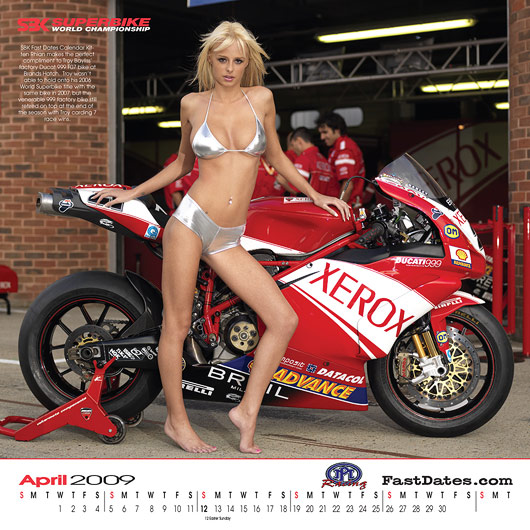 This Month in the 2009 Fast Dates Calendar
Our beautiful British Fast Dates World Superbike Calendar Kitten Rhian Snugden warms things up for Spring with Troy Bayliss' factory Ducati Corse 999F07 World Superbike at Brands Hatch International Raceway.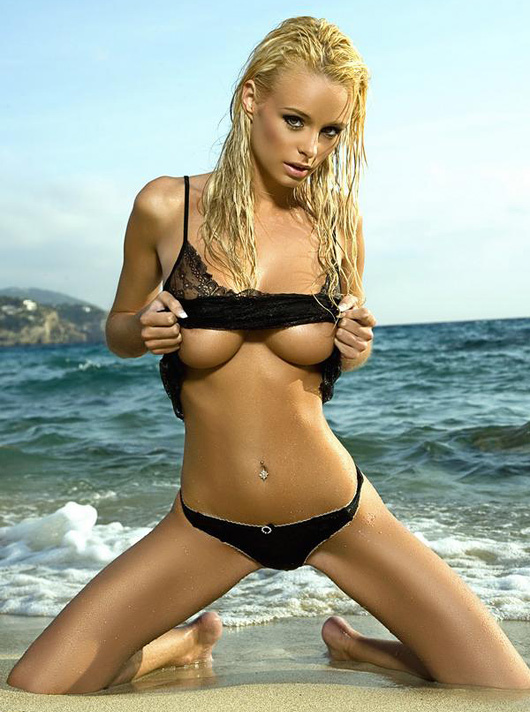 Buy the 2009 Fast Dates Calendar • Visit Rhian's Calendar Kitten Portfolio
Download Big Calendar Screensaver Photos and see Rhian uncovered in Members Corner
---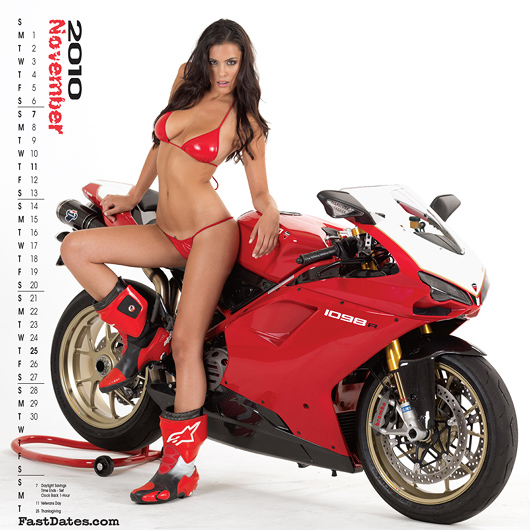 Ducati Corse SBK Confirms hot new Calendar Kitten Sabella
for Miller USA World Superbike May 31st
Los Angeles, April 1st - FastDates.com is excited to announce that Team Ducati Corse World Superbike has confirmed new 2010 Fast Dates Calendar Kitten Sabella Shake to be one of the team's official grid girls at the Miller Motorsports, Utah, USA World Superbike Round on Sunday May 31st 2009. This continues a long standing tradition in World Superbike where the official SBK endorsed Fast Dates World Superbike Calendar models have served as the official grid girls for SBK and top factory race teams including Ducati Corse and Alstare Suzuki. At this year's race Sabella will be be the Ducati Corse umbrella girl for team riders Noriyuki Haga and Michelle Fabrizio, assuring they look goodand stay cool and on the starting grid before the heat of battle.
Sabella will be at Miller Motorsports Park for the World Superbike Weekend to shoot with renoun motorsports and fashion photographer Jim Gianatsisfor the next edition of the Performance Machine sponsored SBK Fast Dates Calendar World Superbike Calendar with all the top factory World Superbike teams.
Beautiful Sabella, age 21, was born in Monterey California, but moved to Los Angeles a few years agoafter high school to pursue a modeling career and a higher education. She is currently in her third year of business law at Loyola Mary Mount University and can't wait to be a "....sexy attorney who kicks butt in the courtroom!"
In the meantime, while you wait to get your butt kicked by Sabella in court, you can check out her current physical evidence all 3 editions of the 2010 FastDates.com Calendars: Fast Dates sportbikes, Iron & Lace custom bikes, and Garage Girls where this sexy brunette also appears on the cover of two of the Calendars with beautiful blond haired Calendar Kitten Rachel Bernstein. The new 2010 FastDates.com Calendars go on sale at your favorite motorcycle dealer and online from July 1st 2009, while both Sabella and Rachel will be premiering with the Calendars in person at the 18th annual LA Calendar Motorcycle Show Weekend July 18-19th. Complete Calendar ordering information and Bike Show details are online at www.FastDates.com.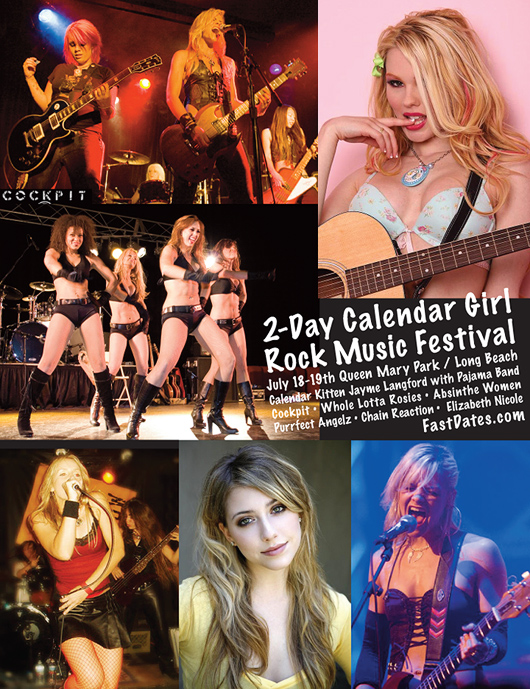 ---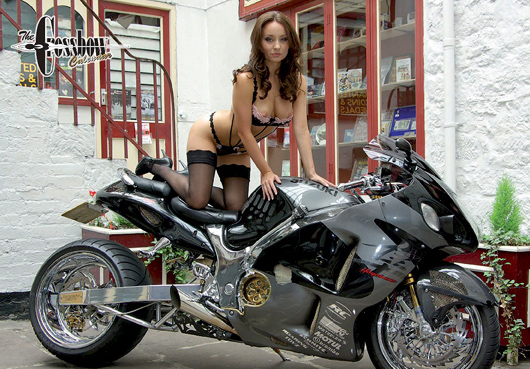 And now for something a little different...
The Crossbow Sportbike Calendar 2009
Over in England our long time FastDates.com Calendar distributor and friend John Winthrope at Crossbow Calendars has been photographing and publishing his own sportbike calendar since 1985. The calendar features an eclectic mix of custom and exotic sportbikes and race bikes shot on location in very British locals with very sexy British Page 3 models. The calendar's format is similar to ours in big 15x13 inch spiral wire bound style, and sometime the models do appear topless. If you 'ld like to pick up a copy of John's 2009 and other edition calendars, he does take charge cards and ships world wide, so just log onto his web site at: www.Crossbow-Calendars.com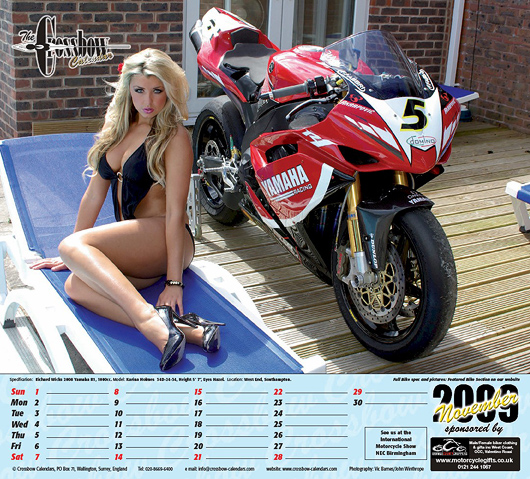 ---
Beautiful Tamara Wasson on location at the classic Texaco service station in Hollywood, California, with Kevin Schwantz's 1994 GP World Championship Suzuki RG500 in the photo featured on the cover of the 1996 Fast Dates Calendar.
First Time Ever! FastDates.com Calendar Images Available for Sale!
Photo Prints, Posters, Canvas Wall Murals
Now, for the first time you can have my favorite, most memorable FastDates.com Calendar photos reproduced to museum qualty standards for your home, garage, office or store, thanks to our new partnership with one of America's premier online photo labs. Choose from photo prints on quality photo paper, to huge poster and mural size Giclee' photo prints on archival rag paper or canvas mounted to wooden frames or display boxes.
Now you can enjoy my best photos of the the world's finest motorcycles with beautiful models! - Jim Gianatsis
Historical! This incredible career ending photo above of Troy Bayliss in his special commerative Ducati 2008 World Championship winning livery in action blazing titanium sparks off his boot slider at the final 2008 Algarve, Portugal World Superbike round is available as a Photo Print, Wall Poster, Canvas Mural FastDates.com Calendar Photos.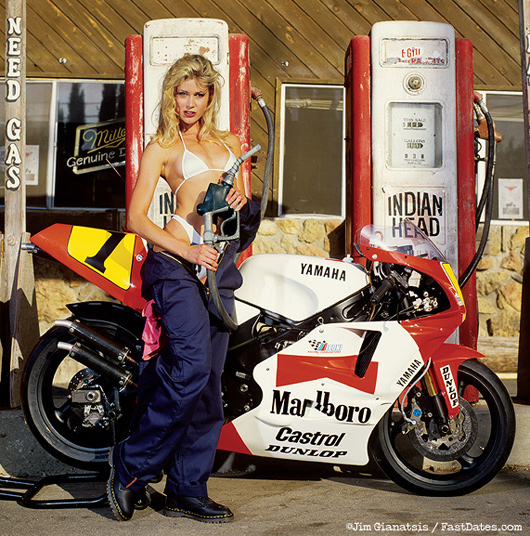 Ginger Schweizer gasses up Wayne Rainey's 1993 GP World Championship winning
Yamaha YZR500 at the Rock Store, the photo featured on the cover of the 1994 Fast Dates Calendar.
---
However, we've been able to get together with Gemma again to shoot some incredible photos of our Irish goddess for FastDates.com which you'll find in Members Corner. Now you can get an exclusive look at one of our most beautiful Calendar Kittens ever in 5 very sexy and revealing new pictorials! Members Corner.
FastDates.com Members Corner Updates
Much More New Content, New Lower $9.95 Monthly Price
If you've never joined our Members Corner before, or it's been a while since you have been a member, now's the time to join us. Along with a new low monthly membership rate, we've got a lot more content you don't want to miss! Included with your Membership is:
• Members Corner - Sexy and Reveal photos of the prettiest fastdates.com calendar Kittens including Playboy Playmates Tamara Witmer, Athena Lundburg, and the world's sexiest actresses and models Jamie Pressly, Joanna Krupa and LeeAnn Tweeden. Plus archives of all the Fast Dates, Iron & Lace, Garage Girls Calendars.
• Met-Art Affiliate Model Galleries - Normally $29.95 a month to join Met-Art alone!
• Paddock Garage - Sportbike and V-Twin Engine Tuning and Suspension Se Up.
• Iron & Lace Garage - Feature custom bike pictorials including our beautiful Calendar Kittens
• FastDates.com Calendar Screen Savers - The hottest Bikes, Riders and Calendar Kittens
Gemma Gleeson says "Don't let me have to kick your butt, - join me in Members Corner now!"
---
There's more! Go to Fast Dates Calendar News NEXT PAGE

Hot Calendar Girl and Bike News! Go to: Fast Dates • Garage Girls • Iron & Lace

Click to see even more of our sexy Fast Dates Calendar Kittens...


---
And visit these great Fast Dates recommended affiliate websites...




Some of our Calendar Kittens can also be seen at Playboy's website...