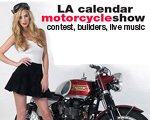 Be Our MySpace Friend!
FastDates.com
CalendarMotorcycleShow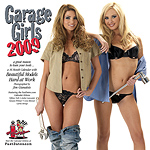 Featuring Playboy models Tamara Witmer, Tiffany Toth
2009 Calendar Preview!
Get a full look NOW of all the 2009 Calendar photos in the
Members Corner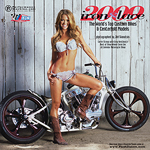 Meet Calendar Kitten
Carrie Ann Stroup
featured in the 2009 FastDates.com Calendars
---
2008 Calendar Bike Building Championship Winners


Performance Machine
Best of Show
Jim Giuffra / AFT Customs


Iron Works
!st Place Pro Builder
Kenji Nagai / Kens Factory, Japan


Best Performance Machine Bike
Todd Silicato / Todd's Cycle




1st Place Street Custom
Devin Montgomery


1st Place
Mikuni Street Performance
C.W. Morris
1st Place
Mikuni Street Chopper
Clyde Ransome
with beautiful Saturday Calendar Model Search winner
Andrea Hilario


1st Place Metric Custom
Gilbert & Alfredo Gonzales


1st Place Iron Works
Classic Late Custom
Jay Jay Ransom


2st Place Iron Works
Classic Late Custom
Jay Jay Ransom & Spanky


1st Place Iron Works
Bar Hopper
Sportster / Cassidy Lackos
---

FOR IMMEDIATE RELEASE
AFT Customs Announces the Build by the Powersports Modeling Agency Girls
of its Latest Custom Metric
V-Twin Motorcycle
"LowLa"
to Unveil at the
2009 LA Calendar Show Weekend July 18-19th 2009
AFT Customs Announces a New Build by the Powersports Modeling Agency Girls
of its Latest Custom Metric V-Twin Motorcycle code named "LowLa"
to Premier at the 2009 LA Calendar Show Weekend July 18-19th in Long Beach
Martell, CA. Sept 1st, 2008 – Powersports Modeling Agency, a division of AFT Customs, has announced it has begun building an all-new custom metric V-Twin for the 2009 bike show circuit season. This new motorcycle, code named "LowLa", will be built by select AFT Customs Girls from the Powersports Model Agency, with the models working under the guidance of AFT Customs owner and designer Jim Giuffra. This new metric custom bike will be constructed fully by the AFT Girls to showcase their building skills, an prove that custom bike building is not just for men, while also helping to increase the models' knowledge of motorcycles, building techniques and the industry as a whole. Jim Giuffra / AFT Customs, who this year received the Best of Show at the 2008 LA Calendar Motorcycle Show, and Metric Class winner at the 2005 and 2008 AMD World Championship of Custom Bike Building, will be overseeing the design and construction of the project motorcycle which will be built in full by the AFT Girls.
"The bike will be built by all the girls, but it will be my daily ride when it is done and has completed next summer's show tour at major motorccyle events", explained beautiful and skilled Sukhee, one of the Powersports Modeling Agency's newest models. "Building this bike from the ground up will dramatically increase our knowledge of motorcycles and their components, which will help to make us more valuable to clients who hire Powersports Modeling Agency models to represent their products at motorsport shows and events.
The "LoLa" bike project has already begun initial sponsor confirmation, design and component delivery, and will make it's world premier at the 2009 LA Calendar Motorcycle Show Weekend July 18-19th, where its construction by models will compliment the "pinup model theme" of the LA Calendar Motorcycle Show Weekend. From there the bike will continue on to Sturgis Bike Week where AFT Customs will defend its Metric title at he AMD World Championship.
The LA Calendar Show Weekend is held at the Queen Mary Event Park in Long Beach, California and is renown as America's premier custom, cruiser, performance and sportbike weekend. The show boasts over 250 major motorcycle and parts manufacturers and features many of the World's top Pro and Amateur street bike builders competing in the Calendar Bike Building Championship for a purse of $86,000 in cash and prize awards. The Show features many exclusive activities including the S&S Cycle World Record Dyno Horsepower Shoot, Calendar Bike Building Seminars, the 2-day Calendar Girl Music Festival and the annual World Premier of the new FastDates.com Motorcycle PinUp Calendars with the beautiful Calendar Kittens.
At this year's 2008 Calendar Bike Show, Jim Guiffra / AFT Customs walked away with the Performance Machine Best of Show award with "Er-Hed", a special construction monoshock custom powered by a Yamaha Royal Star V-Twin engine. Then the day after the Calendar Motorcycle Show Weekend, Giuffra and the Show's other class winners were invited to attended a photo shoot with Jim Gianatsis at the Gianatsis Design Studios to have their bikes photographed for the next 2010 FastDates.com Calendars which will premier at the 2009 Calendar Motorcycle Show Weekend.
"This year AFT Customs took home the Best of Show award and I am looking forward to having Jim Giuffra, an incredibly talent builder, and his team of beautiful models / mechanics back in 2009," said Jim Gianatsis, LA Calendar Show producer. "Having the next radical new AFT Customs bike scheduled to be unveiled at our next Show only reinforces how important our event is in the streetbike world, and highlights the important media coverage we garner for our bike builders, exhibitors and sponsors. And having many of the finest custom bikes in the world together with very beautiful models is what the LA Calendar Motorcycle Show and the FastDates.com Calendars are all about!
For additional information on the LA Calendar Motorcycle Show Weekend and to order the FastDates.com Calendars go to www.FastDates.com.
For additional informaton on AFT Customs and the Powersports Modeling Agency go to www.AFTcustoms.com or phone direct Jim Giuffra, Owner, AFT Customs (209) 223-3848
About AFT (Amador Fine Tune)
Amador Fine Tune is a full service bike shop that has been in business for nearly 20 years. They offer one-off products and are a dealer for over 50 different suppliers. AFT Customs is about professional craftsmen and are certified to work on all metrics motorcycles including: Honda, Kawasaki, Suzuki and Yamaha. Though customizing metrics is relatively new, AFT Customs have been winning awards for its bikes for years and boasts over 30 world class awards including the 2005 and 2008 AMD World Championship for their metric builds and has over 30 feature articles in top industry magazines worldwide. They provide minor modifications based on customer specifications to full ground-up projects. All builds focus on style, performance, size and functionality. For all your metric needs—big and small---contact the experts at (209) 223-3848 or visit them on the web--www.aftcustoms.com.
About AFT Girls
AFT Girls, a division of Amador Fine Tune, is a modeling agency offering marketing and sales savvy girls to organizations that want to make an impact at events. Whether it is tradeshows, grand openings, parties or photography shoots, AFT Girls can help to that help to make any event more of a success and position their client as a professional, expert in the industry. To learn more about how the AFT Girls can help you and your business, check them out on the web at www.aftcustoms.com or call for rates and booking at (209) 223-3848